It's hard to believe our kitchen reveal is finally here! It is complete! Full disclosure, it is 99% complete because we still have to add a lever to our pantry door, but I couldn't wait one more second to share it with you!
Thank you for your patience, encouragement, and support! For those of you who don't know, we had a few unforeseeable delays. Most were due to additions we made during the process. Luckily, my vision kept me motivated to power through!
Last spring, we completed Phase 1 of this project. Almost immediately we knew we wanted to paint the cabinets. Even after having the painting done, there were no plans to change the countertops or sink and I had yet to find tile for our backsplash. Eventually these updates were added to our plans. You can read all about the process here.
I didn't want to change everything. Our kitchen had some classic elements like a statement vent hood and a large island. I still adore each of them five years after moving in.
My goals for this phase of our kitchen update included creating a brighter, light-filled space that flows with our newly updated living room. I wanted it to be inviting and full of character. I think my goals were achieved.
A big THANK YOU to my partners for this project!
LG Viatera | Stone Coverings of Houston | Cle' Tile | Amerock | Newport Brass
Now let's take a look back. This is the look before Phase 1.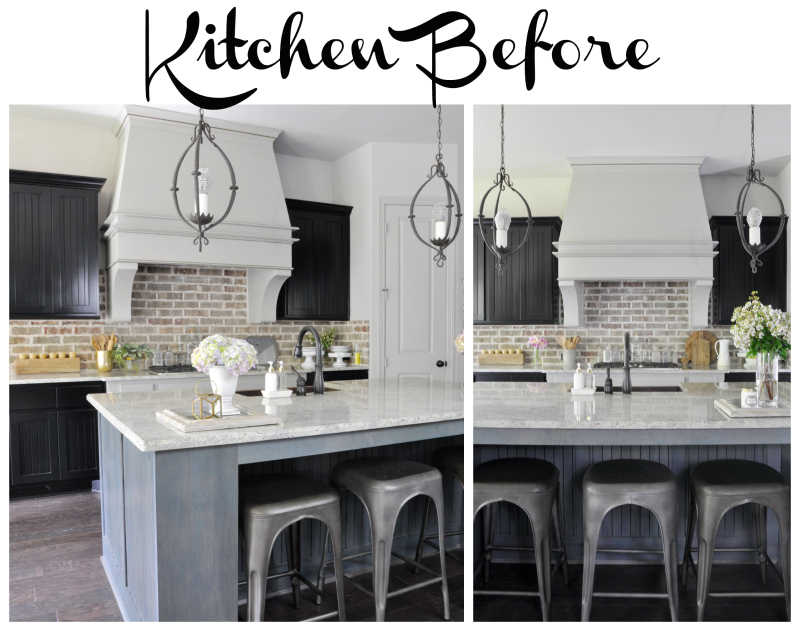 Here's the new look!!!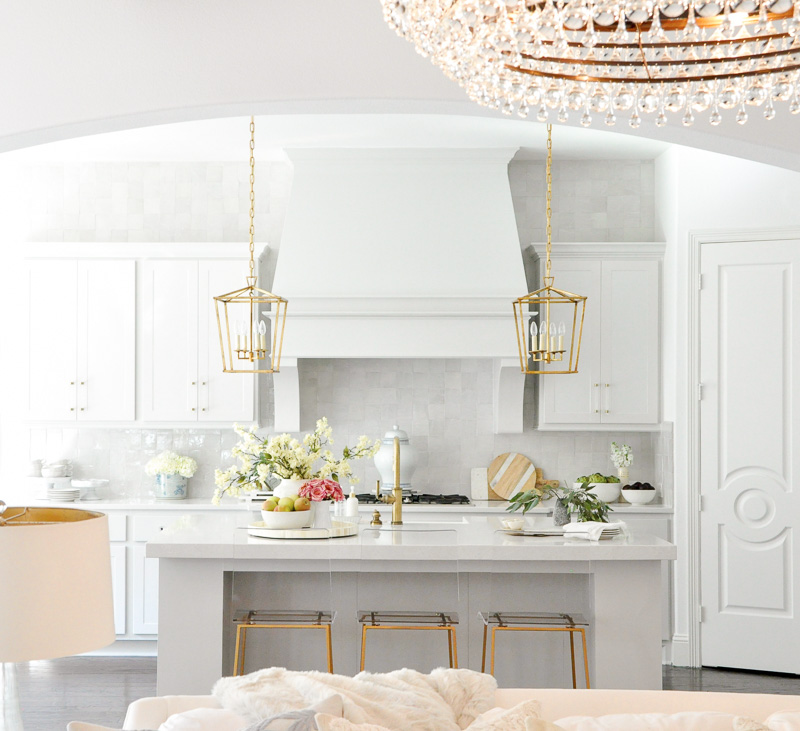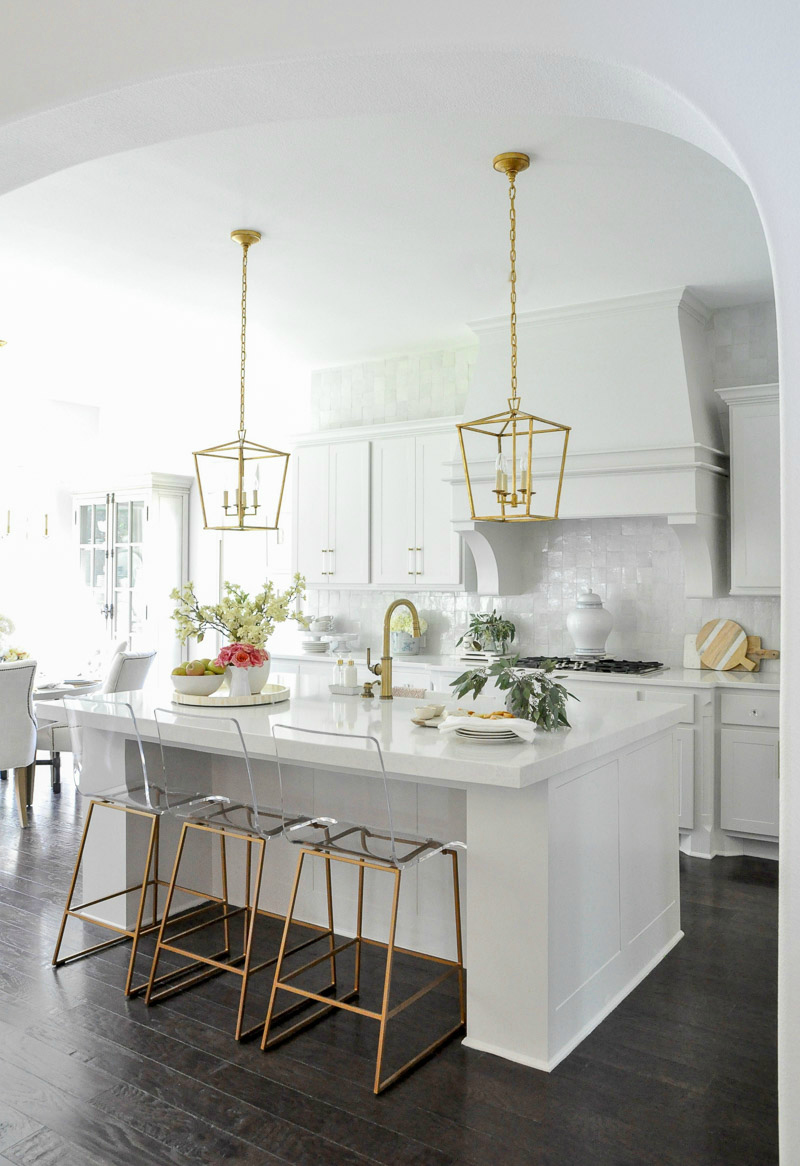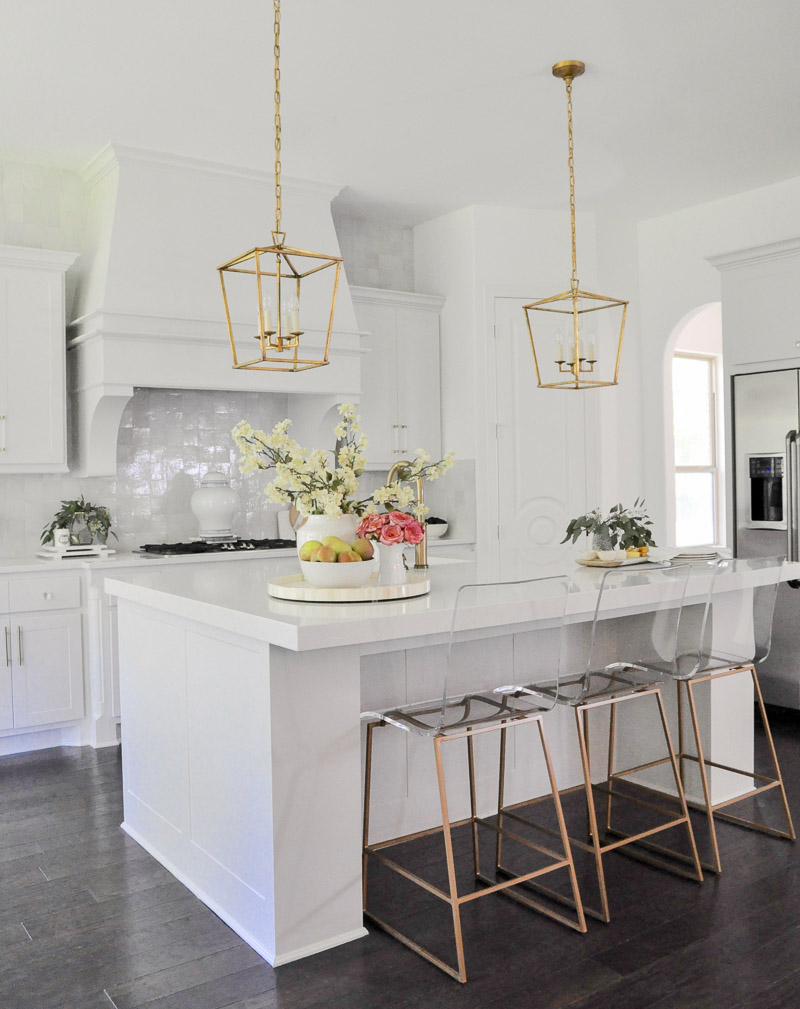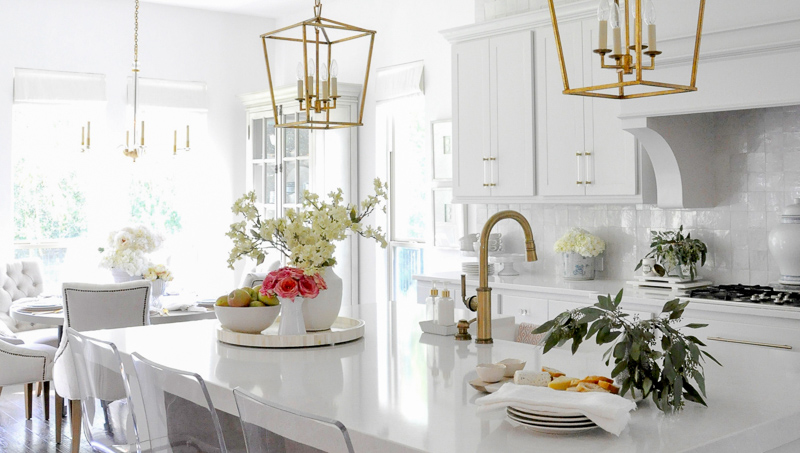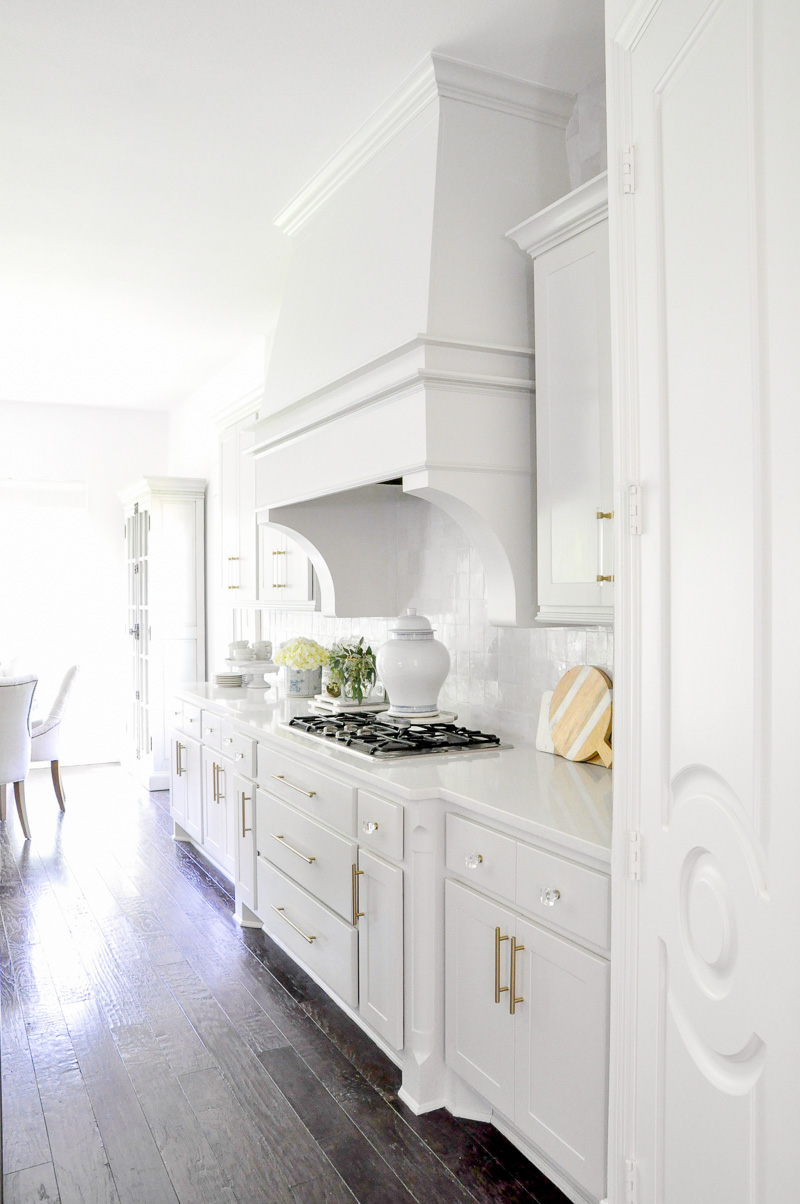 *This post contains affiliate links. Disclosure here. Additionally, some of the brands featured here provided products that made this kitchen project possible. As always, my comments, reviews, and opinions are 100% my own.
Color Palette
The kitchen walls match the color in the rest of our home. Light gray was my cabinet color choice. The countertops are white and for warmth, I added golden accents.
I wanted the cabinetry to provide a color contrast. New wall art with silver frames compliment the cabinet color perfectly.
Shoreline was used for the cabinets and Chantilly Lace for the walls. Both are by Benjamin Moore.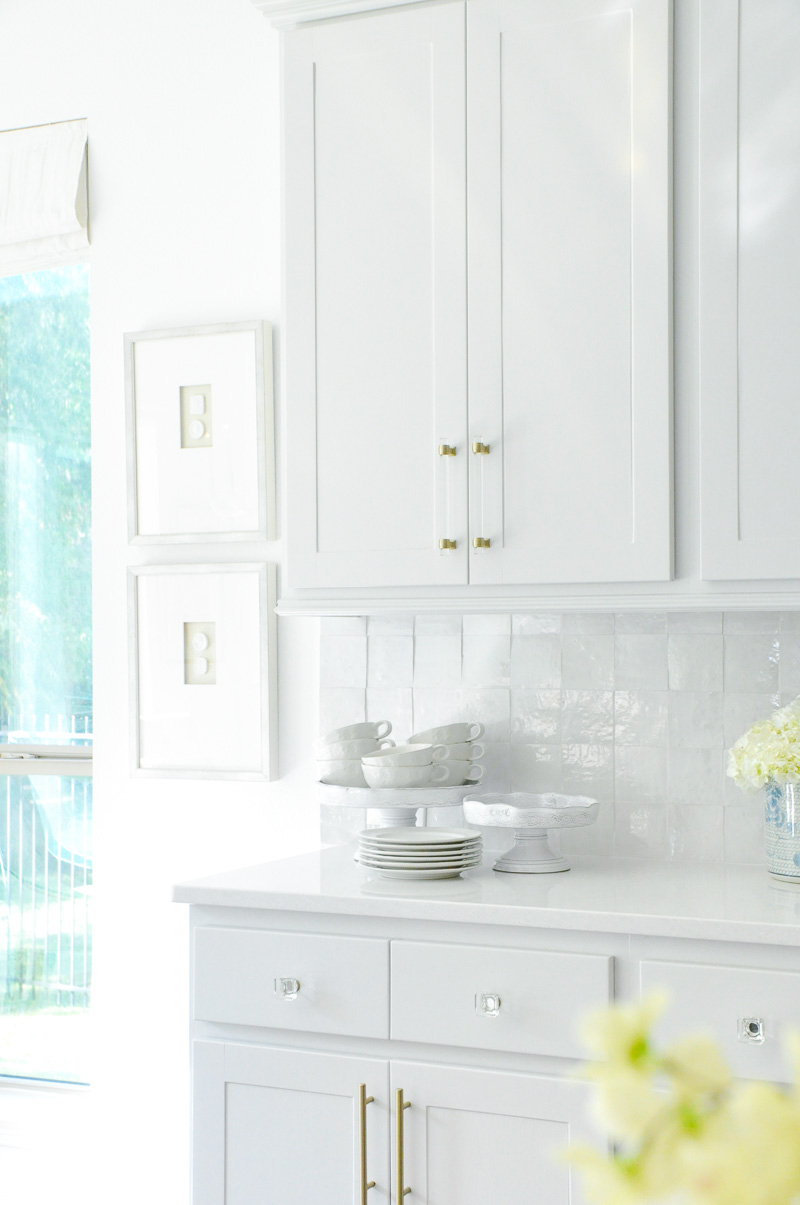 With an open-concept home, it was imperative that the kitchen blend with the living room. I made sure both rooms had common colors and elements.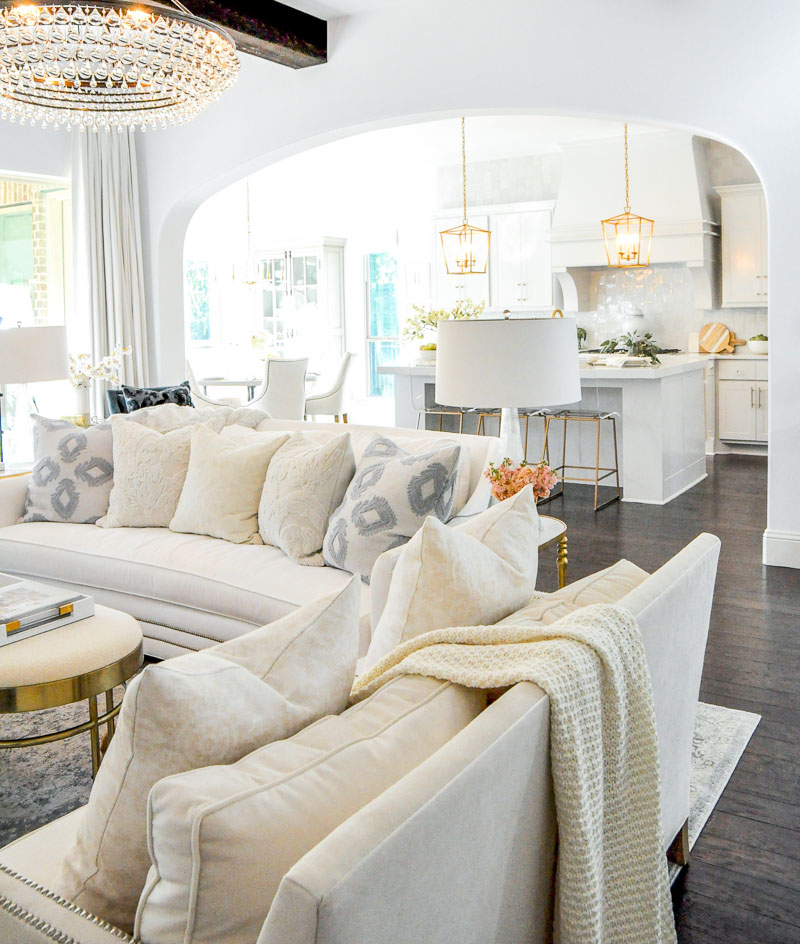 Countertops
Our new countertops are quartz by LG Viatera and we are so in love! As I've mentioned before, this is the same LG that sells appliances and televisions. They are a new discovery for countertops for me! I can hardly believe such a gorgeous look can be achieved by a product that is highly durable. The exact color of quartz I chose was never released, but their new color, "Mica" is almost identical to the quartz we installed. You can see a "Mica" sample on our countertops below.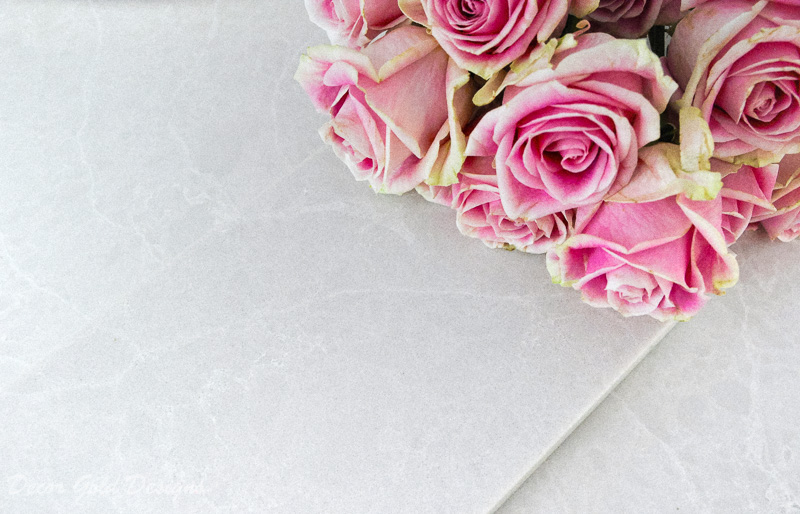 I have provided some additional similar colors here if you are looking for a beautiful, low-maintenance counter surface.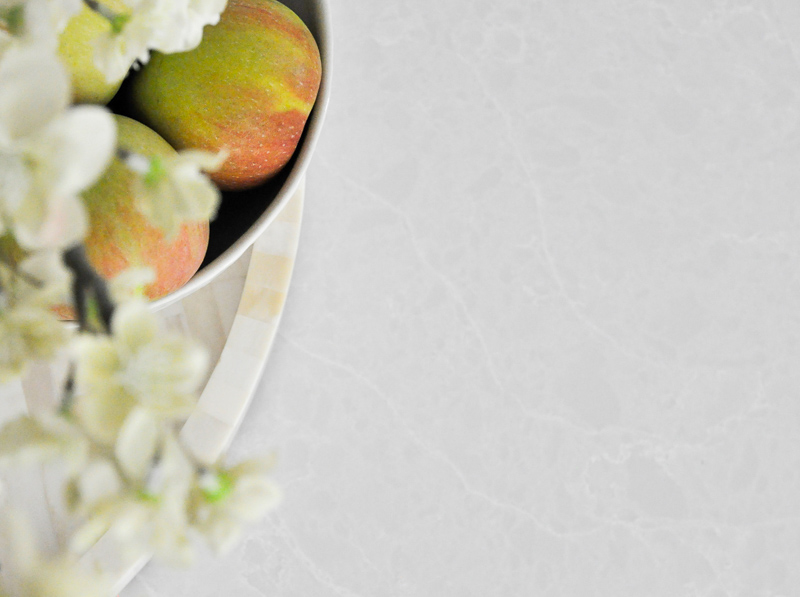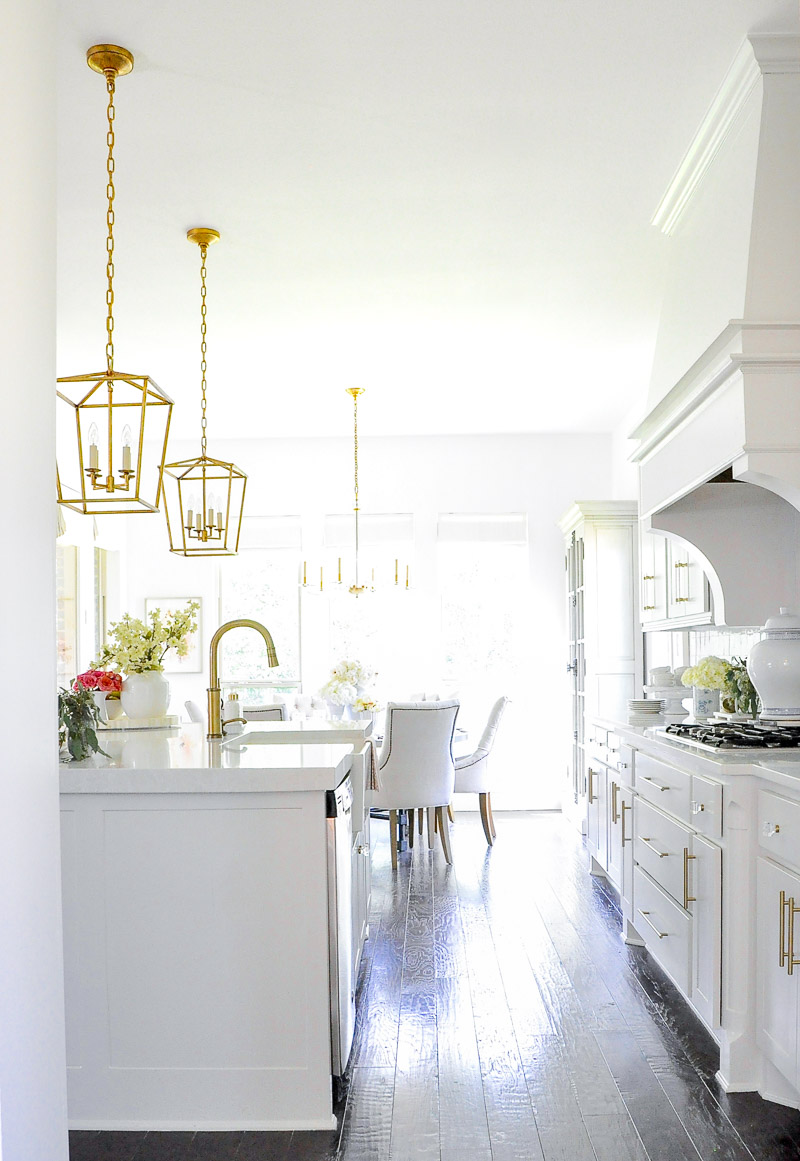 Our installation went very well! There was great attention to every detail by our fabricators, Stone Coverings of Houston.
On this long counter there is even a seam that is almost invisible!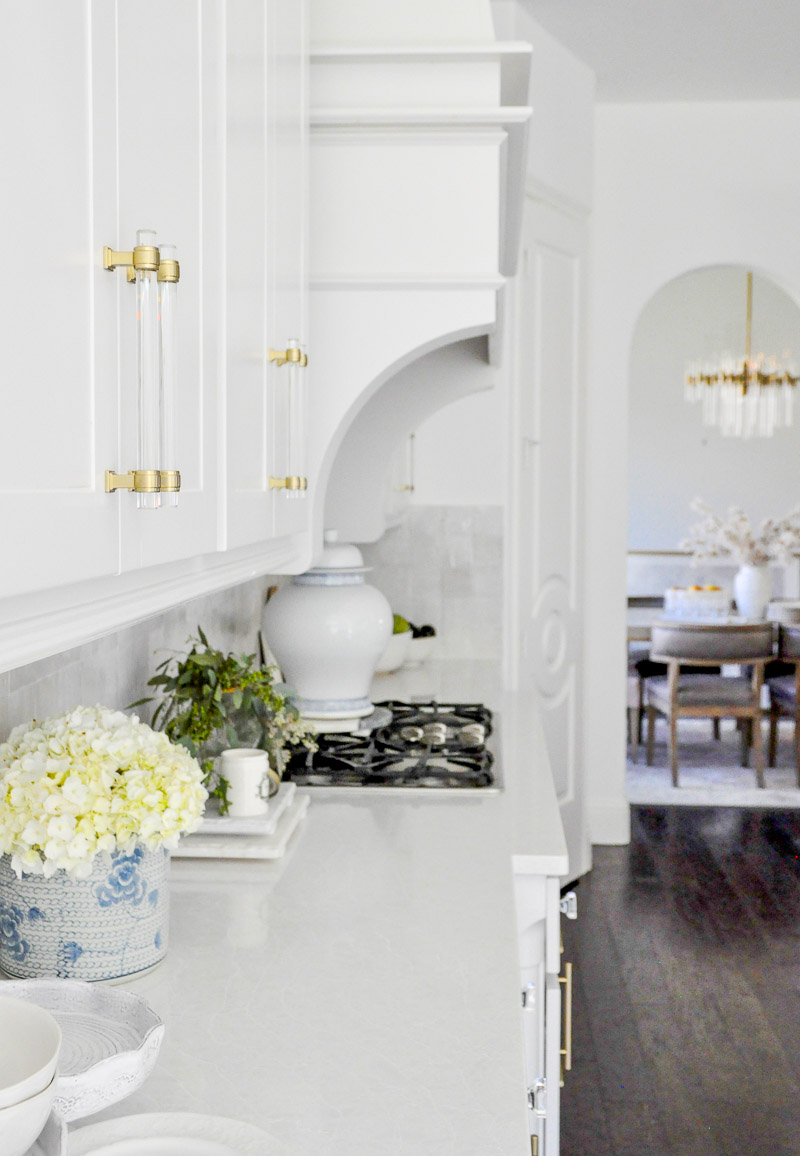 I selected a mitered edge for my island. I chose a 2.5 inch thickness. My fabricators did an AMAZING job with this too and the Viatera quartz looks so gorgeous!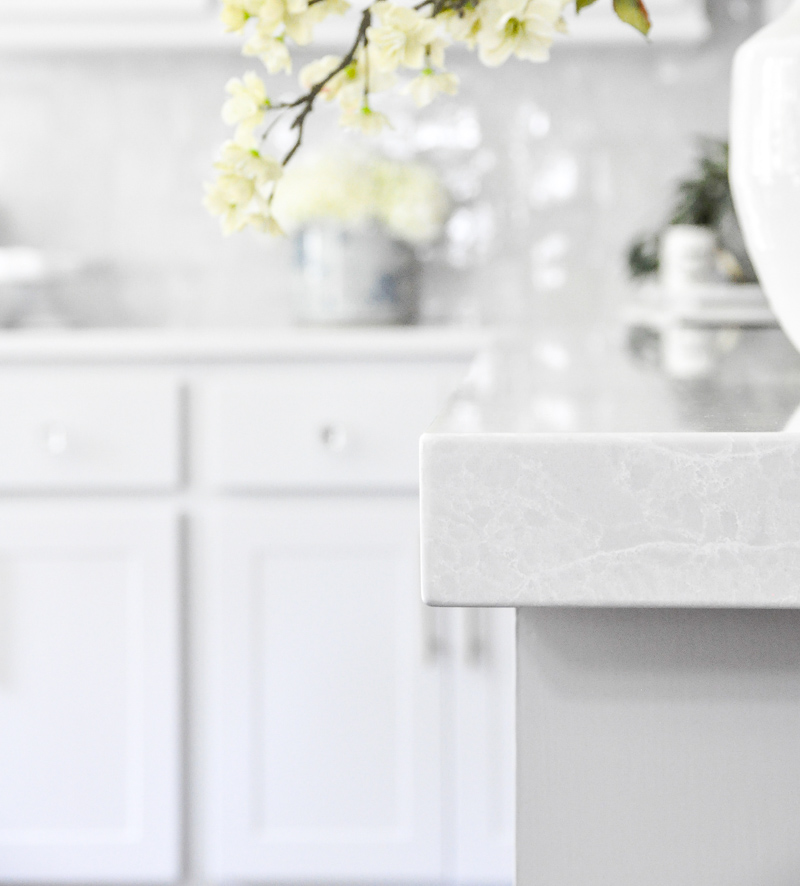 In order to have the mitered edge, we had to raise the island a bit to provide clearance for our dishwasher. This was done by applying plywood and then our painter simply caulked the edge when he touched up my cabinets.
Another decision we made regarding the countertops was to extend the bar area. Ana from Stone Coverings of Houston made this suggestion and I am so glad she did! We now have more counter and eating space. Plus, there is a large open space between our kitchen and living room and this helped fill it visually! The new dimensions are approximately 5′ x 7′.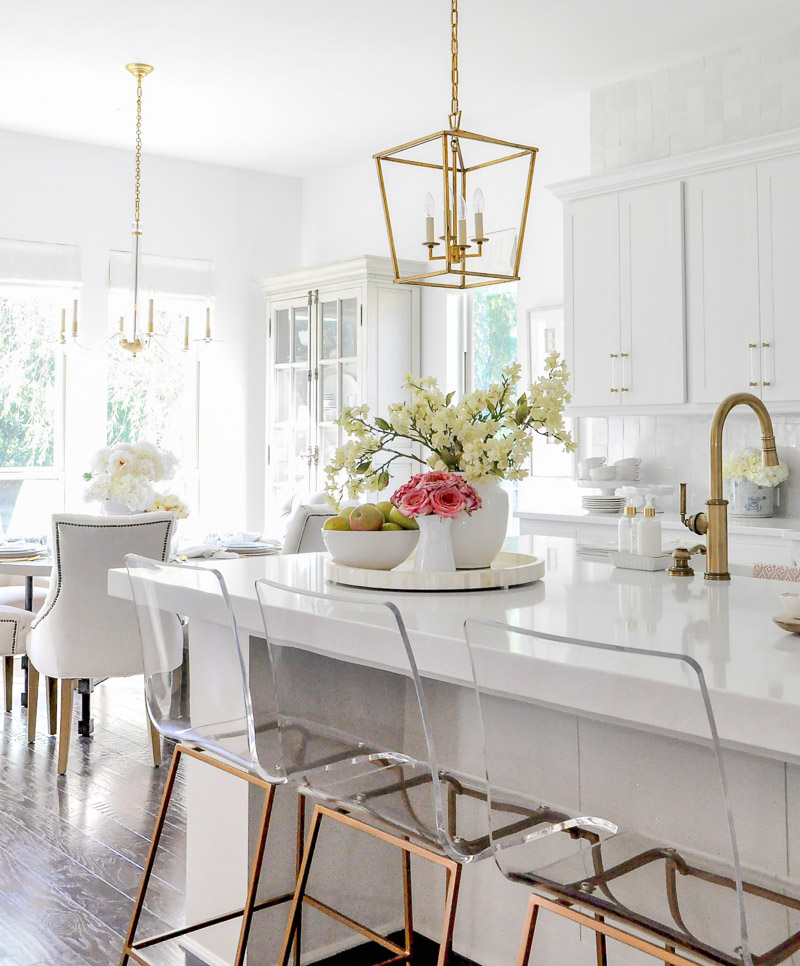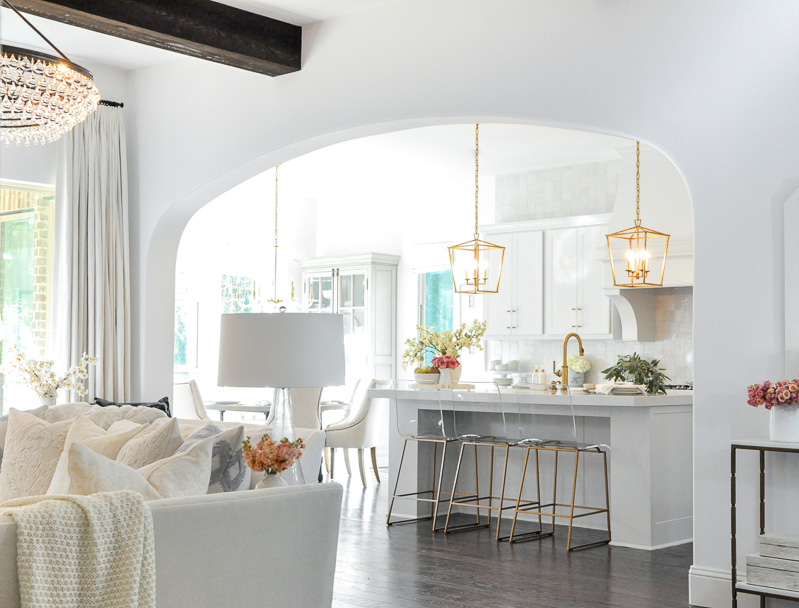 Fortunately, I was able to replace the countertops in a couple of small bathrooms too. Watch for much more about the process and my review after living with our new quartz for a while.
If you live in Houston or one of the surrounding areas, I highly recommend contacting Stone Coverings of Houston for your next project. They are reliable, helpful, and highly skilled specialists!
Backsplash
For the backsplash, I selected hand-made zellige tile in weathered white by Cle' Tile. It has a gorgeous glossy finish over numerous shades of white including grays and creams.
The white terracotta tile is STUNNING in person! It makes me smile every time I look at it. The amount of texture it provides is incredible! Especially under the vent hood, you can see the touch of drama the backsplash adds. It bounces light around the room, which makes it even more heavenly!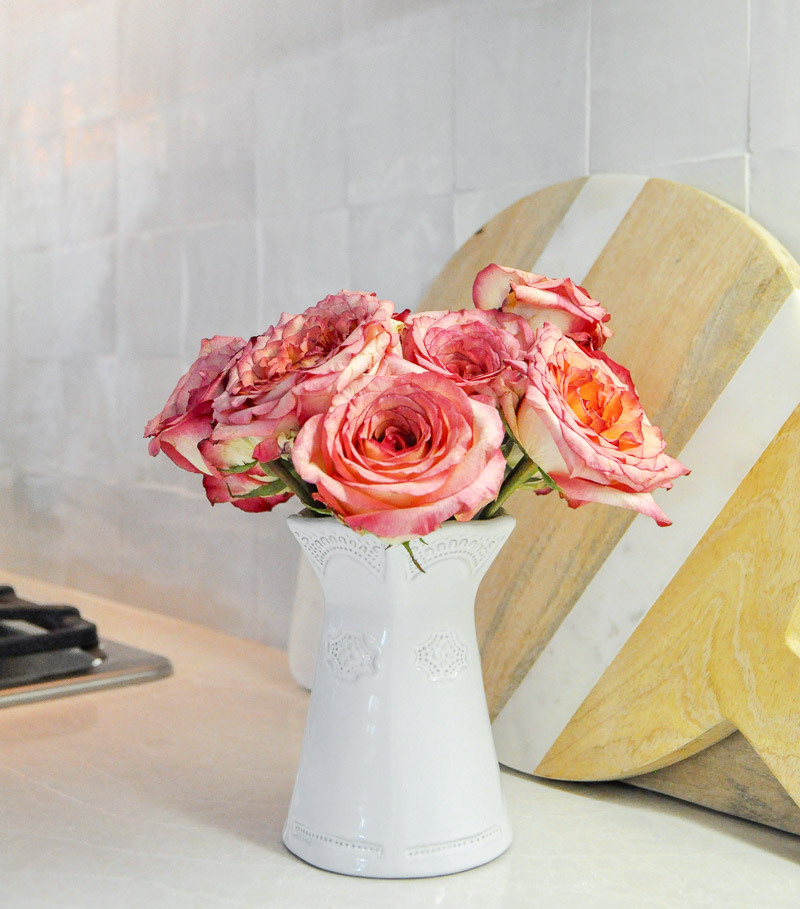 The brick backsplash we removed filled the traditional backsplash area between the upper and lower cabinets. I decided to take the new tile to ceiling for a more finished look. One of the best decisions I made!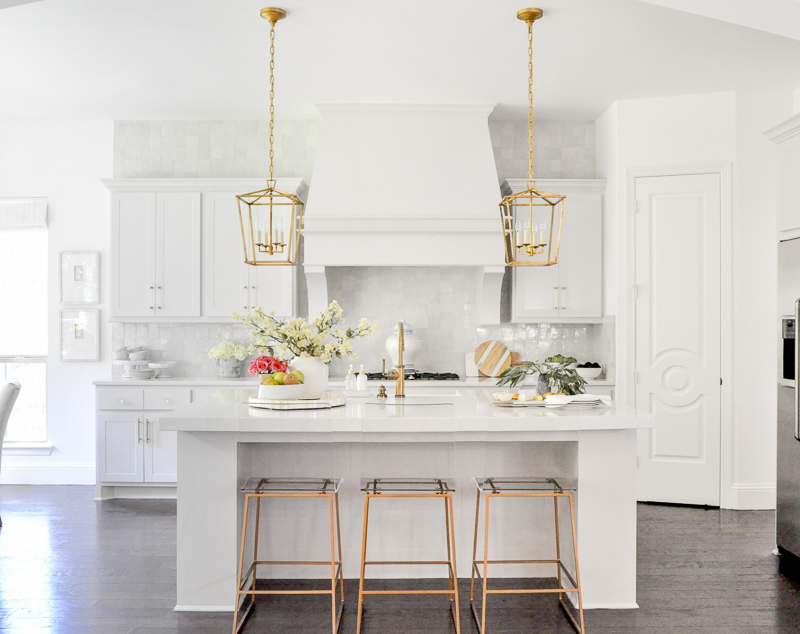 Sink
I went with a fireclay apron front sink. It has a clean, transitional look. The cabinet needed just a small piece of trim on each side to give the sink a proper surround.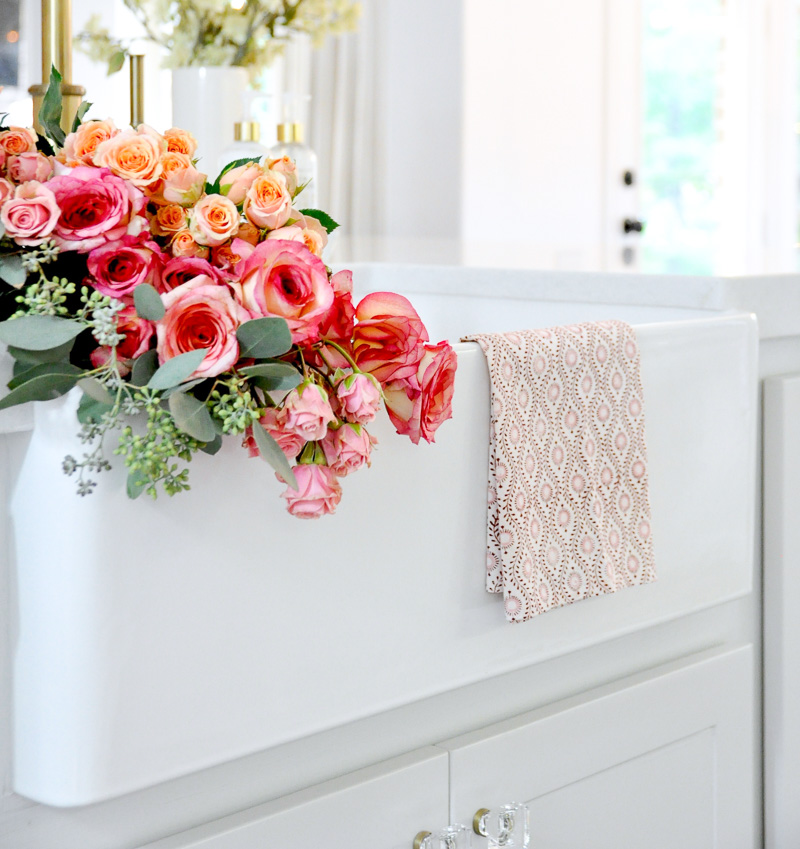 Hardware
Our new cabinet hardware is by Amerock. I selected bar pulls, glacio knobs, and glacio pulls. The bar pulls have clean lines and provide a sleek, transitional look. I chose the golden champagne finish. Because I already had brass light pendants, I thought it would look a bit too busy if I added the bar pulls everywhere, so I combined them with glacio knobs and glacio pulls which blend clear rods and knobs with golden champagne fittings.
I love the sophisticated look and the quality is excellent!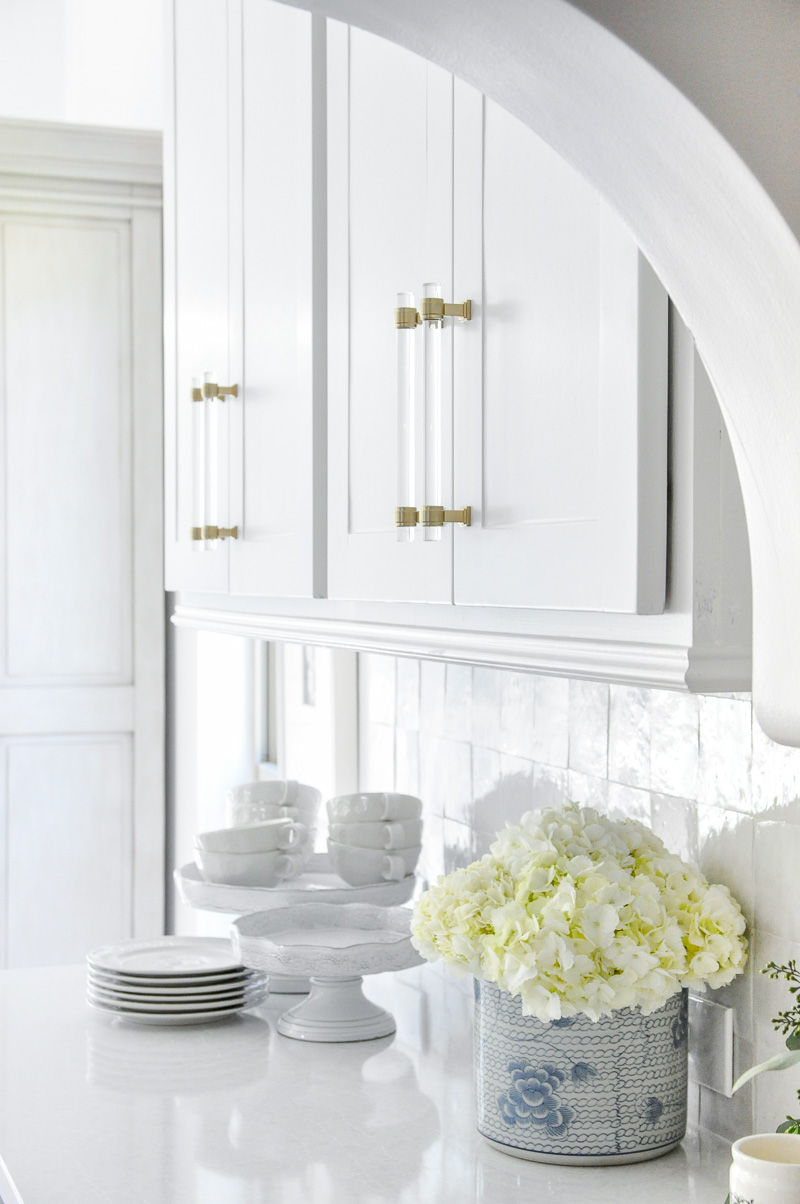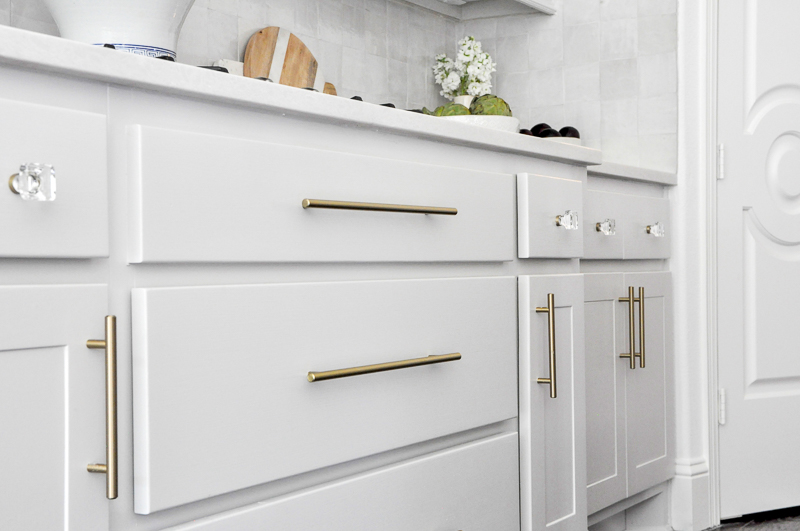 Shop our Kitchen

Phase 1 and more
Our new pantry door is by Metrie. It added loads of character to our kitchen. We have actually added these beautiful doors to most of the rooms in our home. More on this in my home details update post! The lever we ordered is gold and will coordinate with our other selections.
Our light pendants, brass faucet, and counter stools were part of Phase 1 of my kitchen update. Technically this was Phase 2. Will there be a Phase 3? I'm not sure. There are a few more things I'd love to do to our kitchen, but I have promised Tony a project hiatus. We shall see how long that lasts!
I have another completed room that I'll be sharing soon. Our dining room makeover project is complete and is just beyond the arch you see below. The little peek into the space shows the flow between the two rooms. Update: here is our new dining room!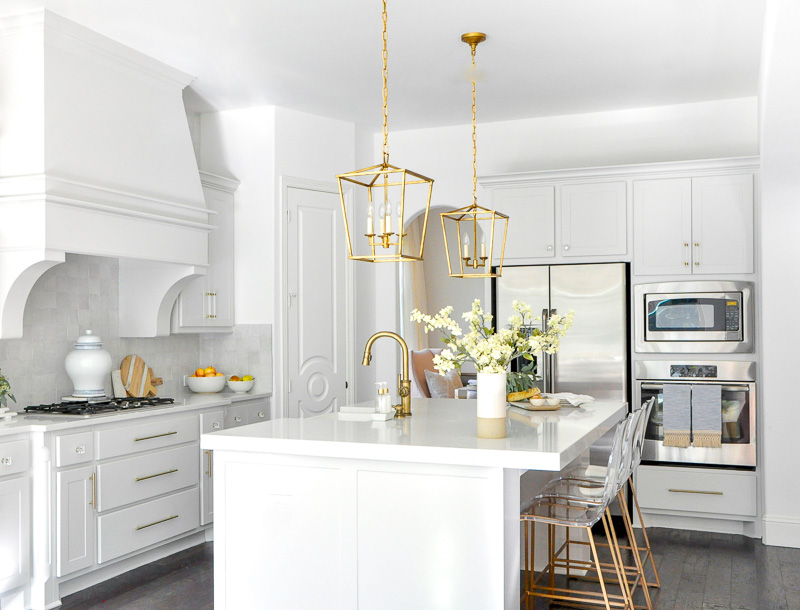 A few additional details:
Newport Brass Faucet color, Antique Brass, well-engineered handcrafted designs with a history of performance and durability
Lighting – brass-colored lantern pendants hang above the island and add warmth and symmetry
Counter Stools – lucite and brass-colored metal combine for a fun bit of modern glam
Shop Our Kitchen Accessories


Breakfast Nook
To keep the flow going, we installed a new chandelier with a clear glass frame and beautiful brass accents in our breakfast nook. I found it at Capitol Lighting. They have a great selection of lighting and even carry home decor! With a long history in the business, they also have a great deal of expertise in the lighting field. Our lack of experience lead to a few questions during our installation attempt. Our emails were answered quickly, which we appreciated greatly!
We also hung a new piece of art. I'm crazy over the subtle pop of color it brings into the space!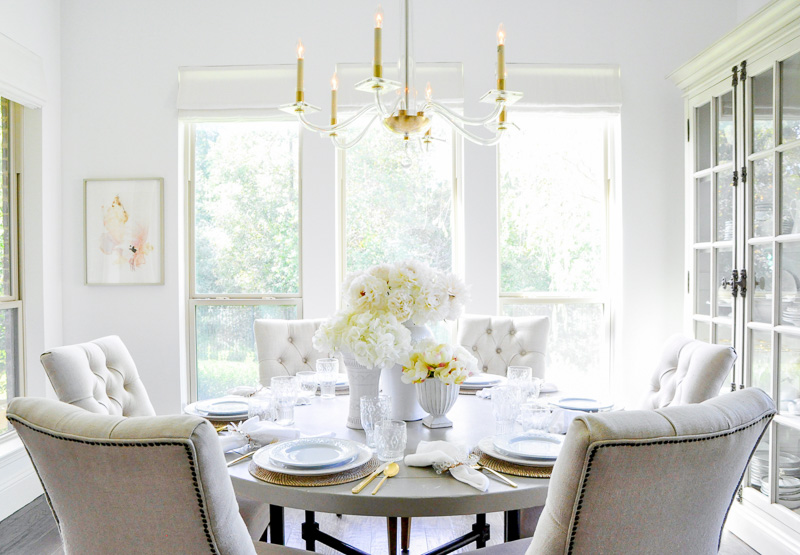 Here are a few more pictures of our new kitchen. You can find all sources below.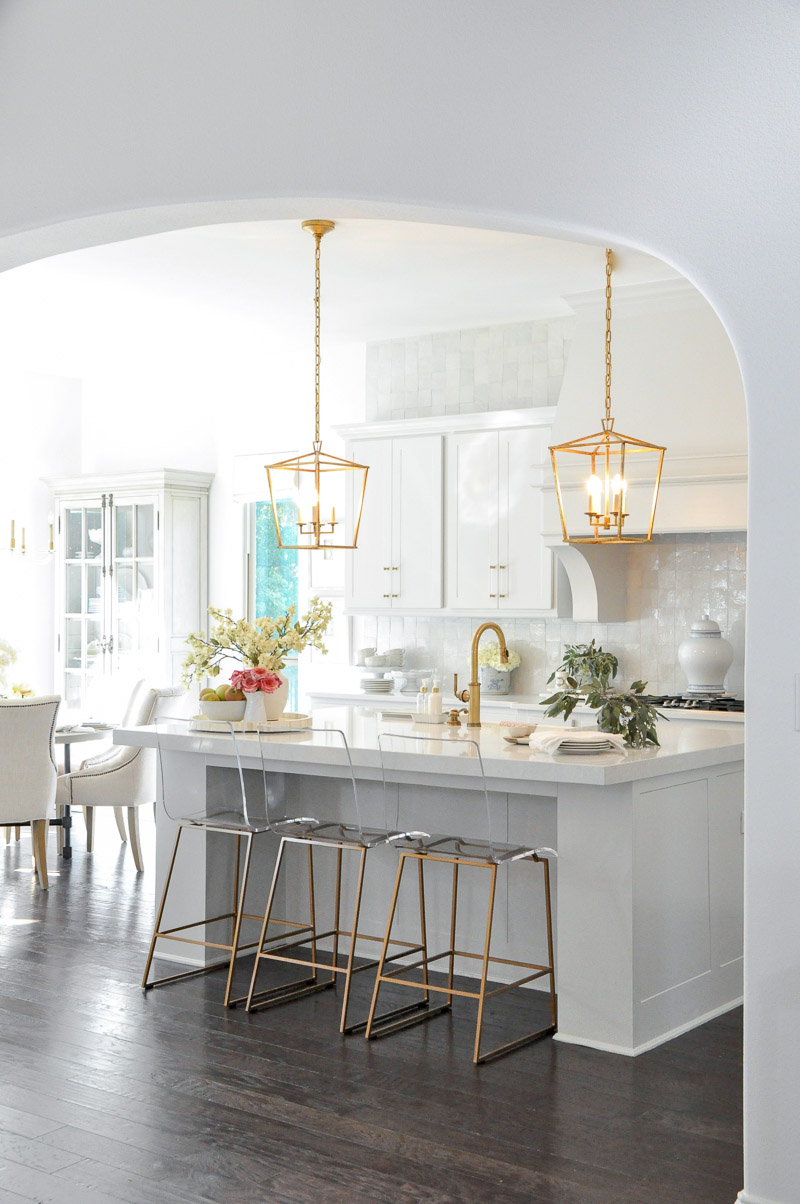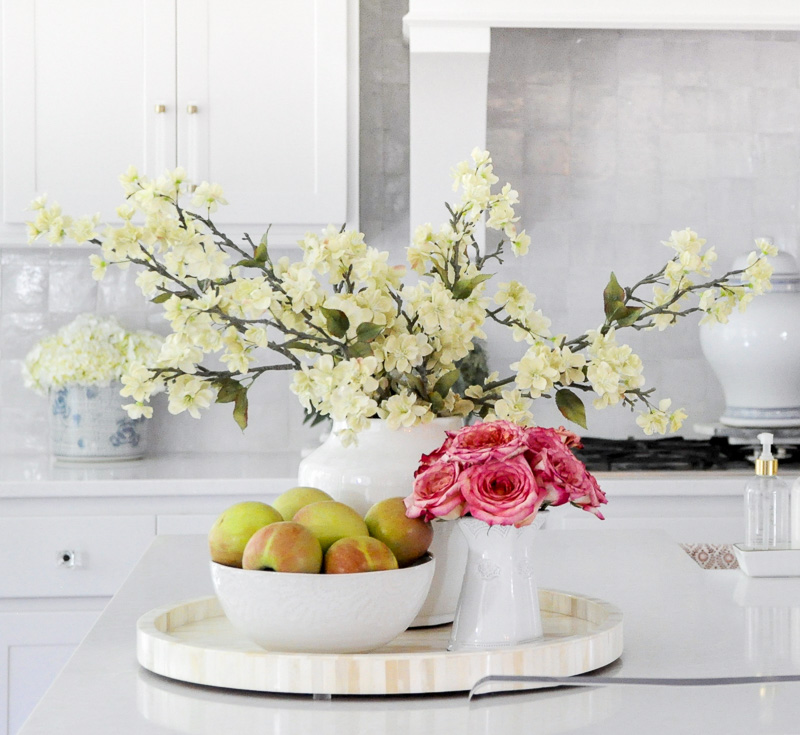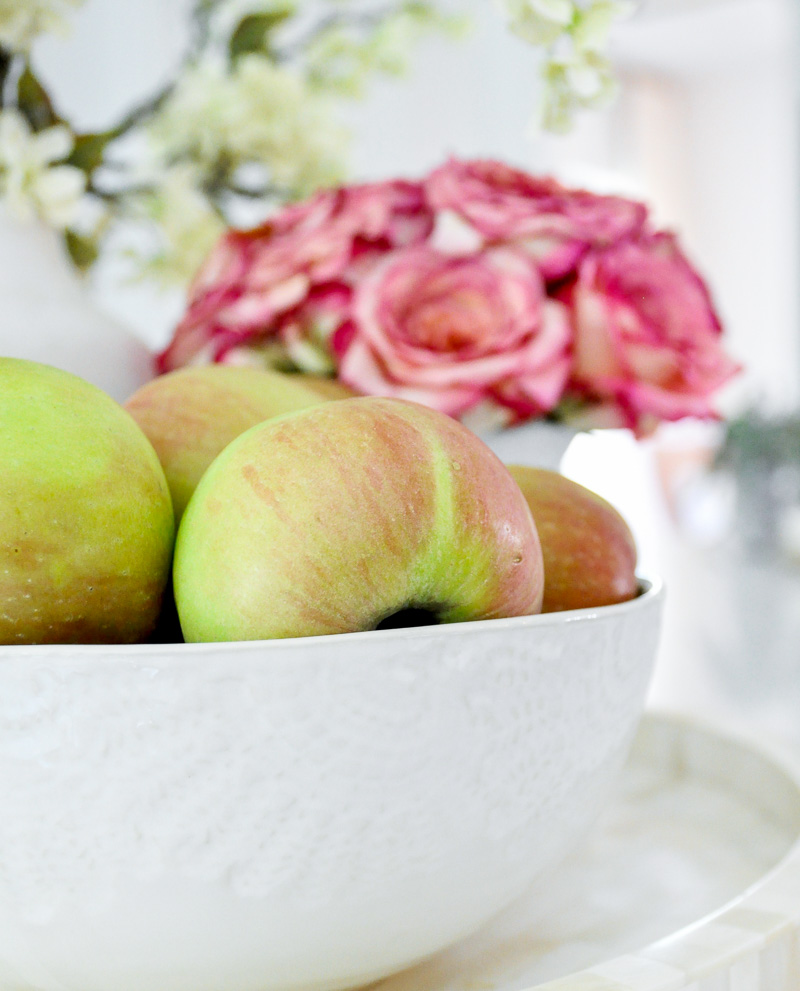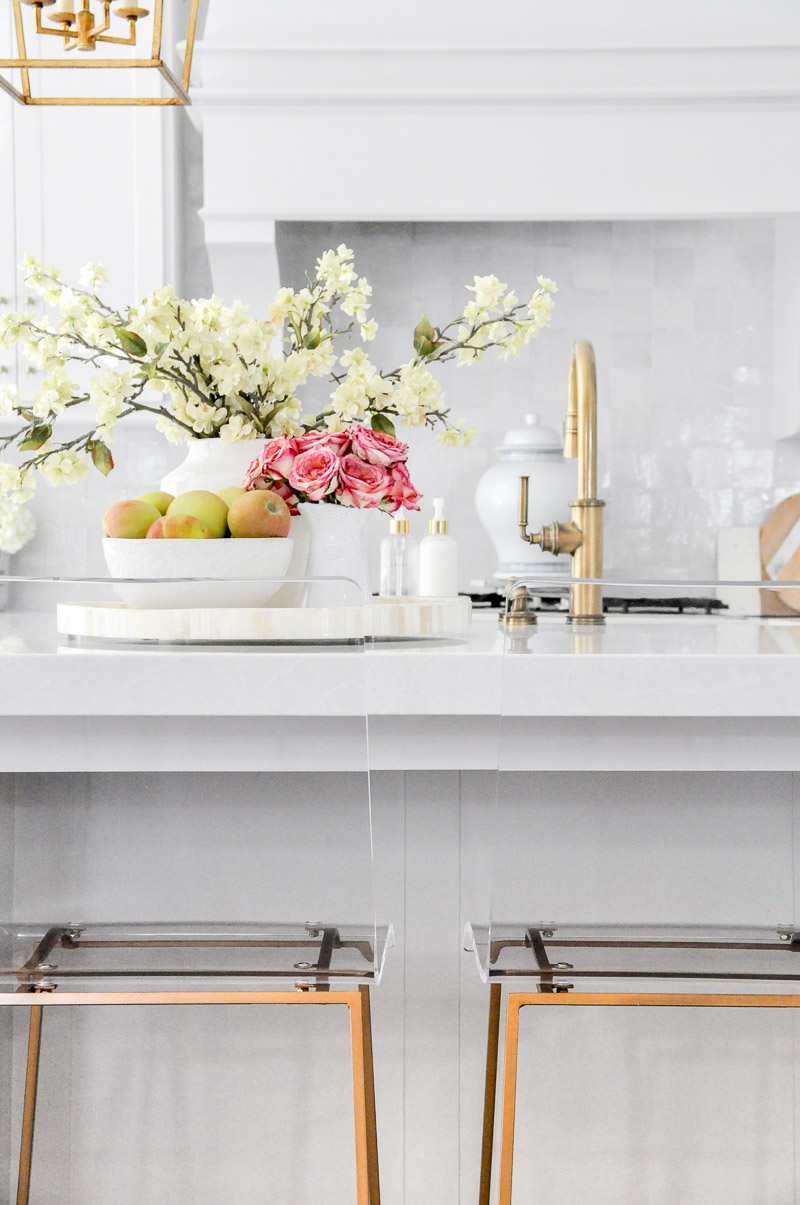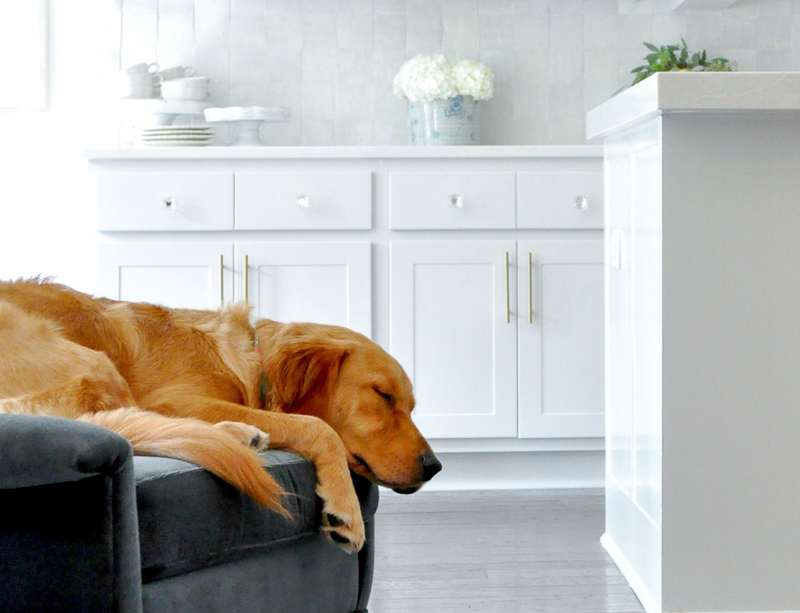 I want to thank you for visiting!
SOURCES
Cle' Tile – zillege glazed terracotta tile | Quartz countertops | Countertops were installed by Stone Coverings of Houston
Sink | Faucet | Light pendants | Door | Door lever | Bar pulls | Clear knobs | Clear pulls
Cake stands | Round tray | Large jar | Small white vase | Fruit bowl | Temple jar | Round wood & marble board
Rectangular wood & marble board | Cheese board | Bread plates | Rose-colored tea towel | Candle
Blue & white floral planter | Wall art
Breakfast Room: Similar cabinet 1 | 2 | 3 | Chandelier | Chairs | Art
Exact cabinet hardware links and sizes:
7 7/8" Glacio Pulls Golden Champagne (upper cabinets) | 6 5/16" Glacio Pulls Golden Champagne (cabinet above microwave)
Paint by Benjamin Moore: Cabinets – Shoreline | Walls – Chantilly Lace

Additional stool options:


Other room reveals and updates: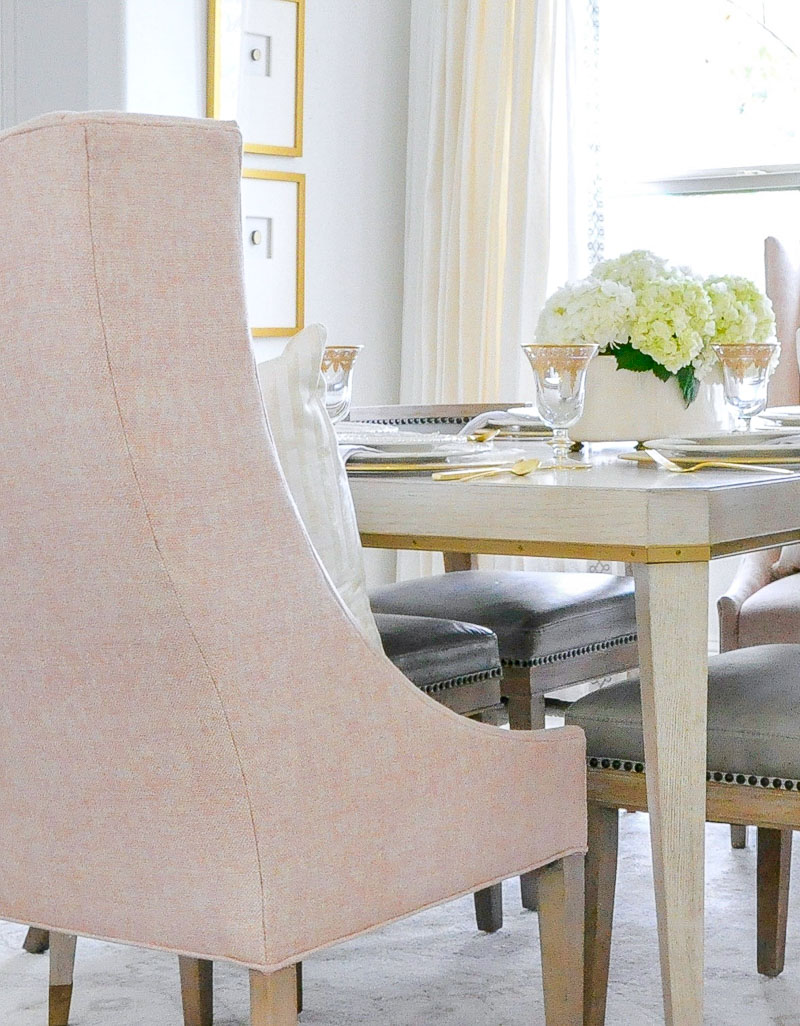 Stay connected…..
Click on the Image to Subscribe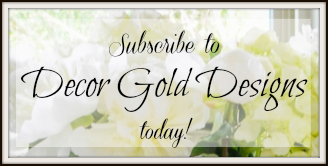 SOCIAL
Instagram | Pinterest | Facebook
SaveSave
SaveSave
SaveSave
SaveSave
SaveSave
SaveSave
SaveSave
SaveSave
SaveSave
SaveSave
SaveSave
SaveSave
SaveSave
SaveSave
SaveSave
SaveSave
SaveSave
SaveSave
SaveSave
SaveSave
SaveSave
SaveSave
SaveSave
SaveSave
SaveSave
SaveSave
SaveSave
SaveSave
SaveSave
SaveSave
SaveSave
SaveSave
SaveSave
SaveSave
SaveSave
SaveSave
SaveSave
SaveSave
SaveSave
SaveSave
SaveSave
SaveSave
SaveSave
SaveSave
SaveSave
SaveSave
SaveSave
SaveSave
SaveSave
SaveSave
SaveSave
SaveSave
SaveSave
SaveSave
SaveSave