I have been looking forward to this fall since….probably last fall. Last year I decorated with ivory, gold, rose, and berry. I loved the bright pops throughout my fall home.
However, this year I have been drawn to the color blue. I used it in my winter home just after Christmas and I added a few soft blue accessories throughout the year. Using small amounts of this pretty, romantic color for fall made me happy.
In the spaces I am sharing today, you'll see small amounts of blue, candles, and other changes meant to make my home more inviting for the cooler days ahead.
*This post contains affiliate links. Disclosure here. Additionally, Hotskwash was a sponsor of my fall home tour. All of my opinions are my own. 
Fall Kitchen
I was thrilled to be able to add fall touches to our newly updated kitchen. It was incomplete last fall. But, this year the finished space provided a wonderful neutral backdrop for fall.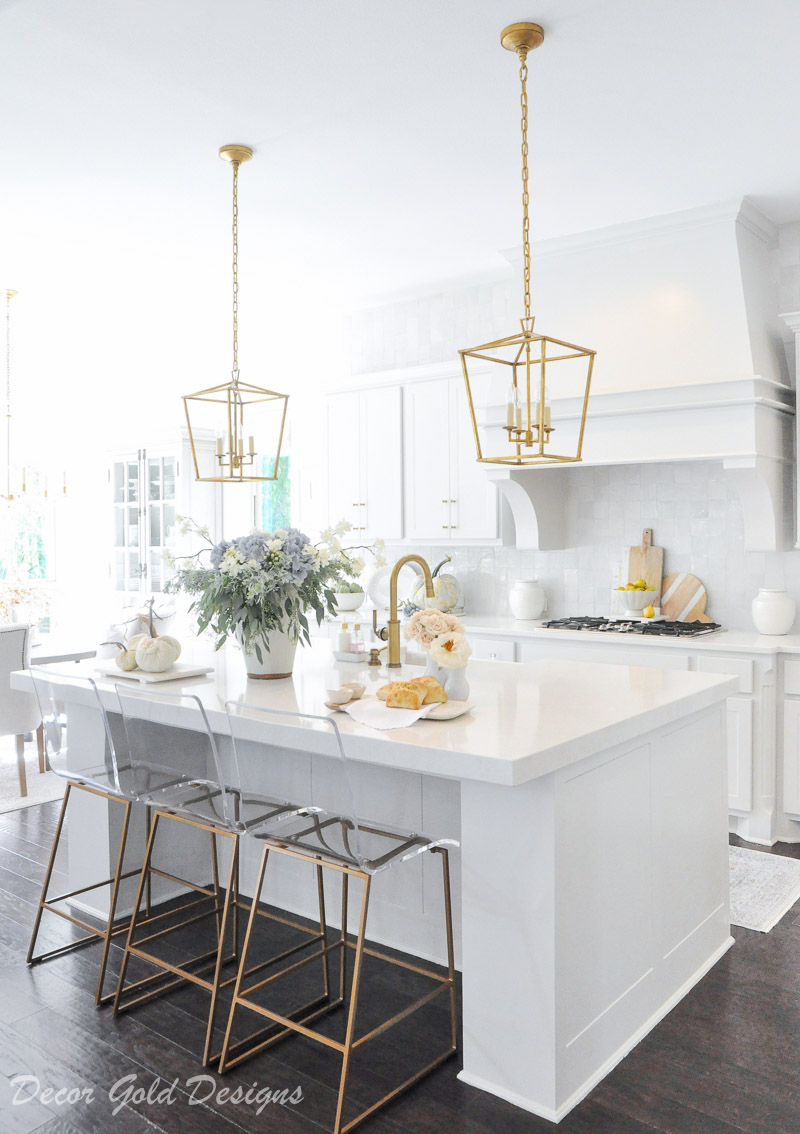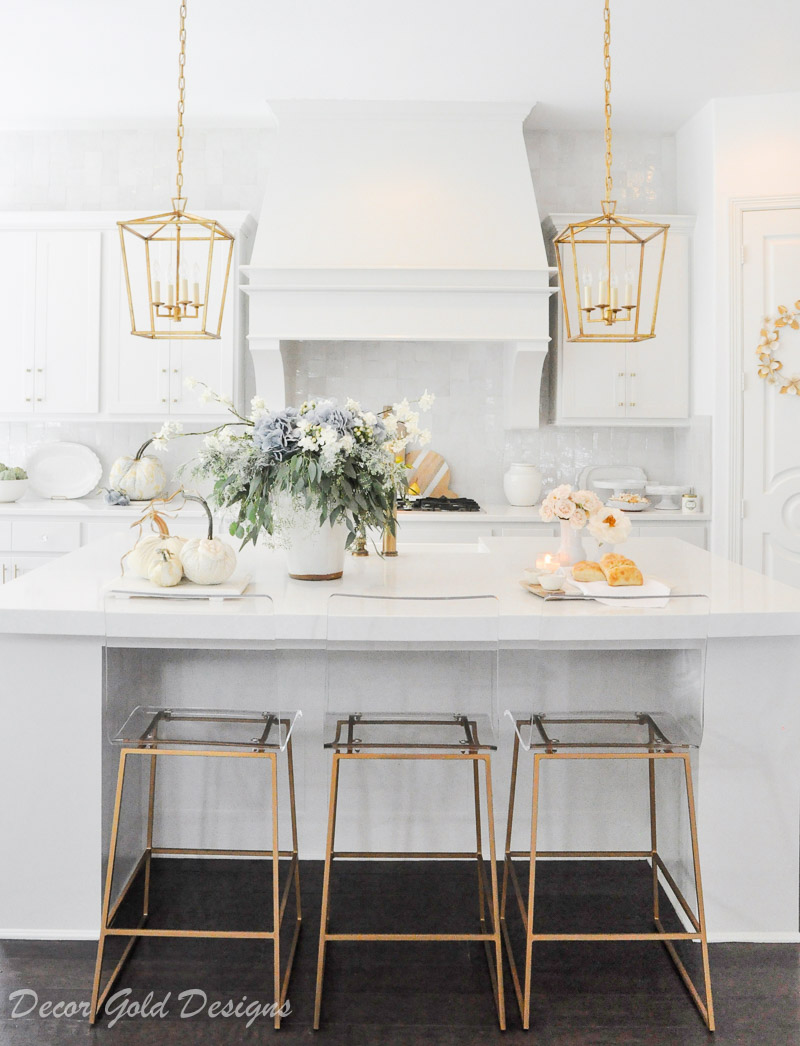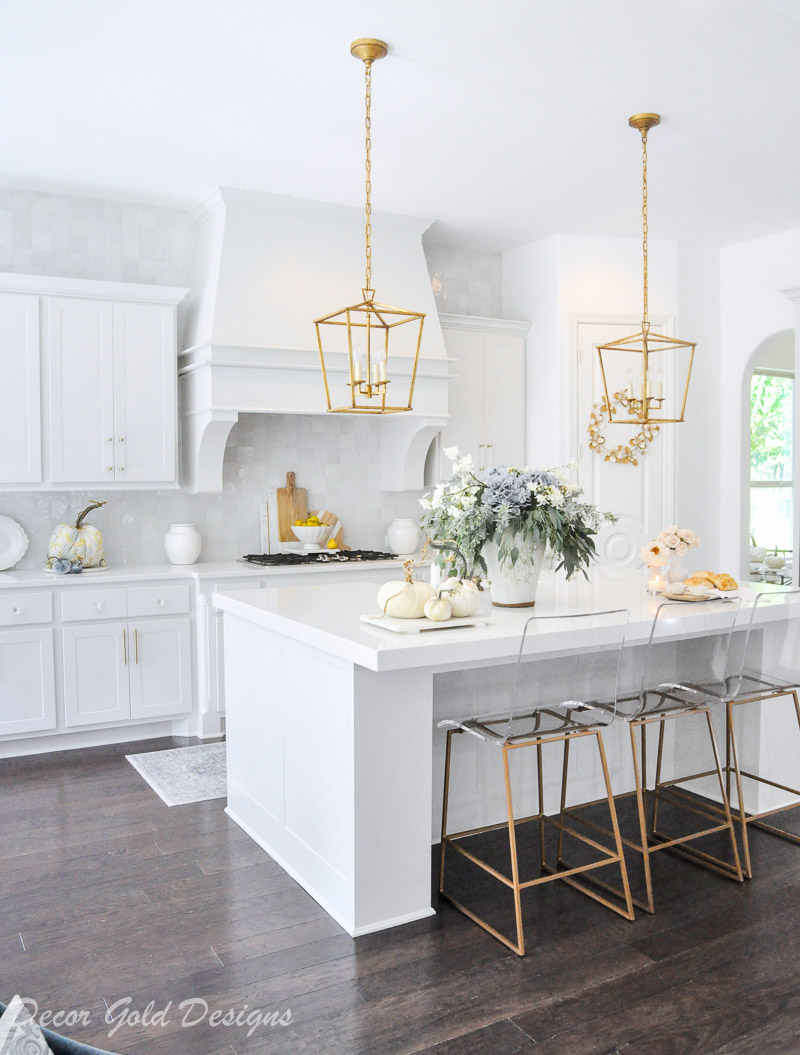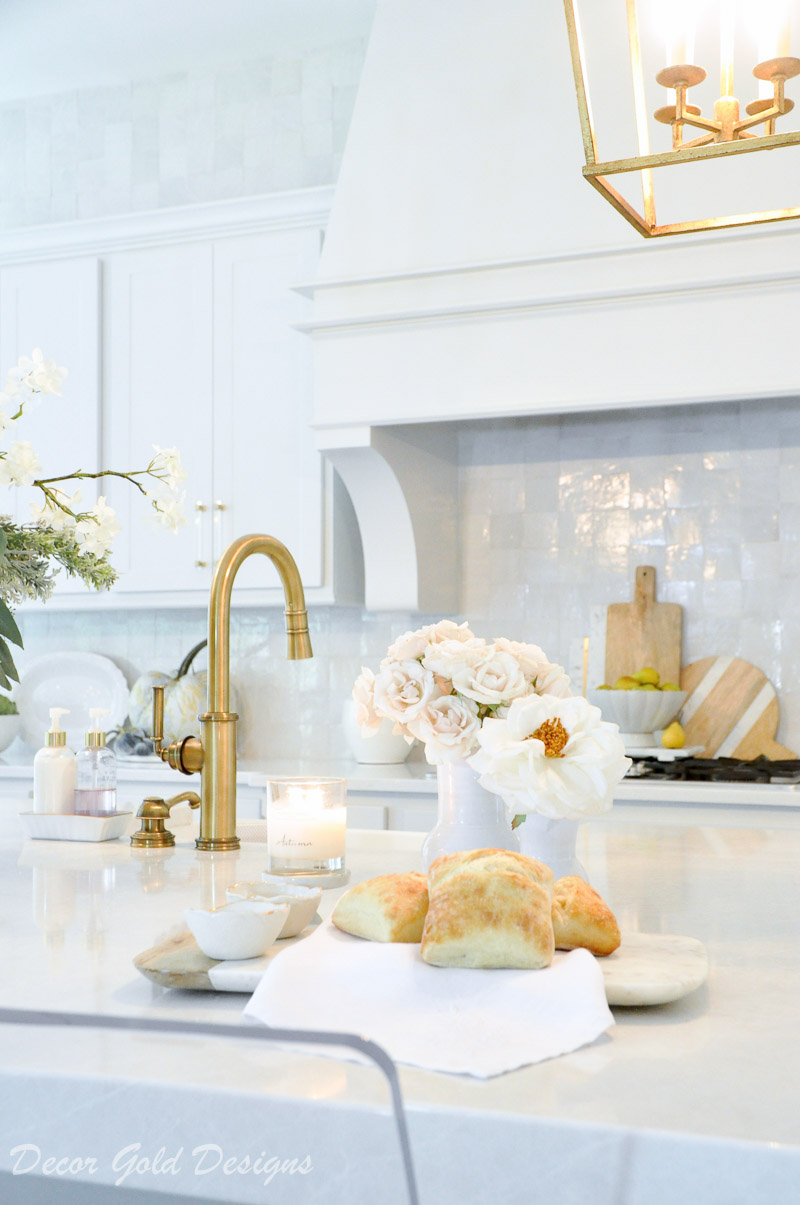 A combination of faux and real flowers make up my kitchen arrangements. Below, you will see it is incredibly difficult to tell which flowers are the faux ones. Read my tips to help you make your faux flowers look real here!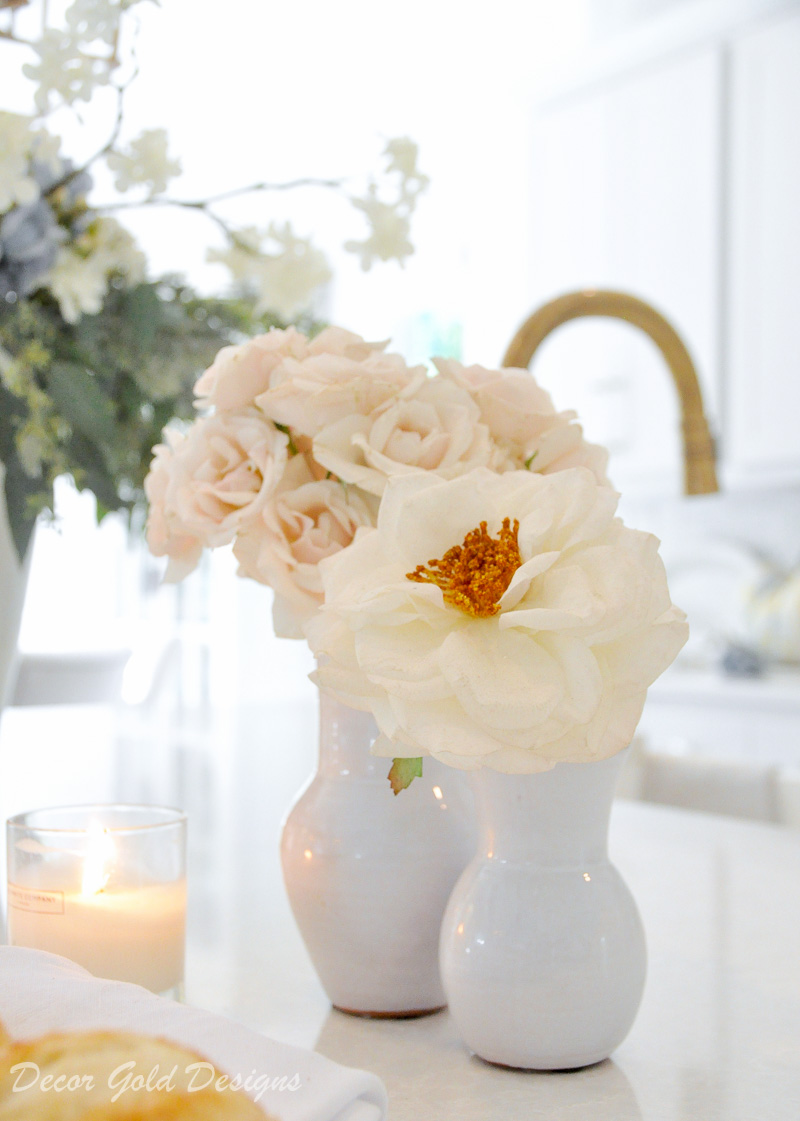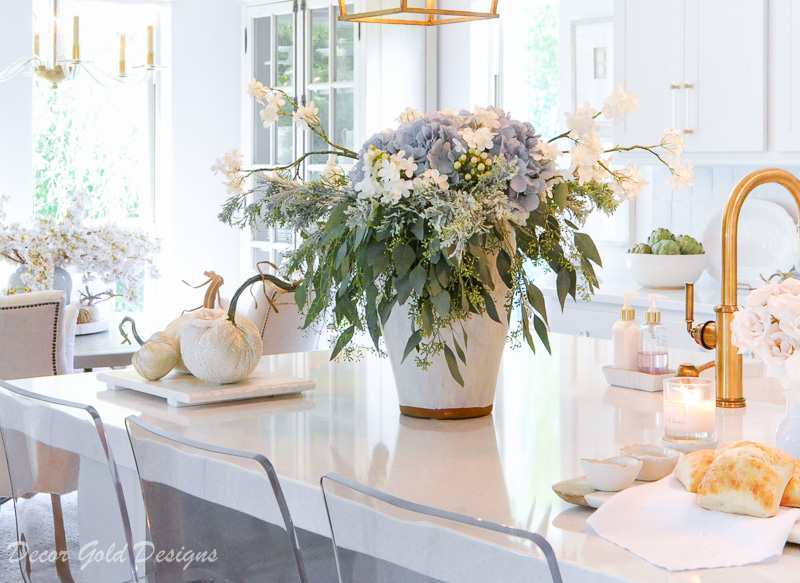 From faux and real flowers to darling, handmade fabric pumpkins with real stems, I simply love decorating for fall!
All of my pumpkins are from Hotskwash by Daria. Daria is known for her exquisite taste and creative designs. Her pumpkins are truly the most elegant, highest quality pumpkins on the market. I continue to add to my collection and can hardly wait to show you more of my latest selections!
Doesn't this darling white boucle' beauty just make your heart sing? The artistry is second to none!
This large arrangement took only a few minutes to assemble. Most of the elements are faux, only the eucalyptus and berries are real.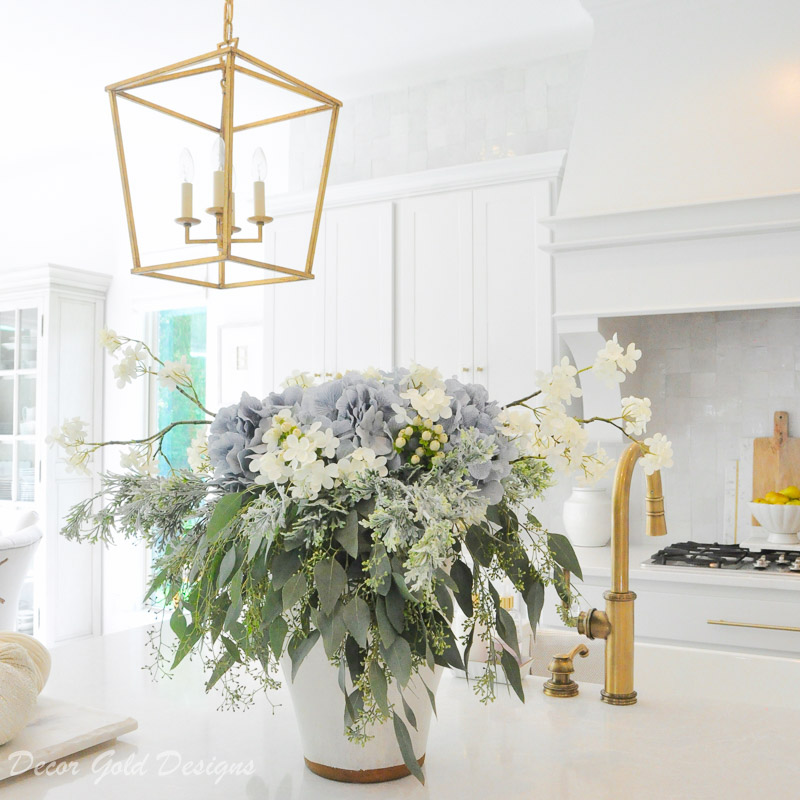 Next to my arrangement, the group of pumpkins on my island provide a layered look with a new gorgeous specialty pumpkin on the counter behind them.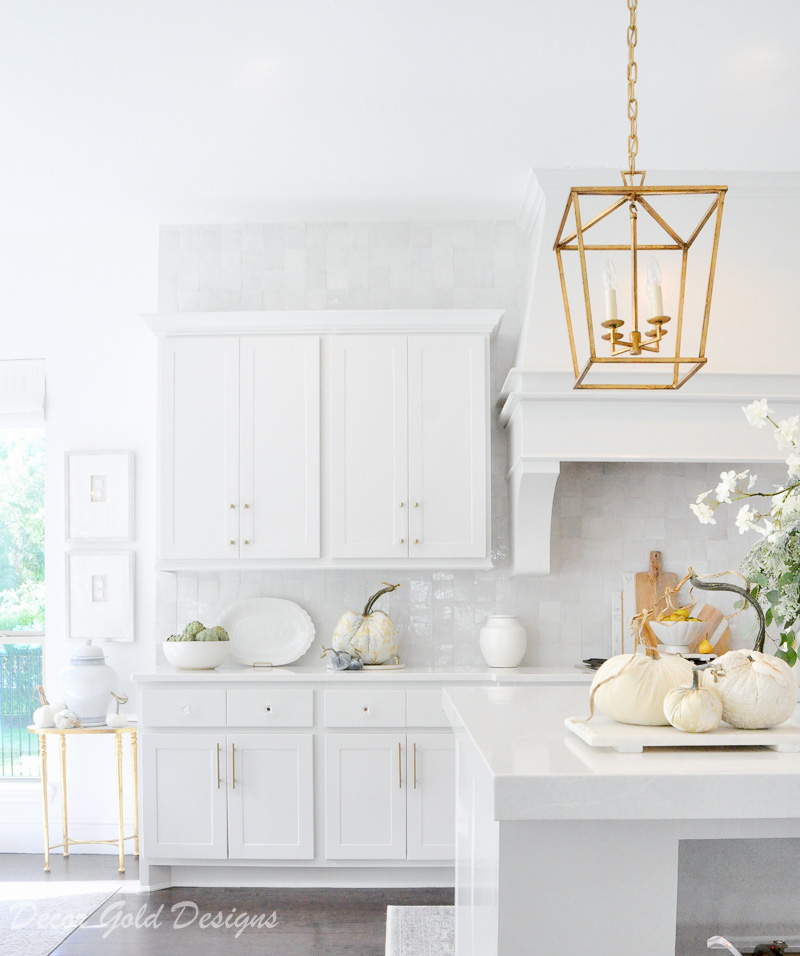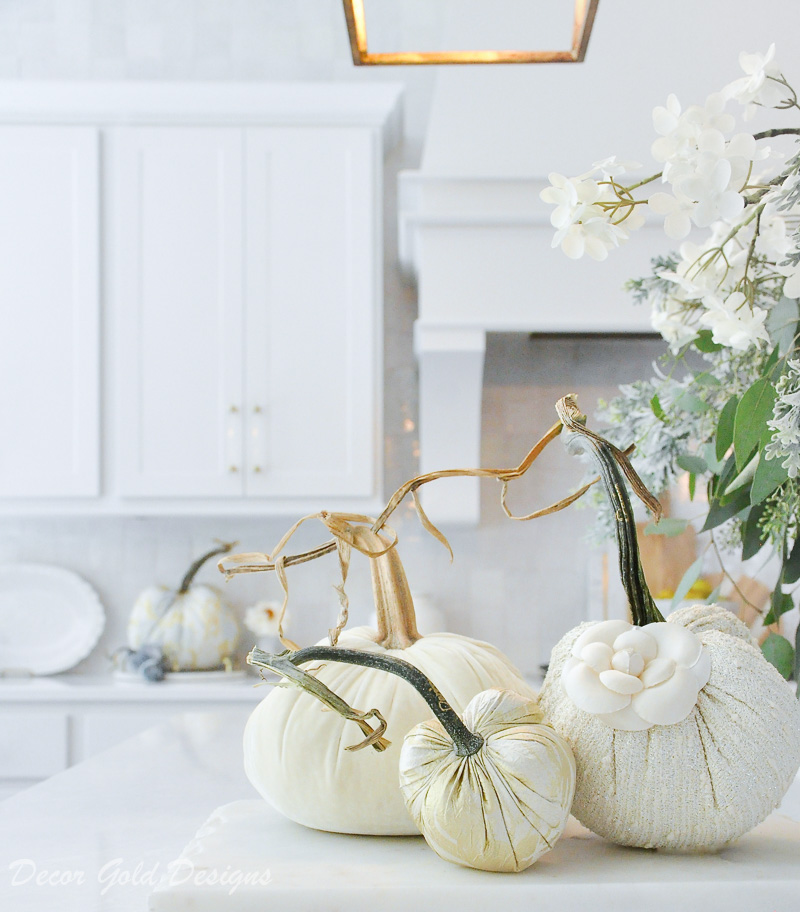 Soft blue roses, gold leaves and scrolls, so dreamy! Hotskwash by Daria's specialty offerings are unique, artistic, and oh so beautiful.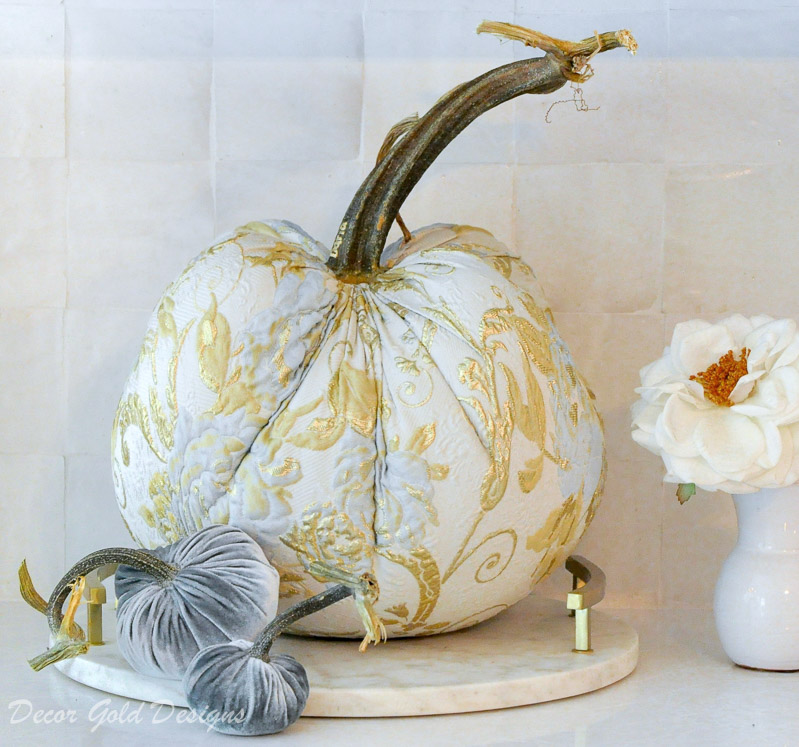 I paired this floral stunner with a couple of small velvet pumpkins. A simple marble cheese board collects them into a group. The small blue pumpkins are actually a new color for this season, "lake". It is the perfect blue, timeless, yet stylish blue. Daria just released it and I am honored to get to share it with you today!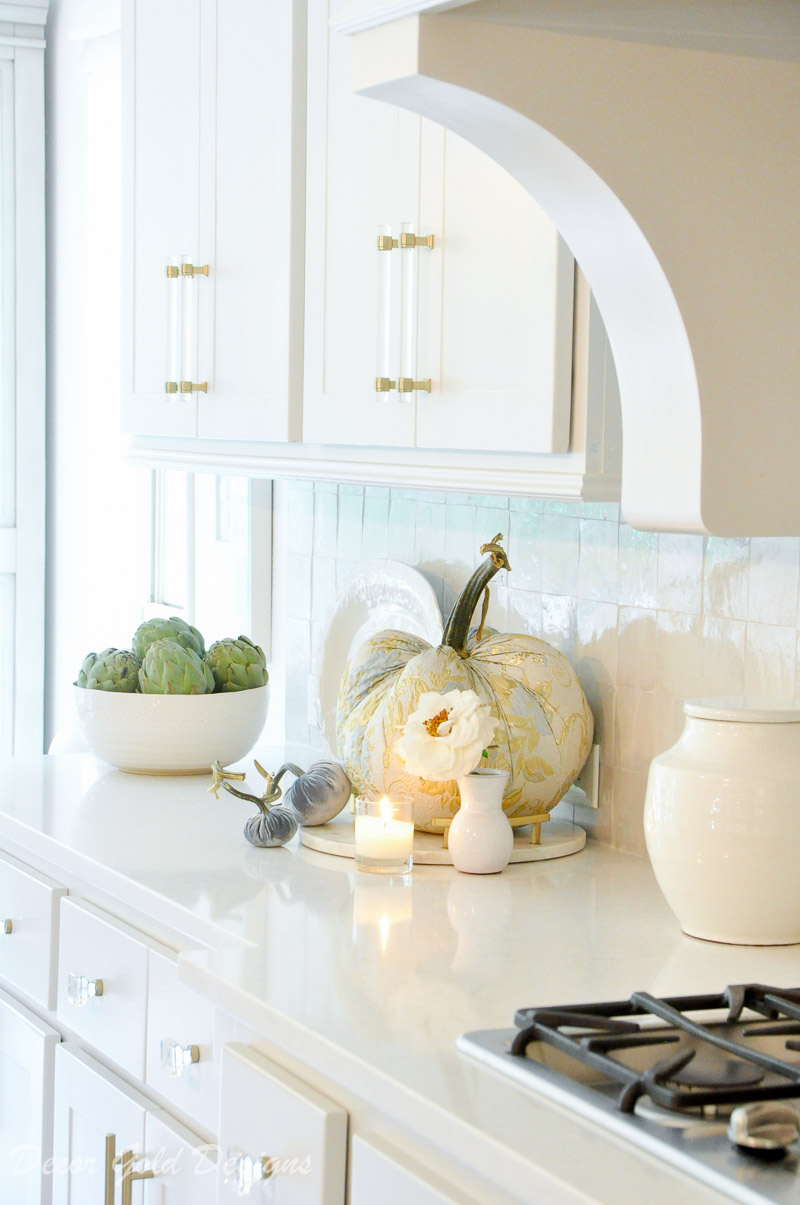 This view, especially since I added a new kitchen runner, draws your eyes to our breakfast room and beyond.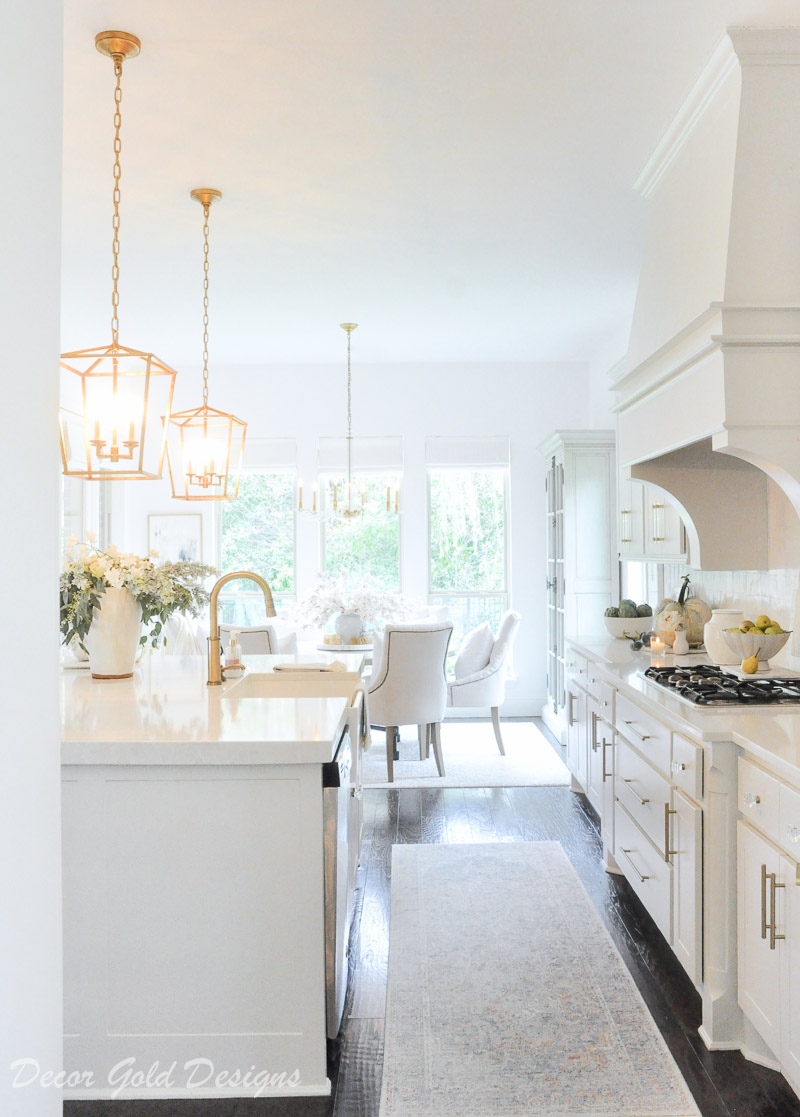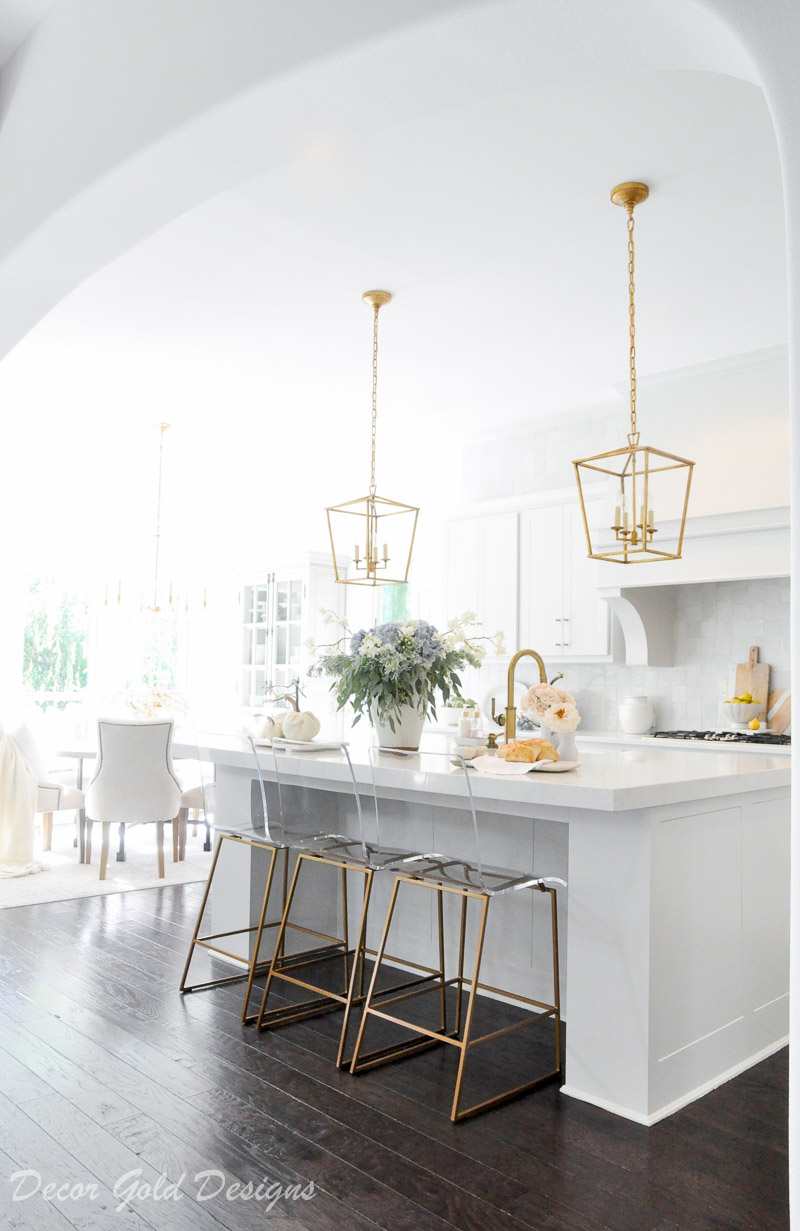 Fall Breakfast Room
Simple changes and soft neutrals are keeping this space warm and inviting.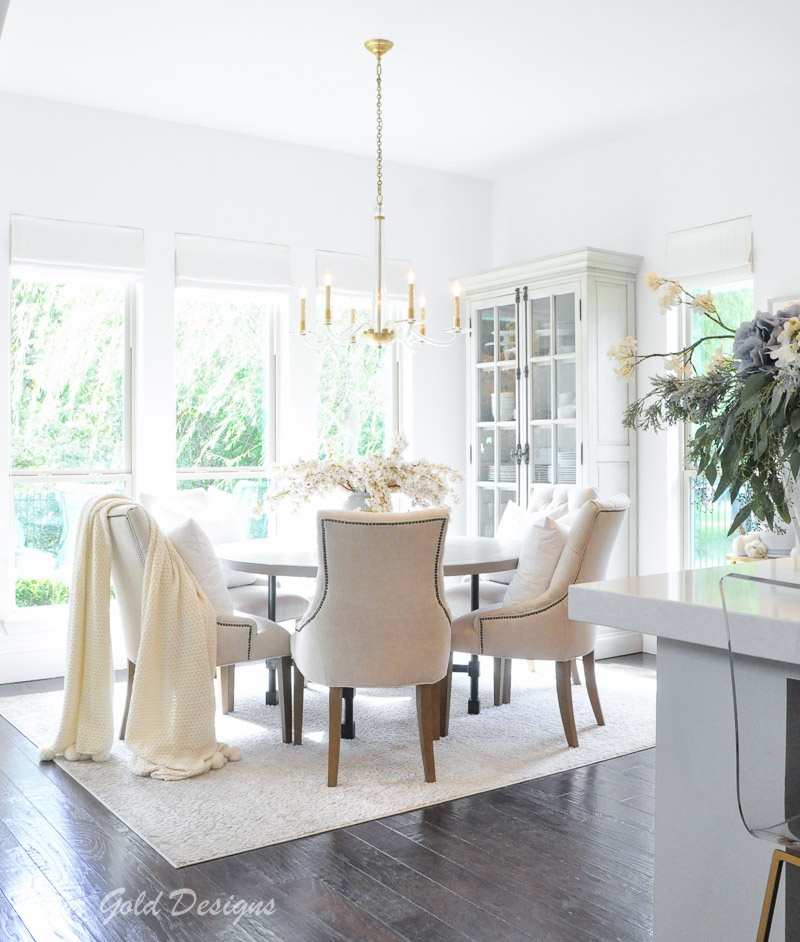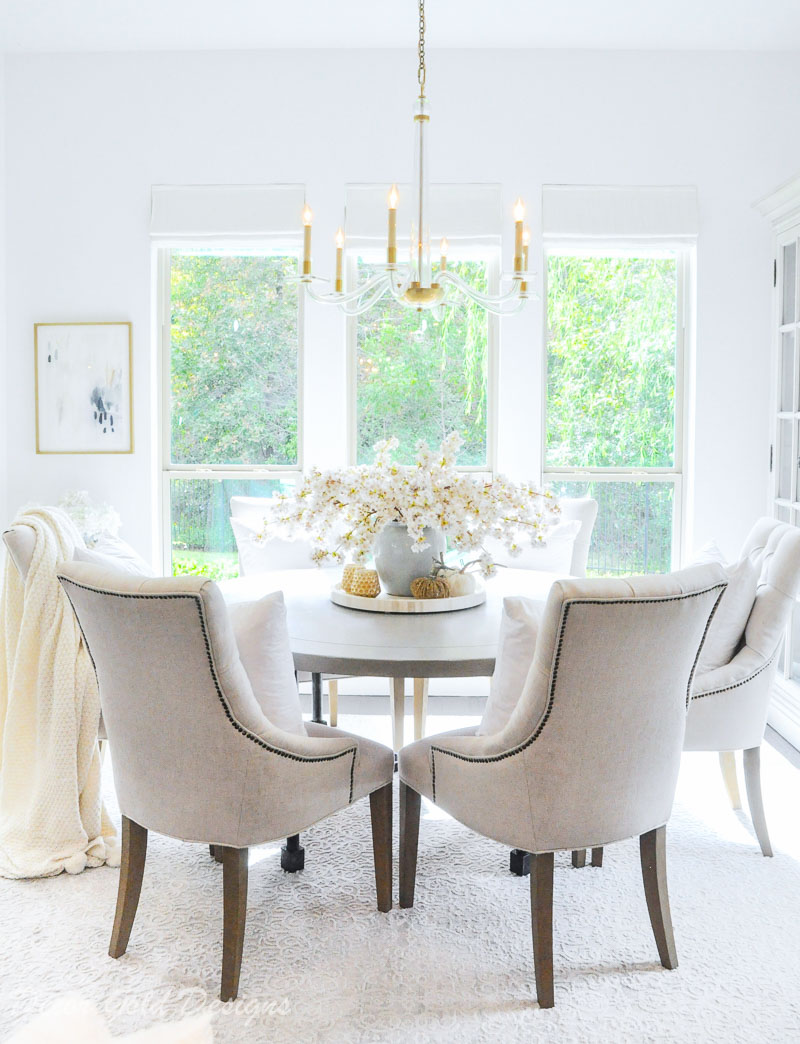 The addition of a bit of gold on my table helps tie this space to our open kitchen.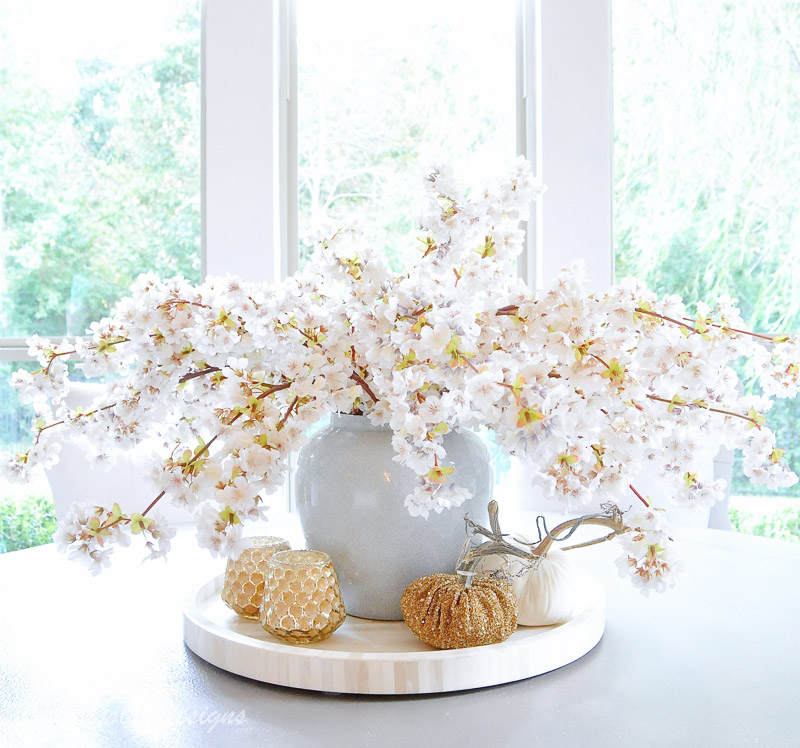 The candles have a spiced honey scent. So good!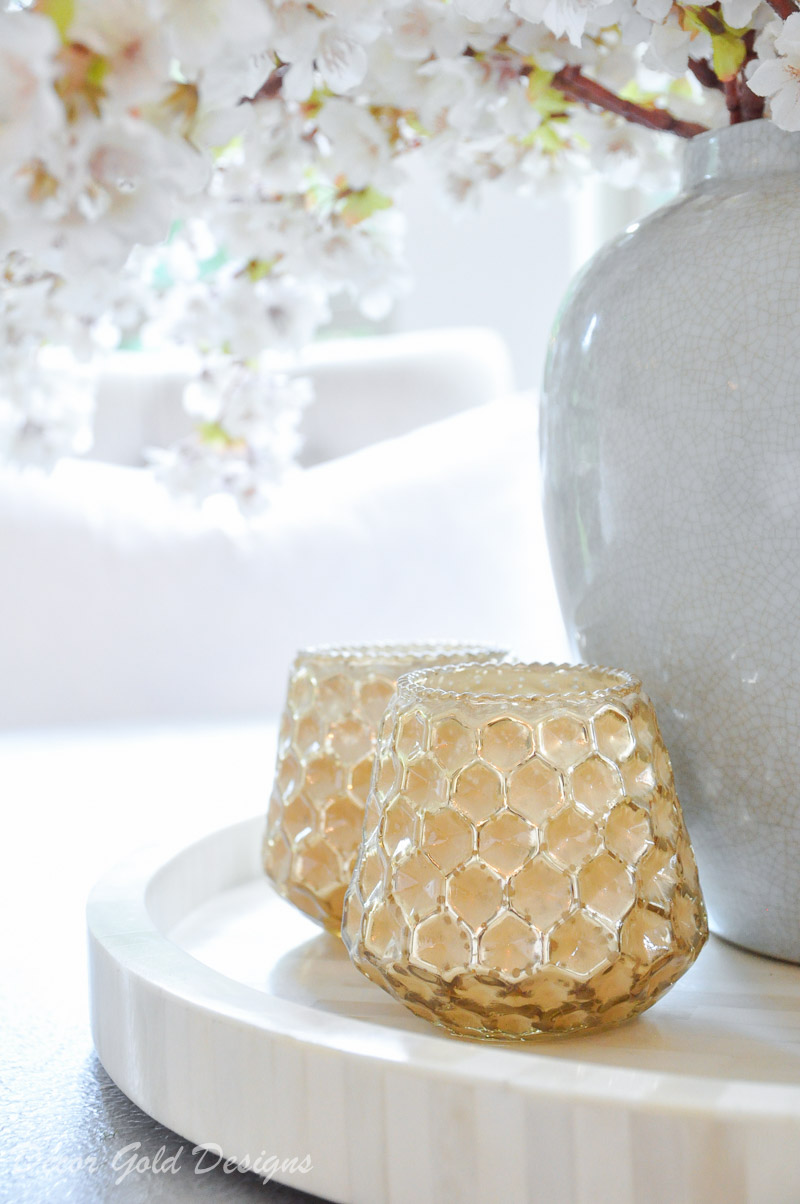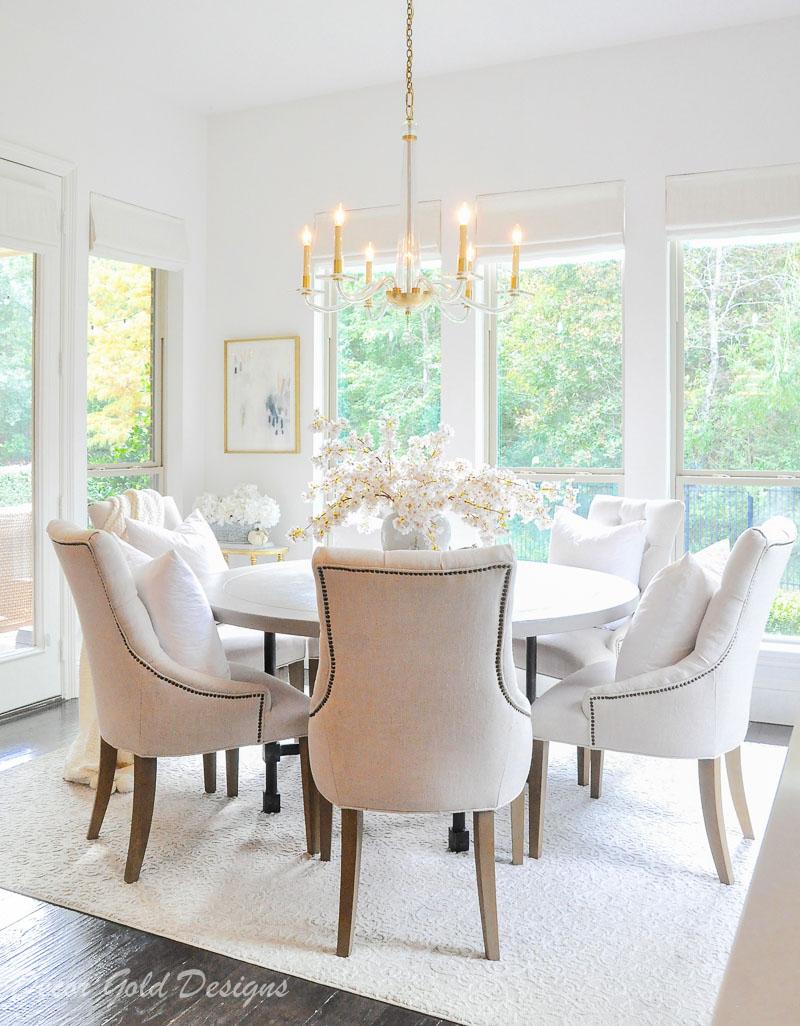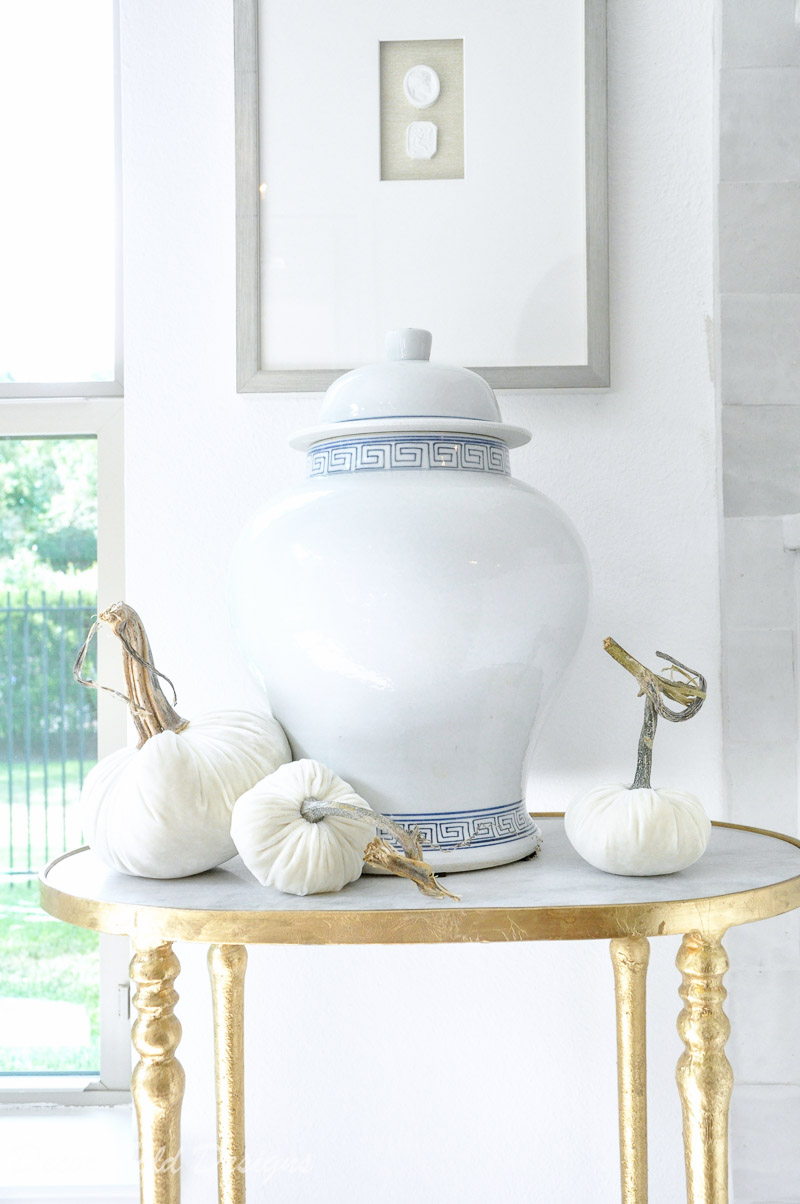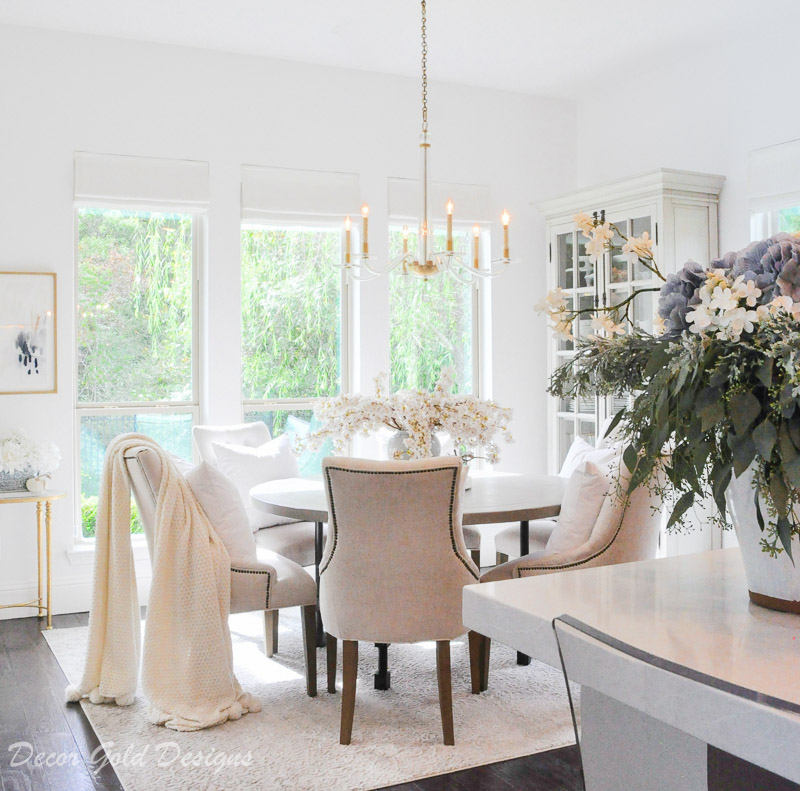 Fall Dining Room
Our dining room will continue to evolve as fall holidays approach. But, for a transitional early fall table, I wanted to add my new lake blue pumpkins. A wide, shallow bowl of flowers gives the table a feminine fall luncheon look.
I love the colors with a little bit of gold from the flatware.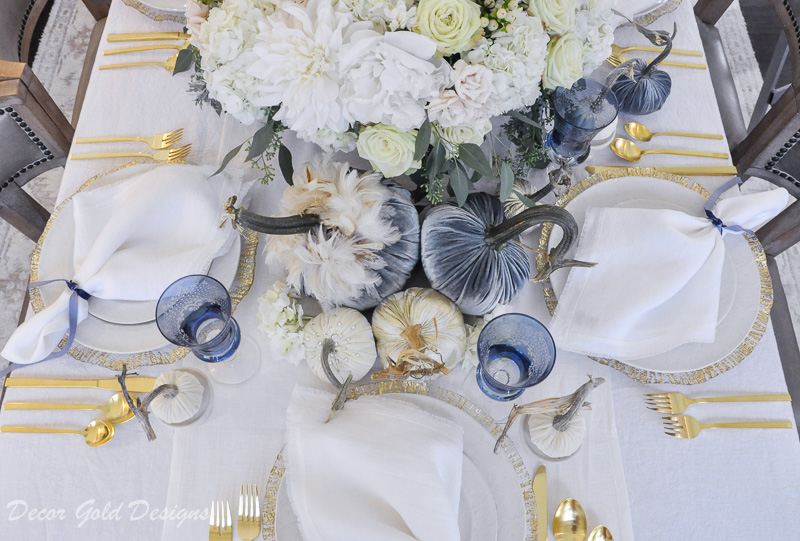 Blue velvet ribbon and blue glassware ties everything together.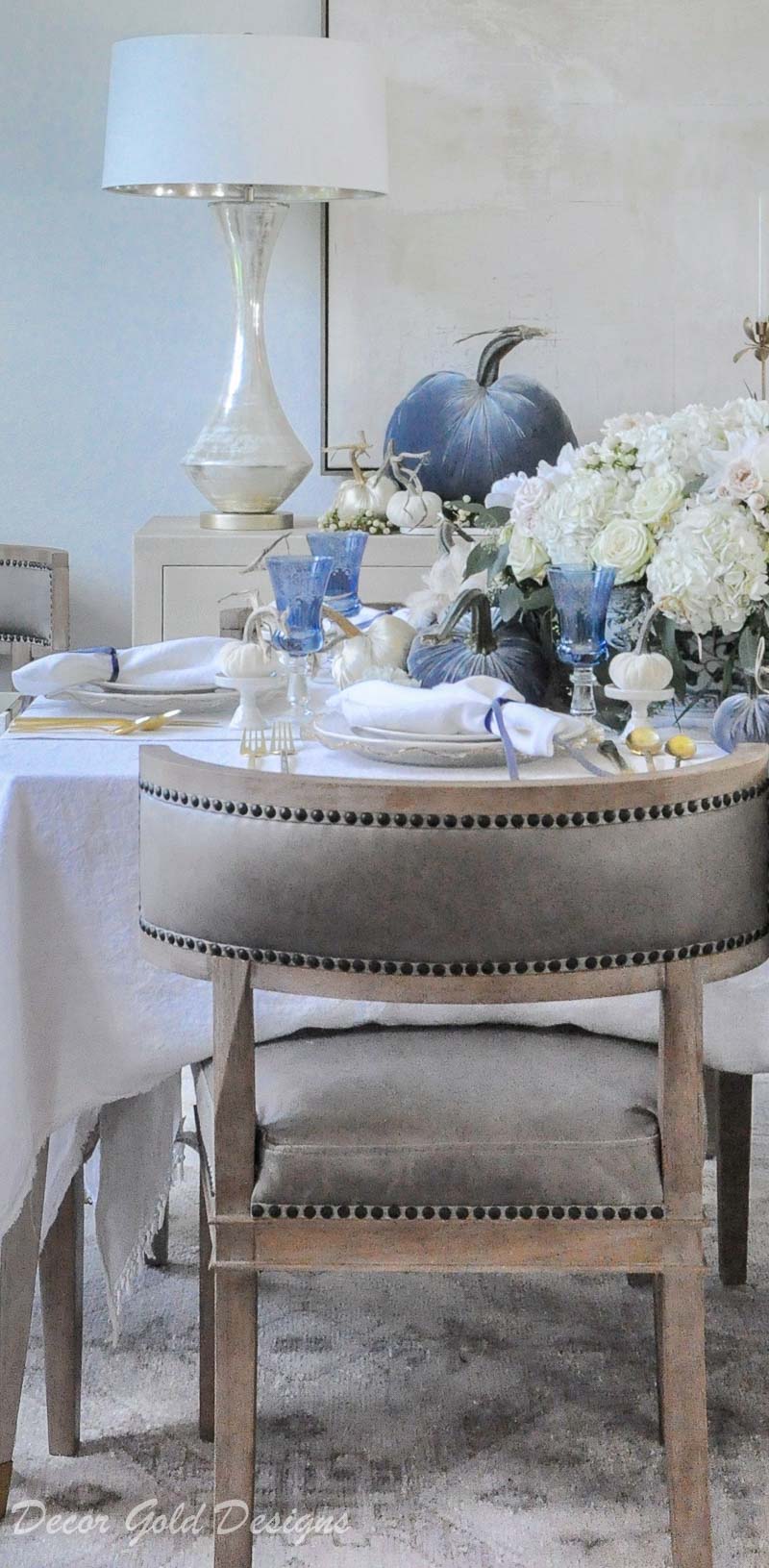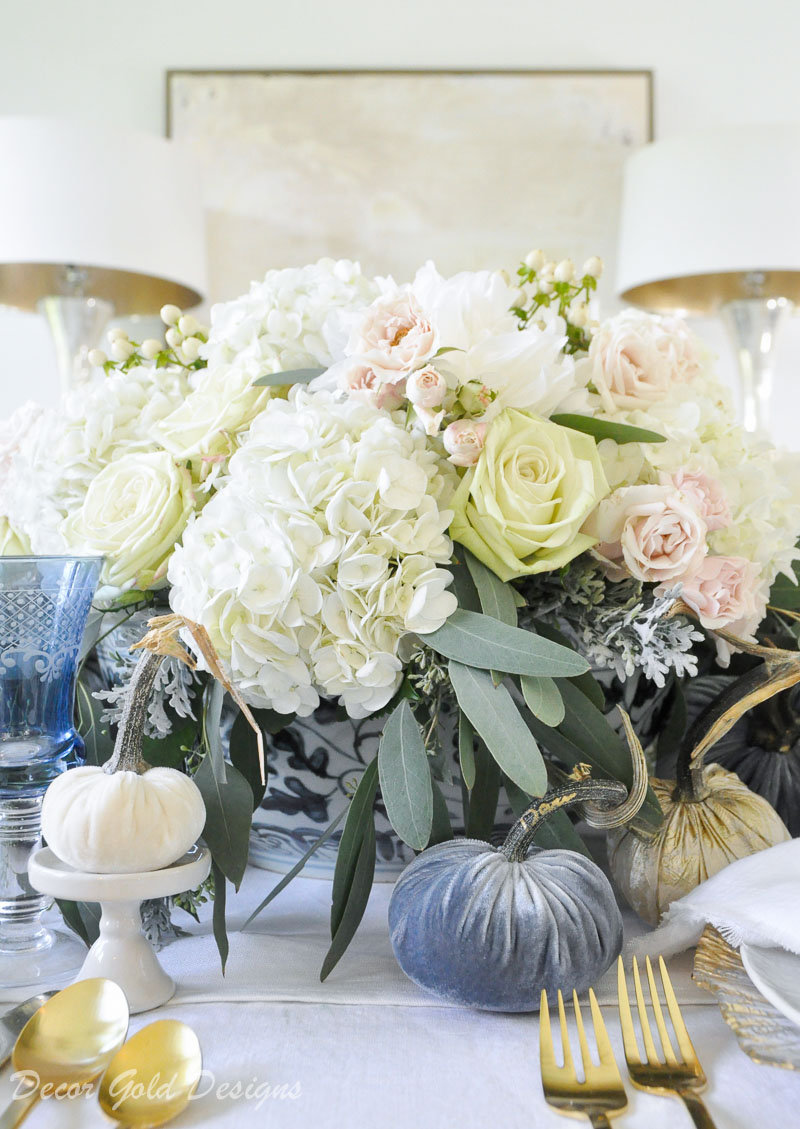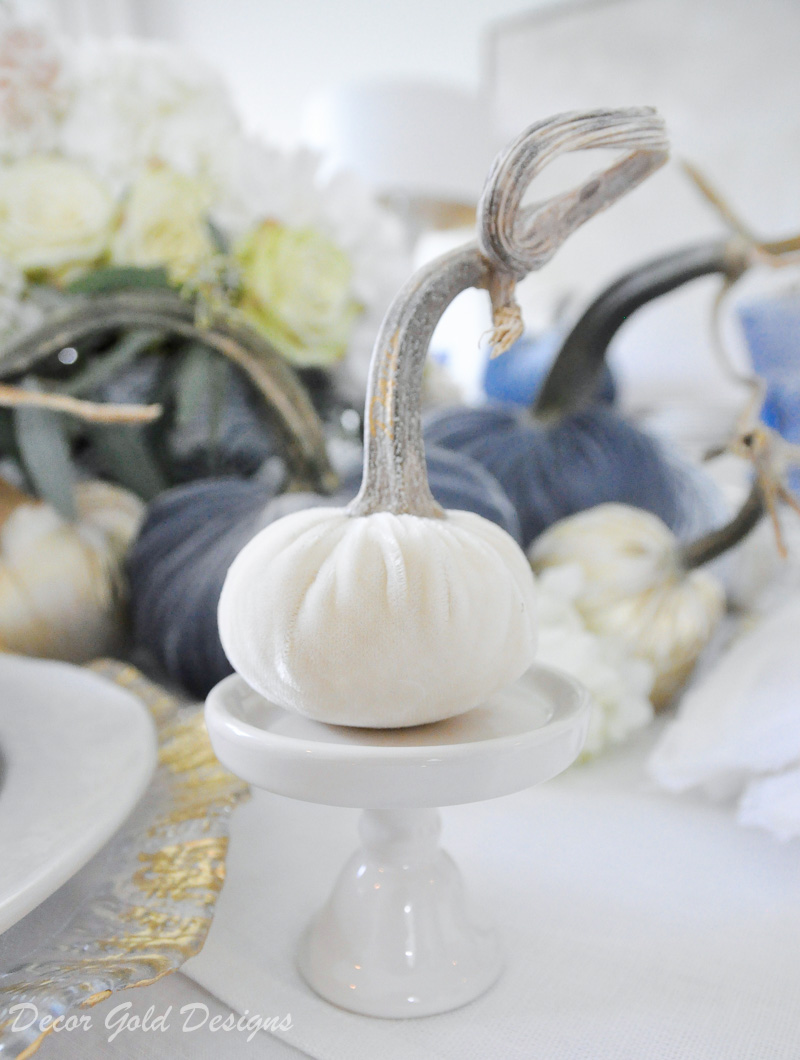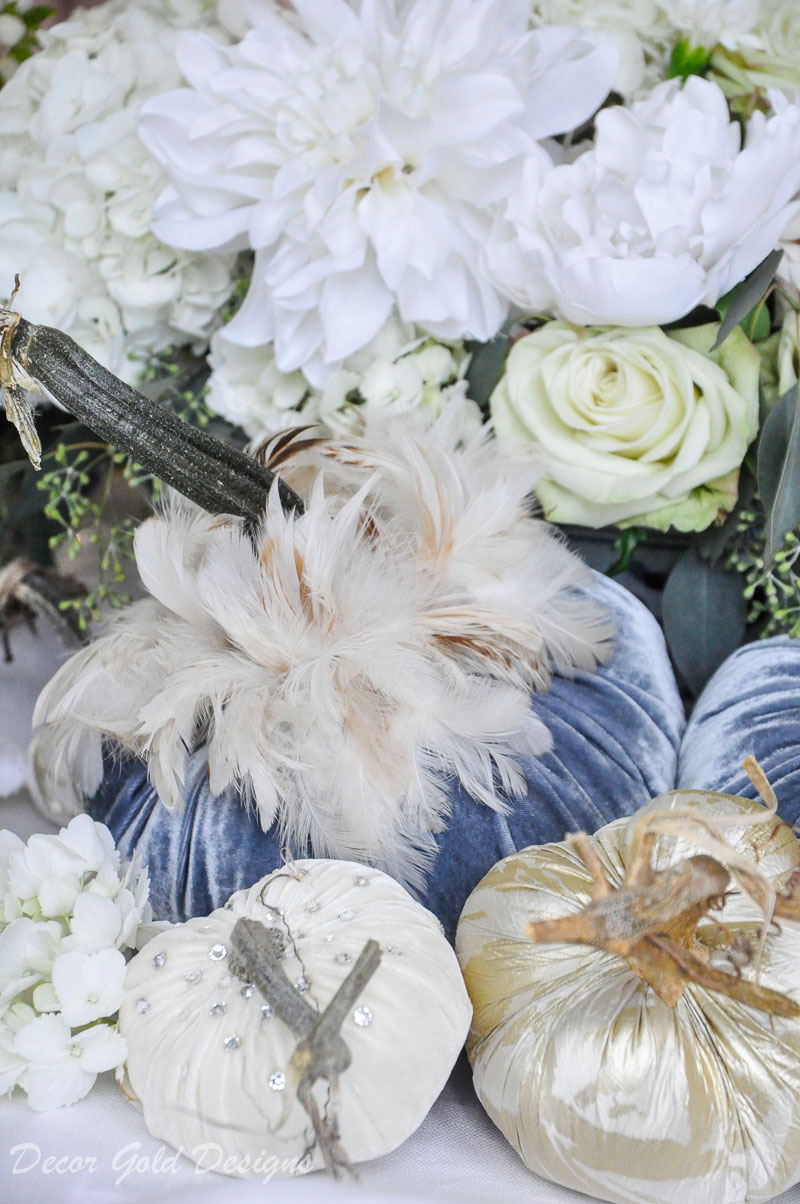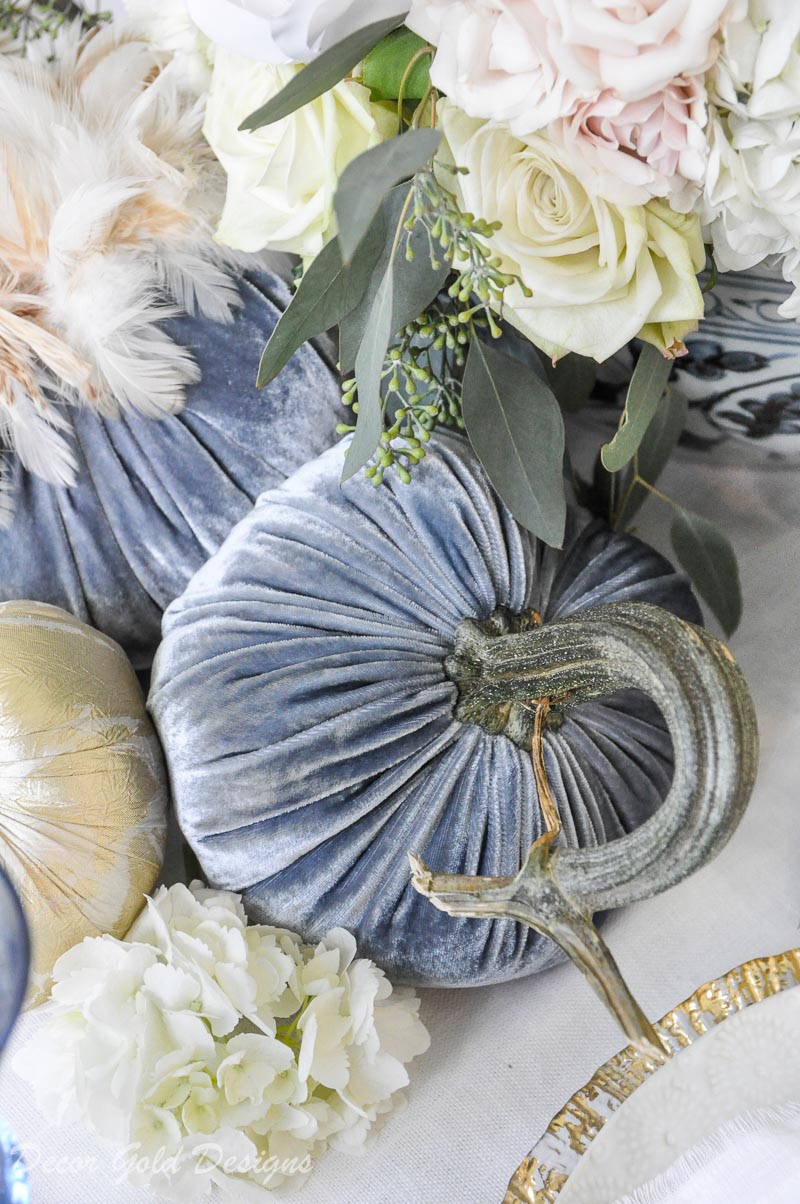 By the way, playing with velvet pumpkins and flowers all day is officially my dream job!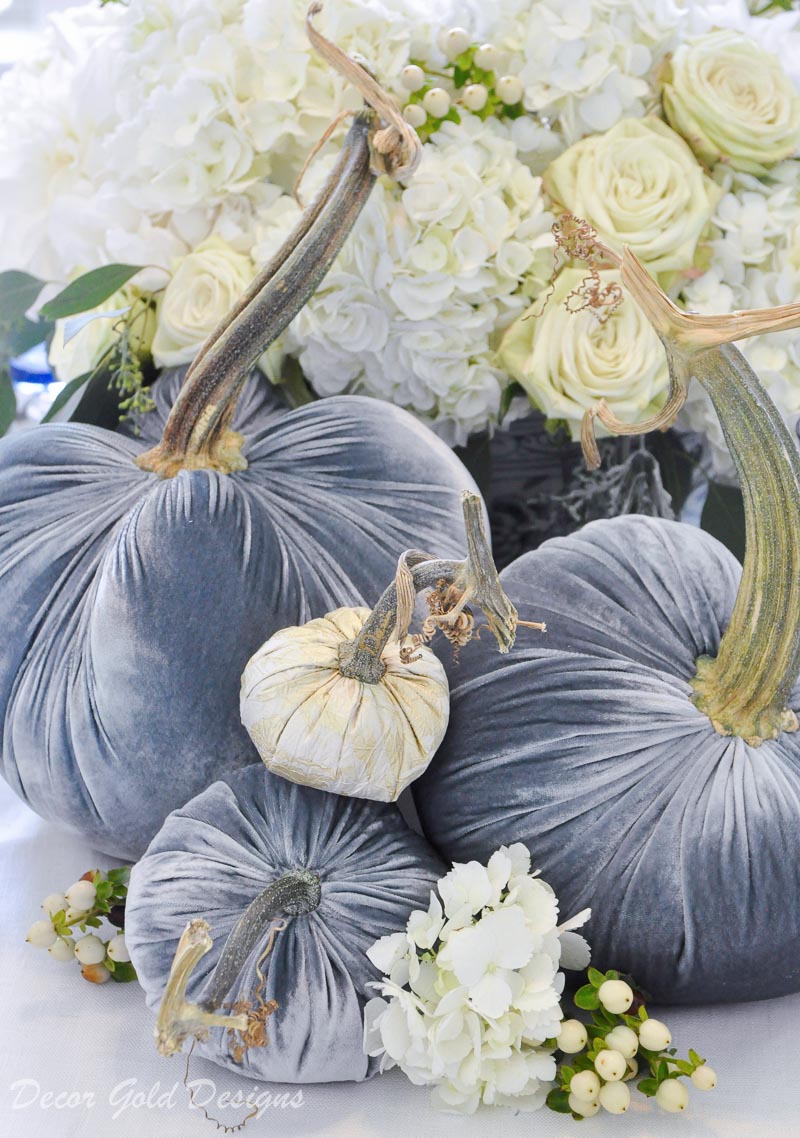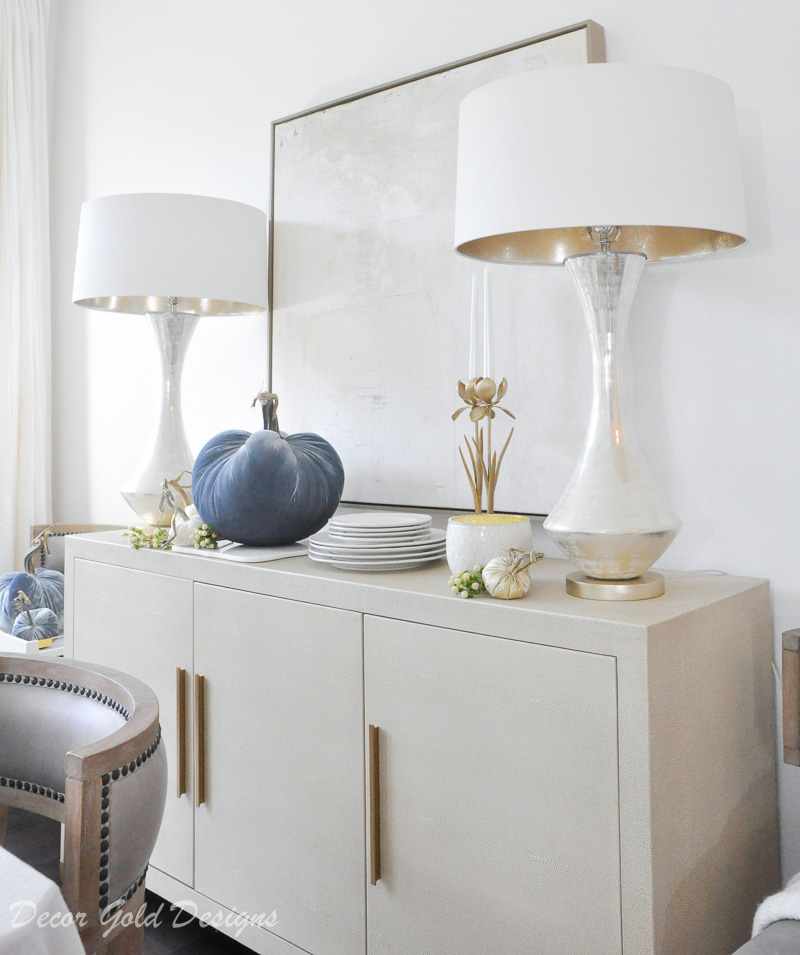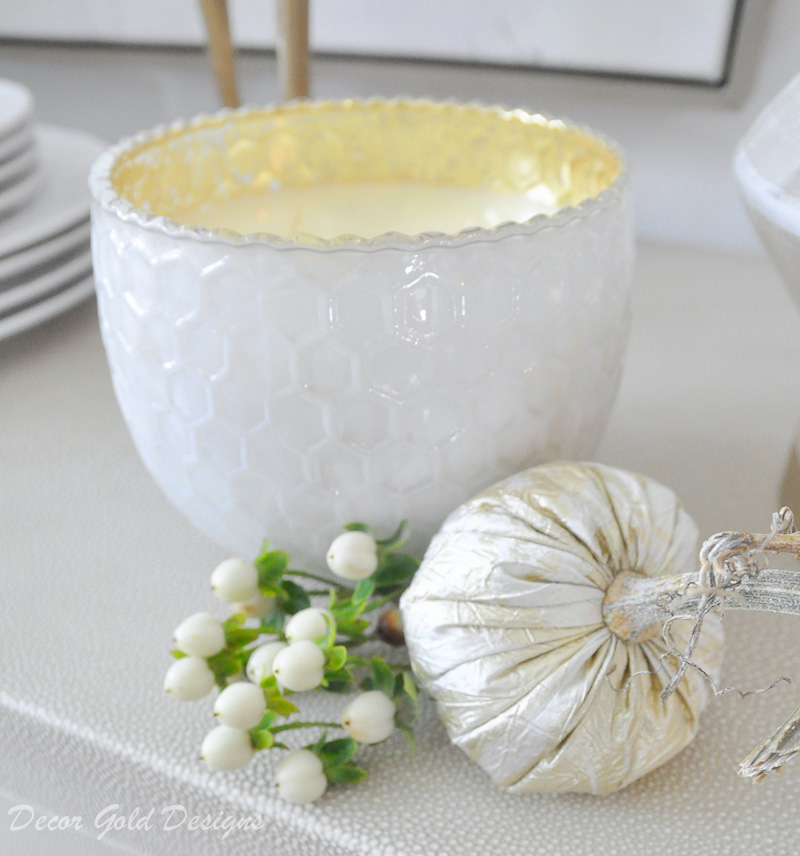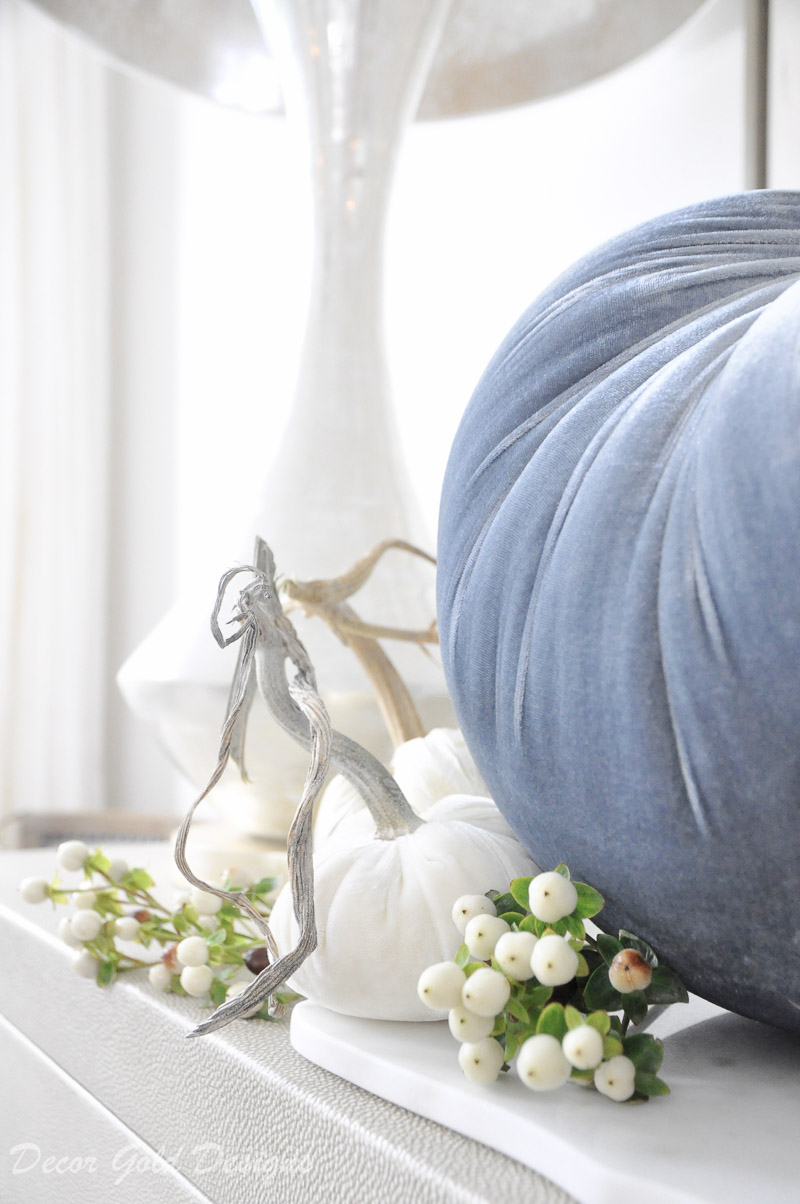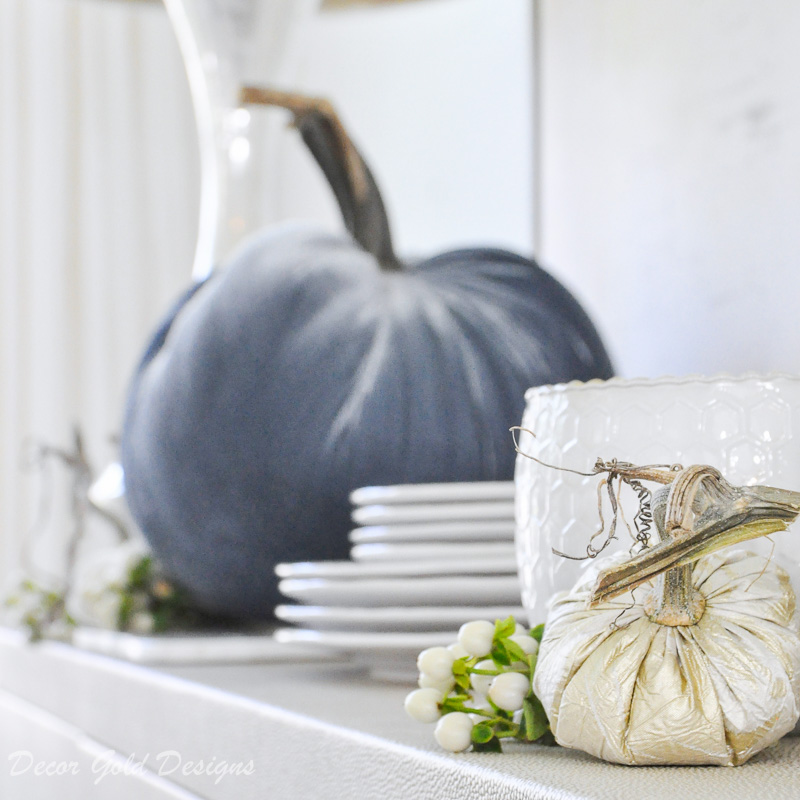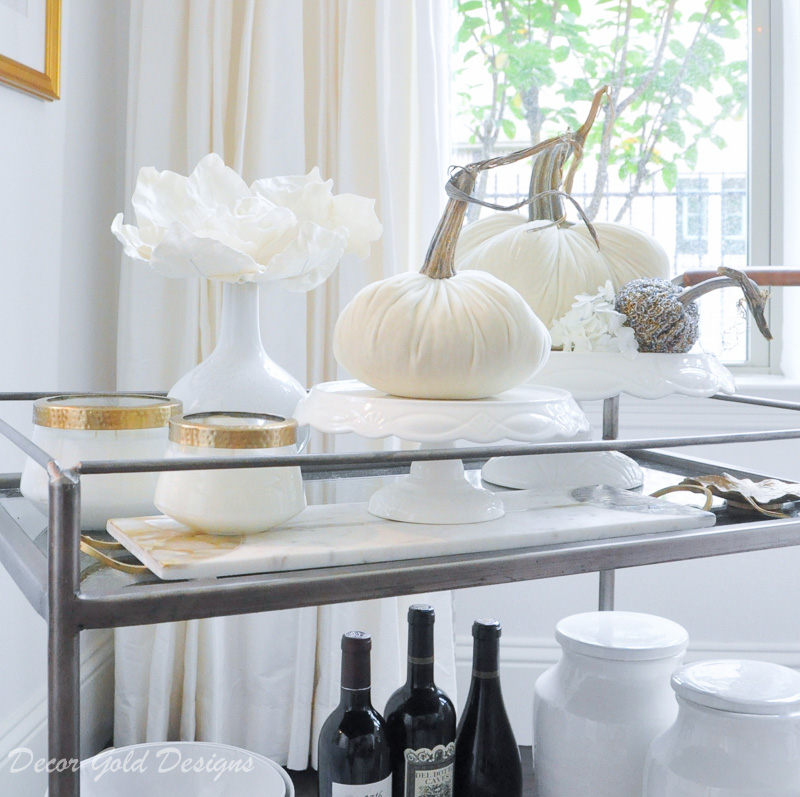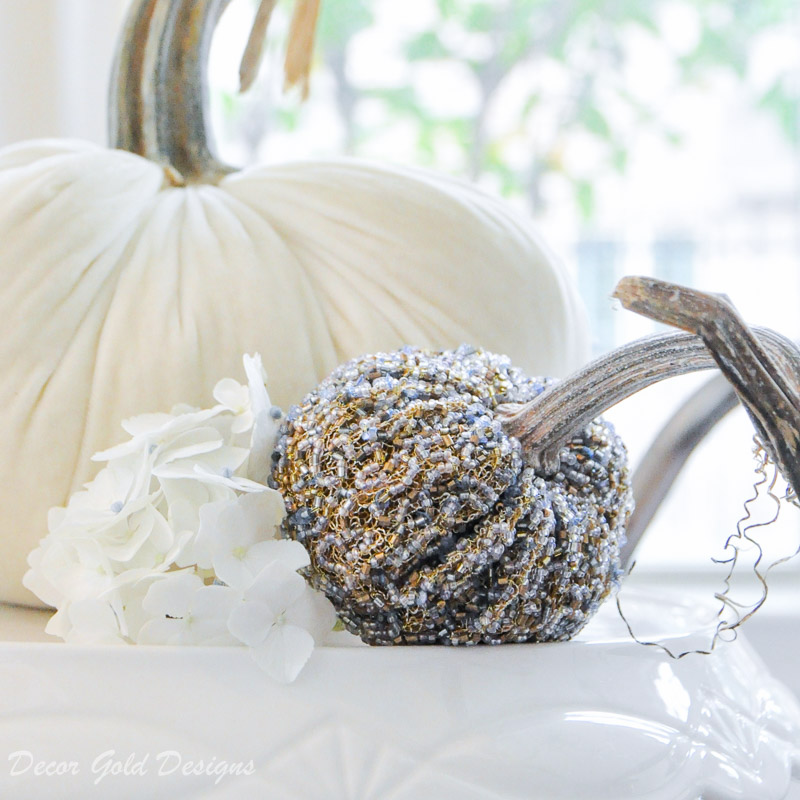 Shop the faux flowers & branches used in our fall home!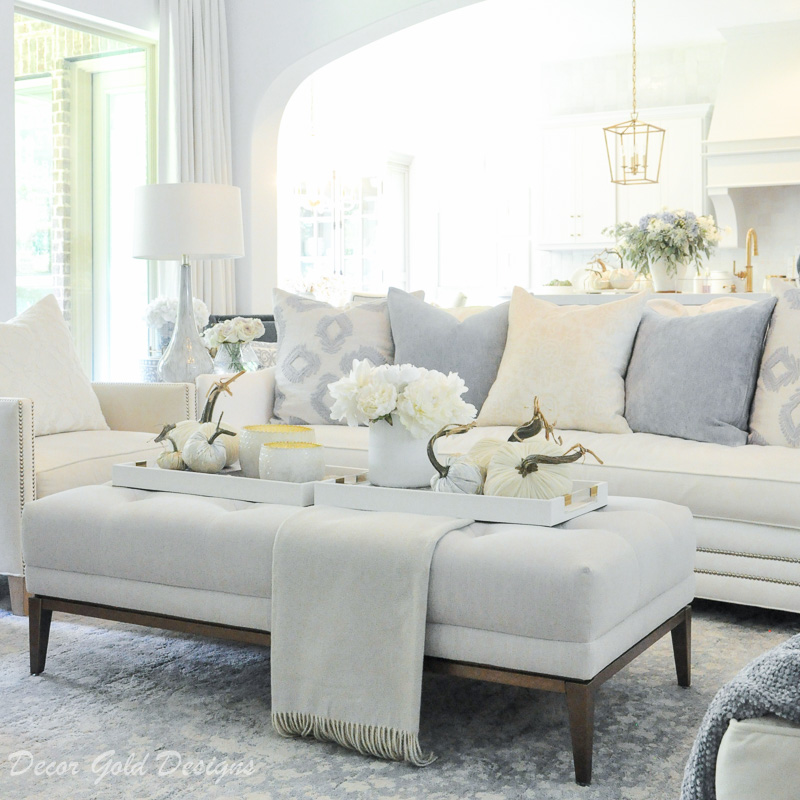 SUBSCRIBE here!
Or click on the image to subscribe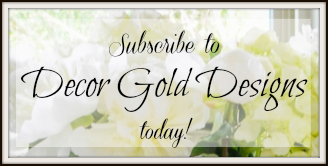 SOCIAL
Instagram | Pinterest | Facebook
Follow me on the LIKEtoKNOW.it app!