It has been about 18 months since I turned our empty room into a guest bedroom. The day of the reveal, the room was much improved from it's previous state. Even though few things were missing, I didn't mind at the time.
A couple of months ago, in the middle of several other home projects, the urge to finish the room started to grow inside me. I worked on it as I could and today, I am thrilled to share our guest bedroom finishing touches with you!
*This post contains affiliate links. Please find our full disclosure here. Also. this post is, in part, the result of a collaboration with Martha & Ash. All comments and opinions are 100% my own.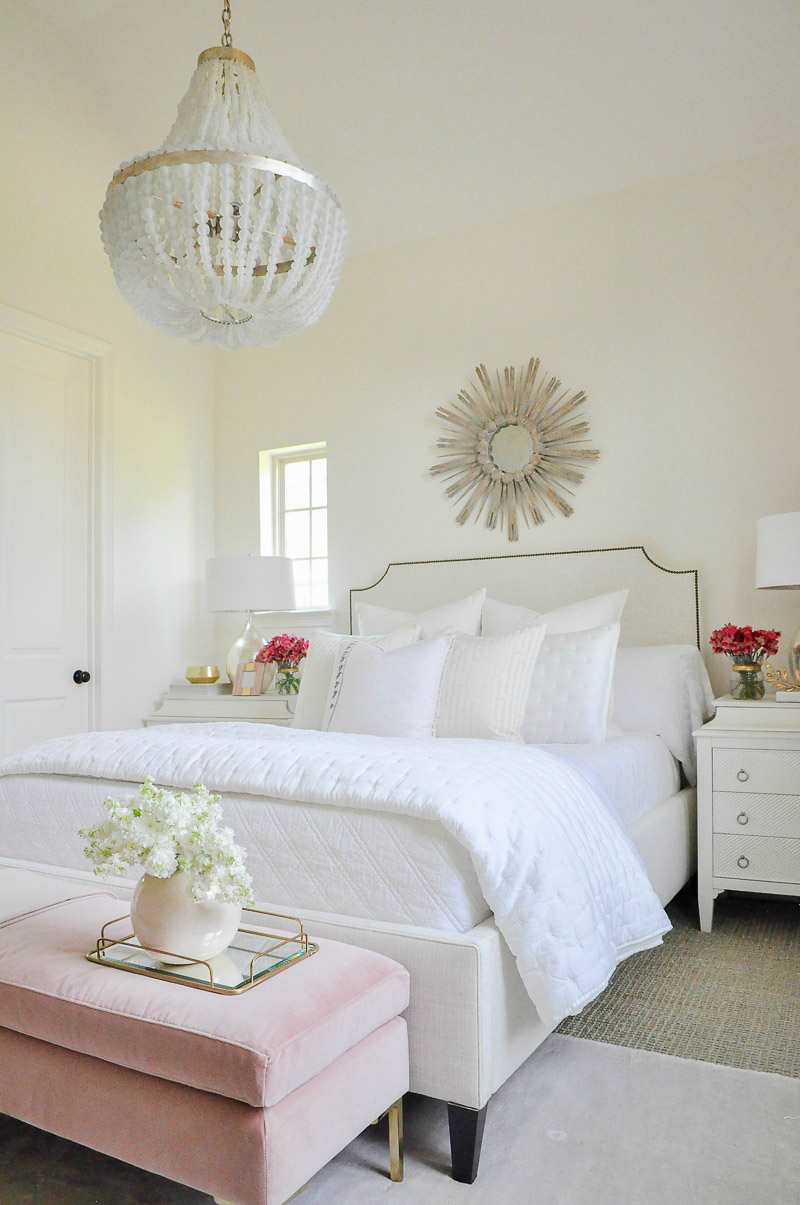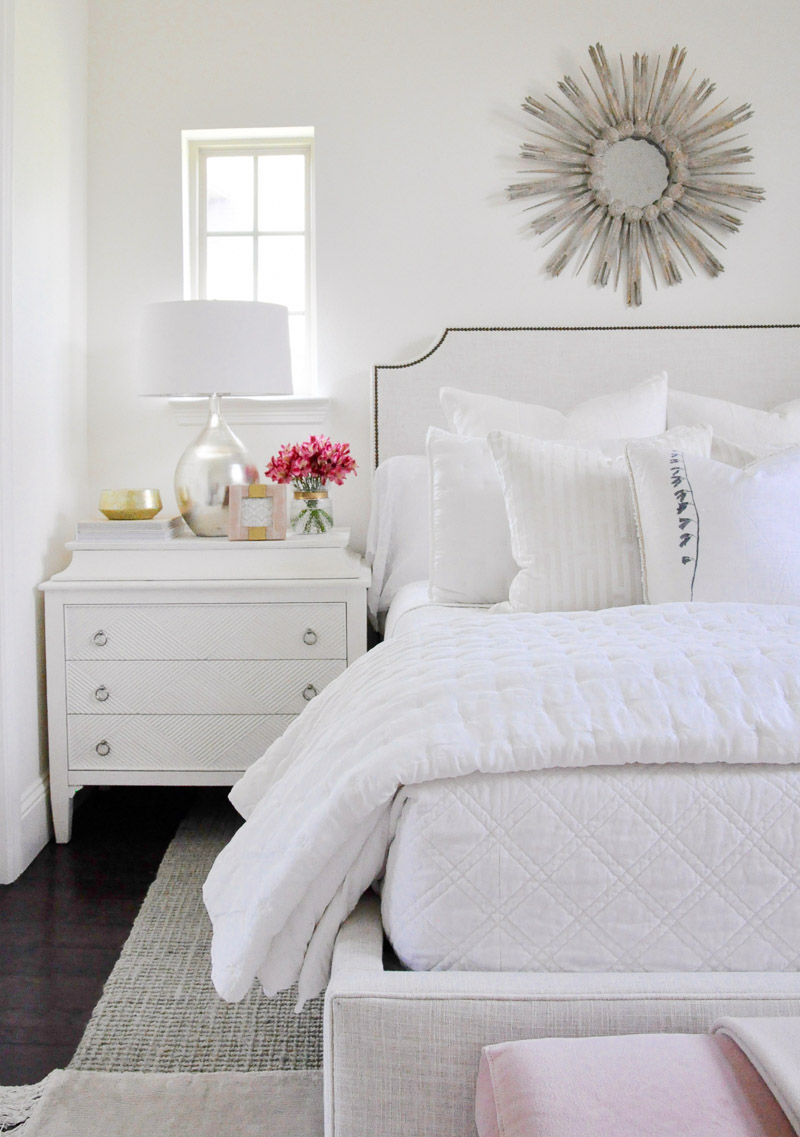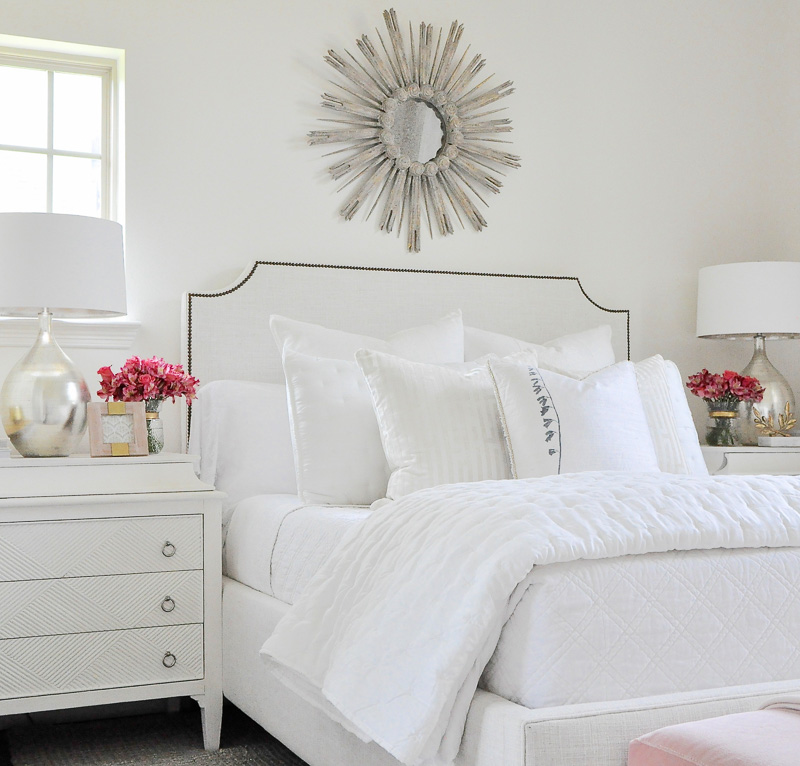 Paint
When we built this home, we had our builder paint all of the walls and trim light taupe. Upon moving into our new home, this was the first room I was going to paint, but somehow it got postponed. Again, when this room was my One Room Challenge project, I wanted to paint, but didn't get to it. In the meantime, we had almost every other room in our home painted!
Finally, this summer, our painter did the job. The new wall and trim color is Simply White by Benjamin Moore, which I also used in our other guest bedroom and I love it!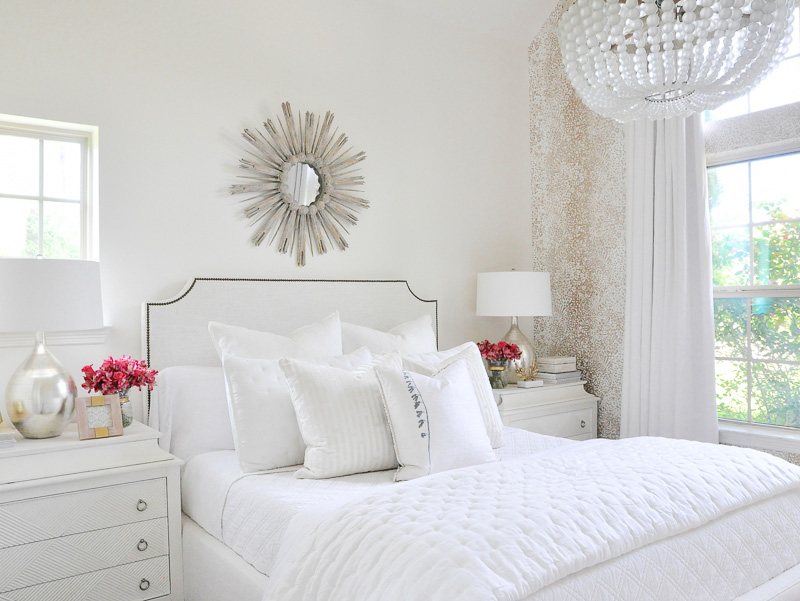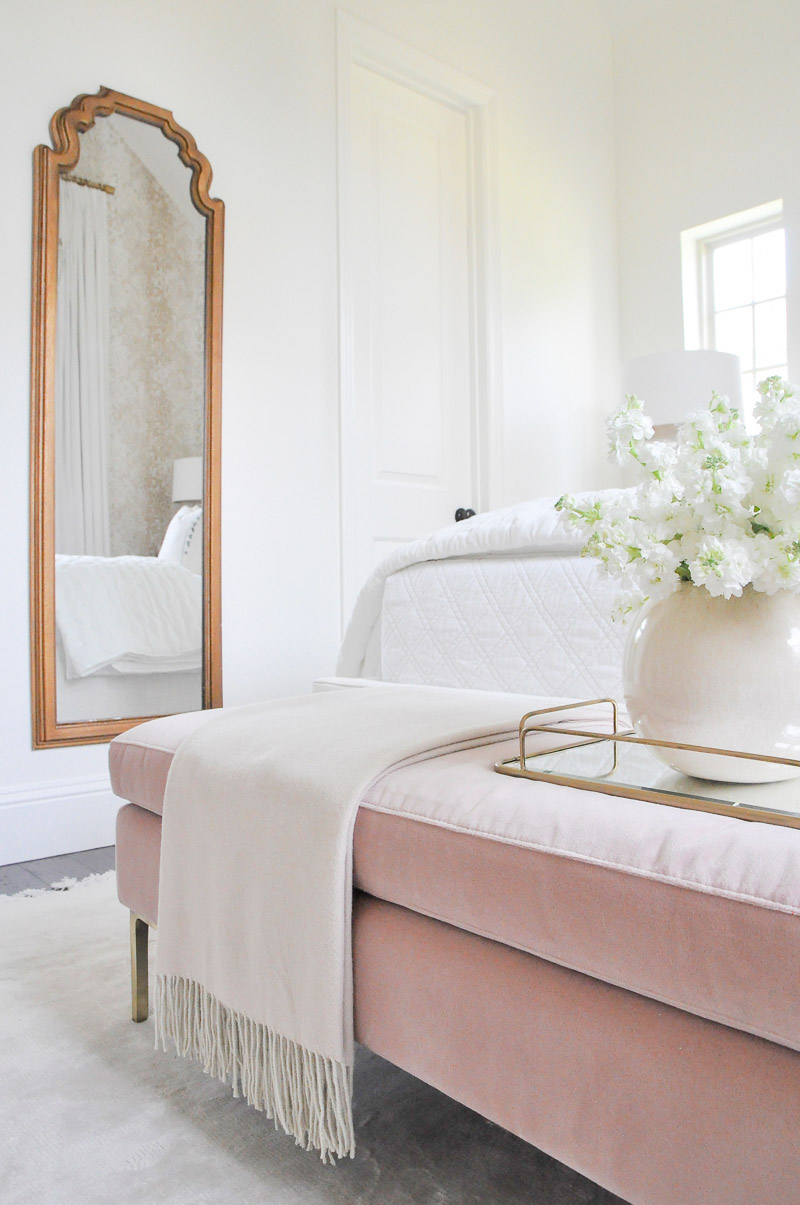 Wallpaper
I originally purchased this wallpaper for another space, but decided against using it there. Once I saw it in here though, I loved it and knew it was the perfect paper for this wall.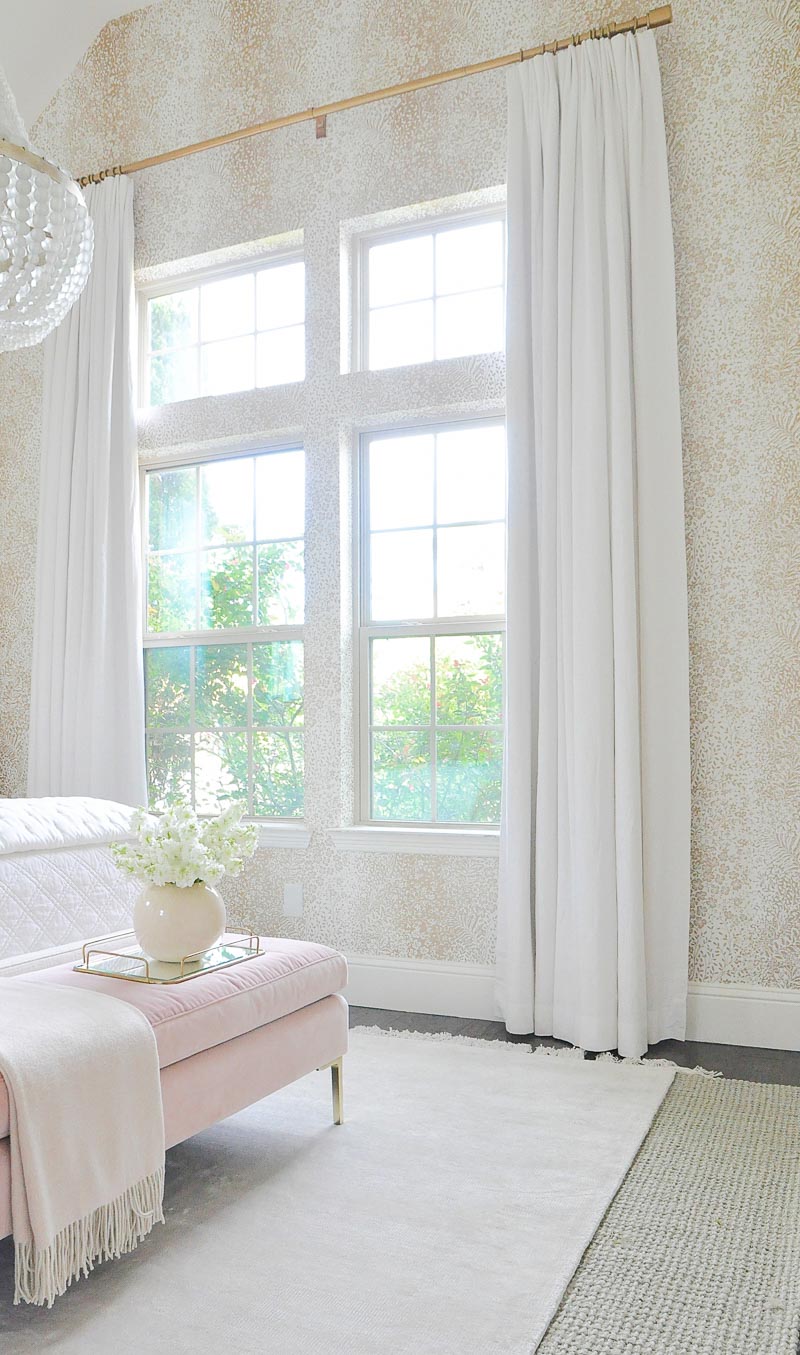 Draperies
Now, for the star of the show, the draperies by Martha & Ash!!! Martha & Ashley are a mother-daughter team from South Carolina and you can sense their passion for what they do right away when you visit their site.
Everything is custom made in their workshop, and the quality is second to none!
I always knew I would be adding draperies to this room at some point, but I am so glad I waited until I found Martha & Ash. Here are the finished draperies!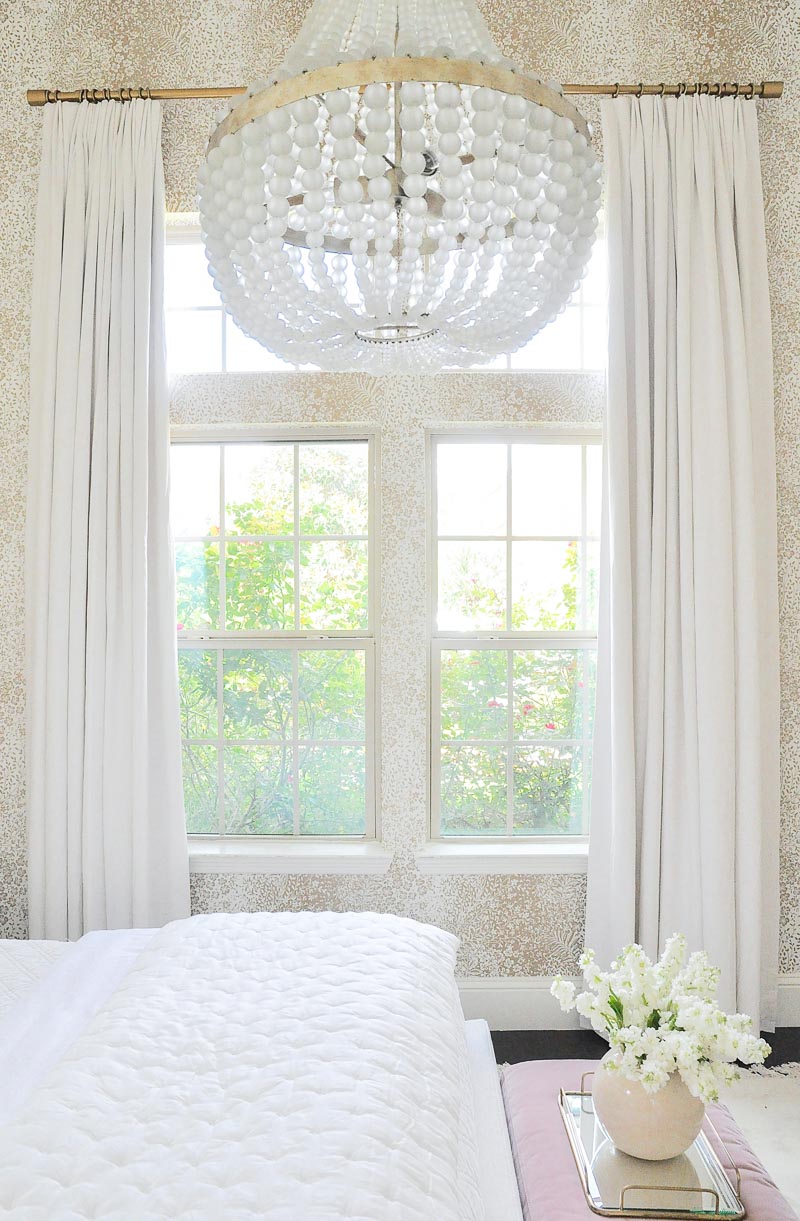 You may have seen my fabric swatches in a project update post I recently published.  The white linen I selected is called "Stark".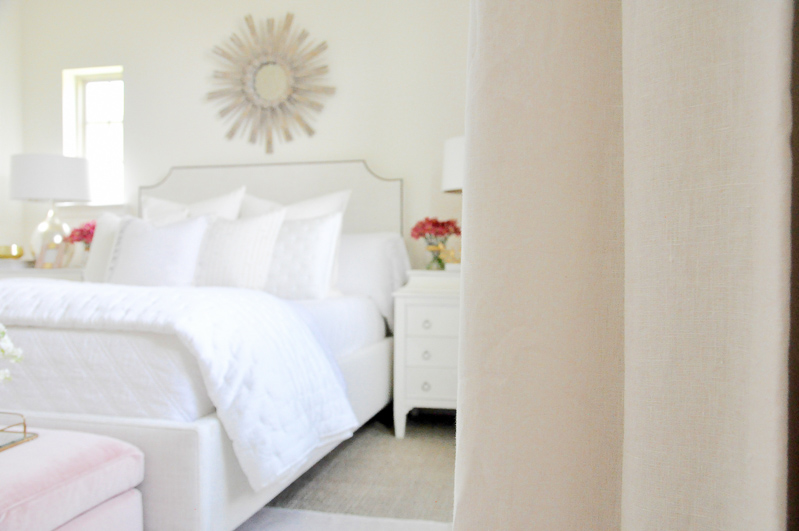 I also chose the to go with blackout lining. Let me tell you, it is AMAZING!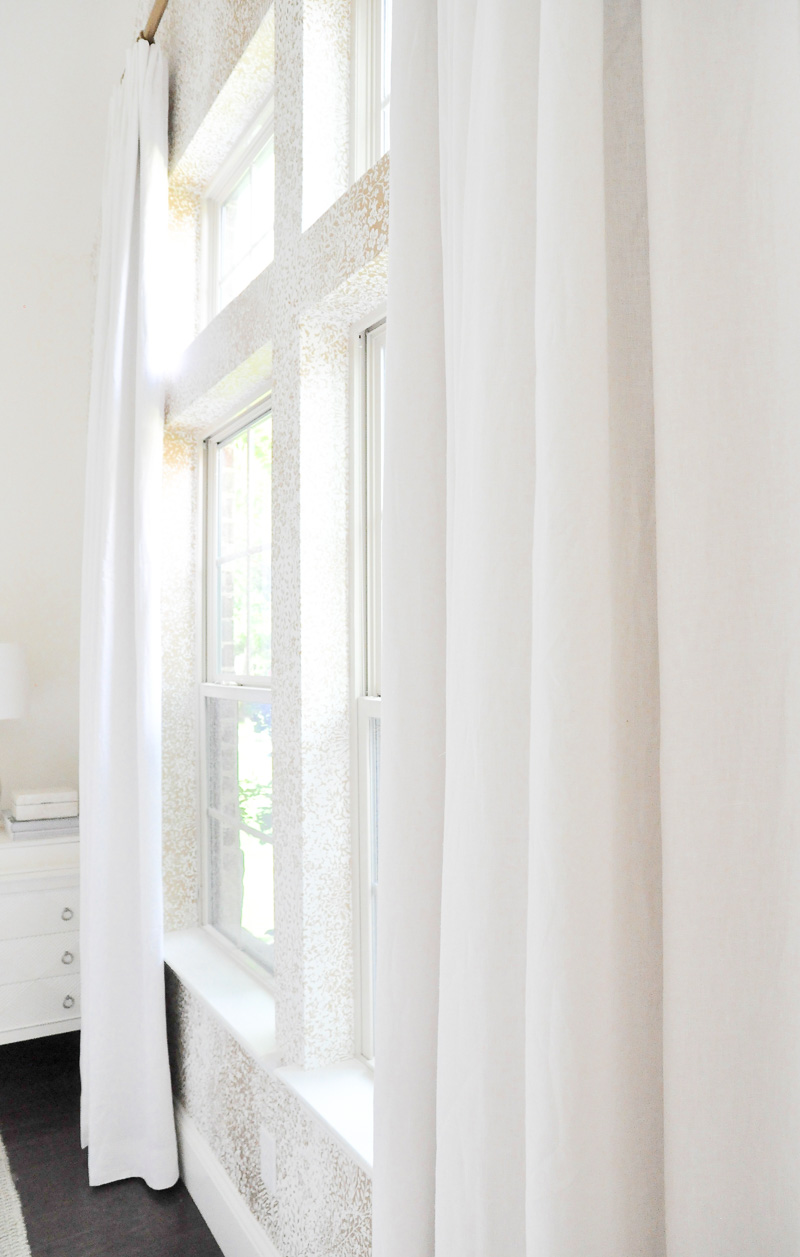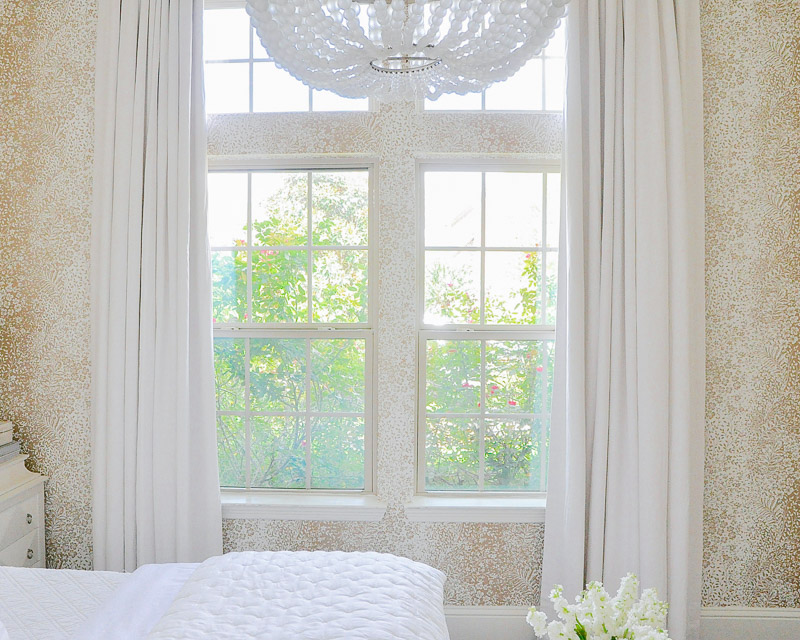 I can't wait to show you my next project with Martha & Ash!
Blush velvet bench
Knowing I wanted a bench at the end of the bed, I was thrilled to find this gorgeous velvet one! The Aidan Gray gray chairs I previously had in here are currently in our living room. Because furniture (especially smaller pieces) tends to change locations from time to time in our home, I felt great about choosing a blush colored bench. Our home is predominantly neutral, so the bench can be relocated to another room if I choose a different accent color for this space at some point.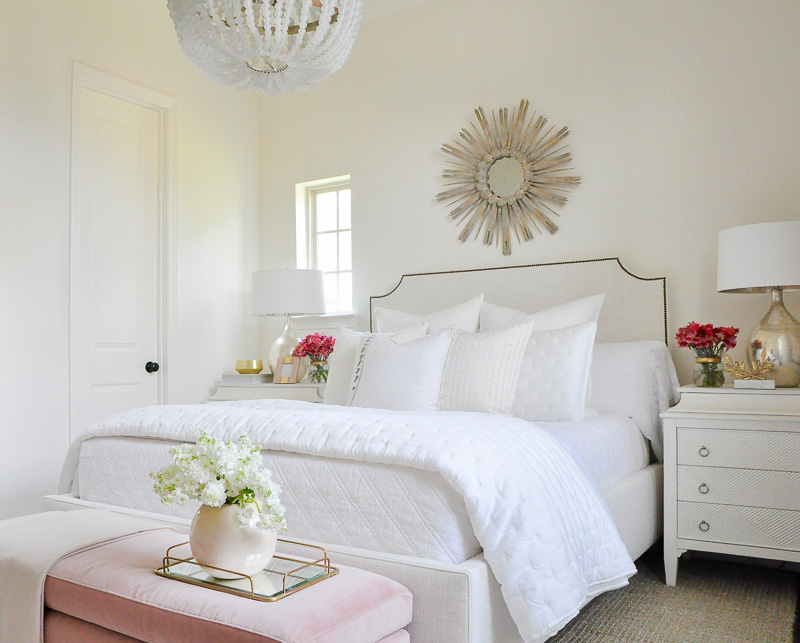 I want all of the rooms in my home to feel inviting. (Well, maybe not the utility room!) A blush throw blanket in a more subtle shade and a small brass tray with a vase full of fragrant stock helped create the look I wanted.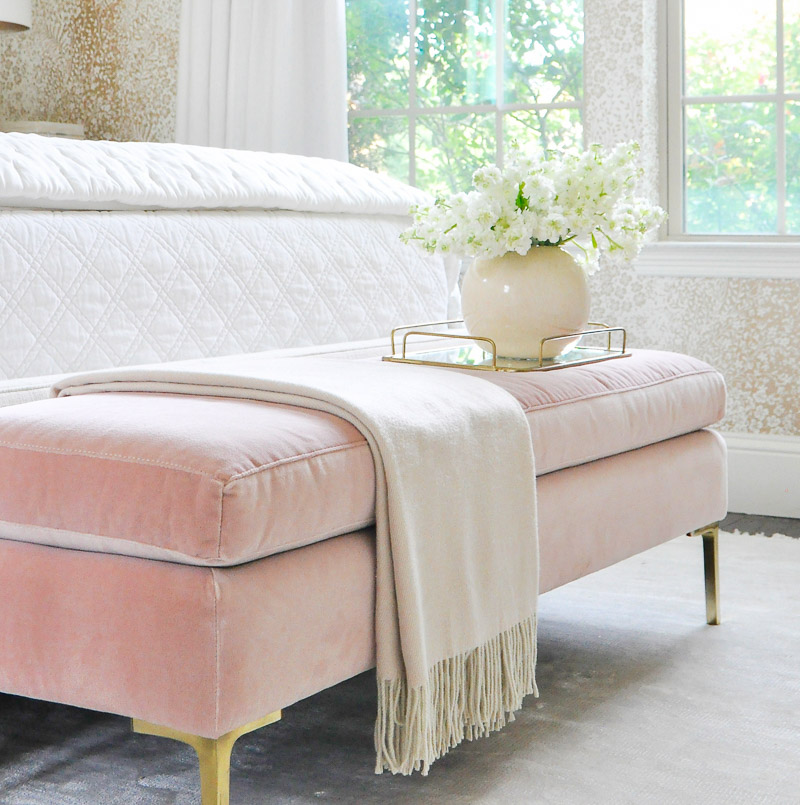 Full length mirror
I literally bought this on the side of the road! This is rare for me, but I'm so glad I stopped! I love the whimsy it adds to the room. I am also thrilled with the view of the new draperies, wallpaper, and bench that it reflects.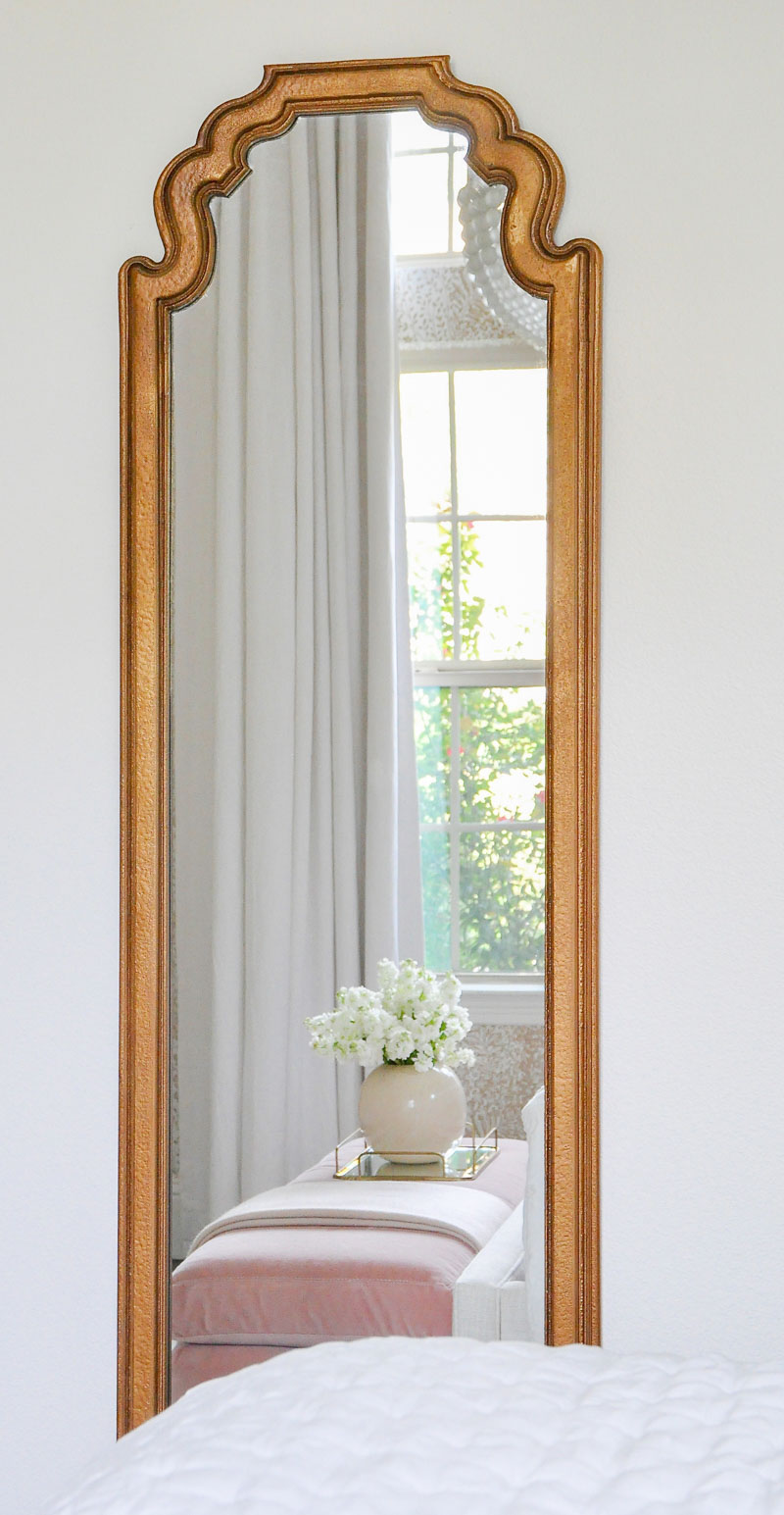 Overstuffed pillows
The original pillows I used in this room are still loved, but I wanted to create a more elegant bedding collection when I updated the room. The full pillows are a result of some new inserts that I adore! A great tip is to always remember to size up when you purchase pillow inserts. For example, a 20″ pillow gets a 22″ insert.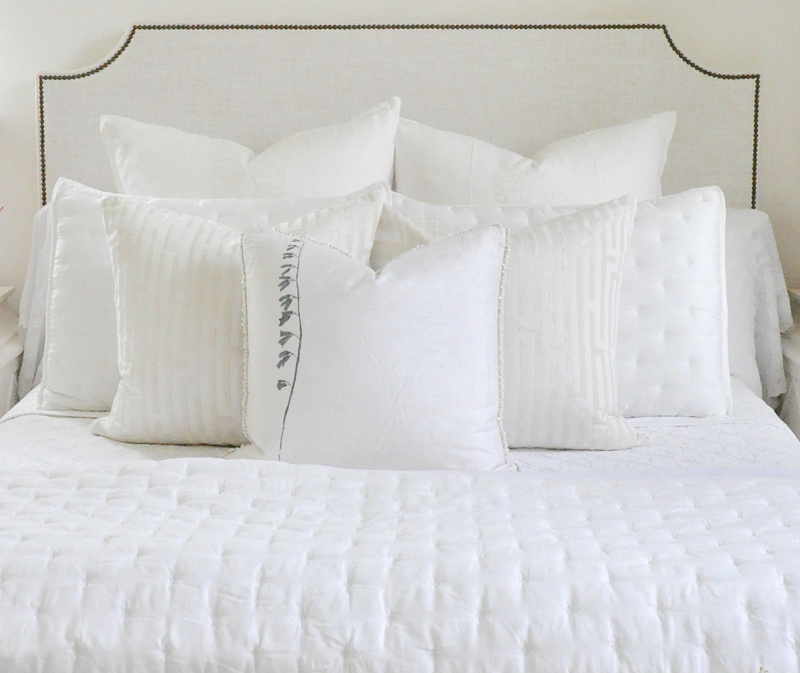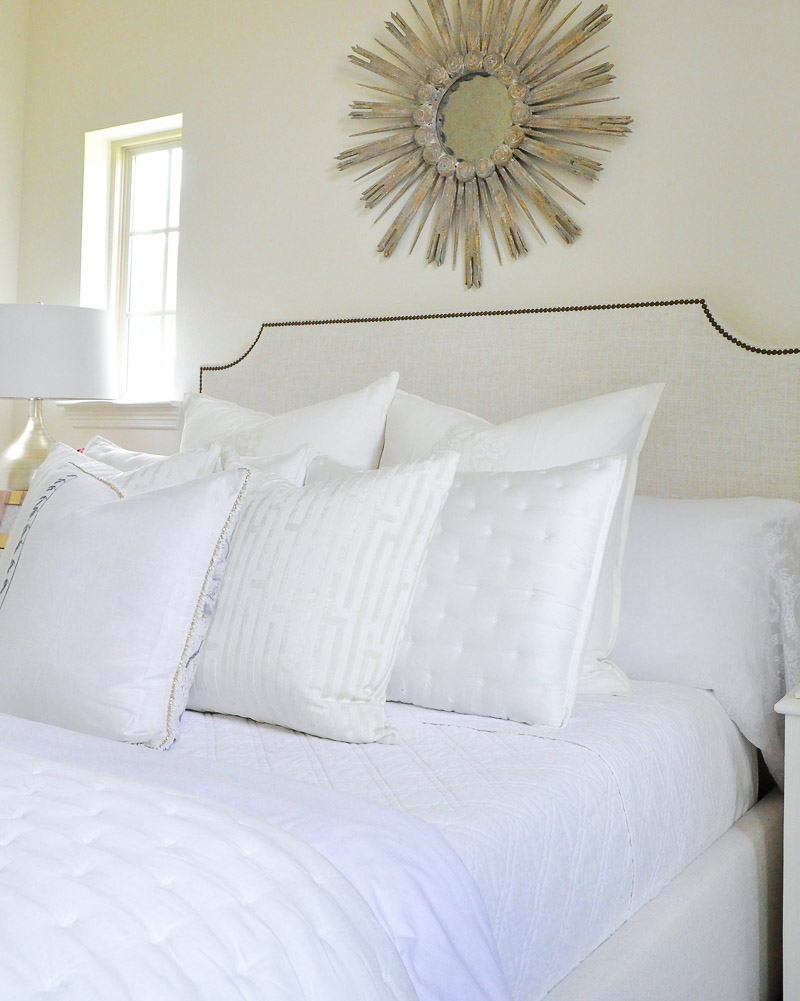 The quilt I added is not your standard flat quilt. It is lightweight and incredibly soft. I am so crazy over it, I recently ordered the shams to match for this space and another quilt and set of shams for my master bedroom. Can't wait to add them to the master!
Starburst mirror
I've had this mirror in here for a while now and I think it looks even better with the contrast of the white walls. It seems to complete the room.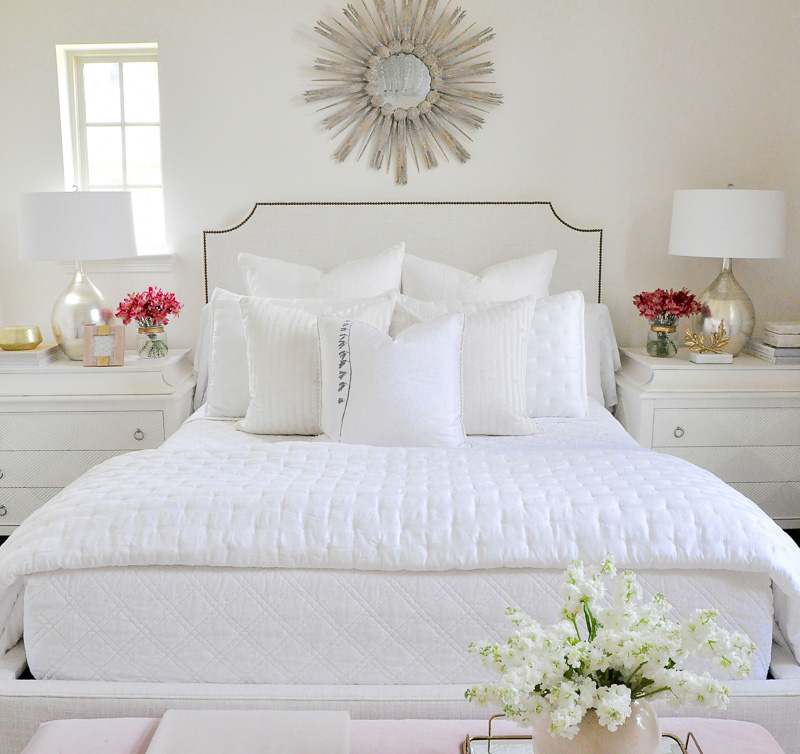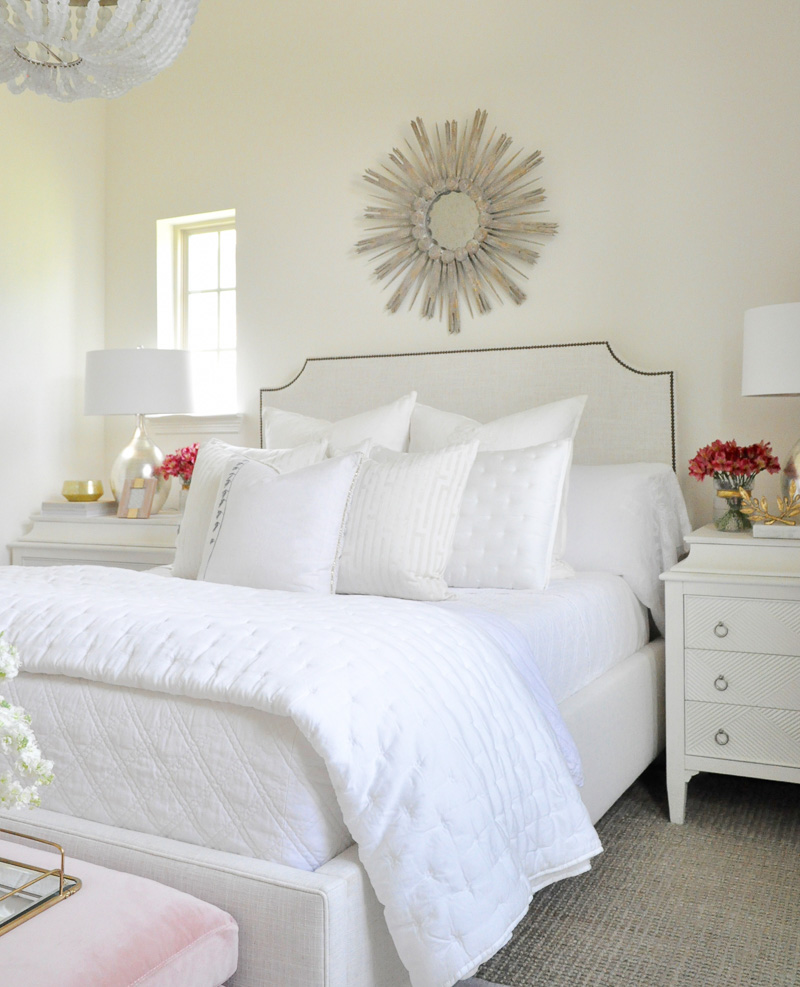 So there you have it! It is so nice to feel like this room is complete!
I hope you feel inspired to add some finishing touches to a space in your home!

Bed | Similar Bed | Nightstands | Bench – Select "Customize" then Velvet in Rosewater | Gold Mirror – source unknown
Rug – White with Fringe | Rug – Gray Natural | Chandelier | Lamps | Starburst Mirror
Coverlet | Quilt & Standard Pillowcases | Standard Shams with Long Embroidered Edge | Euro Shams
22″ Pillows | 20″ Pillow – no longer available | Throw
 Tray | Vase | Glass Vases | Olive Leaf Statue | Candle – Similar | Frame
Wallpaper | Paint – Simply White by Benjamin Moore




Stay connected…..
Click on the Image to Subscribe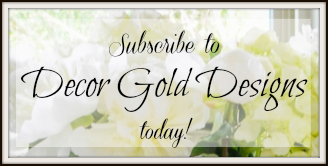 SOCIAL
Instagram | Pinterest | Facebook