Kitchen counter styling has always been one of my favorite tasks. I love filling those awkward corners and open island counter spaces.
Beautiful, well-functioning kitchen counters are my goal. Once I have decided the amount of counter space I have left for decorative items, the fun begins!
If your kitchen is not currently organized, I encourage you to work on that too. You will want to have a place for everything and an idea of the remaining amount of space you have left to style.
Are you ready to get started? I know I am! The truth is, the moment our kitchen update was complete, I started working on this post because I love kitchen styling so much!
Below you will find ideas, tips, and the items I like to use to create beautifully styled kitchen counters!

*This post contains affiliate links. Disclosure here.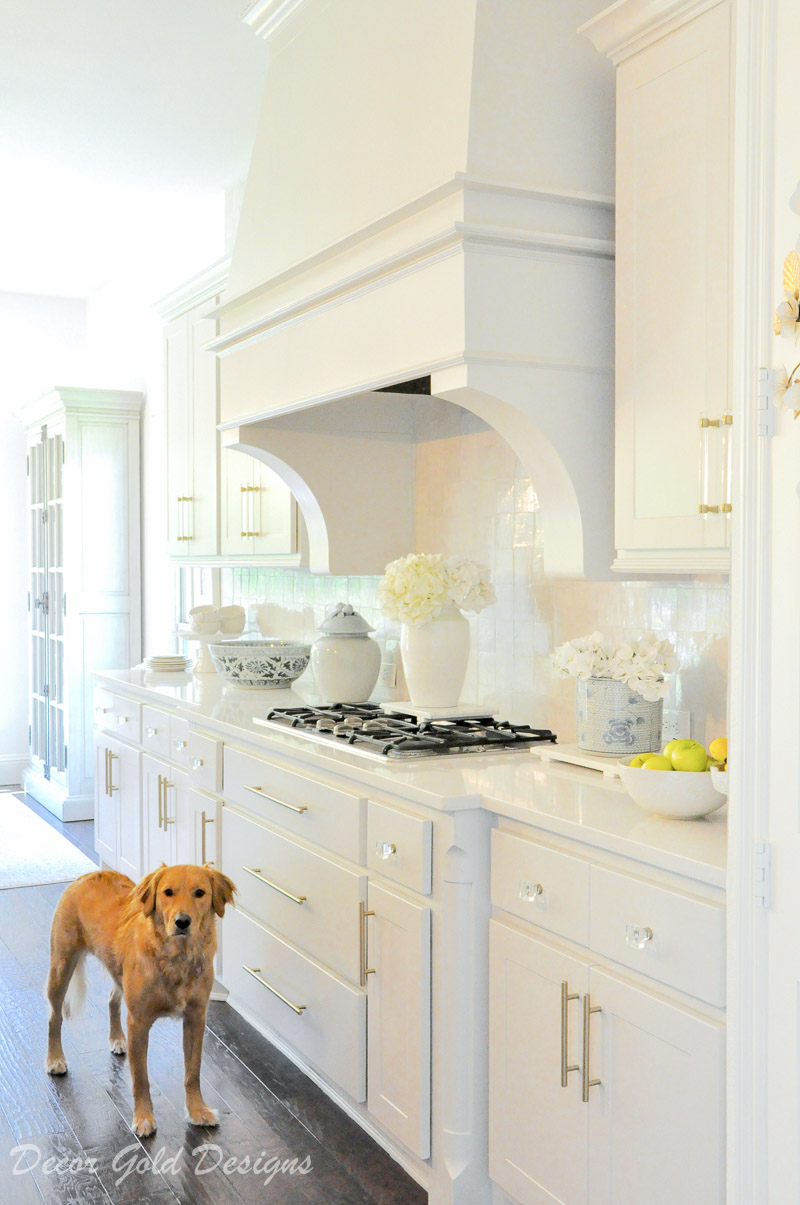 Cake Stands
Cake stands are probably my favorite decorative item to display. They can easily add depth, height, and interest to your countertops.
Remember, as you add cake stands and other decorative items to your counters, it is a good idea to take a few steps back and assess the new decor. This will help you get the spacing right and ensure you end up with a balanced look.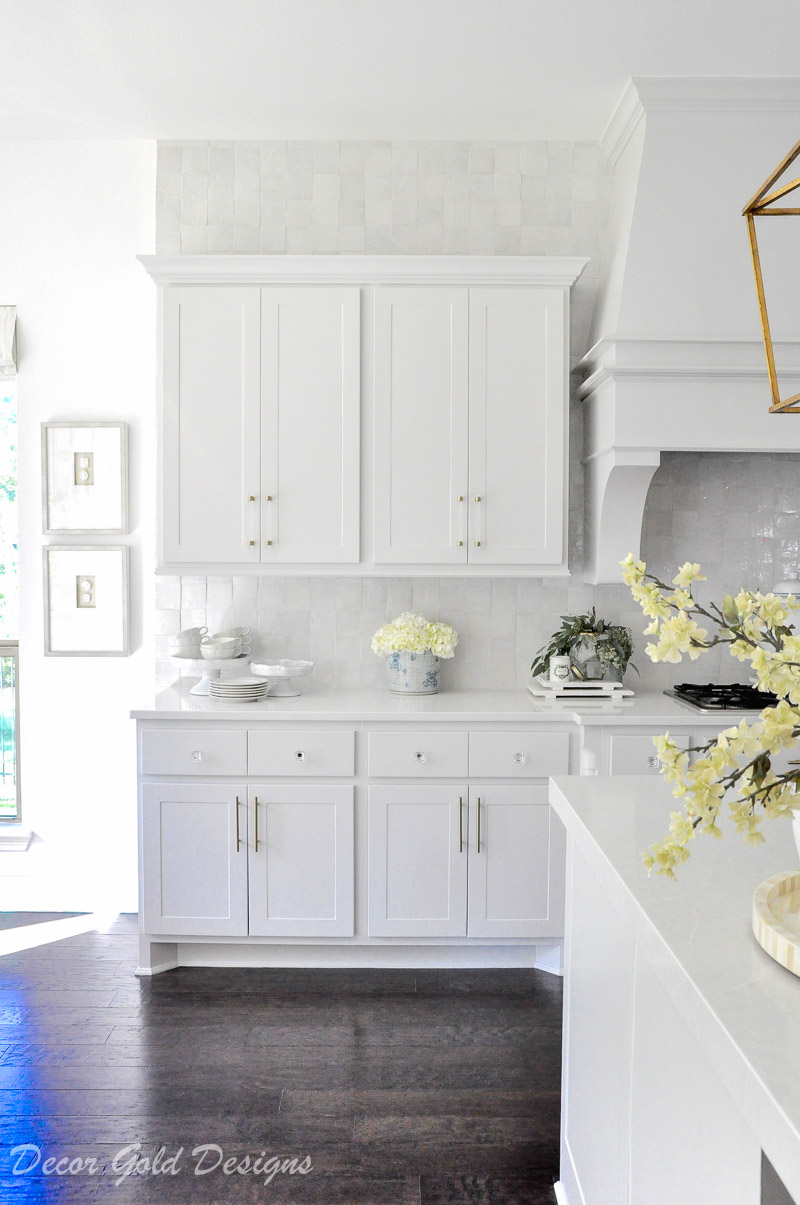 Grouping a couple of your favorite stands together is a great way to make them look stylish. Add some dessert plates or coffee cups and perhaps a candle to complete the look.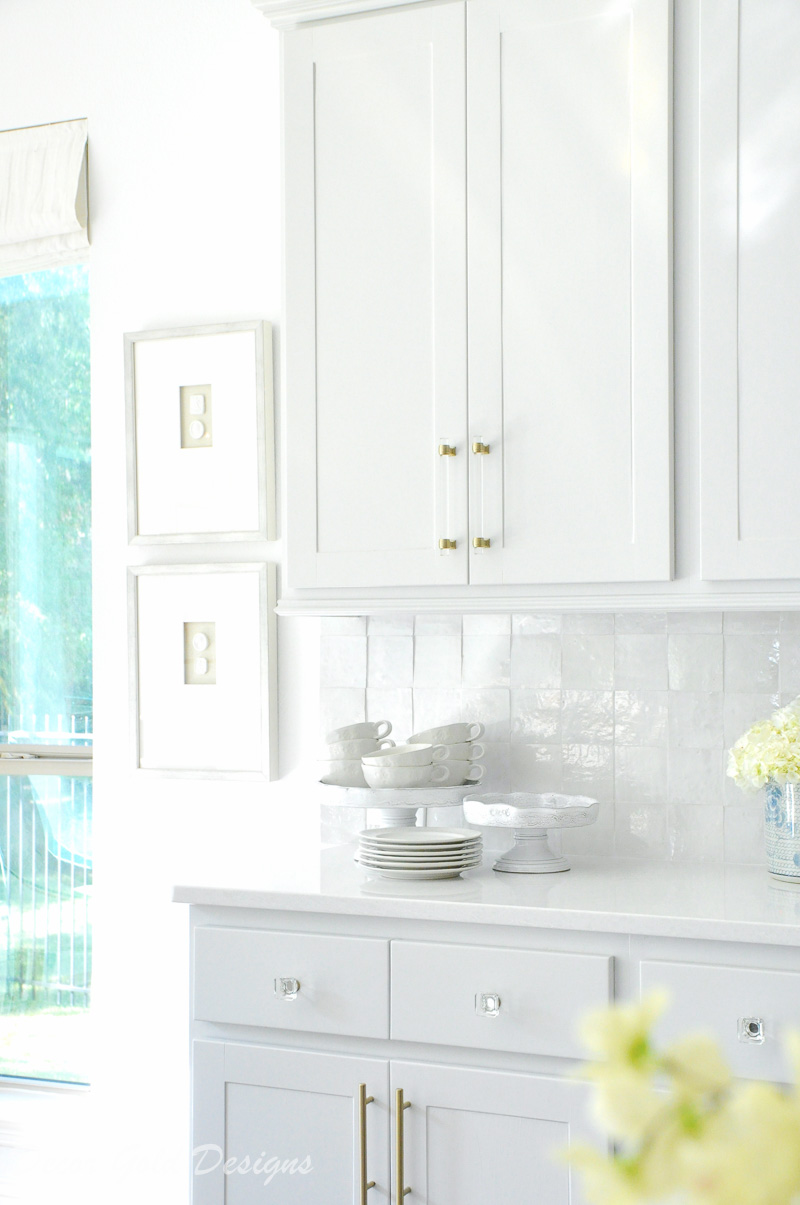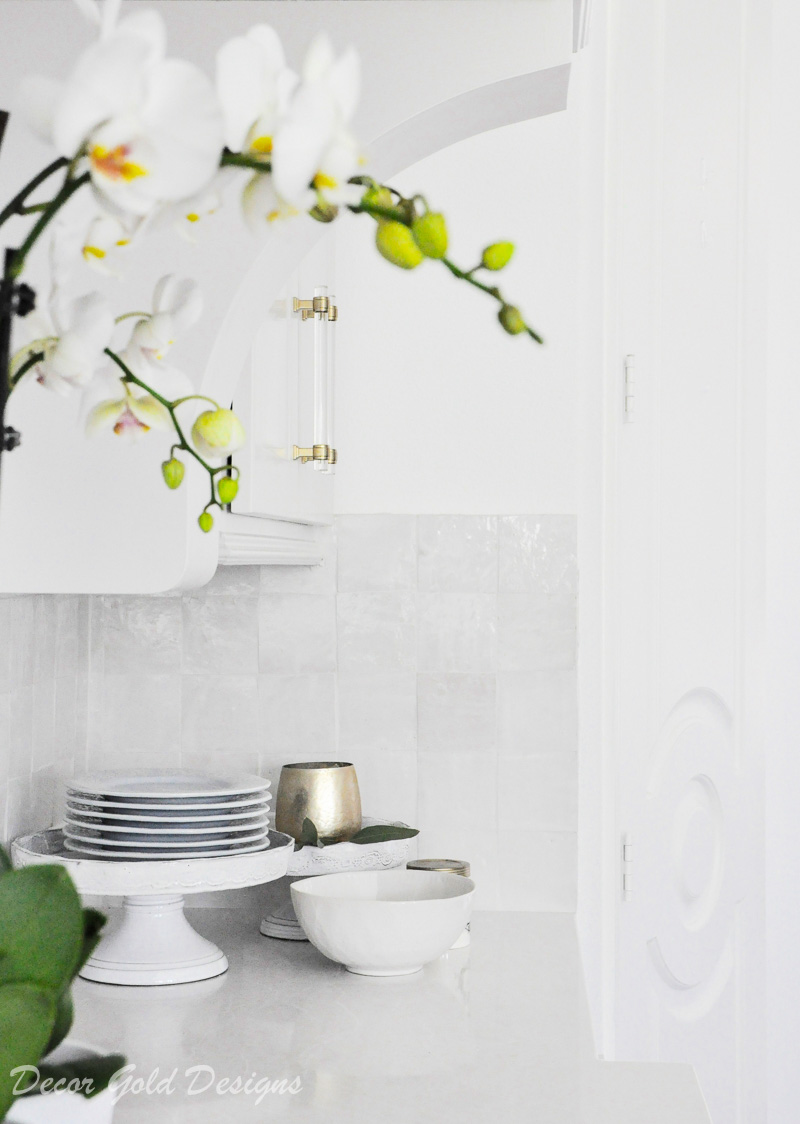 Cake stands are also a great way to present pastries, cookies, or other treats.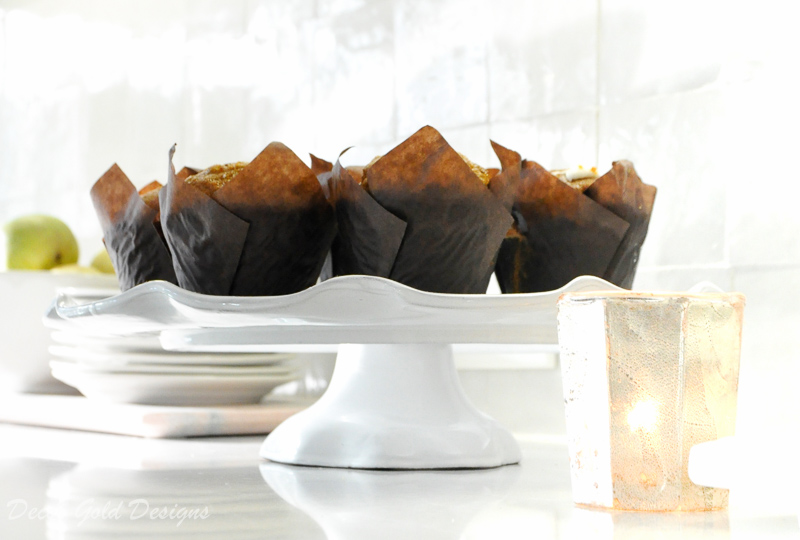 SHOP MY FAVORITE CAKE STANDS 
The first one comes in two sizes and has a tray-style edge. I've had mine for years and given them as gifts. I absolutely love them!


Bowls of Fresh Produce
Fresh produce adds color to your kitchen. You should always display it in an attractive container. Serving bowls are the perfect choice!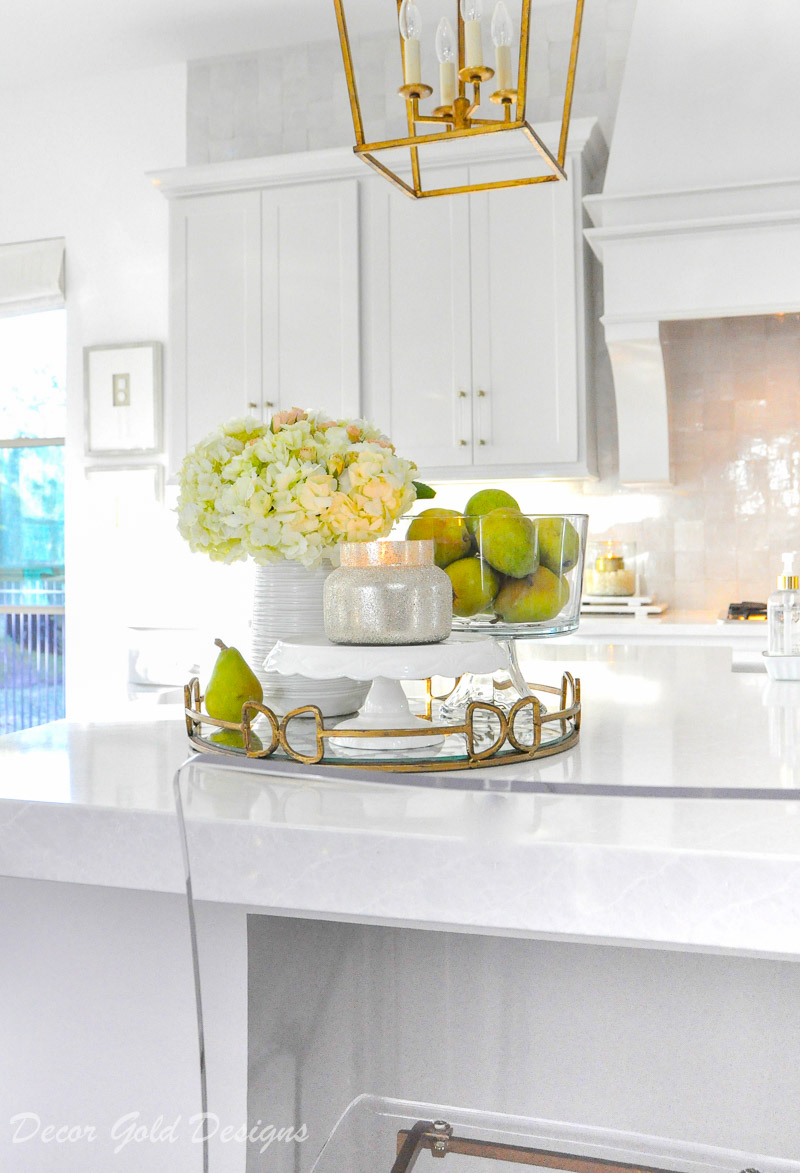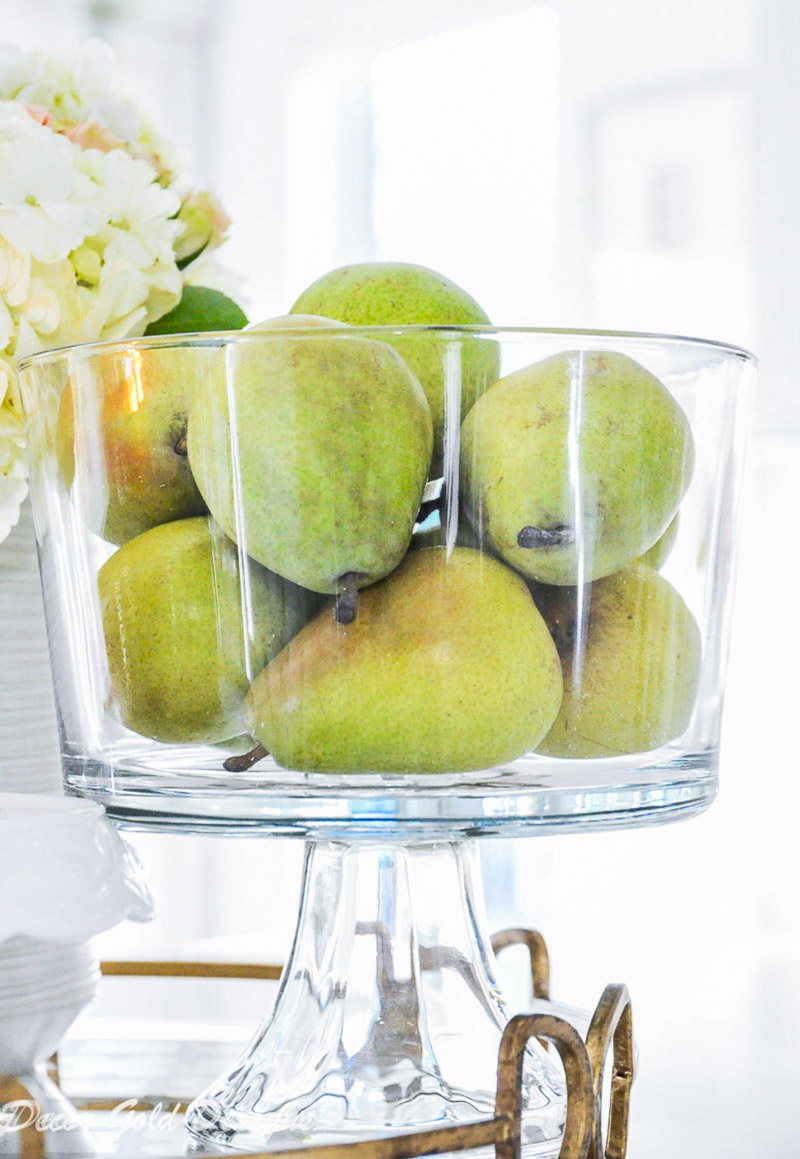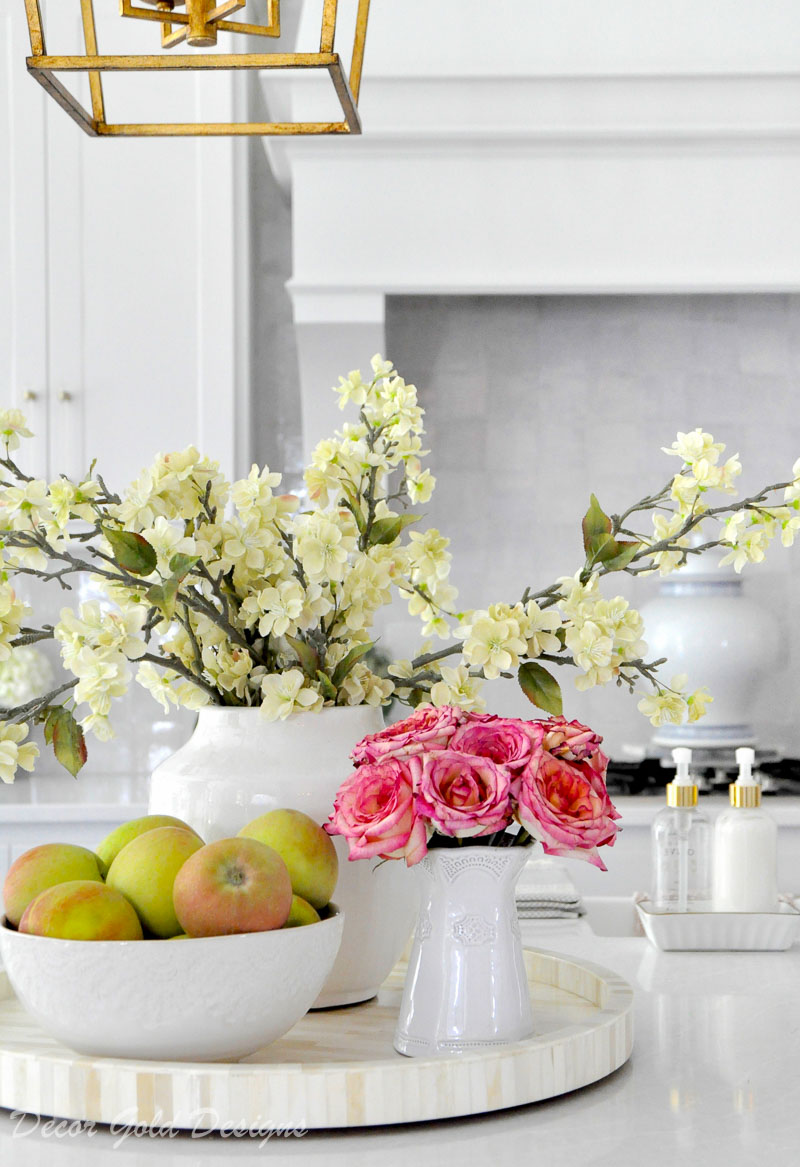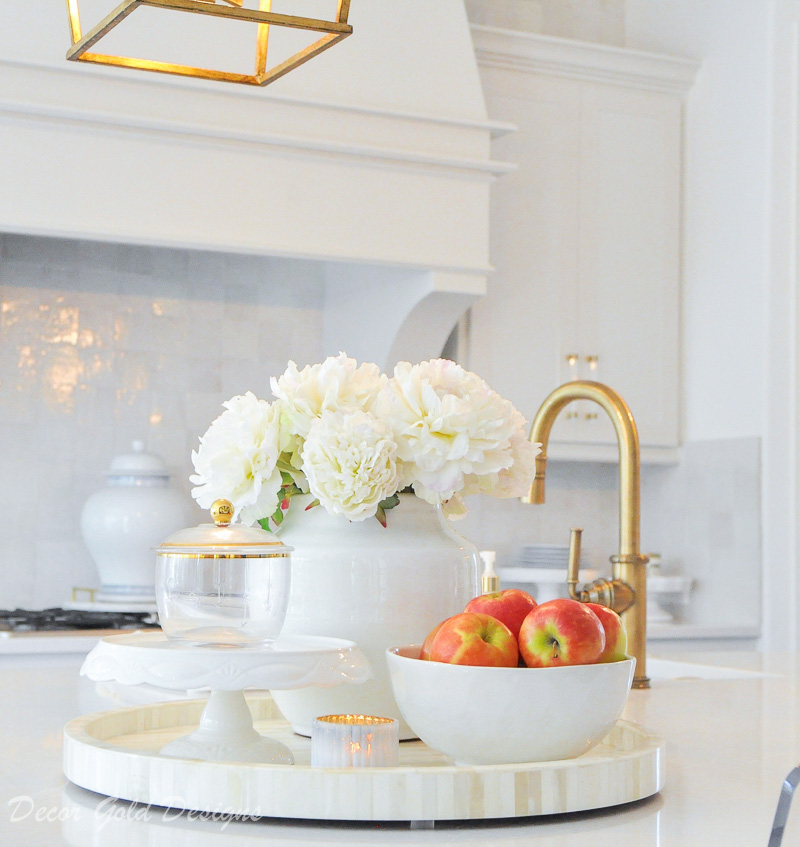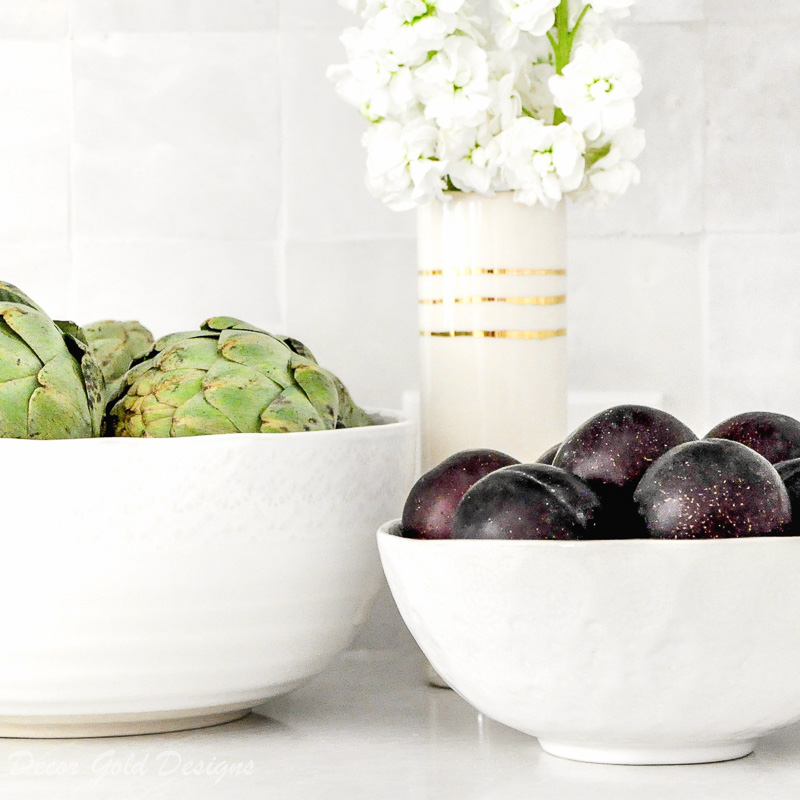 SHOP MY FAVORITE BOWLS

Vases
Fresh flowers and greenery look amazing on a kitchen counter. Grab a bouquet of flowers or some eucalypus at the grocery store each week and place it in a beautiful vase. It will help your kitchen look seasonally appropriate and fresh.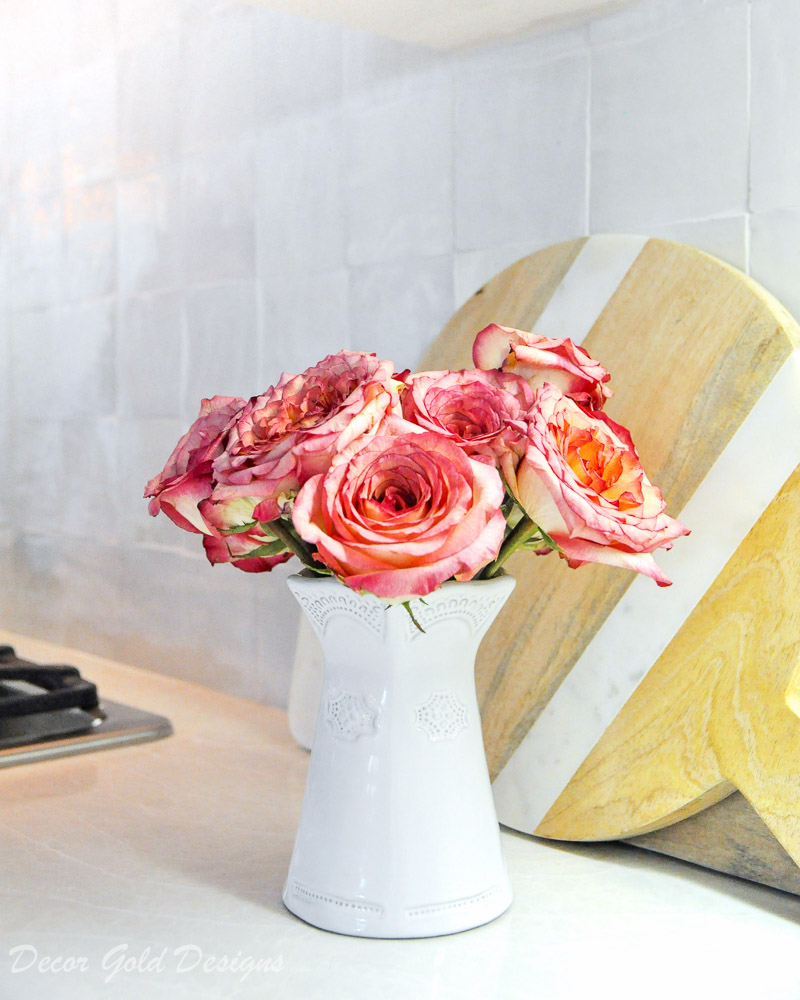 The vase will provide part of the styled look. I encourage you to invest in a few beautiful vases you love. The florist vase that came with your recent Valentine's bouquet is unlikely to be of nice quality.
It is nice to switch out your kitchen vases from time to time. I like to rotate vases from room to room to keep each space looking current.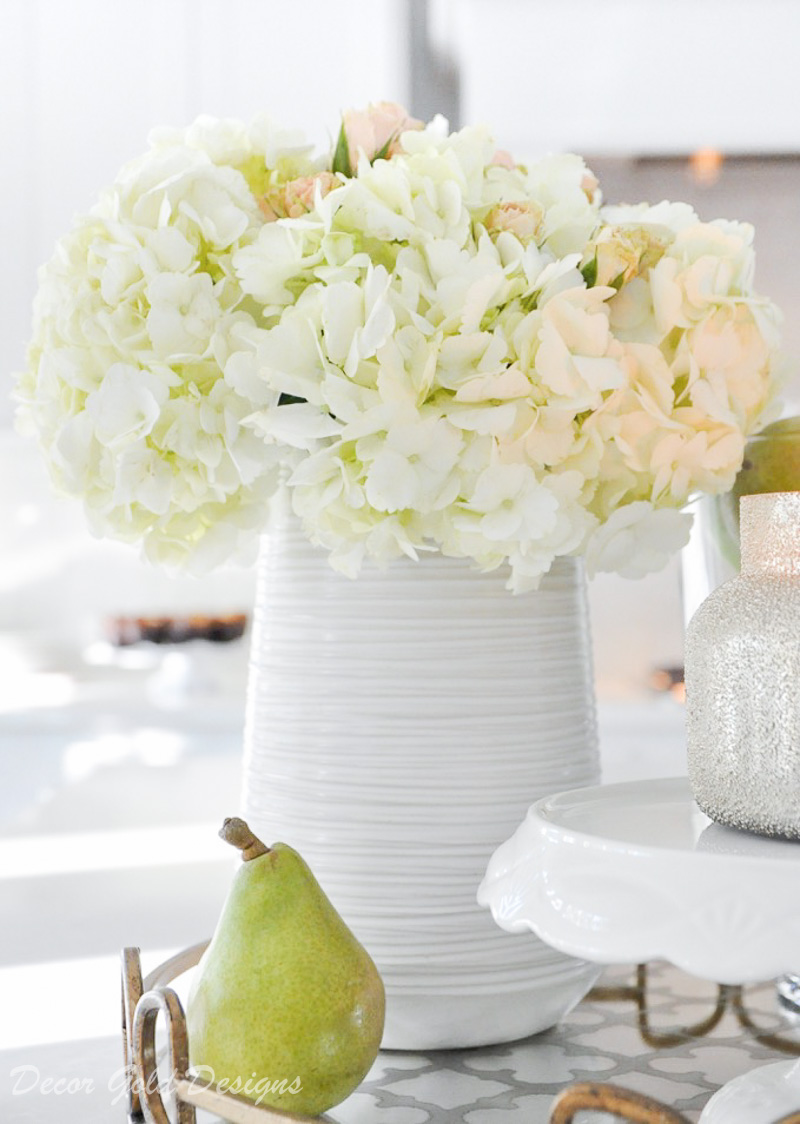 High quality faux flowers work beautifully in your kitchen vases as well.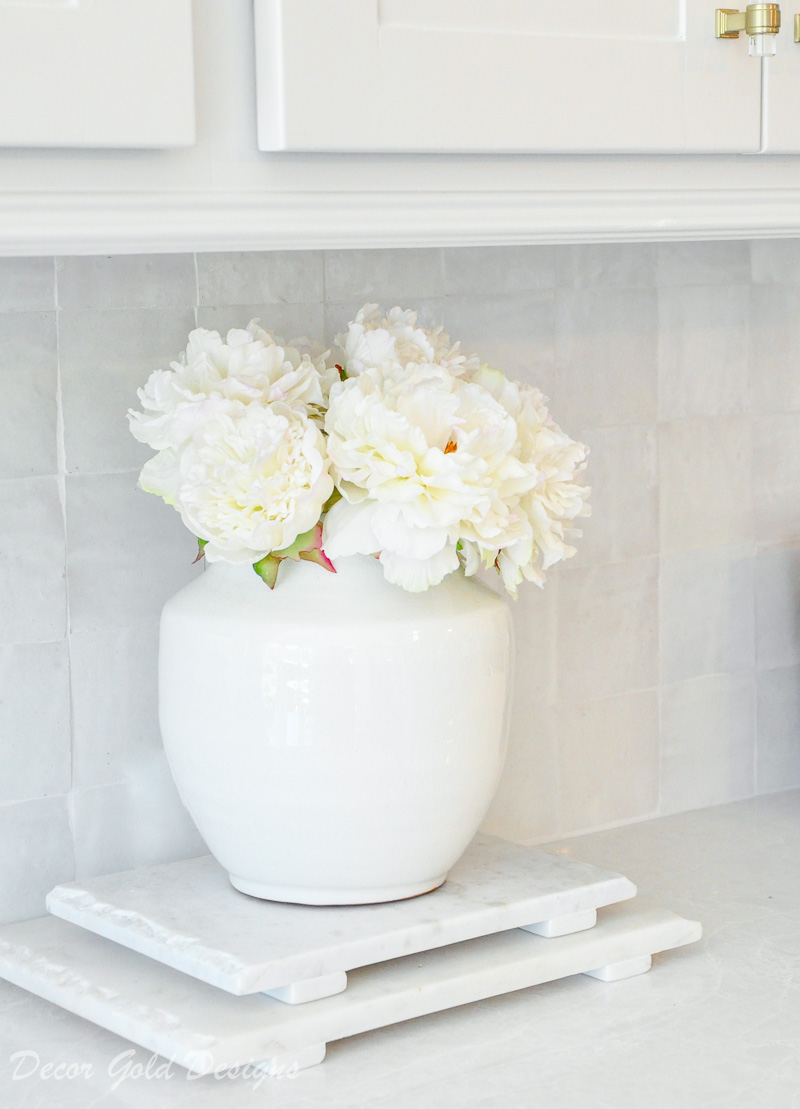 SHOP MY FAVORITE VASES

Boards
Serving boards and cheese boards are often beautiful and decorative. Cutting boards can be attractive as well. When they are made of wood, they add warmth. Wood and marble is my favorite combination.
Consider leaning them against your backsplash. They will take up less space and offer a variety of heights to your styled counters.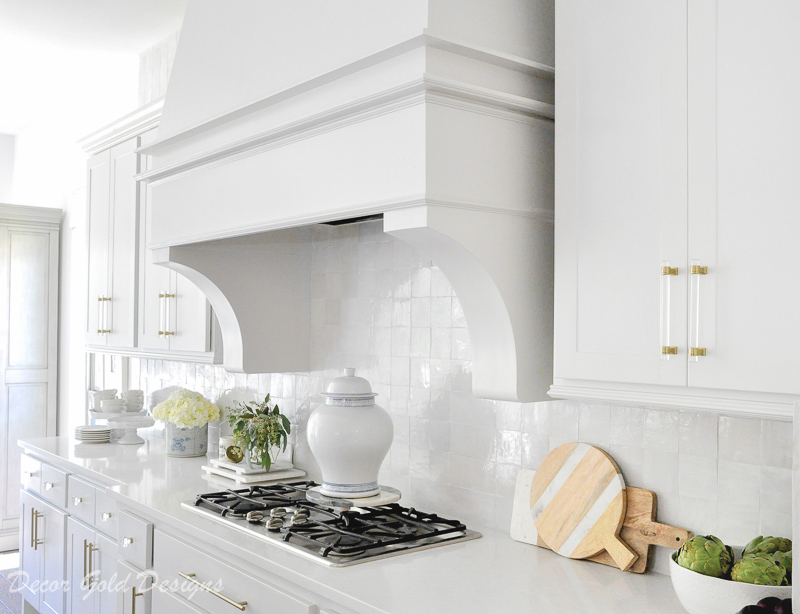 They look great as a backdrop for a layered look.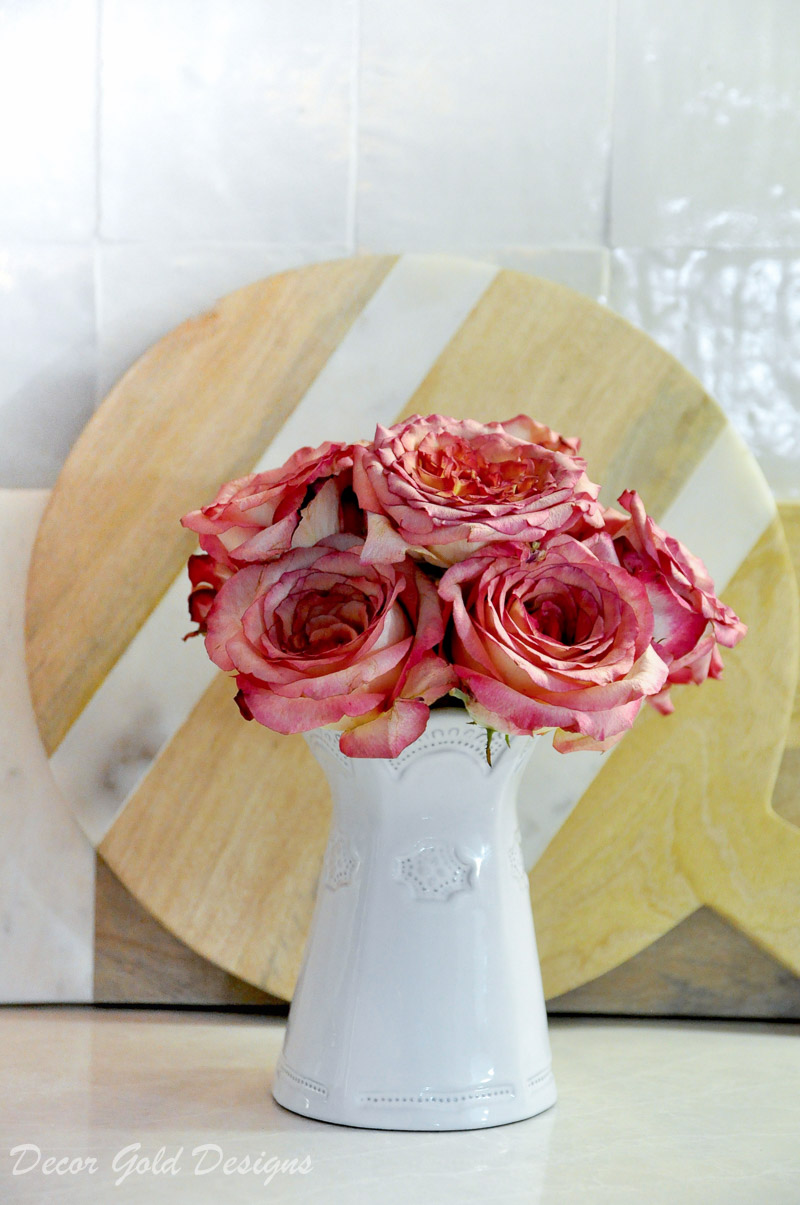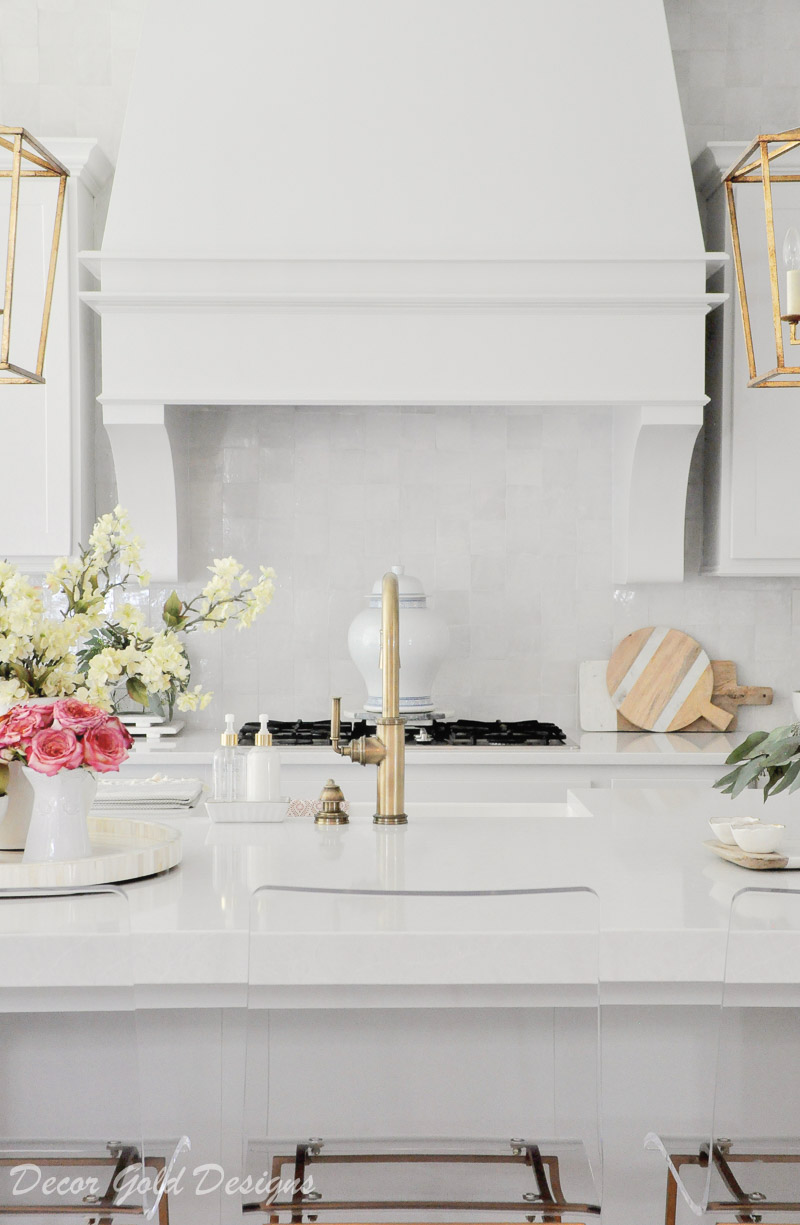 On my island, the vignette including a serving board coordinates with my similar leaning boards on the other counter.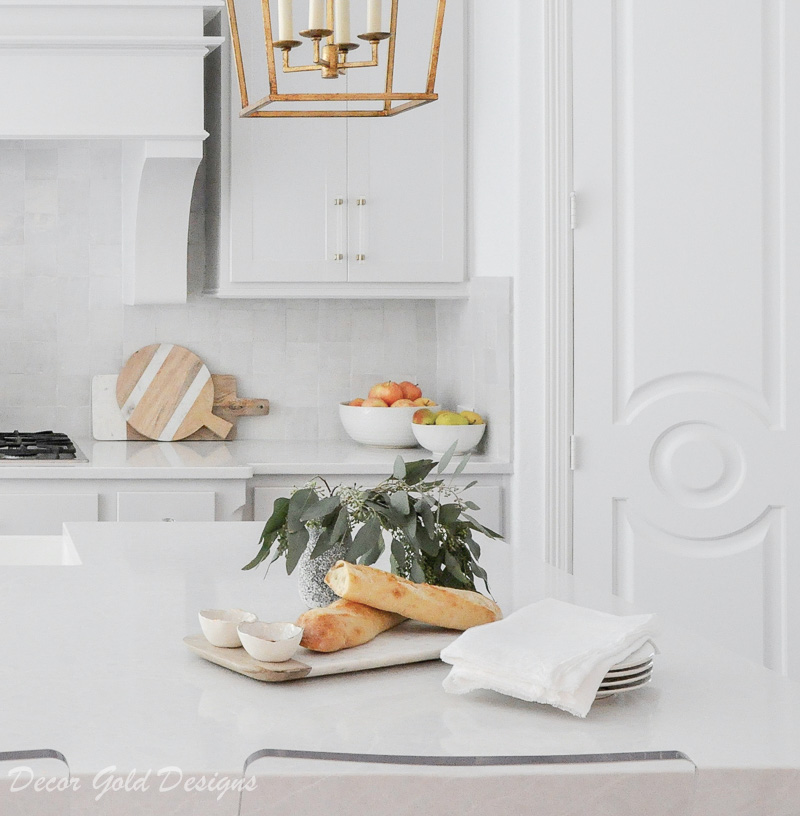 Another styling idea…stack your serving boards. They will make a stylish platform for accessories!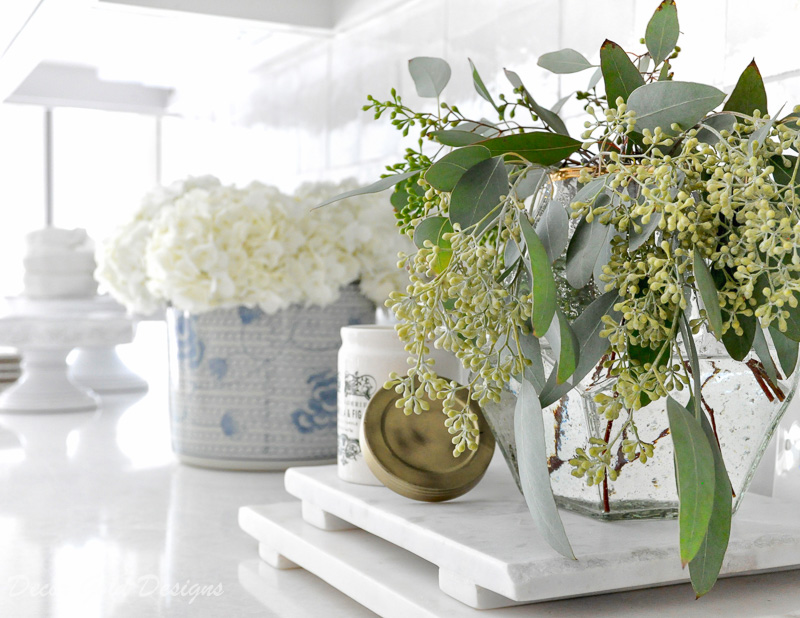 SHOP MY FAVORITE BOARDS


Trays
A nice tray will help you group your decorative items. It can also help identify a focal point. A fabulous tray is my go-to item for kitchen island styling.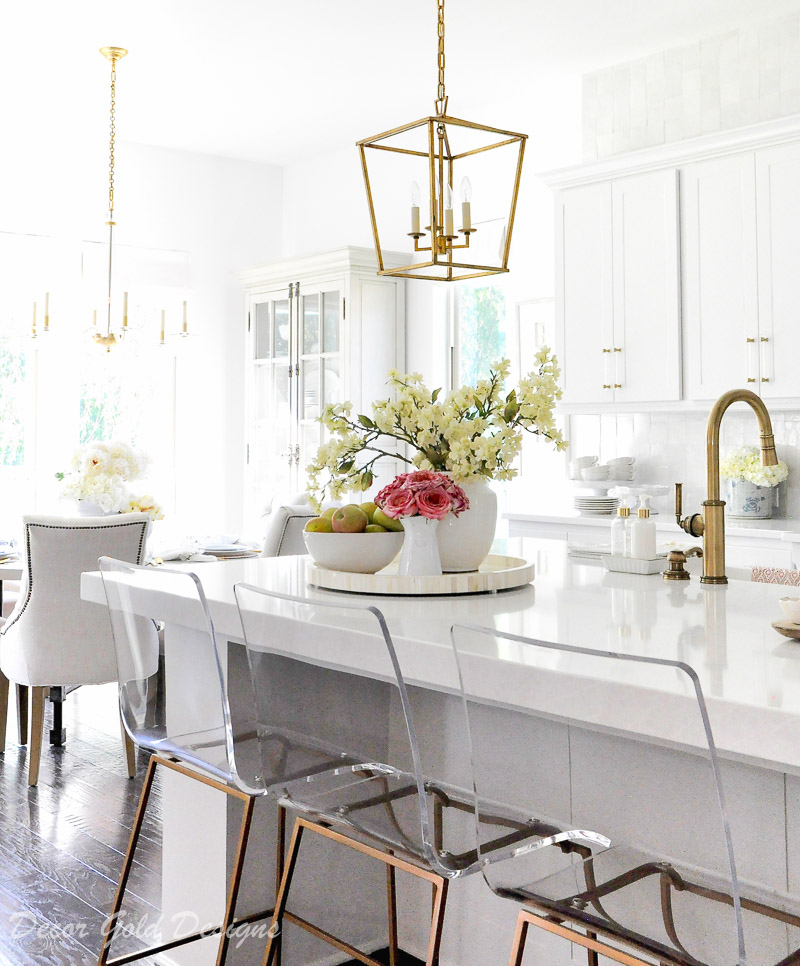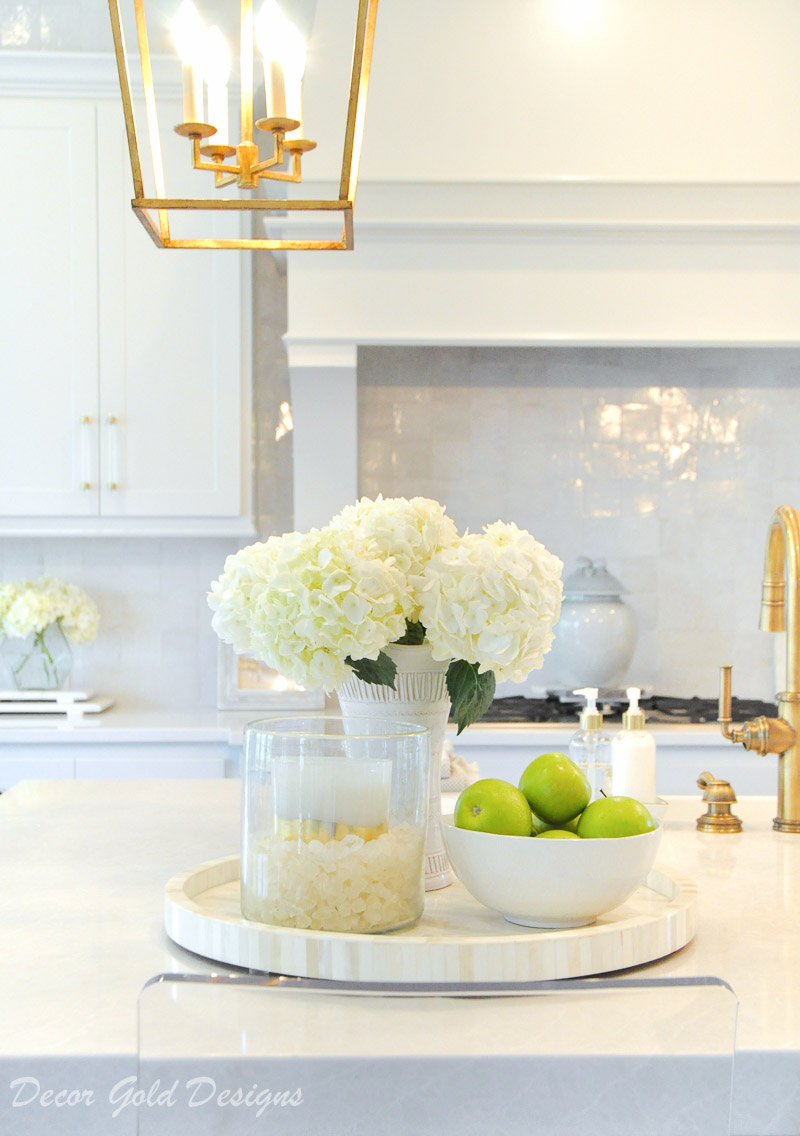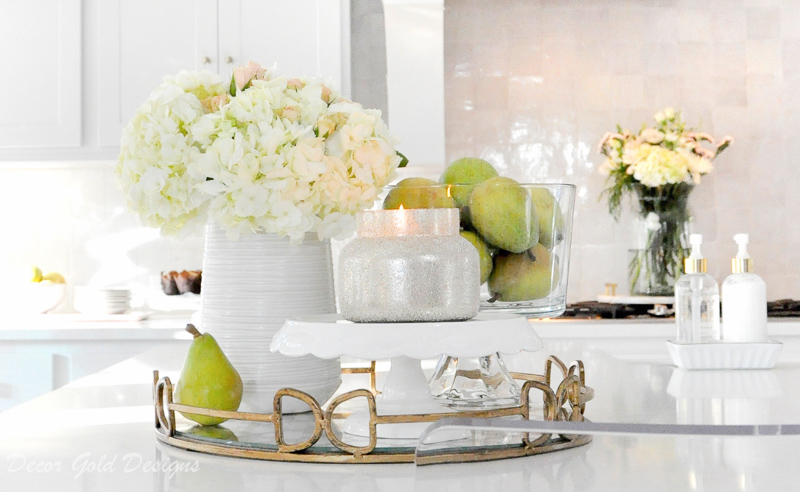 SHOP MY FAVORITE TRAYS

Jars
Ginger jars, temple jars, and canisters are very timeless and look gorgeous in your kitchen. Even better, some of these can be used for storage if you desire.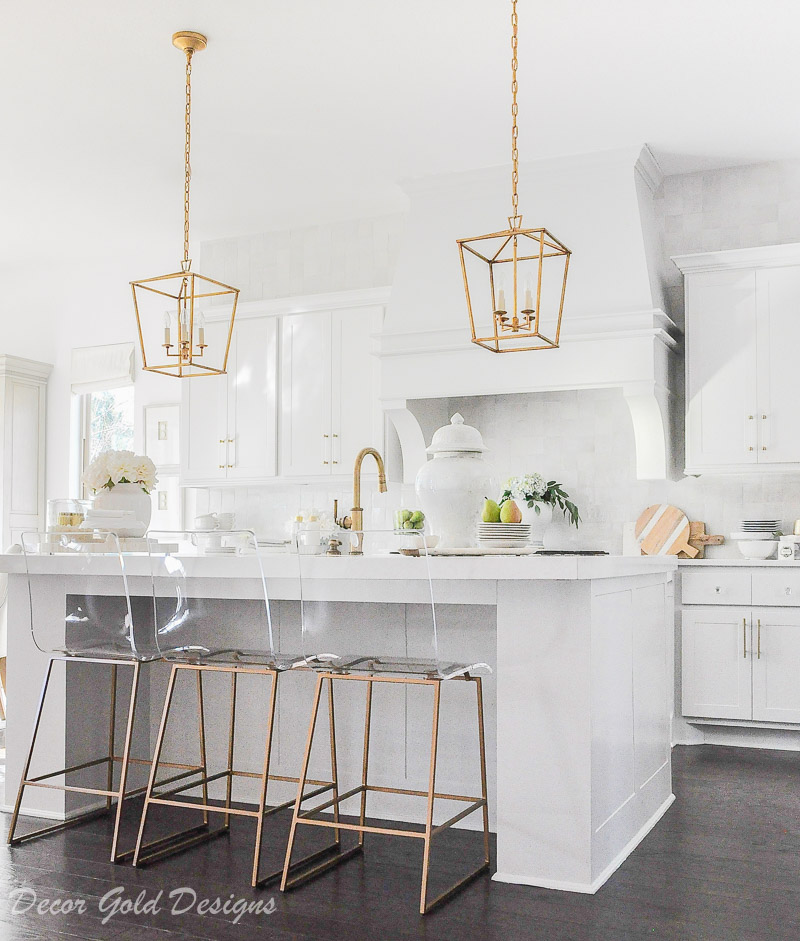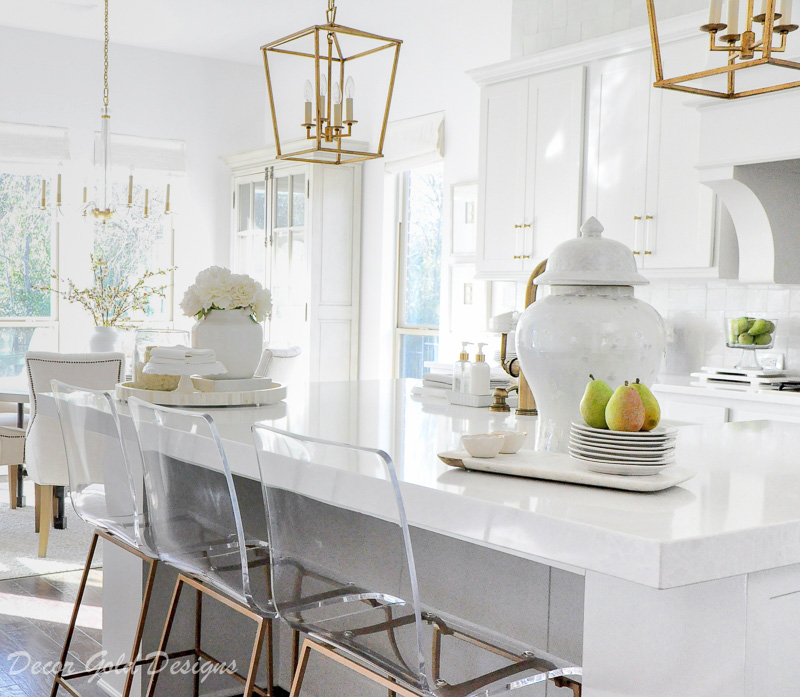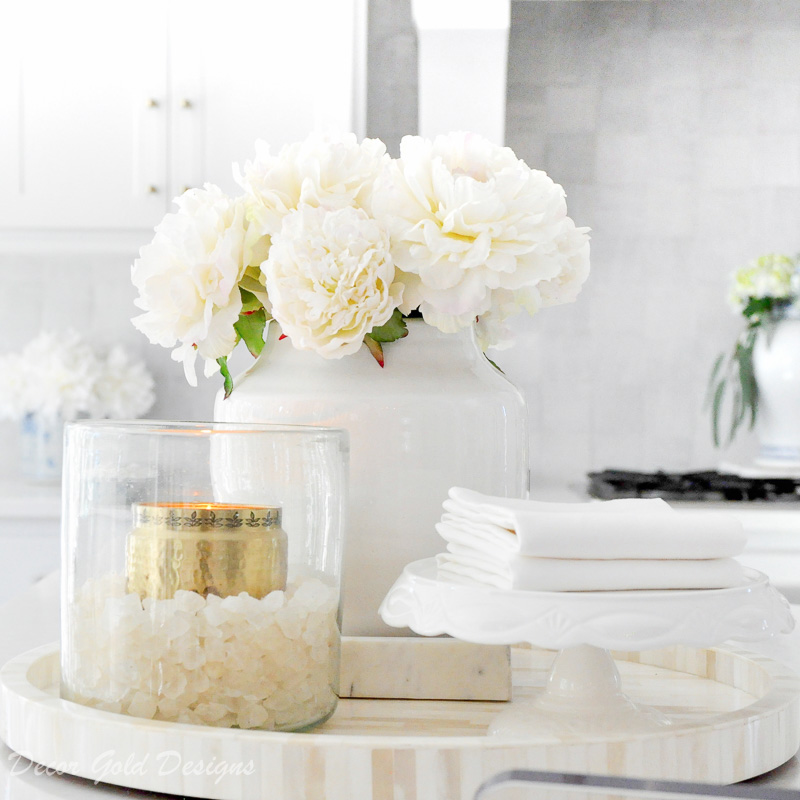 SHOP MY FAVORITE JARS

Small Appliances & bread boxes
I am grateful to have enough storage space in my home to keep our small appliances off of our countertops. Most are stored in our cabinets and pantry. We also have a small space near our bedroom that is perfect for our Keurig.
It is nice to have some of the small appliances you frequently use on your countertops out, especially items you use daily. I encourage you to find attractive ones to add to the beauty of your well-styled kitchen!
An attractive bread box is a great place to stash more than just bread. If you have room, I highly recommend adding a pretty one to your countertop to hide any odds and ends you may want to access easily.

---
Whether you have a large kitchen or a small one, I hope you will make an effort to style your counters! The kitchen is the social hub of your home and should be as beautiful as you can make it.
You can find additional sources below.
Happy Decorating!

MY OUTFIT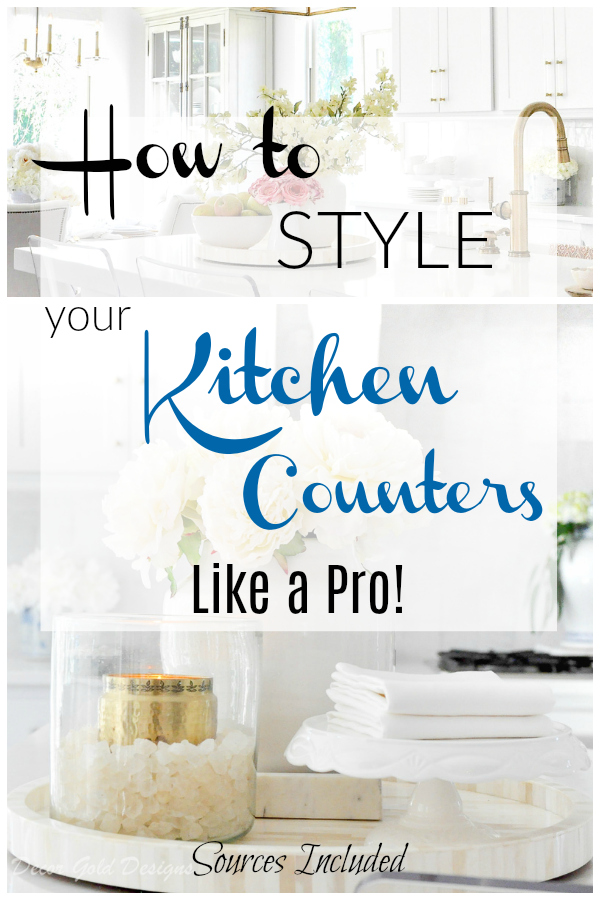 I hope you'll stay connected…..
Click on the Image to Subscribe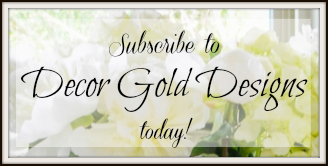 SOCIAL
Instagram | Pinterest | Facebook
Follow me on the LIKEtoKNOW.it app!