This master bedroom reveal has been a long time coming!
I have been dreaming of a full bedroom update for a while now. Being able to share it with you today makes me so happy!
I wanted our bedroom to be more fitting for our Texas (southern) home, while incorporating elements from my Hollywood Glam-leaning style. I wasn't looking for the glitz that goes along with Hollywood Regency style, just the glamour, so "southern glam."
However, where to begin was not coming to me easily though.
Enter Jenny Tamplin! She owns a darling store called Coterie Home and all sources are available online!
*Jenny Tamplin and Coterie Home sponsored this post. As always, all of my opinions are my own. Additionally, there are a few affiliate links within this post. Read our disclosure here.
You may remember Jenny from a fun tree decorating project she did here last Christmas. The day she installed two beautifully styled trees was the day I knew she would be the perfect designer for this space.
(In case you missed it, you may want to learn about my reasoning for the changes and also why I chose to work with a designer on this update. My Master Bedroom Project post has all of the details for you).
Jenny's industry knowledge, fresh ideas, and attention to detail combined to make working with her a wonderful decision. Allow me share little more about her. Jenny is also a sought-after designer who offers E-Design as well as in-person consultations and more. As you are about to see, her design elevated my bedroom into a luxurious and sophisticated space with a lot more personality.
Jenny was able to capture my exact style. Each piece was carefully chosen and she curated a timeless color scheme. She even included a few well dispersed metallic gold accents to help the space flow with the remainder of my home.
I hope you are as excited to see her work in my home as I am to finally be able to share it!
Welcome to my southern glam master bedroom reveal!!!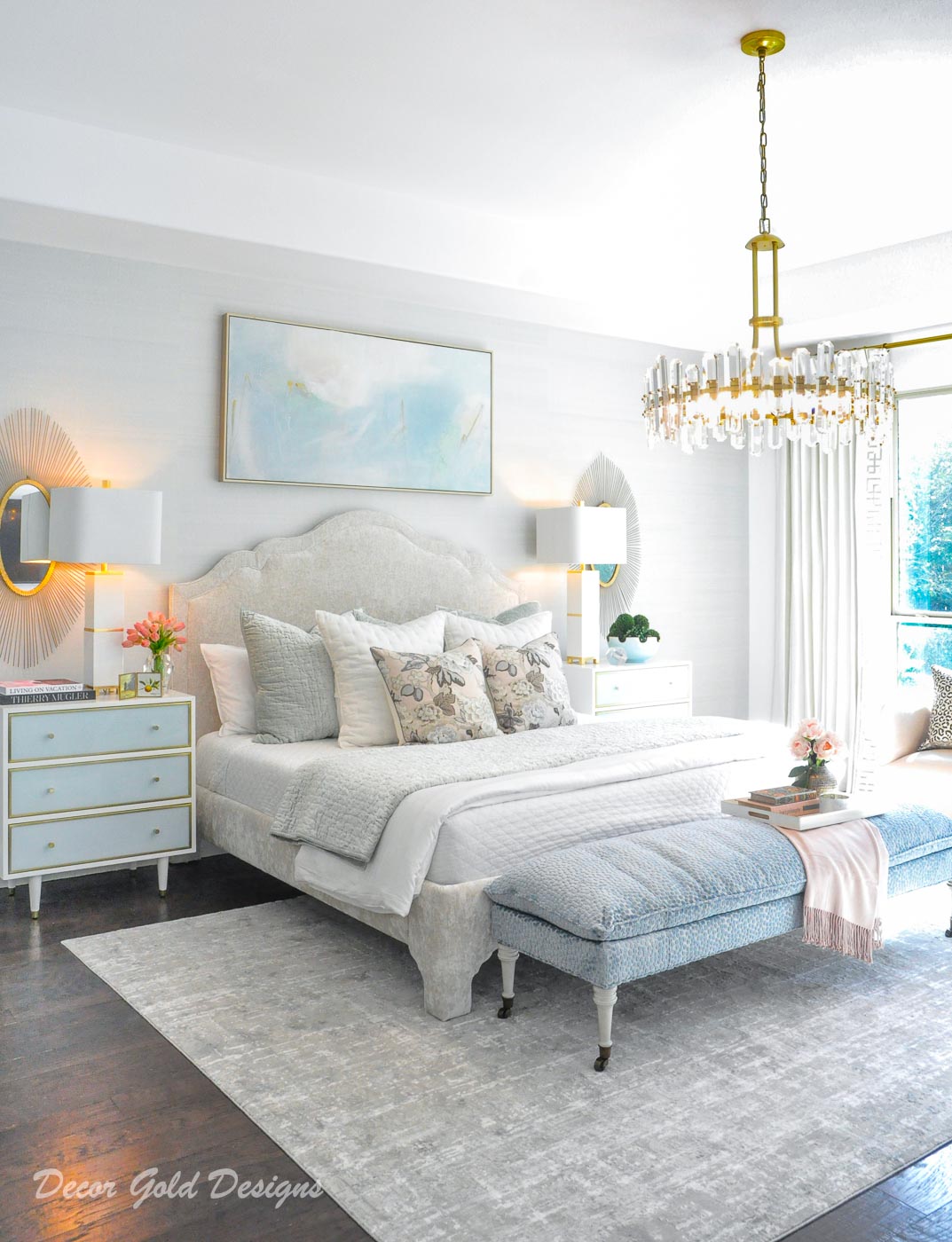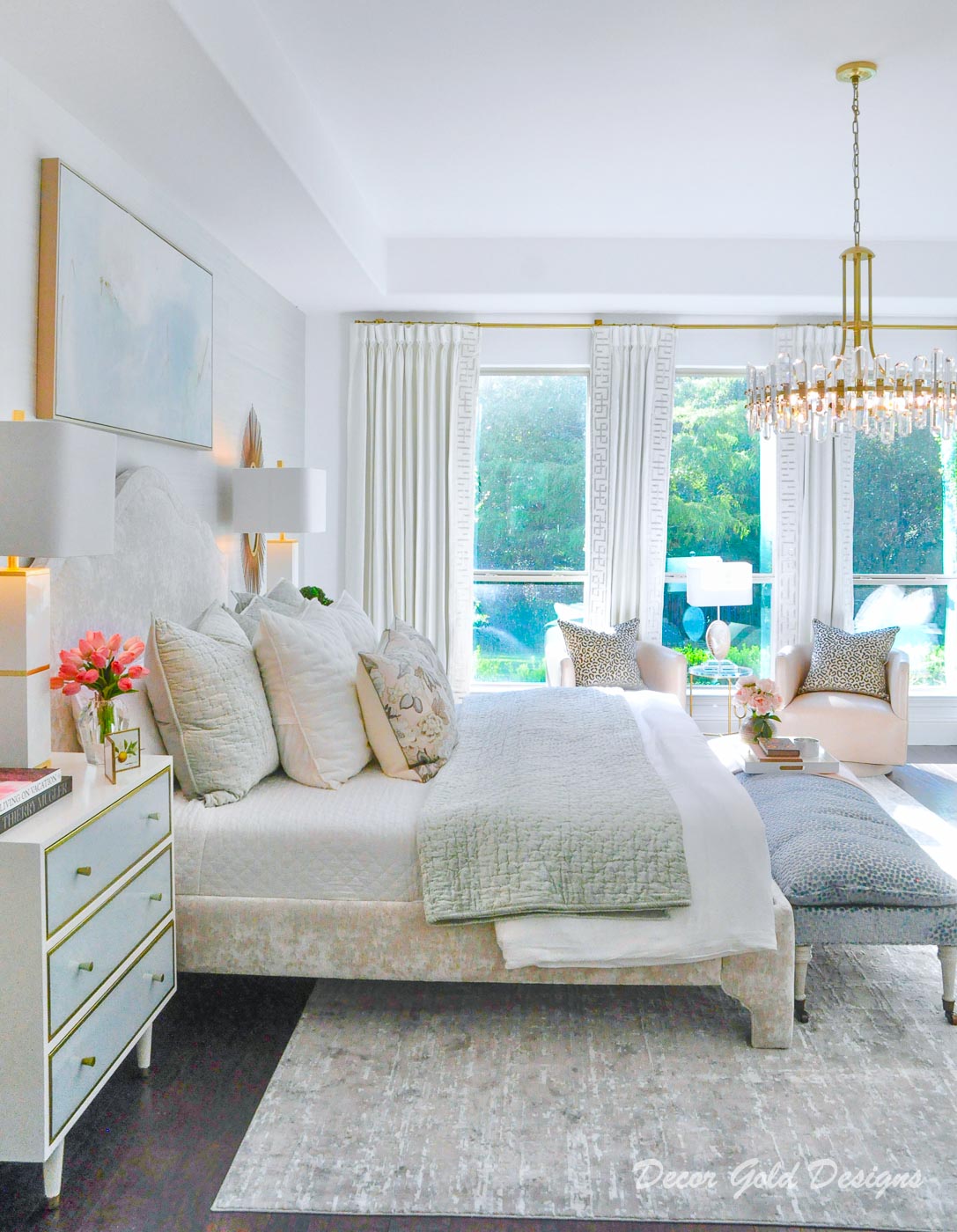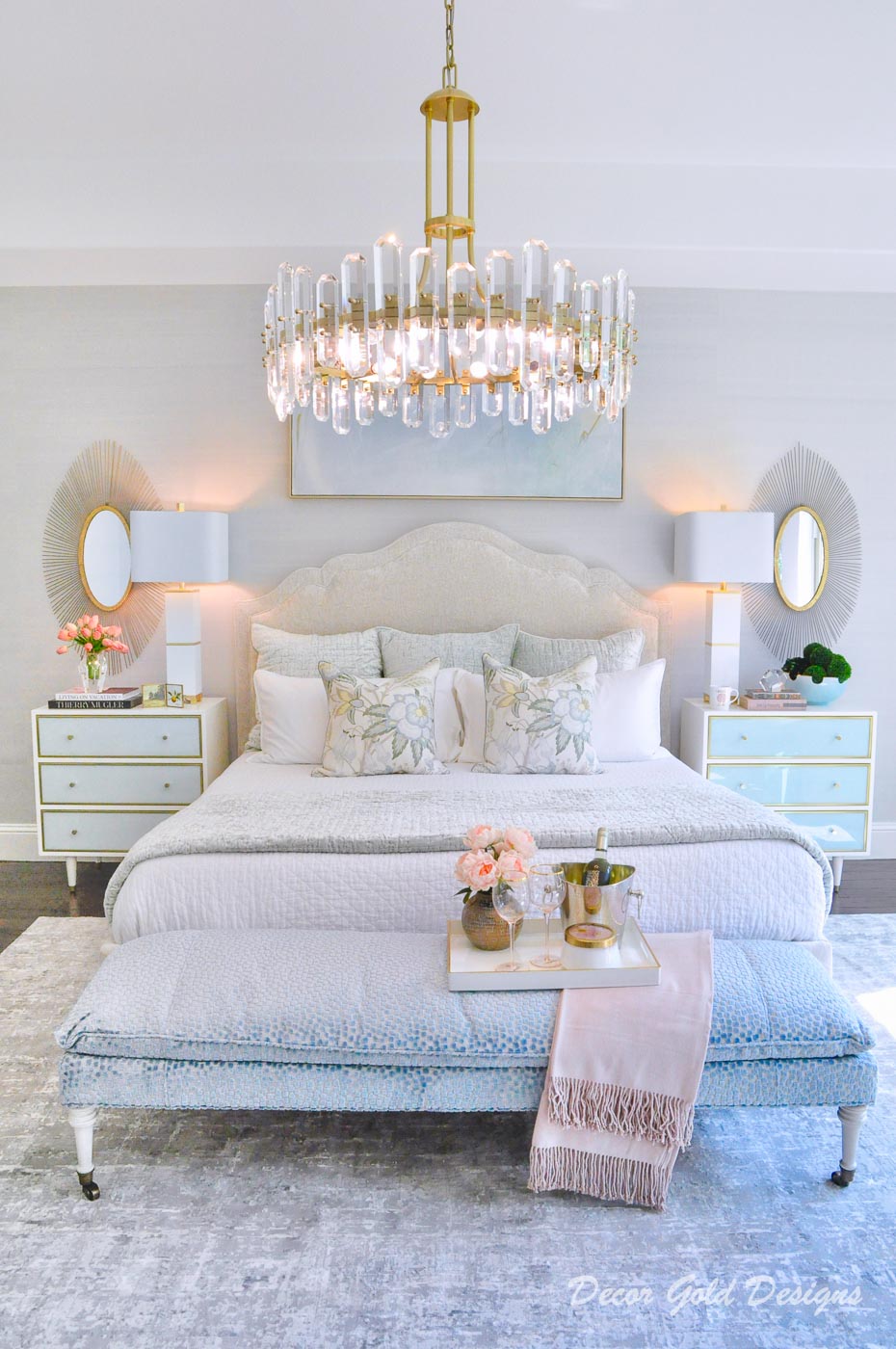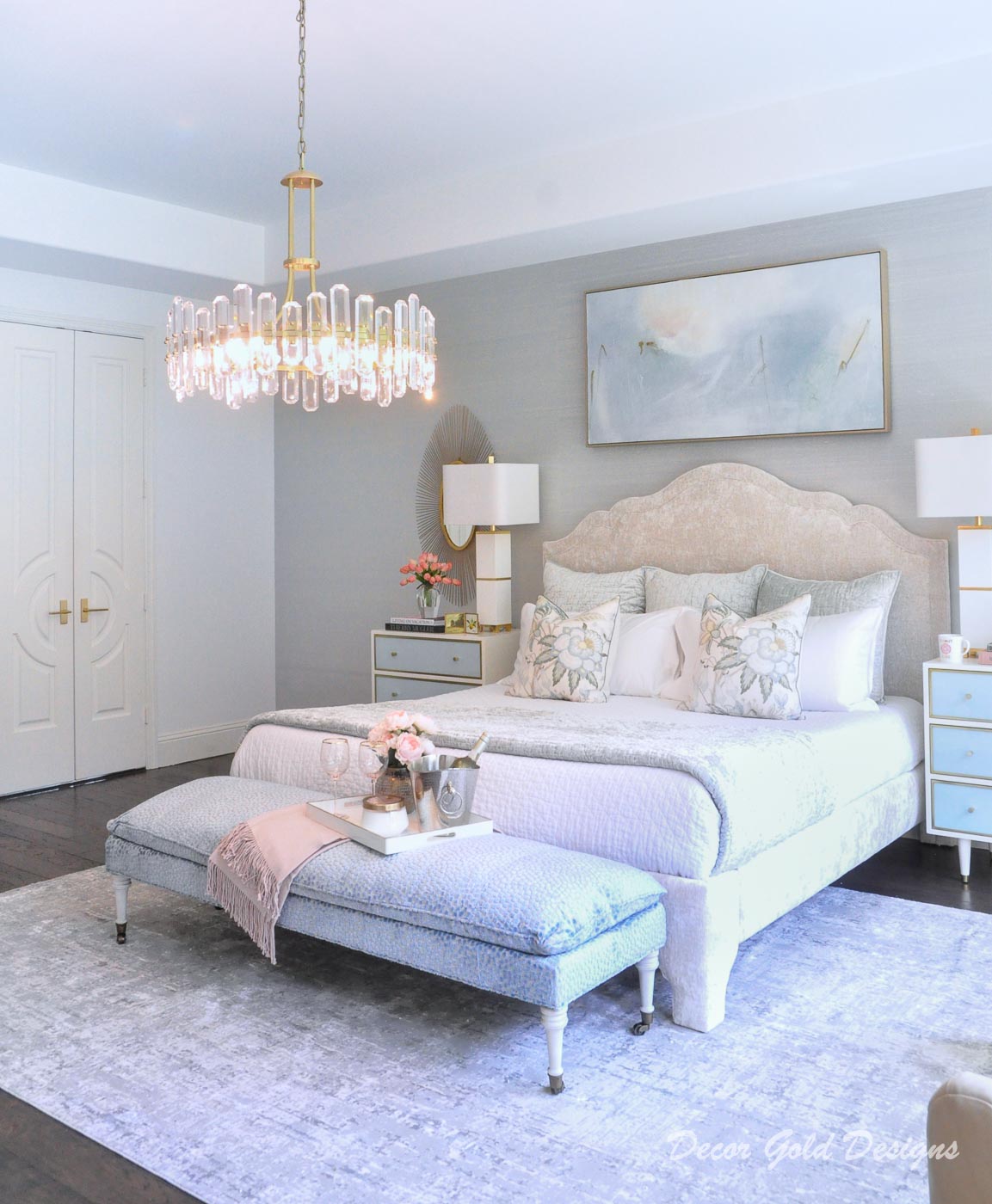 The Bed
The moment I saw the sketch of this sophisticated bed, I knew it was the one. It is traditional, yet current, and sets the mood for the Hollywood glam style I love.
The bed is fully upholstered with a low profile. Jenny recommended a textured ivory fabric and the look could not be more perfect.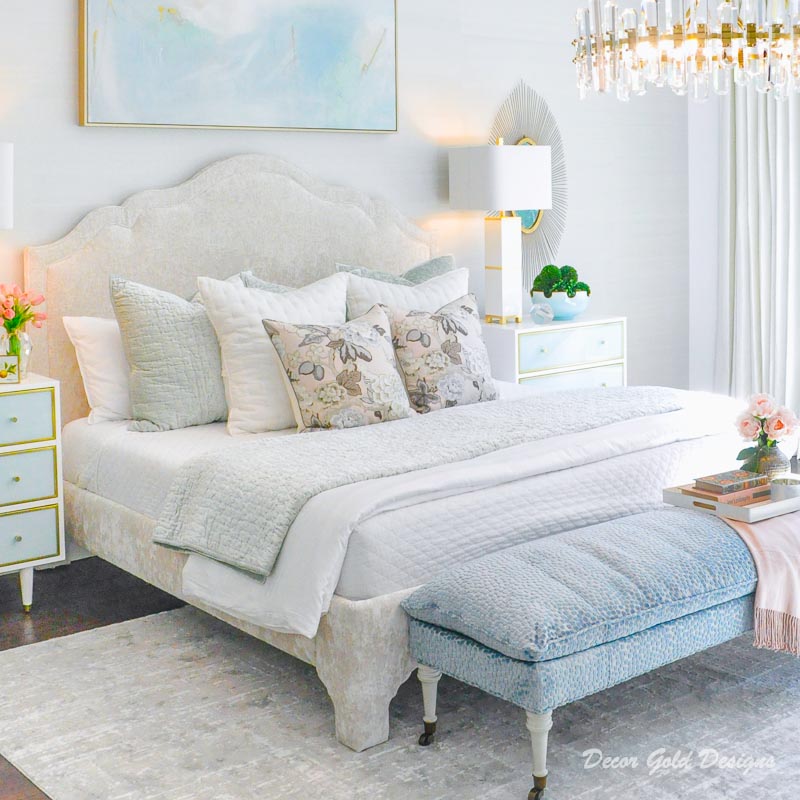 The Nightstands
Just the right amount of color, simple lines, and gold accents made these nightstands a wonderful choice. I believe they were one of the first items selected by Jenny. I remember how excited she was about them. Once I saw the manufacturer's photo, I loved them too and I love them even more in person!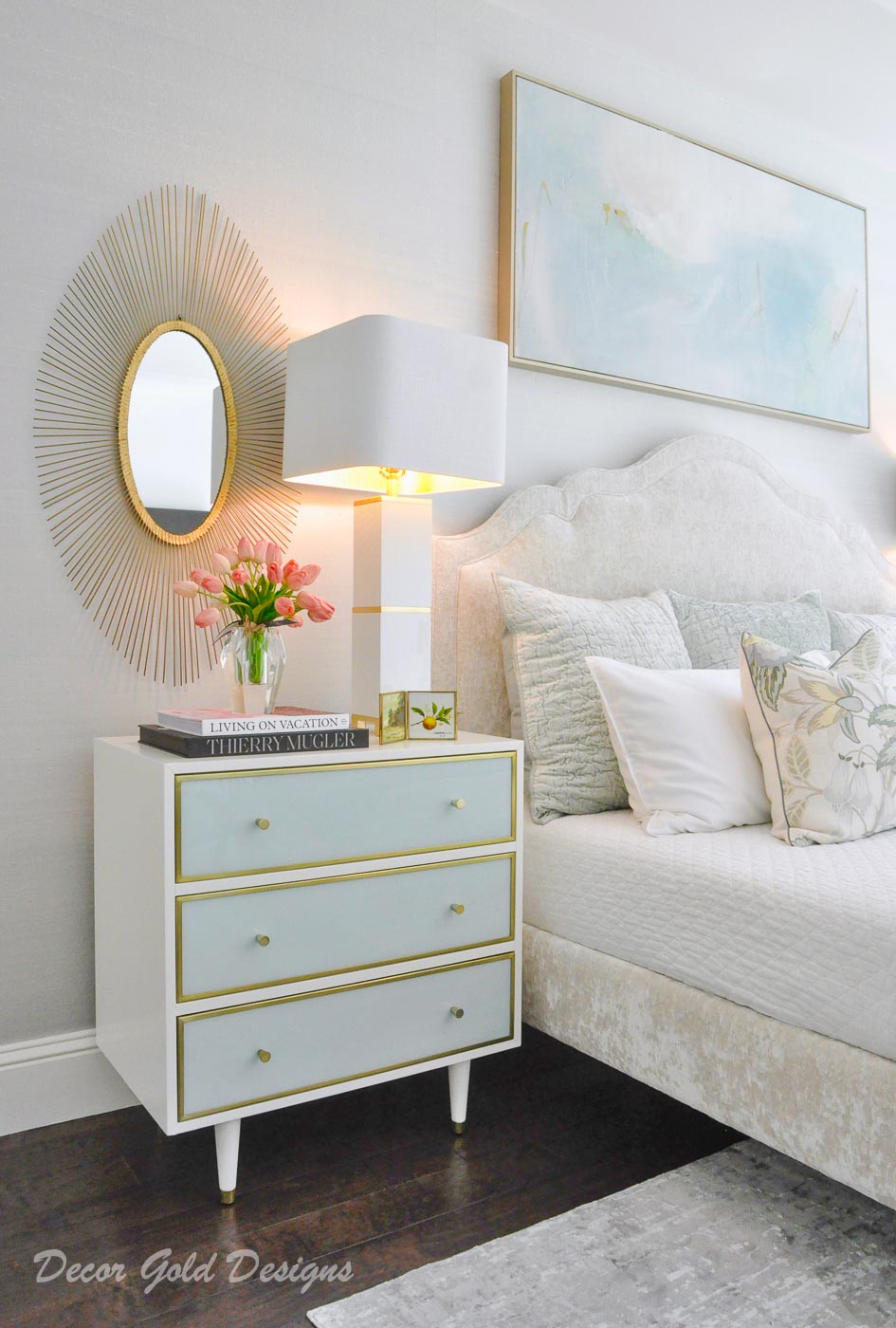 The Art
This gorgeous piece was created for this project by Katherine Freeman Hocke. Katherine is an artist who worked directly with Jenny on this commissioned piece. By doing so, she was able to understand the colors and style of the room's design.
To say Katherine is talented would be an understatement! Katherine perfectly captured the color scheme we desired and brought this statement piece to life. It is everything and more than I had imagined. Eye-catching and wall-brightening, it made this space come to life. Katherine is incredibly professional and creative and I am honored to be able to share her work with all of you.
I cannot say enough about how amazing she was to work with and how stunning her pieces are! Learn more about her in my project post and on her website!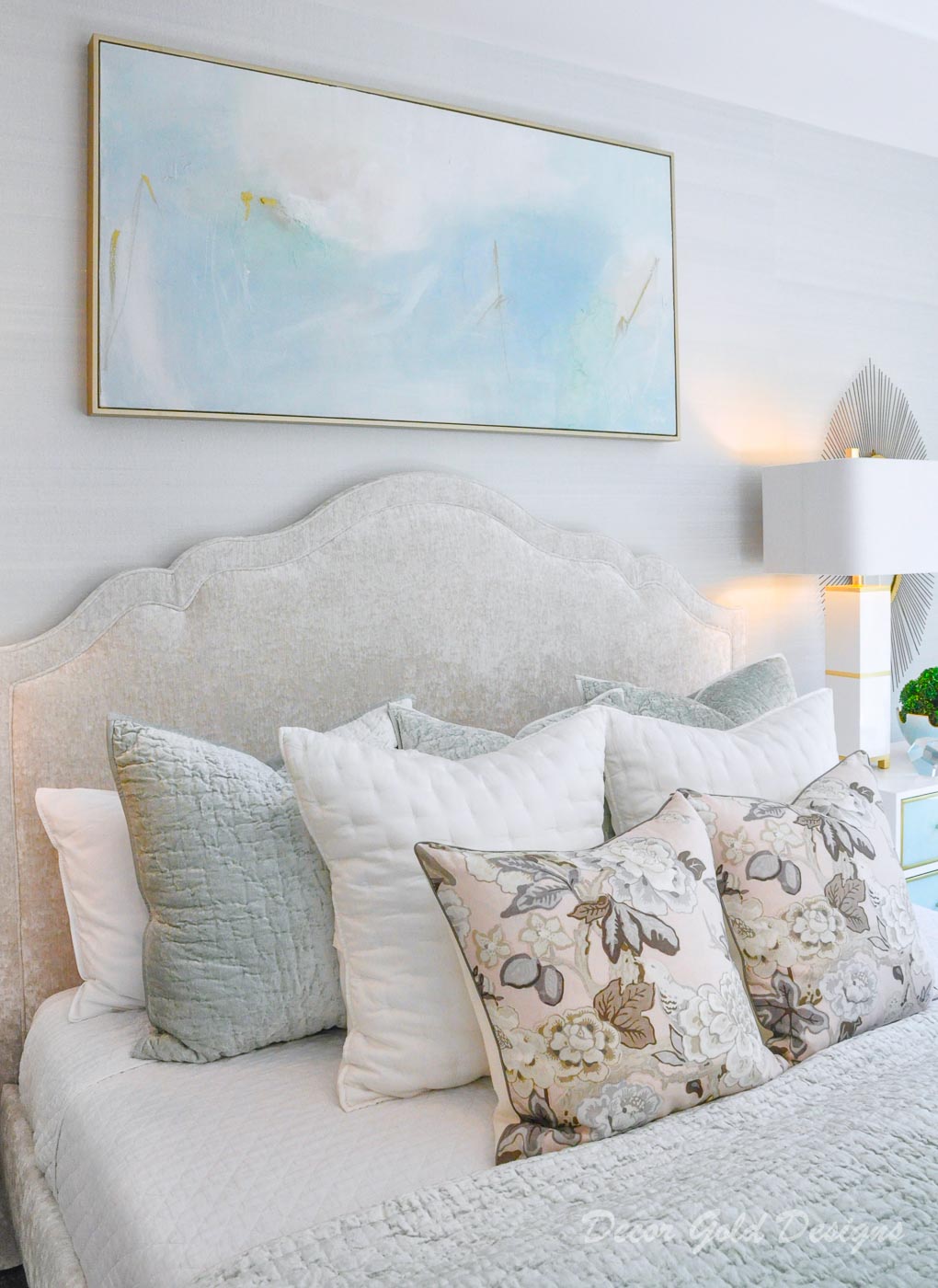 The Bench
I don't know if I was more enamored with the fabric or the design of the bench, but the combination is stunning. Adding a pretty pop of blue, it is also inviting and cozy with its over-stuffed pillow top. The fabric is called "bespeckled blue." Love it!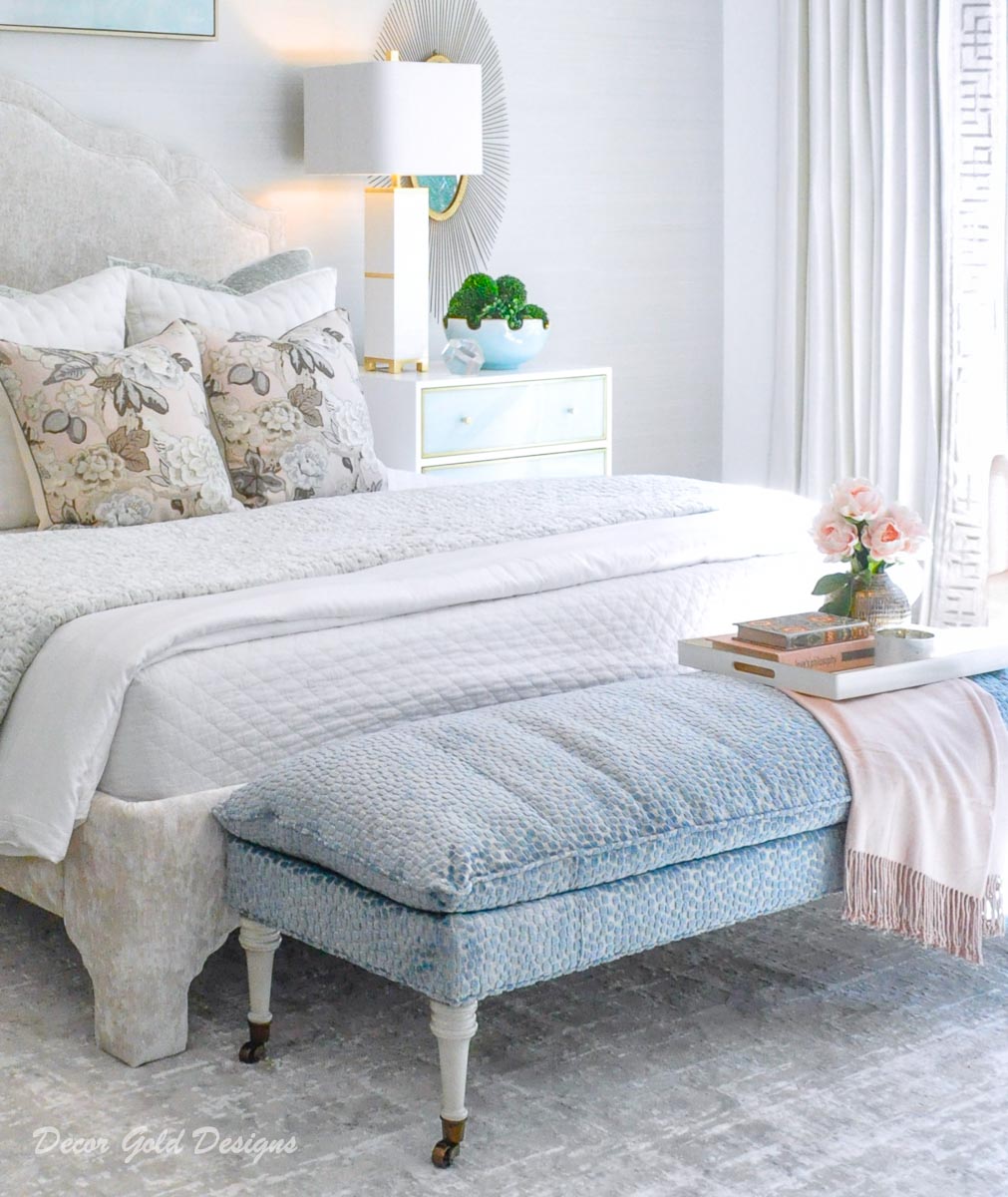 The Wallpaper
The wallpaper is insanely luxurious. It is a silk weave in a seaglass color. More on this soon.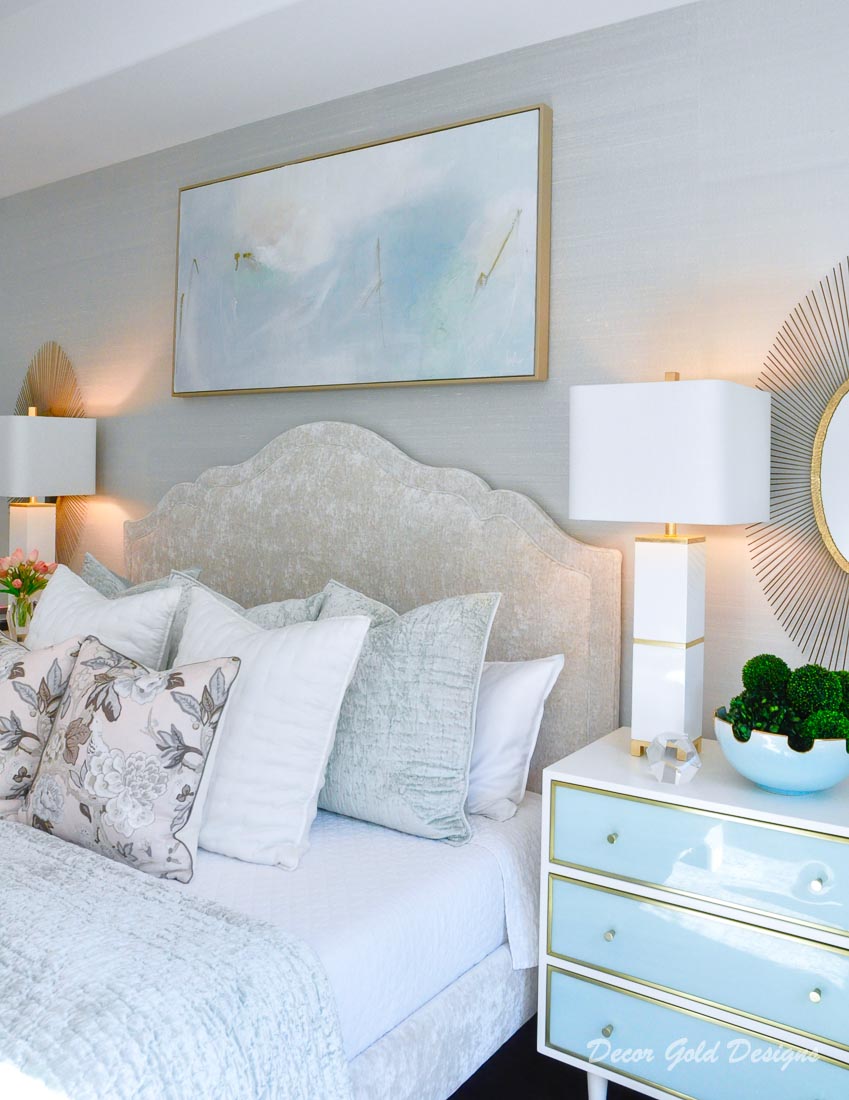 The Mirrors
Jenny found these lavishly adorned with antique gold leaf mirrors. They are sculptural and fit brilliantly into the space and design.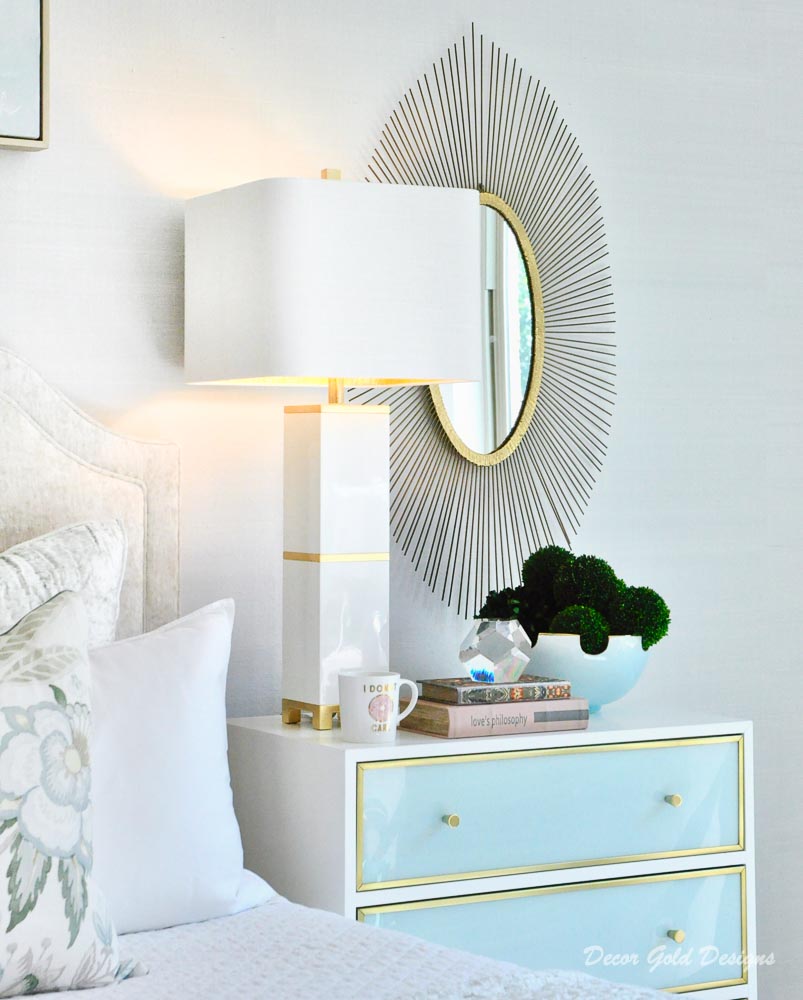 The Rug
The rug Jenny found also gives the space an inviting look. Its abstract design is silver, gray and ivory. So perfect!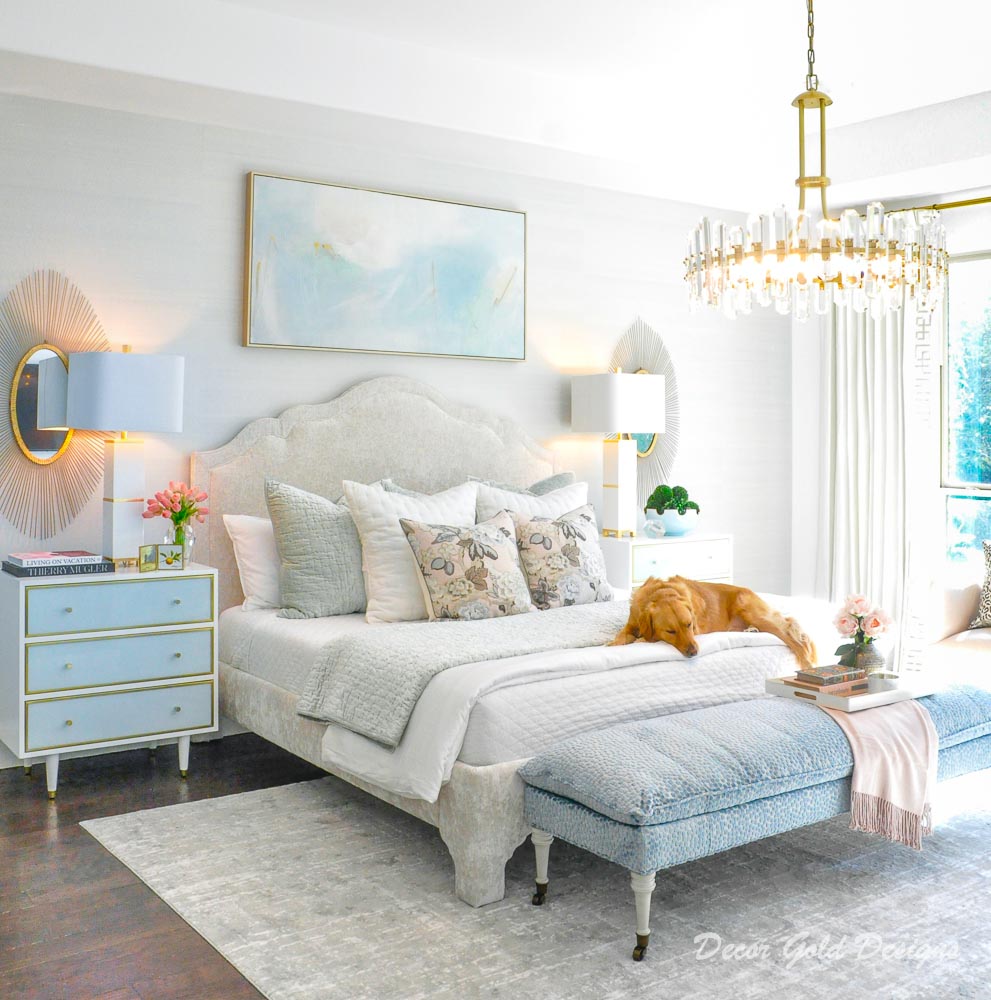 The Lamps
I love the tall design and white and gold base of the table lamps that reside on each nightstand. An enchanting detail is a pretty gold lining inside the lamp shades.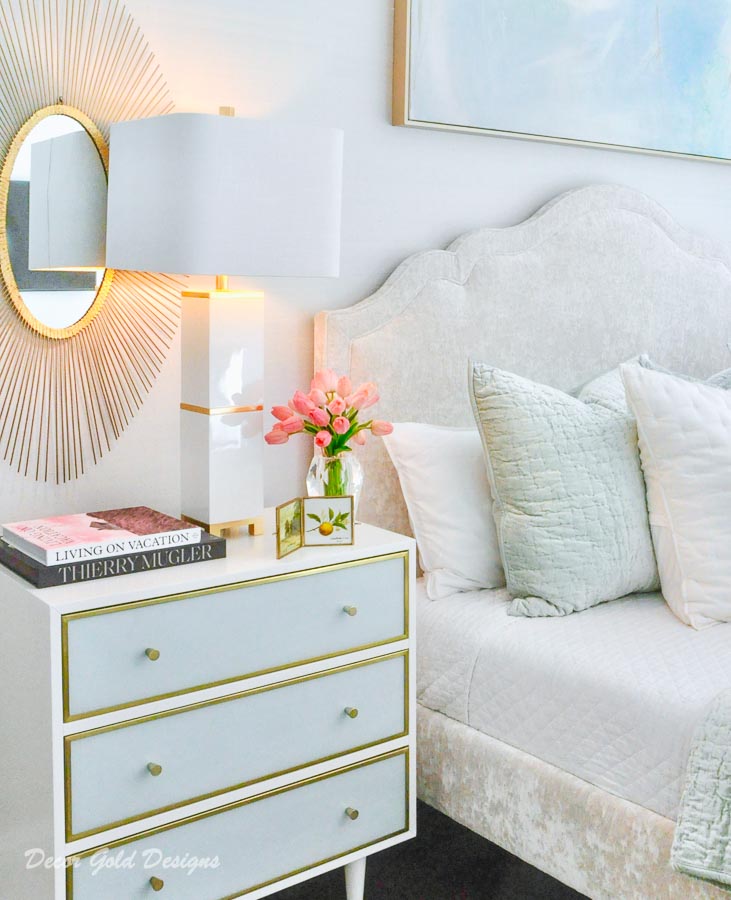 The Chandelier
I found this beautiful chandelier a few months ago. You may remember what a difference it made in my bedroom at the time. I fell in love with the multi-faceted crystals and its gold drum frame. I knew it would be part of a more elegant bedroom aesthetic when I first saw it and was lucky enough to get it installed a little sooner than the rest of the updates.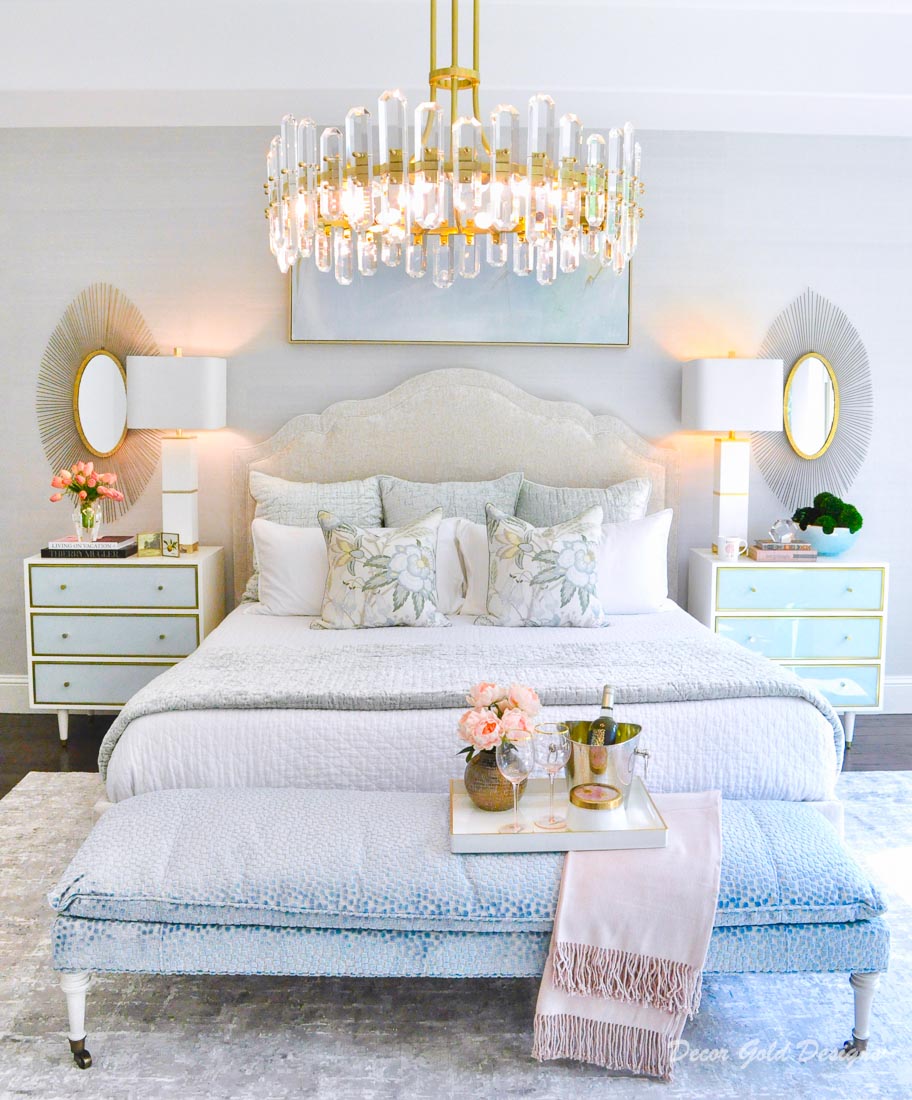 The Bedding
We started with a quilt and shams that I already owned. Jenny then added three euro shams and a quilt, both so luxurious in matte velvet. Lastly, two blush blossom throw pillows that I adore plus a heavenly cashmere throw (similar) tie everything together for a curated look.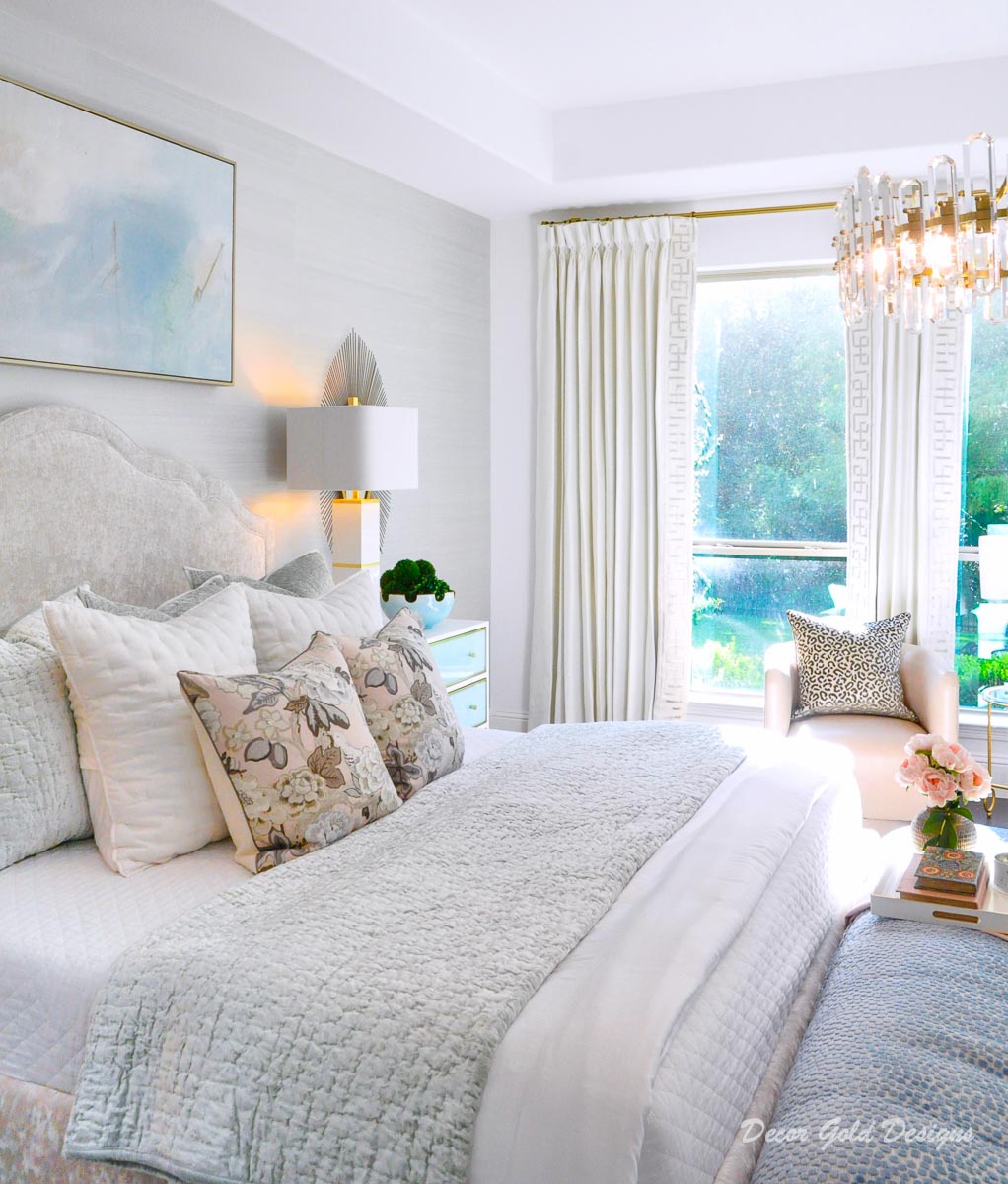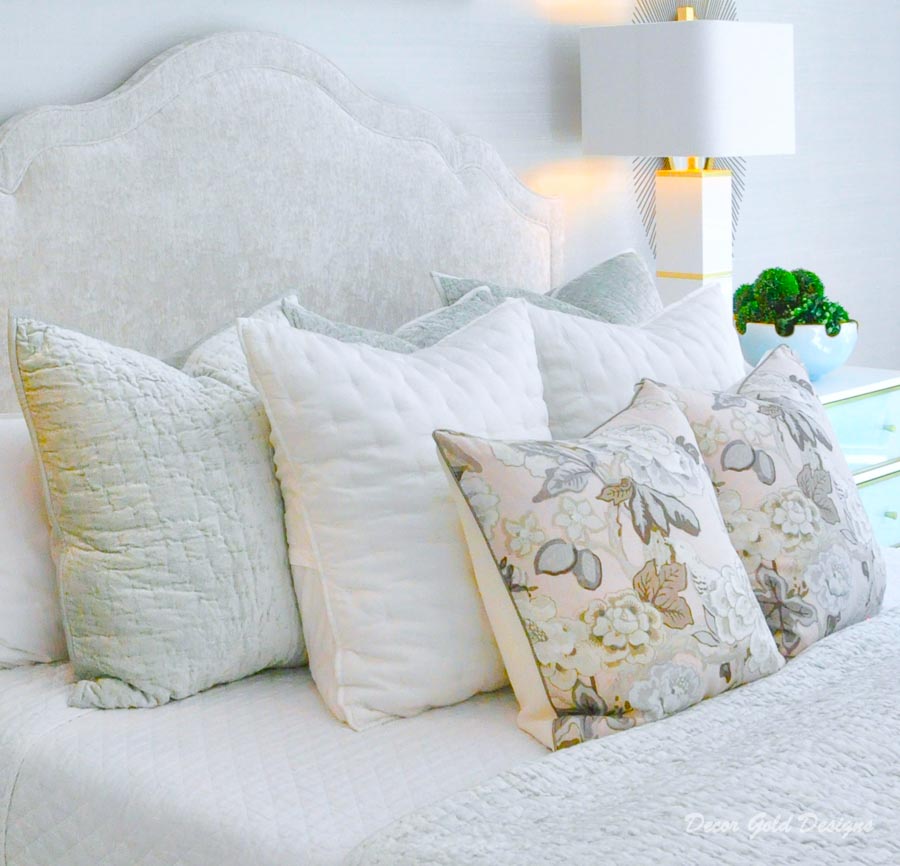 The Accessories
Jenny dressed the space for the reveal with some lovely accessories that are available at coterie_home.com. Coterie Home is an online store with a darling home decor storefront in College Station, Texas that Jenny owns. Each item she selected for my bedroom compliments the overall aesthetic and adds style and interest.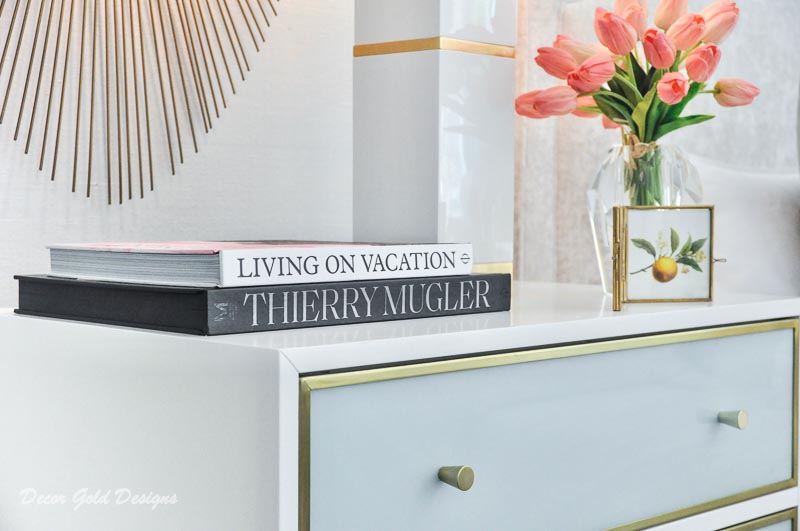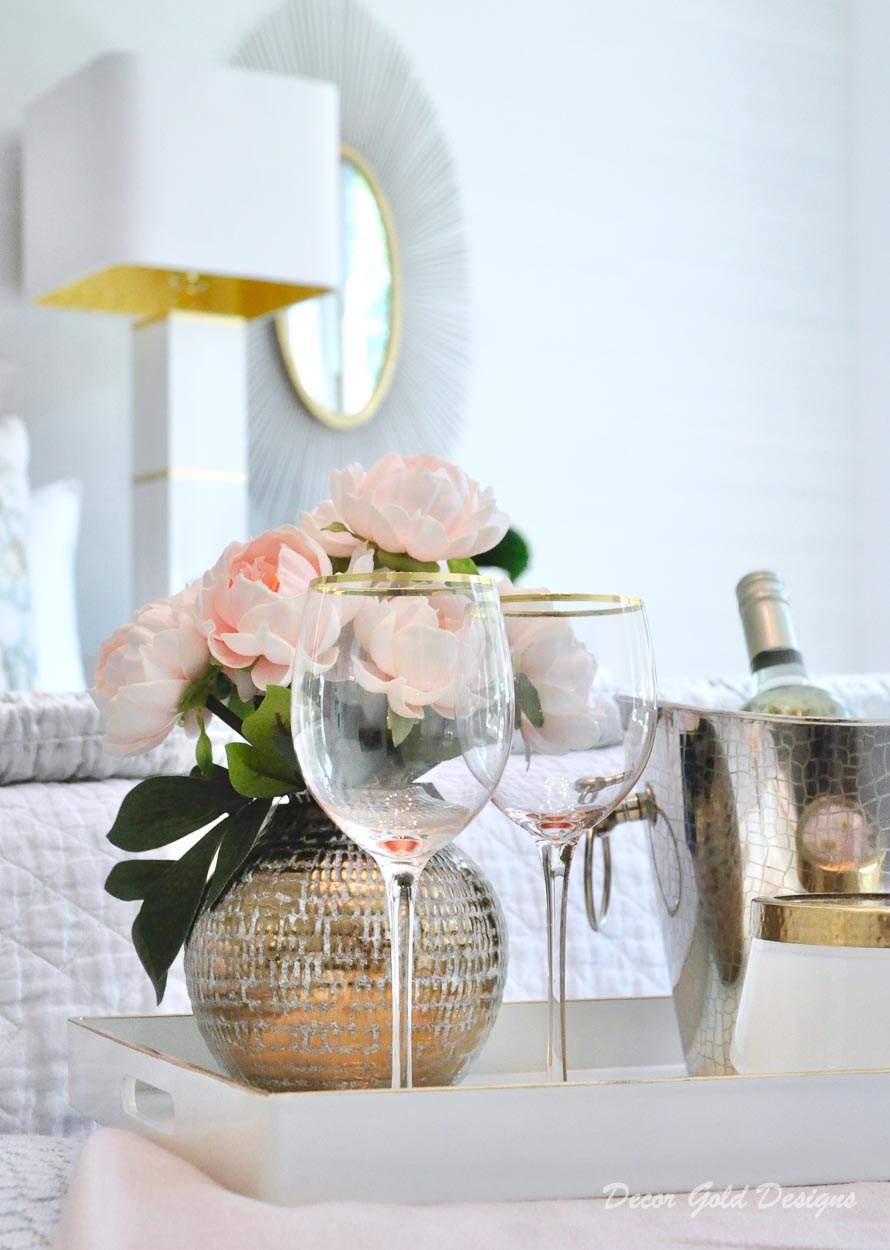 Accessories from Coterie Home:
Wine Cooler | Pink Wine Glasses | Tray | Peonies | Photo Frame | Book Storage Boxes
Bowl | Boxwood Spheres | Boxwood Ball | | Gold Pot | Crystal Accessory | Crystal Vase | Tulips (similar)
Golden Tree Accent | Lady Statue | Blush Quartz Frame (4×6) | Blush Quartz Frame (5×7)
More…..
It only takes a quick glance toward the window wall to see that there is more to this space. The sitting area includes pieces like fabulous leather chairs in blush, a gold and acrylic side table, another striking lamp, and the most fabulous custom drapery panels ever! The left wall also has a new look too. I'll be sharing all of this and more in upcoming posts. Be sure to subscribe to Decor Gold Designs and you'll be the first to know about these reveals and lots of blog posts filled with holiday decorating ideas!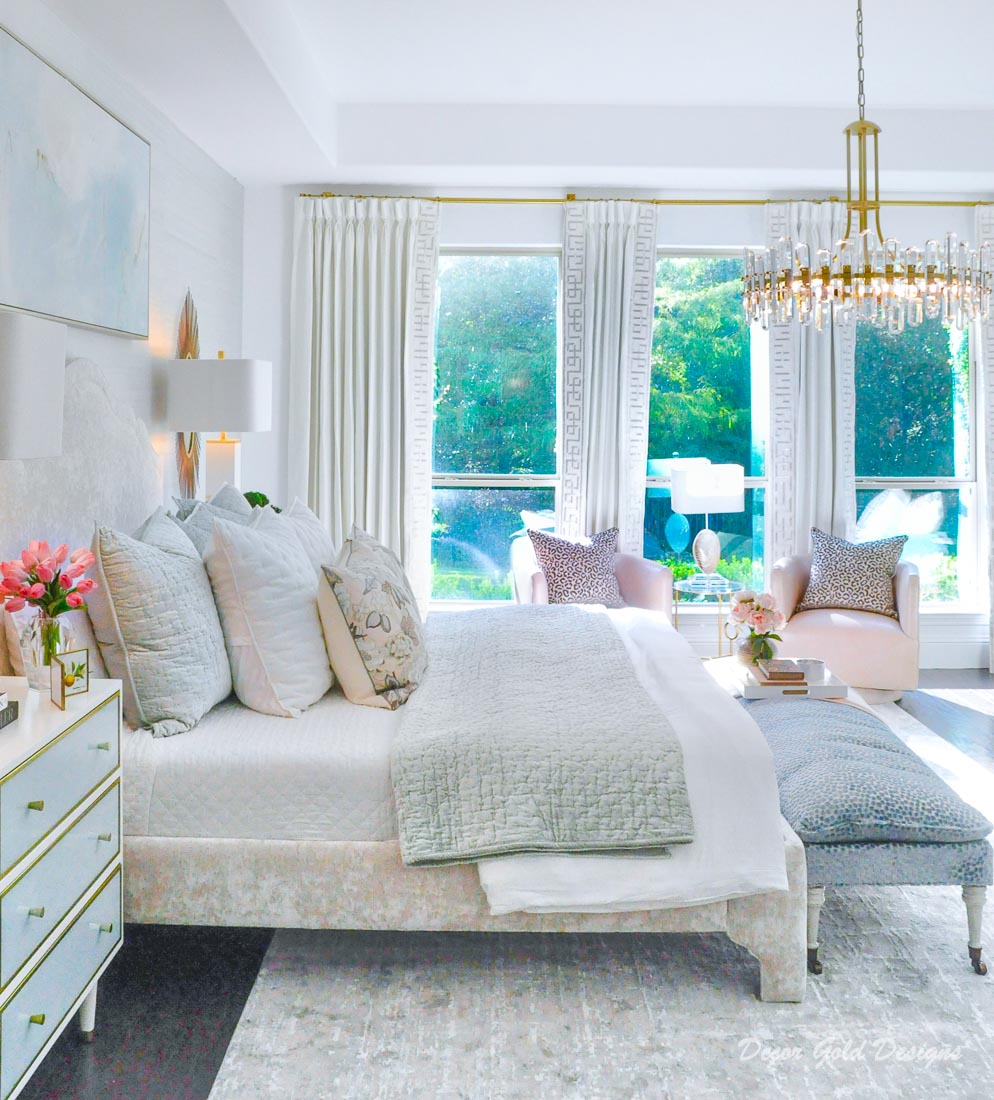 One Last Look
Here's a last look from the reveal day.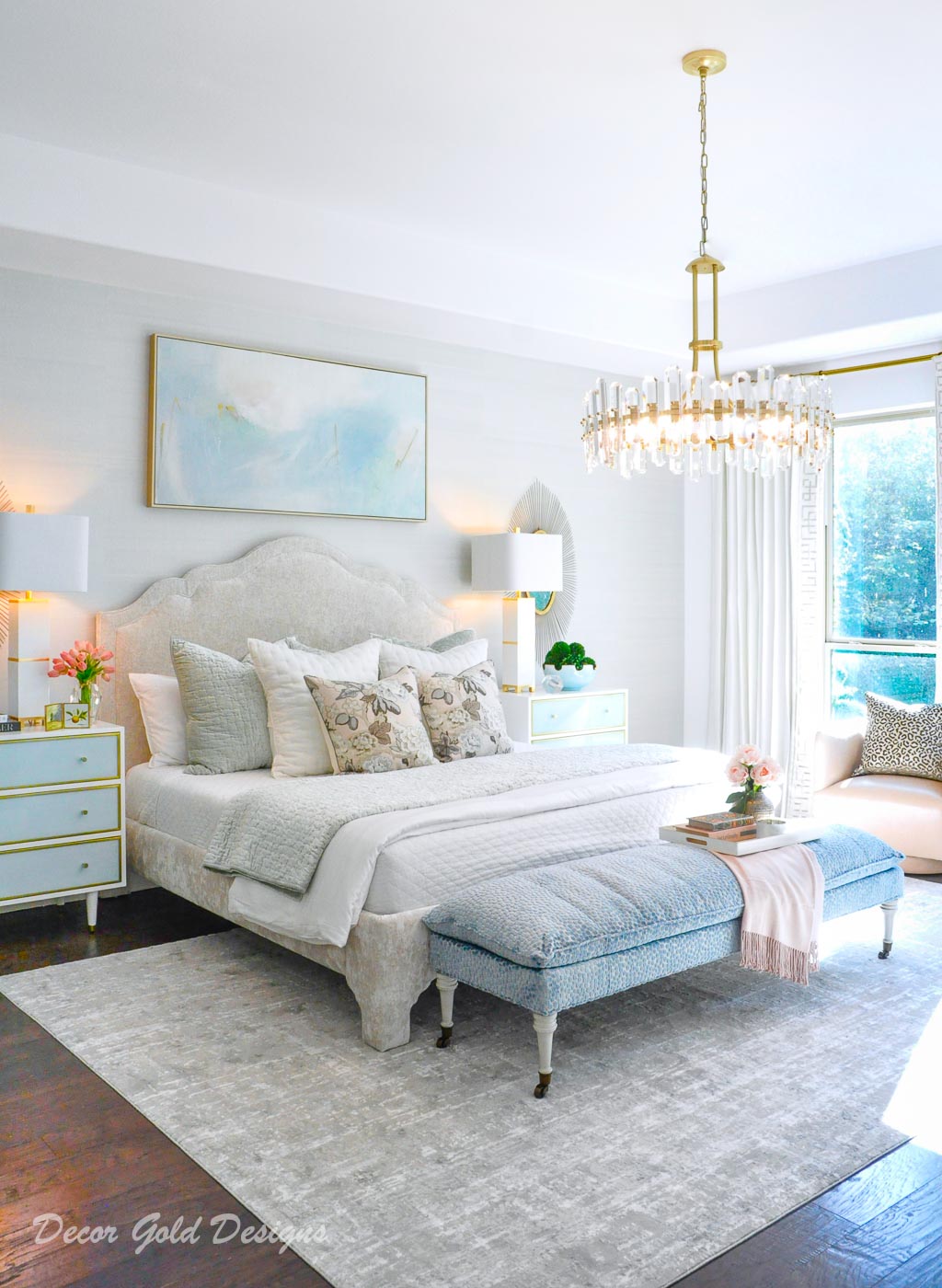 Above, I mentioned the beautiful Christmas trees Jenny designed for me last year. I can hardly wait to add some holiday touches to this newly updated space. Coterie Home will likely be the source of my Christmas decor again. I highly recommend that you visit them for your upcoming holiday needs. Their vast selection of beautiful ornaments and accessories make them one of my favorite sources for the holidays.
Back to this reveal and the current season though…… A quick transition to fall included an extra quilt on the bed, a faux fur throw, and a few of my favorite pumpkins.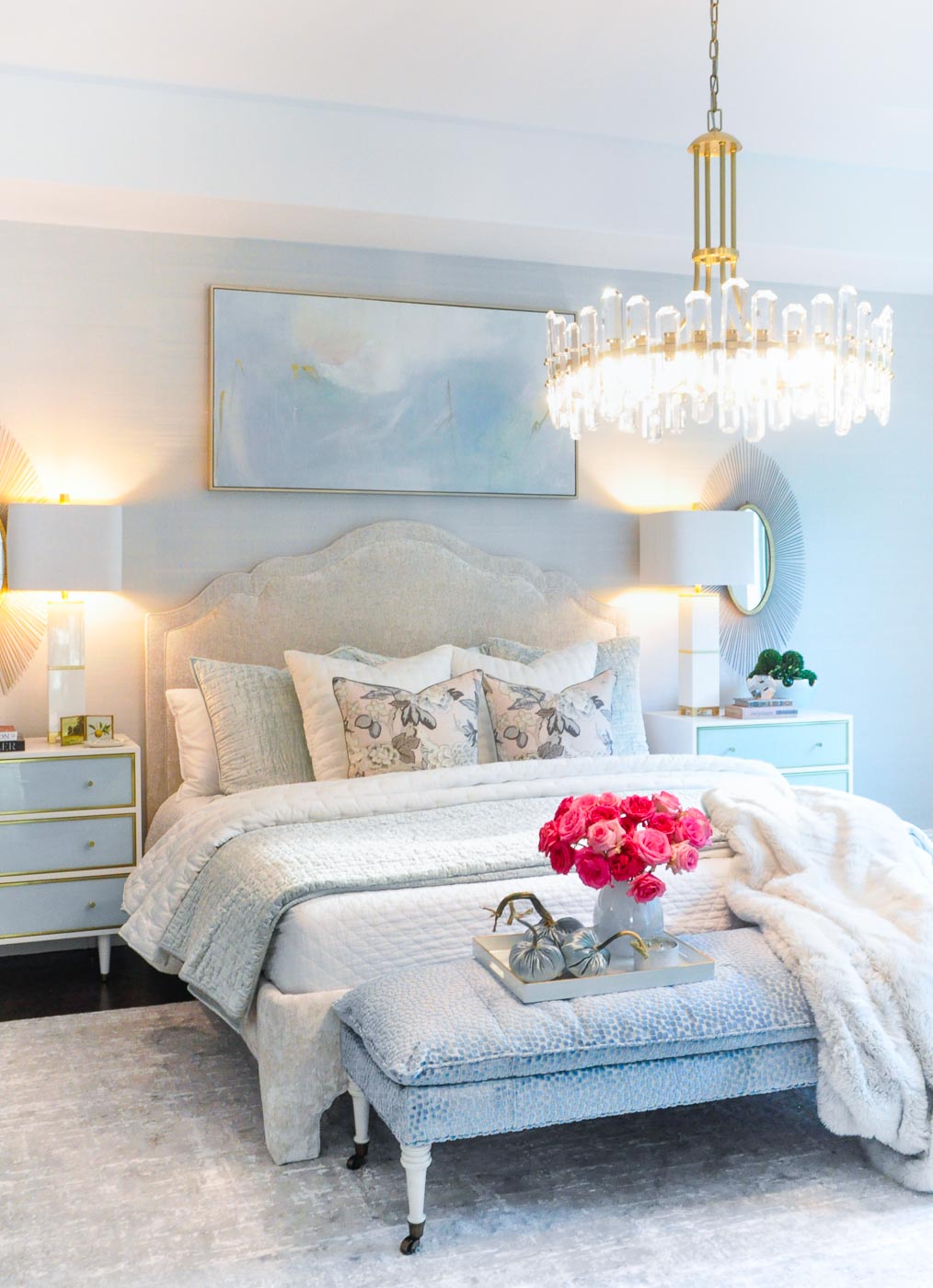 Contact Jenny Tamplin for all of your interior design needs.
She will work with you to create a space that fits YOUR personality, taste, and lifestyle.
I encourage you to reach out to her. After just one meeting with Jenny, I knew I could count on her to help me reach my design goals. My experience was amazing, inspiring, and the end results are stunning to say the least. I am so grateful to my designer (and now friend), Jenny Tamplin! I know you will feel the same after working with her!
Connect with us here & never miss a post!
Click on the Image to Subscribe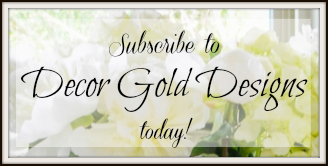 SOCIAL
Instagram | Pinterest | Facebook
Follow me on the LIKEtoKNOW.it app!