This is a special post for me. I'll be sharing a couple of things I absolutely love: my hometown of The Woodlands, TX and holiday decorations. I simply adore the holidays in my hometown, a master planned community in Houston, as the forested setting is an incredible backdrop for this time of year. Also, since we are coming out of summer, the cooler temperatures are always welcome and signify the holidays are around the corner!
*Affiliate links are included in this post. Also, I have partnered with The Woodlands to share a few holiday decorating tips and a little bit about what I love about my hometown. All of my opinions are my own. 
Recently, I had the honor of styling a couple of spaces in two of the most beautiful model homes Houston has to offer. They were located within Creekside Park® , The newest of the Woodlands' villages. Perfect for families, each of The Woodlands' homes is wonderfully designed and thoughtfully laid out to meet the needs of today's families. As a side note, in each village, The Woodlands development creates a "village center," which offers all of the daily amenities one could want or need. They feature cute little shops, restaurants and a grocery store anchor for convenience. This is one of the many reasons we moved here!
In the model homes by two top home builders in Houston, I wanted to create holiday spaces that complimented each of them. I also wanted to use elements that reflect the beauty of my surroundings. Those surroundings are mainly comprised of beautiful trees, lakes, ponds and several creeks.
Now, let's take a look at the homes!
M/I Homes Kitchen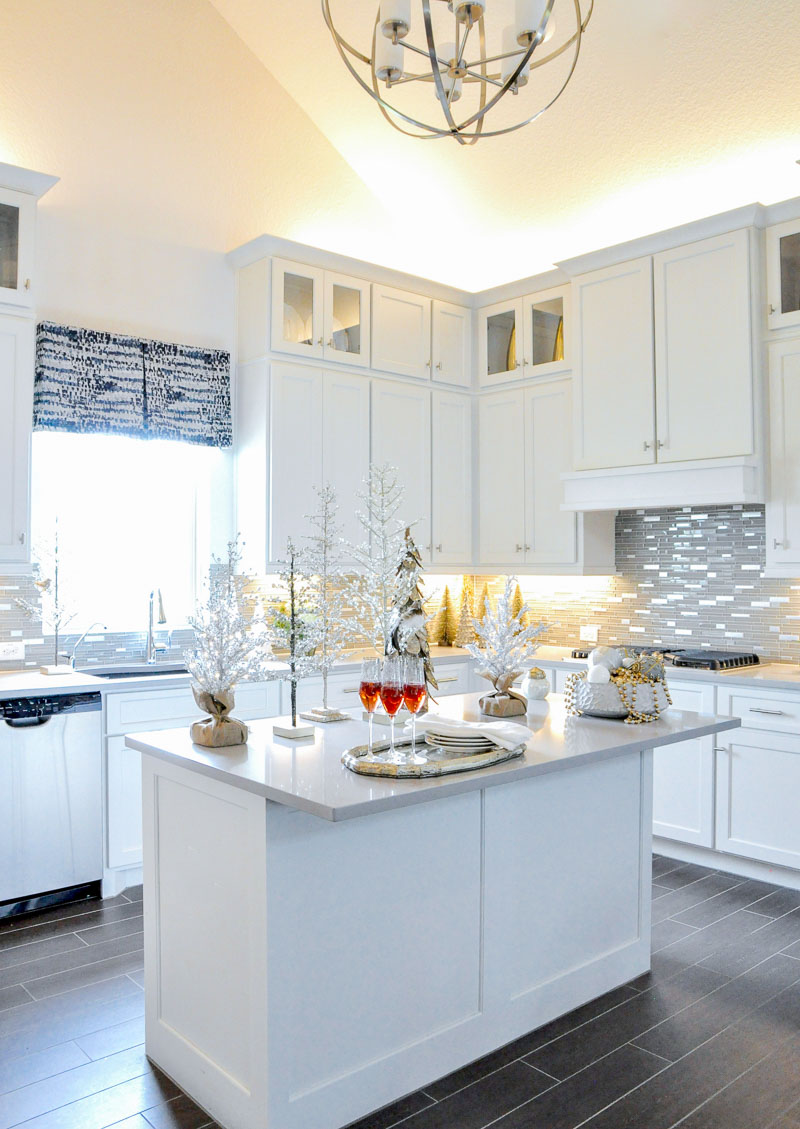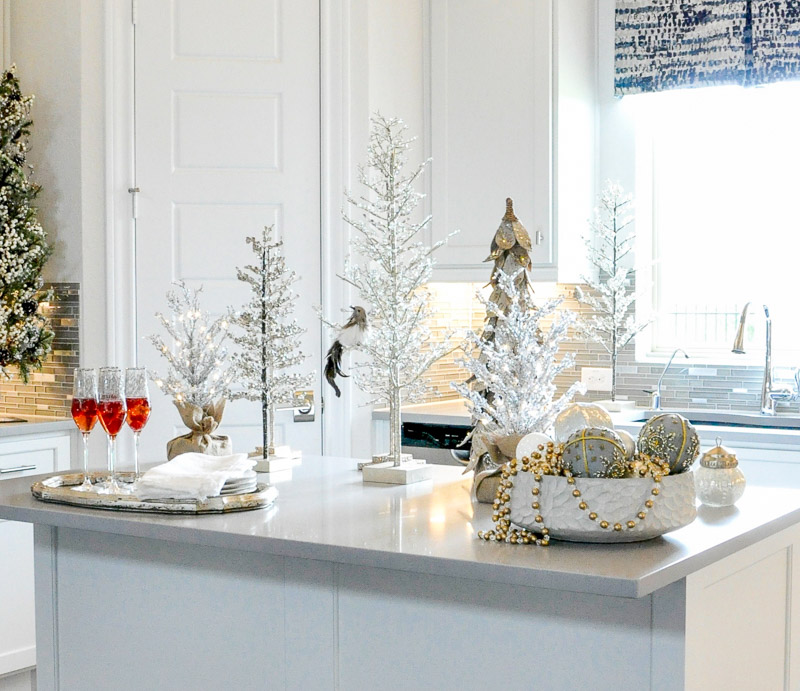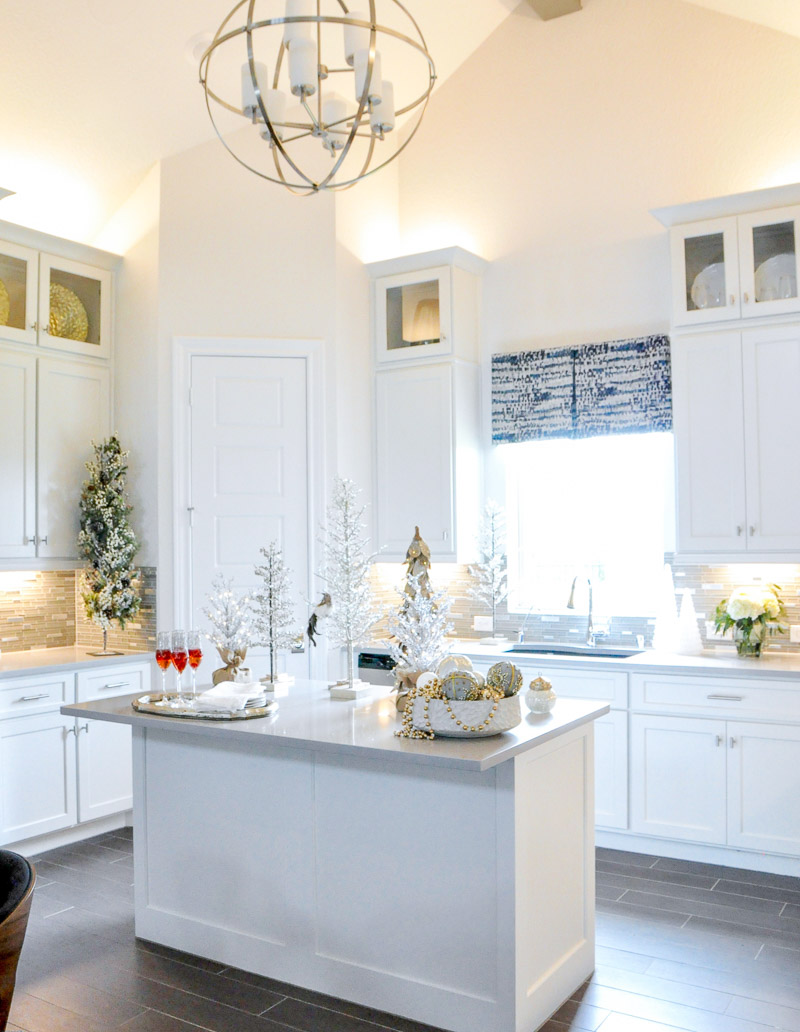 As you can see, I used a variety of decorative trees. The Woodlands community is set amongst towering pine trees in a naturally wooded setting. The community features 28,000 acres and offers everything a family could possibly want or need. For nature lovers like myself, there are over 200 miles of hike and bike trails throughout the community.
TIP 1. Find something in nature that inspires your holiday decor.
Here we have an abundance of trees and birds which thrive in the forest. How cute is this holiday inspired bird? The variety of holiday trees set around this kitchen reflect upon our natural surroundings.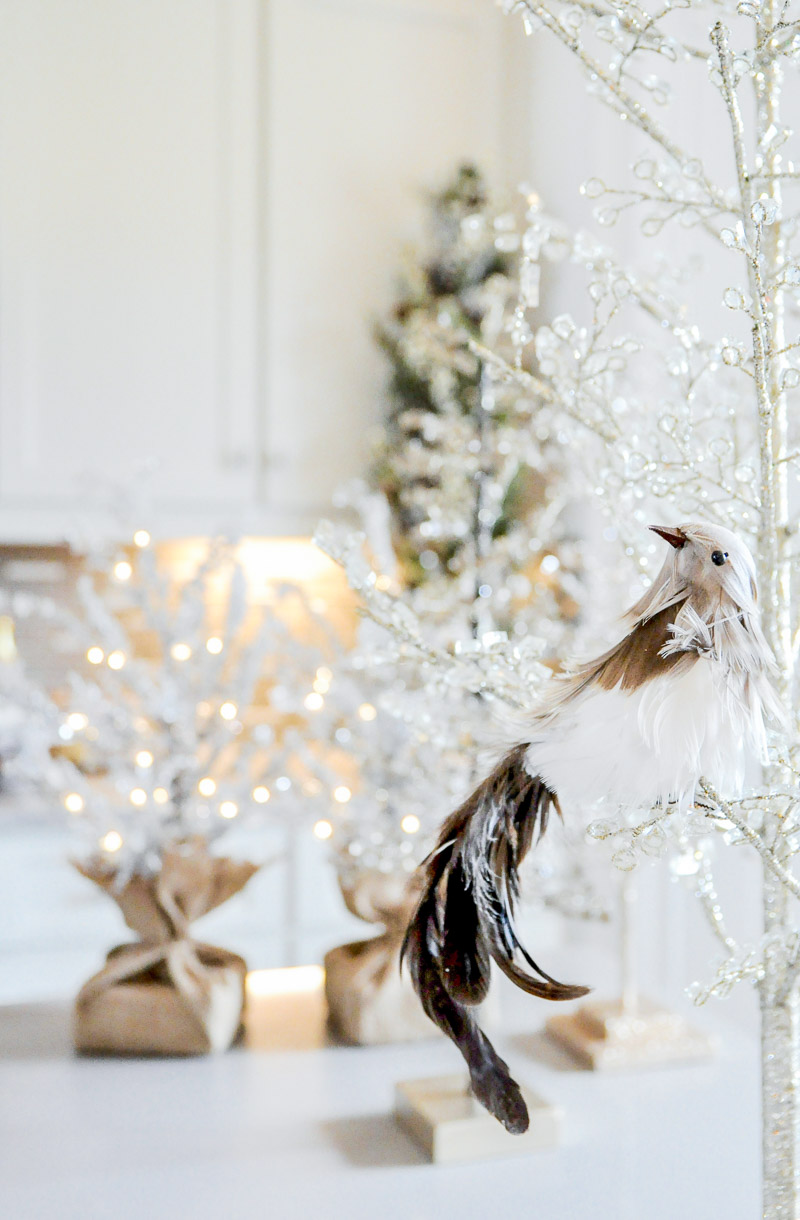 The wide angle of this kitchen shows how beautiful and open it is.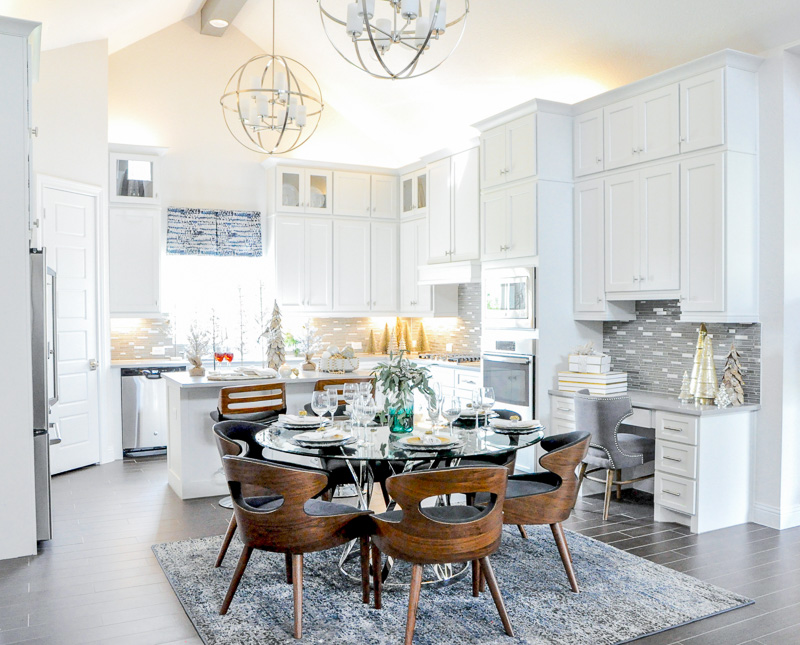 Trendmaker Homes Dining Room
I carried my holiday forest theme into the second home.

First, I have used multiple trees at varying heights. Several trees created the dining table's centerpiece. Secondly, don't forget the floor space. Taller trees in the corners of this space provide an opportunity to allow me to stack gift boxes which create a festive, holiday mood…. even before the boxes are filled with gifts!
TIP 2. Stack gift boxes around decorative trees.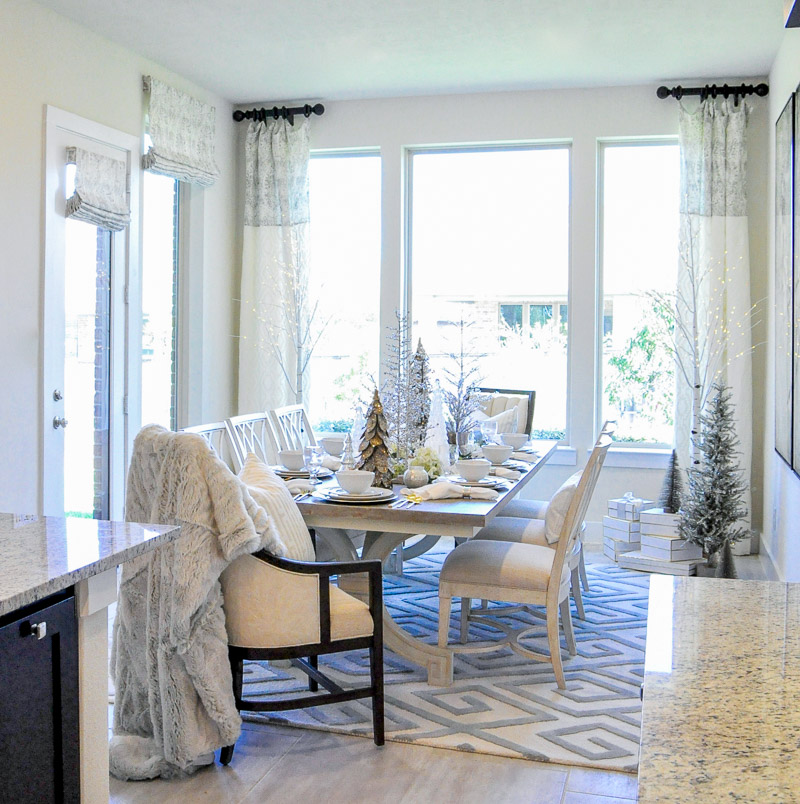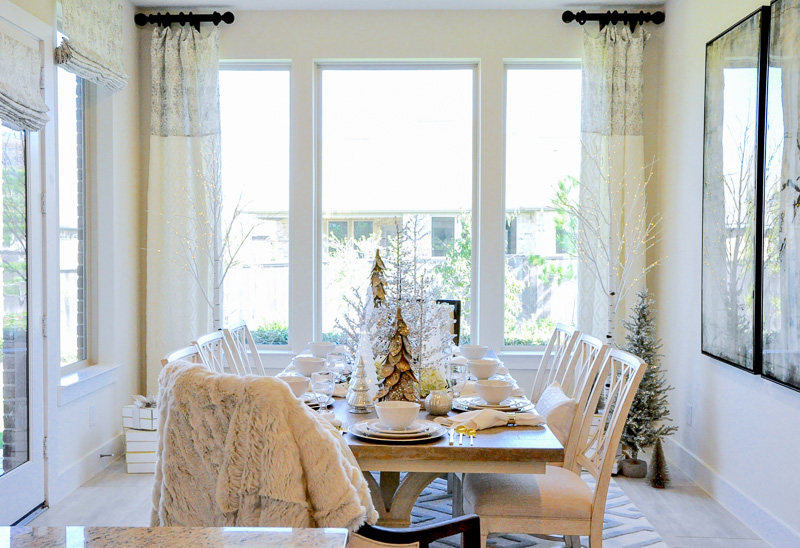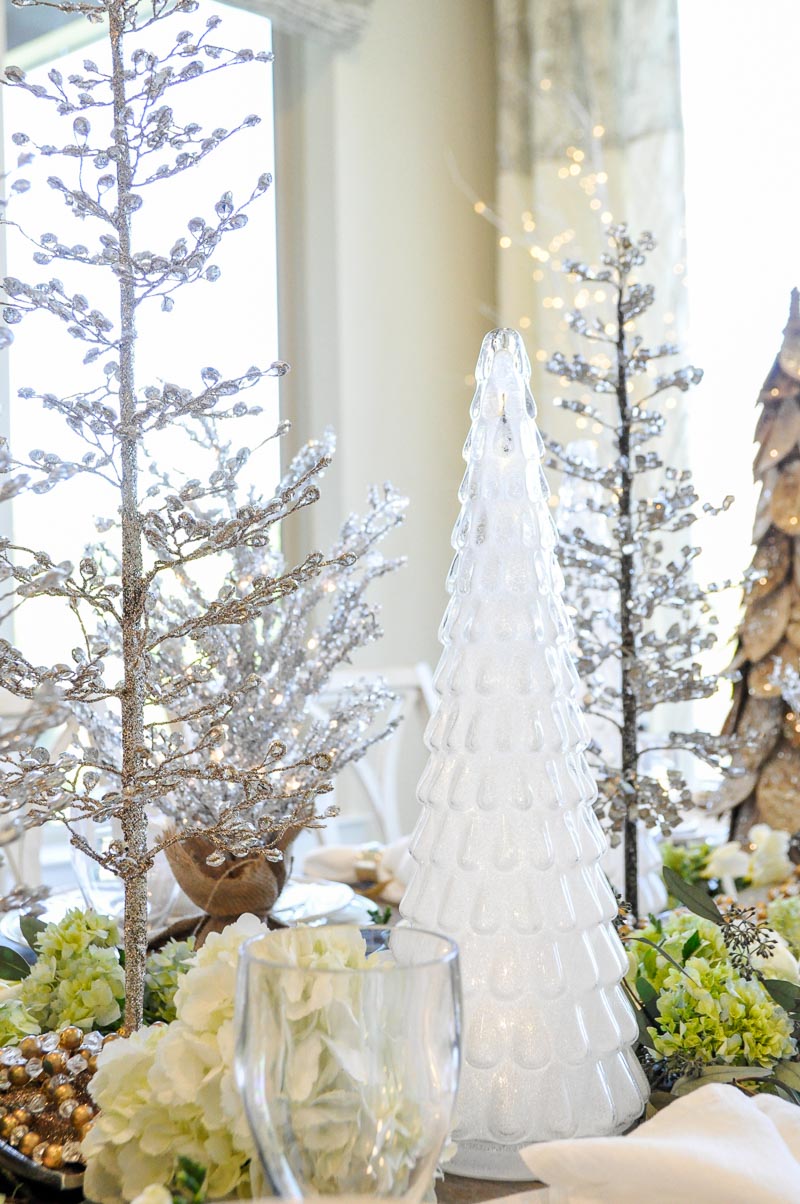 TIP 3. Use a variety of textures.
Want to add interest? Add texture. Above I included wood, glass, crystals as well as floral components to create a tree centerpiece. I found most of them locally!
All available sources are included below.
While I have you here, I thought I would brag a bit about The Woodlands…..
The Woodlands is a unique, award winning master planned community located 27 miles north of Houston. Looking for upscale shopping? The Woodlands offers Market Street which serves as a central entertainment hub with a variety of dining options, a movie theater, plus a fantastic Hyatt Centric boutique hotel. Located adjacent to The Cynthia Woods Mitchell Pavilion that is known for attracting top tier musical acts, Market Street is a staple for residents and guests alike.
Waterway Square is located adjacent to The Woodlands Mall and offers residents and guests award winning Houston restaurants, a river walk, plus a splash pad for the kids to keep them occupied on a sunny afternoon. Set within a bustling commercial corridor featuring The Woodlands Waterway Marriott Hotel & Convention Center and The Westin at The Woodlands, Waterway Square highlights urban amenities for The Woodlands' nearly 117,000 residents. By the way, when moving to The Woodlands, TX in 1997, there were only about 42,000 residents! What fun it has been to watch my darling little town turn into a destination!
One of the newest destinations for shopping and dining in The Woodlands is Hughes Landing. Located along the east shore of Lake Woodlands, it features Restaurant Row, commercial spaces, a recently opened Embassy Suites by Hilton hotel as well as a Whole Foods Market. You are never too far away from the amenities and conveniences Hughes Landing offers The Woodlands' residents within their own community.
I know you all understand my love of nature as I tend to decorate with it a lot! To that point, we try to get outdoors as much as possible here and the 200+ miles of hike and bike trails offer an escape from the urban benefits of The Woodlands. If you are into golf, there are seven championship golf courses within the community, both public and private. You can kayak along the shores of Lake Woodlands or merely sit and gawk at the natural beauty which is embracing you at every turn.
As you can see, families are drawn to The Woodlands for a variety of reasons. However, the schools here are simply top-notch. Three different school districts plus private offerings ensure your education needs are met.
This project was absolutely thrilling for me to do! The two Creekside Park model homes were beautiful and a joy to decorate. There are several additional model homes by other Houston builders in the area as well, and you can visit The Woodlands home search tool to learn more about each builder and their available homes/floor plans – The Woodlands Homesearch Tool
Follow me on Instagram where I will be sharing tours of them from time to time in my stories!
Happy Holidays!!!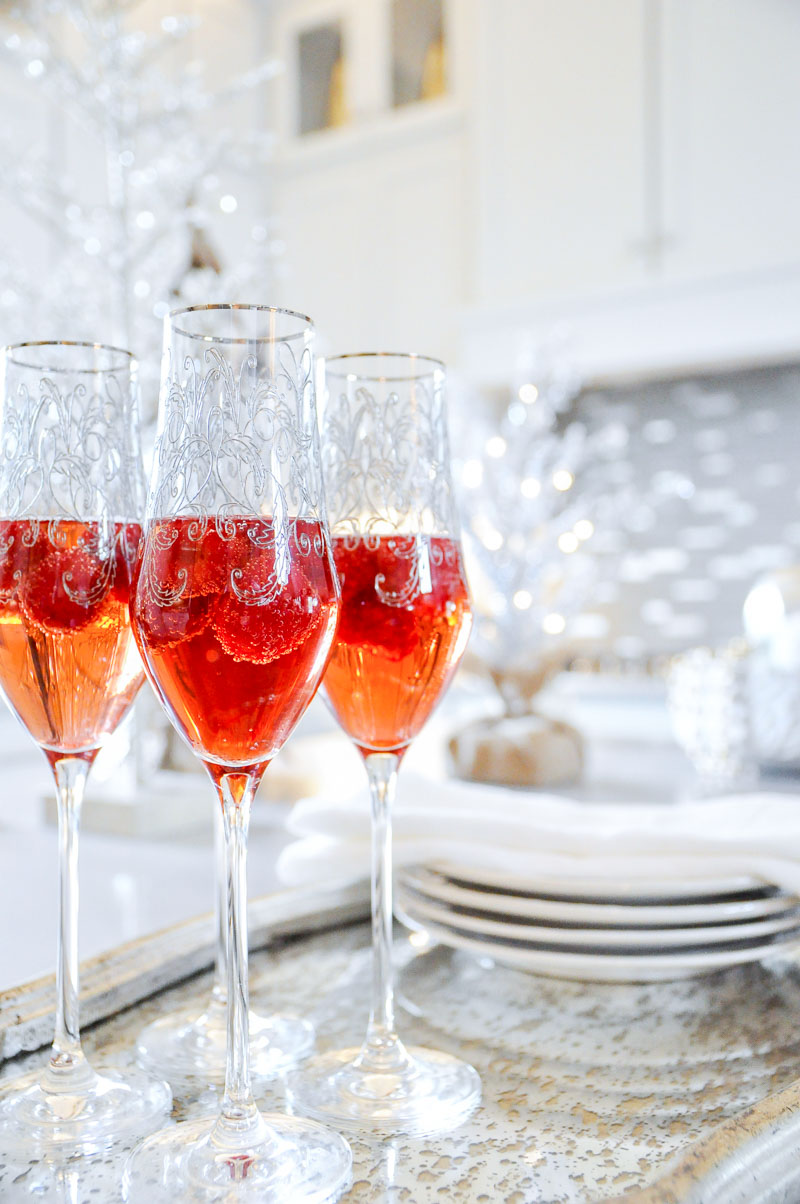 Crystal trees | Beaded trees with burlap base | White frosted trees | Birch trees
Gray faux fur throw | Centerpiece tray | White candle
Dinnerware | Flatware | Napkin rings | Linen napkins
Get the Look – Decorative Trees

Get the Look – Ornaments & More


Stay connected…..
Click on the Image to Subscribe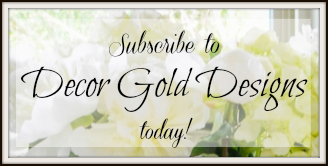 SOCIAL
Instagram | Pinterest | Facebook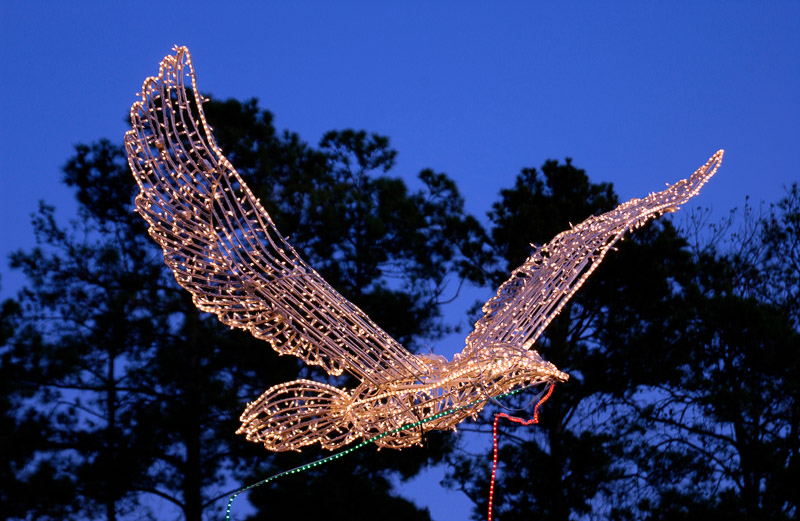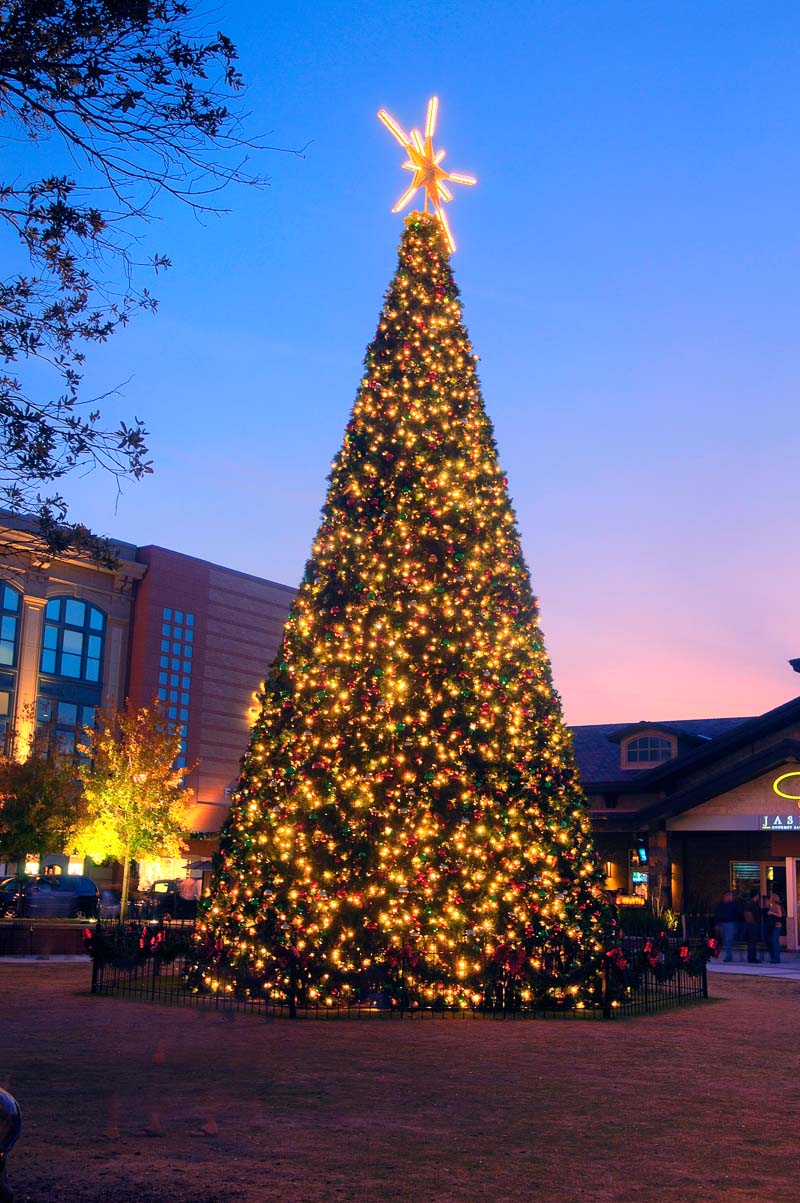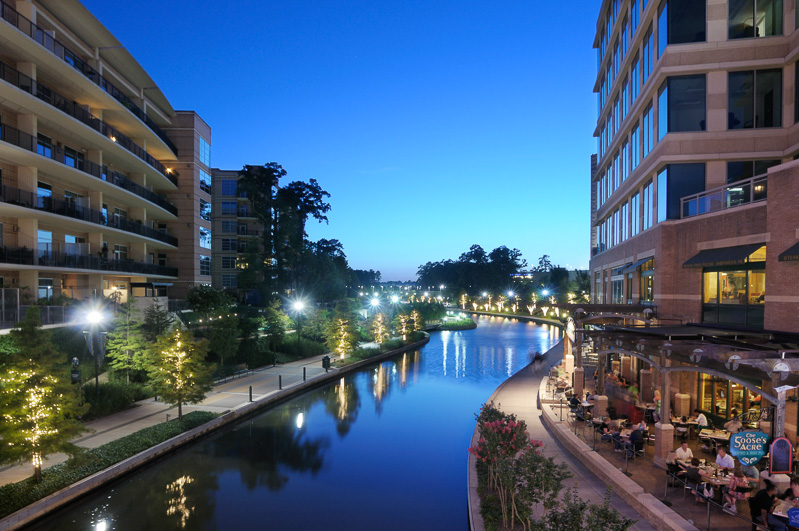 SaveSave
SaveSave
SaveSave
SaveSave
SaveSave
SaveSave
SaveSave
SaveSave
SaveSave
SaveSave
SaveSave
SaveSave
SaveSave
SaveSave
SaveSave