Welcome to my elegant dining room reveal! The redesign has been a labor of love with a very special team and I am thrilled to finally be able to share all of the details!
As we completed makeovers in our living room and kitchen, I knew I eventually wanted to create a more modern or transitional look for our dining room.
I was approached by the ladies from M E Home Collection for a collaboration, and I immediately knew the timing was perfect. I also knew I would have unparalleled personal design advice to help me with my selections. So wonderful to have guidance and eliminate my tendency to over-think my design!
*This post contains affiliate links. Additionally, M E Home Collection and The Curtain Gallery made this room design possible. As always my opinions are 100% my own.
A huge thank you to M E Home Collection for sponsoring this elegant dining room design!
As a reminder, this is our dining room before.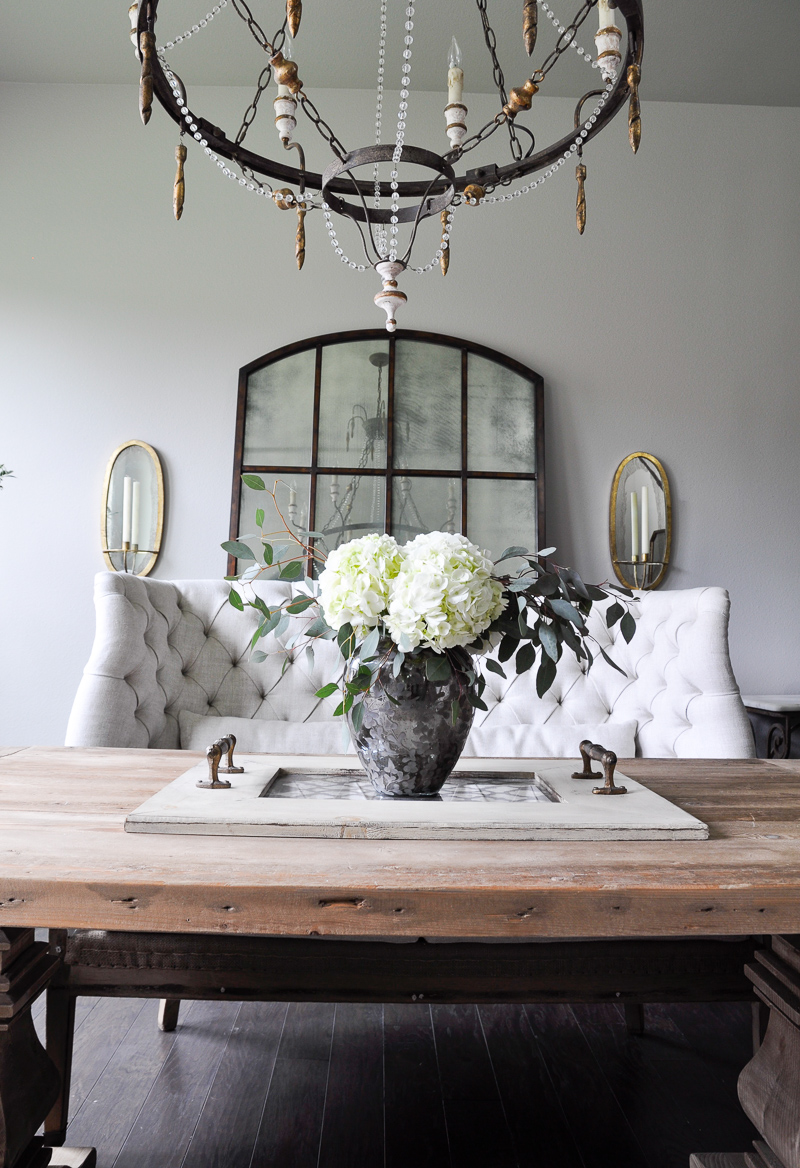 For a while I've been drawn to elegant, clean lines, so the "before" look had become a bit too rustic for me. Over the summer, we were fortunate to find new homes for many of our very gently used pieces and our makeover began! If you missed our plans, you can catch up here.
After exploring the M E Home website, I found a beautiful table and end chairs. I shared my finds with the M E Home team and they offered fabric and finish recommendations. They also advised on the remaining pieces and accessories I would need. Choosing exceptional furnishings and decor from their online store made the selection process a dream. Their offerings are highly curated and embody multiple styles of design.
I'm ecstatic about the new look!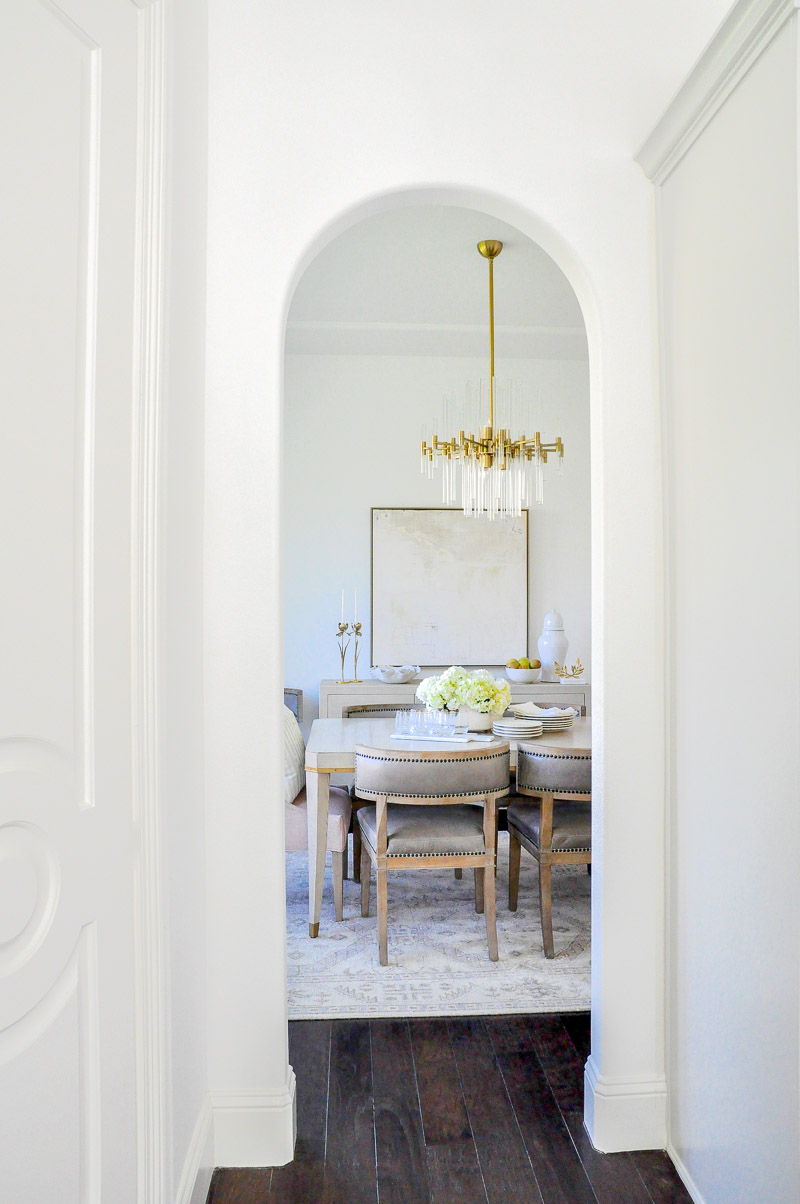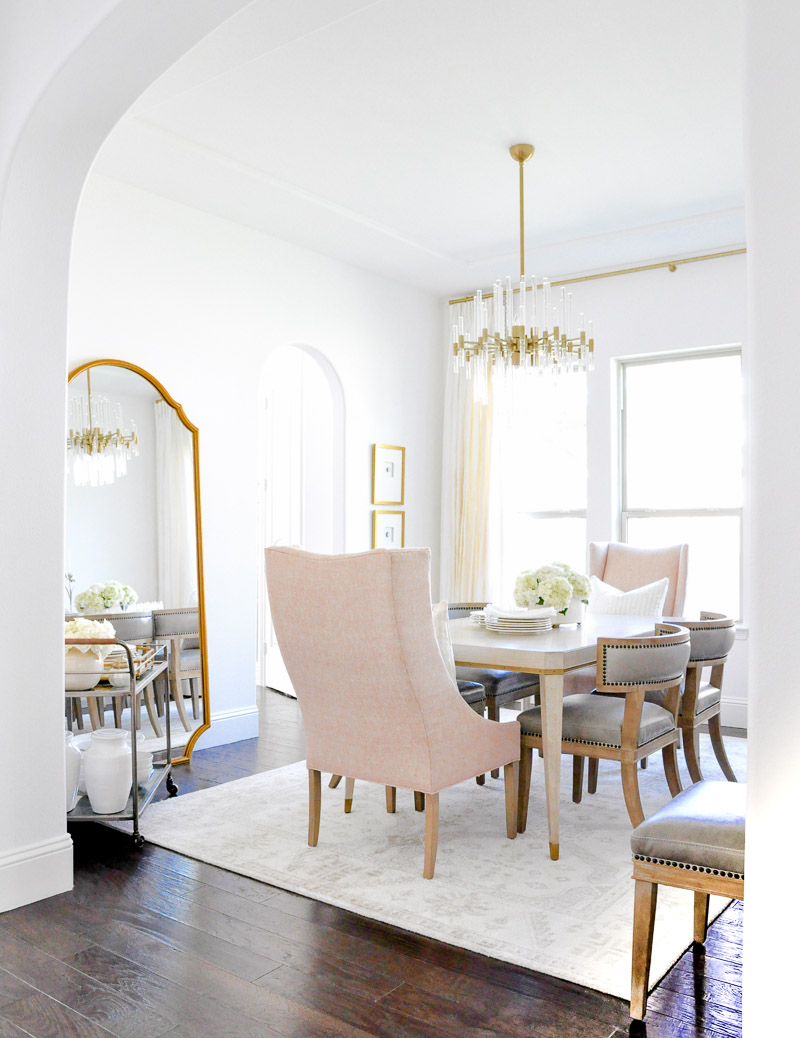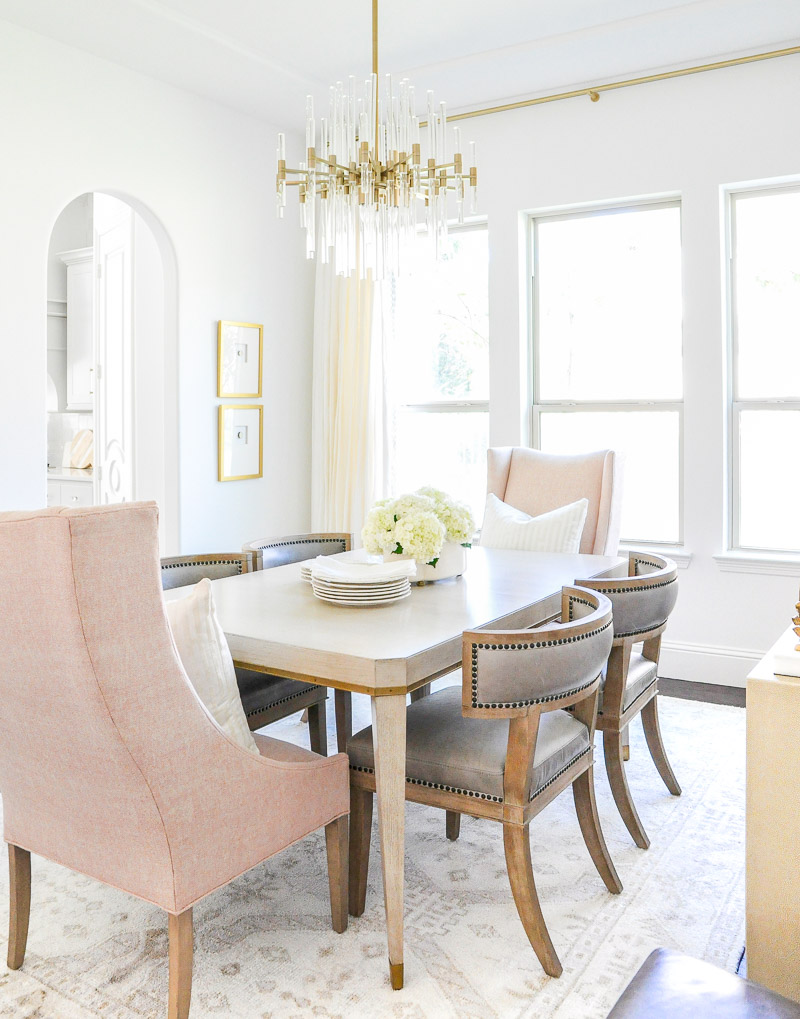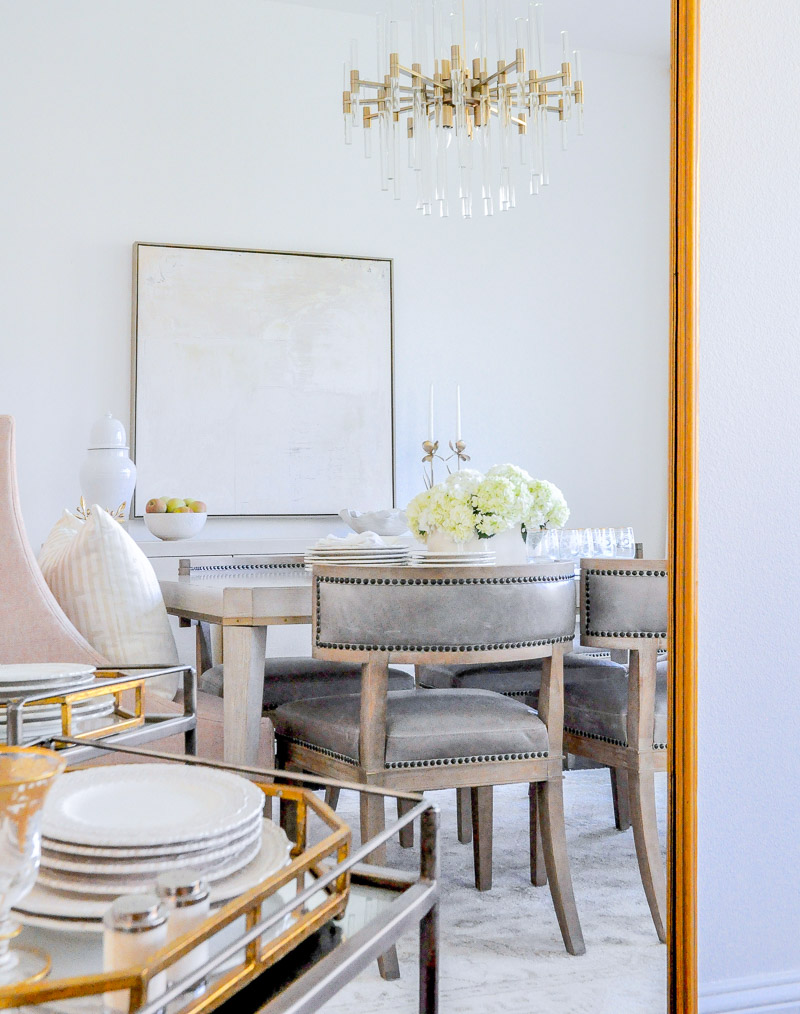 Furnishings
With amazing brands such as CR Laine and Four Hands, I felt comfortable with online furniture selections.
First, as I mentioned above, I found the end chairs & table. I've enjoyed sprinkling a bit of color into my freshly painted white home so we decided to use a shade of blush on the end chairs.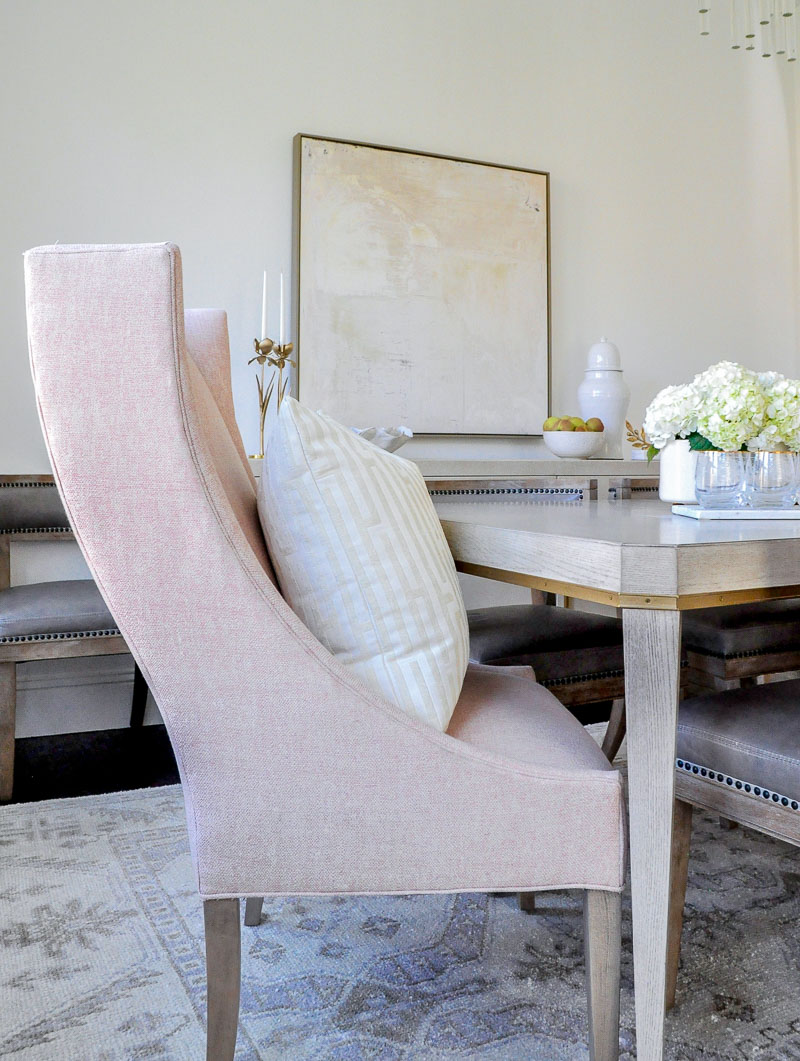 The side chairs are incredibly comfortable with their curved style and soft leather seats.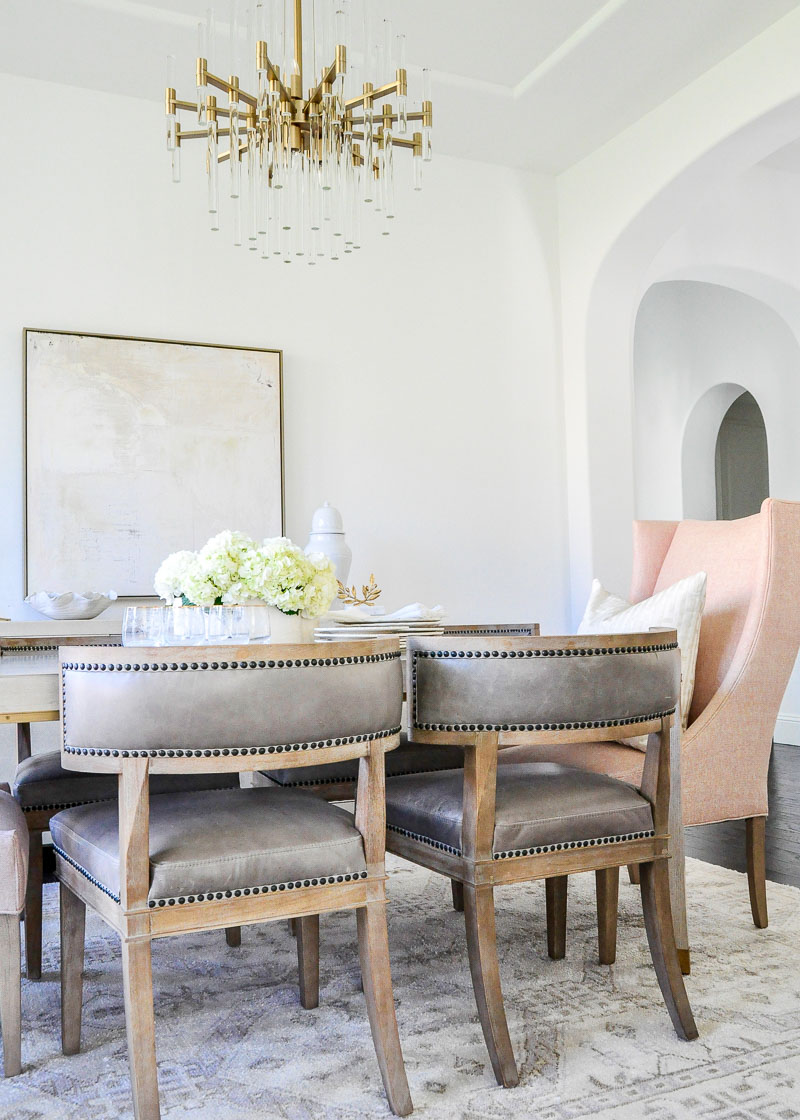 Additional Pieces
Art
These timeless framed intaglios add a stylish statement and a transition into the kitchen. They are also from M E Home.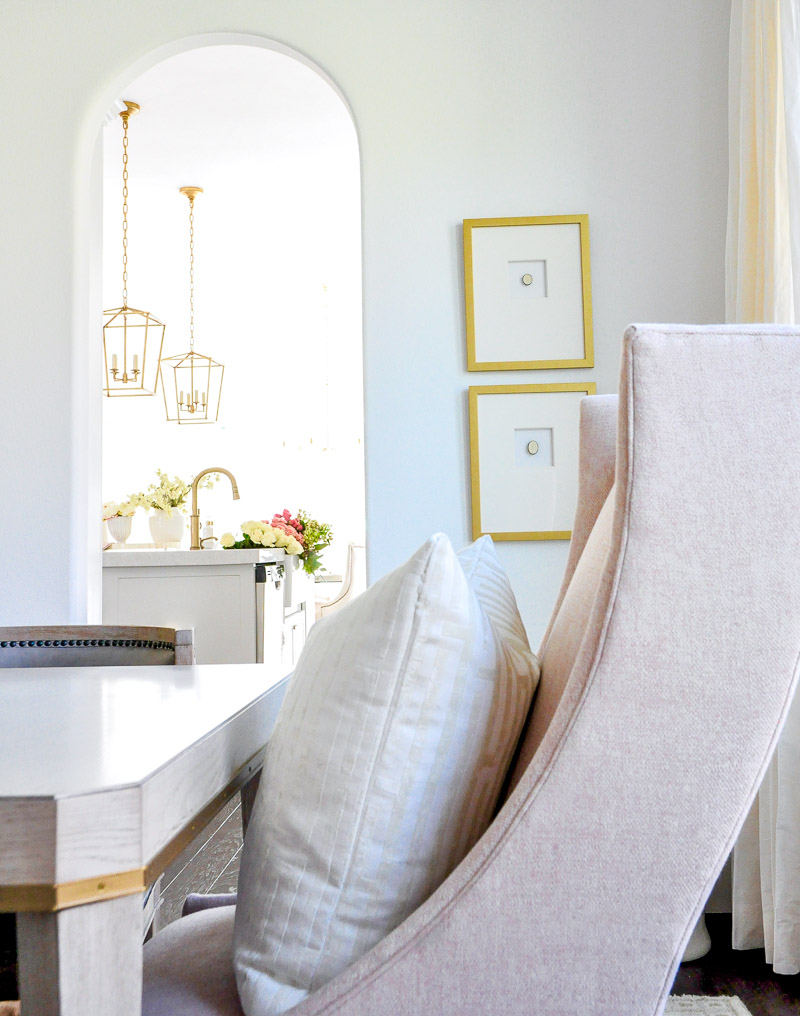 This large art piece is so perfect for this spot. It is cream and ivory with a bit of taupe and blush.  Even with a soft color palette , this layered art piece adds the perfect amount of dimension to my largest wall.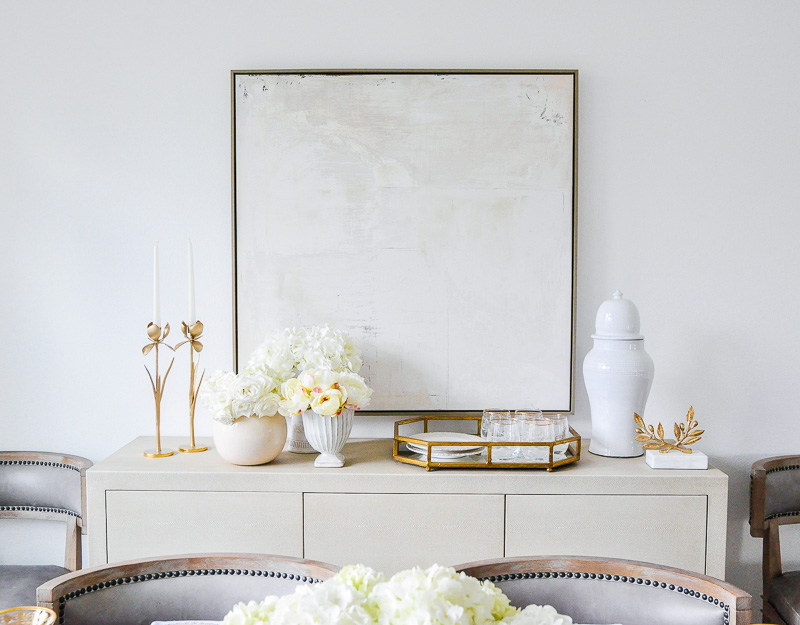 Chandelier
I couldn't resist styling the table after shooting a few pictures. You can see a peek along with the new chandelier in the reflection below.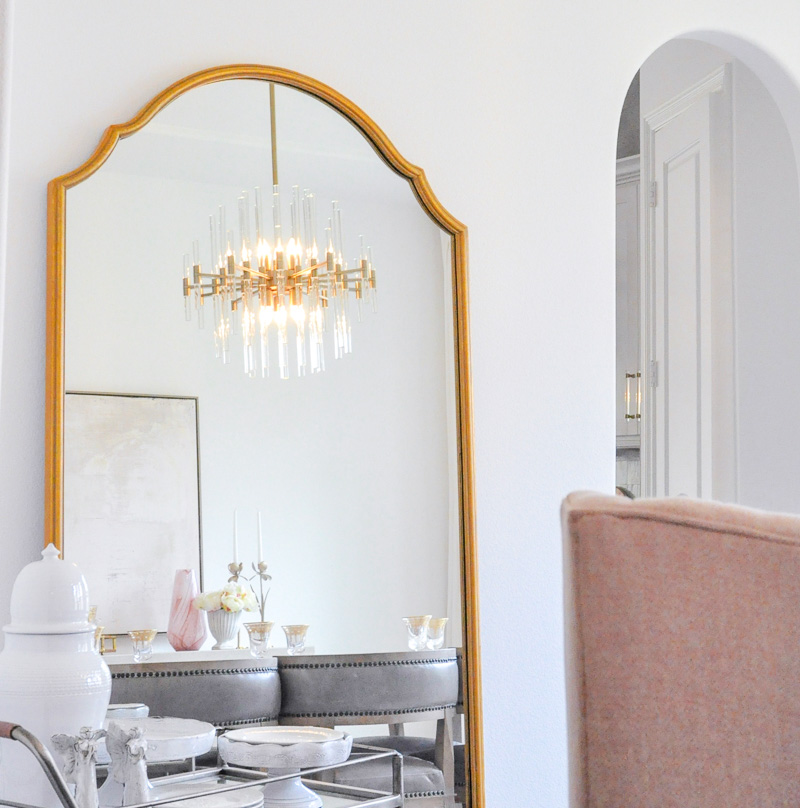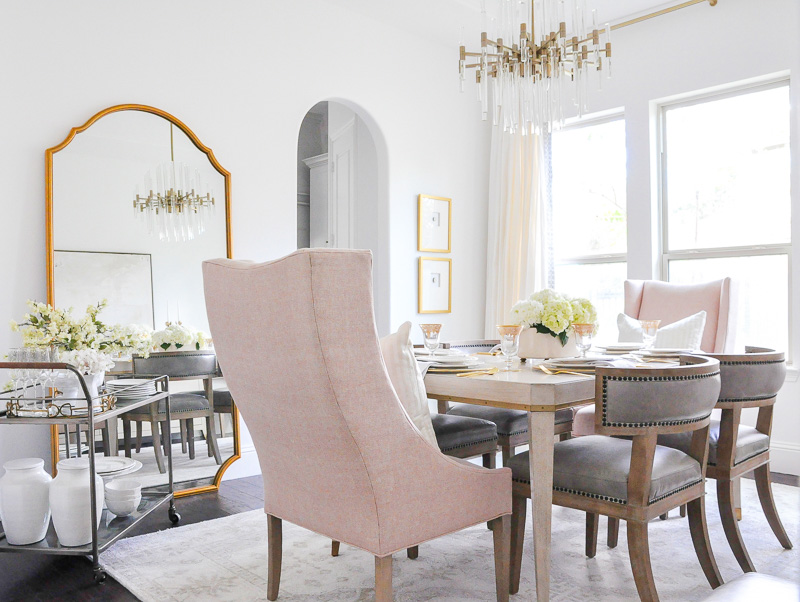 I was so excited when I found this rug for the space. We didn't have a rug in here before and I always felt like the room was unfinished.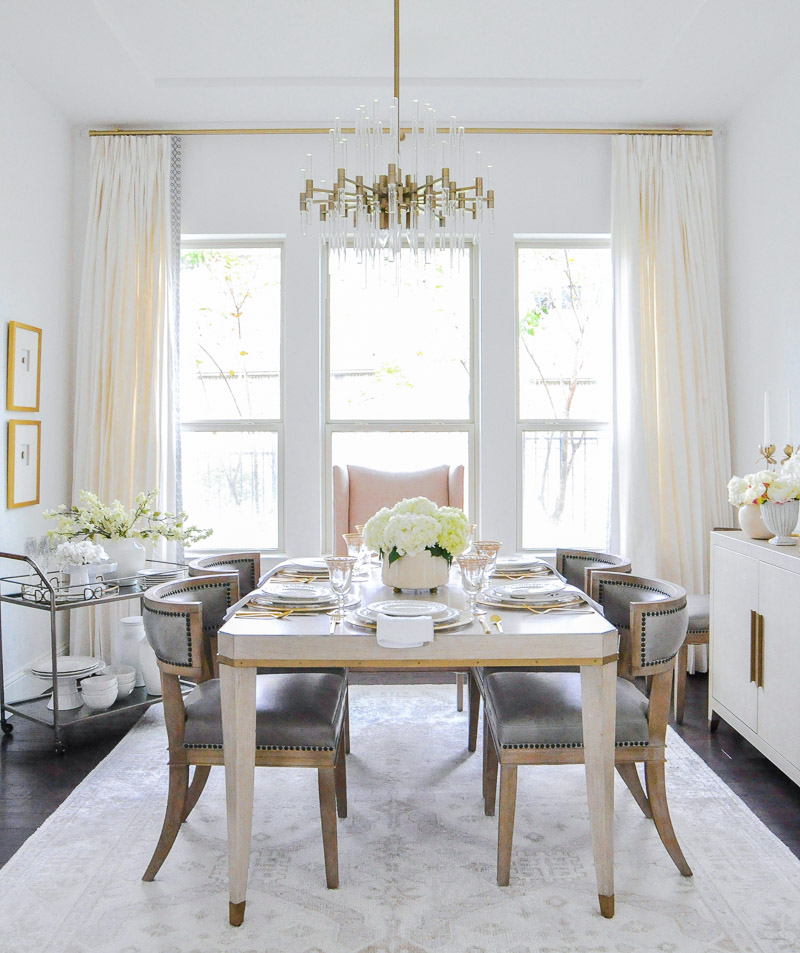 This bar cart is the only piece that I had before. It is a great size for this space and I still love it.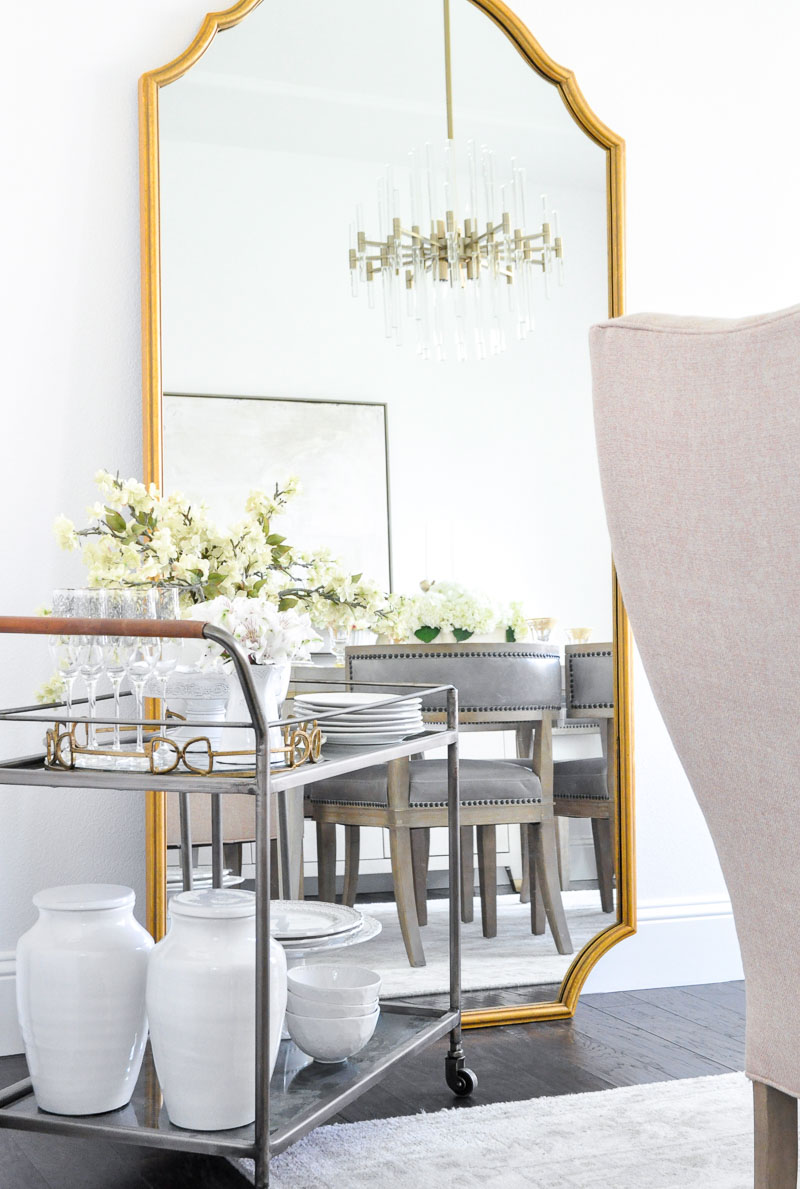 These gorgeous working panels were custom-made by a Houston area company, The Curtain Gallery. The owner, Rosario came to my home for a consultation. First we looked at fabrics. I knew I wanted to go with a white solid in a more silky fabric than I used in the other rooms in our home. Rosario found the most beautiful ivory fabric and also encouraged me to add a beautiful trim to the edges. Rosario was able to suggest a rod that fit well with the new look too.
The treatment is stylish, luxurious and exactly what I needed to frame the windows.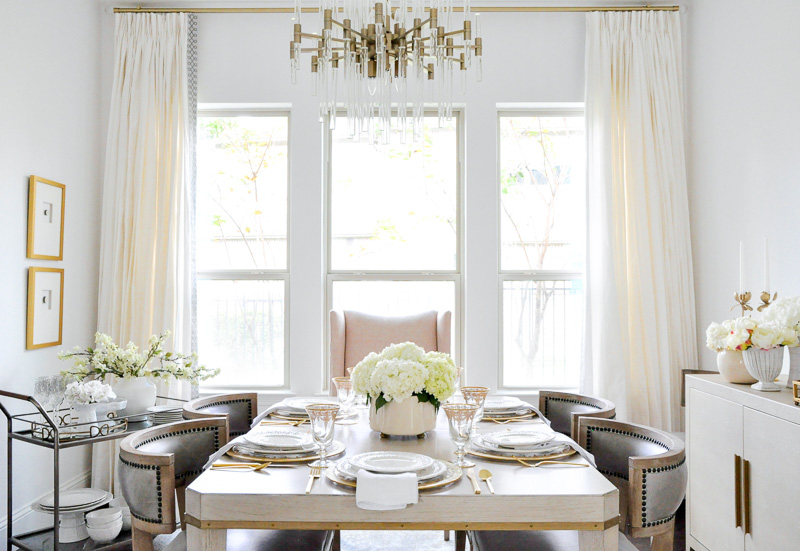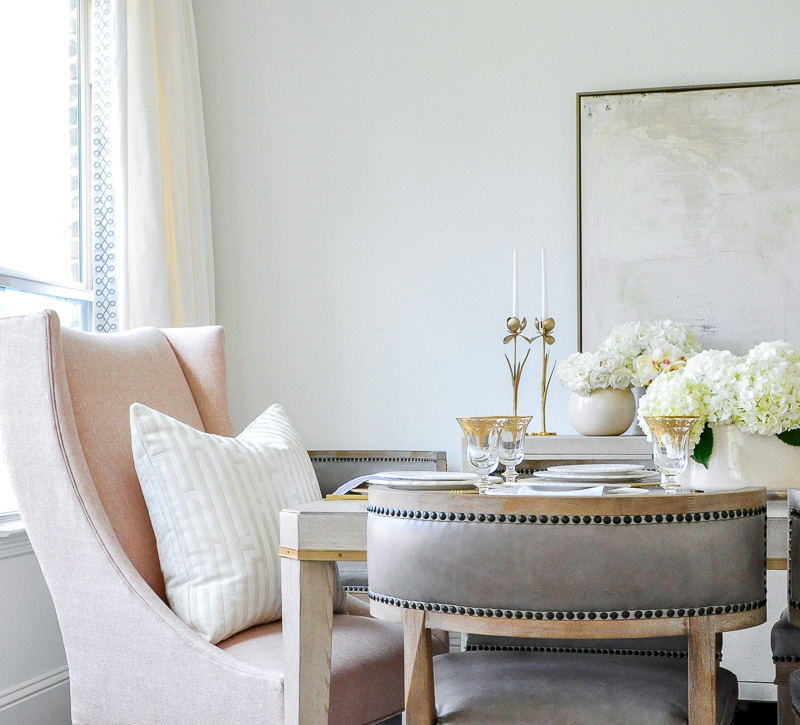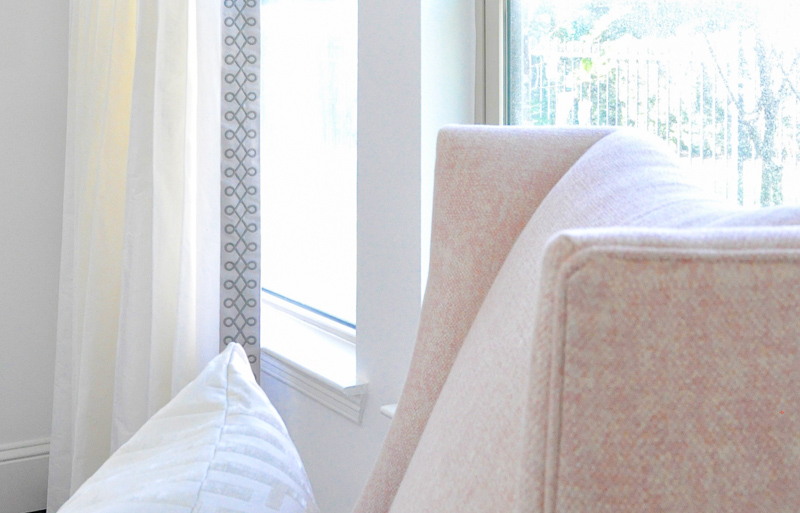 Rosario and her daughter, Marissa are lovely ladies and I consider them new friends. If you live in the Houston area, please contact them for your window treatments. You will be so happy you did so!
Tabletop
Changing to a more transitional style, I wanted to make sure my favorite dinnerware and glassware would work in the room. It is by Arte Italica and I think it looks even more beautiful in our updated space!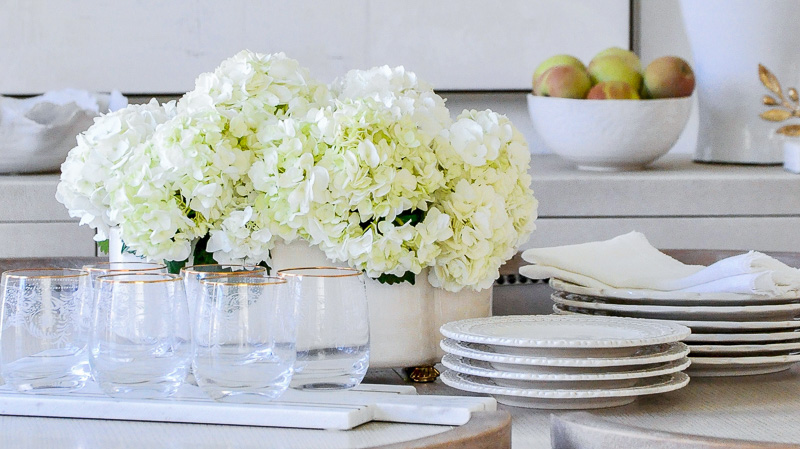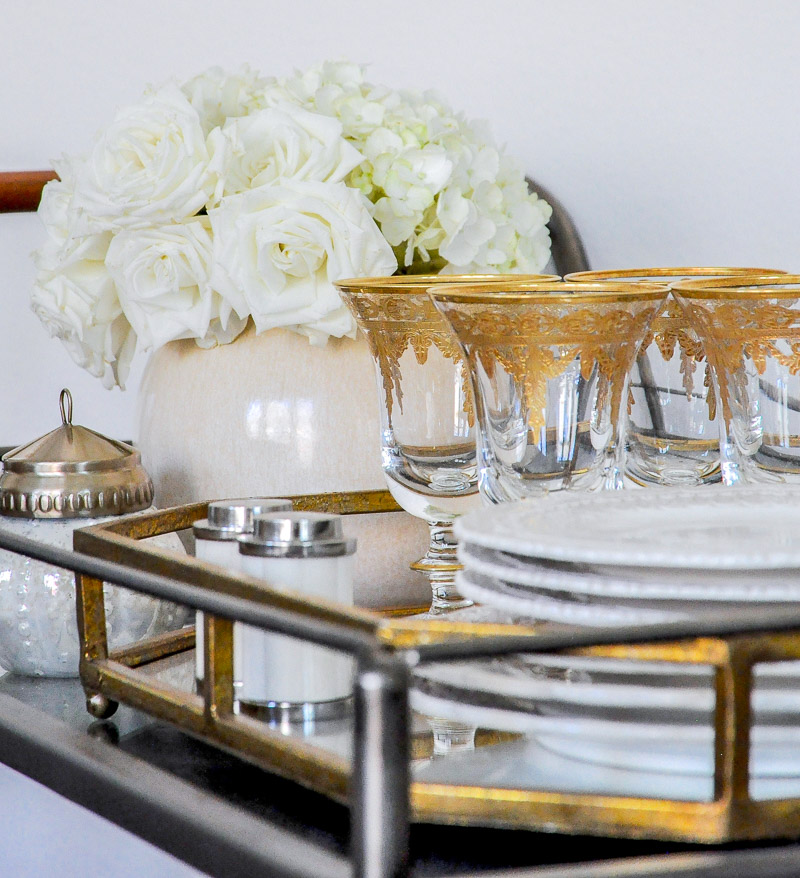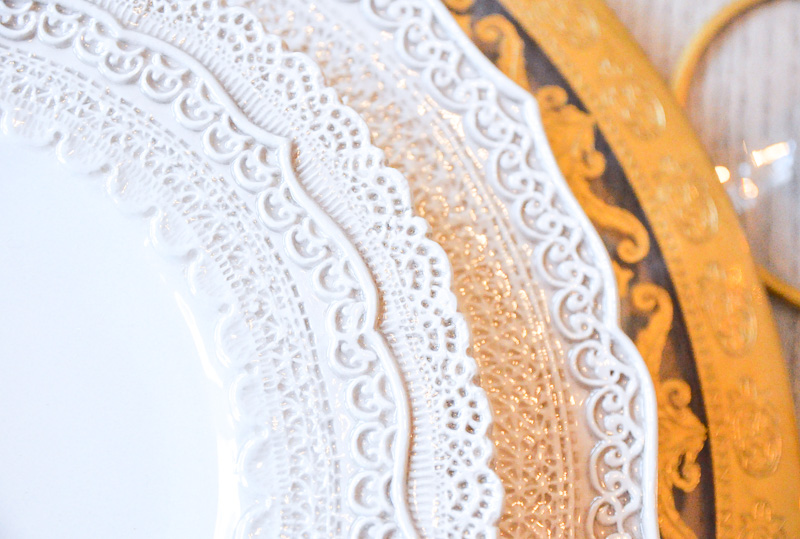 Accessories
To complete the space, I chose a few accessories from M E Home. Honestly, it was a bit difficult to narrow down my choices as they have so many gorgeous pieces!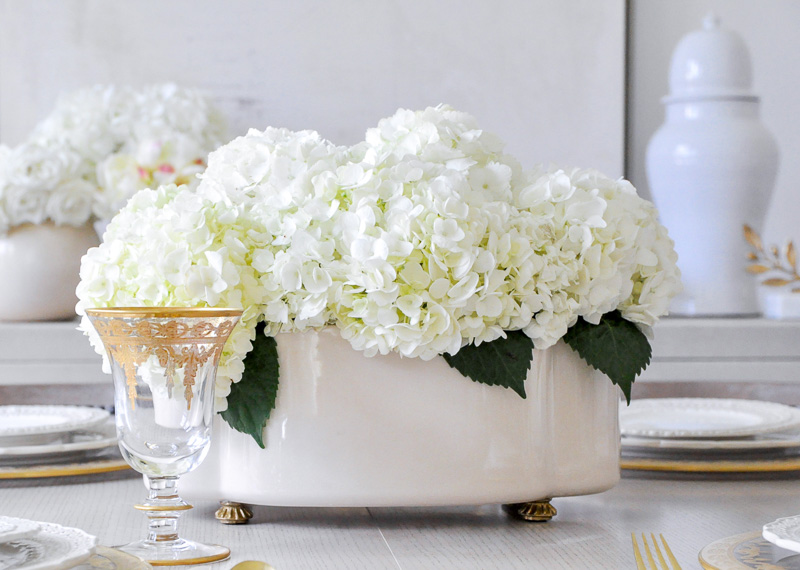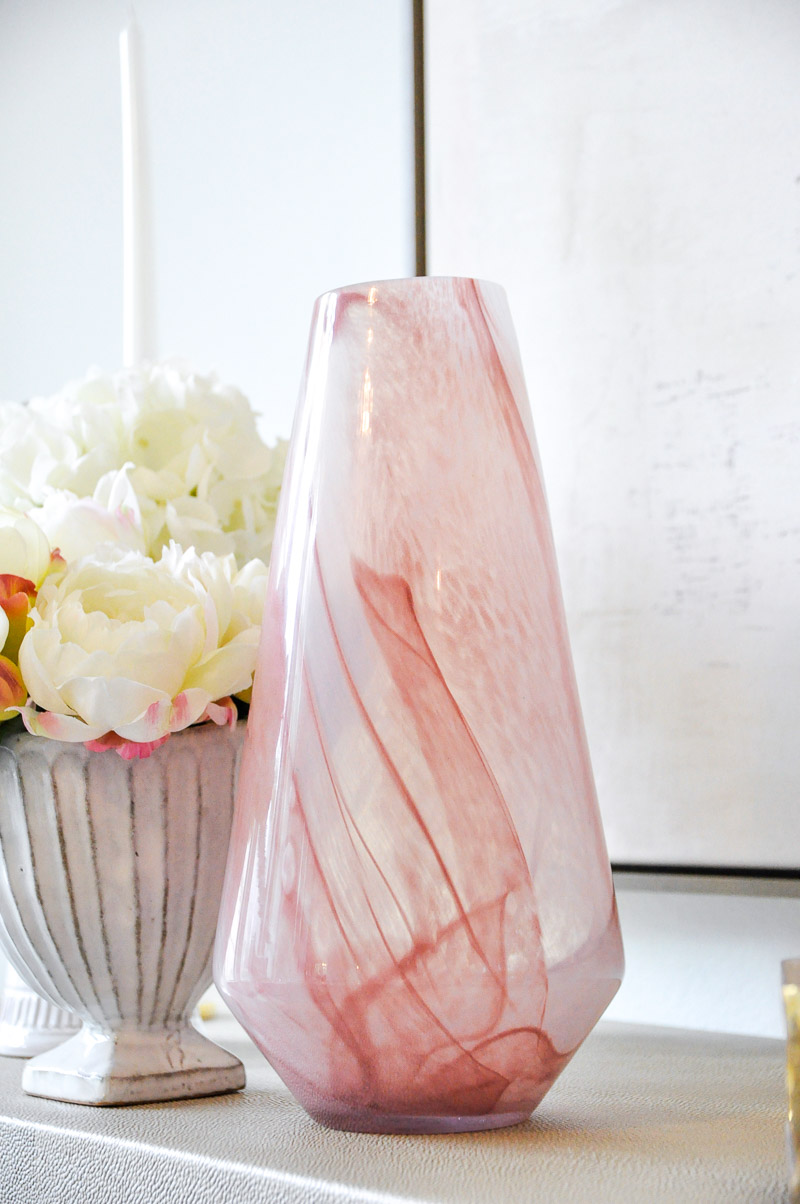 My largest new accessory, this beautiful white temple jar, was such a great find!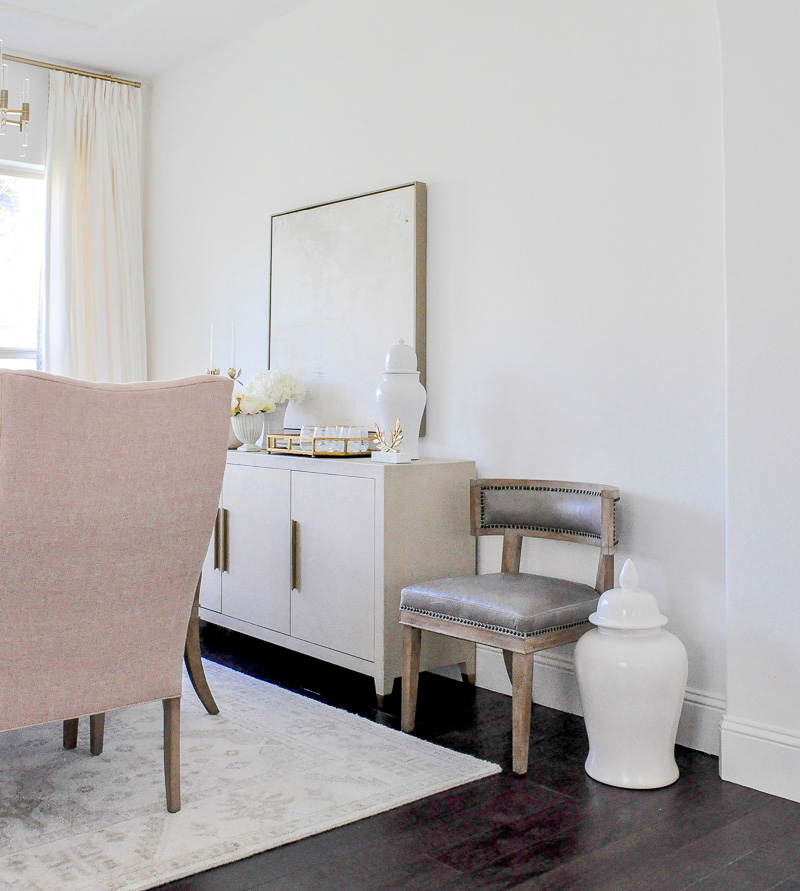 Last, this new gold tray has a gorgeous finish. It works beautifully in numerous places in my home. When I am shopping for accessories, I love to find versatile pieces like this!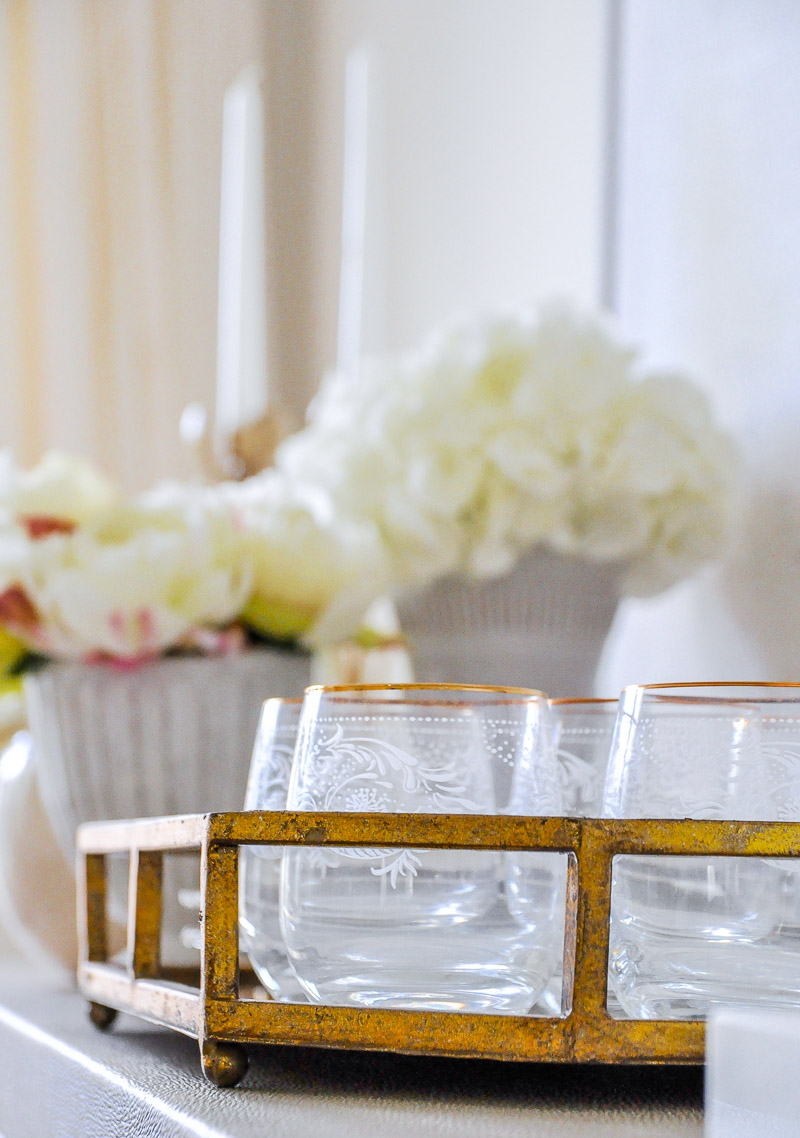 Oval Planter | Vase | Large White Ginger Jar | Tray
The new accessory pieces helped personalize the aesthetic of our dining room and gave it a finished look.
M E Home is known for their well curated collection and it was such a pleasure to work with them. Additionally, I'd like to mention, they offer trade discounts for designers. If you live in or near Oklahoma City, be sure and visit their location at 2925 W. Wilshire. By the way, did you know I lived in the OKC area for 9 years? I would have LOVED to have a store like this available to me when I was there! Luckily, we can all benefit from their online presence!
Back to my project, I am so please with the outcome of our new dining room look. I can hardly wait to enjoy our first dinner in here. In fact, later this week I'll be sharing my Thanksgiving tablescape, so be sure to check back! You can also subscribe here for my future post links via email.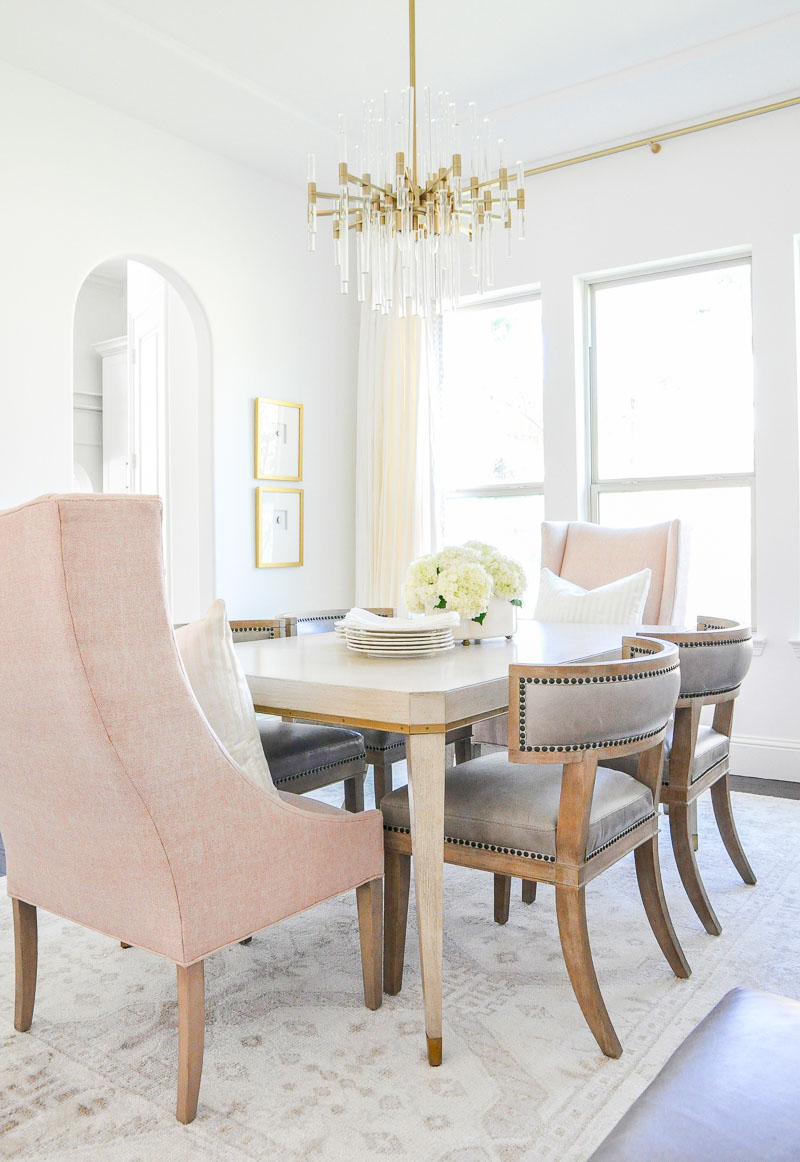 SOURCES
Table | End Chairs | Curtain Rod & Curtains | Framed Intaglios | Chandelier




Paint Color on walls & trim: Chantilly Lace by Benjamin Moore
Additional Room Makeovers
Kitchen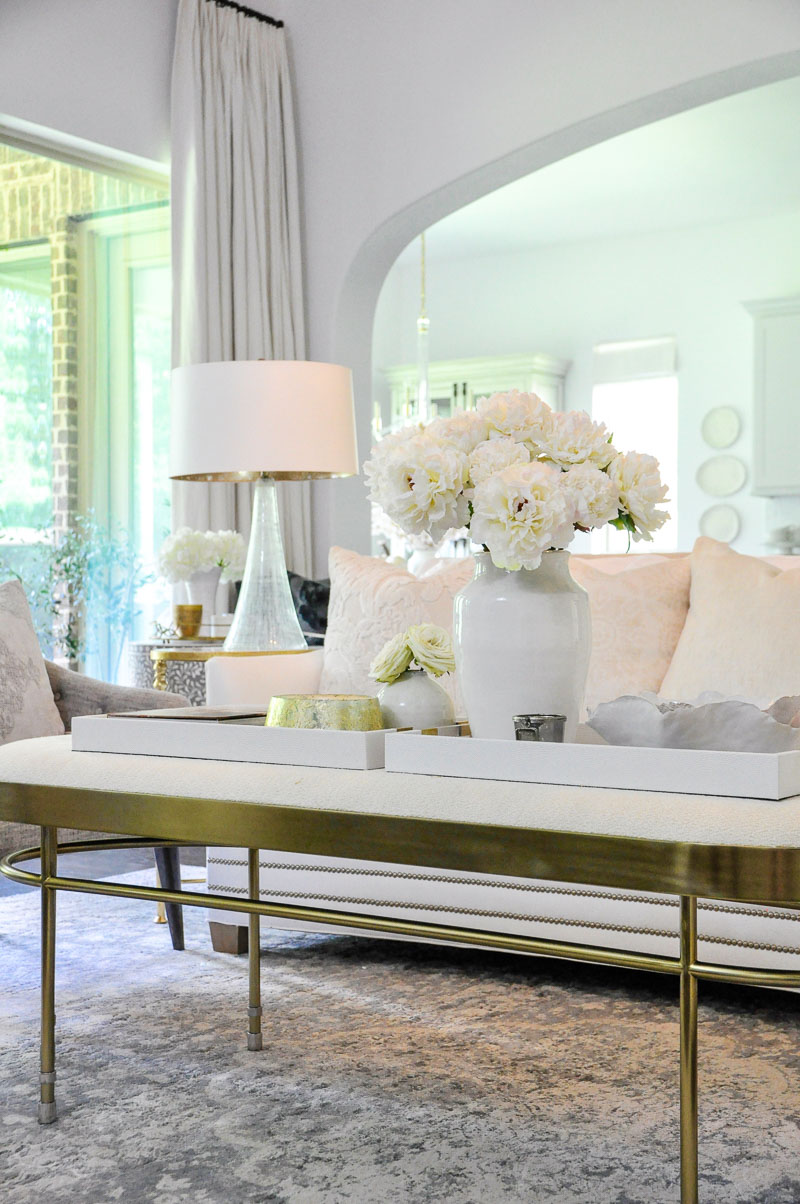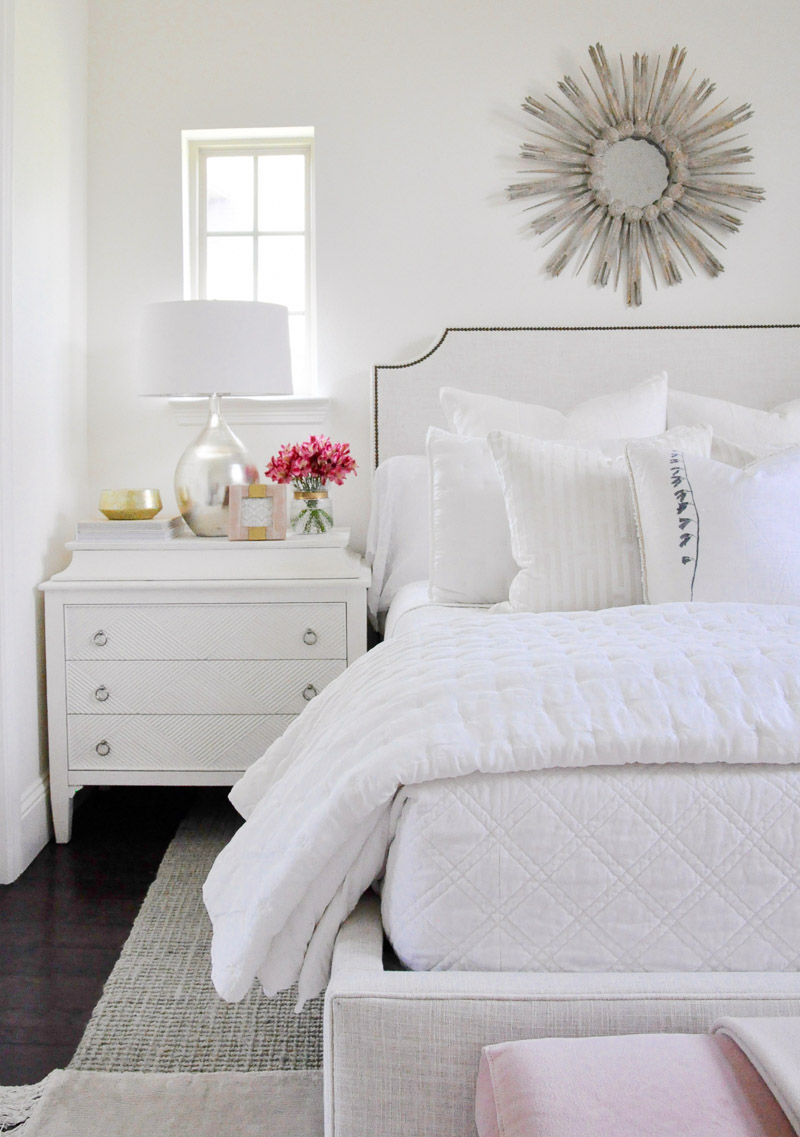 Stay connected…..
Click on the Image to Subscribe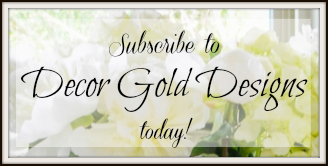 SOCIAL
Instagram | Pinterest | Facebook
SaveSave
SaveSave
SaveSave
SaveSave
SaveSave
SaveSave
SaveSave
SaveSave
SaveSave
SaveSave
SaveSave
SaveSave
SaveSave
SaveSave
SaveSave
SaveSave
SaveSave
SaveSave
SaveSave
SaveSave
SaveSave
SaveSave
SaveSave
SaveSave
SaveSave
SaveSave
SaveSave
SaveSave
SaveSave
SaveSave