It seems like our house is always undergoing several projects at the same time.
I've loved updating the rooms I've tackled so far. It's always exciting to see my plans become reality.
Today, I thought I'd share some of my ongoing projects and plans with you.
*There may be affiliate links included in this post. Read our disclosure here.
Kitchen Project
Phase 1
We recently replaced our light pendants, our faucet, and our counter stools, all with gorgeous gold-toned upgrades. When we completed Phase 1 of this project, I didn't think we would be moving on to Phase 2 so quickly, but thanks to my sweet hubby and our painter's availability, we are proceeding with some additional changes.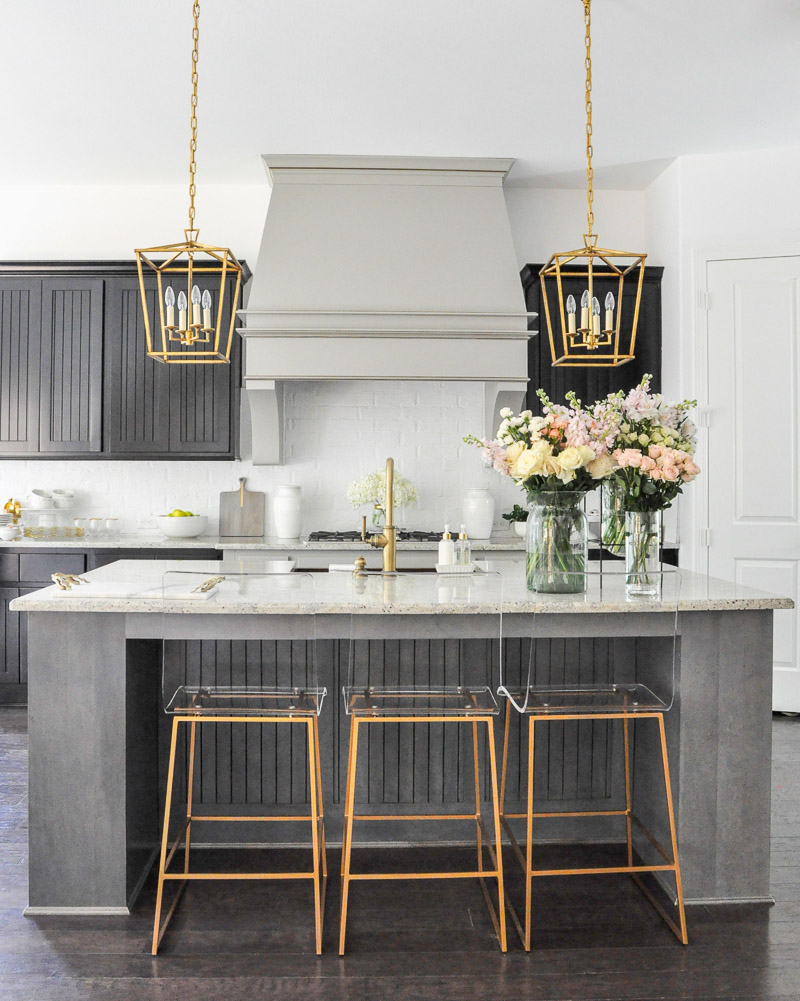 GET THE LOOK OF OUR KITCHEN BY CLICKING THE PRODUCT IMAGES BELOW
(additional Kitchen Sources at the bottom of this post)

Phase 2
Paint. After almost 5 years with our cabinets in darker shades, I was ready for a change. When Tony said he was ready to moved forward, I was elated.
The day our painters came, I had to keep our new puppy in my bedroom, or she would have been covered with paint! When I walked out after a few hours, this is what I saw…..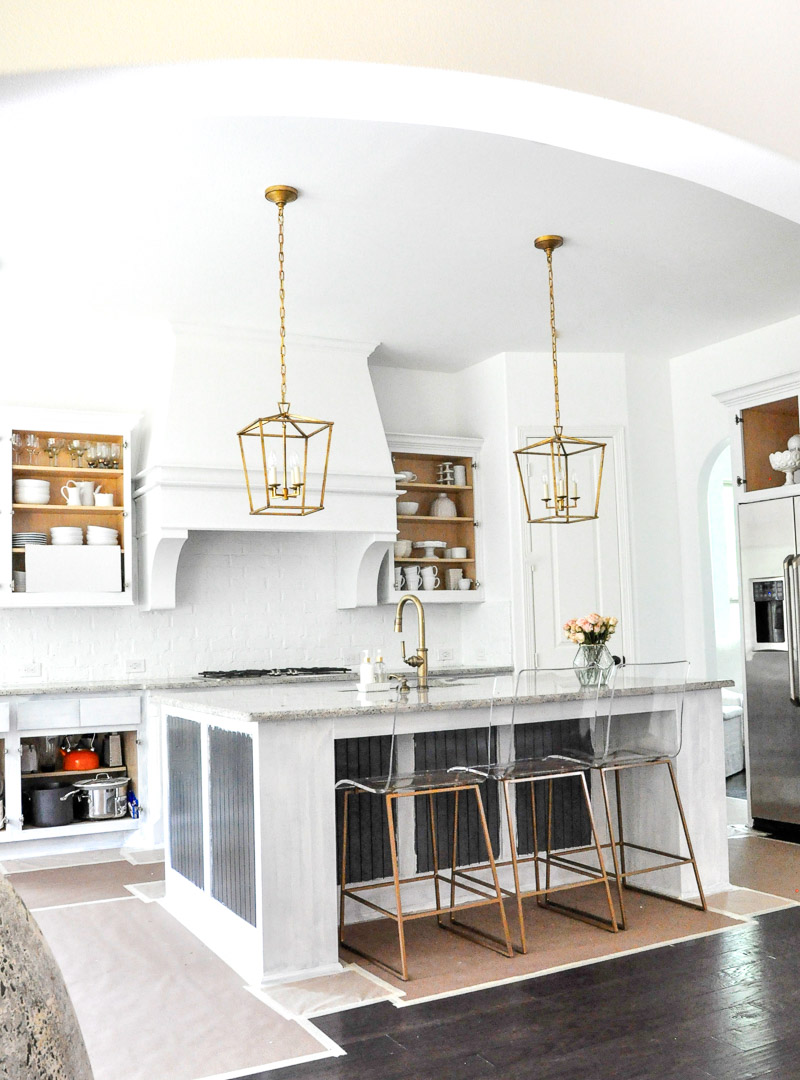 It's important to note that what you see is primer, not paint, but what a difference! I literally gasped when I saw the room (a happy gasp). The paint color will be a very light gray, not the white color of the primer, but the cabinets will be far lighter and brighter than they were. Our painters will be back this week. I can't wait to have it done so I can share it with you!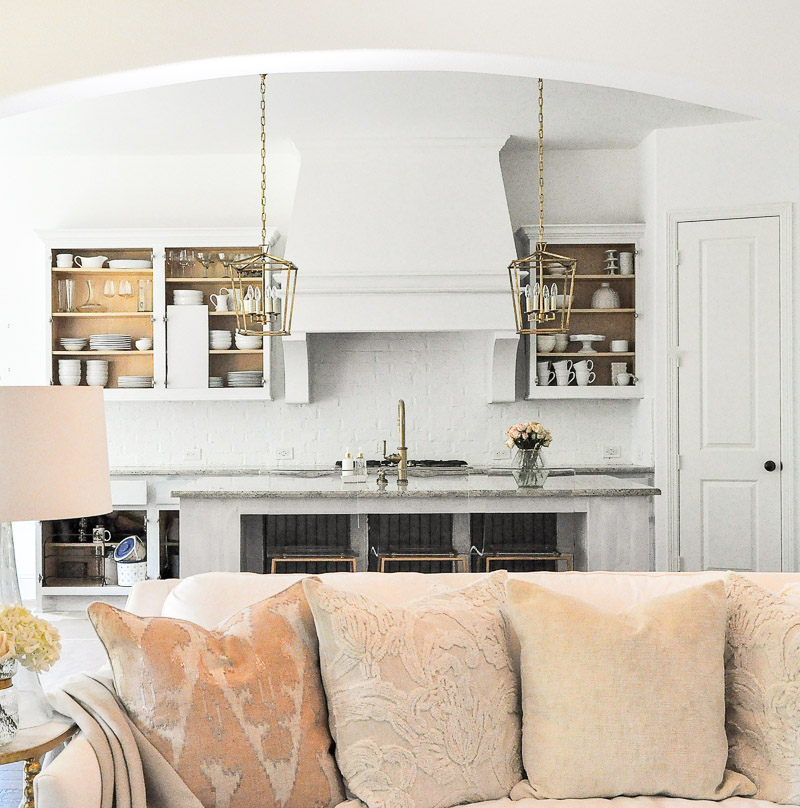 Backsplash. We used brick for our backsplash and I recently decided to paint it white. I looked at a few samples before settling on a simple white 4″ square zellige tile for Phase 2. *Update, see it here!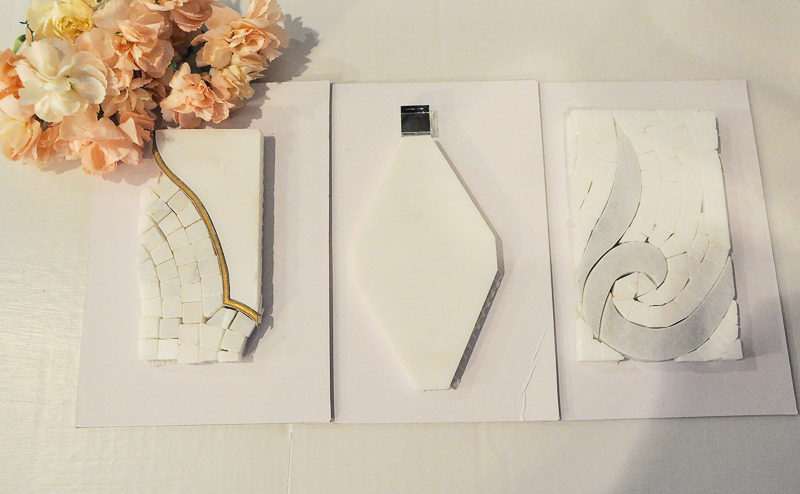 Hardware. I'm not sure if I will find hardware in time for Phase 2, but I plan to add it eventually.
Living Room Project
Our living room update project was something I had been planning for a long time. I love our new sofa, chairs and rug. They are so much more elegant than the ones we had before.

Beyond our living room, you can see our kitchen cabinets without doors, before primer.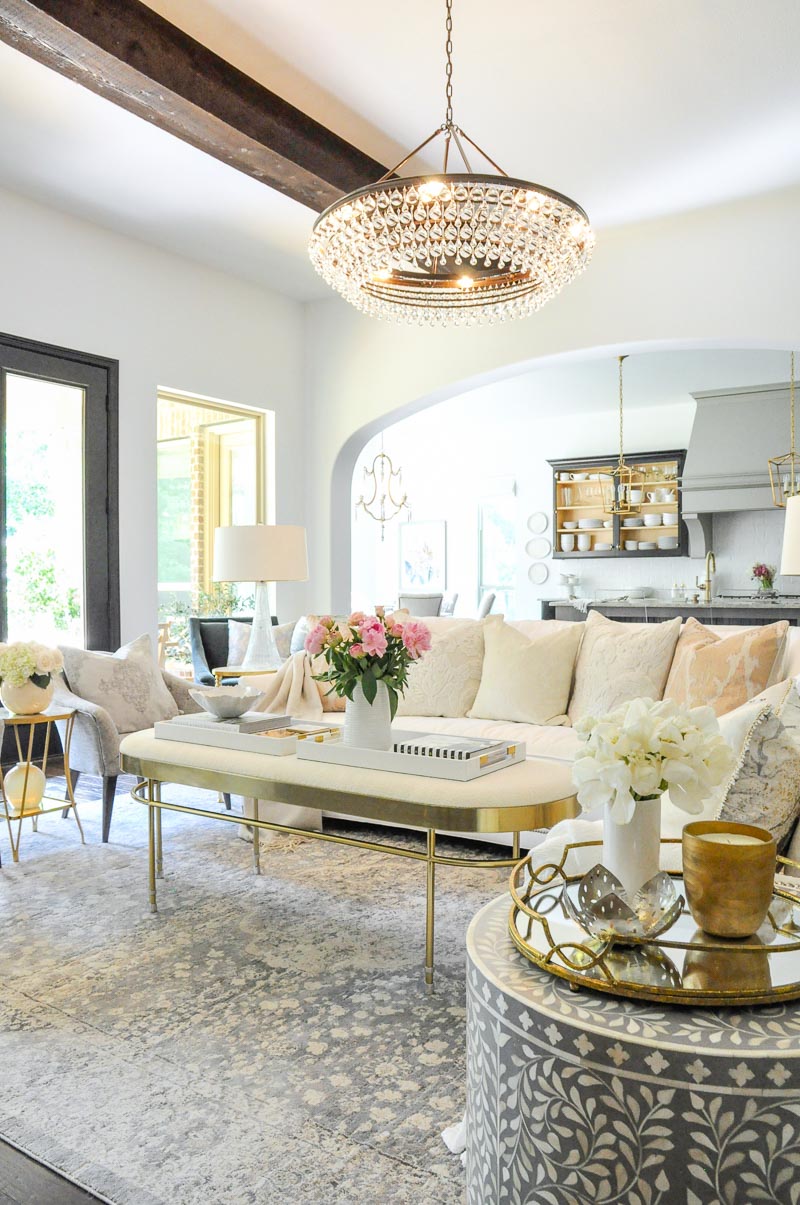 GET THE LOOK OF OUR LIVING ROOM BY CLICKING THE PRODUCT IMAGES BELOW
(additional Living Room Sources at the bottom of this post)



Fireplace
This project took FOREVER! We removed the stone from the old fireplace surround back in September, but had a very difficult time finding a contractor willing to take on such a small job since Hurricane Harvey came through. We did not want to contribute to any delays of those families affected by this devastating storm. Therefore, we waited patiently until a contractor was available and had returned to a more normal work schedule.
The beautiful trim molding is from the Fashion Forward Collection by Metrie. I absolutely love the new look! Above the mantel, the open area inside the new molding, was simply sanded and painted by our painter. I found a mirror that is perfect for this space, but it is backordered, just my luck! For now, I plan to wait for it and when it arrives you'll be seeing this space much more often. Honestly though, it has been nice to enjoy the simplicity and beauty of the new molding as it is today.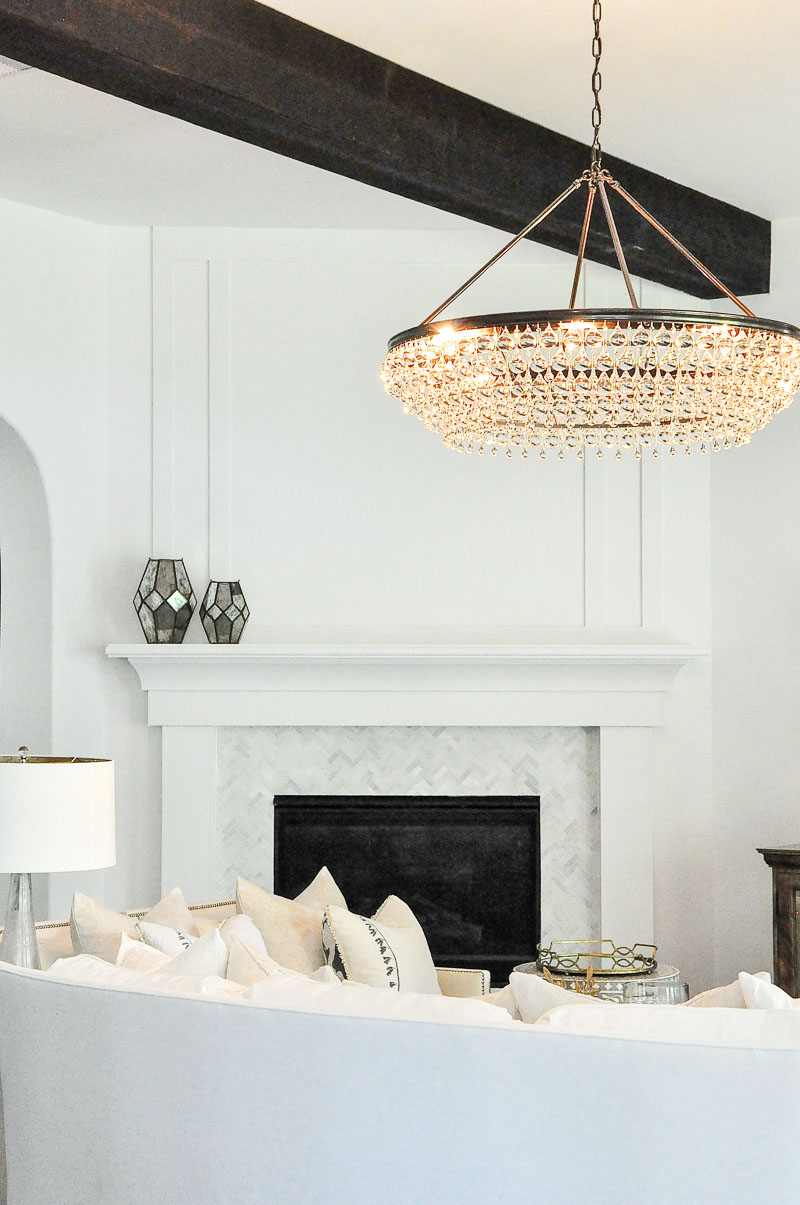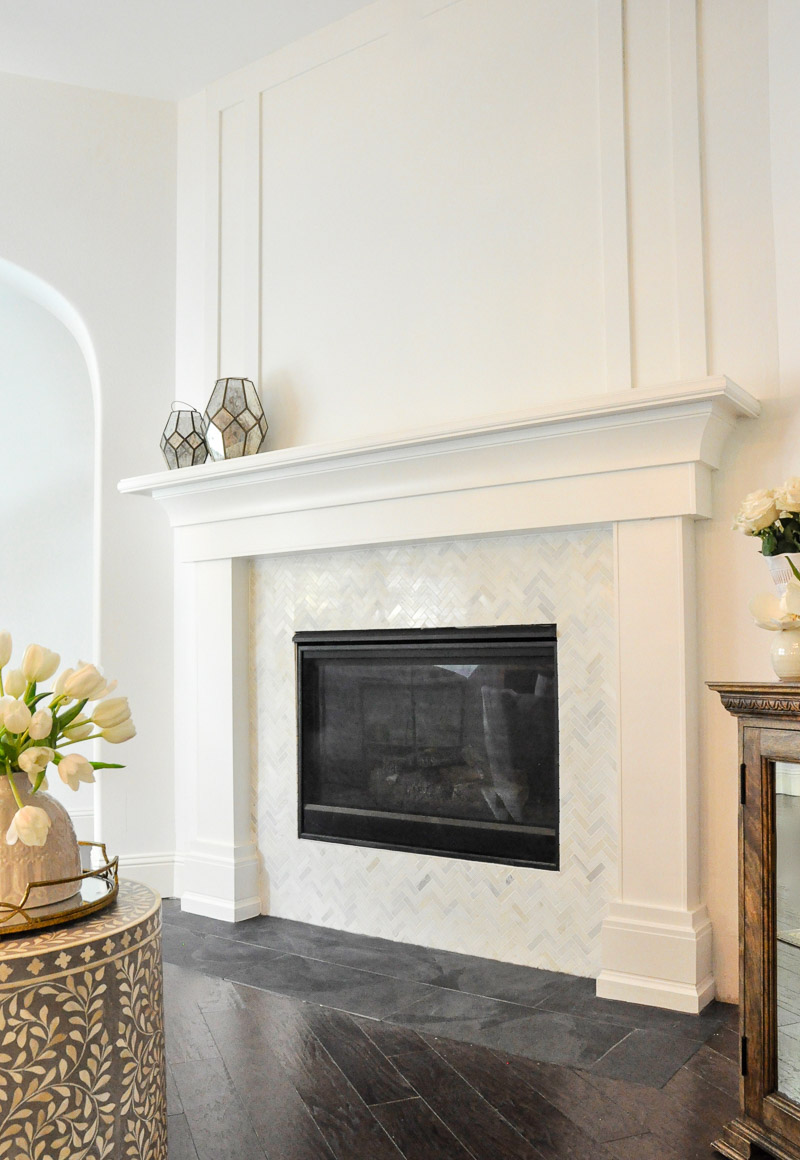 In addition to the beautiful new surround, we added herringbone tile. We also added slate to the floor. You can see the details of both below.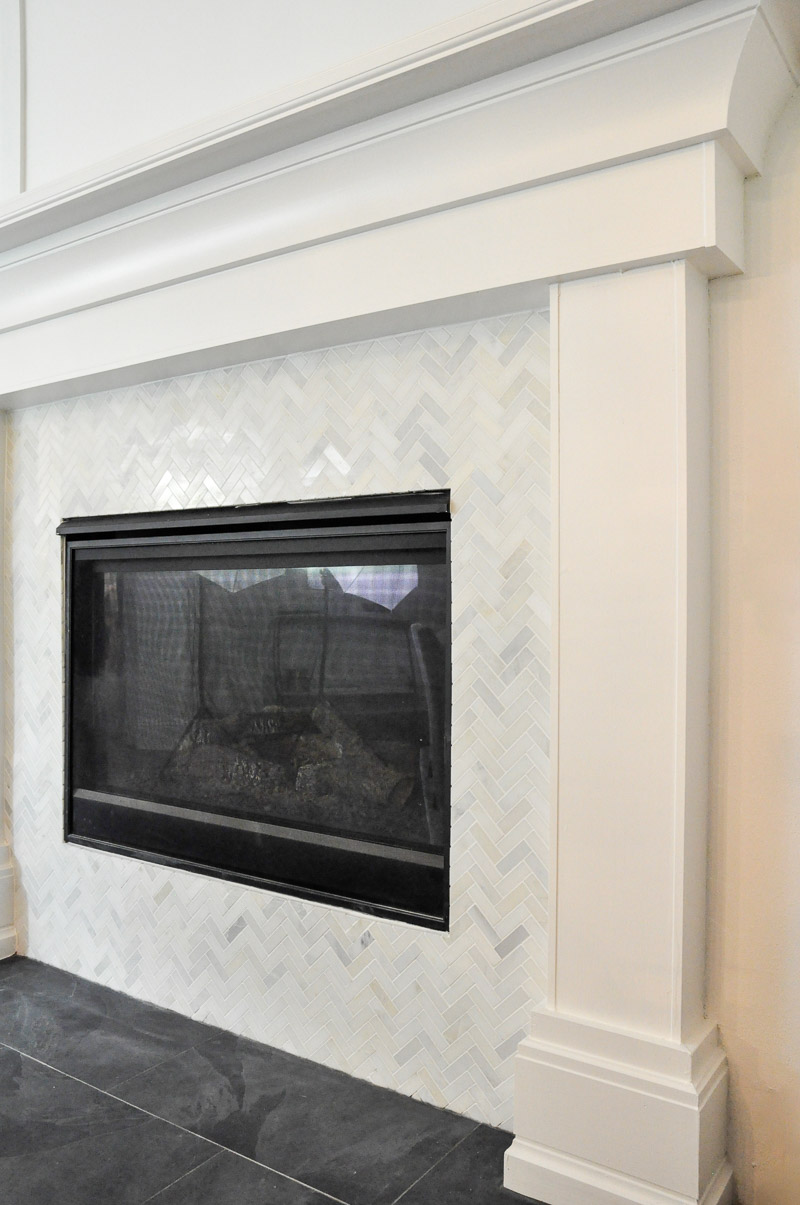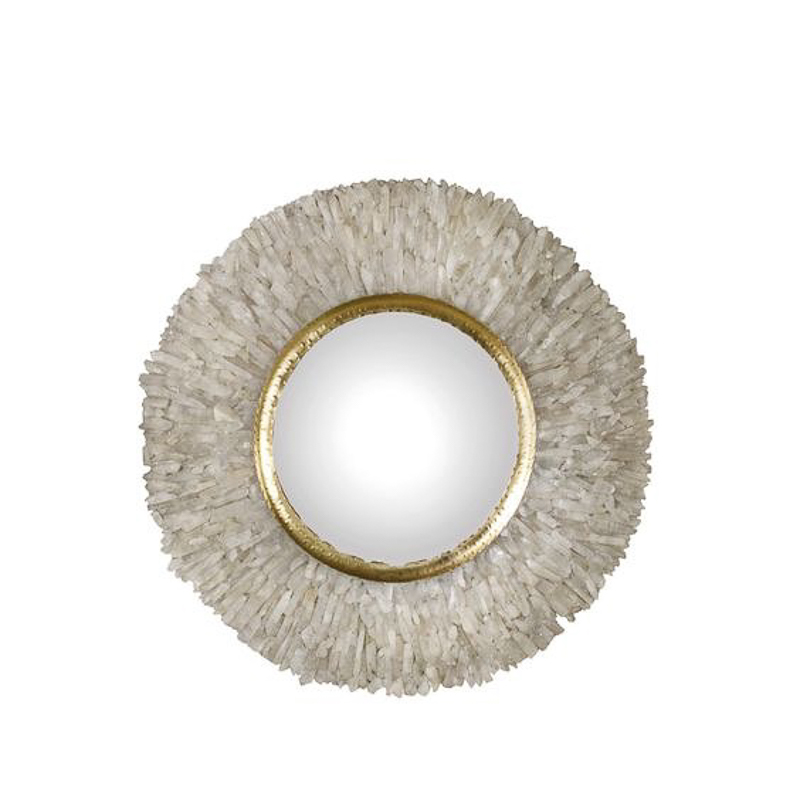 What's Next
Draperies. I am so excited to be adding some beautiful Martha & Ash drapery panels to our living room! They have some gorgeous options and I am thrilled to have found them!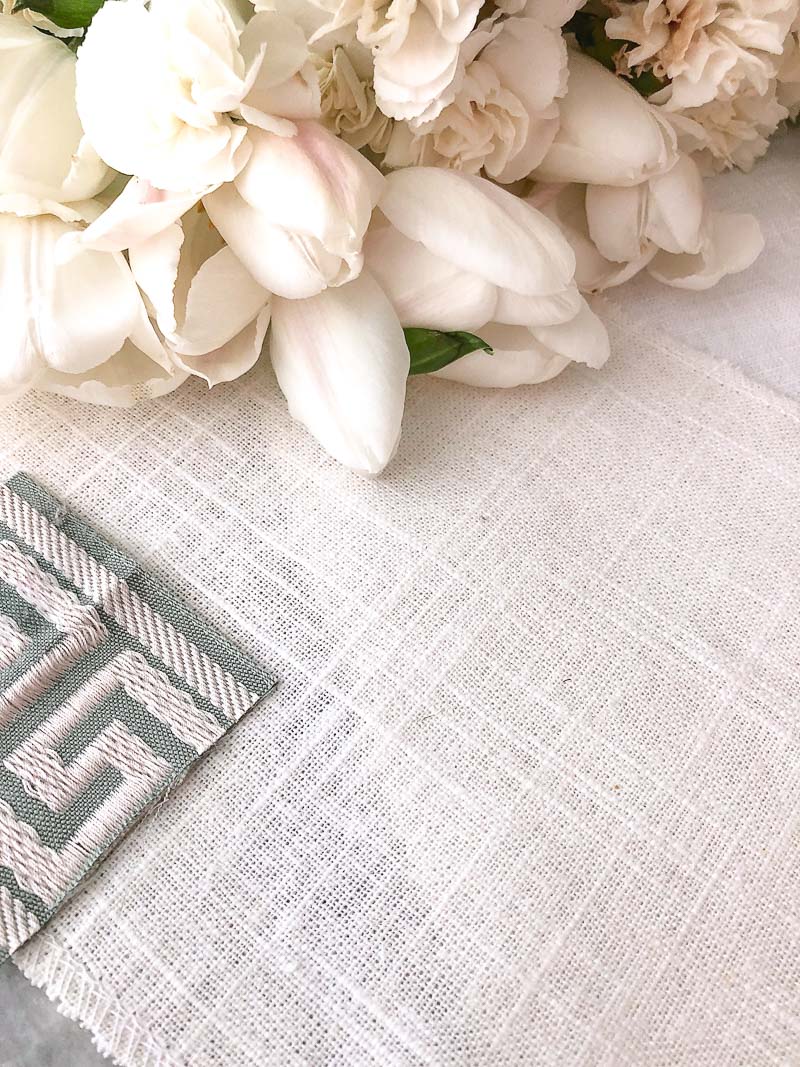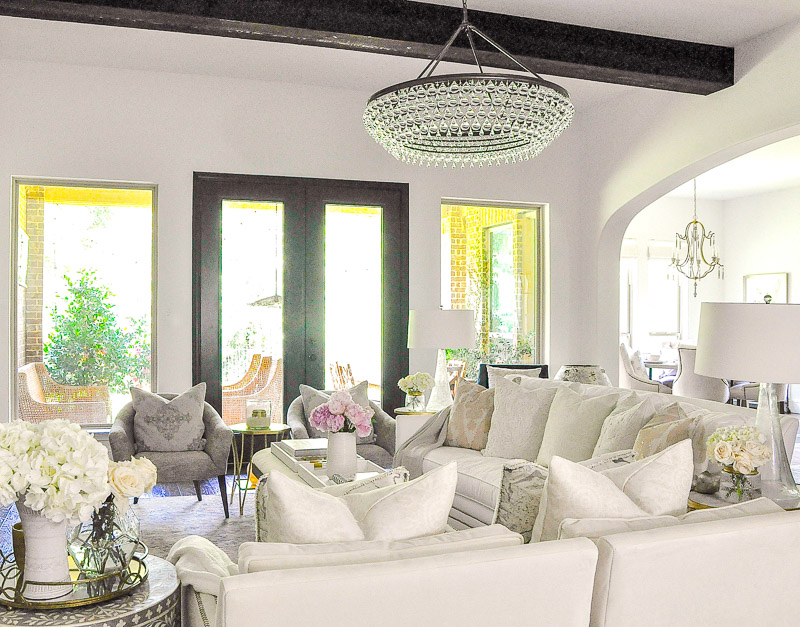 Master Bedroom
A few recent changes in our master bedroom made a big impact.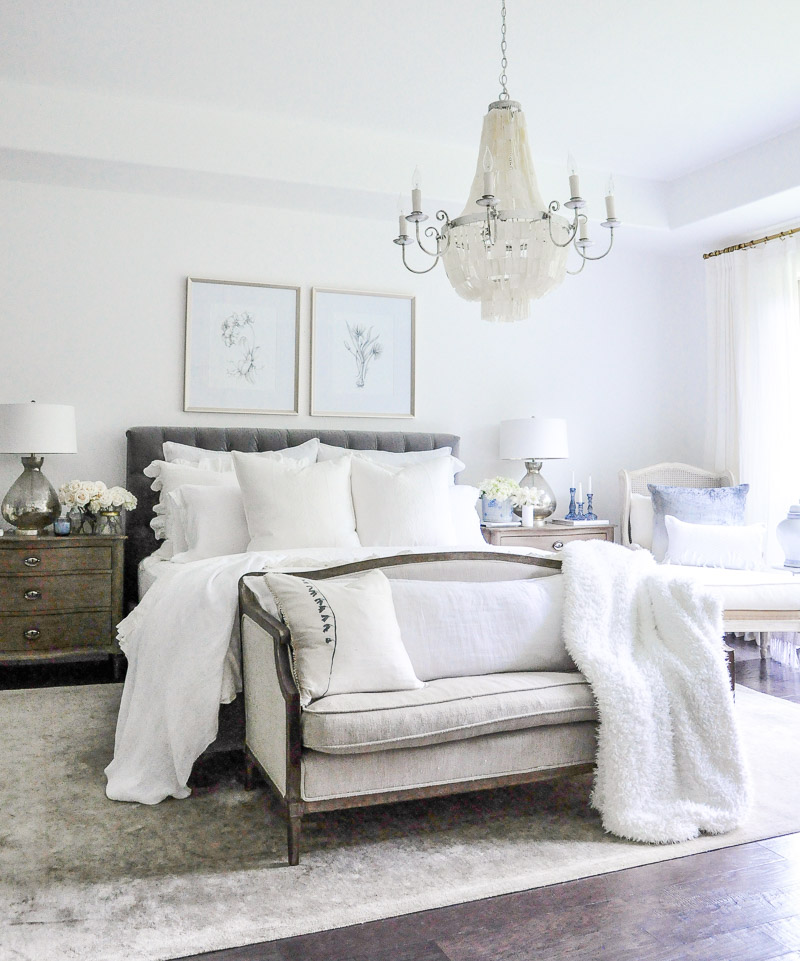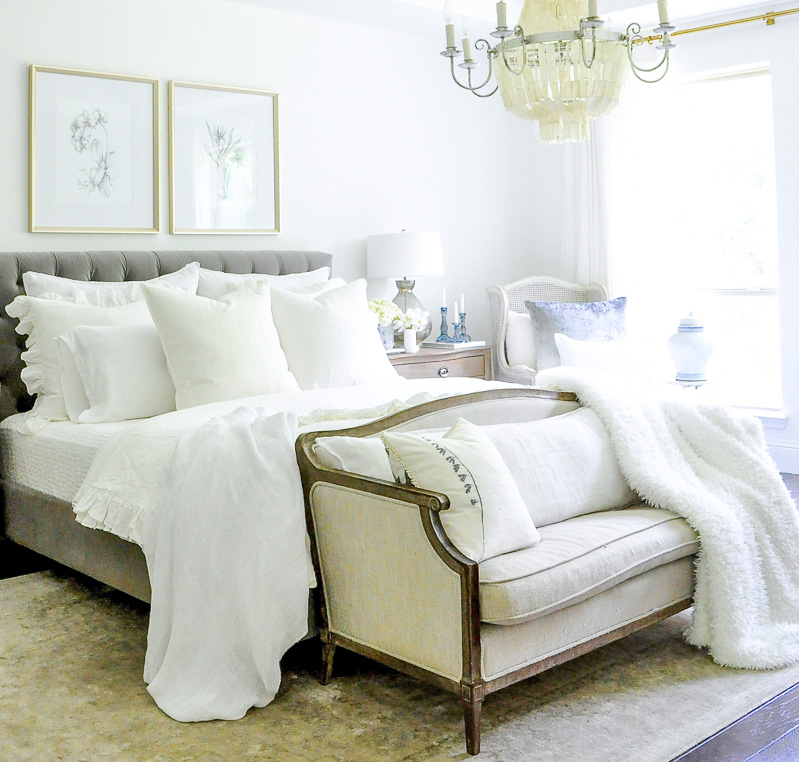 Paint. If you are a regular here, you may have noticed, once we started painting our home, it became difficult to stop! We recently had our bedroom walls painted Chantilly Lace by Benjamin Moore.
Art. I loved the white bright walls as I knew I would, but the art I had above our bed no longer worked. I eventually found these pieces and I am thrilled with the change. They are an amazing value too!
Bedding. Glorious linen bedding is still always my first choice. I found a few new pieces from my go-to source, Pom Pom at Home. I chose a duvet with a ruffled edge, ruffled edge euro shams, and beautiful pillowcases with the tiniest ruffled edge.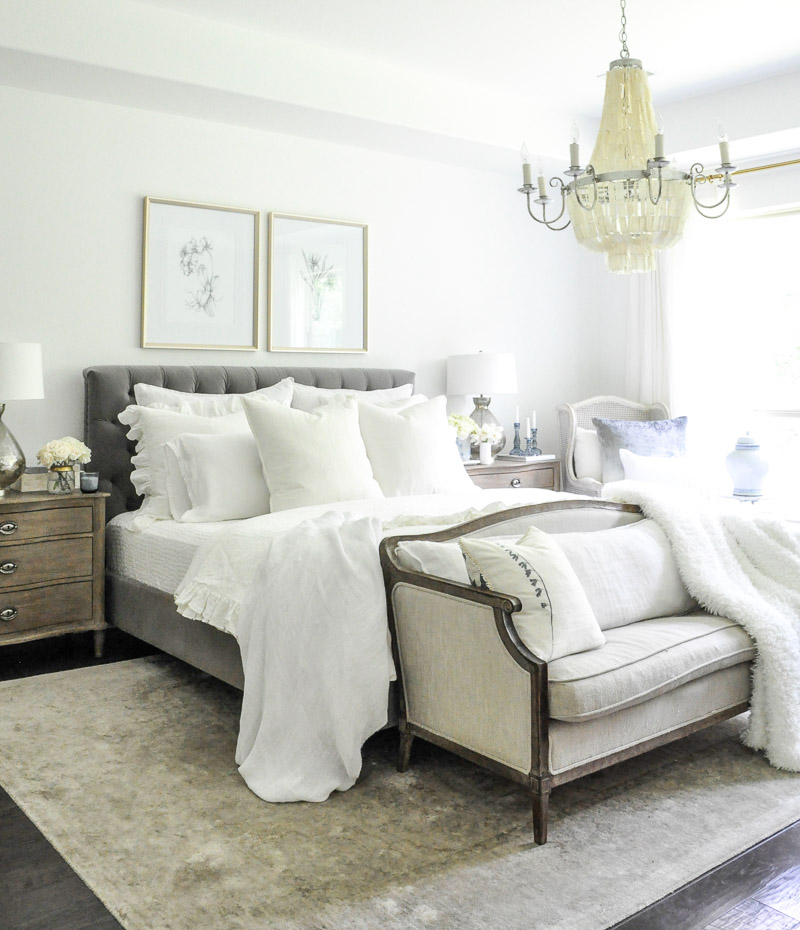 GET THE LOOK OF OUR MASTER BEDROOM BY CLICKING THE PRODUCT IMAGES BELOW



Entry Hall
We actually have a long entry hall, but this part of it, across from our living room and next to our kitchen, may be my favorite part. I plan to make a few changes to the other parts of our entry hall eventually.
I love styling this console table. It is nice to have at least one place in your home that is easy to change or restyle frequently. A console table like this is the perfect spot for seasonal decor. The gold canisters, wreath, and small statue help the space flow with the new gold accents in our kitchen.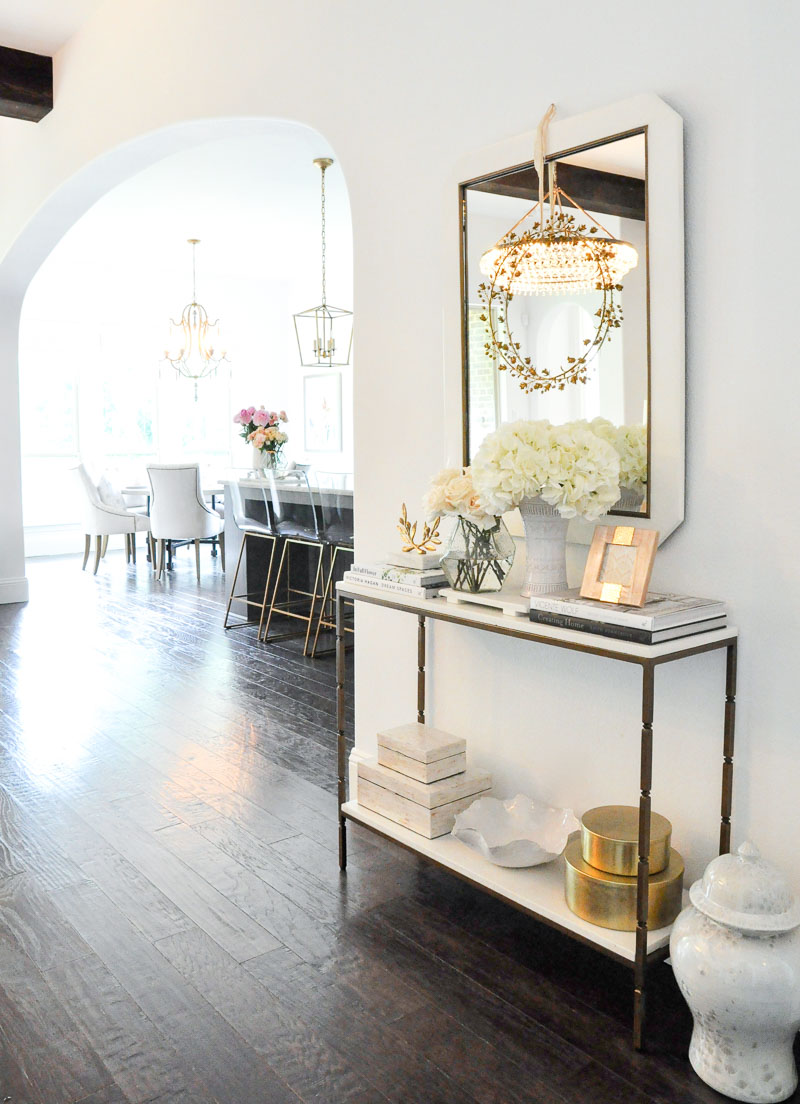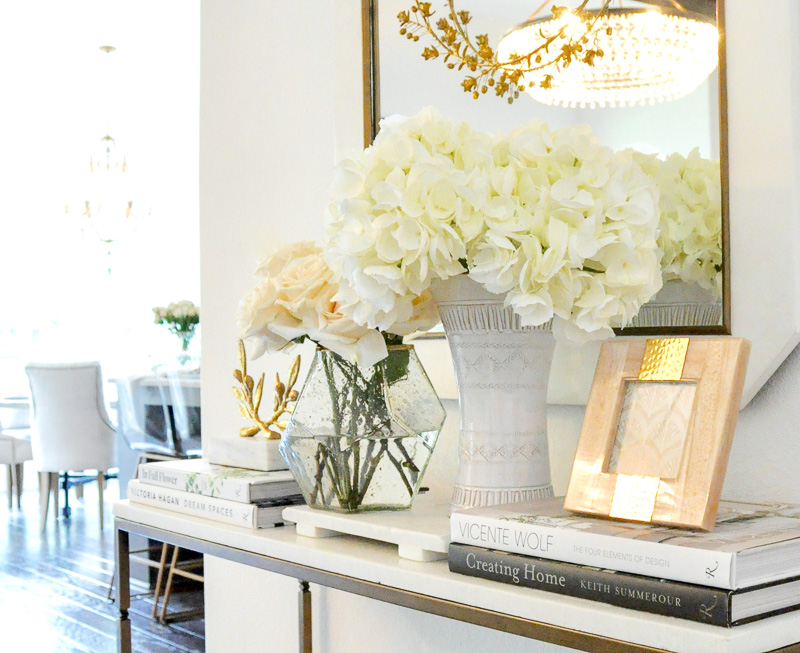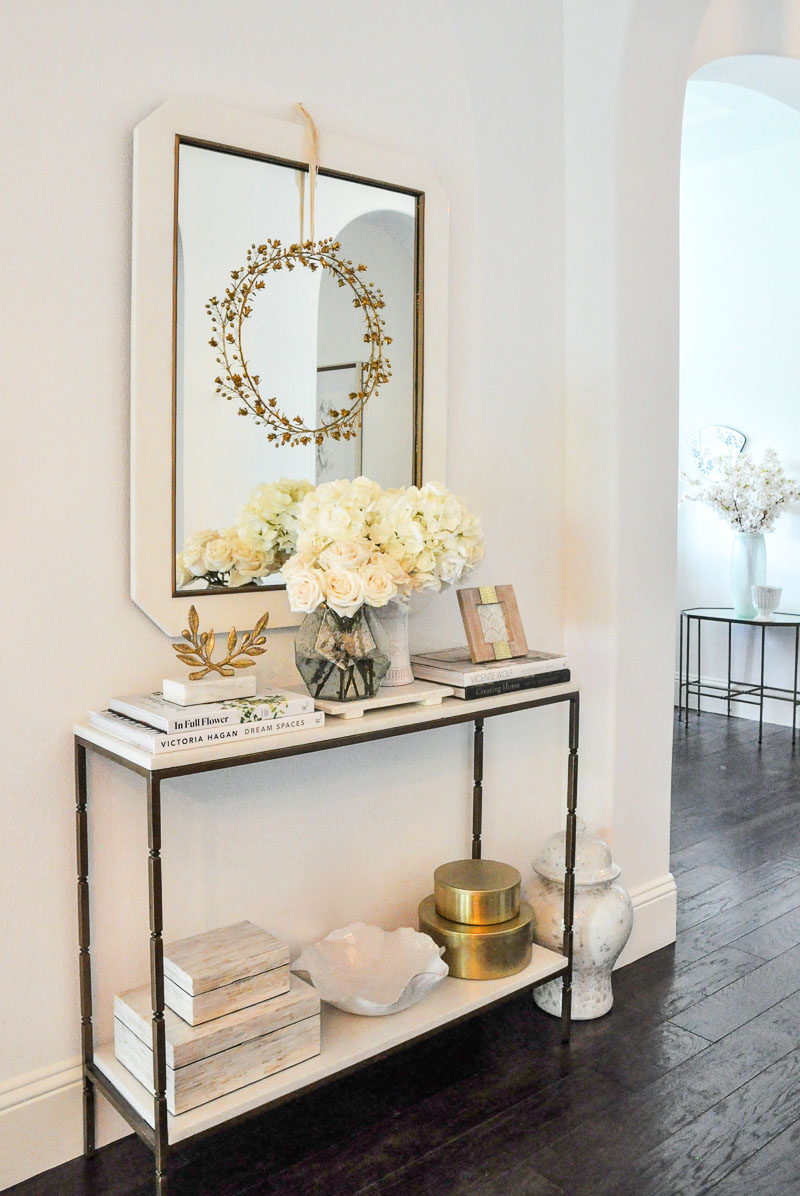 GET THE LOOK OF OUR ENTRY HALL BY CLICKING THE PRODUCT IMAGES BELOW 


Guest Room 1 Project
This bedroom was done as one of my One Room Challenge projects. I wanted to paint the walls at the time, but didn't. Recently though, we finally had the painting done. The color in this room is Simply White and I love it.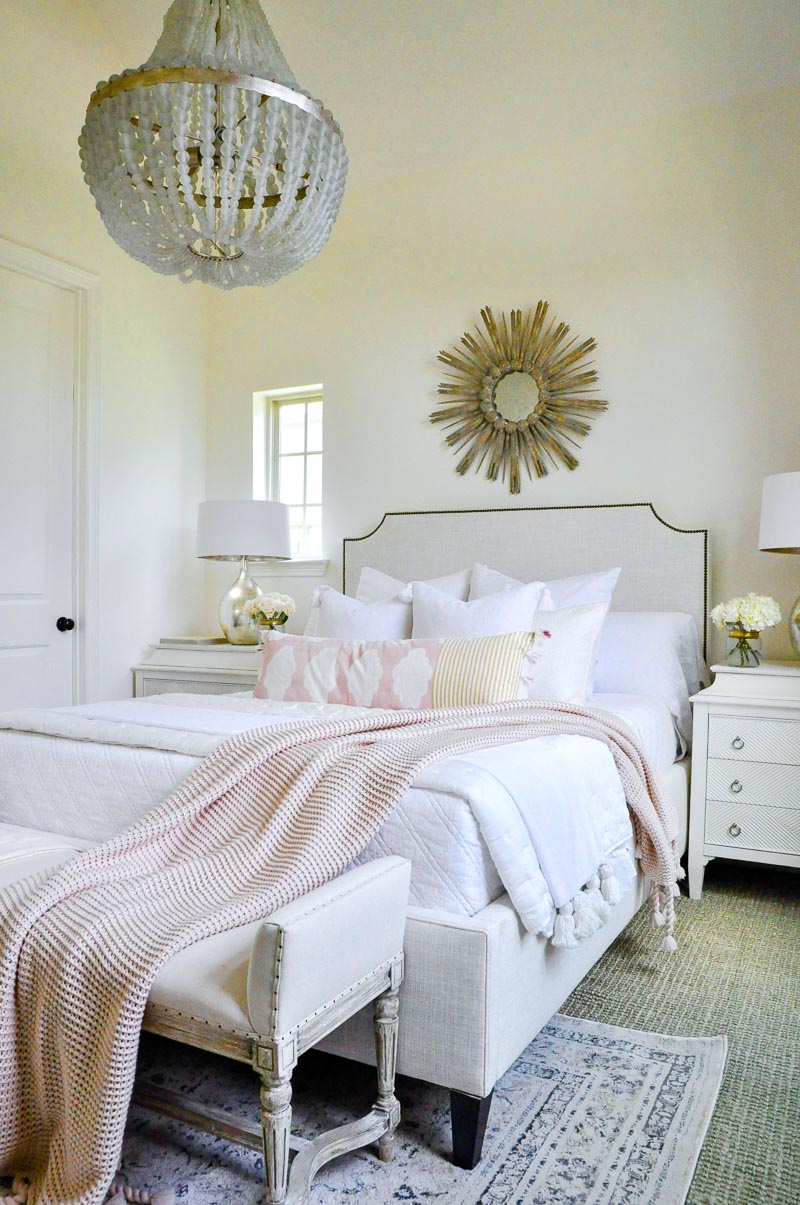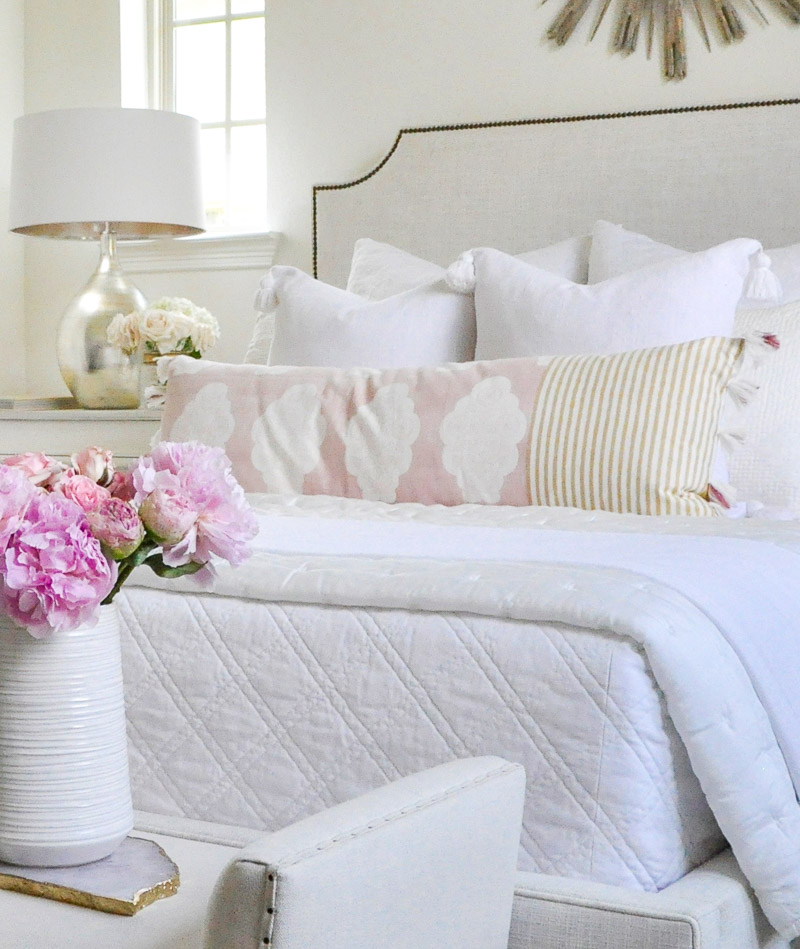 GET THE LOOK OF OUR GUEST BEDROOM BY CLICKING THE PRODUCT IMAGES BELOW



What's Next
I have a few things in mind, including a new bench. The window wall also got an upgrade with some beautiful gold and white wallpaper. You can see a peek of it behind Ava.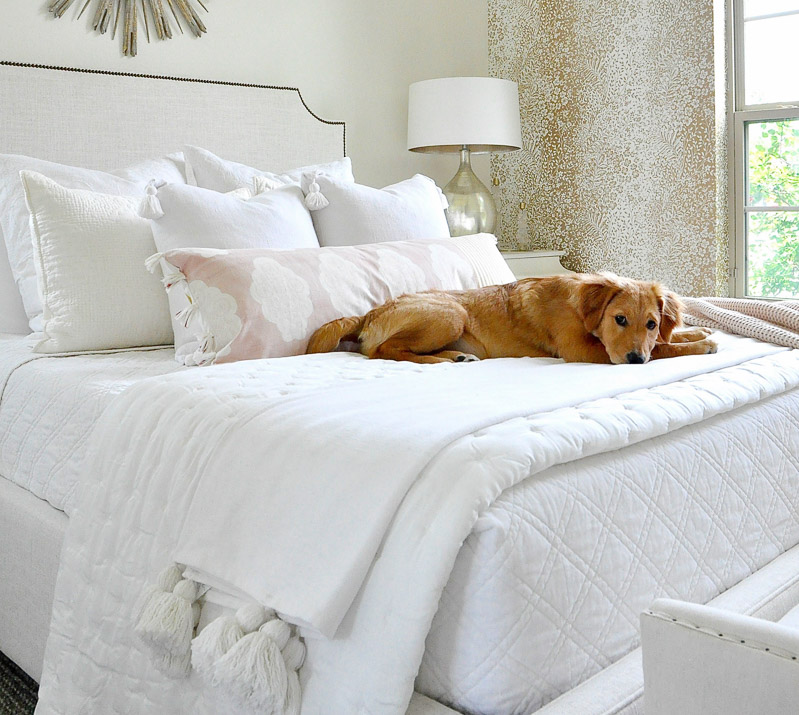 Draperies. This is another space that desperately needs gorgeous Martha & Ash drapery panels. The windows are on the wallpapered wall and will be far more stunning and finished-looking with timeless panels. I have the beautiful Martha & Ash samples and will be sharing them soon!
Guest Room 2
Relatively untouched since I first revealed it almost 2 years ago, this room is still a favorite. Will I make a few changes eventually? Probably, but I still love it and have no plans for changes anytime soon.
I did find a couple of small additions that I adore, a beautiful soft blush throw also by my friends at Pom Pom at Home and a pair of pretty new pillows. I had my eye on both of them for a while and I'm so glad I finally added them.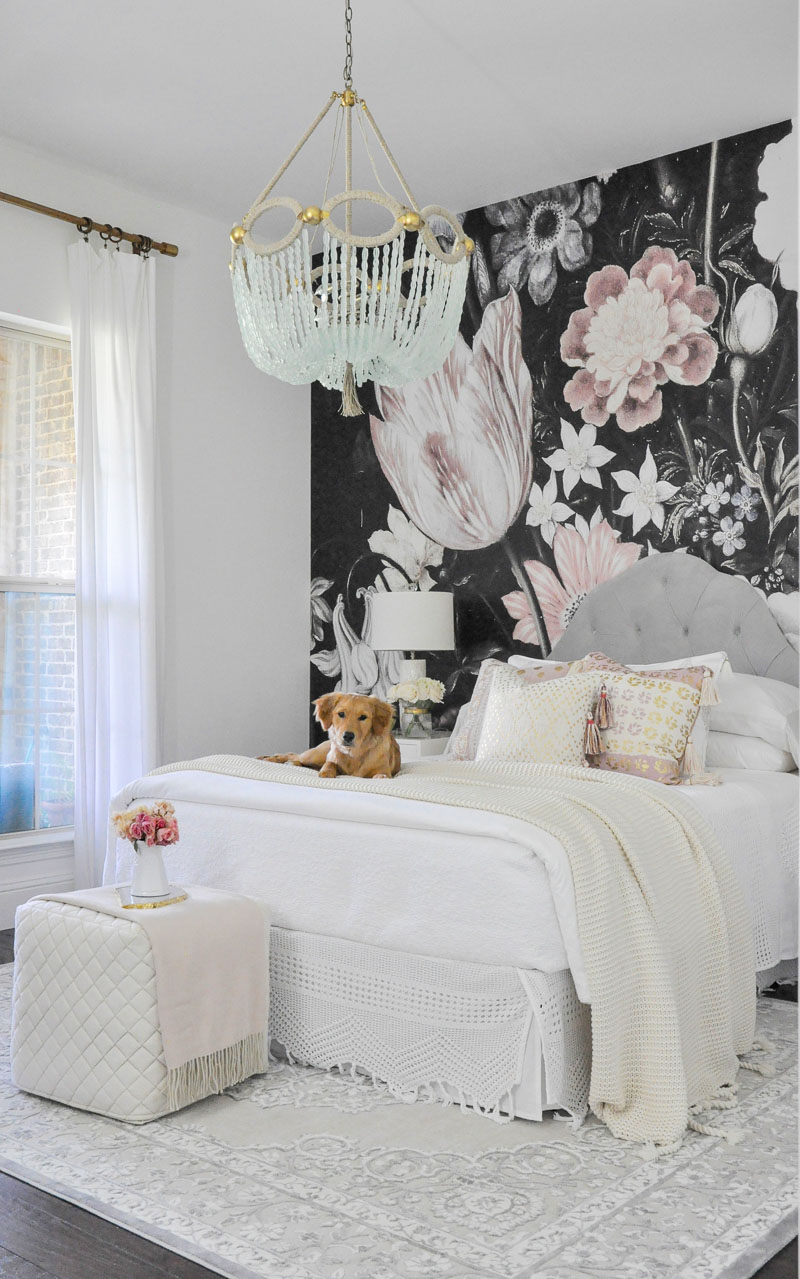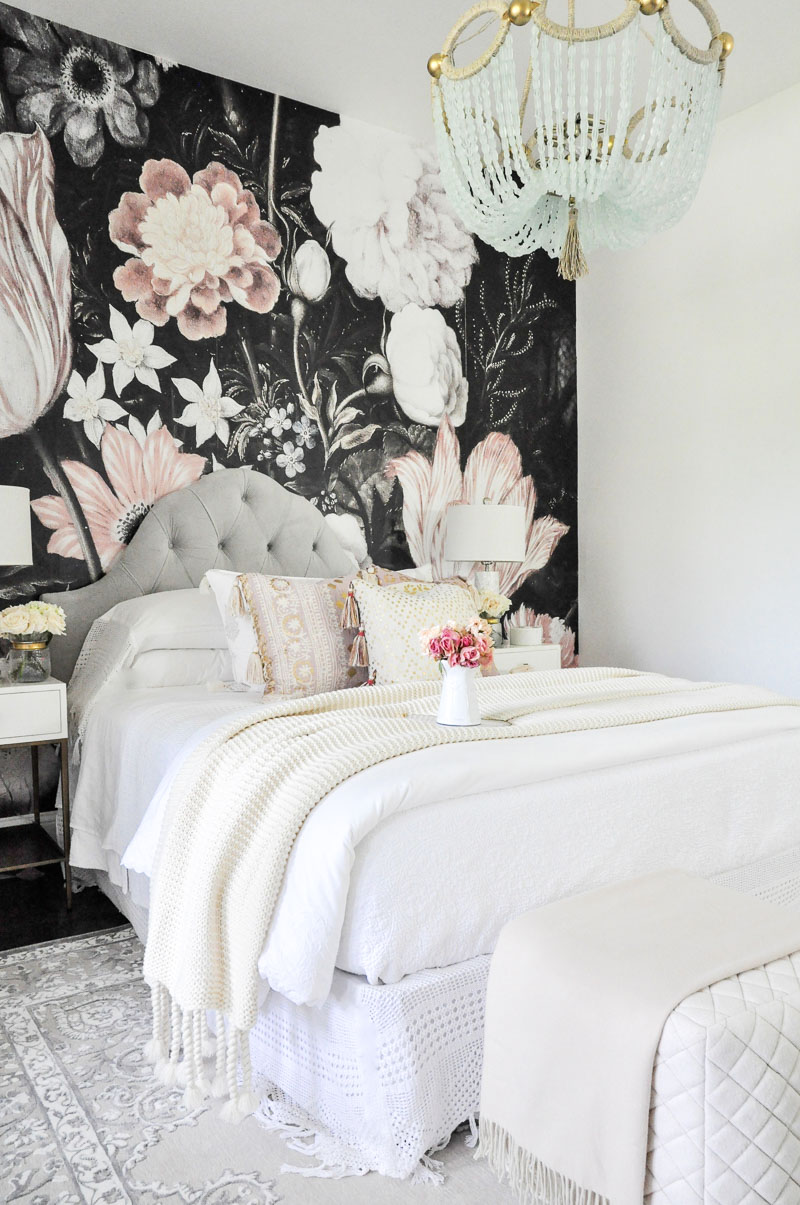 GET THE LOOK OF OUR SECOND GUEST BEDROOM BY CLICKING THE PRODUCT IMAGES BELOW



Dining Room
Our dining room is going to be my next big project. I am hoping to tackle it next, maybe even before the holidays. Stay tuned!
UPDATE: Our dining room project is underway!!! Watch for the reveal in September!

KITCHEN
Bar Stools | Light Pendants | Faucet | Soap Dispenser | Copper Sink | Wall Plates
Round Brass Tray | Tall Vase | Short Vase
Marble Cheese Board – Similar | Round Marble Cheese Board | Glass Hurricane – Similar | Brass Candle – Similar | Fig Candle
Cake Stand – Left Counter | Mugs | Cake Stands – Right Counter | Fruit Bowl – Similar
Breakfast Table – Older Table, Refinished | Chairs  – Similar 1 | Chairs – Similar 2| Blush Pillows | Breakfast Room Chandelier | Bar Cart
LIVING ROOM
Sofa | Chandelier | Side Chairs – White | Buffet
Bench/Ottoman (used as coffee table) | Side Tables 1 & 2 (each side of sofa) | Side Table 3 | Round Side Table | Table Lamp
Gold tray – Similar | White tray | White vase – short
Gold olive branch statue  | Book – Timeless | Book – Dream
I hope you'll stay connected…..
Click on the Image to Subscribe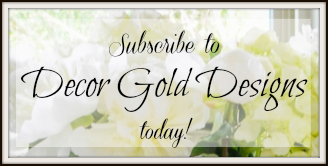 SaveSave
SaveSave
SaveSave
SaveSave
SaveSave
SaveSave
SaveSave
SaveSave
SaveSave
SaveSave
SaveSave
SaveSave
SaveSave
SaveSave
SaveSave
SaveSave
SaveSave
SaveSave
SaveSave
SaveSave
SaveSave
SaveSave
SaveSave
SaveSave
SaveSave
SaveSave
SaveSave
SaveSave
SaveSave
SaveSave
SaveSave
SaveSave
SaveSave
SaveSave
SaveSave