As we approach the completion of our kitchen project, I can hardly believe how different the room already looks. The truth is, it has taken a very long time to get to this point, but I can tell the finished room is going to be well worth the wait!
When making my selections, I often think of you all. You have become part of my story and I hope that you love learning about the behind-the-scenes stuff as much as I love sharing it with you!
*This post contains affiliate links. Disclosure here. Additionally, some of the brands featured here provided products that made this kitchen project possible. As always, my comments, reviews, and opinions are 100% my own.
I realize making over my space in phases and sharing progress reports for this kitchen project is less dramatic than just waiting to share the reveal. And even for us, it is much different than the six-week room transformations we've done like our floral guest room and our white guest room. It has been a LENGTHY process, but I can tell you that we can blame that on life circumstances, not on project delays. The actual updates have gone fairly smoothly and we are grateful!
With the exception of the light pendants, which we added just after we moved in, this was our original kitchen. By the way, the cake stands you see in the corner will definitely be in our new kitchen. I love them as much today as I did several years ago when I got them!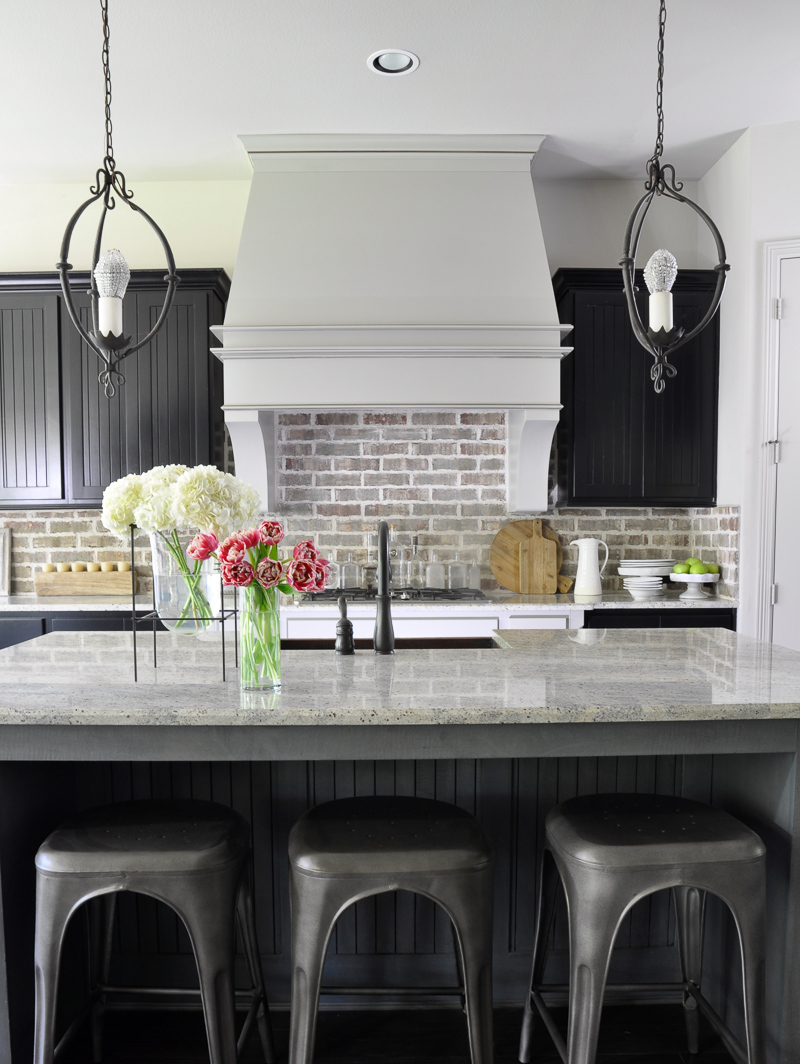 Phase 1 of our update was completed last spring and I loved the more sophisticated look. We only changed a few things, but those changes made a huge impact!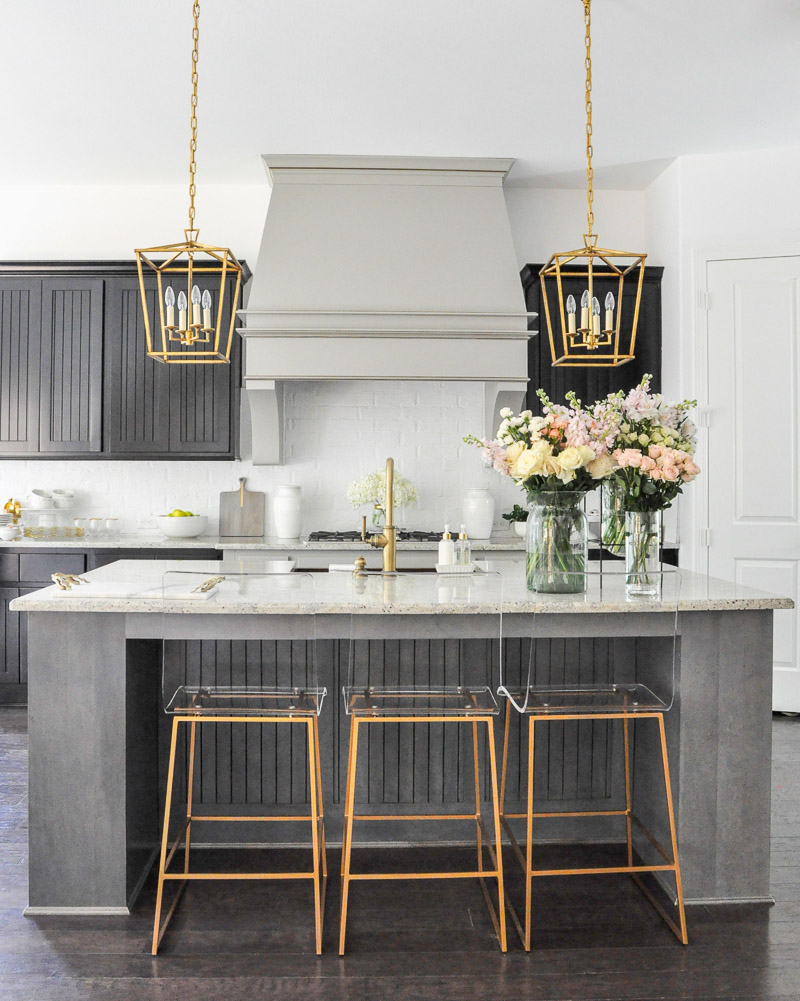 Shop this Look 

Phase 2 began shortly thereafter when my husband, Tony said, "I know you really want to have the cabinets painted. Why don't you go ahead and get a price from Francisco".
Here's the deal, I've known Francisco (our painter) for a very long time. I know his price is going to be fair. Tony knows this too. So basically, once we ask him for a price, we are most likely going to move forward. Of course, in this case, that is just what happened and it began Phase 2!
Cabinet Door Fronts
I wanted cleaner lines on my cabinets and no longer liked the grooves our original doors featured. This needed to be addressed before the cabinets were painted. I spoke with Fransisco about it and he came up with a solution.
Before the painting began, Fransisco's crew took our doors and applied a thin veneer to each of them. Our island featured the same grooves. This was corrected on site.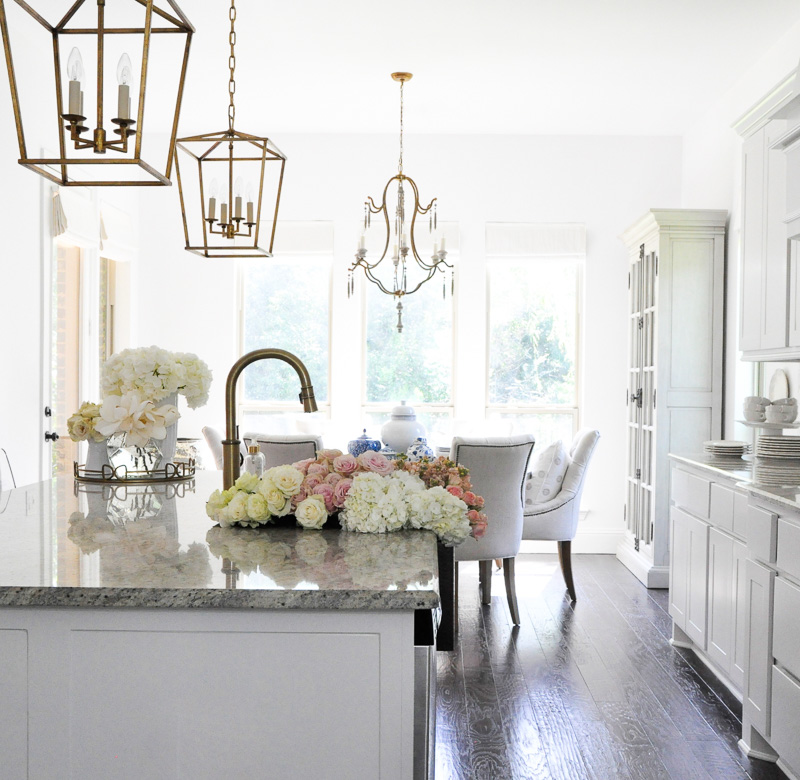 Paint
You can see the white wall next to the very pale gray. We selected Shoreline for the cabinets and Chantilly Lace for the walls. Both are by Benjamin Moore.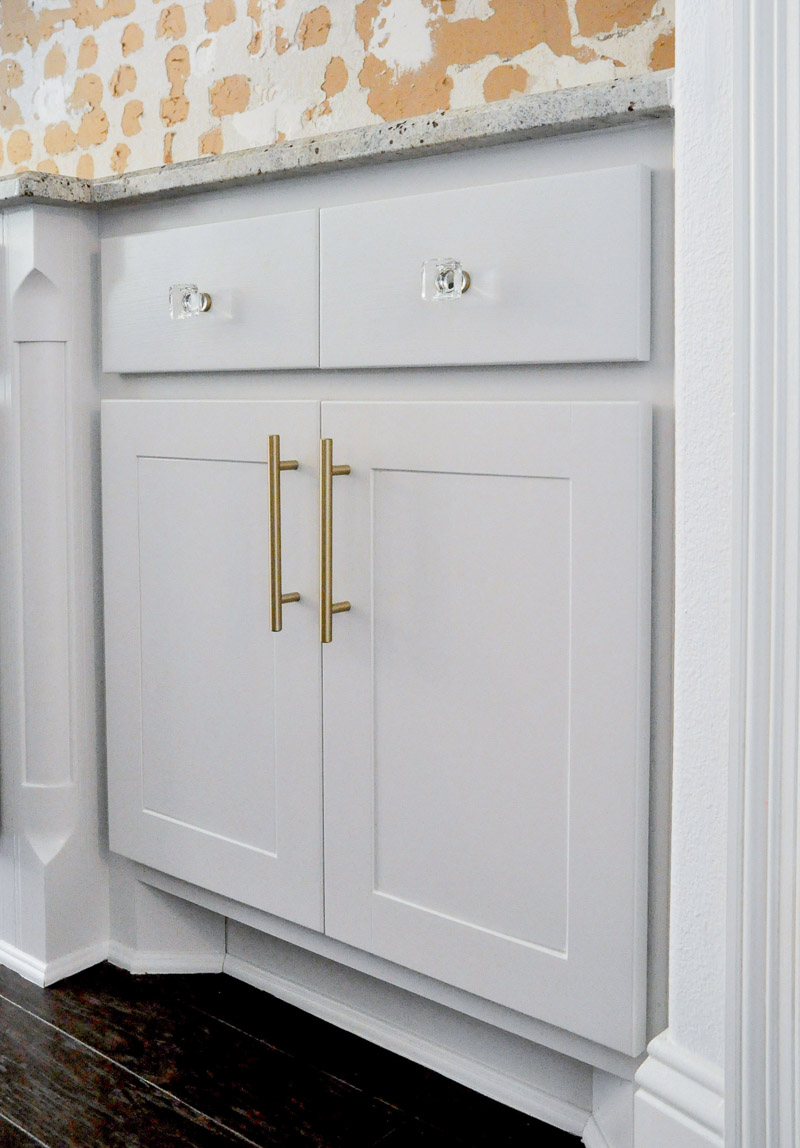 Hardware
Cabinet hardware was not included when we built our home. I planned to add it at some point and simply neglected to prioritize doing so until now.
I had a general idea of the look I wanted, but never really fell in love with cabinet hardware until I found Amerock. I first saw their beautiful hardware at the Design Bloggers Conference and immediately knew it would be perfect for our kitchen.
Below, you can see that I selected three styles: bar pulls, glacio knobs, and glacio pulls in the golden champagne finish.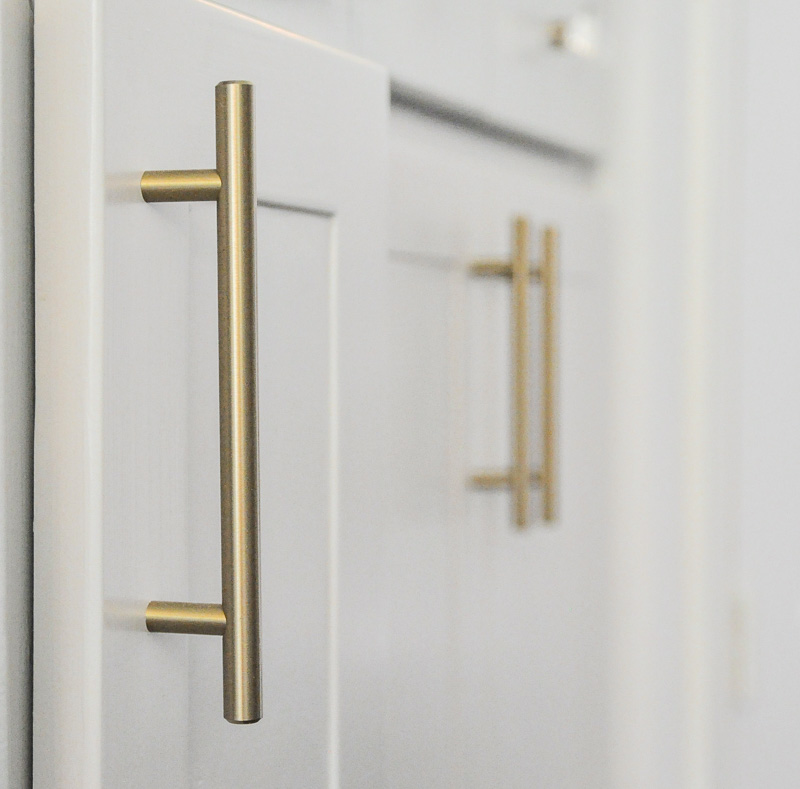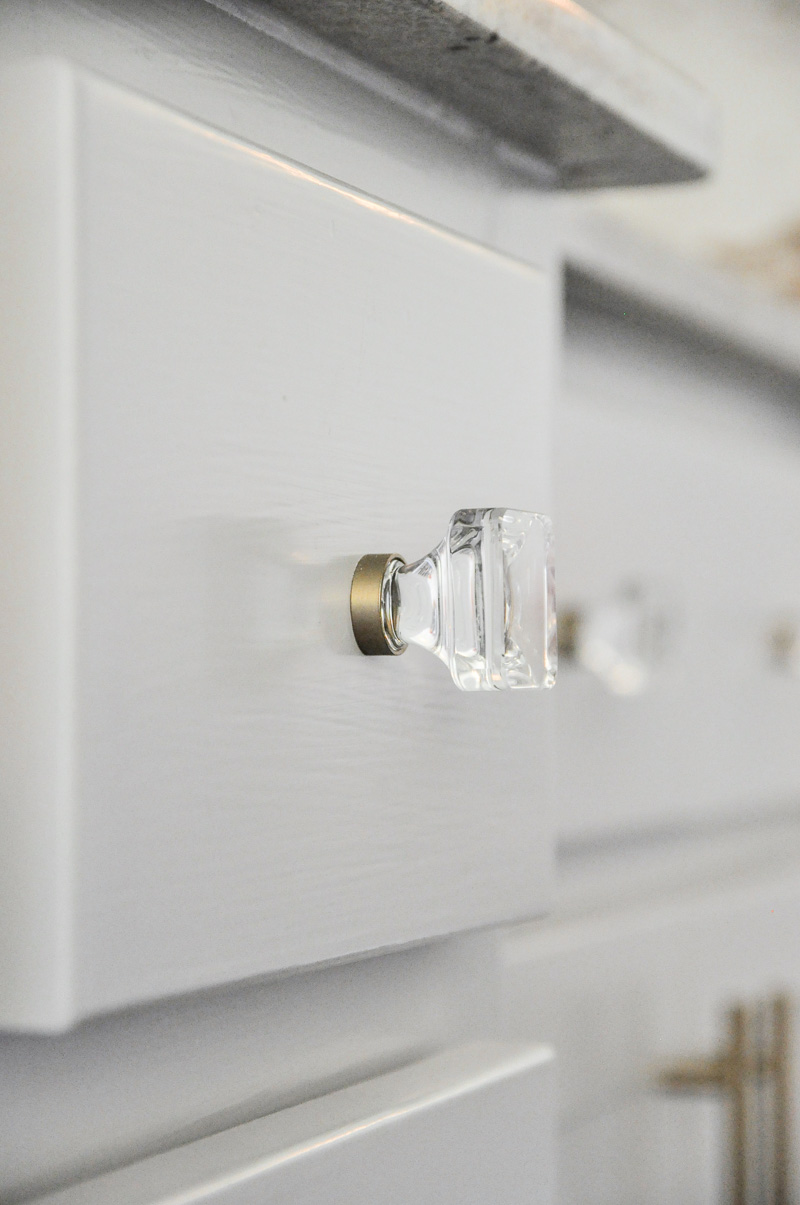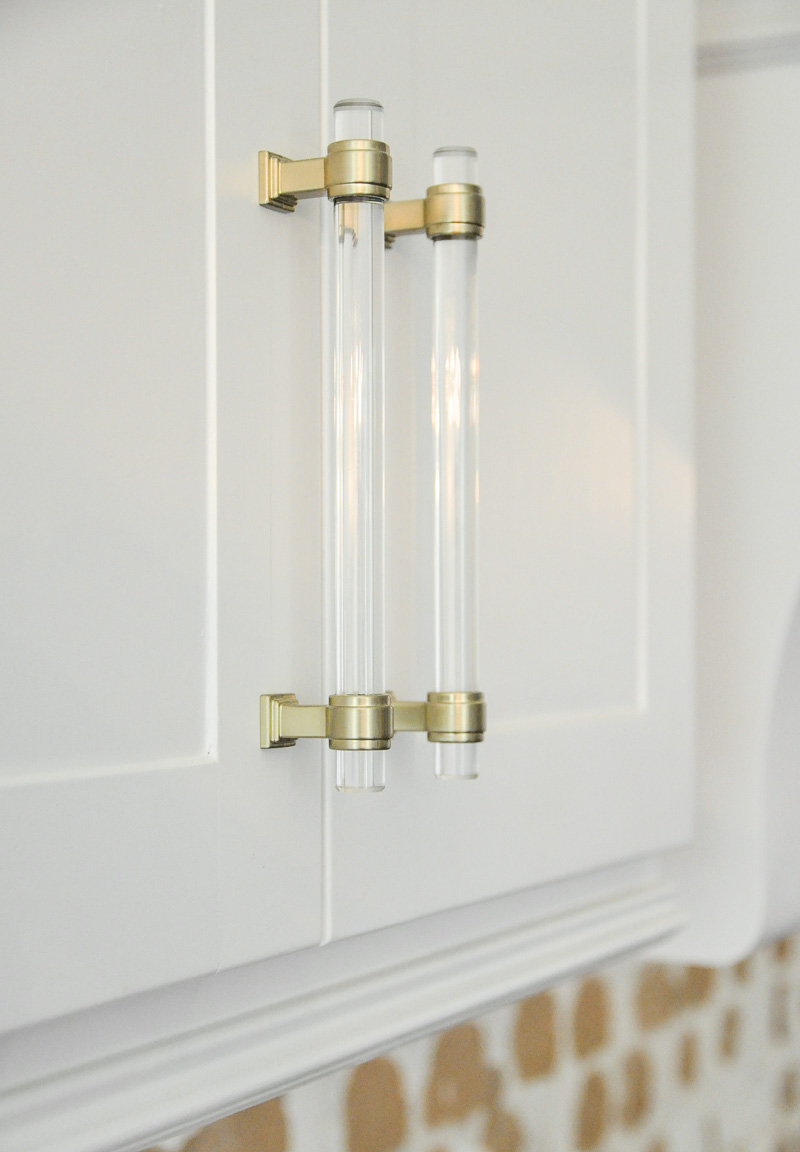 Shop our Cabinet Hardware 

Countertops
This was going to be the biggest change. For the record, I definitely didn't expect this change to come so quickly. I knew we would change the countertops eventually, but I am so glad we were able to do it now.
A few people asked me why we are changing our granite, so I thought I would address that first.
Here's a closeup of the granite we removed. Be sure to notice the light strip on the far right.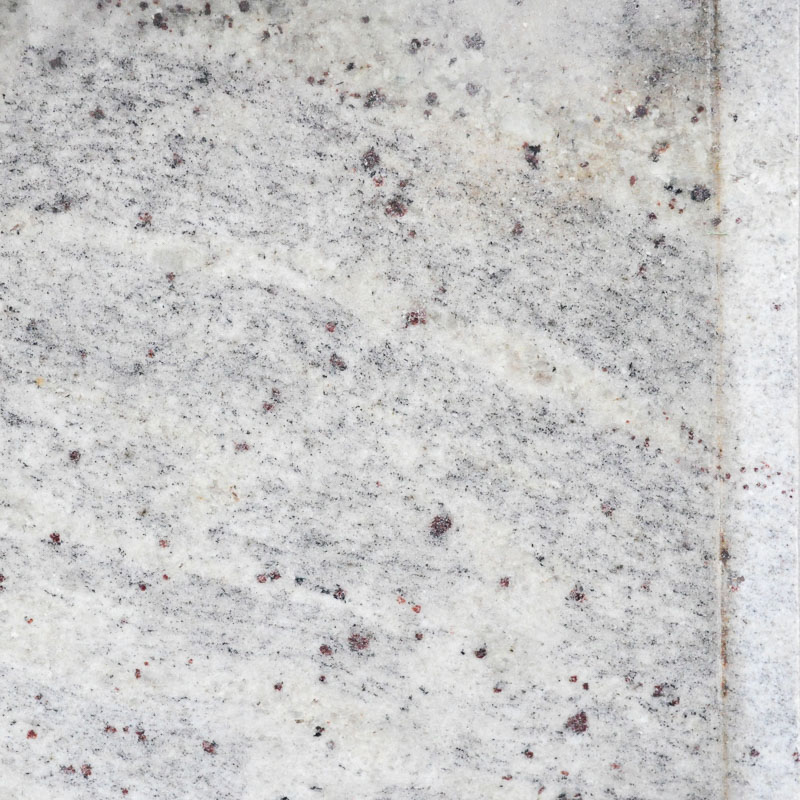 That strip represents the original color. Over time the look of our countertops became less beautiful to me. I say, "to me" because it is definitely a matter of personal taste.
Also, when we made our original selections during construction, I wanted white marble countertops . Even when our granite was first installed, I am sure I was comparing it to marble a little too much.
My point is, for me, it was time for a change. That said, I love that some of you have granite that you love and others will follow suit as they prefer granite as well. This is part of staying true to yourself and your vision.
So now, the story of how these new countertops came to be part of our kitchen project:
As most of you know, I am also in the middle of a dining room makeover project. One day, I had the team from The Curtain Gallery of Houston in my home to discuss drapery fabrics and designs (more on that soon!). Eventually my kitchen project came up and, at the time, I wasn't thinking of changing our countertops right away. The owner, Rosario mentioned knowing a fabricator that she trusted implicitly.
A few weeks later Rosario was kind enough to let me know she had contacted Stone Coverings of Houston, a local family owned business. She suggested that we schedule a meeting. I met Ana from Stone Coverings of Houston the following week and immediately knew I had found the fabricators that I wanted to work with! Ana is incredibly knowledgeable and passionate about her work. These were the qualities that put me at ease during the process.
At this point, we needed to select our material. Stone Coverings of Houston answered all of my questions and stressed the importance of high-quality material. I couldn't agree more and was thrilled to know that they recommend LG Viatera! Just to let you know, this is the same LG that manufacturers appliances, televisions, air conditioners, etc.! We have an LG washer and dryer, but I had no idea they were connected until the day of our meeting!
In addition to providing a high-quality surfaces, Ana assured me that LG Viatera practices excellent customer service. So reassuring!
Ana set up a meeting with Edyie with LG Viatera. After consulting about our lifestyle and the new look we wanted, we knew quartz was the right product for us. Edyie shared that it is non-porous and anti-bacterial and would not need to be resealed. Ever! She shared that in 15 years, it will still be just as beautiful as the day of the installation.
The decision was made and next I saw their selection. Immediately, I knew I was in trouble! Why? I wanted all of them!
I'm kidding of course, but I could have selected any of these!
My selection has not been released quite yet. But, it is similar to Quartet. Much more on this soon!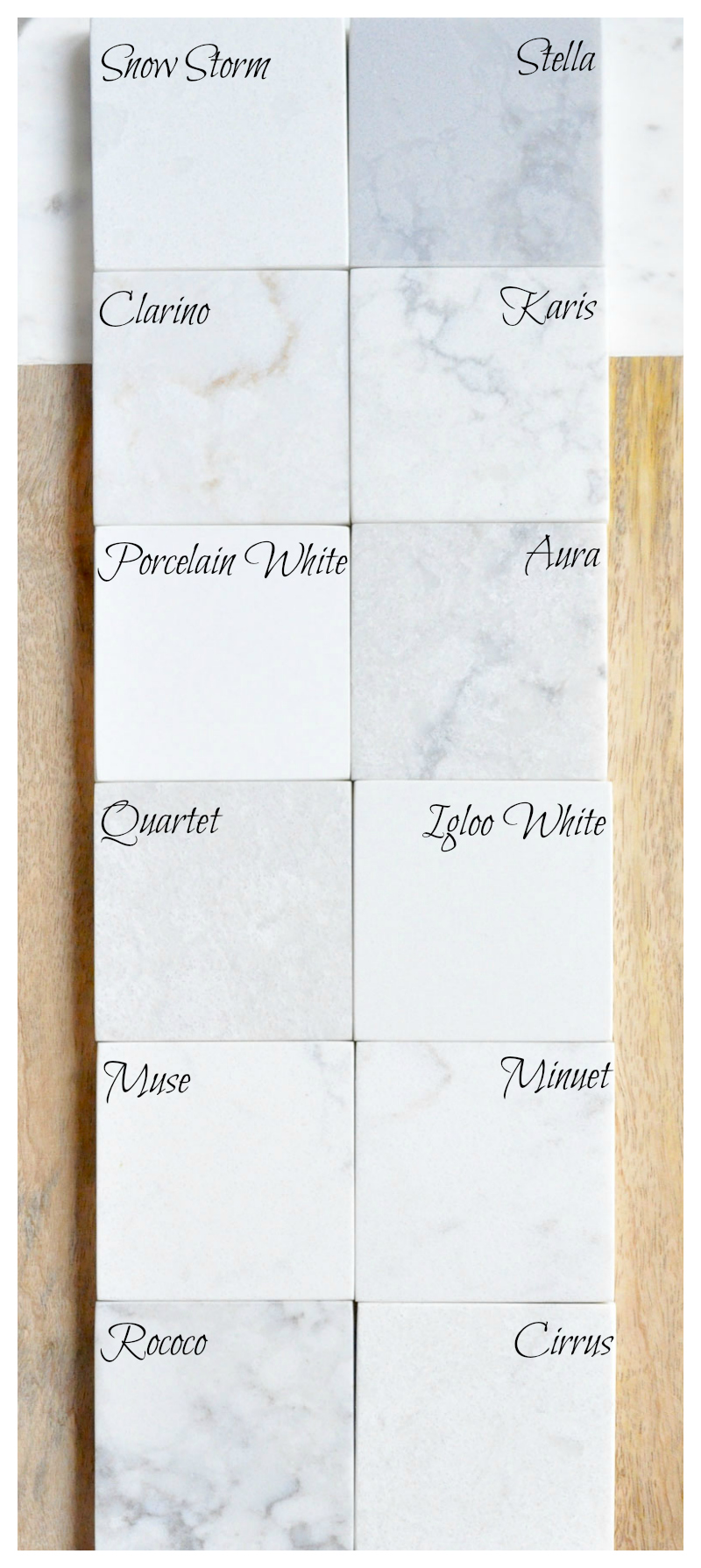 There were a few important decisions other than the product and color.
My previous countertops had beveled edges.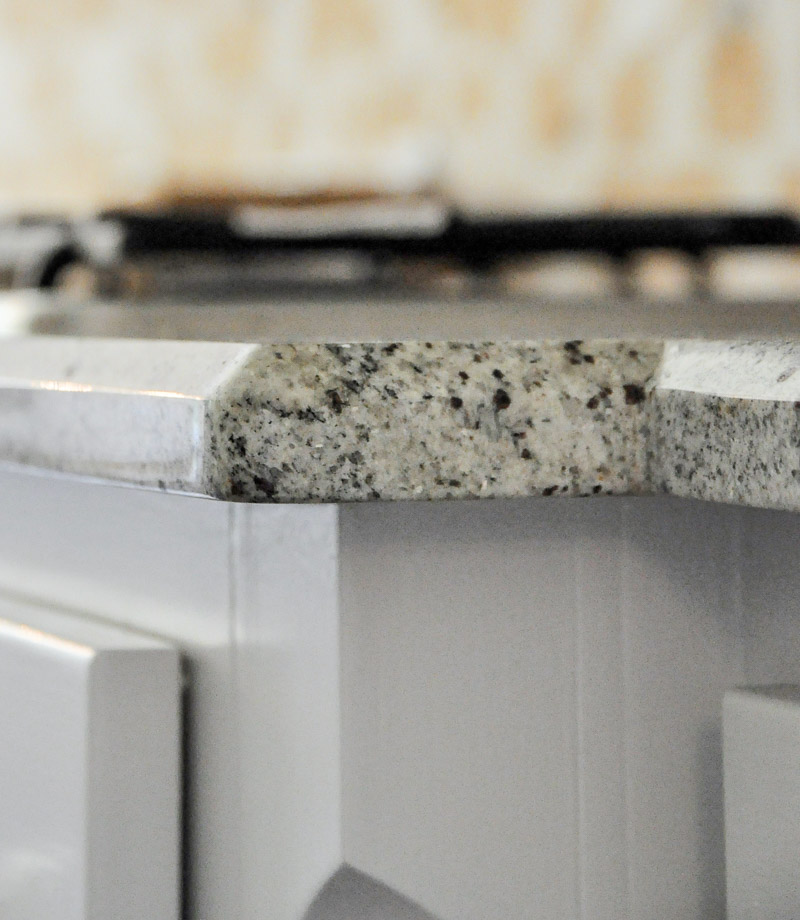 I wanted something different this time and Ana recommended a mitered edge. It was definitely the way to go!
Here's a peek…..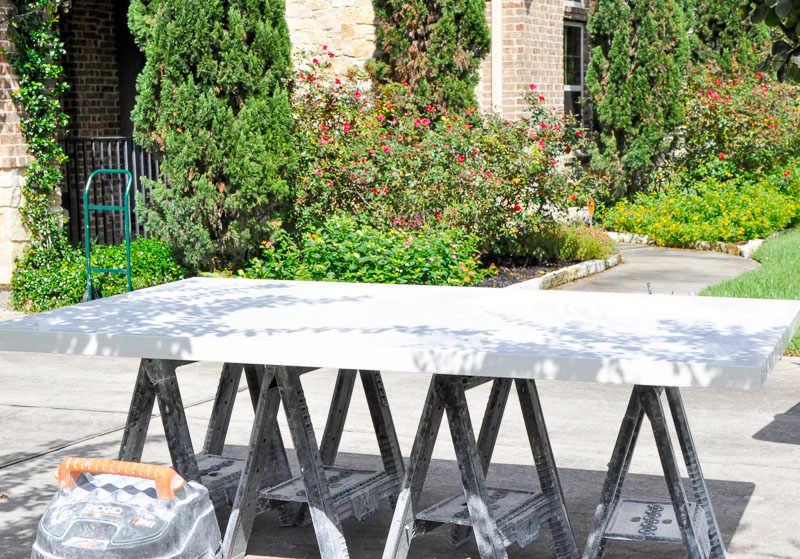 I have much more to share about the mitered edge and the installation process. But for now, I want you to know I have never been more impressed with a team than I was with the team from Stone Coverings of Houston. I feel the same about the products and service provided by LG Viatera. I highly recommend both.
Sink
I was all over the place on this decision. First, I wanted to go with a fireclay apron front sink to replace our copper apron front sink. Then, I selected an integrated stainless steel sink. For this to work, the cabinet on the island would need to be retro fitted. Ultimately, I went back to the fireclay apron front option. The one I found has very similar dimensions to the one we were replacing. This would make the process a little easier. It also has a more transitional design with it's cleaner lines and corners that are only slightly rounded. I can't wait for you to see it installed!
Shop our Sink

Backsplash
This is what it looks like now that the brick has been removed. All I can say is YIKES!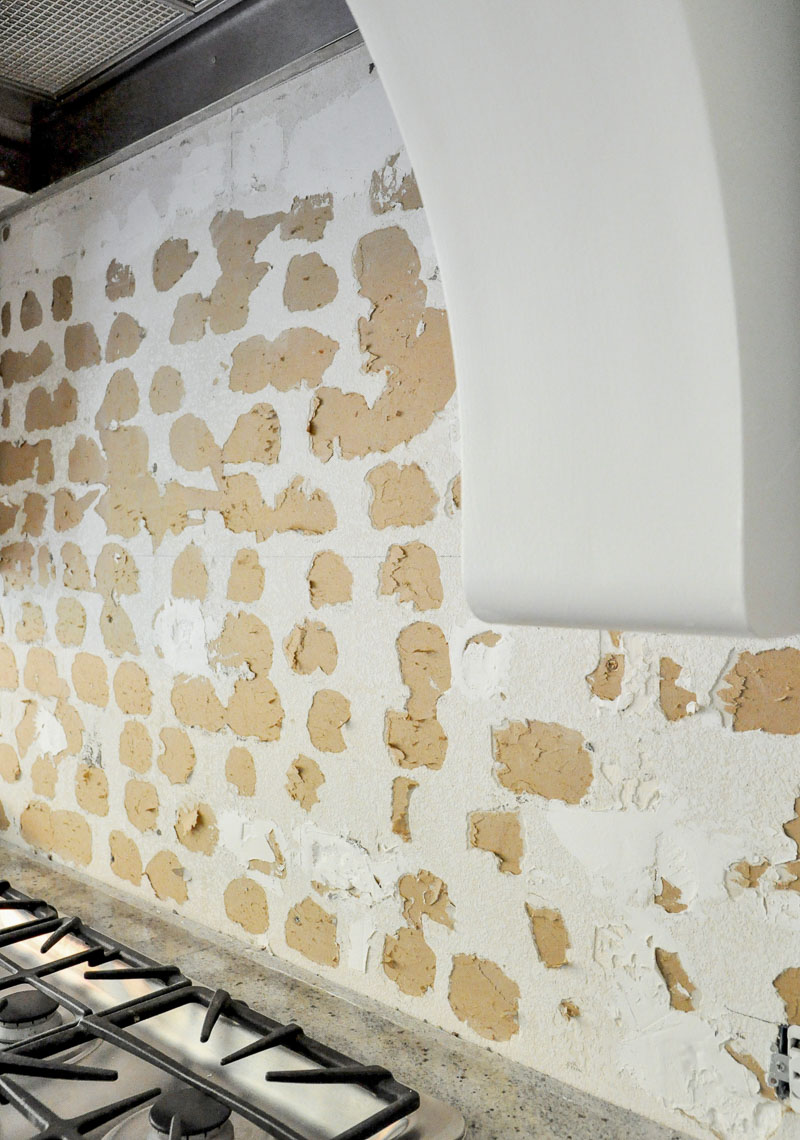 We regularly get questions about our previous backsplash. Below, you can see a piece of it. It was real brick that our brick layer shaved down and applied to our wall.
I looked high and low for just the right tile. Honestly, I worried I wouldn't find something unique that I loved.
After much time tile shopping online, I came across Cle' Tile. One look at their zellige glazed terracotta tile and I was done.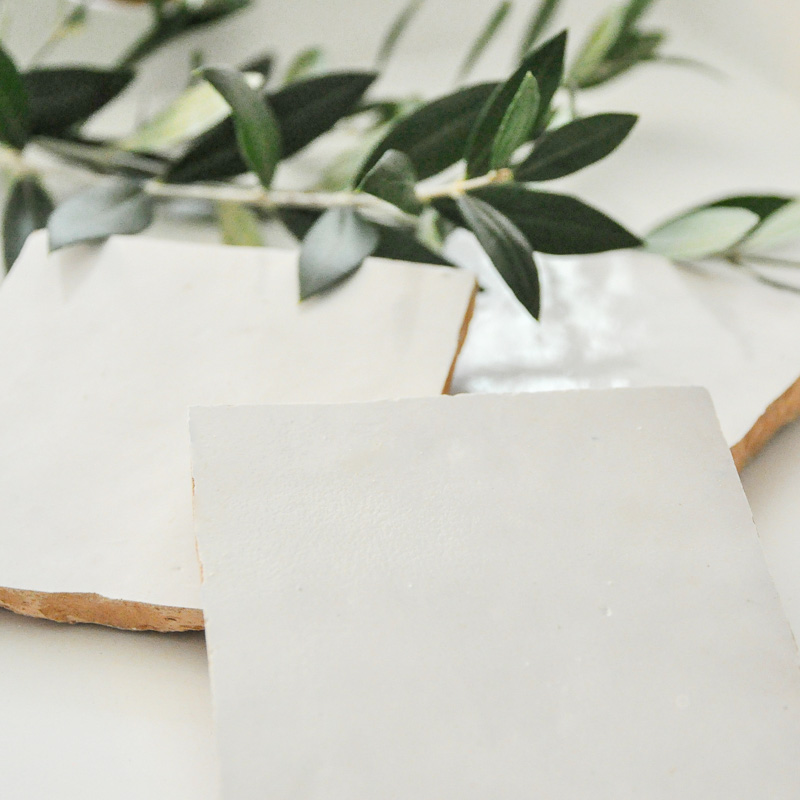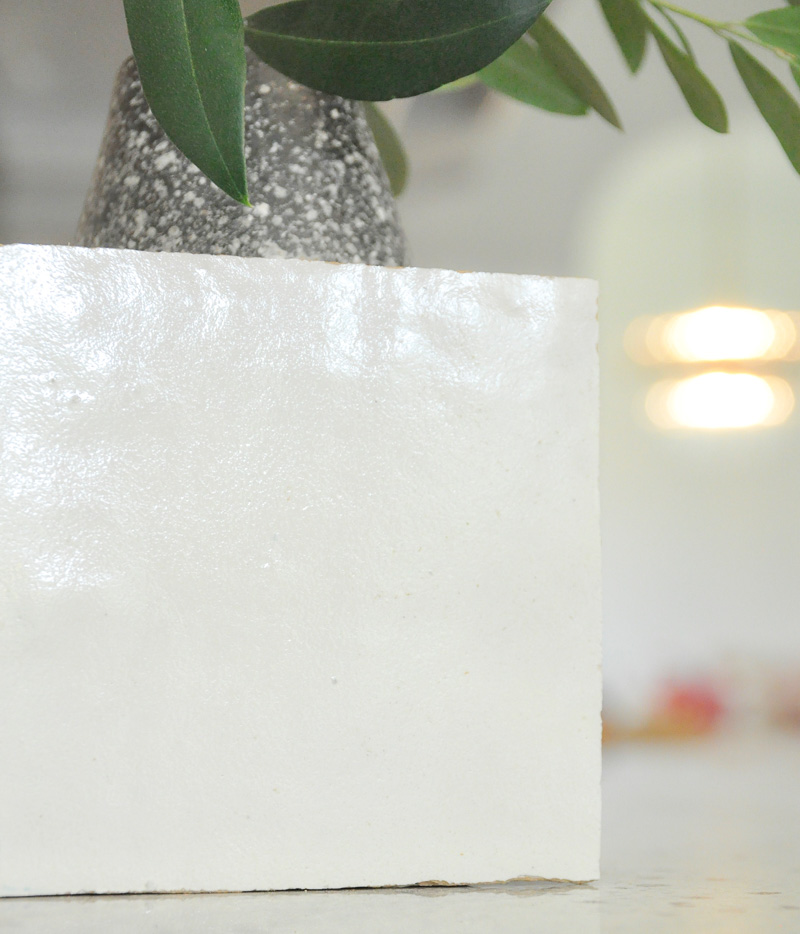 The wall will be repaired first and then these beauties will be installed. We are so close!!!
Pantry Door
This timeless new pantry door by Metrie adds to the elegance of the space. I know, I know. Calling anything about my pantry elegant might be a bit over the top, but I think it's gorgeous and once it has a pretty new door handle, I'll be sharing it with you and I just know you'll think so too!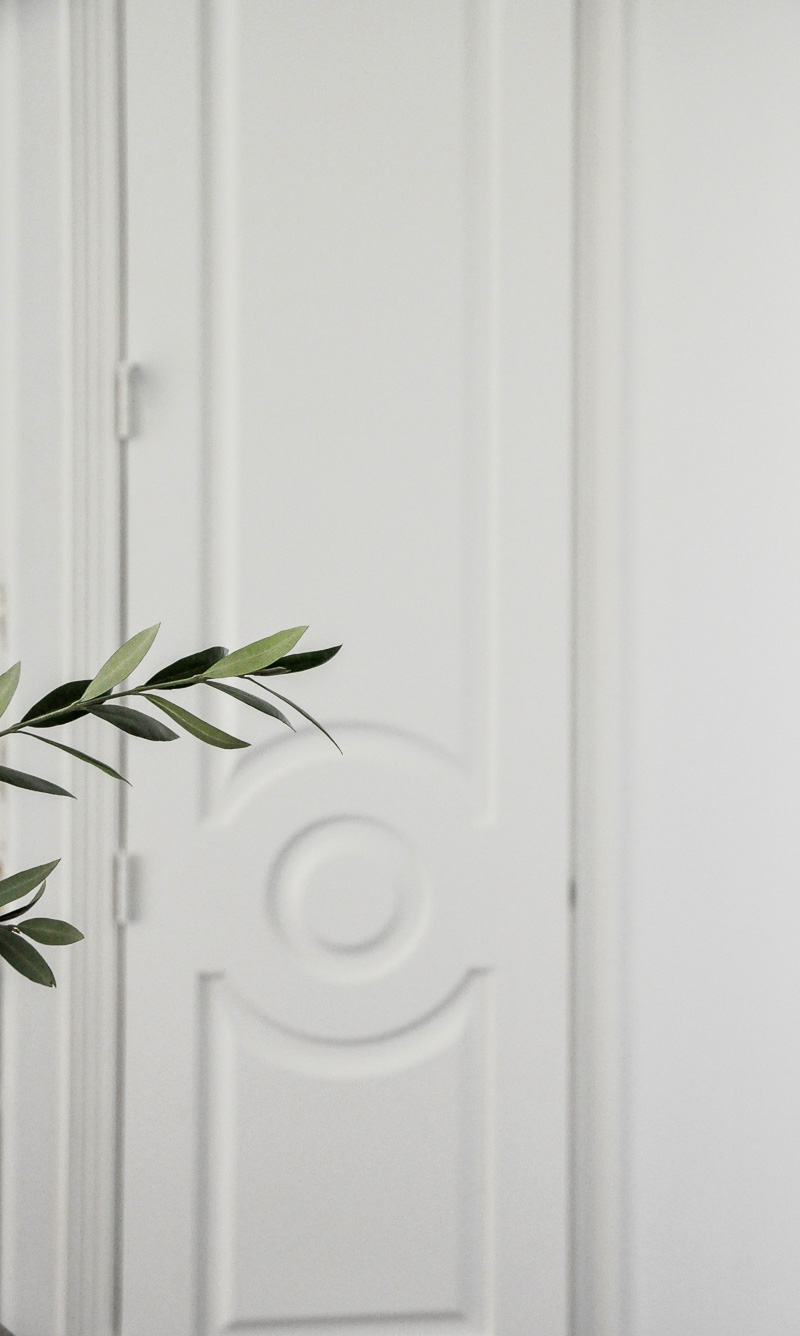 Thank you so much for reading! I know this was a long post for me, but there are many important details in a project like this. My hope is that you will leave here with inspiration, a new idea, or information that will help you on your next project.
UPDATE: For the reveal of our newly revealed kitchen, click here!
Also, if you'd like to see inside my kitchen cabinets and gain lots of organizational ideas, click here! For pantry organization, click here!
I hope you'll stay connected!
Click on the Image to Subscribe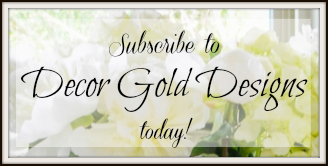 SOCIAL
Instagram | Pinterest | Facebook
Follow me on the LIKEtoKNOW.it app!
SaveSave
SaveSave
SaveSave
SaveSave
SaveSave
SaveSave