It is finally done! At least phase one is. Our kitchen update has been something I've been sort of planning in my mind for a while.
At some point down the road, I have a list of additional changes I may choose to make, but for now, I'm loving the space again.
*This post contains affiliate links. Disclosure here.
Below is the look before the kitchen update was completed.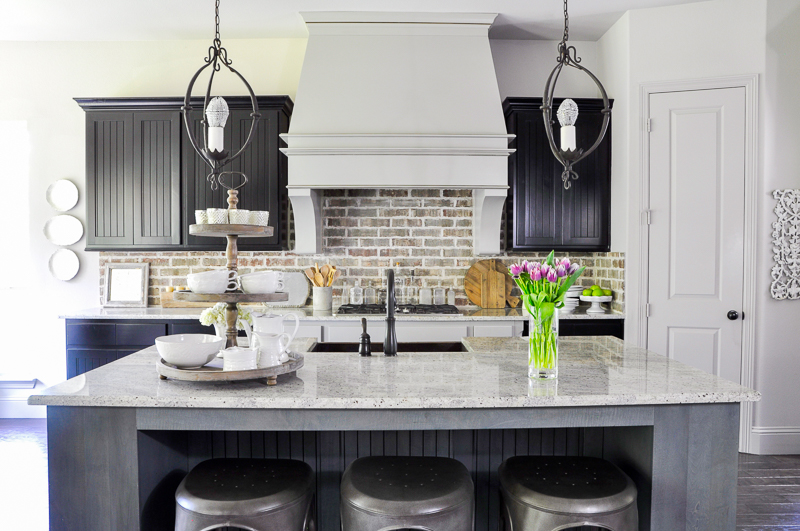 And here is our completed kitchen update!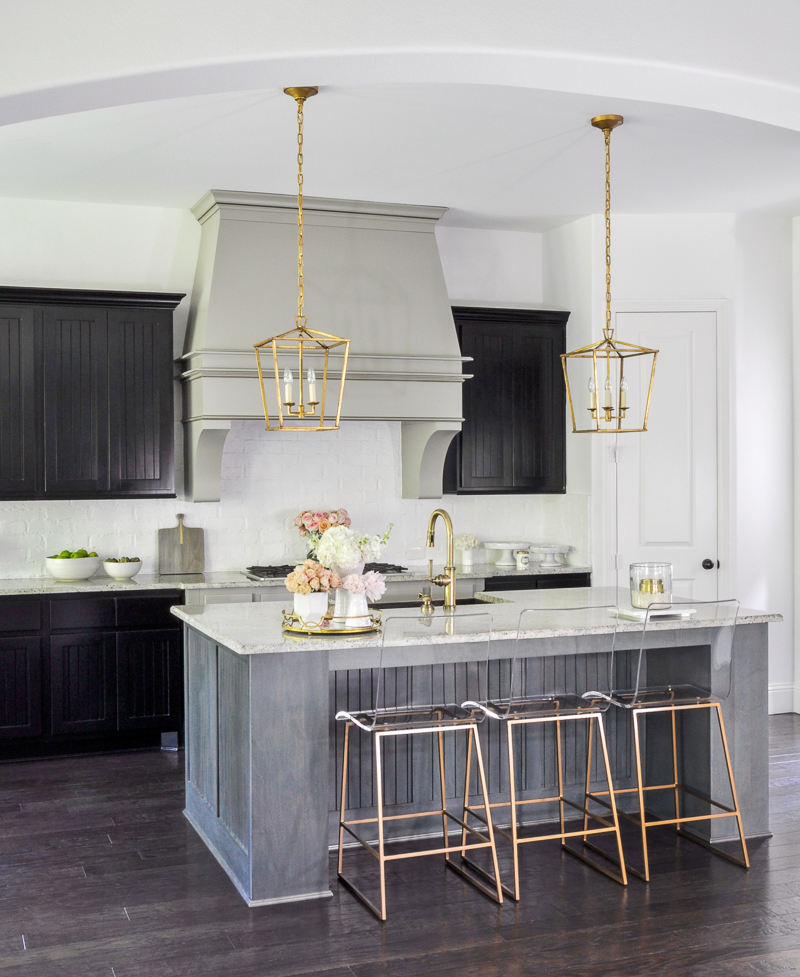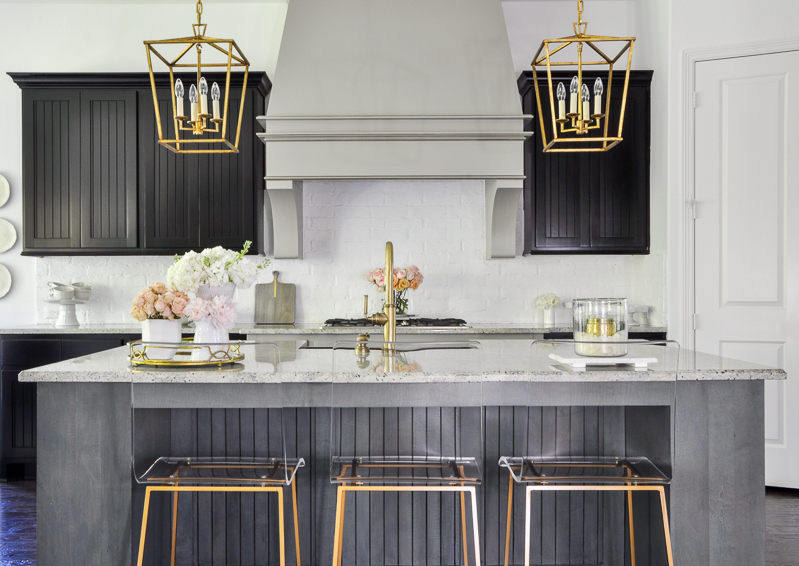 I started with new pendants and I love them! They stand out so much more than the ones I replaced.
I also changed my barstools. I've wanted to change them for a while. When I saw these, I knew they were the ones! They're lucite with an antique gold finish on the frame. The gold color could not be more perfect with my other updates. They are by one of my favorite brands, Gabby. I just can't stay away from their beautiful, transitional pieces!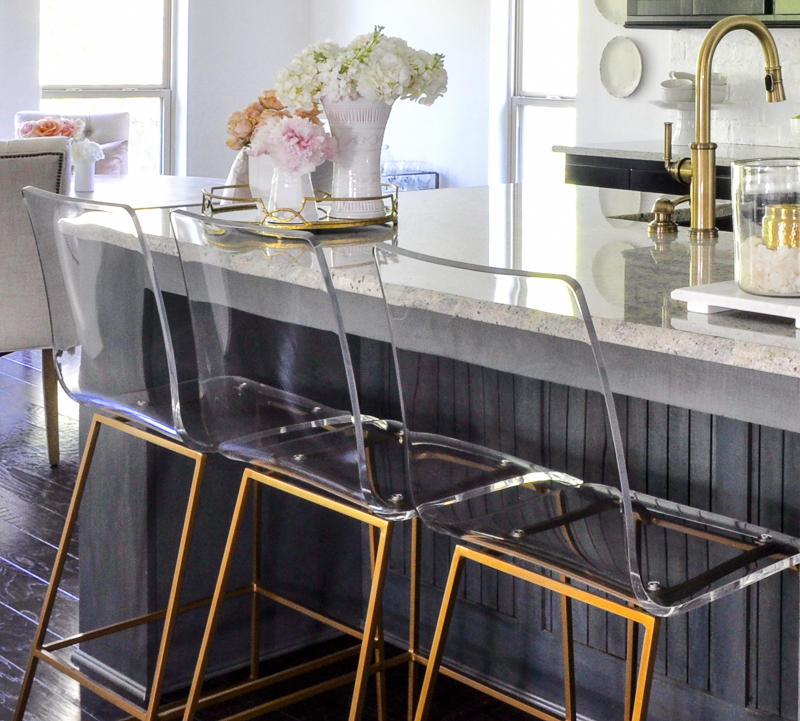 The next find, this stunner!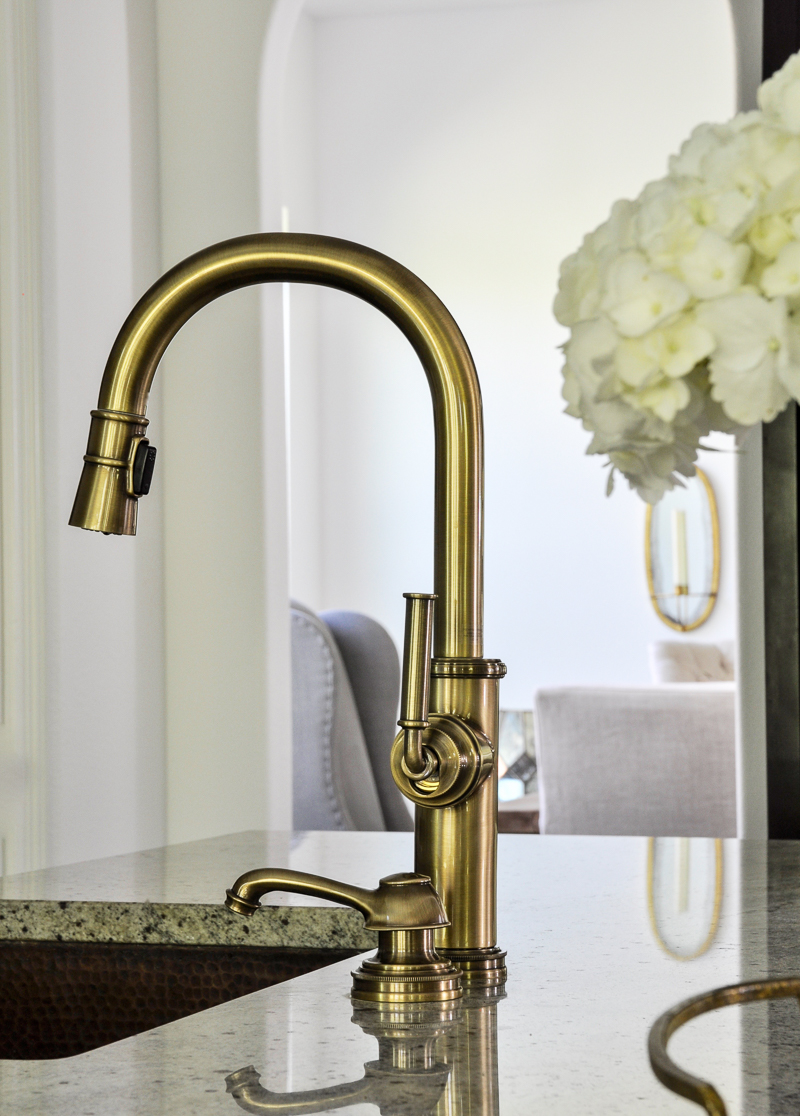 To say I'm obsessed would be an understatement! It is a new kitchen faucet designed by Newport Brass as is the matching soap dispenser. The day it was installed, everything came together. I'm just so thrilled with the amazing quality.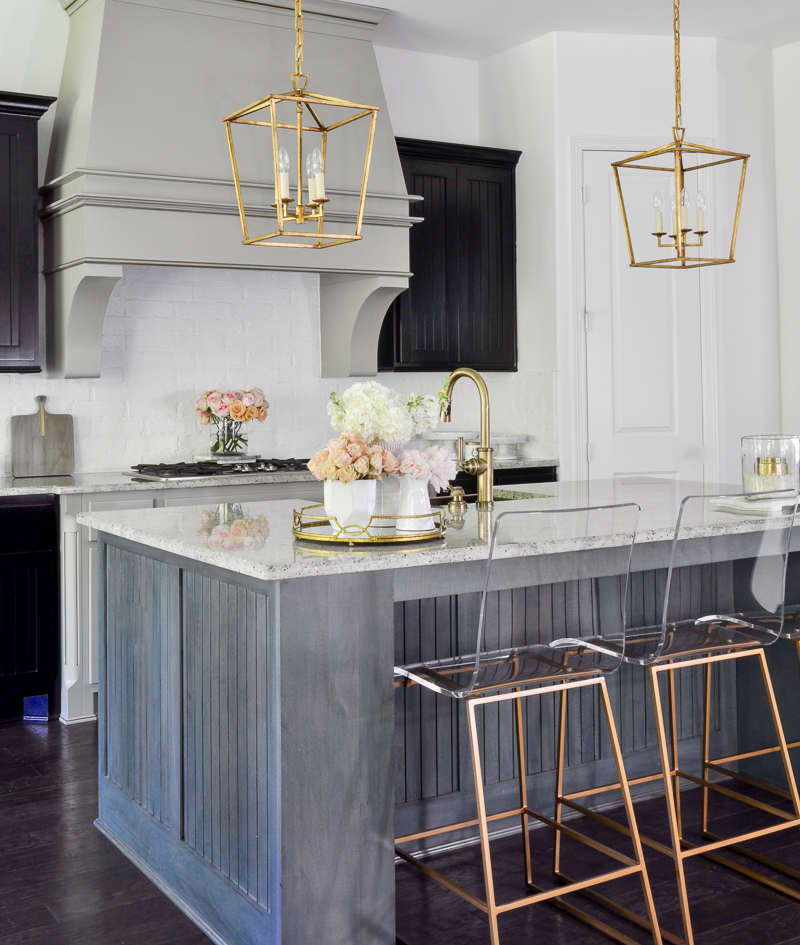 The final update was our backsplash. It is brick and was applied during the construction of our home. I simply chose to paint it white for a cleaner, brighter look.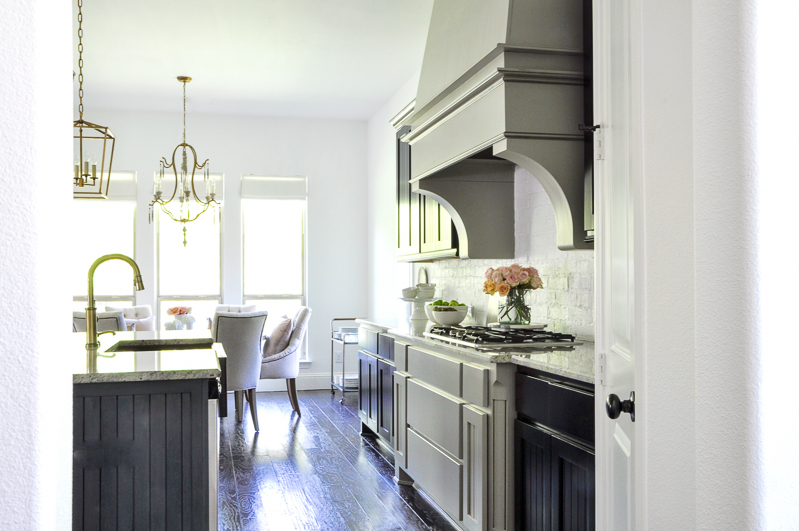 I will share the details of the process soon, but here is a closeup.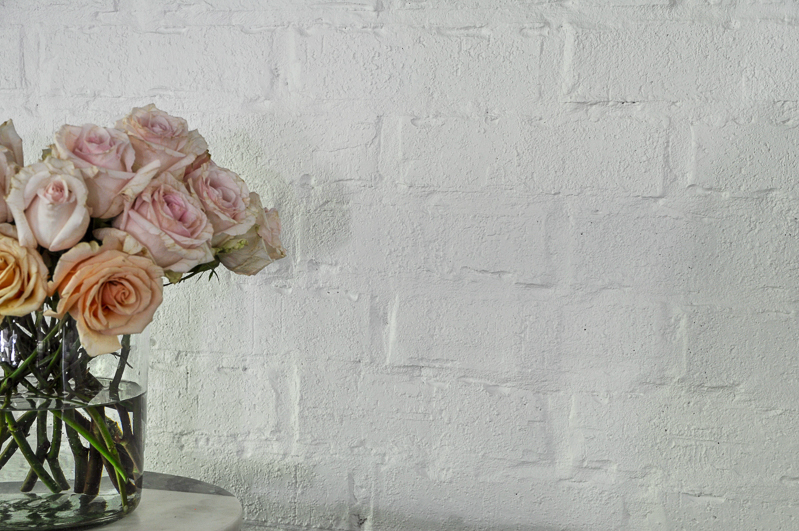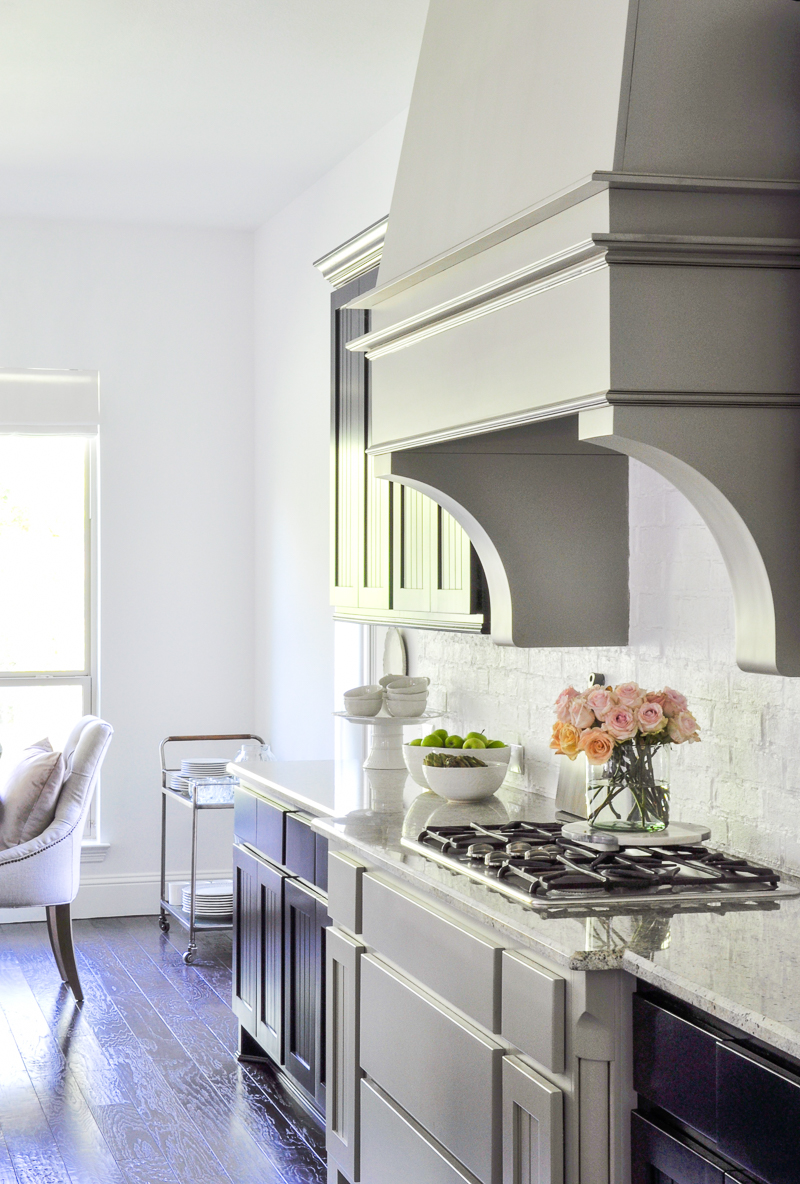 Just these four changes made such a big difference!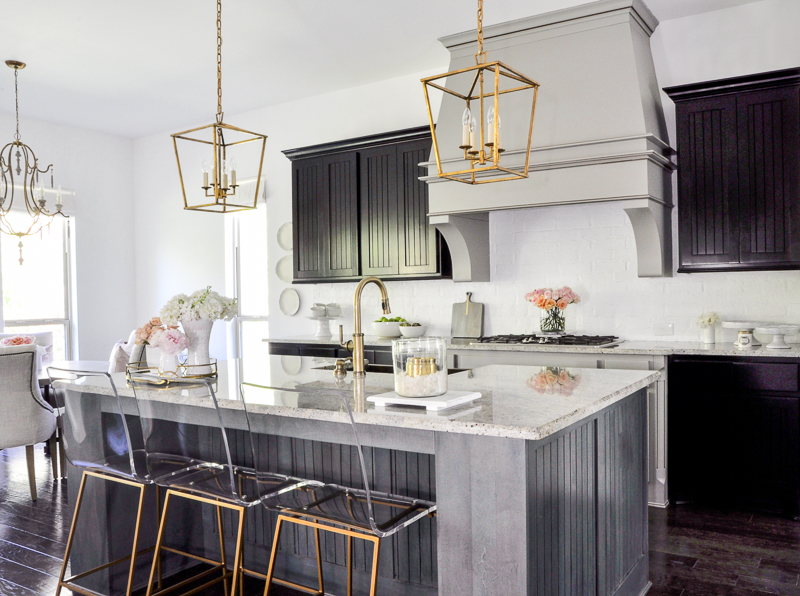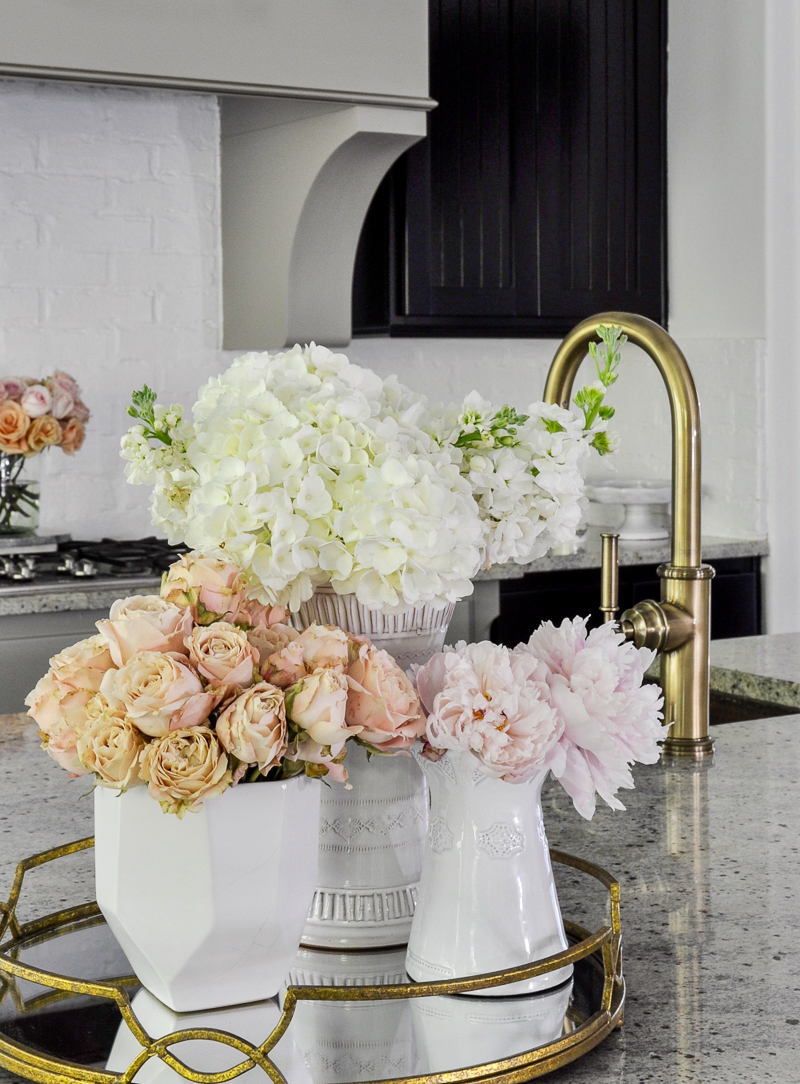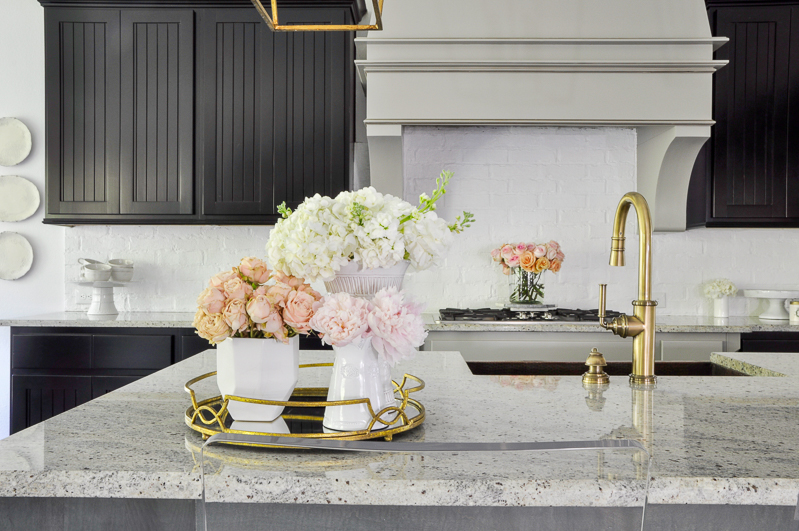 I have done several full-room makeovers lately, so it was wonderful to be able to change four things and have a fresh new look. As I mentioned above, additional changes may follow, but for now, this update is just what our kitchen needed.
If you have a room that needs an update, but the timing isn't right for a full makeover, I hope you will try making small changes. As illustrated here with my kitchen update, you may be surprised at how easy it is to give your home a fresh new look!
Update: Phase 2 will be revealed soon and will include freshly painted cabinets, hardware, and more!! The project details and progress have me very excited!

Bar Stools | Light Pendants | Faucet | Soap Dispenser | Copper Sink | Wall Plates
Round Brass Tray | Tall Vase | Short Vase
Marble Cheese Board – Similar | Round Marble Cheese Board | Glass Hurricane – Similar | Brass Candle – Similar | Fig Candle
Cake Stand – Left Counter | Mugs | Cake Stands – Right Counter | Fruit Bowl – Similar
Breakfast Table – Older Table, Refinished | Chairs | Blush Pillows | Breakfast Room Chandelier | Bar Cart
I hope you'll stay connected…..
Click on the Image to Subscribe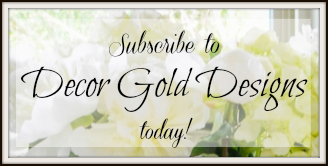 SaveSave
SaveSave
SaveSave
SaveSave
SaveSave
SaveSave
SaveSave
SaveSave
SaveSave
SaveSave
SaveSave
SaveSave
SaveSave
SaveSave
SaveSave
SaveSave
SaveSave
SaveSave
SaveSave
SaveSave
SaveSave
SaveSave
SaveSave
SaveSave
SaveSave
SaveSave
SaveSave
SaveSave
SaveSave
SaveSave
SaveSave
SaveSave
SaveSave
SaveSave
SaveSave
SaveSave