I continue to work on home projects and this one's going to be a dramatic one! It is our new dining room project! I'm thrilled to finally share my plans with you today!
First, let's backup for a moment. It all began a little over a year ago. We made a big decision which started a domino effect in our home.  You know how one update can lead to another? Well, around here one update has led to about fifty! Ha!
To be honest, lately, I have felt like life was spinning out of control. With all of the projects we've had going on, there has been little time for anything else. Finally though, I'm seeing a bright shining light at the end of the project tunnel. I could not be happier! (Insert happy dance emoji)
Our dining room project is a full room makeover. Because we changed the style of our our living room so dramatically, I knew the dining room would need to be updated. Our home is very open and you can see the dining room from several other spaces so one thing led to another and here we are!
I originally thought I would complete our current projects and then tackle the dining room project later. I also thought I would have all of our current projects done more quickly. Our biggest project, our kitchen remodel, continues to get expanded. It is on hold for a moment, hopefully a very brief moment, while we figure a couple of things out. More on that very soon!
This is our dining room before we decided to update the look.
*This post may contain affiliate links. Disclosure here.
Before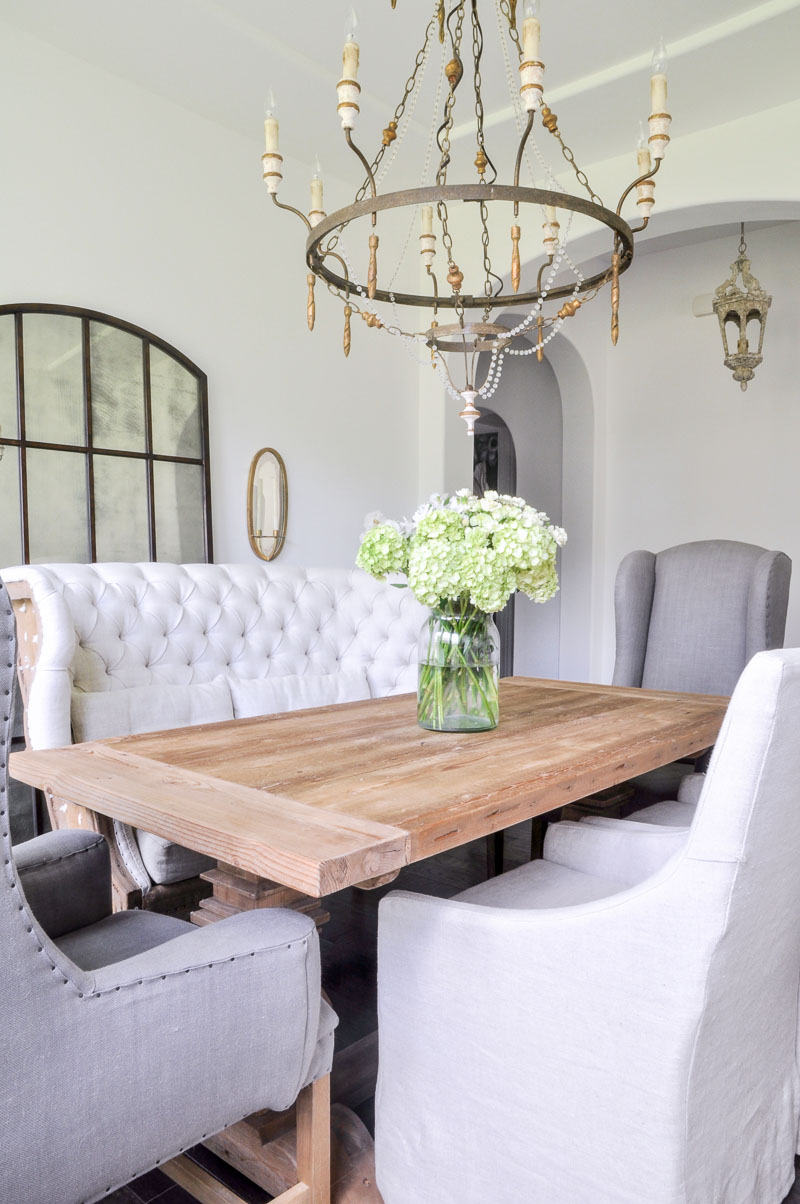 We are keeping this piece from our most recent dining room update. It is currently in another room because we still love it and it offers great storage. We are also keeping our round mirror.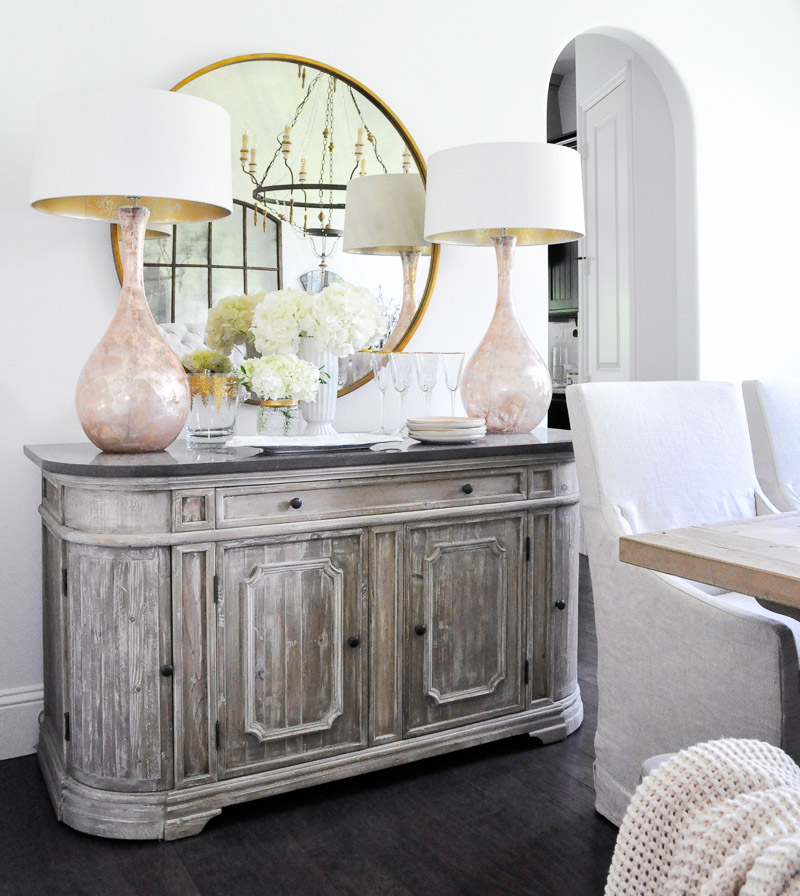 We listed only the table for sale, but ended up getting inquiries about the leaning mirror, chandelier, and settee. The four pieces sold within a day or so. Suddenly the room was close to empty and without a light! Everything seemed to be going to homes where they will be loved though, which definitely made me smile. The makeover was now officially happening!
Knowing our dining room was a room I wanted to update, I had been collecting (actually "saving" in numerous online carts) things I love. I didn't have an exact vision, just a general idea of the new style I wanted.
Once I decided the time was now, my vision became clear very quickly. And, here it is!
My Vision
I always do a quick, to-scale drawing on graph paper when making purchase decisions. This helps me avoid costly mistakes.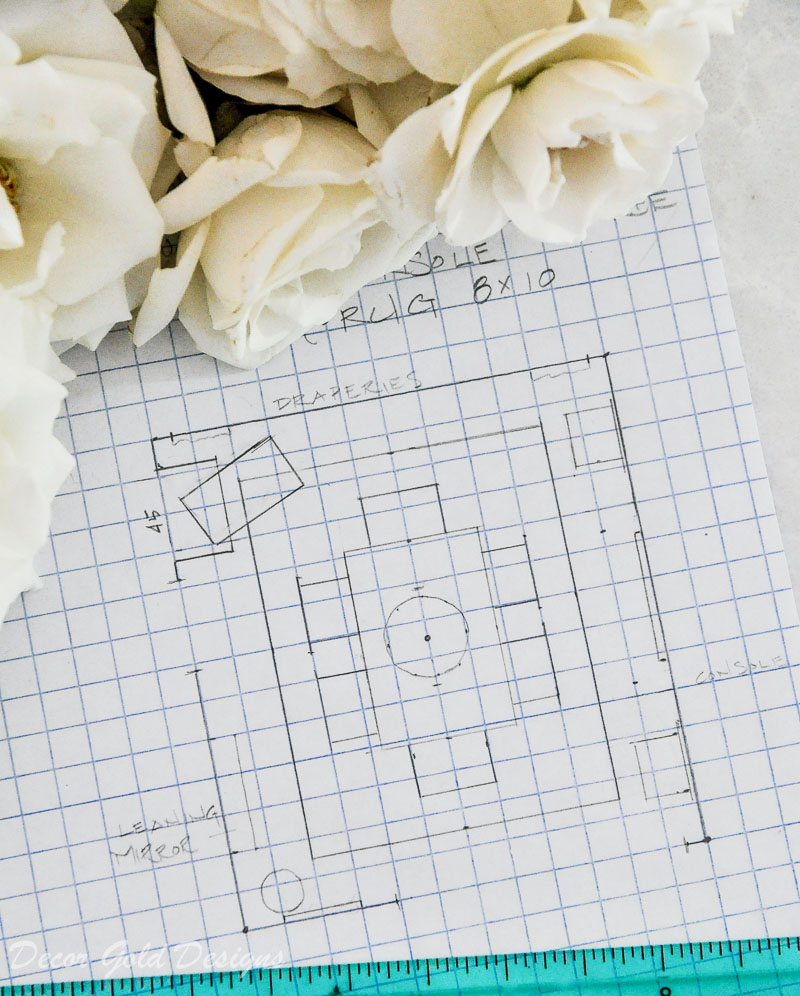 The Details
*M E Home will be providing some of the items I have selected for this project. The Curtain Gallery will be providing items as well. I want you to know, I only choose to work with brands and retailers I love. I also only select items I truly love. My reviews and comments are 100% honest, as always.  
A few months ago, I was contacted by the sweet ladies of M E Home. To be honest, I had not heard of their store (online store), but with one click, I knew I wanted to work with them. They offer gorgeous, high quality furniture, lighting, and accessories. Right up my alley!!! I'll share more about M E Home and all of my selections in my reveal post, but I wanted to introduce you to them today so you would be able to see some of their timeless pieces!
Now, let's chat about my selections.
I first selected a table and end chairs. They are from M E Home. It was love at first sight and both the chairs and the table were exactly what I wanted.
Remember when I said I had been saving a few things? Side chairs, a glamorous chandelier, and beautiful framed intaglios were some of my saves. I was able to purchase the side chairs and light fixture from M E Home and I also selected the large, soothing piece of art from them. Almost everything I ordered should be here this week. I can hardly wait!
I found the perfect neutral rug , which has already arrived.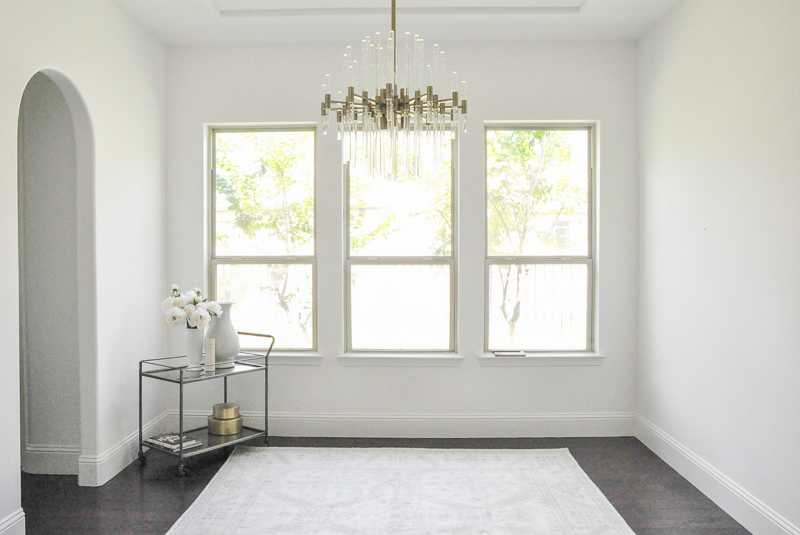 Click to Shop My New Rug

A new leaning floor mirror with a slender gold frame also arrived recently. The mirror was the most difficult selection for me. There were several that I loved equally and I was having a hard time committing to one. Ultimately, I chose the one that had the most fitting dimensions and I'm thrilled with it!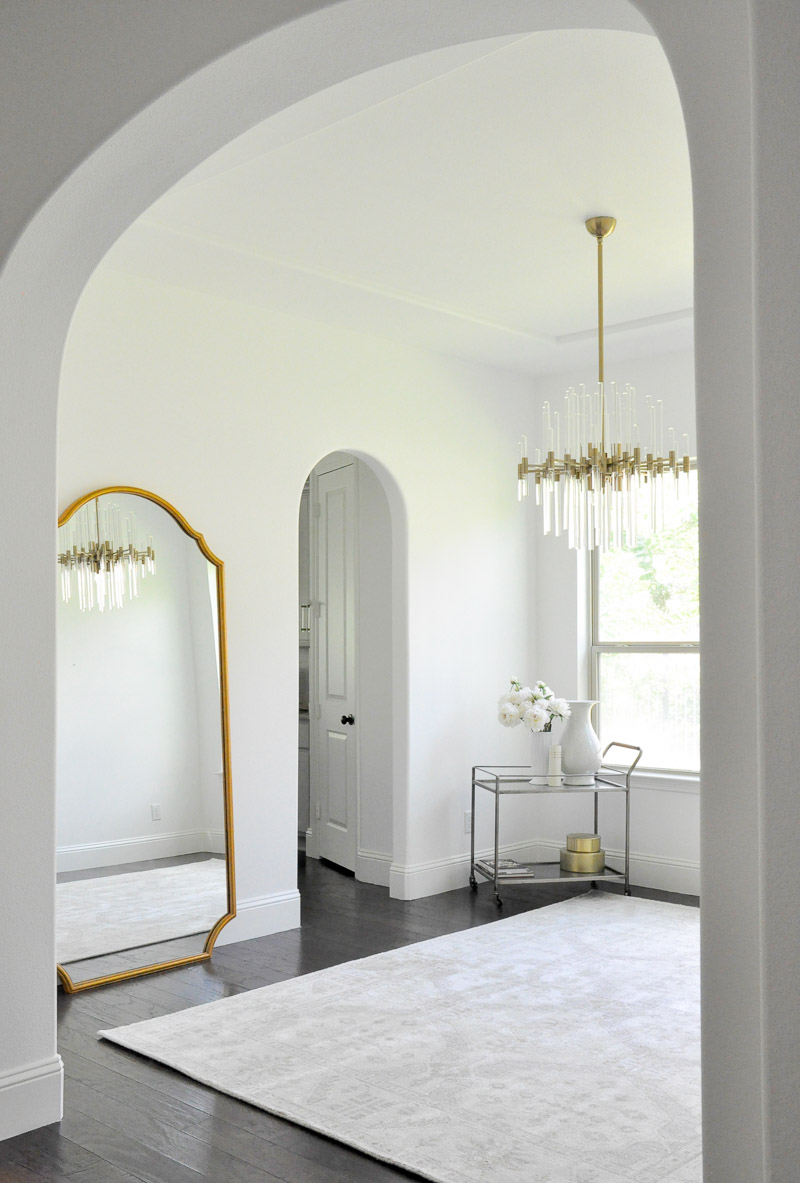 Click to Shop My Favorite Leaning Mirrors

I knew in order to have a finished look in the room, the windows needed to be dressed. For draperies, I turned to The Curtain Gallery. I wanted custom treatments and Rosario and Marissa were able to suggest the most beautiful white fabric and gray trim. If you live in the Houston area, I highly recommend them for window treatments and pillows! More about The Curtain Gallery and the draperies coming soon!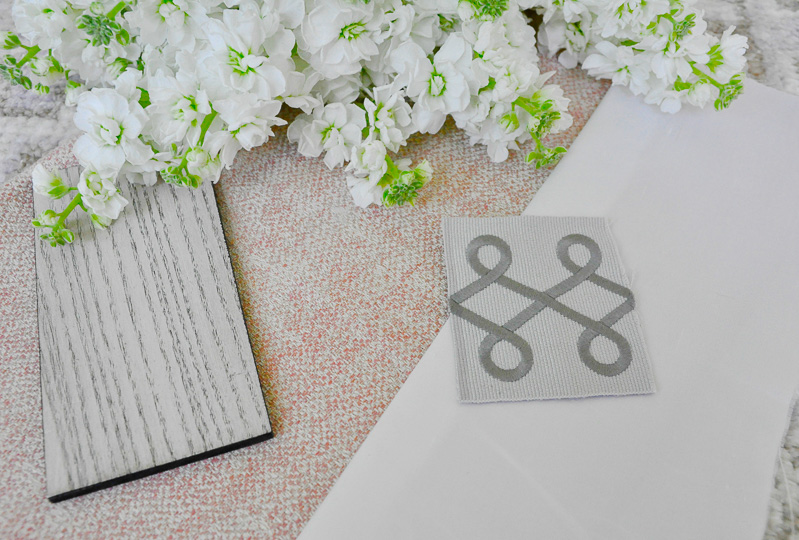 Did you notice the blush fabric? It is part of my dining room update project too! I cannot wait to see it all come together!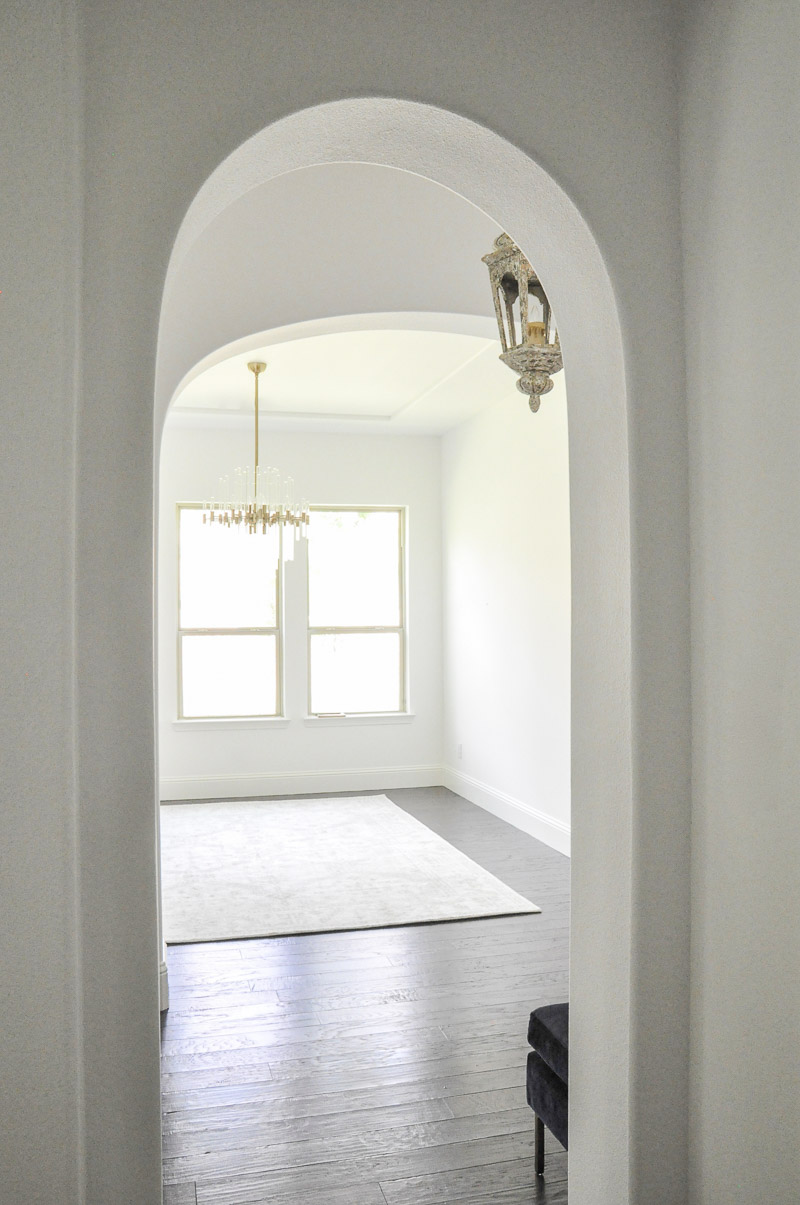 I'd love to hear your thoughts!
See you soon for the reveal! Be sure you don't miss it, subscribe to Decor Gold Designs!



DINING ROOM PREVIOUS LOOK
Table – similar | Settee – similar | Gray End Chairs – similar | Slipcovered Chair – similar | Chandelier | Entry Pendant
Gold Oval Candle Sconces | Leaning Floor Mirror | Round Mirror


DON'T MISS THE REVEAL!!!
Click on the Image to Subscribe