I've had a big project going on for a while. It is a full living room makeover and I have been dying to share the details with you. Now I finally can!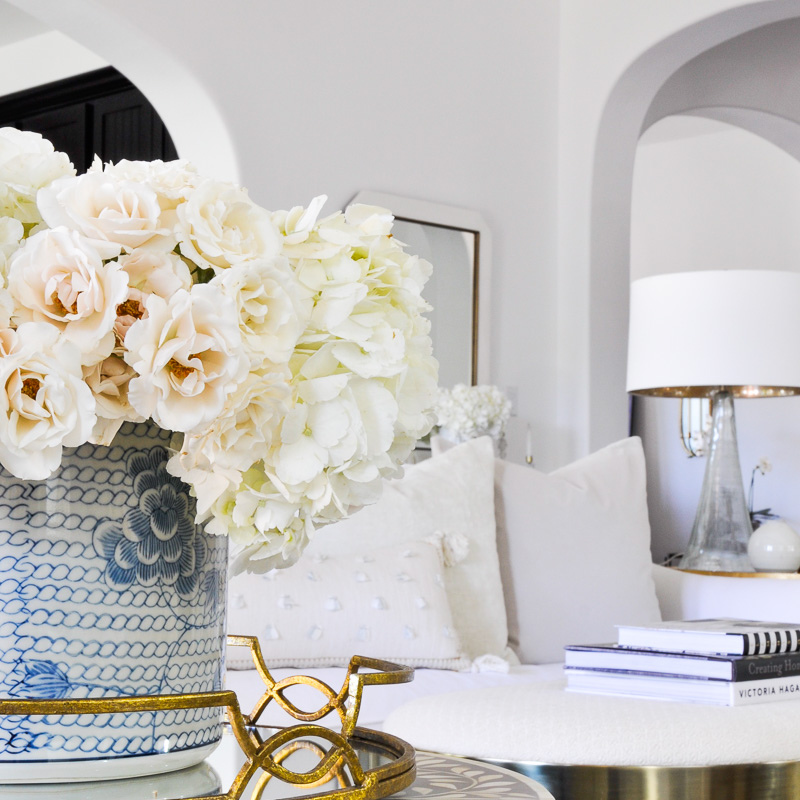 It seems like much of my time has been devoted to our new place in Boulder and everything that goes into making it a home. But our Texas house is the one we've had the longest and it's near our family, so I love updating it!
*This post contains affiliate links.
When we built our house in Texas, it was very important to us to have a living room with plenty of space for our whole family. We don't have a particularly large family. There are just five of us. But, we know one day there will be significant others plus we still have our parents and my brother's wonderful family….you get the picture.
Also, we have dogs. Not small ones, golden retrievers. And they have to be in the middle of the people.
For seating, we have a large sofa, a chaise, two chairs, and a hearth and an ottoman. Actually, we had a hearth. We are updating our fireplace surround too. It was supposed to be complete by now, but we've had a few setbacks. Although it's coming soon, I couldn't wait any longer to share the rest of the room with you!
Today, I have the plans, a preview, and an updated adjoining area to share, but let's start with where I started.
This is the room.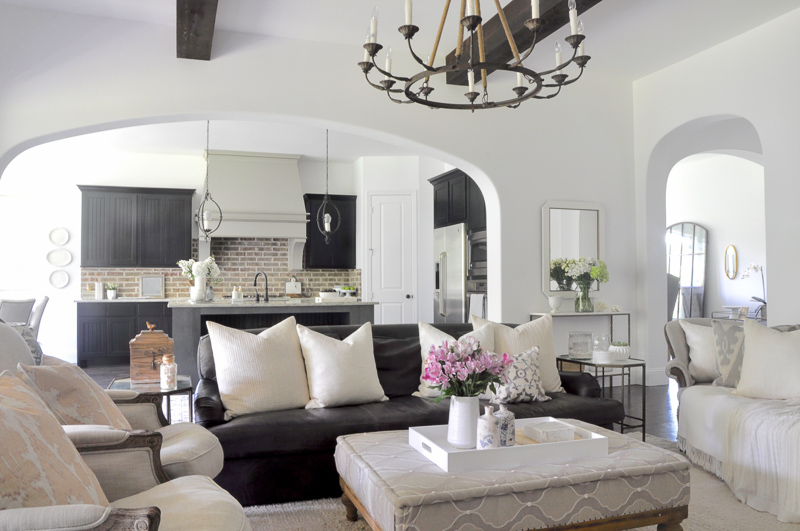 Once we decided to paint all of the open areas white (you can read about that decision here), the living room looked brighter and more current. However, as a result the furnishings began to look a little dull.
Moreover, our chaise has not worn at a reasonably expected level.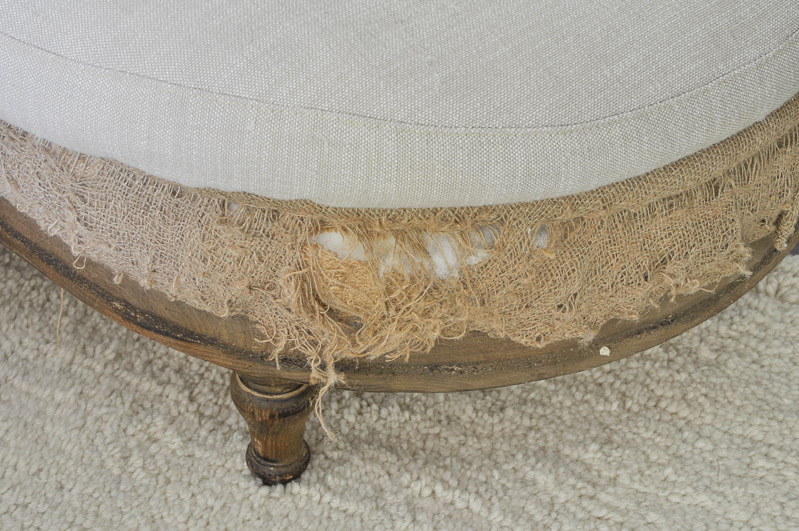 I had already reupholstered an ottoman by the same manufacturer, but I didn't think this piece was worth the cost of reupholstery.
To replace the it, I found this ivory chair. I ordered two. They are very comfortable and more current.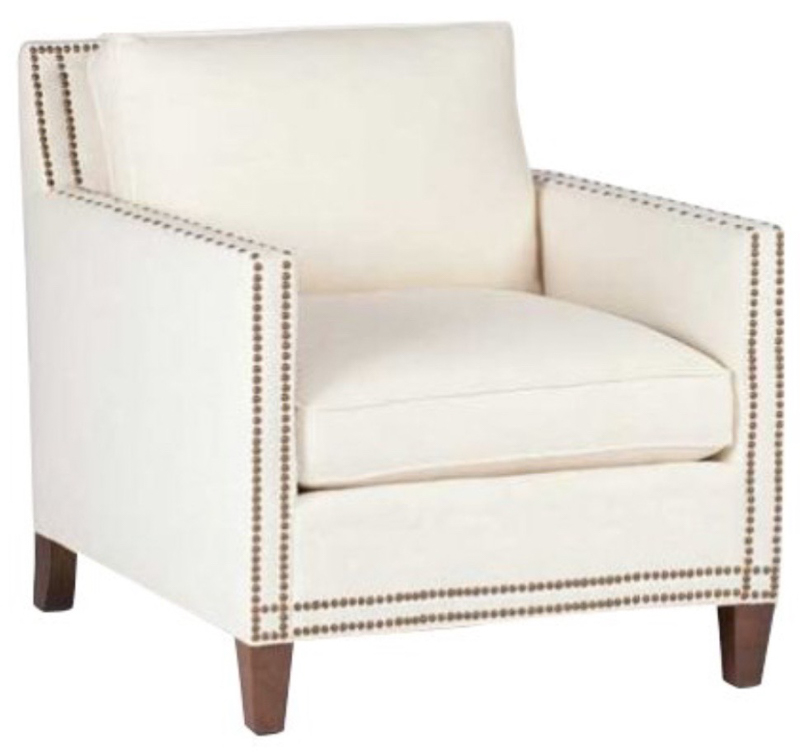 Our last rug was solid and I loved it, but I love this one more. I found it at High Fashion Home, a store I have loved for years! The blue color is so soft and pretty and it set the new color scheme for the room.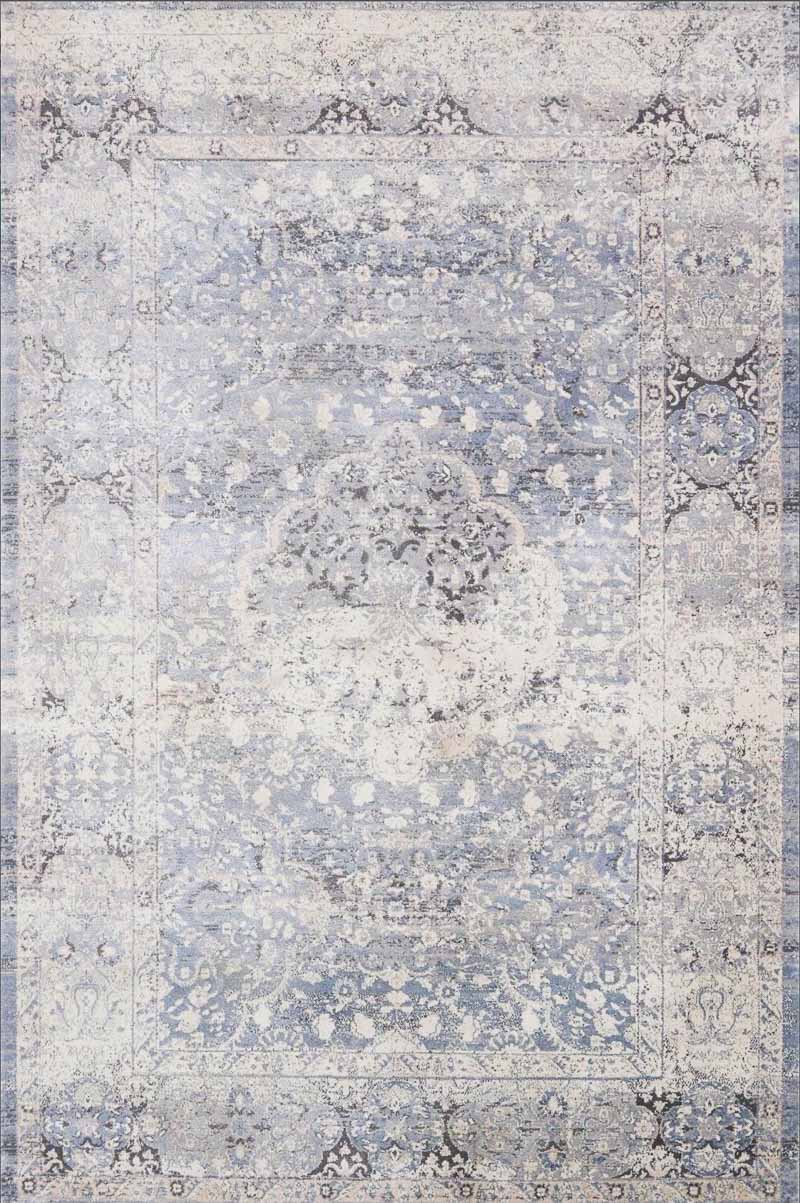 In addition to the rug, I wanted to use more color in the room in other ways. As a result, I found this blue velvet chair at High Fashion Home as well. Isn't it perfect?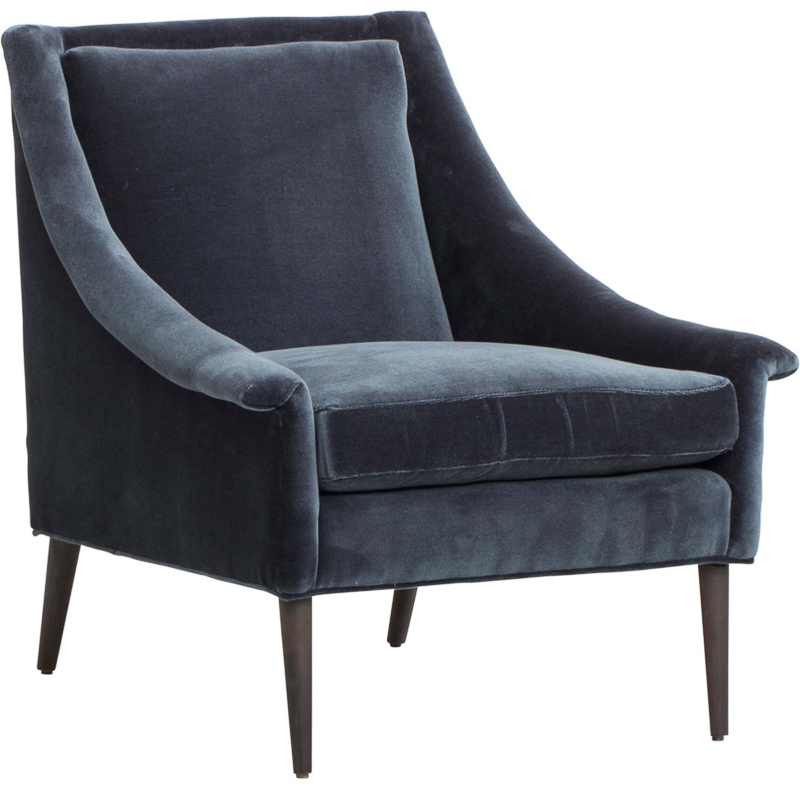 I also found this Crystorama chandelier months ago. It had my heart at "hello" and gave the room much more sophistication.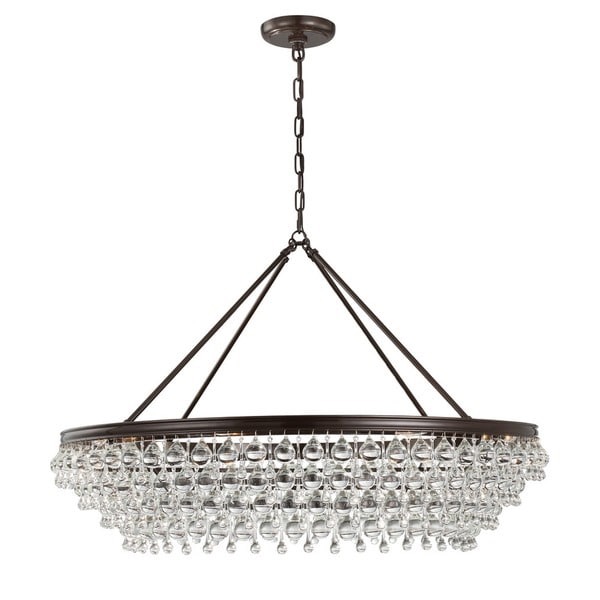 Those are a few of the key pieces. I'll be sharing much more in the reveal with you all soon!
I originally planned to complete (and reveal) the new look early last fall, but some unexpected obstacles prevented this.
A few obstacles we have faced:
A side table I selected was backordered and the delivery date continued to change.
Additional delivery delays.
I'm waiting for a contractor to paint and tile the fireplace surround.
When you decide to remodel and/or begin a room makeover, there will always be obstacles encountered. Therefore, you must be willing to adjust as needed.
Having a little extra time allowed me to gather some beautiful new accessories like this swirl vase and gold olive branch statue. That would be the silver lining!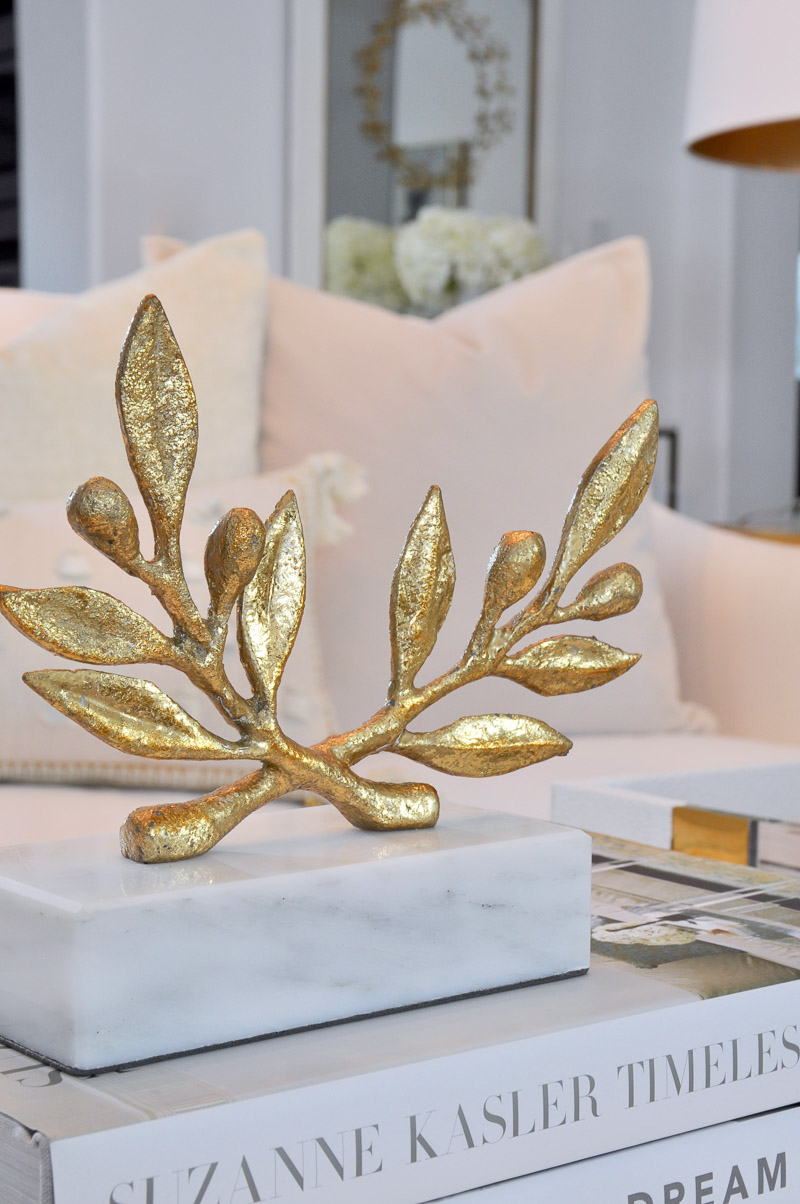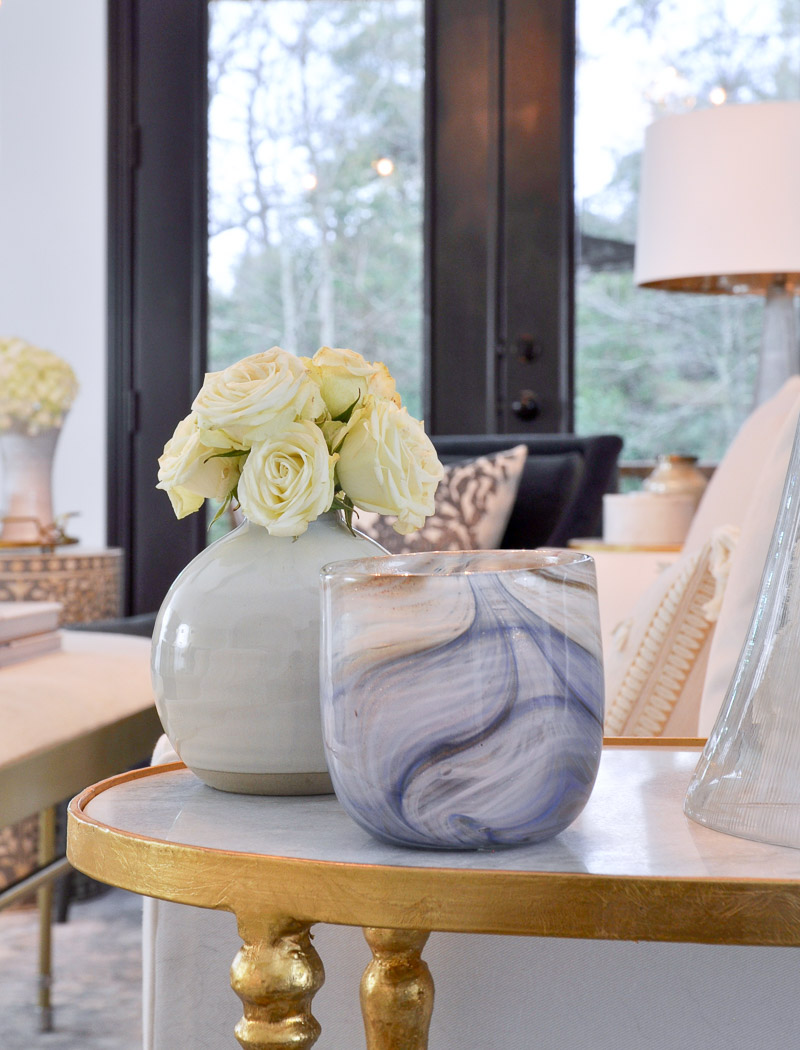 You may have seen my recent entry hall updates.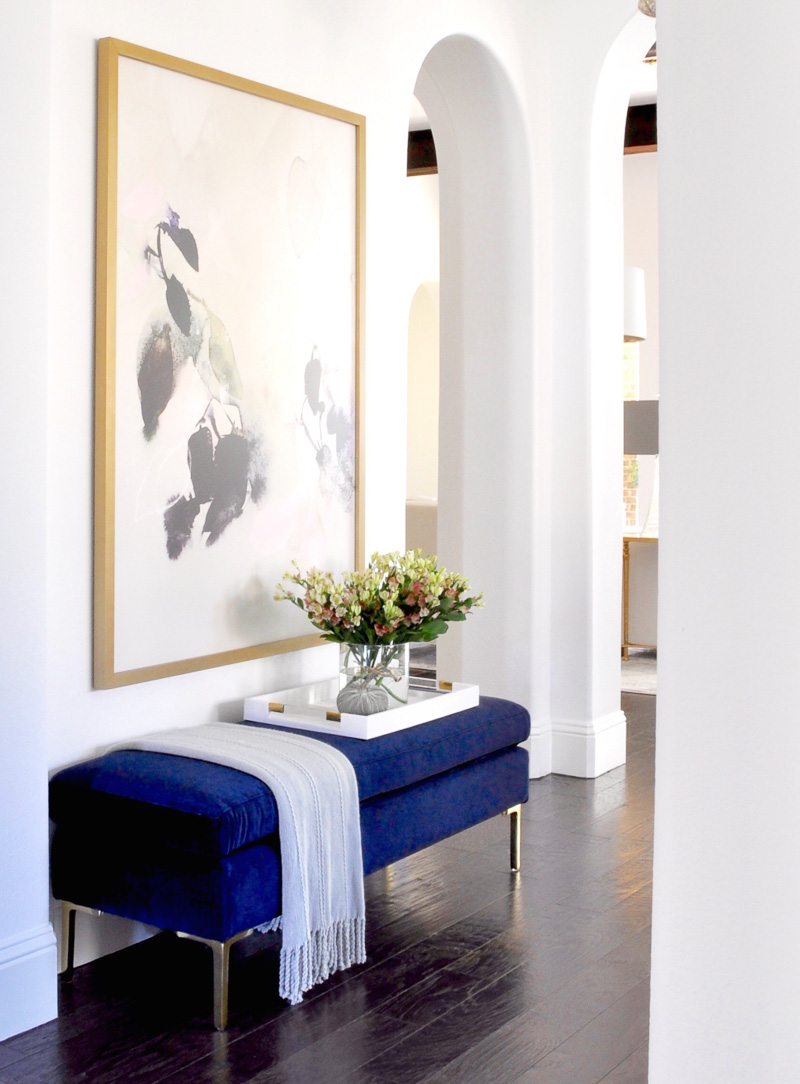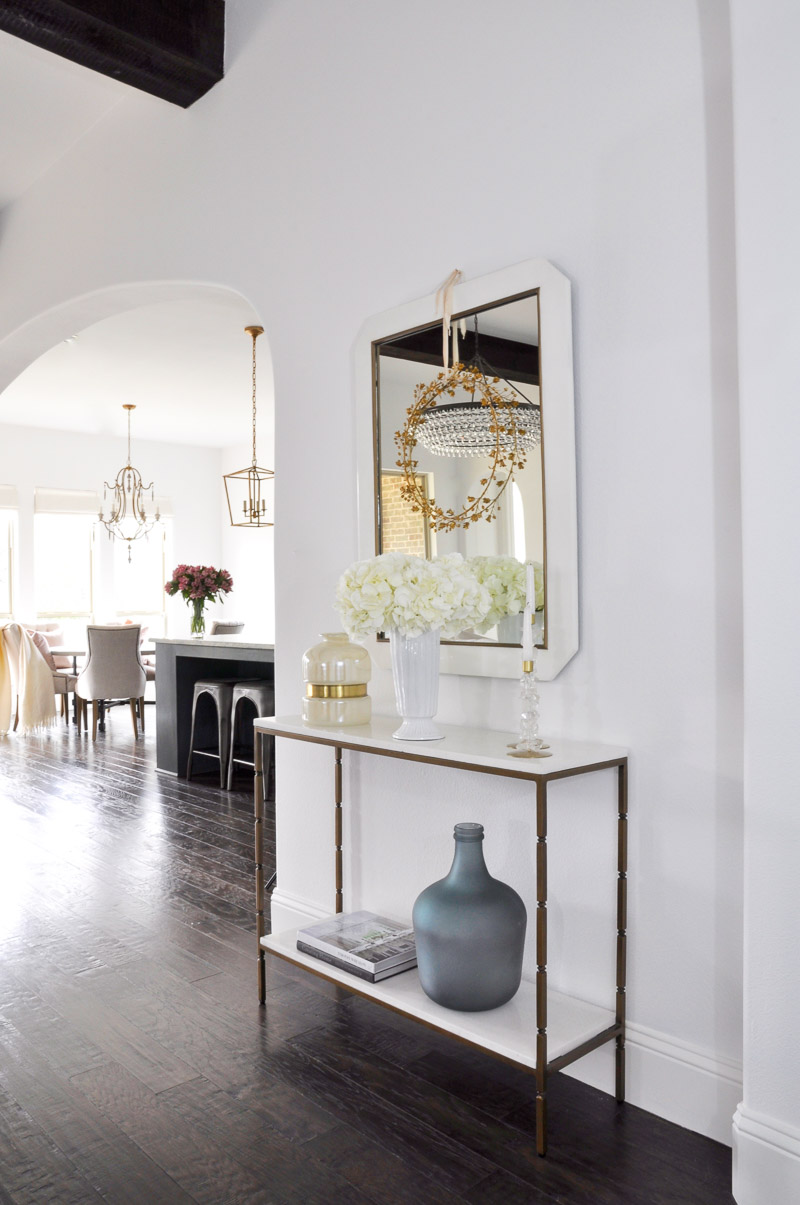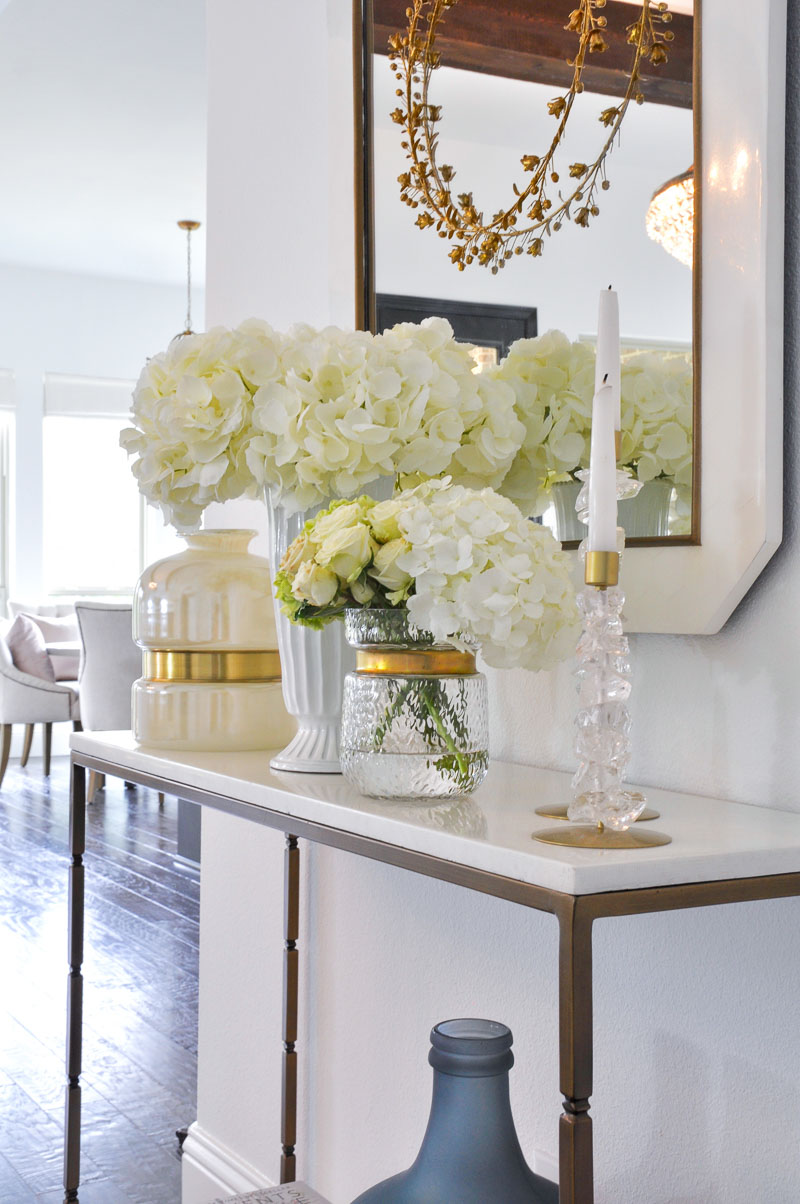 With the changes to our entry hall in mind, at the beginning of the project, I created this design board. The only item from my previous living room design is my beloved wood console. My main goal was to lighten and brighten the room. It has been fun seeing it come together.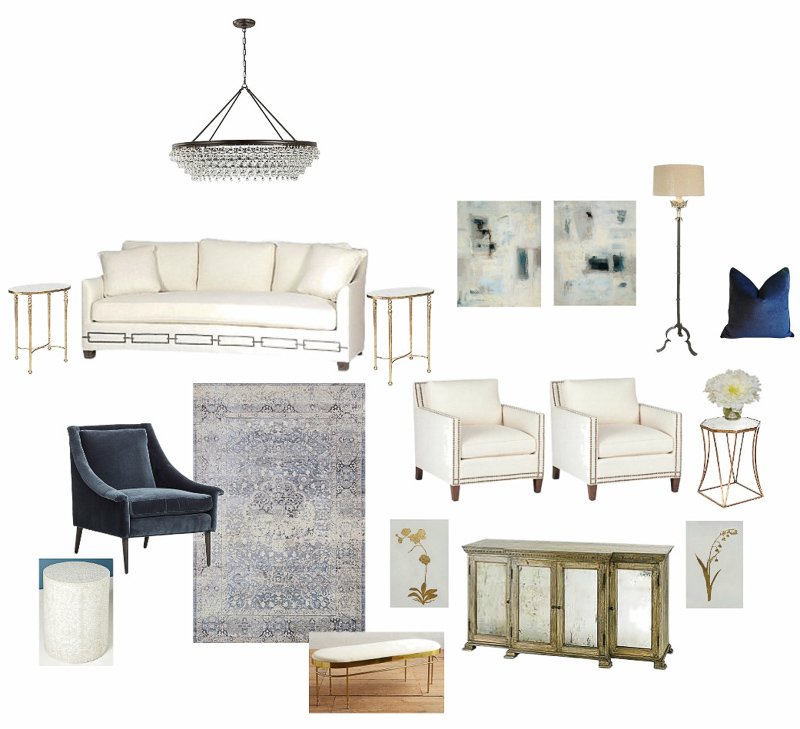 Stay tuned for the finished room reveal! If you don't want to miss it, you can use THIS FORM to subscribe to our newsletter.
Oh and one last thing, my next project is our Colorado living room which is almost done too. I told you I've been busy! As a result, I'll be sharing more about this with you all very soon!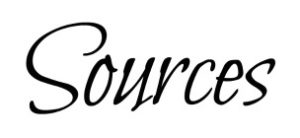 Sofa | Crystorama Chandelier | Side Chairs – White | Side Chair – Blue | Rug | Buffet | Art 1 | Art 2 | Art 3 | Art 4 | Bench | Side Tables 1 & 2 | Side Table 3 | Side Table | Floor Lamp | Table Lamp | Throw Pillow
ENTRY – BENCH AREA
Blue Bench | Large Art | White Tray | Vase |Similar Throw | Pendant
ENTRY – CONSOLE AREA
Console Table | Similar Mirror | Blue Bottle | Candle Sticks | Glass & Gold Vase | Cream & Gold Vase | White Vase | Gold Wreath
BREAKFAST & KITCHEN
Chairs | Chandelier | Gold Lanterns | Throw
*Sources for my current living room can be found HERE.
UPDATE – SEE THE REVEAL HERE
ADDITIONAL ROOM MAKEOVERS
Soft and Serene Guest Room Reveal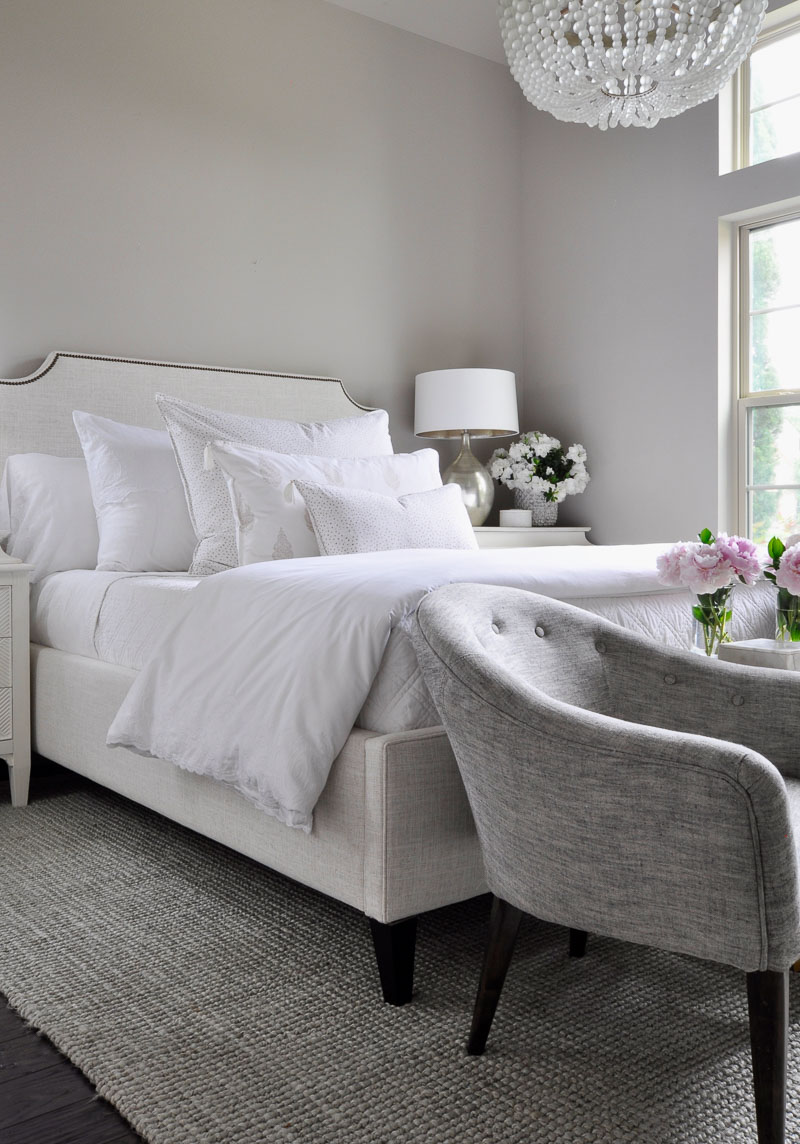 Bold and Beautiful Guest Room Reveal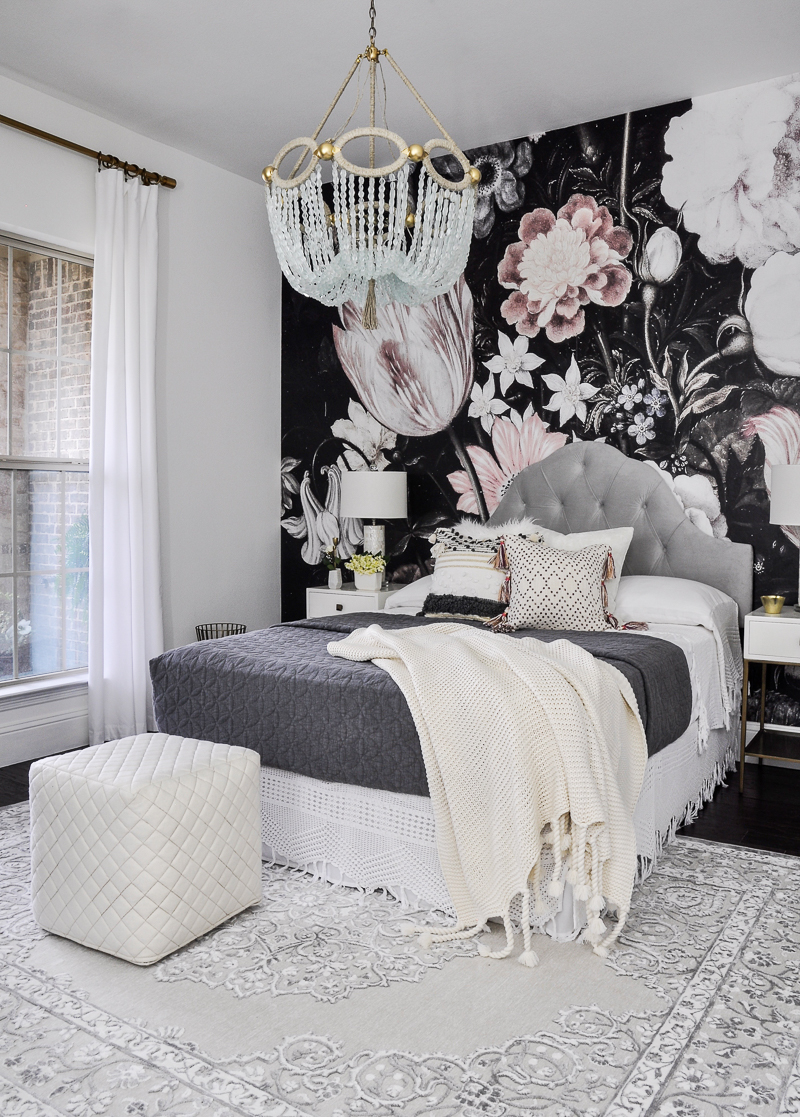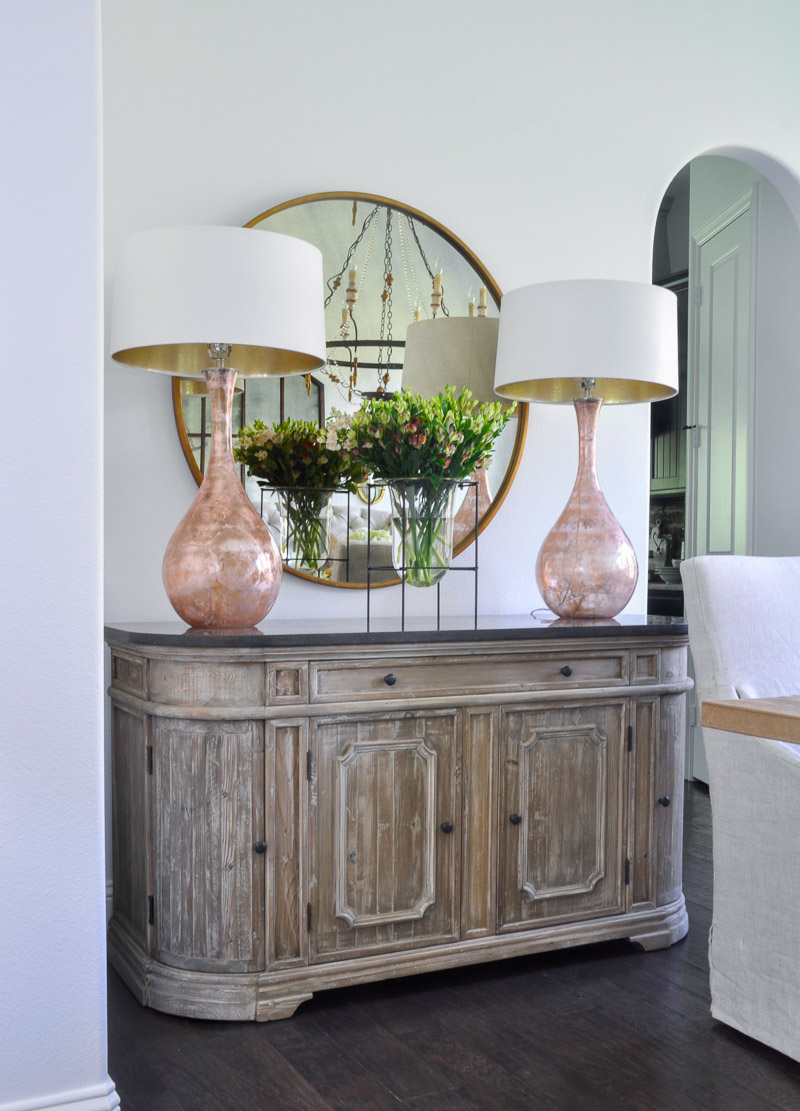 Colorful Colorado Loft Bedroom Reveal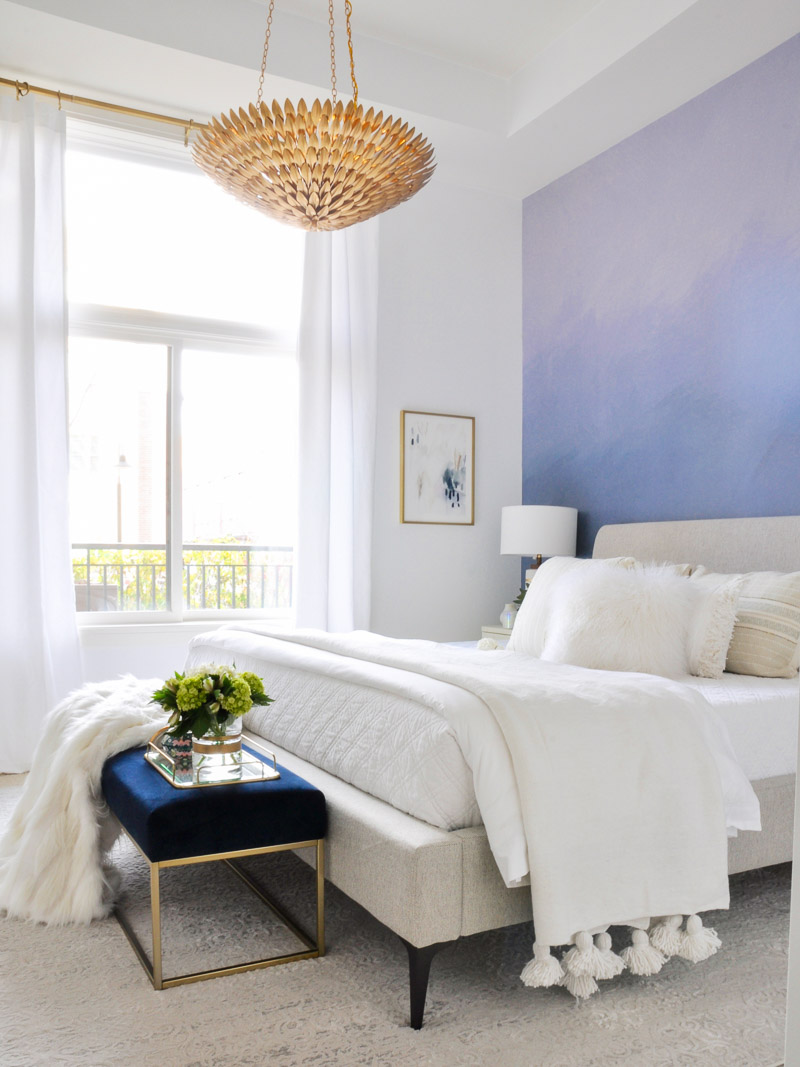 Stay connected…..
Click on the Image to Subscribe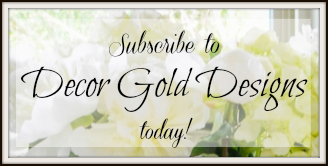 SOCIAL
Instagram | Pinterest | Facebook


SaveSave
SaveSave
SaveSave
SaveSave
SaveSave
SaveSave
SaveSave
SaveSave
SaveSave
SaveSave
SaveSave
SaveSave
SaveSave
SaveSave
SaveSave
SaveSave
SaveSave
SaveSave
SaveSave
SaveSave
SaveSave
SaveSave
SaveSave
SaveSave
SaveSave
SaveSave
SaveSave
SaveSave
SaveSave
SaveSave
SaveSave
SaveSave
SaveSave
SaveSaveSaveSave
SaveSave
SaveSave
SaveSave