I am so excited to finally share our new living room!
I feel like I worked on this project forever! It definitely became a labor of love, but I'm so glad to have it done (well, almost done, but we'll get back to that shortly).
It has been such a fun project! I loved every second of the space planning, the selections, the installation, and the styling. You can read all about the project plans here if you'd like.
As wonderful as the project has been, the real fun comes from sharing it with you! After two years of blogging, I consider you all my friends and I wish I could invite each of you over to see our new living room in person!
But, since I can't, I'm almost as excited to share it here today!
*This post contains some affiliate links. Read our full disclosure here.
As a reminder, this is what our living room looked like before: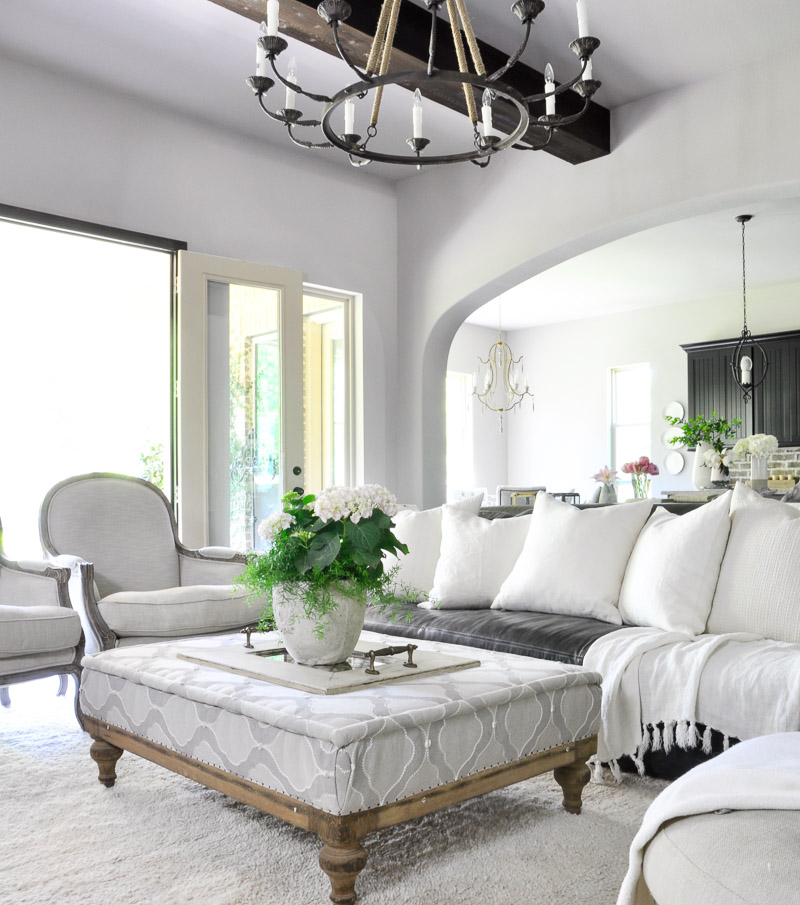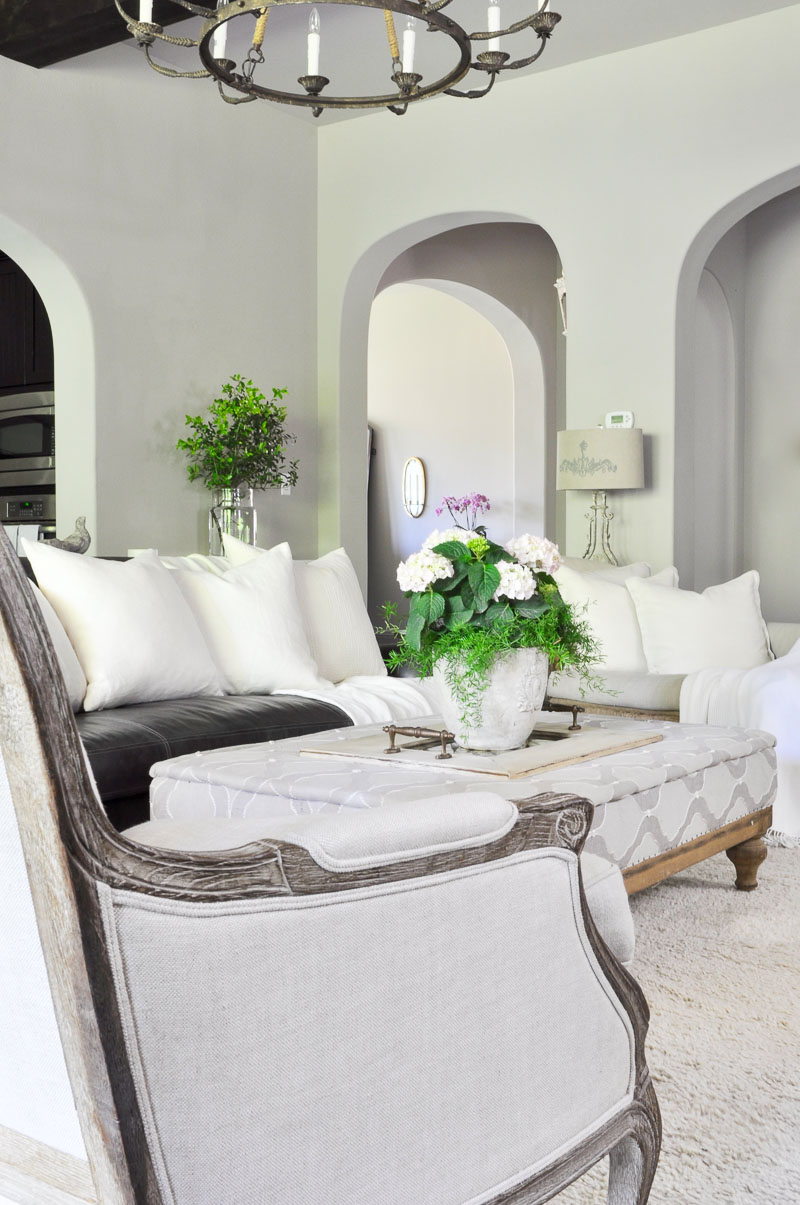 For the new look, I wanted our living room to feel elegant, but still inviting. I wanted it to be brighter and less rustic. I wanted it to be beautiful and transitional.
And here it is!!!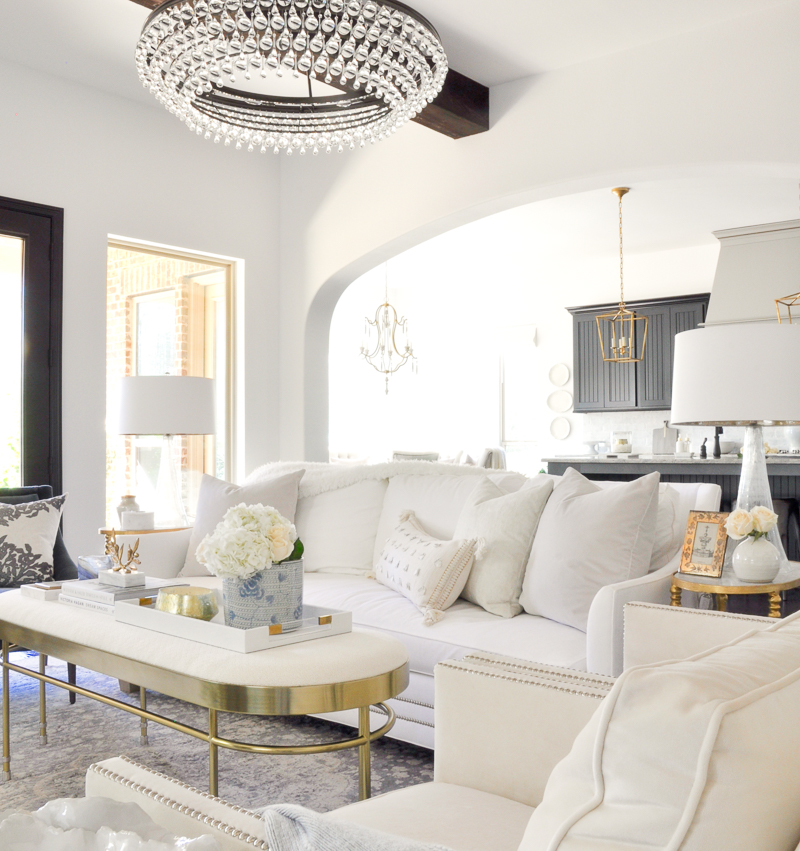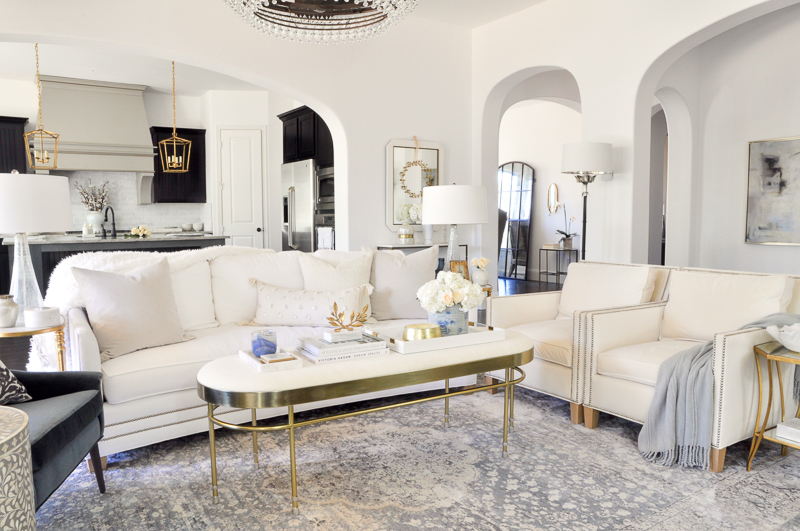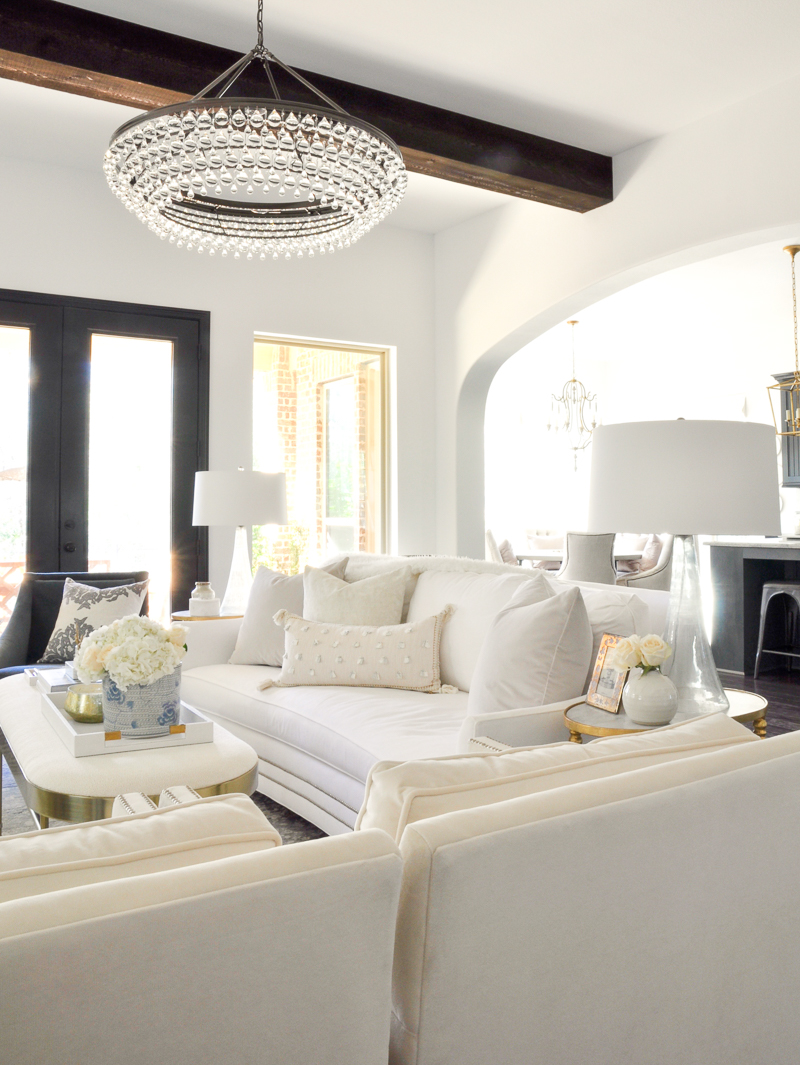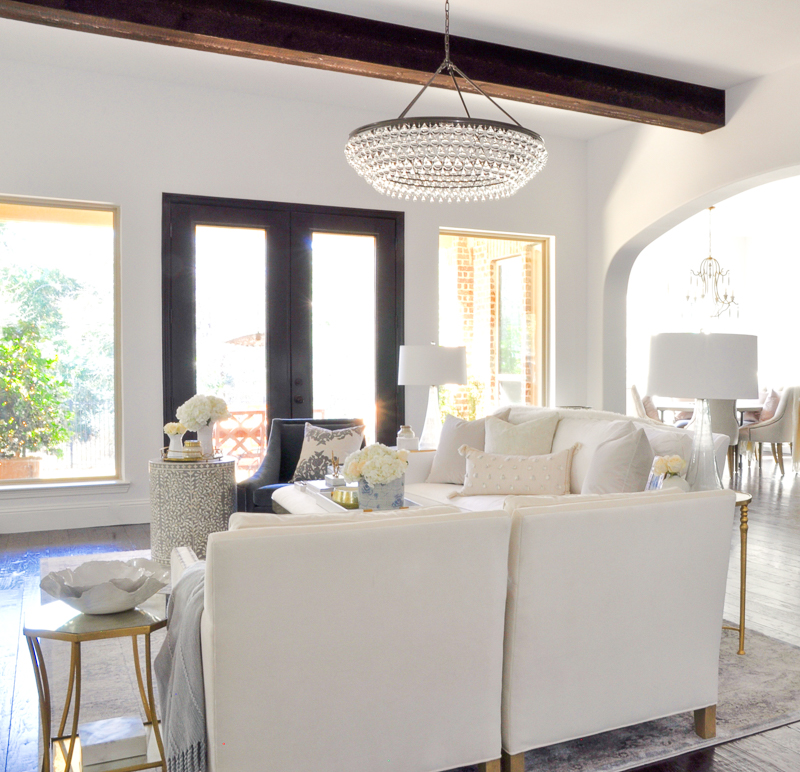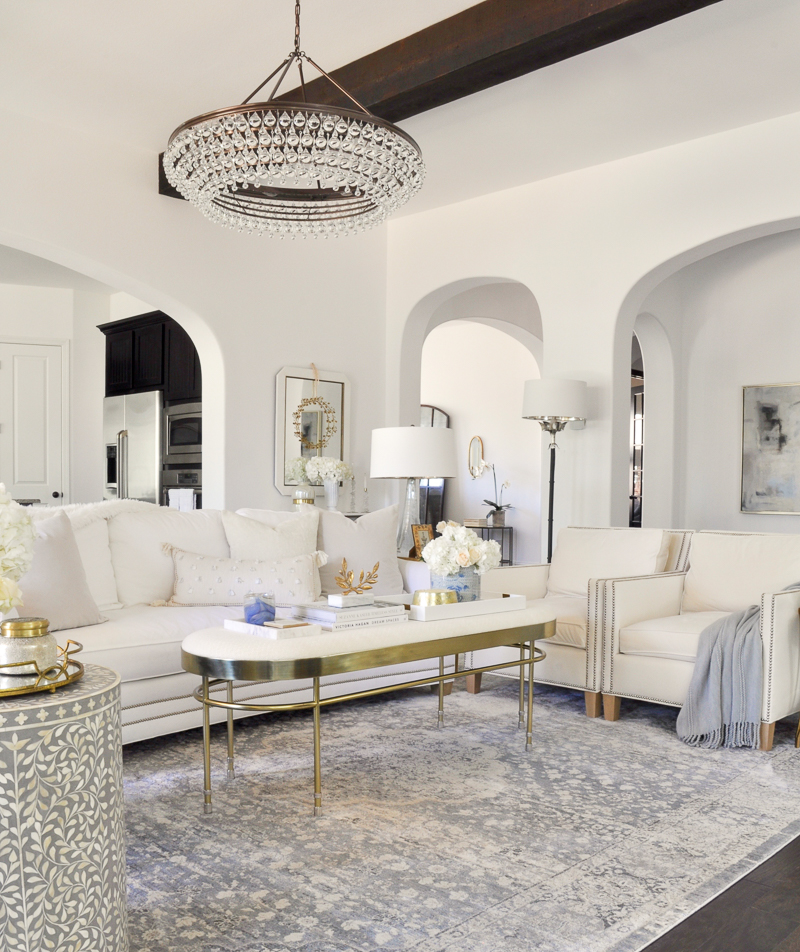 It is still comfy and cozy, but much brighter!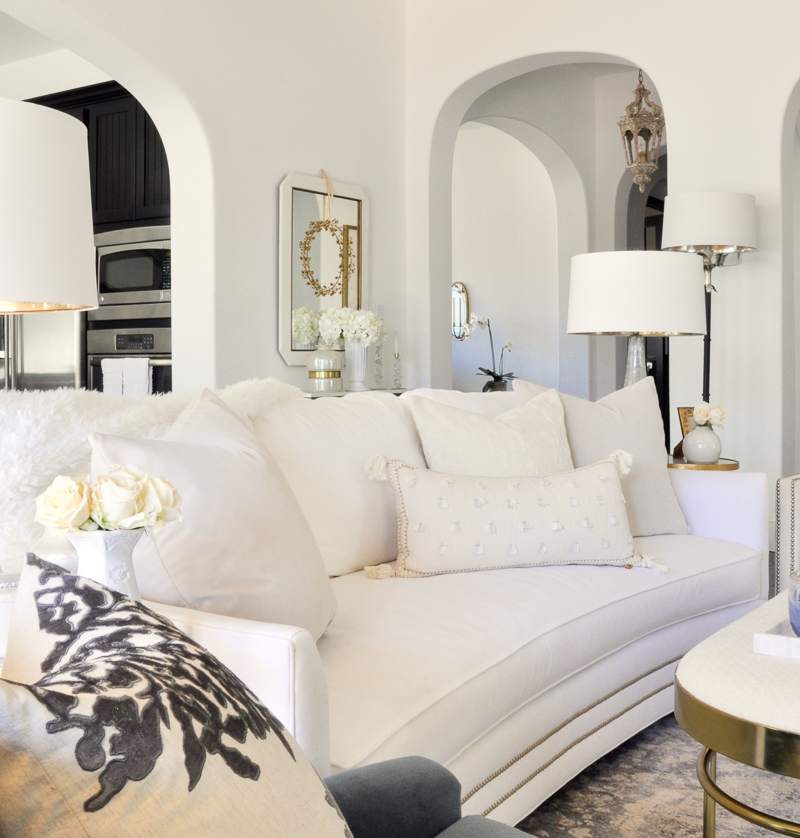 Did you notice the blue velvet chair? I love it with the white pieces, the gray side table and the blue rug! The chair, rug, and all of the art are from High Fashion Home, one of my absolute favorite online sources.  I'll be talking more about each piece, how I chose them and where they're from in an upcoming post. Today, you can find a full source list below.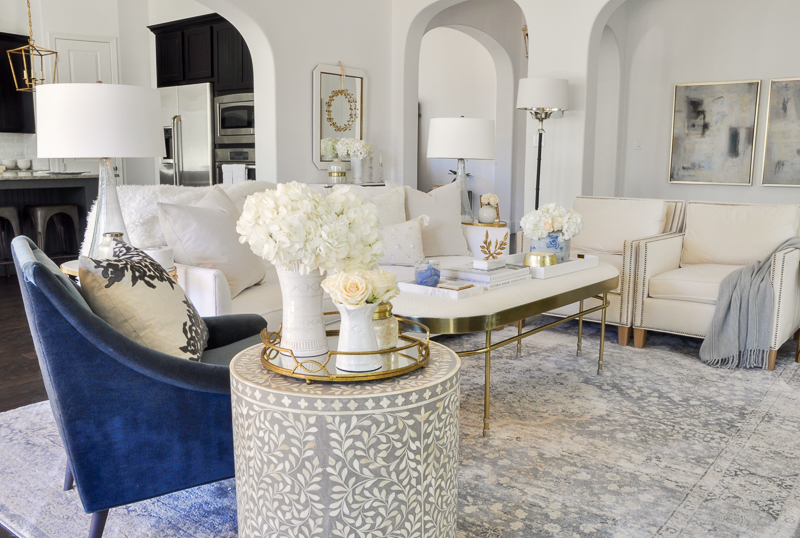 This is the view from the kitchen. When selecting floor plans, one of Tony's top priorities included a TV view while cooking. Because a big black TV is never my first choice, I found this beautiful gold art (1 and 2) and it softened the wall for me.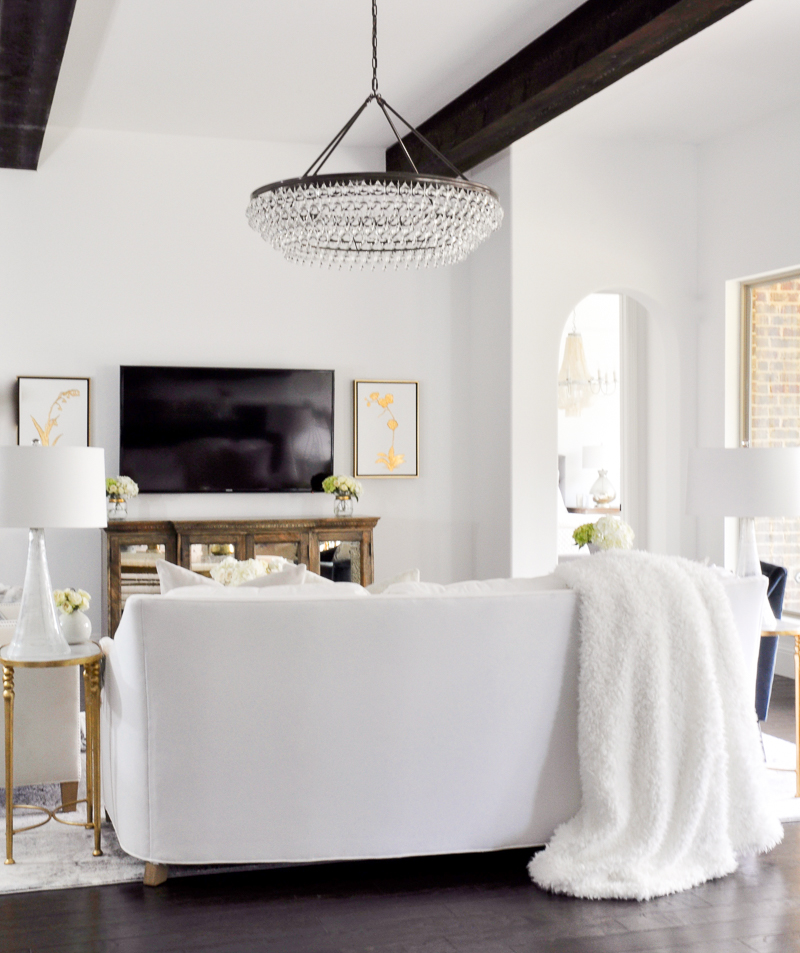 Accessorizing is my favorite part. The finishing touches give a room personality. I mixed some new pieces with things we already had to make the room feel more collected.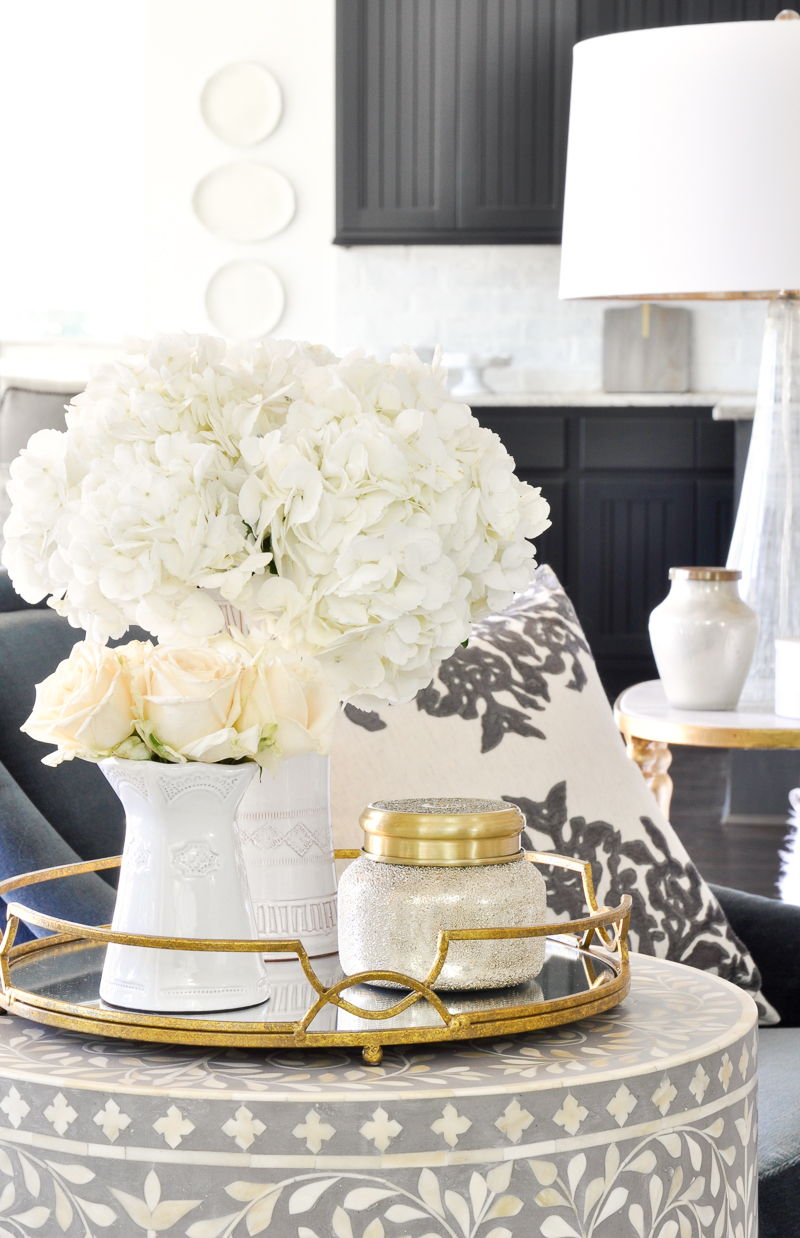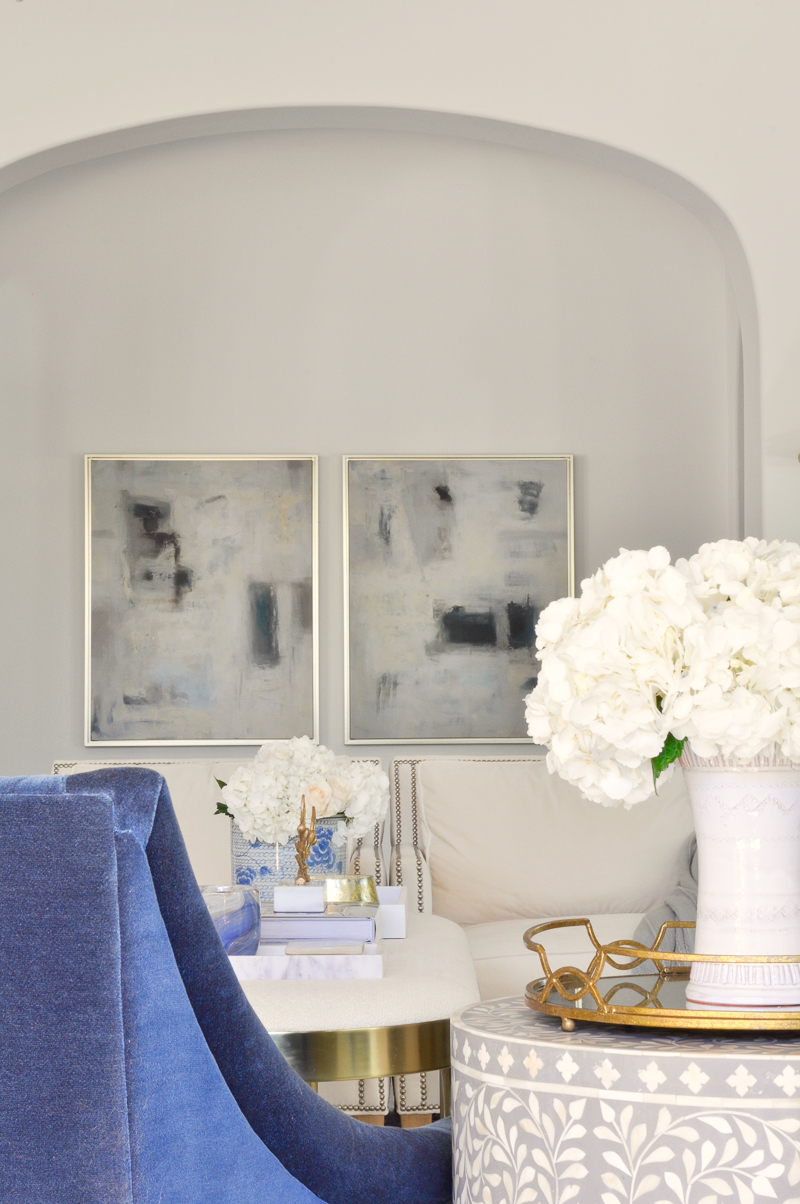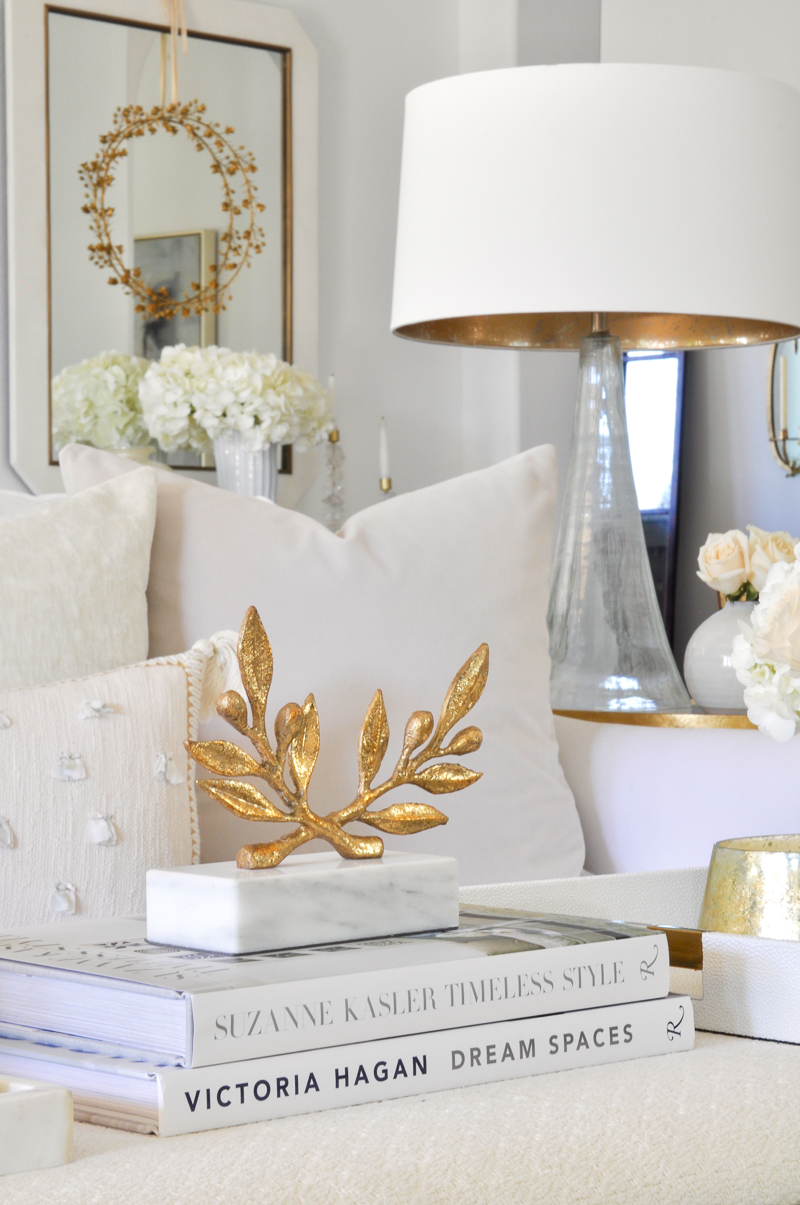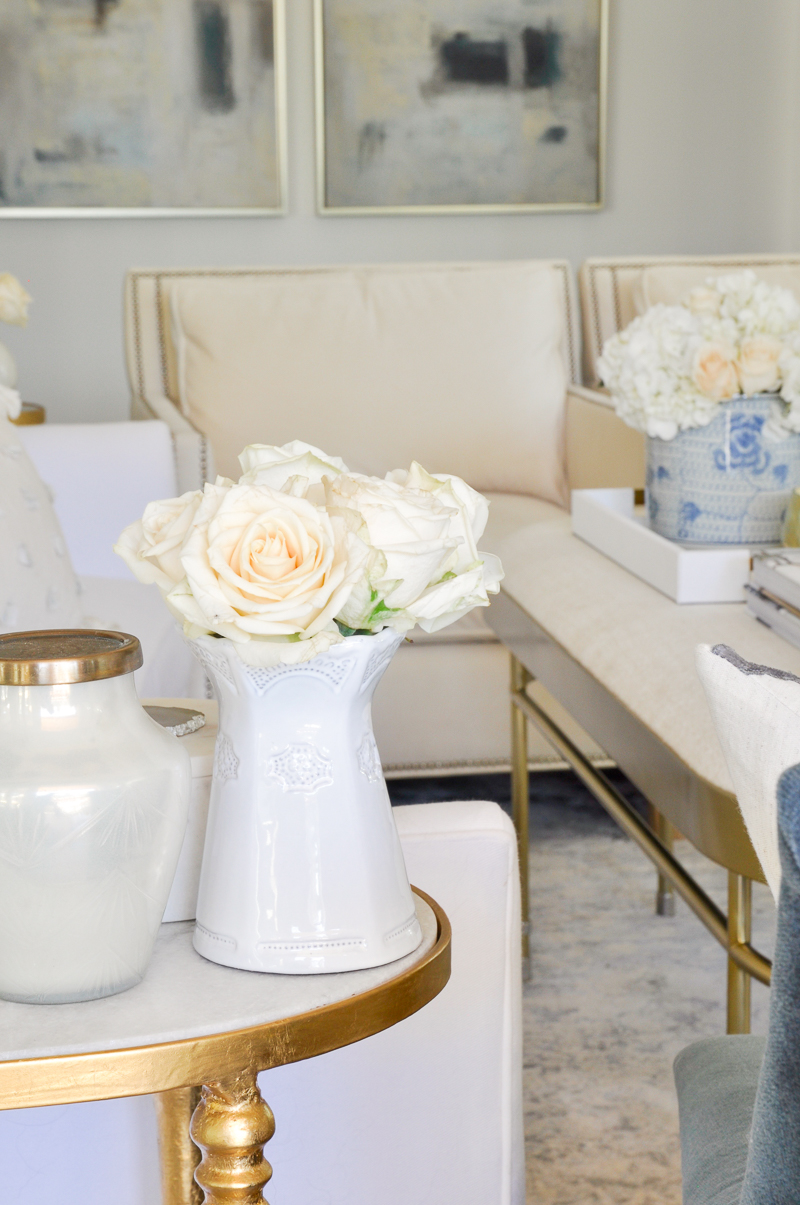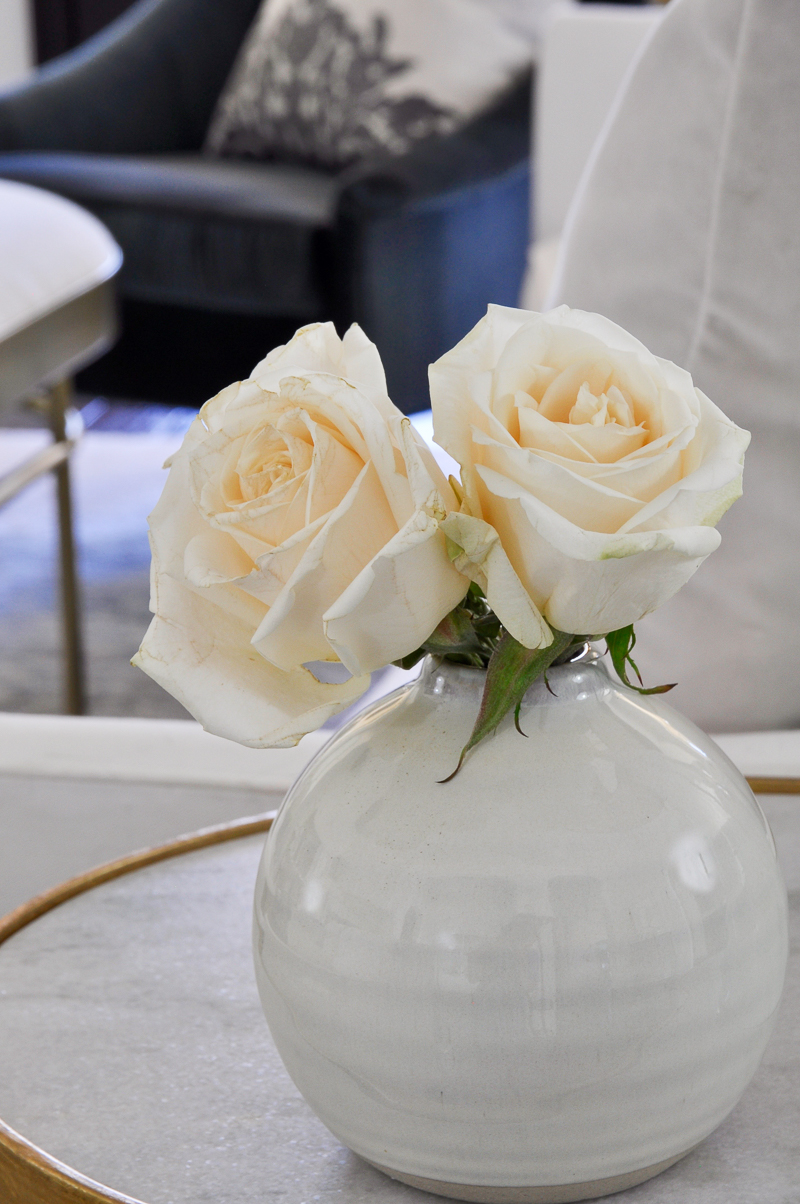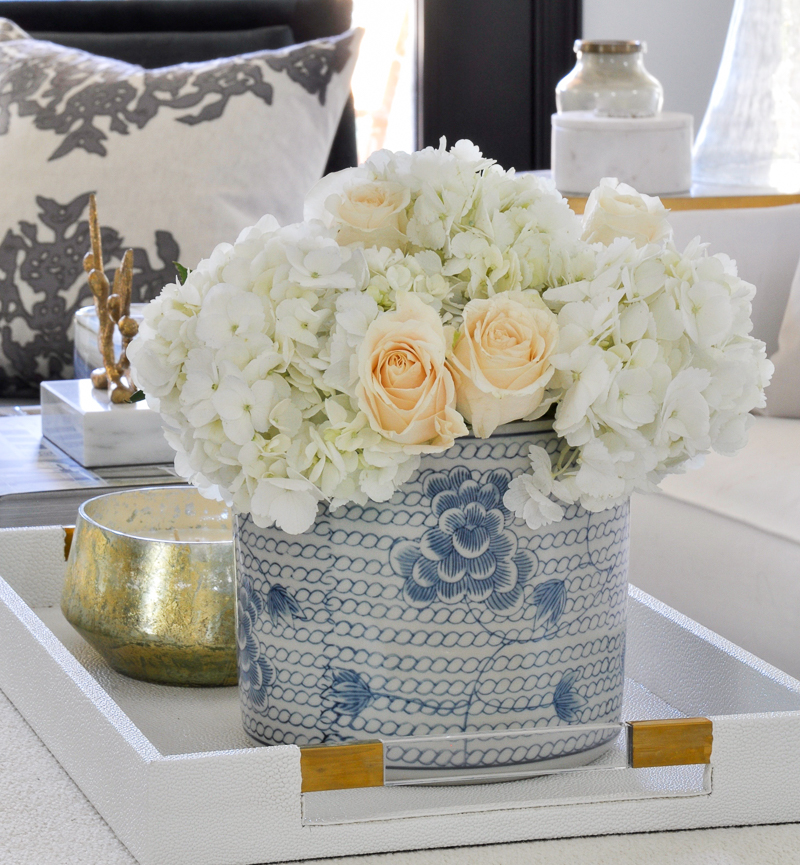 My best accessories…..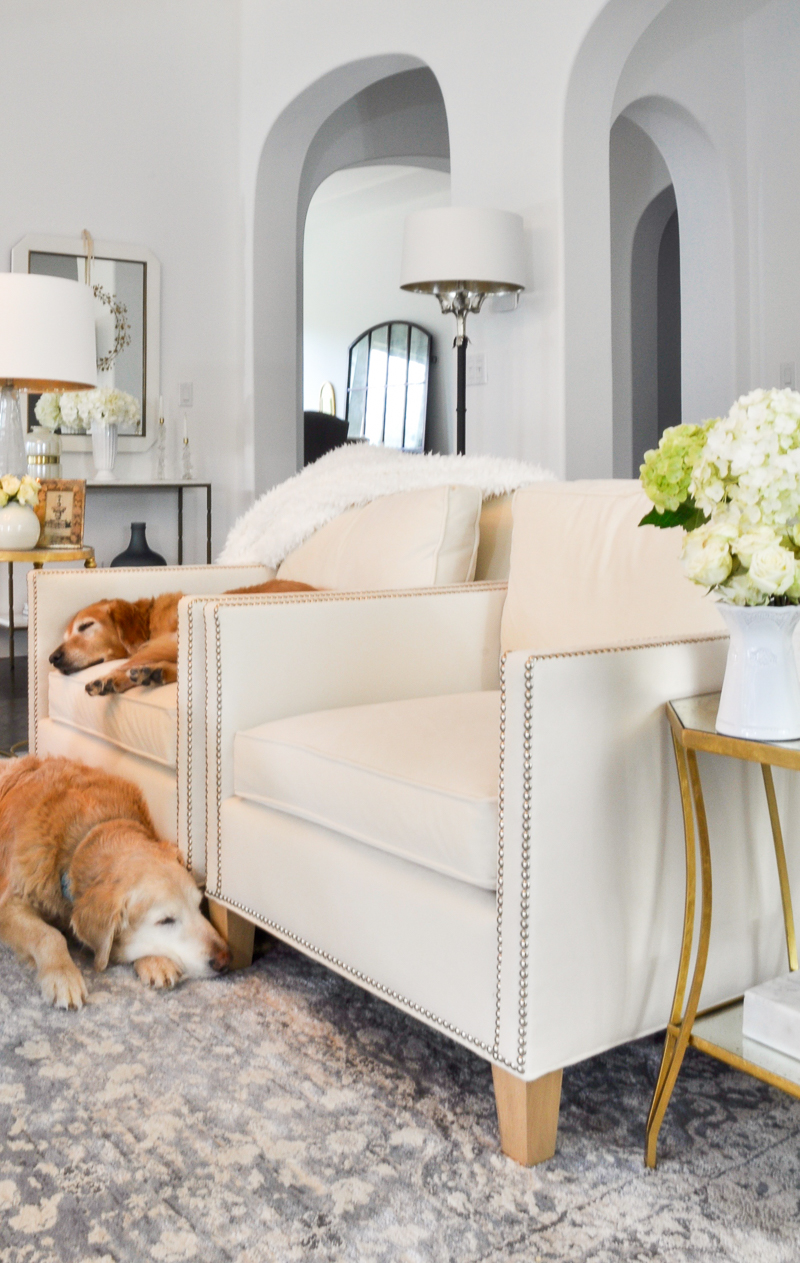 I hope you love it as much as we do!
Our new fireplace surround is about halfway completed. It has been a challenge to find labor since Hurricane Harvey, but I know it will be worth the wait! Fingers crossed for the rest to happen very soon.
This project inspired me to share 5 Steps to a Successful Living Room Makeover.  It is a great step by step guide that will actually work for any room makeover project.
Subscribe HERE if you don't want to miss my ongoing decorating tips, tricks, seasonal tours, and projects.
All sources can be found below, but first, I want to offer a big THANK YOU my amazing project sponsors:

Entry Console | Entry Mirror – Similar | Vase with gold band | White vase | Blue bottle | Blue and white pot | Gold wreath


Sofa | Crystorama Chandelier | Side Chairs – White | Side Chair – Blue | Blue Rug | Buffet | Art 1 | Art 2 | Art 3 | Art 4
Bench/Ottoman (used as coffee table) | Side Tables 1 & 2 (each side of sofa) | Side Table 3 | Round Side Table | Floor Lamp | Table Lamp

Gold tray – Similar | White tray | Blue & white planter | White vase – tall | White vase – short

Gold olive branch statue  | Round lidded container | Book – Timeless | Book – Dream

Oversized faux fur throw | Ivory lumbar pillow | Light gray velvet pillow | White velvet pillow | Gray throw – Similar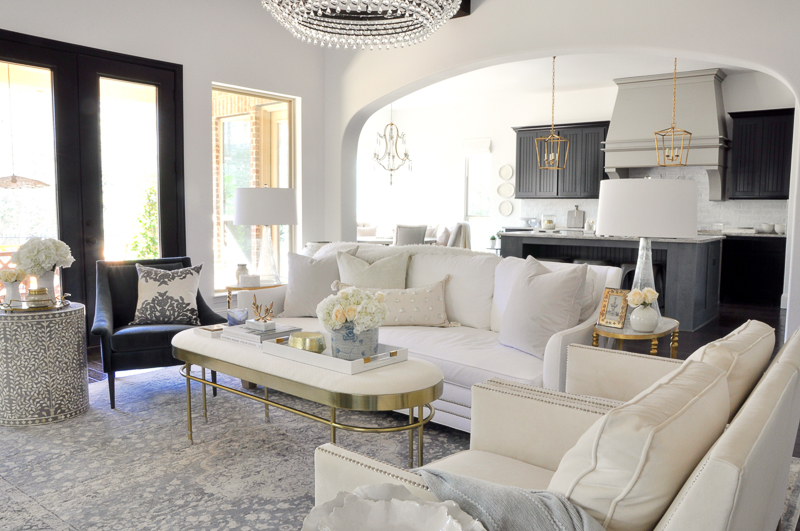 Stay connected…..
Click on the Image to Subscribe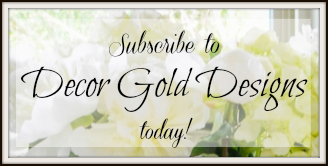 SOCIAL
Instagram | Pinterest | Facebook



SaveSave
SaveSave
SaveSave
SaveSave
SaveSave
SaveSave
SaveSave
SaveSave
SaveSave
SaveSave
SaveSave
SaveSave
SaveSave
SaveSave
SaveSave
SaveSave