I cannot tell you how thrilled I am to welcome you all to my One Room Challenge reveal! The time truly flew by!
First a quick reminder of the process. The One Room Challenge is a six week event hosted by Linda of Calling It Home. Participating bloggers select a room to make-over within their respective homes. Each week, the progress of the make-over is revealed. Today, all of this comes to a culmination with The Final Reveal.
If you happened to miss any of my weekly updates, you can get caught up on them here.
Week 1 | Week 2 | Week 3 | Week 4 | Week 5
During this challenge, I had the privilege of working with some incredible people with some amazing brands. I want to take a moment to acknowledge and thank them all for their generosity and support.
Ro Sham Beaux | Pom Pom at Home | Jaipur Living | Gabby Home | Anewall | Boll & Branch | Christeli | Studio Tullia
In case you don't remember, or missed Week 1, here is my "before" picture. To say this room looked uninviting would be an understatement. While I love the color gray, that is all I can see here.
And this was my design board. Just putting this together was inspirational in its own right.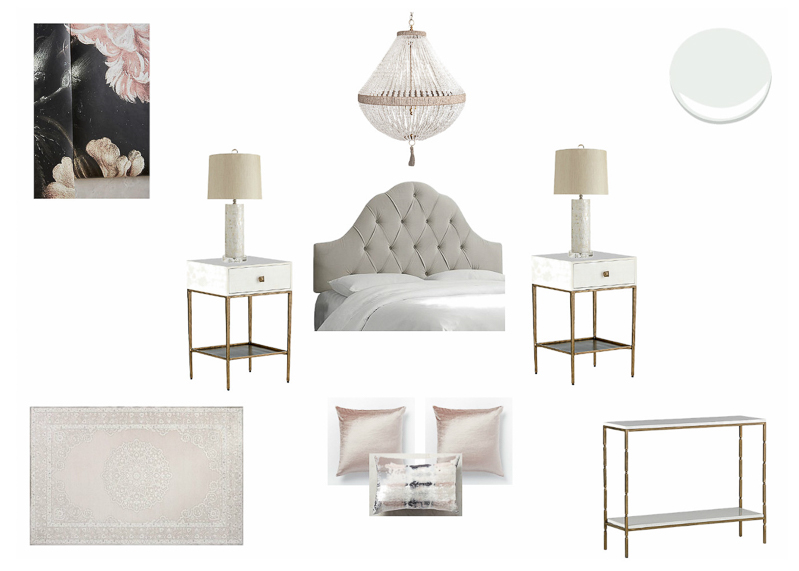 Are you ready to see the finished room???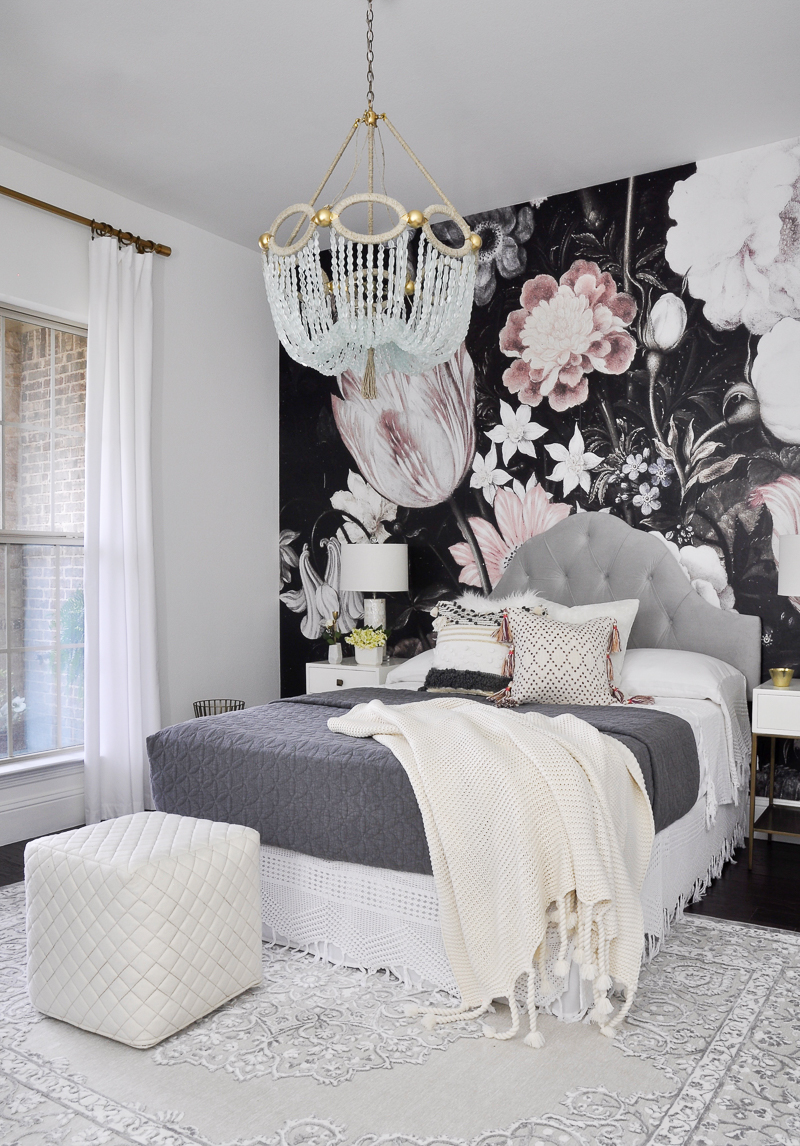 Let's talk details. Sources for all items are included at the bottom of this post. (This post contains affiliate links).
First, this wallpaper had me smitten the moment I saw it and I knew there was no turning back. Now, I realized it was a bold choice for a neutral-lover like me, but this guest room was the perfect place to experiment and I'm so glad I was able to do it. You will notice, I have used every other color and texture in my home except pink, unless you count fresh flowers and then I use pink all the time!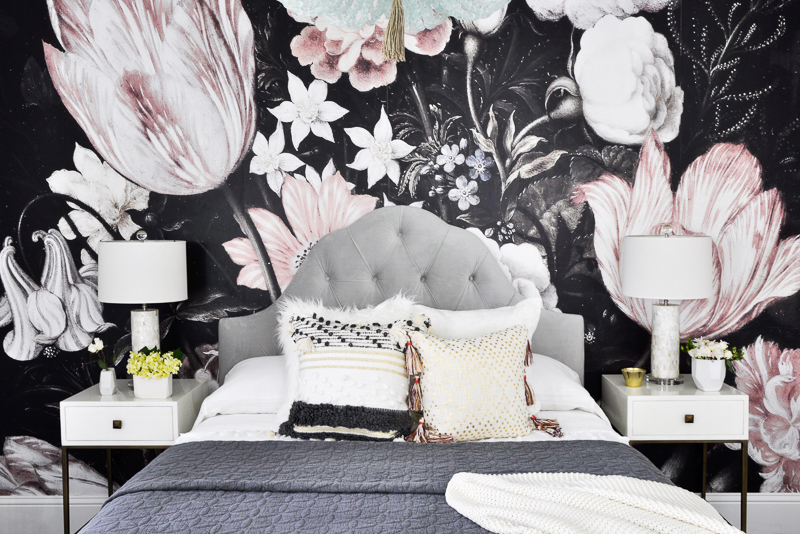 Of everything you see, I only had the headboard. The room needed everything else. Therefore, from the mattress to the lamps, I had a lot of shopping to do.
The bedding is all about tassels and fringe and texture. Moreover, these details helped define the boldness of the room while doing so in a subtle manner via Pom Pom at Home. Additionally, I also added a sheet set from Boll and Branch which is another brand I've used in my home.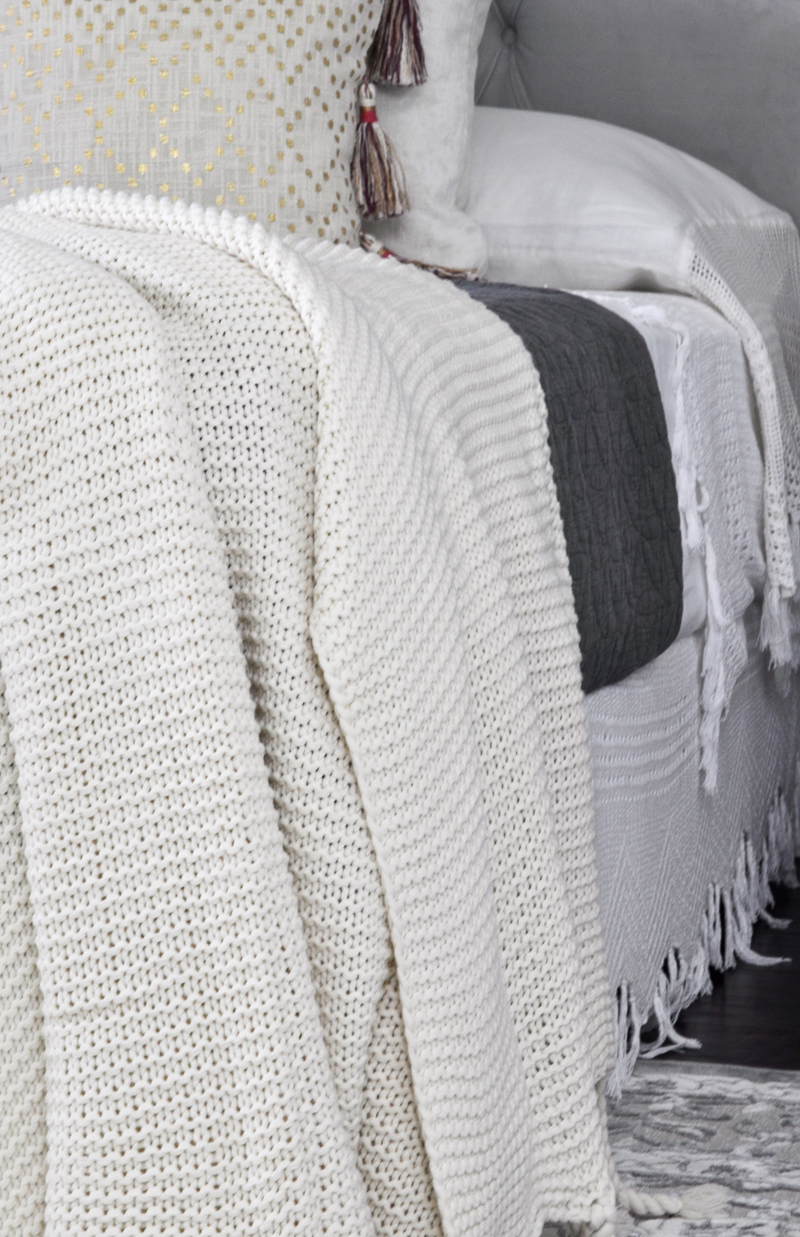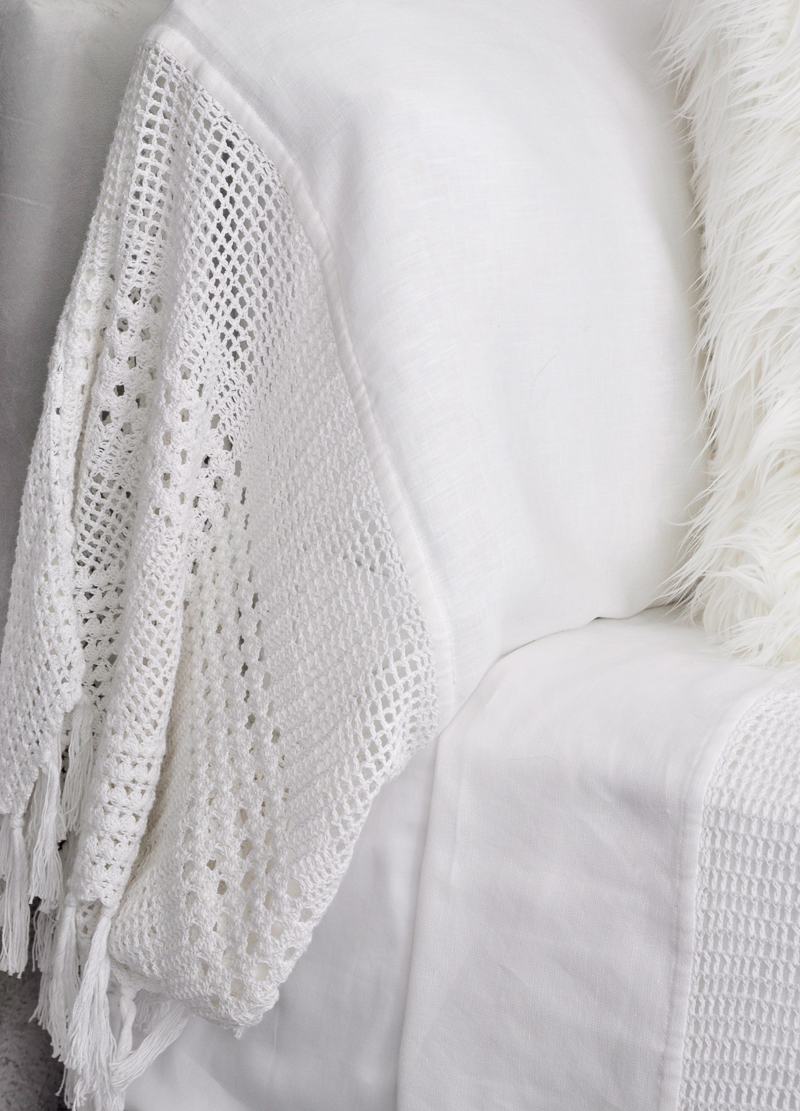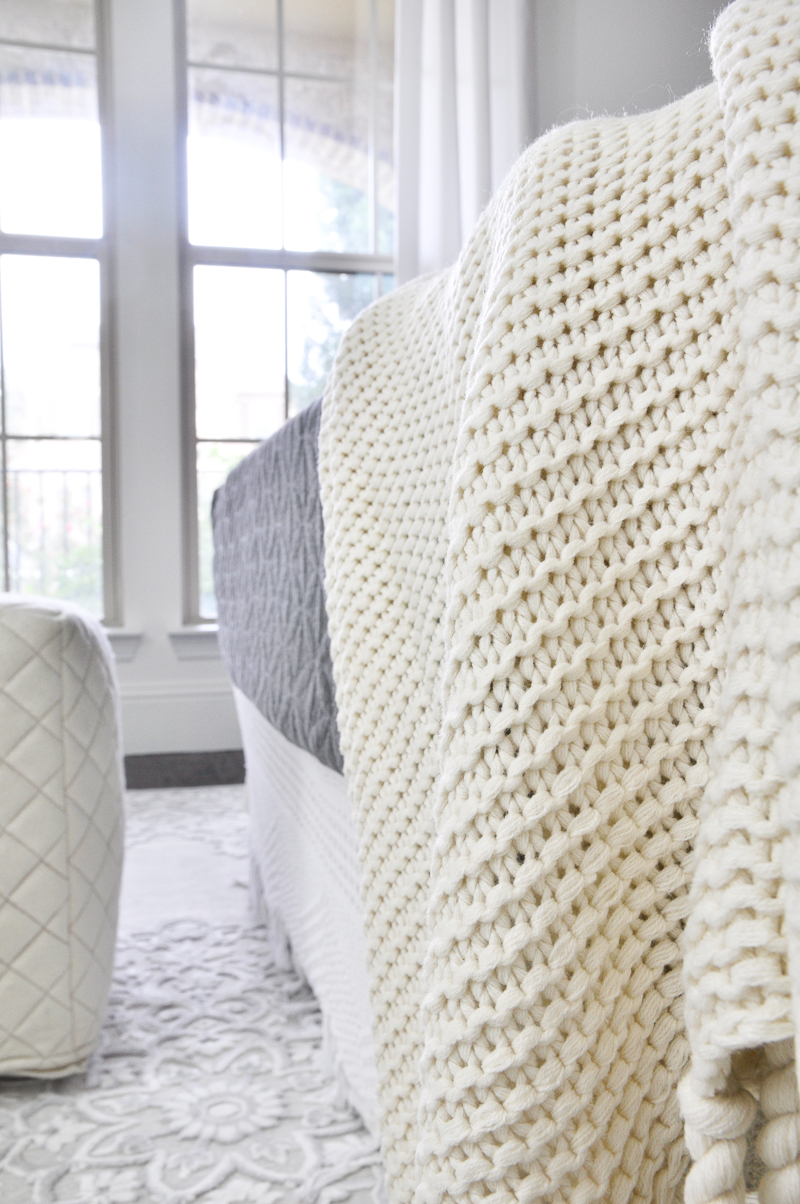 I wanted to add a beautiful rug and pouf, and these were exactly what I had in mind. They are both by Jaipur Living.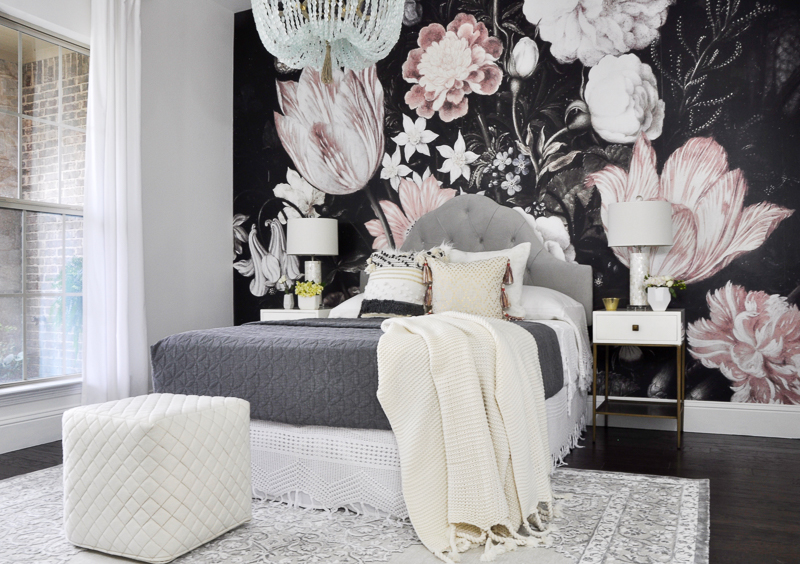 Keeping true to myself, you just knew I was going to add some pillows. I wanted something fun, so I chose a couple of boho pillows.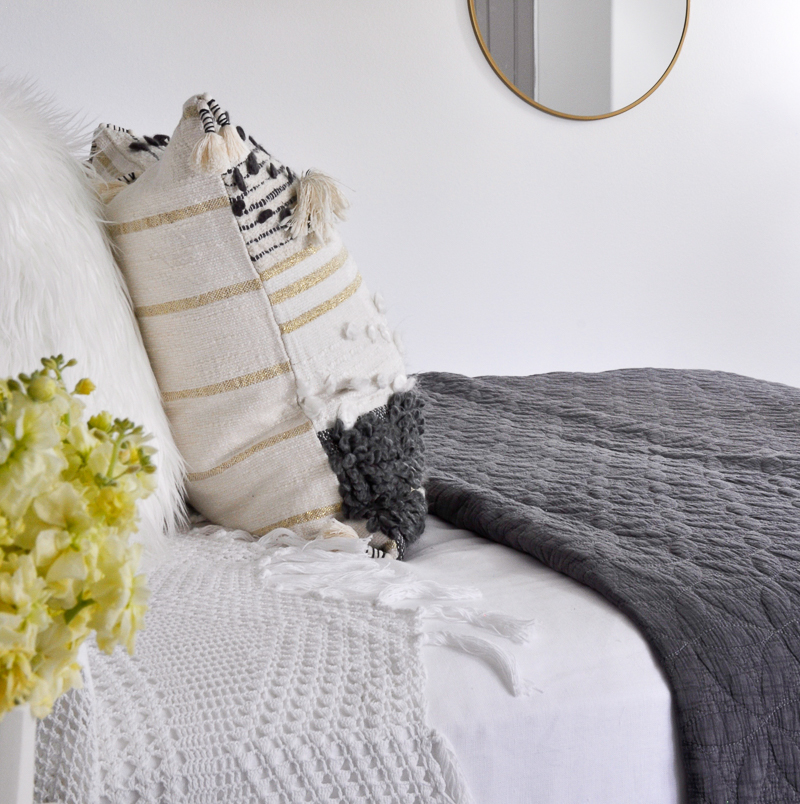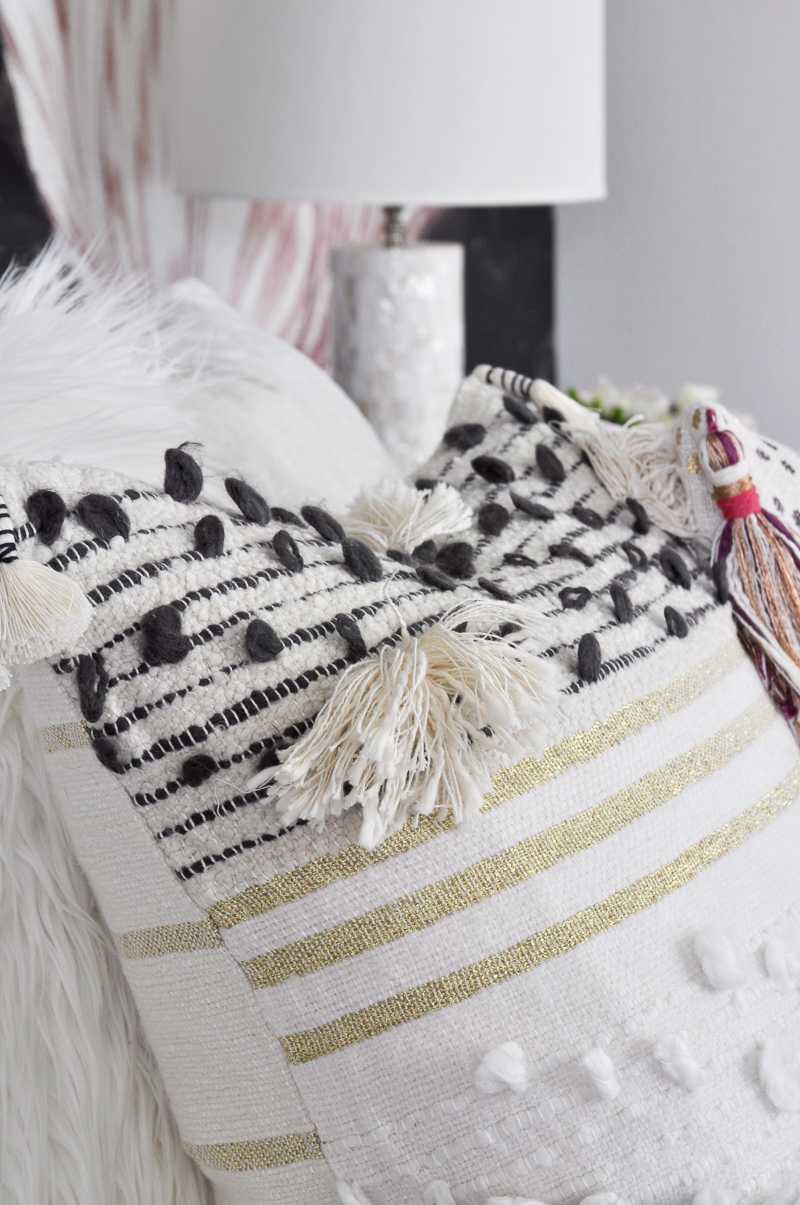 Featuring faux fur and velvet linen, the larger pillows were custom made by Studio Tullia. I love the ivory color and additional texture they provide.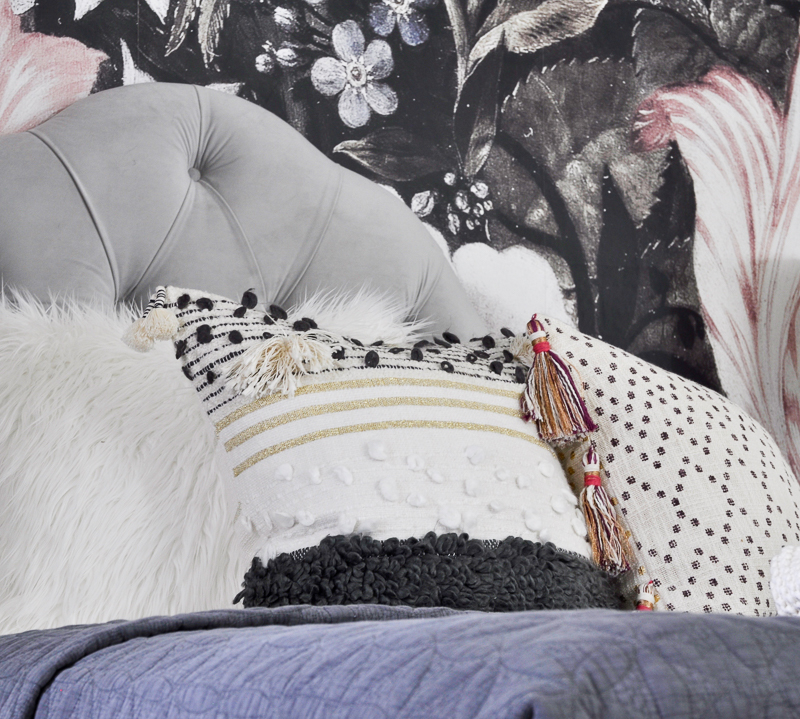 These gorgeous nightstands are by Gabby Home. If you are unfamiliar with Gabby, it is an amazing, quickly growing furniture brand and I'm incredibly proud to say I've been selected as a StyleMaker for them. Be on the lookout for more beautiful Gabby pieces in my home soon.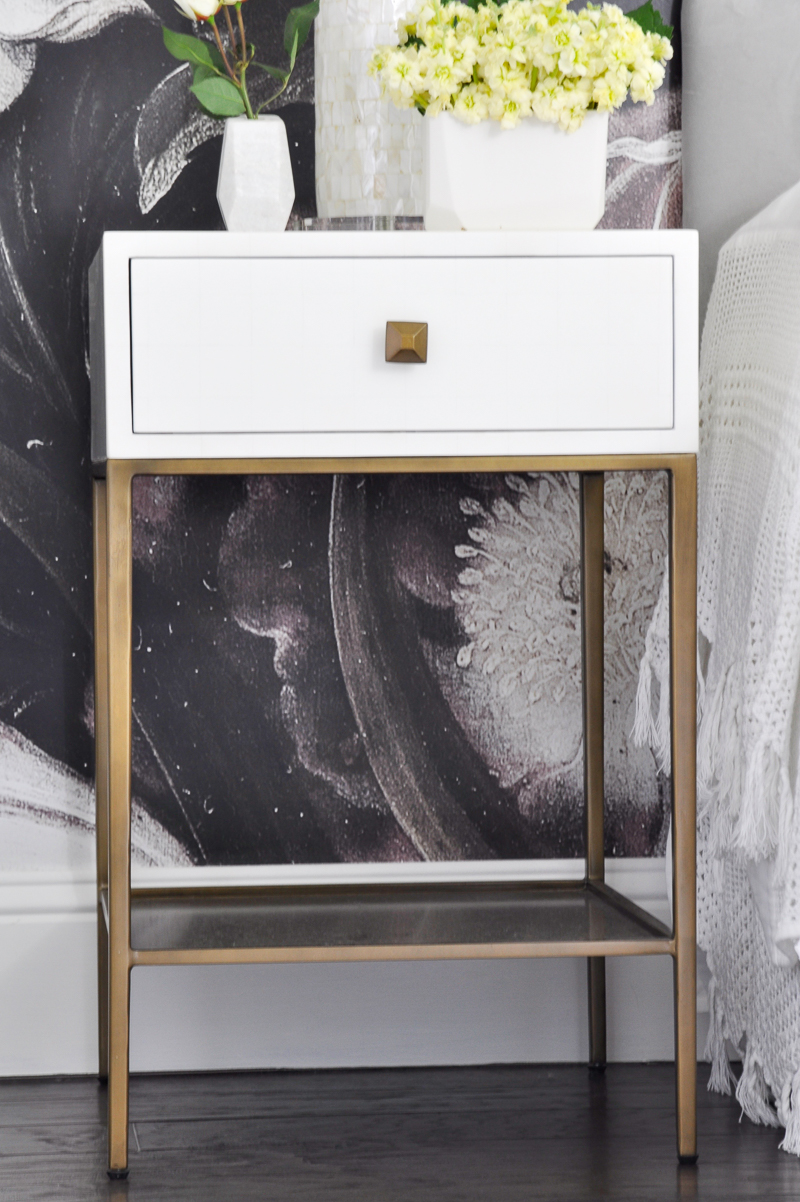 I selected white curtain panels and a brass rod with rings to compliment the nightstands.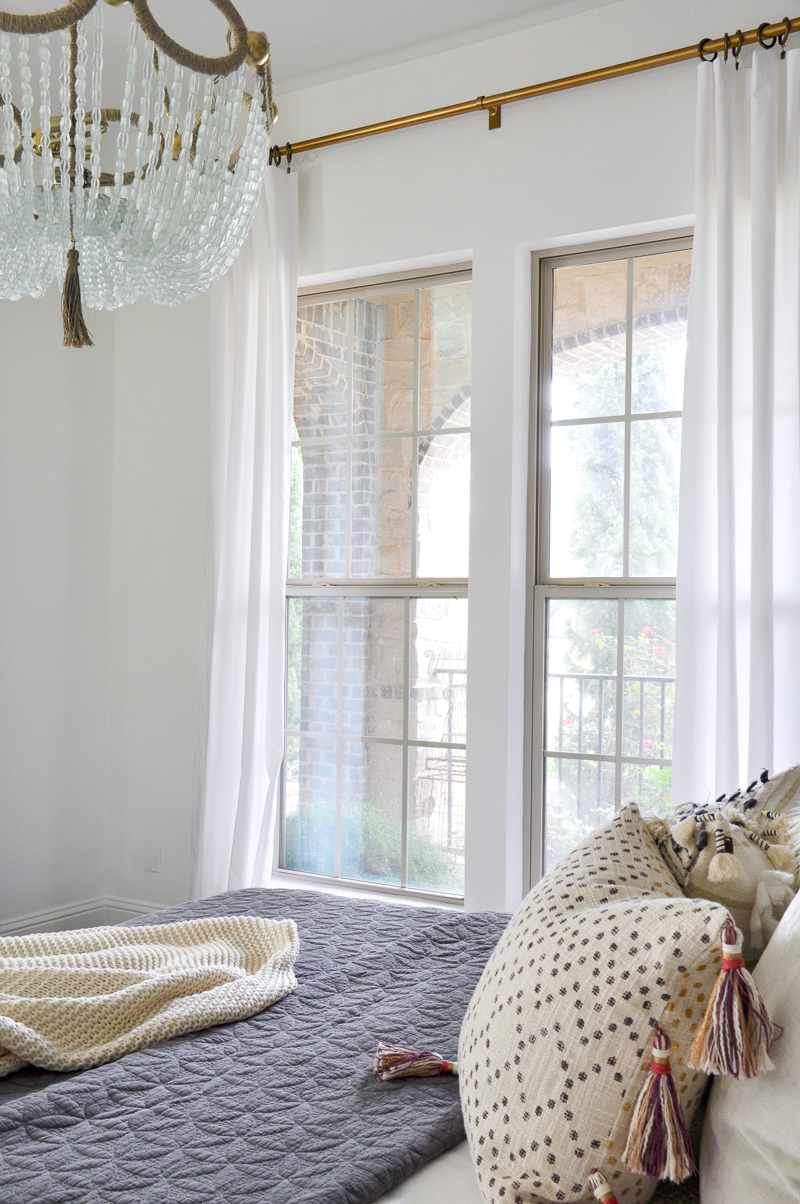 Now, can we talk about this fabulous light fixture? The are no words to describe how beautiful Ro Sham Beaux designs are and this piece is no exception. Gold, hemp, recycled coke bottle beads. I mean, seriously, I am in love with the beads. Long after I live in this home, this light fixture will be taking the next step of my journey with me. It is a true work of art and the perfect addition to my first One Room Challenge.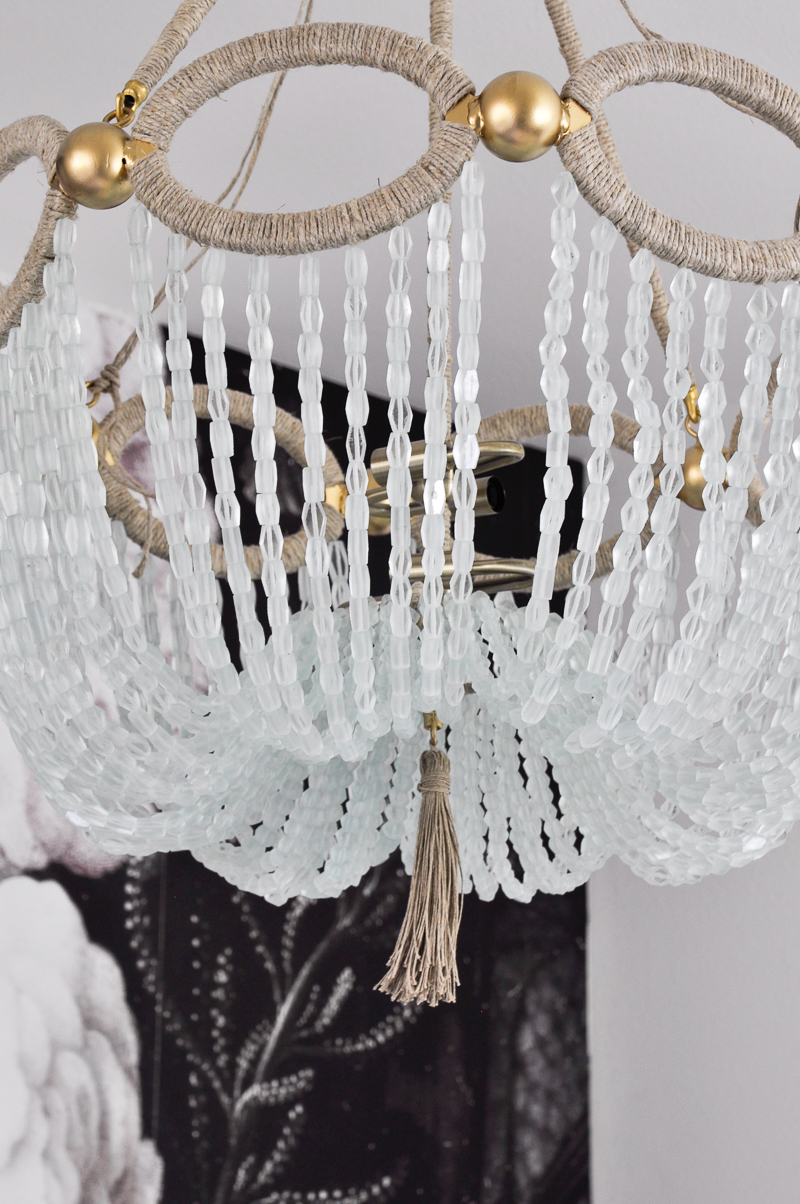 Let's take a look behind the curtain, shall we? Nothing ever goes according to plan, right? What is a room make-over without installation woes and hiccups? To kick things off a bit, the delivery date for the light fixture was too late for me to hire an electrician. So, Tony literally flew home to handle the installation.
Just to give you a little background, I have a brilliant husband, but electro-mechanically inclined, he is not. He FaceTimed with his step dad for help and worked for several hours (while checking football scores of course). Finally, he had it hung. Yes!
We were all so excited to see it lit up, but when we reconnected the power, it tripped the breaker and continued to do so with every attempt. Now, there is blue painter's tape over the switch to remind me not to turn it on. It appears that the Father-In-Law of the Year will be coming to the rescue soon. But for now, it is up and a dream to have in my home.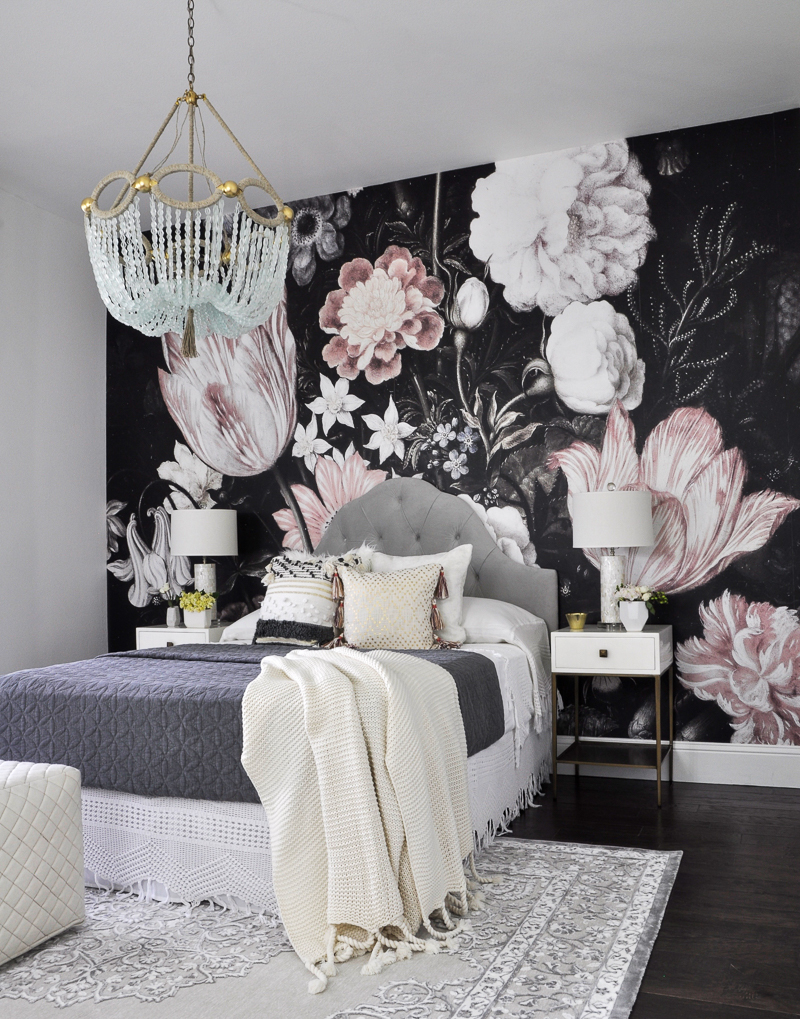 And there you have it. I sincerley hope you have enjoyed the weekly sneak peeks into my first One Room Challenge. Hopefully you will feel inspired to make-over a room in your own home. To tour the rest of my home, click here. If you would like to receive email updates, please consider signing up for my newsletter. You can also follow along on Instagram, Pinterest, and Facebook.
Happy Decorating!

For the most updated source list, click HERE
Chandelier | Rug | Wallpaper | Headboard | Pouf | Lamps | Lamp Shade | Curtain Rod | Curtain Rings | Mirror | Mattress | Sheet Set | Plant Stand | Pink Tasseled Pillow | Ivory and Charcoal Pillow | Crochet Pillowcases | Crochet Sheet | Charcoal Coverlet | Bedskirt | Throw | White Rectangular Planter | Cut White Planter | Bud Vase | Gold Candle | Brass Mirror | Ivory Faux Fur Pillow  | White Linen Velvet Pillow | Paint – Benjamin Moore Simply White
A special thanks to my husband for painting the ceiling after 10:00 pm one evening before a business trip and to my father in law, Mark for making a special trip to install my wallpaper. He did a fabulous job.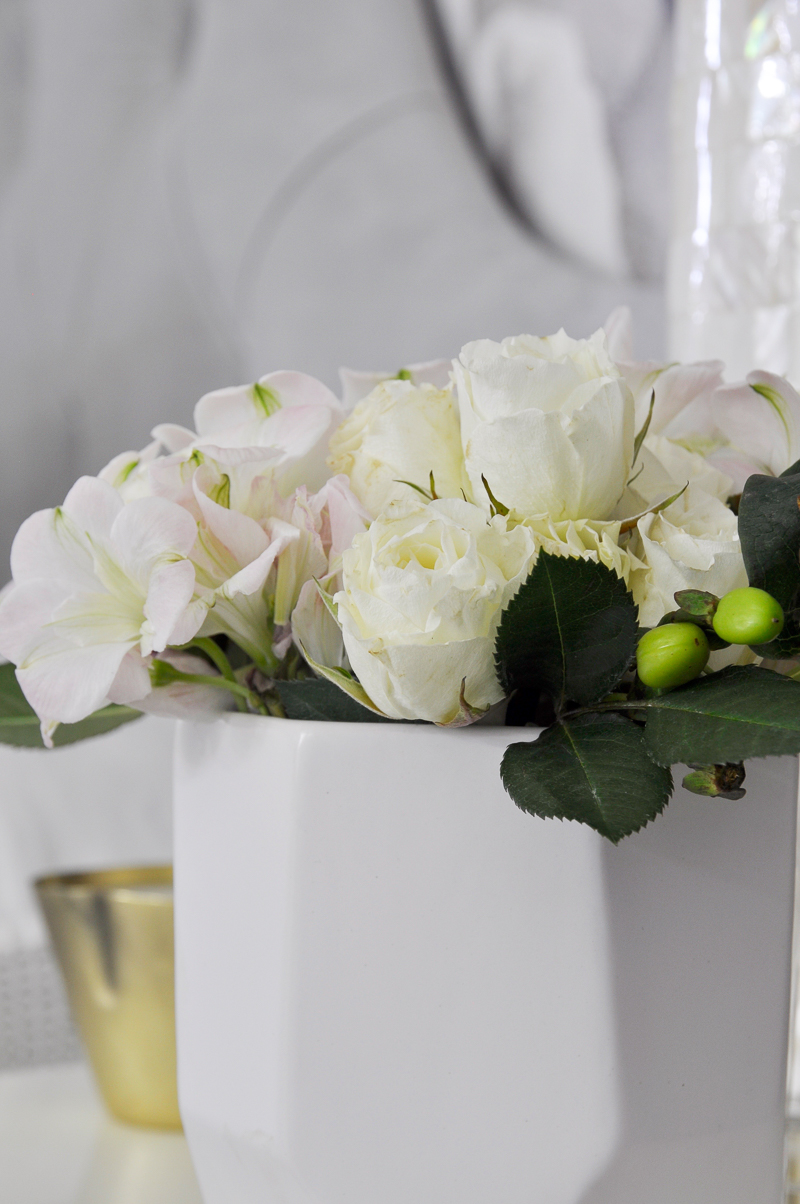 Now I'd like to share some of my friends who also completed a space in their home for the One Room Challenge. Just click on the image to go directly to each site.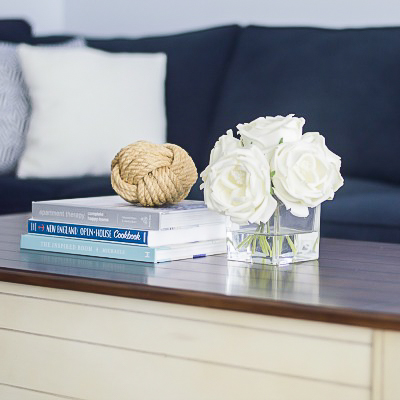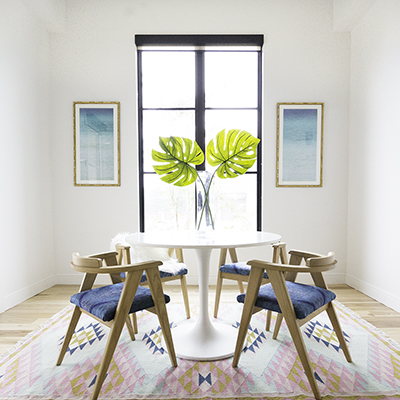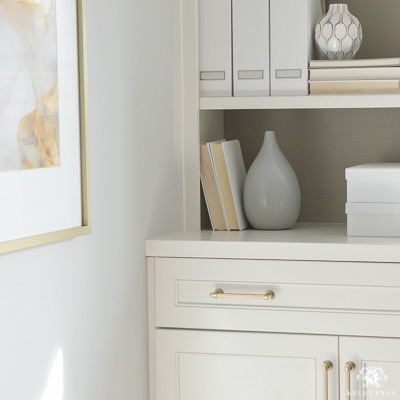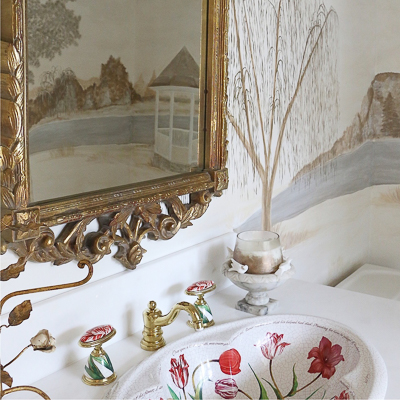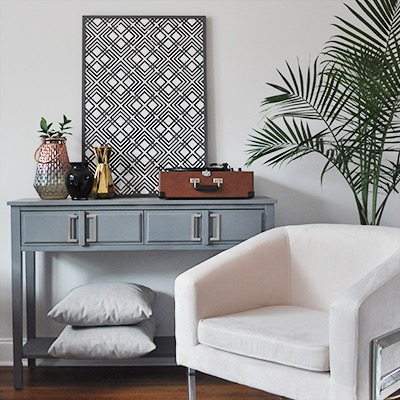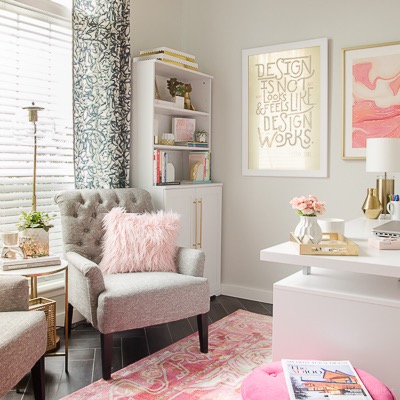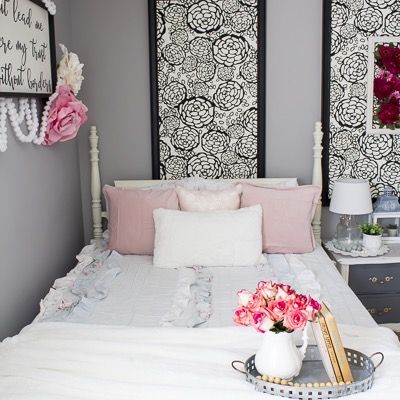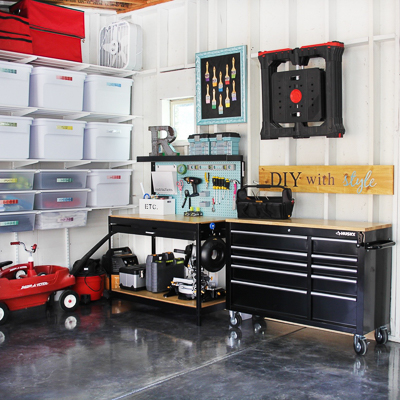 Please visit Calling It Home for additional One Room Challenge reveals!