When we moved into our home three years ago, we had been renting for the three years prior. Three years! The designer in me was dying. I couldn't paint walls, change light fixtures, nothing. One of our rentals was furnished which was even more difficult. Life had taken us to a project on Kauai…yes "on" Kauai. Hawaiians say "on" because if you are in Kauai, well, you are in the ground. Therefore, I focused all of my attention on my beautiful surroundings and ignored the koa wood explosion in our rental (don't even get me started on the furnishings).
Fast forward to life in Houston. The year was 2012 and I knew I wanted to build a home. My husband, Tony, would forward every existing house that he liked once it came on the market. This went on for months and months until I finally wore him down. We started our home in late 2012 and it really was a dream come true. The floor plan was perfect and we agreed on (almost) all of the finishes. It took about a year to build and during that time I picked out all of the furnishings, lighting and accessories. Well, almost all. I kept trying to pick out items for the guest bedrooms, but when I showed them to Tony, I would get the same response every time…"I don't care about the guest room". UGH! I do care about the guest room!!! And all of the other rooms too!
Today, I am giving myself six weeks to transform one of our guest bedrooms. With the help of the One Room Challenge, some amazing sponsors, as well as my family, I'm going to get this guest bedroom in "designer shape!" I'm going to take a slightly different direction than I have with the rest of our home. I can't wait to hear your feedback and what you think of my plans. But first, the before pictures.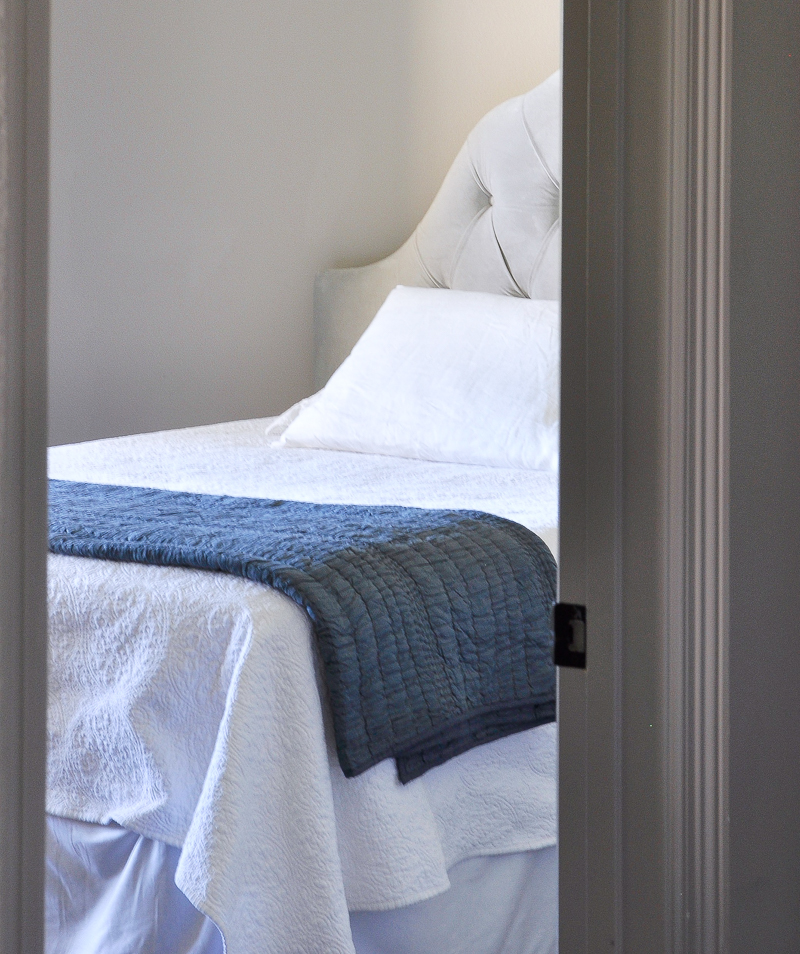 This may be the worst bedskirt ever.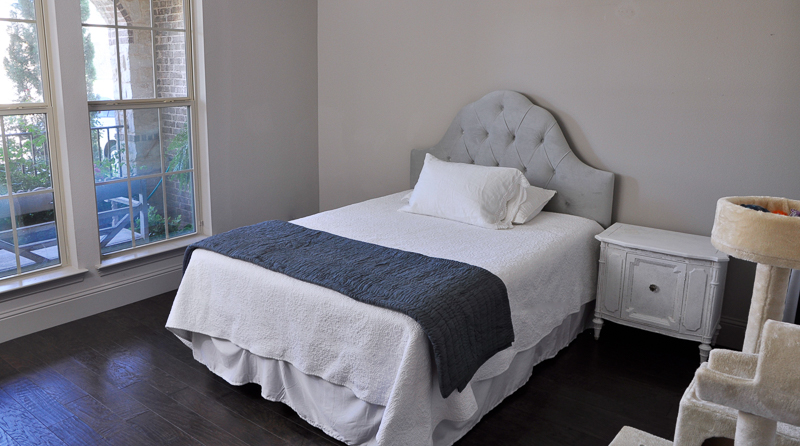 The current resident doesn't mind though. As long as his cat tree is in the room, he's happy.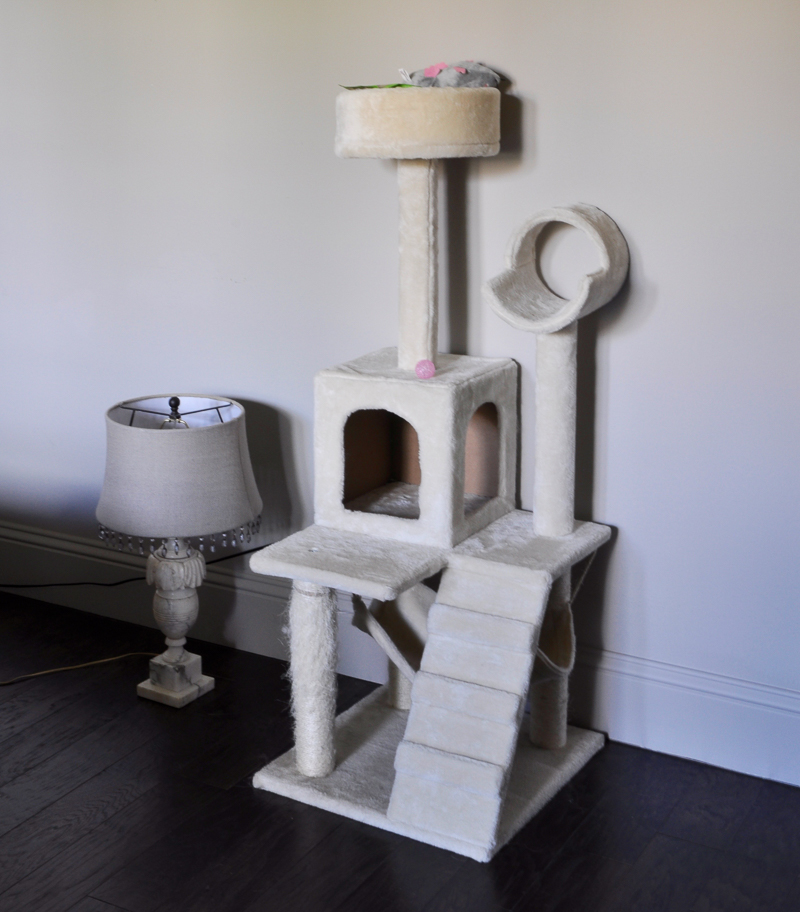 This is Frankie. He's extra cute on the bed though.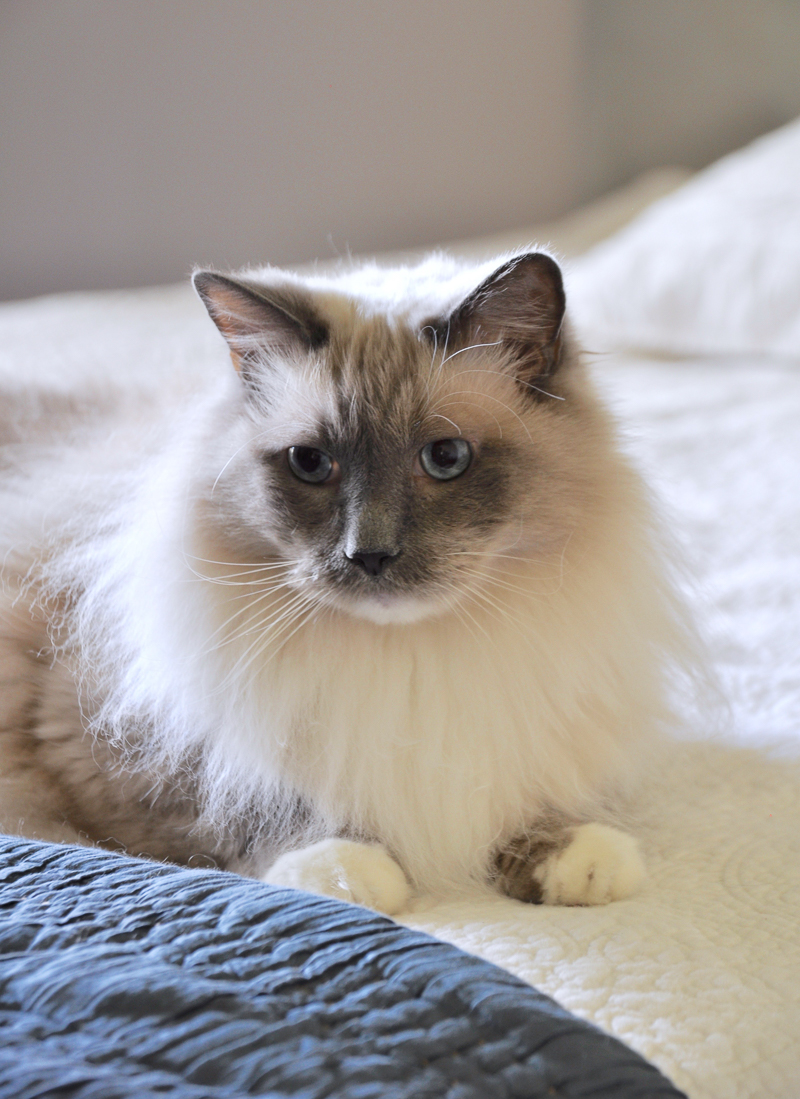 Back to the room, this is pretty underwhelming, right?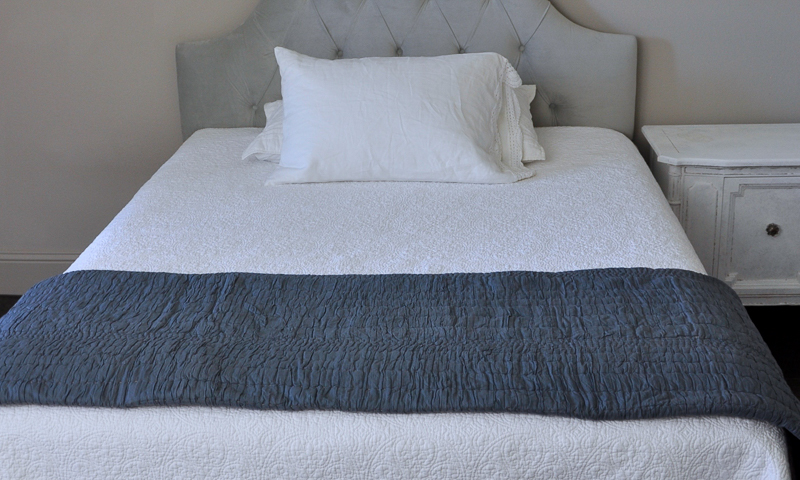 Are you ready to see some inspiration rooms? I know I am!
I love this look I found on My Domaine. The dark wall is stunning! And the bed!!!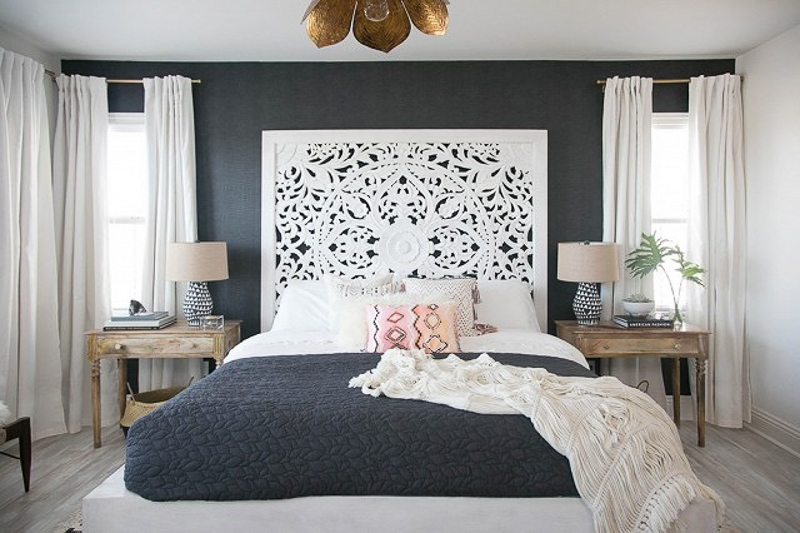 The layered bed offers beautiful details.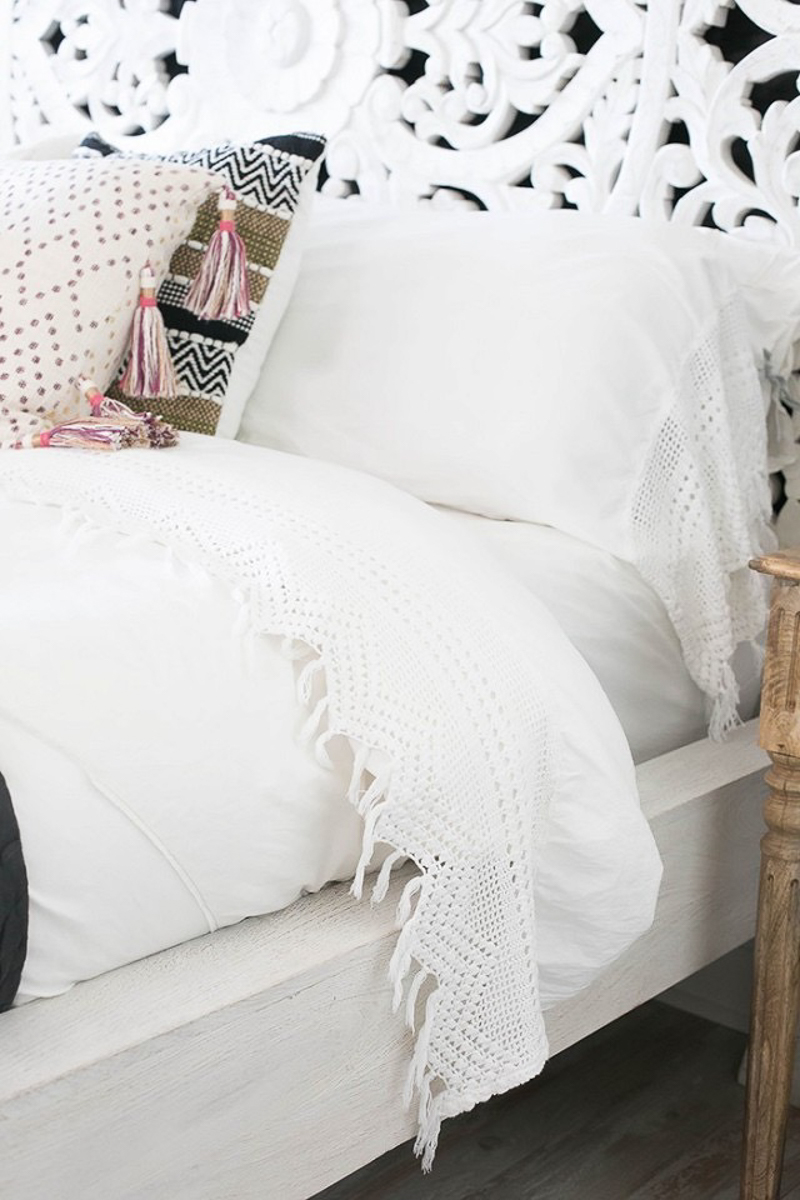 SHOP THE LOOK

Once I fell in love with the idea of a statement wall, I found this look. The thought of using a bold floral wallpaper similar to this one (which is shown here in a beautiful powder room by Cupcakes and Cashmere) makes my heart skip a beat. Similar paper can be found here. I can't wait to show you the paper I'll be using!!!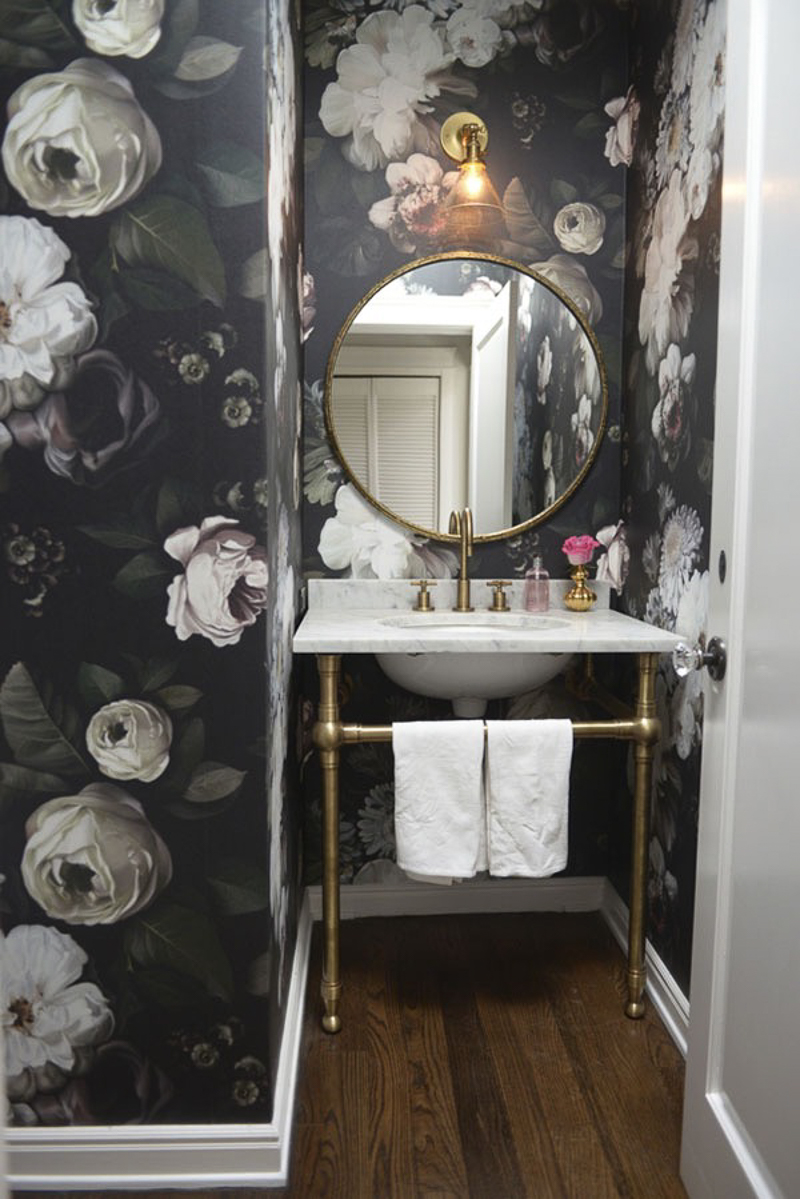 This room by Becki Owens is quite lovely as well.
SHOP THE LOOK

When I start planning a space, I will typically draw out the floorplan. Old school, I know, but quick and easy. Each square represents a foot, so the room is drawn to scale. In this case, I added some of the furnishings and the rug so I would know the sizes that will fit.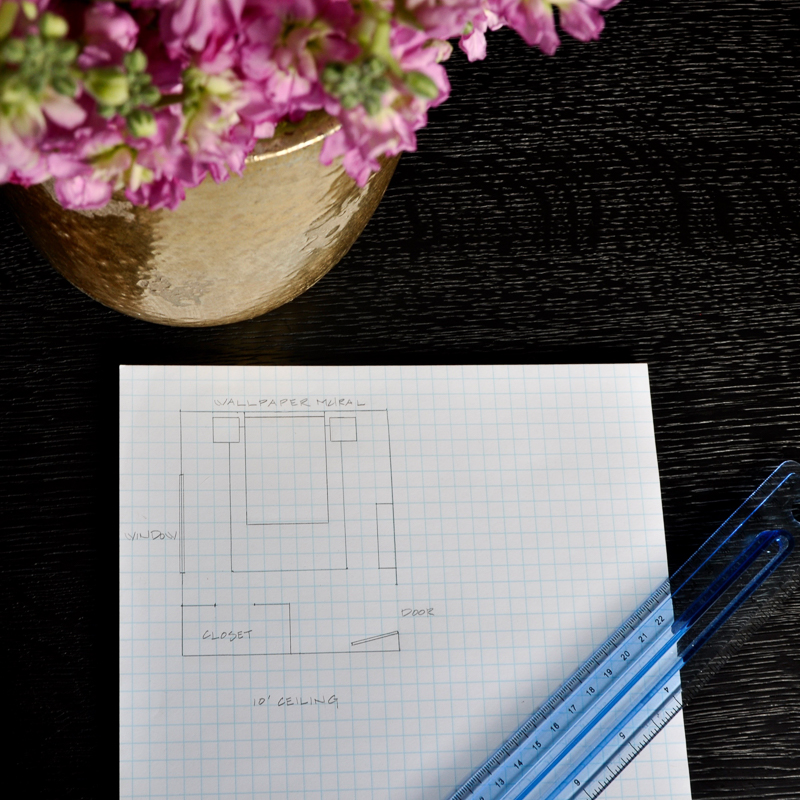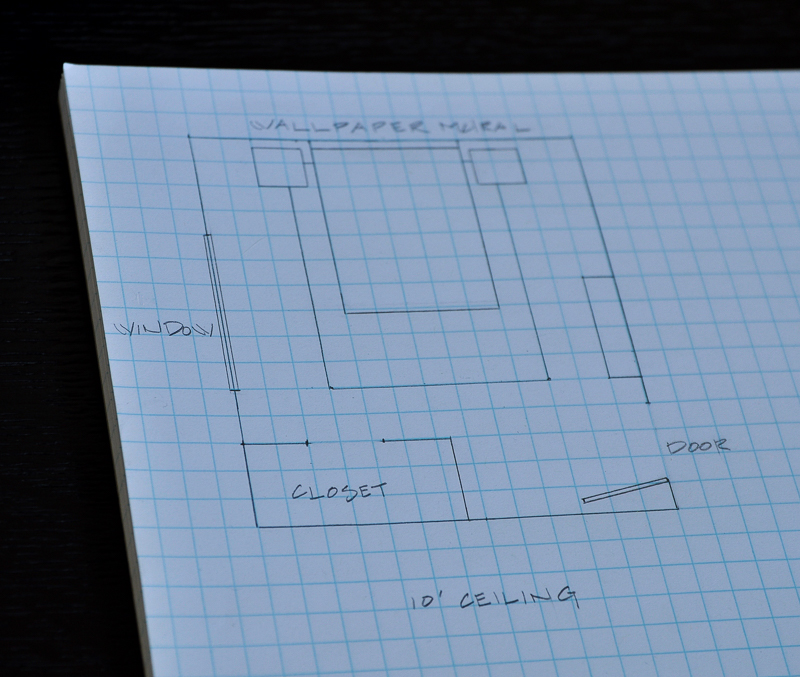 So now that you've seen the birds eye view, I want to share my vision.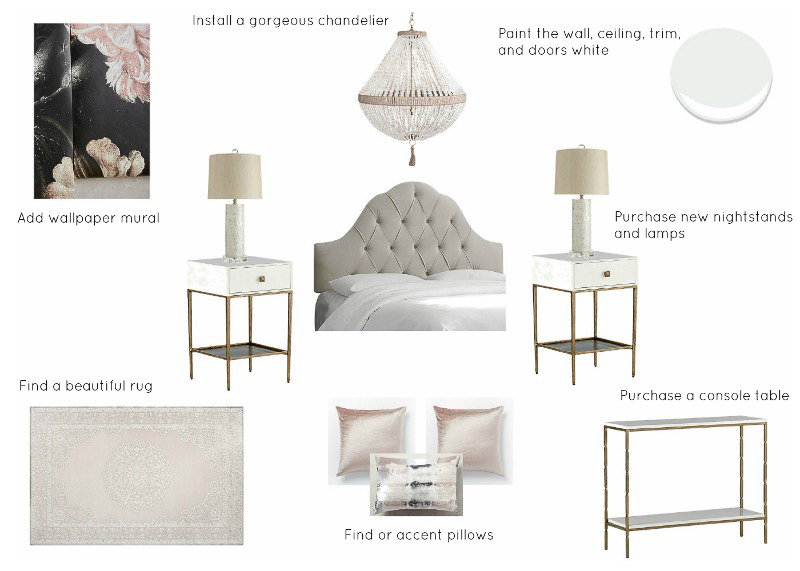 Wallpaper | Chandelier | Lamps | Nightstands | Headboard | Mattress | Console table | Rug | Multi-colored pillow | Pink pillows
I have already selected and purchased or ordered the following:
Wallpaper mural (can't wait to show you a bit more next week)
Gabby Home nightstands
Gabby Home console table
White paint
Christeli mattress
Headboard (for now, I plan to keep the one I have)
I am still looking for the items below:
A chandelier (I have my eye on the most gorgeous one I've ever seen….update soon)
Lamps
Stools for the end of the bed
A rug
Art
A drapery rod
Draperies
A coverlet or quilt
A second quilt or throw for the end of the bed
Standard shams
A bedskirt
Throw pillows
Accessories
Yikes…..looking at the above list, I'm starting to feel a bit overwhelmed!
I found this fabulous pillow last week. It's perfect, but not in my budget, so for now, it's just inspiration.

As you can see, there is a lot of work still to be done. But, when you do something you love, it's not really work, is it? Be sure and check back next week on Thursday as I will show you the initial progress I've made on this room makeover. If you want to make sure you don't miss a post, please consider subscribing to my newsletter.
Happy Decorating!
*This post contains affiliate links.