First, I want to thank you for the incredible amount of support and kindness you have shown me here and on Instagram during my first week of the One Room Challenge. You are the ones who are keeping me going into the wee hours of the morning!
Now, let's begin with a reminder of my plan. I can't wait for this to come together. You can see my full Week One post here.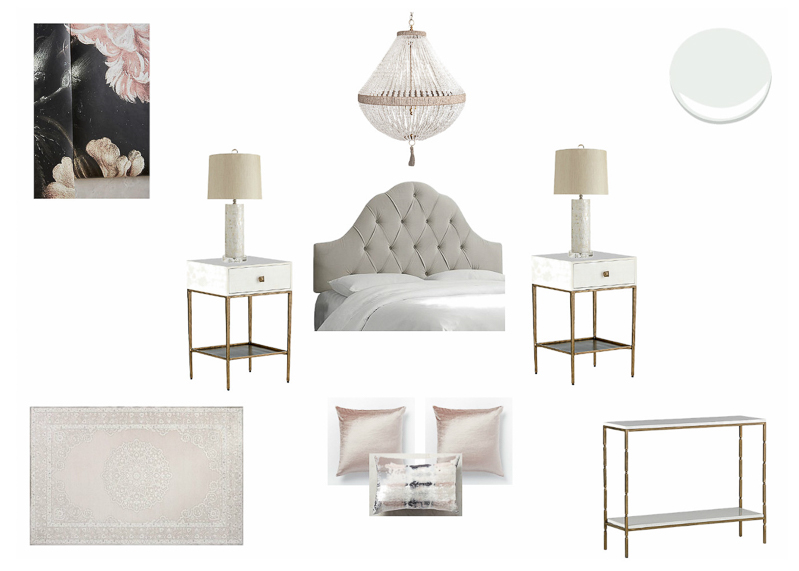 I have already made a few changes to the plan, but I haven't finalized them yet, so stay tuned!
As of last week, I selected my paint and have begun the process of giving the walls a crisp, fresh look. My plan was to paint the room, including the trim molding and doors, Simply White by Benjamin Moore. We made the plan to paint in the afternoon. But, when my sweet hubby went to pick up the paint at 3:00 pm on Saturday to find the Benjamin Moore store closed had closed at 2:30, we had to move to Plan B. Don't let us down Home Depot! Could they match it? You bet they could! Just like that we were back in business.
We painted the ceiling first because, well, it is painting the ceiling. My poor husband got roped into painting the first coat at 10:00 pm that evening because he was traveling last week. I would not recommend trying this at home. I managed to complete all of the cutting in and the second coat a couple of days later. Now I know why base coat painters are in high demand!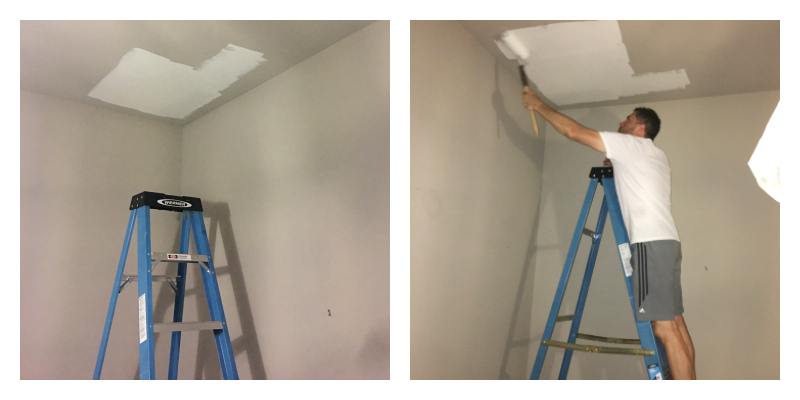 It's a little known fact that I owned a decorative painting business for a number of years. I thought this would be the perfect time to share some of my top painting tips:
Prepare the walls properly by filling nail holes, lightly sanding imperfections, and dusting.
Spend extra time carefully taping off while pressing your finger over the edge of the tape to make sure it is tight.
Use extra drop cloths to protect everything you don't want painted. Can't have too many here.
Remove electrical outlet and light plate covers as well as A/C registers.
Use a paint tray liner as this will save a lot of time during clean up.
Cut in with a quality angle brush.
Let the roller do it's job. Use an extension and work from top to bottom. No need to apply a lot of pressure.
Remove the tape carefully.
Touch up the molding and ceiling with a small brush if the paint bled.
Wait until the walls are dry to replace the outlet and light plate covers.
You will notice that I did not tape off. I will be painting the trim molding the same color as the walls in satin finish (the walls are flat), so I will do my cut in when I paint the trim.
Here are a few of the spots that were in need of repair. It is important to do all of your repairs with enough time to let them dry before you paint.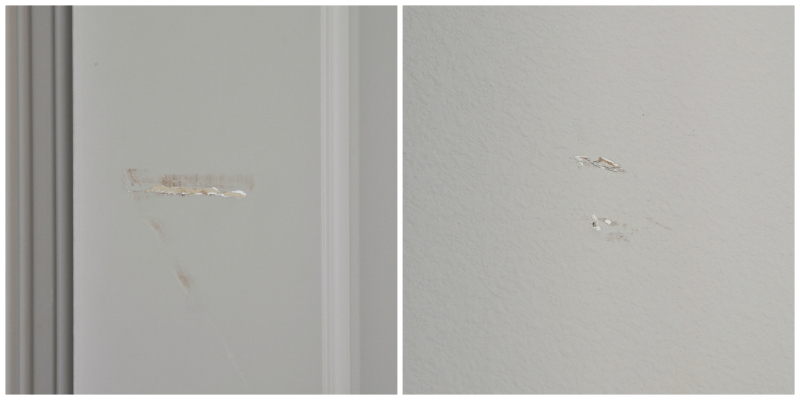 The ceiling has two coats and the walls have one. I can't wait to finish the walls and move to the doors and trim!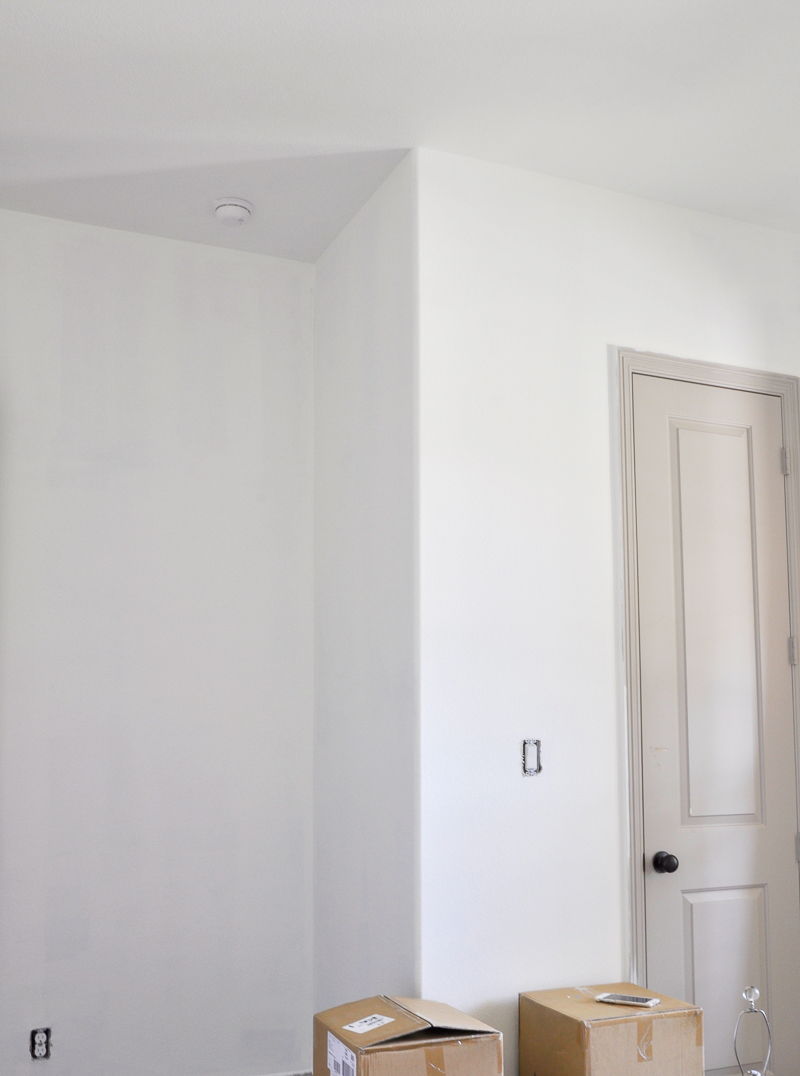 There was no need to paint the bed wall because it will be prepped for the mural soon.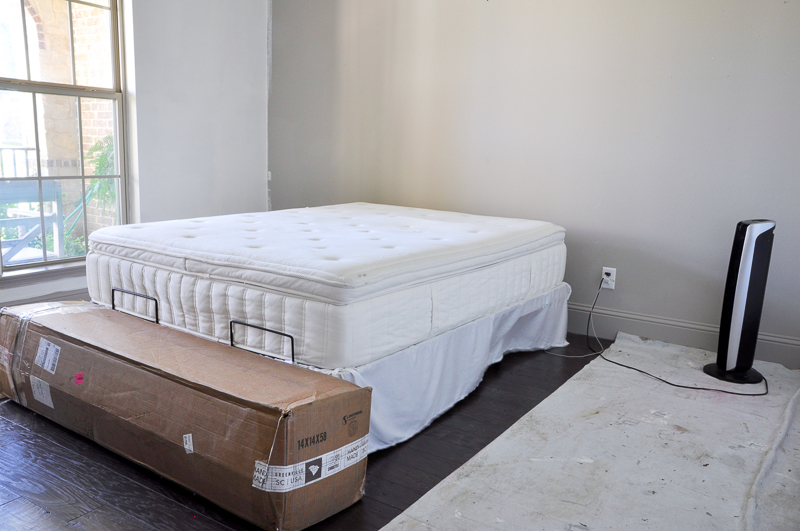 The box at the end of the bed is our new Christeli mattress! I must say, it makes it seem very real when the doorbell rings and something for the room arrives. I chose to go with Christeli because I absolutely love the one we recently added in our master bedroom. You can read more about that here.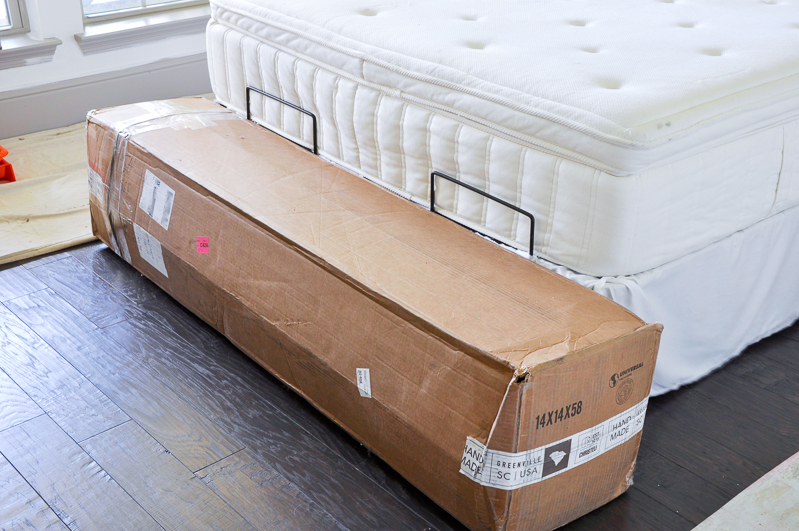 I did some additional shopping this week. I made the decision to go with the lamps from my vision board.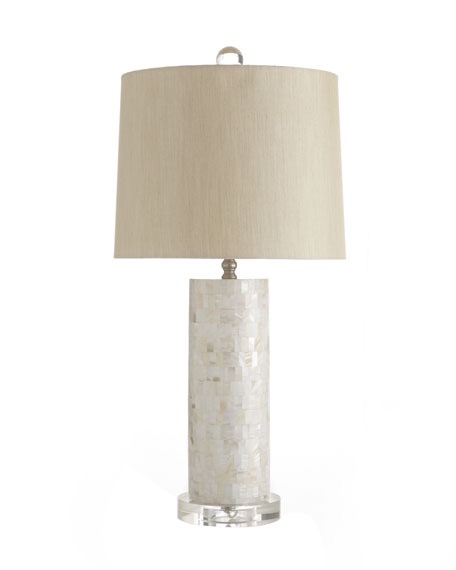 I also selected a curtain rod and rings. The hubby will be excited as he loves hanging these types of things. Or not!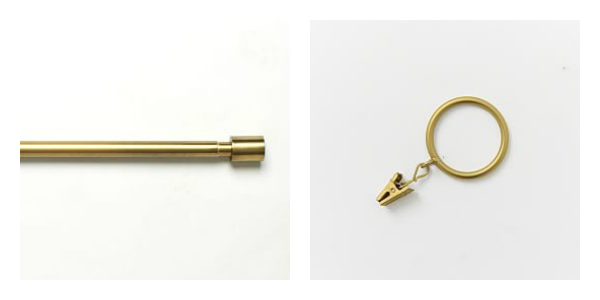 I'm leaning toward simple white panels, but I'd love to hear your thoughts on this.
There you have it! Another week closer towards the final reveal. Thank you again for joining me on this journey! The anticipation is building and I am beyond excited to complete this task. See you all next week…
*This post contains affiliate links.