Hello! I am so happy that you stopped by today for our Welcoming Fall Home Tour! After months of heat and humidity, fall is so welcomed here in Houston!
If you made your way here from Lilypad Cottage, thank you for visiting! Kelly's home always looks so beautiful and I know you must have found some wonderful ideas for fall!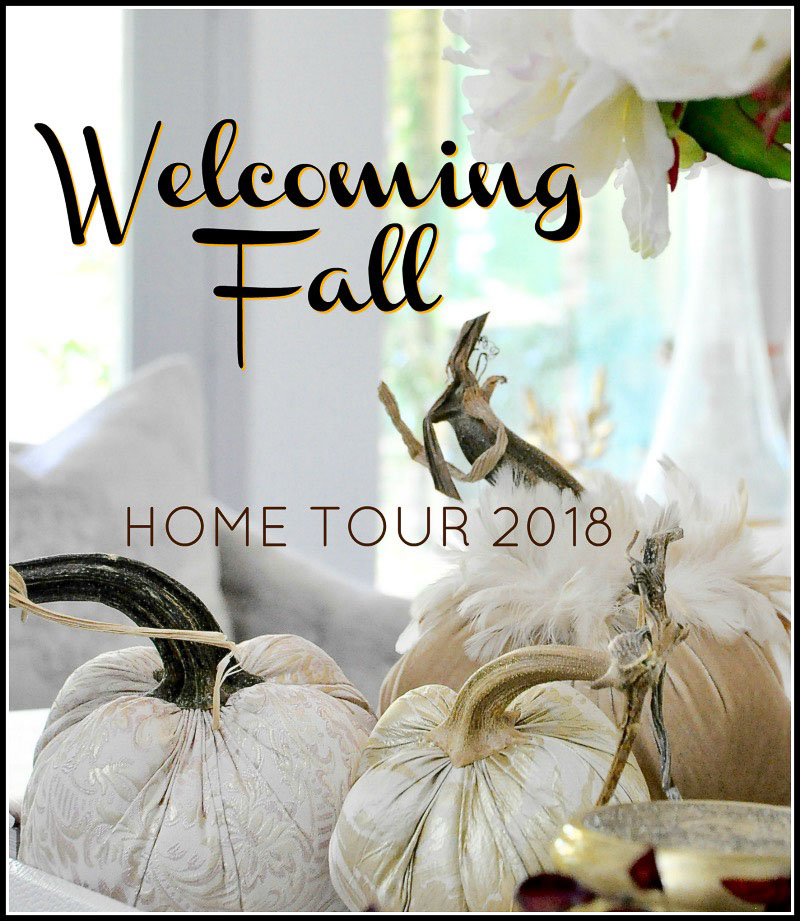 *This post contains affiliate links. Please find our full disclosure here. Also, this post is in part, a collaboration with Hot Skwash by Daria. All comments and opinions are 100% my own.   
For my fall look, I stayed true to my neutral-loving heart for the most part, but I kept my magenta dahlias around for a bright and cheerful fall home. Can't wait to share it with you! Please come in!
Fall Entry Hall
Our entry hall is quite long. The view of the living room and our newly added updates are the perfect backdrop for a pop of color. Both navy pieces, the bench and the chair, are velvet. It is such a great fabric choice, especially for fall.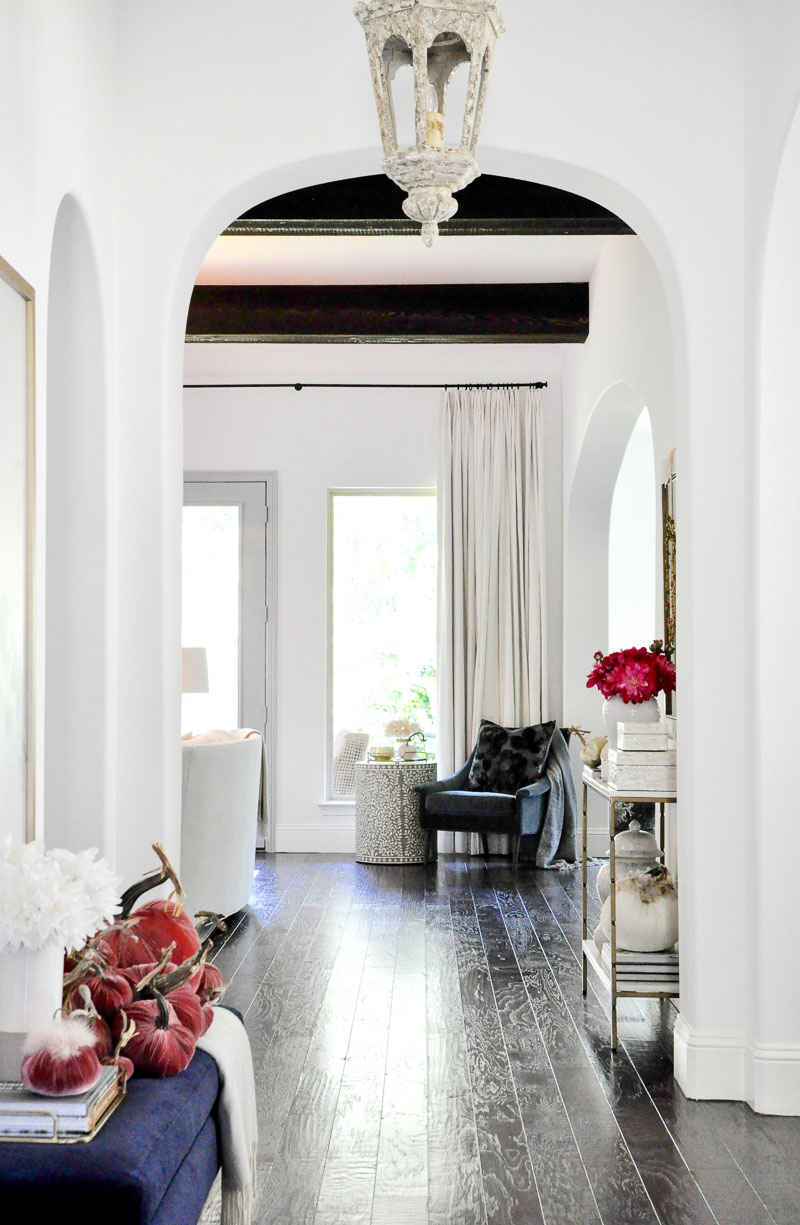 Rose-colored pumpkins by Hot Skwash work beautifully here! I've been collecting Hot Skwash pumpkins for several years and I can't get enough of them!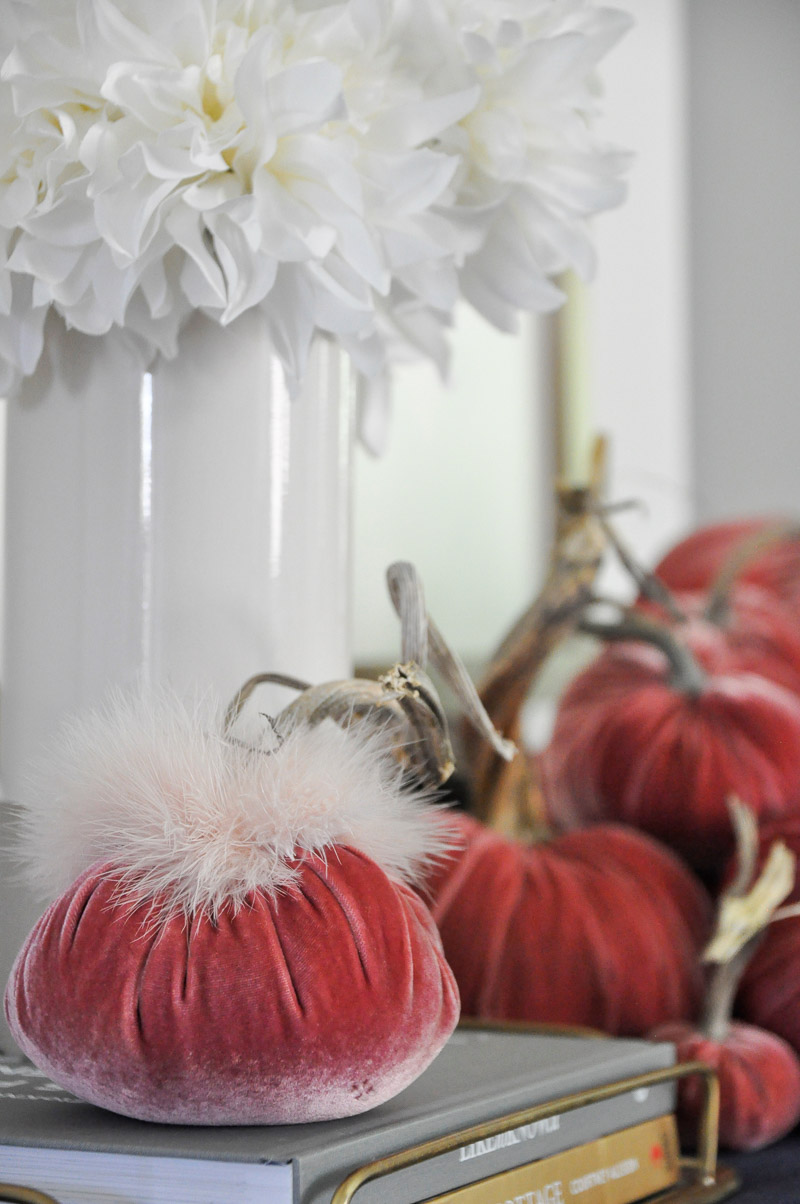 My console table is such a fun spot to add seasonal decor. I simply grouped ivory pumpkins, faux dahlias, and a candle. On the lower shelf, a large ivory pumpkin with feathers makes a beautiful fall statement.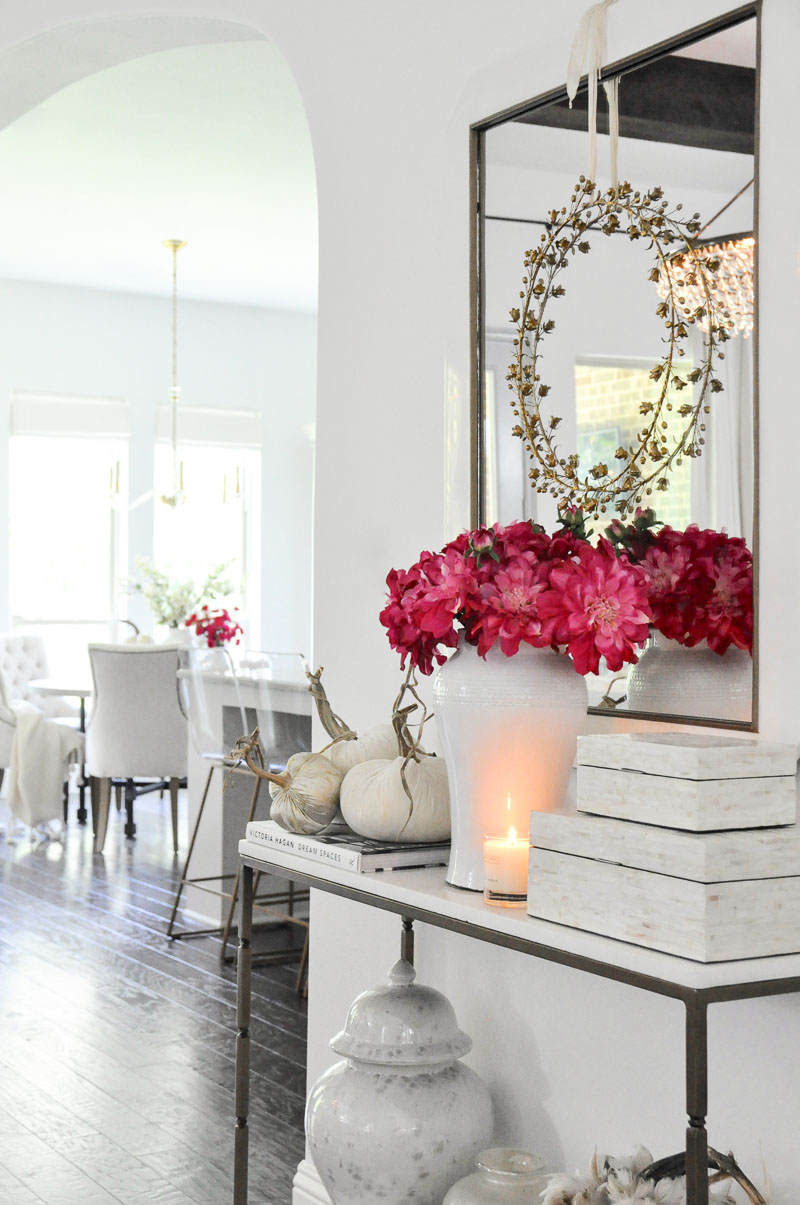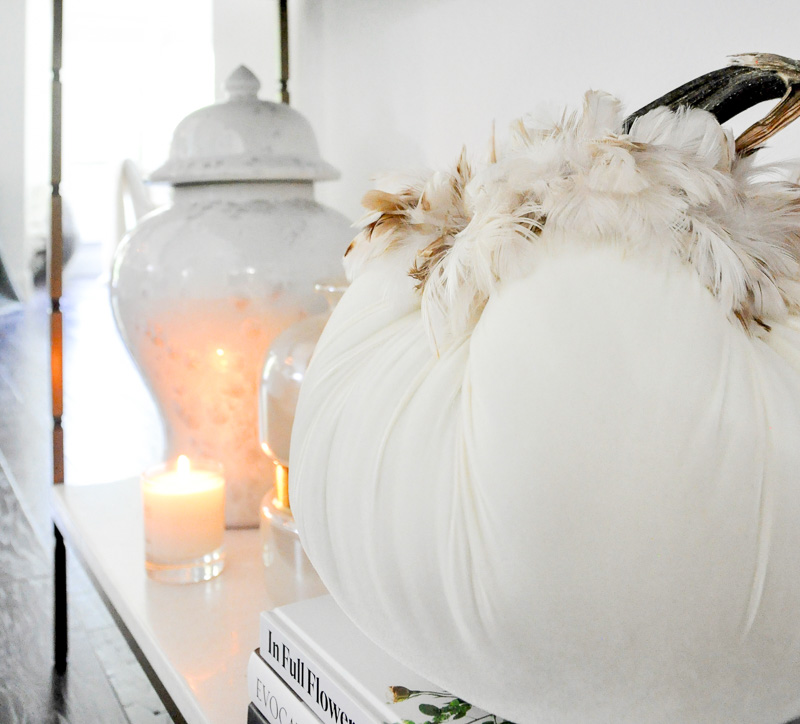 At the end of our entry hall is a blue velvet chair which was the perfect spot for a large velvet pillow. I love the blue on blue look for fall!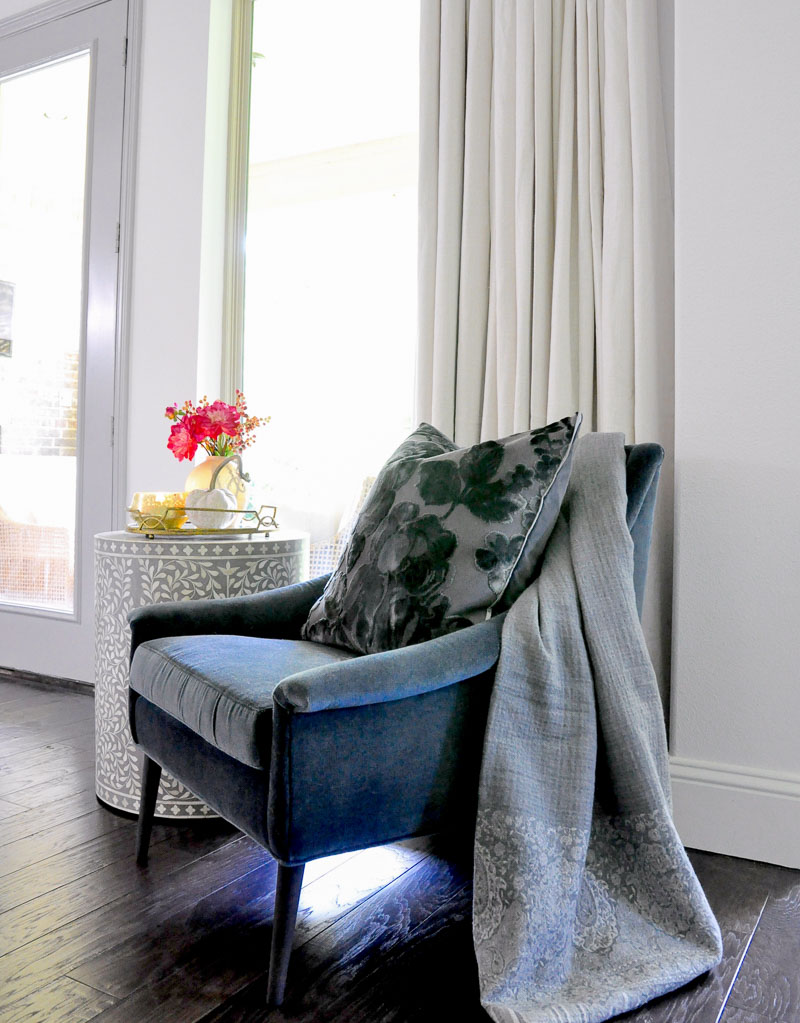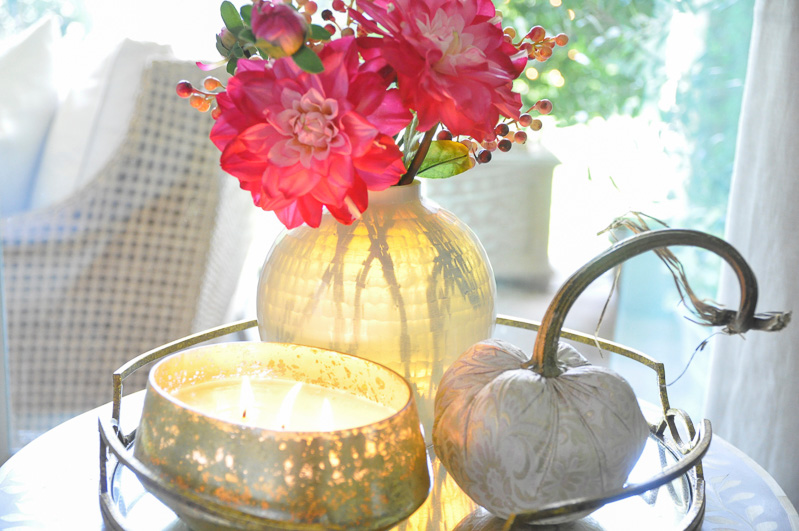 This beauty is a limited edition specialty pumpkin. It was love at first sight for me! Daria has quite a few one of a kind pieces. I got one last year too and both are unique and beautiful!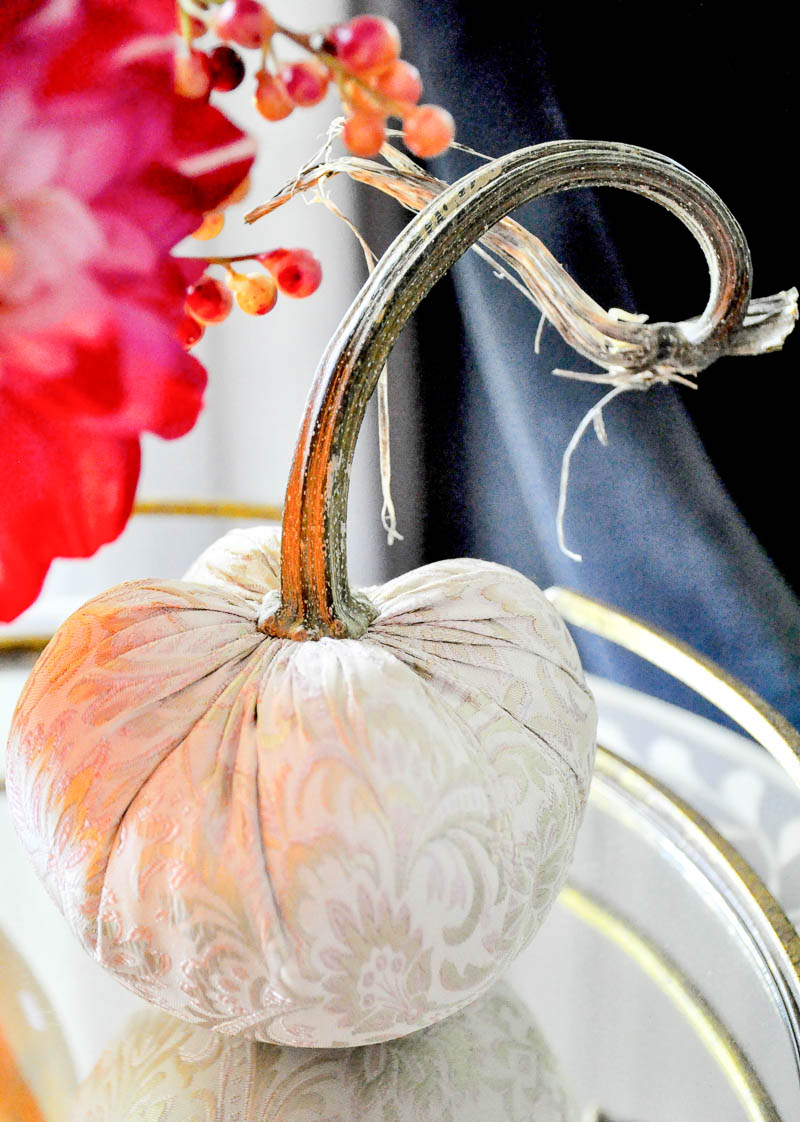 Fall Kitchen and Breakfast Nook
Our kitchen is undergoing big changes. We have made our final selections and hope to have it ready to reveal in the next few weeks! I hope to be able to give it a full fall look when it's done. Fingers crossed on timing!
This is the first fall season since my last kitchen update. The gold accents we installed add warmth and I especially love them with fall decor.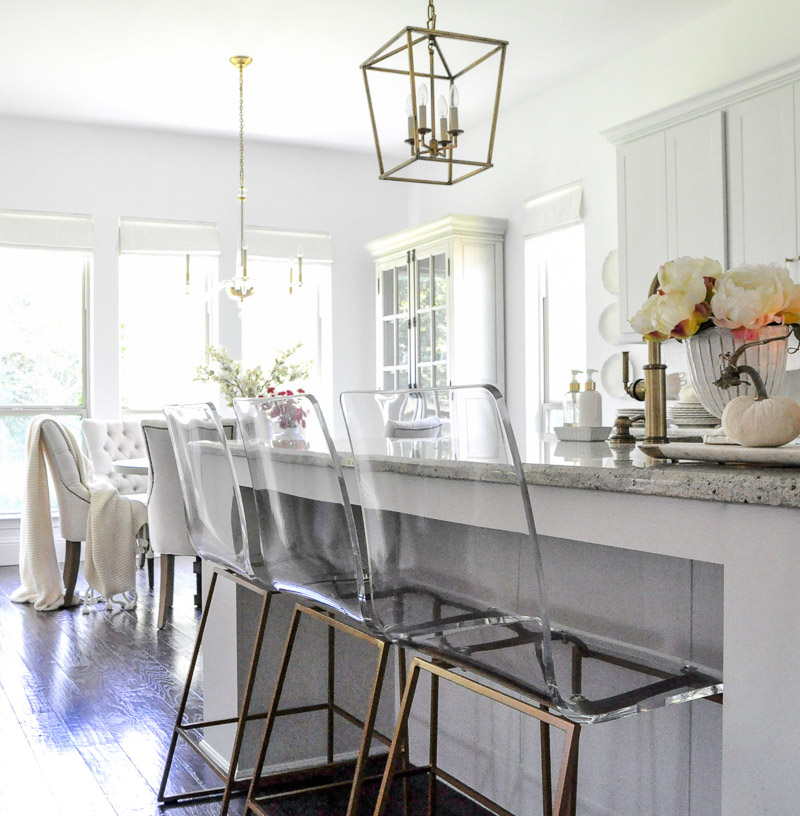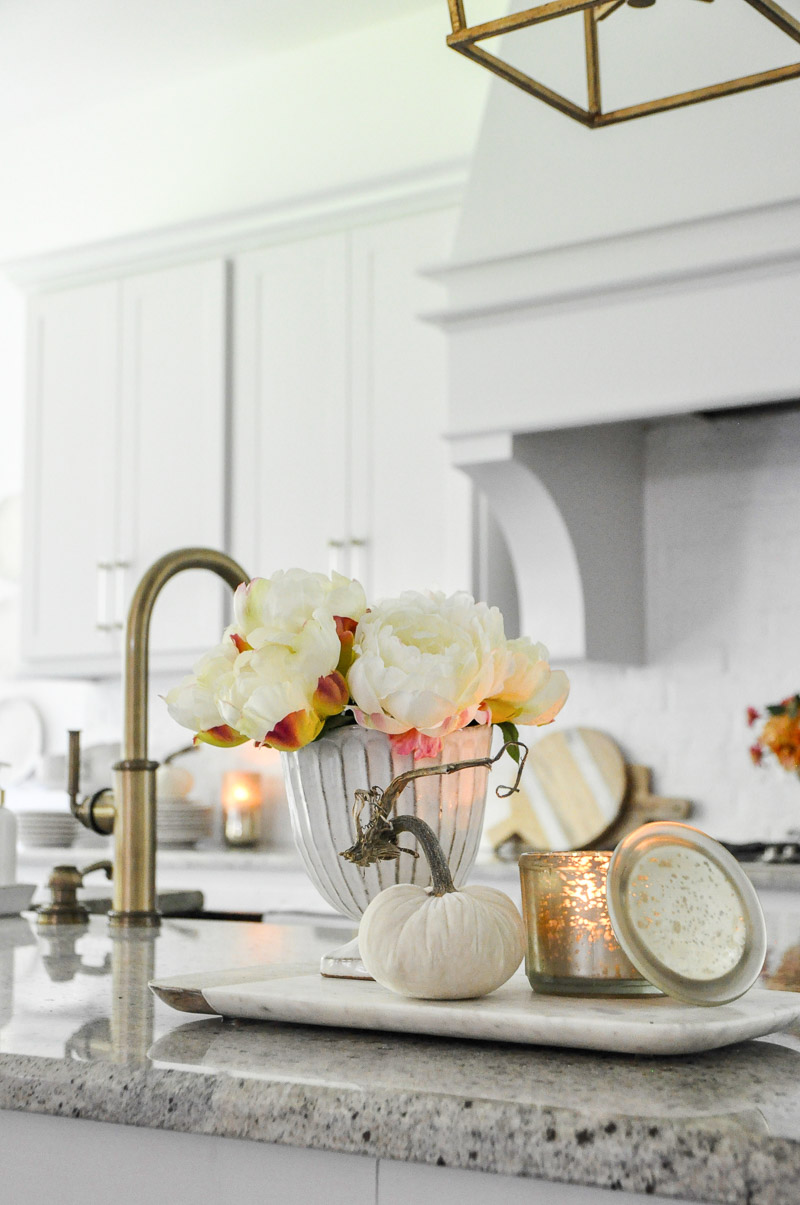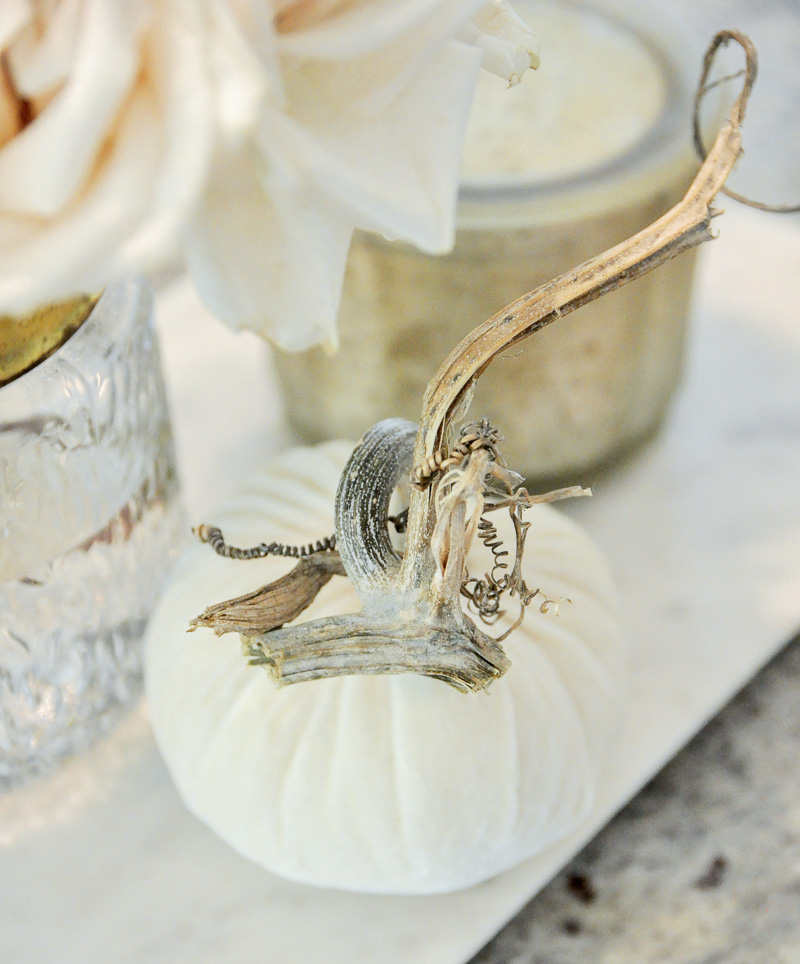 The upcoming holidays always inspire me to get my favorite dinnerware out. I can't wait to use them in our dining room when it is finished!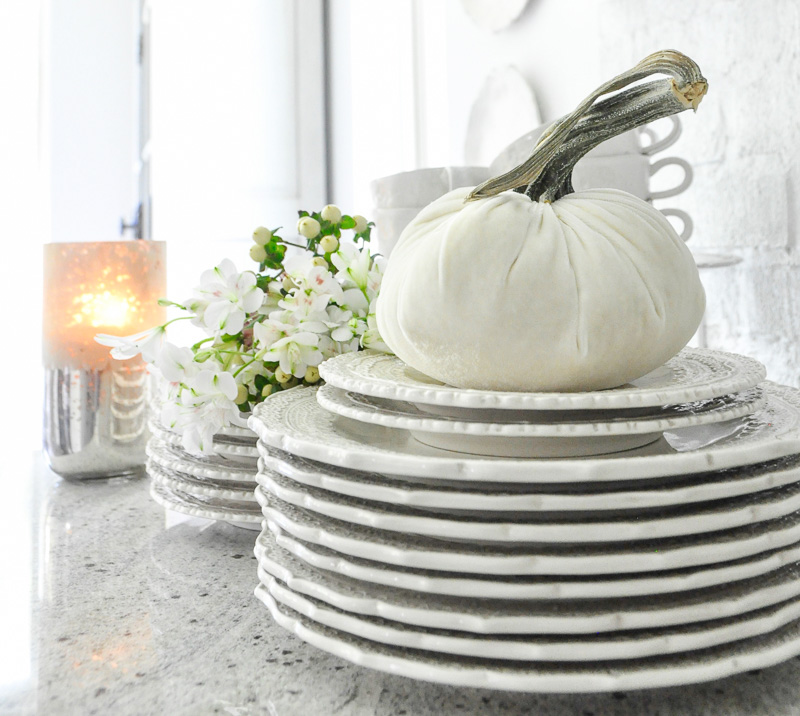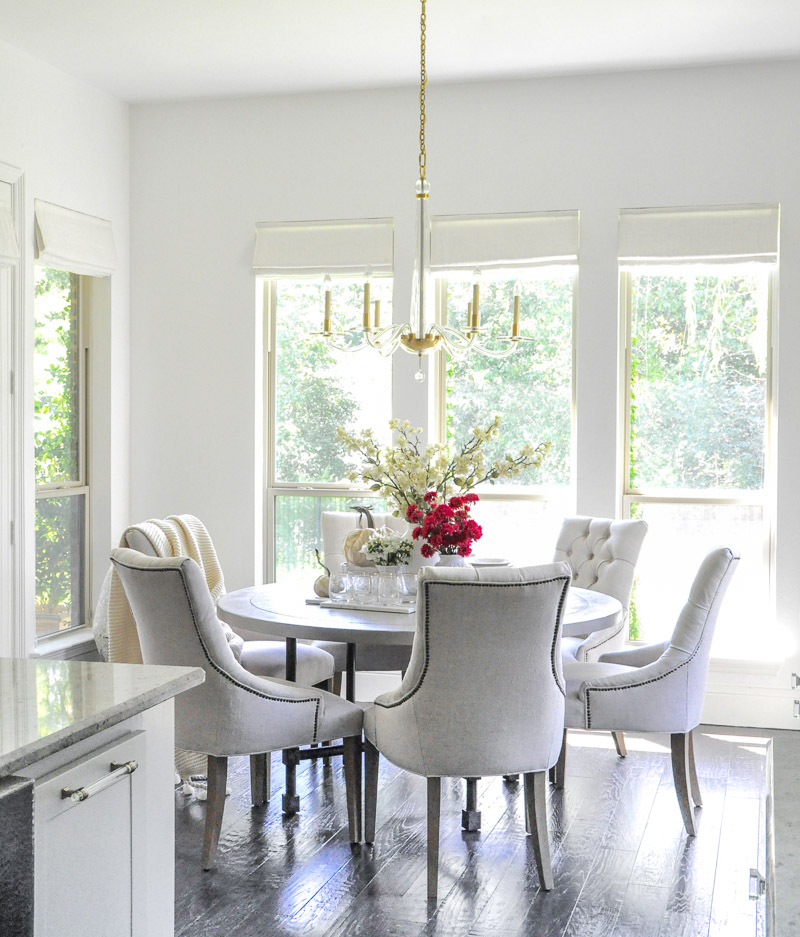 For my fall look on our breakfast table, I grouped some vases, dinnerware, and of course a couple of pumpkins. They are the specialty pumpkins I got last year.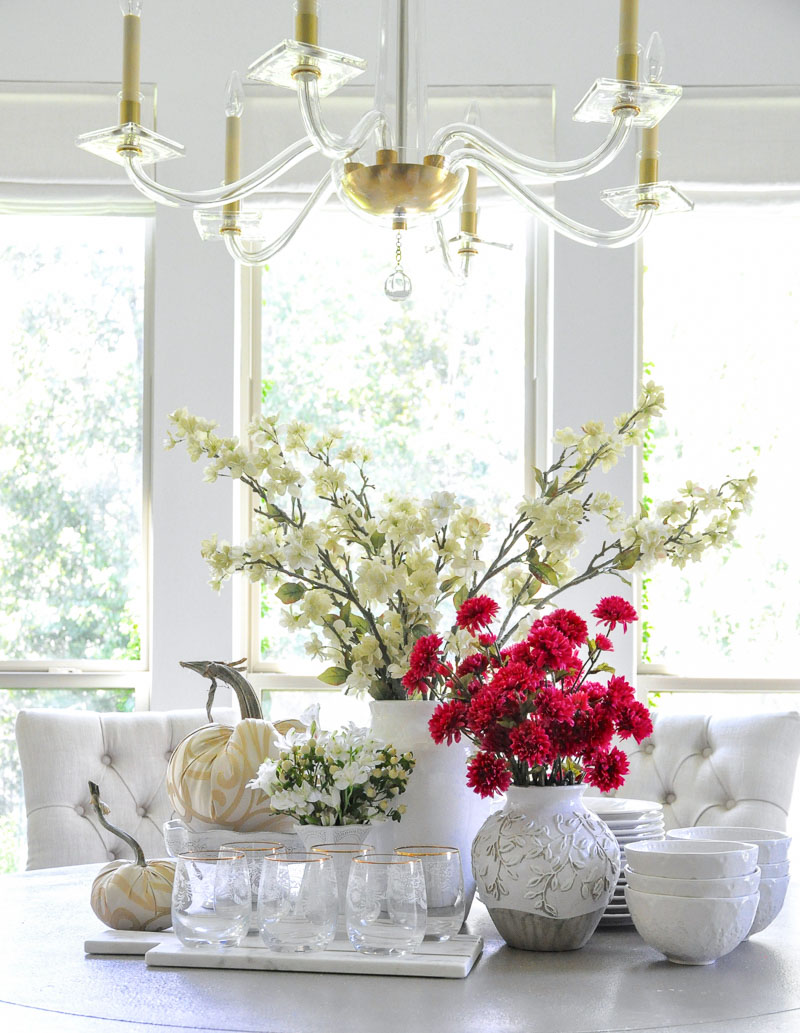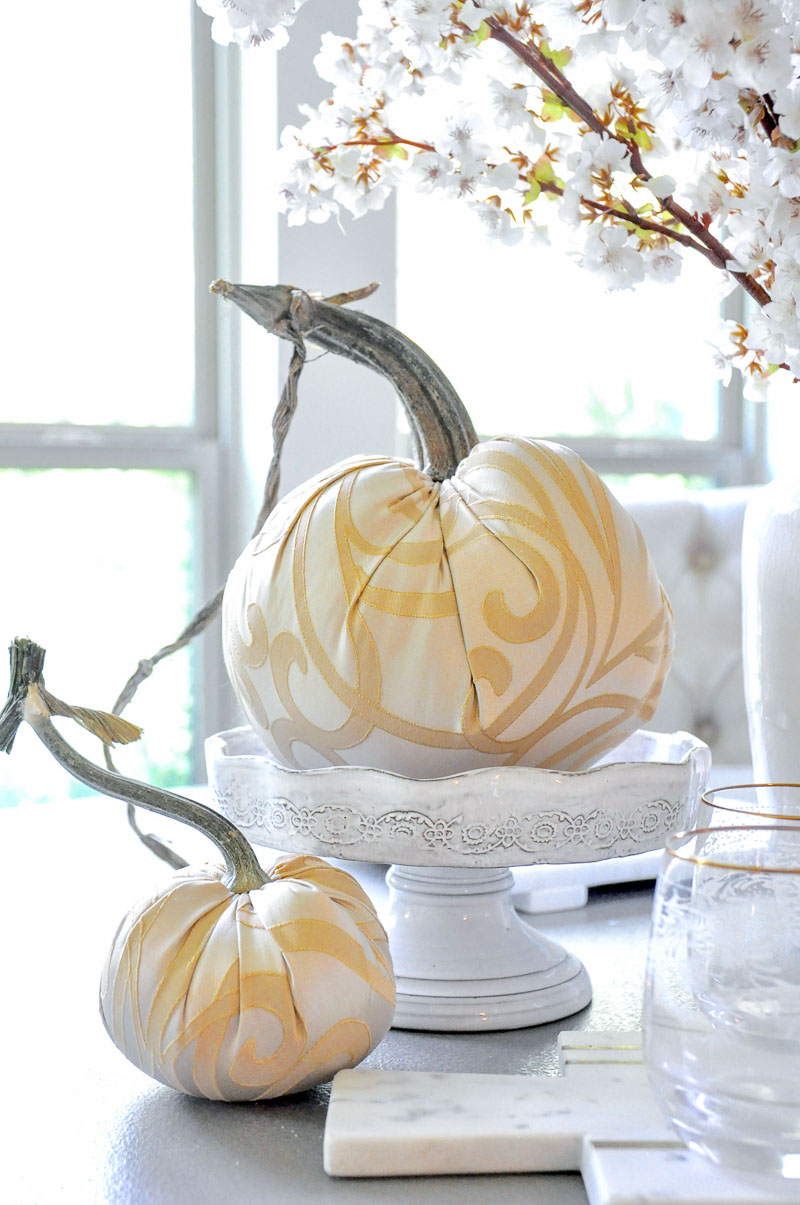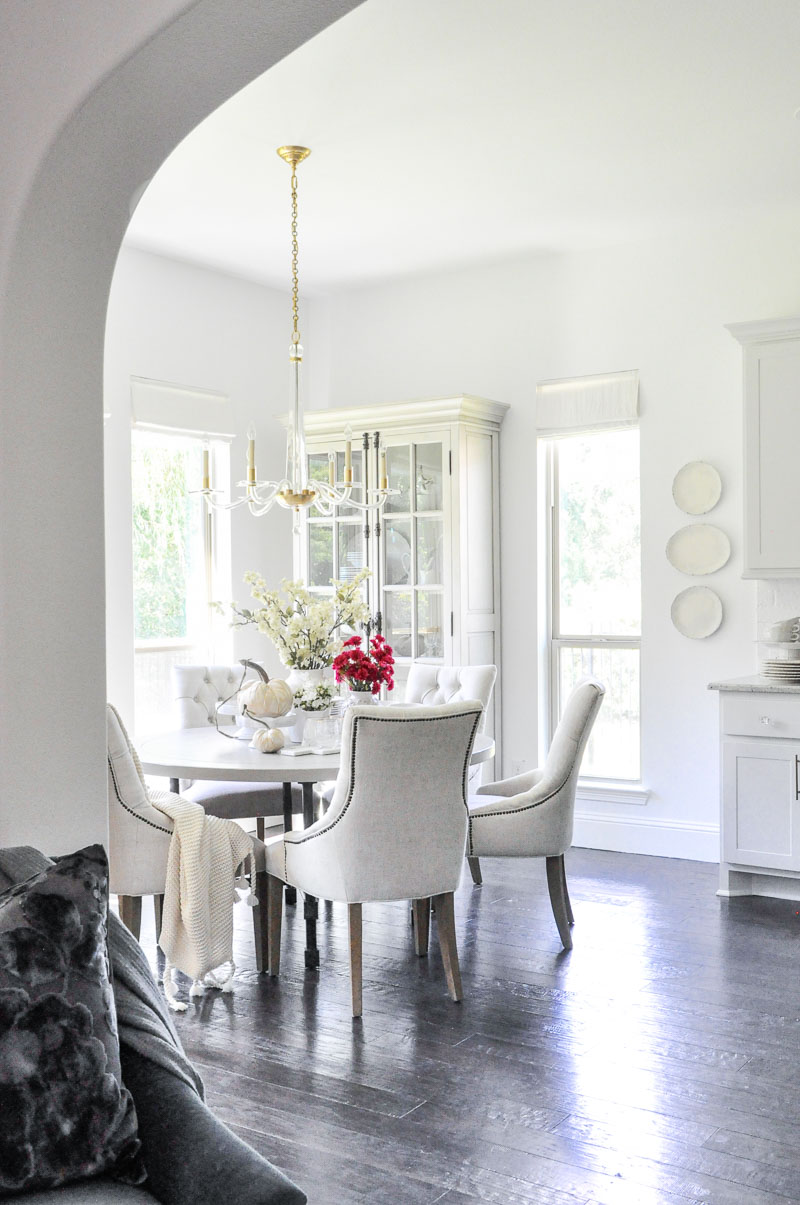 Fall Living Room
A neutral fall living room was my plan. I am so happy with the look!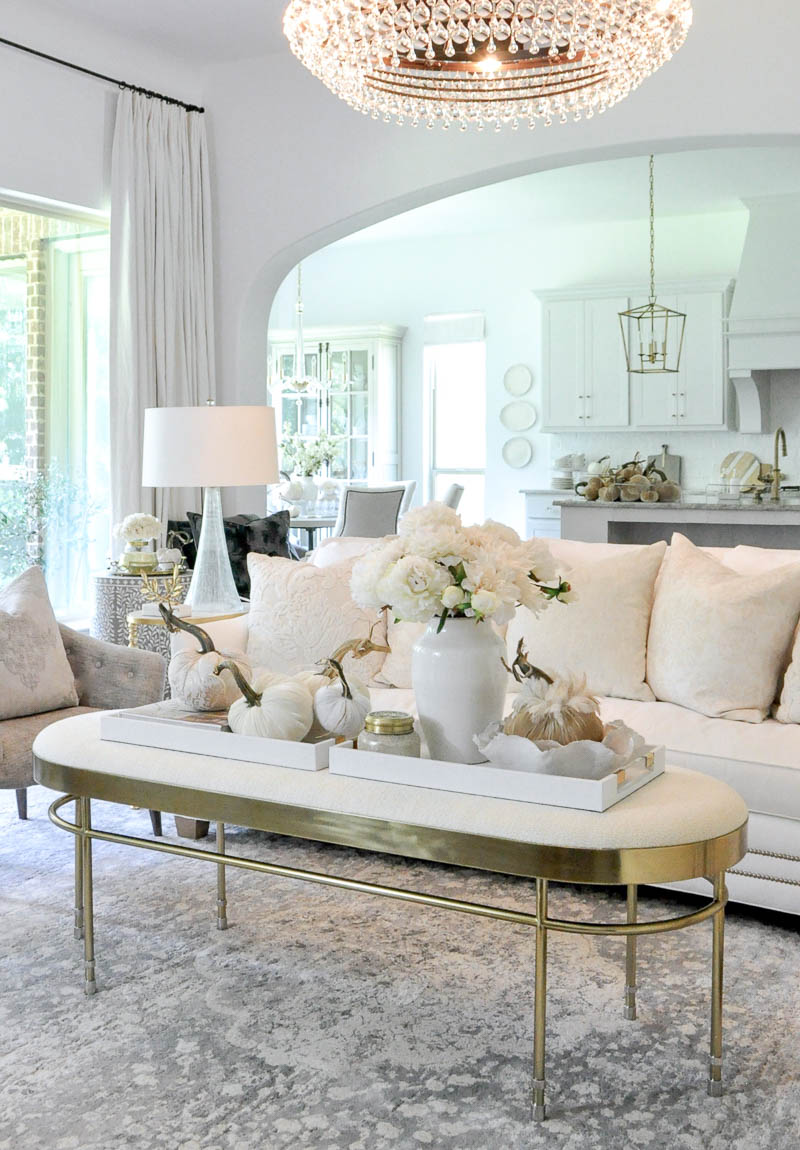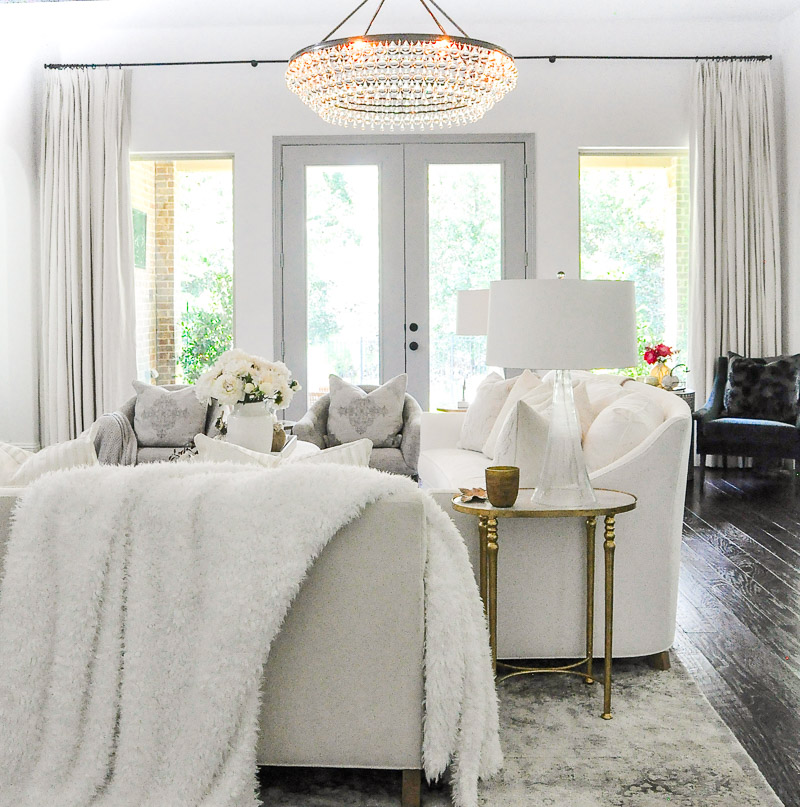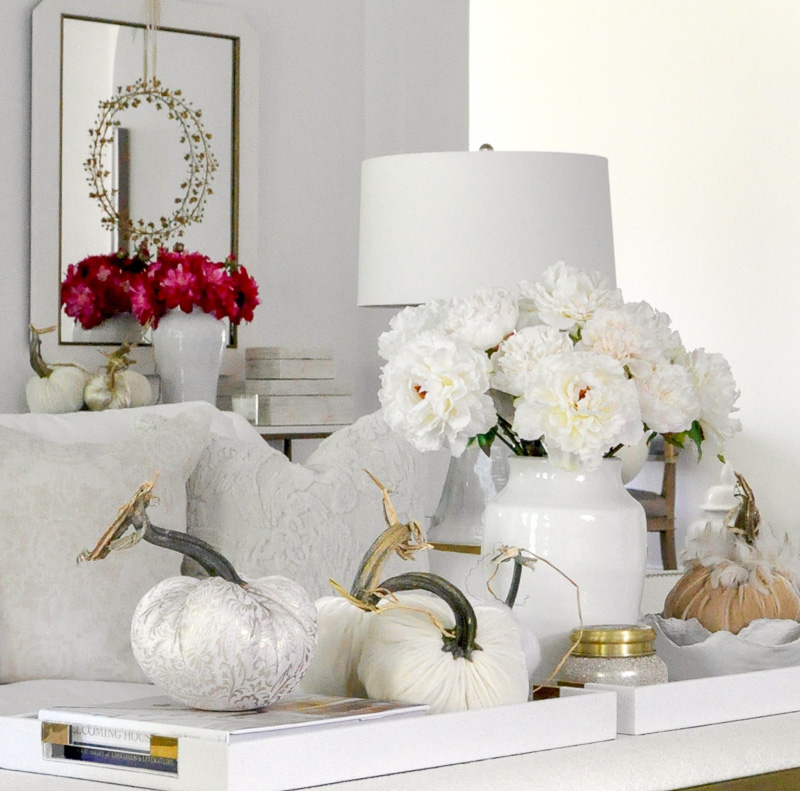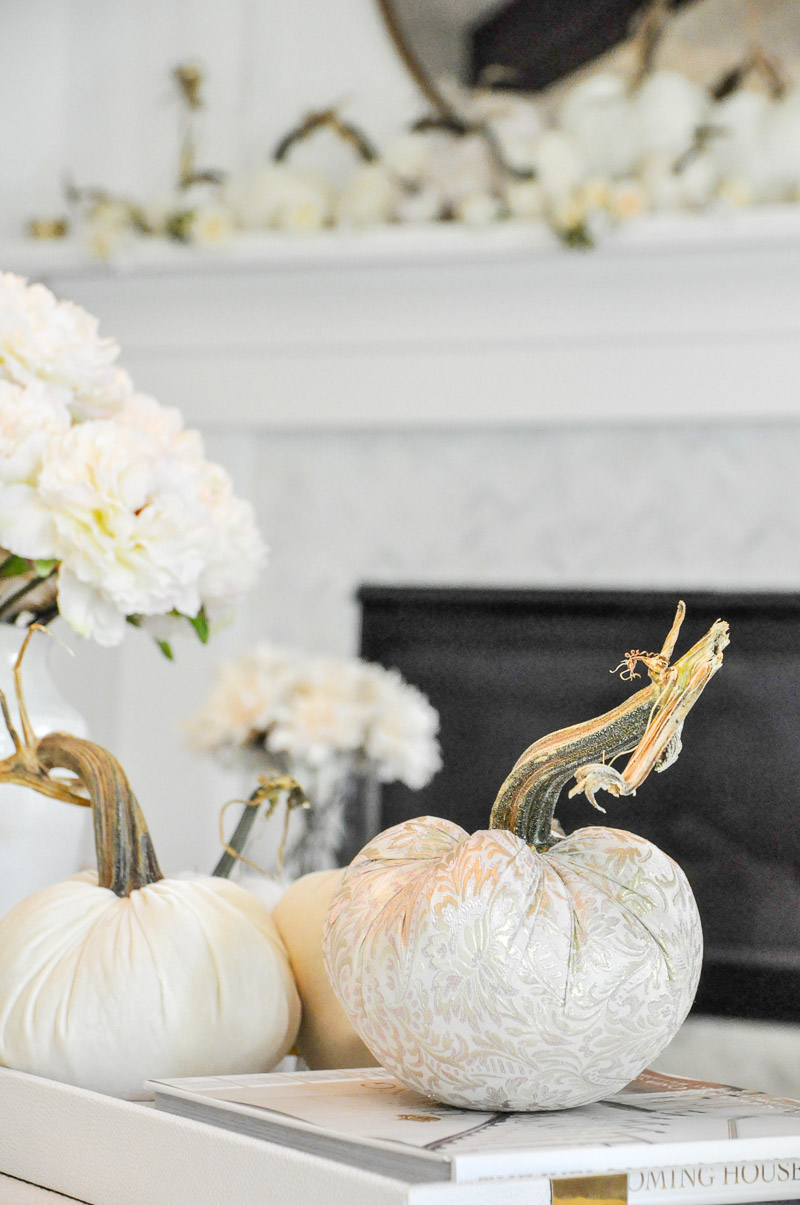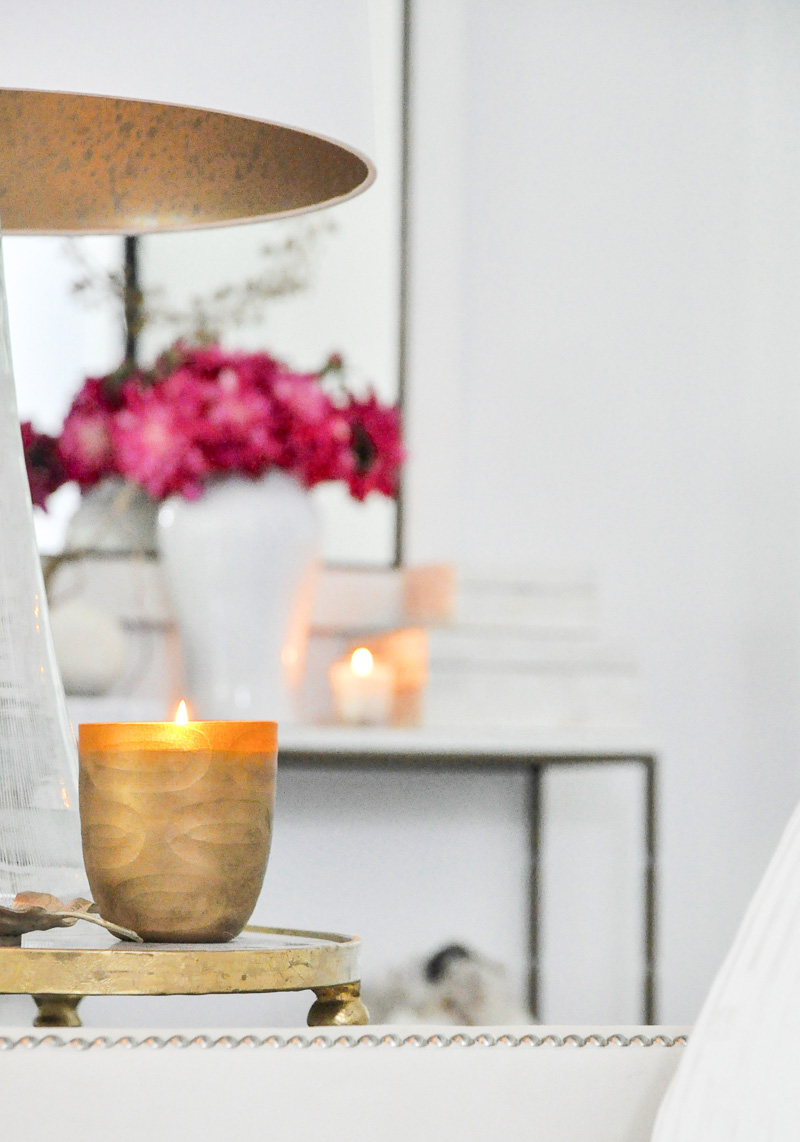 Our new fireplace surround was fun to style for fall!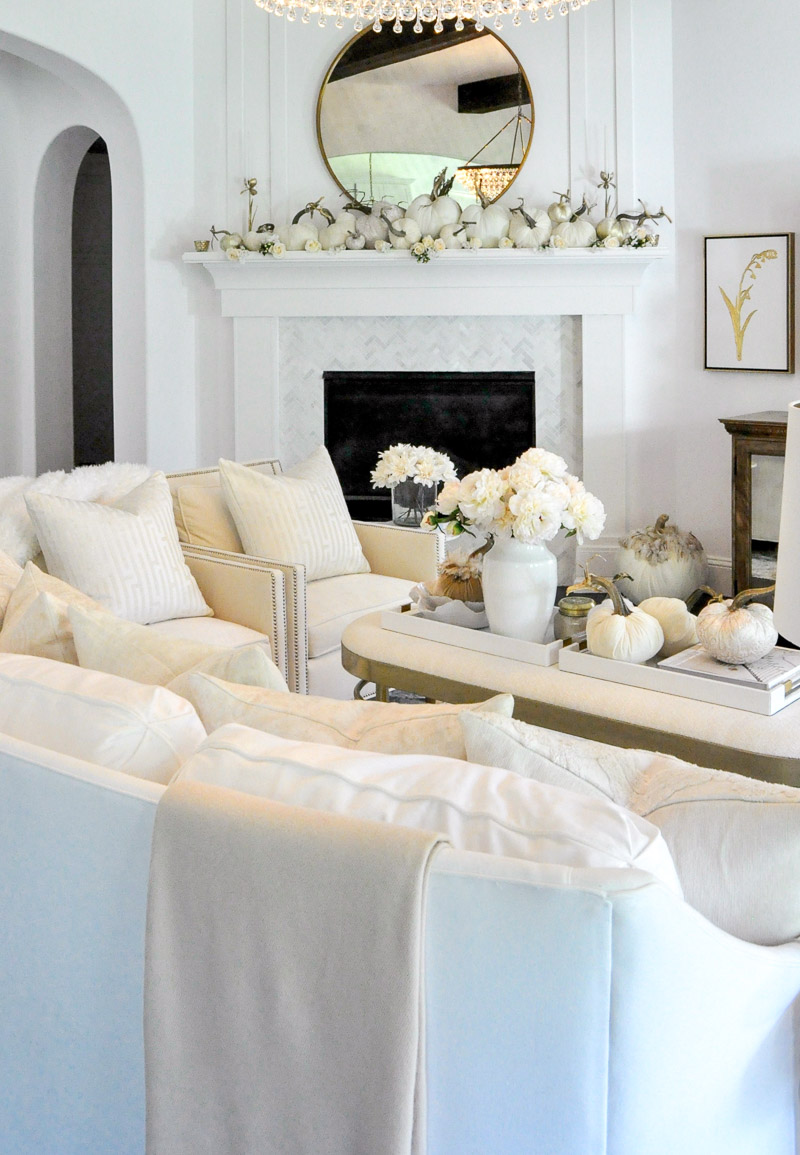 The gorgeous white pumpkins you see on my mantel are part of the Decor Gold Collection! The cascading pile is an easy look to achieve, just remember to start with your larger pumpkins. More pumpkin styling ideas can be found here.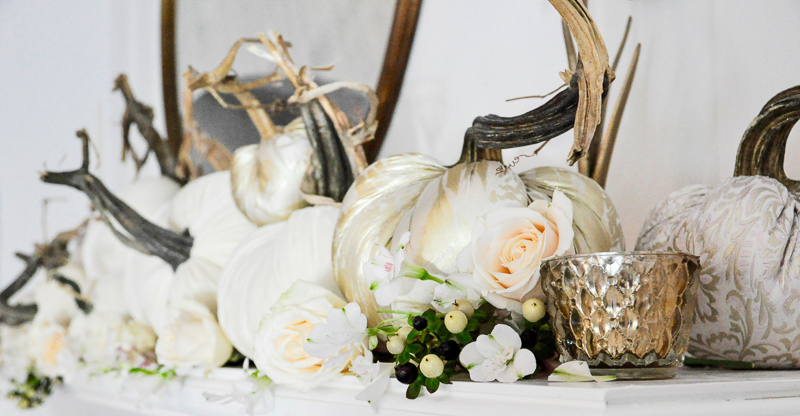 See the extra large one on my floor? The size is called "luca" and it works especially well if you have a spot on your floor to fill.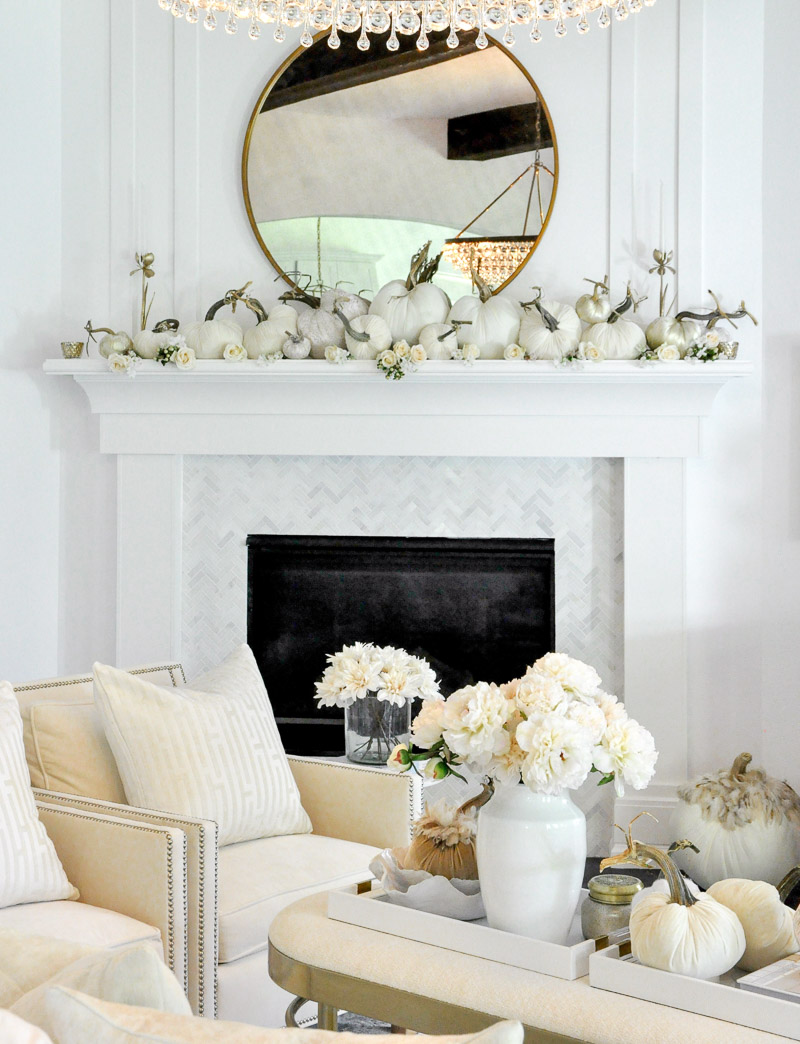 Fall Bedroom
I couldn't resist adding my favorite blush oversized throw blanket and including some blush velvet pumpkins to our guest room.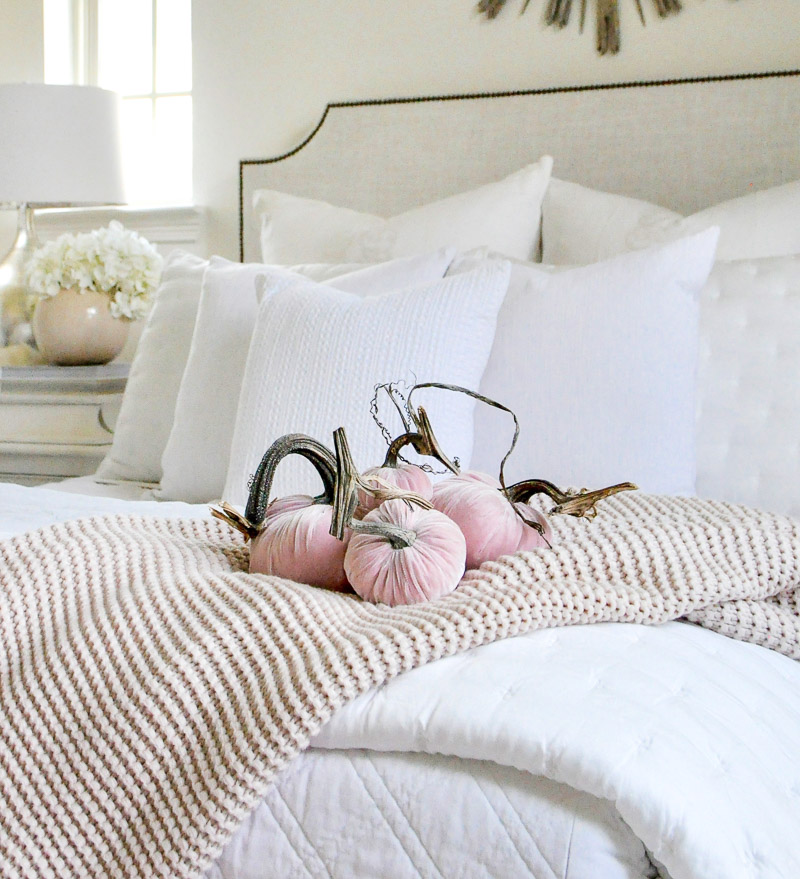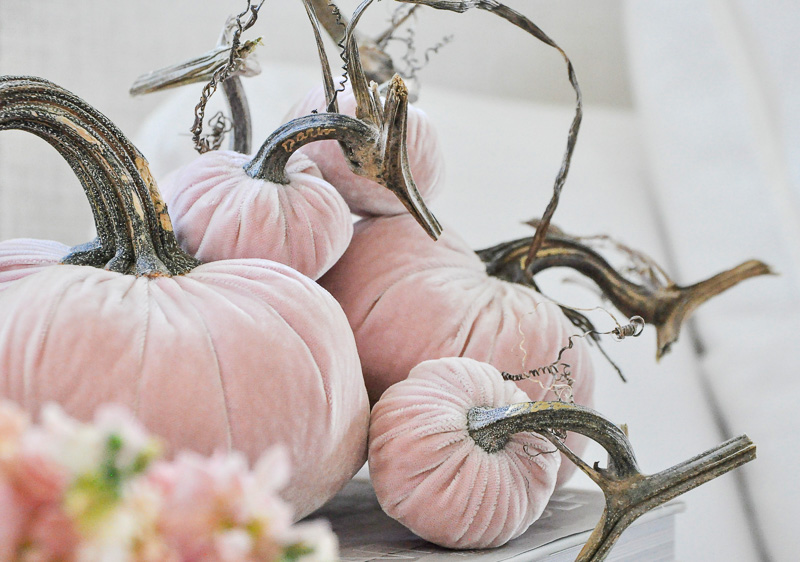 More of this and our other bedrooms coming soon!
I hope you enjoyed my fall tour! If you would like to see more, I'd love for you to subscribe to Decor Gold Designs.
Just after the source list, you'll find links to four extremely talented home decor bloggers. They all have gorgeous homes and amazing taste in fall decor! Don't miss their home tours linked below!
Happy Fall!!!

Next, please visit Life on Virginia Street! You will LOVE her home! Her seasonal tours are always fabulous!
All of the beautiful homes on our tour can be found here:
Randi Garrett Design | Lilypad Cottage | Decor Gold Designs | Life on Virginia Street | My Texas House

Stay connected…..
Click on the Image to Subscribe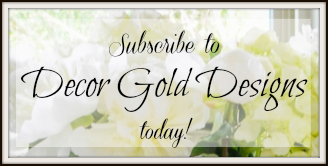 SOCIAL
Instagram | Pinterest | Facebook
Follow me on the LIKEtoKNOW.it app!