Fall is such a wonderful season. It's simply the best. Adding beautiful fall accents always brings me such joy. My fall home is now filled with shades of blue, yes blue, and I'm completely in love! The truth is, almost any color can be used for almost any season if done so tastefully.
Learning to add a new accent color from time to time is simple. You'll find that I like to add color using pillows, art, and seasonal decor. Take the tour, get ideas, and I hope you will be inspired to add a non-traditional color to your fall home!
*This post contains affiliate links. Disclosure here.
Fall Entryway
Last year, I styled my fall home with bright pops of color. This year, I wanted my fall look to be much more subtle. Starting with my entryway, I arranged beautiful velvet pumpkins in a color called "lake" on my bench. The pumpkins are Hotskwash by Daria pumpkins. Each was handmade in Oregon and finished with a beautiful natural stem.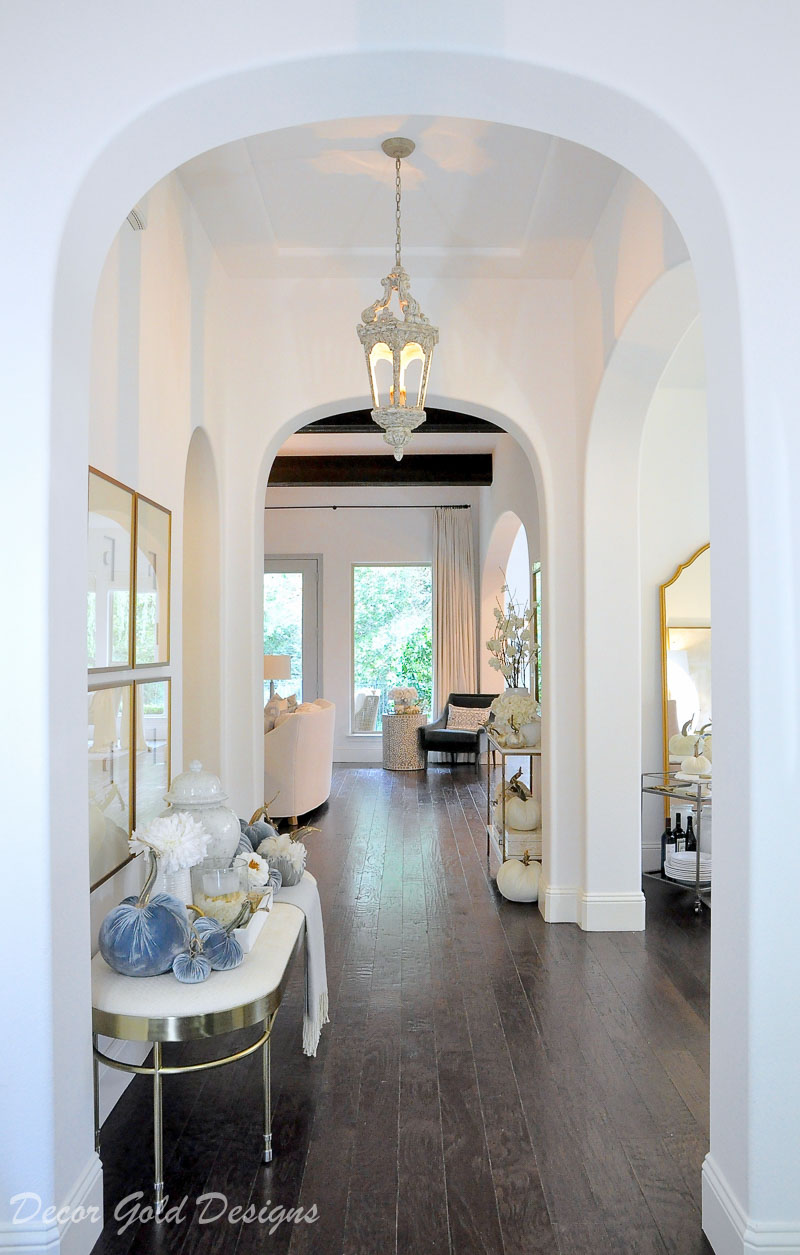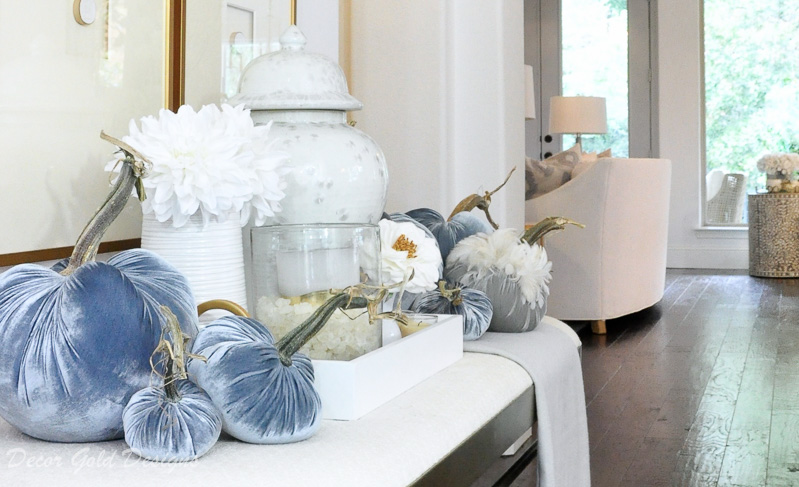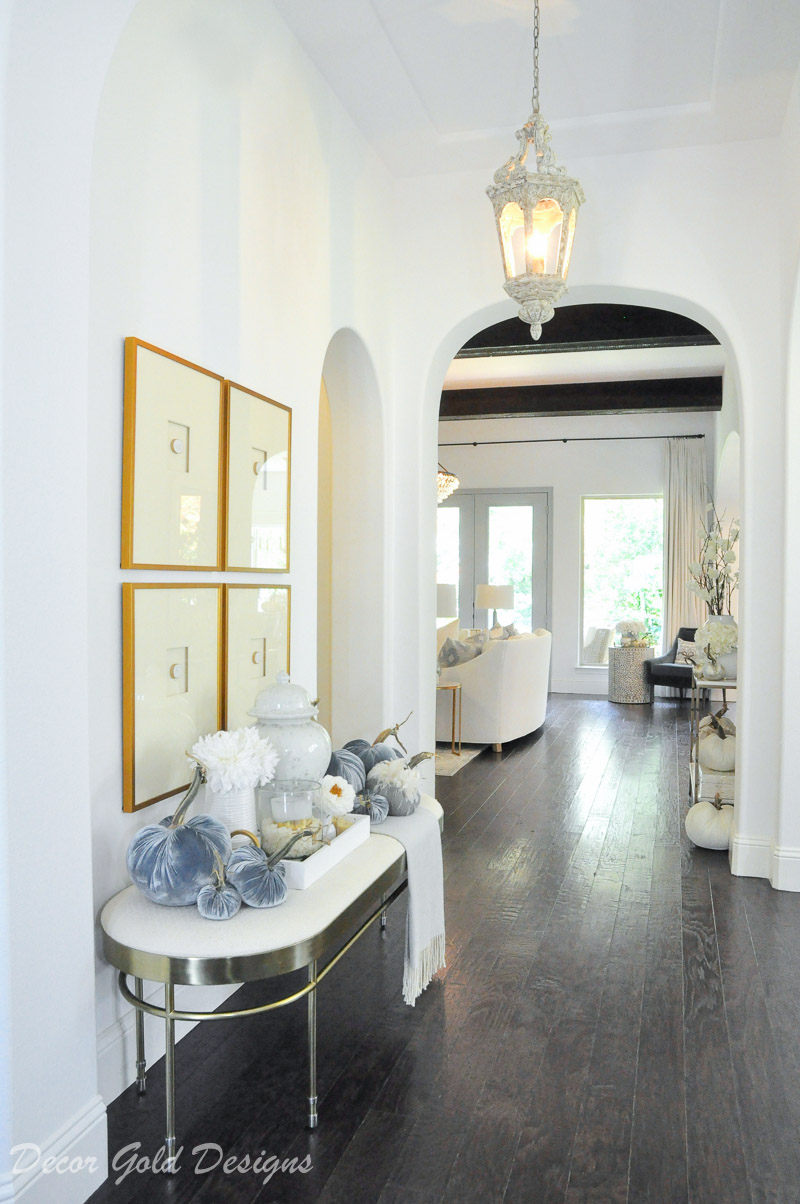 Along with pumpkins, I styled this spot with a temple jar for height, white vases, faux flowers, and candles. The votives I included have an amazing scent and compliment the white and gold backdrop of my home decor. My hurricane is filled with (similar) scented crystals and makes a pretty accessory for fall and beyond.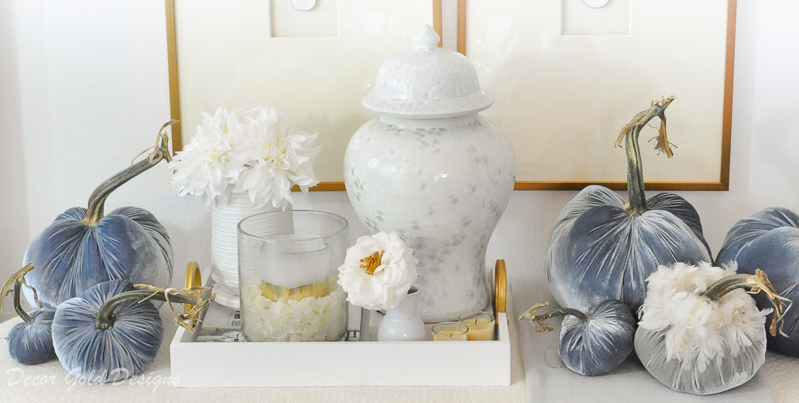 This part of my home is open to my living room. I chose to use timeless ivory pumpkins to style my console table. Ivory is my go-to color every year and coordinates with all of the other colors I use.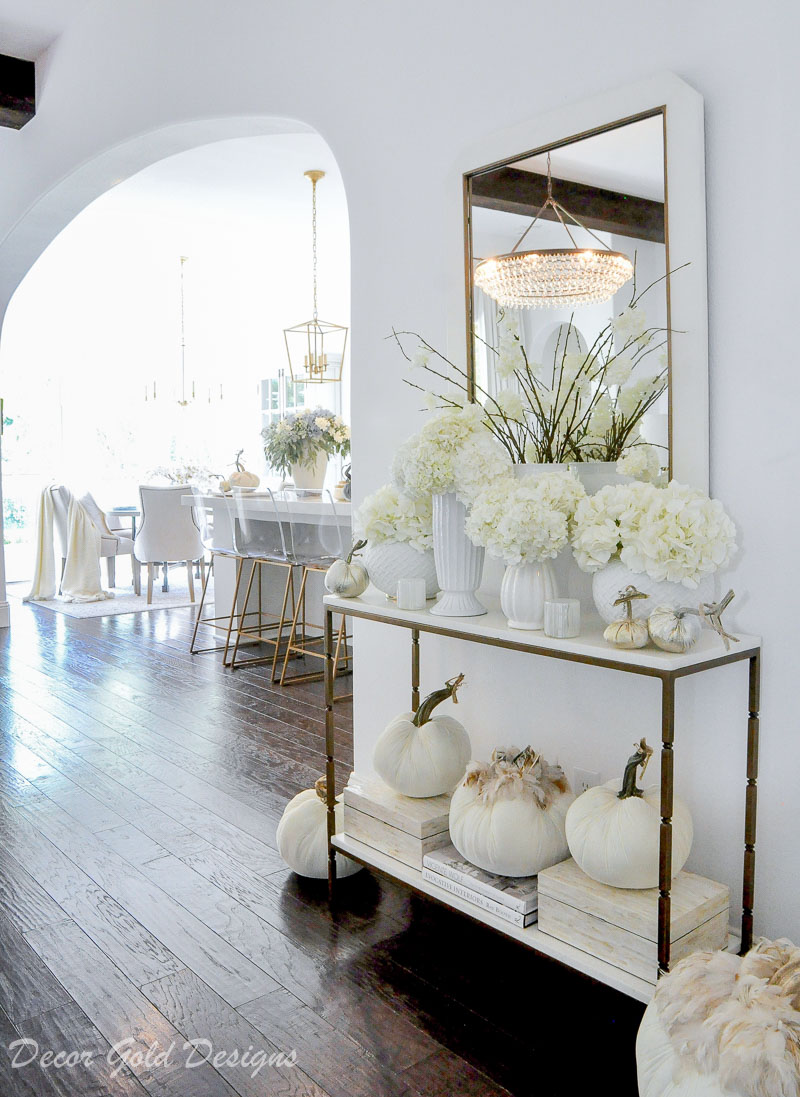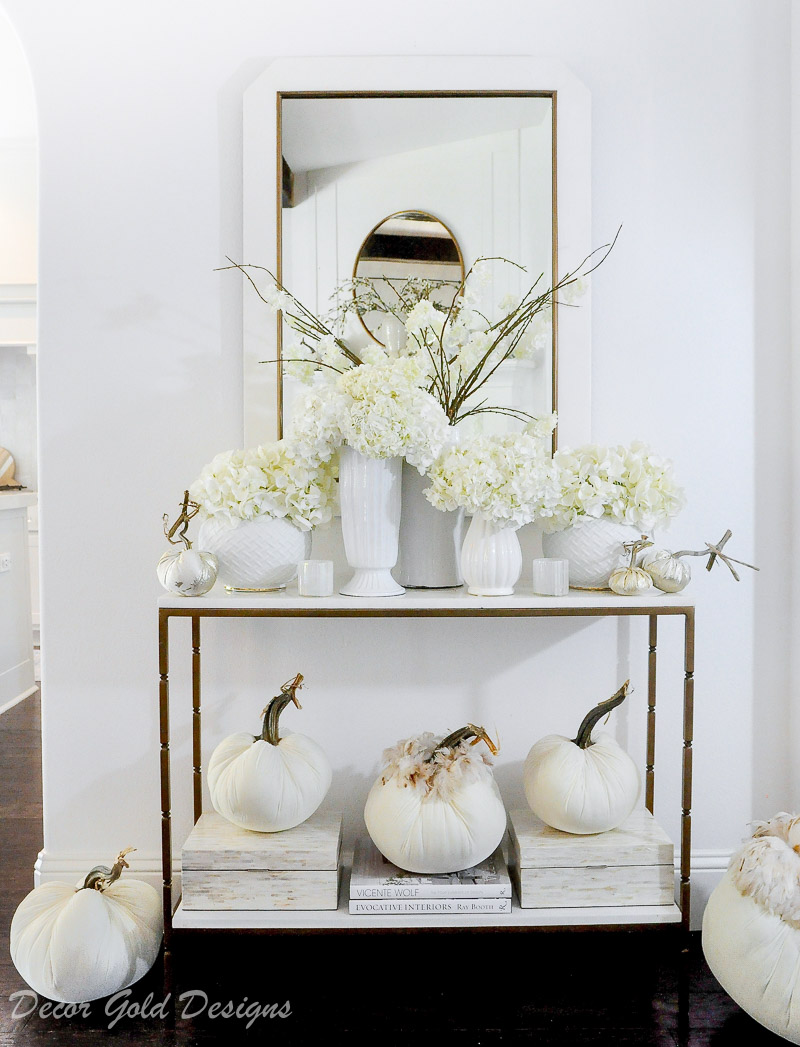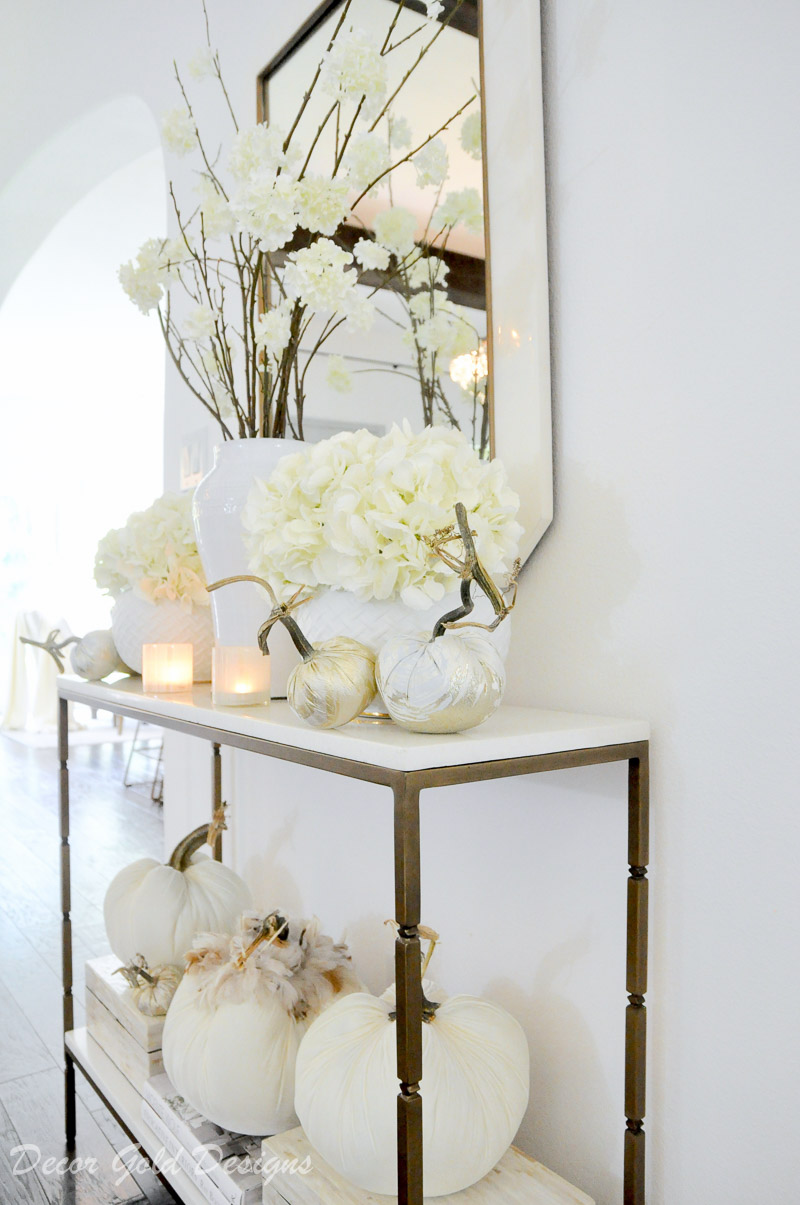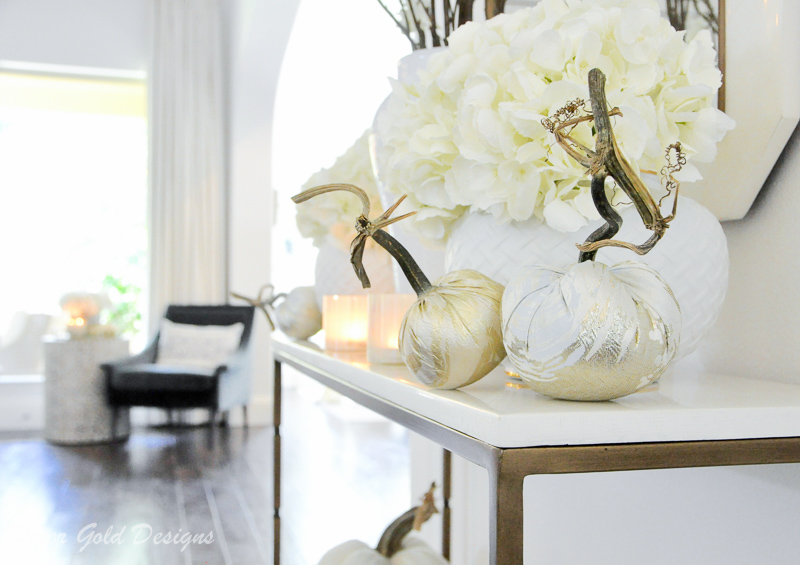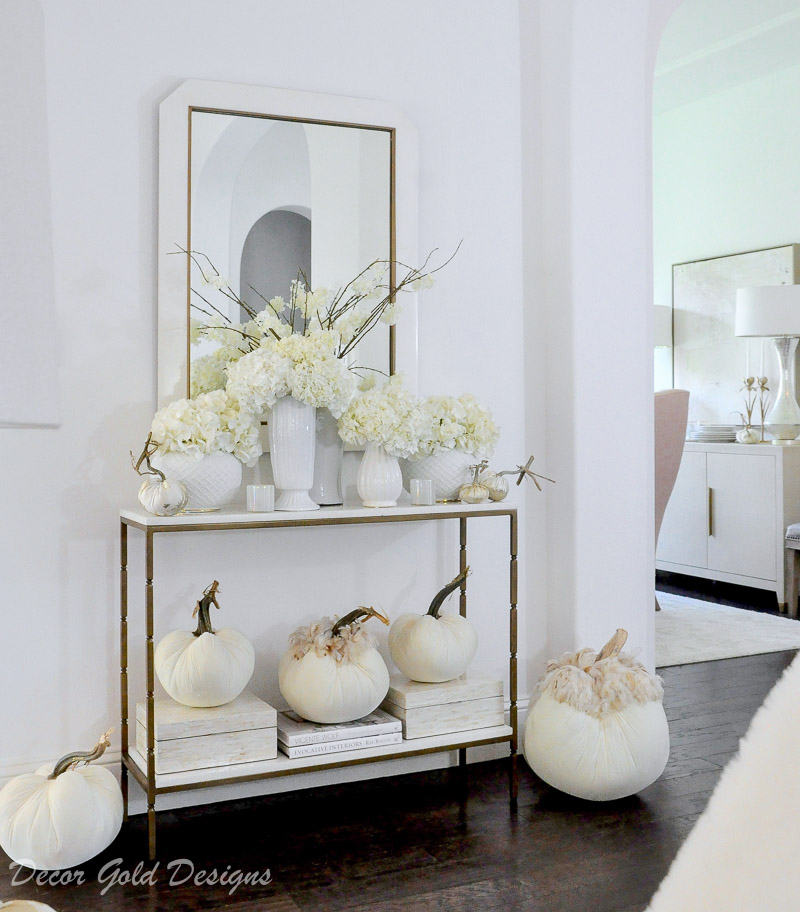 Ava's favorite chair is at the end of my entryway. Next to it, is this round table. This is always a fun place to add a bit of seasonal decor.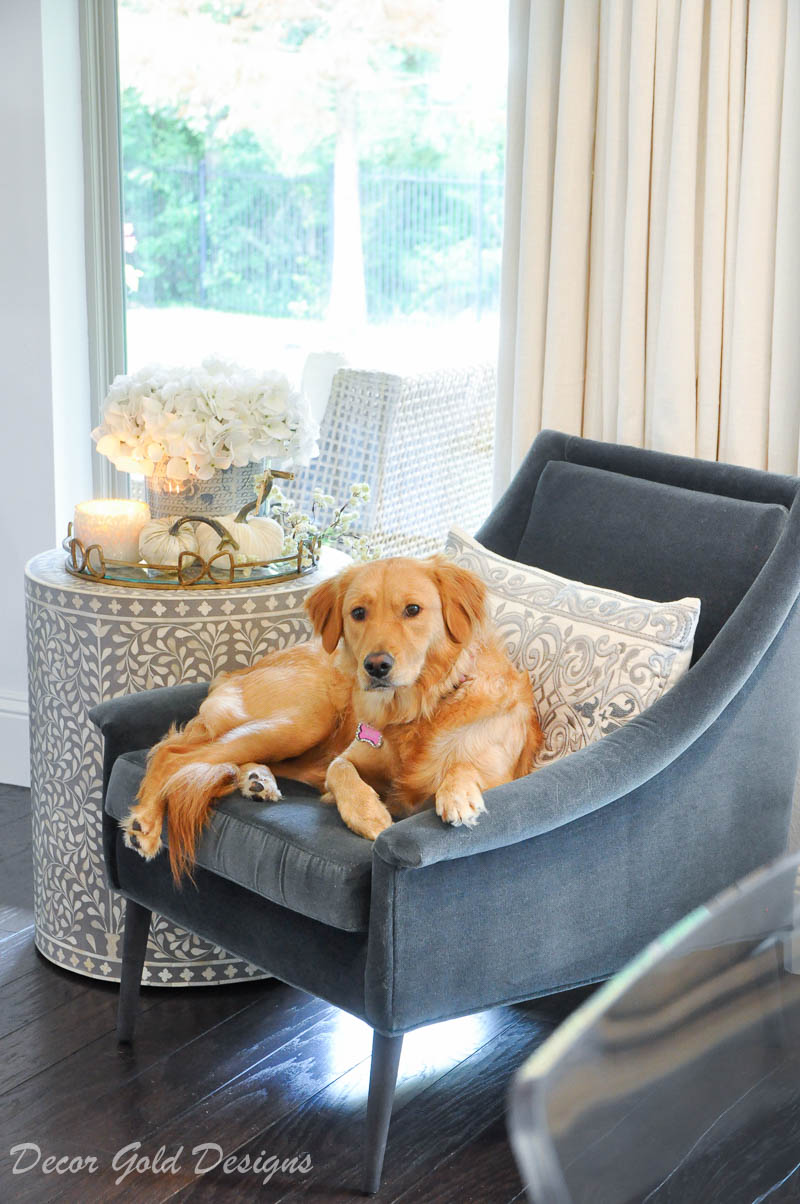 A new candle in a beautiful white jar and a couple of pumpkins gave my favorite blue and white planter a fall look.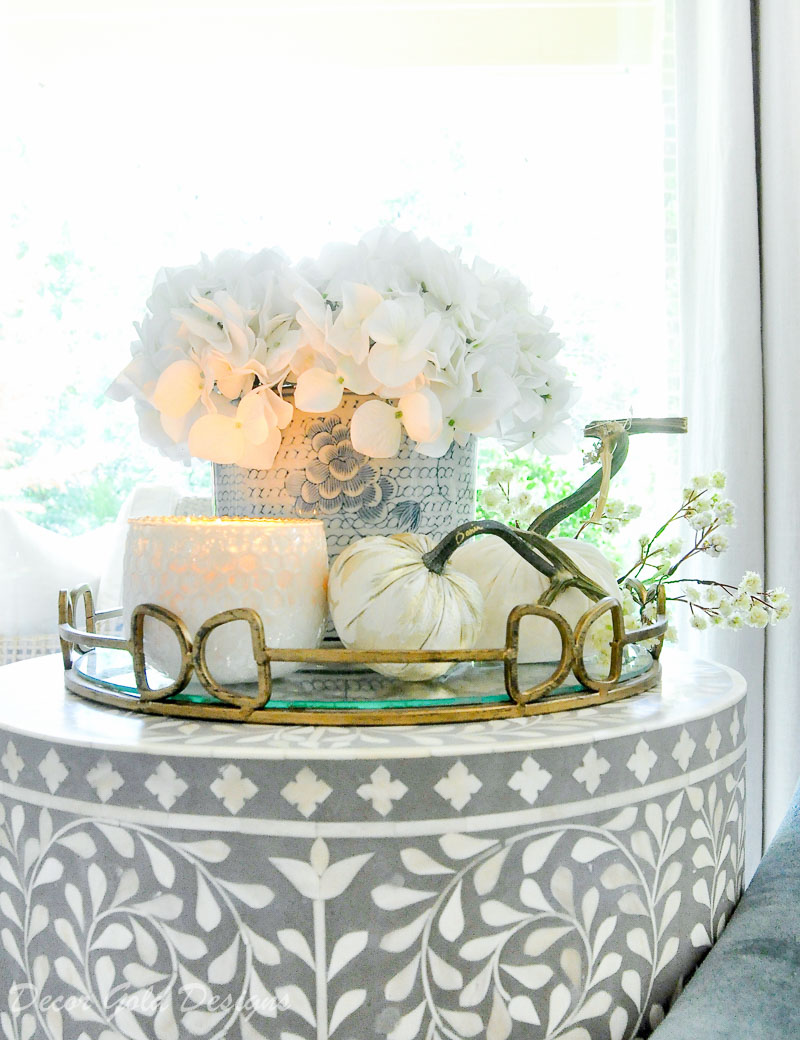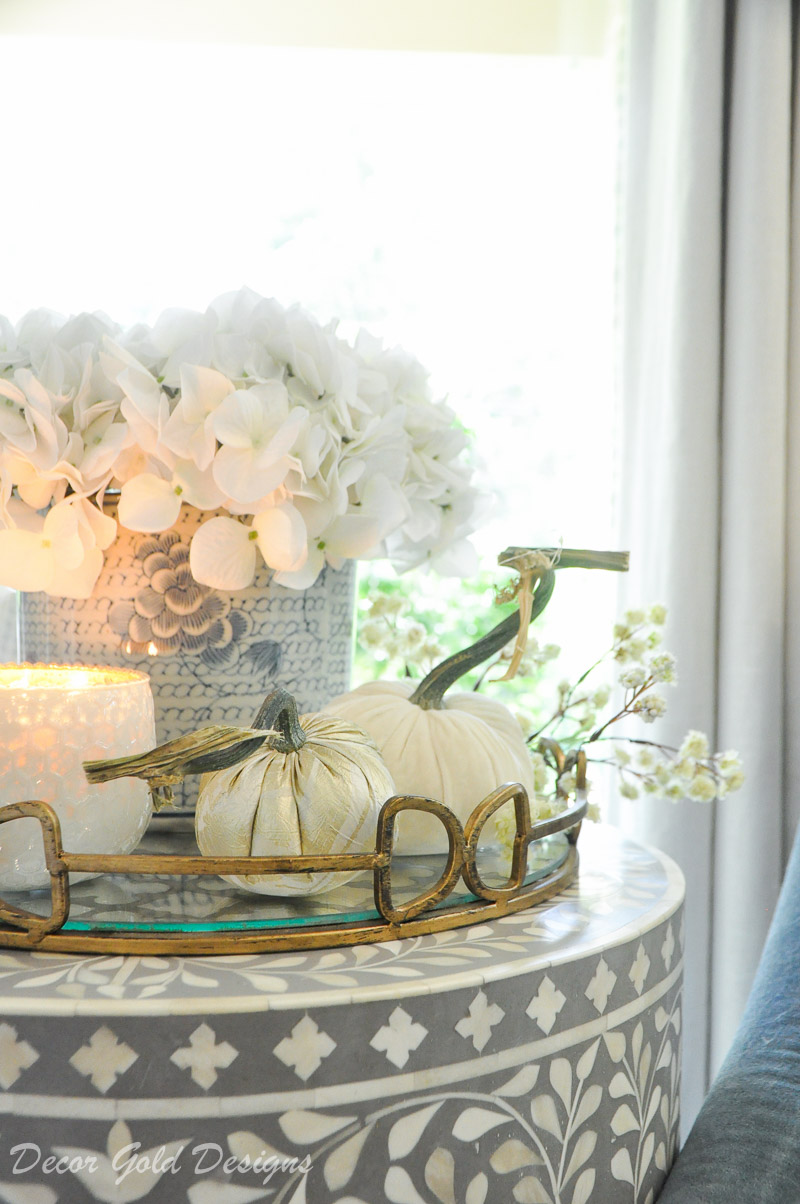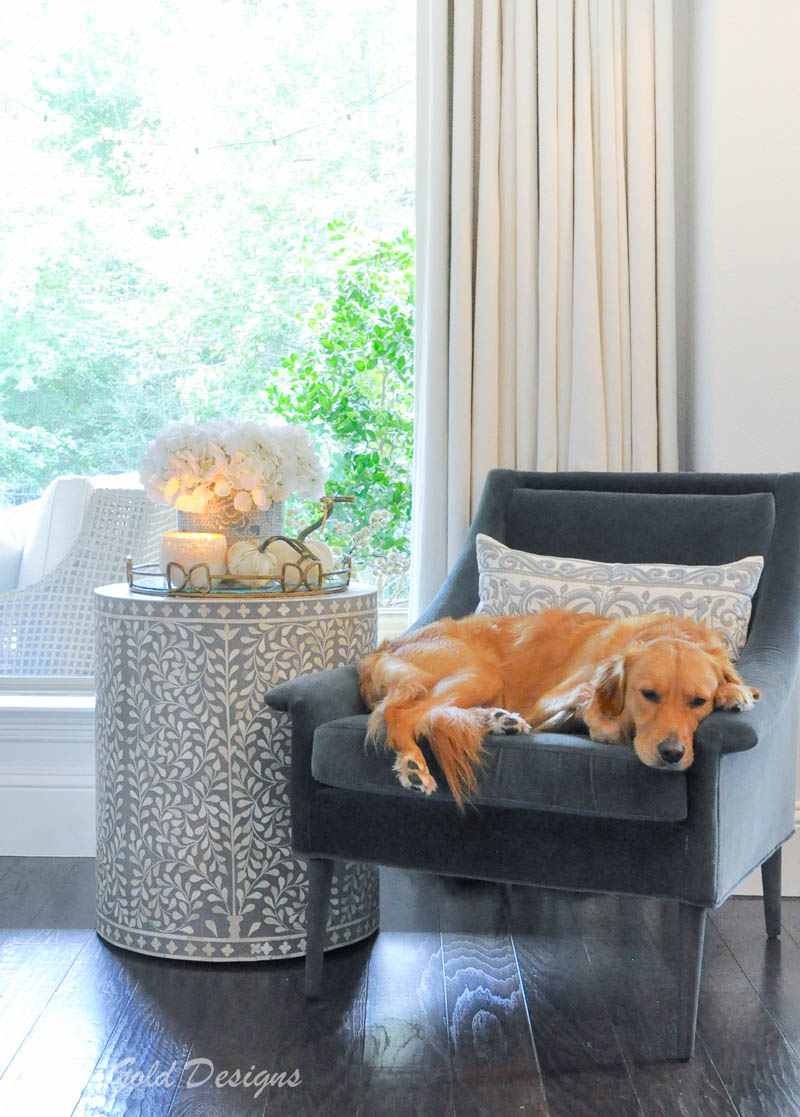 Fall Living Room
Onto the living room! This is such a fun room to decorate each season.
I found pillows in a soft blue shade and added them to my sofas. Switching out pillows is a great way to give your living room an updated look.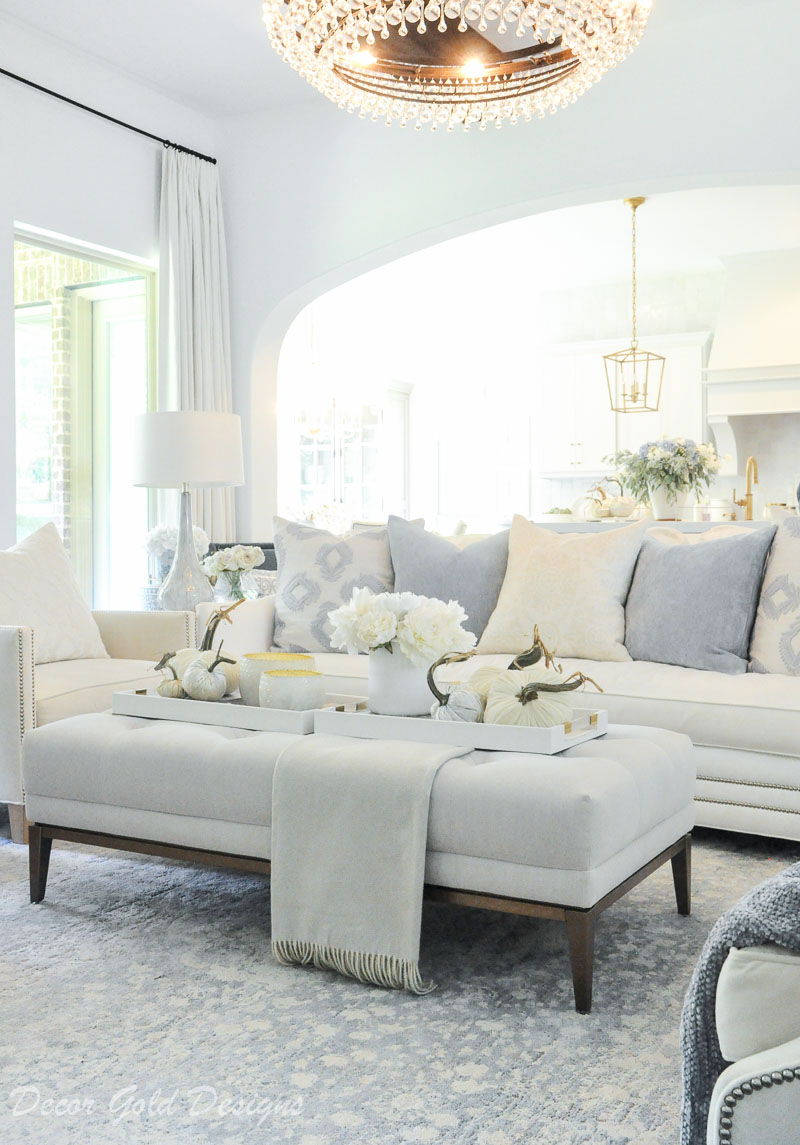 Throw blankets add warmth and coziness. Candles do the same, so I stocked up on both.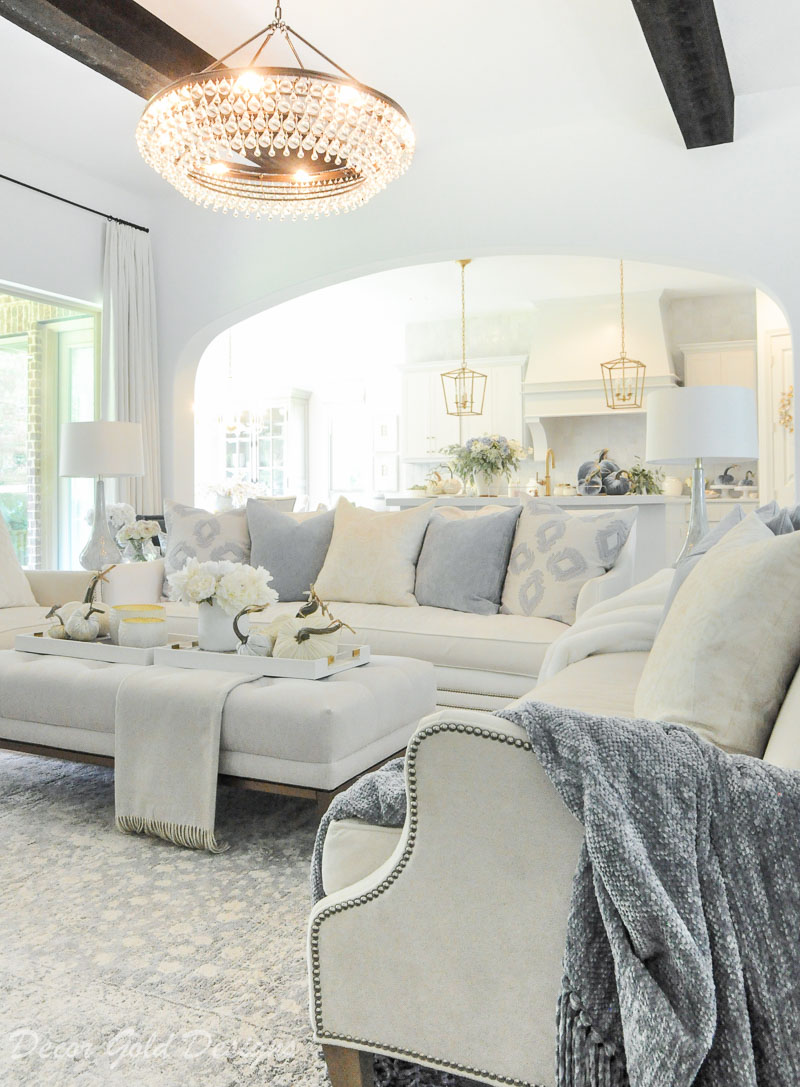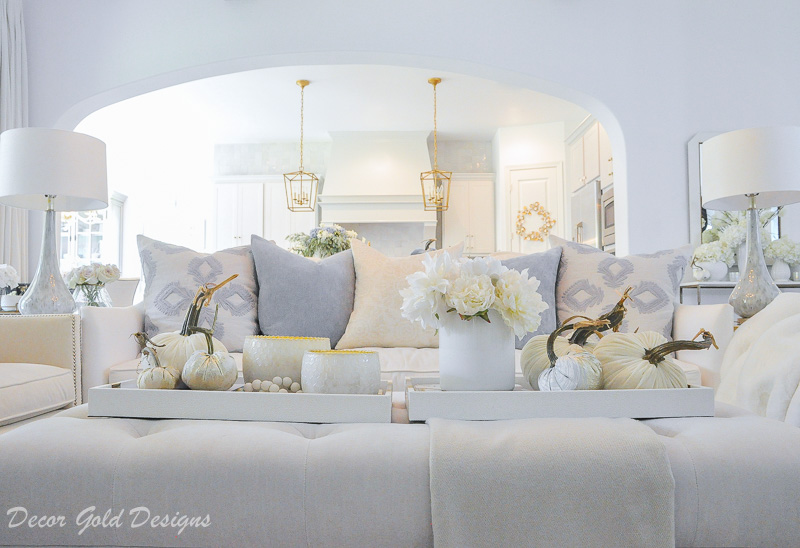 Ivory velvet pumpkins and beautiful specialty pumpkins create pretty fall vignettes. I love this look for an ottoman or coffee table.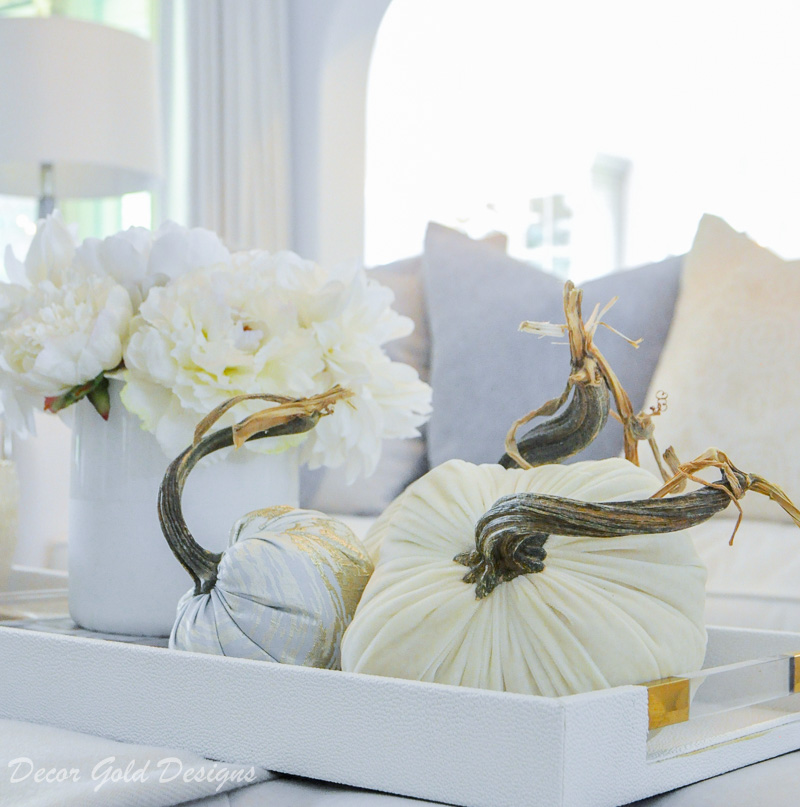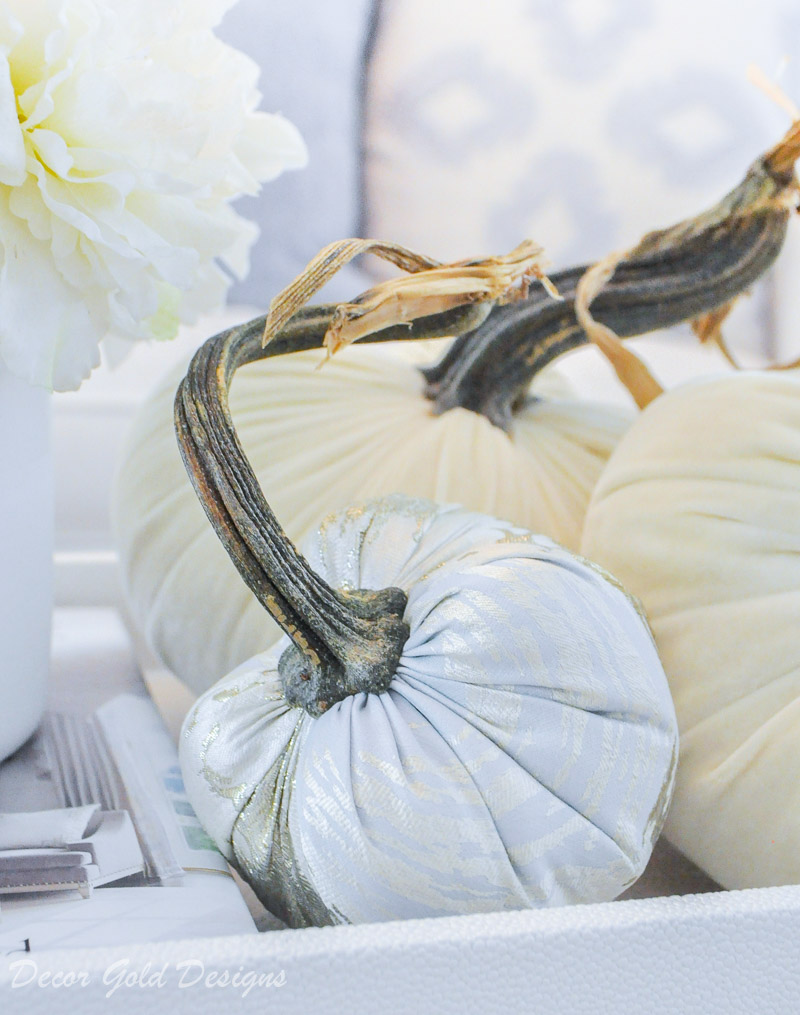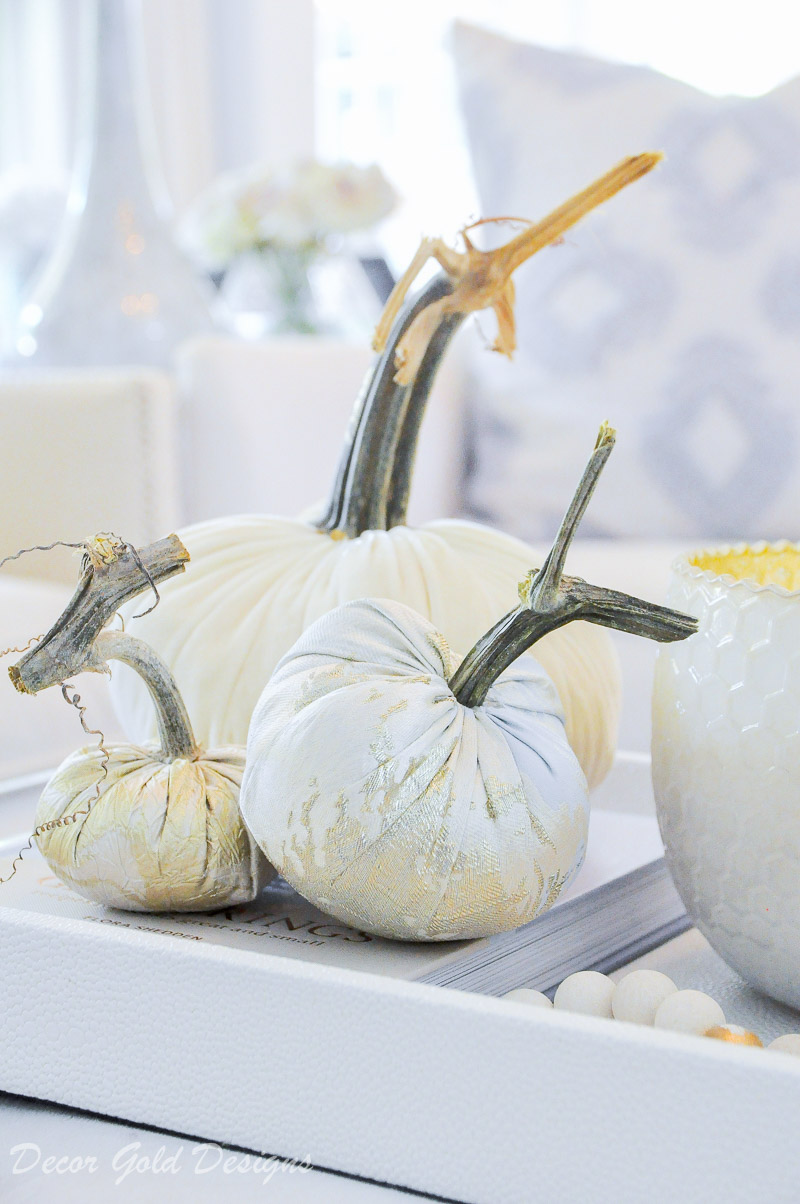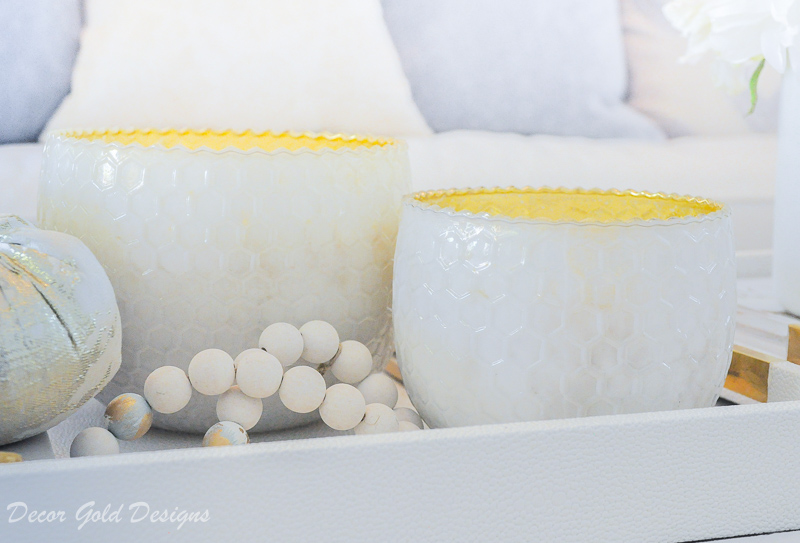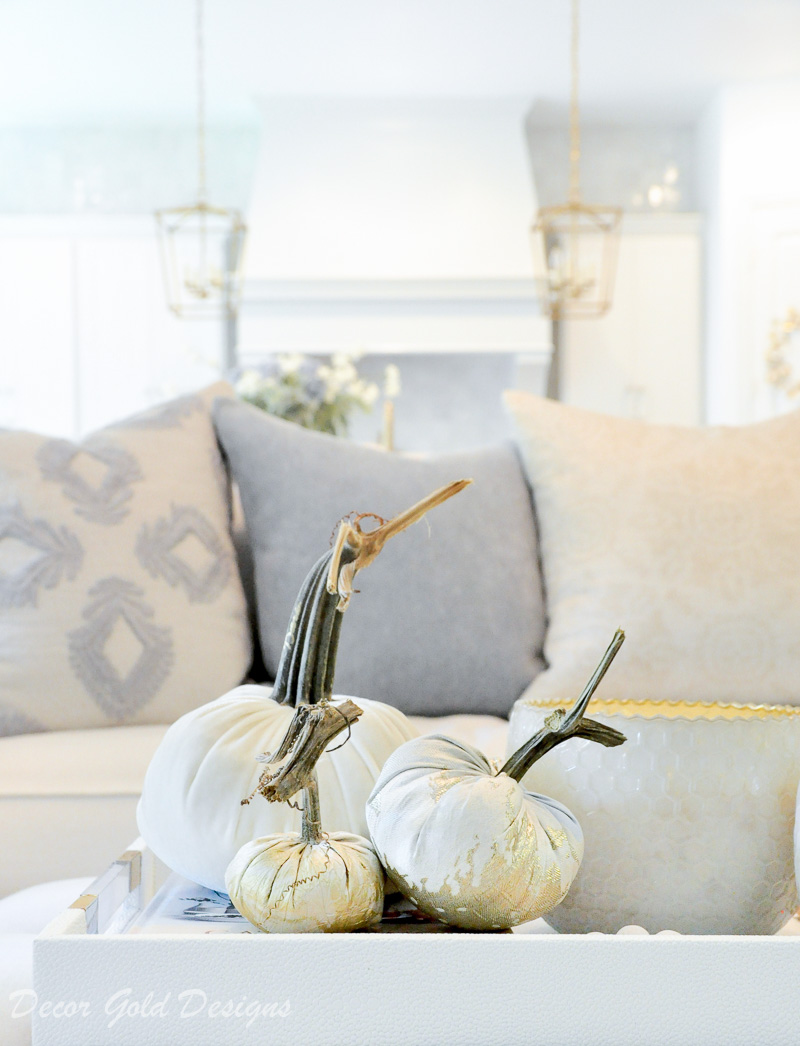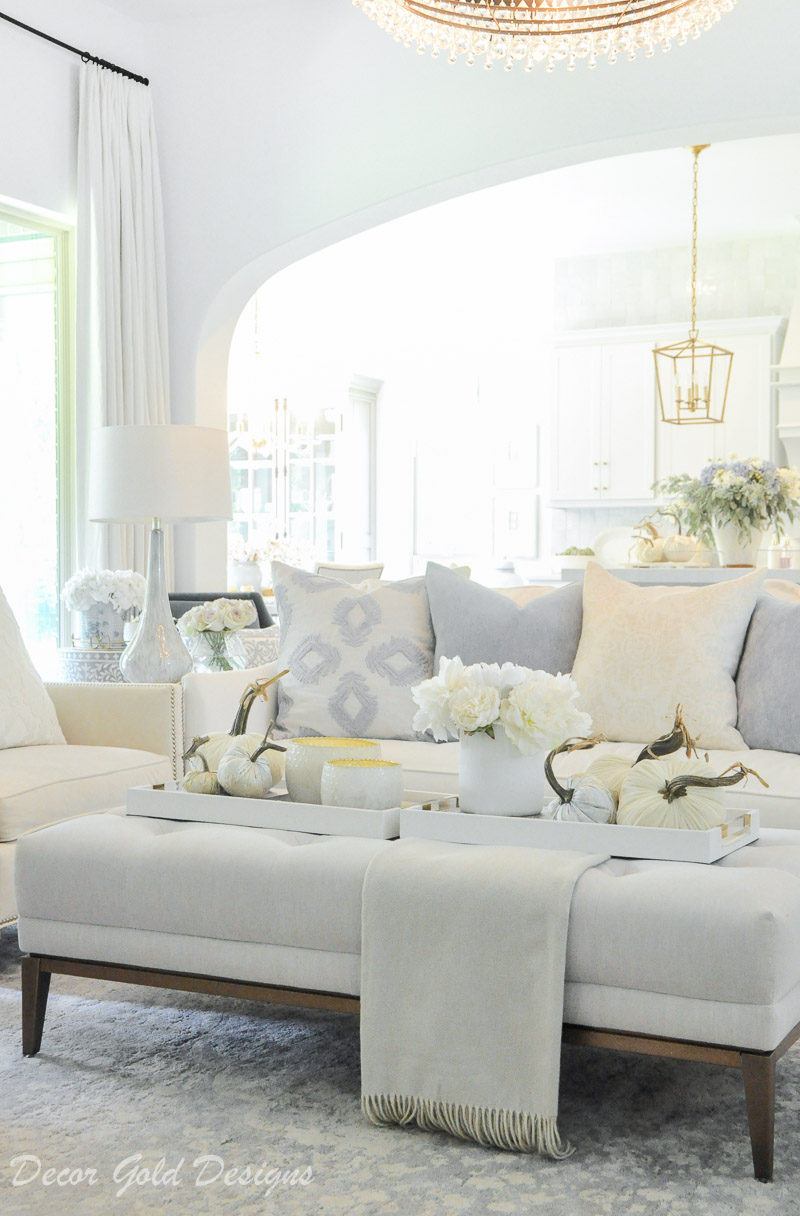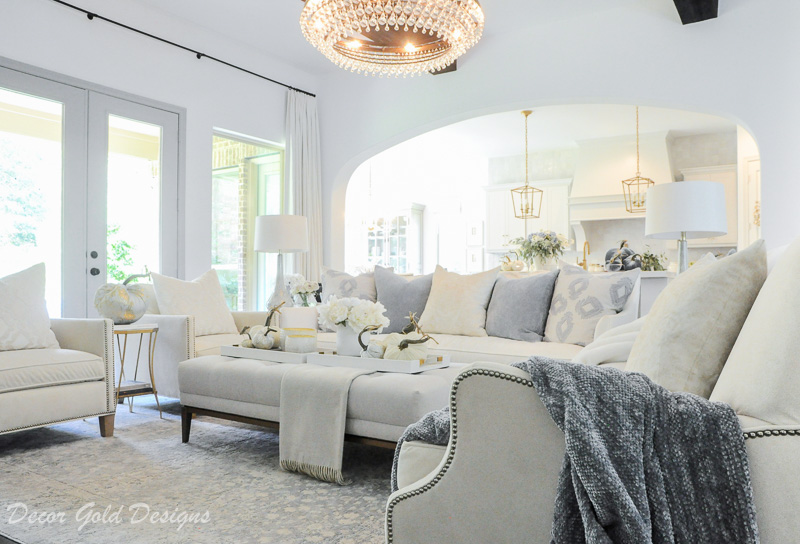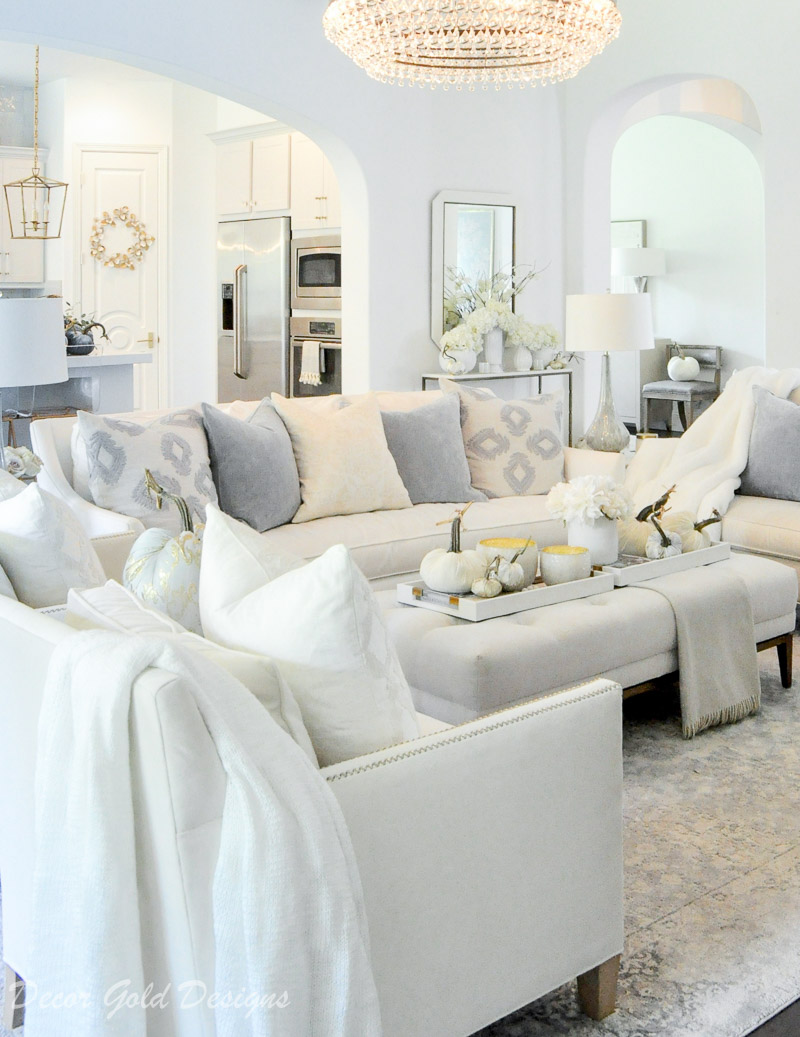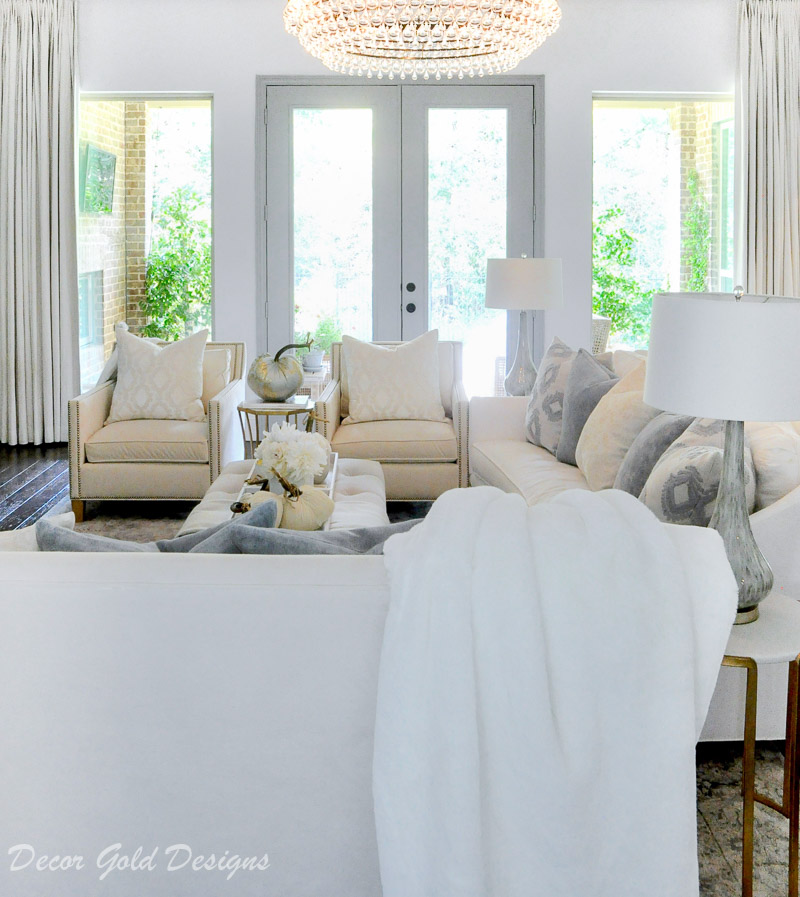 A larger pumpkin layered with a textured pillow makes an elegant fall statement. This is the pumpkin that I didn't know I needed until the second I saw it and then I realized I couldn't live without it. Ha! A bit dramatic? Maybe, but oh how I love this beauty.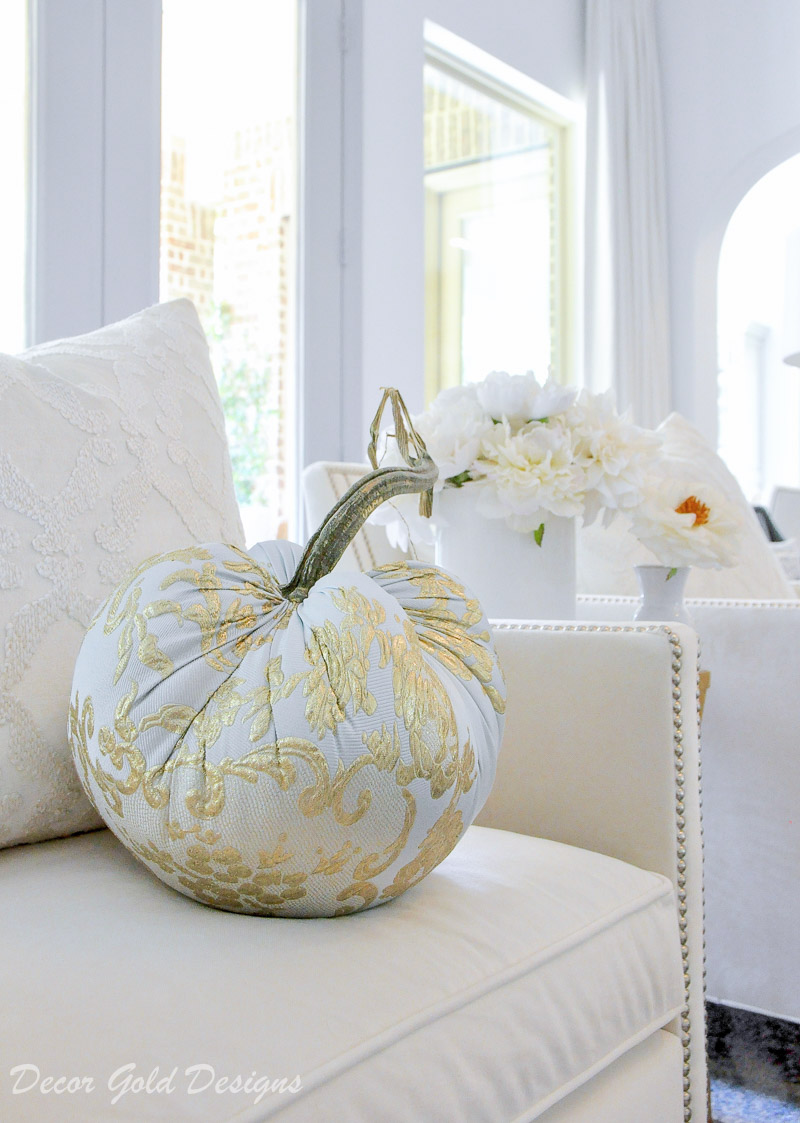 Find a selection of gorgeous specialty pumpkins here and pumpkins in the same beautiful fabric as mine here.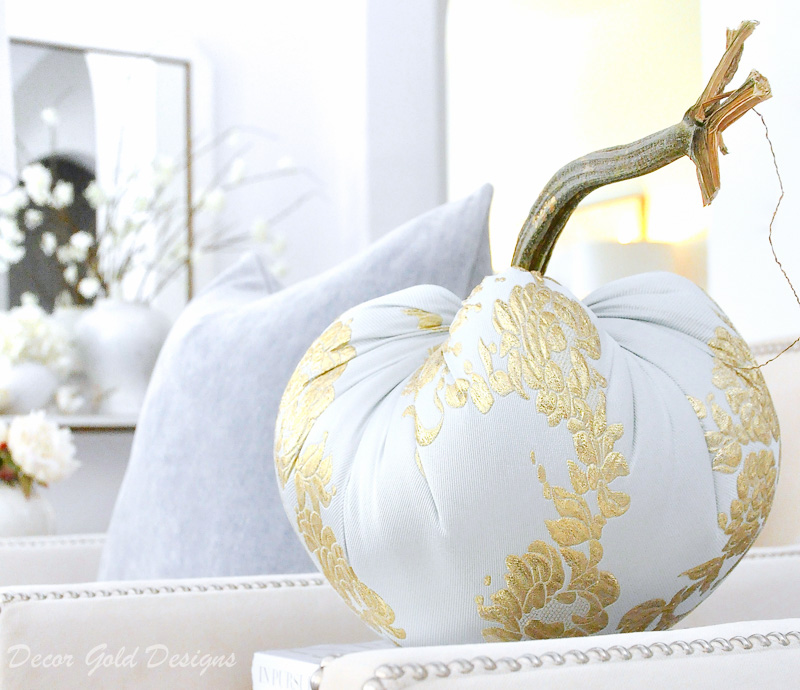 Fall Mantel
Is there a better place for fall decor than your fireplace surround? Just before lighting that first fire of the season, it is so nice to give your mantel a fall look.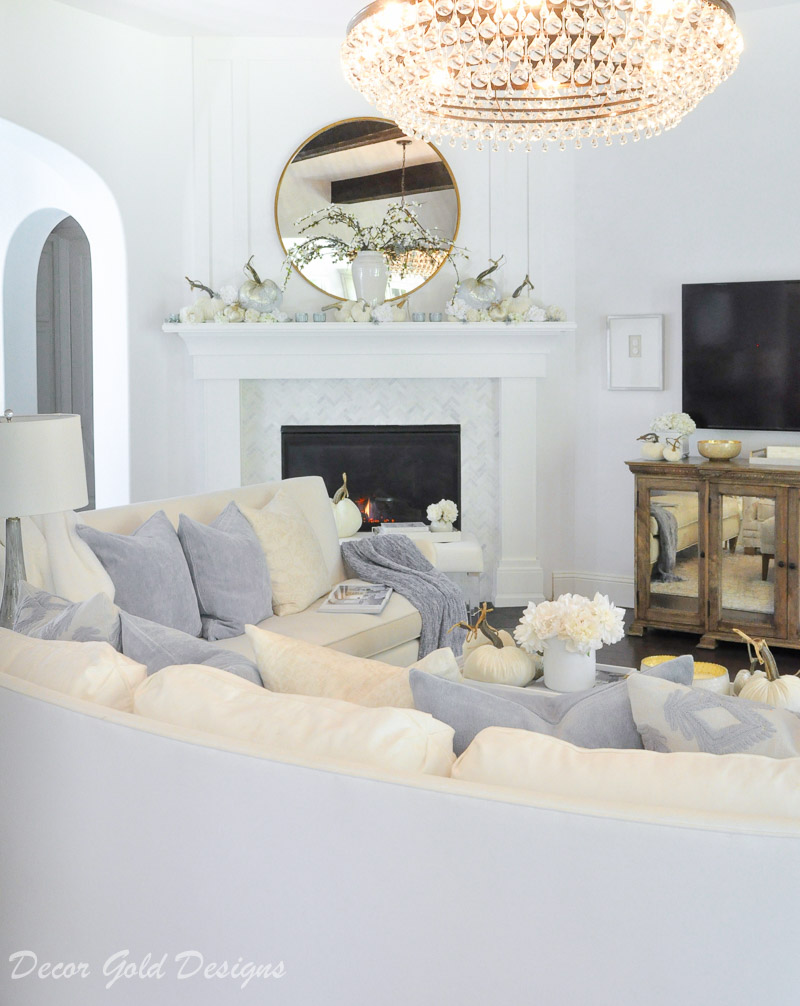 My mantel is dressed for fall in a sophisticated color scheme. It coordinates beautifully with my living room, entry, and kitchen  which is important in my open concept home.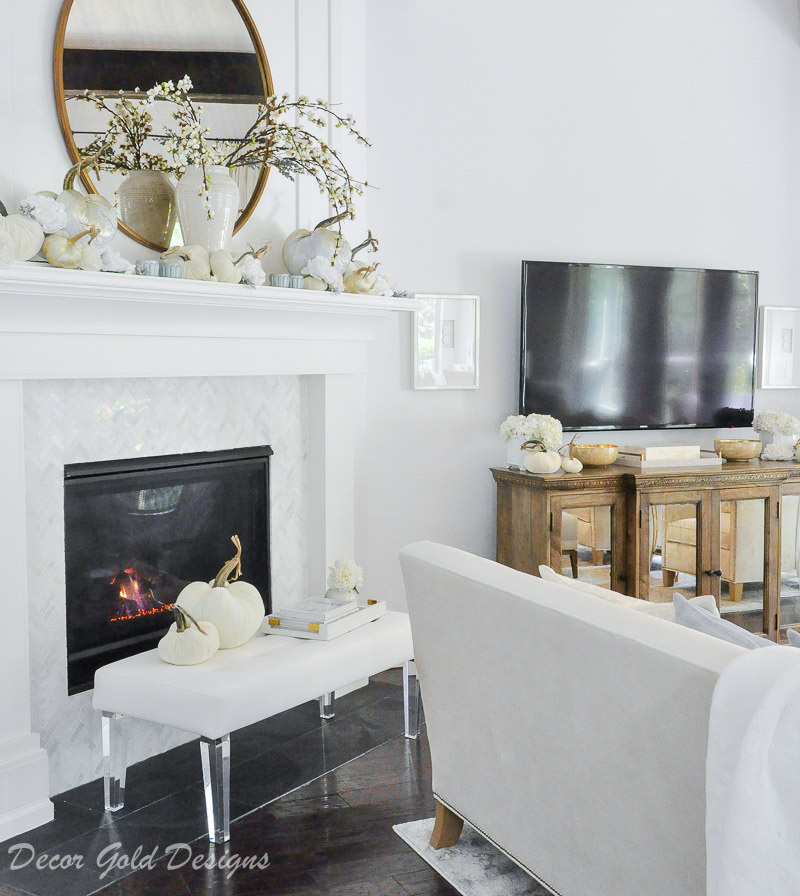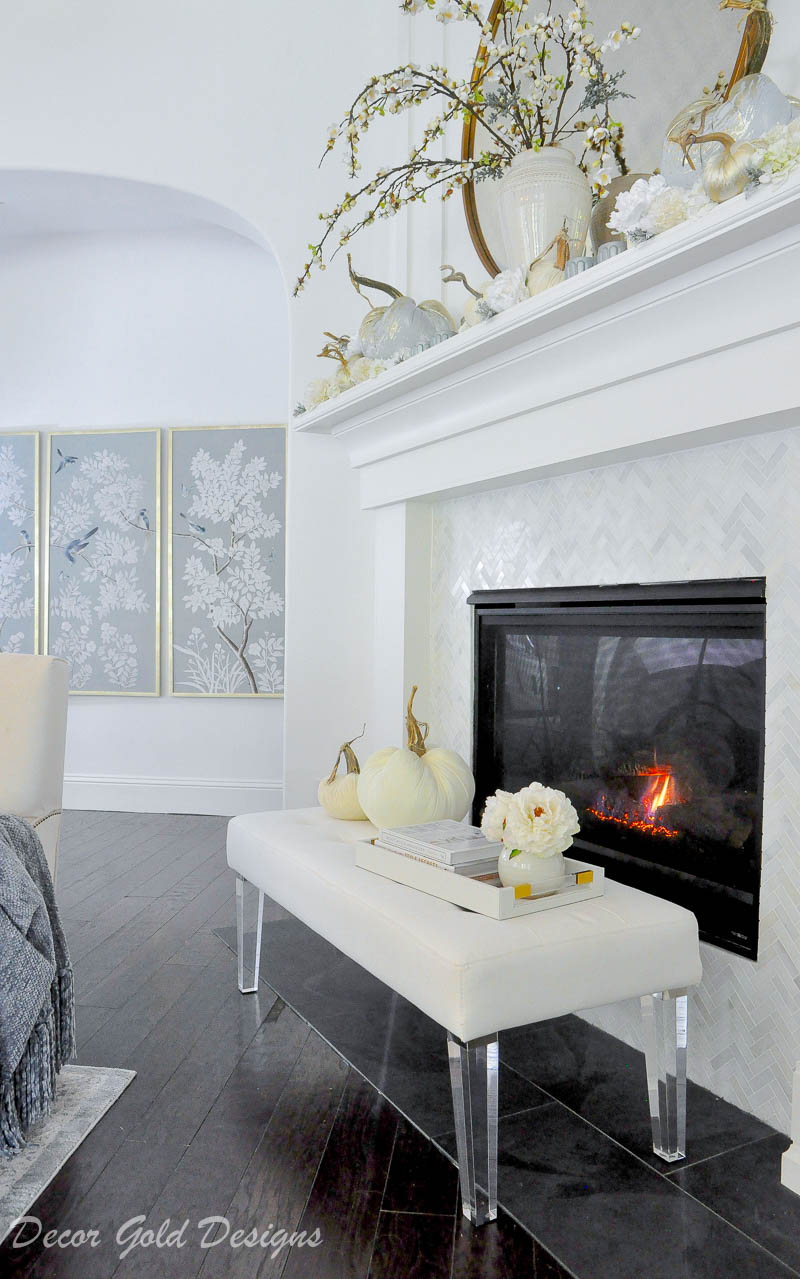 Stunning modern specialty pumpkins, ivory velvet pumpkins, and a tall jar filled with branches created the look.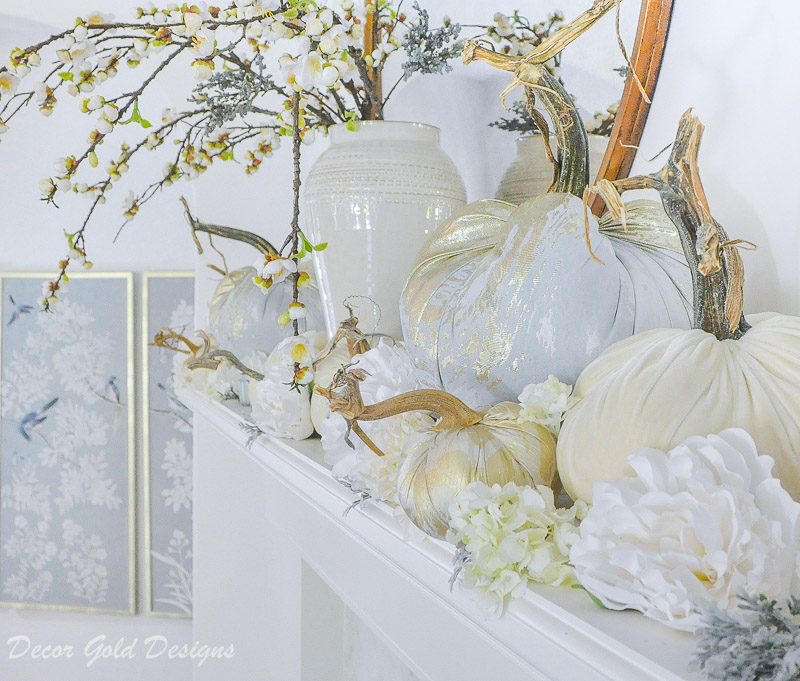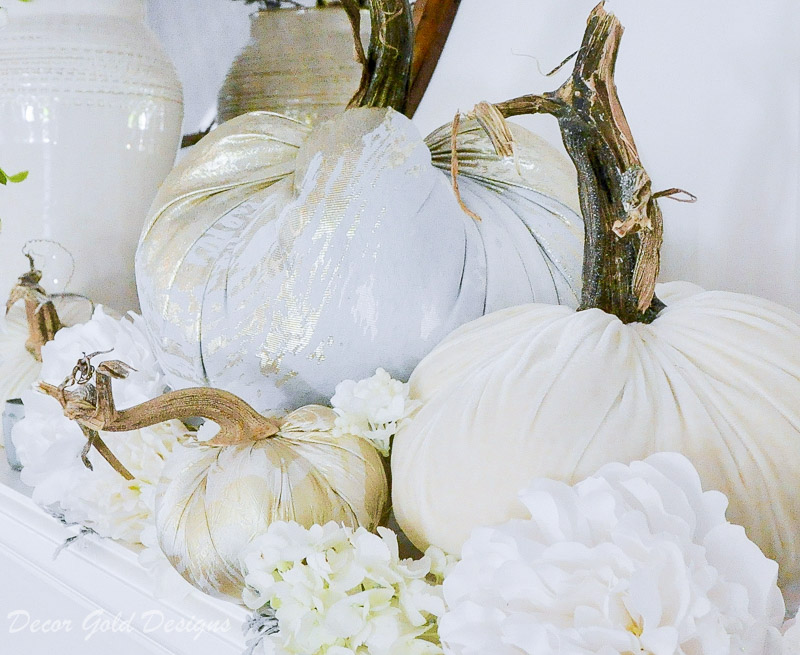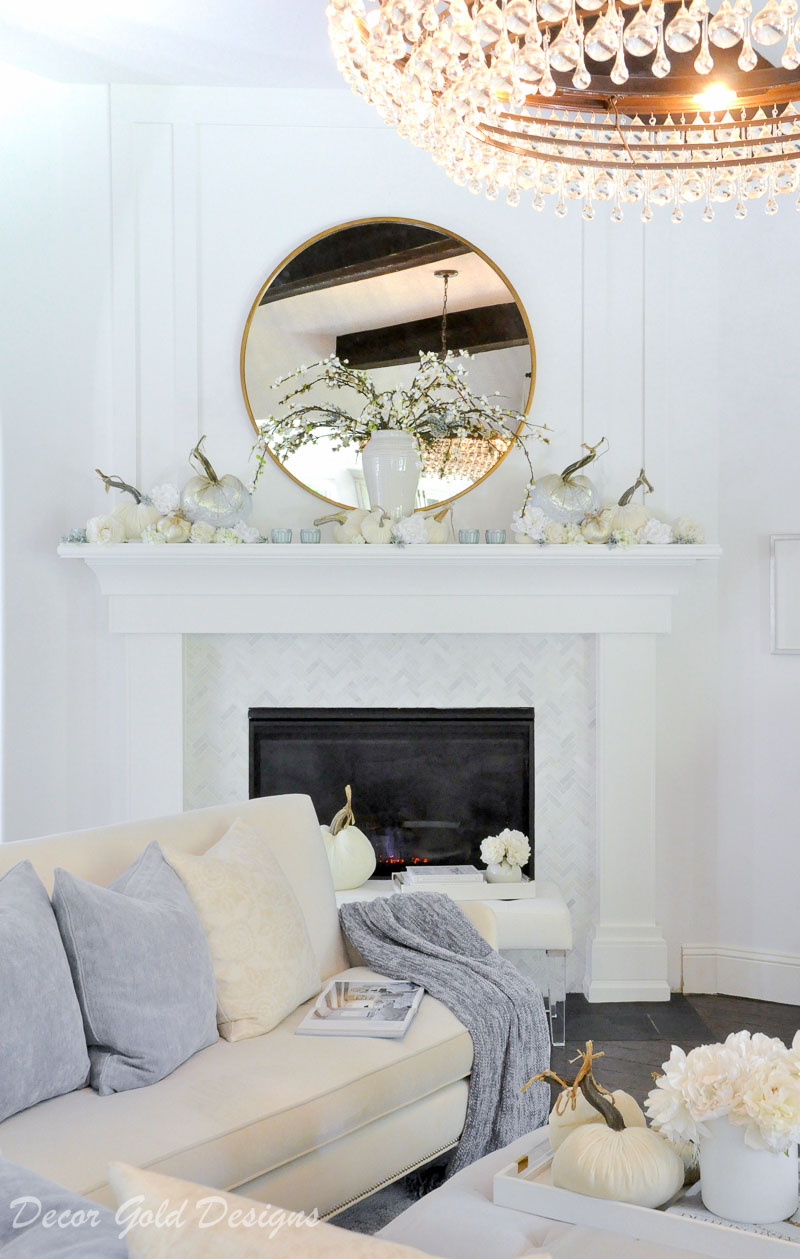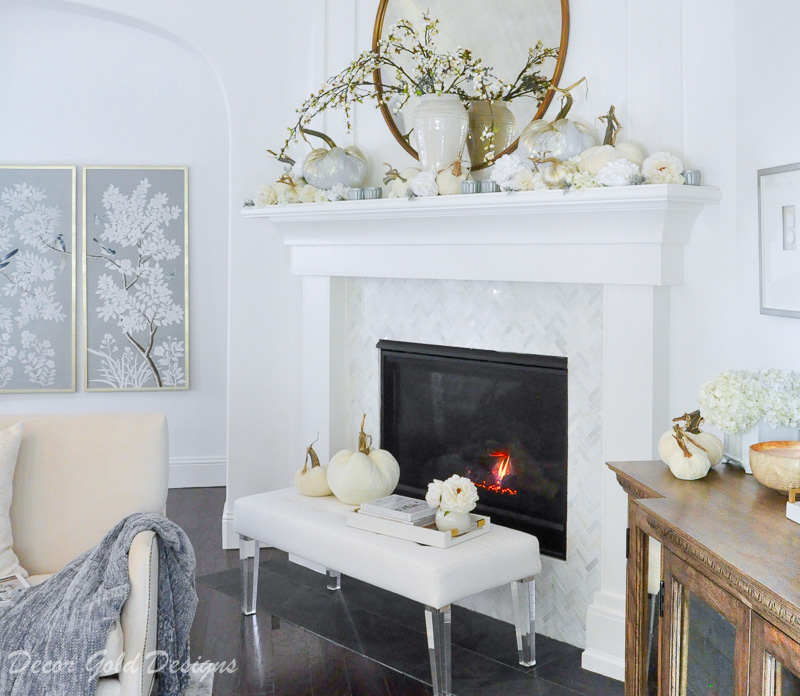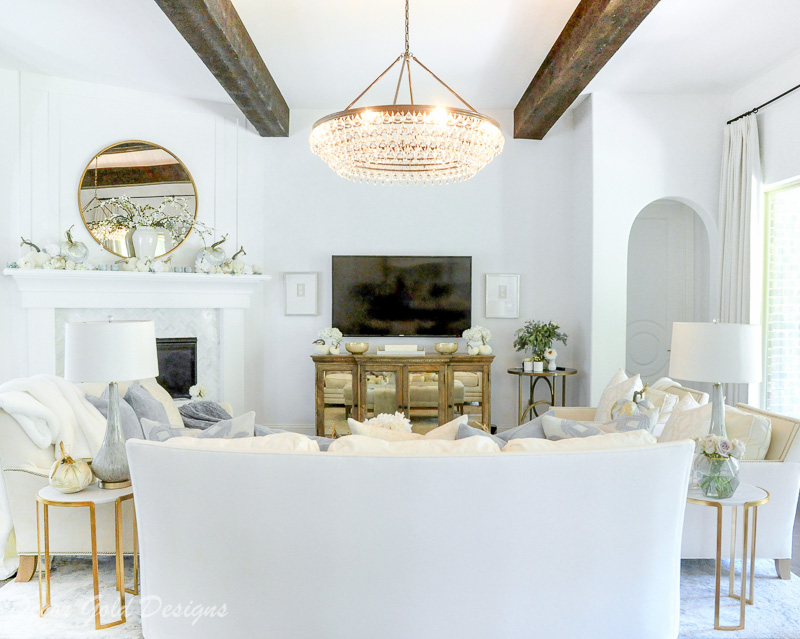 I have been collecting Hotskwash by Daria pumpkins for about four years. I love each new one that arrives so very much! Stay tuned for more on this soon!!! Subscribe to my newsletter and you won't miss out.



FALL KITCHEN, BREAKFAST ROOM, & DINING ROOM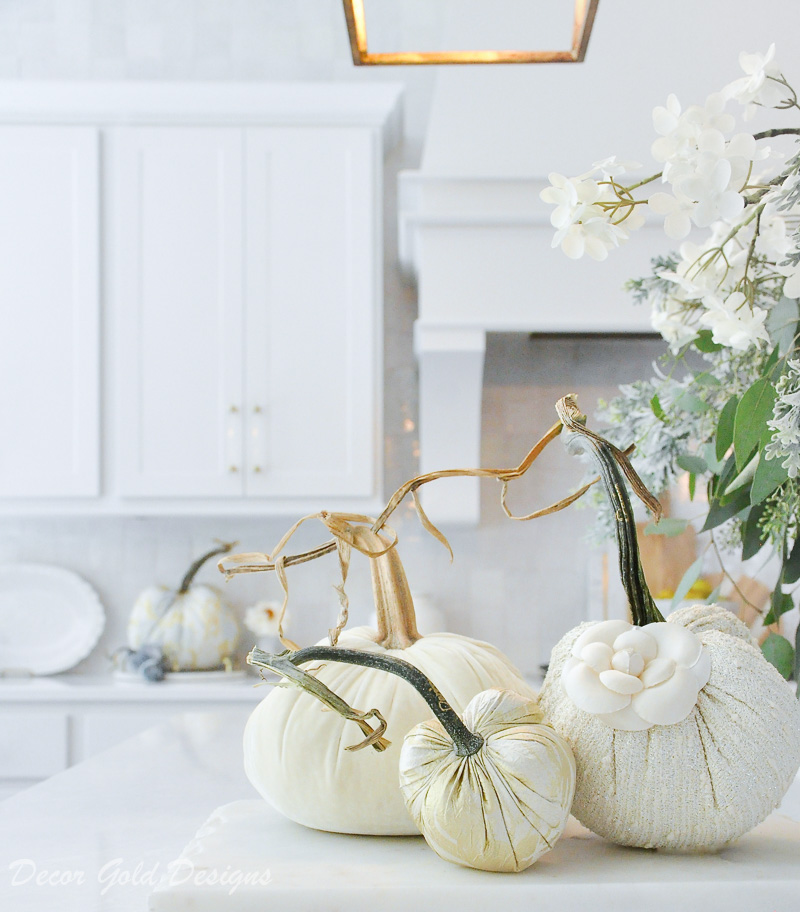 I hope you'll stay connected…..
Click on the Image to Subscribe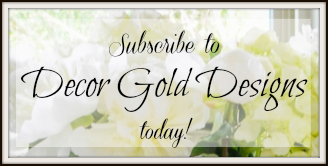 SOCIAL
Instagram | Pinterest | Facebook
Follow me on the LIKEtoKNOW.it app!