One of my favorite things about fall is the chance to create an elegant pumpkin centerpiece. I challenge myself each season to create something visually stimulating. A tabletop design that will encourage my guests to linger. Today, I want to share that process with you! Here, you will find step by step tabletop pumpkin styling.
As a bonus, I am including simple styling ideas for two additional tables, my round breakfast nook table and my console table!
*This post contains affiliate links. Disclosure here. Additionally, I partnered with Hot Skwash by Daria to bring this tabletop pumpkin styling post to you. As always, all of my opinions and selections are my own.
Dining Room Tabletop Pumpkin Styling
Proper tabletop pumpkin styling is the key to a stunning fall tablescape. I love to begin with beautiful, neutral velvet pumpkins in a variety of sizes with natural elements. All of my pumpkins are Hot Skwash pumpkins by Daria. Each piece is artistic and timeless and is such a pleasure to style each year.
This set of ivory pumpkins in popular sizes is a perfect set to display year after year. Even as my collection grows, ivory continues to be a staple. I combine it with all of my other colors!
See how I styled my ivory pumpkins last fall.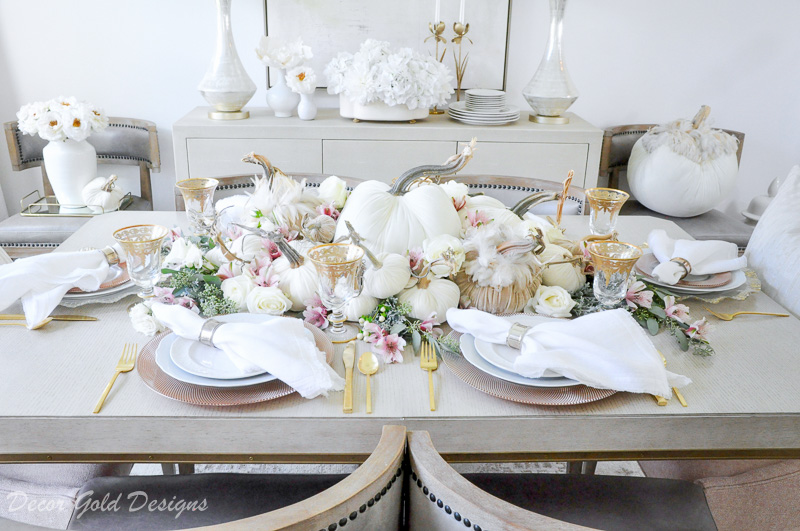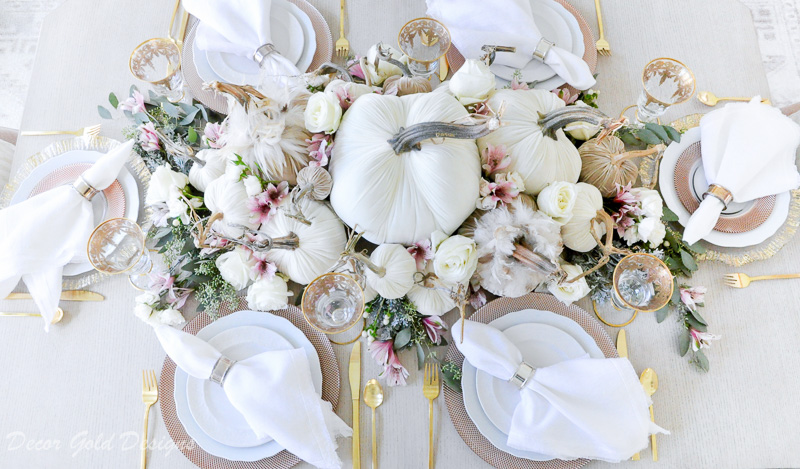 The look is abundant and lush, but putting it together is simple!
Pumpkin sizes you will need:
1 Jumbo Ivory, 10″ Bone with feathers, 1 – 10″ Ivory, 1 – 8″ Bone with feathers, 1 – 8″ Ivory
1 – 6″ Bone, 5 – 6″ Ivory
5 – 4″ Ivory, 1 – 4″ Bone, 1 – 2″ Bone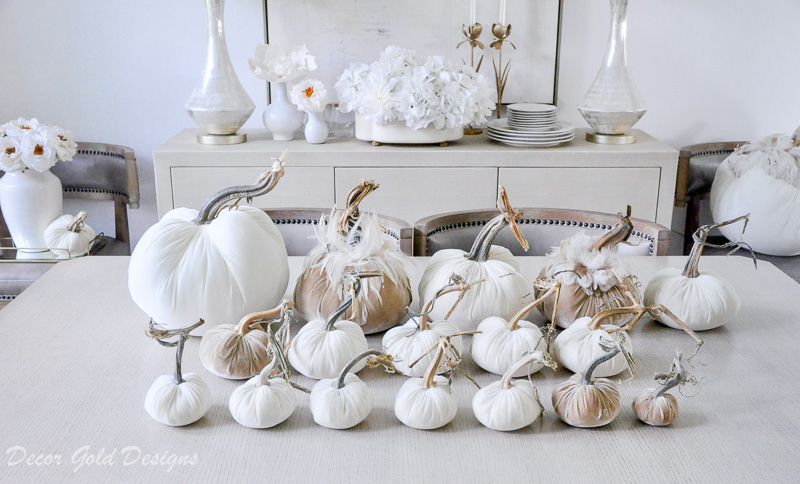 These pumpkins are made of soft velvet fabric and beautiful natural stems. I included 2 designs with feathers as well. The feathers tie the ivory and bone pumpkins together and provide unexpected texture.
Follow these simple placement steps.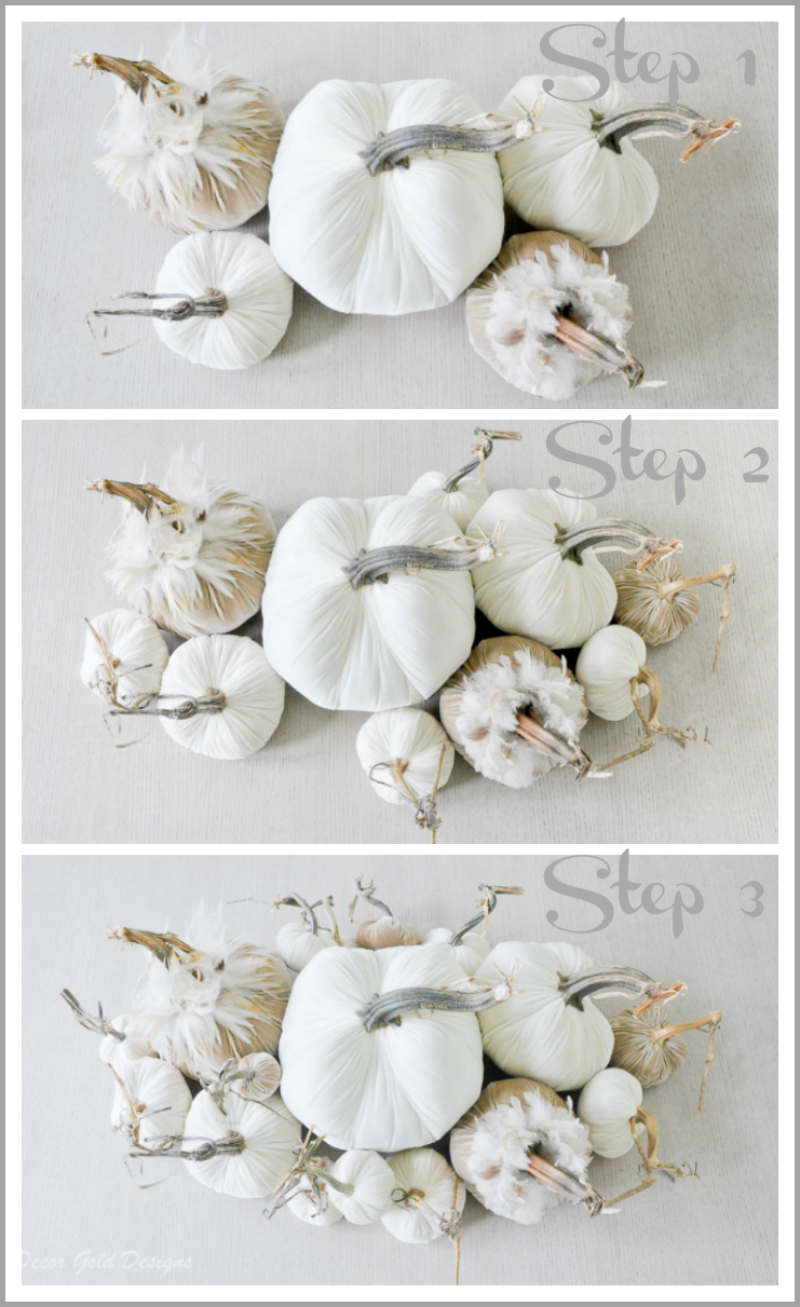 I styled my table with neutral pumpkins, but if you'd like to add color, here are a few additional options!
Ivory, Bone, & Blush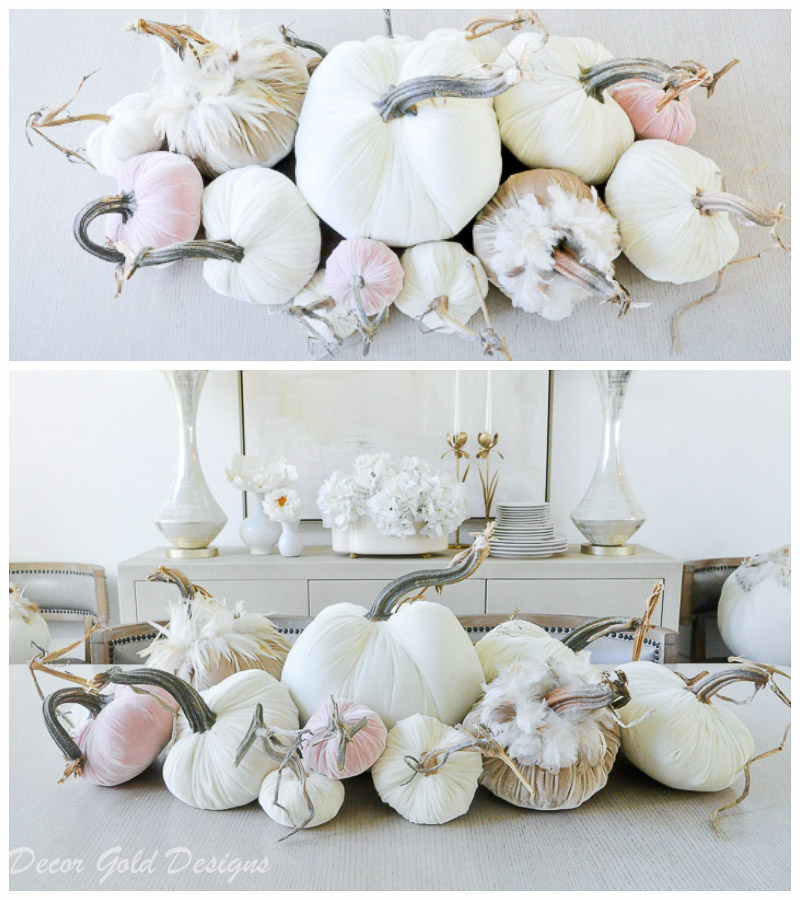 Ivory, Bone, Blush, & Rose
(I created a table with this color combination last fall and LOVED the way it came out!)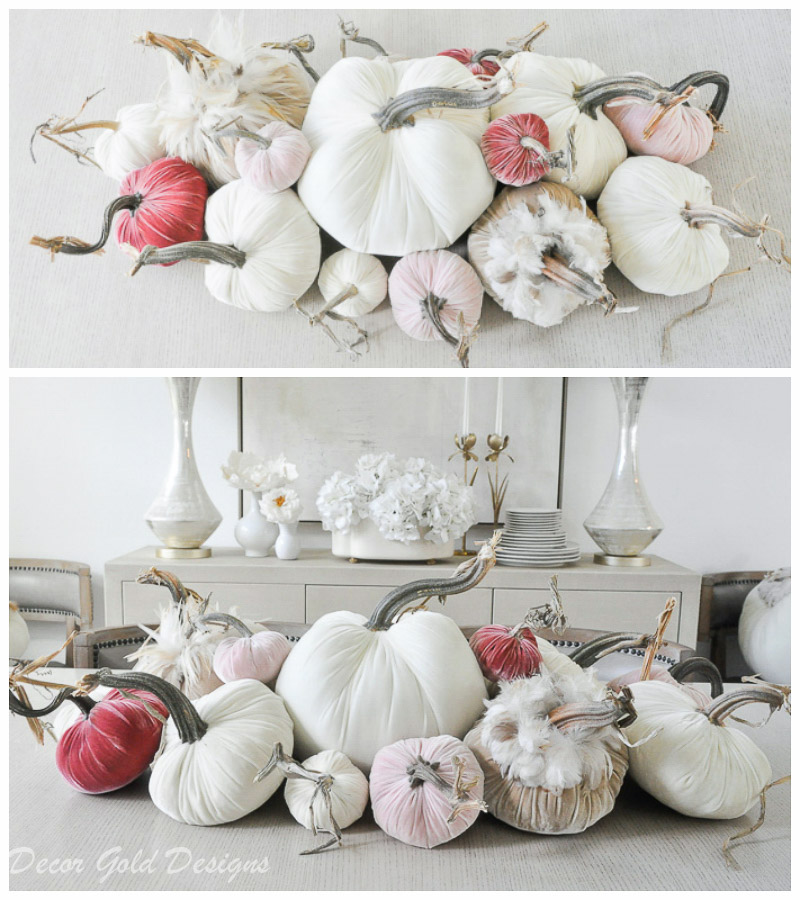 Ivory, Bone, & Lake
(These beautiful lake colored pumpkins made their debut in my recent Fall Home Tour!)
Here, my neutrals combine for a timeless centerpiece.
Ivory & Bone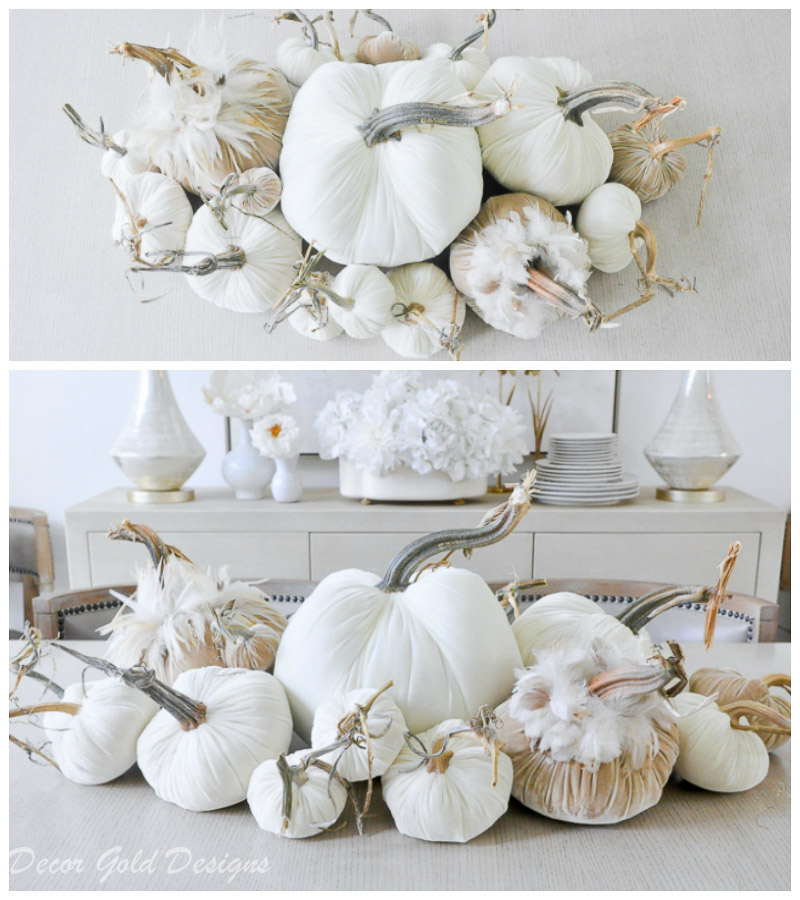 With neutral pumpkins, feel free to add color in other ways such as dinnerware and florals.
With your pumpkins in place, you should set the table now. It will help guide your placement of the natural elements. I used blush chargers and gold chargers, white dinner plates, gold flatware, and elegant gold-rimmed glassware.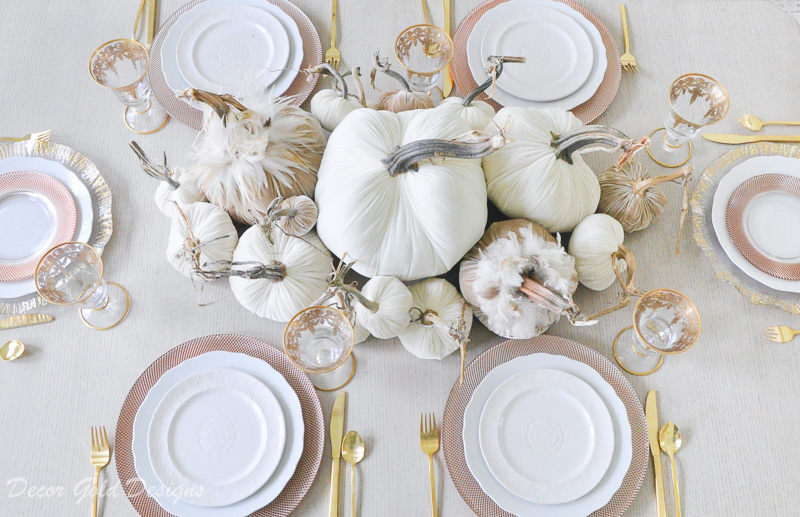 Next, I tucked greenery and berries under the pumpkins.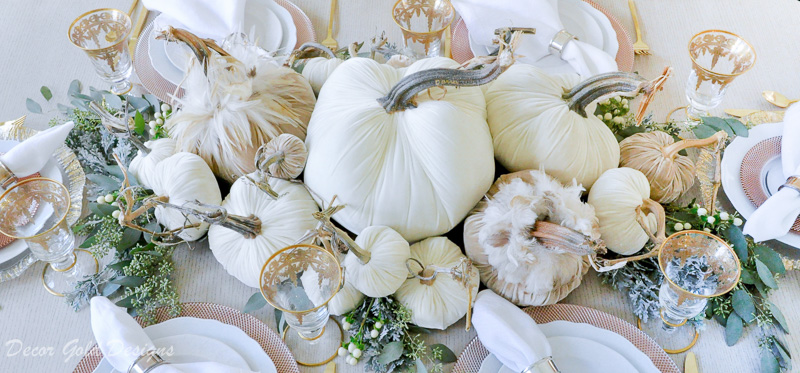 After the greenery, I added creamy white rose buds and delicate spray roses. There are no rules, just add as few or as many as you like!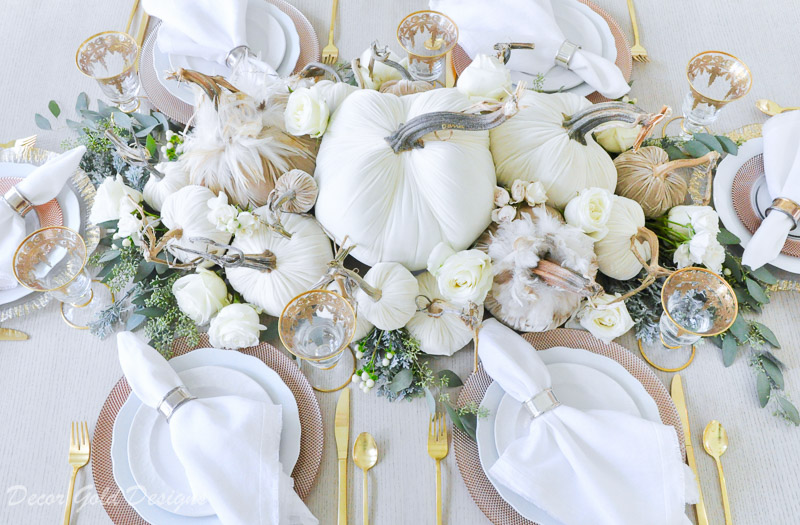 Finally, I added pink blossoms to the my centerpiece. They add a soft pop of color and enhance the neutral pumpkins. You may add any color blossoms you like or stick with all white. Any flowers can be used, so get creative!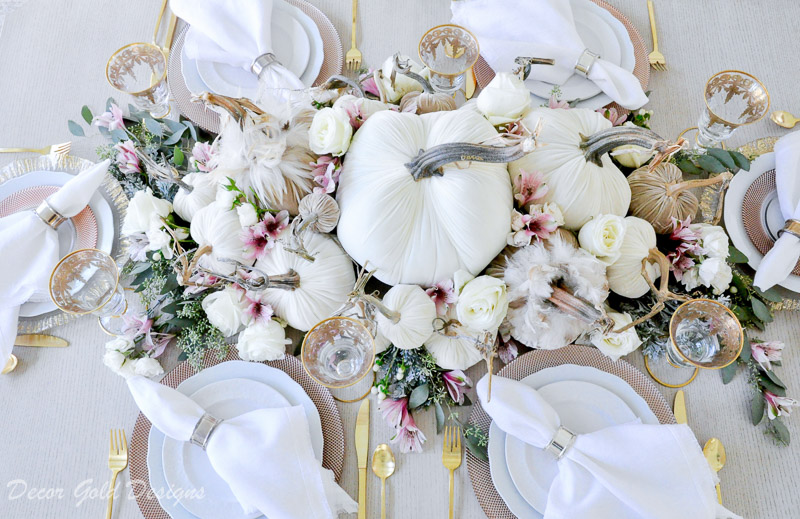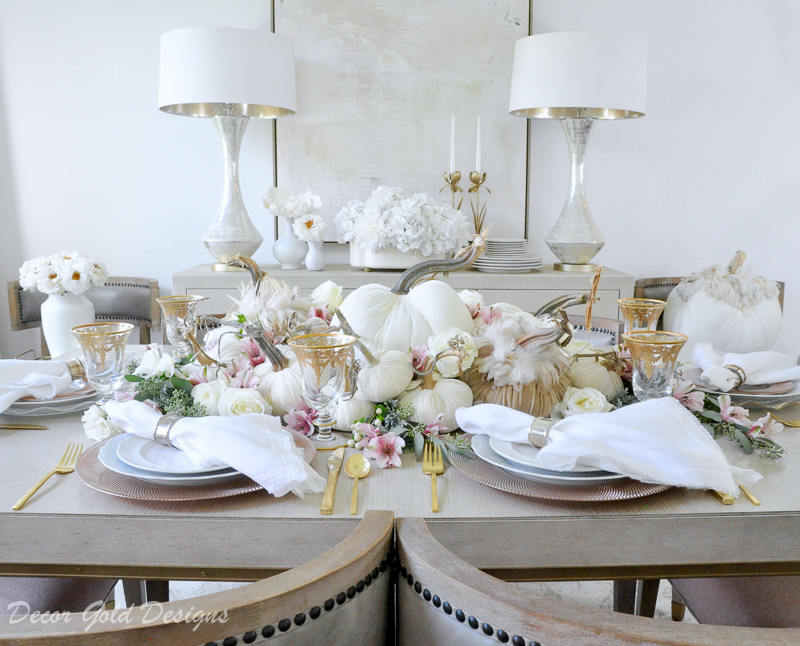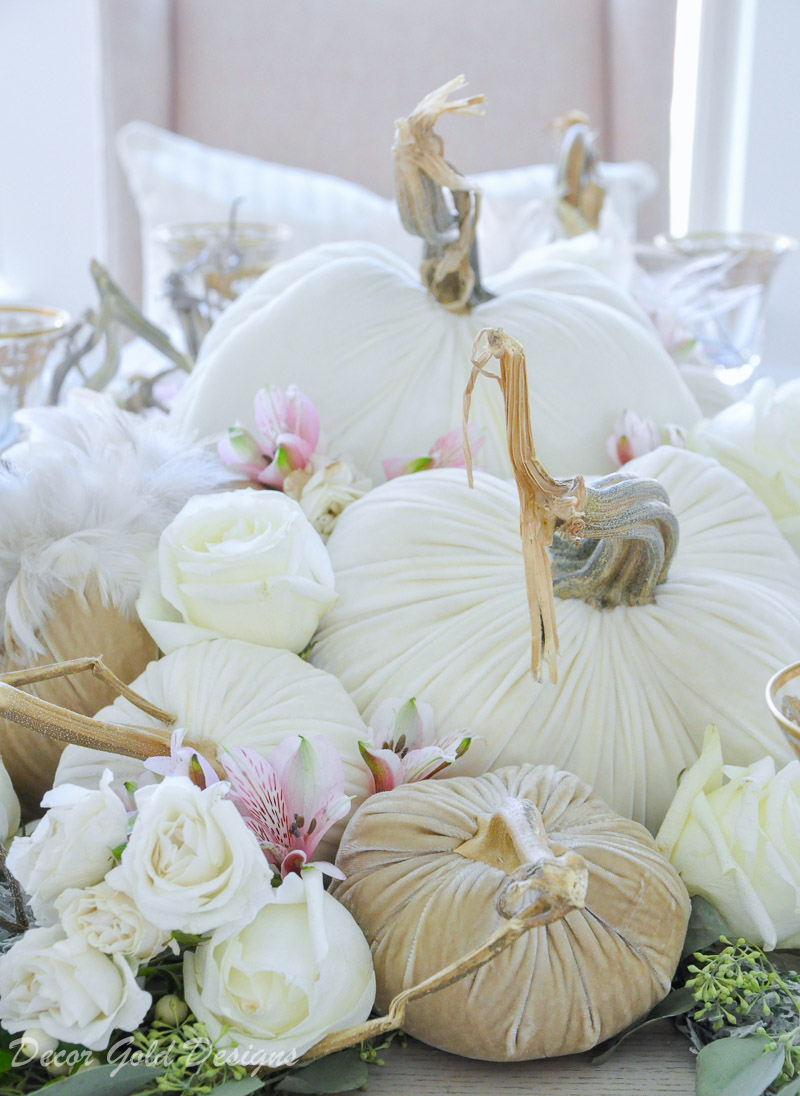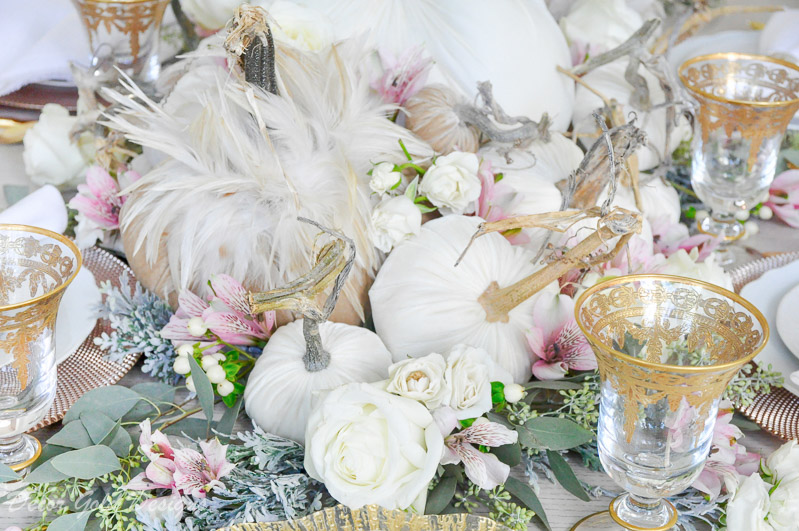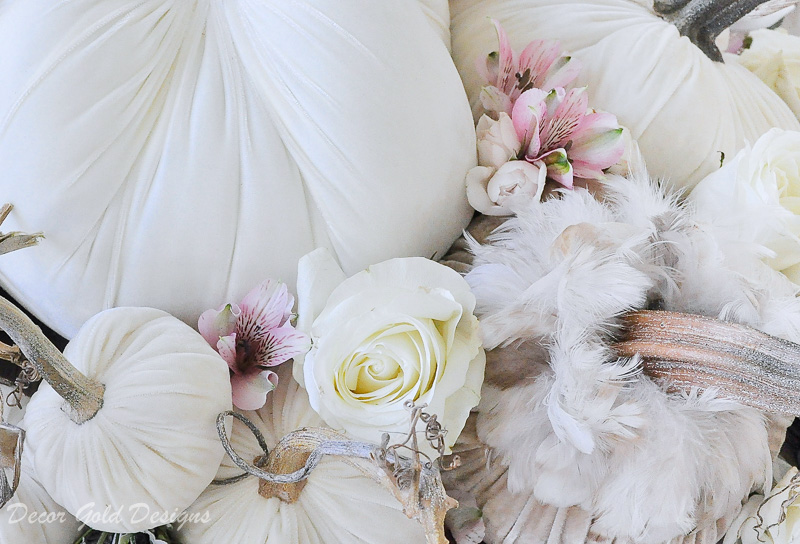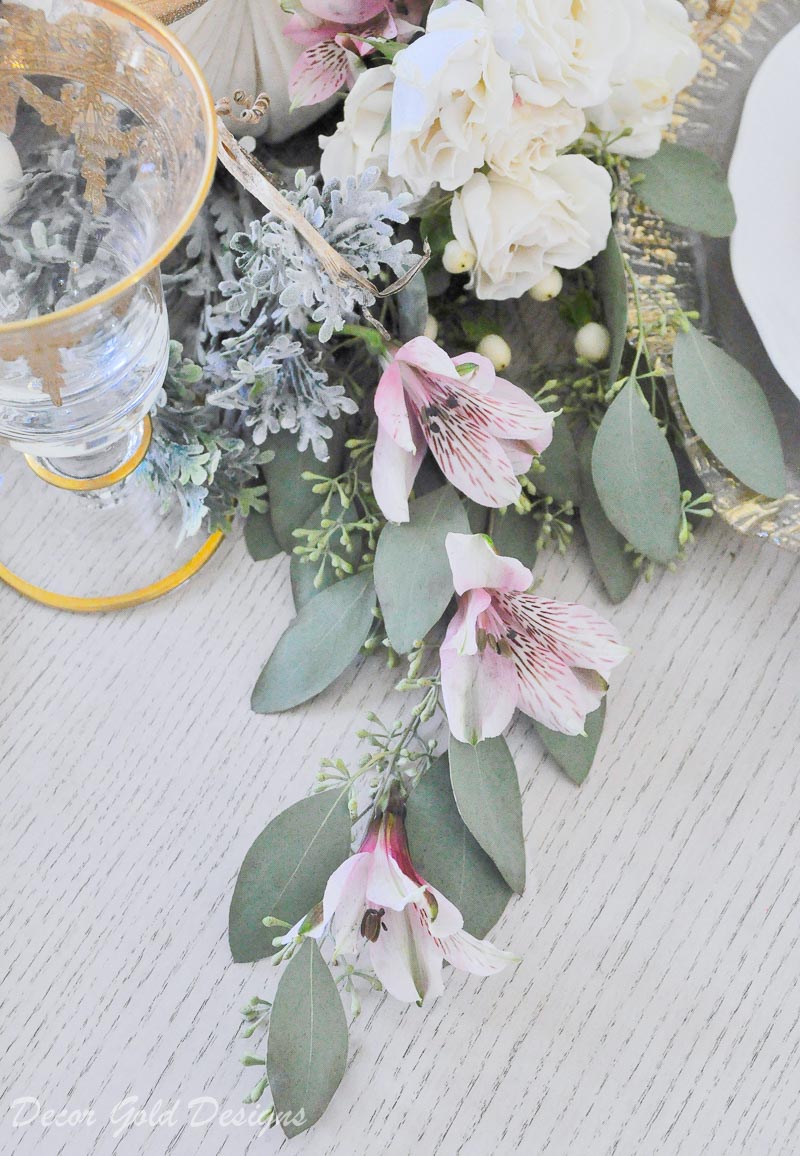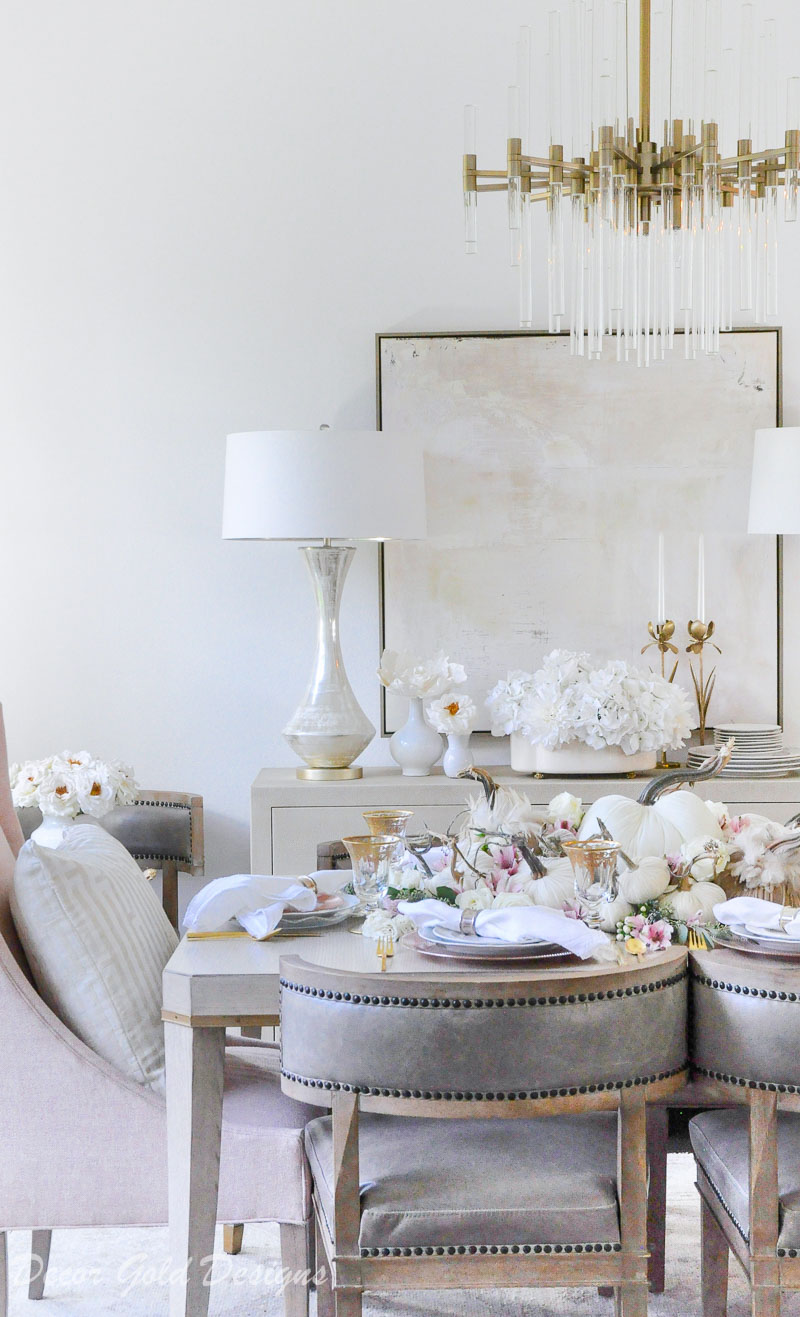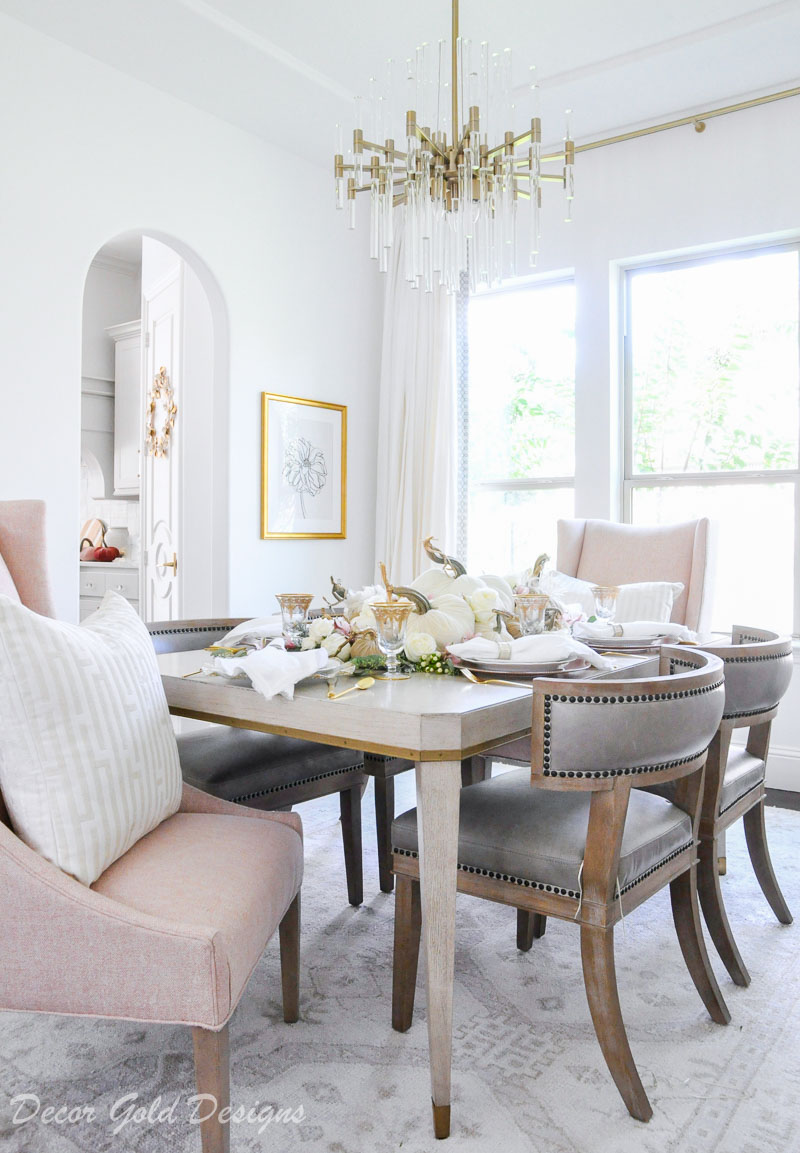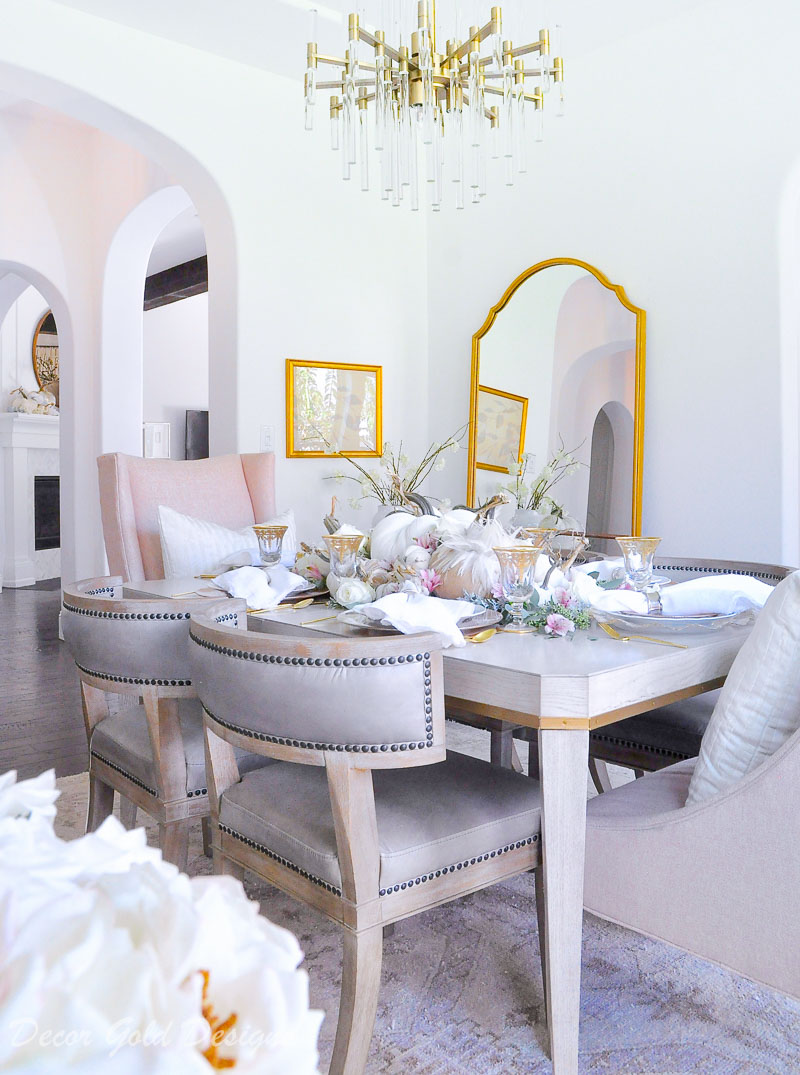 Elegant, beautiful, and so simple, right?




I love how these gorgeous Hotskwash pumpkins are so versatile. Below, I have styled them in two additional common home locations. Again, I have included sizing for you in order to make recreating similar looks in your own home easy!
Breakfast Nook Tabletop Pumpkin Styling
I am excited to add new pieces by Hot Skwash each year as I am always in awe of Daria's new designs.
For my breakfast nook tabletop pumpkin styling, I created a simple tablescape featuring this exquisite blue and gold specialty piece.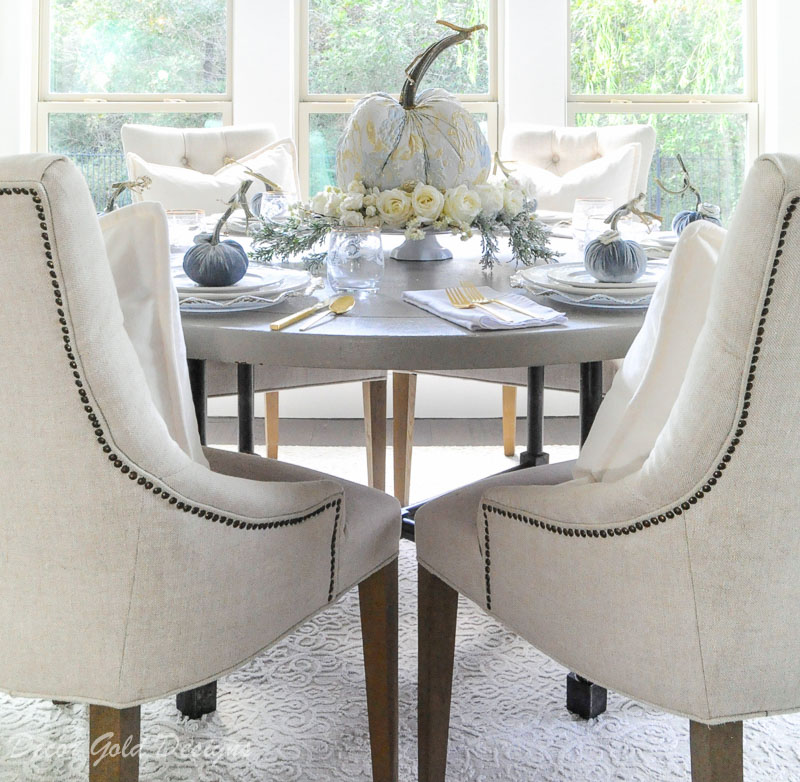 Pumpkin sizes you will need:
My specialty pumpkin is approximately 12″, but anything around this size would be perfect.
My specialty pumpkins with rosettes are approximately 4″. This size or smaller works beautifully for each place setting.

Romantic and graceful, this may be my favorite pumpkin ever. I first featured it in my fall kitchen, but quickly realized it is stunning in almost every room in my home!
For this look, I first placed my pumpkin on a cake stand. This one is perfect because it is low and wide.
Next I used faux greenery and berry stems combined with white roses to create a wreath for my pumpkin.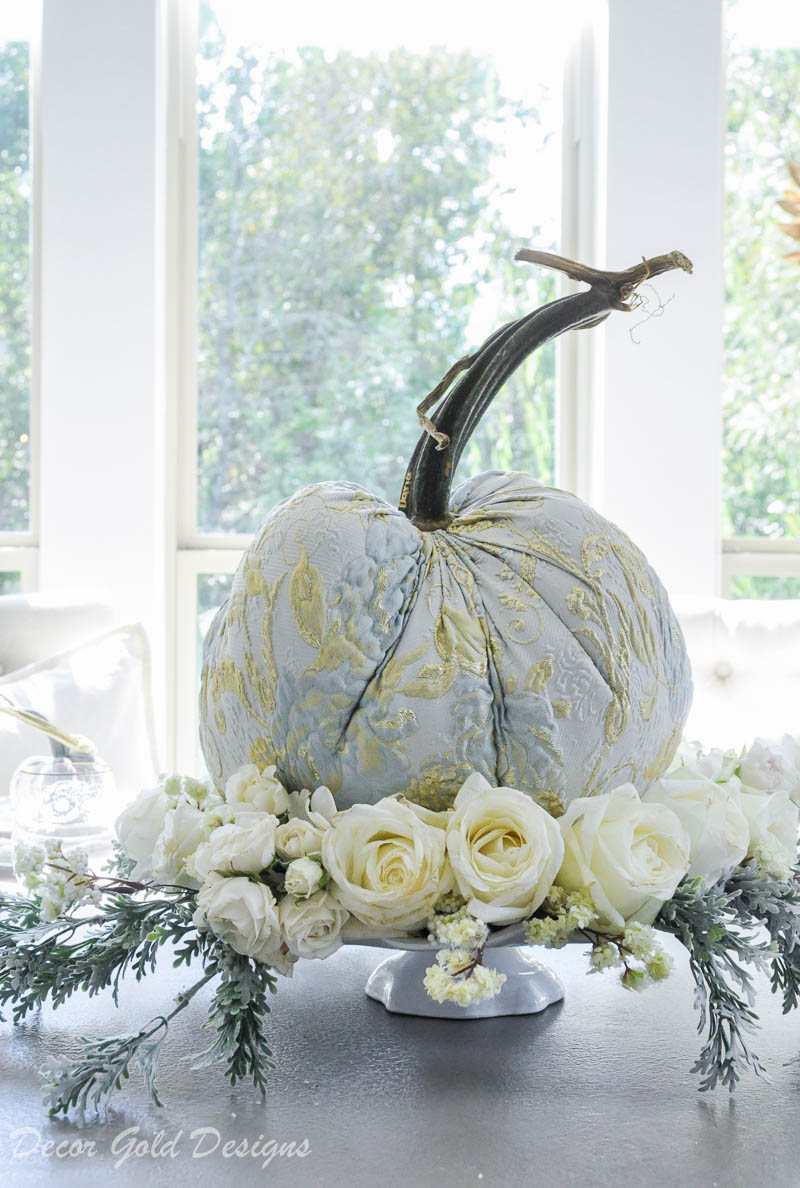 If you would like to recreate a look like this, simply clip the stems of your sprays and blossoms down to about 3″ – 4″ long and tuck them under your pumpkin's base.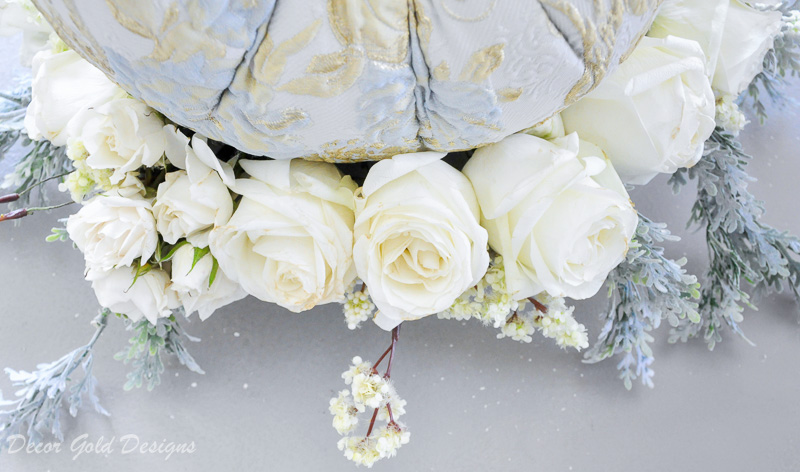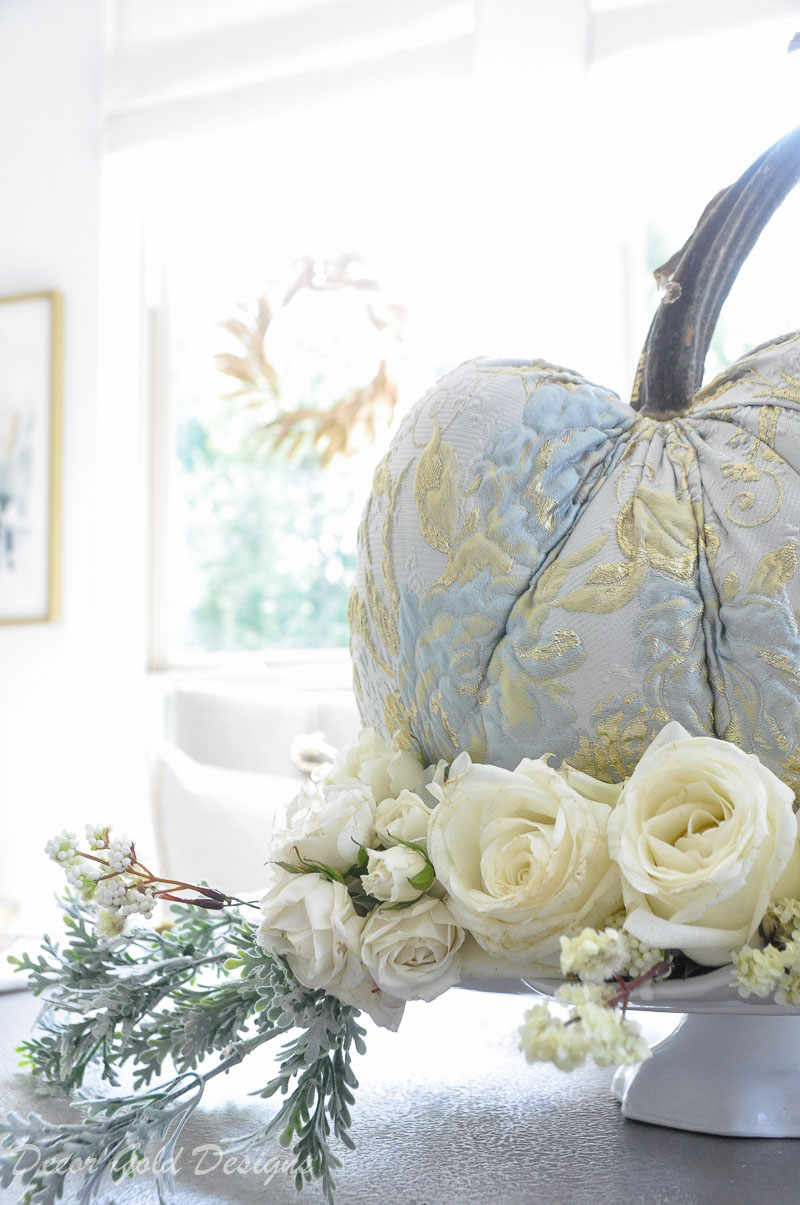 A nice addition to your fall table is the placement of a specialty pumpkin on each plate. Aren't these lake ones with rosettes darling?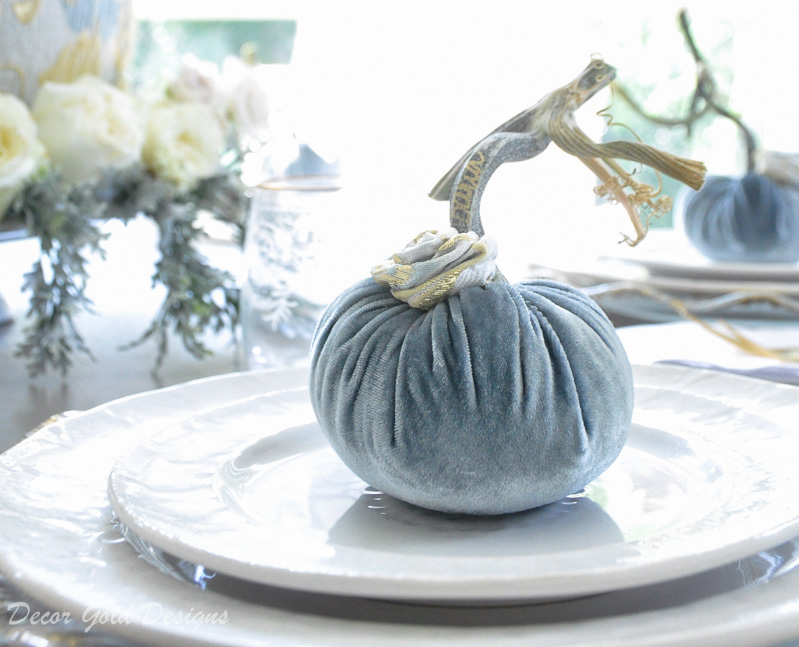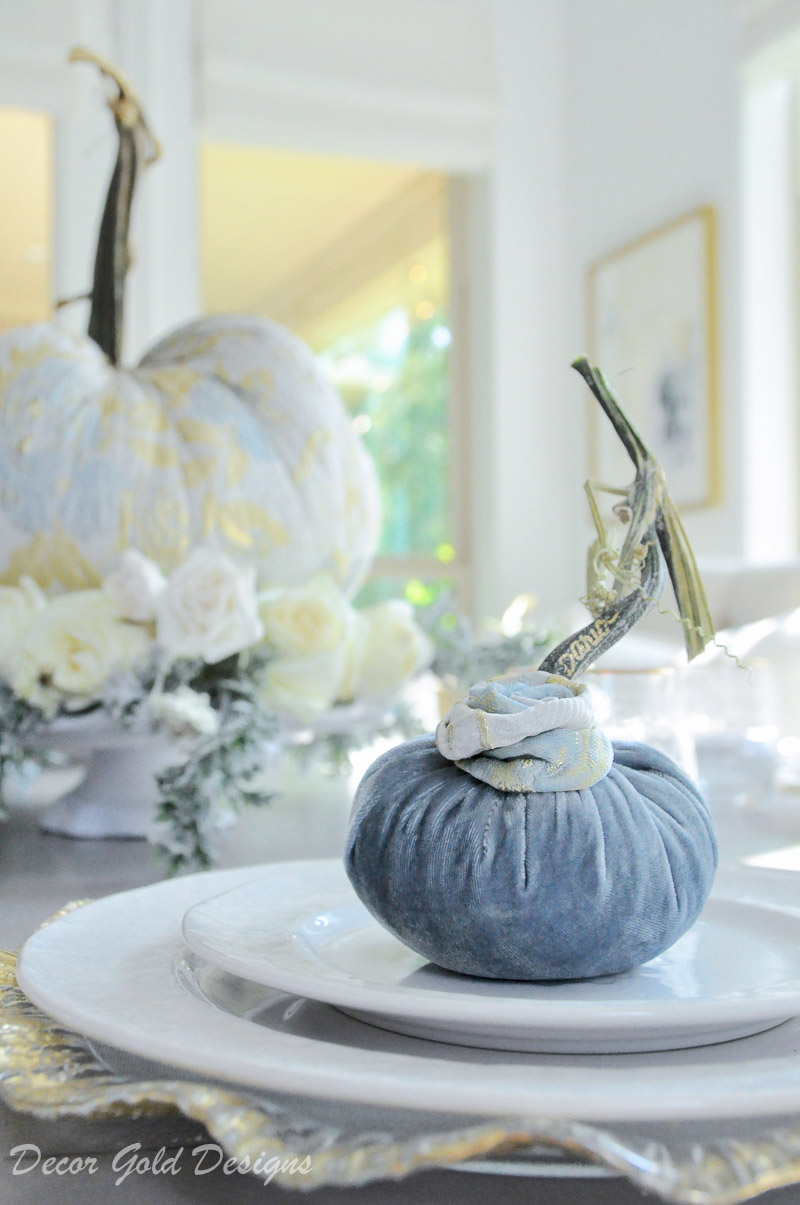 I just love the unexpected soft colors and subtle fall look of this table design.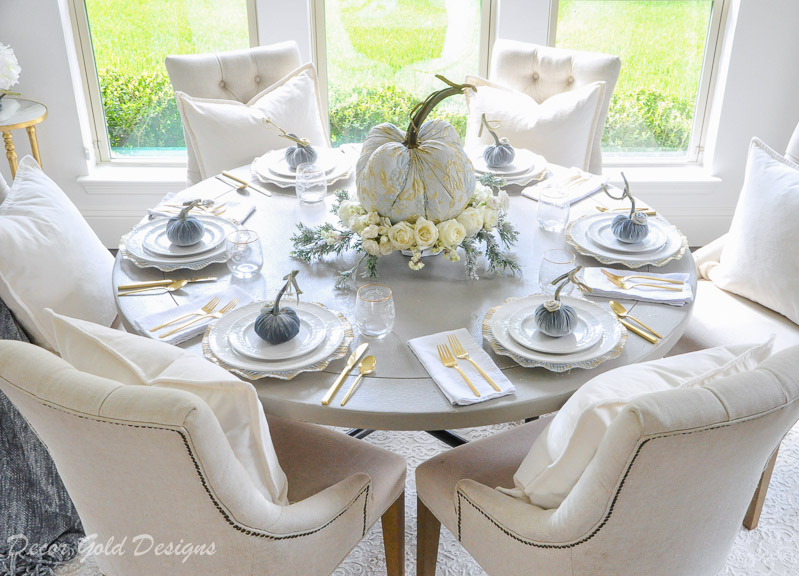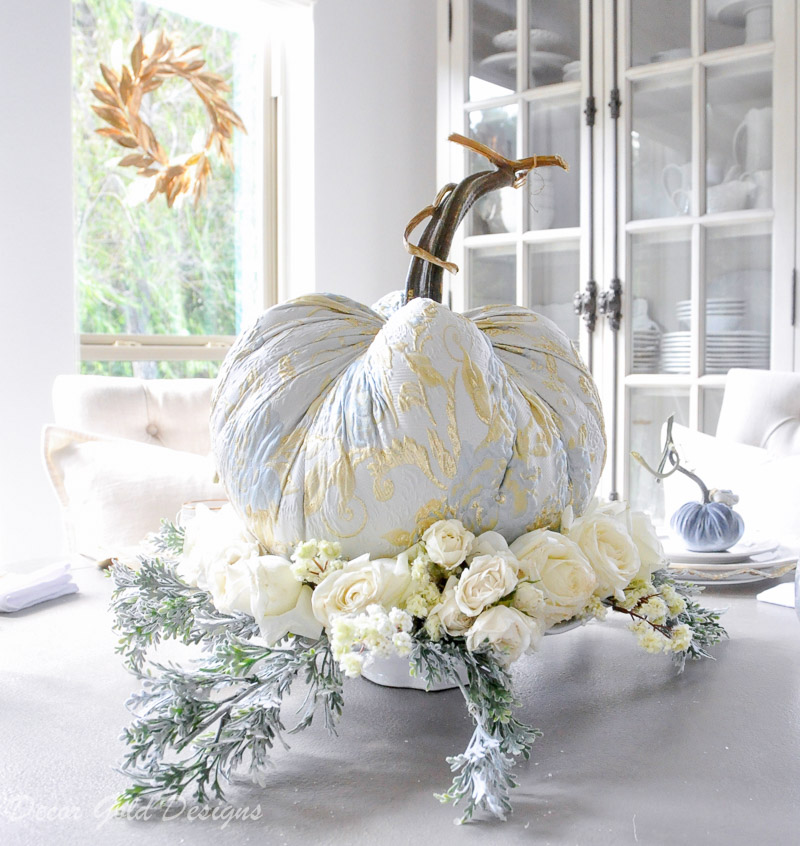 Console Table Pumpkin Styling
A third place that can be easily elevated with beautiful fall decor is your console table.
Again, I chose to style mine using a cool tone that differs from traditional warm autumn colors, but any color or combination of colors would be nice.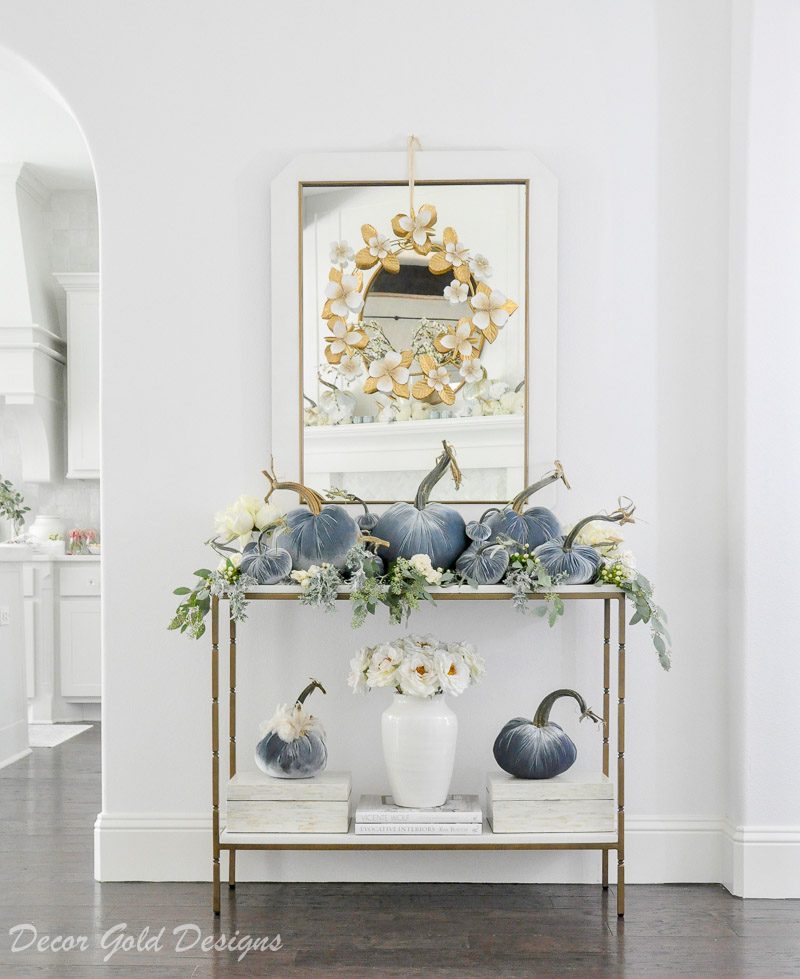 Pumpkin sizes you will need:
1 – Jumbo Lake
2 – Jumbo Jr Lake
1 – 8″ Lake
2 – 6″ Lake
2 – 5″ Lake
1 – 4″ Lake
2 – 3″ Lake
Lower shelf:
1 – 8″ Lake with feathers
1 – 10″ Lake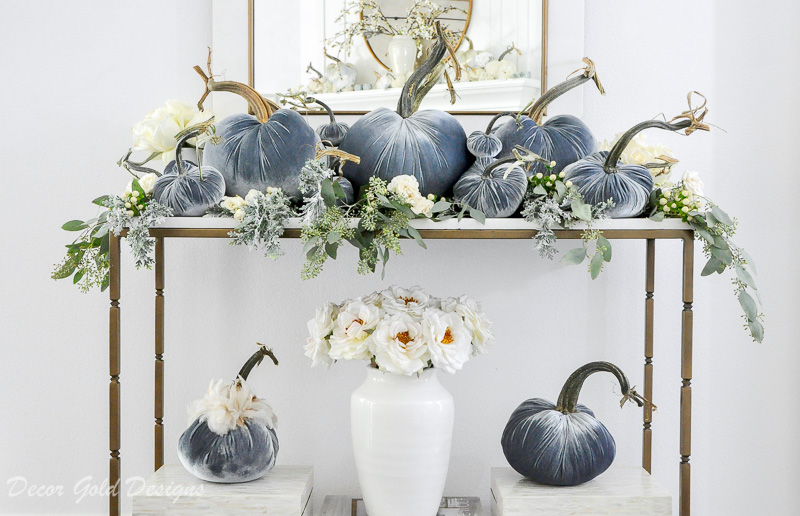 The addition of a gold wreath adds warmth and balances the space.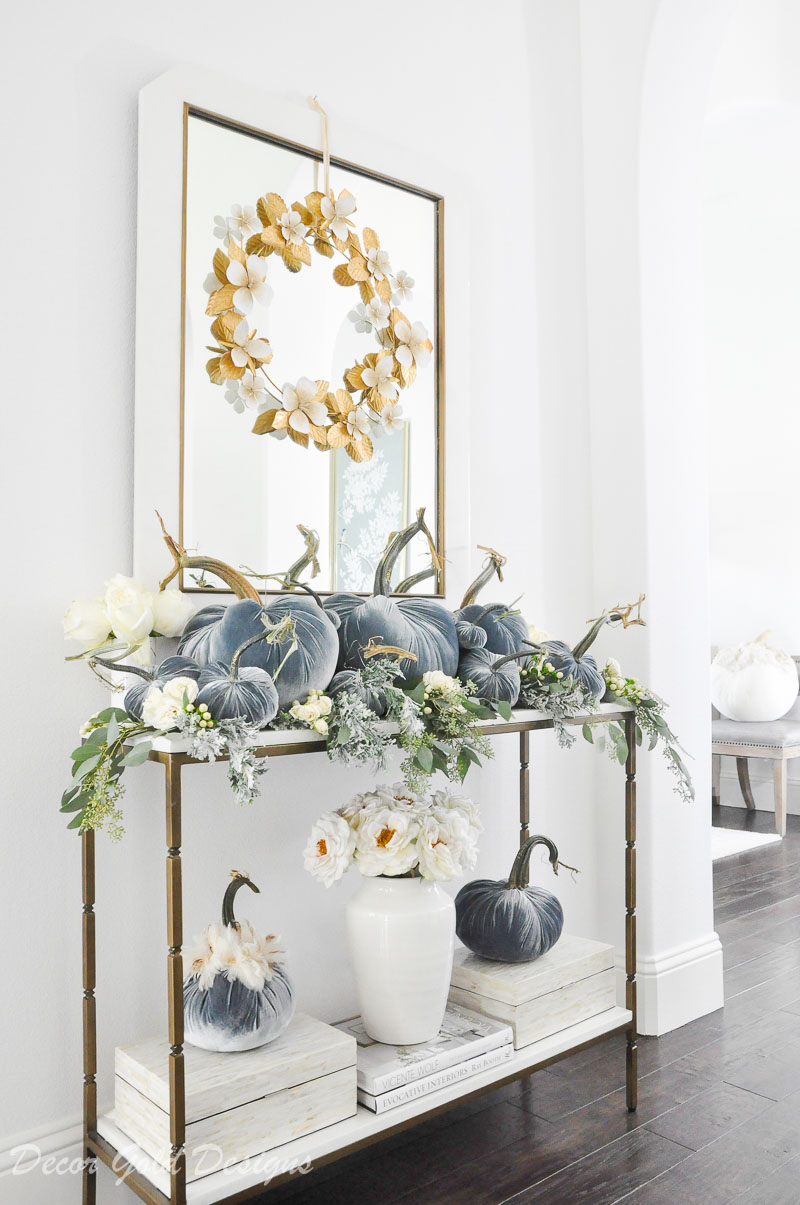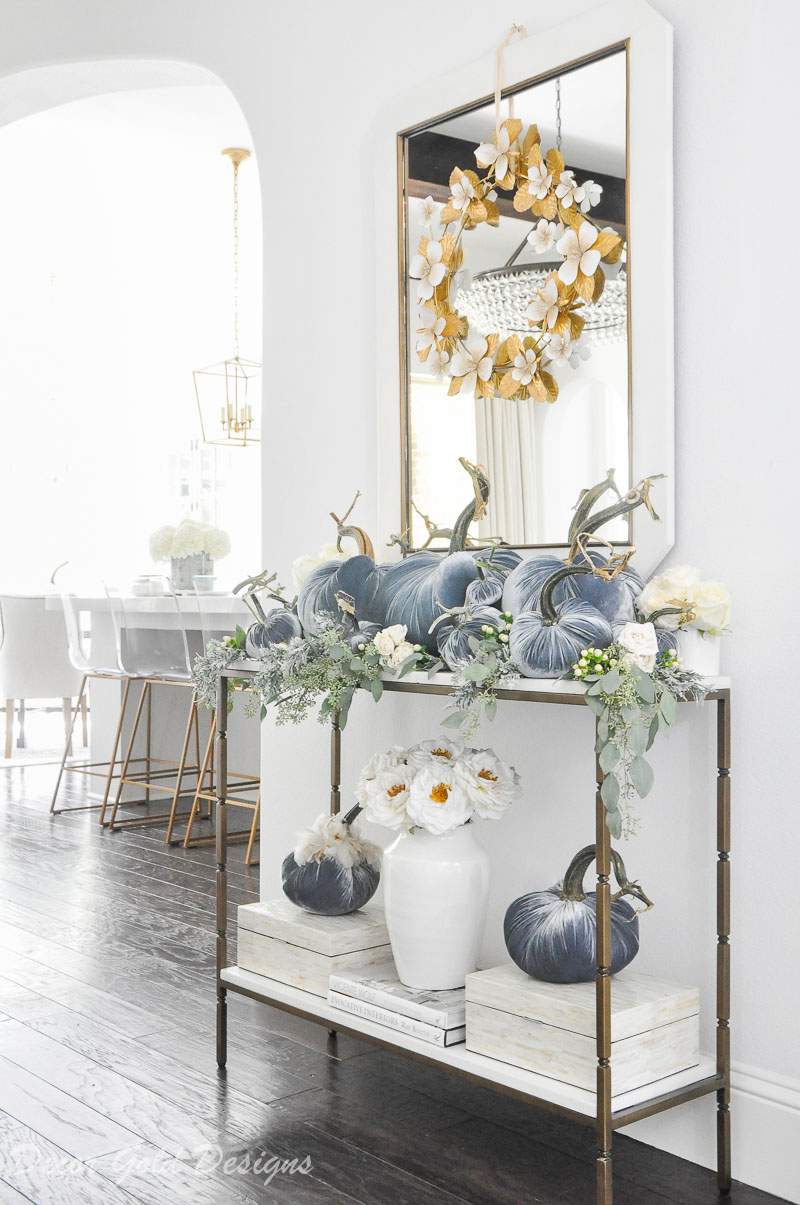 Greenery and flowers can be added here too. Eucalyptus and dusty miller (real or faux), with their silvery tones are a nice choice.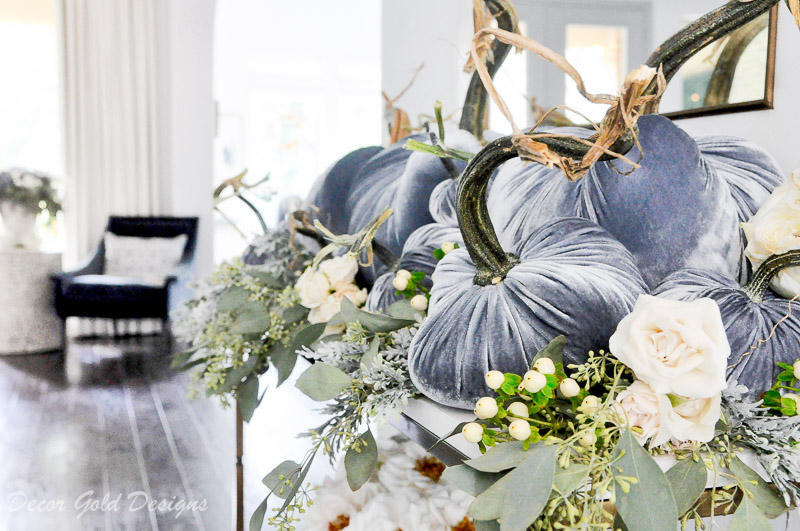 Such a dreamy pumpkin color!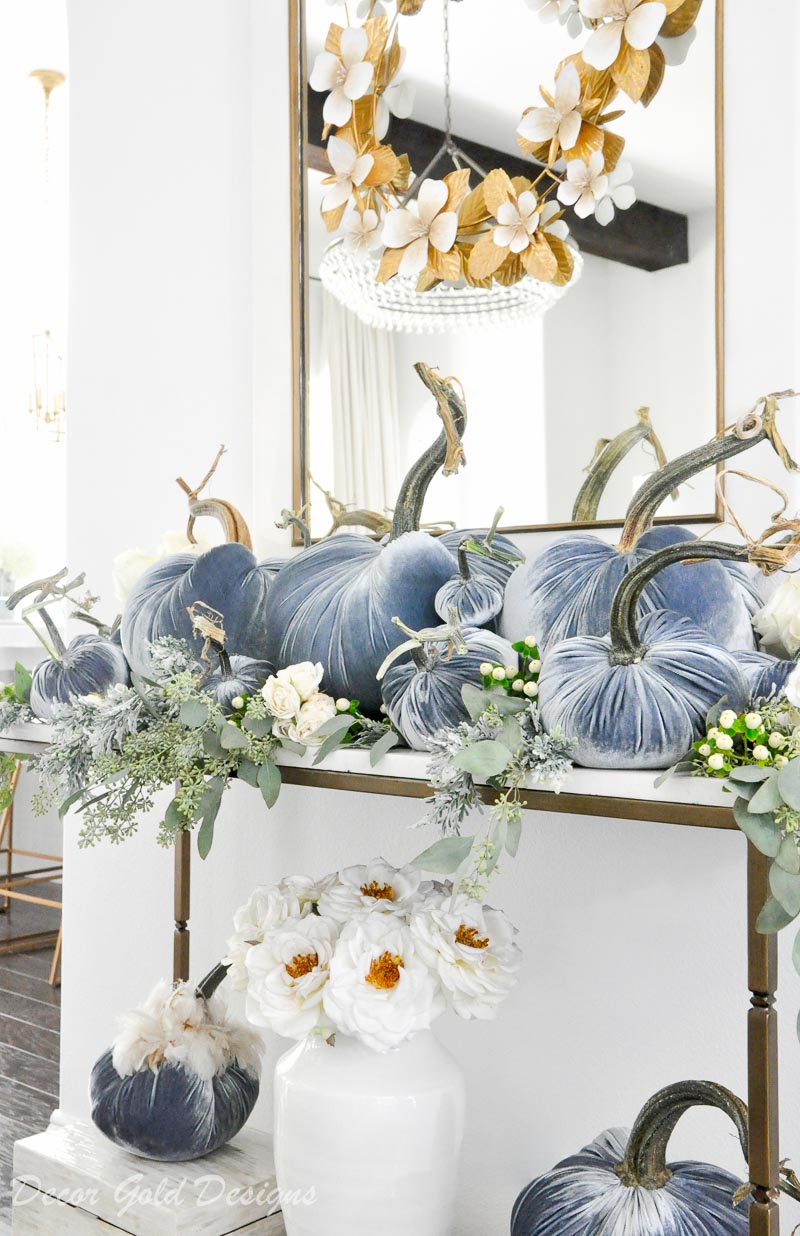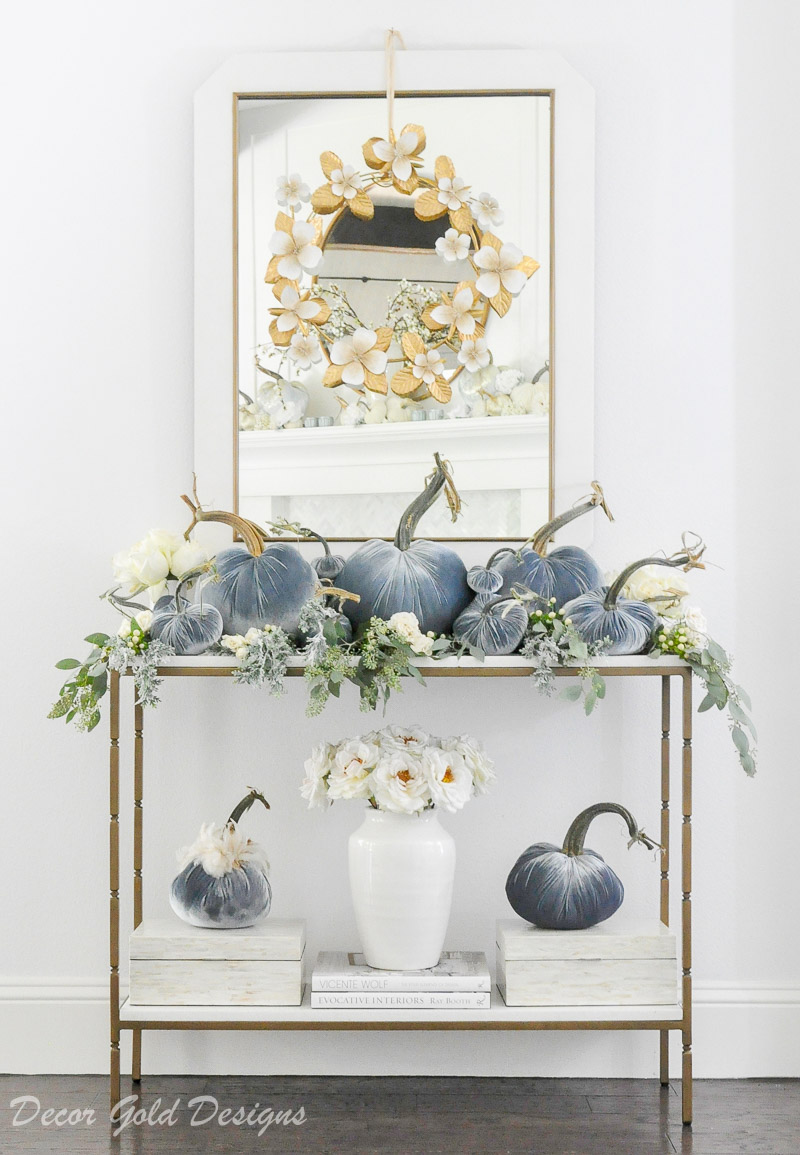 Little effort required, such a wonderful display!


Remember, if you would like to enjoy these tabletop looks throughout the fall season, they can all be setup with all faux flowers and greenery.
Find many more fall styling ideas: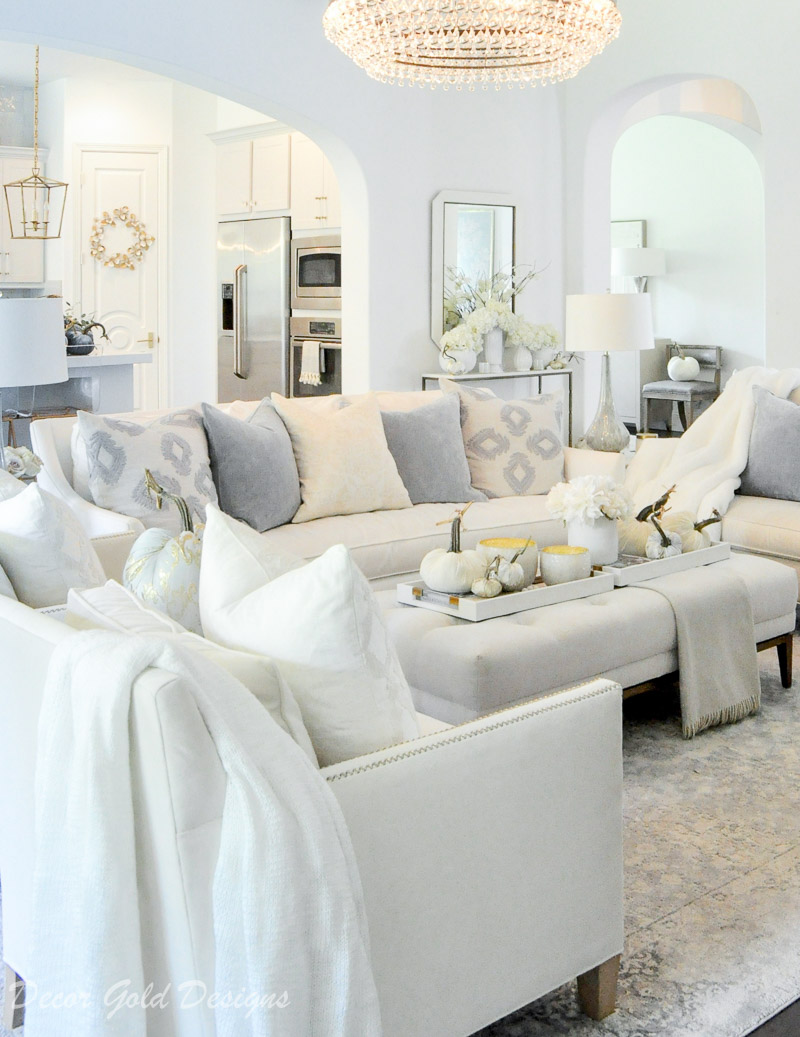 Fall Home – Bright and Inviting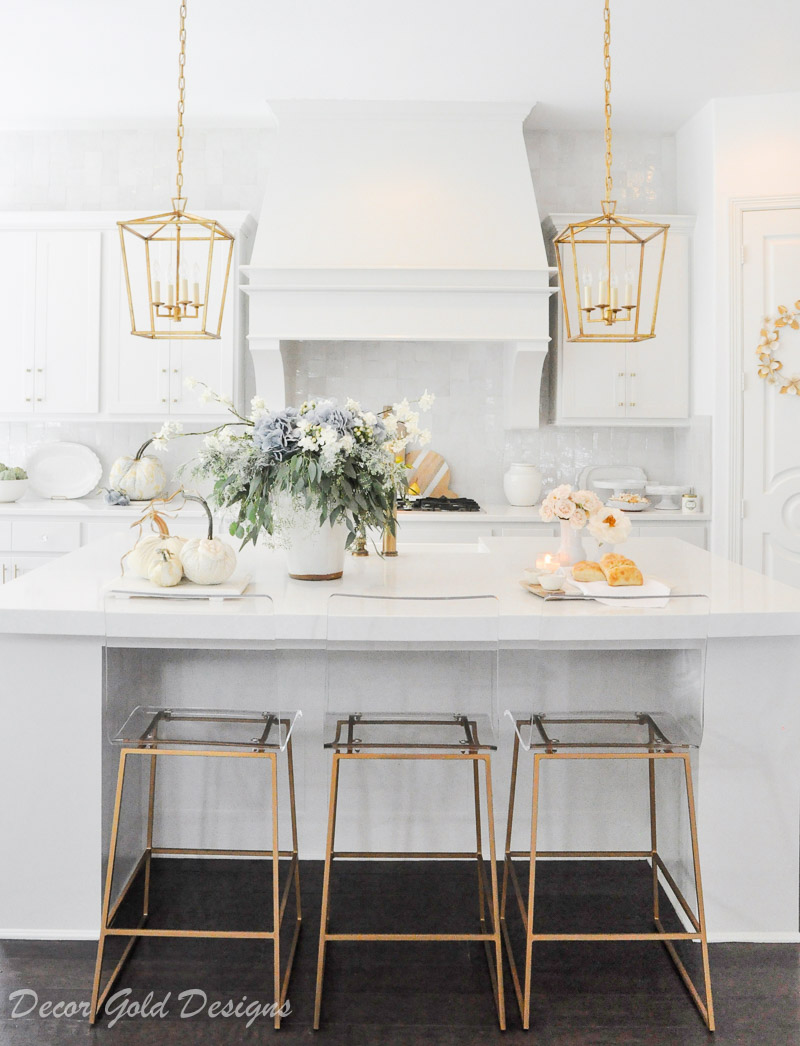 I hope you'll stay connected…..
Click on the Image to Subscribe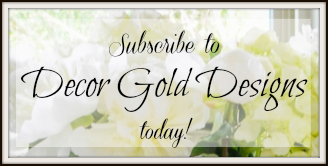 SOCIAL
Instagram | Pinterest | Facebook
Follow me on the LIKEtoKNOW.it app!