Today, I am excited to share details of my master bedroom refresh!
I have been dreaming of this bedroom refresh for quite some time and I am thrilled to have made some major progress!
Let's take a look at the "before" picture. This look is from roughly 2 years ago. I have updated a few things since this image was taken, but I kept the furnishings you see here until recently.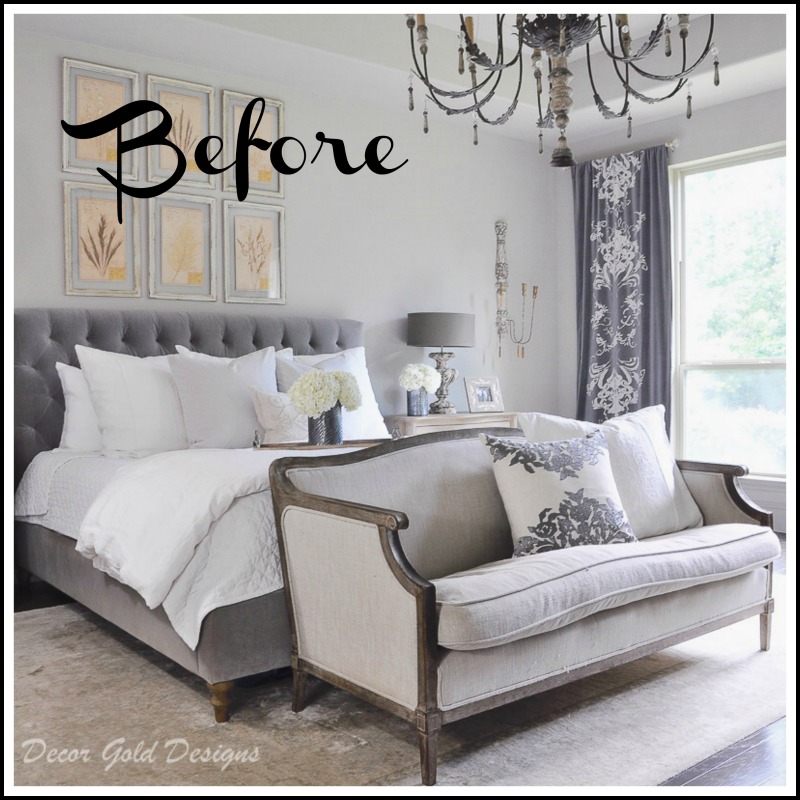 After updating most of the other spaces in our home, a new look for this space was definitely in order. I knew that it would be inviting and peaceful, but also brighter and more in line with our evolving design aesthetic.
Just as I was about to begin planning my master bedroom refresh, I heard from Maiden Home and immediately knew they were the perfect partner for the sophisticated retreat of my dreams!
*This post contains affiliate links. Disclosure here.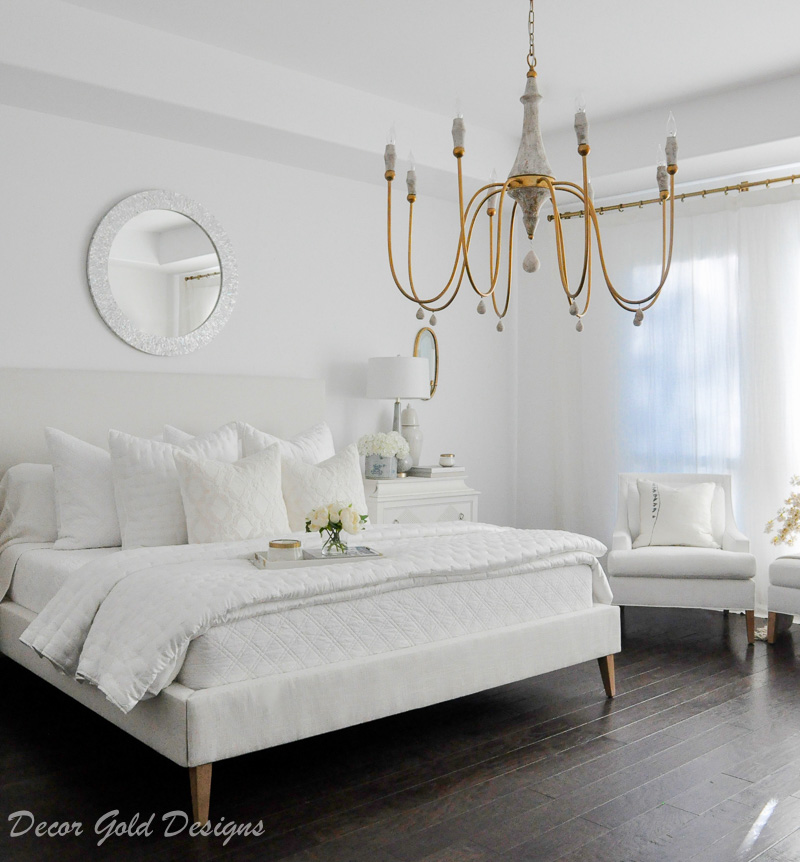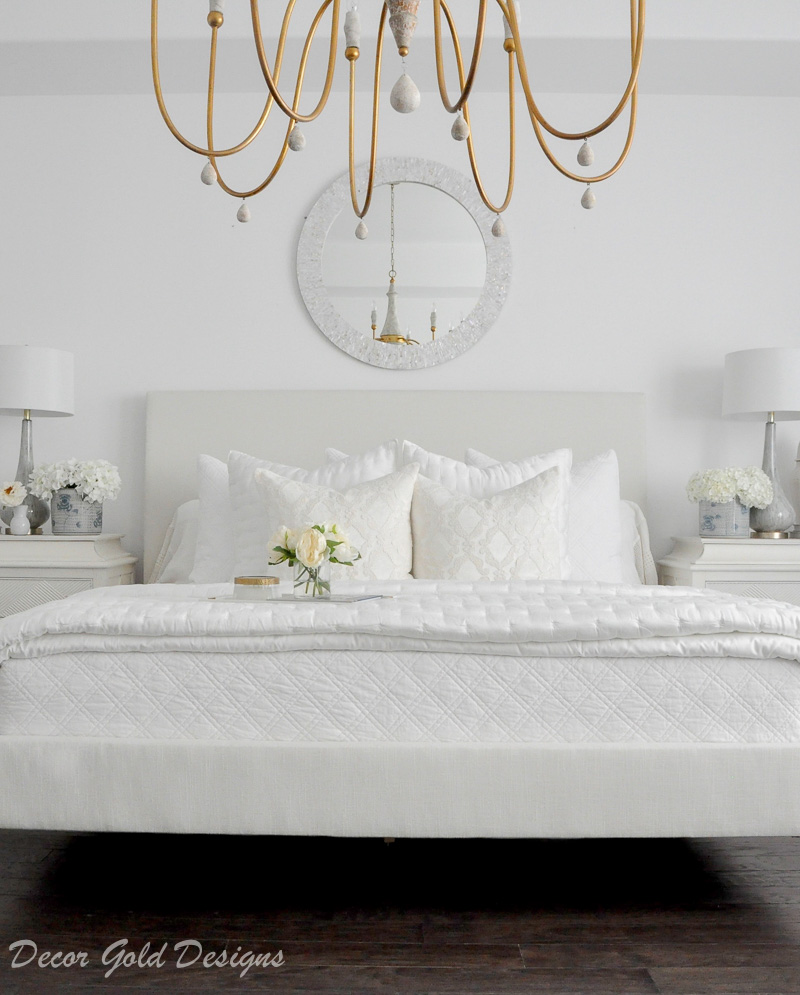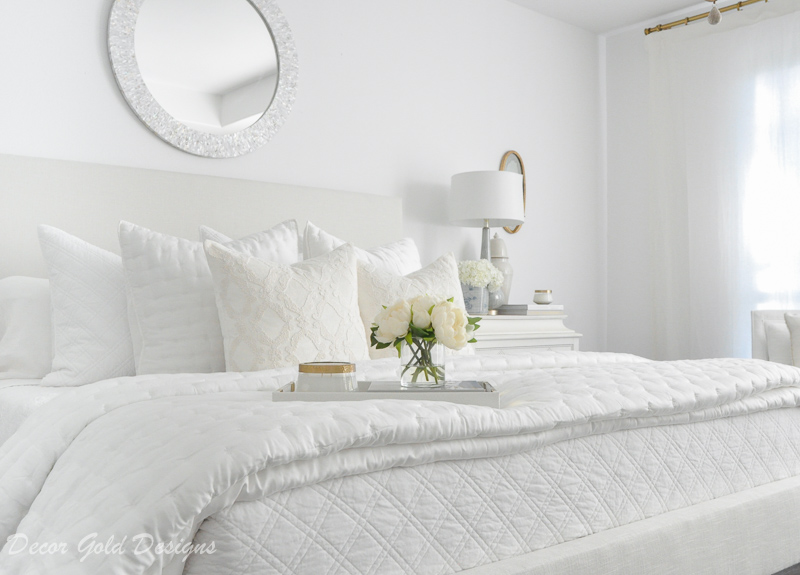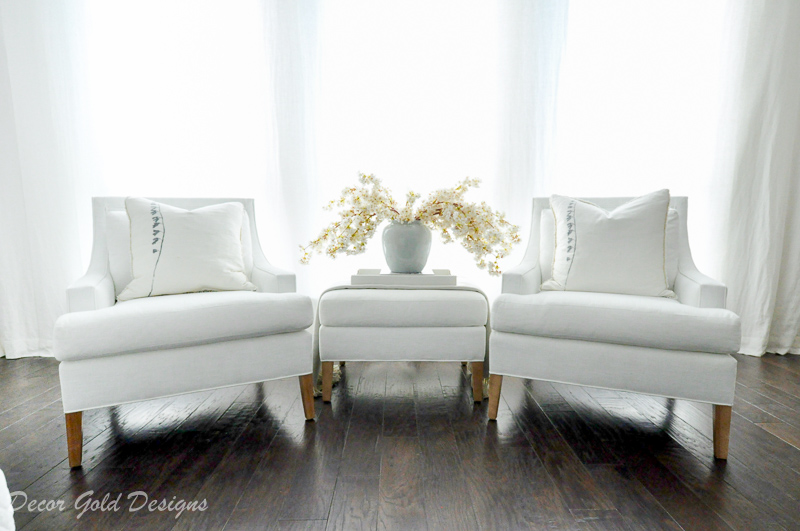 Timeless pieces with clean lines were high on my priority list. Maiden Home's Essex bed fit my style perfectly!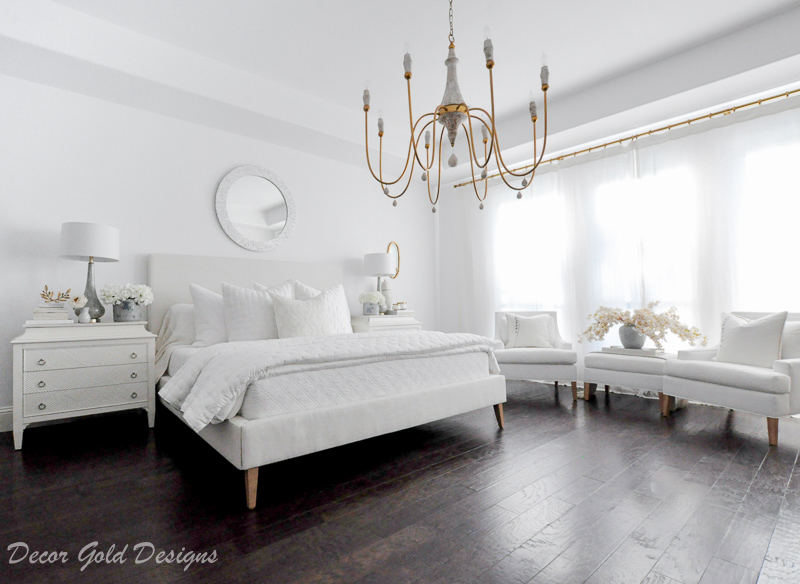 Layers of white on my bed give the bedding a luxurious look. This clean and crisp classic look works season after season and allows for the addition of almost any accent color.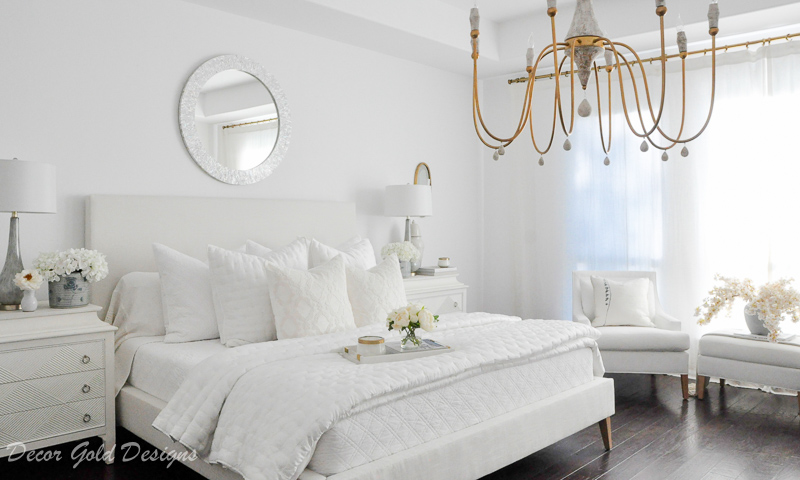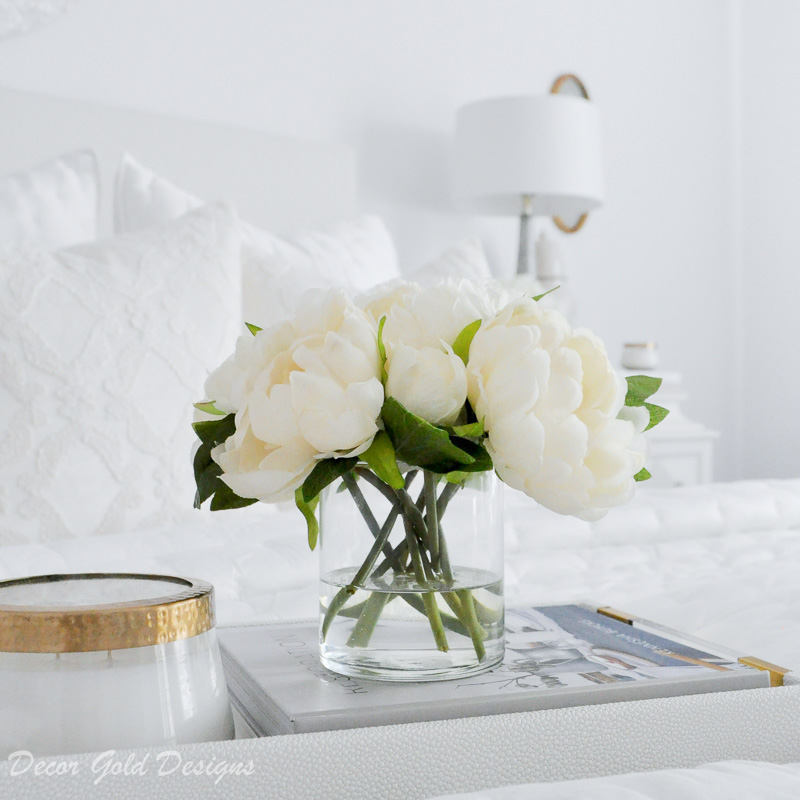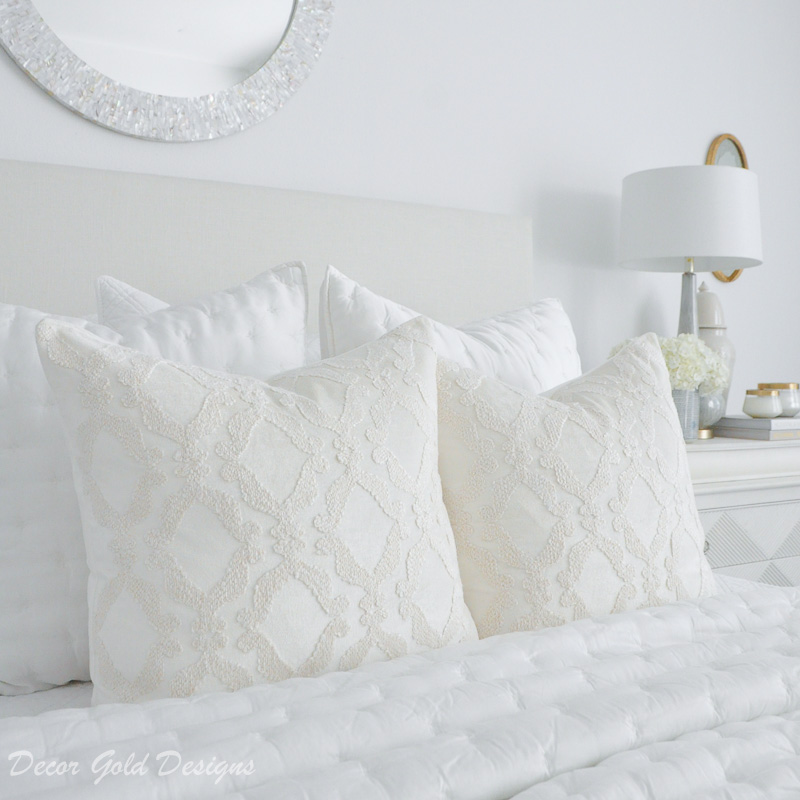 Two Downing Chairs & an Ottoman were my next selection. Just like on my bed, I love the layers of white that these pieces add to my linen curtain panels.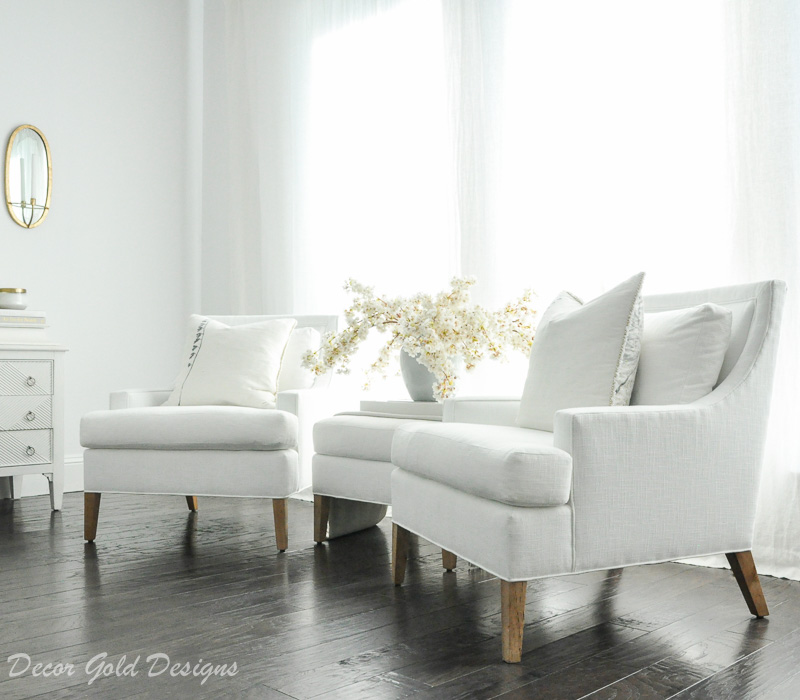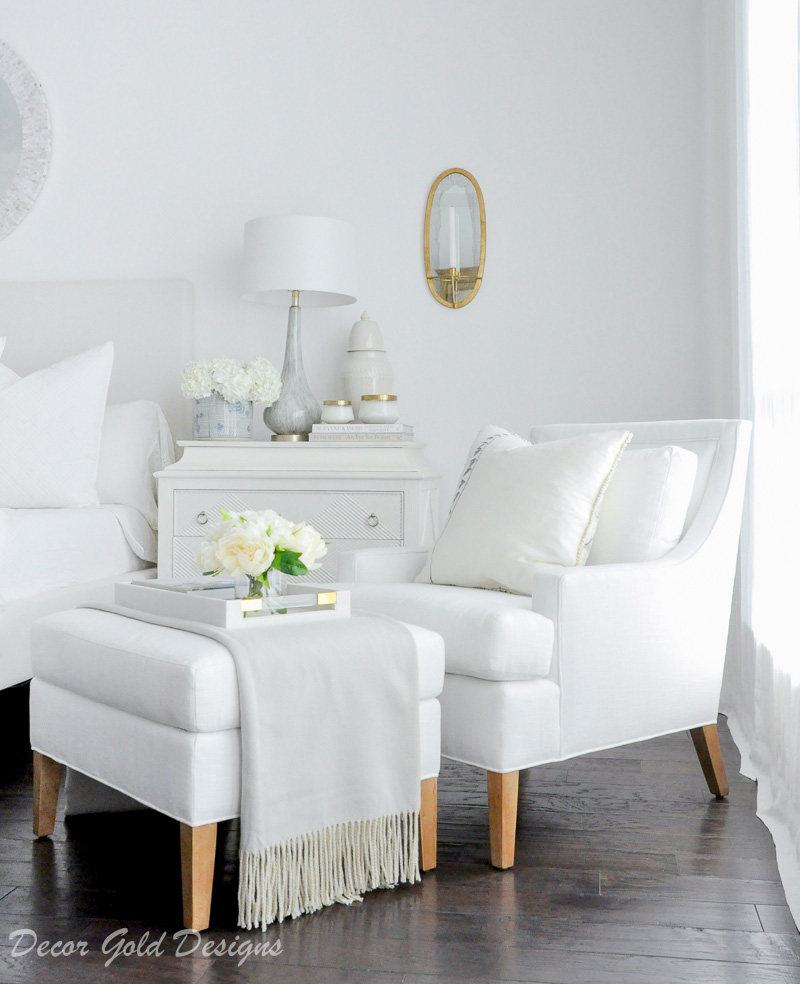 You may remember the nightstands from my guest bedroom. They have such great details! I loved them from the second I found them and decided to "borrow" them for my bedroom until I find new ones.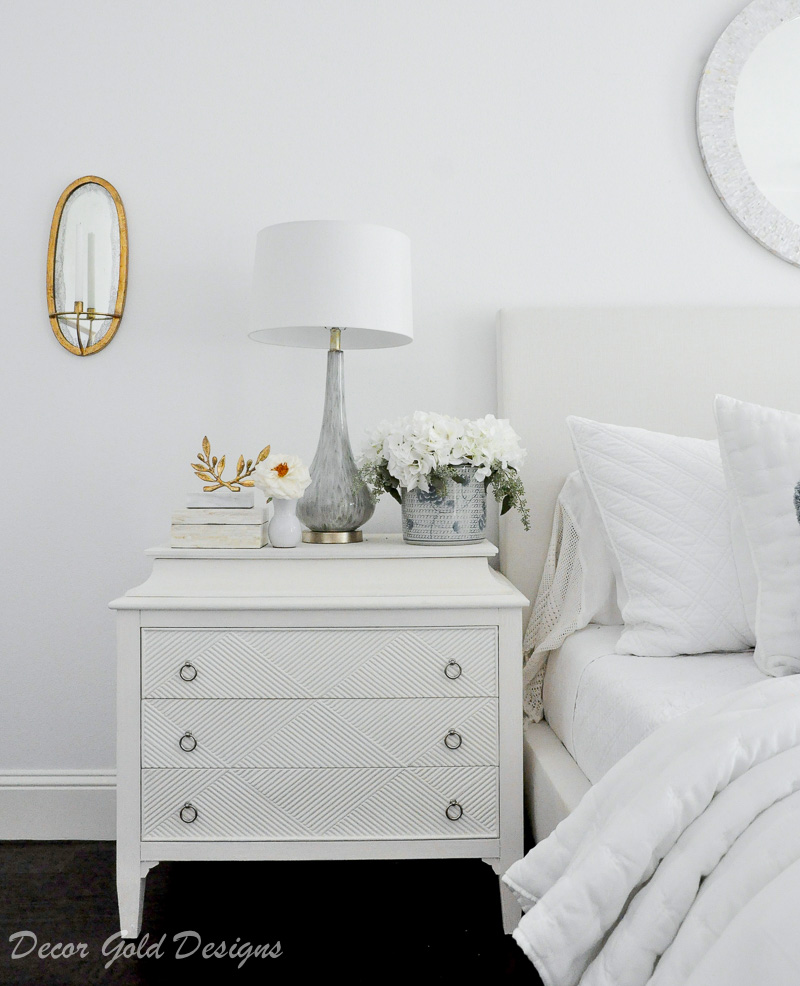 The area above my bed needed something new too. I decided to look for a round mirror. Once I finally found this beauty I knew it was the one. Love it!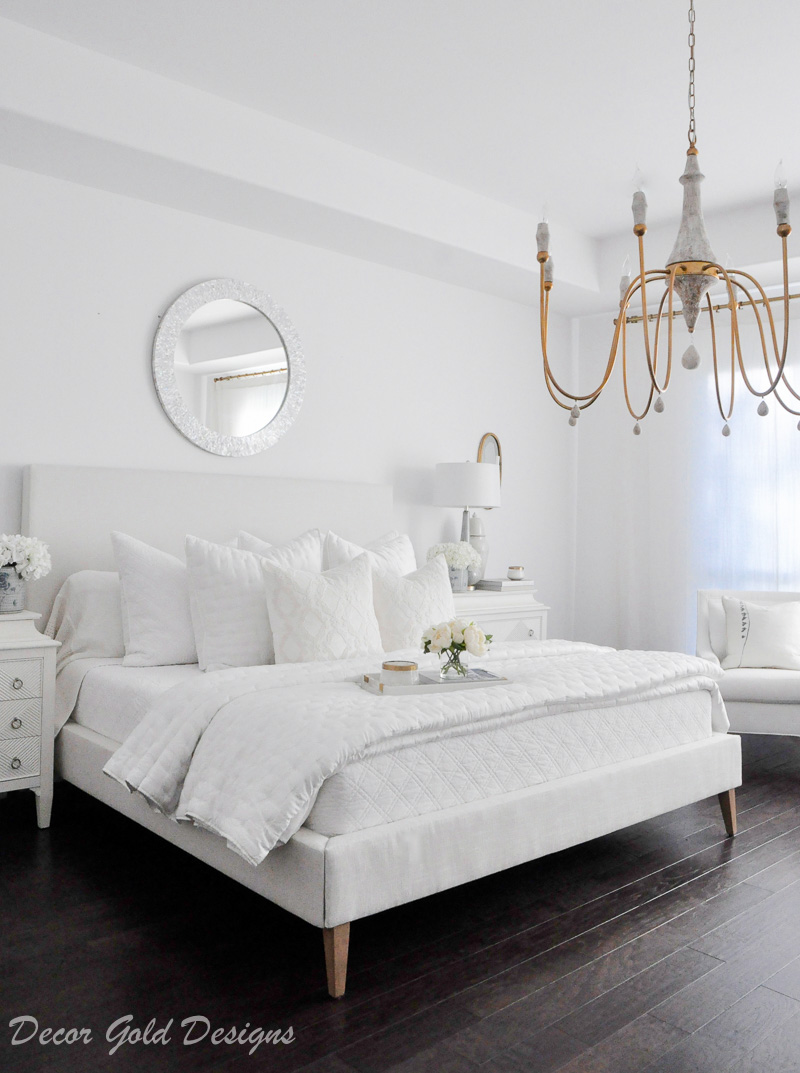 Last year, when I updated my dining room, I included blush chairs. I loved the dimension the soft color added and I knew it was time to add another of my favorite hues to my home.
You may even follow me on Instagram and already know I promised a new pop of color in this space. I made good on this promise and hope you love the color pop as much as I do!
In this space, my color of choice is a soft shade of blue called "sky"!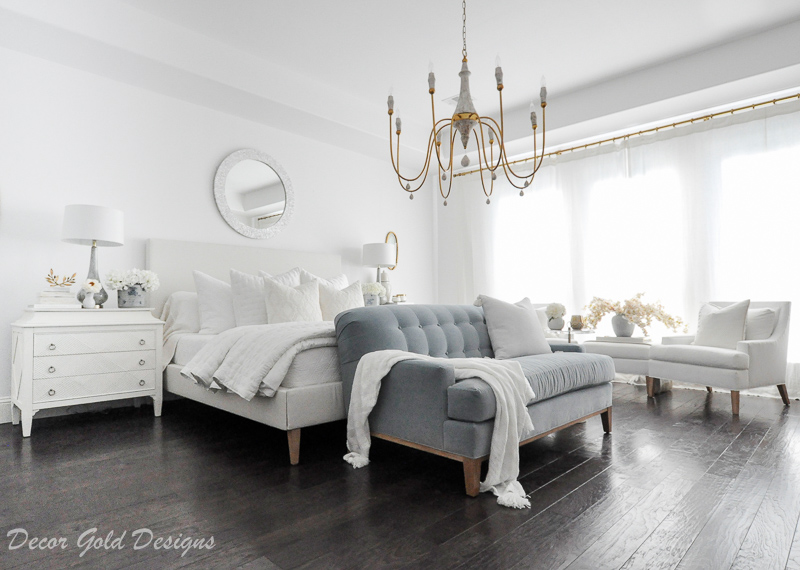 The foot of our new bed was the perfect spot for this sofa in soft velvet.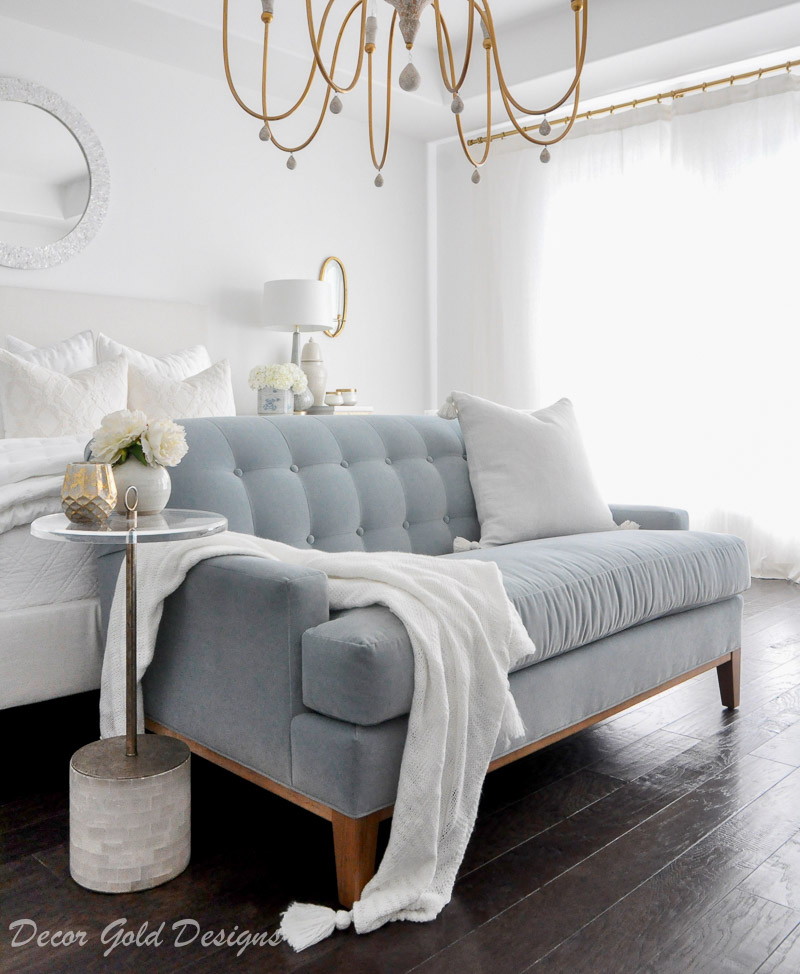 I love the color and the style so much! It comes with 2 seat cushions, but I adore having bench-style seat cushions. Maiden Home made it easy to customize this piece to include one! The seat is deep and the sofa back is slightly reclined which make it extremely comfy.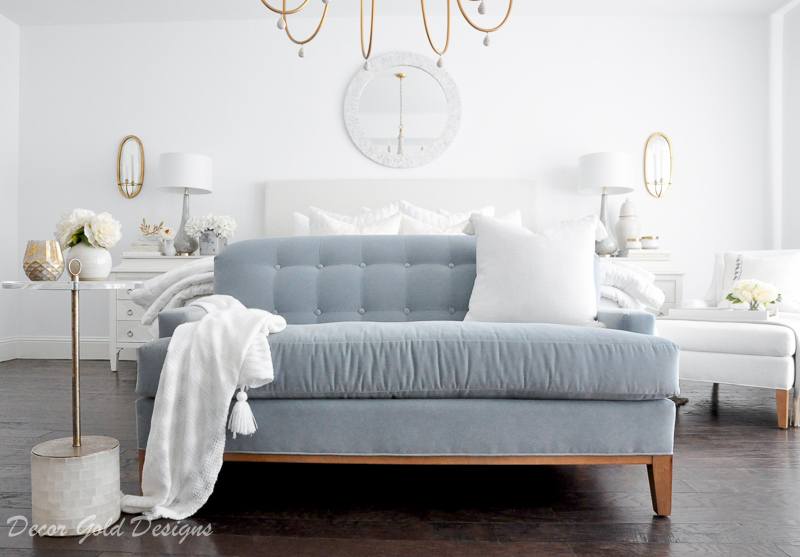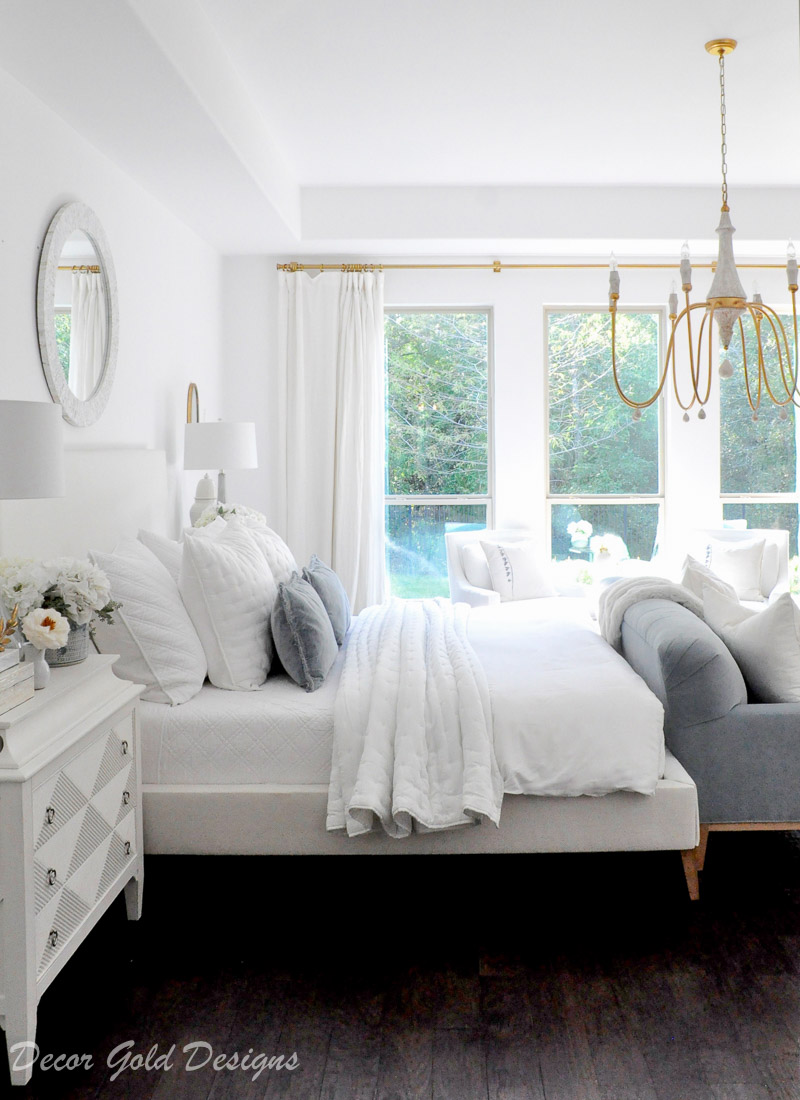 One more update that is worth mentioning…..I FINALLY got Tony to mount our television on the wall! We love having it up there and Tony is pretty proud of the completed task, especially the hidden cords. His handyman skills have come a long way!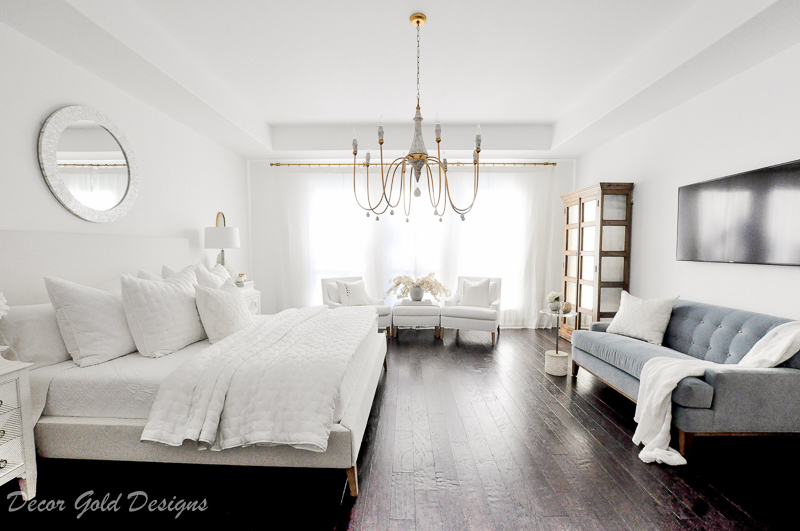 So there you have it! Lots of changes that have made a huge difference!
I am so happy with the progress we've made on our master bedroom! Our new Maiden Home pieces are well designed and beautiful with great attention to detail. Additionally, the pieces fit our lifestyle perfectly.
It took no time at all for Ava and Riley to claim spots in here too. My pet owner cleaning habits and the fact that my new pieces are highly durable make it easy to feel comfortable with our sweet pups sharing our space.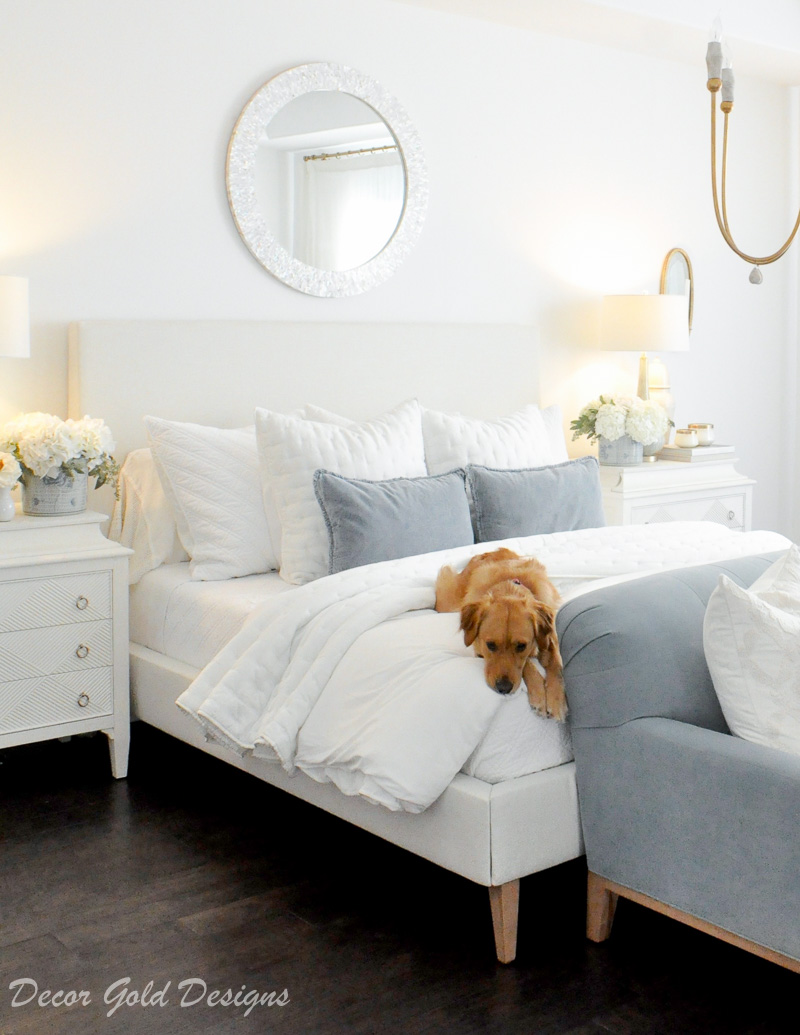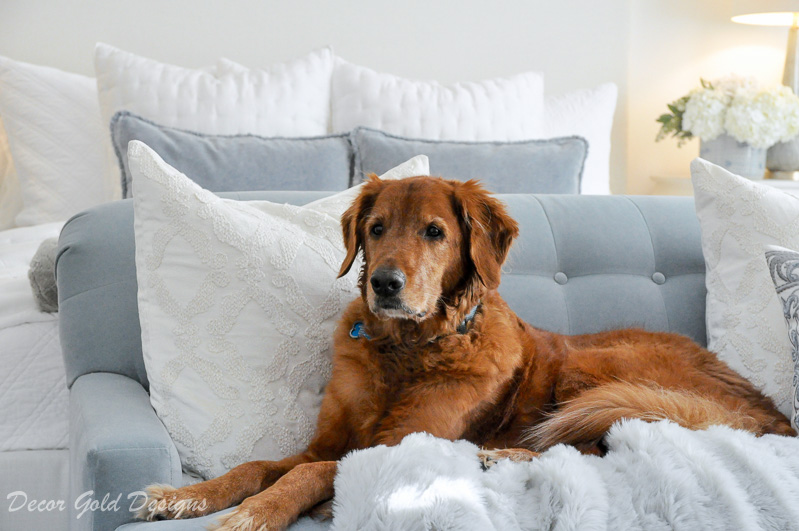 If you have been thinking of updating your bedroom, Maiden Home should be your first stop. Each part of their process is simple. They have mastered the art of easing any anxiety you may have about online furniture shopping. Free swatches and access to a design advisor help simplify the decision making process. Your design advisor will help with any questions you may have about fabrics, products, durability, and more. Then, once your order is placed, you will receive regular updates. Each custom piece is delivered in just six to eight weeks! White-glove delivery is even provided for free!

I am thrilled with each of my new Maiden Home pieces. Even though I still need a rug and a few other things, my bedroom is already brighter, more comfortable, and aesthetically pleasing. Stay tuned for another update including a few additional changes and finishing touches. In the meantime, if you need me I'll be right here!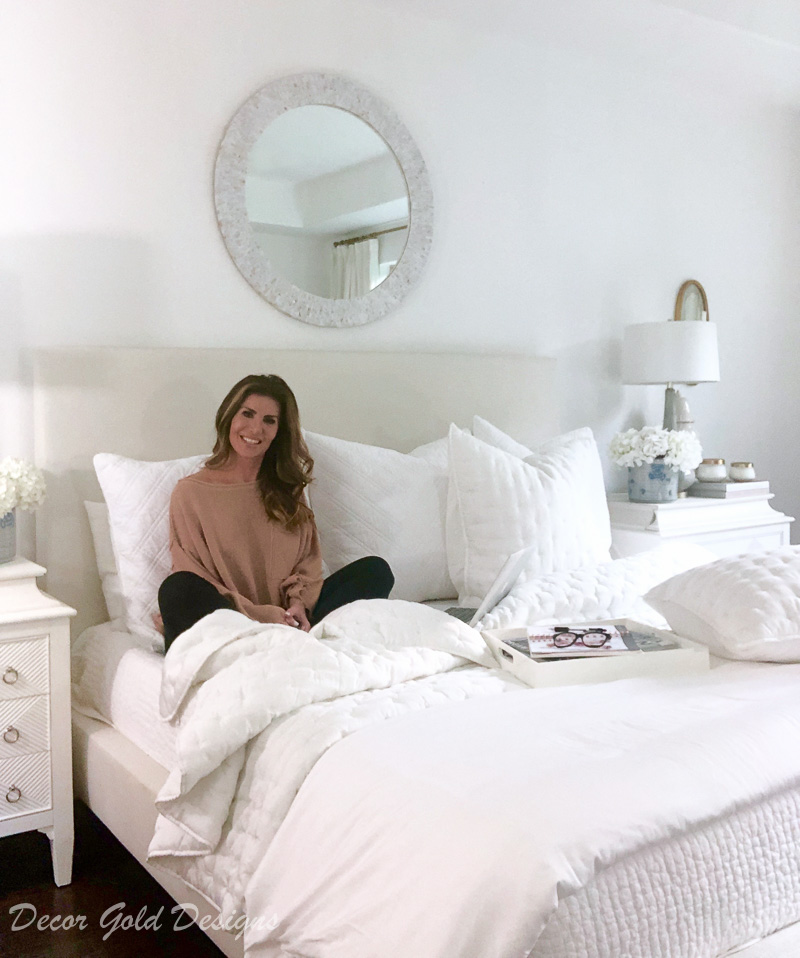 The Essex Bed – Oyster Performance Linen
The Ludlow – Sofa Customized with a bench seat – Sky Velvet
The Downing – Chair & Ottoman – White Performance Washed Linen
Nightstand | Mirror | Chandelier | Lamp | Drink Table | Dresser




I hope you'll stay connected…..
Click on the Image to Subscribe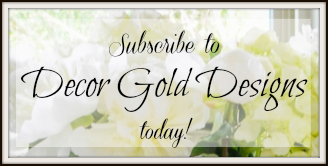 SOCIAL
Instagram | Pinterest | Facebook
Follow me on the LIKEtoKNOW.it app!