I am so happy that my One Room Challenge is now complete and ready to reveal to you all! Truth be told, this one seemed a bit easier than my first, but it still took a lot of work to make this happen in six weeks.
First, a quick reminder of the process that we follow. The One Room Challenge is a six week event hosted by Linda of Calling It Home and her media partner, House Beautiful. Participating bloggers select a room to make-over within their respective homes. Each week, the progress of the make-over is revealed. Today, all of this comes to a culmination with The Final Reveal. You can just feel the excitement!
I hope you've been following along, but if you need to catch up you can do so below.
WEEK 1      |      WEEK 2      |      WEEK 3      |      WEEK 4      |      WEEK 5
*This post contains affiliate links.
After all of my planning and work, this is my new guest room!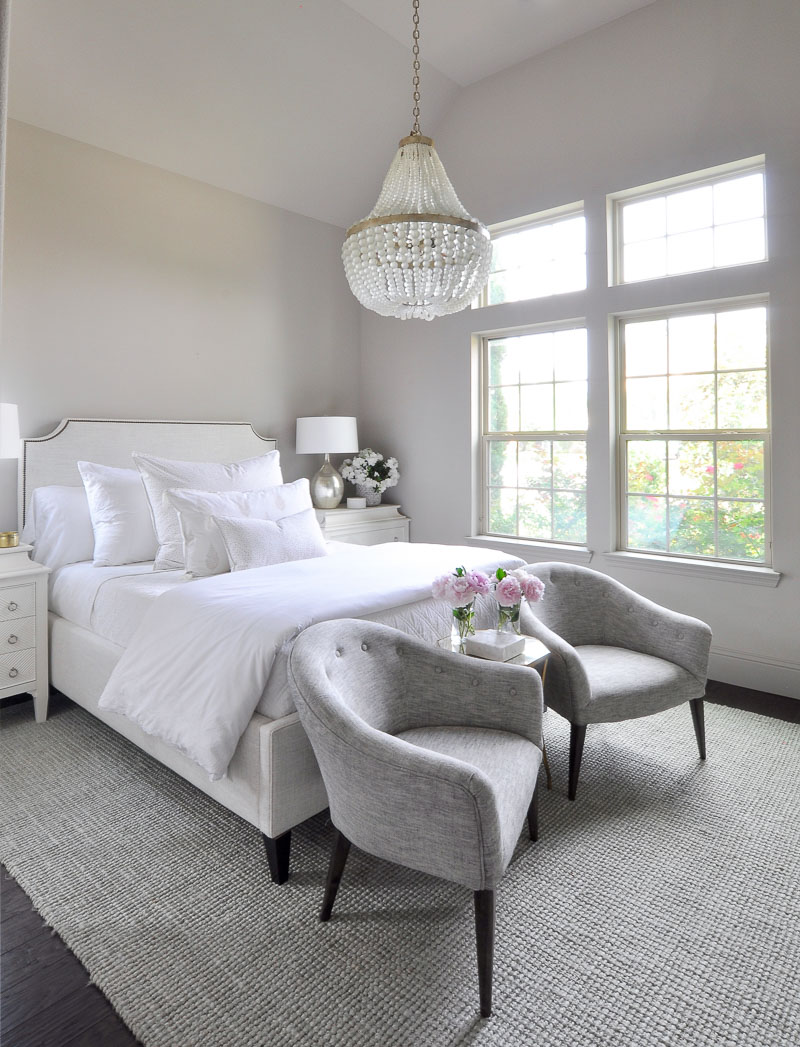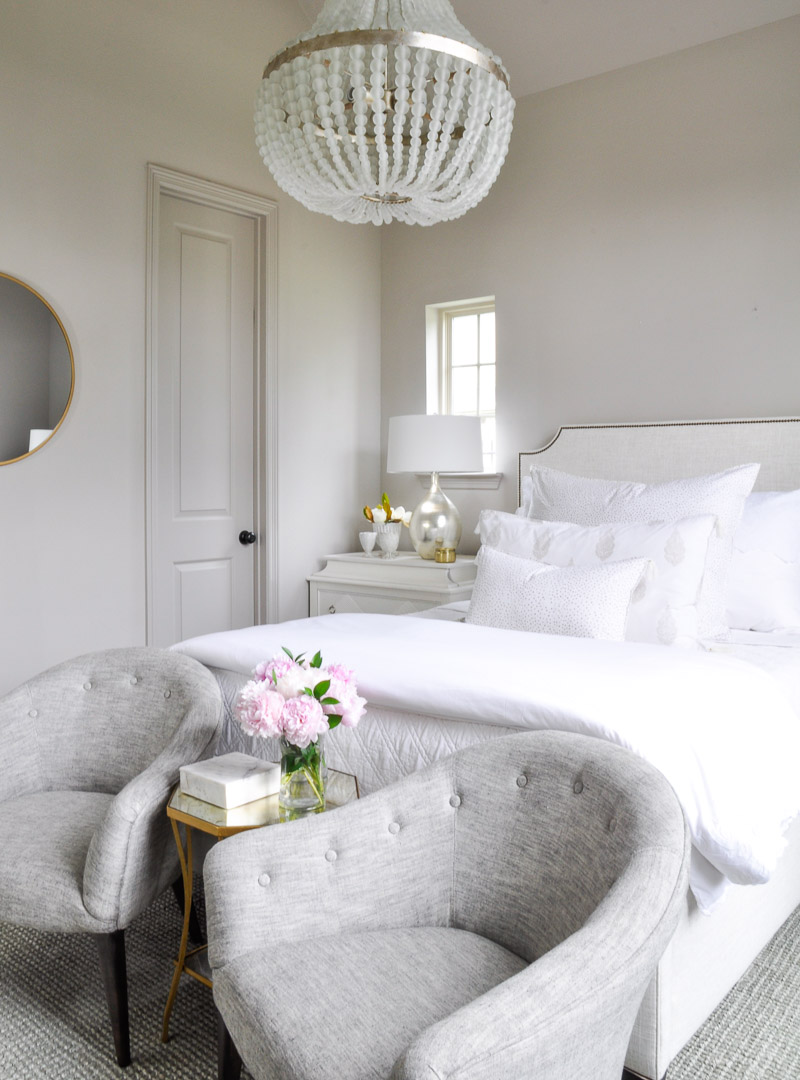 Doing this project has truly has been a labor of love. I have had many guest rooms over the years, but I've never had two that were complete and as welcoming as this one and the one I designed last fall.
When we were building our home some four years ago, I selected almost all of my furnishings, lighting, and bedding from five of my favorite brands. Fast forward a few years later and I feel very blessed to be working with four of them on this room reveal. It is a perk of blogging that I could never have imagined back then. But, it was all part of my journey which led to this passion of mine, design blogging.
And now, for the details…..
The chandelier by Currey & Company is so stunning in person. I have a couple of furniture pieces by this favorite brand, but this is my first chandelier and it's exquisite. The frosted glass beads are graduated in size and they are a beautiful contrast to the champagne-colored frame. The overall shape and size fits the scale of the space, which is very important in a well-designed room. The most wonderful thing about using a statement fixture like this one, it draws your eyes up to the best feature of this room, the cathedral ceiling.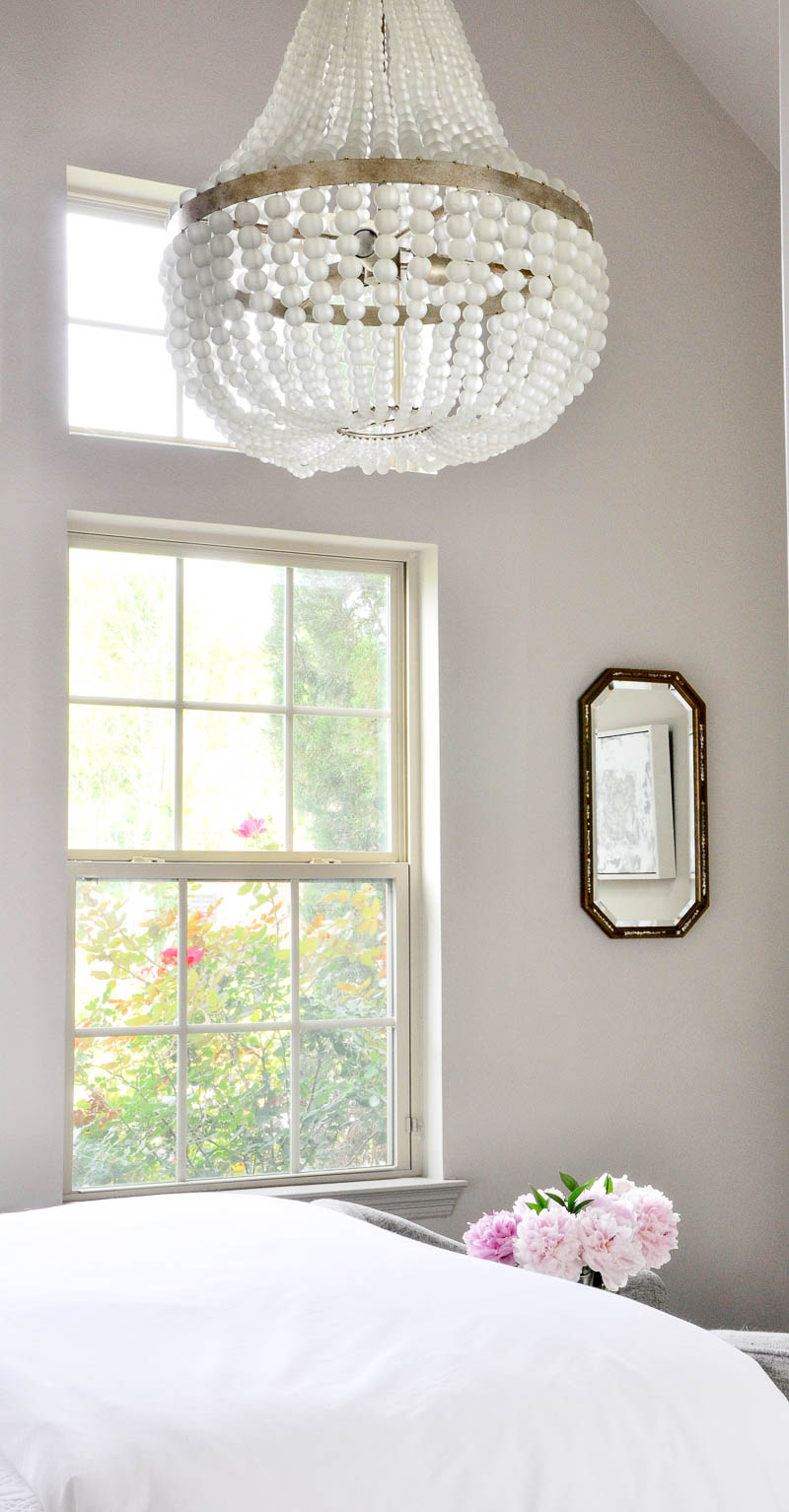 Another brand which is special to me is Aidan Gray. I have loved them from the moment I first saw their beautiful pieces. When shopping for this room, I found these chairs and knew they would be the perfect choice. Their unique shape provide visual interest. Moreover, the slightly more masculine fabric offers a little contrast to the white bedding. Like your taste, mine changes over time too and I am thrilled to be sharing a bit of that in here today.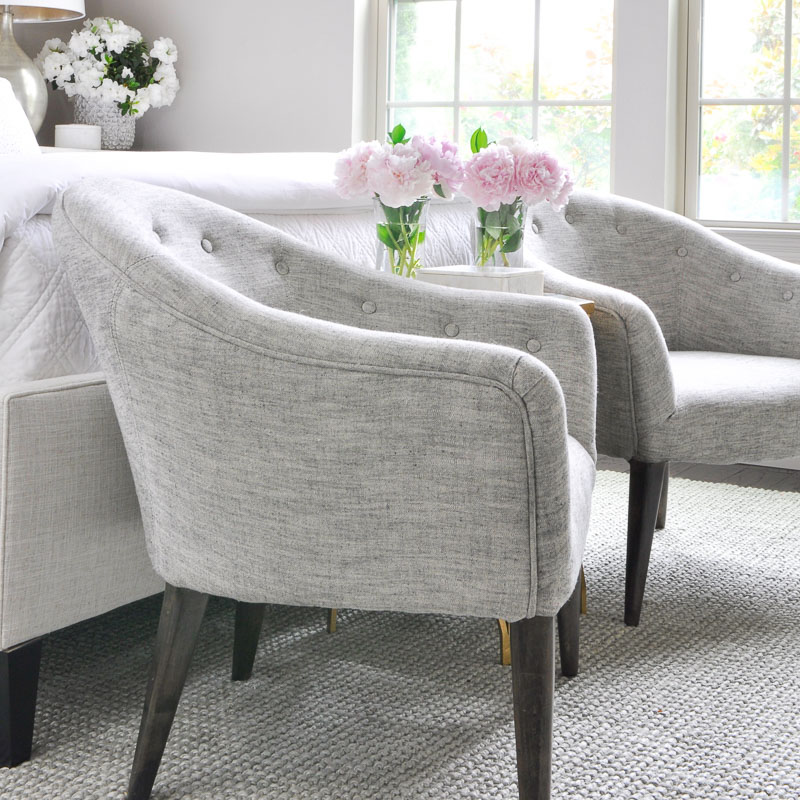 The gold drink table, also by Aidan Gray fits perfectly here and helps provide interest beyond the typical bench at the foot of the bed. Don't get me wrong, I love a pretty bedroom bench. But, I definitely wanted this room to have something unique and the chairs and table fulfilled that wish.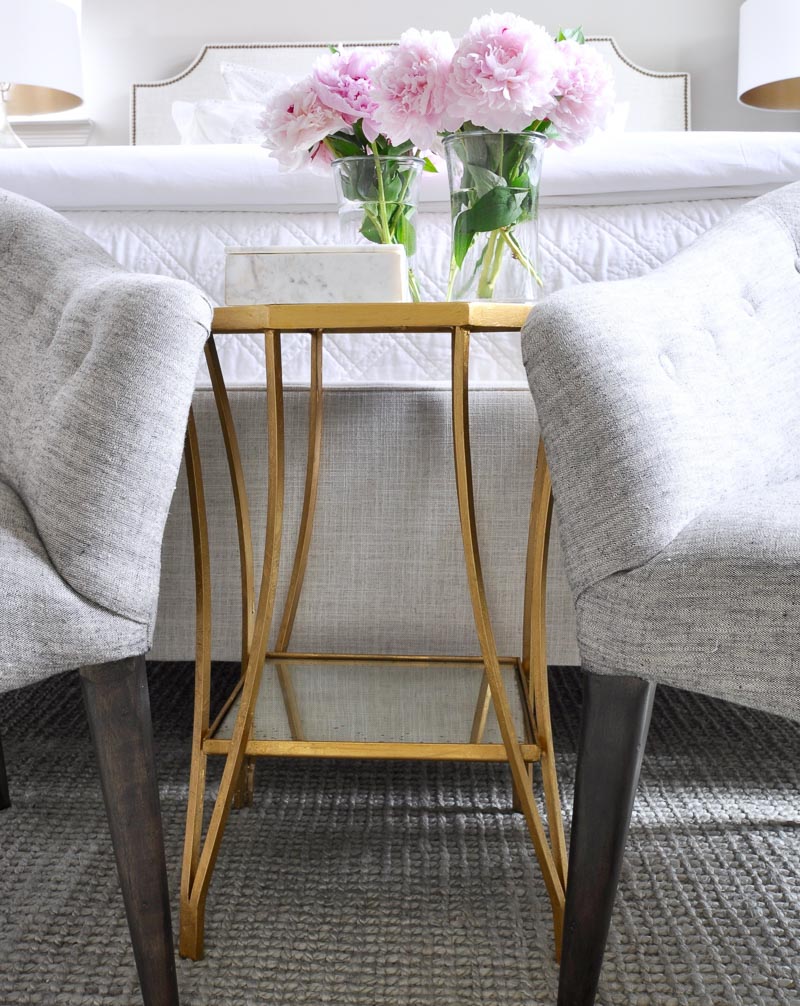 The bed is upholstered in a beautiful neutral linen. I've used a similar sand colored linen in most of the other rooms in my home, so it helps with the flow. You can read about this and my other tips for decorating an open concept home here.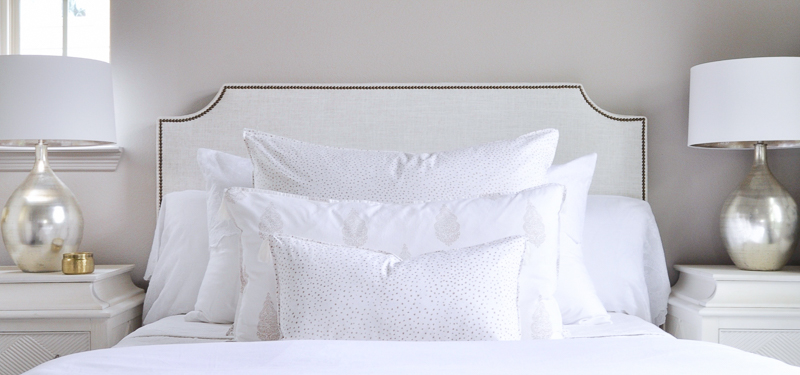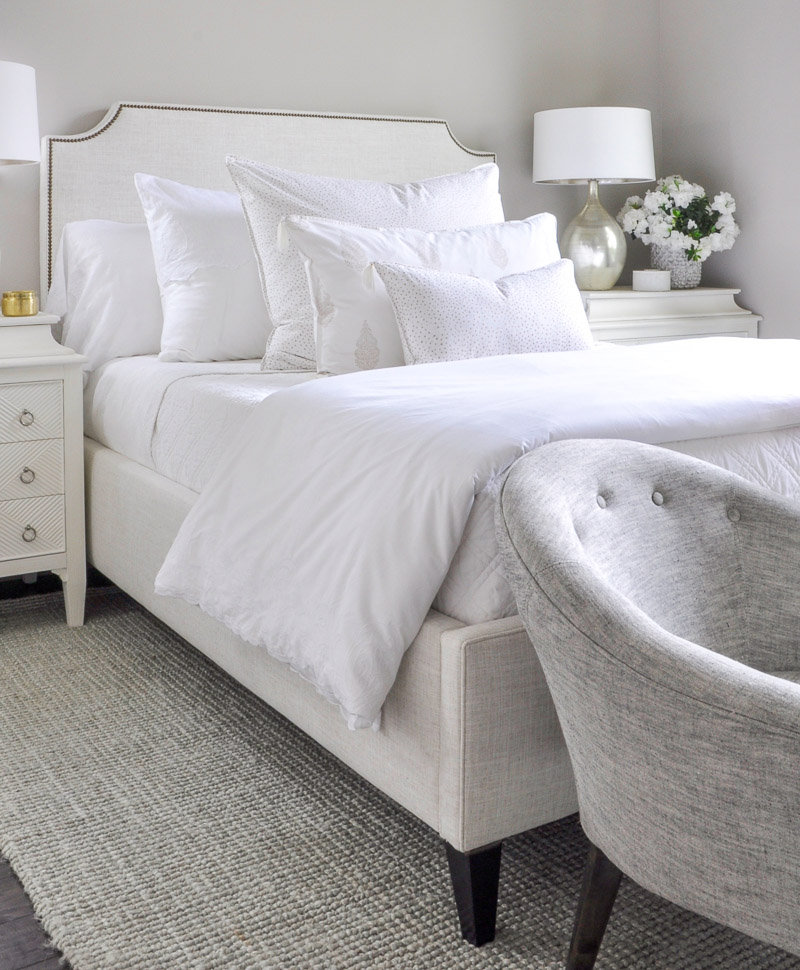 I fell in love with the nightstand details the second I found them. They are even more special in person. The painted finish is textured which adds additional intrigue. Also, they have large drawers which are perfect for storage. The nightstands and the bed were actually the first items I ordered. They are both by Gabby and like all of my pieces from this beloved brand, they are of excellent quality. Gabby is a division of Summer Classics and I adore working with both as a StyleMaker. You may recall my recent Patio Update Reveal in which I featured some beautiful new outdoor pieces.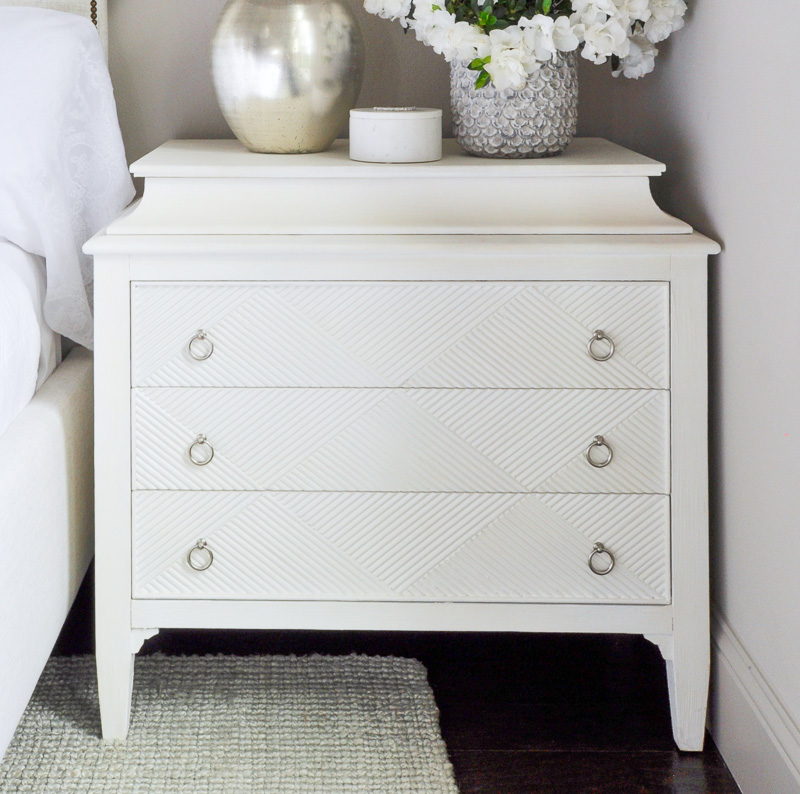 Another brand that I was a loyalist to prior to launching this blog is Pom Pom at Home. They've done it again and this bedding is beyond exquisite.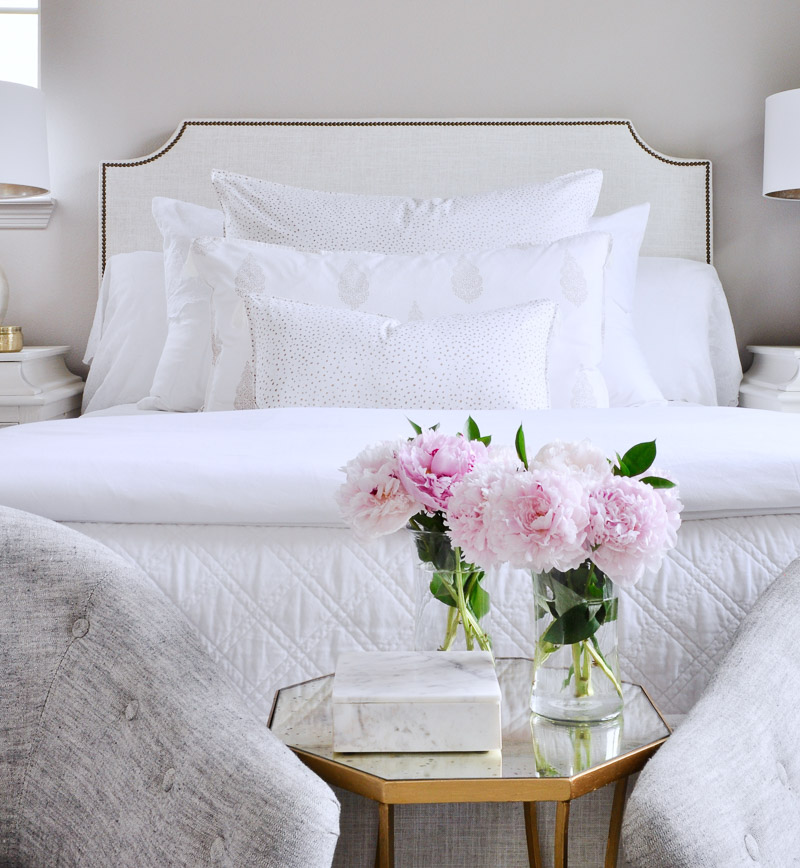 Below, I selected hand blocked pillows which are made using a century old Indian art form called hand blocked printing. The pattern is created by dipping hand carved wooden blocks into dye and then stamping them by hand onto the cotton fabric. I chose a medium and large lumbar size as well as a big pillow. They are perfect for the full bed reveal.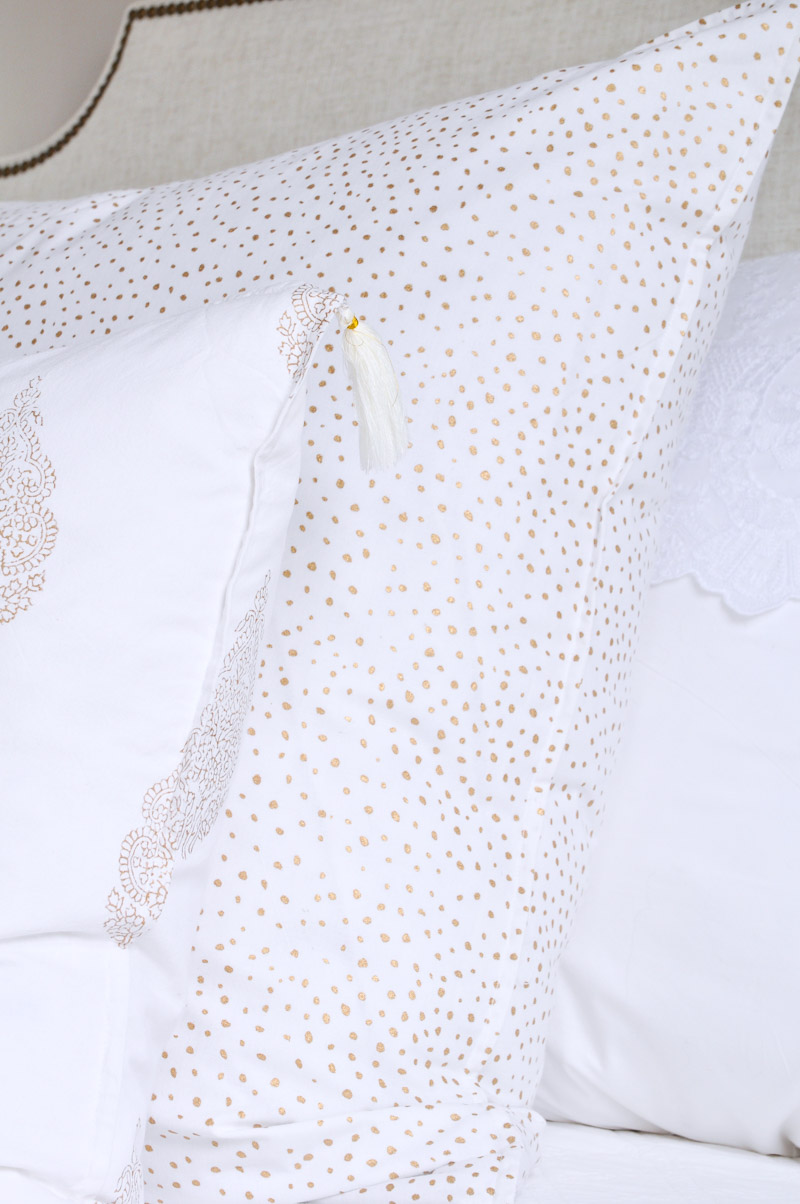 Aside from the gold design on the hand blocked pillows, I chose all white bedding and focused on texture and details. The duvet, euros, and pillowcases are all from a new collection which features subtle embroidered details on stonewashed cotton. I also used a cotton velvet coverlet and a cotton percale sheet set. All are so pretty and timeless!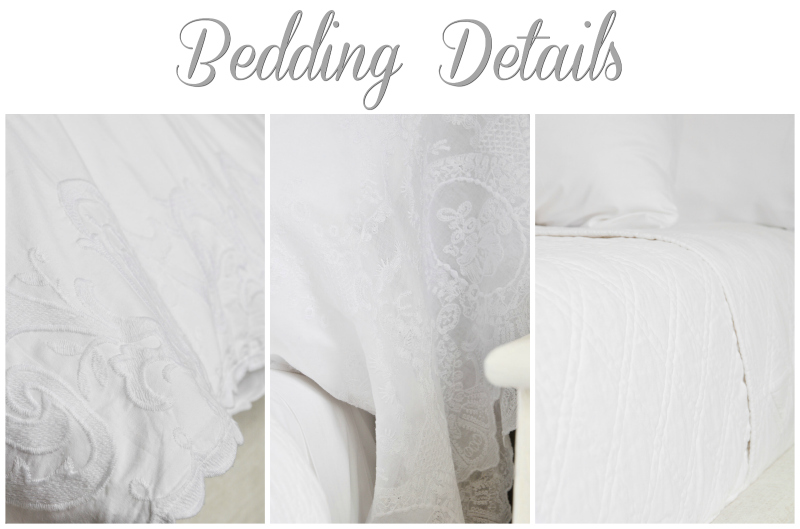 Cotton Velvet Coverlet | Duvet Set | Euros | Lace Pillowcases | White Sheet Set | Big White Pillow with Gold Dots | Large Lumbar | Small Lumbar
Underneath the lovely bedding is an incredible Bamboo Mattress by Cariloha. This was my first time using a bamboo memory foam mattress and I must say, it's incredibly comfortable. The charcoal bamboo is naturally breathable which allows you to remain cooler while you sleep. I recently selected some additional bamboo products in an effort to get my home more guest ready. My loyalties are quickly building for this company!
By the way, a 9″ Box Spring is completely hidden, which elevated the mattress to the correct level.
The 20″ down inserts are from Joss & Main. I also found the Euro inserts there as well. They are made to order, but still very reasonable in price. Additionally, I chose queen pillows and king pillows for the comfort of our future guests. I chose all of these based on the reviews which are top-notch.
Reflecting on all components of this room, the rug has been my greatest challenge on this journey towards the reveal. That and the fact that we snuck away to Charleston for four days the last week before the reveal! But, back to the rug.
I have two and absolutely I love them both. The gray one was originally meant to be the bottom layer and I was going to put a patterned one on top. Well, the patterned one I had hoped to add didn't work out. I will be thrilled if I get the chance to add it later. I should mention that Jaipur Living was so generous to send two. I'm very grateful. Each of these oversized rugs is beautiful and the quality is excellent.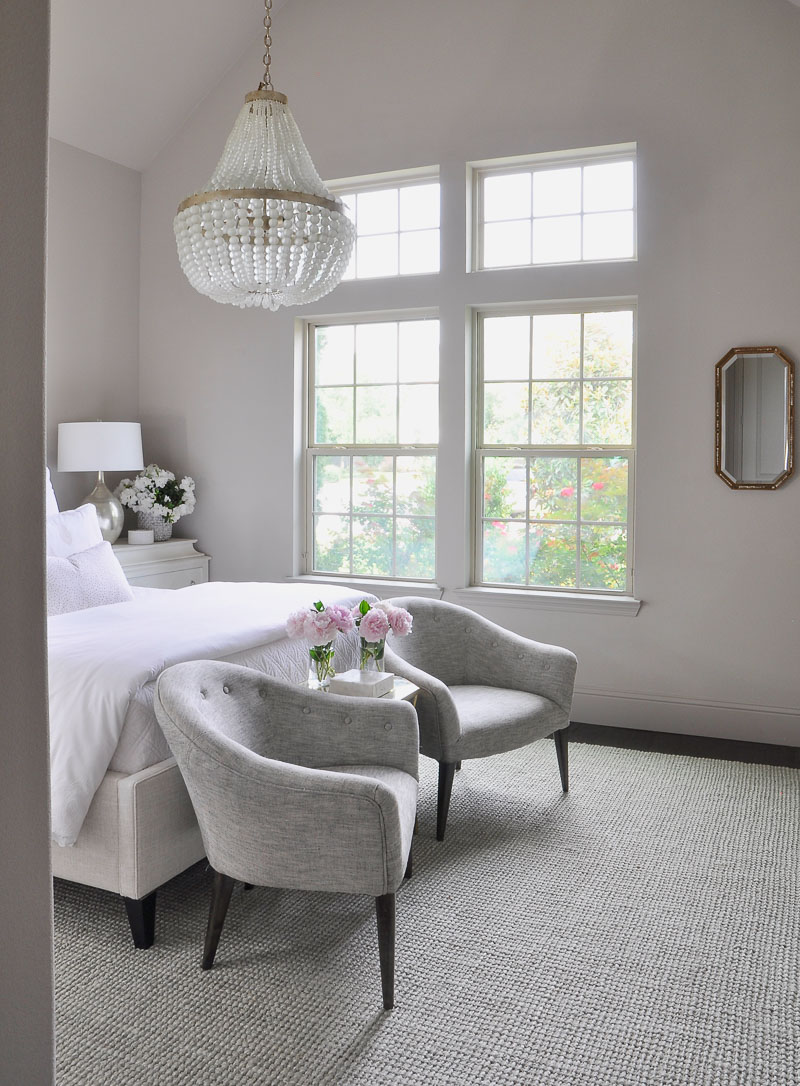 As I mentioned last week, I haven't been able to make them work together, but I am going to share the room with the other one in an upcoming post so you can see how something as simple as changing a rug can provide an entirely different look!
For purchase information on the rugs, Tobago Natural and Heron (which you can see here in my Week 5 update), please contact Jaipur Living at [email protected] and they will help you find the nearest retailer.
Now, let's get to the accessories.
I found this beautiful marble box. It works harmoniously with the gray chairs.
A second marble box with agate on the lid was perfect for the nightstand.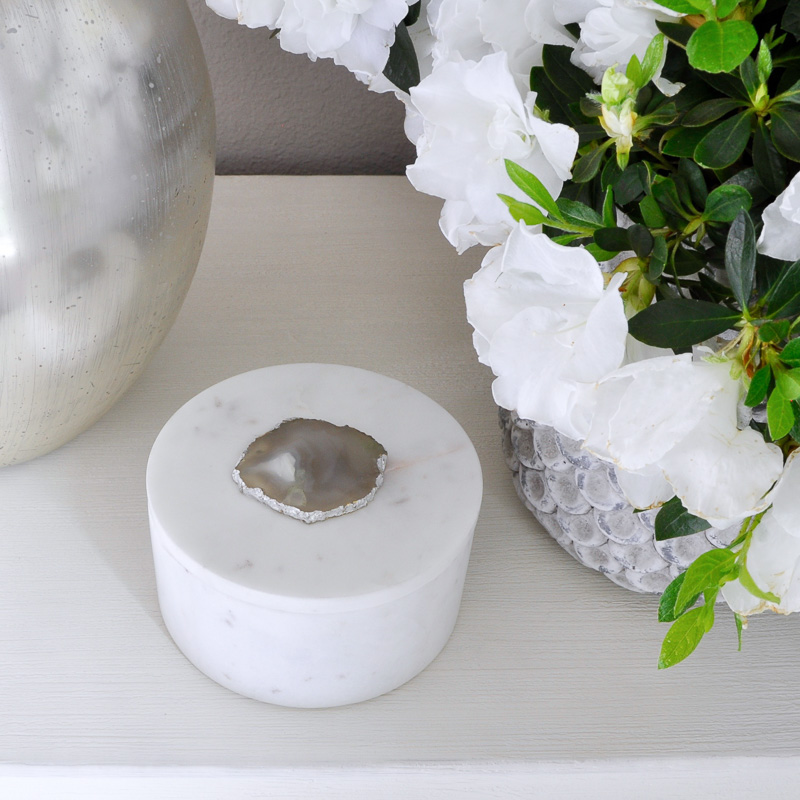 I also fell in love with this trio of vases.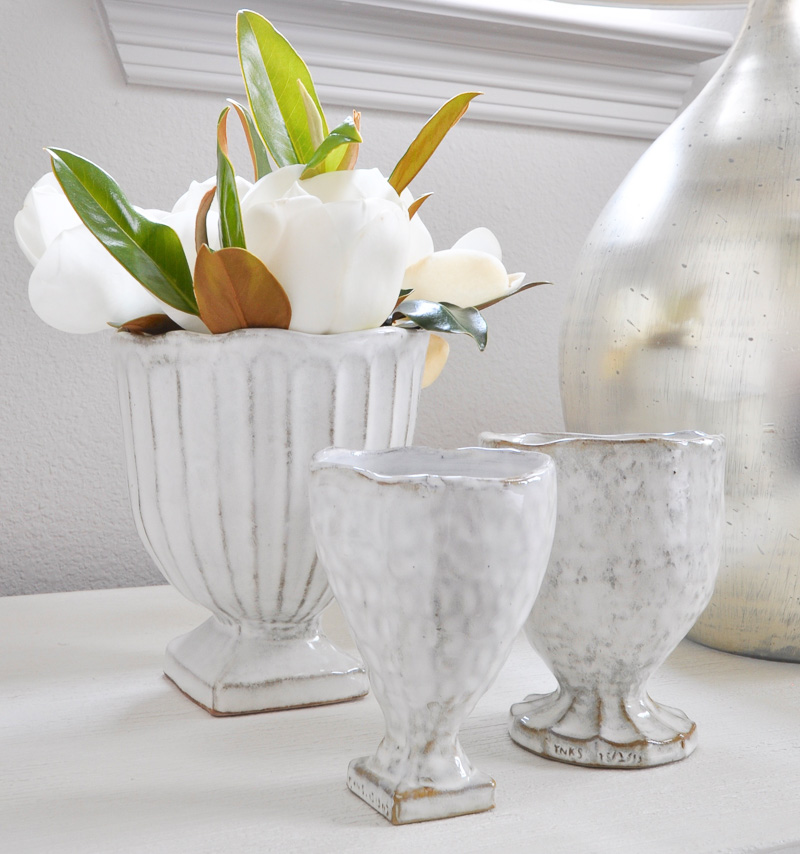 Every room deserves a scented candle and I knew I wanted a bit more gold in the room, so this beauty is just right.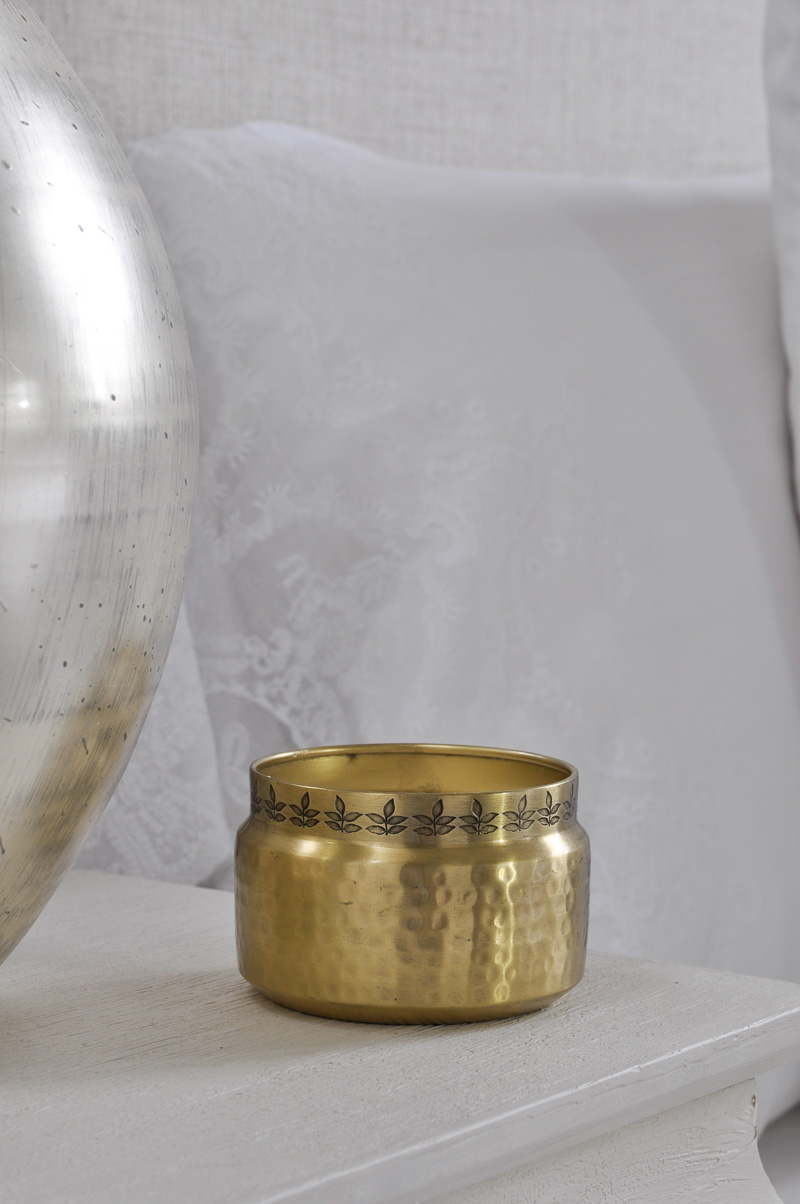 The lamps were an early selection and I am elated as to how they work in this space.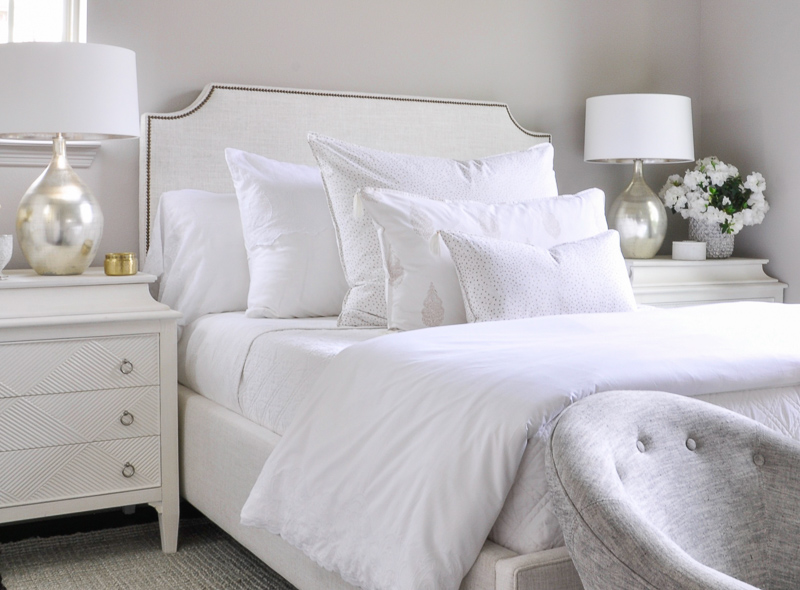 For the walls, I selected this grouping of just-released new art. Every piece is gorgeous! I had originally planned to use it over the bed, but the balance of the room was a bit off. Therefore, I moved it across from the bed. Now, it is the first thing you see upon entering the room and it's in the perfect position for my guests to enjoy. Art 1, 2, 3, 4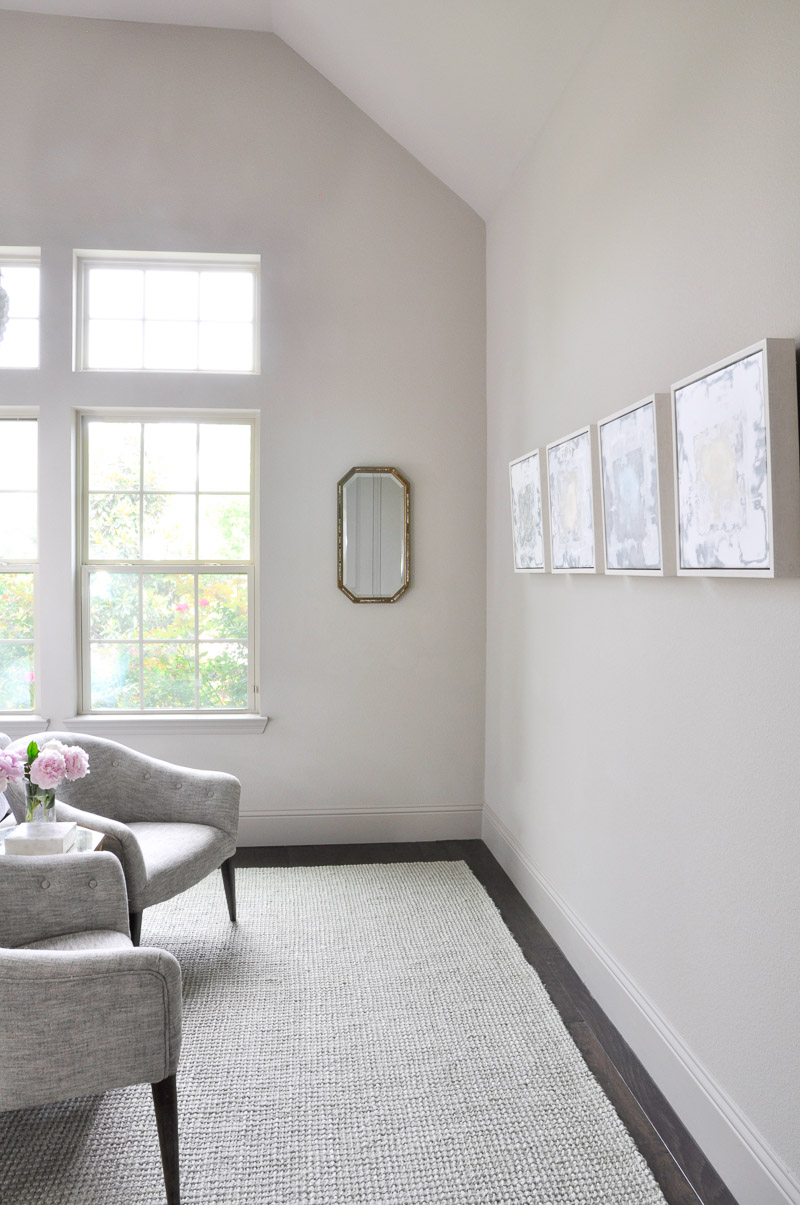 This trendy Round Gold Mirror is the perfect compliment to the table between the chairs. It also reflects the vintage mirror next to the windows which helps bounce the light around in the room.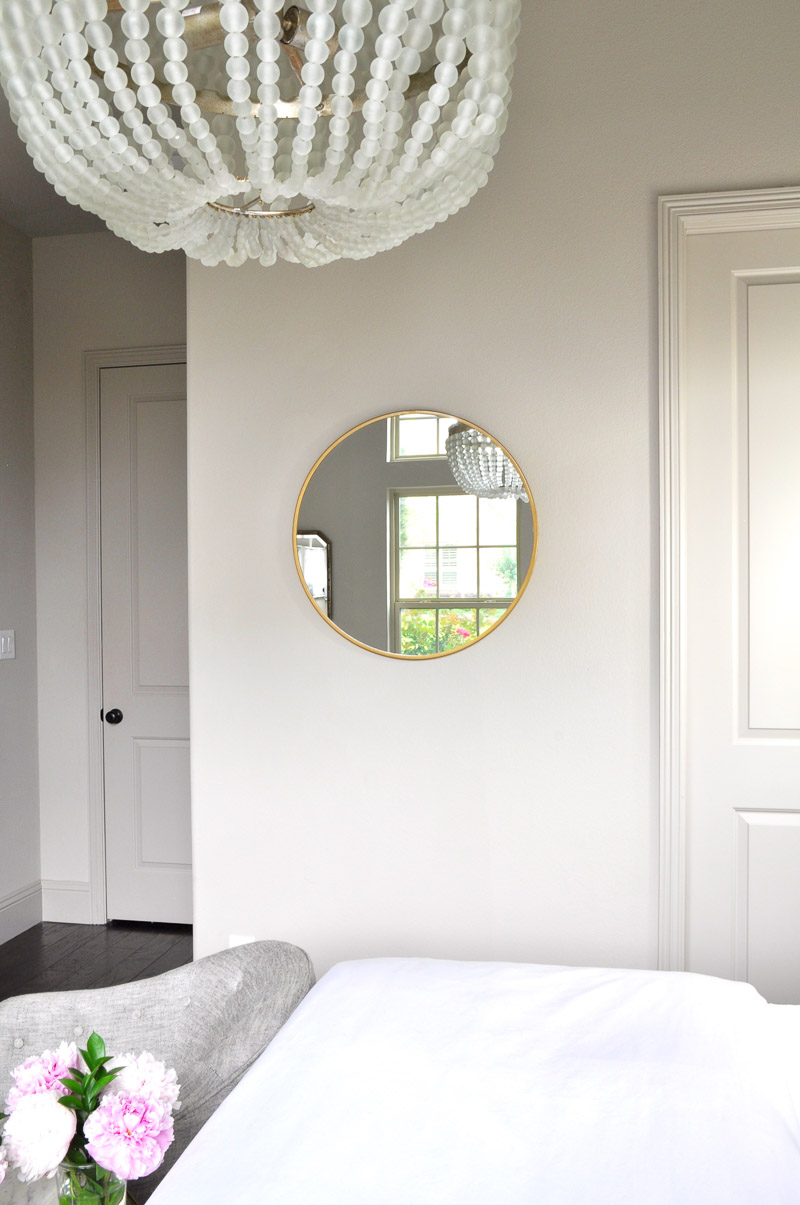 Last, a big thanks to FTD for the gorgeous peonies!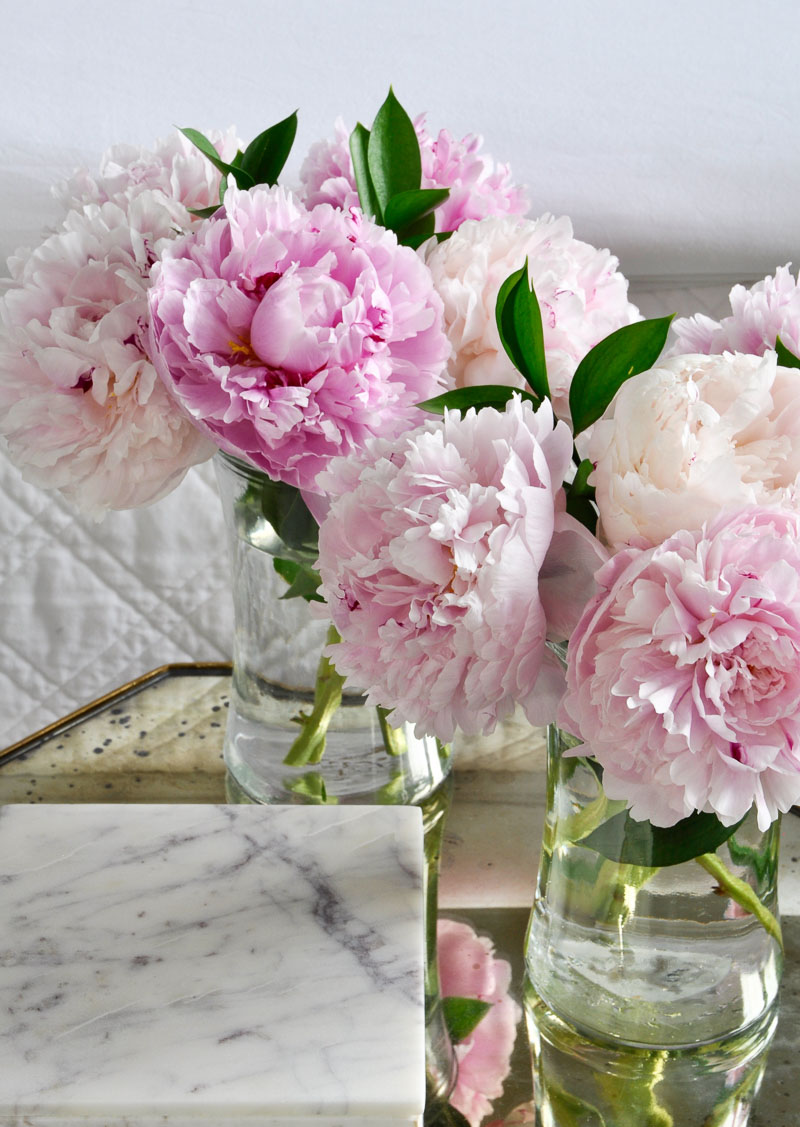 A few more shots of the newly revealed guest room…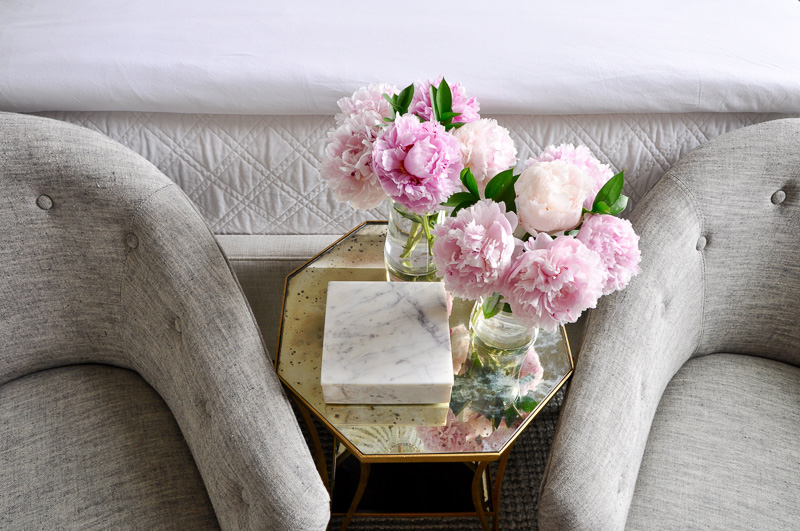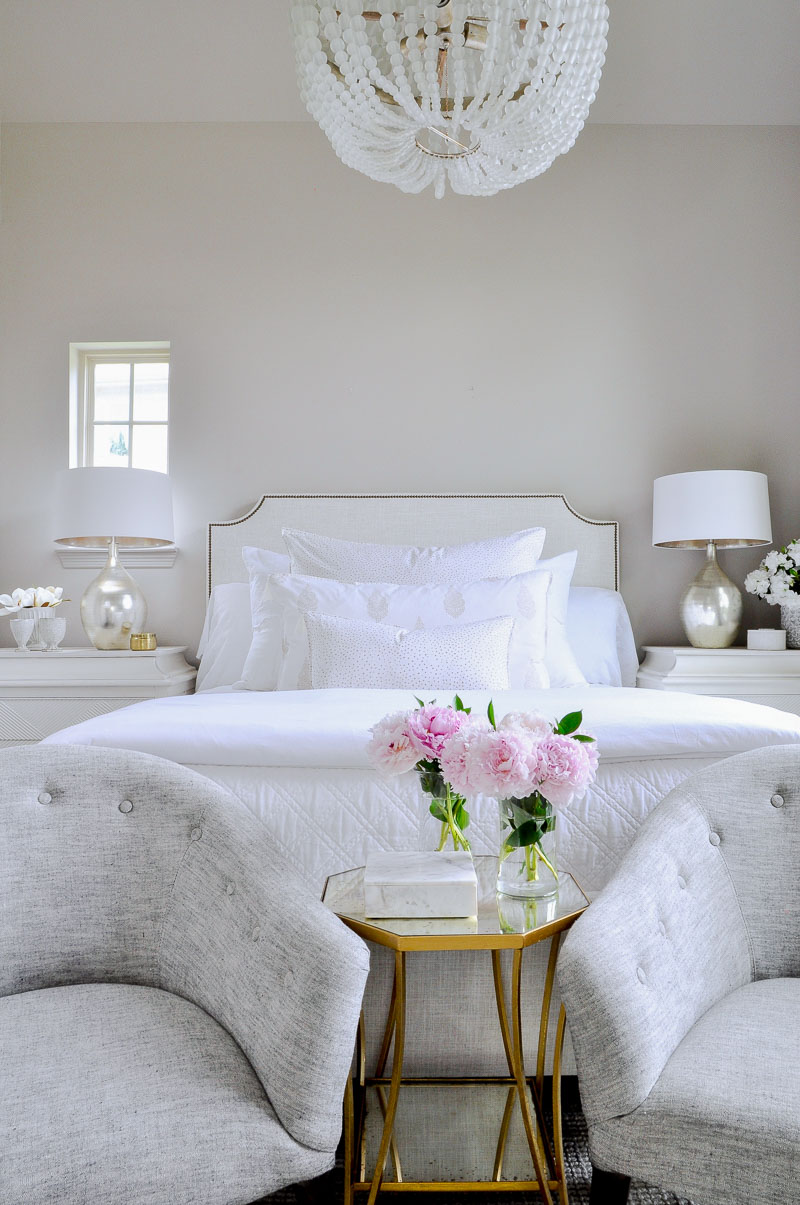 Thank you so much for visiting Decor Gold Designs! Sources below.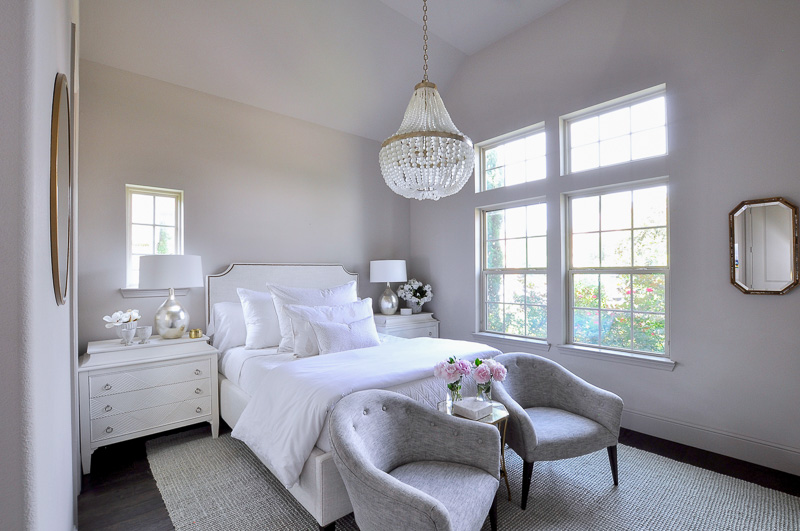 You can find all of the room reveals on Calling It Home.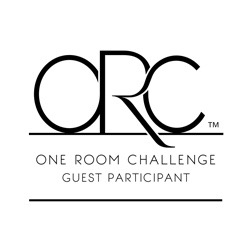 Full source list below.
A special thank you to my amazing sponsors!
And there you have it. I sincerely hope you have enjoyed the weekly sneak peeks into my second One Room Challenge. Hopefully you will feel inspired to make-over a room in your own home. To tour the rest of my home, click here. If you would like to receive email updates, please consider signing up for my newsletter. You can also follow along on Instagram, Pinterest, and Facebook.
Happy Decorating!








Chandelier | Bed | Nightstands | Chairs | Drink Table | Round Mirror | Wall Art One | Wall Art Two | Wall Art Three | Wall Art Four
Cotton Velvet Coverlet | Duvet Set | Euros | Lace Pillowcases | White Sheet Set | Big White Pillow with Gold Dots | Large Lumbar | Small Lumbar
Vases | Marble Box – Square | Marble Box – Round | Peonies