The Answer – my Master bedroom.
The question – Which room in my home do I field the most questions regarding design elements?
This is our sanctuary. We live in our master bedroom more so than any other room in the home. And we know this about ourselves. To this point, we had the builder expand this room a little while our home was under construction.
Truth be told, I have been dying to update our master bedroom. I did not want to do a complete overhaul. Therefore, I wanted to focus on lighting and accessories.
First, a little history. We have been in our home for nearly 4 years. Right before we closed escrow, Tony and I went on a "decorating mission" over the course of a couple of weeks. Well, Tony was with me while I perused stores with my scaled graph paper drawings for every room in our home. He was a total trooper during this decorating shopping spree.
I loved everything we chose then and still do today. But, it's time for an update and today is the day for my master bedroom reveal. Are you ready to see the updated look?
I have recently updated several spaces in my home. I've learned that adding a new chandelier makes a huge difference. This was the item I started with in our master bedroom.
*This post contains affiliate links which provide a small commission to Decor Gold Designs. See our full disclosure here.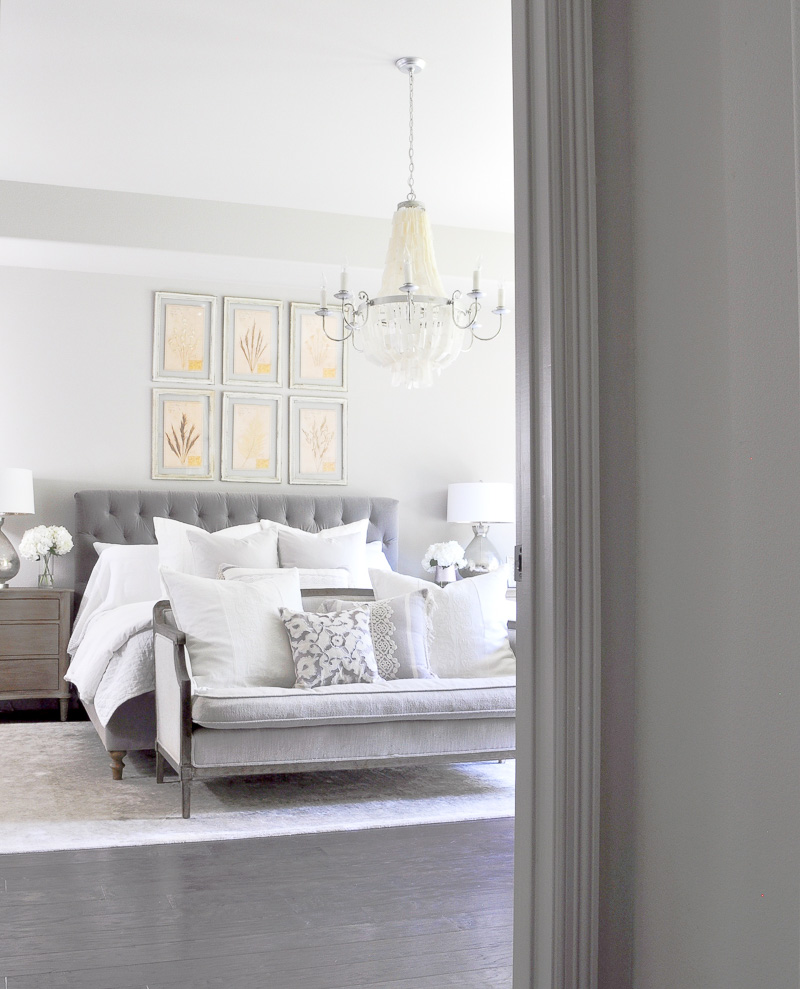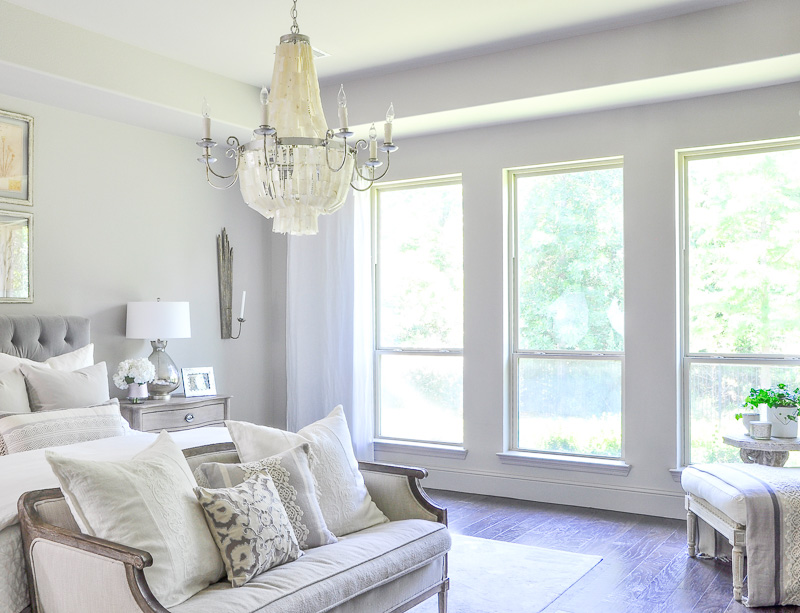 It's by Aidan Gray and has strands of capiz shells and a beautiful silver finish. I so happy with the details. Update: this chandelier is no longer available, but this is a very similar one.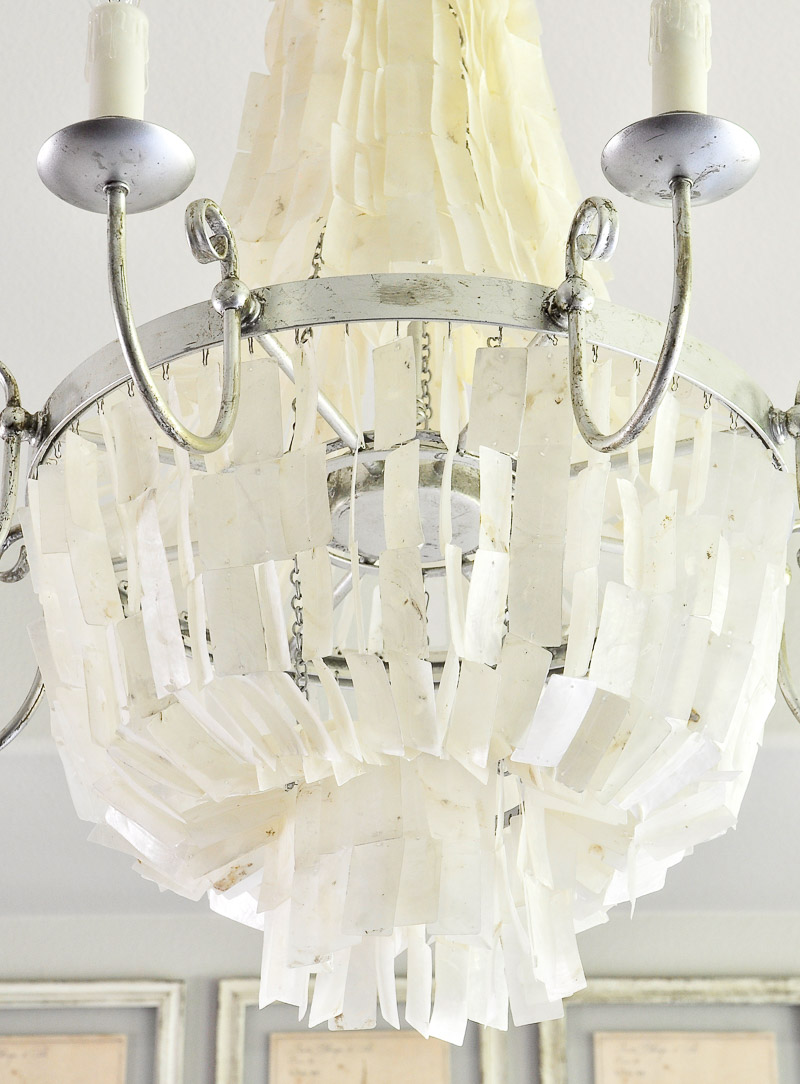 The light color of the new chandelier gave the room a more airy look, which I love.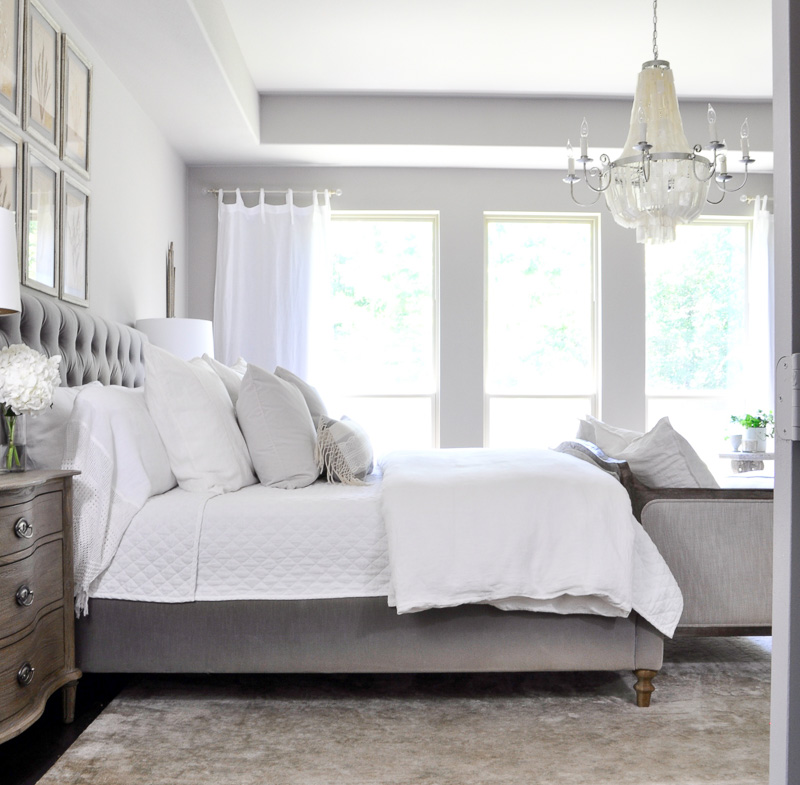 I also traded my old lamps for a new pair of silver ones. They seem less heavy than their predecessors and they compliment the new chandelier.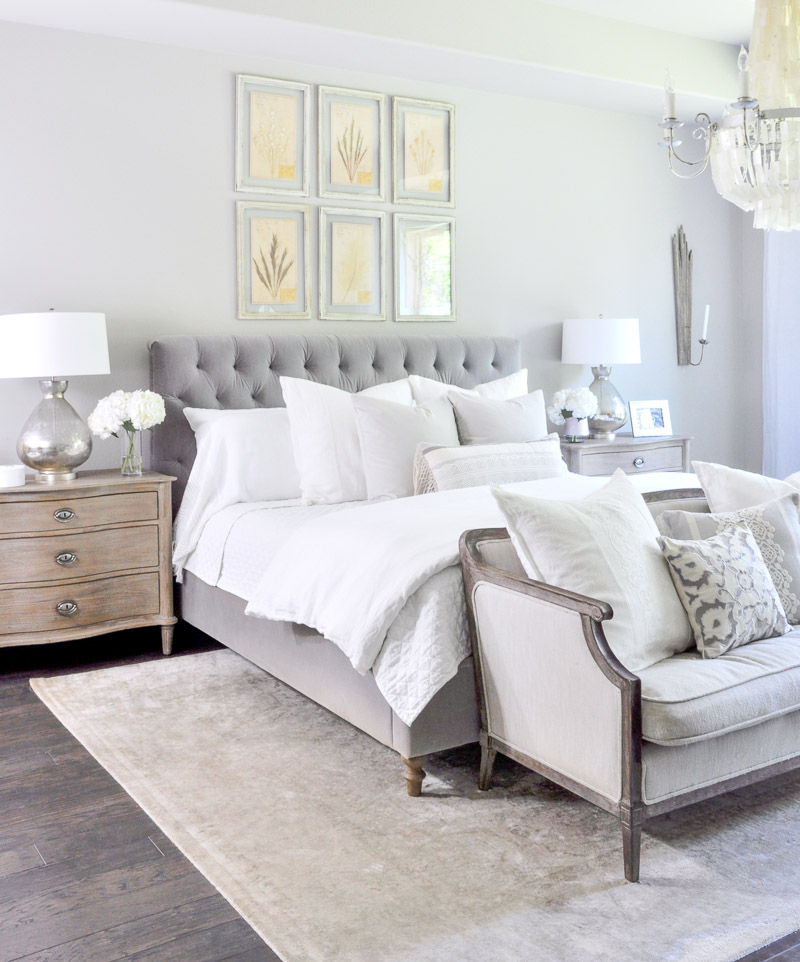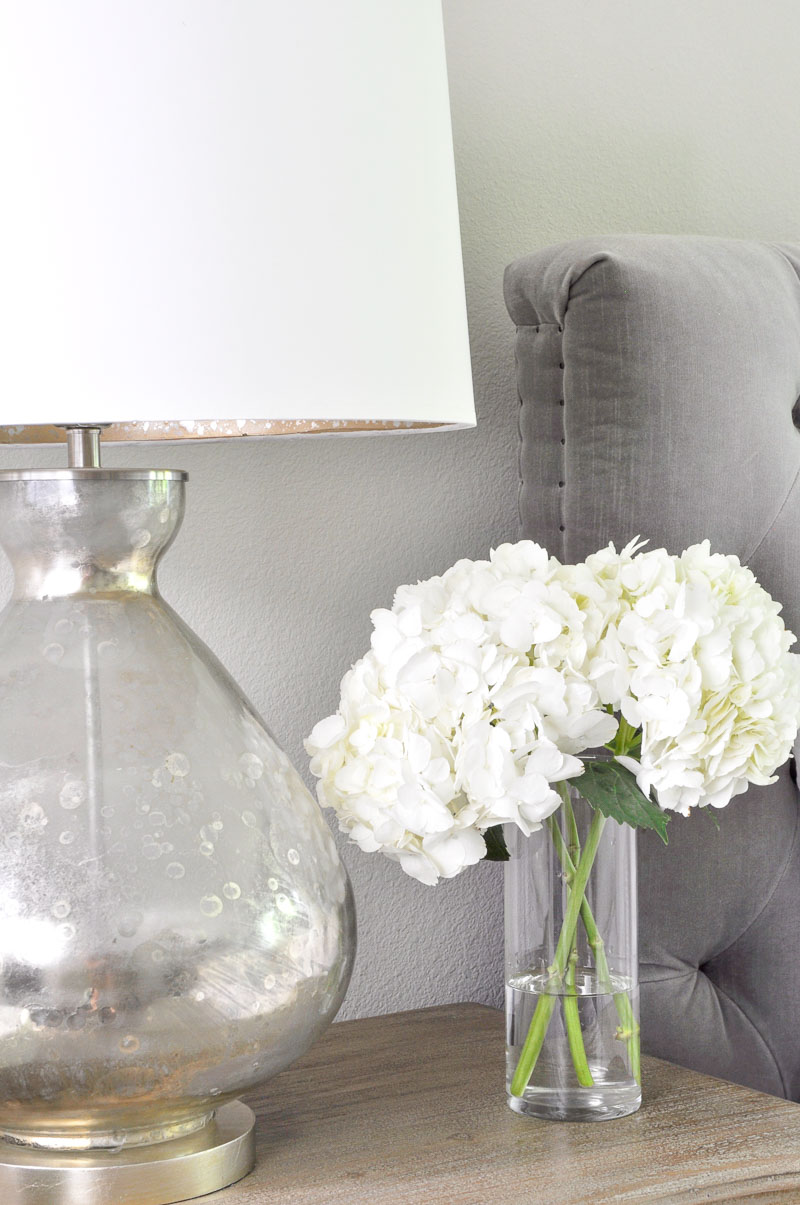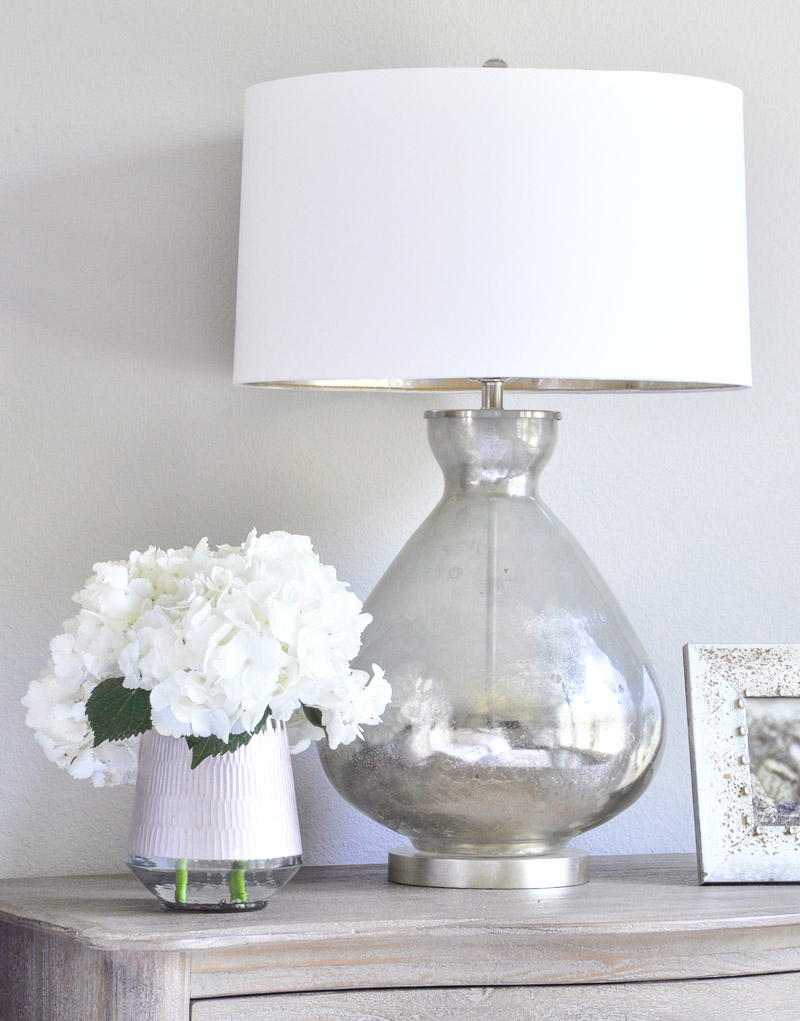 Next, I replaced my wall sconces with a pair that are less ornate. The new ones are called Skvode Candle Sconces and I love the vintage-glam look they provide. I also love that they have a jagged edge, which provides an unexpected quality to an otherwise soft room.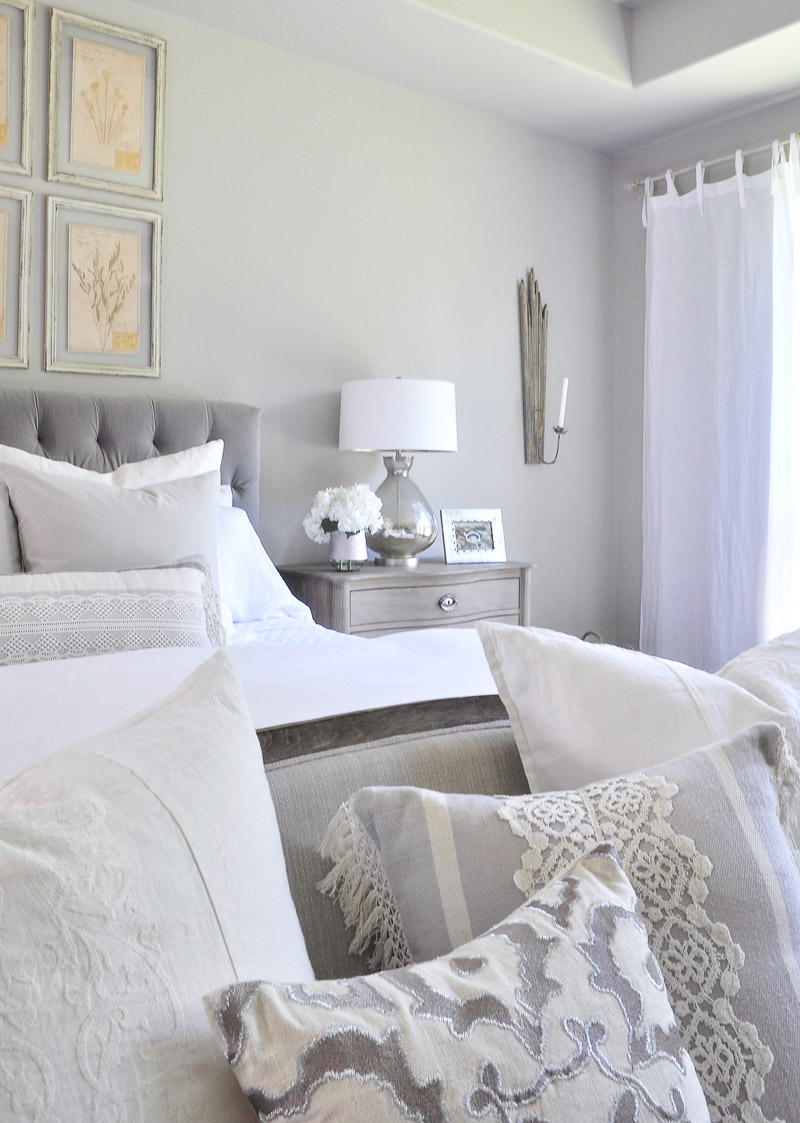 Remember that I said I did not want to do a complete overhaul? In general, the bedding and the decorative pillows have remained the same, but I switch them around often. Learning to restyle your bedding can give you a fresh look at little to no added expense.
Lastly, I decided to use a round mirror from my entry in this corner. It's a favorite spot of ours to enjoy the view from this cozy chair. I love how the mirror ties the dresser and the lounge chair together.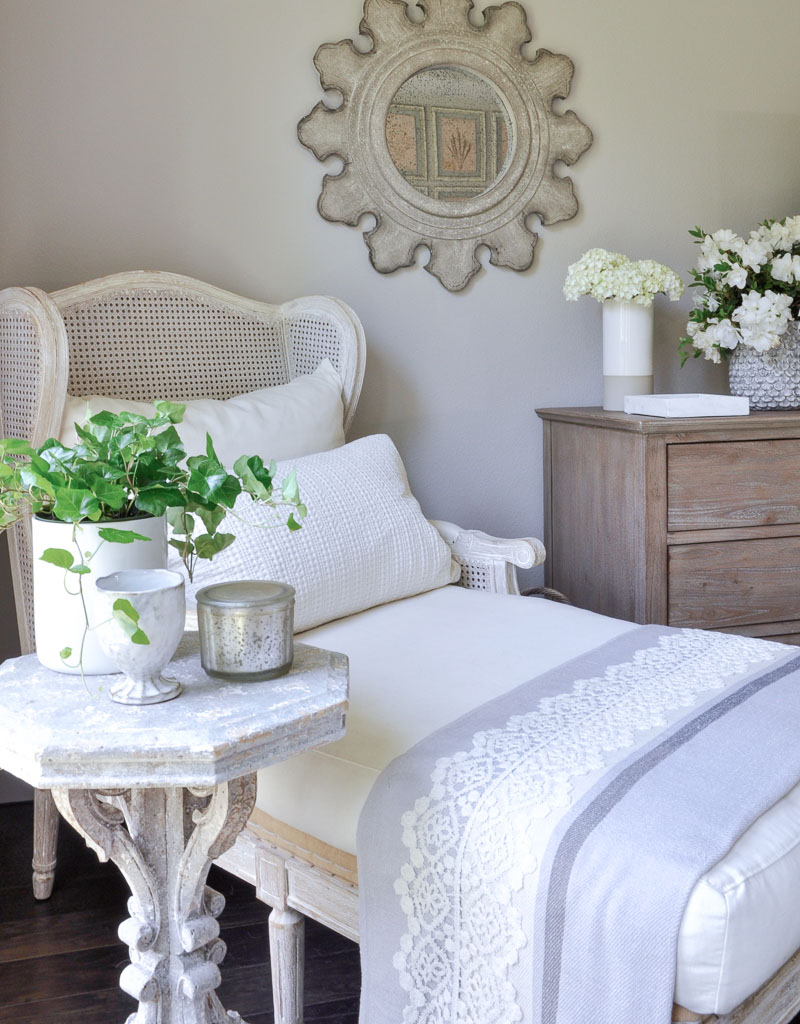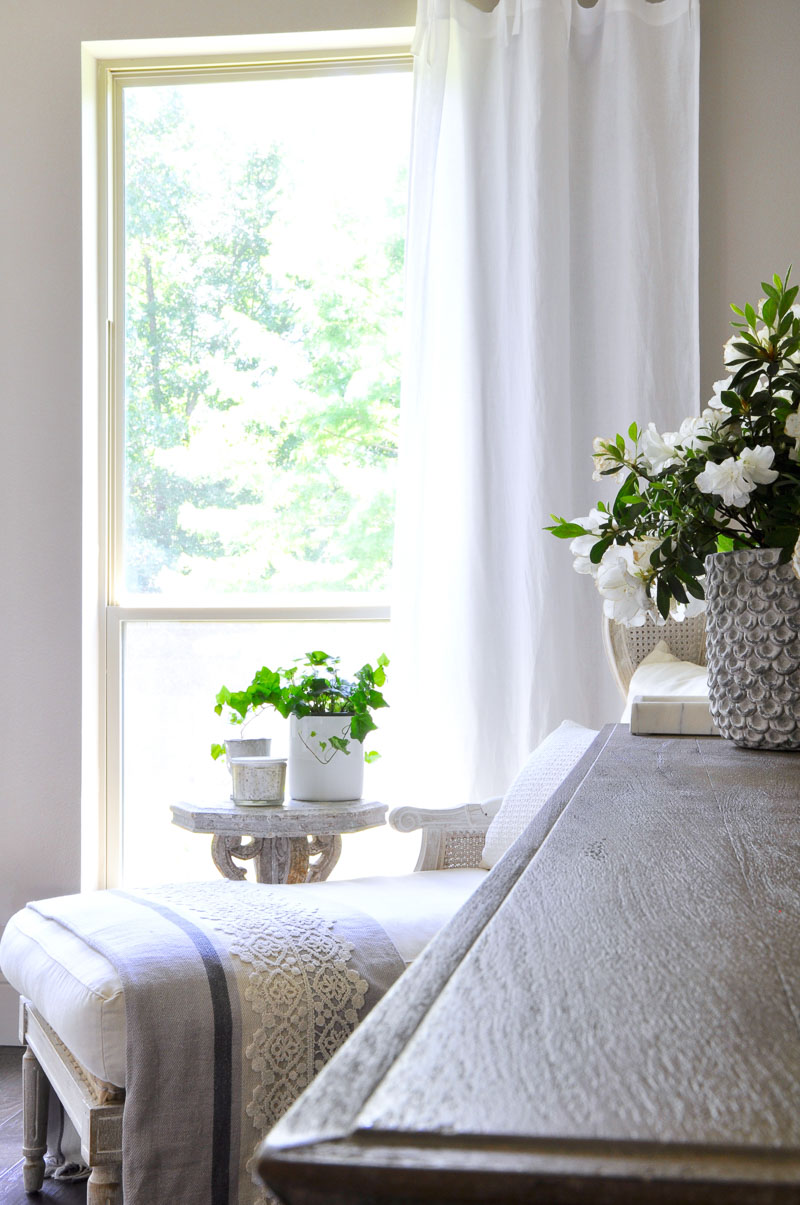 There you have it! I'd love to hear your thoughts and what you think about the new look!
As always, thank you for visiting Decor Gold Designs! Also, a special thanks to Aidan Gray. They were very generous to provide several products for this master bedroom update. I have loved and purchased their pieces for years, long before this project. The quality and beauty of their pieces is superb. It is my honor and pleasure to work with Aidan Gray, but I am completely honest with you, my readers, with respect to my reviews of the items I am sharing today.
Please feel free to leave a comment if you have questions about any of the sources linked below.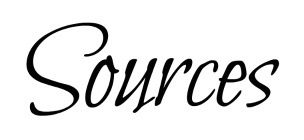 Paint color is a custom blend.
Stay connected…..
Click on the Image to Subscribe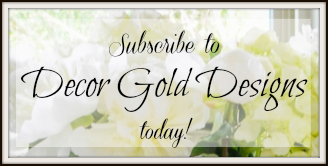 SOCIAL
Instagram | Pinterest | Facebook


SaveSave