I consider my kitchen to be the heart of our home. It is where we entertain and where we gather casually as a family. My goal is for my kitchen to be beautiful and functional.
When my kitchen is unorganized, it simply doesn't function properly.
I love having an organized kitchen. It is the key to being efficient when cooking. Organizing it though can be a daunting task. There are what seems like millions of items to deal with in lots of shapes and sizes. Plus, we use our kitchen constantly, so it is difficult to navigate around an organization project.
Recently, I decided to go for it and I began a kitchen organization project. I am so glad I did!
*This post contains affiliate links. Disclosure here.
These are the steps I took:
Empty each drawer and cabinet and wipe them down.
Discard anything that you don't use or want and remove items that belong in other spaces.
Plan placement for drawer and cabinet items.
Purchase appropriate containers to help you stay organized.
Place items in their designated spots.
When you decide to begin a kitchen organization project of your own, empty out one cabinet or drawer at a time and purge first. IF POSSIBLE, wait to put everything back until you have been through all of your cabinets. This will allow you to see everything you have left and properly place your items in the most efficient spot.
Once I decided to reorganize my kitchen, I realized I wanted everything to look beautiful as well. To achieve this, I used clear and white containers to gather like items and I also grouped like colors and materials (for example, white ceramic on one shelf, pink glassware on another).
Want to see the results? Here are my freshly organized drawers and cabinets!
Upper Cabinets
I began with my upper cabinets. The cabinet on the far left of our stovetop holds less-frequently used glassware. It is most near our breakfast nook and furthest from the work triangle (kitchen-stovetop-refrigerator).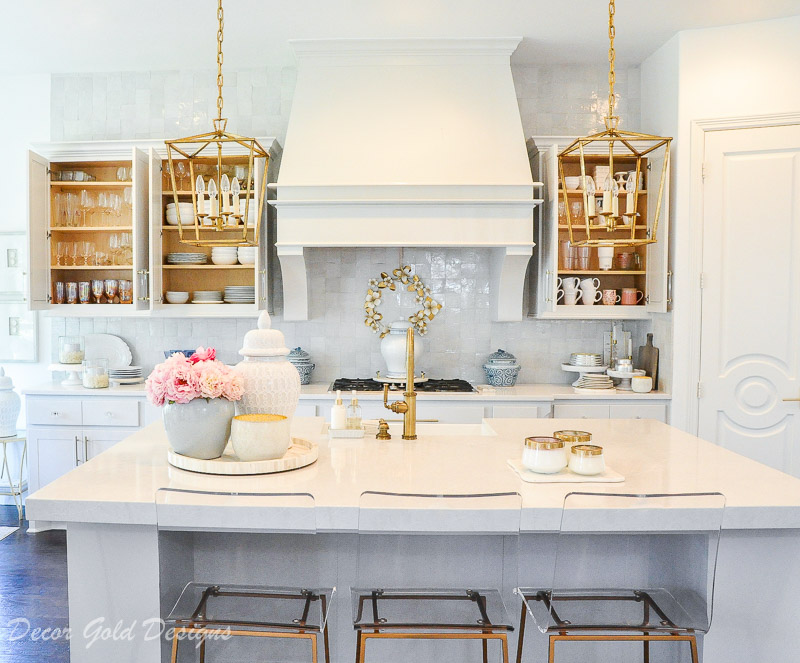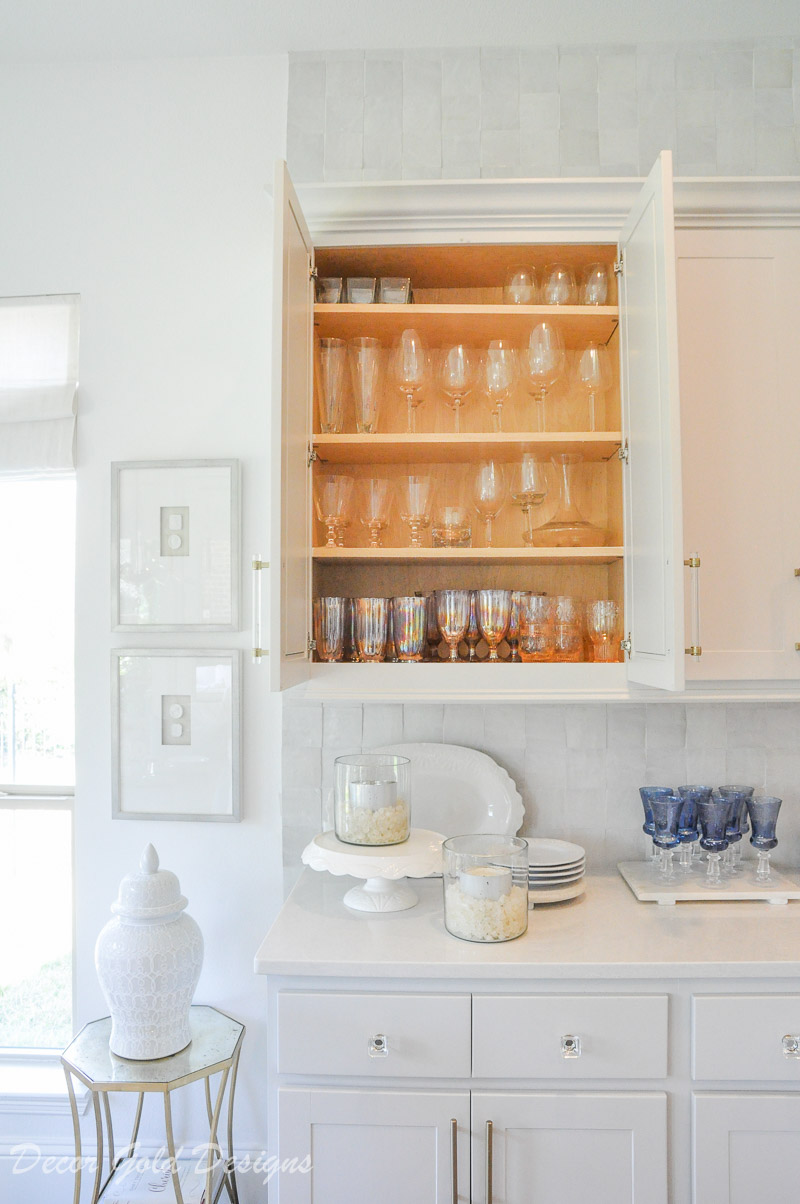 Infrequently used glassware also occupies the top shelf of the cabinet just to the right of the stovetop. Also in this cabinet, everyday dishes, which are strategically placed next to the stovetop and sink.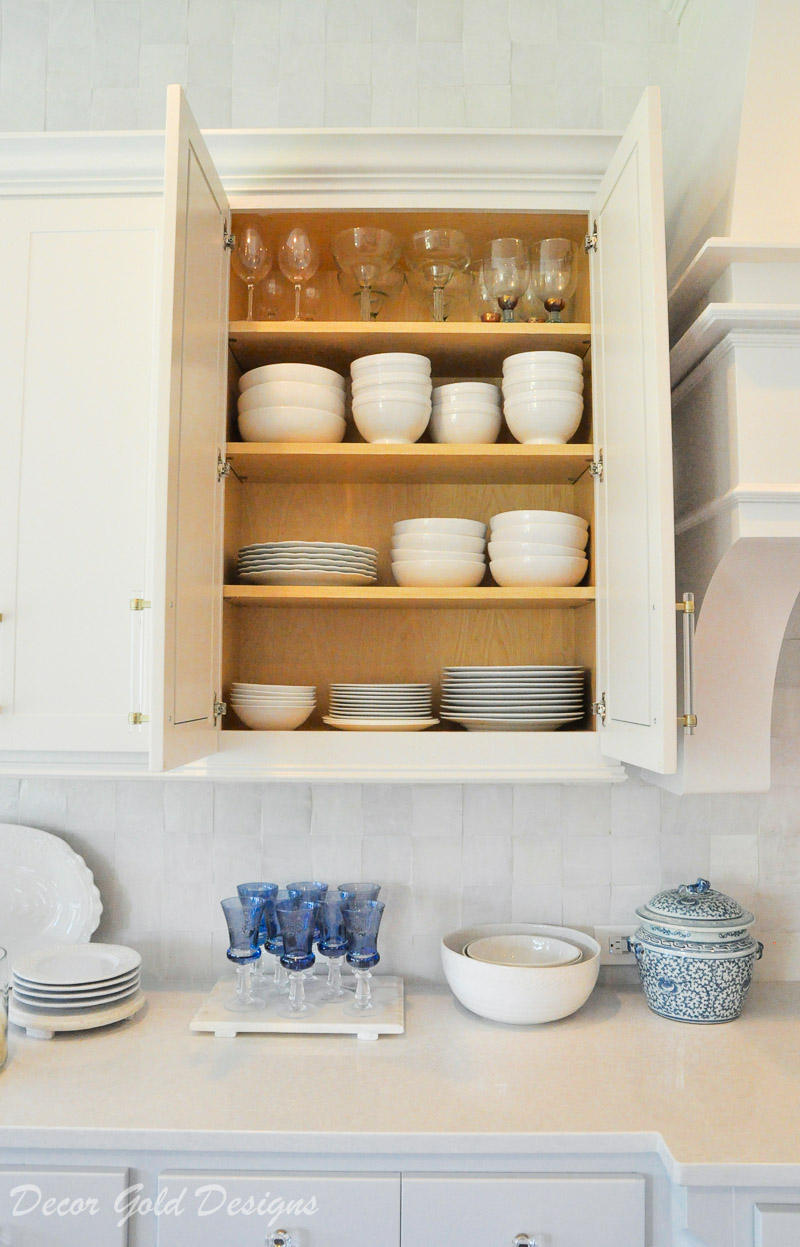 To the right of the stovetop and closest to the dishwasher and refrigerator are the mugs and cups we use daily. I also placed my glass measuring cups here for easy access. On the top shelf, small ceramics.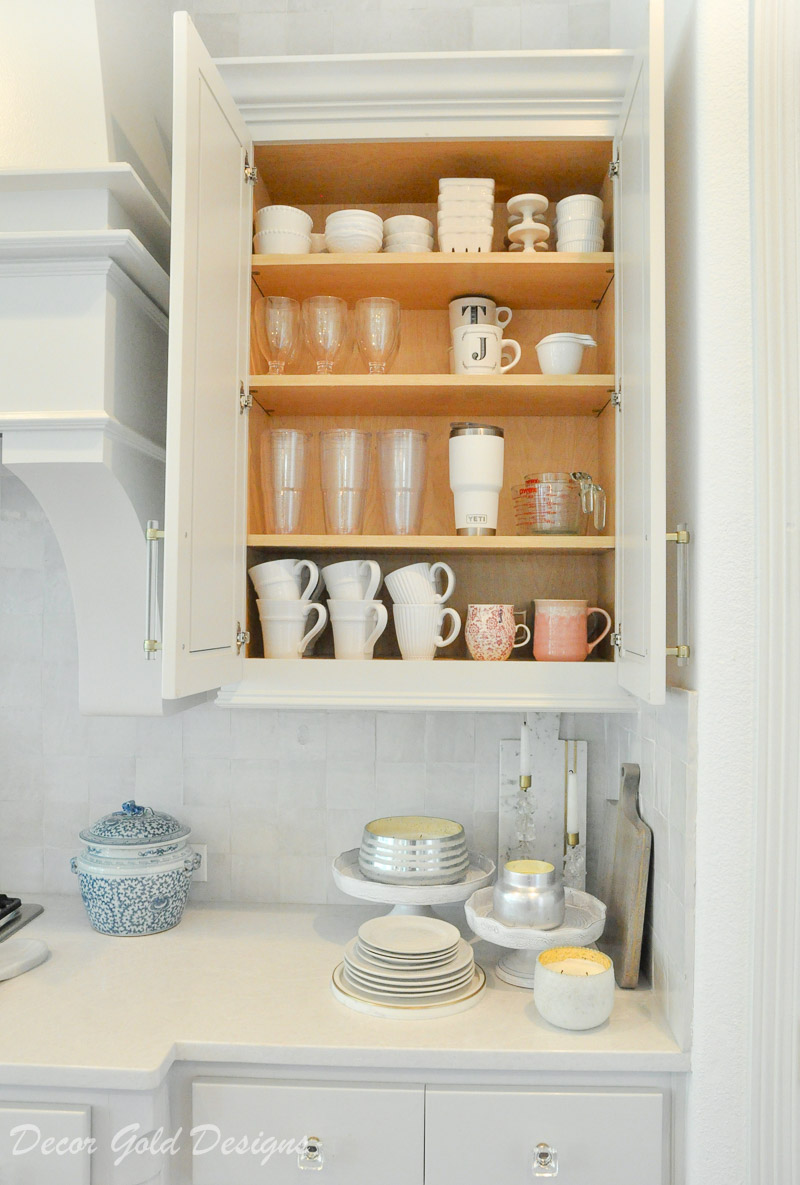 Shop My Upper Cabinets


Drawers
Just under the cabinet with mugs, there are two small drawers. Actually, most of our drawers are rather small, but we make due! The one closest to the stovetop is our flatware drawer.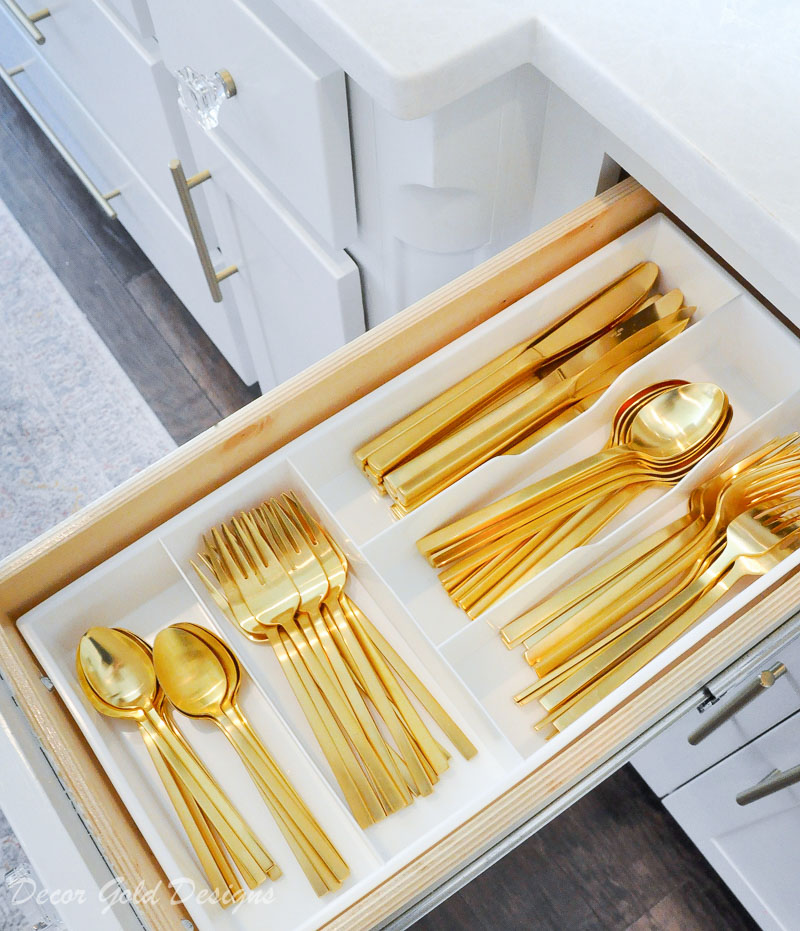 The far right drawer contains a few items that can be quickly grabbed. Tea (I don't drink coffee), sweetener, Advil, stir sticks, serving utensils, bottle openers, and a few other items. I used a combination of my favorite containers (they are amazing) to keep everything organized.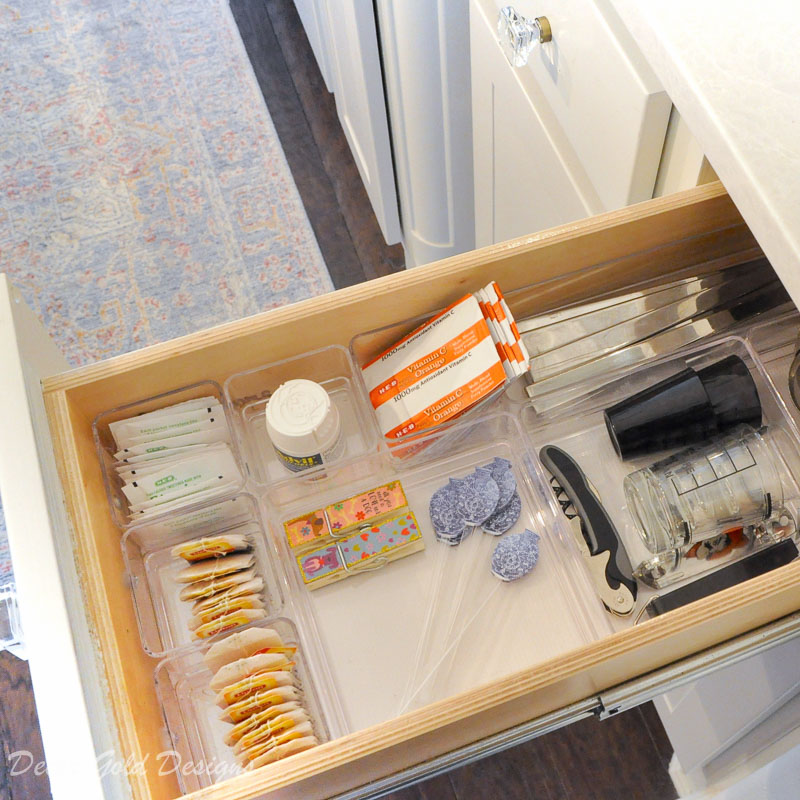 On each side of the stovetop, we have two drawers. These are our most slender drawers. I use them for cooking utensils.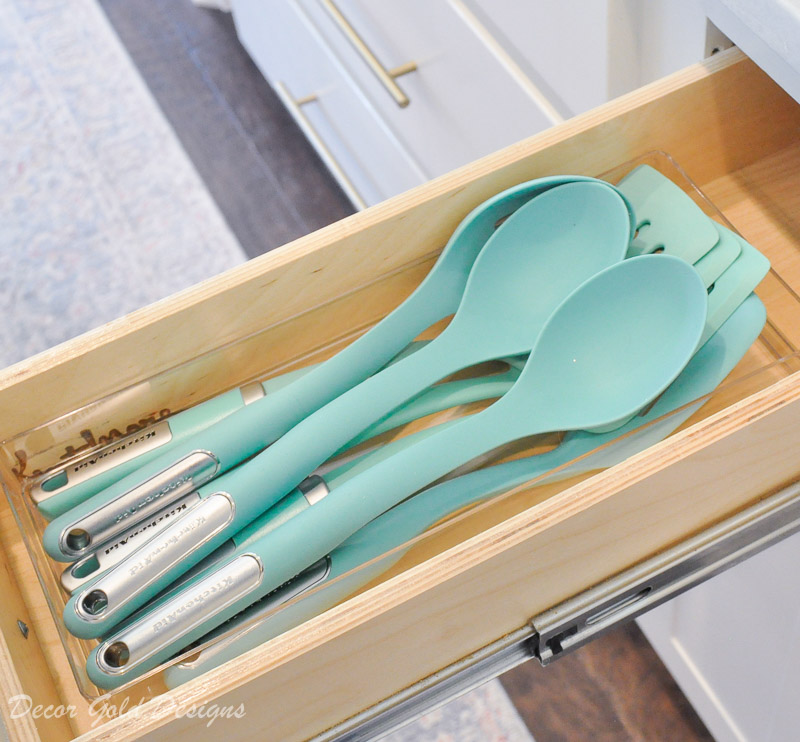 Measuring cups and spoons fit neatly in one of the drawers as well. This container allows us to grab them all at once and also keeps them separate from the cooking utensils. These are all new. I wanted to replace our worn, mismatched ones and found these darling pastel utensils. A matching set helps them fit nicely.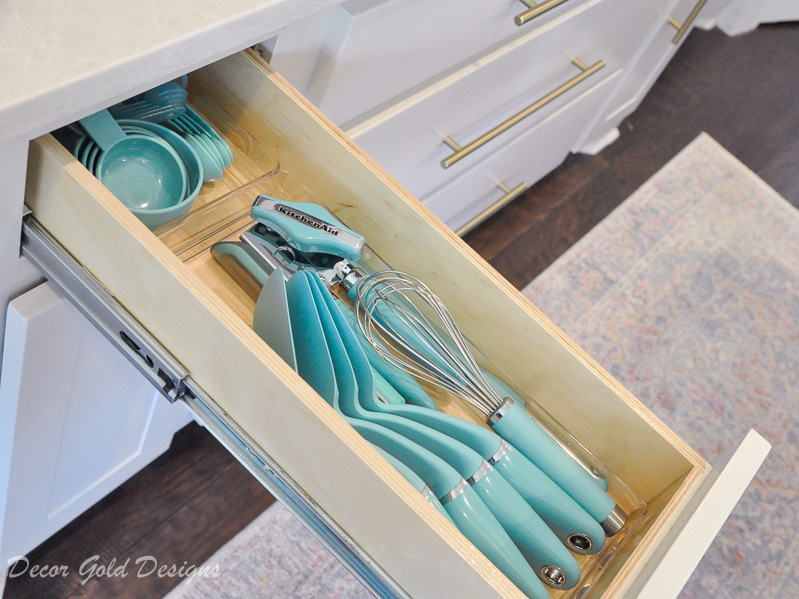 Next, left of the utensil drawers and very near the sink is my dishtowel drawer. I am able to fit extra towels and see them all by folding them to stand up. Don't you just love the pretty blue and pink towels?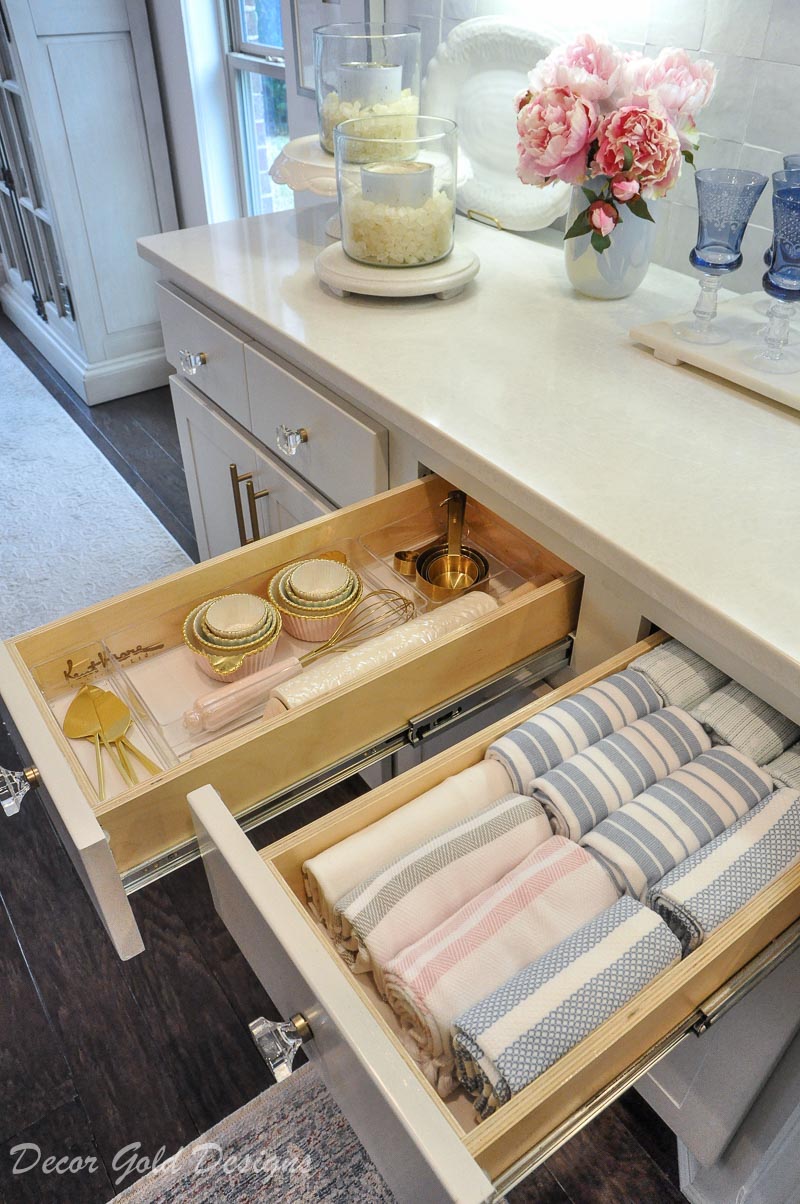 Remember when I said I wanted everything to look beautiful? I collected all of my prettiest baking utensils and placed them here.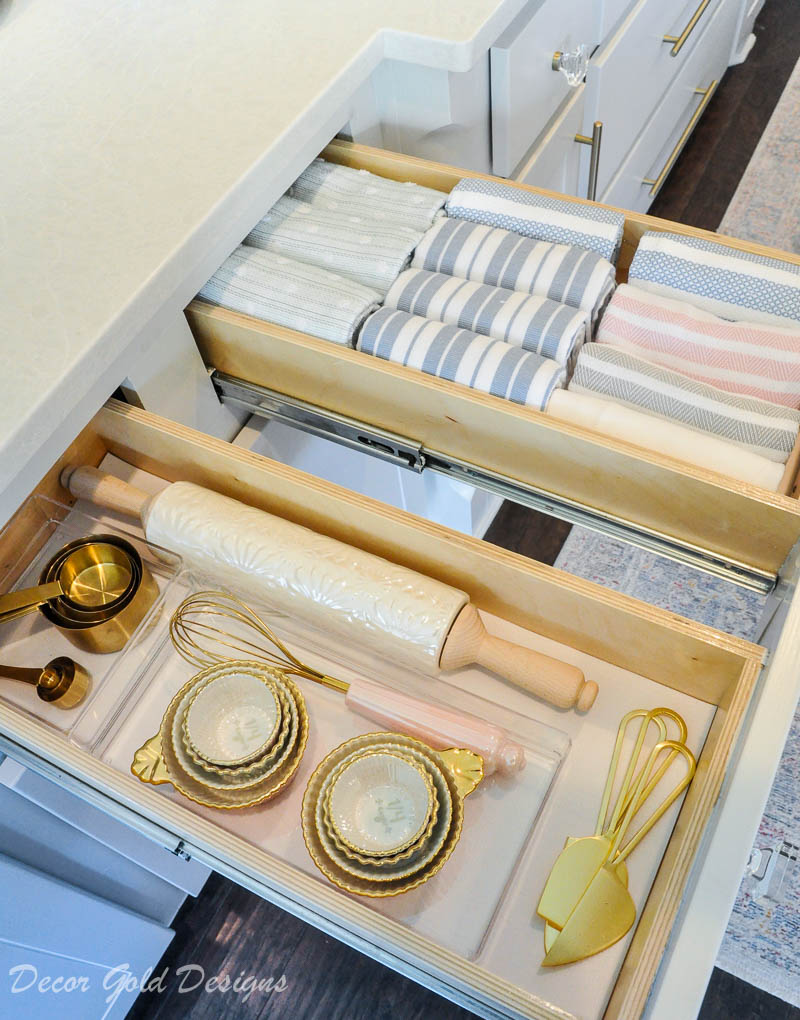 On the far left side of the kitchen, I have a drawer for baggies, foil, wax paper, and plastic wrap. Containers keep everything neatly organized.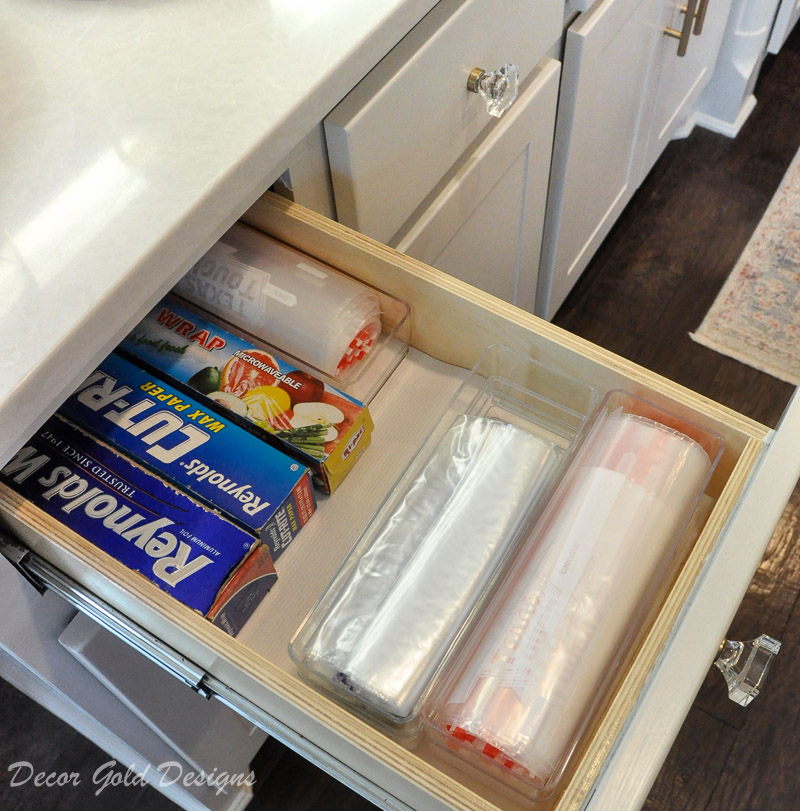 Our junk drawer is on the left side too.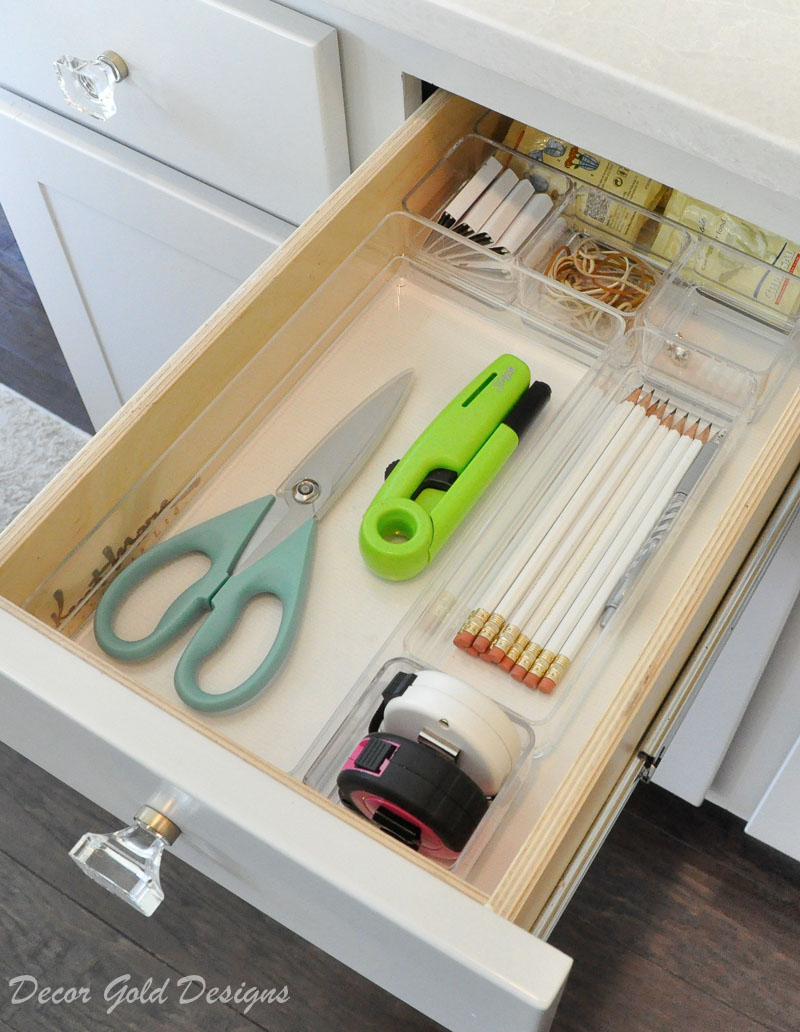 Shop My Drawers


Lower Cabinets
Our lower cabinets were the most messy when I started this project. Once I removed all of the items I no longer use, organizing was simple.
The cabinet on the far left contains glass mixing bowls, glass baking dishes, and a few serving dishes.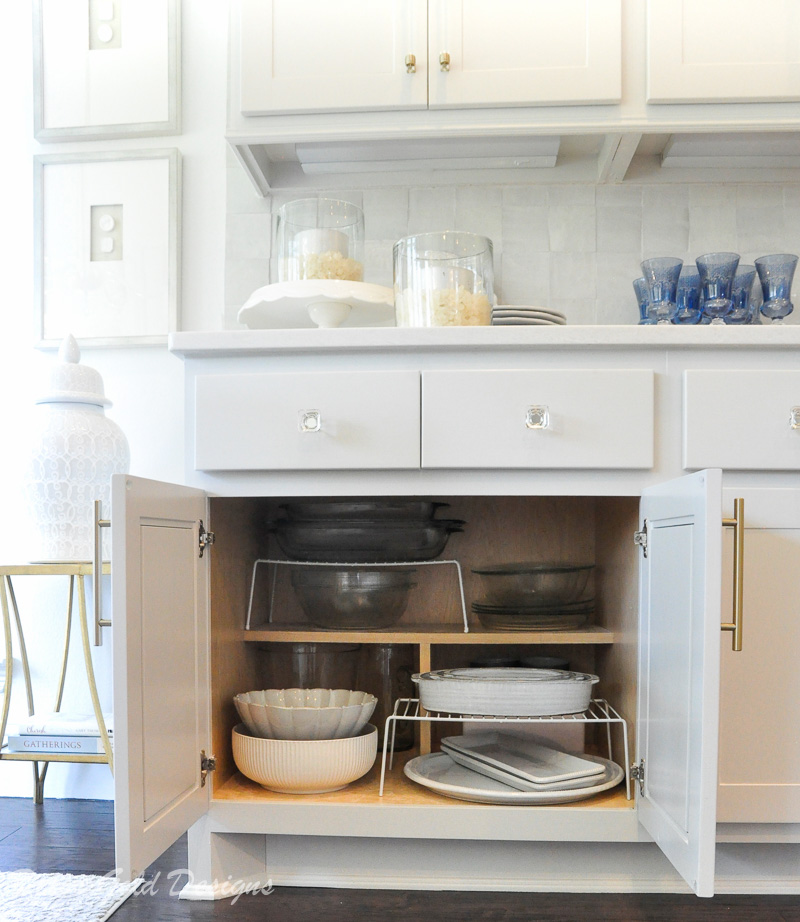 Some of the contents of the next cabinet may seem unusual to some of you. I realize a lower cabinet is not a common place to store a knife block. BUT, I don't like to have it on the countertop and we don't use these knives frequently, so it is here and it works for us. I also stored cutting boards in this cabinet, because they are close to the sink here, as well as stoneware, and a crockpot.
I hope by showing you this unique placement that you will feel free to organize your cabinets based on how YOU live.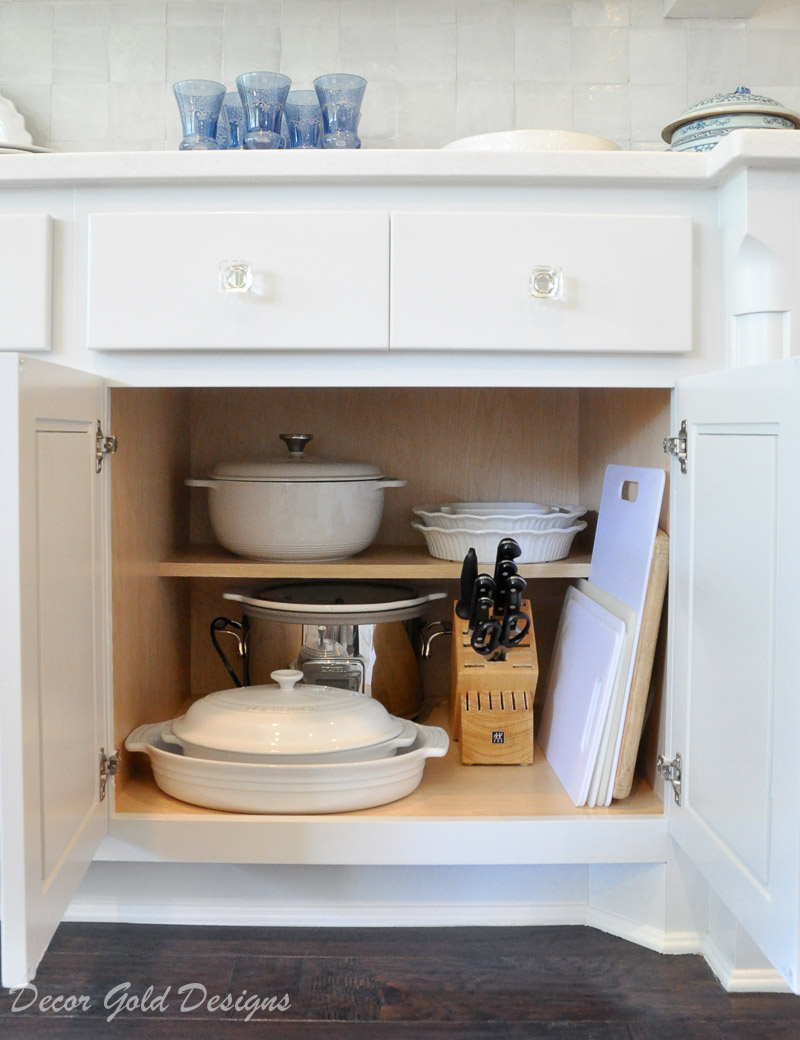 Remember those skinny drawers? Just beneath them, we have skinny cabinets. The space is limited, but I used the space wisely. One contains small appliances and the other some plastic measuring cups and bowls.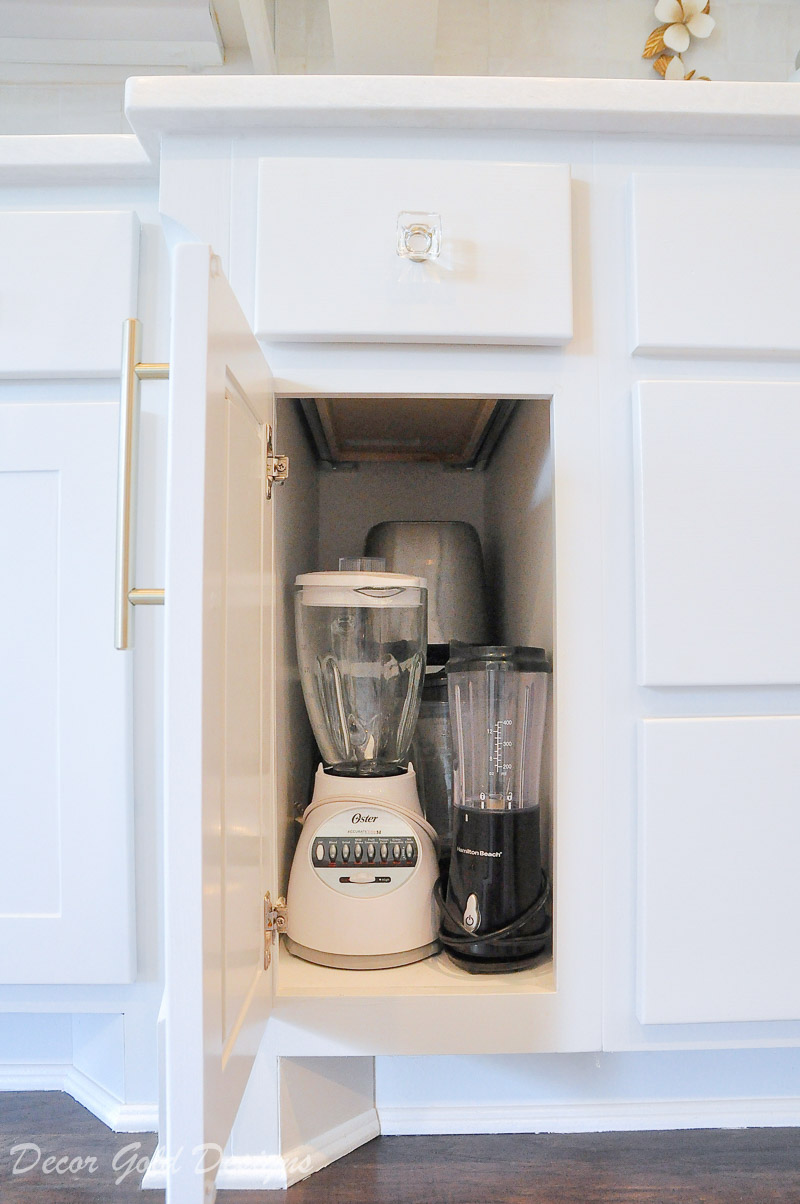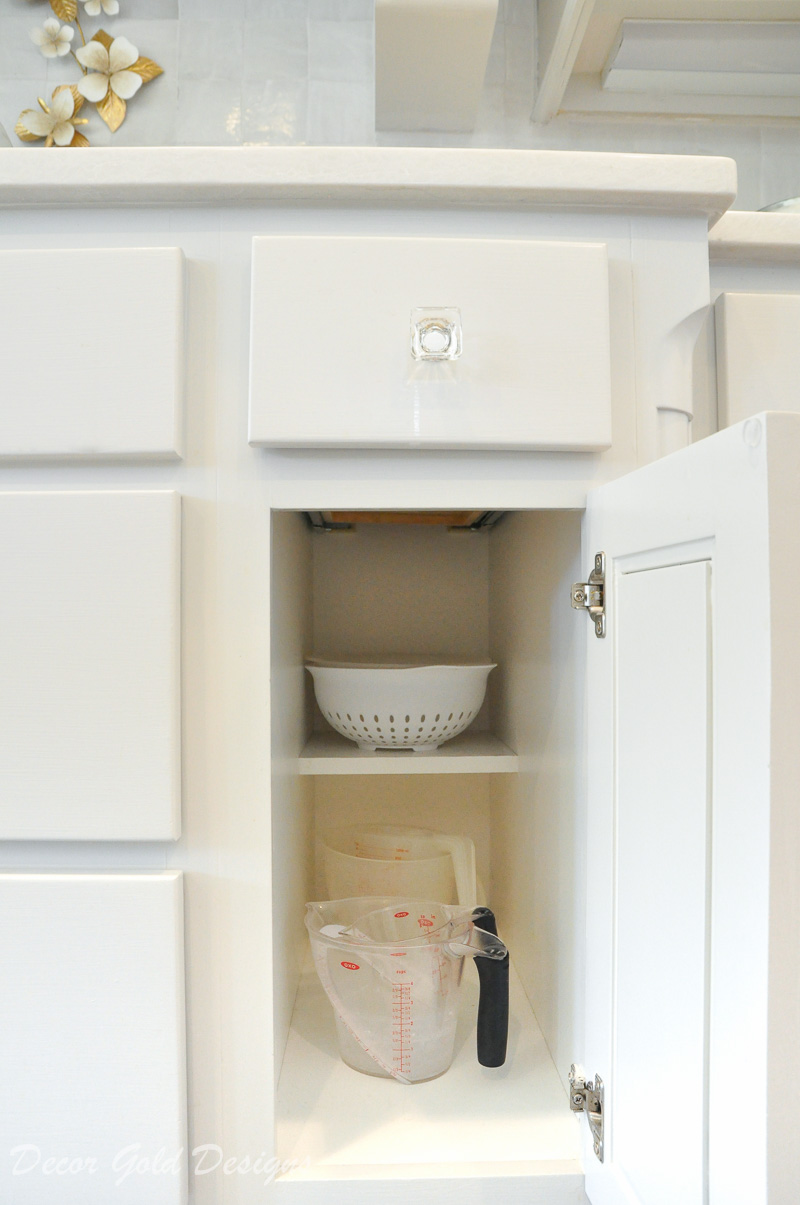 On the far right, closest to our refrigerator is the cabinet where I keep my glass and plastic storage containers.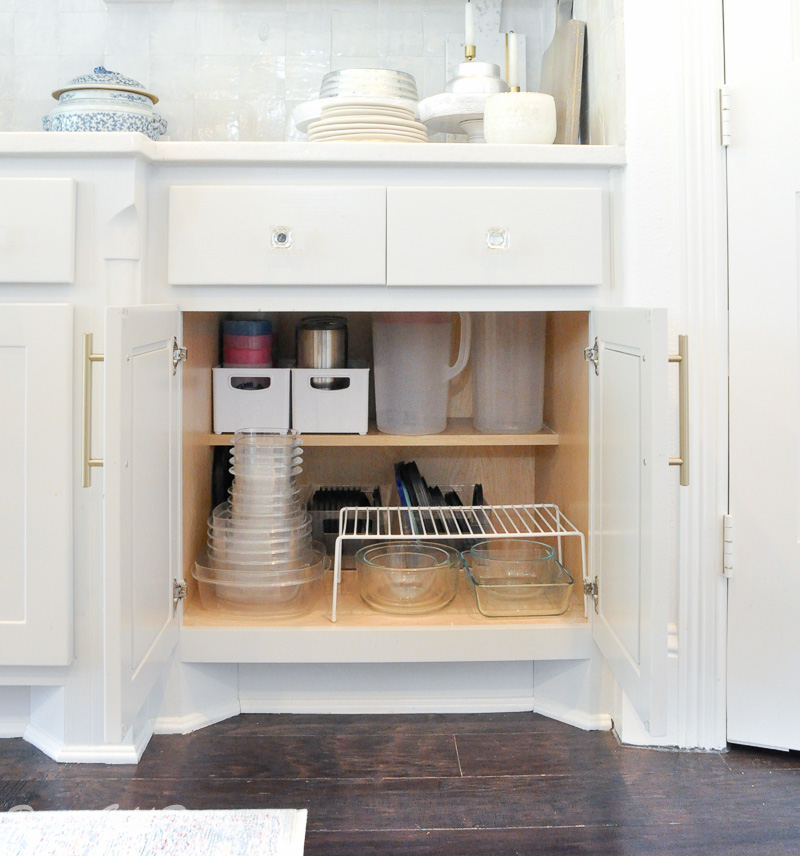 Under the stovetop we have two large drawers for pots and pans.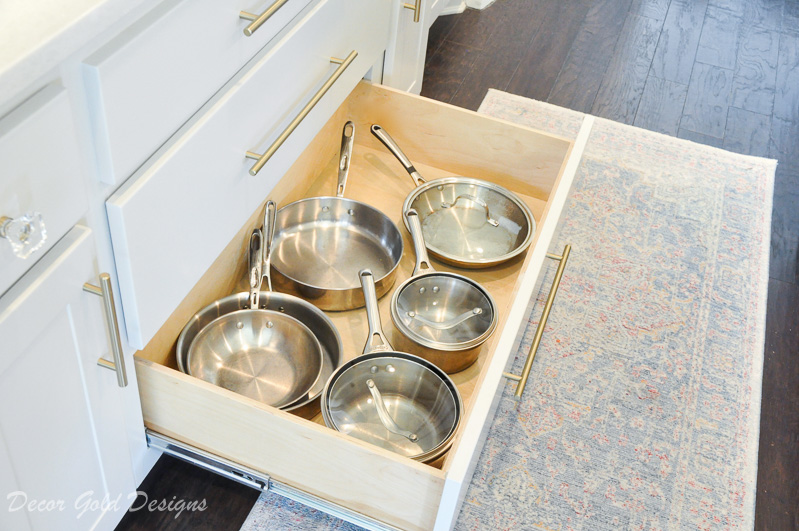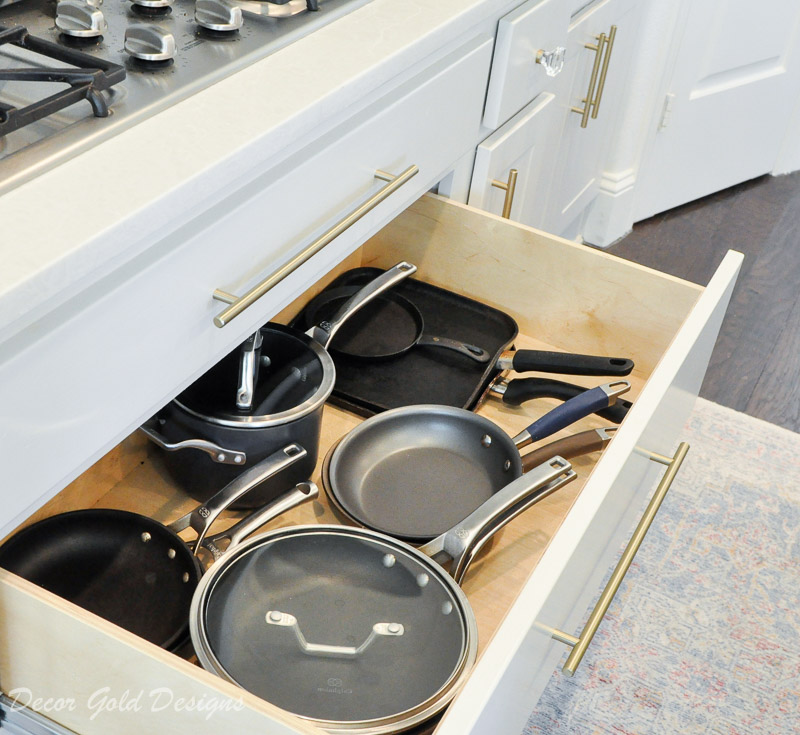 Shop My Lower Cabinets

Oven Wall
We have a few cabinets that are less accessible on the oven wall. I use them for the items we use infrequently. My cookie sheets are under the oven.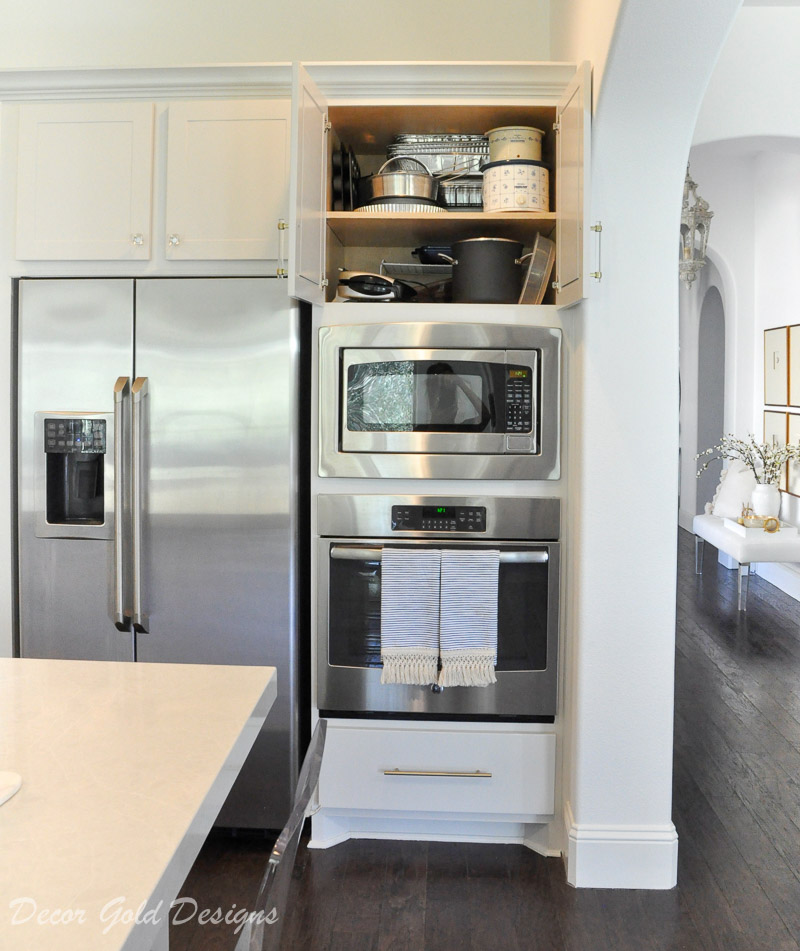 Island
When designing our kitchen, I gave up storage space in order to have room for a pull-out waste and recycle bin (similar). Best decision ever!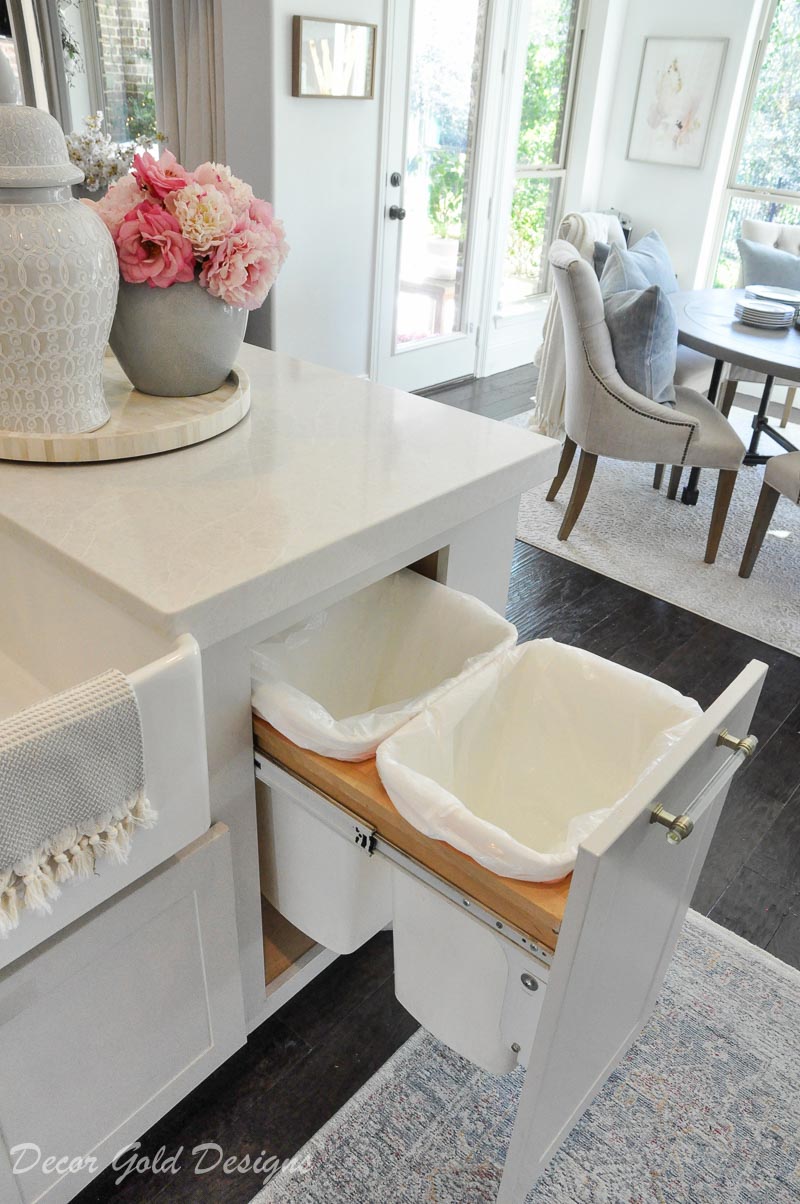 That's it! I hope you are motivated to organize your kitchen in an efficient and beautiful way!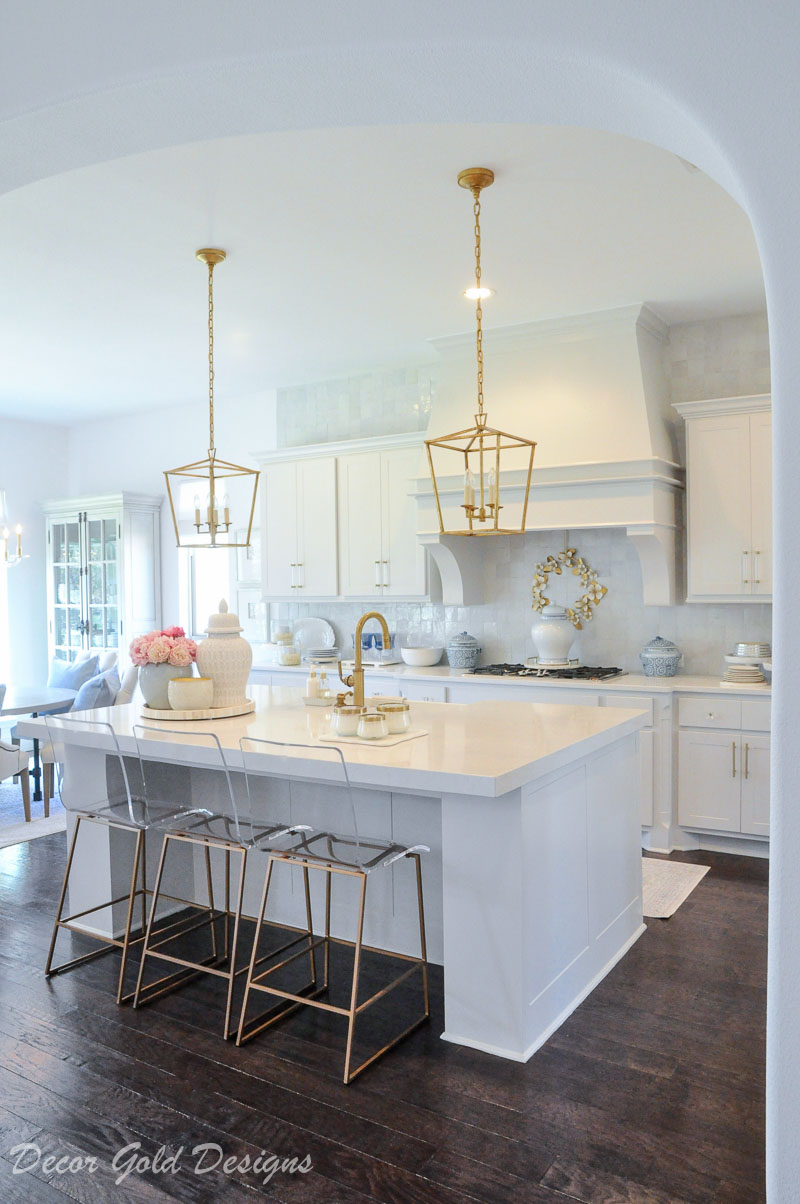 I hope you'll stay connected!
Click on the Image to Subscribe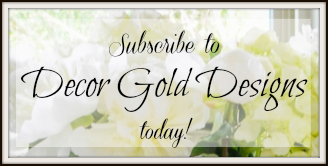 SOCIAL
Instagram | Pinterest | Facebook
Follow me on the LIKEtoKNOW.it app!