This is the home office where I work most days. As we are nearing our four year mark in this home, this is one space which has not been updated recently. Therefore, I think it would be nice, to not only show a different look, but to keep my work space fresh as well.
I shared my office the first week of this blog. At the time, I would spend much less time in here and I didn't consider it mine if that makes any sense.  As a result, it's been more of a room to store pictures and documents. I didn't change a lot, but with a few pretty new accessories and statement lighting, I did just enough to refresh it and make it feel a bit more like me.
* This post contains affiliate links. When purchases are made, a small commission is provided to Decor Gold Designs, but there is no additional charge to the purchaser.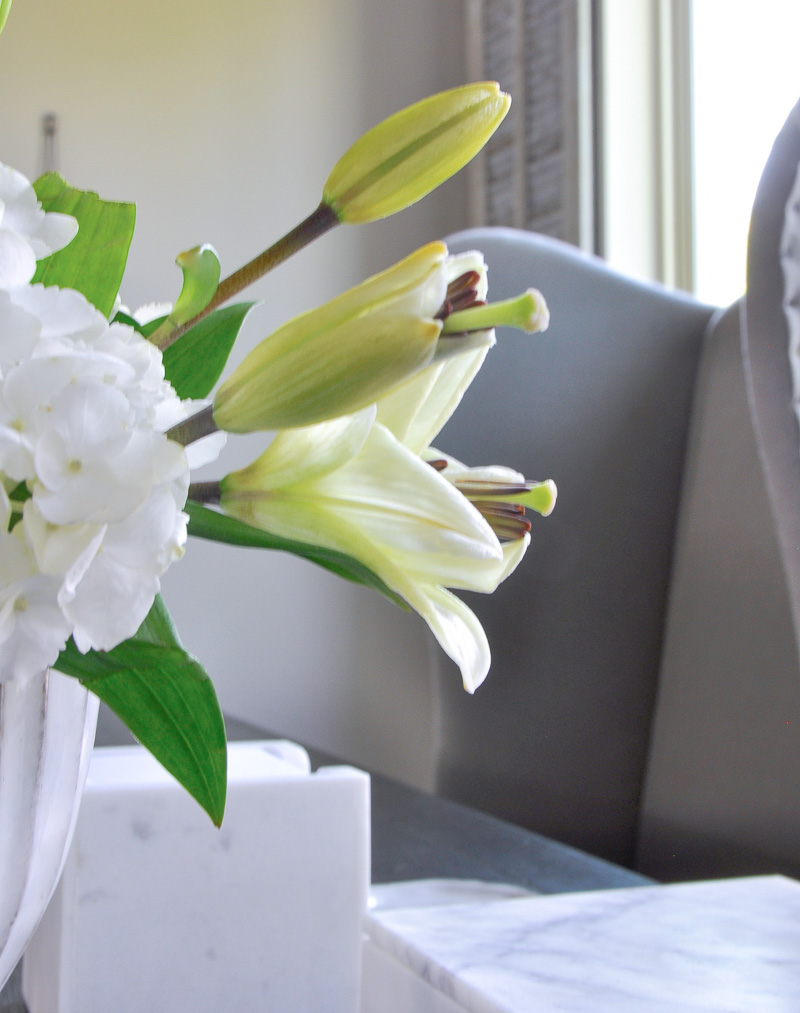 Let's start at the doorway.
The black doors and trim frame the entry to the office. They are still a favorite decision and a stark contrast to most of our home.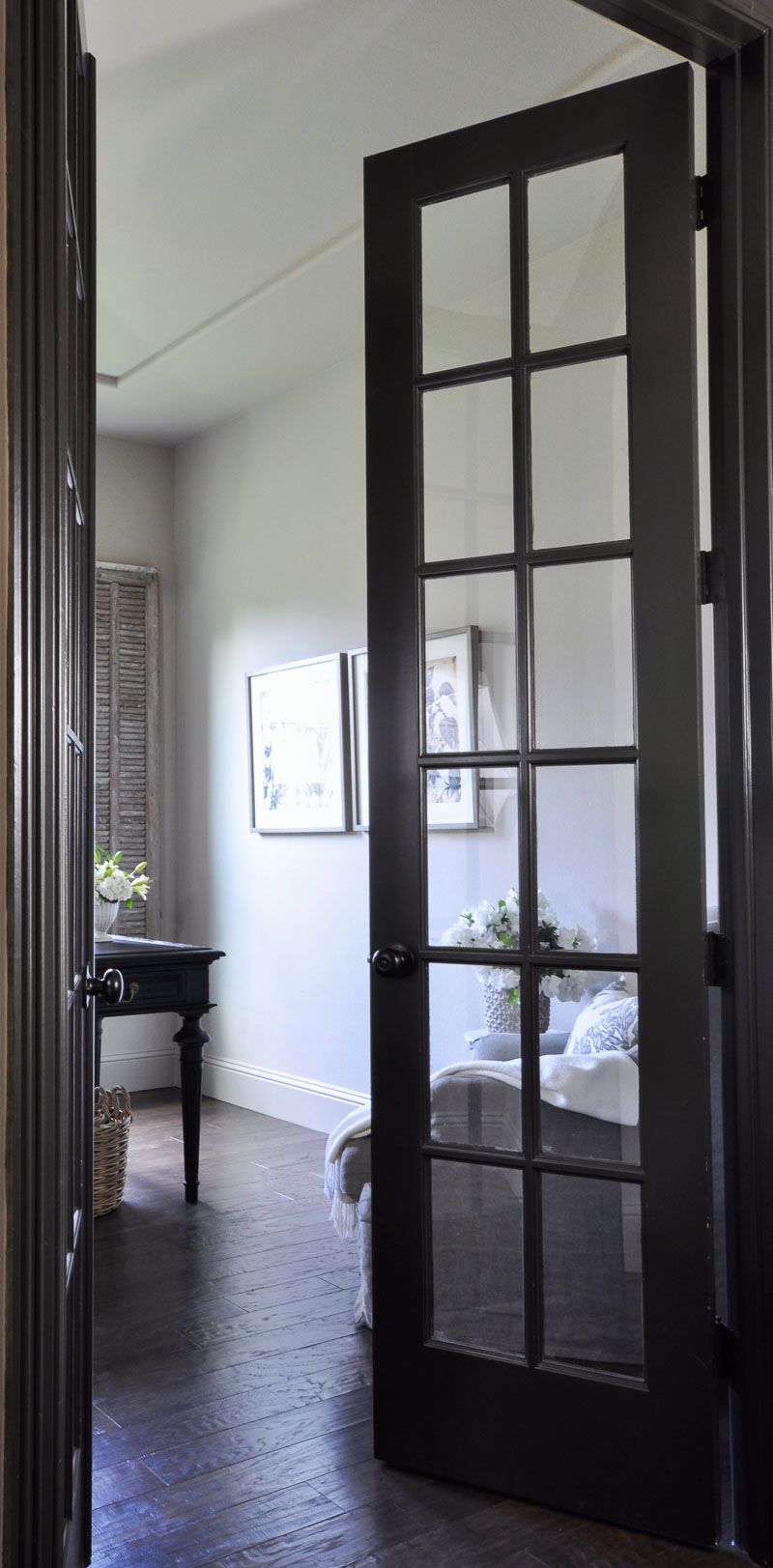 Do you see the changes yet?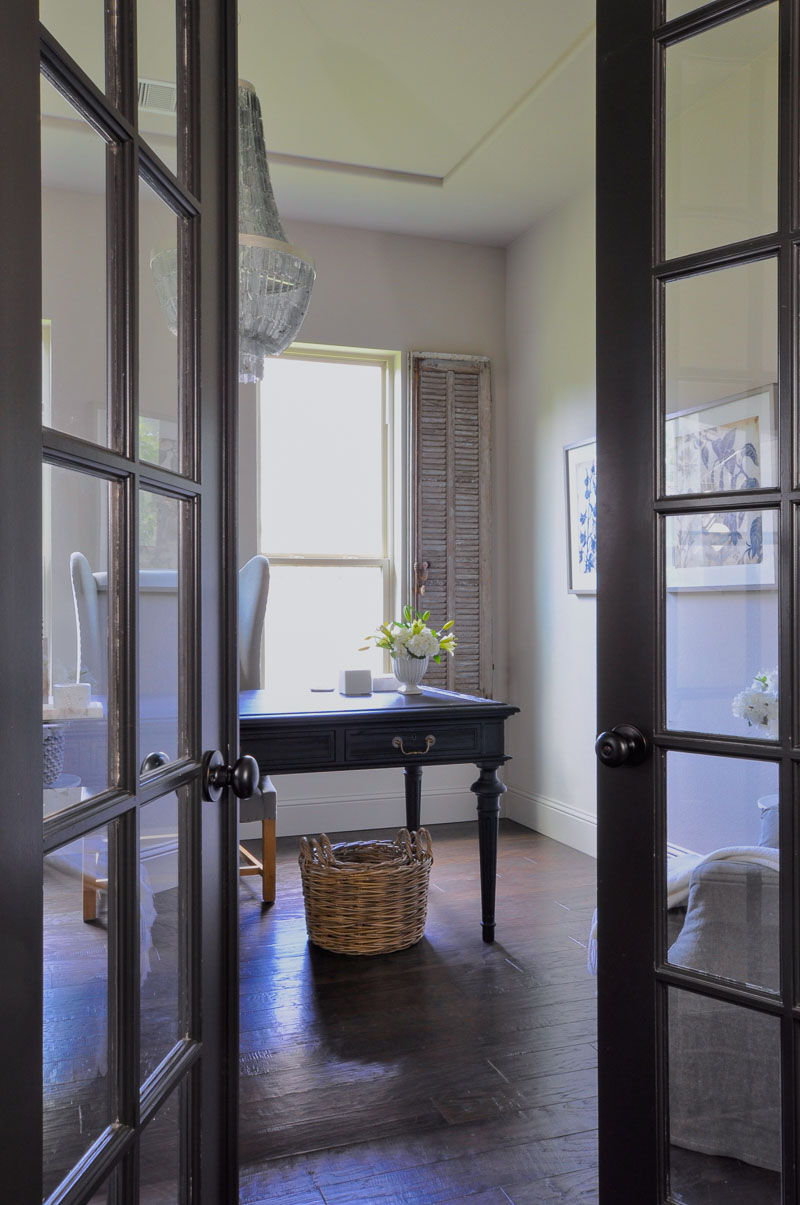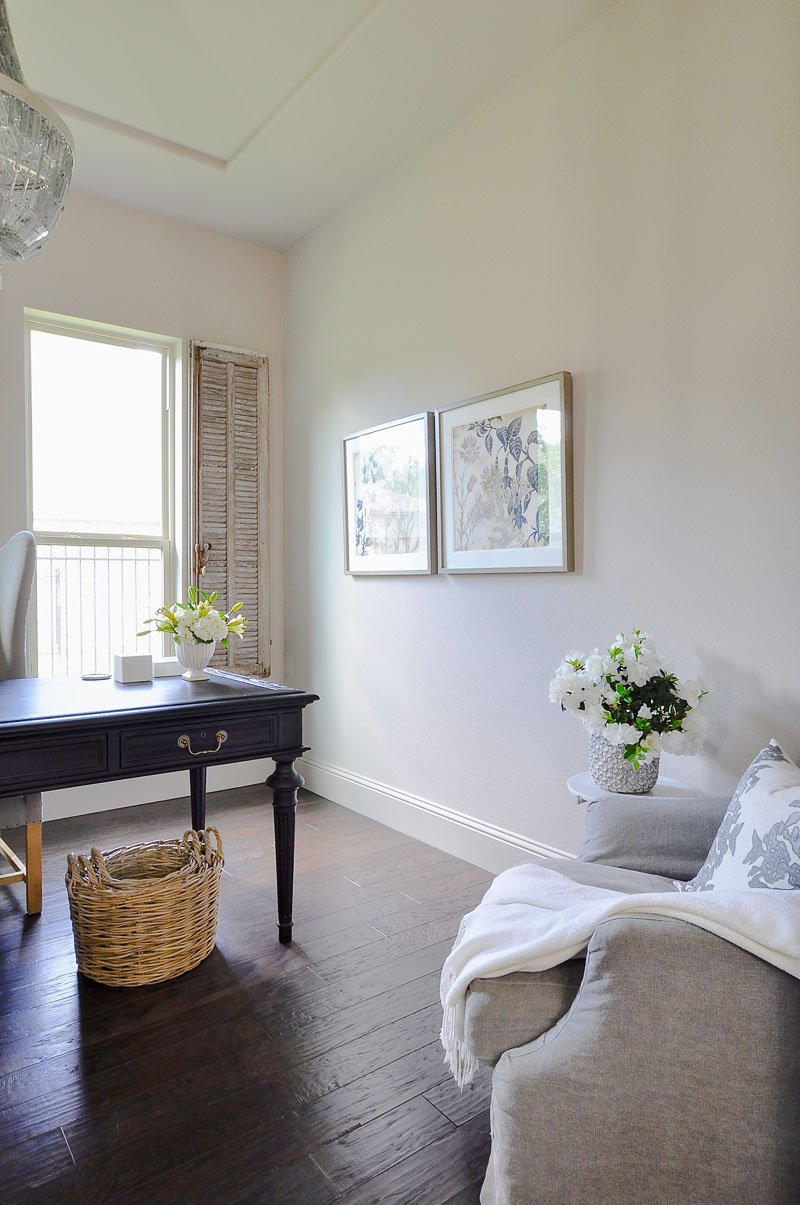 Generally speaking, I tend to believe less is more and that is true here as well. However, I do love to have a beautiful focal point such as this new chandelier. It is by Aidan Gray and I just love how it is the star of this room with it's understated elegance.
Aidan Gray offers a traditional line as well as a modern line within their brand. I find myself loving both and learning to combine the two. You can see some of their modern chairs in my newly updated guest room. Don't be surprised if they migrate into my office someday!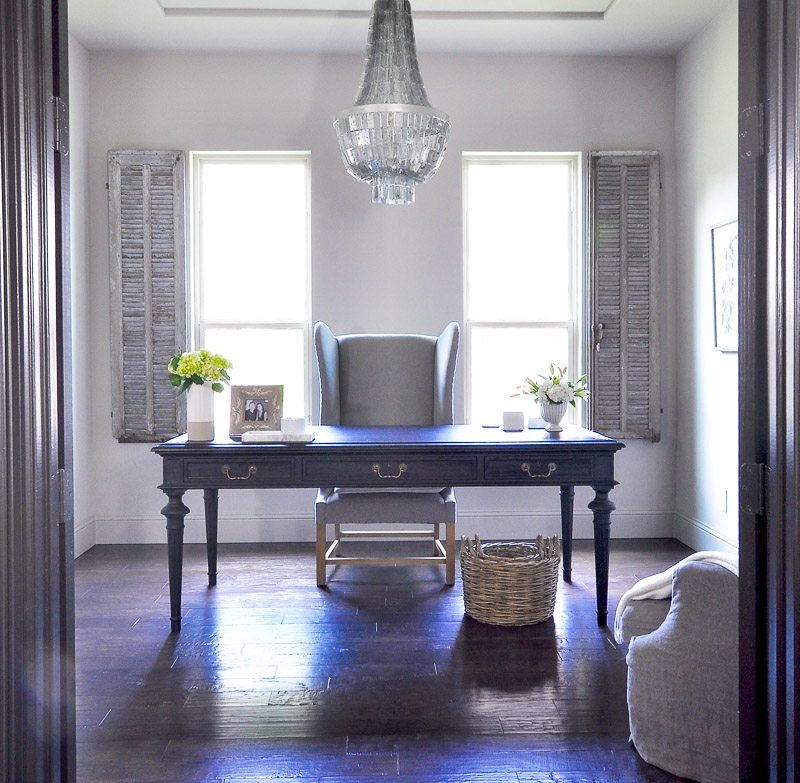 Here, you can see the muted and antiqued glass aspects of the fixture. So pretty! Can you imagine a pair of them over a dining table? Or one above a free standing bathtub?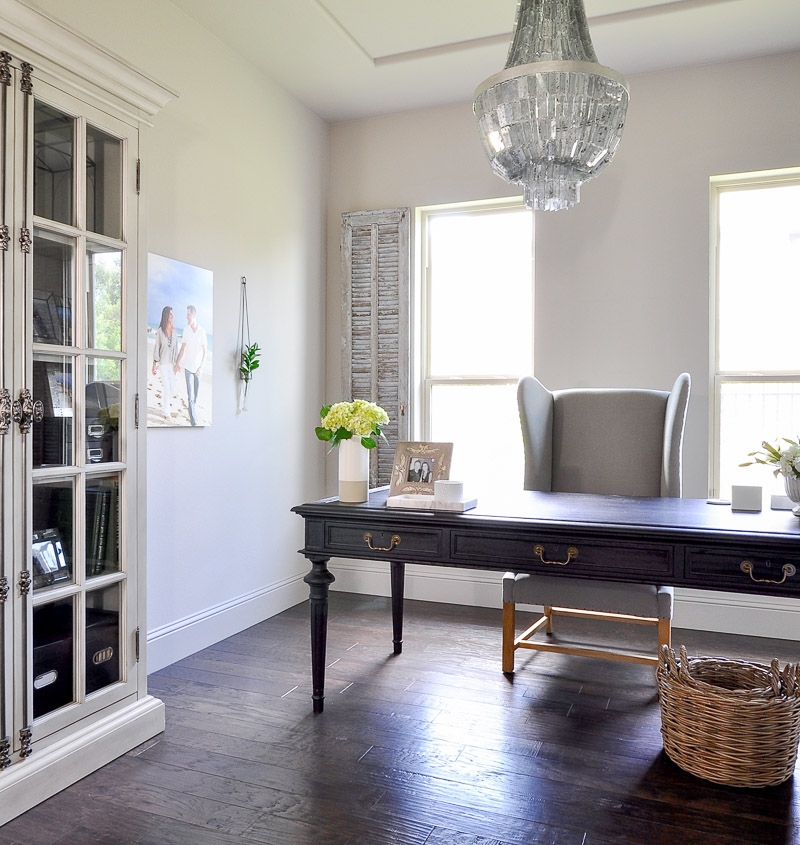 I love the way the light from the windows reflects off of it.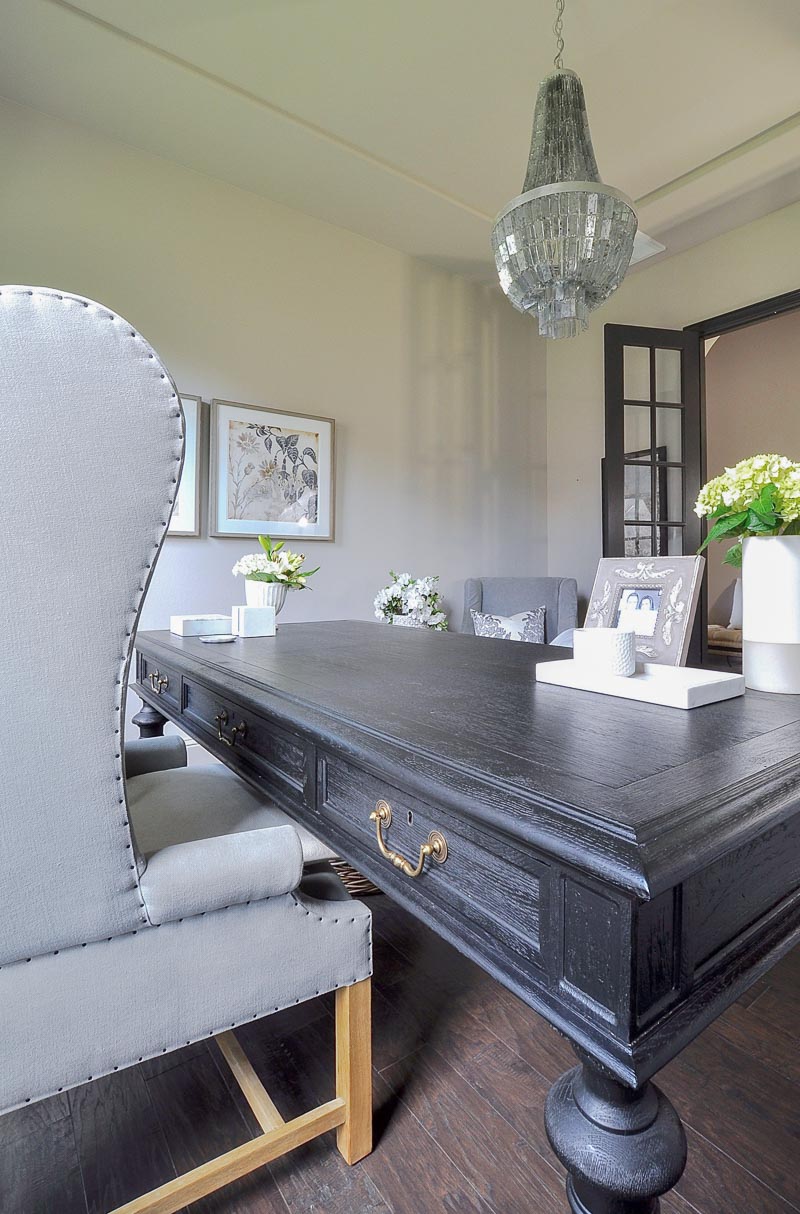 I made the decision to add some new accessories as well, mostly in whites. Additionally, if I have fresh flowers in the house, I will often bring them in here during the week. Simple and subtle florals in soft whites are timeless and seem most fitting.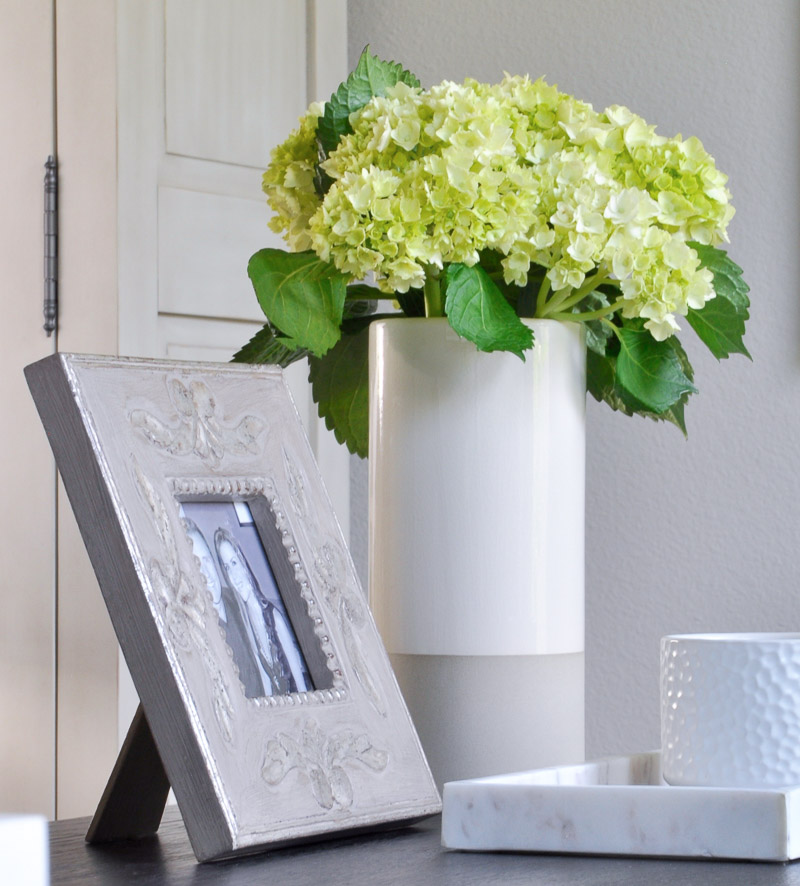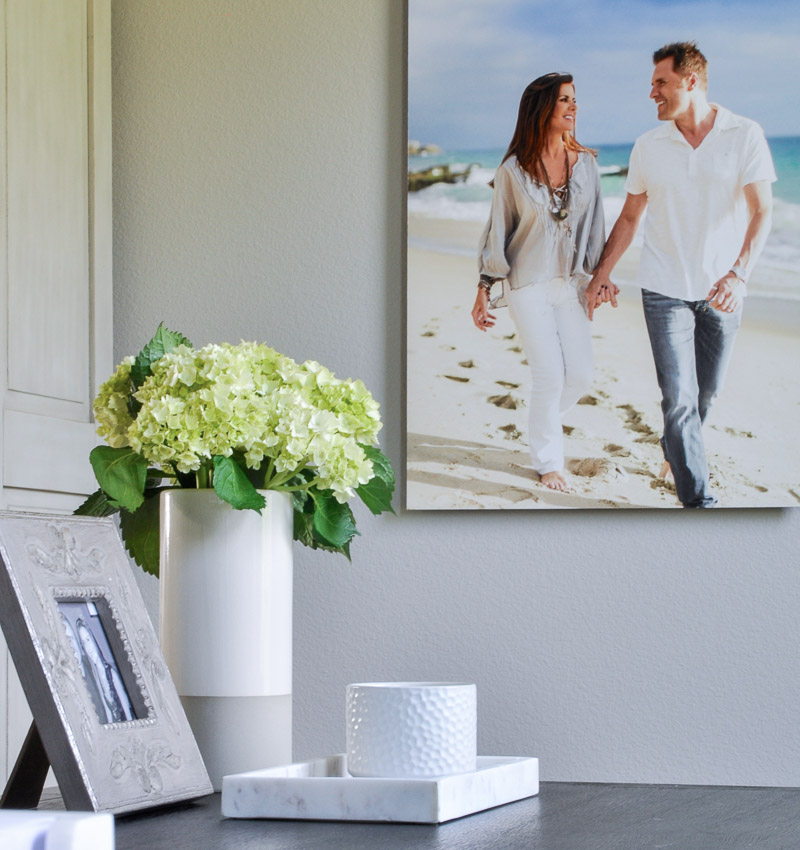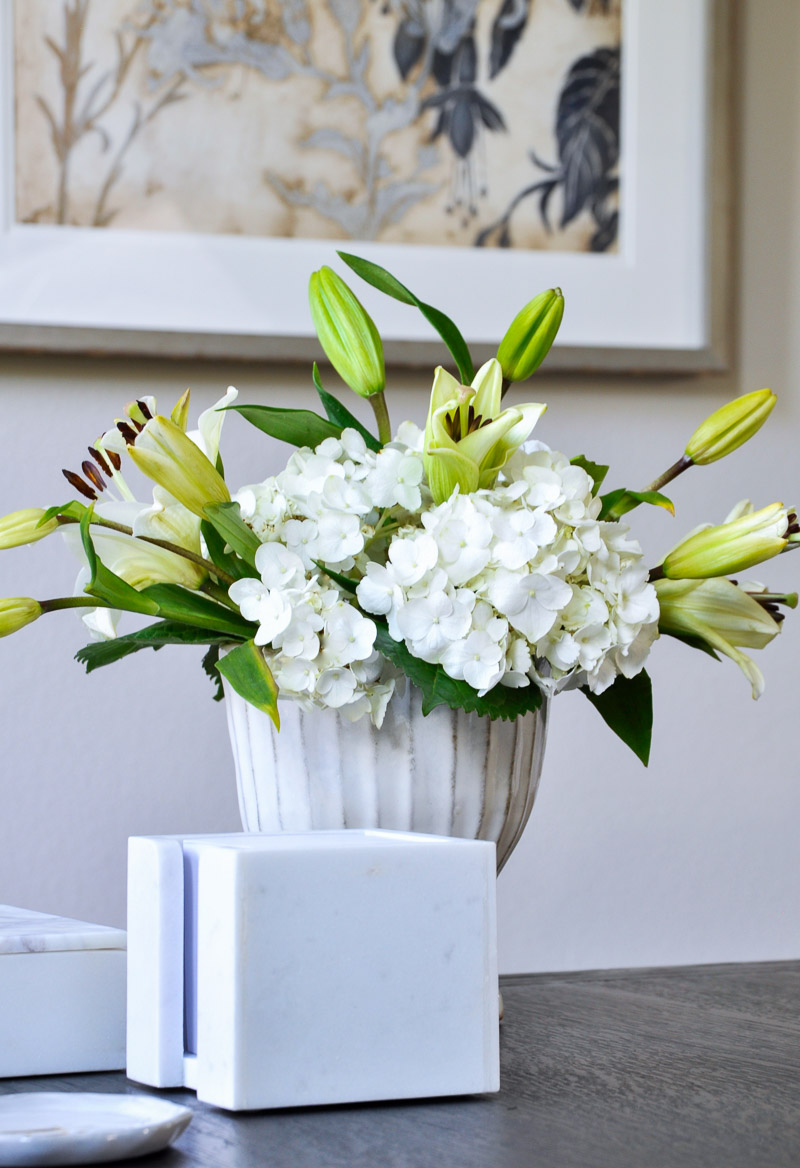 My black desk goes beautifully with the french doors.


As always, Riley has managed to calmly join the photography session. I often gate him out. But, to be fair, he is sweet to keep me company in here most work days and I didn't have the heart to make him leave.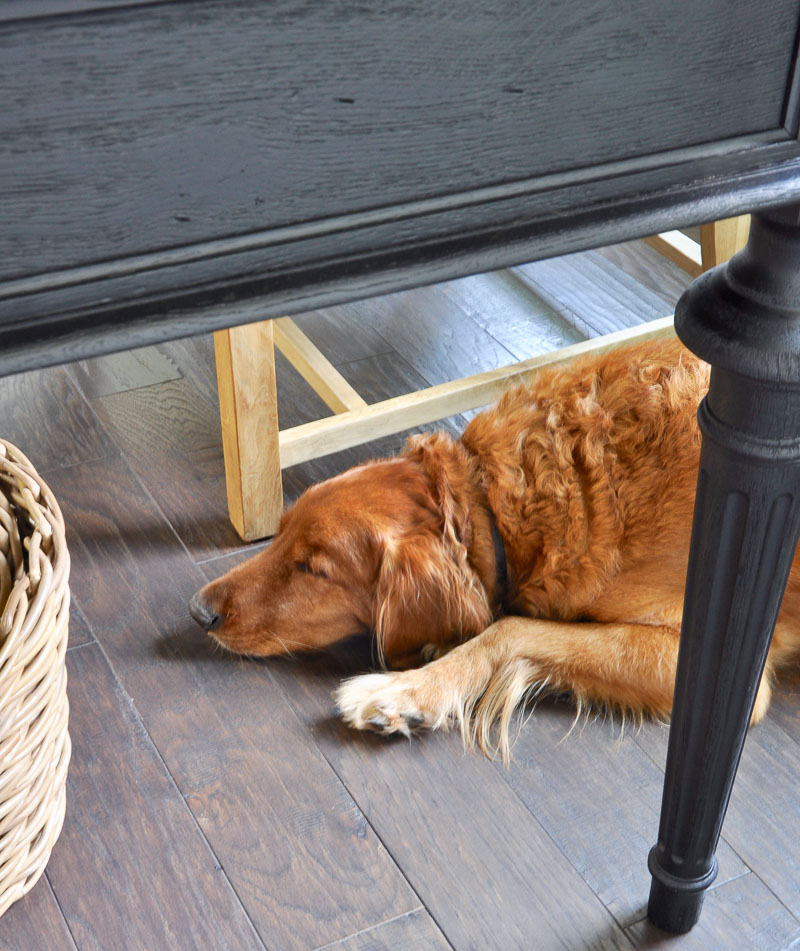 This chair is a favorite for our pets as they all enjoy joining me wherever I am working. I don't blame them, it's incredibly comfortable.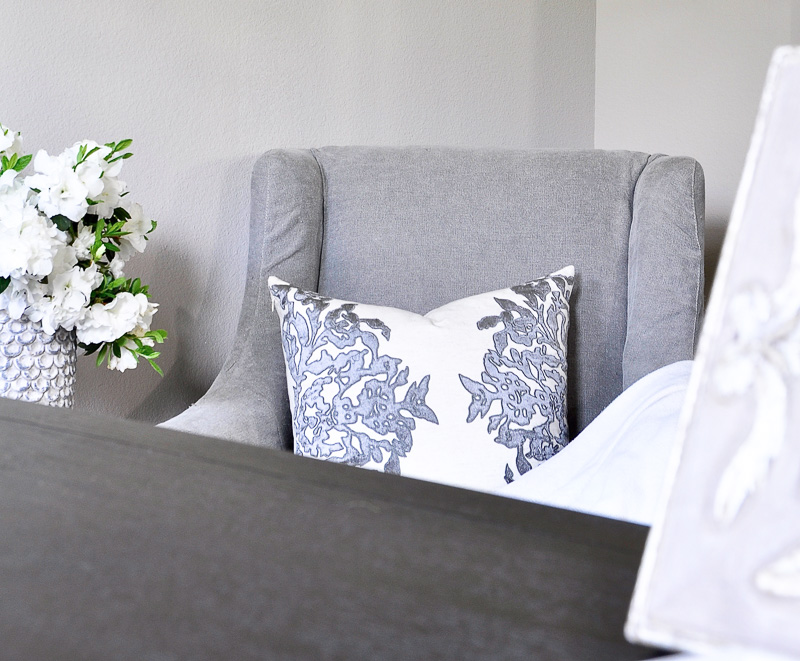 Next to the chair, I added this darling little drink table. It's another Aidan Gray piece and I originally intended to use it in my master bathroom, but it fits perfectly right here. I love to choose pieces for my home that have the potential for use in multiple rooms. Haley, pictured below, is Riley's partner in crime.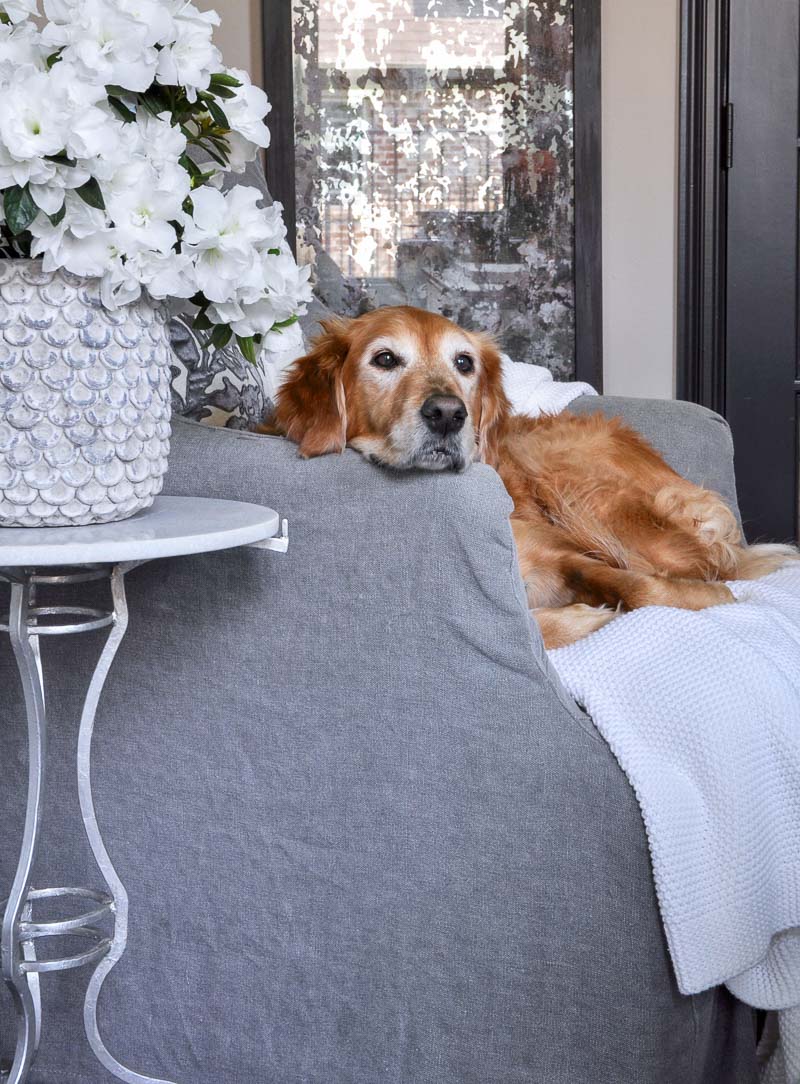 I hope you can see what a difference a few changes can make. Also, I have more room updates coming in the near future, so please check back soon. If you would like to receive weekly updates, please sign up for our newsletter by clicking here and filling out the short form. All sources are below.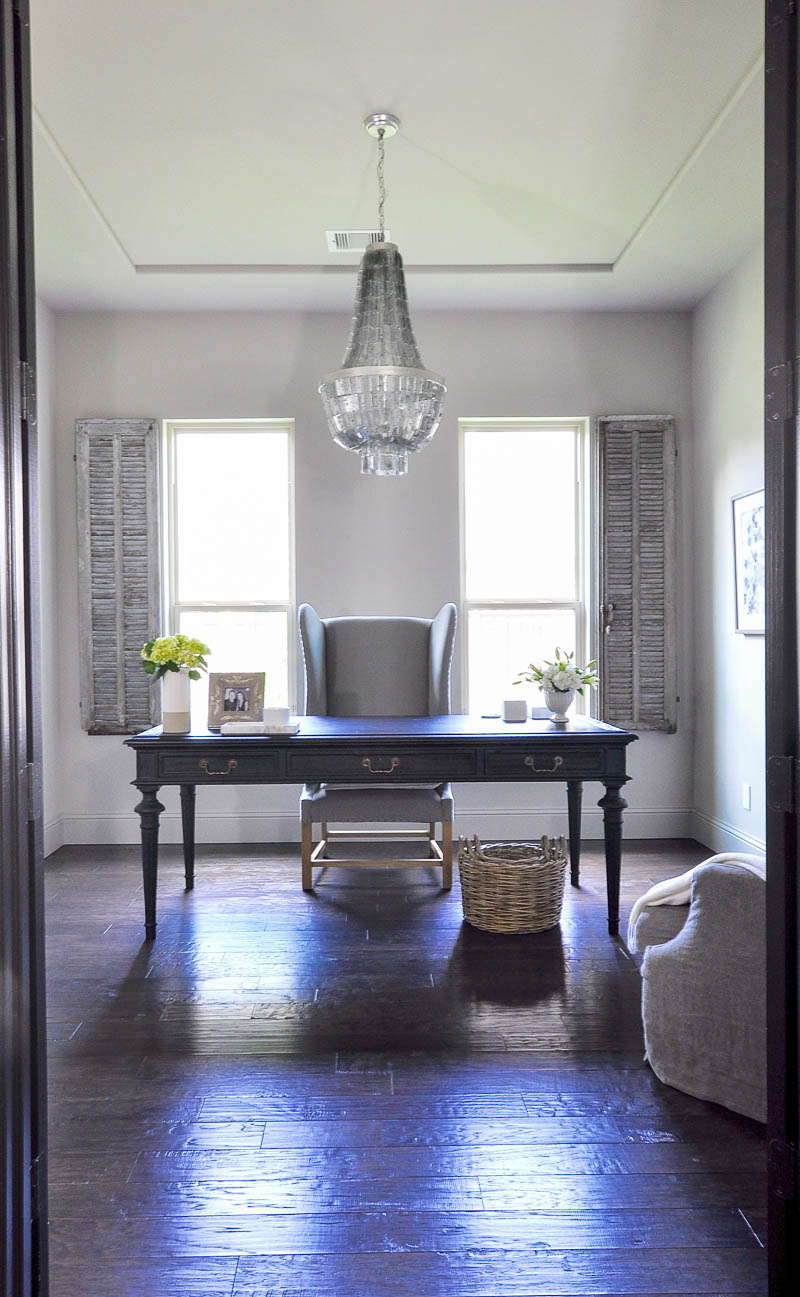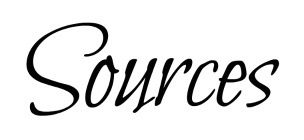 Chandelier | Cabinet – Similar | Desk – Similar | Wingback – Similar | Wingback – Similar 2 | Slipcovered Chair – Similar | Drink Table | Art 1 | Art 2 | Vase | Footed Vase | Marble Tray | White Candle | Marble Note Dispenser | Lidded Marble Box | Throw | Throw Pillow – Discontinued | Basket | Shutters – Vintage

  Tips for Keeping Your Home Clean with Pets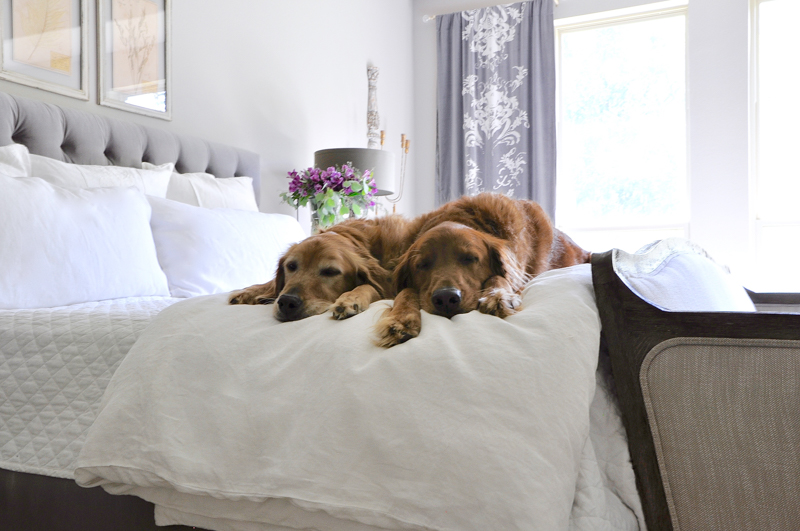 Blogging Lessons From My First Year