I never dreamed that one day I would be blogging about interior design.
I have to be honest here as being a blogger is one of the most challenging things I have ever done. It is also one of the most rewarding. By beginning this blog, I have been able to connect with others who had a similar passion for design. This is also one of the main reasons for beginning the predecessor to DecorGoldDesigns.com.
When I began @decorgold on Instagram, I did so for a number of reasons. I wanted to be a part of a platform that celebrated design. I was also hopeful that I could gain some inspiration while simultaneously offering some of my own. (Read my tips on growing your Instagram here).
After a year of Instagram fun and connections, I knew I wanted more. I also realized that there may be an opportunity for income. I reached out to friends for advice and did a lot of research, which led me to pursue getting my own website and blog.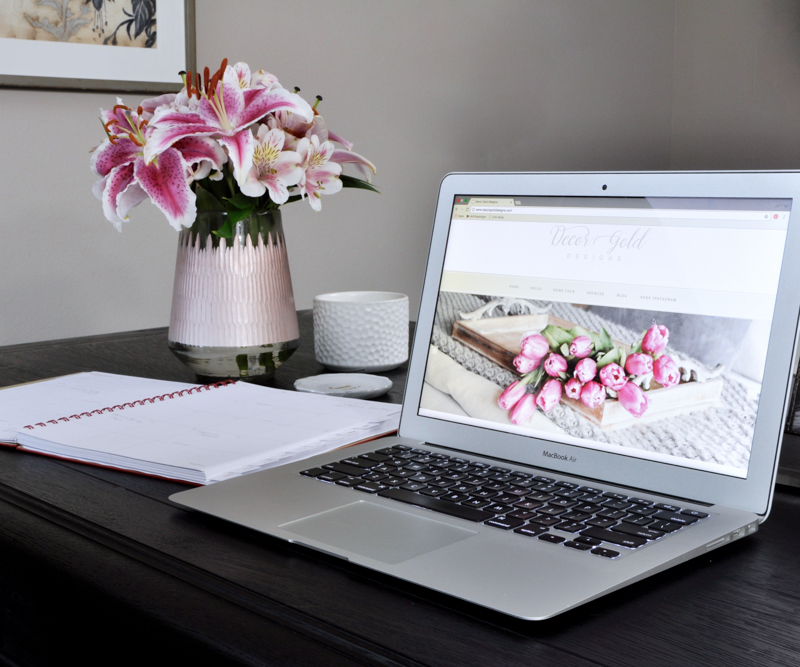 Through Instagram, I formed a great number of friendships. One of those was Bree from
ZDesign at Home
. When I found out she was going to start blogging too, I was thrilled to know that someone else would be learning all of this at the same time I was! And that someone happened to be a close friend! Randi of
Randi Garrett Design
, another dear friend, was also a huge help in the beginning. She walked me through some of the most challenging tasks and helped me at all hours of the night. I could go on and on about blogger friends (the two mentioned and others linked below) that have helped me. Strength in numbers, right? I wish I could count the number of phone calls and texts that we shared between ourselves as well as our little sorority of bloggers. Their support gave me the confidence to believe that this could be successful.
In the spirit of transparency, I decided to take on this full-time job before I realized it would be a full-time job. And by full-time, I don't mean a typical 8-5 job. I am not saying that you couldn't be successful blogging within a typical forty hour work week. However, in order for me to accomplish what I need to on a weekly basis, many additional hours are required. The truth is there is always something else that I could be doing in order to advance this blog. I try to focus on the things I can control or improve upon.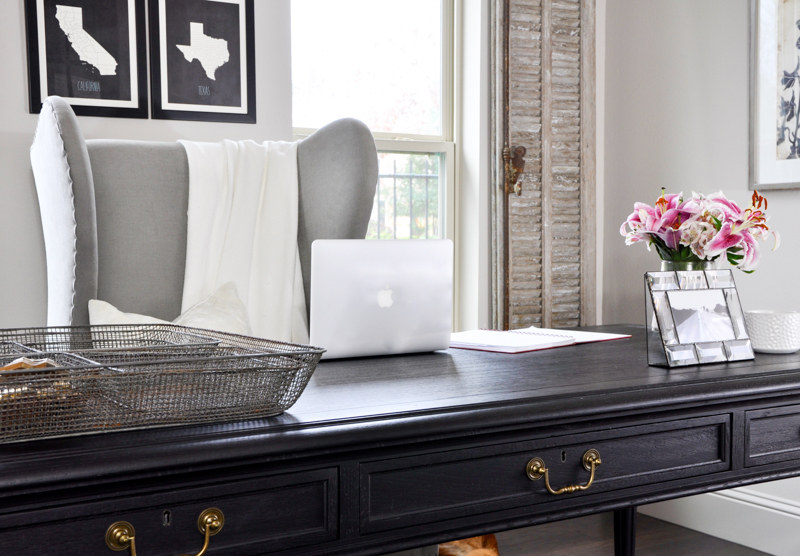 You can find a tour of my home office HERE. UPDATE: This space has been redone! See the plans here and the full update here!
*Affiliate links are included in this post for your convenience.
Now that you know my story, I'd like to share a few lessons I learned during my first year of blogging.
Photo Quality Matters as Much as Your Writing Content
I had to teach myself to use a nice camera. I started in aperture priority mode and finally acquired the knowledge and confidence to move to manual mode a few months ago. I also use a tripod and upgraded my lens. These things have made all of the difference in the world regarding the quality of my photos. It has also made blogging that much more enjoyable.

Technology Has a Learning Curve
If anyone can speak to my technical limitations. When I began this journey, I had never seen the backside of a website. Additionally, I had not seen or been exposed to computer code. And I absolutely HATE asking for help as much as my husband hates asking for directions. At the end of the day, I did learn to ask a number of people for help, guidance, etc. However, I always try to figure things out on my own because I know I will be more likely to retain the information and be able to solve the problem the next time it reveals itself. And trust me, it will.
You Must Focus on Gaining Traffic
My husband manages and coaches sales teams. One of the statements I always hear him say is "There is always something more we can be doing to improve sales." The same can be said of increasing blog traffic. There is always something I could be working on; from SEO to social media to collaborations. The possibilities are endless and without organization, it can dominate the day without even trying.
Planning is Key
Blogging requires you to wear many hats. Certainly it helps if you learn to write well. As if that wasn't challenging enough, you must also learn to promote yourself, design photos, juggle social media accounts, manage email as well as weigh legitimate business opportunities versus those who are trying to take advantage of you. Each day you must have a business plan regarding what you are needing to accomplish. In this business, there is not a natural stopping point. It just doesn't exist. Time management is crucial when it comes to blogging. It is probably the most difficult aspect of this business for me personally. In order for me to stay organized, following a content calendar is crucial.
You Can Make Money
If you want to make money blogging, you can. But, here's the thing. You have to know what you are worth and what you bring to the table. I cannot tell you how many times I was approached by a company that wished to tell me what they thought I was worth. There is a disconnect here. They reached out to me. They saw something that they liked about my site, social media, etc. Yet, many times they wanted to bargain for my services. You have to know your value. Similar to real estate, your location (read exposure) on the internet has value. Reaching a broad audience has a certain value. Reaching a broad and targeted audience has a greater value. Do not let yourself get taken advantage of by working for less than what you are worth. Know your value and how you can benefit the company and their product. This will help you negotiate from a position of strength.
You Will Make Friends
One thing is for certain if you decide to embark upon this career path: new friendships will be created. You will depend on them for guidance and help. They will be your sounding board for everything from frustrations to successes. These new friends will hopefully guide and help you as you go down this path. It is important to surround yourself with blogger friends who have a similar drive and goals. They will understand the ins and outs of your daily struggles.
Social Media is a Neccessity
Instagram. Pinterest. Facebook. Social media is the fuel that feeds the blogging engine. These are tremendous marketing platforms which help promote and mold your style/identity in the blogging world.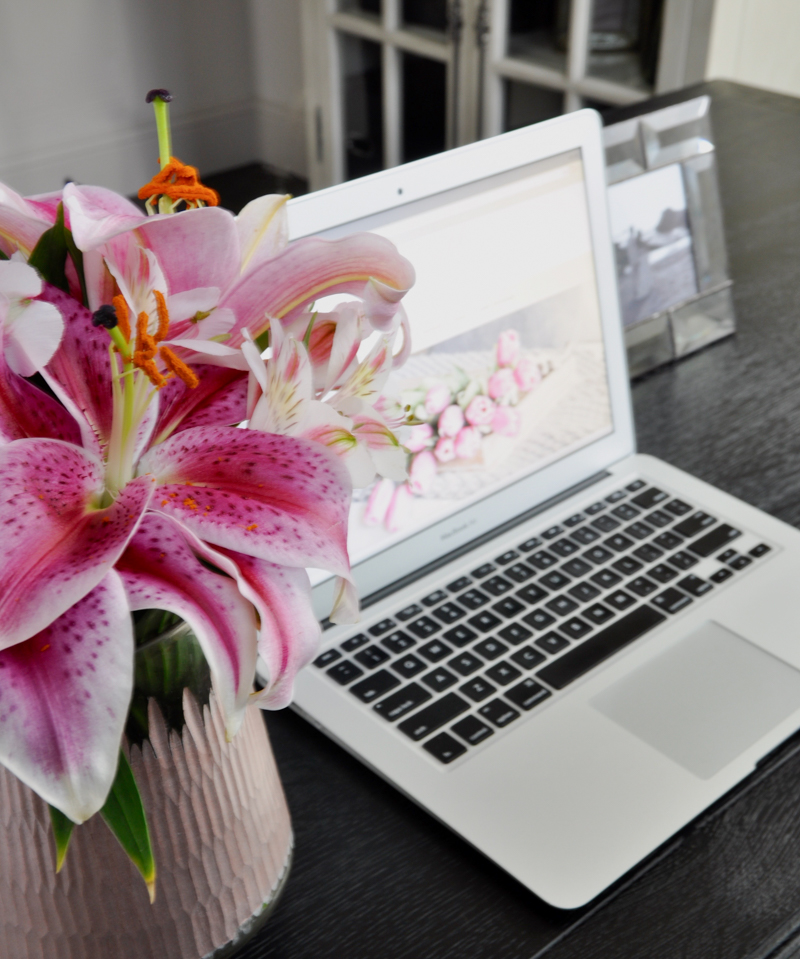 I have always tried to post specific content that properly reflected who I was as a designer. If you choose to start a blog one day, I would recommend a dedicated and scheduled use of a variety of social media platforms.
Additionally, I always say to be authentic to who you are. Your audience will appreciate your consistent content. Most importantly, don't ever give up! Is it hard work? Yes. Can it be rewarding? Without question. If you embrace this challenge with everything you have, you'll have no regrets. And who knows, you just might have a successful business which will begin to sustain itself in the future.
Lastly, if you look closely you will see one of our golden retrievers. I must admit that getting to hang out with him and our other pets is one of the benefits of working from home.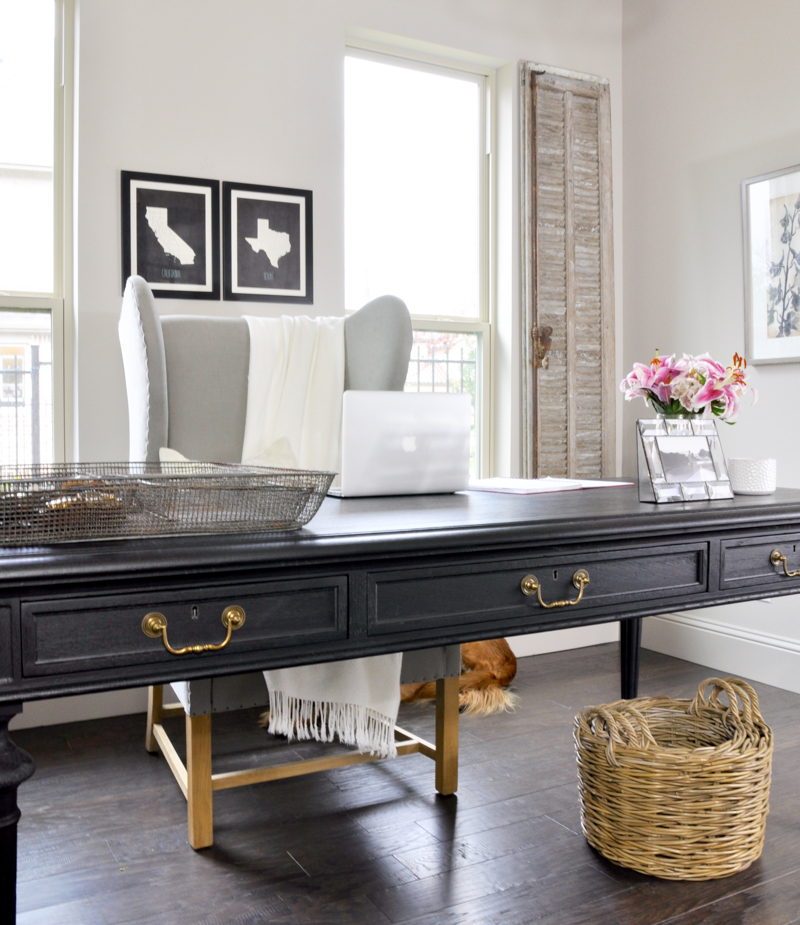 You can find all available sources for my office HERE. I have also shared most pieces below. Click on the image and scroll to find additional items.
Shop My Office

During evening hours, I blog from this room.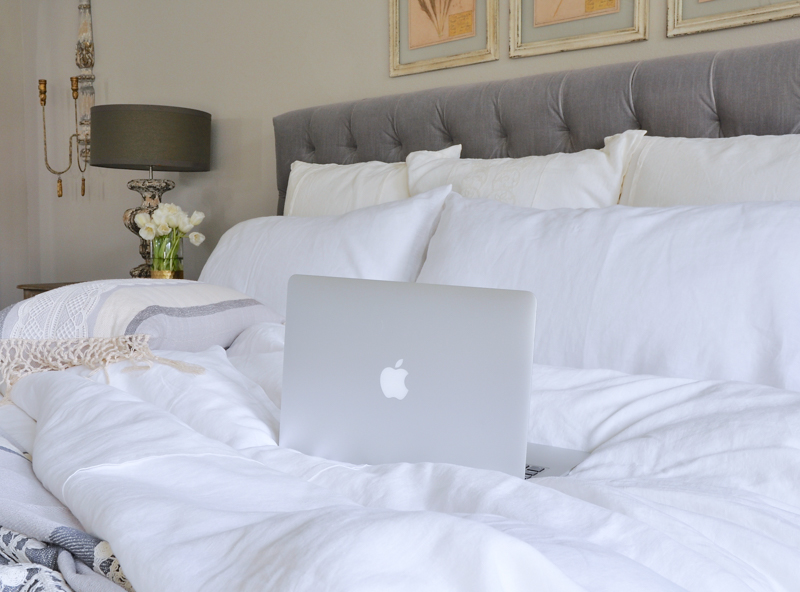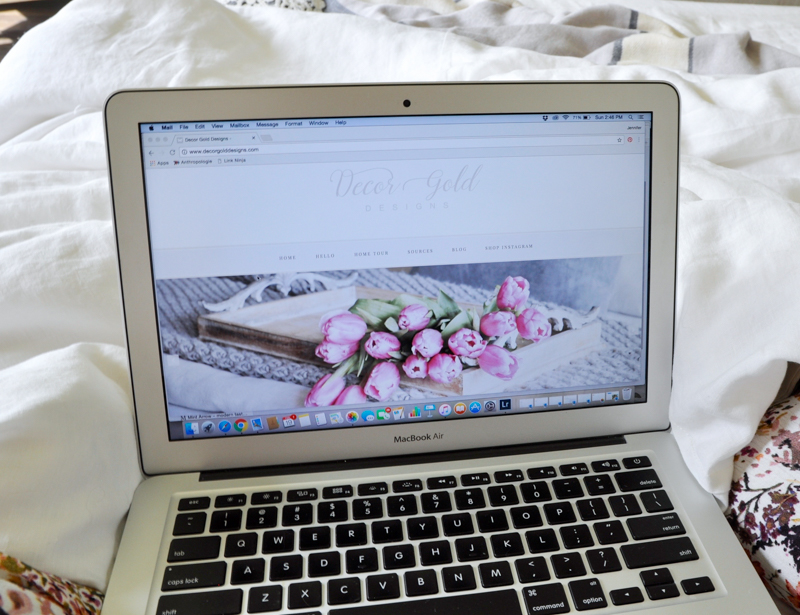 Riley wants to be near me in this room too.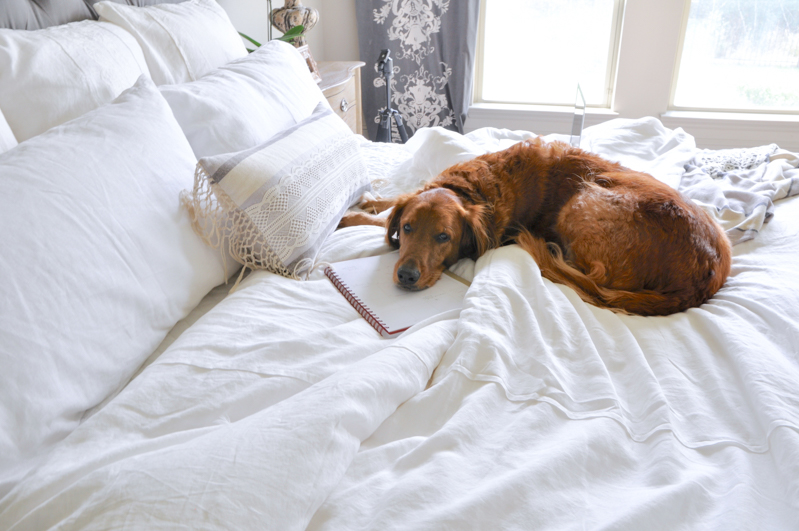 You can find all available sources for my bedroom HERE. I have also shared a few items below. Click on the image.
Shop My Bedroom

I cannot thank you all enough for your support of this blog. It means the world to me and my family. I'm so excited to see what the future has in store!
Now I'd like for you to visit my friend, Bree. Her blog, ZDesign at Home is one of my favorites and I know you will love it too. As I mentioned above, she started her blog at the same time as I started Decor Gold Designs. In addition to Randi, and Bree, you can also find some of my favorite blogs at the bottom of this post and a picture of all of us together.