Welcome to Week 7 of the One Room Challenge and my Colorado Loft Bedroom Reveal! A big thank you to Linda from Calling it Home and media partner, House Beautiful, for organizing this fabulous event!
I'm so excited to be DONE!!! The makeover of our Colorado loft bedroom was even more of a challenge than my two previous One Room Challenge makeovers because I was doing it from over 1000 miles away! From close or far away, I've learned from Rounds 1 & 2 that it can be difficult and frustrating, but it is always worth it in the end.
This time was no different. We left Houston just three days before I needed to photograph the completed room and still had wallpaper and curtains to hang, accessories to purchase, lots of steaming and ironing to do, and all of the styling.
We got it done without a minute to spare. The only thing missing is our dresser which was damaged during delivery. It will need to be replaced, but once the new one is delivered, I will be sure to share it. Stay tuned!
Do you remember where we began with this makeover?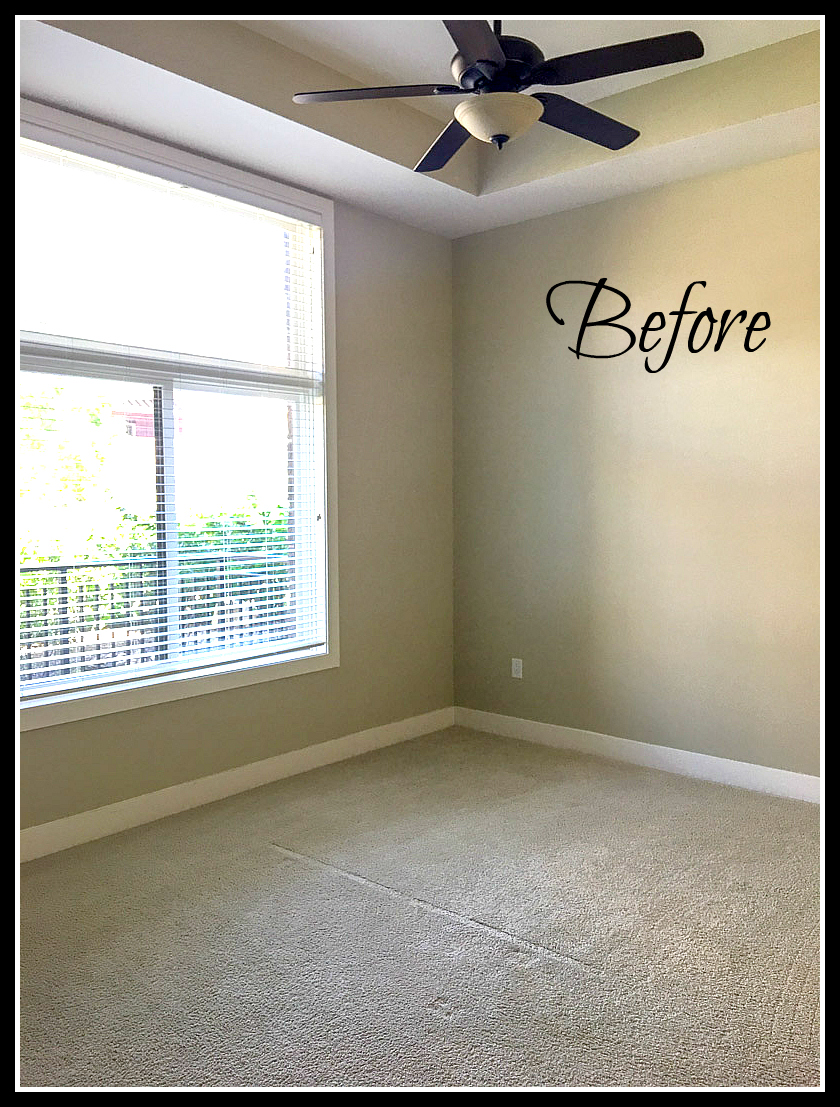 It feels like forever since the room was beige all over! If you would like to see the weekly progress, you can find links to all 6 weeks of the challenge at the bottom of this post.
*This post contains affiliate links.
Are you ready to see the full bedroom reveal? I know I am ready to share it!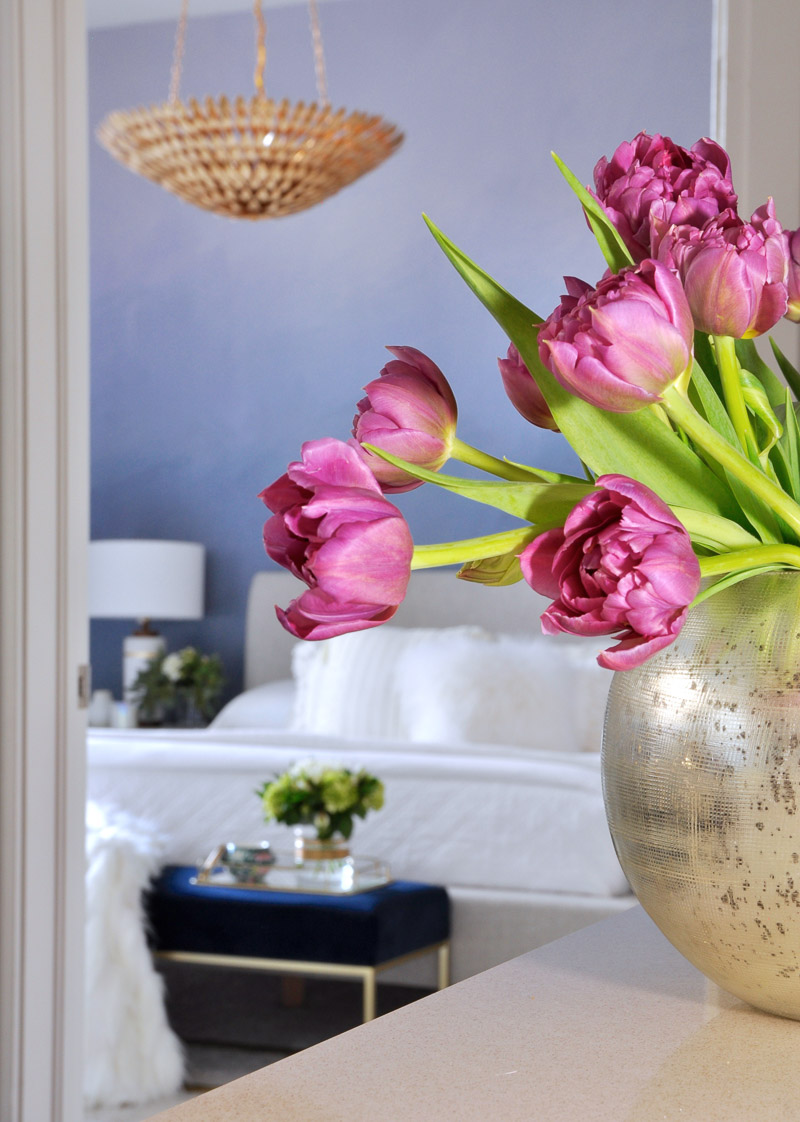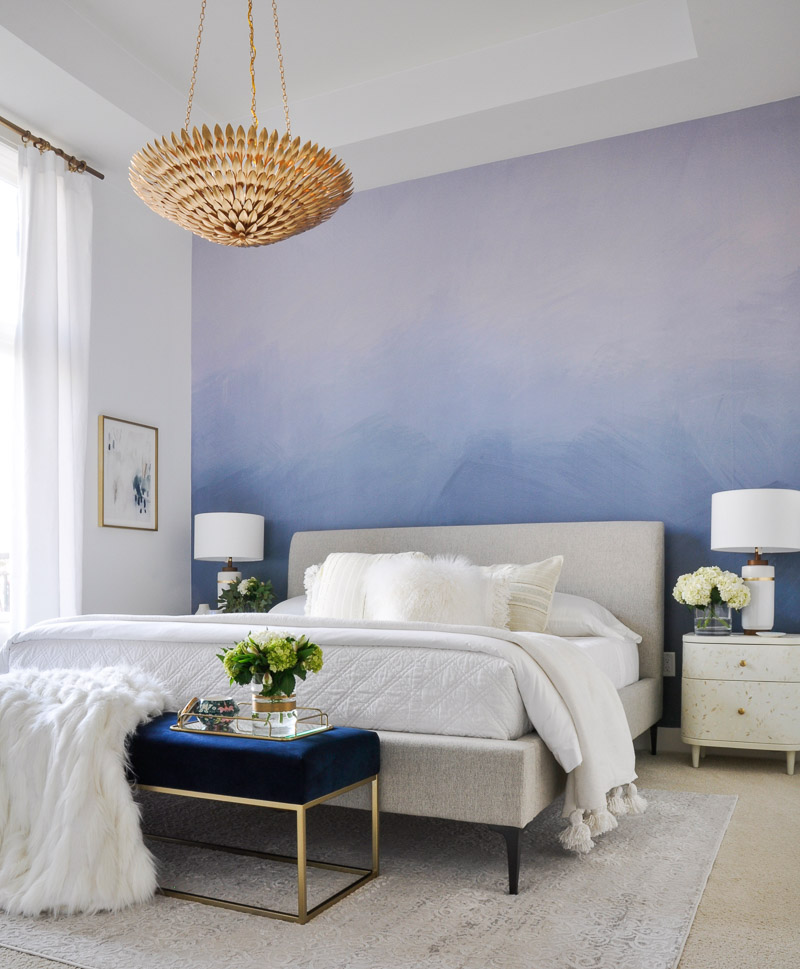 Boulder is sunny most days, even in the winter, so we wanted to keep the loft bright. Also, our Texas home tends to be a bit darker, plus it's very neutral. So, we decided to use a bit more color for the bedroom reveal here.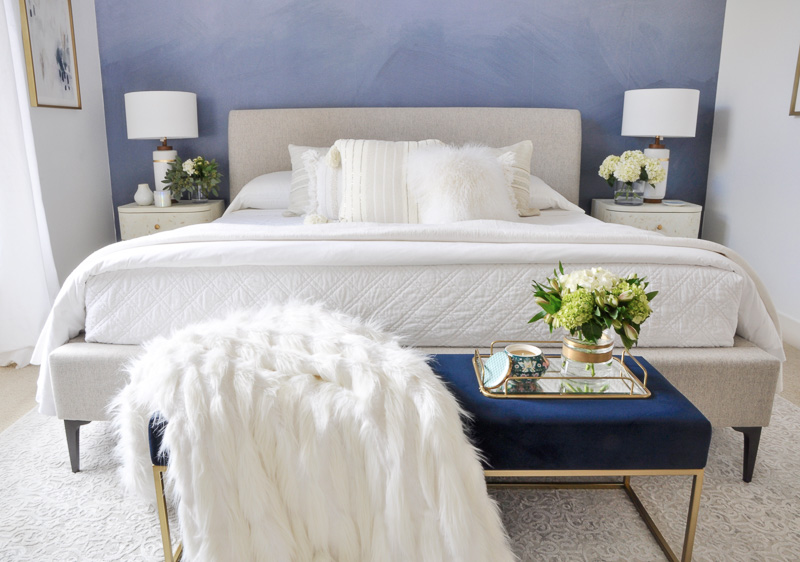 You may remember a different blue velvet bench that I shared when I was still in Texas. I fell in love with it for this room, but it didn't make the trip. Luckily, there is a darling shopping center just a few blocks away. I was shopping there and I spotted this beauty in West Elm Boulder . Doesn't she look great?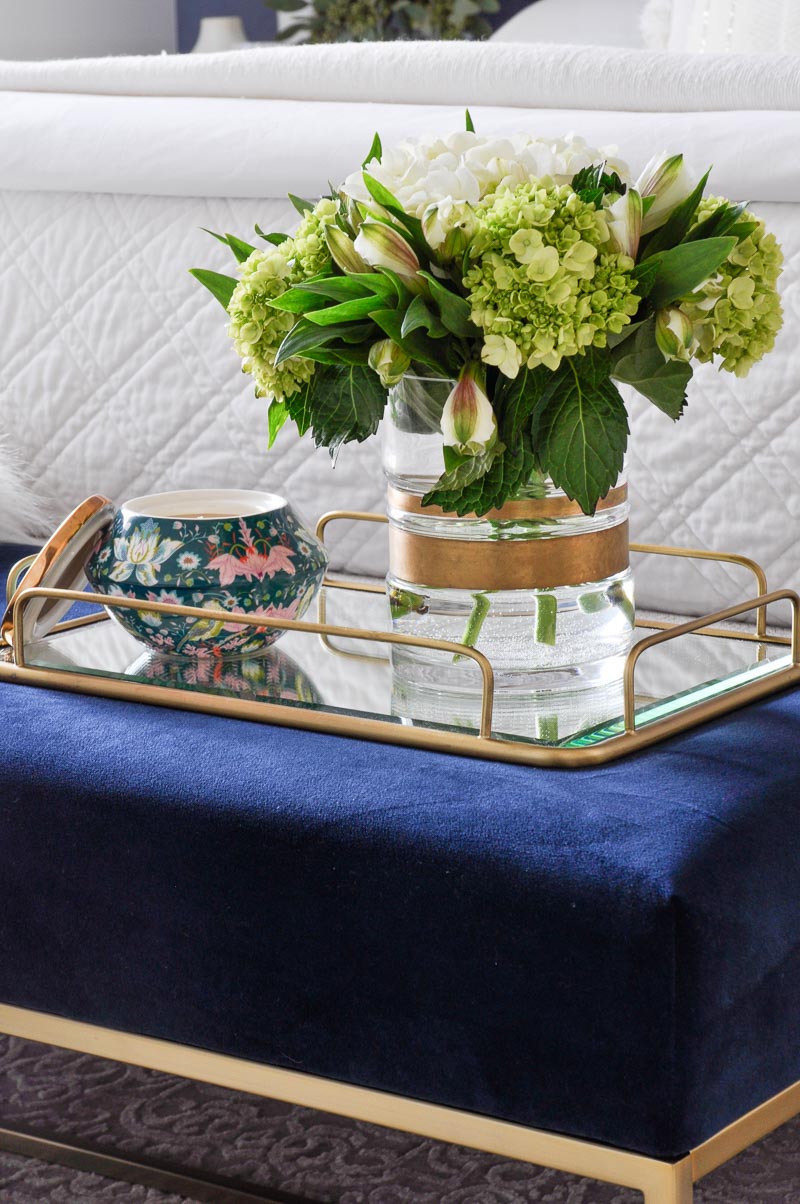 The other large amount of color comes from the Anewall wallpaper. I love the blue ombre design. It's self adhesive vinyl, so if we change our color scheme someday, it will be easy to remove.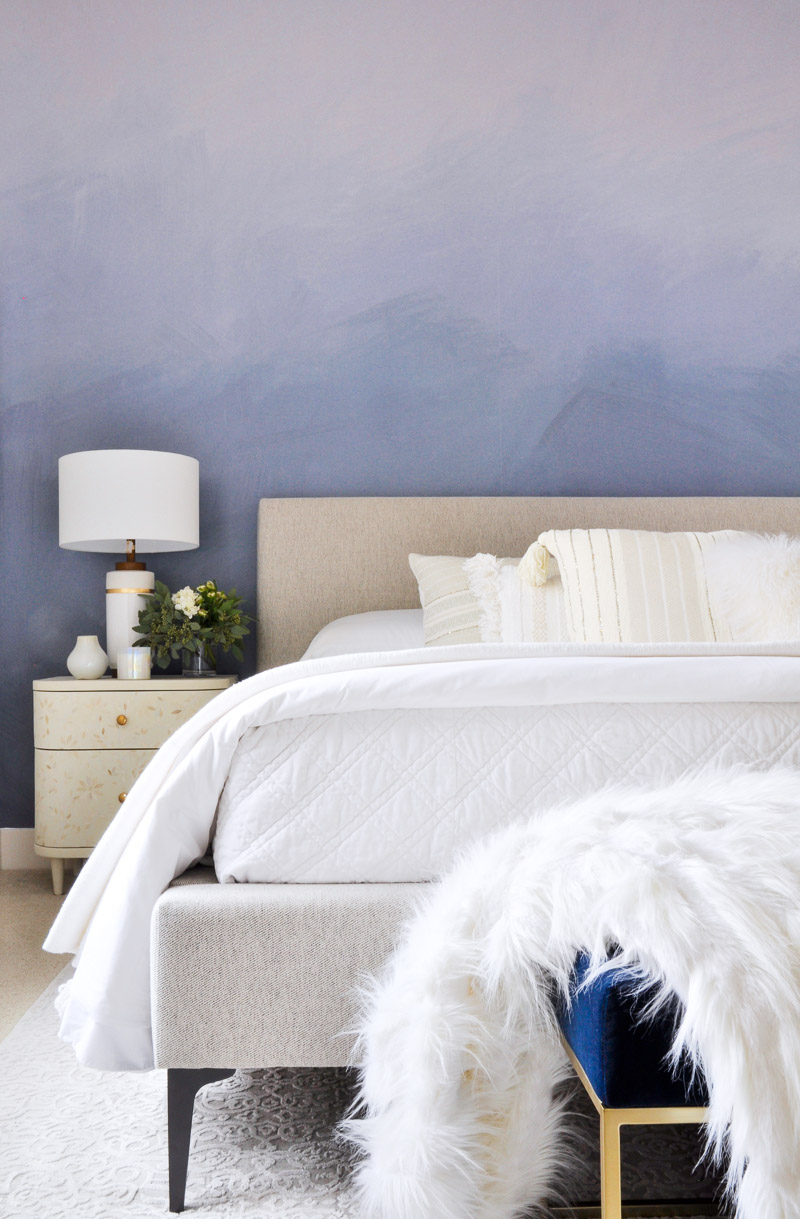 Also, additional pops of color comes from the Minted art.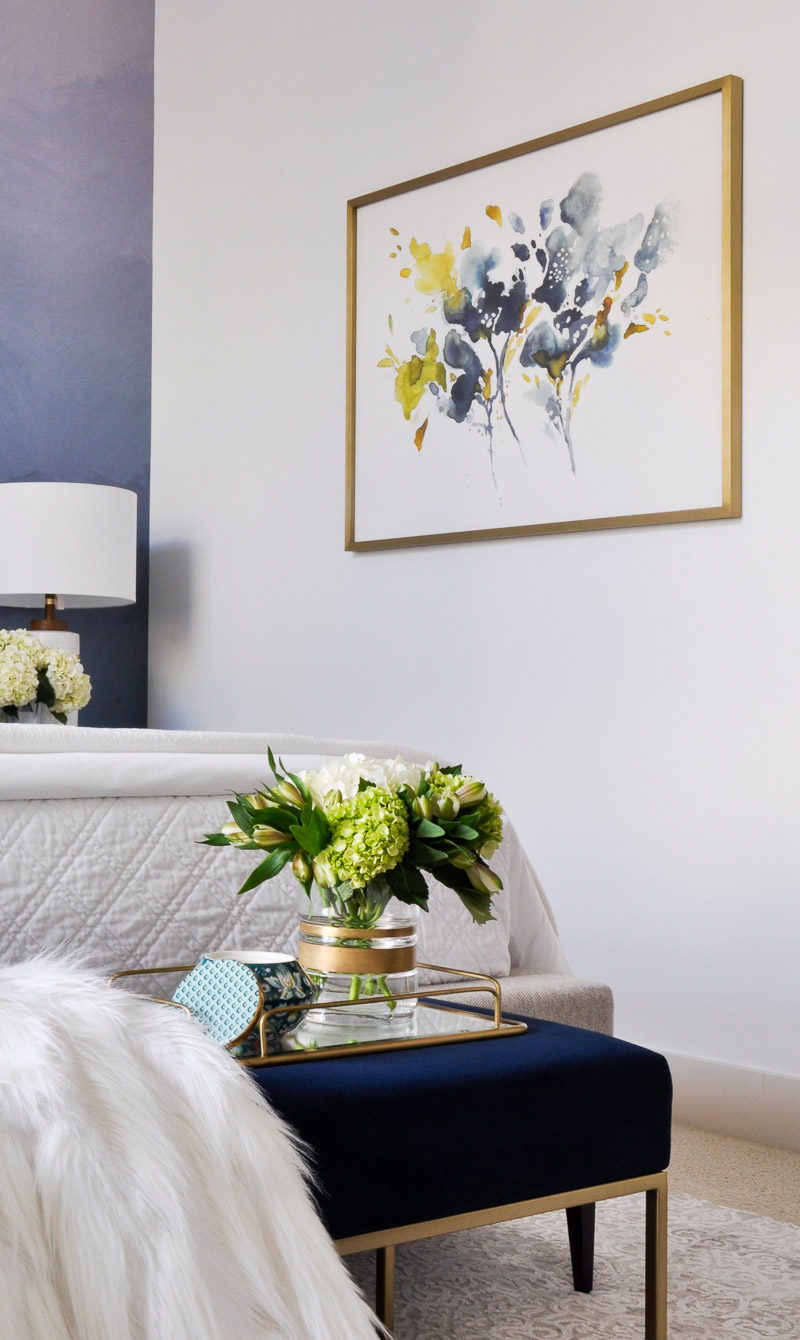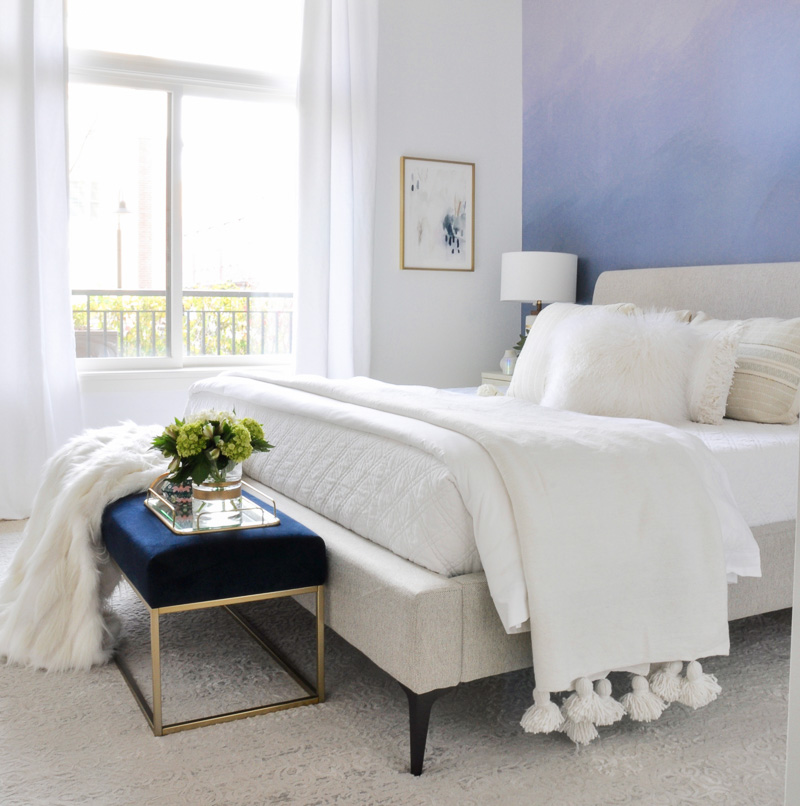 I kept the bedding white, but piled on the textures and layers. I started with this velvet coverlet by one of my favorites, Pom Pom at Home. We have one like it in Texas, but I loved it so much I wanted to get a second one. Plus, I needed to make sure we had something to keep us warm during the chilly Colorado winters.
All of my basics are from my go-to company for comfort, Cariloha. We also ordered our mattress from Cariloha. It's our second one and the comfort is unmatched. Truly.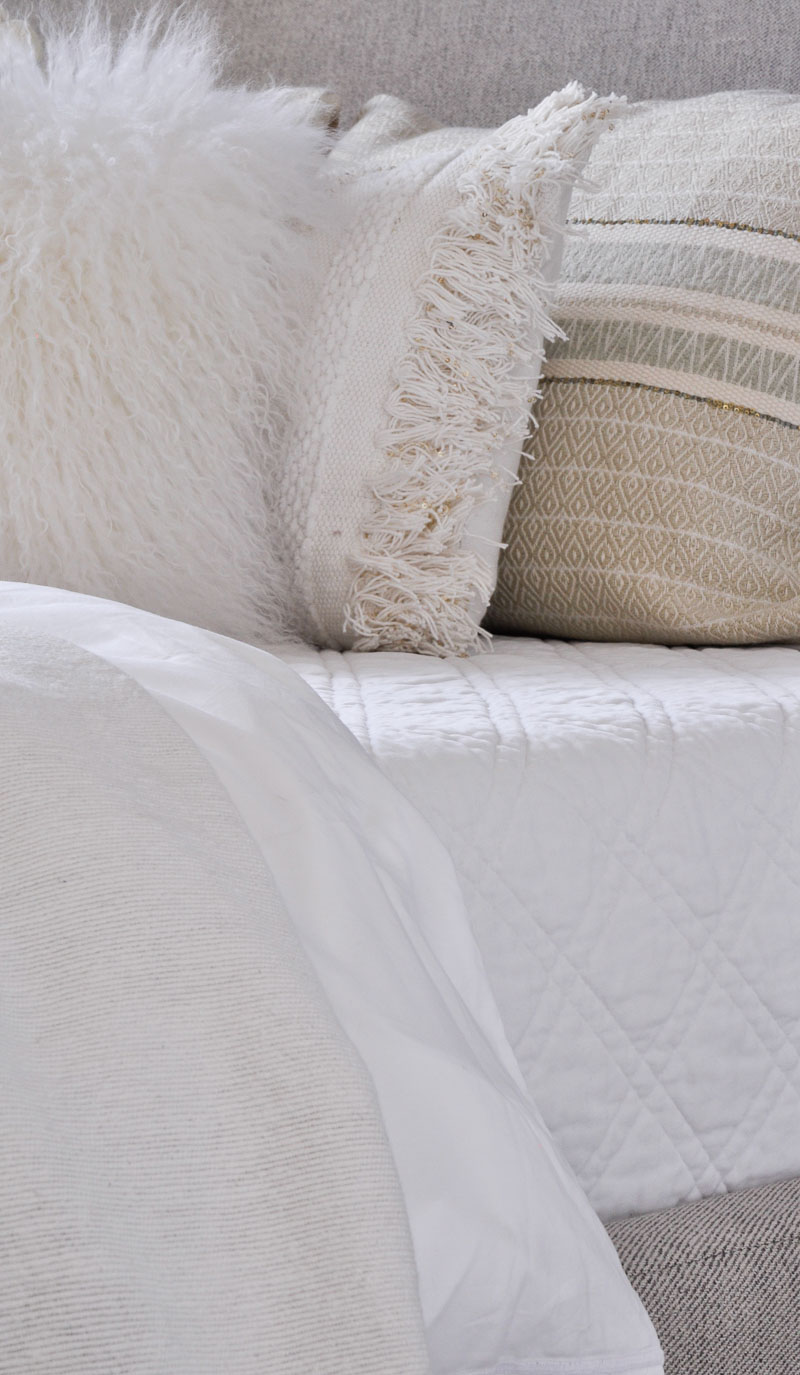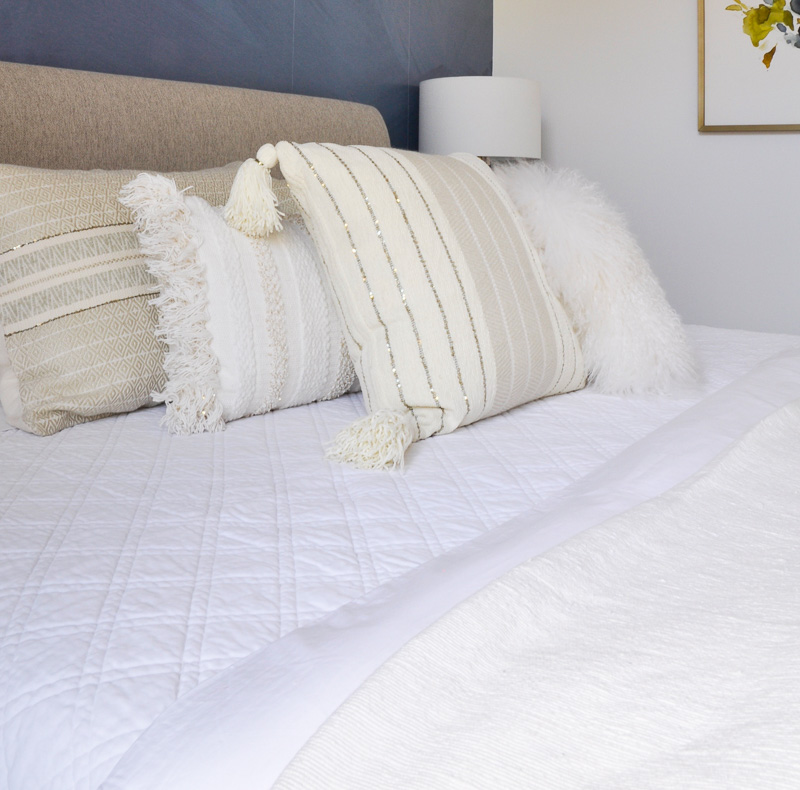 Additionally, I think I may have found the two most fabulous throws EVER! First, can you even handle the cute pom poms on this one?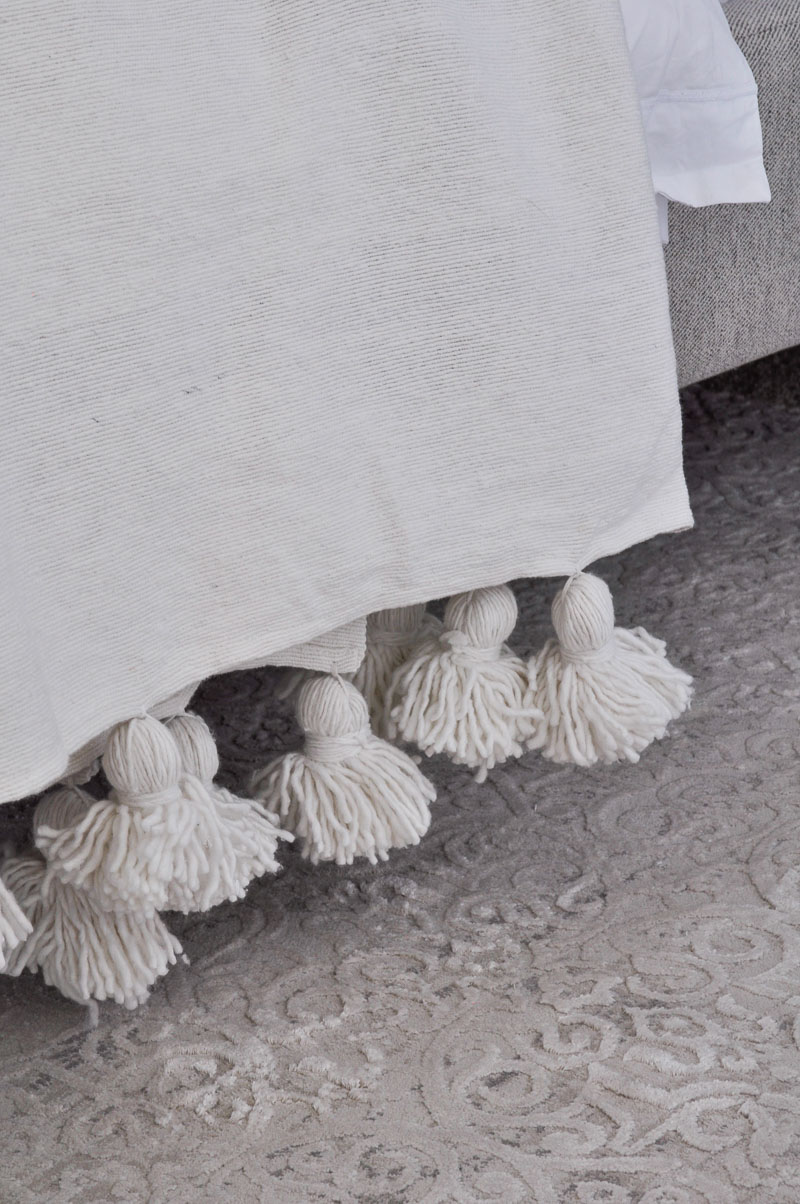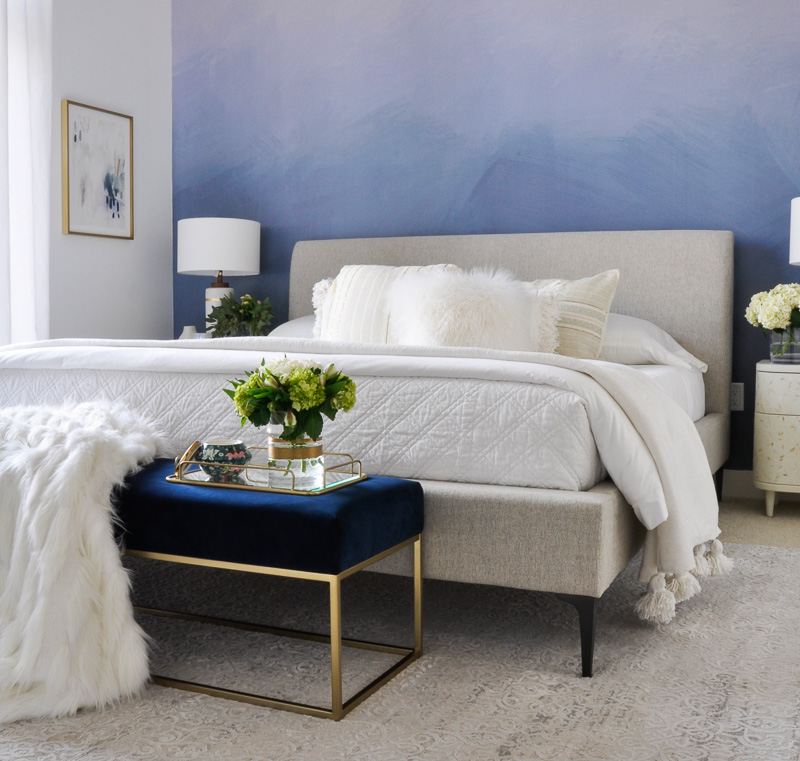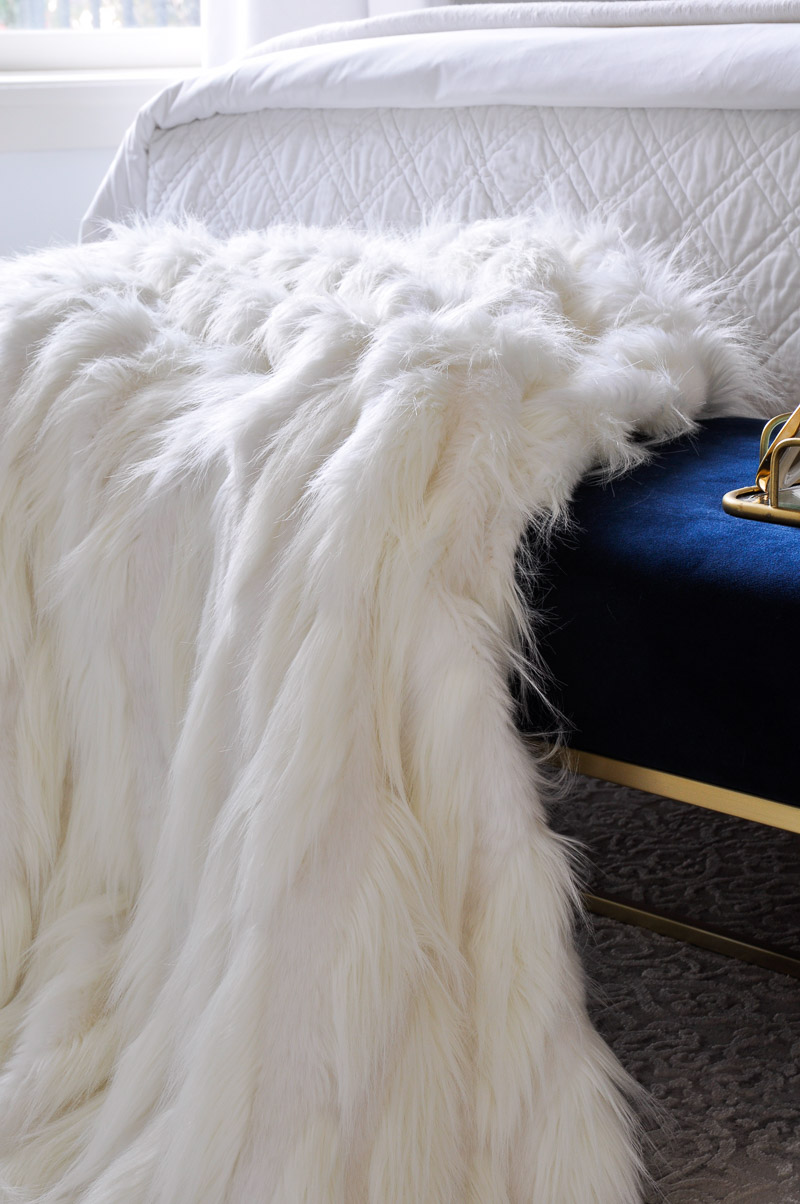 I love the way the faux fur one looks next to the gorgeous Jaipur Living rug.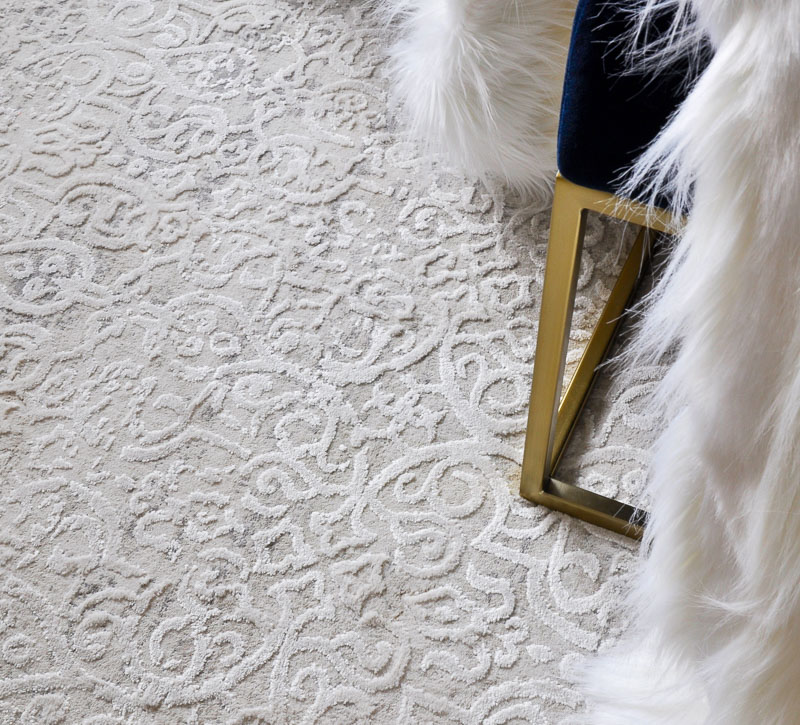 One of the last items I selected, this Lighting Design Lighting Design chandelier by Crystorama is such a show stopper. I absolutely love it!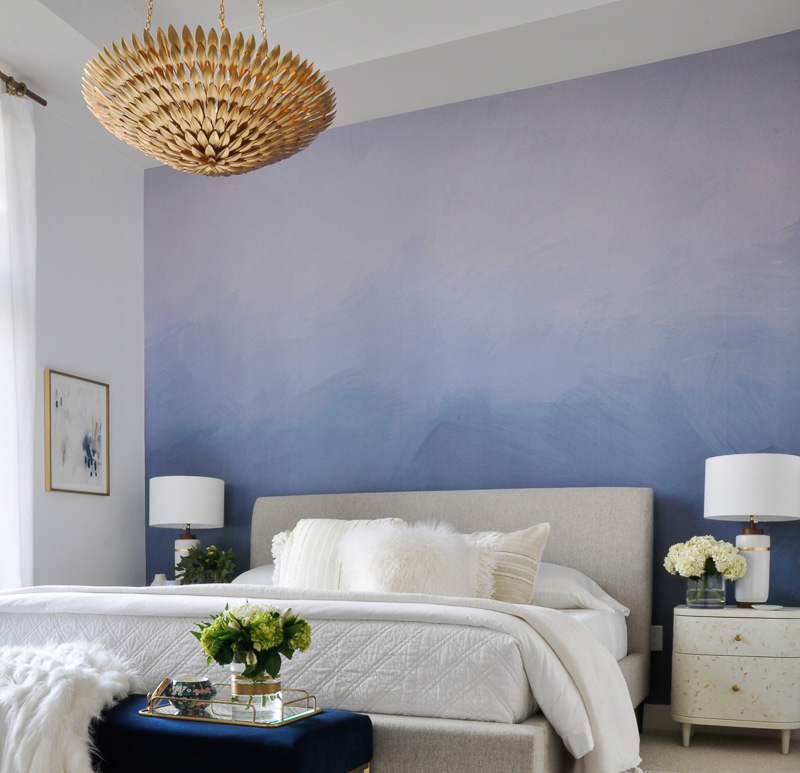 My favorite part may be accessorizing. It happened very late in the game this time, but I love my last minute finds.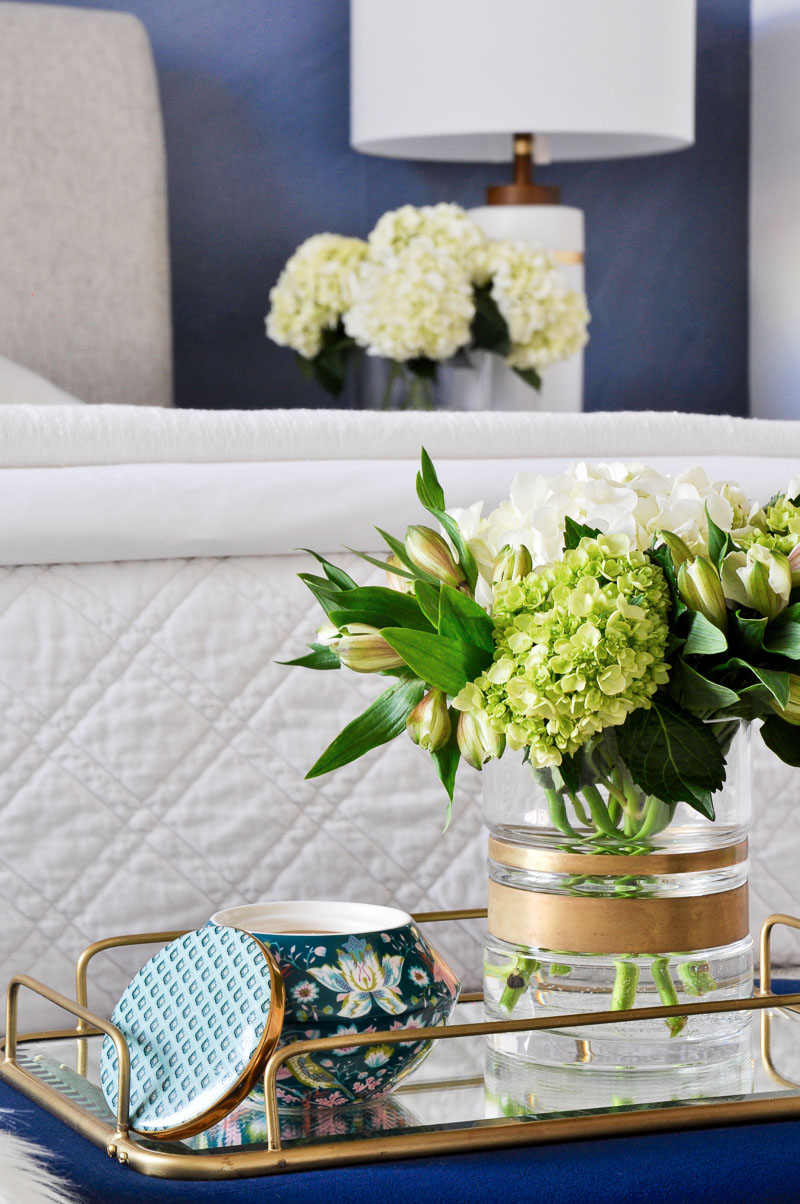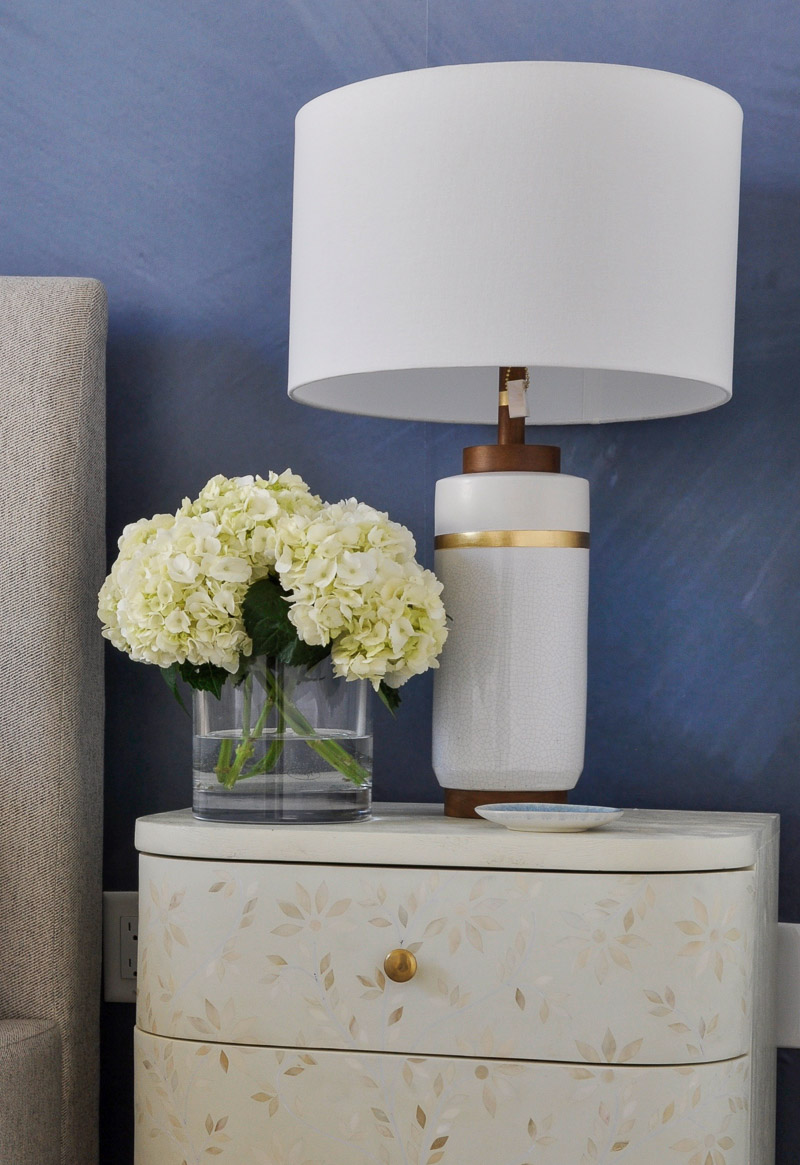 Here's a peek of the corner next to the dresser that will arrive soon. The cute round side table is another find from West Elm Boulder.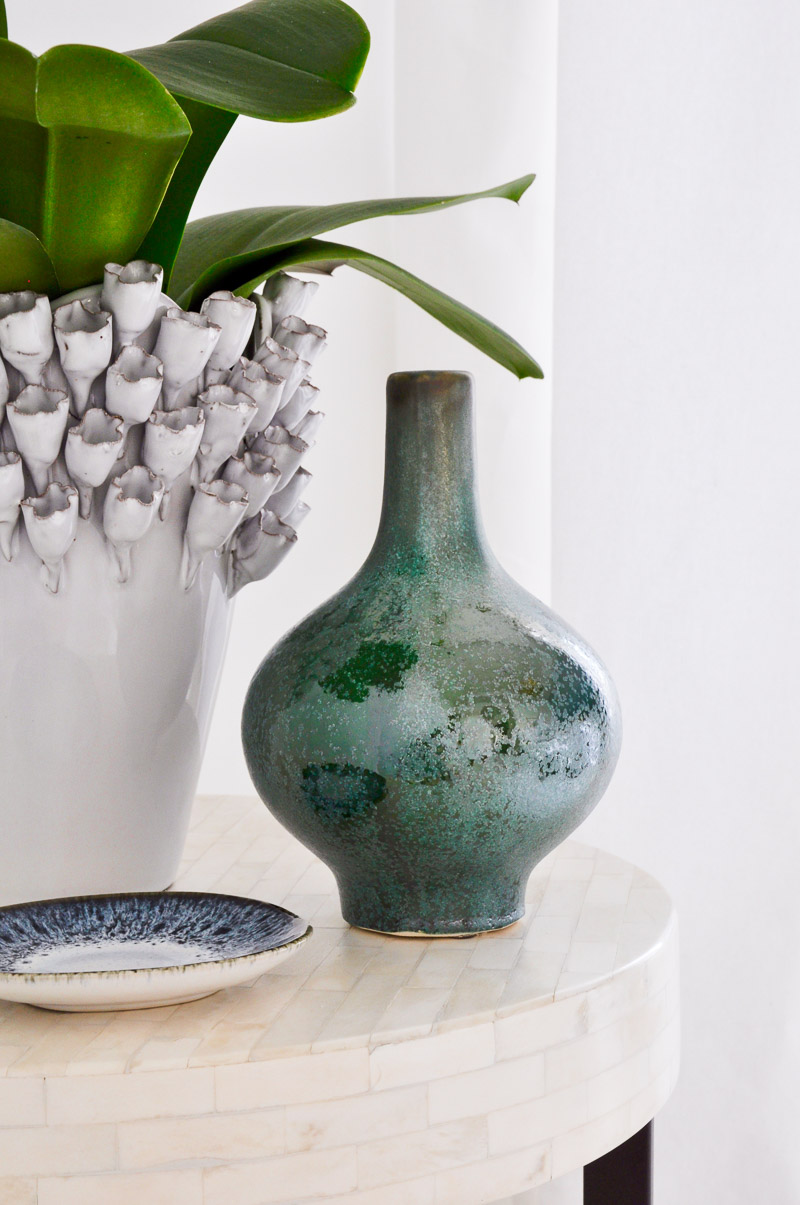 So fun to have a new room to love!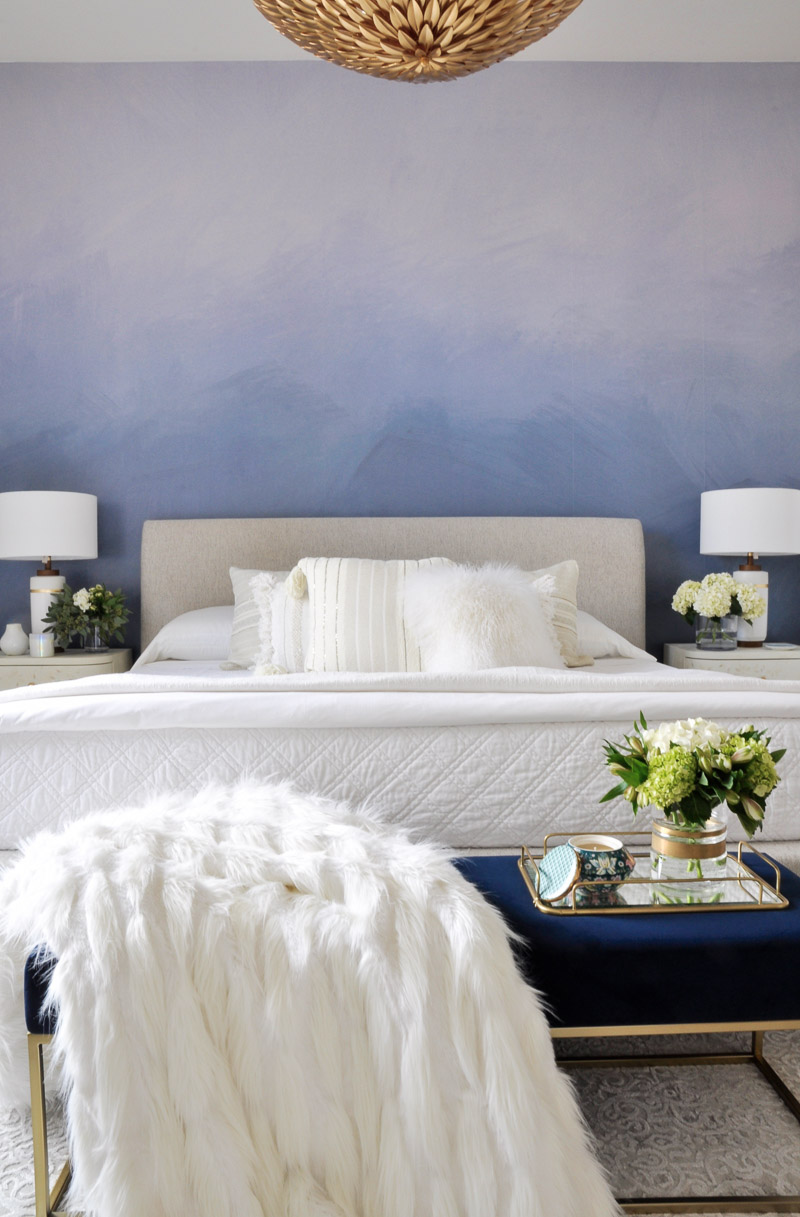 One last view from the doorway.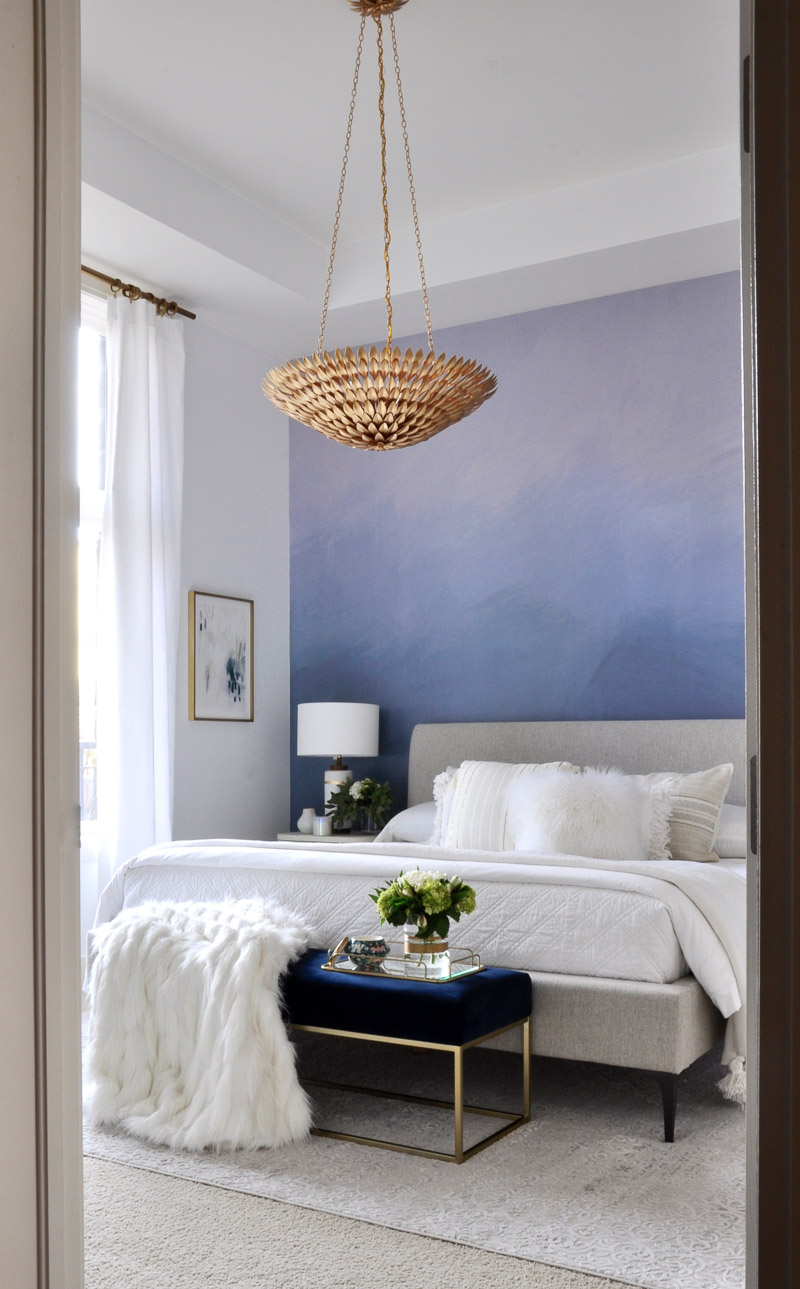 There you have it! You can find all of my sources and wonderful sponsors for our Colorado loft bedroom reveal below.

Bed | Wallpaper | Chandelier | Nightstands | Bench | Side Table | Rug | Lamps | Mattress
Coverlet | Duvet | Pom Pom Throw | Faux Fur Throw | Standard Shams | Lumbar | Tassel Throw Pillow | Fur Throw Pillow
Sheets | King Pillowcases | Comforter
Art 1 – Floral | Art 2 – Abstract Watercolor | Art 3 – Indigo
Curtain Rod | Curtain Rings | Curtain Panels
Tray | Green Candle | Small White Vase | White Iridescent Candle | Green Vase | Trinket Holders | Wide Glass Vase
Paint Color – Benjamin Moore Chantilly Lace

Stay Connected
Click on the Image to Subscribe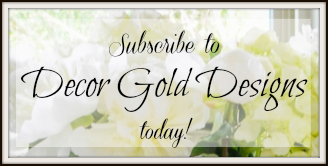 I am very happy to have worked with the following sponsors who have provided products for this project. As always, all of my opinions are my own and I only work with brands that I truly love. The brands I have selected for this challenge are some of the very best brands I know!!! 
A special thanks to West Elm Boulder. Find them on Instagram here.
If you would like to see the progress week by week, the first six weeks are linked here:
Week 1 | Week 2 | Week 3 | Week 4 | Week 5 | Week 6
SOCIAL
Instagram | Pinterest | Facebook
Be sure to check out all of the featured and guest participants of the One Room Challenge!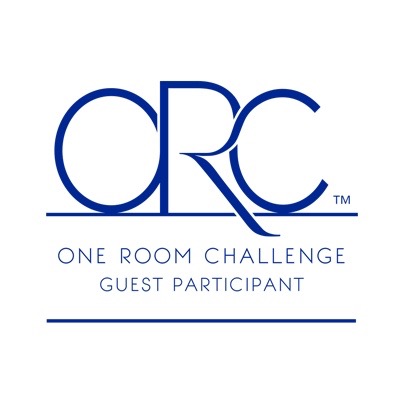 SaveSave
SaveSave
SaveSave
SaveSave
SaveSave
SaveSave
SaveSave
SaveSave
SaveSave
SaveSave
SaveSave
SaveSave
SaveSave
SaveSave
SaveSave
SaveSave
SaveSave
SaveSave
SaveSave
SaveSave
SaveSave
SaveSave
SaveSave
SaveSave
SaveSave
SaveSave
SaveSave
SaveSave
SaveSave
SaveSave
SaveSave
SaveSave
SaveSave
SaveSave
SaveSave
SaveSave
SaveSave
SaveSave
SaveSave
SaveSave
SaveSave
SaveSave
SaveSave
SaveSaveSaveSave
SaveSave
SaveSaveSaveSave
SaveSave
SaveSave
SaveSave
SaveSave
SaveSave
SaveSave
SaveSave
SaveSave
SaveSave