Would you like to use your dining room more than two times per year? Doesn't the dining room deserve a bit more attention? We love spending time in ours and our guests seem to enjoy it as well.
Today, I want to continue my home tour series with you and pick up in our dining room. Located just past our home office, this space sits right at the end of our extended foyer prior to entering the family room.
I wanted to create a space that would feel welcoming and offer a certain amount of intrigue at the same time. I accomplished this with an understated eclectic approach which was not too artsy.
The stars of this room seem to change based on perspective and opinion. Truth be told, I was overjoyed while furnishing this room when I found the following items:
The Settee
Standing Mirror
Large Scale Chandelier
Dining Table
All of the above pieces work wonderfully together and if you would like to shop the look, each of the items are listed on my sources page.
Now, let's get started. My hope is after this tour you will want to visit your own dining room on more than just special occasions or holidays. If you have specific questions, feel free to log them into the comments section below.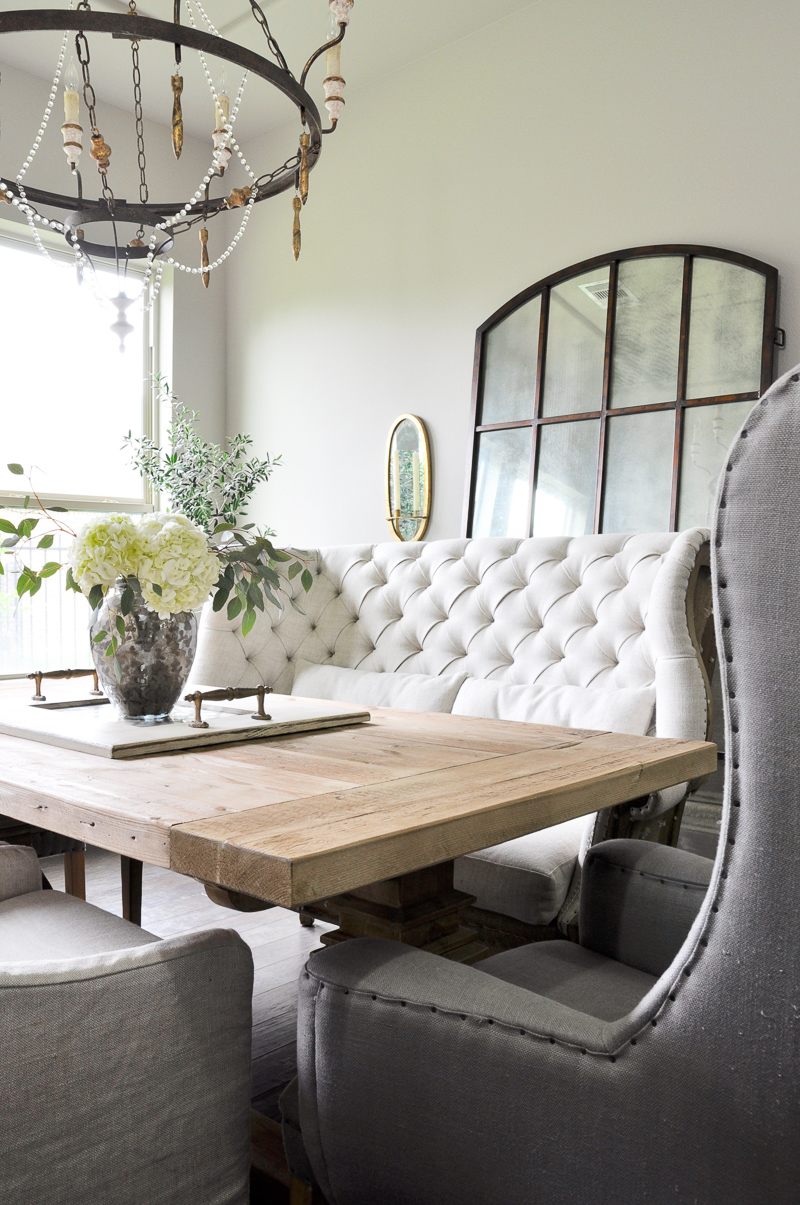 I chose to use an eclectic mix of seating options starting with this tufted settee, which is probably my favorite piece of furniture in our home. You can read more about this seating option here.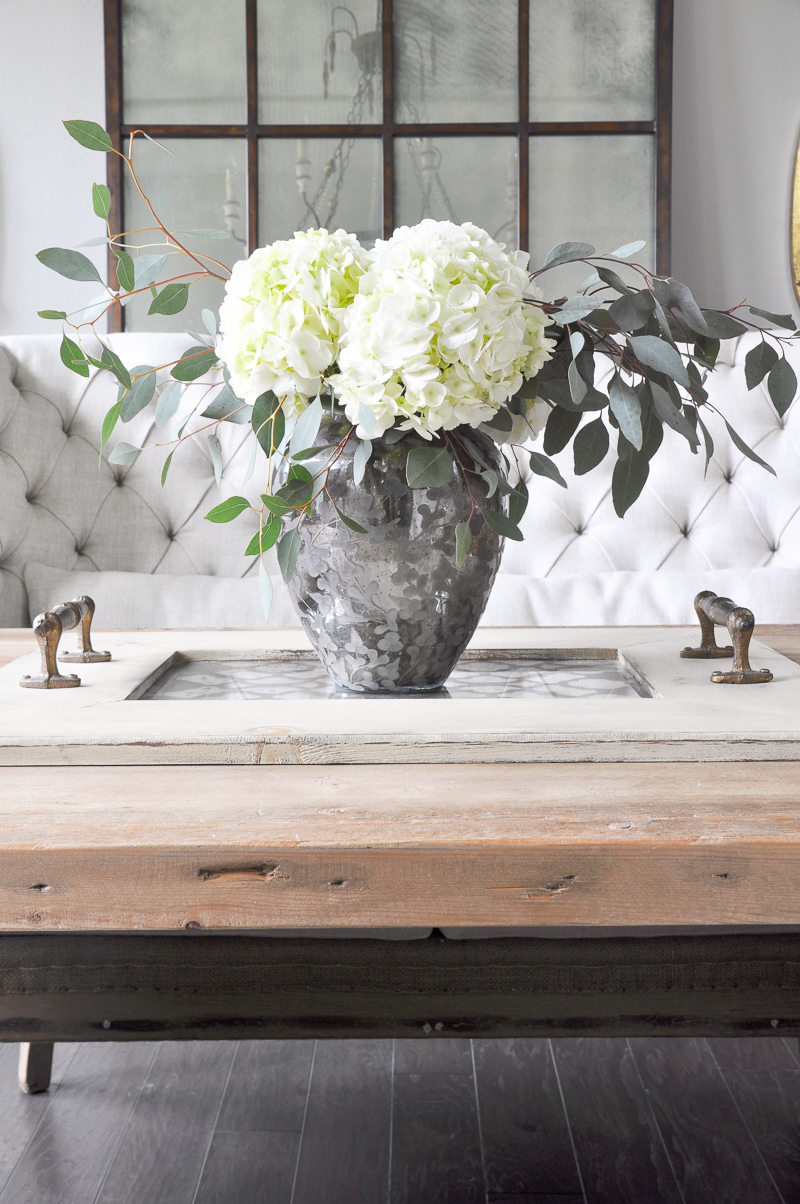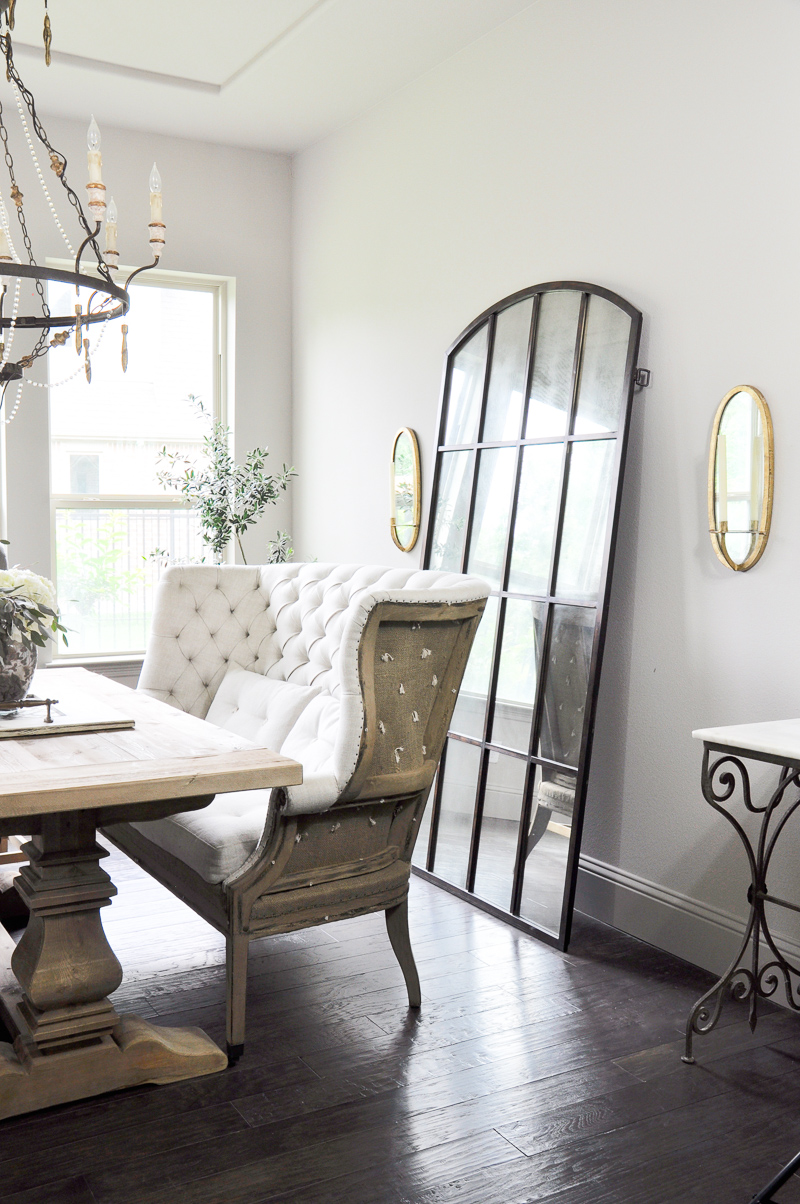 Our side chairs are simple with slipcovers.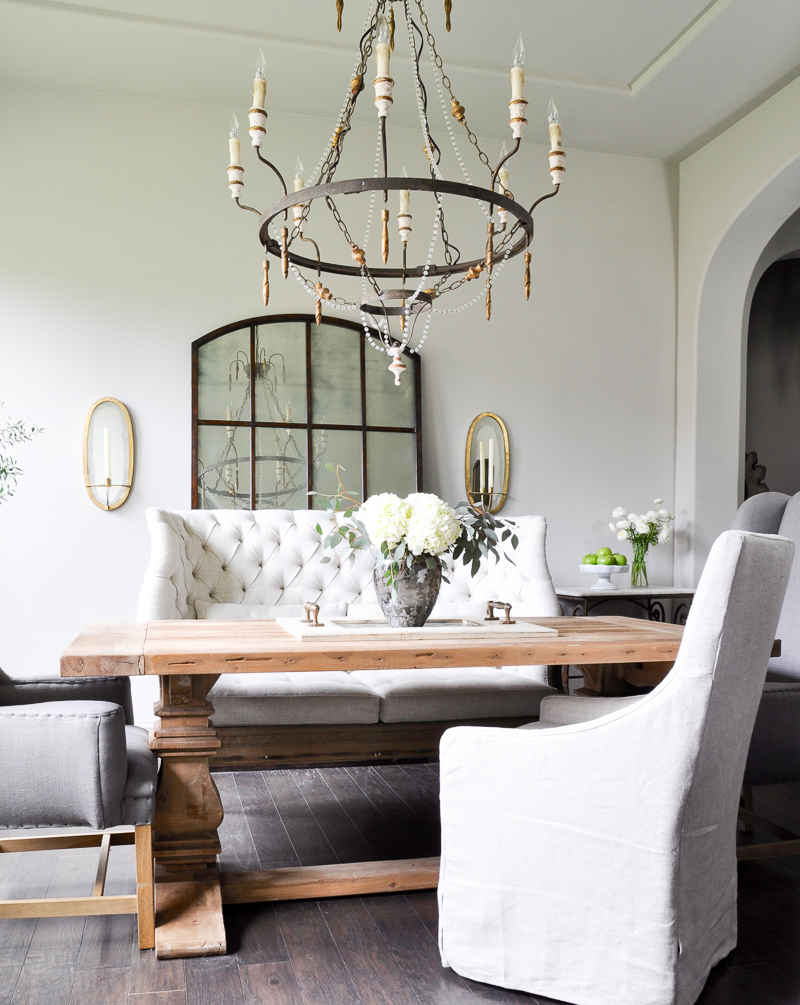 My original plan included wingbacks with the same linen fabric as the chaise and the side chairs, but then I saw this gray fabric and immediately knew what to do.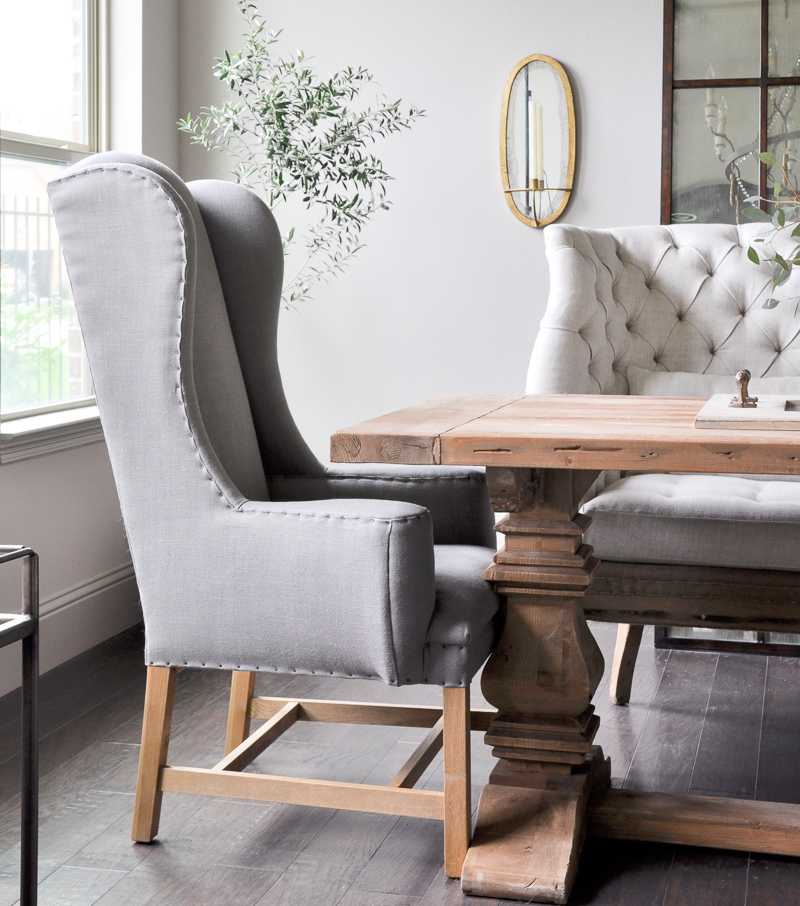 This is the shot that supports the eclectic aspects of this space. The mirror, dining table, chandelier and two chair types all take center stage. So many textures are working simultaneously here. Where would you choose to sit? (I always choose the settee)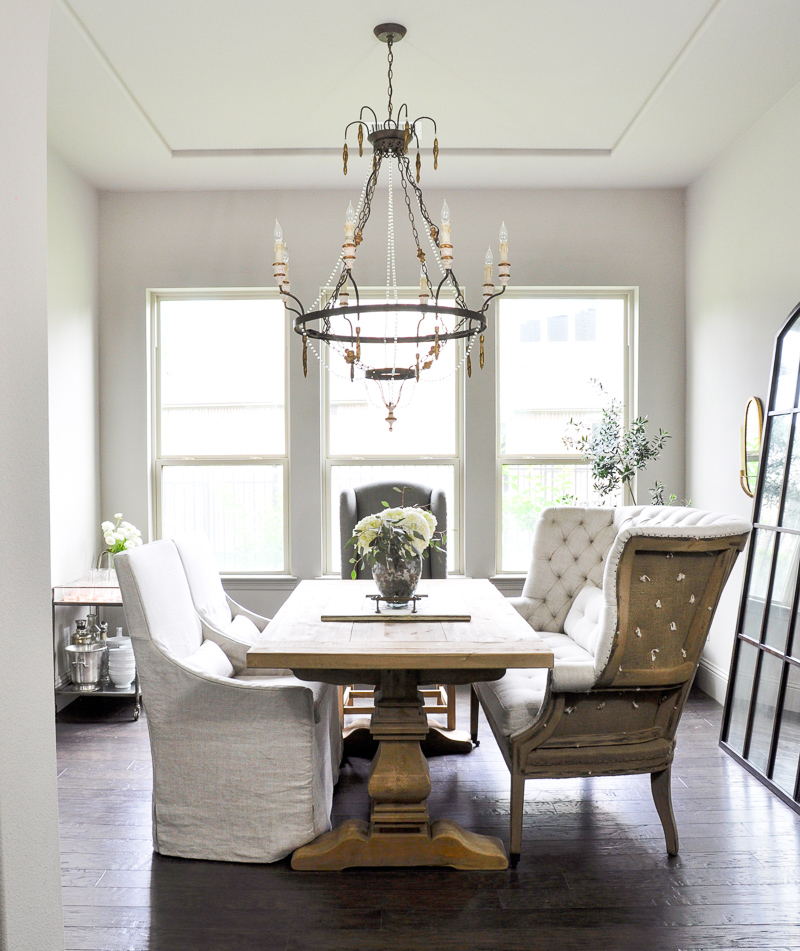 Looking from the mirror wall through the opening to the kitchen, you come across my bar cart. I had been eyeing this wonderful addition for years now. Thankfully, the hubby surprised me with it this past Christmas. It is so functional and it is a piece that truly lets your creativeness run rampant. Due to the inherent mobility, this guy makes appearances all over our home!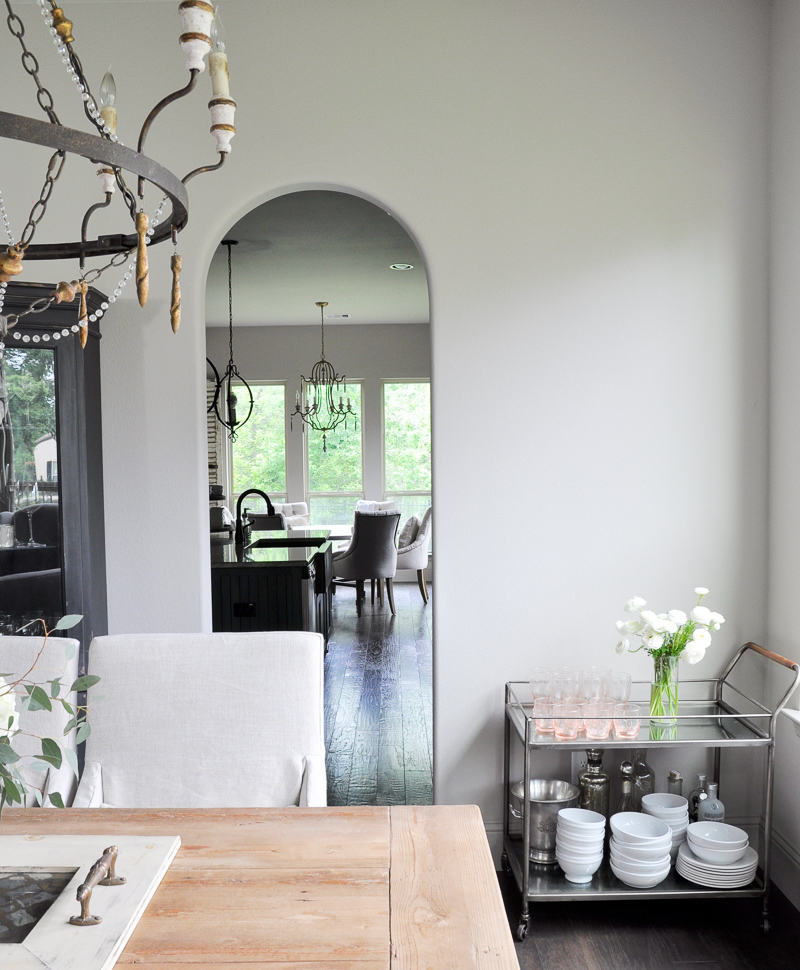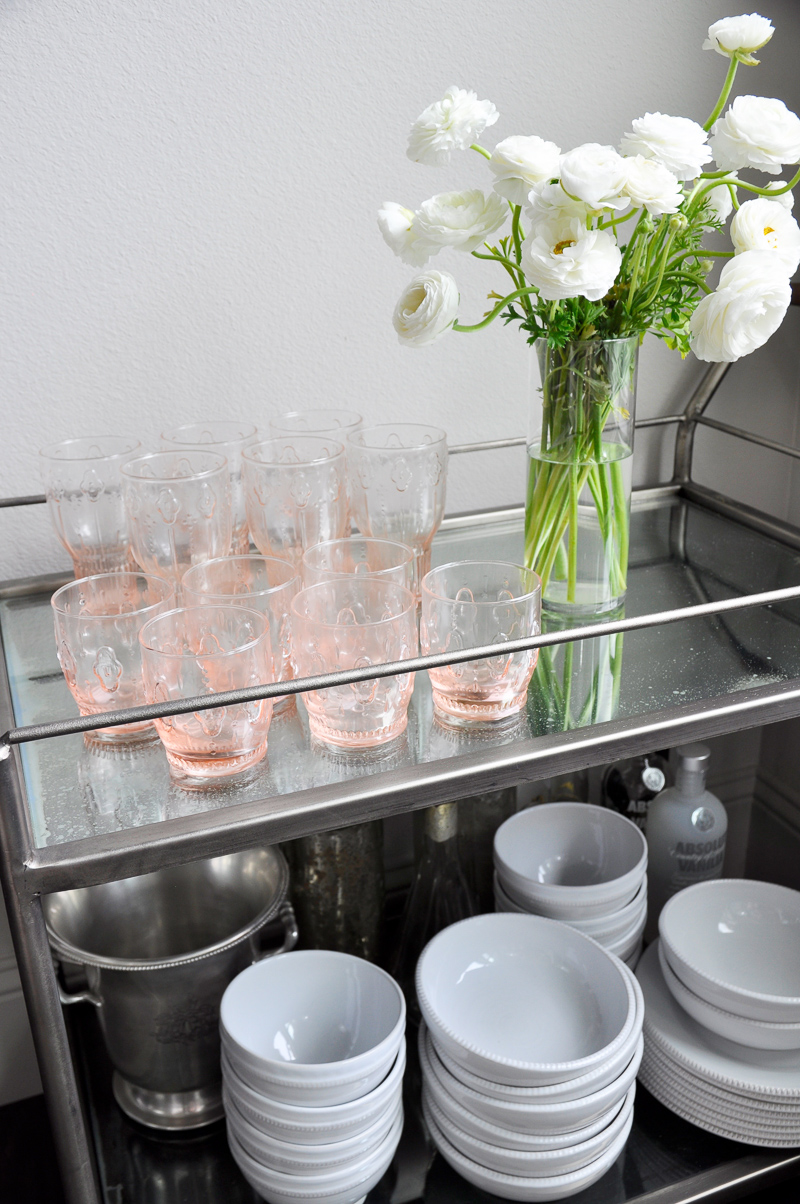 The main storage piece in the room was originally bright yellow and I used chalk paint to transform it.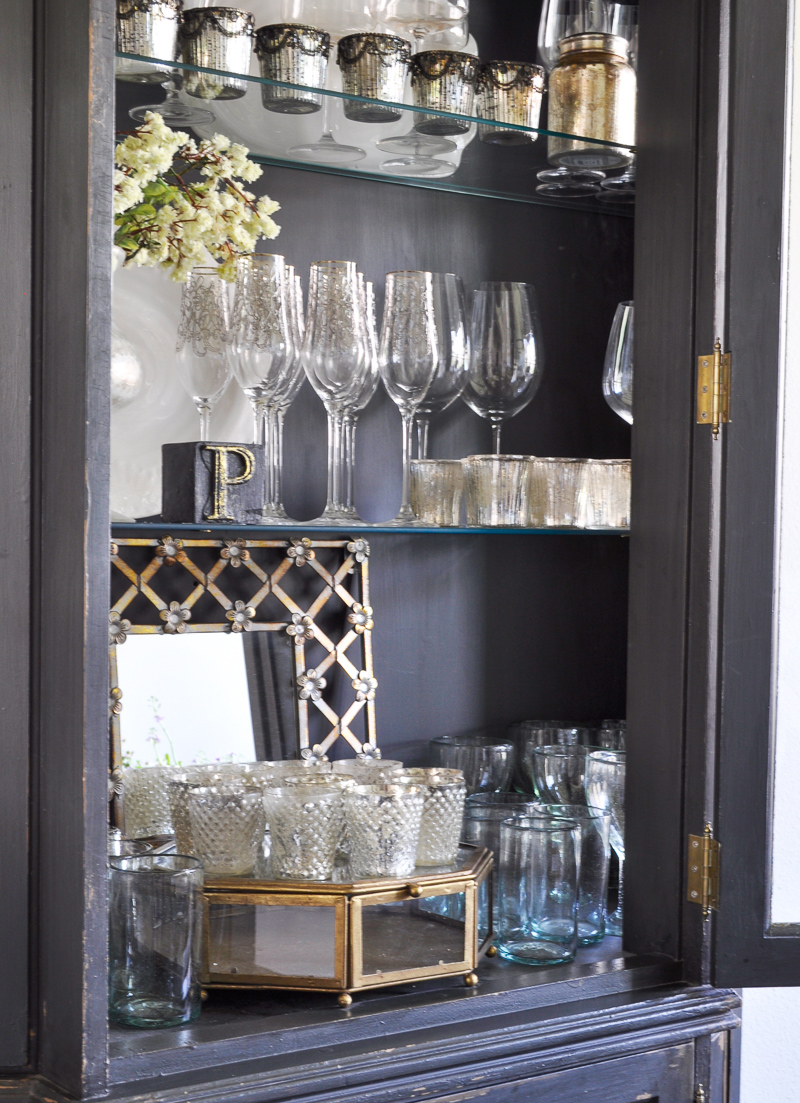 A leaning mirror and a little vintage table complete the right side of the room.I added gold mirrored sconces for a glamorous touch.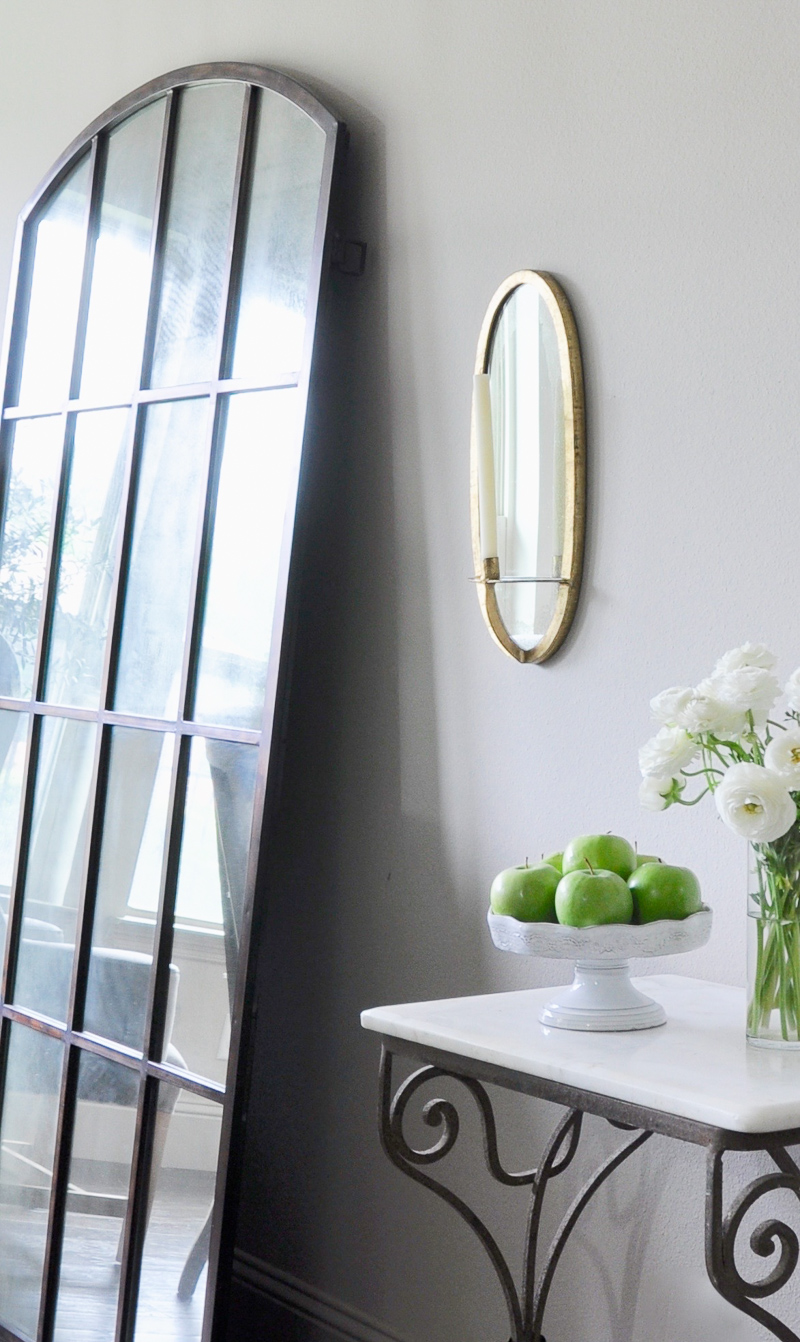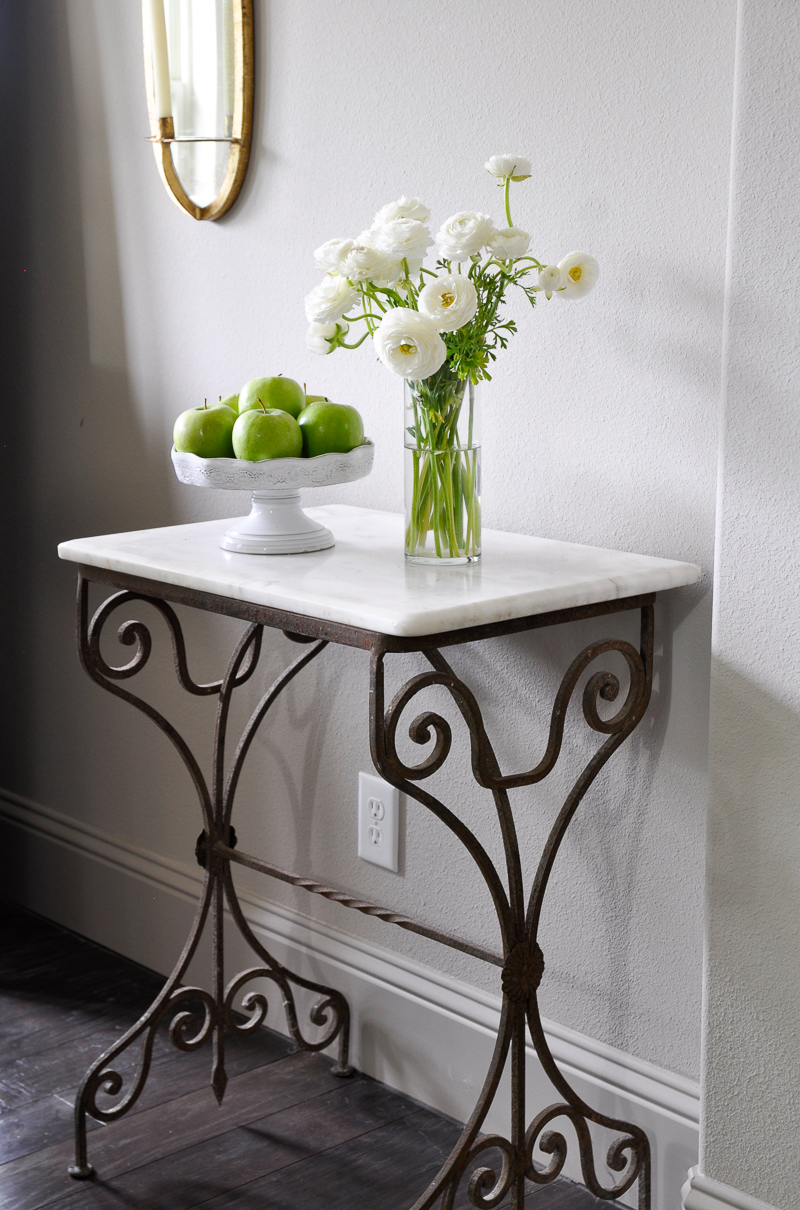 And last, the details.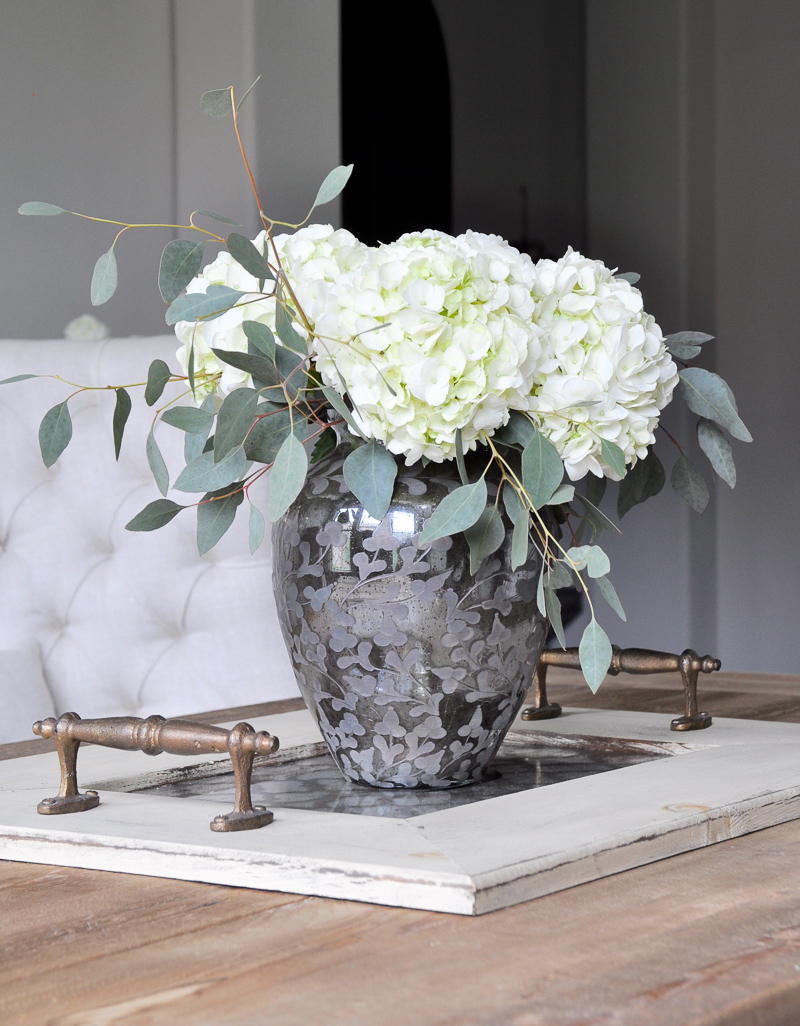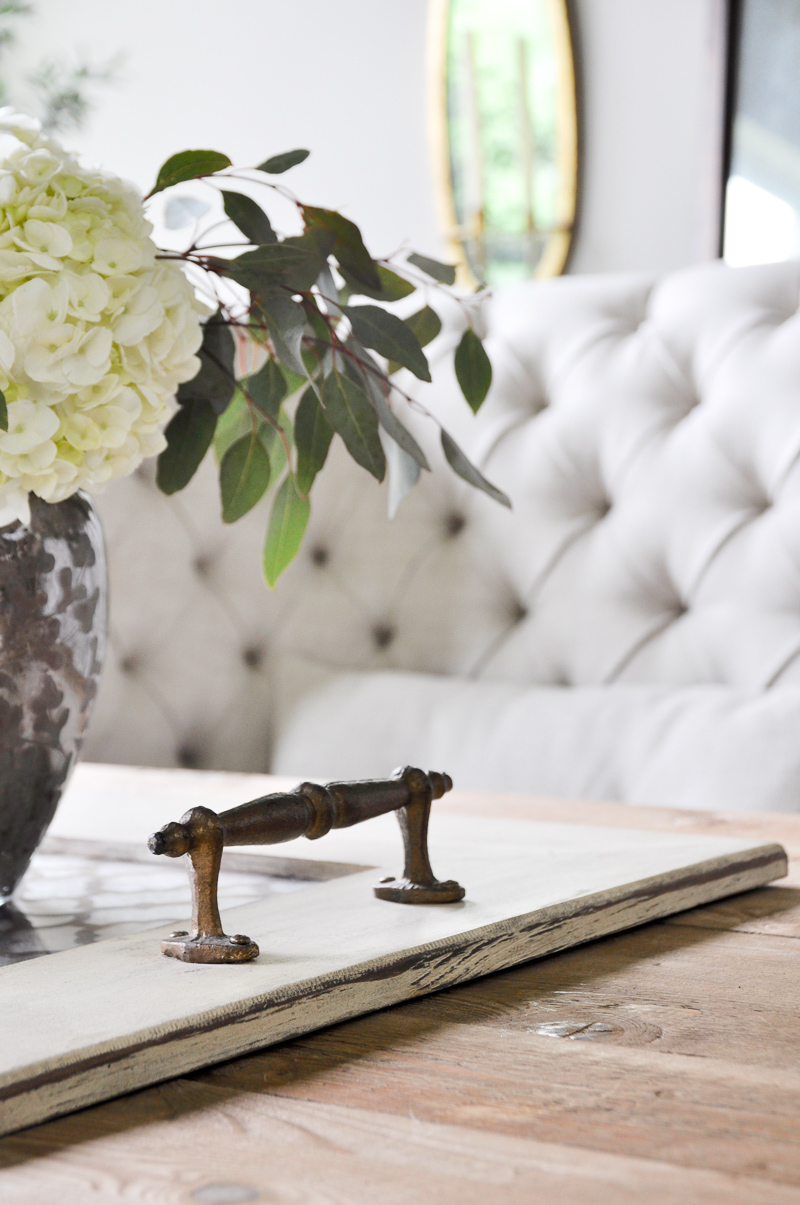 Thanks for taking a tour of my dining room! I hope you enjoyed it.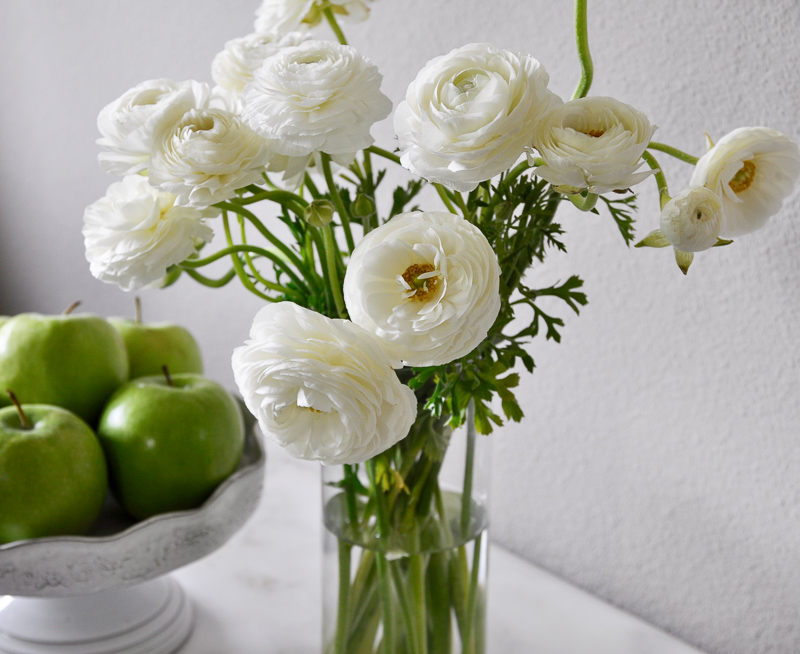 Please find sources below and on my Dining Room Sources page.
*Some affiliate links have been included.
Gold Sconces
Cake Stand
Dinnerware
Bar Cart
Chandelier
Clear Vase