Hello and welcome to the Spring Styling Tour! Jennifer from Town and Country Living has gathered a wonderful group of bloggers who will be sharing lots of spring styling inspiration. The best part of this is many of the bloggers will be sharing their process as well!
*This post contains affiliate links. You can read our full disclosure here.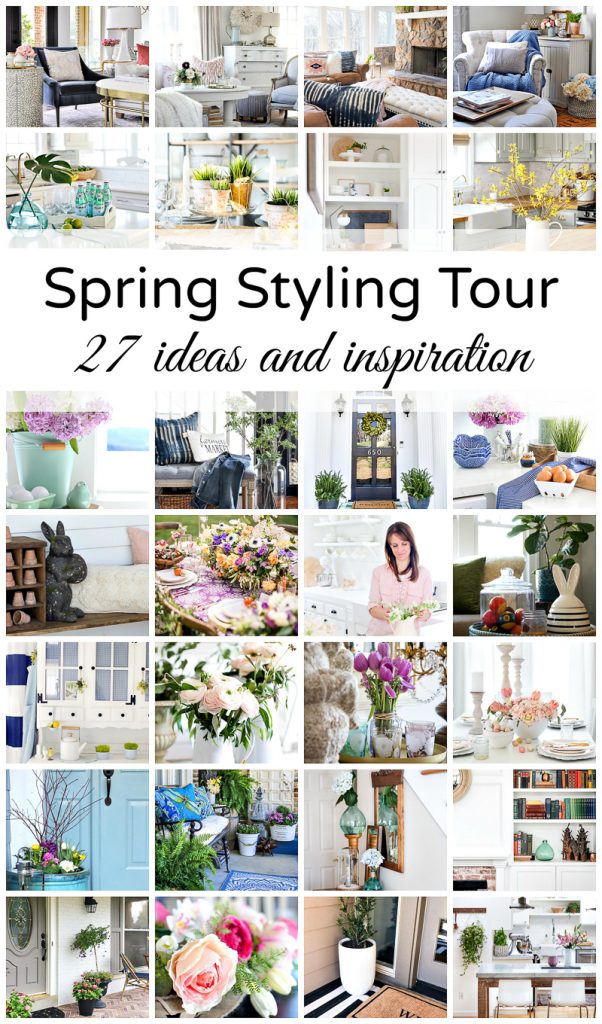 Today, I want to take you through the simple steps to help you refresh your home for spring, specifically the living room. It is such an important and frequently used space in your home. As you bid farewell to gray and gloomy skies, it makes sense to lighten, brighten, and give your living area a more vibrant and airy feel.
Before we get to the refresh, let's talk about our starting point. We tend to put away our Christmas decor and fill our living room with pieces that make it feel warm and homey. Because I was finishing our recent living room makeover, in January, I didn't have time to go all-out with winter decor. While I didn't do quite as much as I normally would, I definitely added some texture and richness to get a cozy look and feel.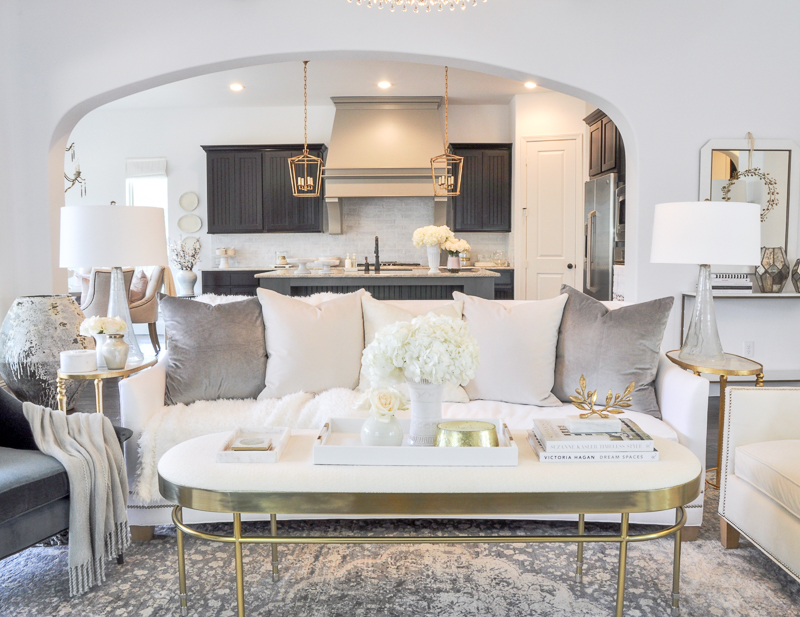 Lots of velvet pillows and thick throw blankets made the room more inviting. Below, still before spring, I changed the accent color to blush, but kept the sofa full of pillows.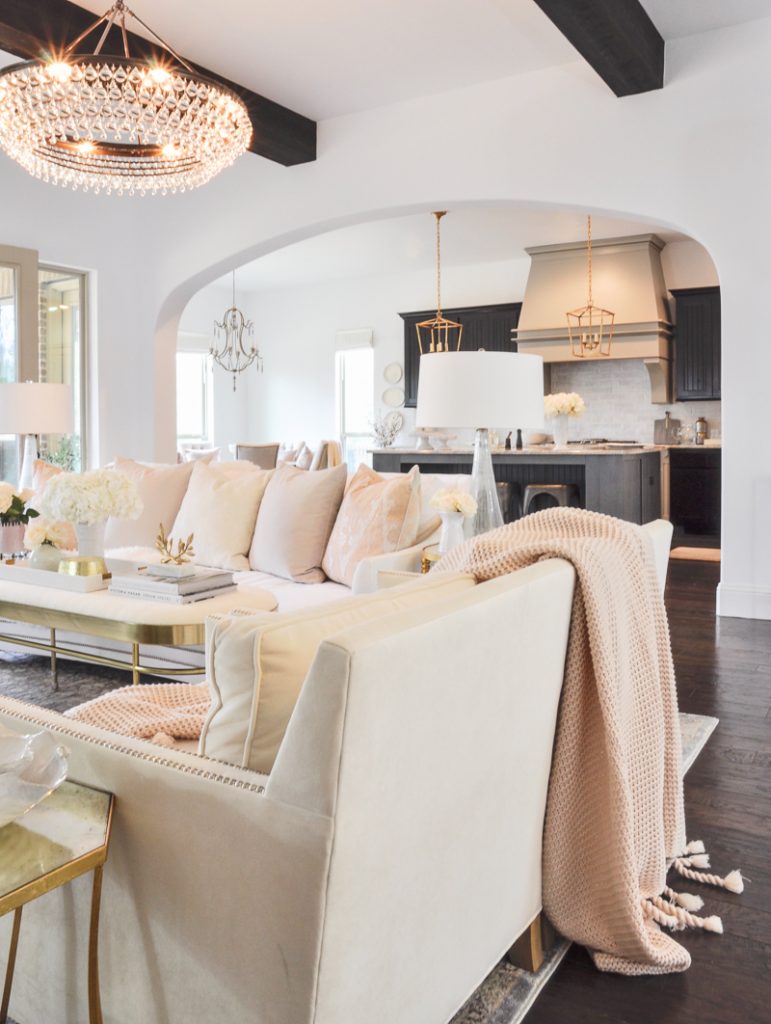 Now that spring is near, it's time for change. Are you ready for the steps?
Step 1: Edit
The first step may be my favorite. If you saw my throw pillow closet, you might think I'm a bit of a hoarder (perhaps you can relate)! But what I really love this time of year is to have just a few favorite pillows in my living room, so I start by editing. Once I pull out the extra pillows, I also remove the "heavier" accessories and anything that makes my living room feel too warm and wintry.
Step 2: Add
Of course, this step is fun too. Brighter pillows, lighter colors and textures are perfect for spring, but be sure to be true to your own decorating style if traditional spring colors aren't your thing!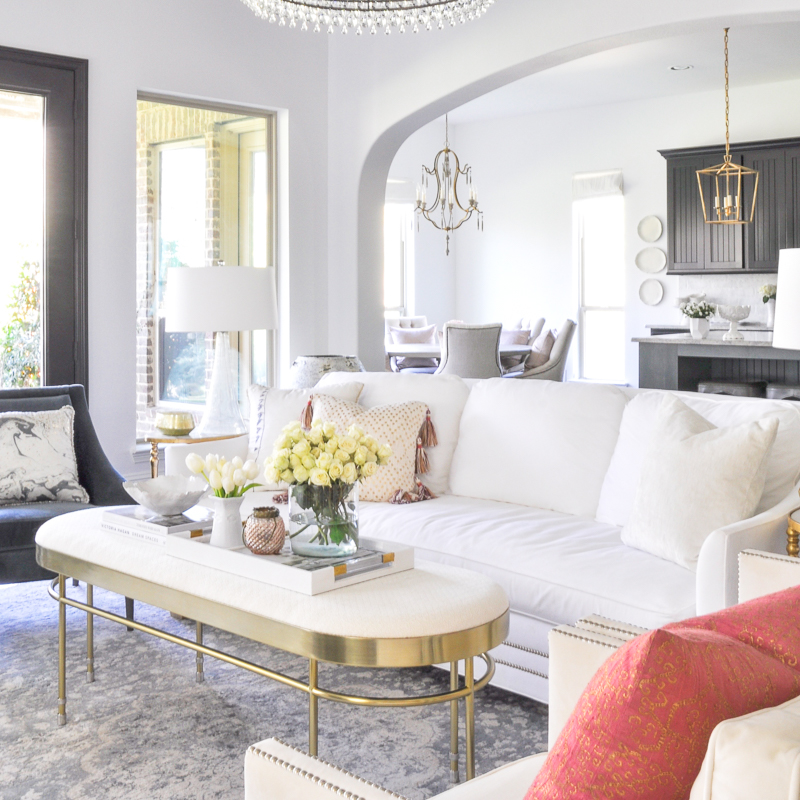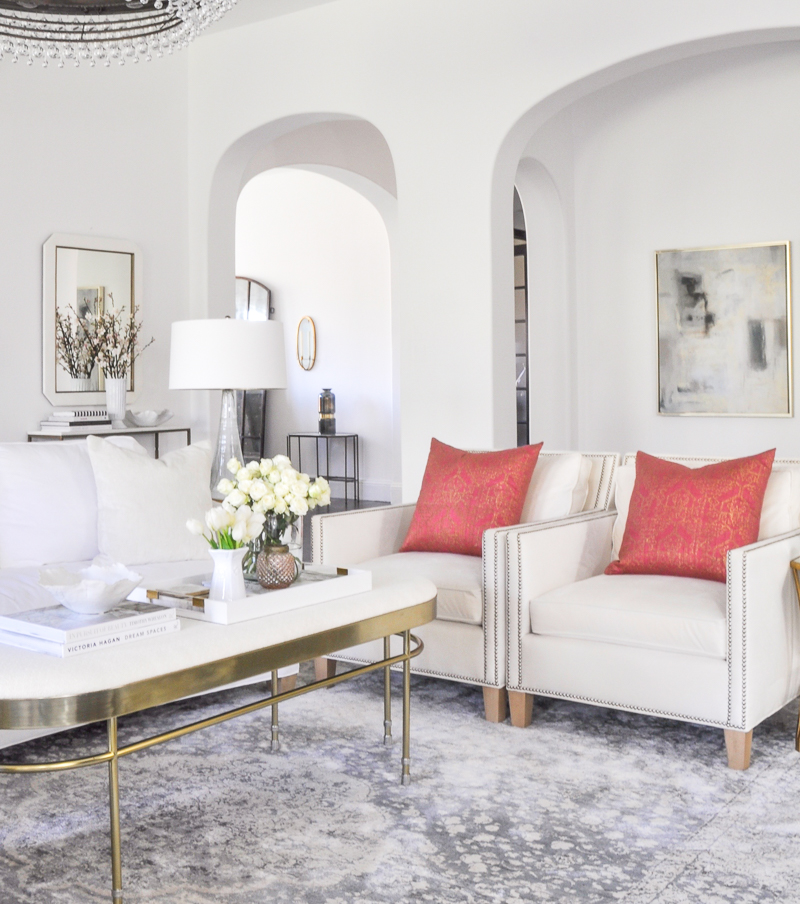 Step 3: Evaluate and Adjust
The coral pillows made a huge difference from the soft colors of winter in my new white room. I LOVE them, but there was something about the contrast that was bothering me.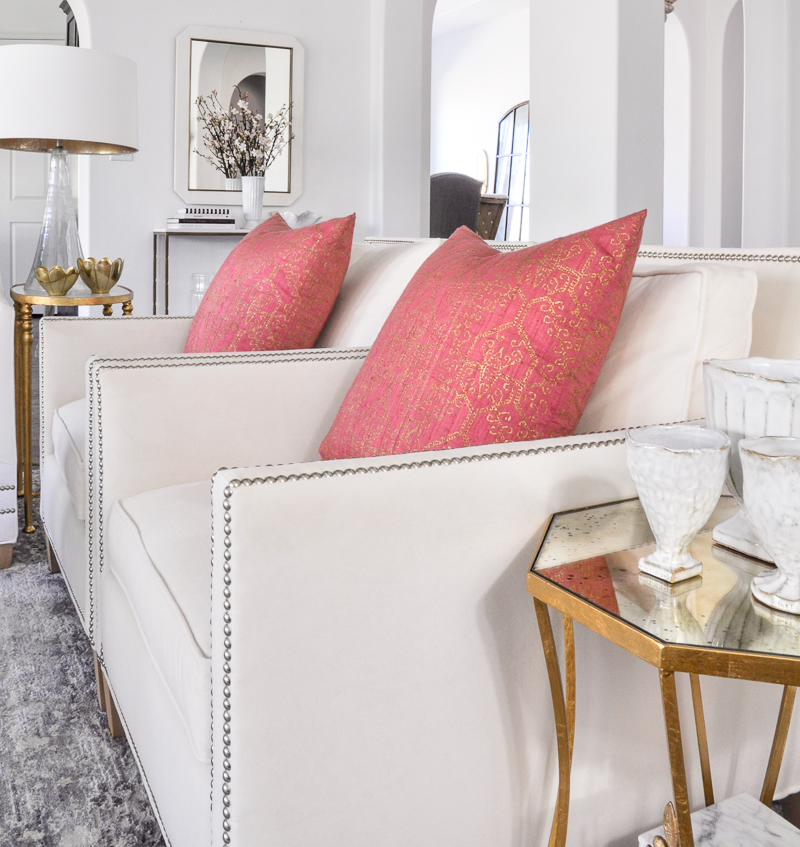 Step 3 is your chance to make any adjustments you deem necessary, as I did with my pillows.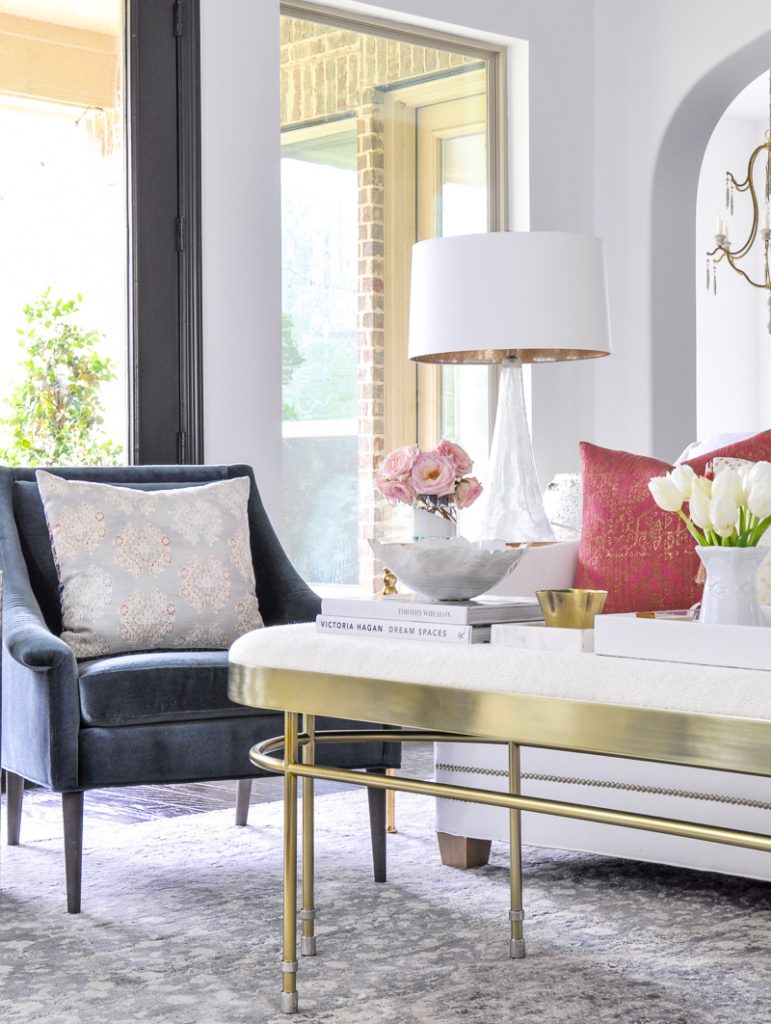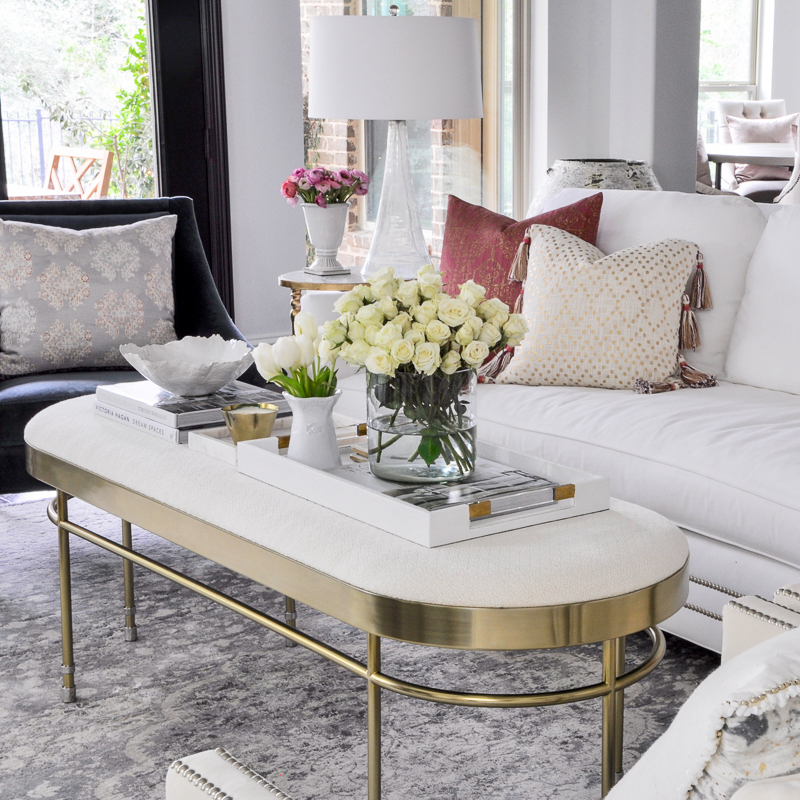 Three steps. It's really that simple! Remember, you are not doing a full room makeover, just a seasonal change. (For 5 Steps for a Successful Living Room Makeover, click HERE).
I hope you feel ready to brighten your home for spring!
There is so much more upcoming on Decor Gold Designs, including several room reveals. Subscribe to our newsletter below to find out what's next!
Click on the Image to Subscribe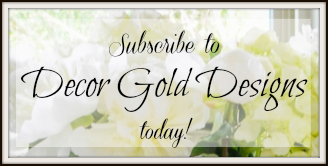 A huge thanks to Jennifer who worked hard to make this spring tour so wonderful for you! Click through to her gorgeous living room below and then find 5 more fabulous living rooms, all linked below. Also, be sure to check back the next three days as additional bloggers share more spring inspiration!
Monday – Living Rooms
Town and Country Living† /† Maison de Pax† /† Duke Manor Farm† /† Decor Gold
Tammy Damore† /† Kelly Elko† /† Shabbyfufu
Tuesday – Dining Room
House by Hoff† /† Happy Happy Nester† /† Paint Me Pink† /† Craftberry Bush† /† Designthusiasm
Wednesday – Kitchen
Sincerely, Marie Designs† /† The Happy Housie† /† Zevy Joy† /† A Burst of Beautiful
Tidbits† /† In My Own Style† /† Sand and Sisal
Thursday – Porch/Entryway
Vinyet Etc.† /† Shades of Blue Interiors† /† Taryn Whitaker† /† Unskinny Boppy
The Happy Housie† /† Bless'er House† /† Seeking Lavender Lane† /† Rooms for Rent