There are certain things you can add to your home that make a huge difference. A large chandelier, a beautiful piece of art, a statement piece of furniture to name a few. But window treatments might just be my favorite way to add that "wow" factor so many of us desire. Specifically for our home's project, Roman shades seemed to be the perfect fit.
I started thinking of adding window treatments to our breakfast room almost as soon as we moved into our home. I loved having an unobstructed view of the forest behind our home, but I always felt like something was missing. Recently, we started doing some updating (read more about that here). Once we got going on our updates, we knew the timing was right.
When properly chosen, I believe window treatments can be a beautiful frame around a window. This is exactly what we needed.
For our home, I chose Barn & Willow Roman shades. They are perfect for a room that doesn't require a lot of light control like my breakfast room.
*I worked with Barn & Willow to share my ideas and tips with you today. You can read more about this at the bottom of the post.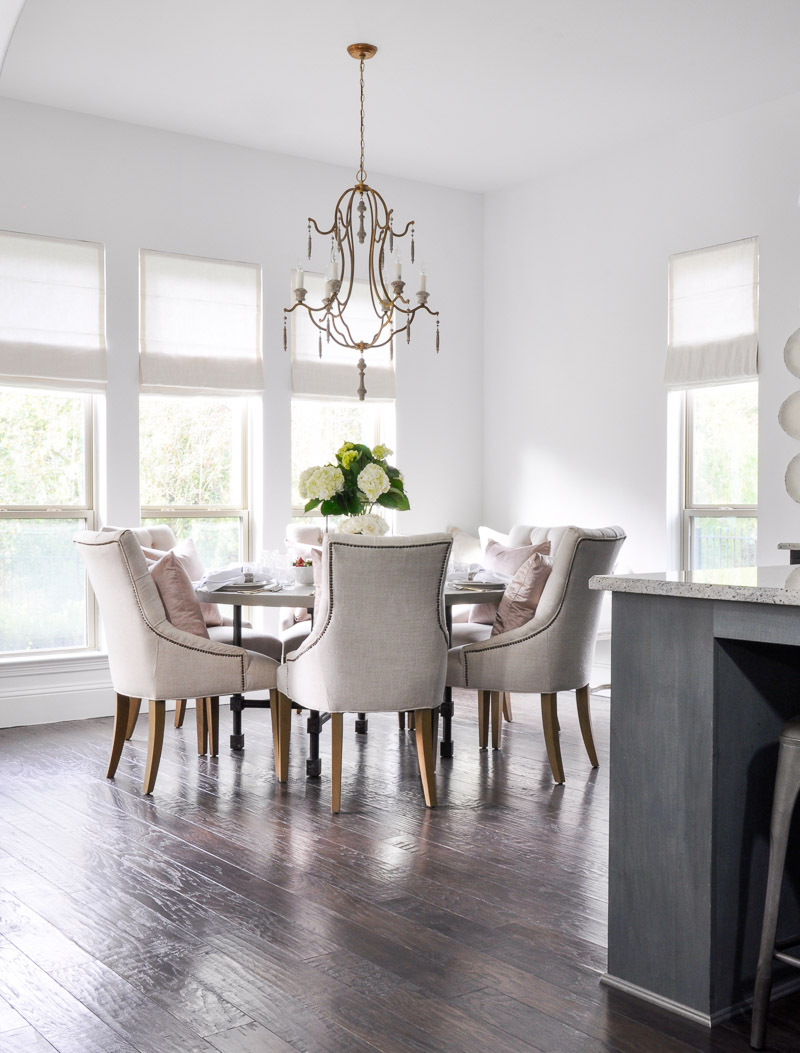 They are beautiful and slightly more modern. I especially was drawn to flat Roman shades.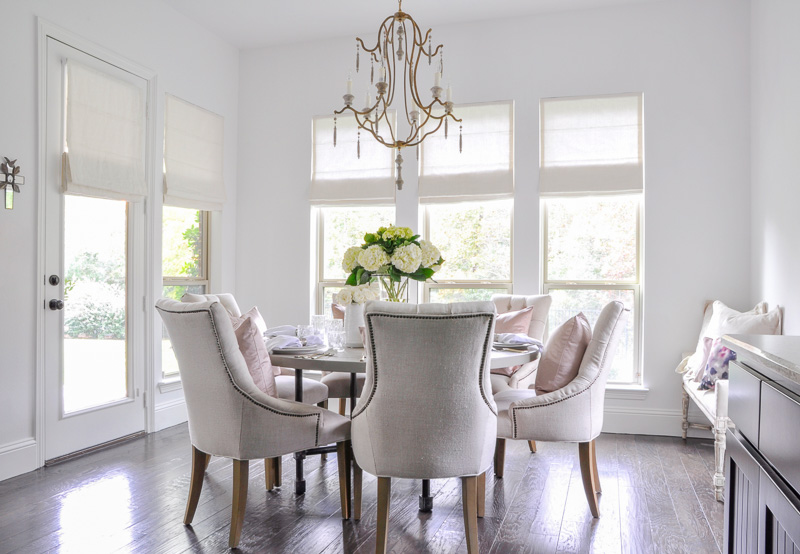 There are inside and outside mounts available for your consideration. Personally, I love the look of inside mount shades. I had to do an outside mount on the door and to be honest, I was a little worried about combining the two. But, I shouldn't have been. The door shade looks great with the inside mount shades.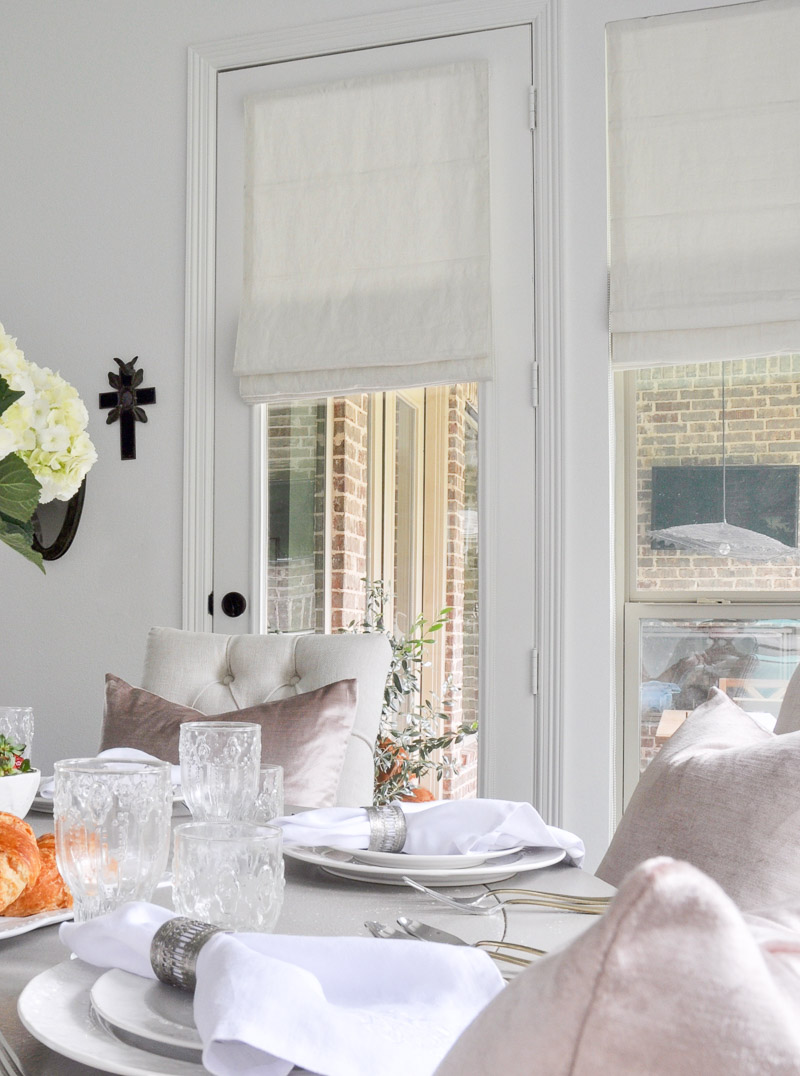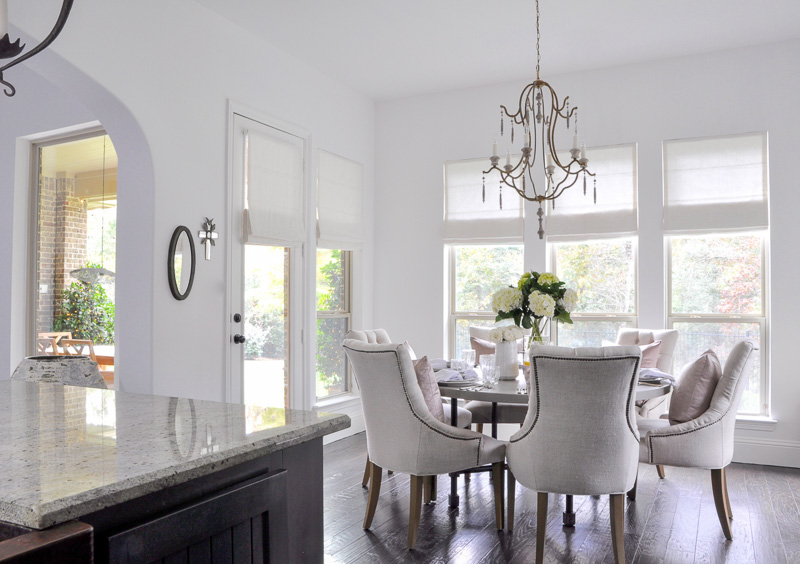 I absolutely love the new look!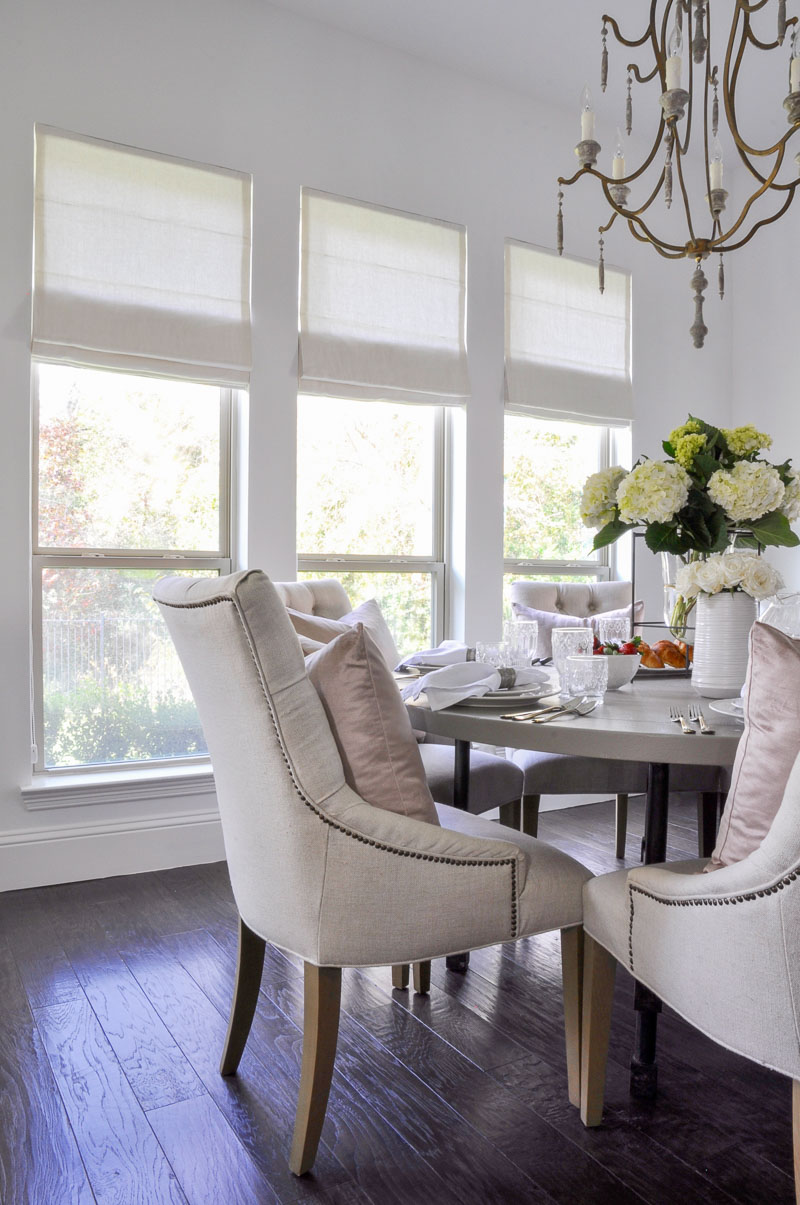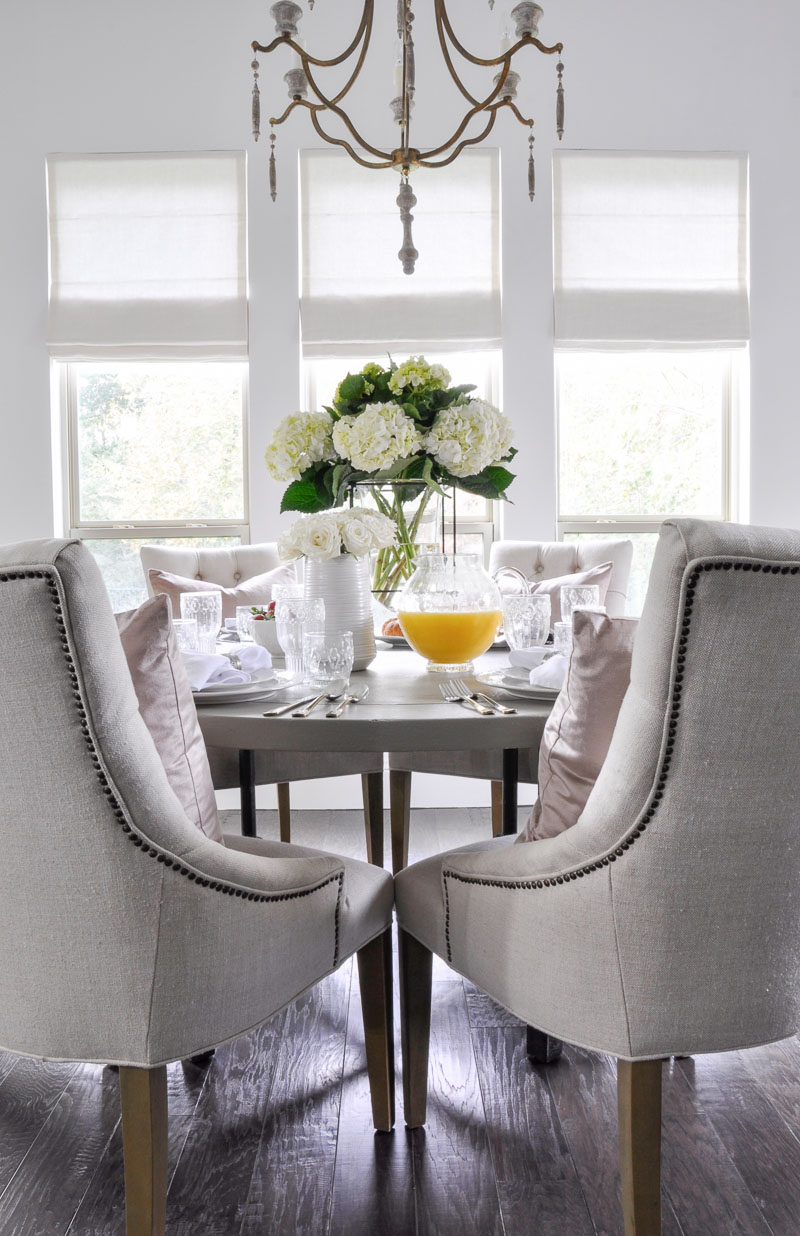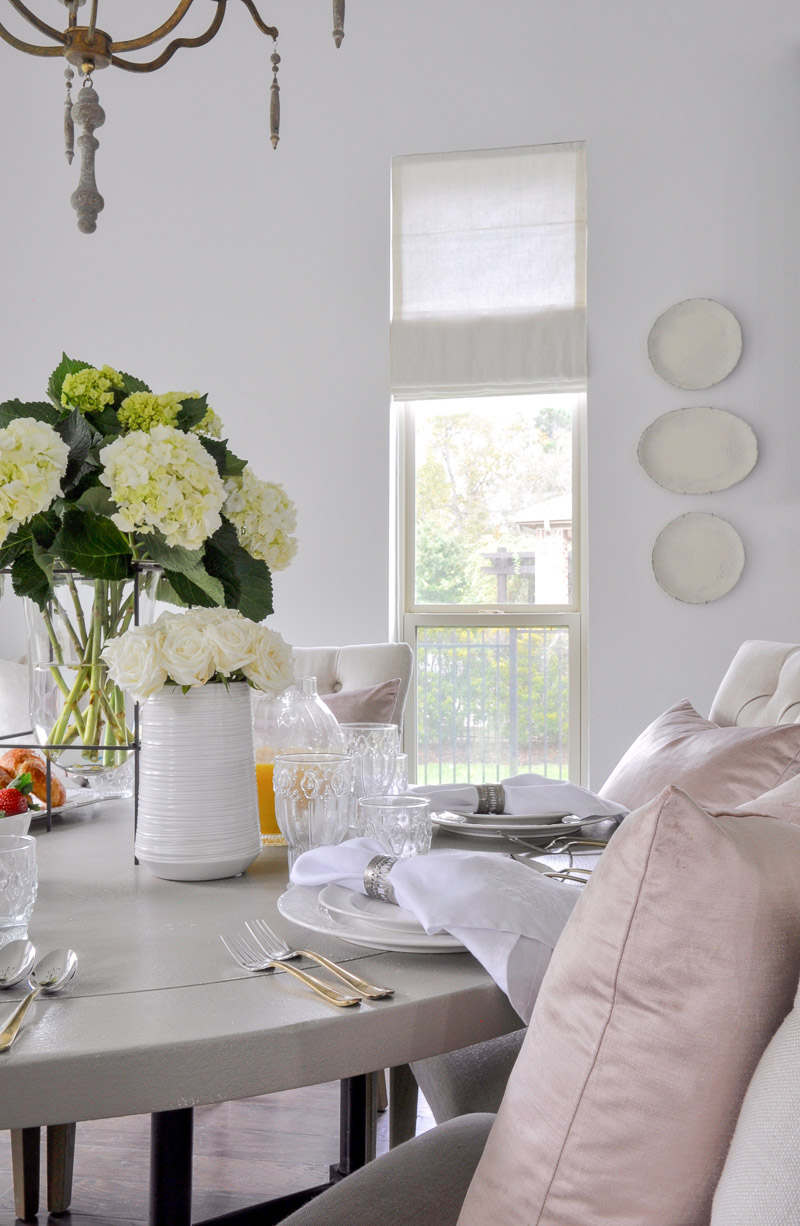 This little project happened quickly too. I usually have to wait forever to share fun updates with you, but these have a 10 day turn around from order to delivery, so here they are!
Unfortunately, I didn't get a picture of it this time, but my sweet father-in-law, Mark, came to the rescue once again with his last minute installation services! It's one of the perks of being married to Tony….. even though he's a bit challenged in the handyman department, he came with a step dad who is very advanced!!! No need for advanced skills this time, Mark said this project was easy.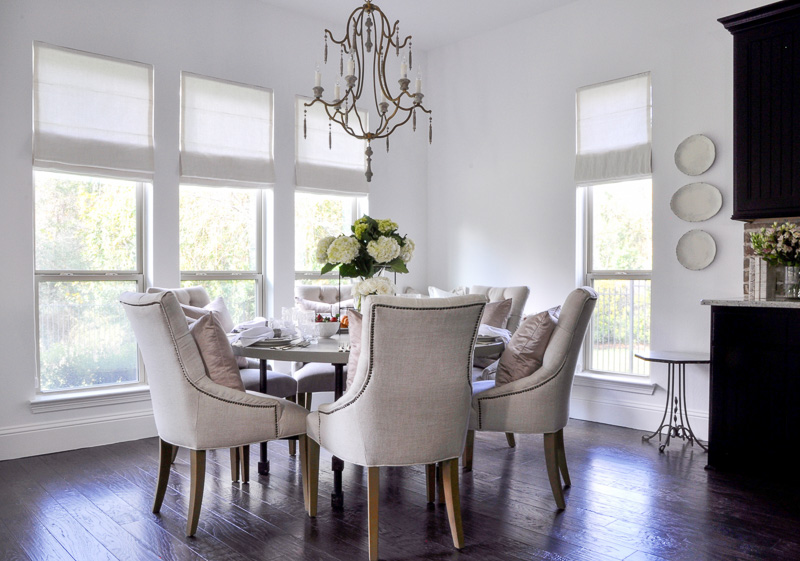 I lowered them in late afternoon so you could see another look.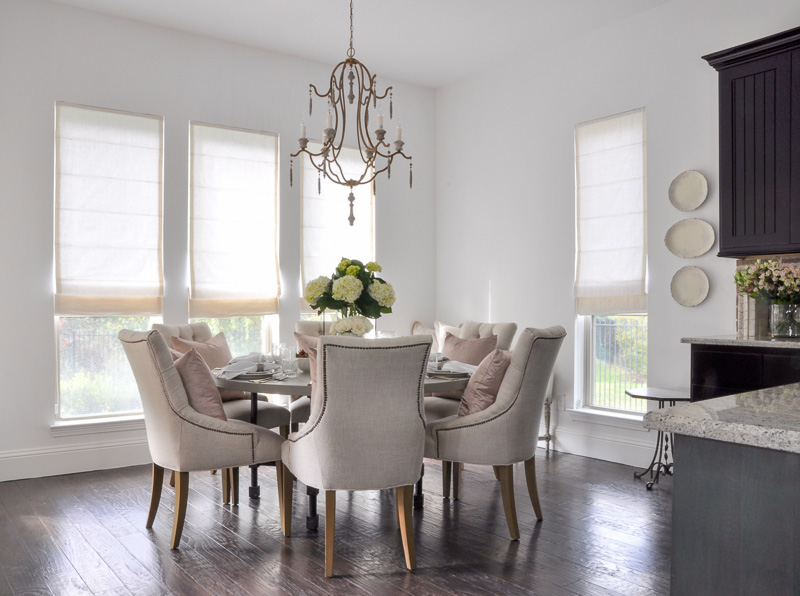 And closed, they are just as pretty.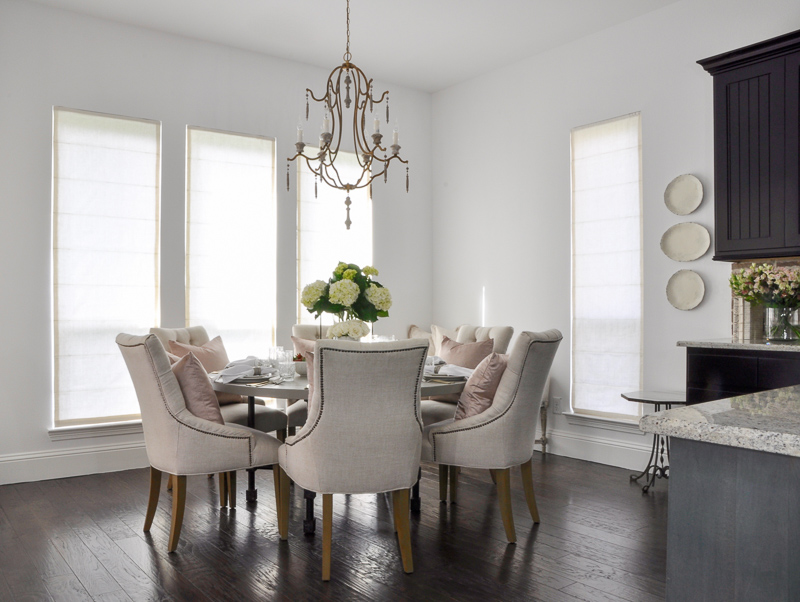 The tailored folds are so beautiful up close.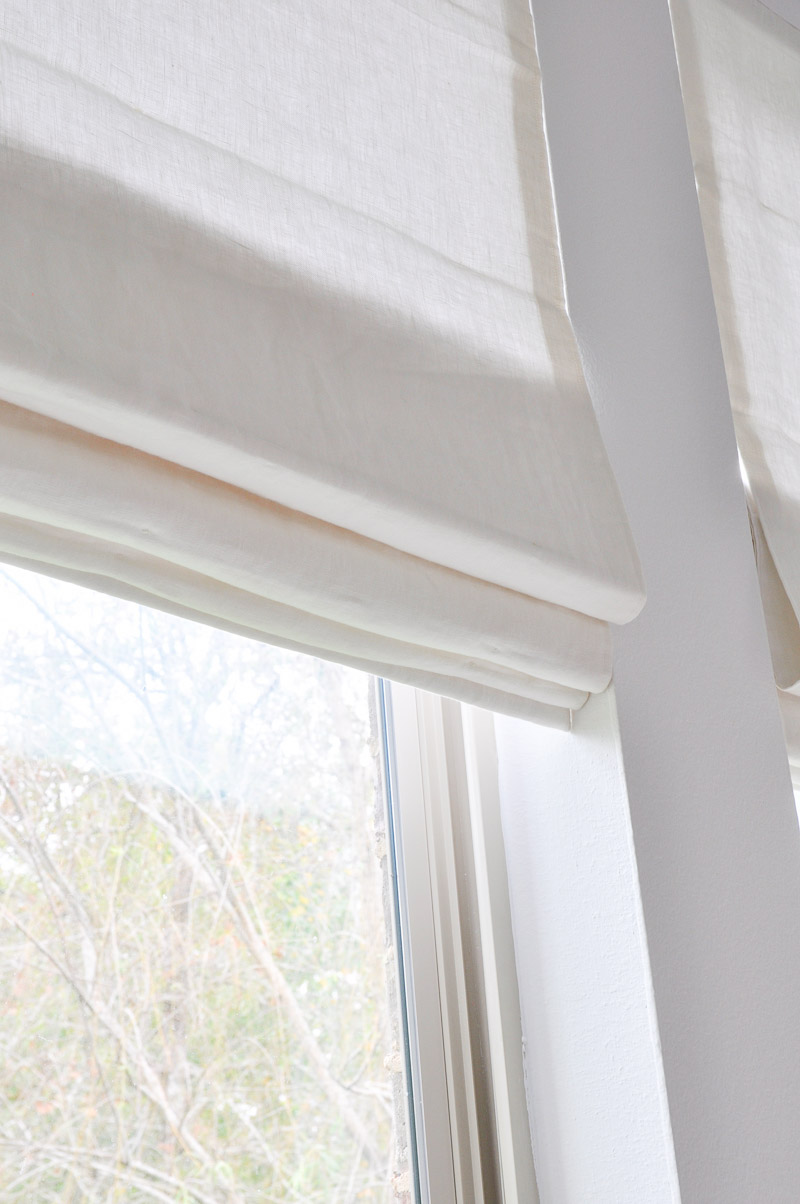 In case you are curious, the cord practically disappears next to my white walls.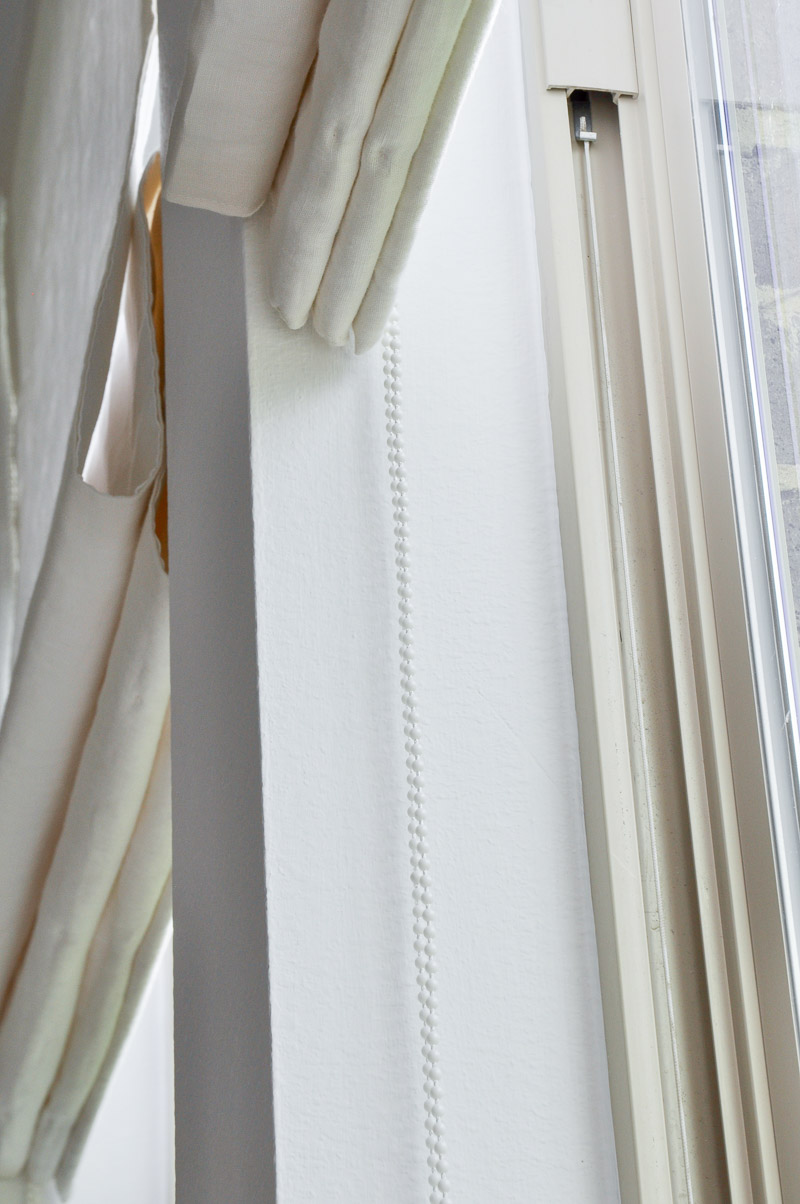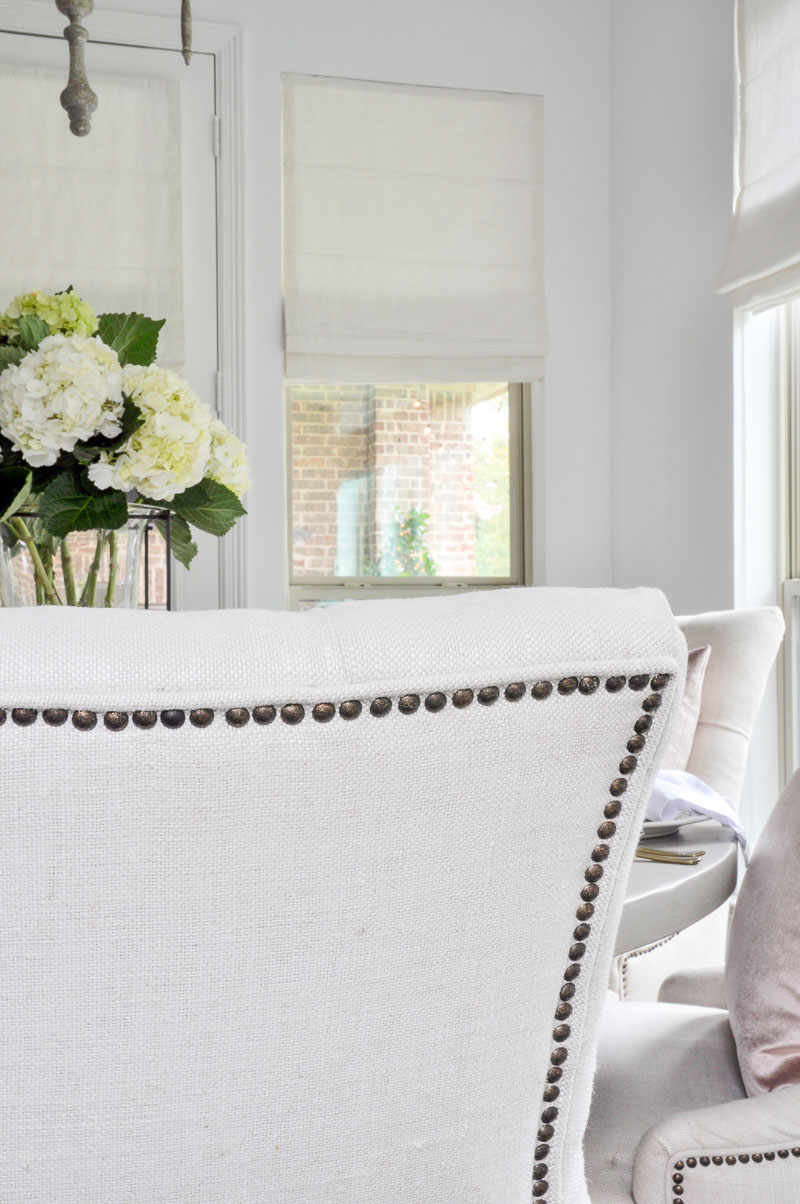 I hope you've enjoyed my mini-reveal. Roman shades definitely took this room to the next level.
As I mentioned, I partnered with Barn & Willow for this room update. I am being very honest when I tell you I am thrilled with the quality, the new look, and everything about their shades. Additionally, as a reminder, I only work with brands I truly love.
Here are my Top 3 Tips to use when choosing window shades:
Keep them minimal. Clean lines are in. No need to add thick, heavy looking treatments.
Go with white fabric. Or something else that is timeless.
Be sure to compliment the style of your home.
In closing, I want to show you the sample pack they sent. So many pretty choices! I chose Belgian Flax Linen Off White. Barn & Willow provides 5 samples for free. All they need is your address, no credit card necessary. You can get your free samples HERE.
One more thing (and it's good), Barn & Willow is offering a generous 10% OFF Decor Gold Design readers! To have a discount on shades that are already so reasonably priced is a huge treat. Just use the coupon code BWxDecorGold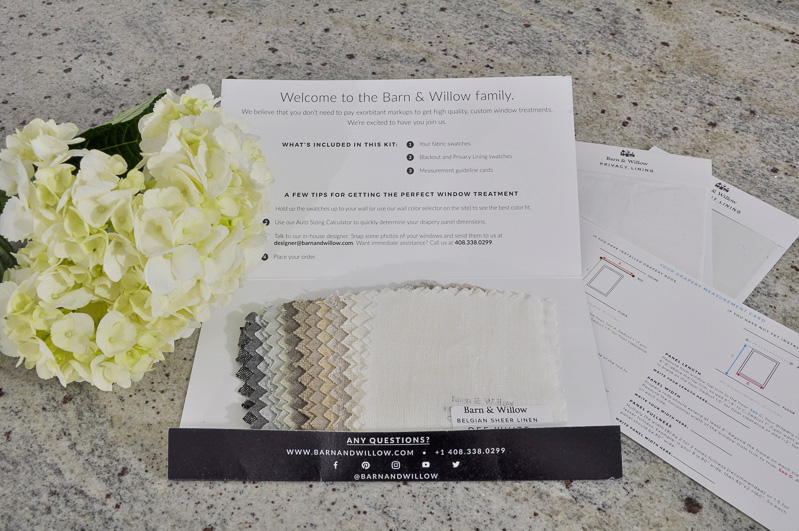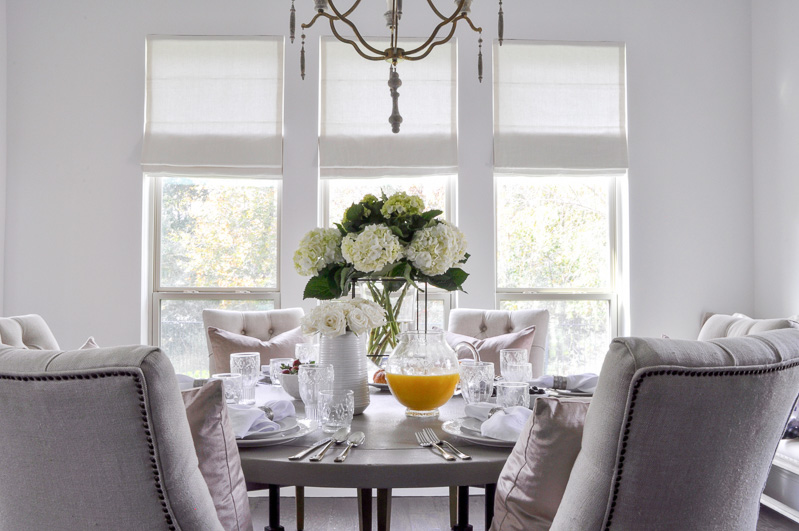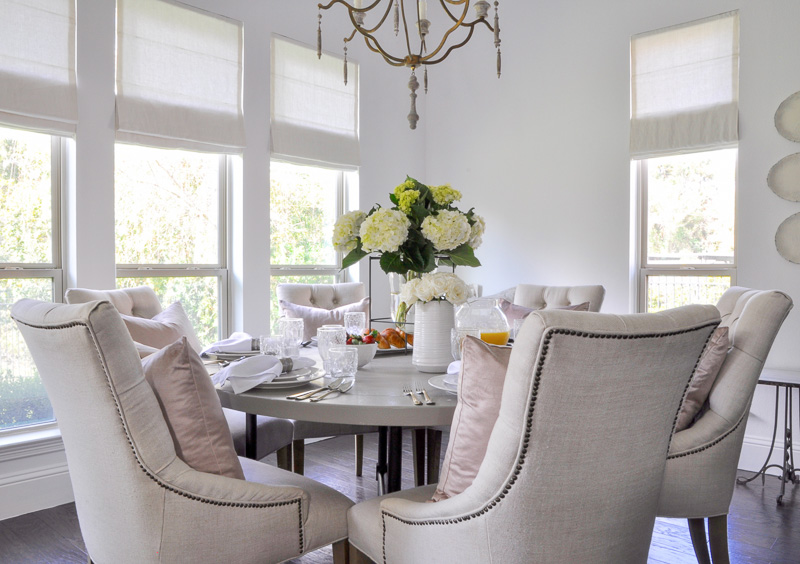 Chairs | Chandelier | Side Table | Bench
Pink Pillows | White Vase – Similar | Dinnerware | Bowl | Flatware | Juice Glass | Drinkware | Pitcher | Platter

Update: I recently added additional Barn & Willow window treatments to my home! They are draperies and I love them!!! Please visit my Spring Home Tour to see them!
Stay Connected
Click on the Image to Subscribe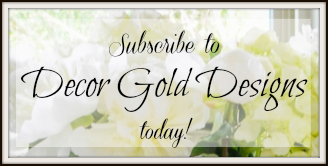 SOCIAL
Instagram | Pinterest | Facebook


SaveSave
SaveSave
SaveSave
SaveSave
SaveSave
SaveSave
SaveSave
SaveSave
SaveSave
SaveSave
SaveSave
SaveSave
SaveSave
SaveSave
SaveSave
SaveSave
SaveSave
SaveSave
SaveSave
SaveSave
SaveSave
SaveSave
SaveSave
SaveSave
SaveSave
SaveSave
SaveSave
SaveSave
SaveSave