Are you ready for a continued inspirational Fall Home Tour? I know I am! I really enjoy the various styles which make these tours so unique. This group is truly special so I hope you will continue touring by linking through at the bottom of the post.  If you missed my first fall tour, you can see it here.
Also, a special welcome to those of you coming from Life on Virginia Street. I hope you are enjoying the tour! Sarah's blog is one of my all time favorites, so if you haven't been there yet, be sure to link through!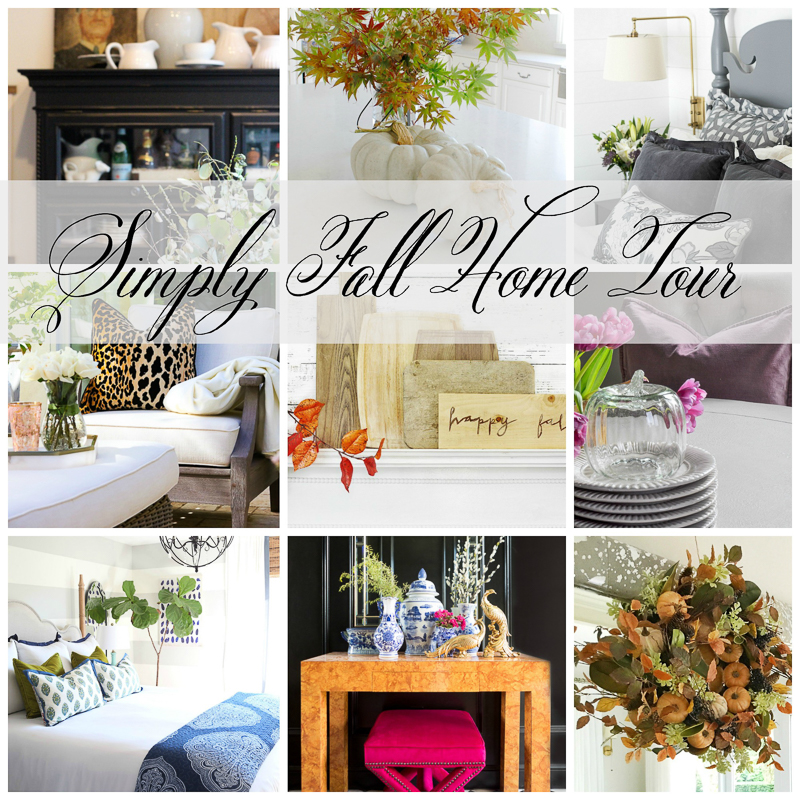 Fall is typically clad with orange, red and brown hues at nearly every turn. I thought it would be fun to demonstrate how to introduce a non-traditional color into the decor. My choice this year is purple and I have added it throughout my home. For this tour, I am starting in the room in which our family often starts day, the breakfast nook.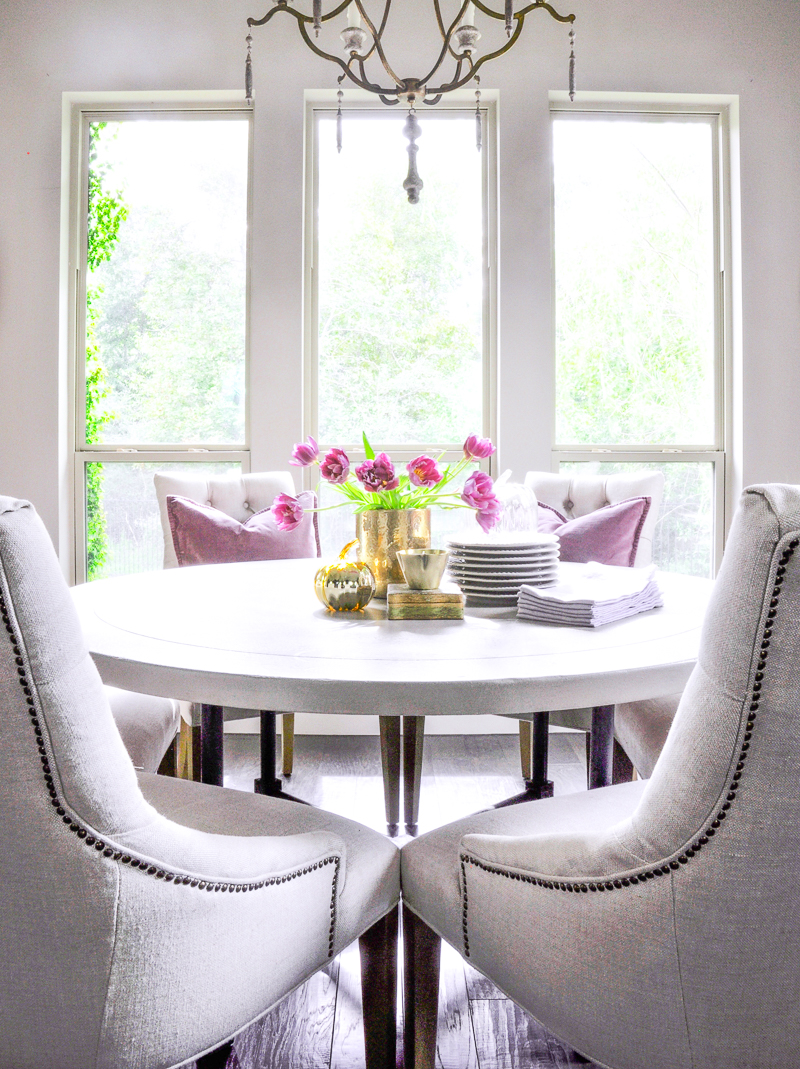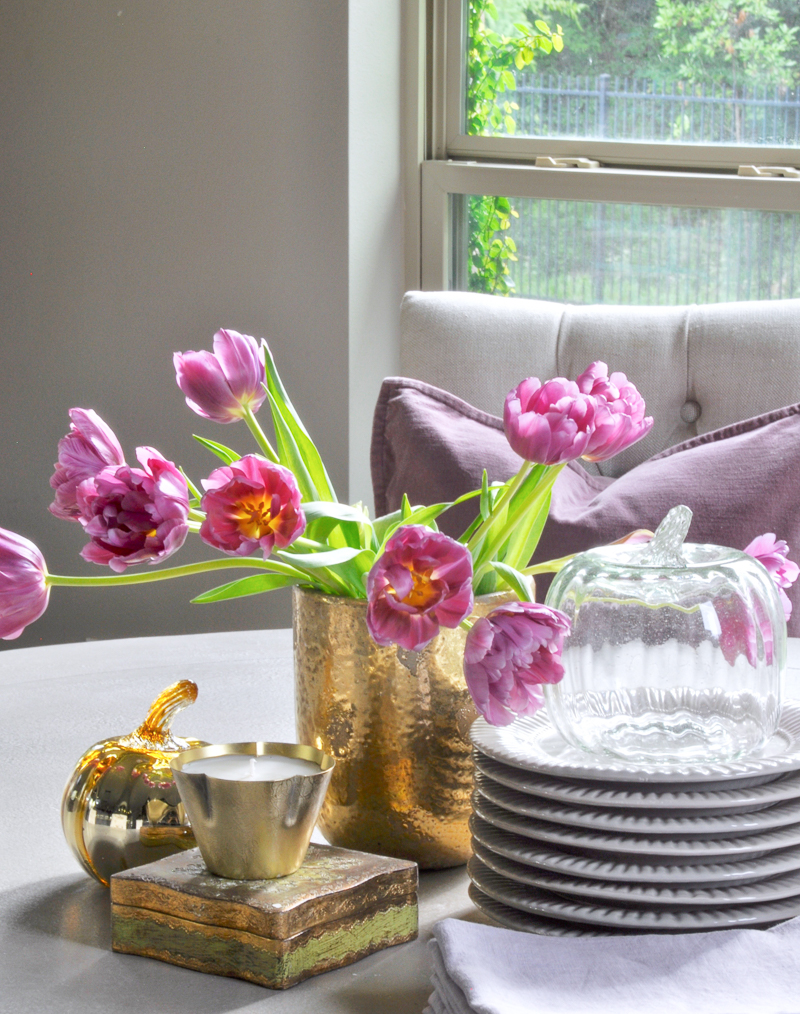 Continuing with the theme of a varying color palate, these glass gold pumpkins provide a wonderful fall accent accent as well as the brass colored potted candle.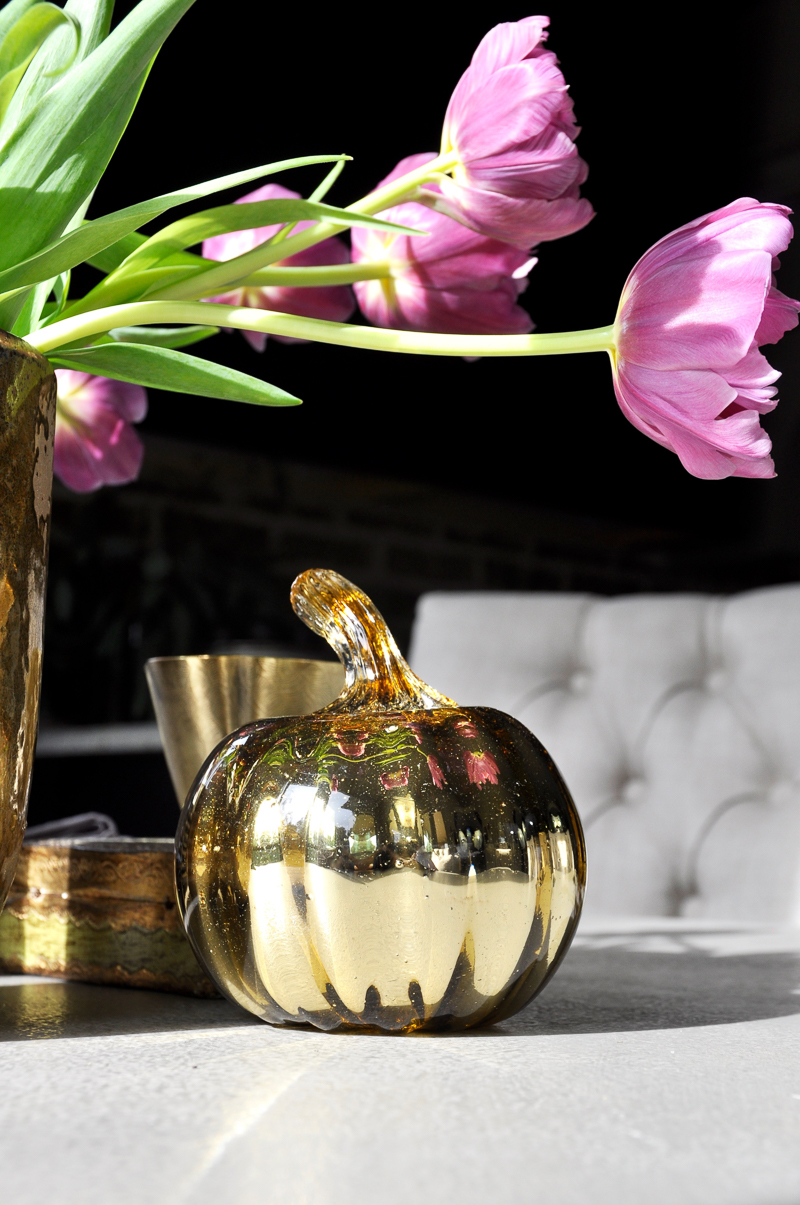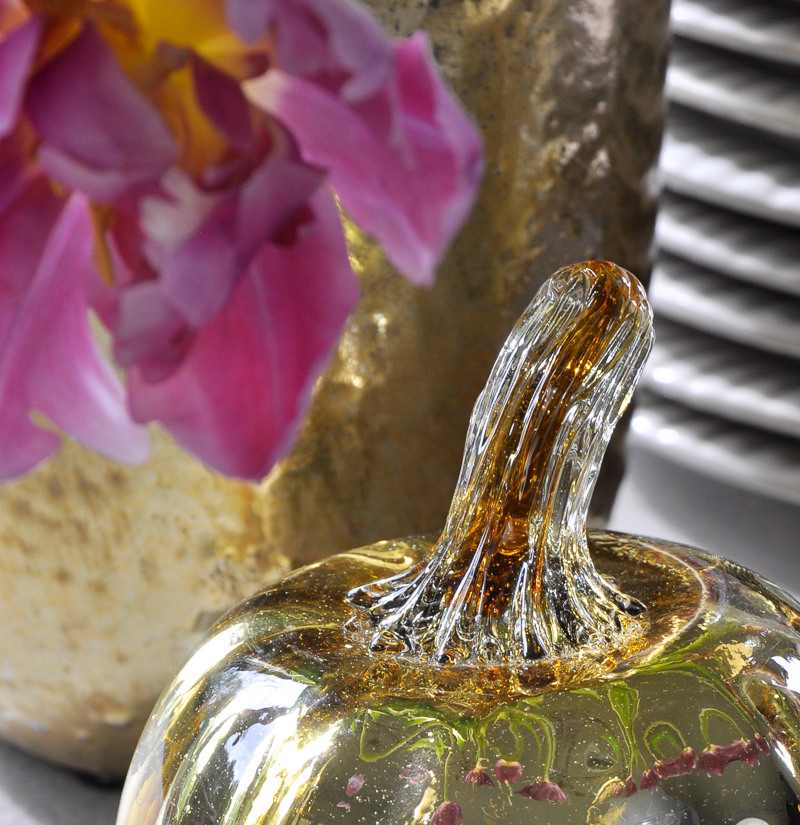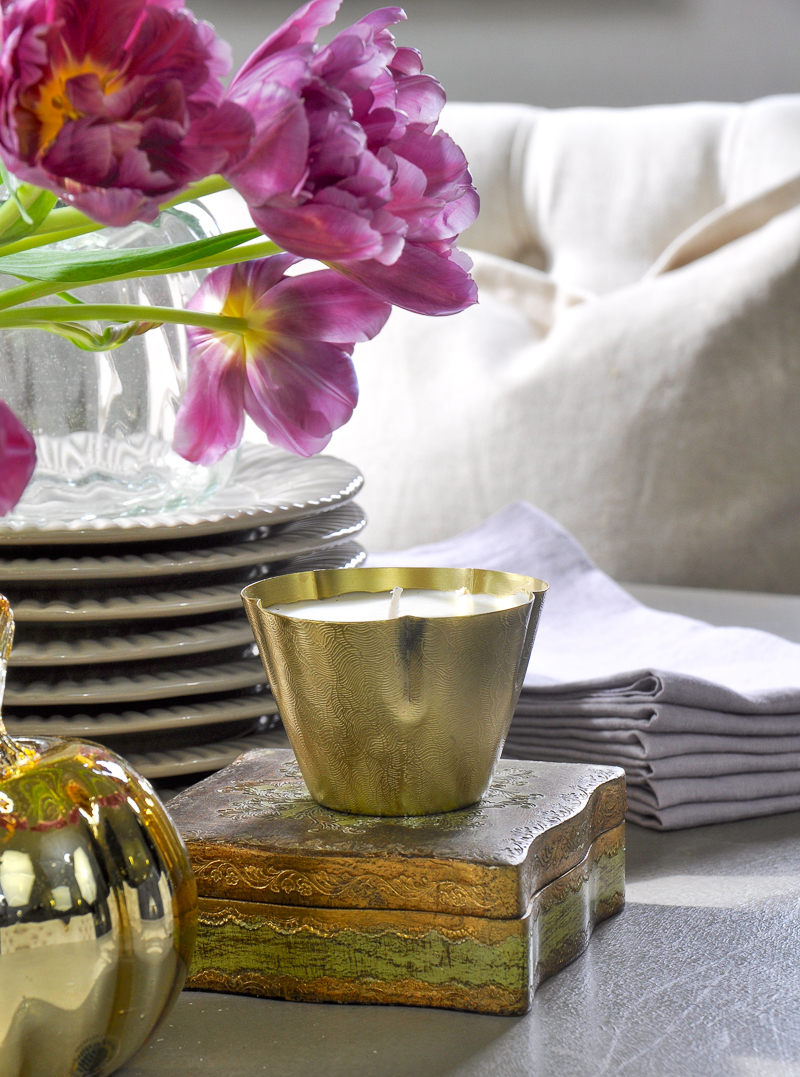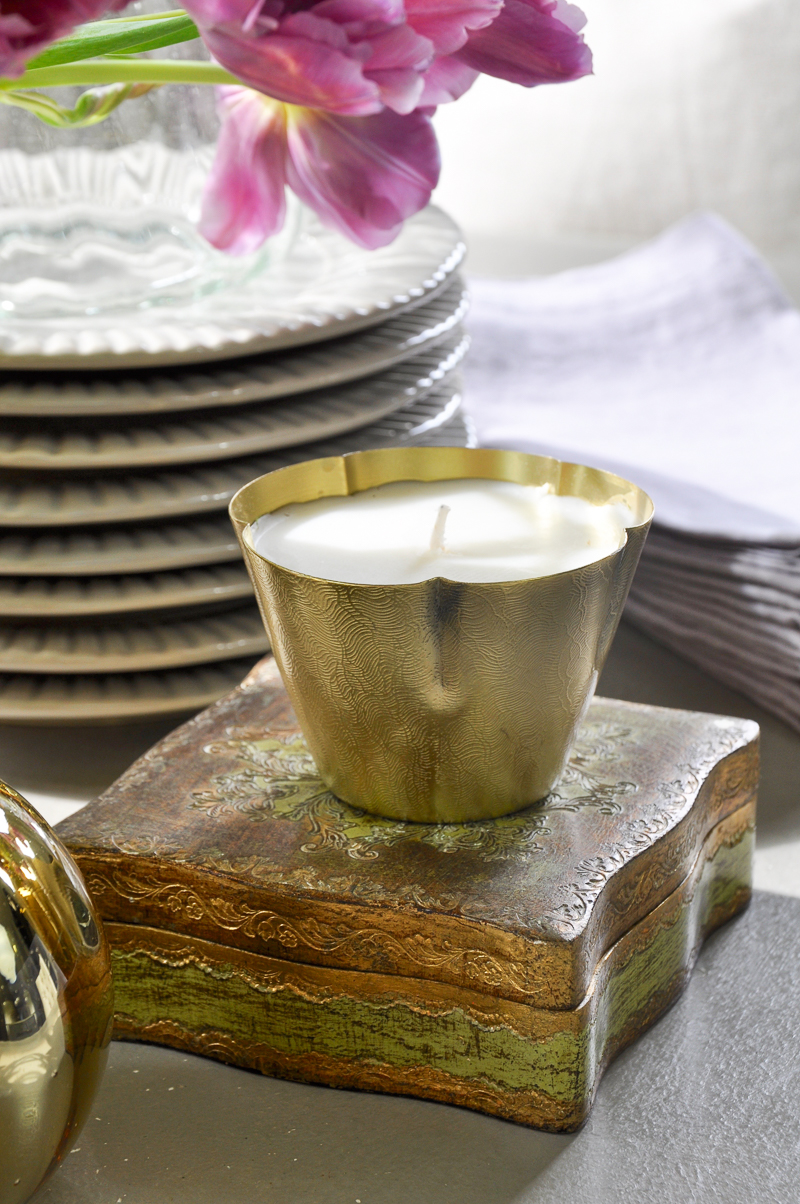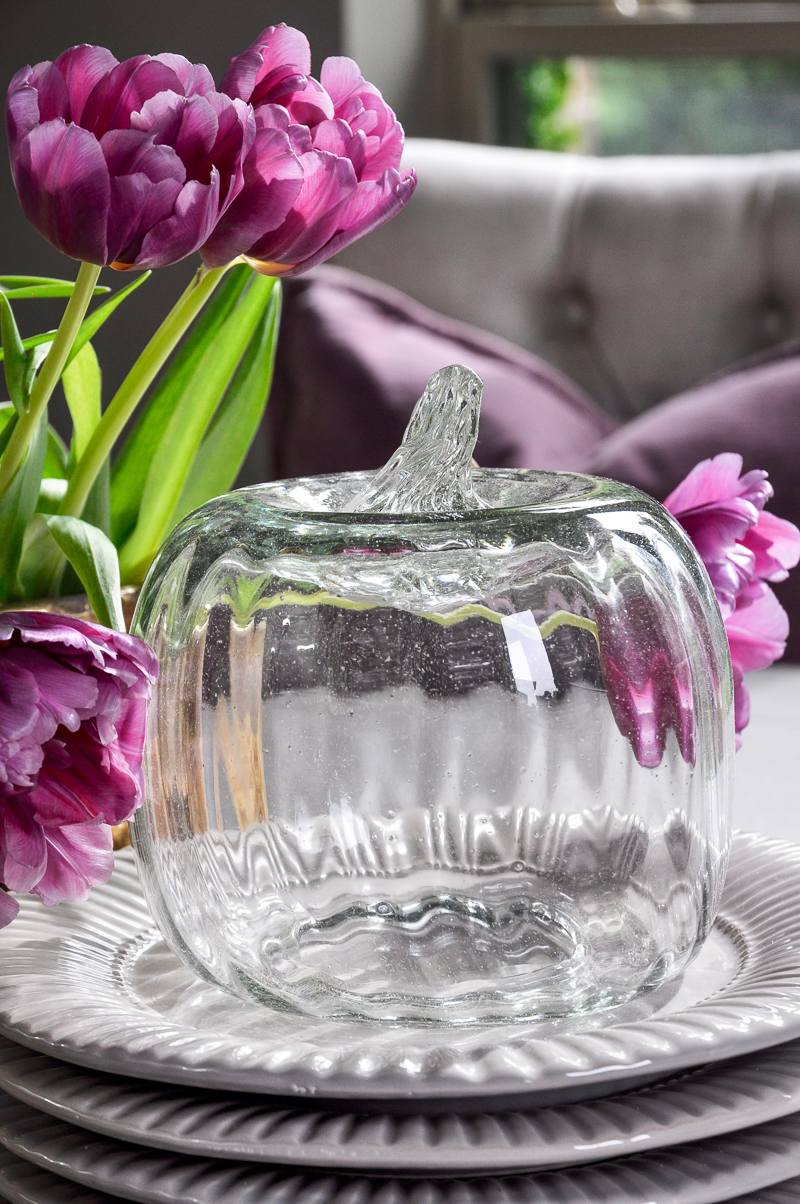 Here, I added purple velvet pillow for warmth and a textural change of pace. By the way, velvet is in style this fall not only in the home decor realm, but within fashion as well.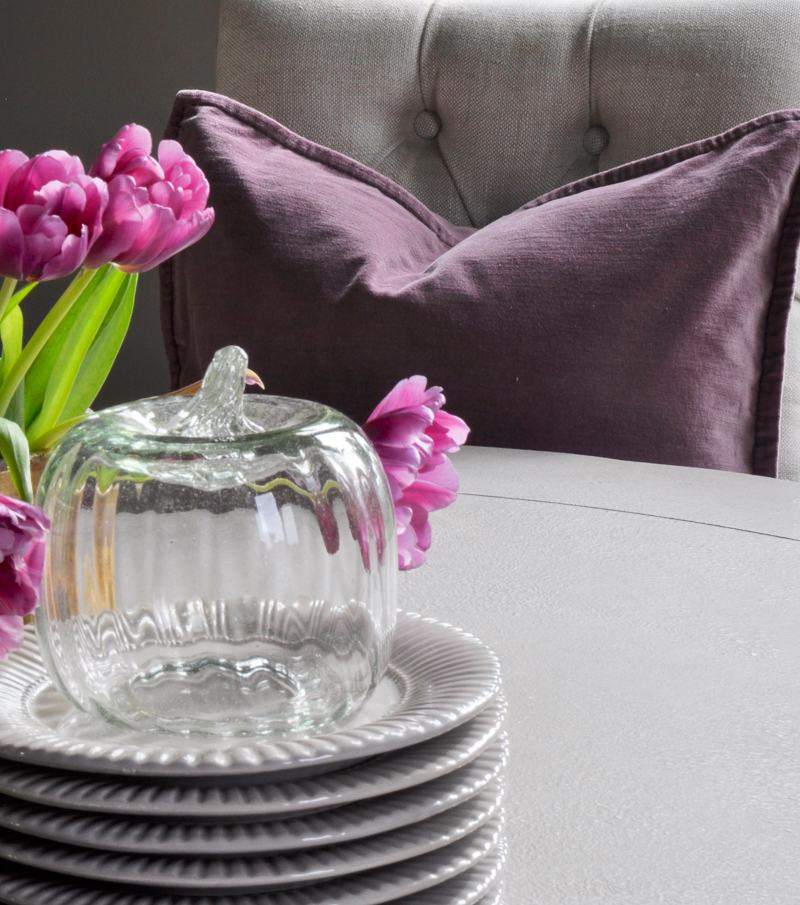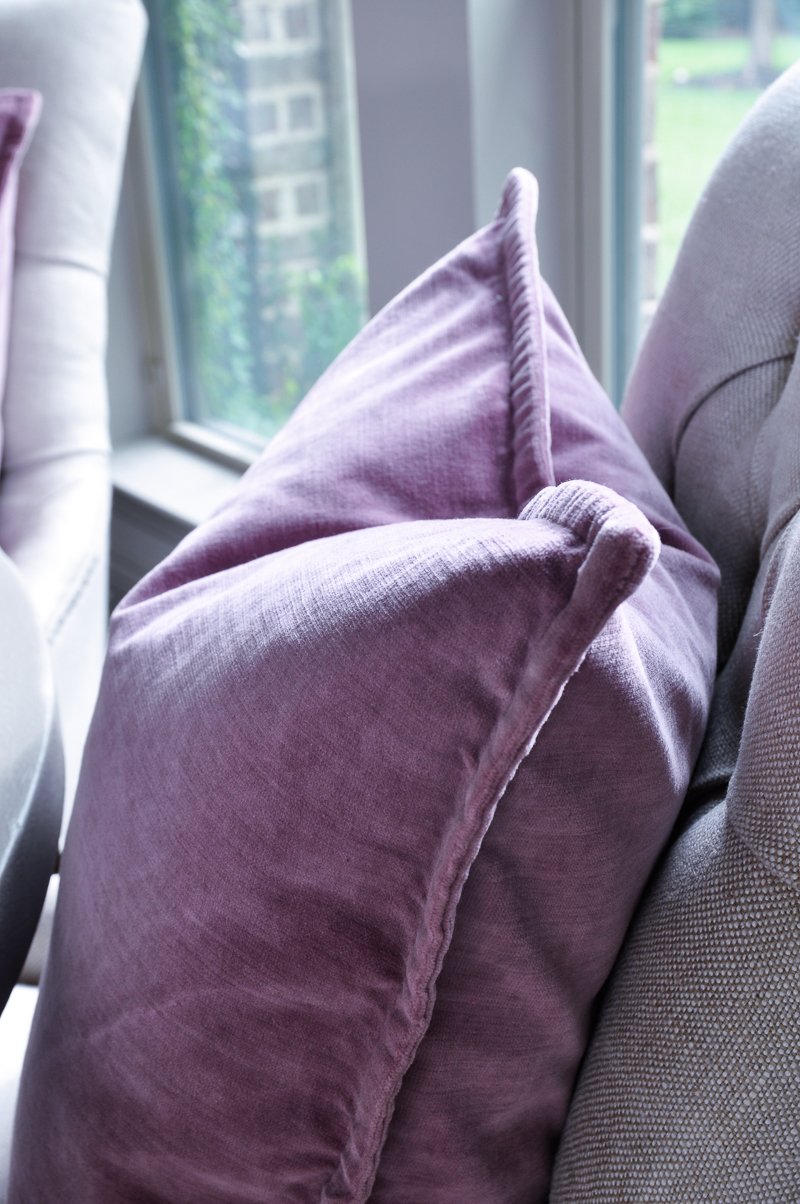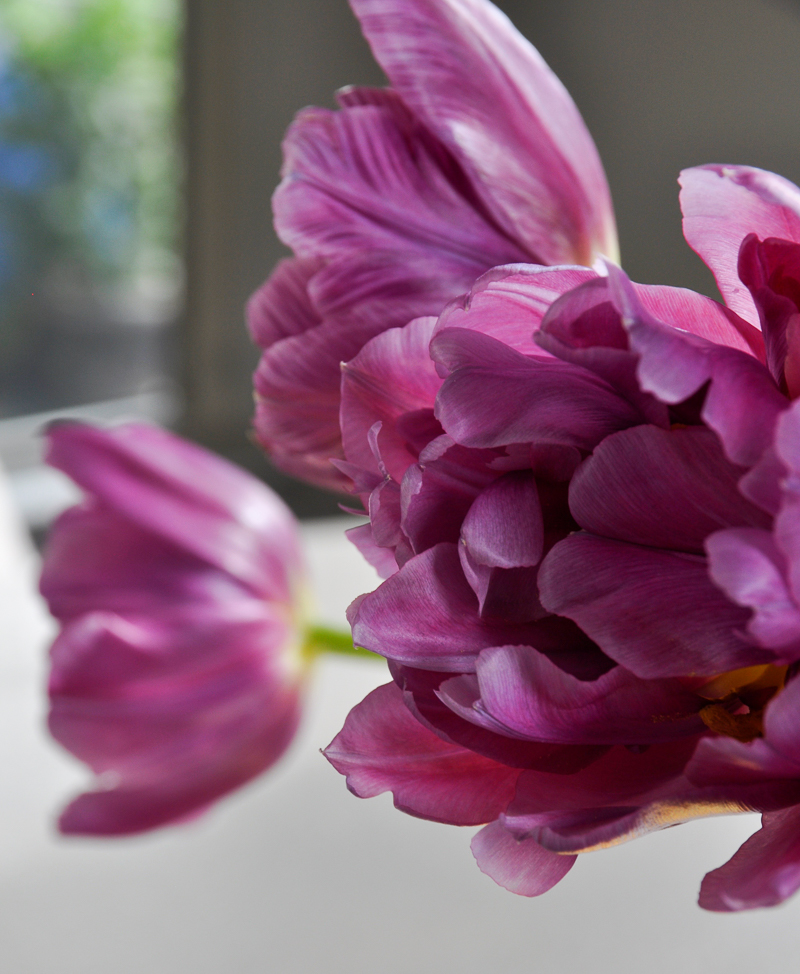 Get the look of my Fall Table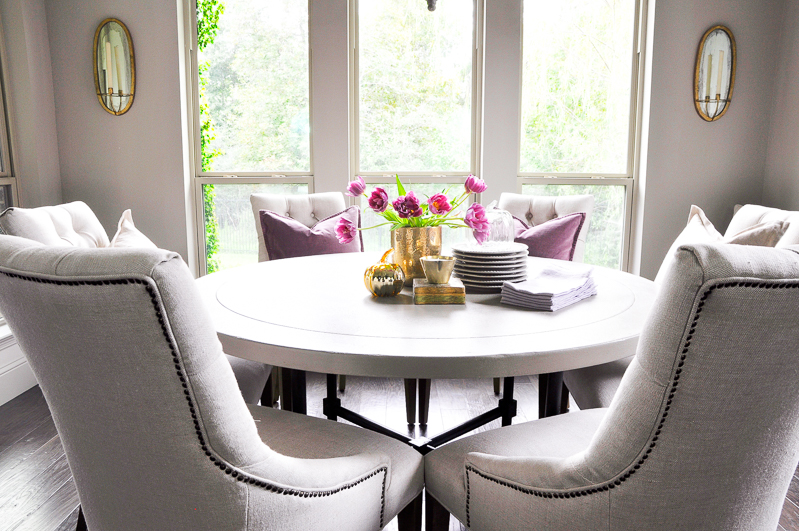 Get the look of my Breakfast Nook

Up next, the master bedroom.
Riley is what they call a "velcro golden" which means he's always stuck to my side. It can create challenges when I'm trying to photograph! I would love to hear how many of you have a velcro of your own.
I added some warmth and color to my master bedroom. I always try to make sure my home flows from room to room and one way to do that is with an accent color.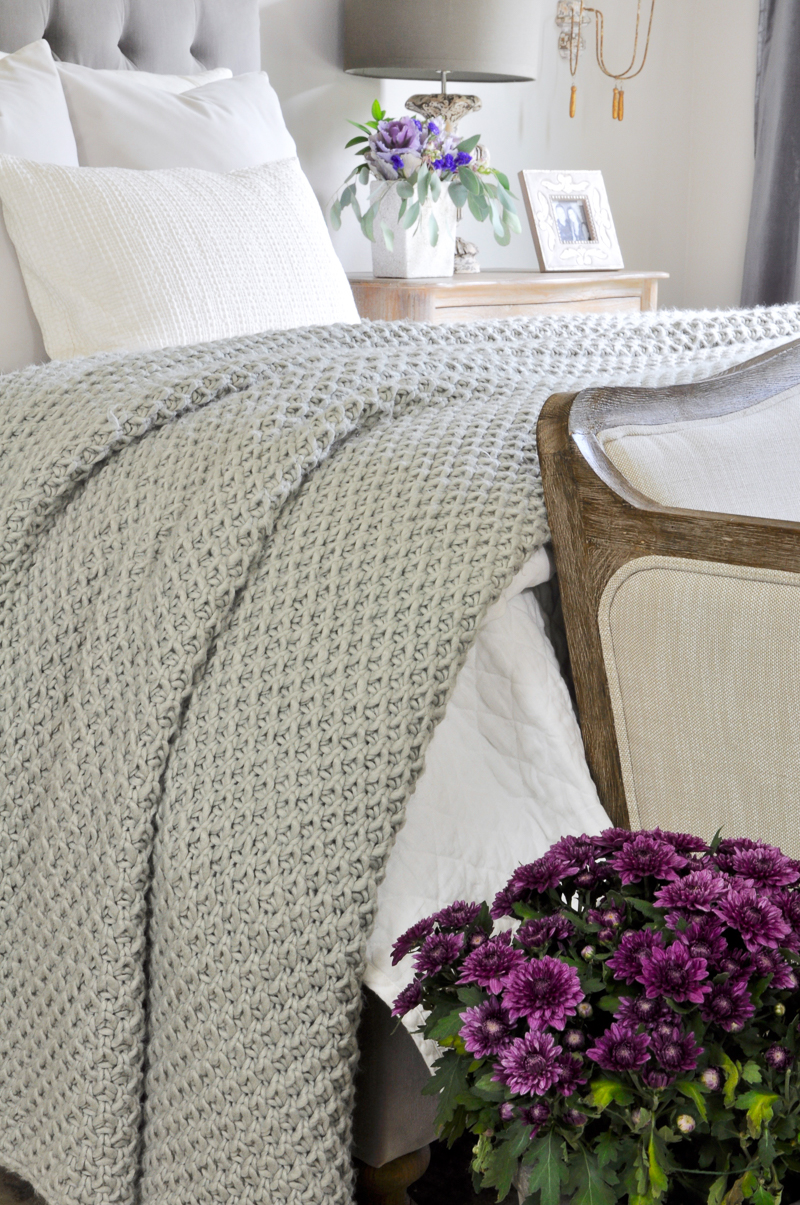 These fall flowers add a vibrant pop of color offering a variety of colors with the purple spectrum.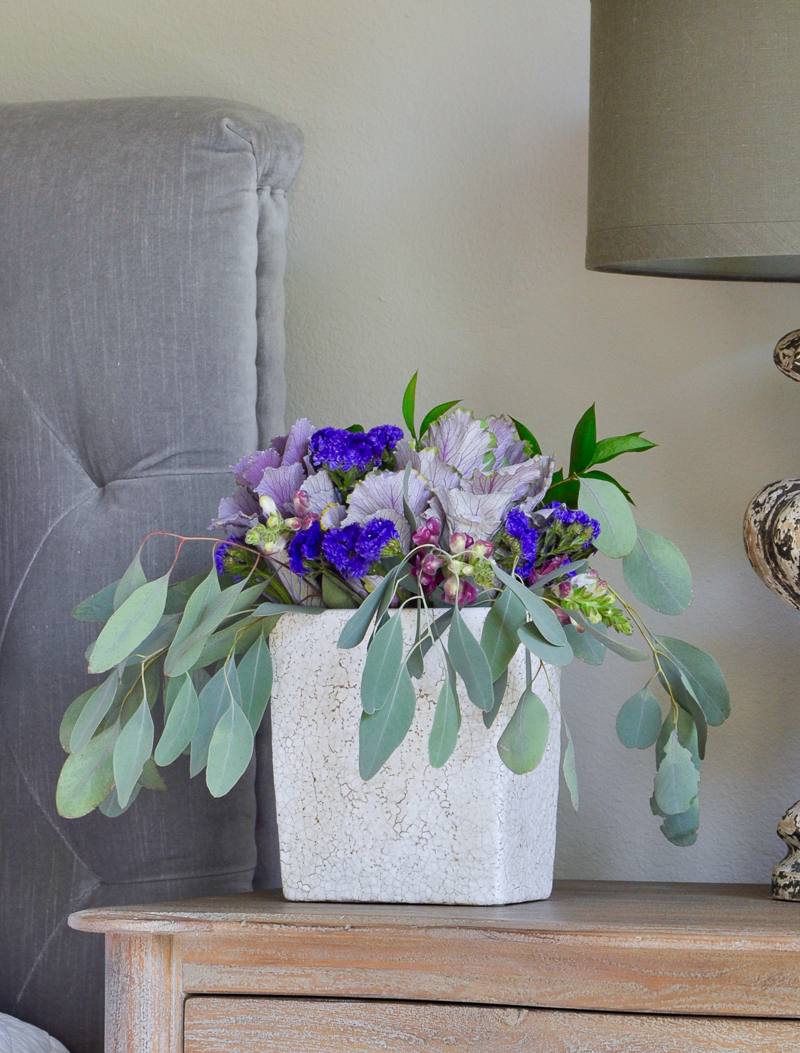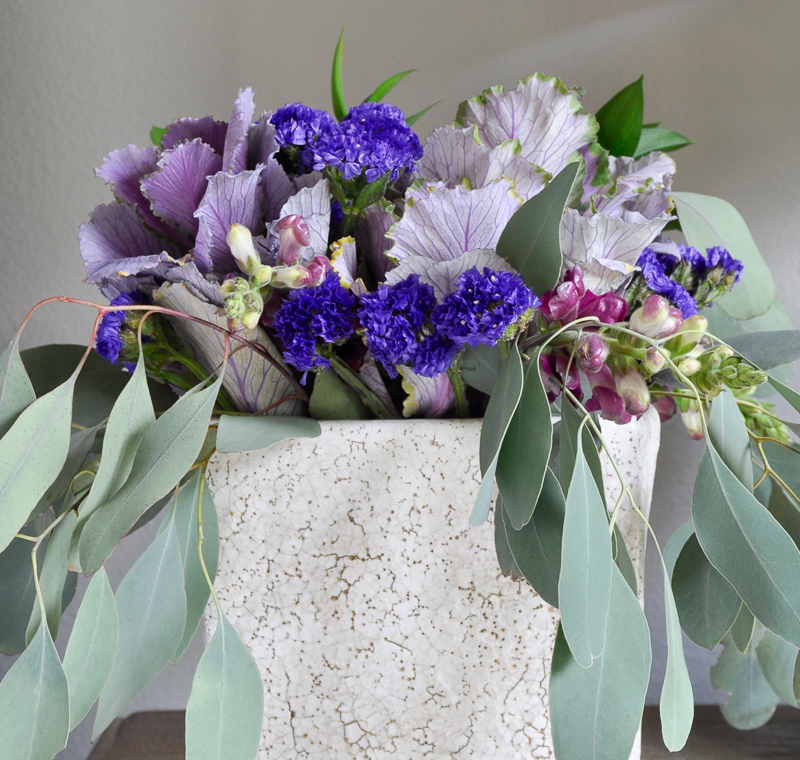 The bedside table is an easy place to add fall touches.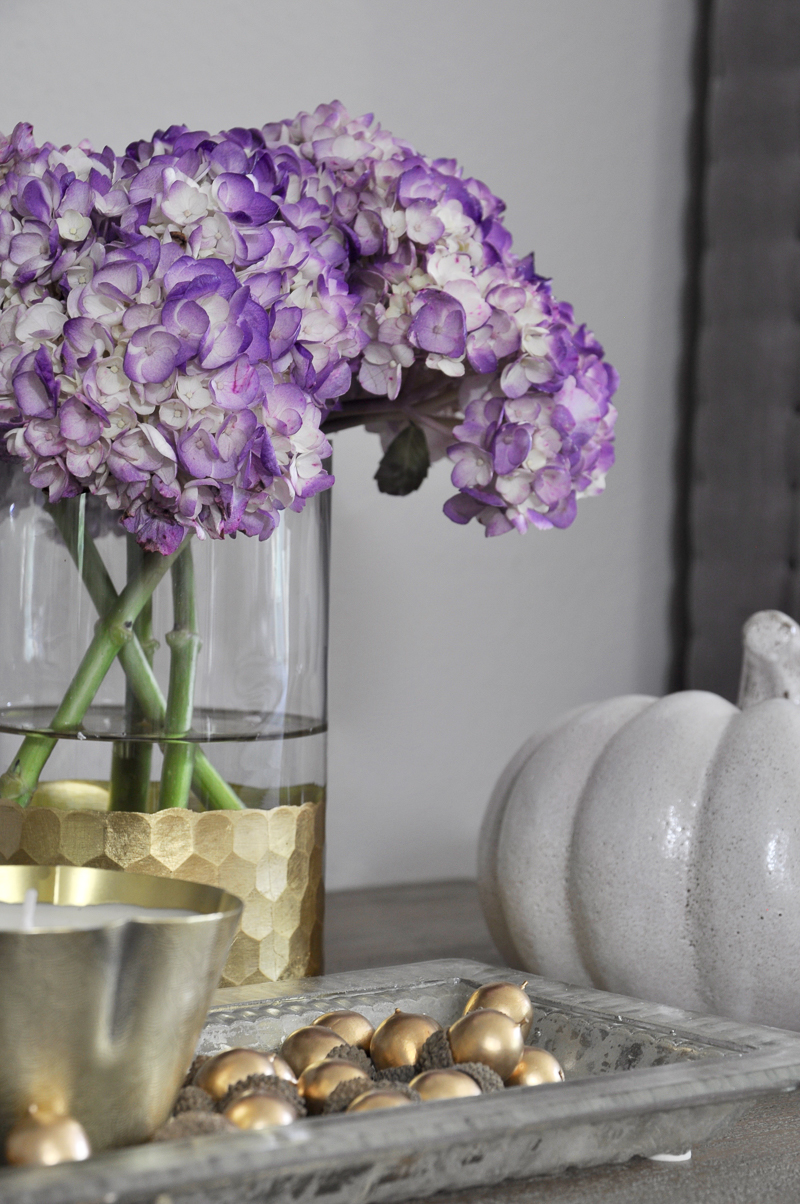 This ceramic pumpkin could work with nearly all color combinations. I adore the contrast to the purple and gray background.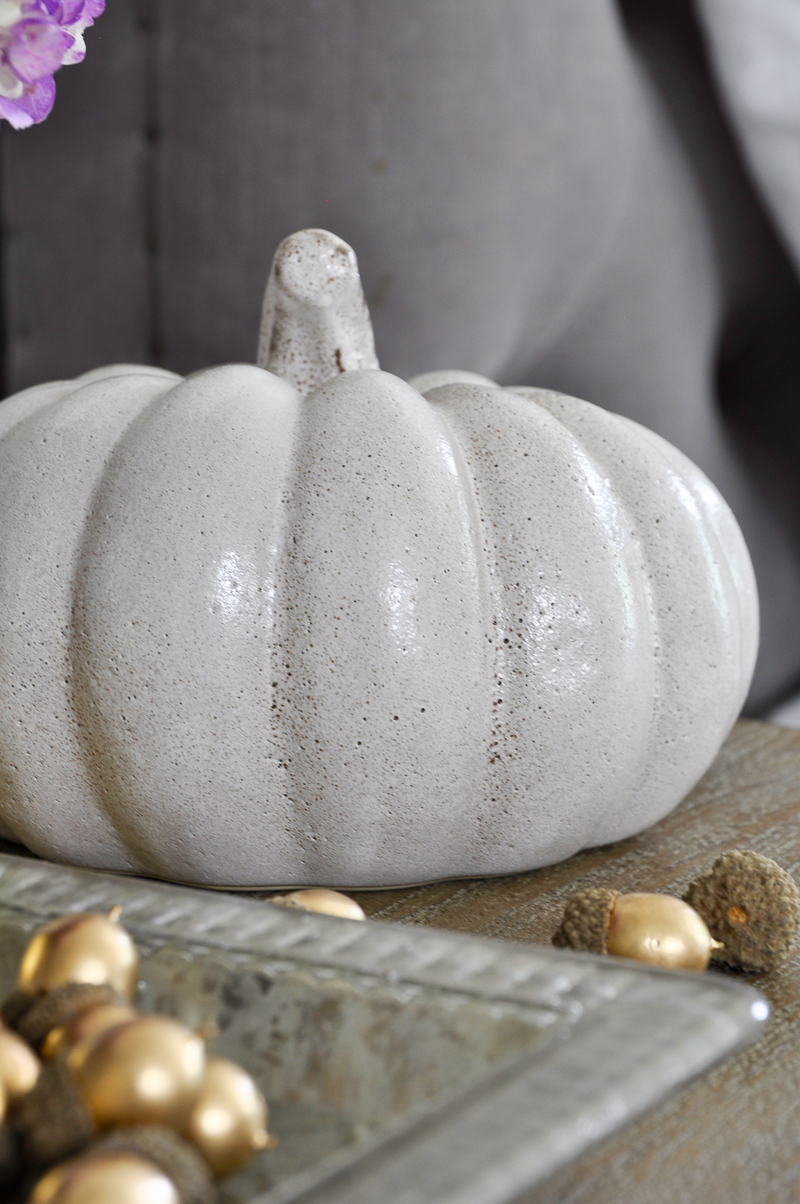 More accessorizing with the brass candle and acorns.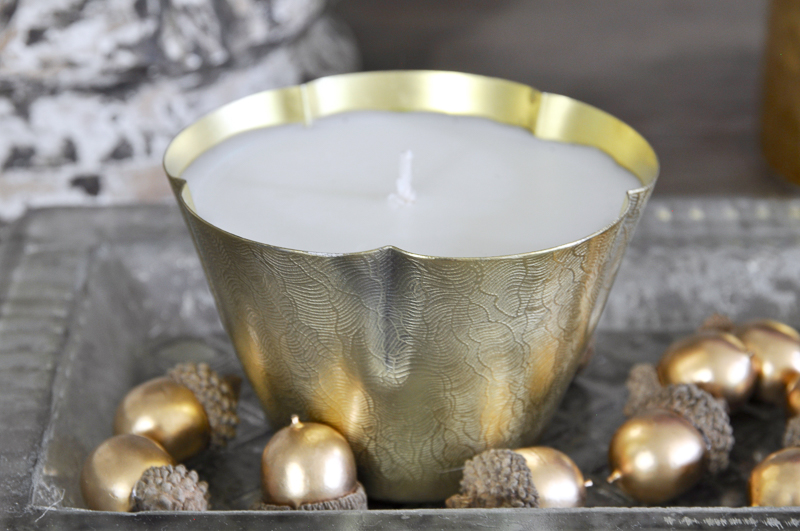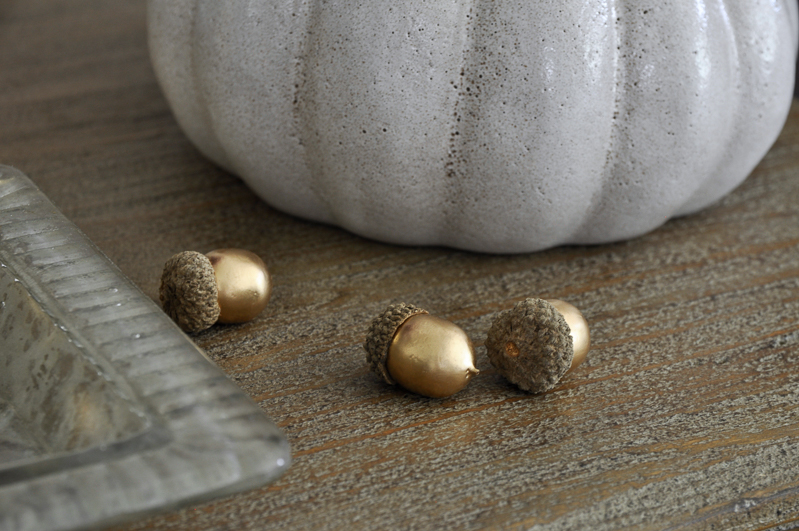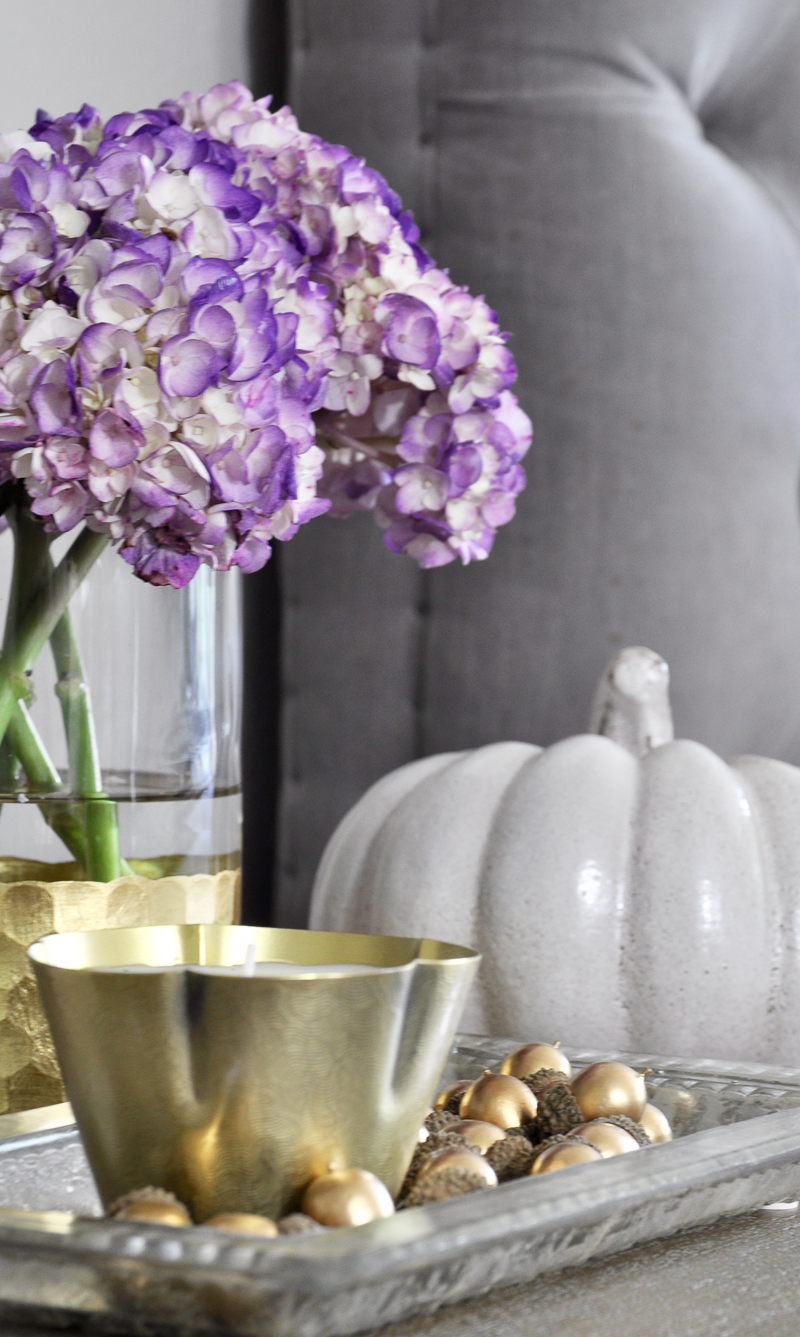 Get the look of my Fall Accessories

Mums are generally an inexpensive way to add pops of floral color in a variety of hues.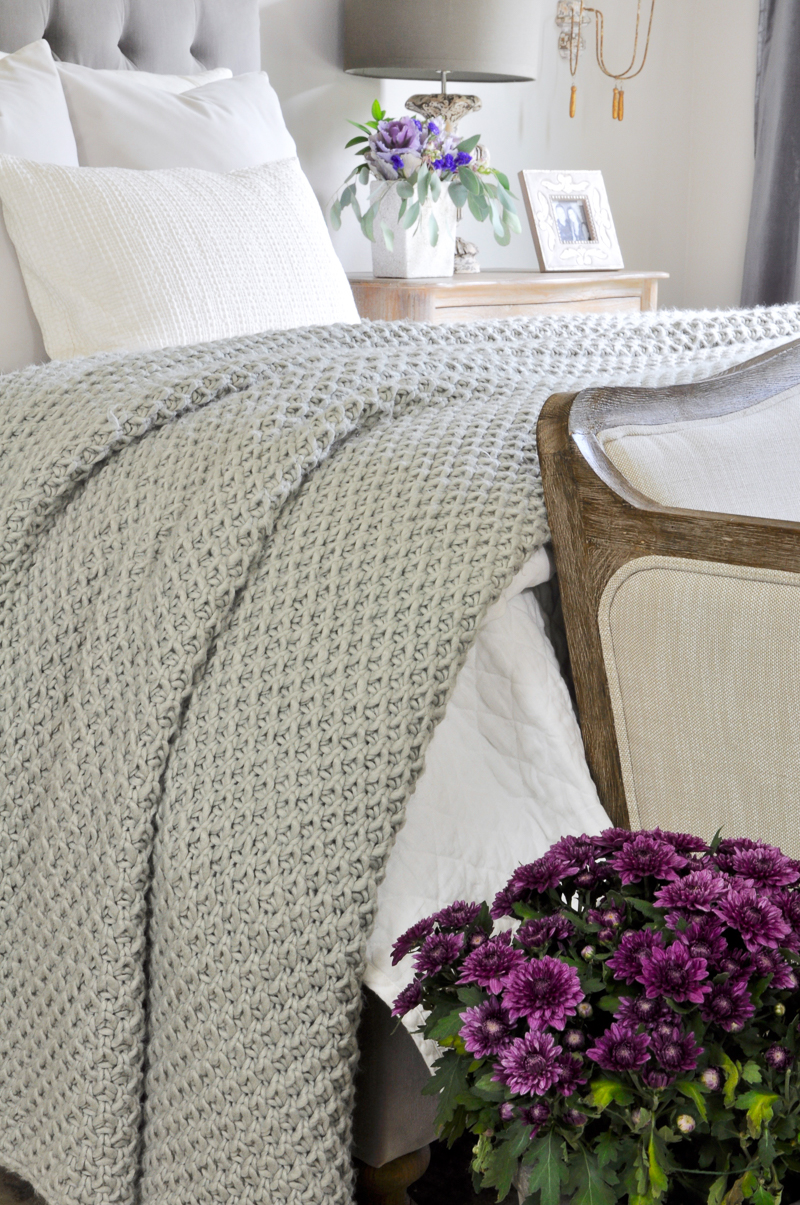 Here you will notice some subtle changes to my bedding. This is one of the more easily changeable aspects within the home for each season.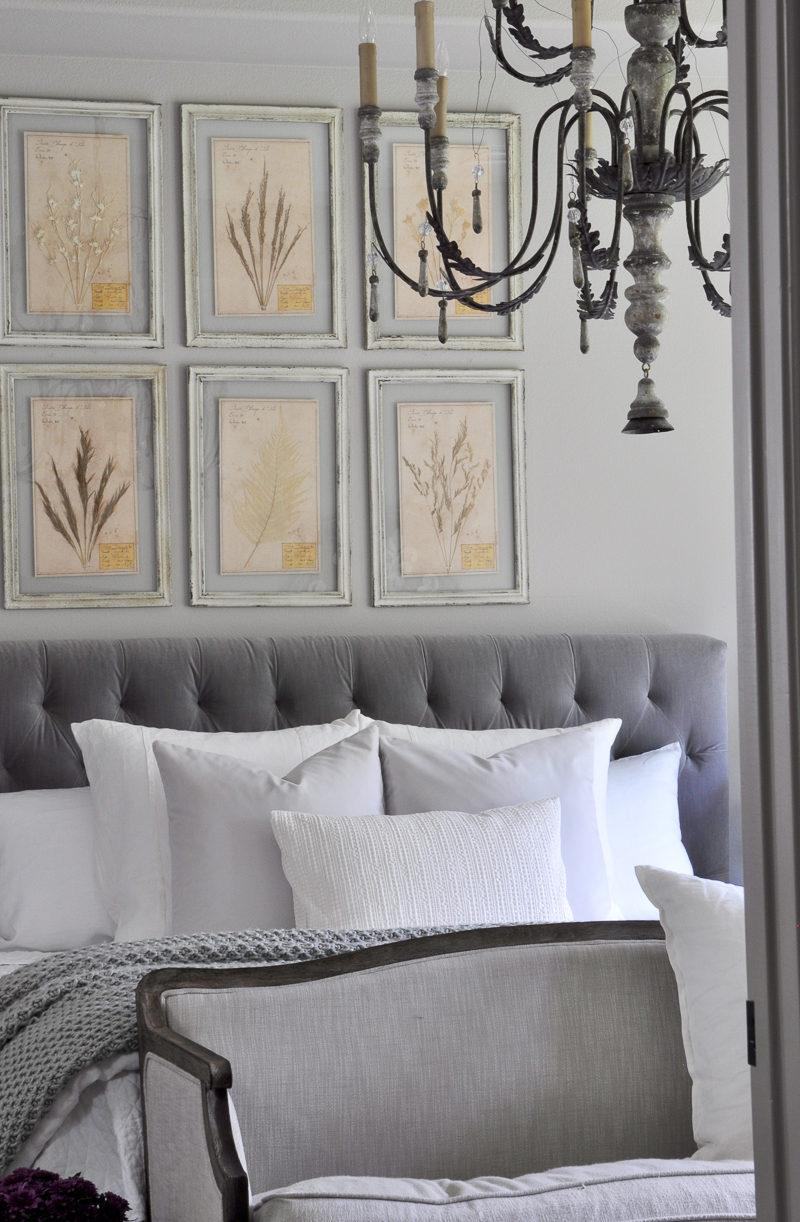 Layers and texture are always at the forefront of my mind when I am updating the look of my bedding.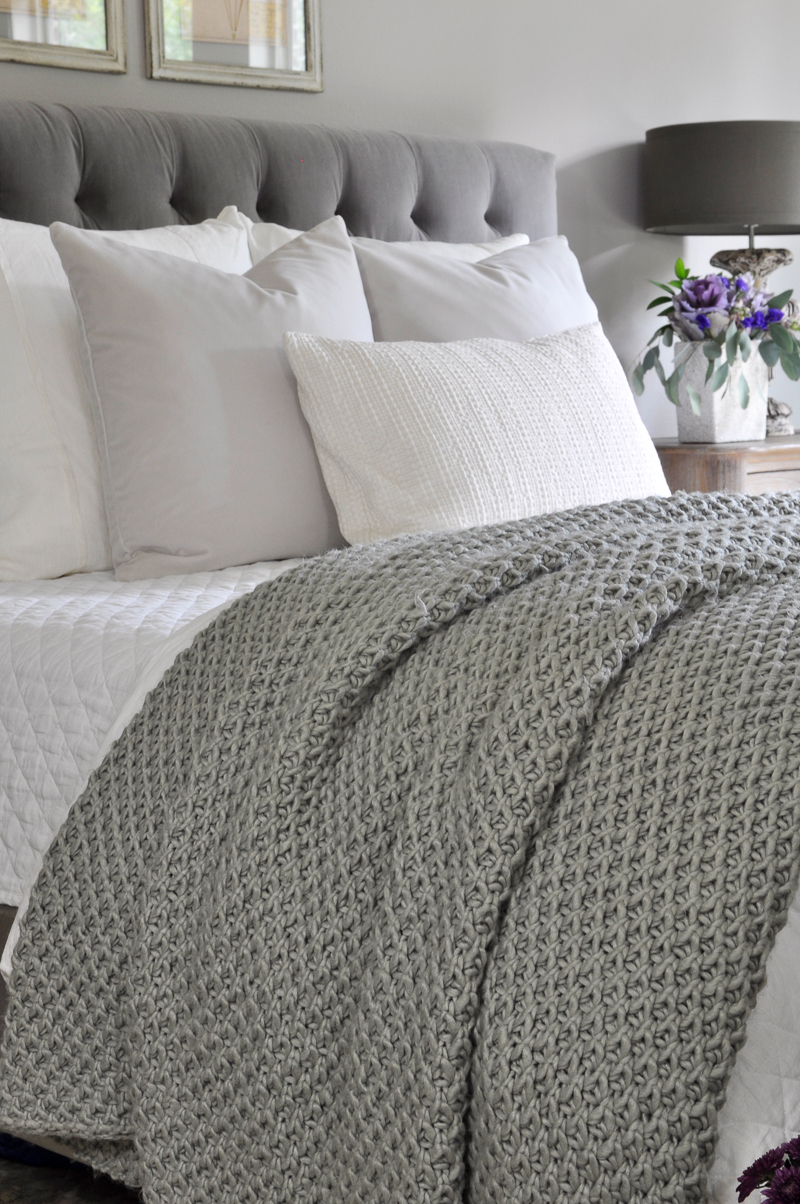 This versatile throw blanket works well year round.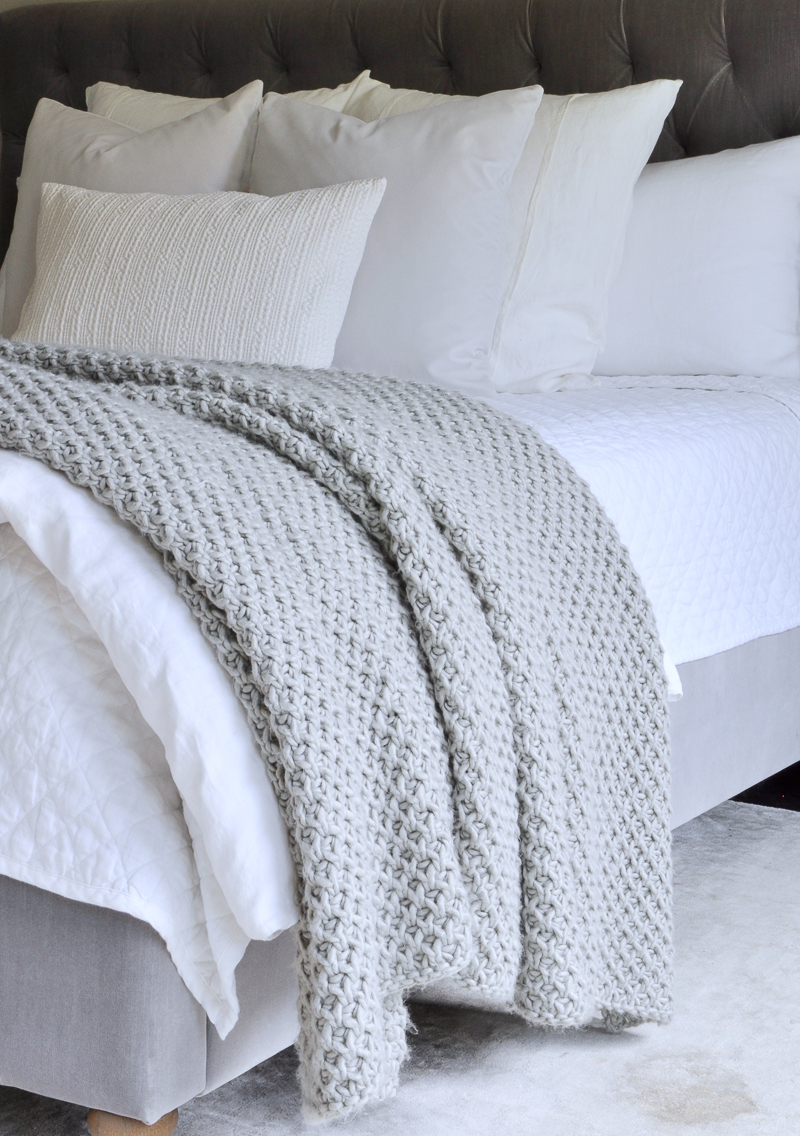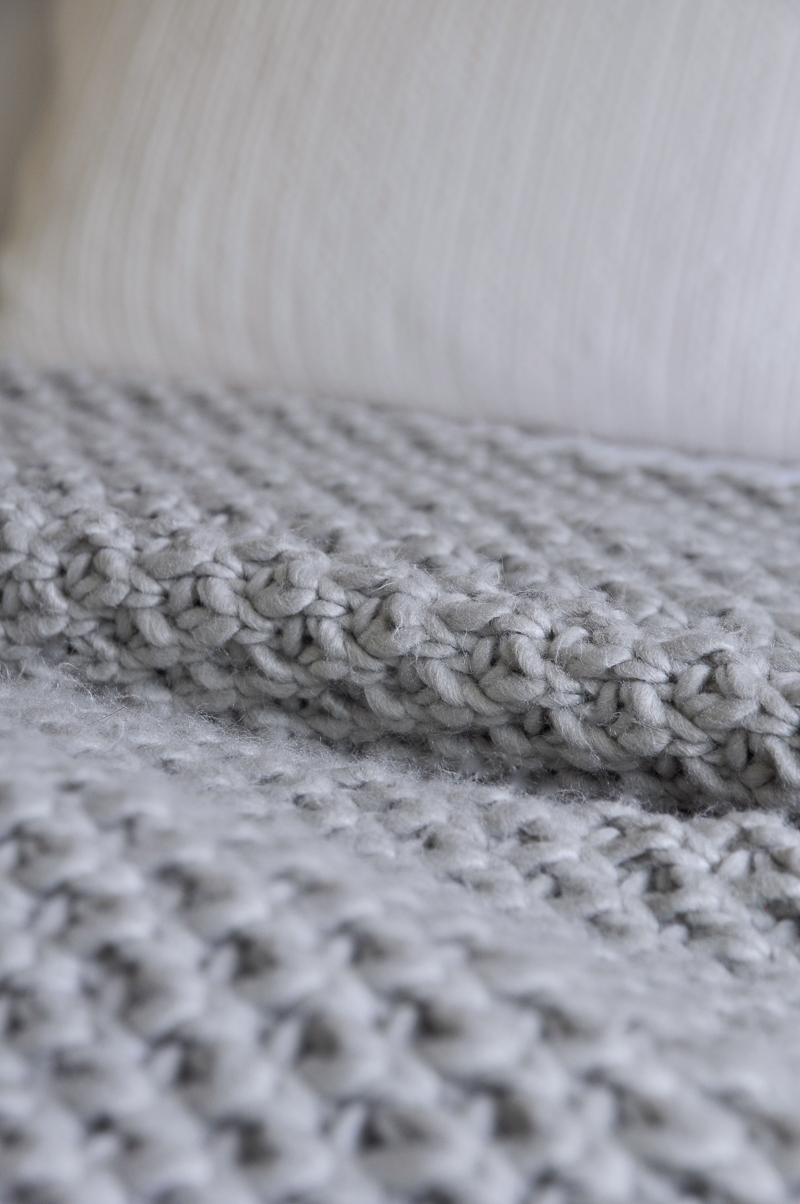 Here you can see the layered look which should accentuate the multiple textures on display.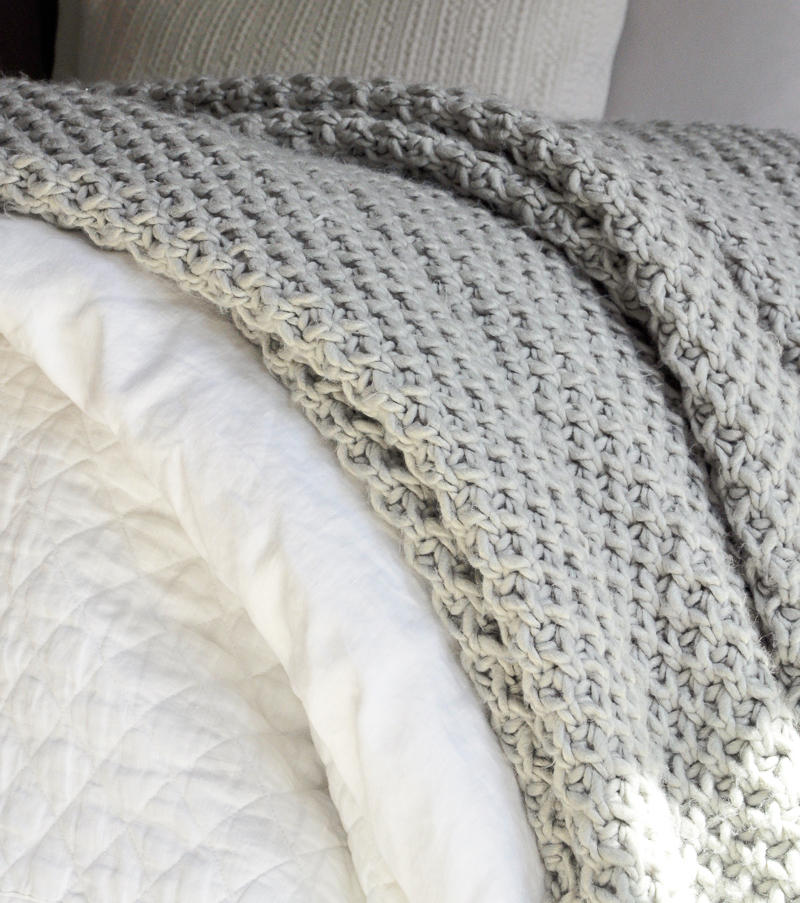 I wanted to feature textured pillows including velvet and the heavily textured lumbar.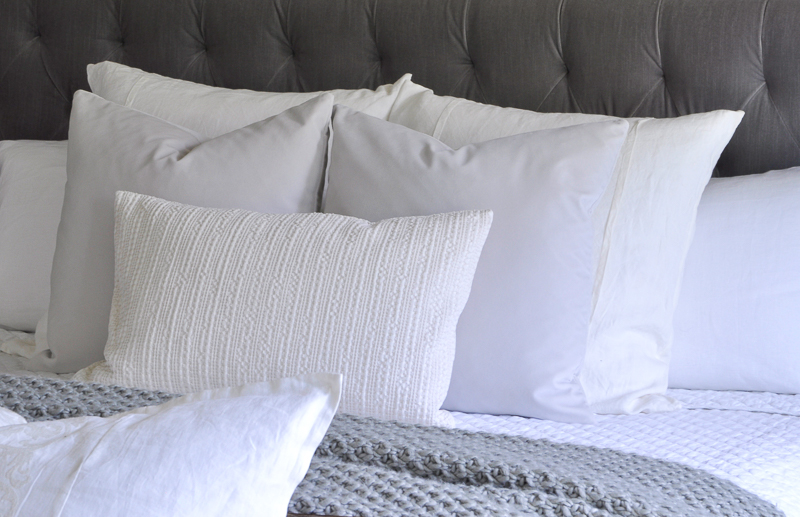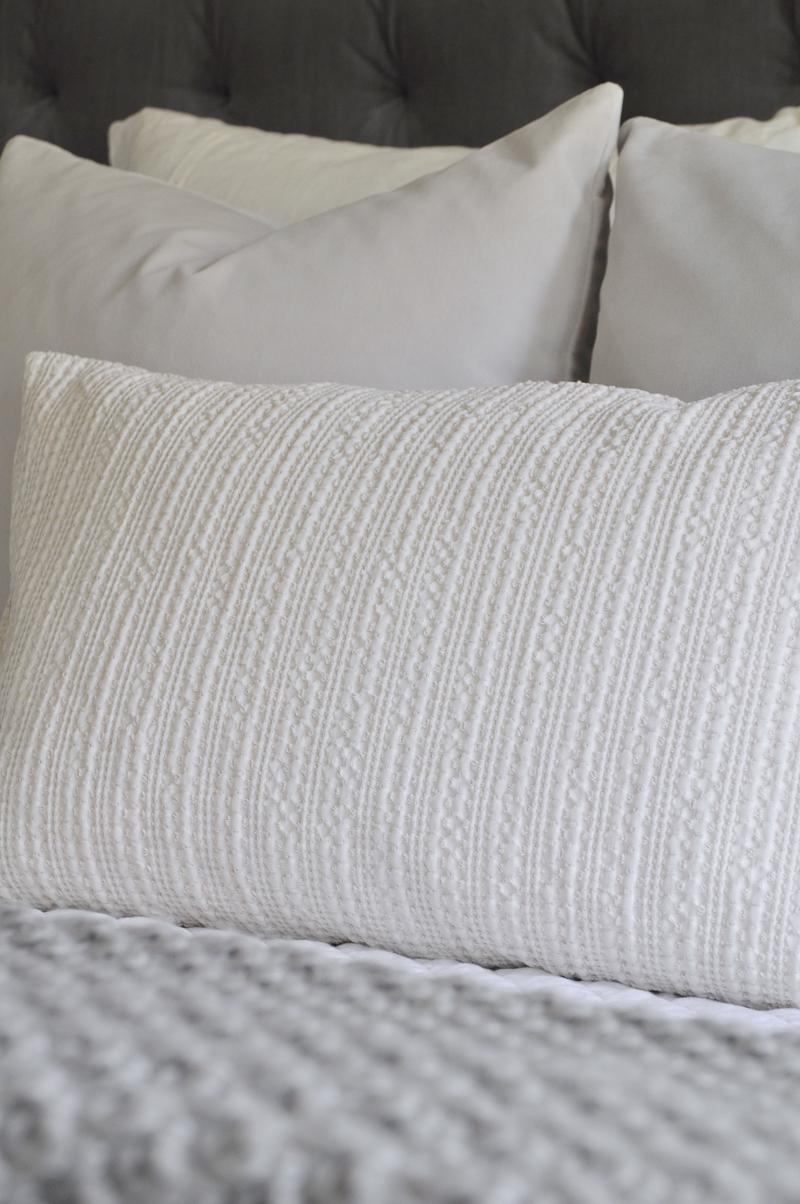 This pillow adds both my fall color and texture.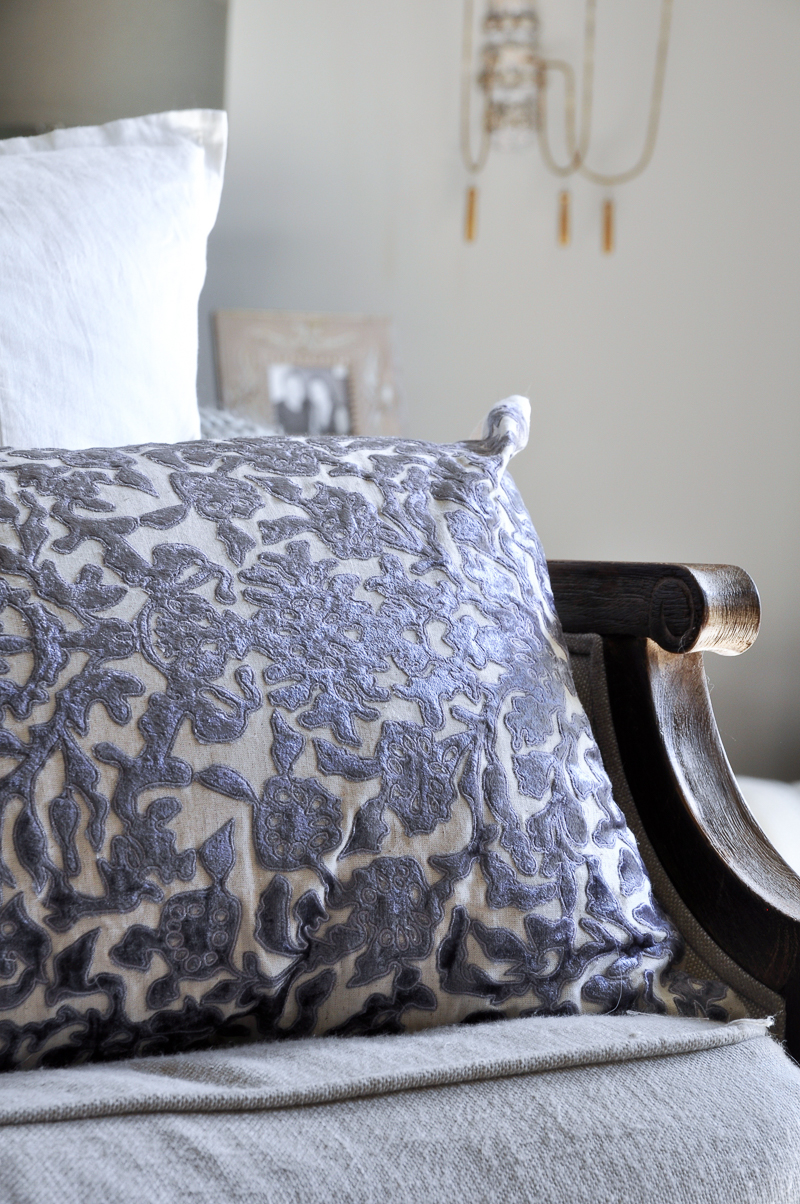 I love medium sized baskets. Here, I have styled one with an additional throw for a cozy look.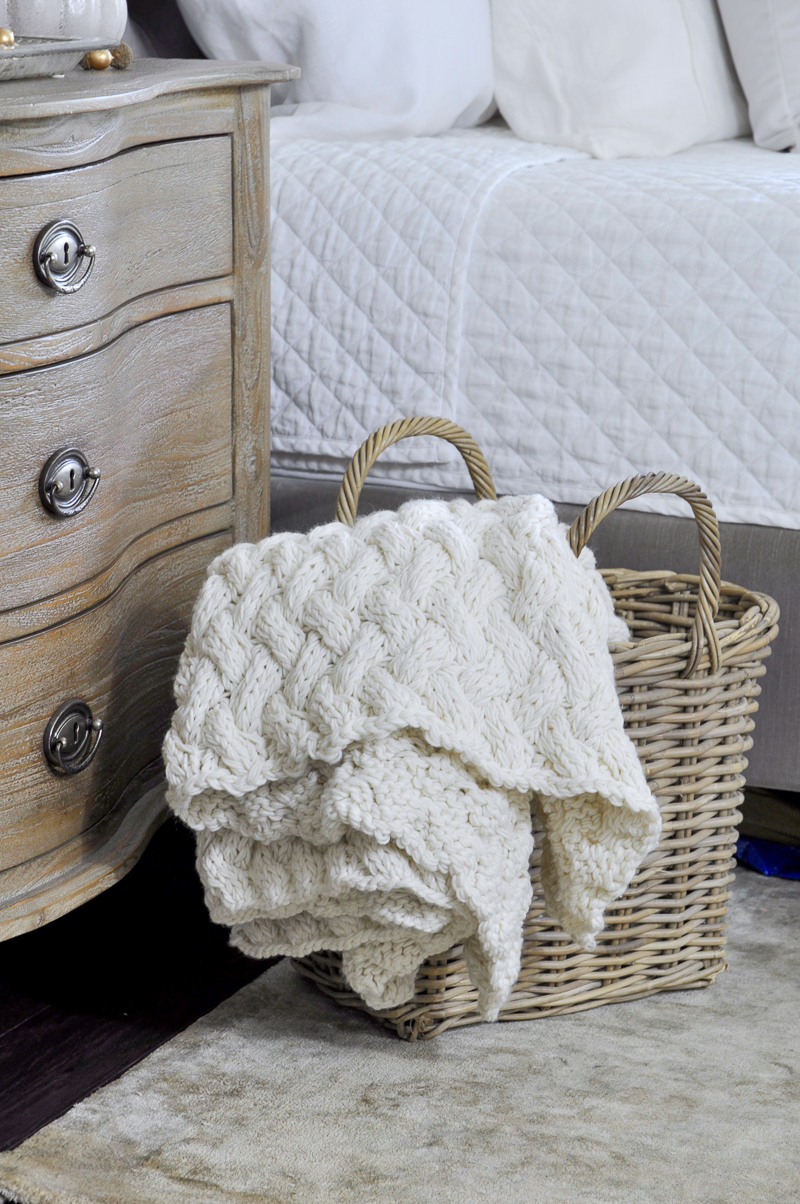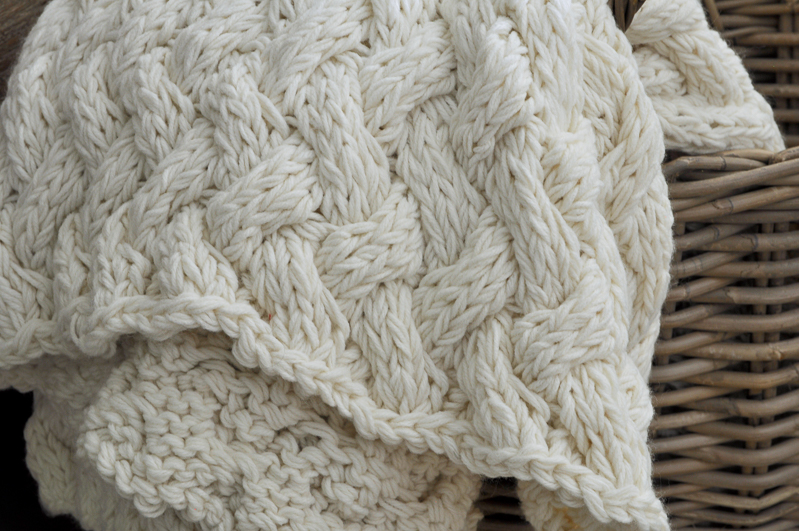 Get the look of my Fall Bedding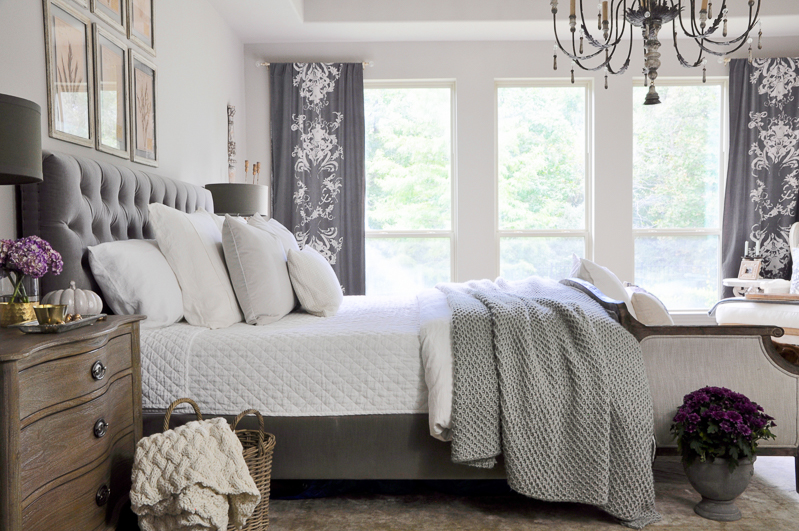 Get the look of my Master Bedroom

And by the end of my shoot, my little friend make his way onto the bench. This is his favorite spot in the entire home.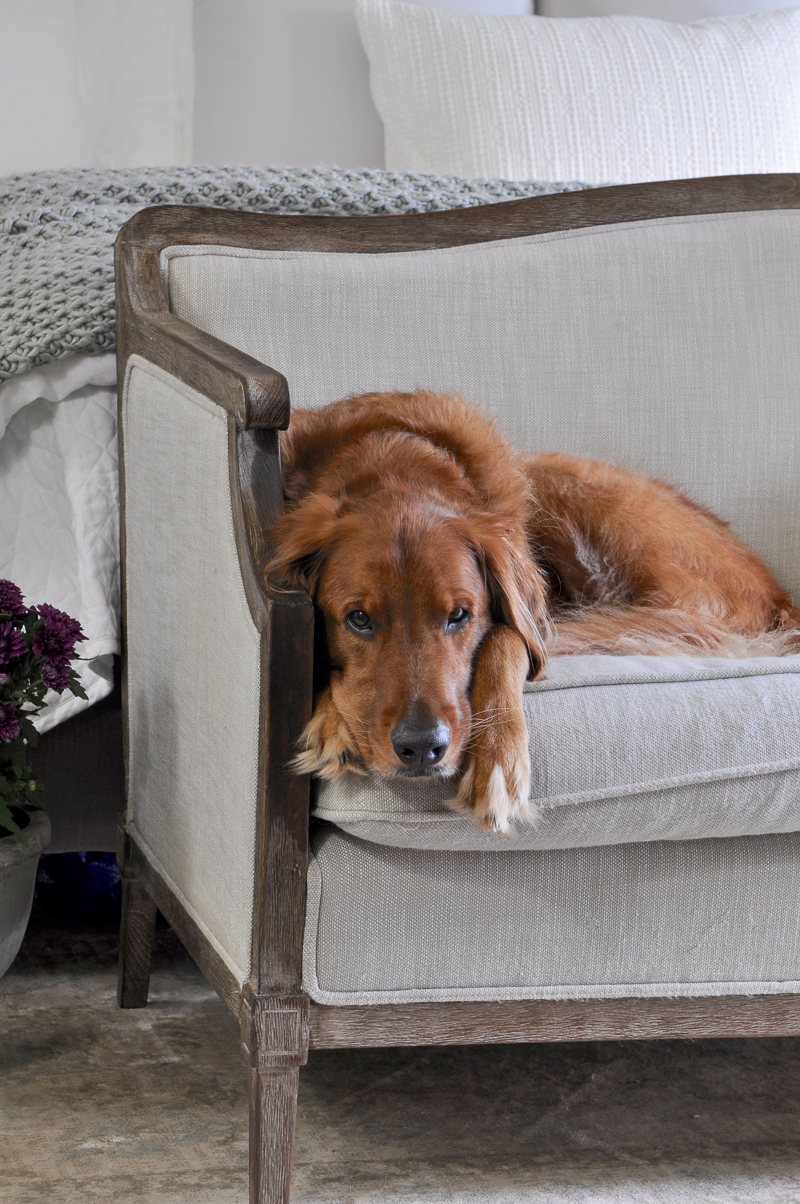 My formal dining room is my last featured space. There is no better time of year to think about beautiful tablescapes than fall, just before the holiday season is upon us.
I started with this cute velvet pumpkin which I fell in love with as soon as I found him.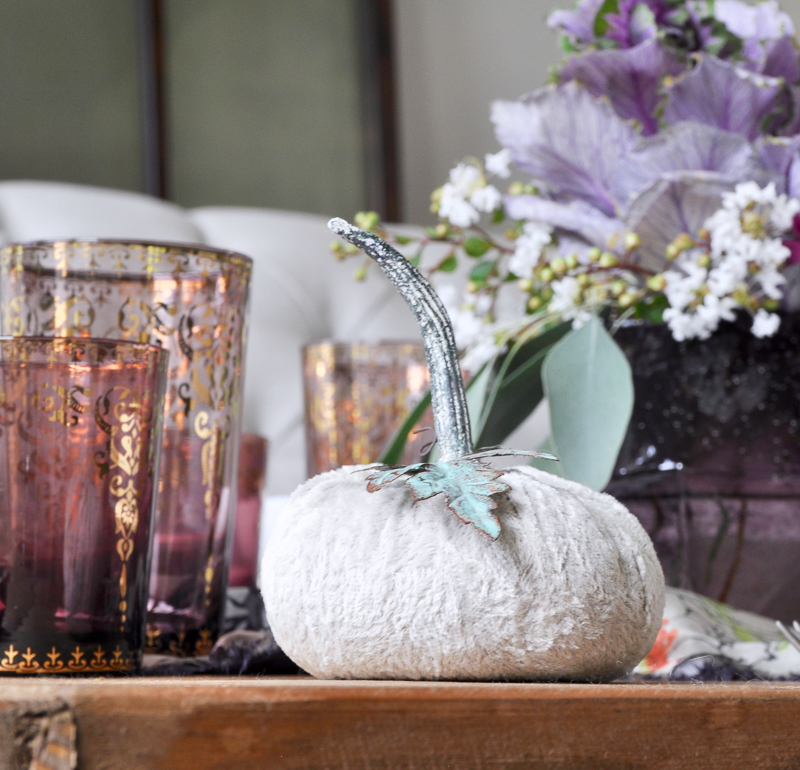 I also added this scarf to the table. It's actually a fashion piece, so I'll be able to use it over and over again.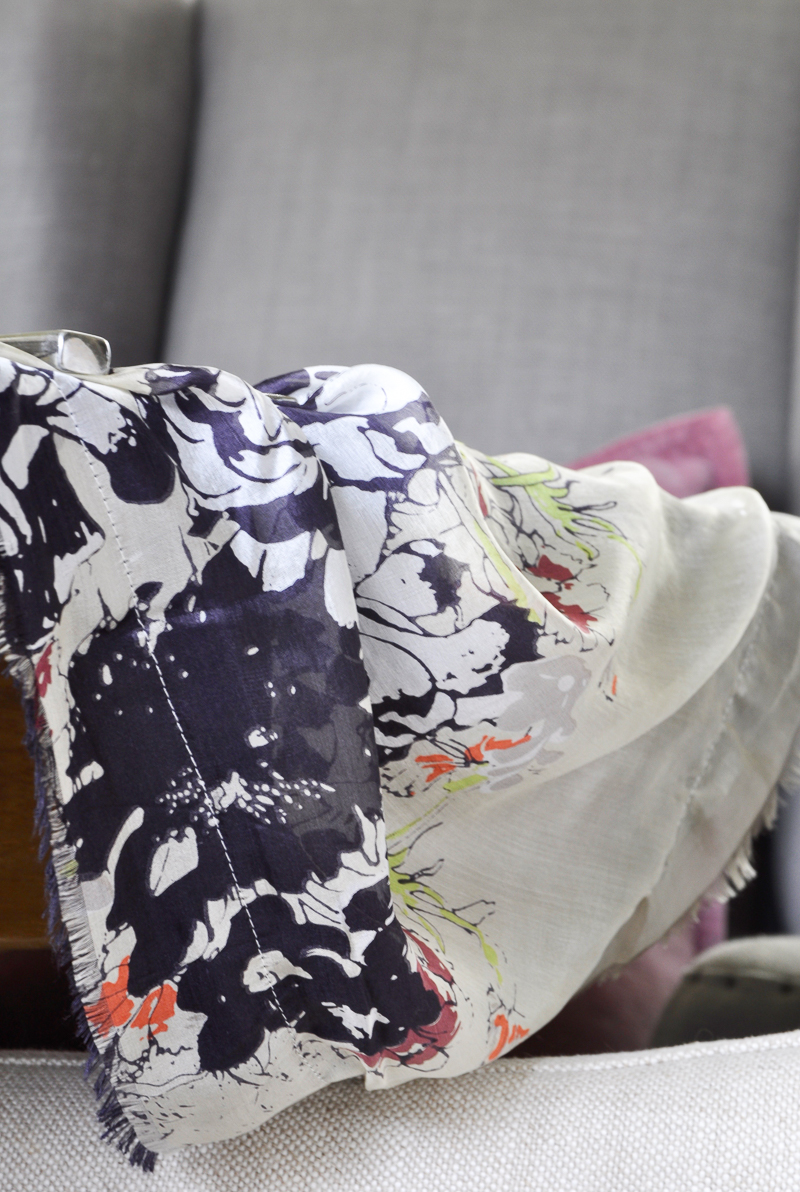 And of course, I added purple. Any color can be added which is one of the reasons I chose a predominately neutral color palette when designing my home. This fun vase started my purple crush this fall.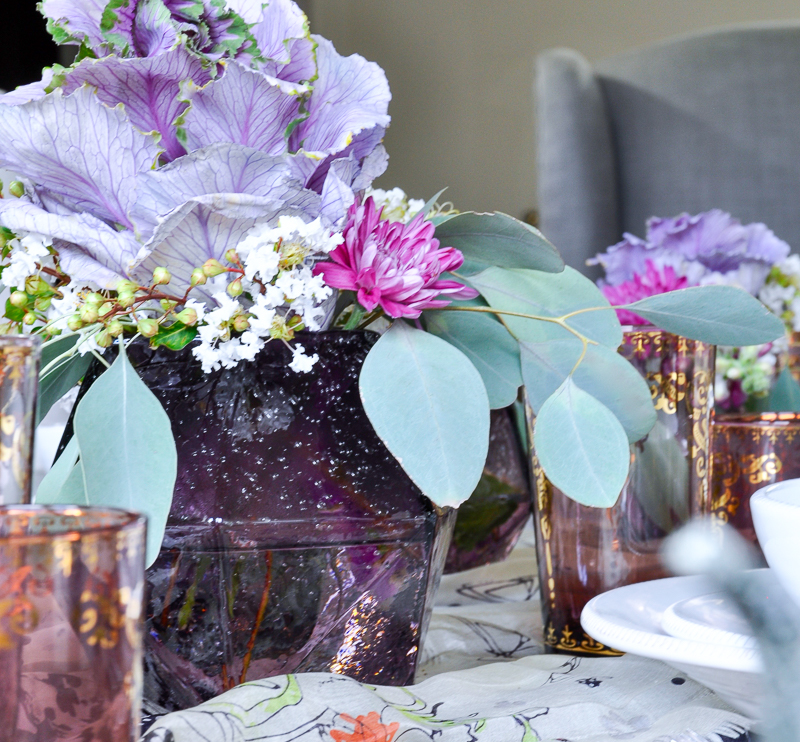 The glassware is more of a plum shade. I used my white everyday dishes in order to allow the gold to stand out. To see my heirloom pieces, click here.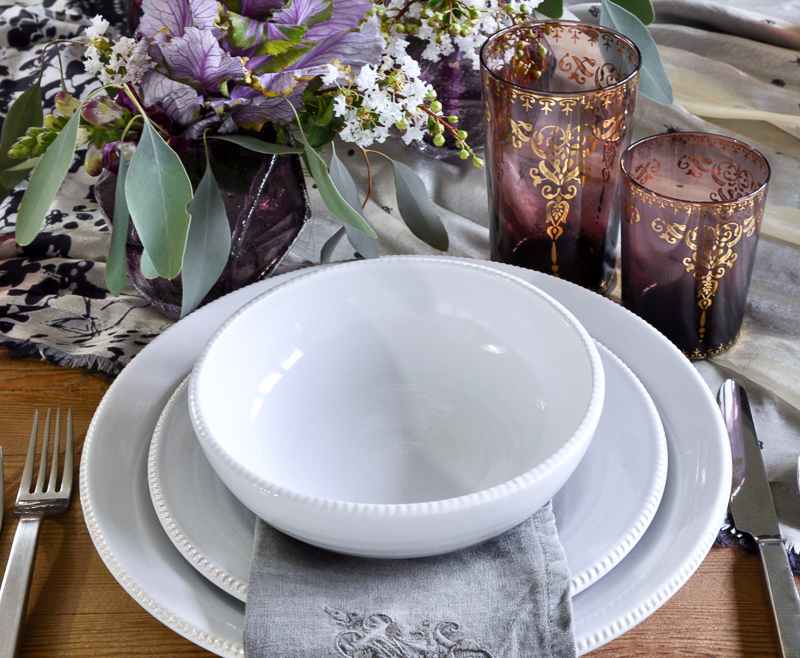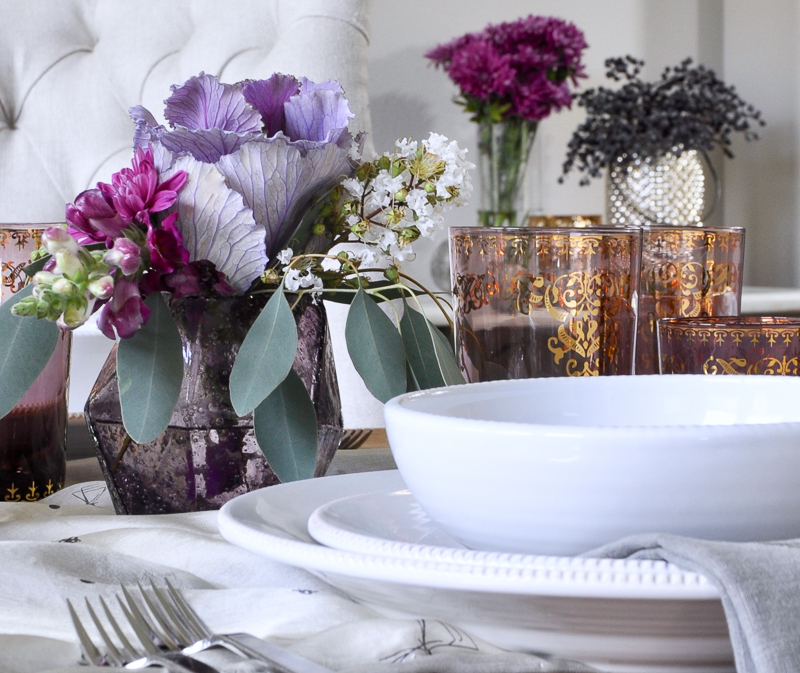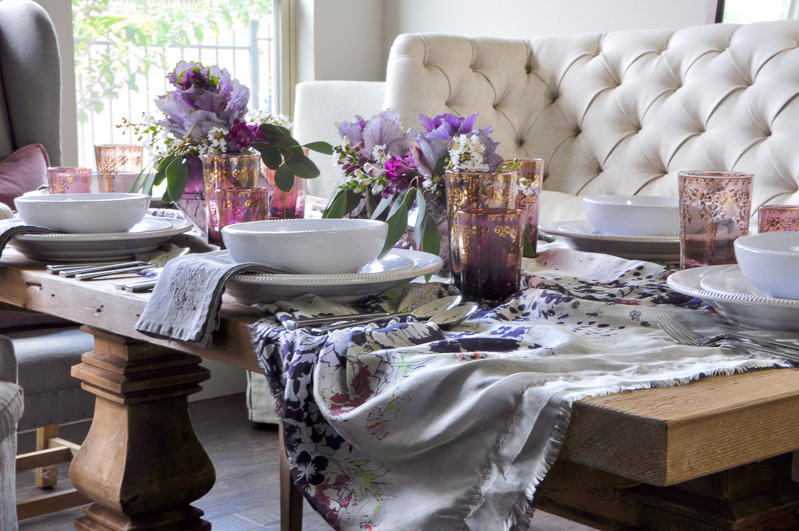 Get the look of my Dining Room

Just a few more accents…..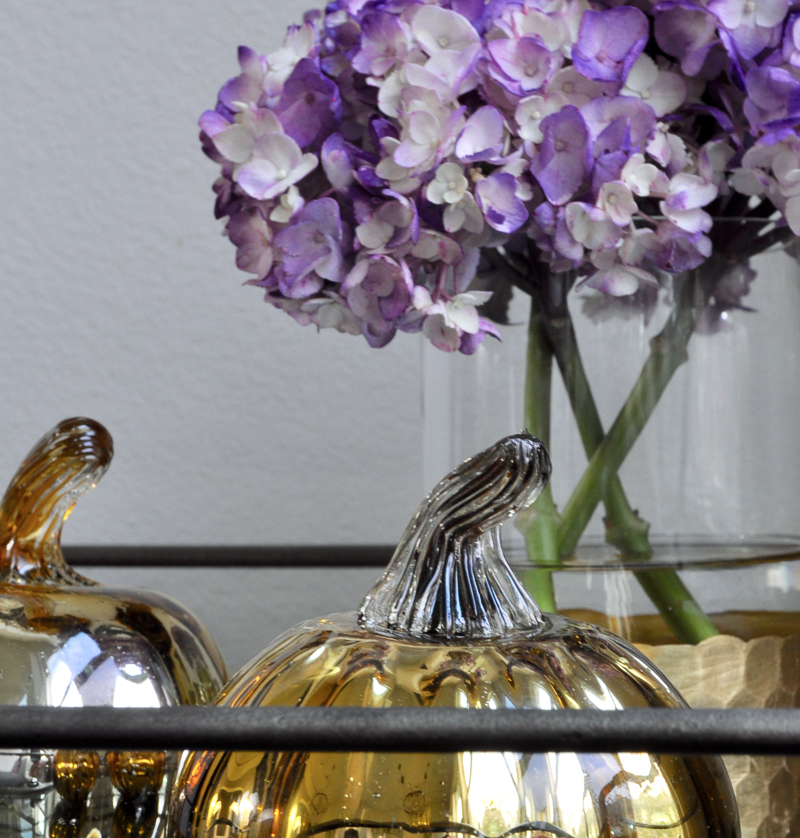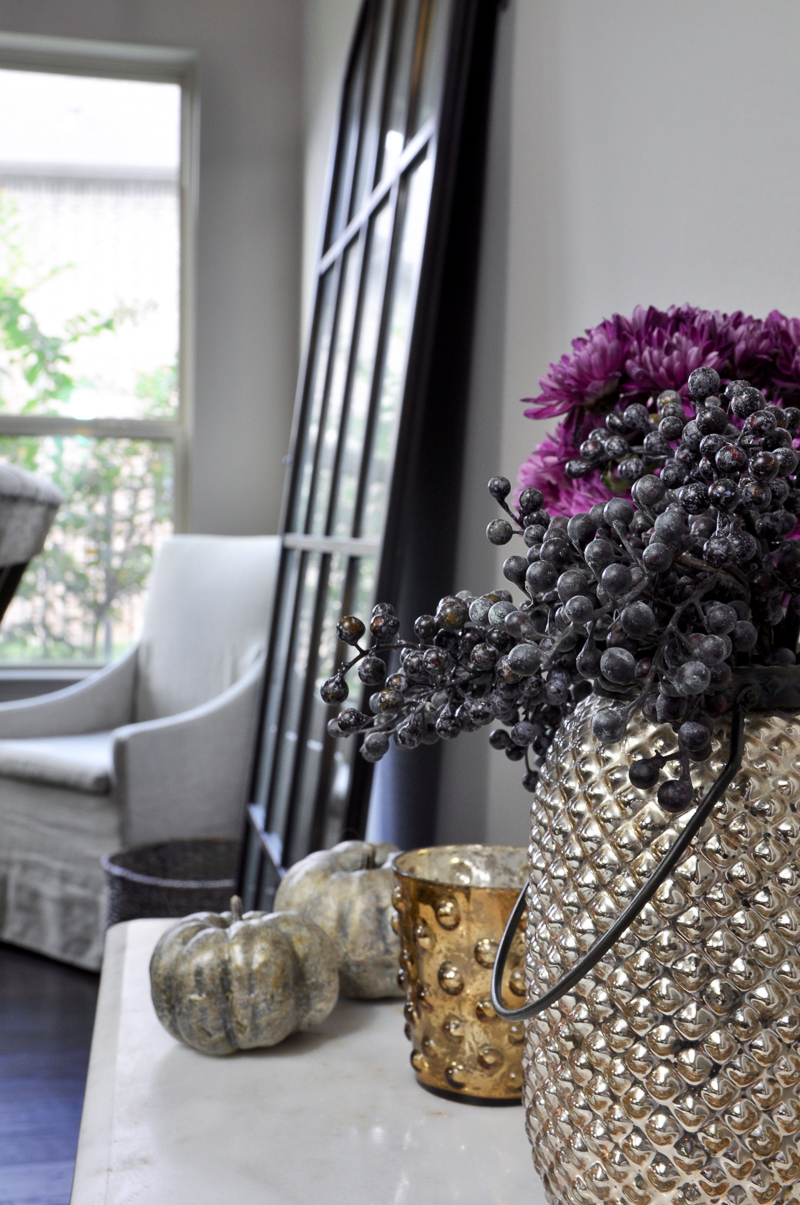 Get the look of my Fall Accents

For additional information, please visit my sources page.
Thank you for visiting! I truly appreciate the time you have shared with me here. If you would like to see more of my home decorated for fall, you can do so here and here. You can also see my fall patio here.
Next stop, Driven by Decor! Kris has outdone herself with the most beautiful natural elements and unique ideas. Don't miss the gorgeous basket of sunflowers in her home office!
Below you can find links to all of the talented bloggers participating in the Simply Fall Home Tour. Just click the image to go directly to their tour. Enjoy!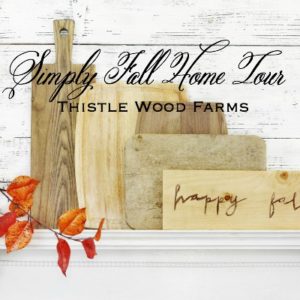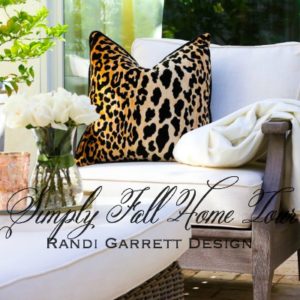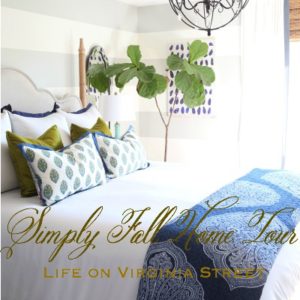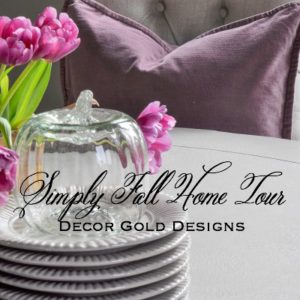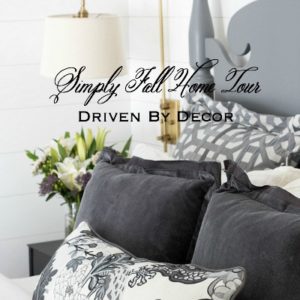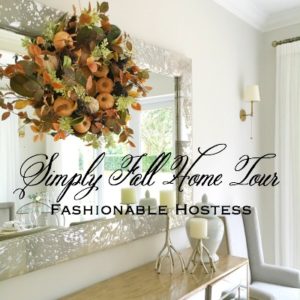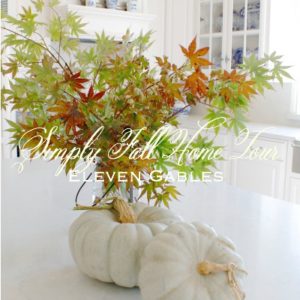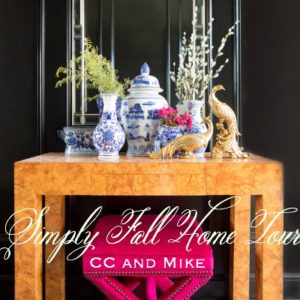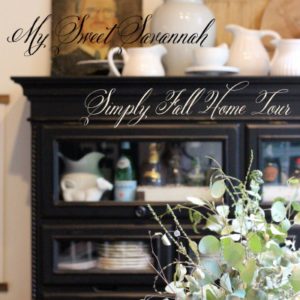 *This post contains affiliate links
*In some cases, substitutions have been made for items linked