Our master bedroom has gone through multiple updates and refreshes over the years. I must tell you though, I've never been as excited about one as the one that is so close to being complete!
I have been planning this makeover for at least three years...kind of. Perhaps a better way to say it would be, "I have been dreaming of a master bedroom makeover"!
The creative side of my mind gets pulled in so many directions. Of course I love to be creative I was struggling to come up with ideas for my master bedroom.
*This post contains affiliate links. Disclosure here.
Recently, I have done full room makeovers in these spaces:
Somehow, our bedroom just got small updates rather than an overhaul…… UNTIL NOW!
Here is the original look of our bedroom. Everything you see here is at least 9 years old. The upholstery on bed had faded and was uneven in spots. The drawers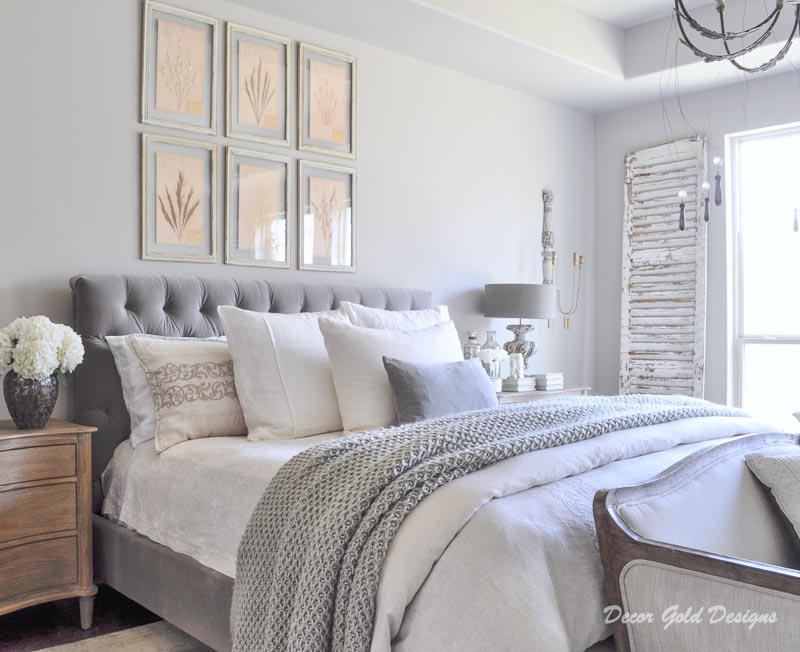 A few years ago, we painted the room white to flow with the remainder of our home.
We continued to make one or two changes at a time. Then, about a year ago, we gave our room a bit more of a refresh. For some items, we "shopped" our house and added a few furniture pieces. The nightstands, lamps, drink table, all came from other rooms within our home.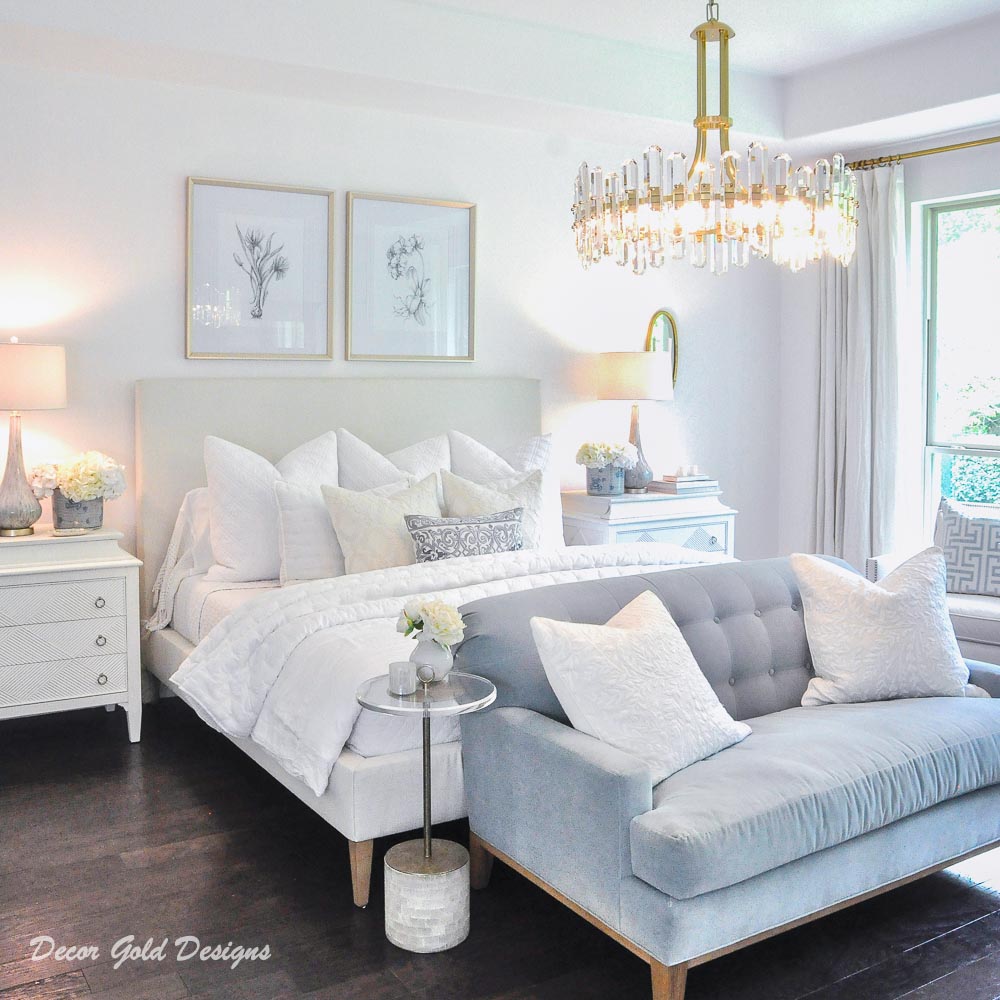 I still really like the furnishings we added during our last refresh, but I wanted a full, comprehensive update this time, so I decided to start over and used the pieces elsewhere.
Our bed has nice clean lines and will go in any bedroom, so I plan to move it to one of our guest rooms once I purchase another king-size mattress for it.
These nightstands were borrowed from our white guest room until I was able to find new ones for this space. I still love them so much. They have such great details and I think they are quite fitting in either space.
We also had a loveseat in our room. The fabric color ended up being a little different than I wanted, so I am going to have it recovered and use it across from our bed rather than at the foot of it.
Lastly, we have used two different pairs of chairs in our master. One pair was borrowed from our living room, where they now reside again. The other pair is temporarily in our living room as well.
Master Bedroom
For this bedroom update, I worked with a very talented designer (and now friend) Jenny Tamplin. Jenny has excellent taste and did a phenomenal job. She offers E-design and consulting services and I highly recommend her. In fact, I recommend ONLY her because she is incredibly creative and capable. Jenny brilliantly designs rooms in multiple styles and WILL do an amazing job for you!
I'll be sharing much more about Jenny and the process soon. In the meantime, you can contact her here.
Jenny also owns Coterie Home, an online source for all of your home decor needs. Coterie Home also has a storefront in College Station, Texas.
Now for the updates that are coming soon in our master bedroom project!!!
Wallpaper
Jenny recommended adding wallpaper to the bed wall. Expect something neutral, beautiful, and very high quality!
Bed
We selected a new bed with more gorgeous details than our previous bed. I am in love with it and can't wait for you to see it!
Art
Jenny found the most amazing artist, Katherine Freeman. Katherine created a gorgeous piece for us that is going to be the focal point of the room! It adds more to the updated space than I possibly could have imagined!
Katherine's style is absolutely perfect for our master bedroom project. We were able to work directly with her, which was a dream.
"To instill feelings of hope and happiness with her art; hoping to create pieces that are cherished and can be passed on for generations to come." This is Katherine's mission. I love it and feel that she is achieving her goals with each beautiful piece she creates.
Bench
We had several options in mind for the end of our bed. We decided to order a bench, which I love!
Nightstands
As I mentioned above, the nightstands we were recently using were borrowed from another room. The new nightstands Jenny selected are the perfect size and shape. They offer a pop of color as well.
Lamps
I am thrilled with the nightstand lamps & another lamp for a side table that we will be adding.
Chairs
Leather chairs in blush (a very neutral blush) will add flair and sophistication to our window wall.
Side table
Jenny found a darling round side table that coordinates perfectly with the leather chairs.
Window treatments
For the windows, Jenny designed custom panels with fabulous trim.
Bedding
We have several classic white pieces that we will continue to use. A new icy blue coverlet and shams and some fabulous pillows will provide a wonderful updated look.
Rug
I have been functioning without a rug for a long time. A stunning new silver rug was well worth the wait!
Chandelier
Our glam chandelier was added just a few months ago. I got it with this makeover in mind, so I can barely wait to see it with all of Jenny's selections!
Accessories
Here are some of the accessories from Coterie Home that I plan to included!
Floral Pillows | Animal Print Pillow | Ming Trail Pillows
Tray | Peonies | Photo Frame | Book Storage Boxes | Bowl
Blush Quartz Frame | Gold Pot | Crystal Accessory
A few peeks into the space can be seen below! See you back here for the reveal!!!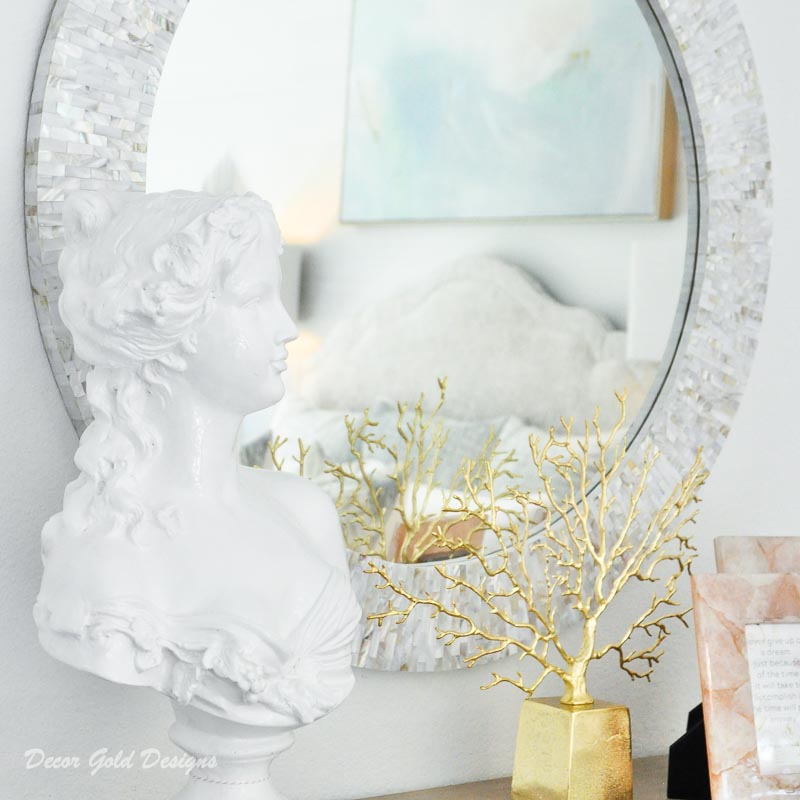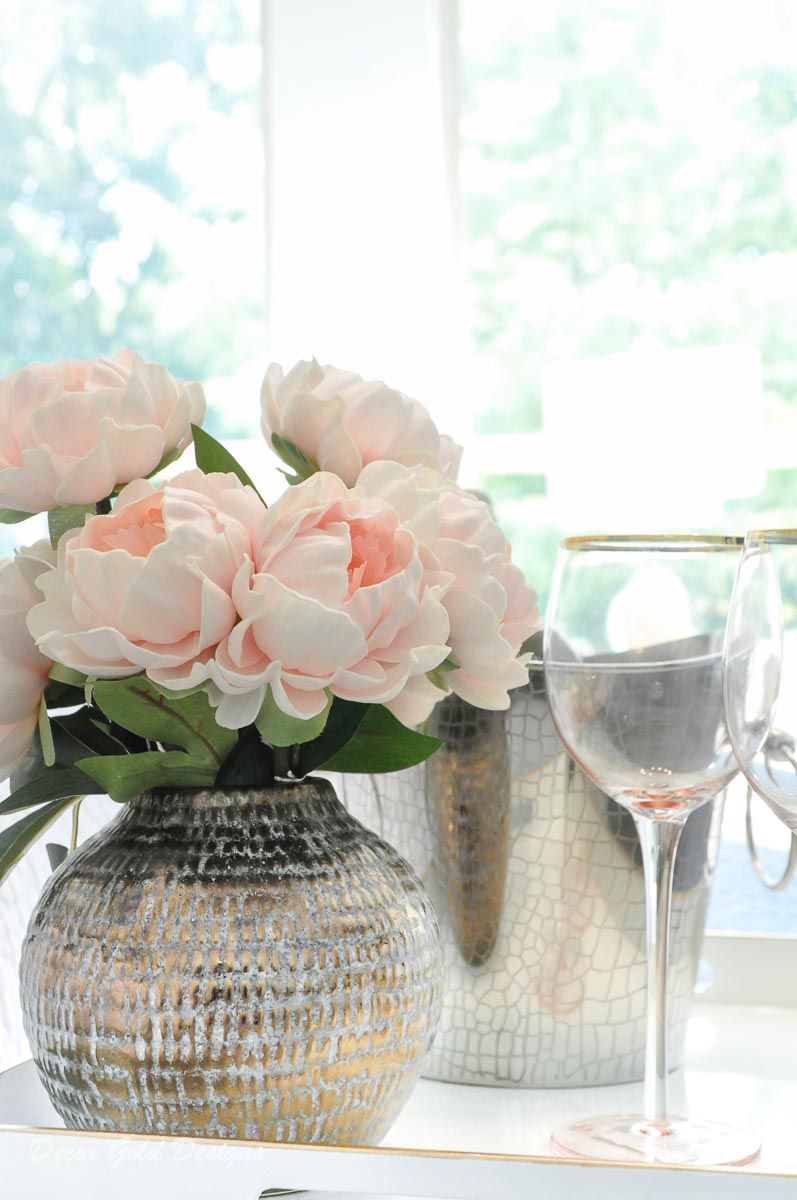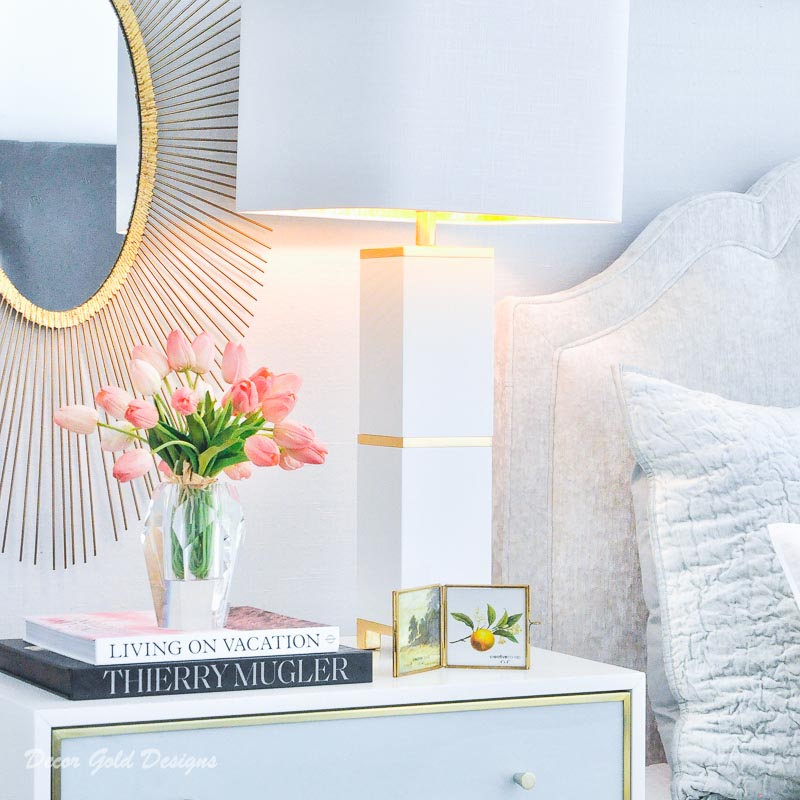 Don't miss the full reveal!
Click on the Image to Subscribe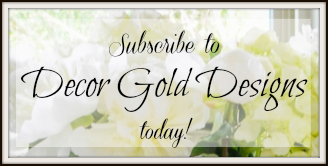 SOCIAL
Instagram | Pinterest | Facebook
Follow me on the LIKEtoKNOW.it app!