Every year I love the Fall Home Tour. And each year, at the first sign of cooler weather, I am immediately drawn to begin giving my living room this much anticipated seasonal makeover! It takes a bit longer for fall to arrive in south Texas, but still, I decorate as soon as possible.
Fall reminds me that the holidays will be here soon. And it reminds me that my family will also soon gather. It is truly magical and I look forward to it every year.
Are you ready to see my Fall Living Room? Let's start with the mantel!
*This post contains affiliate links. Read our full disclosure here.
Mantel
Last year, I used beautiful soft blues in my living room and absolutely loved the look. Adding some gorgeous blues again made sense, but I wondered how could I make them seem new this year for my 2020 fall living room.
My solution……. beautiful panne velvet pumpkins in brass. They compliment the ice blue panne pumpkins and provide warmth to my all-white mantel.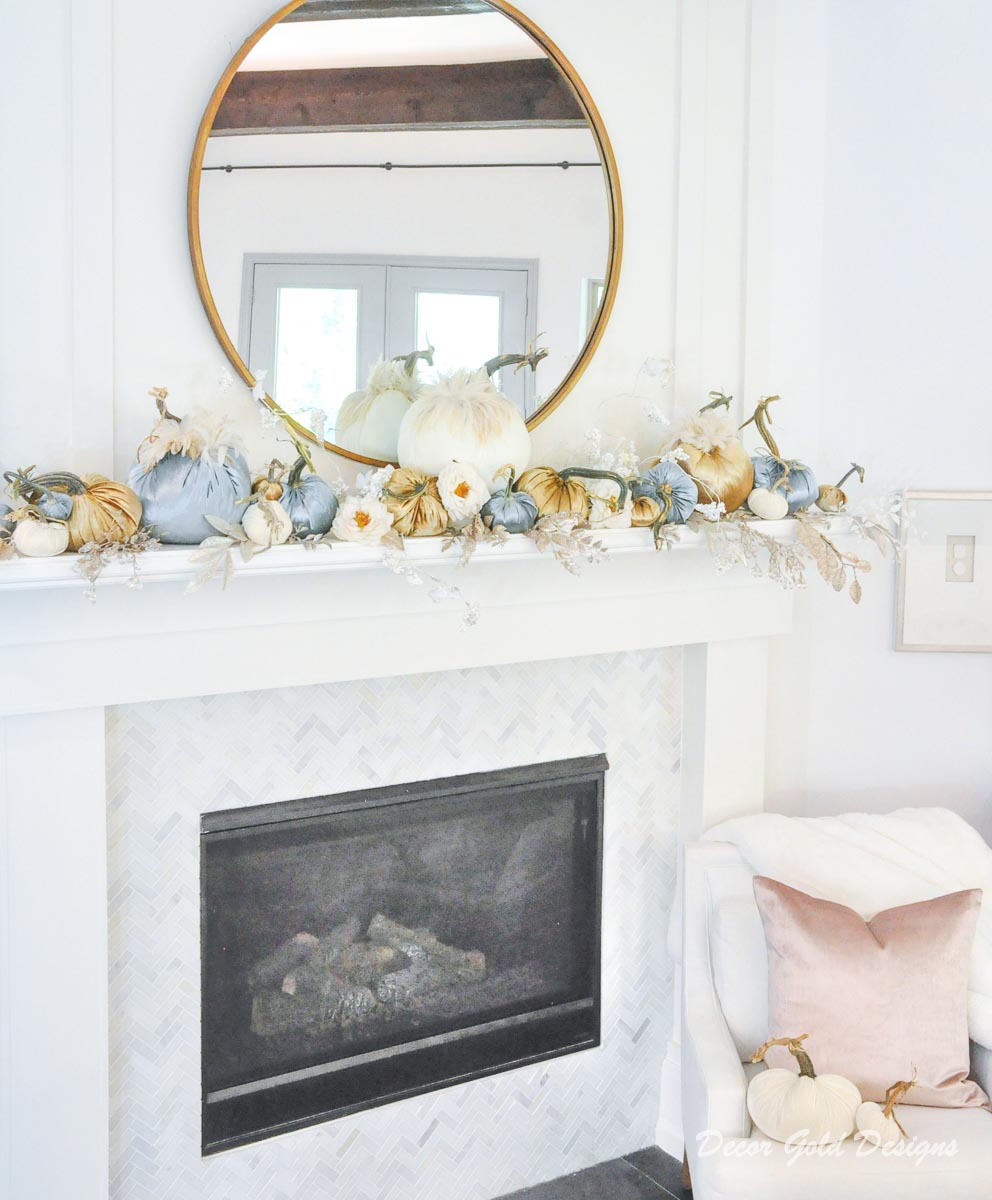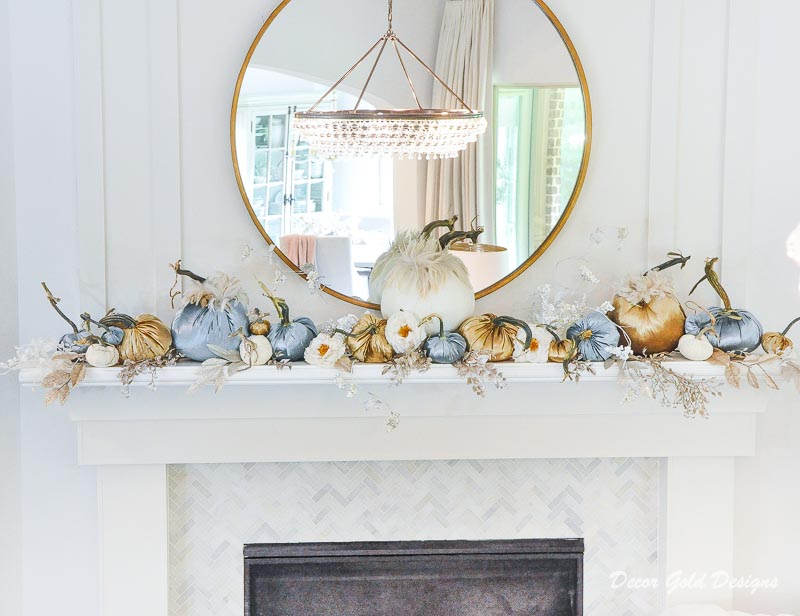 My sweet and extremely creative friend Daria of Hot Skwash is the artist behind these gorgeous pumpkins. I am thrilled each time I am able to add to my collation. Year after year Daria exceeds my expectations with her designs.
The Hot Skwash Vision:
"To create the highest quality collectible art that enhances the spirit and energy of your home stands the test of time, and most importantly, invites you and your guests to smile". 
The quality is impeccable, they are artistic and timeless, and everyone who sees them LOVES them!
Vision achieved!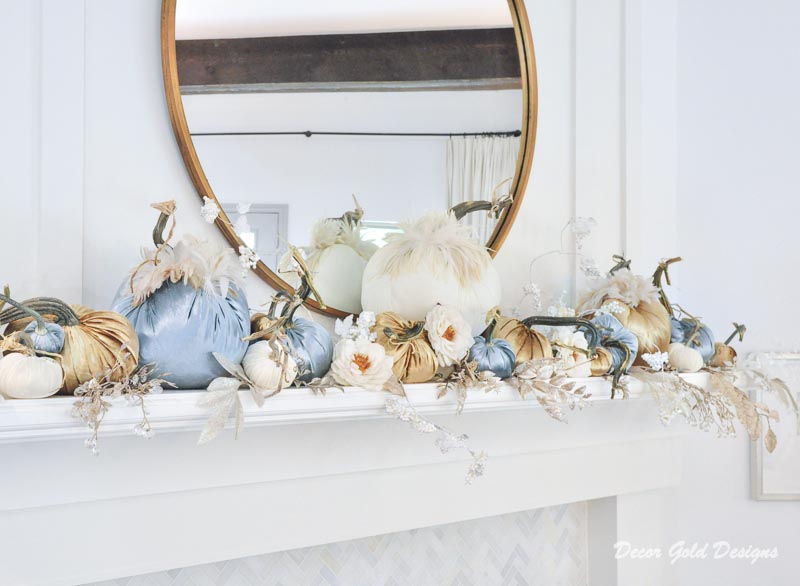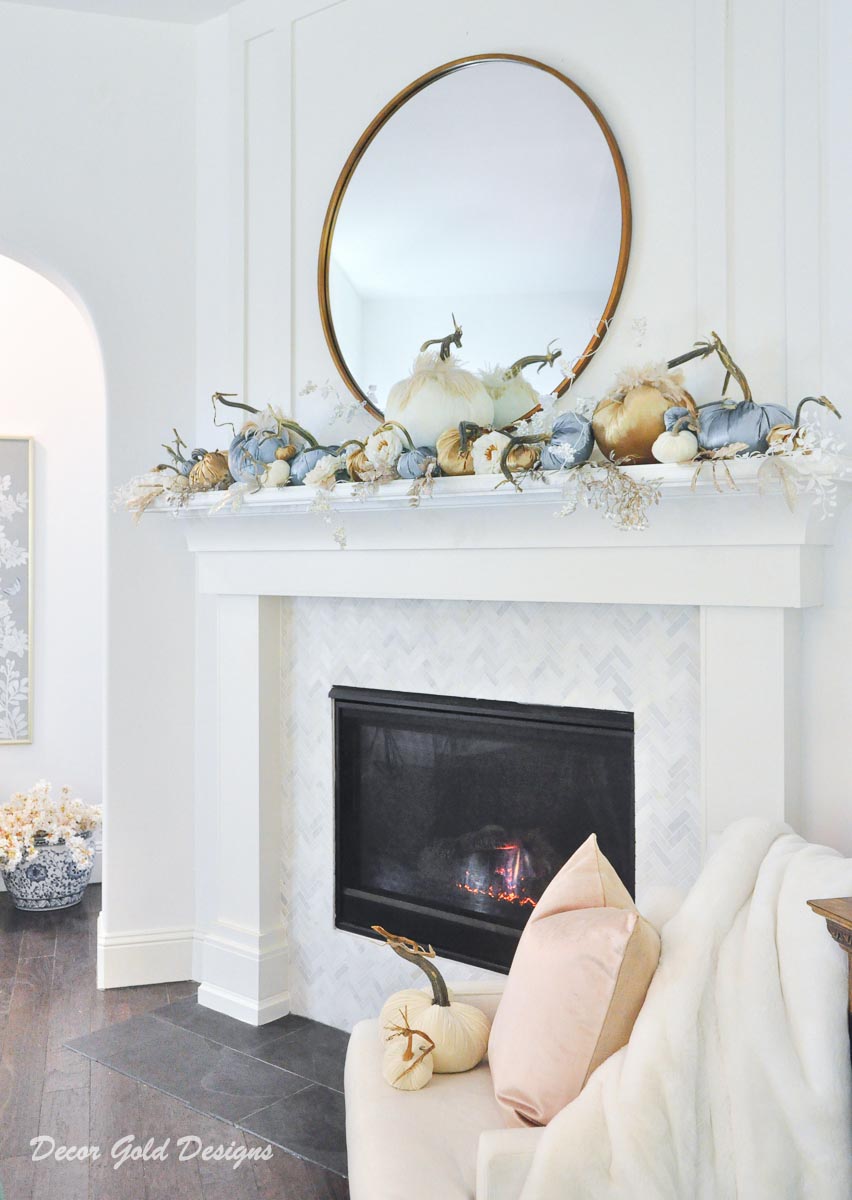 For additional interest in this space, I love to move a chair close to our fireplace. This year, I added this beautiful velvet pillow and a white faux fur throw to make this spot extra cozy.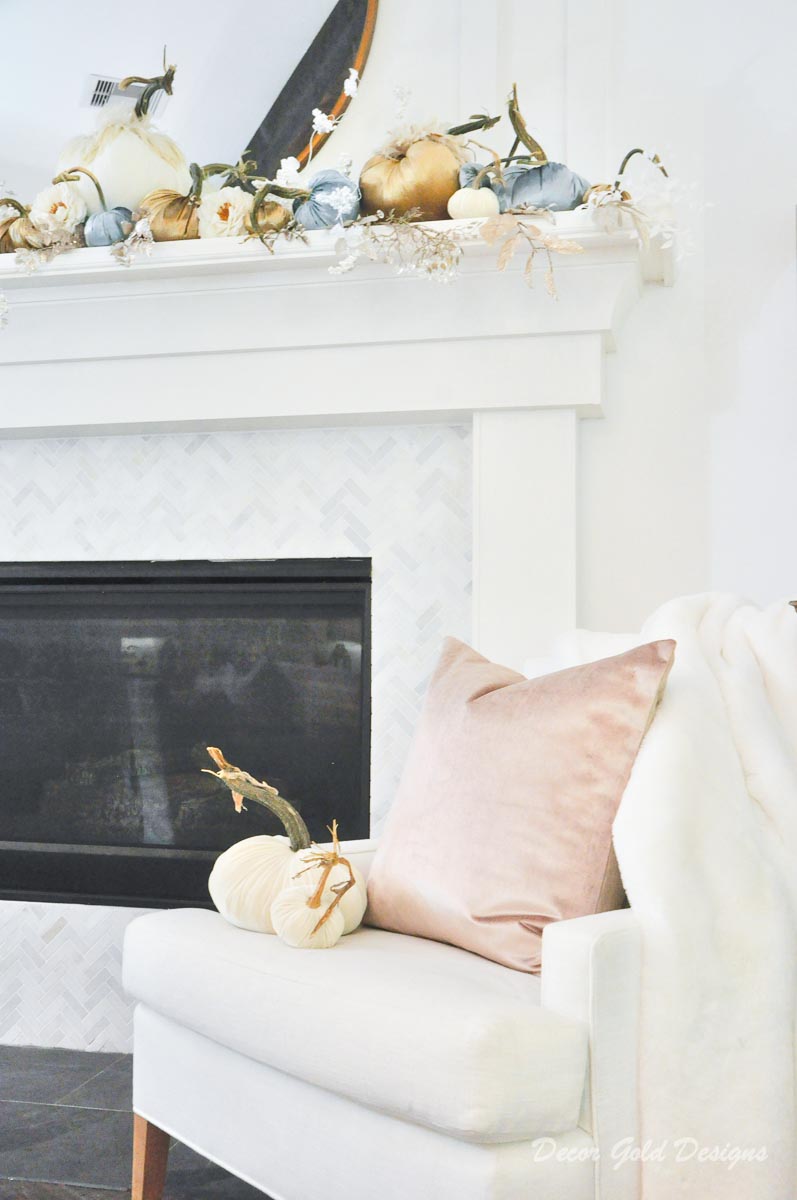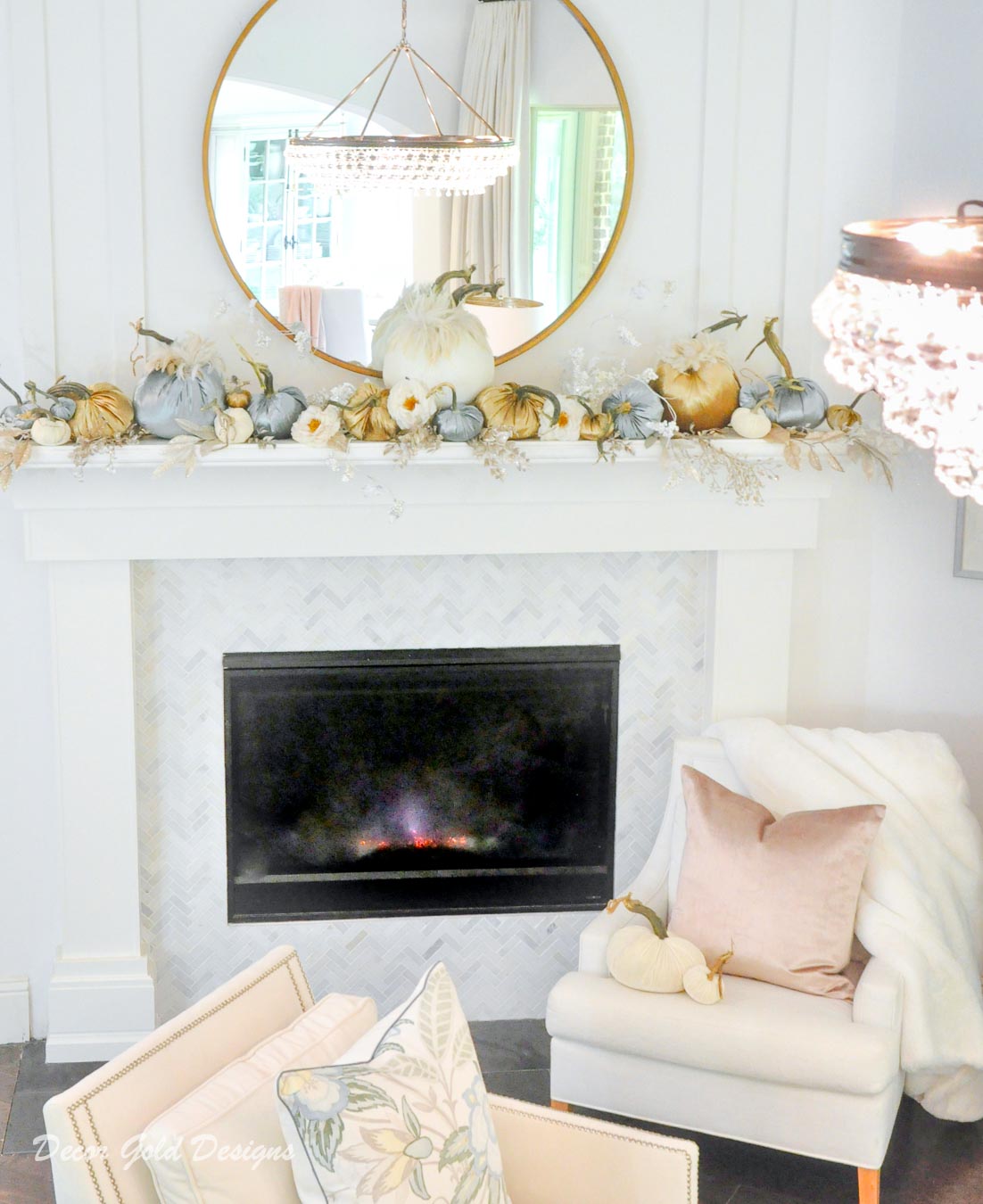 This area was easy to style. Want to create a mantel look like this in your own home? Let's start with the pumpkins.
10″ white with feathers
8″ ice blue panne velvet with feathers
8″ brass panne velvet with feathers
6″ ice blue panne velvet (2)
6″ brass panne velvet (2)
Fill in with smaller velvet pumpkins, white flowers, and champagne faux sprays as needed
My mantel is longer than average, so be sure to adjust quantities for your home.



Living Room
As I've said before, my beautiful, artistic Hot Skwash pumpkins are my favorite fall items. I cherish them and look forward to bringing them out each year. I love to add other fall details, but the pumpkins truly are the stars of the show and need no embellishments.
Other favorite fall must-haves are candles, throws blankets, and lots of layers.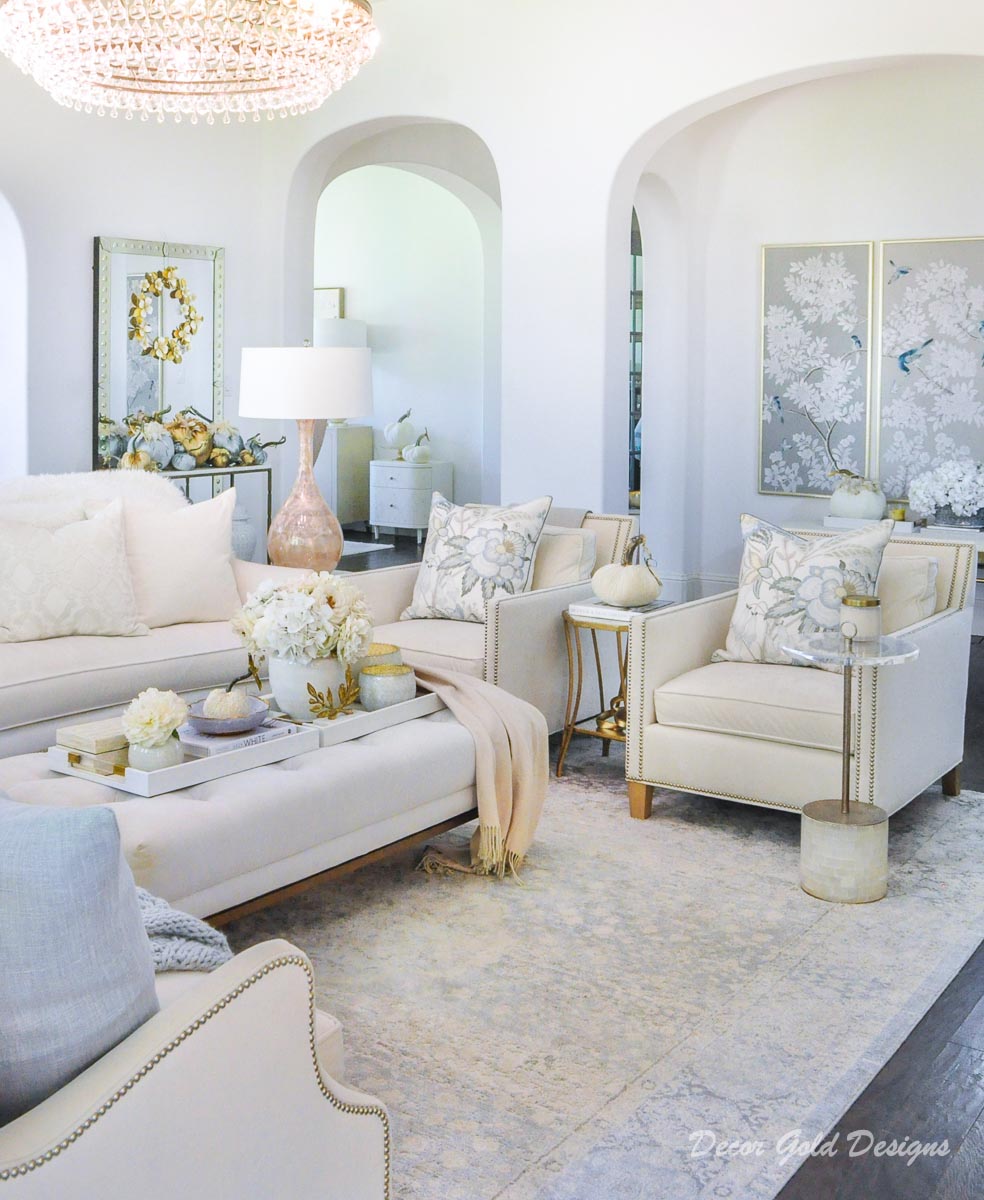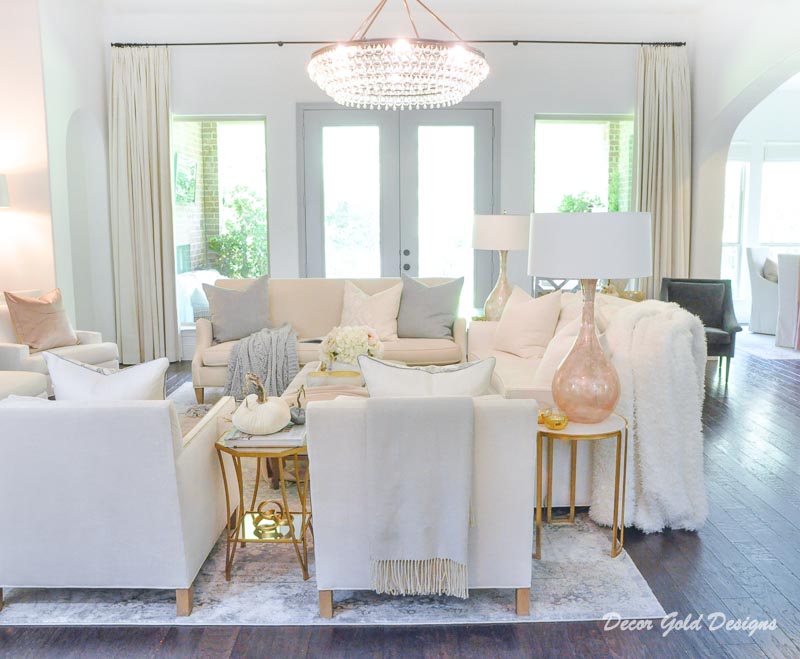 Opting for cozier, more textural throw blankets is my favorite fall layering tip. My fall living room is never complete without my softest oversized blanket.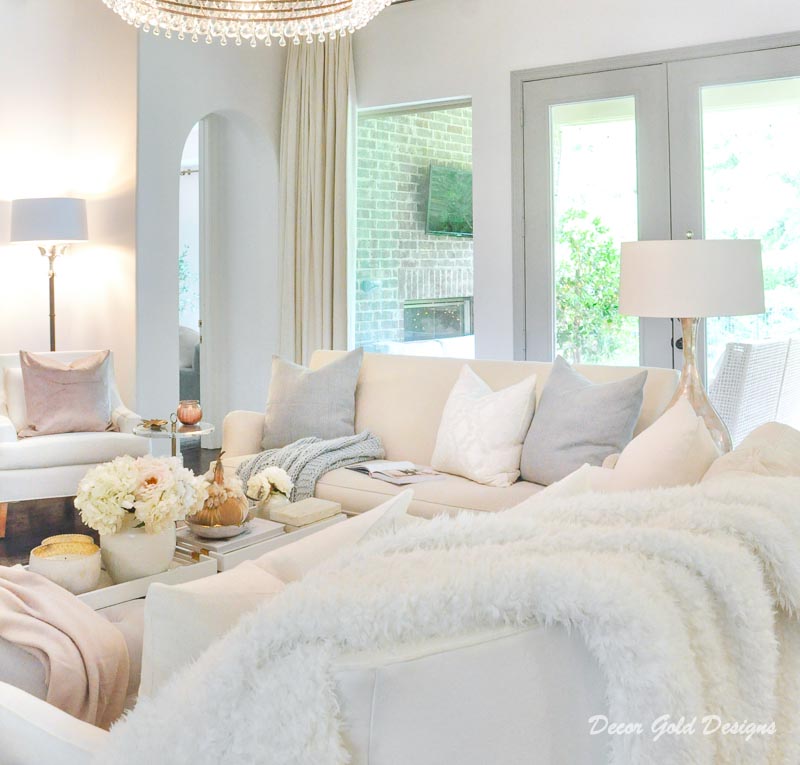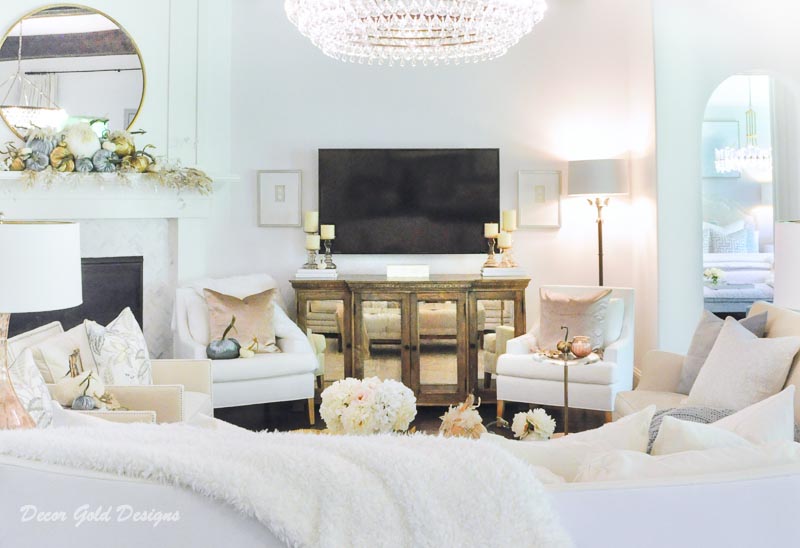 I'm looking forward to snuggling here with Tony and Ava.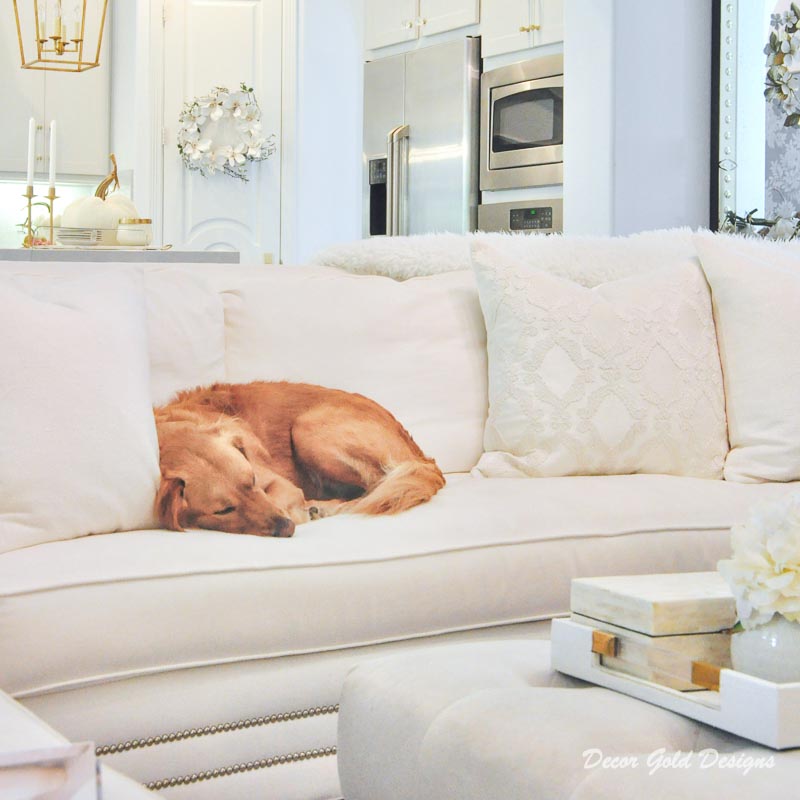 You may have noticed a slightly different mantel arrangement. Decorating with elegant velvet pumpkins is so much fun, I often make small changes throughout the season.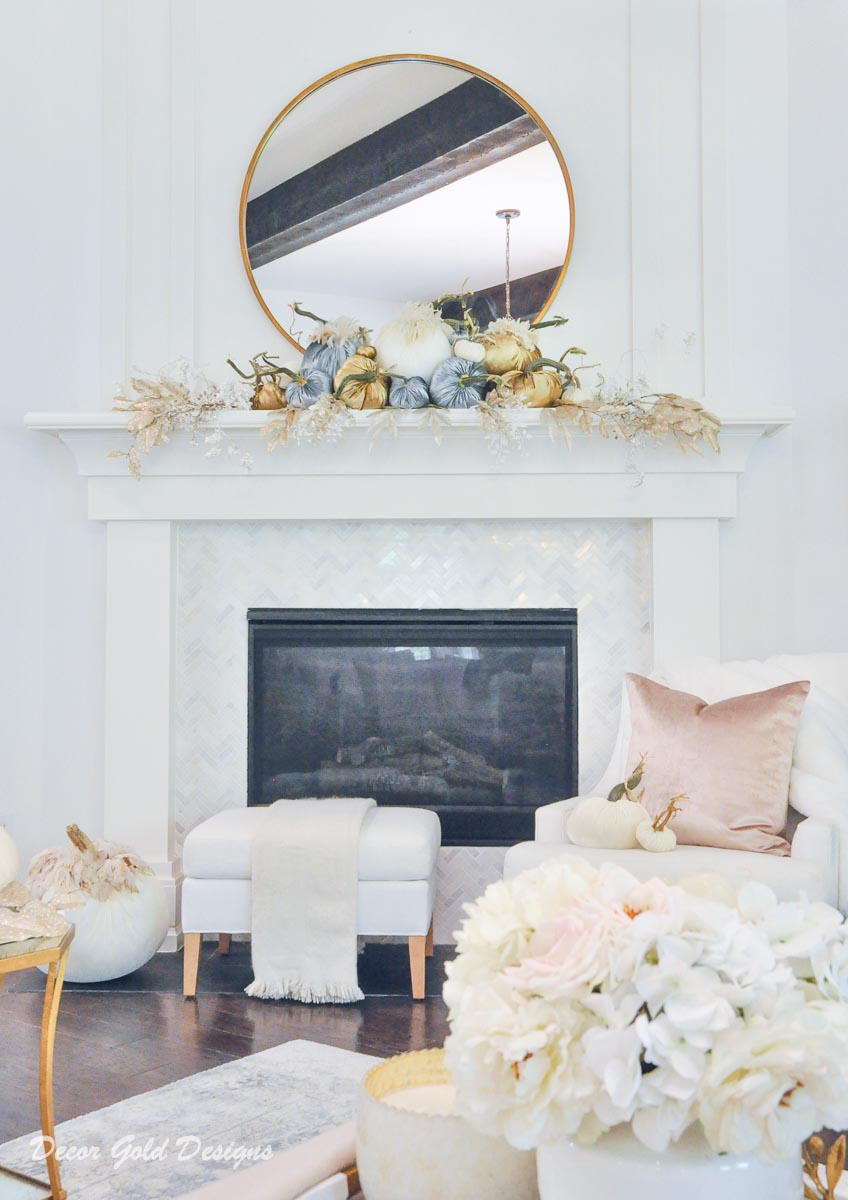 Coffee table styling is simple for fall. One or two pumpkins are all you need!
If you have an ottoman rather than a coffee table, a soft throw blanket is a nice addition as well.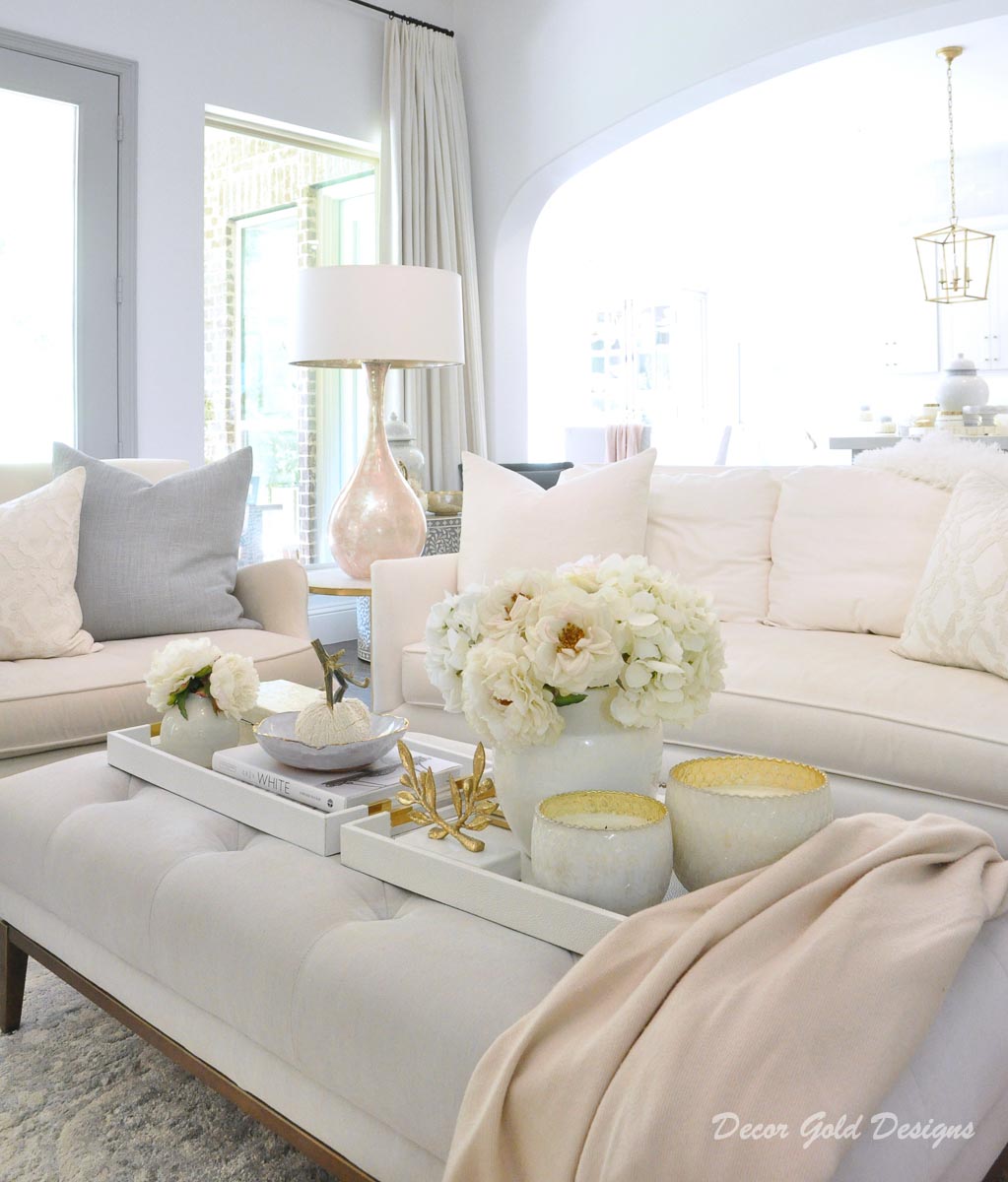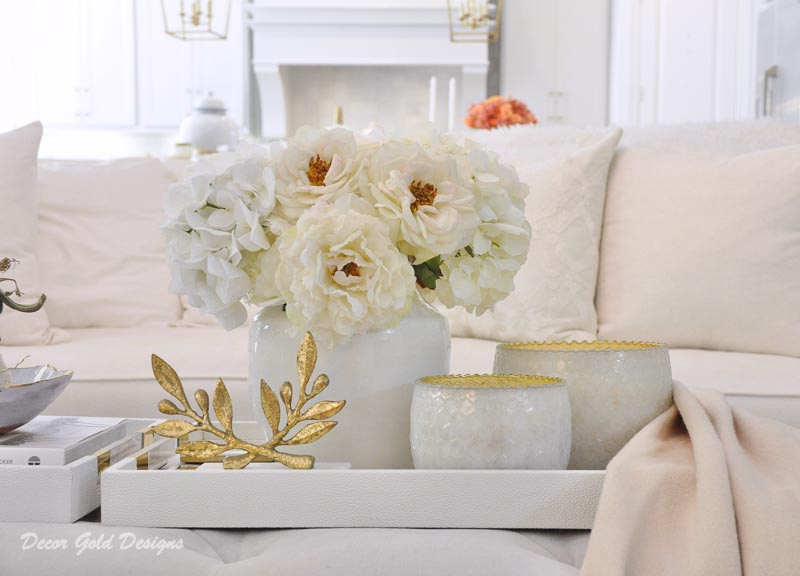 A grouping of just three pumpkins on a side table is so impactful. Here, I have an 8″ white pumpkin, a 4″ ice blue panne pumpkin, and a 3″ white pumpkin with crystals.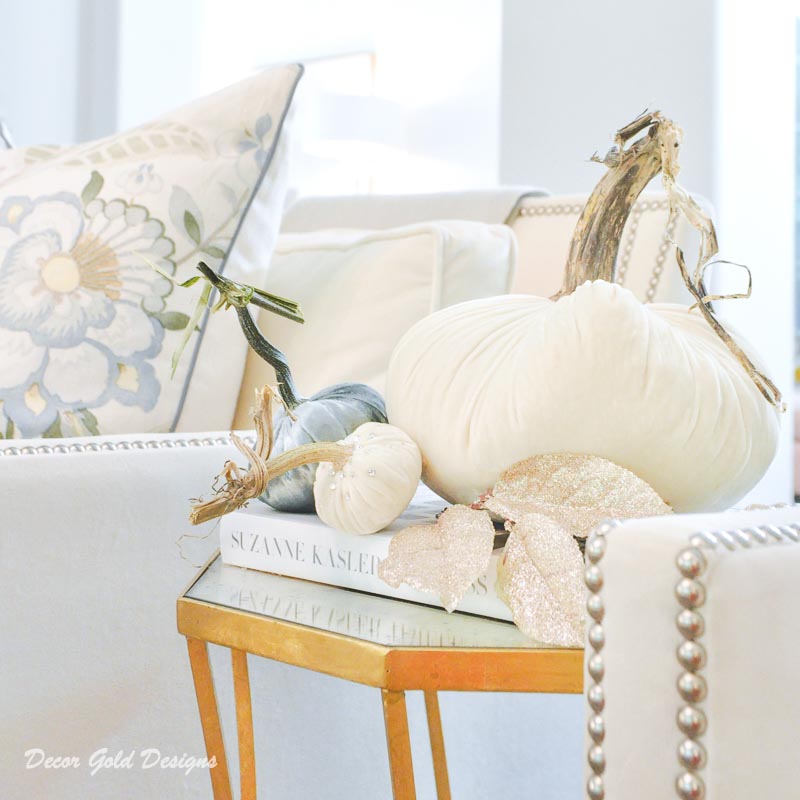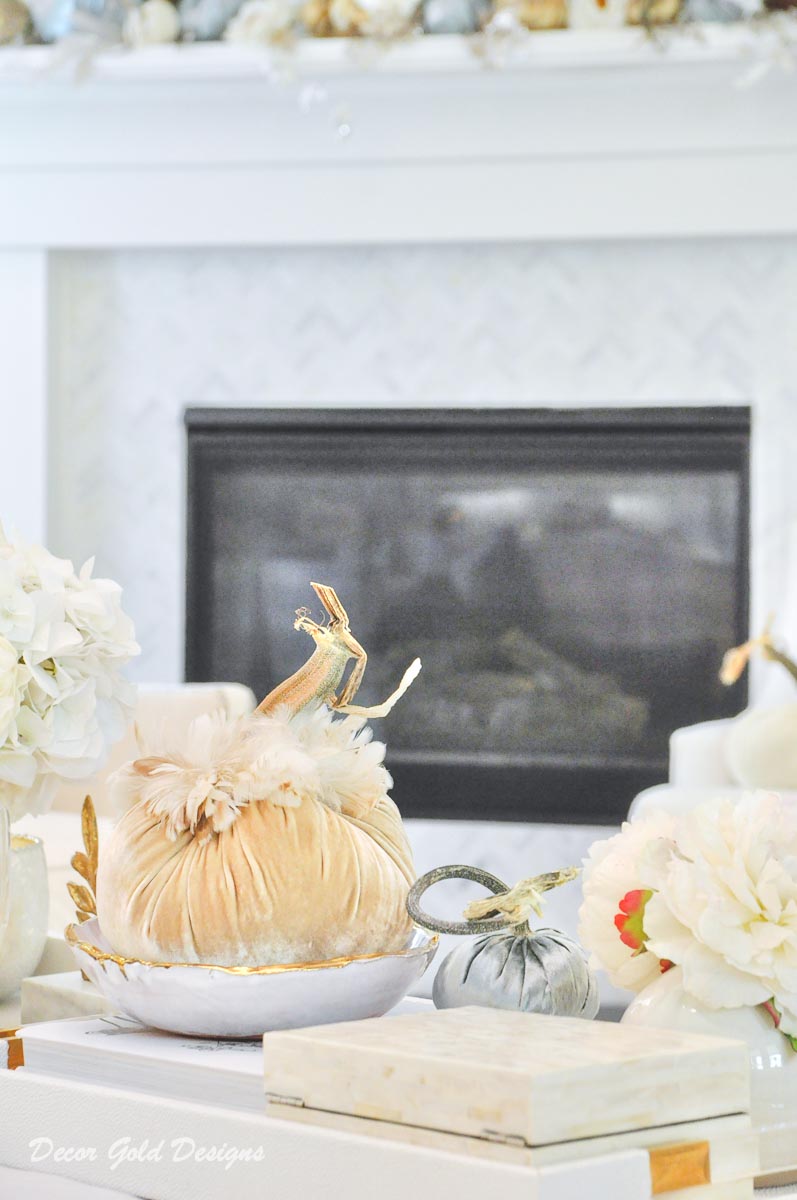 The patterned pillows are borrowed from my newly updated master bedroom (subscribe here to see the reveal). My friend Jenny owns an online store called Coterie Home. She designed my bedroom and the elegant pillows are from her store.
Hall
Just a white pumpkin with feathers and a soft chenille throw gave this small hall a more inviting fall vibe.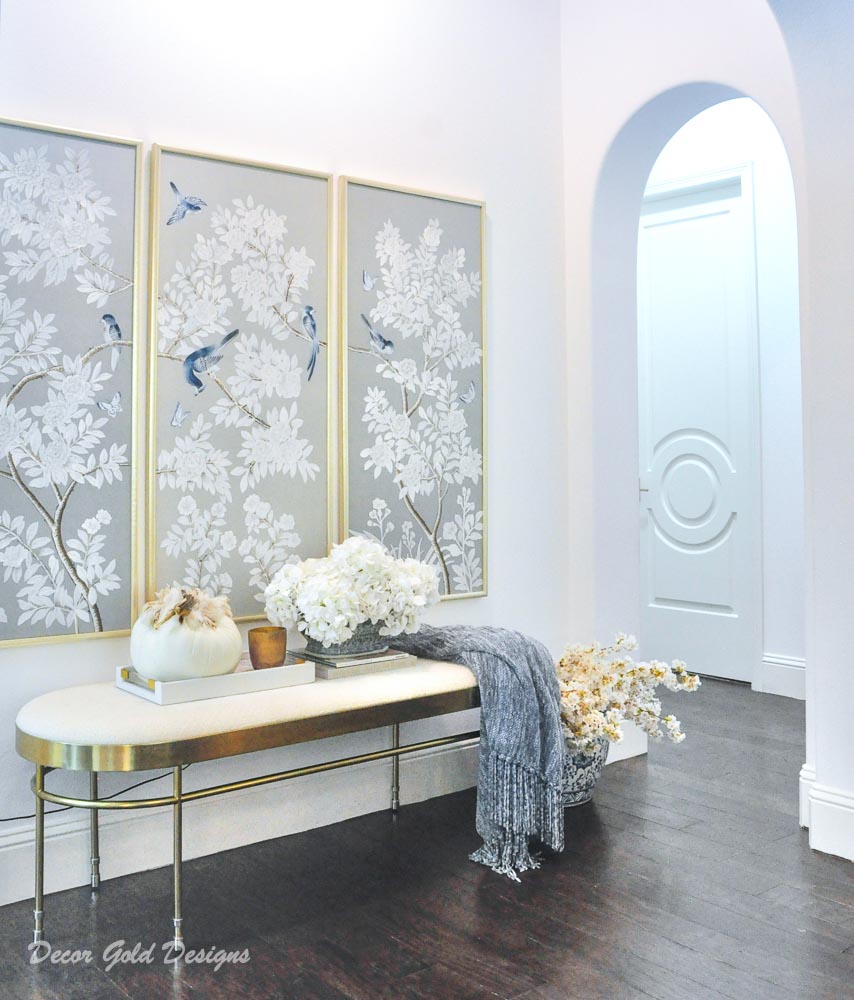 Entryway
This last space is open to our living room. We have a long entryway and it is technically part of it. My console is exactly 40″ wide and I went with the same color scheme as the mantel (opposite side of our living room).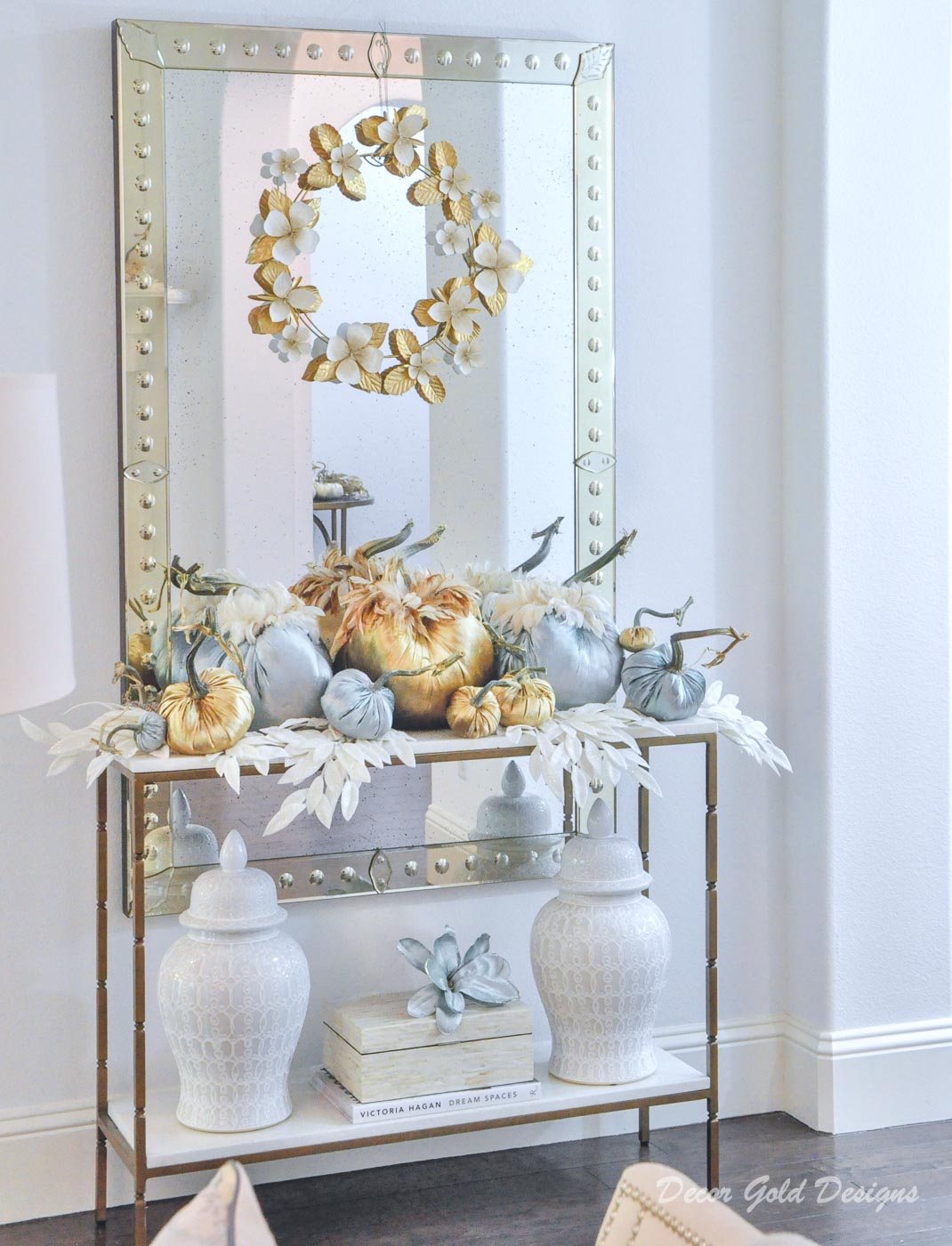 The brass and ice blue are a perfect combination and flow perfectly with our gold kitchen accents.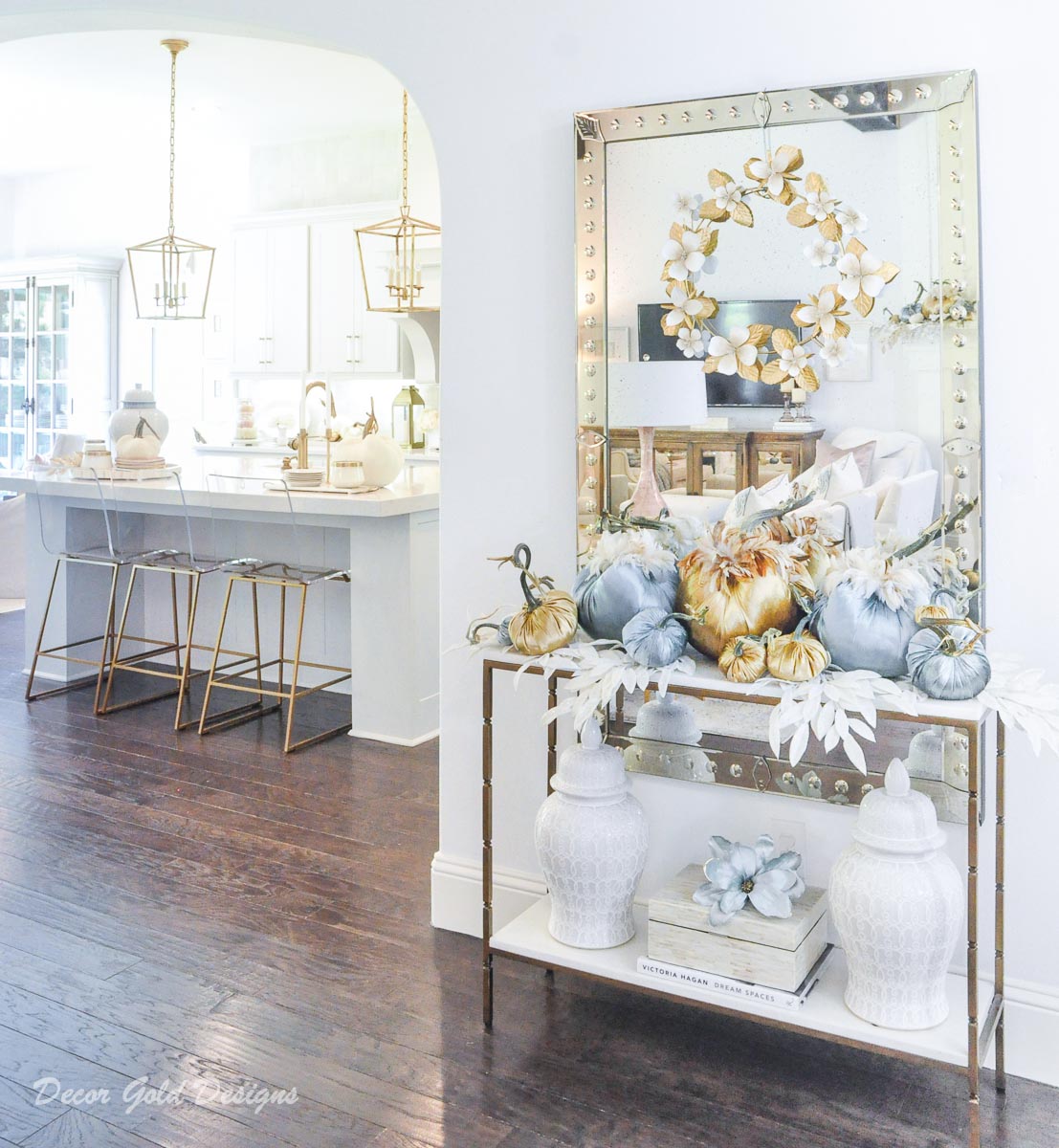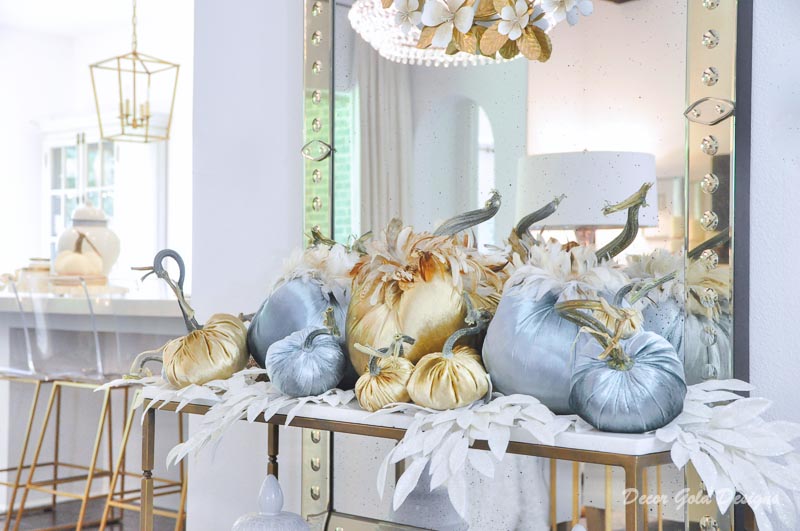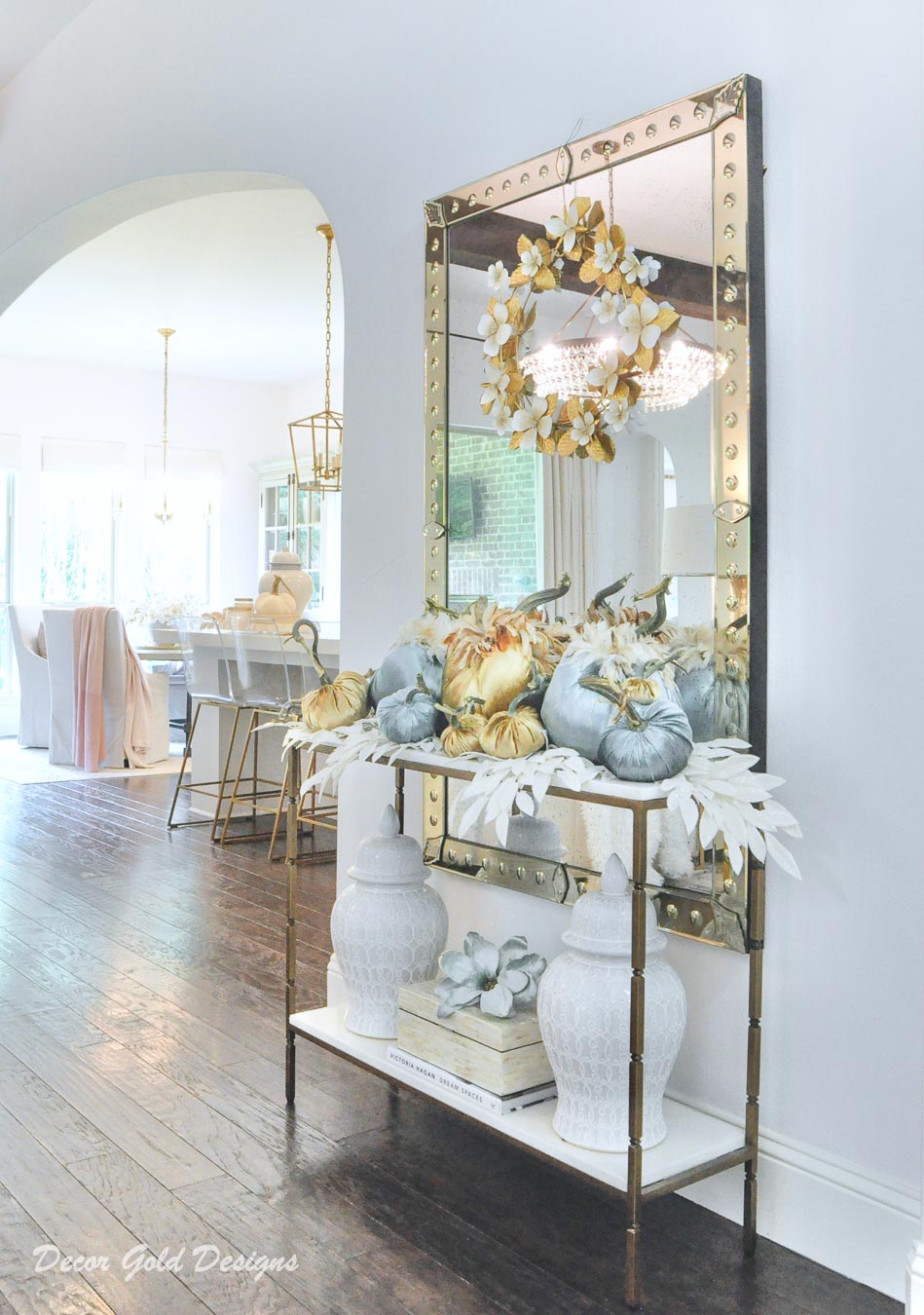 Be sure to visit Part 1 of my Fall Home Tour for much more! I think you'll love the rich and traditional color scheme in my dining room!
ALSO, did you catch the sneak peek of my updated master bedroom above? I'll be shooting the reveal this week!!!
I hope you'll stay connected!
Click on the Image to Subscribe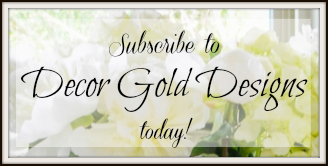 SOCIAL
Instagram | Pinterest | Facebook
Follow me on the LIKEtoKNOW.it app!