Nothing makes your home feel cozier and inviting than a beautiful new rug! Rugs can add color, pattern, and tie everything else together.
When designing a room, I often start with a rug, but new rugs can be added at any point to elevate the look and style of the space. They are a must-have for comfort and livability. An area rug will define your space in the best possible way.
I know there can be some uncertainty associated with rug selection. I often receive questions about this on Instagram, so if you feel unsure about the best rug size, color, or style, you are not alone! Hopefully, I can help you become more confident in your next new rug purchase. Continue reading for my best tips!
*This post contains affiliate links. You can read our full disclosure here. Additionally, I have partnered with Rugs.com to bring these rug selection tips to you. As always, all opinions are my own.
Living Room Rug
First, allow me to introduce you to my new living room area rug! This Rugs.com beauty added casual sophistication to my space. It looks and feels luxurious at a phenomenal price. I could not be happier with it. Isn't it gorgeous?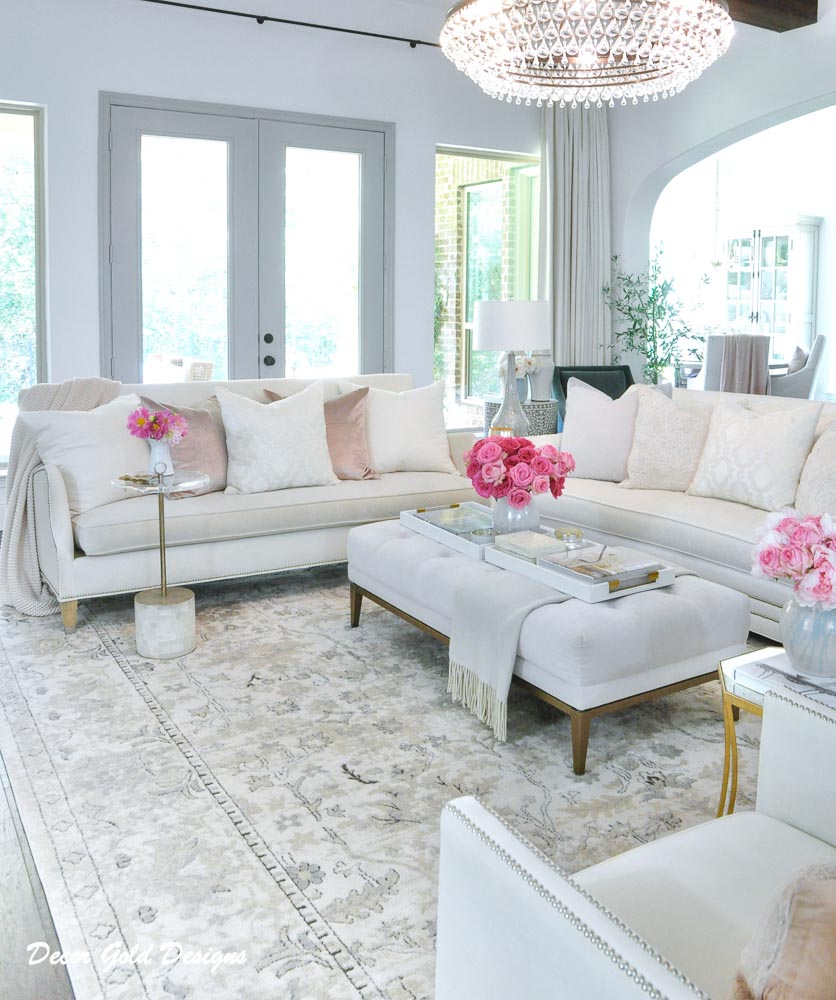 Many sizes + 3 colors available!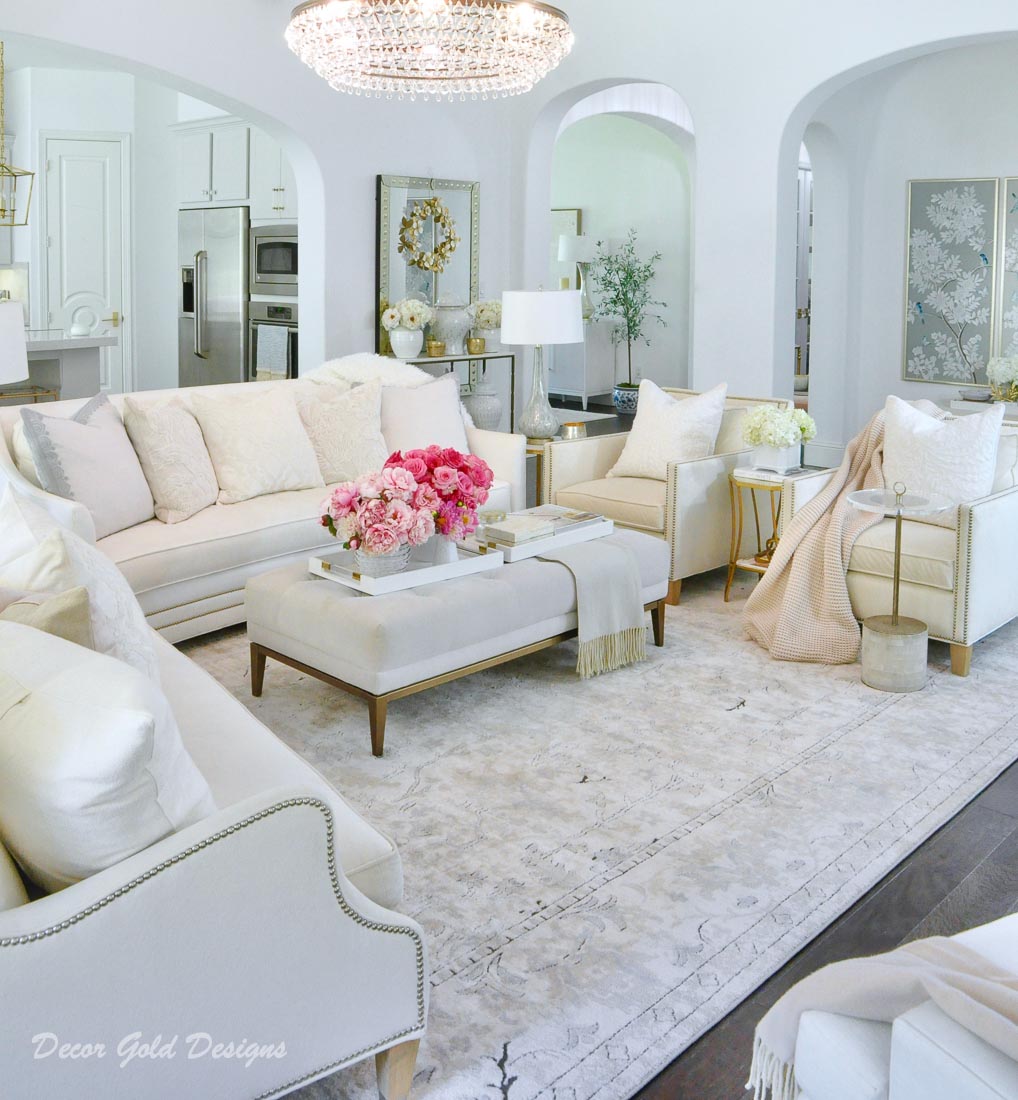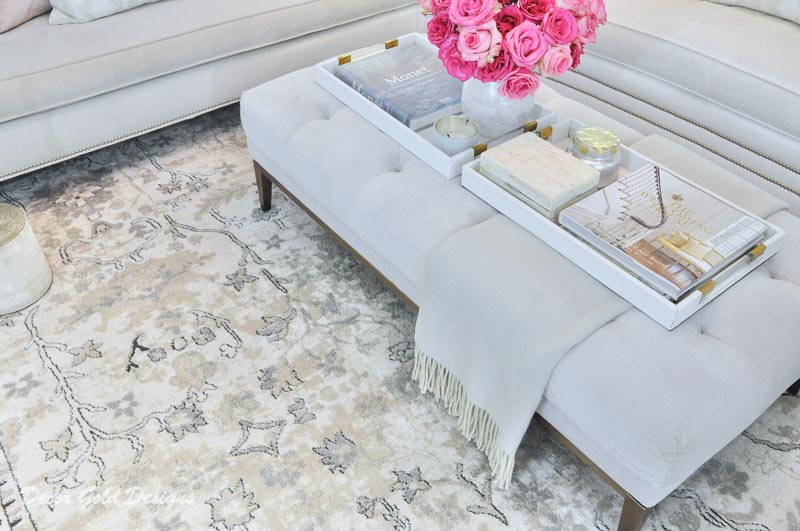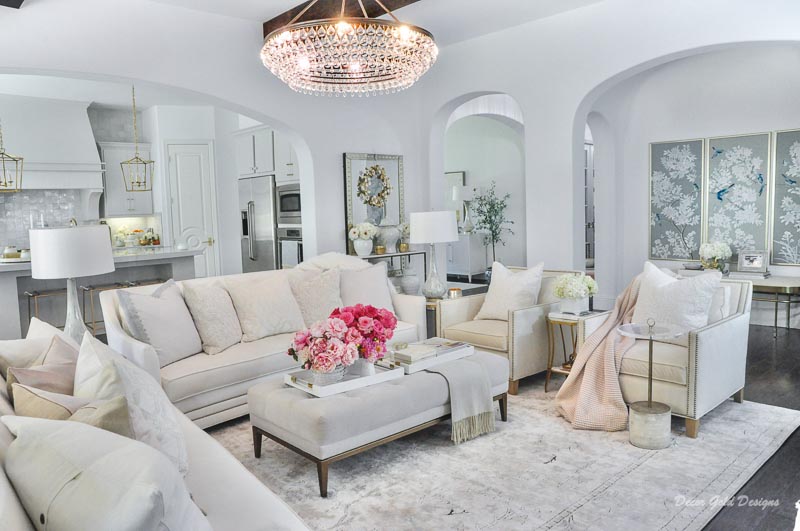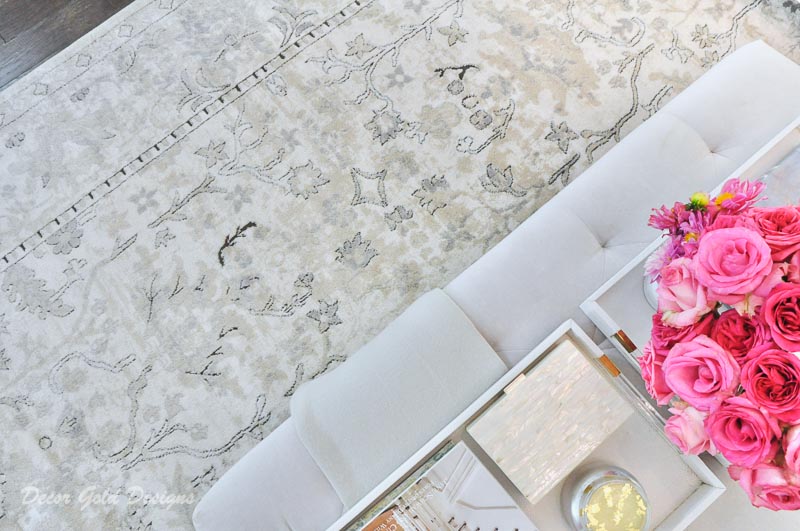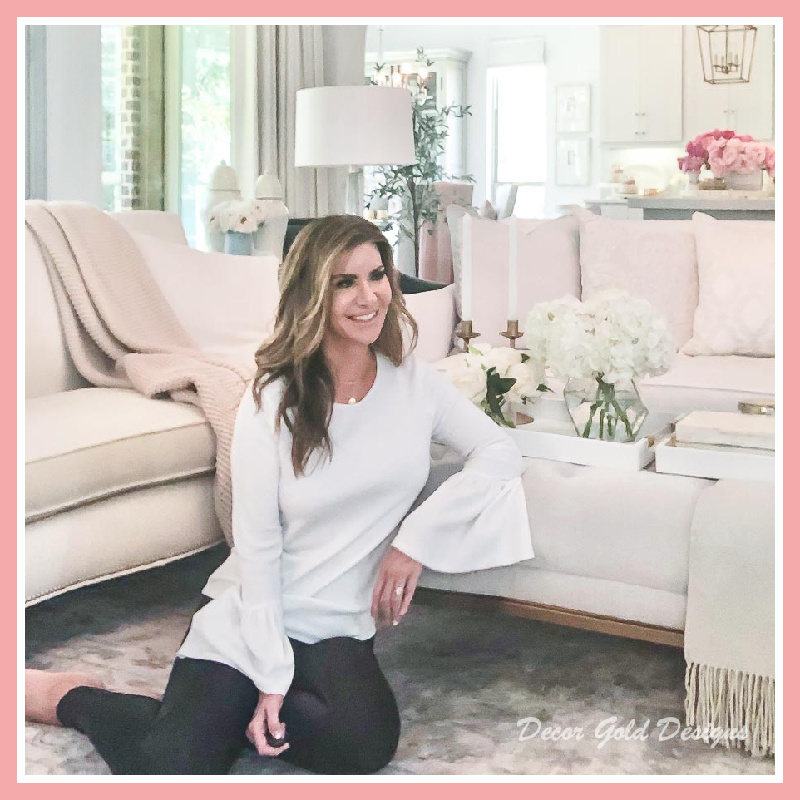 Tips for Selecting the Perfect New Rug
Size
Your rug should fit your space. You will want to leave some flooring exposed on all borders, typically 1′ on each side in a defined room. In an open-concept space, plan to place all furnishings completely on the rug OR place all pieces half off of it (front legs on, back legs off). Measure accordingly.
Shape
Like size, the shape of your rug will be largely dependent on the dimensions of your room. I typically choose rectangular rugs simply because this shape most often compliments seating arrangements.
Color
Because rugs take up such a large amount of space, staying neutral is the safest bet. Many shades of blue are also very popular and function almost like neutrals. The same can be said about soft blush. If you want to be a bit more daring, try adding a rug with a neutral background and a colorful design.
Design
I love rugs with subtle designs. They add interest without limiting the patterns you can use in your furnishings and fabrics. If you are more daring in your decorating style, go with an animal print rug or something geometric!
Rug Pads
I recommend using a rug pad under all of your rugs. Find them in all sizes here!
More New Rugs
Rugs. com has such great prices and such a vast in-stock selection, I was able to find three additional new rugs for my home!
Kitchen Rug
This beautiful rug adds a lot of pattern and a gorgeous pop of color to my kitchen. I selected an extra long runner in order to visually elongate the space between my wall cabinets and my island. The normal price is incredible, but it is currently a steal at the sale price of $49! The 6′ runner is only $29!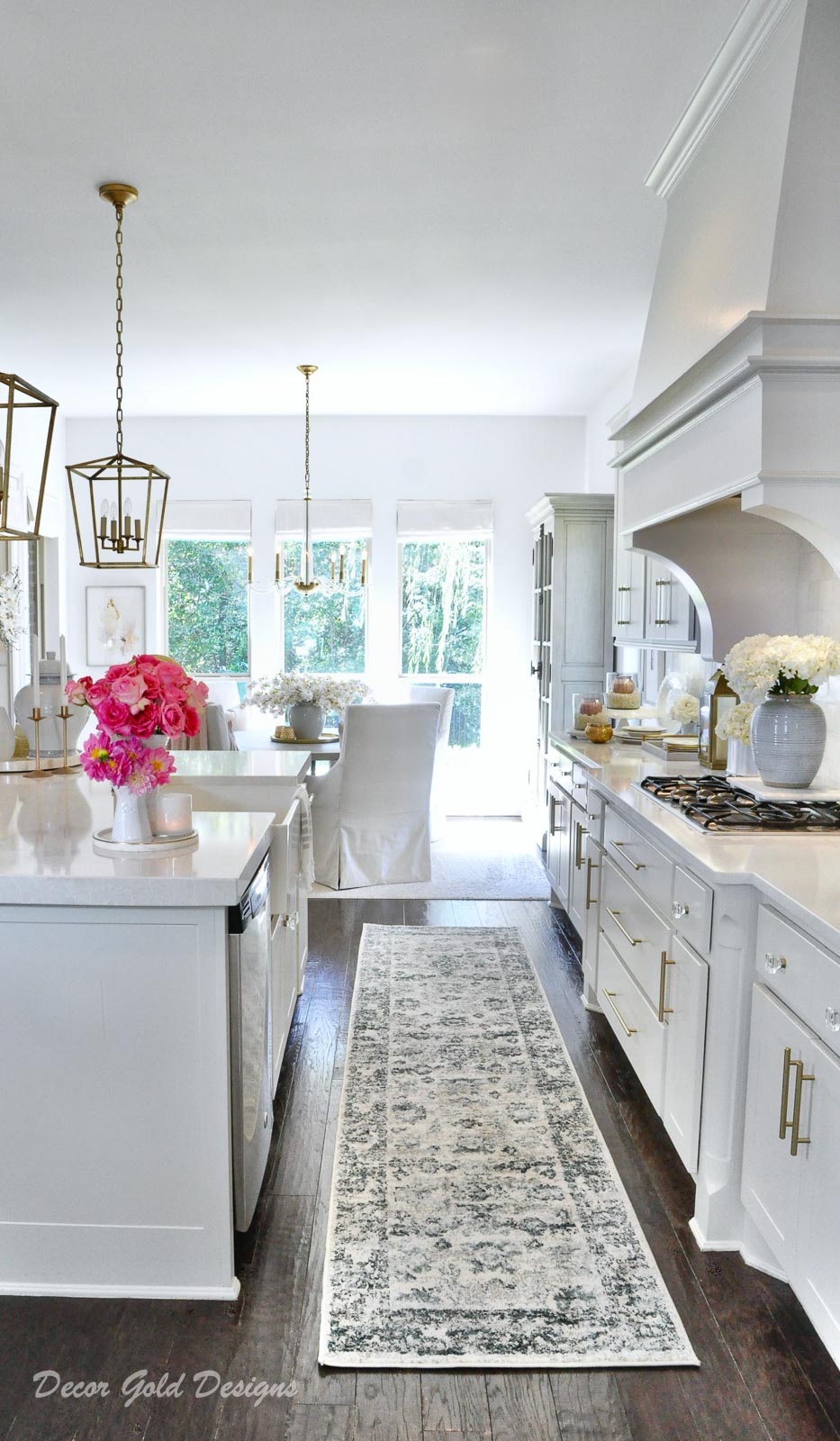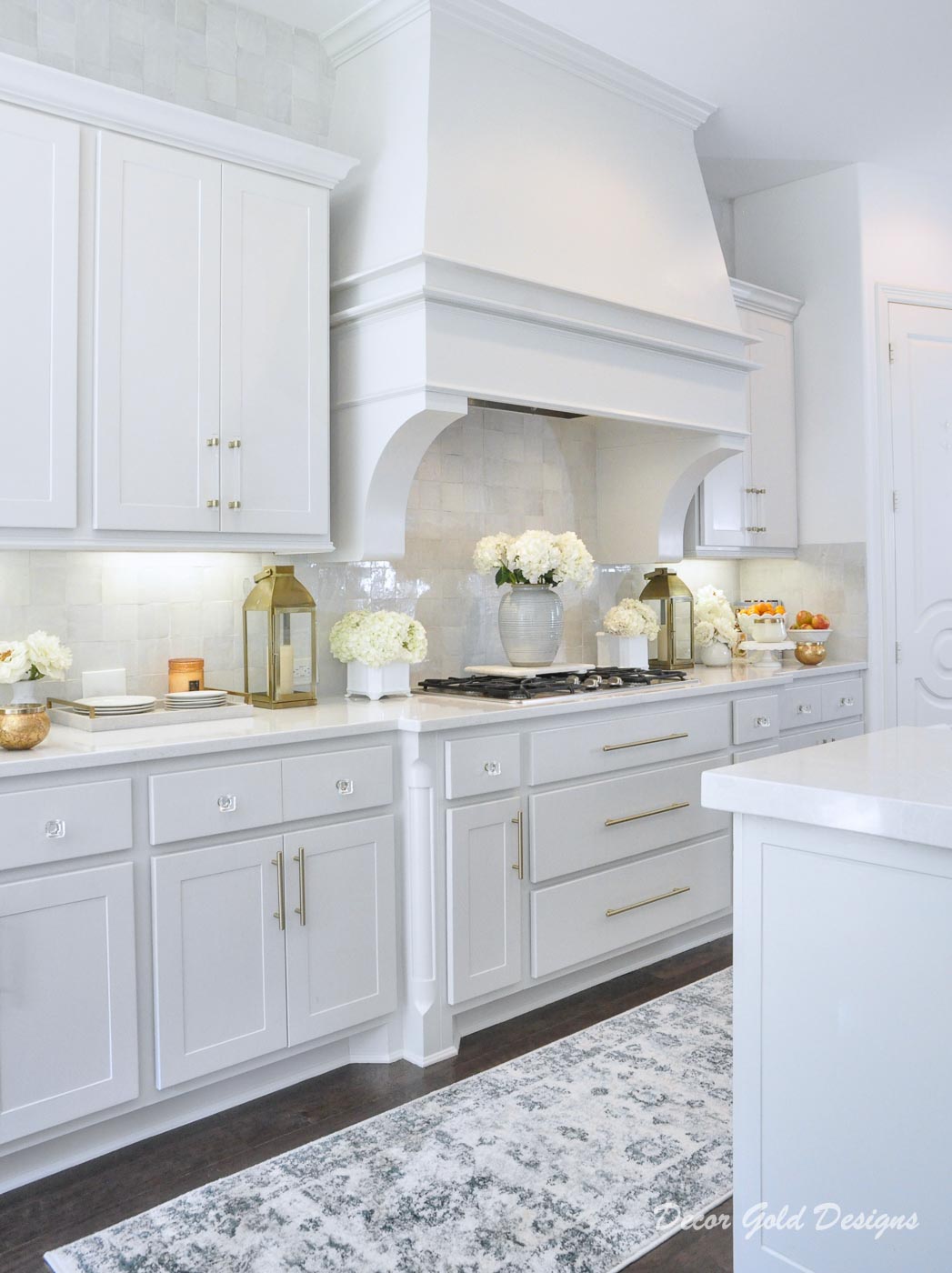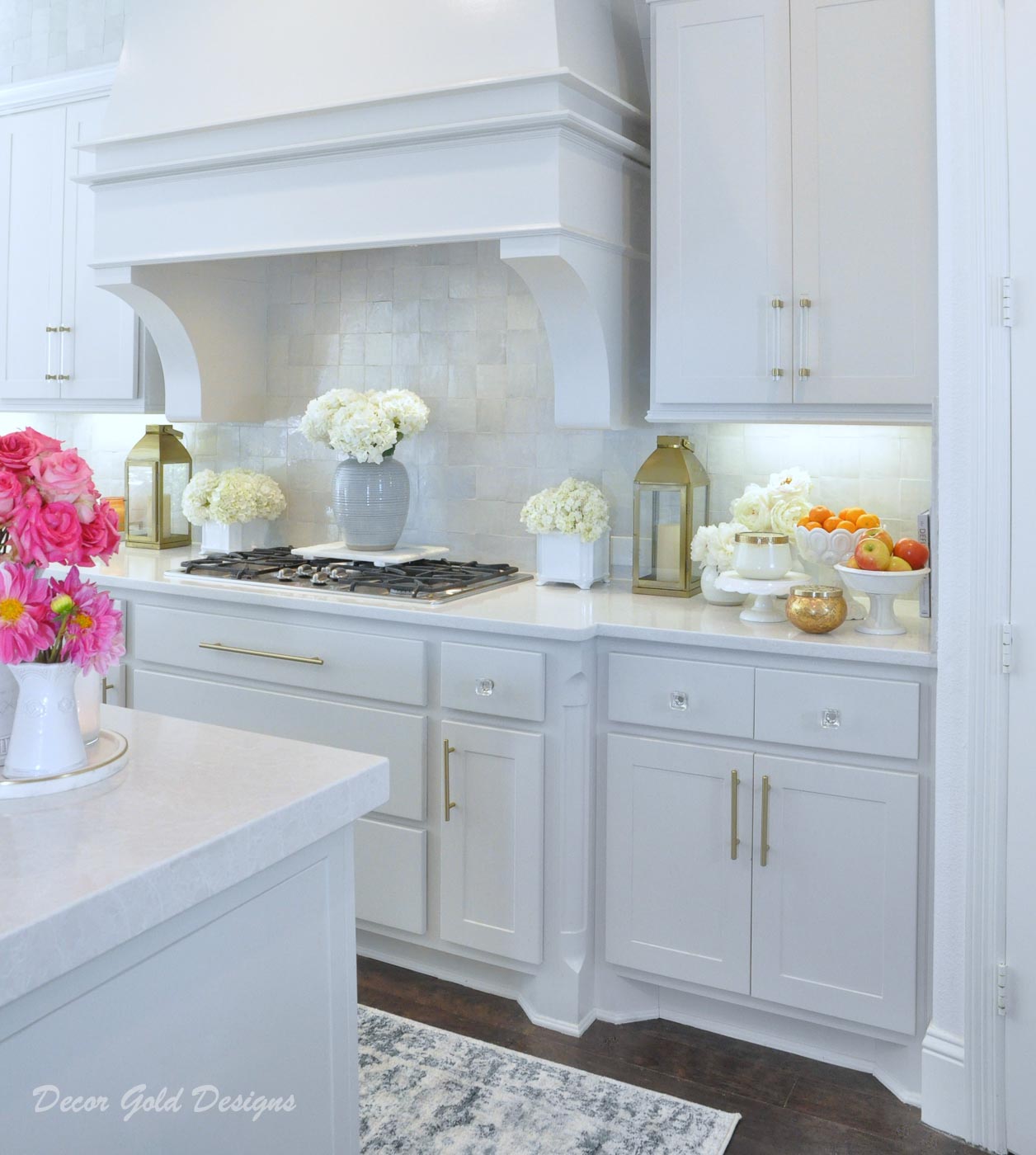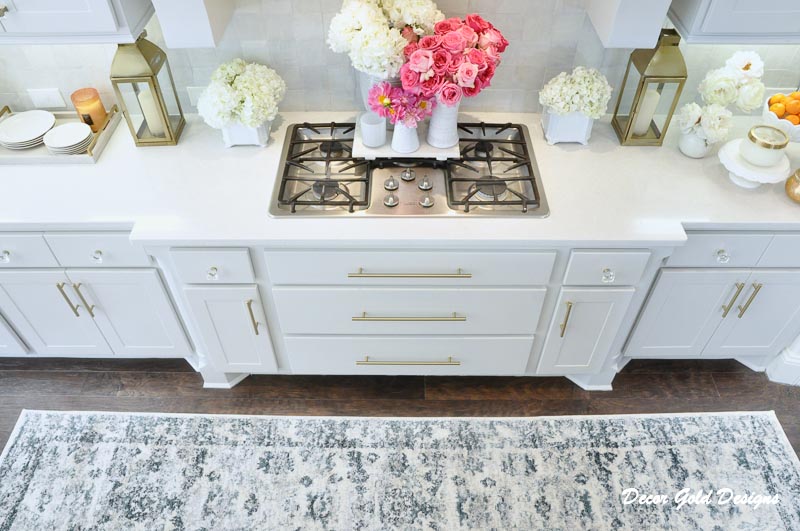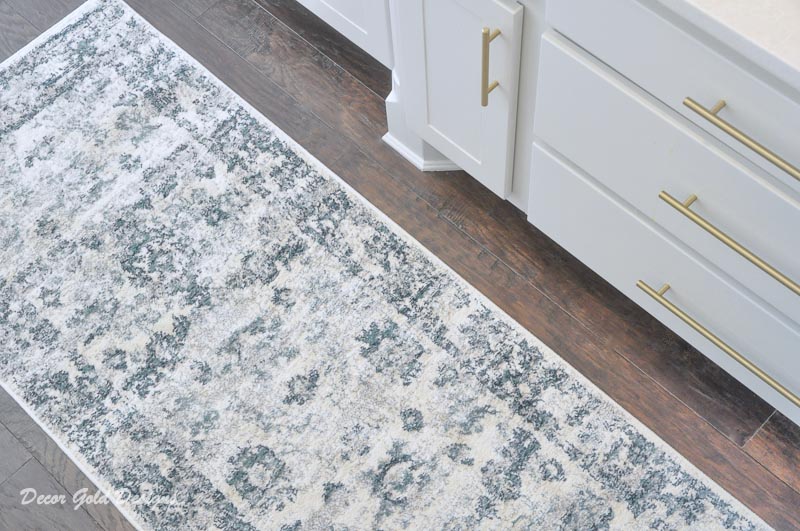 Many sizes + 3 colors available!

Back Door Rug
I have been looking for a rug for this spot for the longest time. This neutral runner is 6′ long, which perfectly fits the space in front of my double doors leading to my covered patio. Best of all, it is on sale (50% off) for only $59!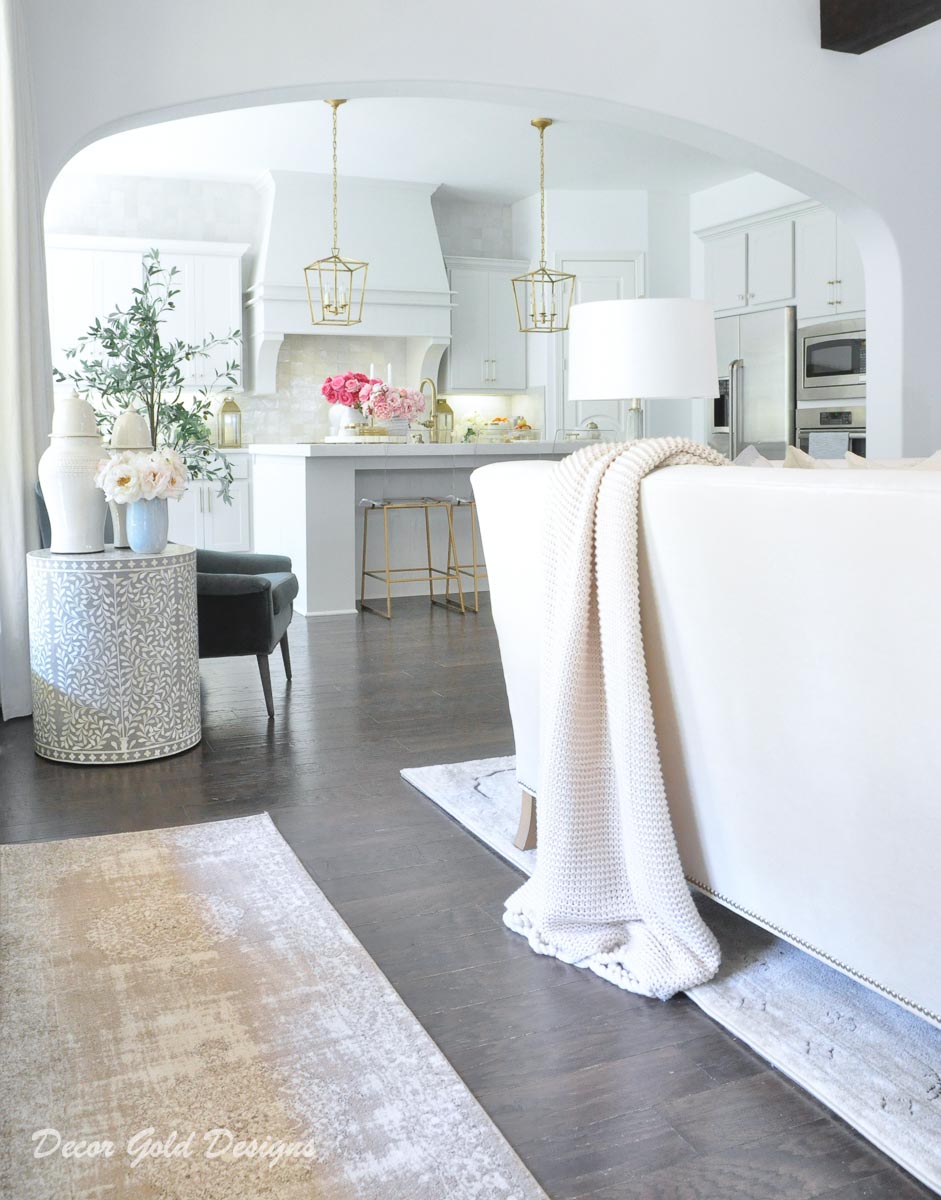 Many sizes available!

Entryway Rug
I searched high and low for an entryway rug when I recently updated this space. I wanted something neutral and timeless with an eye-catching design. This rug is perfect. It is currently 50% off, making it only $39 for the 4 x 6 size!!!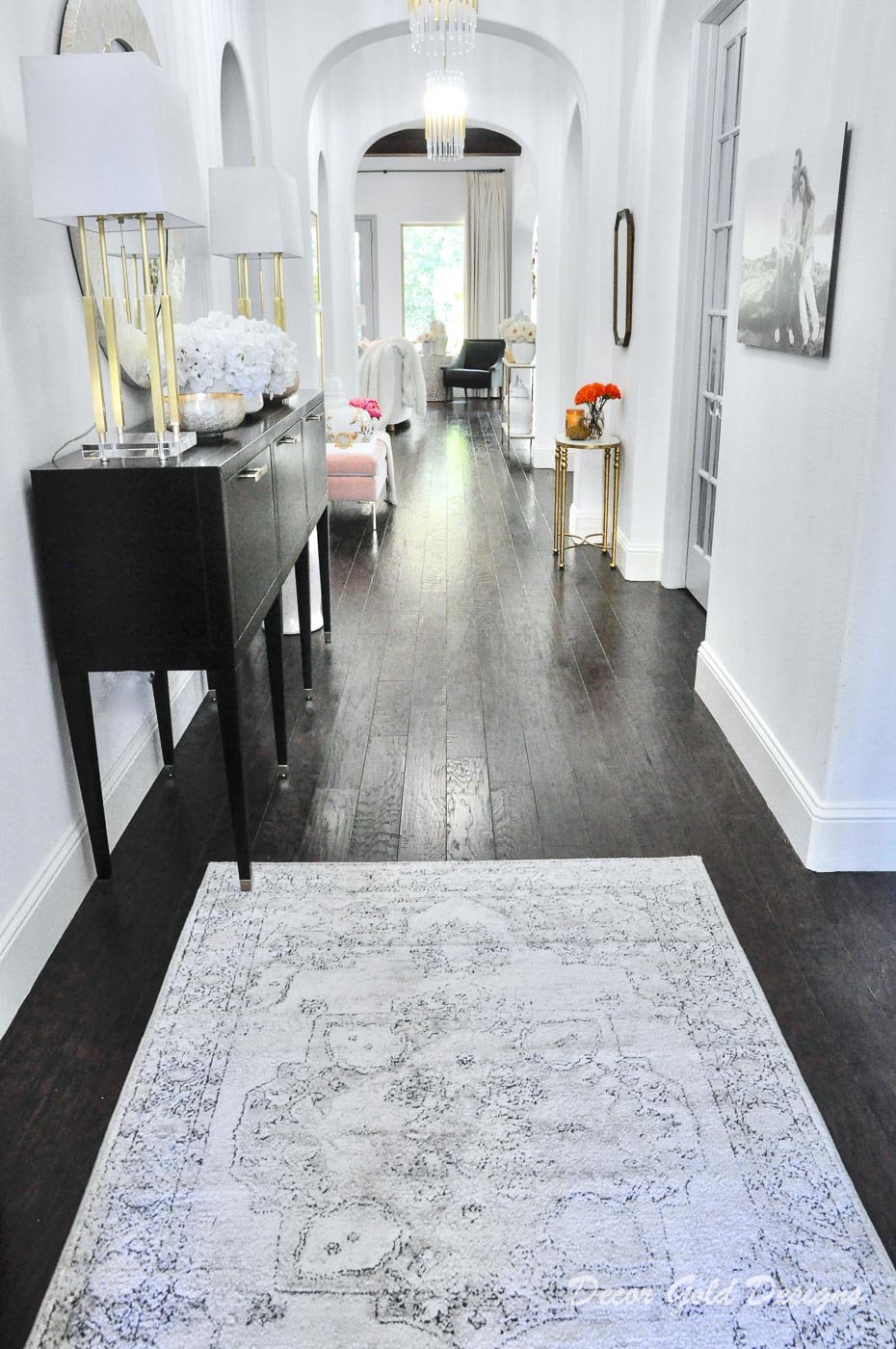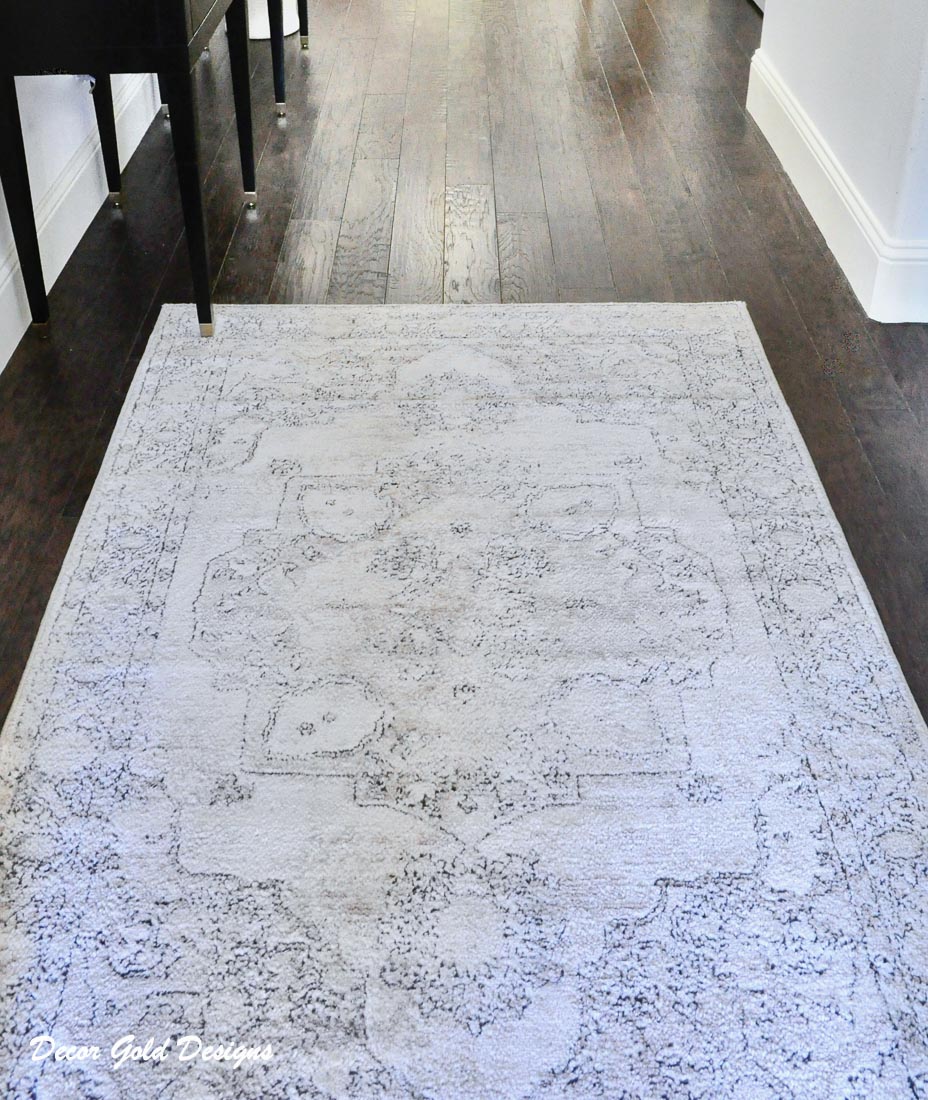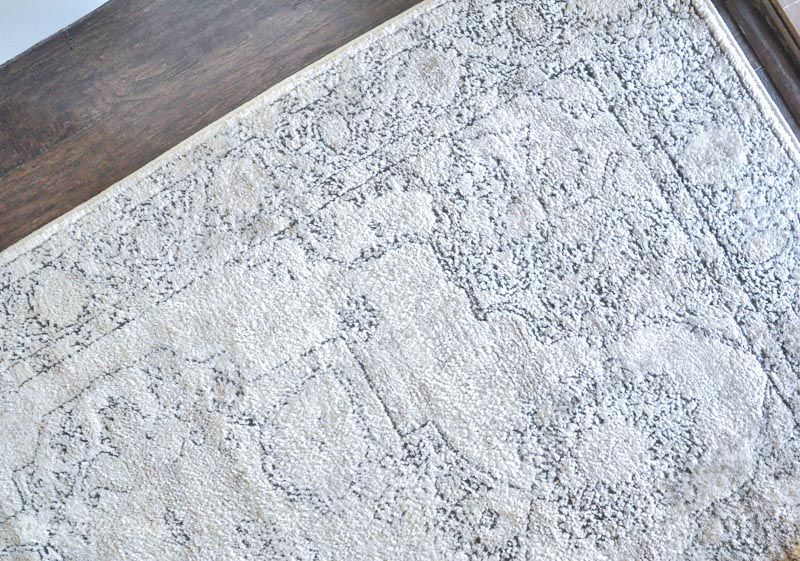 Many sizes available!

One last tip, you can place a beautiful area rug over a carpeted floor. I don't have carpet in my home, but if I did, I can assure you, I would still include area rugs in my decor.
Whether adding a rug to hard floors or a carpeted space, I highly recommend Rugs.com. Their beautiful designs and huge selection make them a premier online rug source for all of your needs. Their pricing is extraordinarily reasonable, especially for such pretty rugs. Free shipping and free returns within 30 days make the selection process pain-free!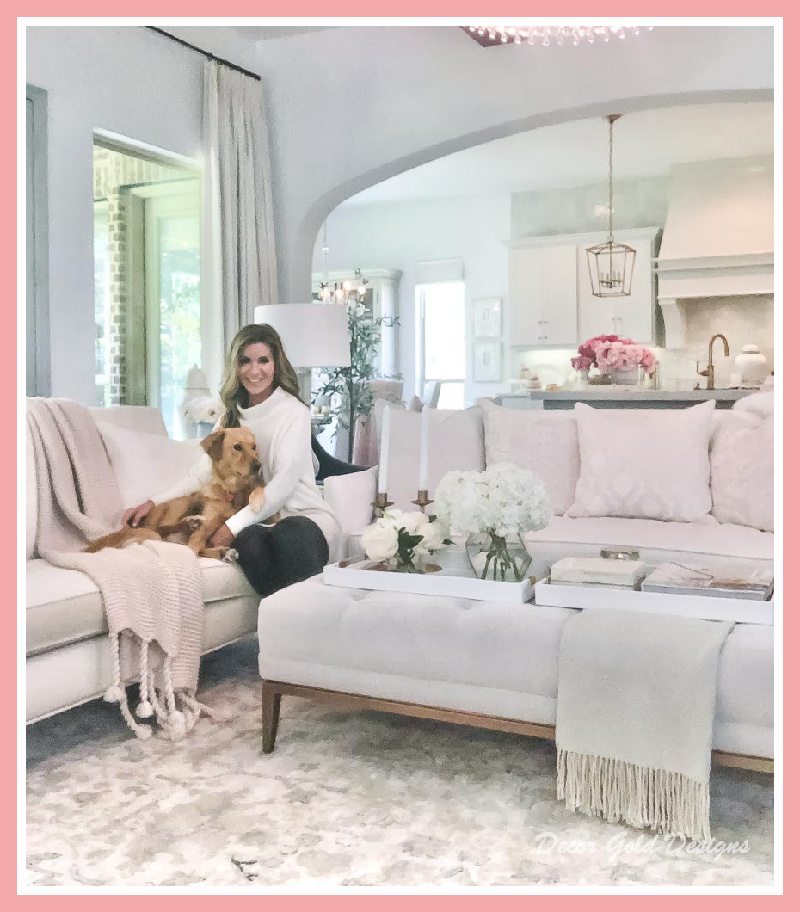 Don't miss my future posts!
Click on the Image to Subscribe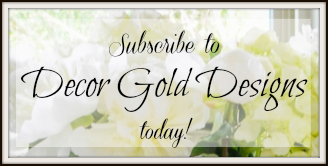 SOCIAL
Instagram | Pinterest | Facebook
Follow me on the LIKEtoKNOW.it app!