As I started to write this living room tour post, I realized how much I miss this house. Of course I am excited about our new one, but we made so many memories here and it was bittersweet to leave it. Seeing it empty was crazy!
I wanted to do one last tour of our former living room for you since we continued to update this space the whole time we lived there. This post reflects the last look and latest sources. I hope you enjoy it!
*This post contains affiliate links. Disclosure here.
Living Room Tour
I always loved the view through the big windows and doors. Most of it is visible as soon as you enter the home. Seeing the forest behind our home frequently brightened my day. We have deer in our area and they would bring their babies to our fence line to nibble on leaves. So sweet!
This view also inspired a similar view in our under-construction home.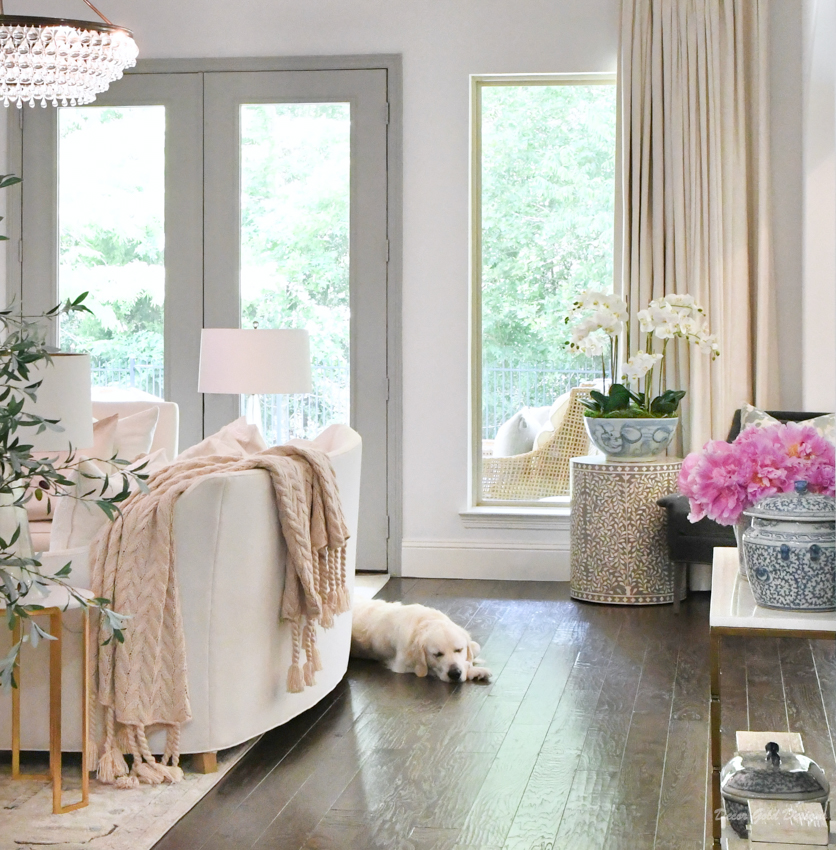 There is a hall across from the french doors in our living room and this view is from that hall. It really shows how open this part of the home is.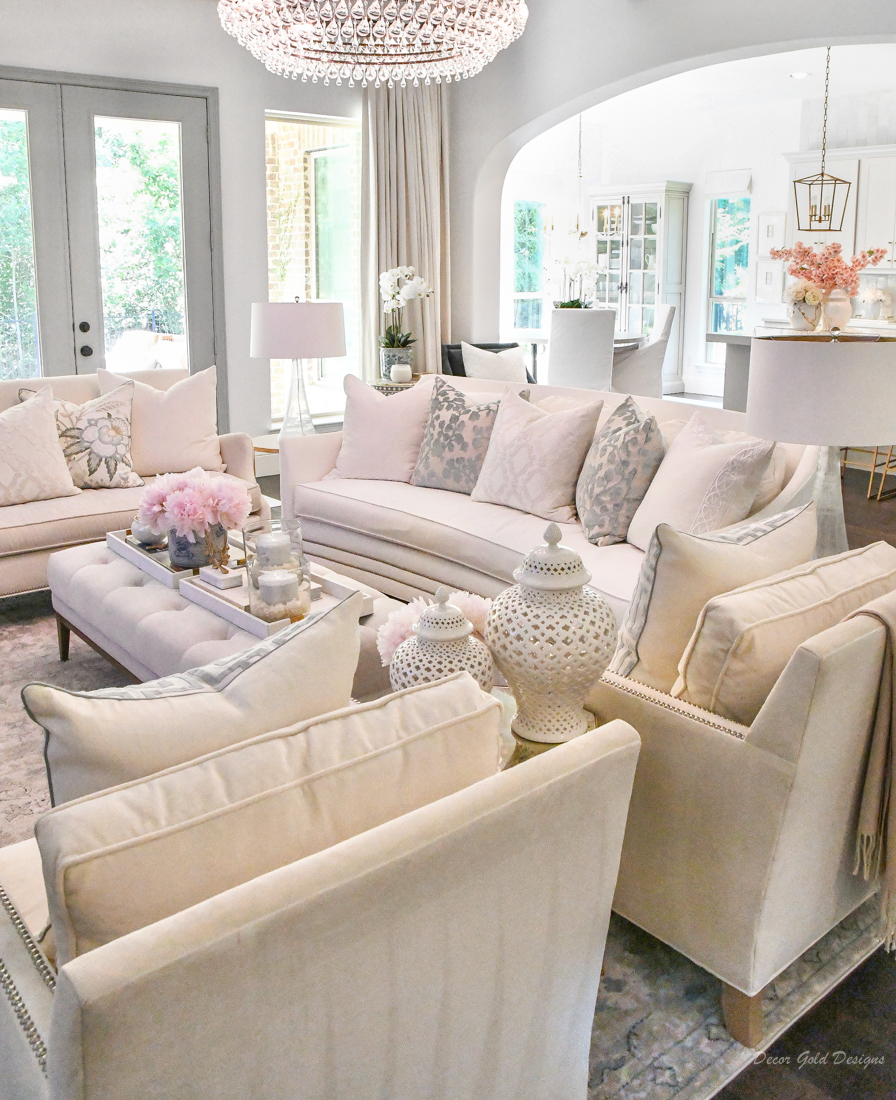 As you enter the living room, you are surrounded by cozy, light-colored seating. We love using an ottoman as a coffee table because it provides the most comfy foot rest.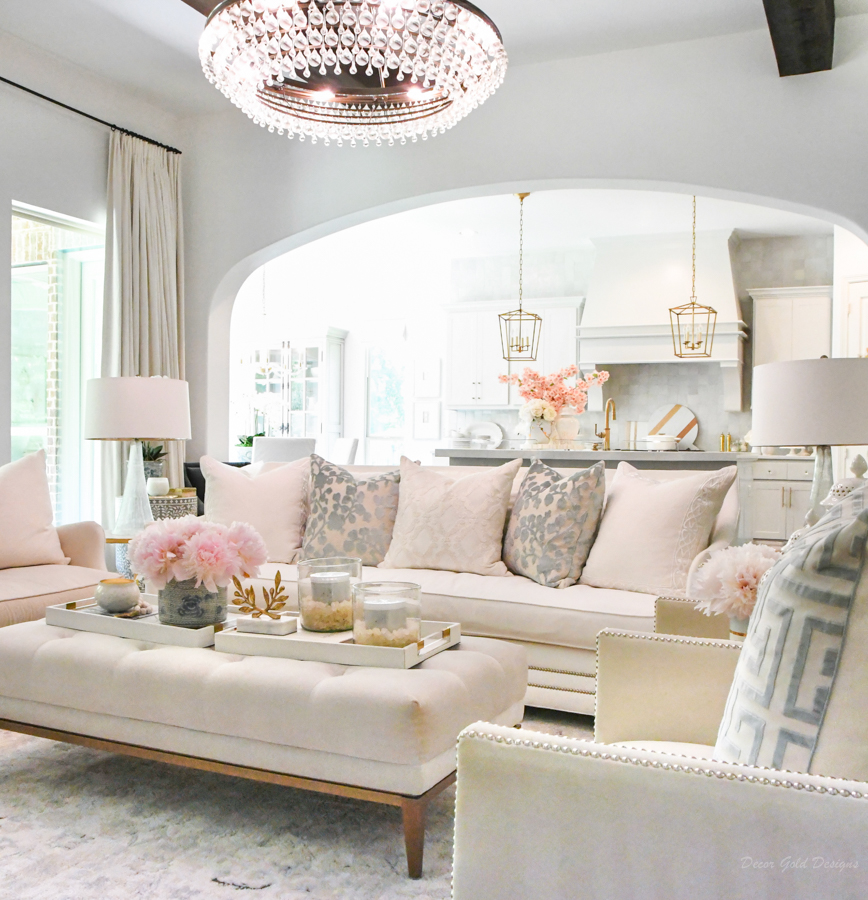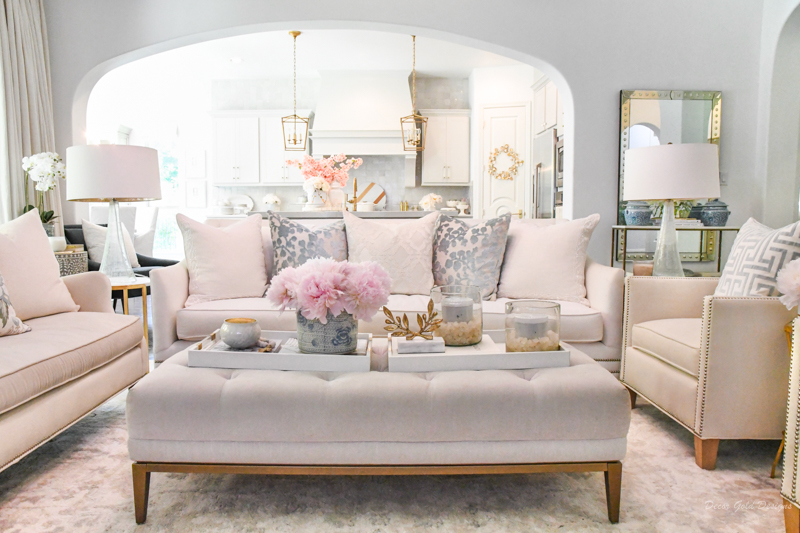 This view is looking back toward the entryway and the small hall I mentioned above. When I finally added chinoiserie panels here, they made a beautiful impact on our living room. The splash of color and pattern they provided inspired many of my decorating choices. I love them to this day! These are very similar.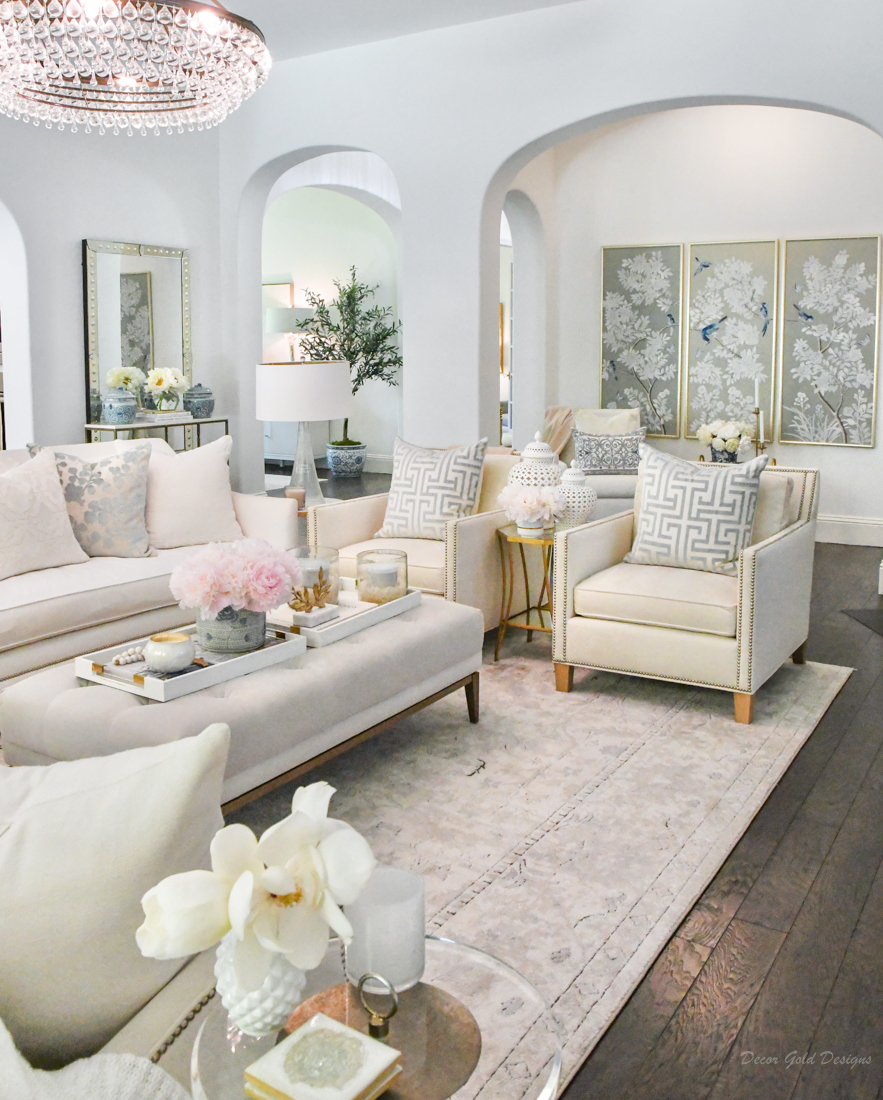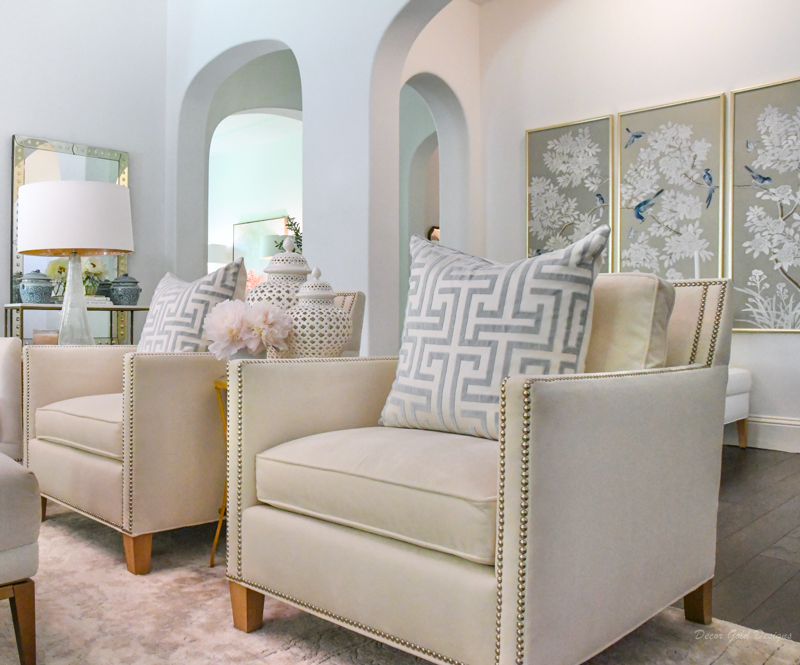 While I miss this house, one of the design challenges I faced was the location of the fireplace. It is at an angle and this made it a little difficult to style the furniture. I look forward to a more symmetrical living room That said, I made it work and I LOVED the fireplace update we did a few years ago.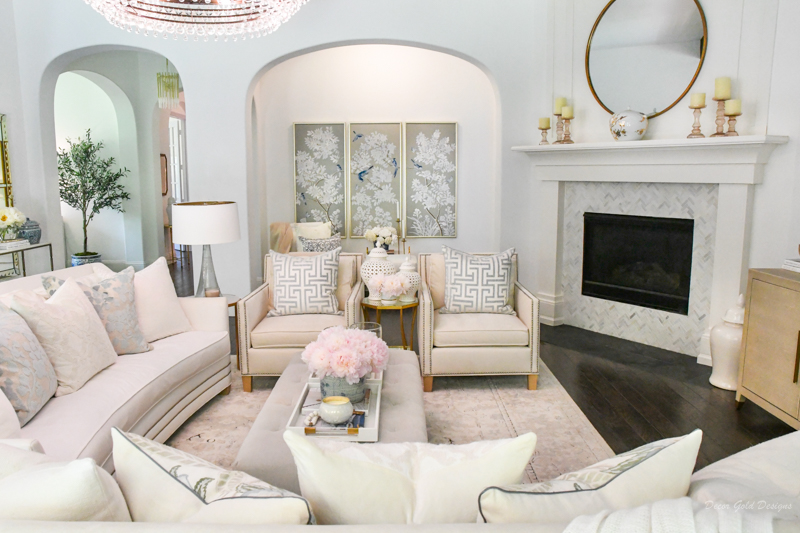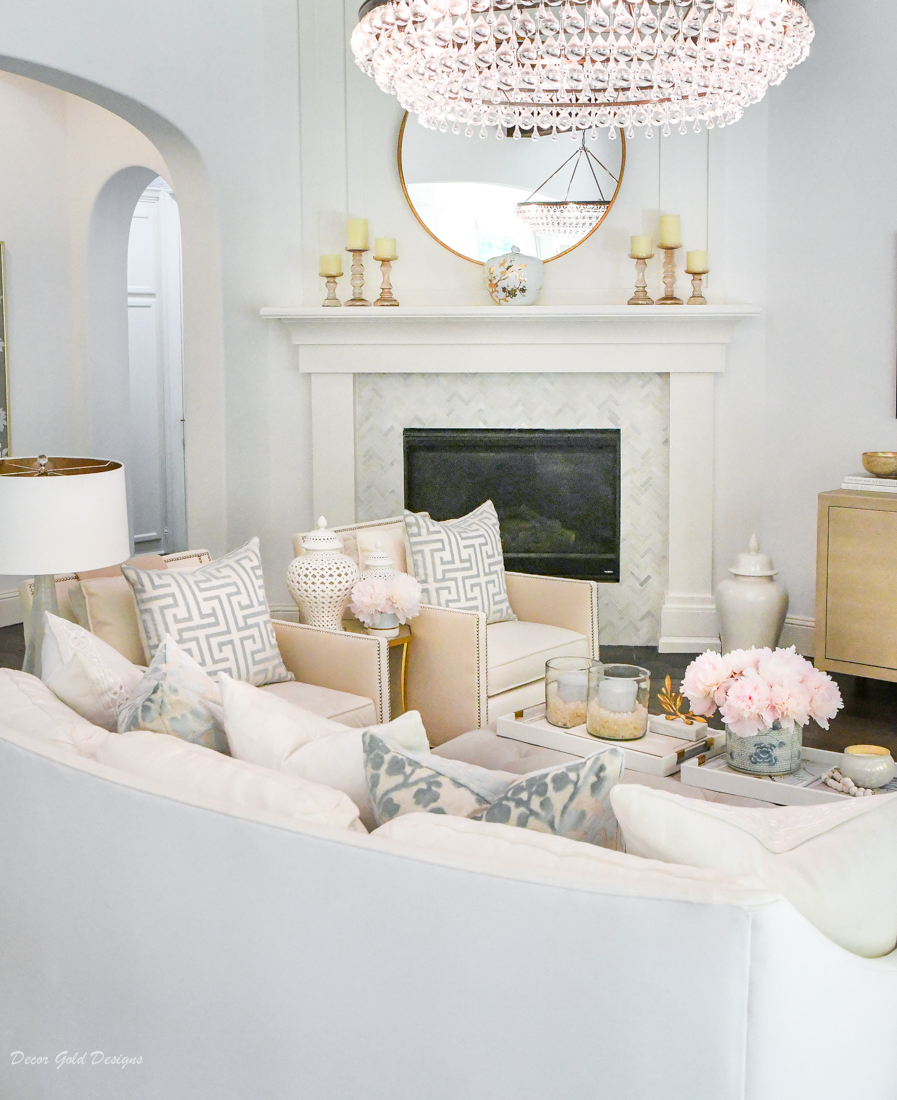 Can we talk about the chandelier? Boy, was it difficult to leave behind! The layers of tear-drop shaped crystals make it simply enchanting. My first statement chandelier and I love the look to this day!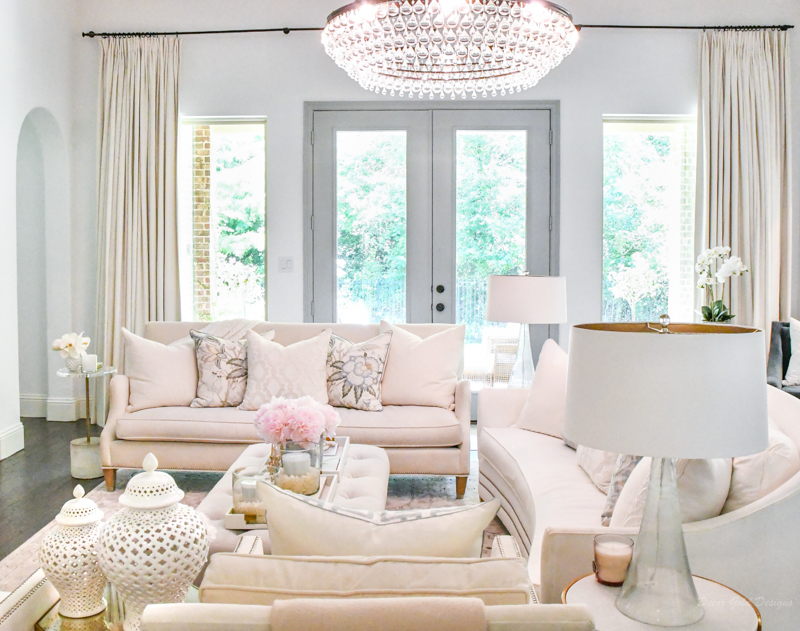 This living room was always so much fun to style. I loved switching out the pillows and accessories. The last time I styled it though, I used my most favorite pieces, pieces that I look forward to using in our future home!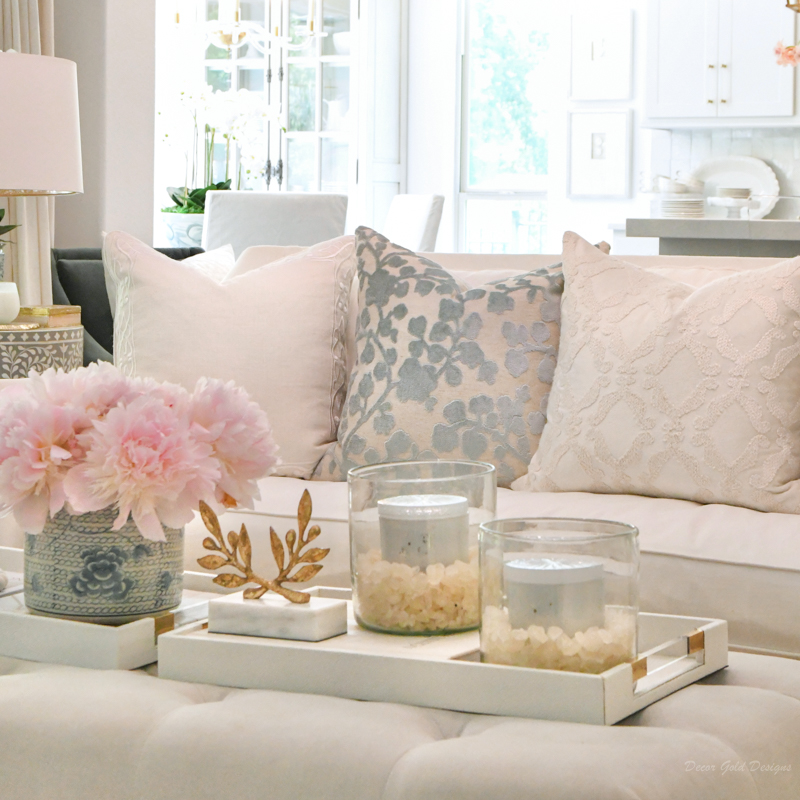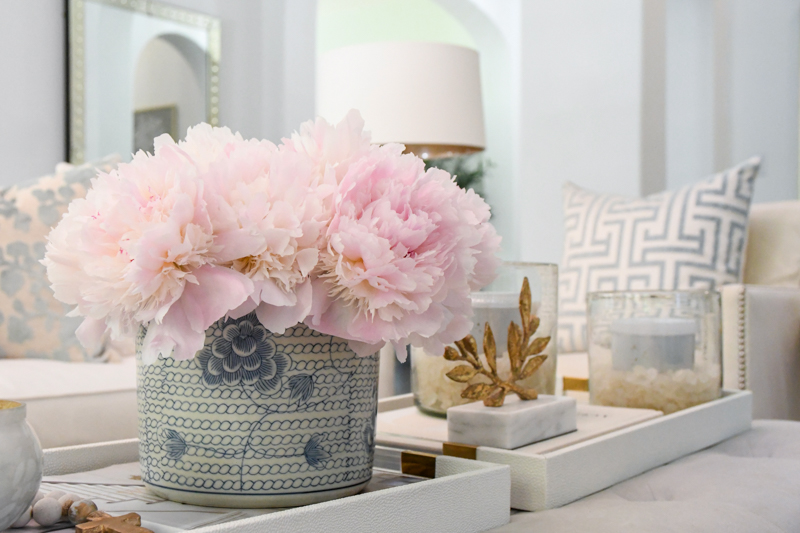 This gold statue is one of my favorite home accessories. It makes such an elegant addition to this space.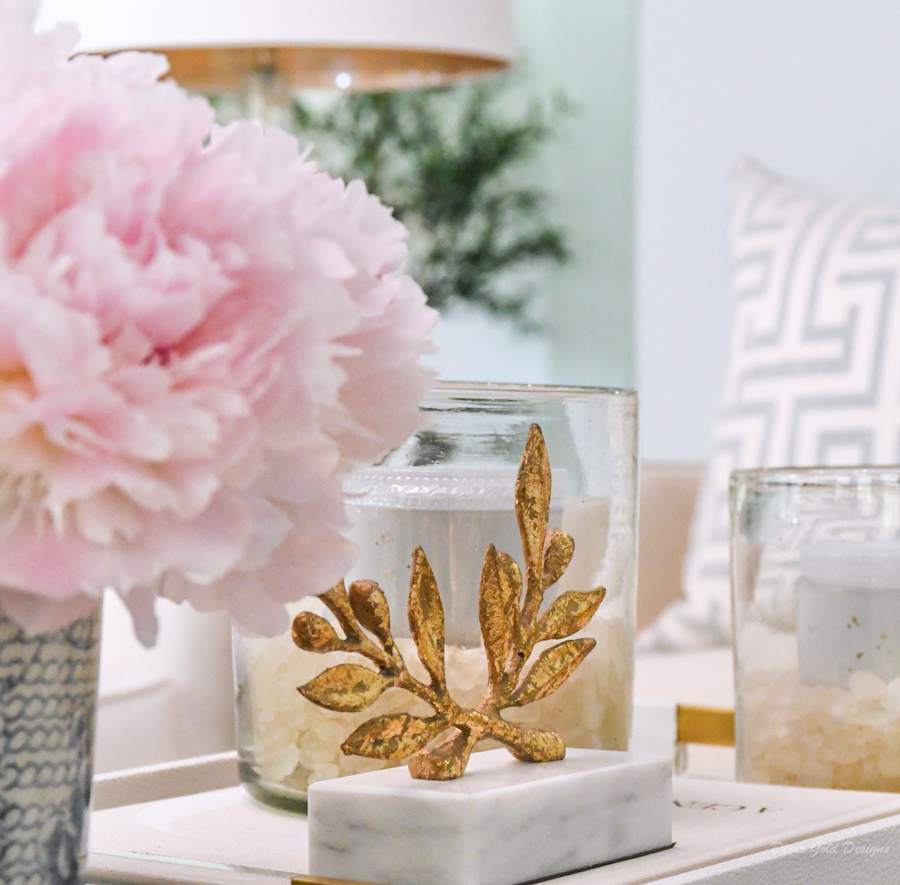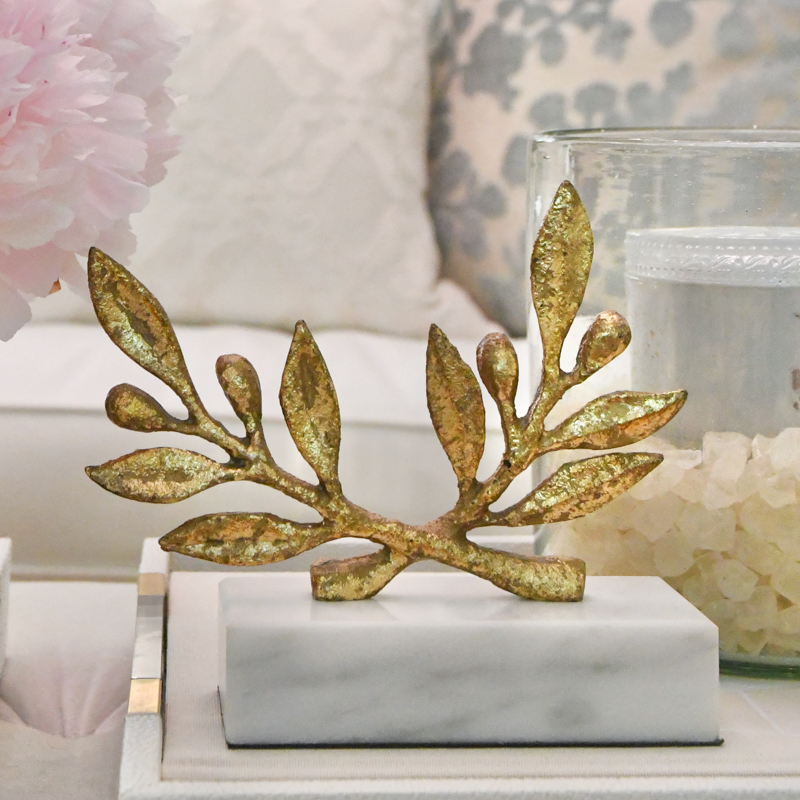 Surrounding Areas
I consider the small surrounding areas part of our former living room.
I especially loved this small hallway that is open to the space. We really didn't need to use it as there is plenty of room to pass through the living room between here and the seating area. Because of this, I was able to add this chair and small ottoman.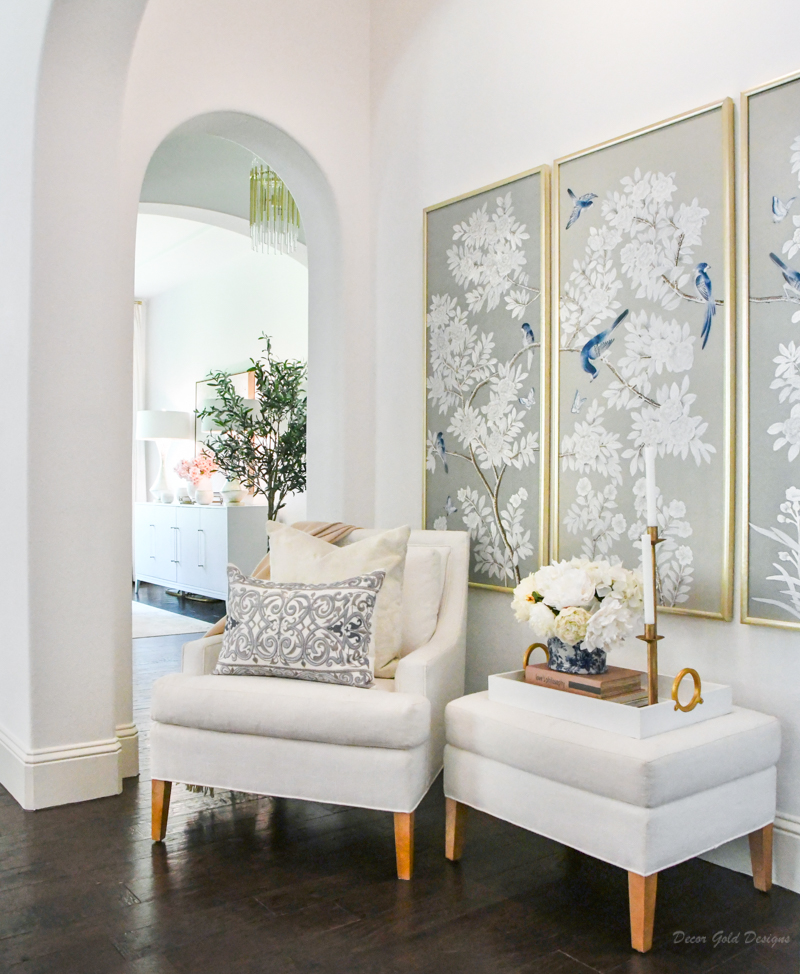 This wall between the living room and kitchen is the perfect spot for a console table. It was always a great place to add decor and holiday pieces.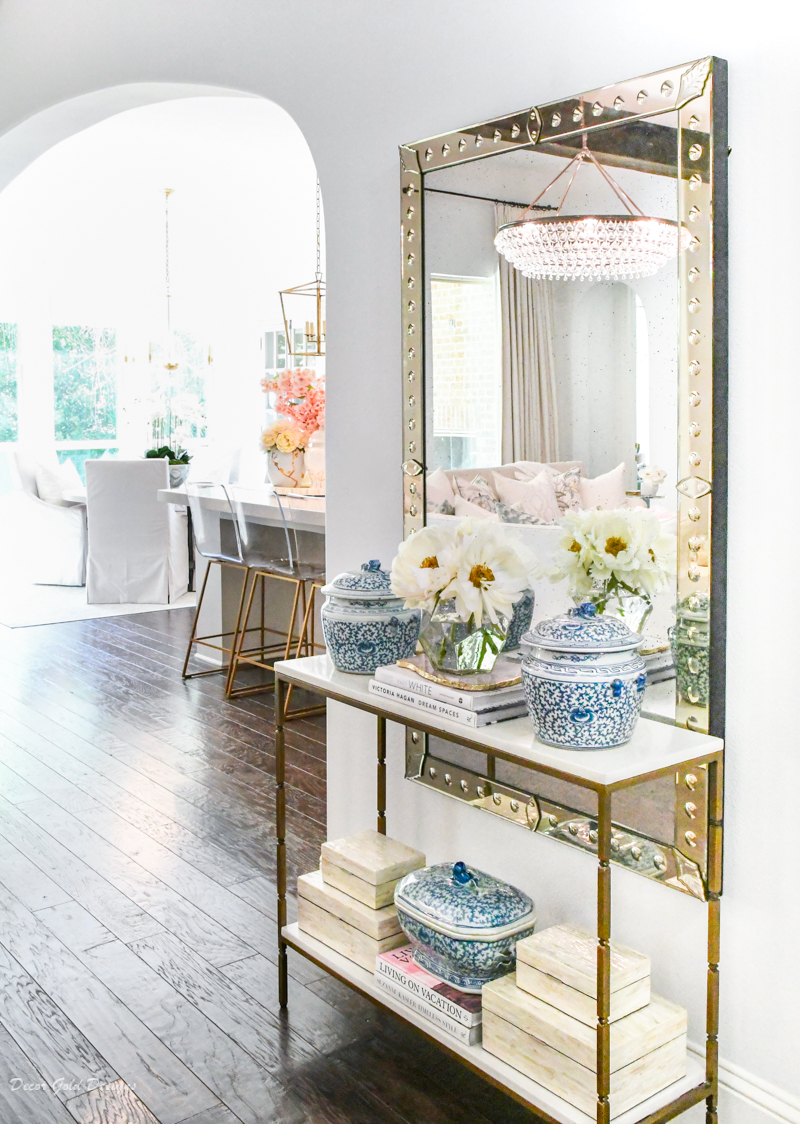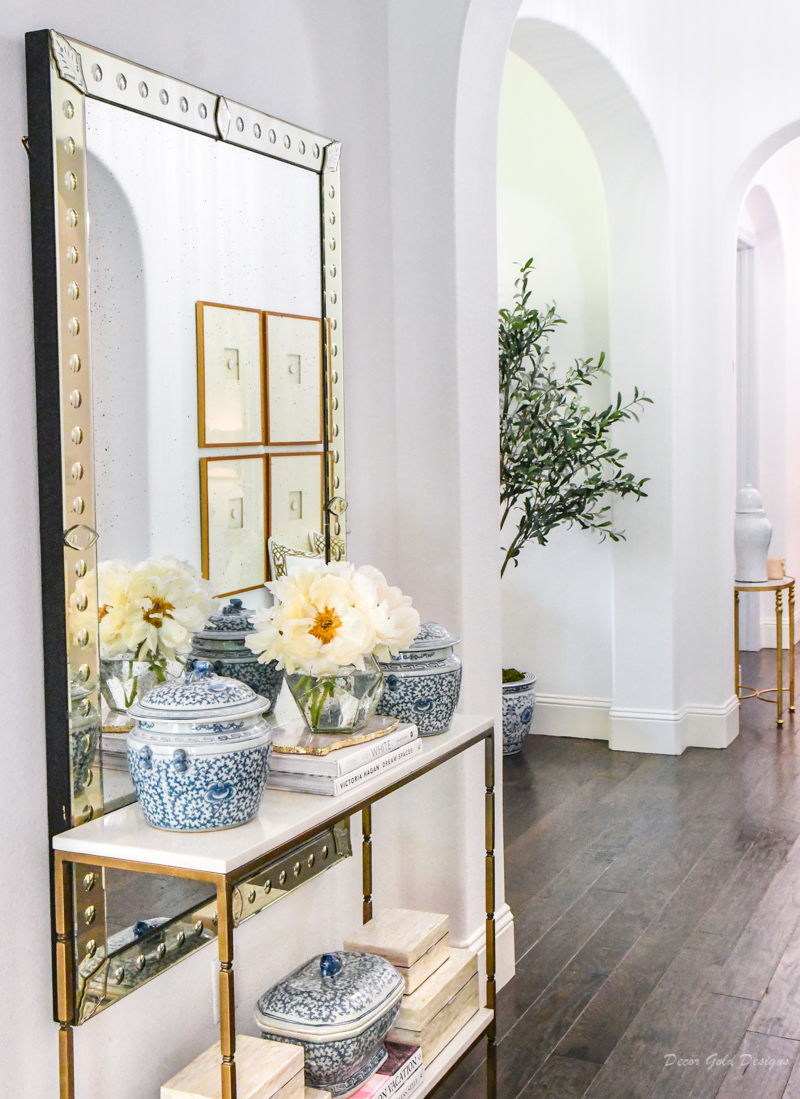 This last spot was perfect for this pretty slope-arm chair and my favorite round table. I found that a drum side table is extremely versatile and this similar table is on my list for my next house.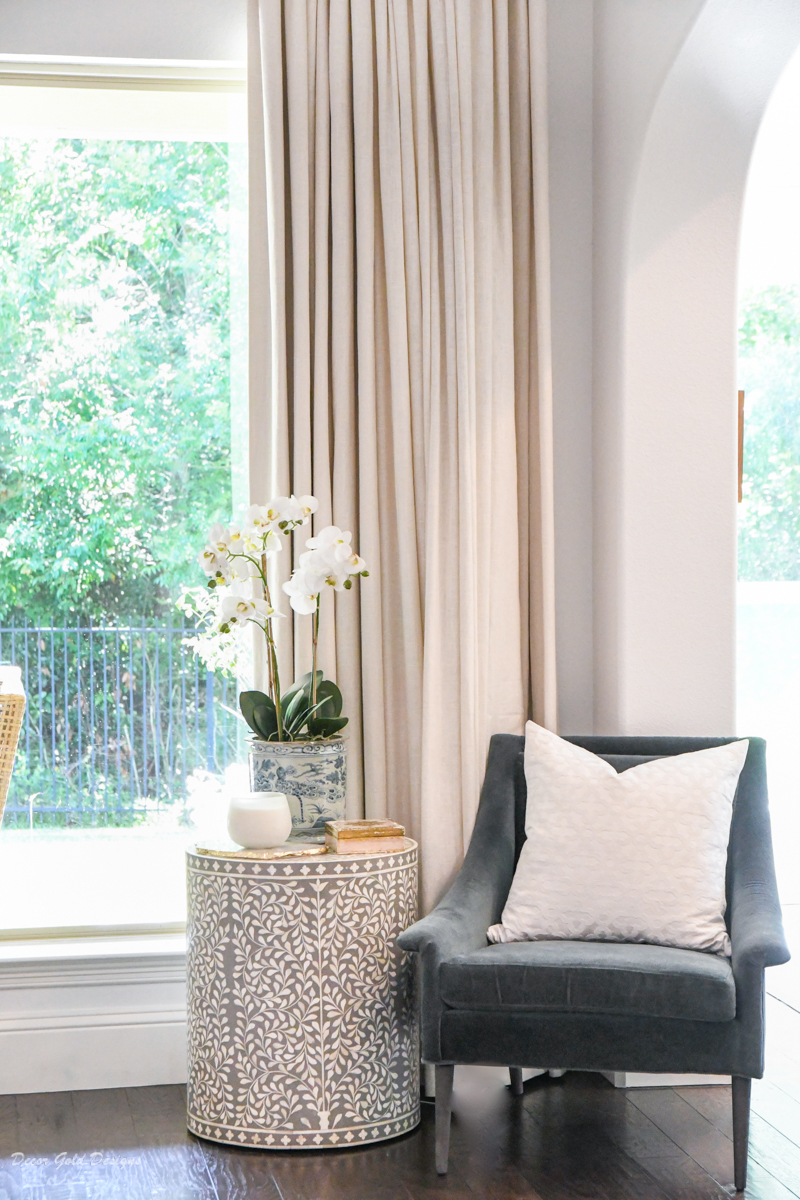 Remember when we updated our kitchen? I still love the new look and plan to share one last tour of this space as well.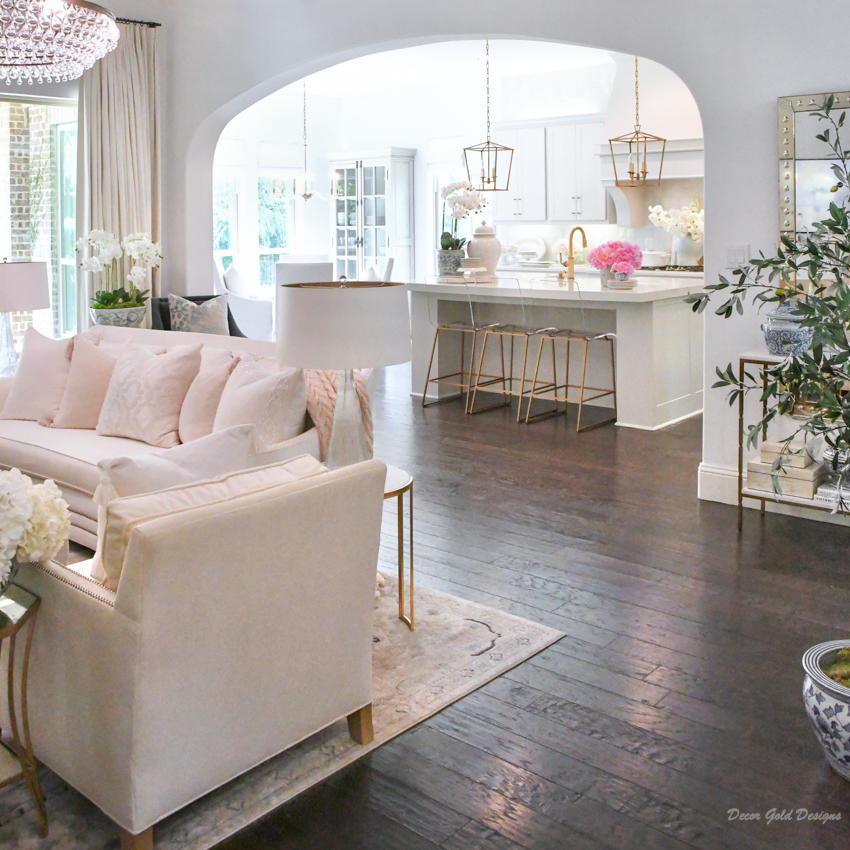 LIVING ROOM SOURCES
Chandelier | Sofa 1 similar | Sofa 2 | Chairs similar | Gold Table AG | Round End Tables | Ottoman similar | Drink Table
Chair -White Linen | Small Ottoman | Blue Chair | Table Round same maker, similar | Console Table
Rug | Lamps | Large Planter | Olive Tree
Chinoiserie Art | Mirror RH | Round Mirror 39″
Throw | Throw | Pink Cashmere Throw
Blossom Pillow | Floral Pillow similar | Linen Pillow | White Patterned Pillow | Blue Greek Pillow
White Pillow | White Velvet Pillow | Lumbar Pillow
Ginger Jars | 26″ Ginger Jar | Vase | Round Planter | Hurricanes similar | Oval Planter | Tall Planter
Trays similar | Tray Gold Handles | Gold Statue | Agate Tray
White Jar Candle | Hurricane Candles | Rocks | Peonies 1, 2, 3 | Orchid Drop-In
Pink Candlesticks | Gold Candlesticks | Box Sets | Glass Vase
White & Gold Jar | Round Lidded Jars | Oblong Lidded Jar
Book – White | Book – Dream Spaces | Book – Living on Vacation
Draperies | Paint color – walls, door

I hope you'll stay connected!
Click on the Image to Subscribe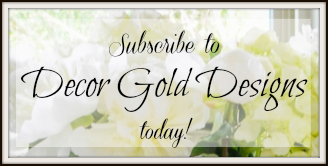 SOCIAL
Instagram | Pinterest | Facebook
Follow me on the LIKEtoKNOW.it app!