DRYWALL
Drywall!!! I've been waiting somewhat impatiently to get to this stage for so long. After countless delays, we finally have drywall!
I've always believed a home under construction really begins to take shape at this stage. The rooms are defined and much more finished-looking than when the walls were just framed. At this stage, you can visualize each space finished much more easily than before.
Before we talk more about this stage, let's go over everything that has happened since my last update. Specifically, before drywall could be hung, plumbing, HVAC, electrical, and low voltage went into our walls.
This means we had to select and purchase all of our plumbing fixtures in order for the plumber to have valves to install. I'll share my plumbing selections with you soon, but I wanted to mention this now since a lot of people don't realize how early plumbing decisions must be made.
For HVAC, there were decisions to be made too. We needed to know where certain trim mouldings would be located (decorative ceiling beams for instance) in order for the vents to be placed in appropriate spots. We also had to decide where our thermostats would be located.
Low voltage came next and was mostly handled by Tony. He decided where he wanted security cameras, control panels, and more. The low voltage crew also installed recessed TV boxes on the walls where we plan to hang televisions.
Electrical was the most fun. I didn't have to select every single light fixture (I have almost all of them sourced though), but I had to know which walls would have wall lights, where chandeliers would go, locations for the kitchen pendants, and where to place outlets. To note, we opted for many of our outlets to go in the baseboards for a cleaner look. You can find lots of tips on the topic of electrical items here if you're interested.
Once all of these items were completed, we had an open-wall inspection. After the inspection, and before the insulation was installed, I photographed every single wall. It is a good idea to do this as it will be helpful to know the location of wires, pipes, studs, etc.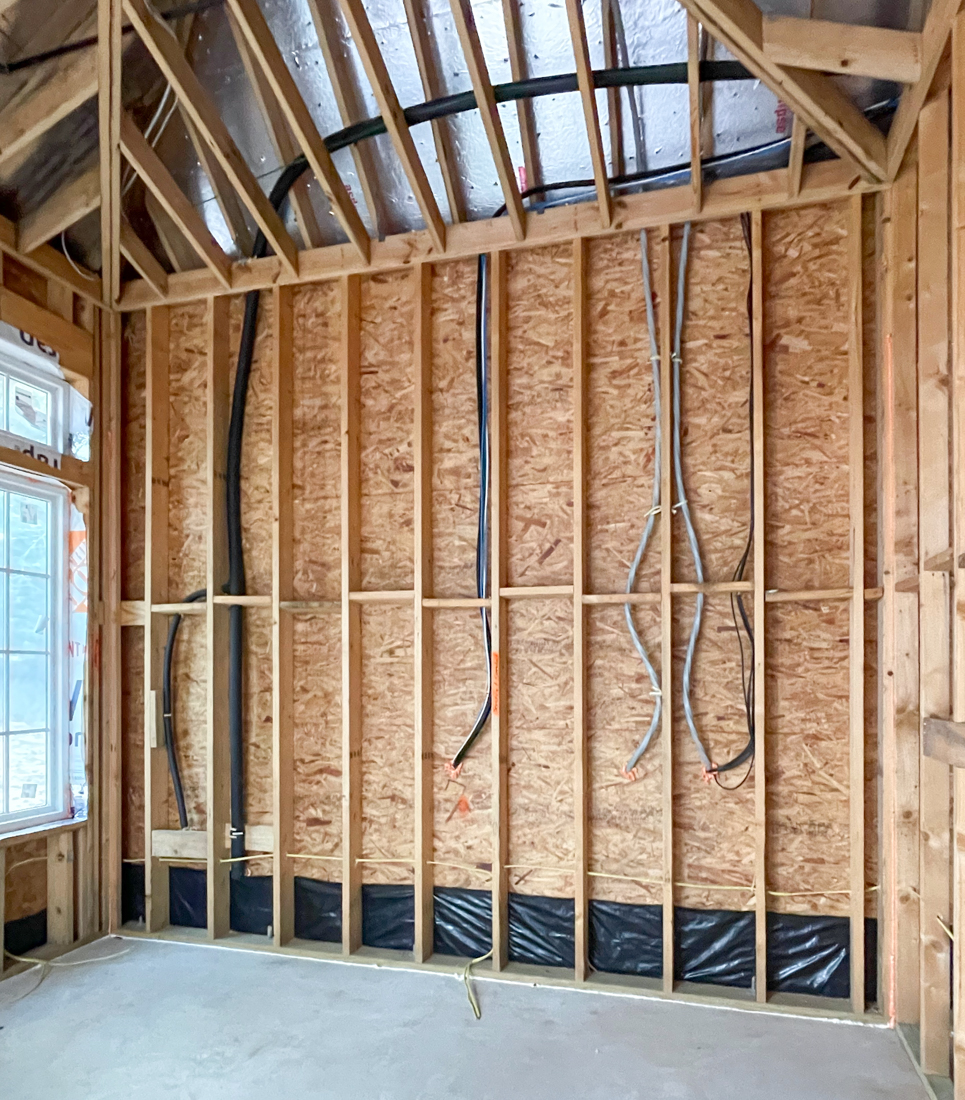 There were some exterior happenings as well. Siding and porch and patio ceilings have been installed on the exterior. The garage doors have arrived and will be scheduled soon.
Brick is next on the exterior, but was pushed back due to a major delay with our windows. 16 of them were sized incorrectly. It took over a month to get this resolved with the vendor, but eventually, they did the right thing and placed a replacement order for us. Then we were promised 2-3 week production time although it was quite a bit longer. Delays, delays, delays! I tell you this to let you know patience is frequently required during construction. Very rarely do things move along as quickly as we'd like.
The windows finally arrived and were installed, which means brick will begin soon. Brick is another thing I've been waiting for and am very excited about!
Now, a bit about the drywall process. We are lucky enough to have a friend who owns a drywall company, so we trusted him to get it right. The drywall installation was pretty straightforward and was completed in a timely fashion. Next came taping and floating the seams. We elected to do smooth walls. This is called level 5. The process involves an additional skim coat of joint compound which covers the entire surface. It took a lot of time but provided an elegant look.
Dining room and a view into the entryway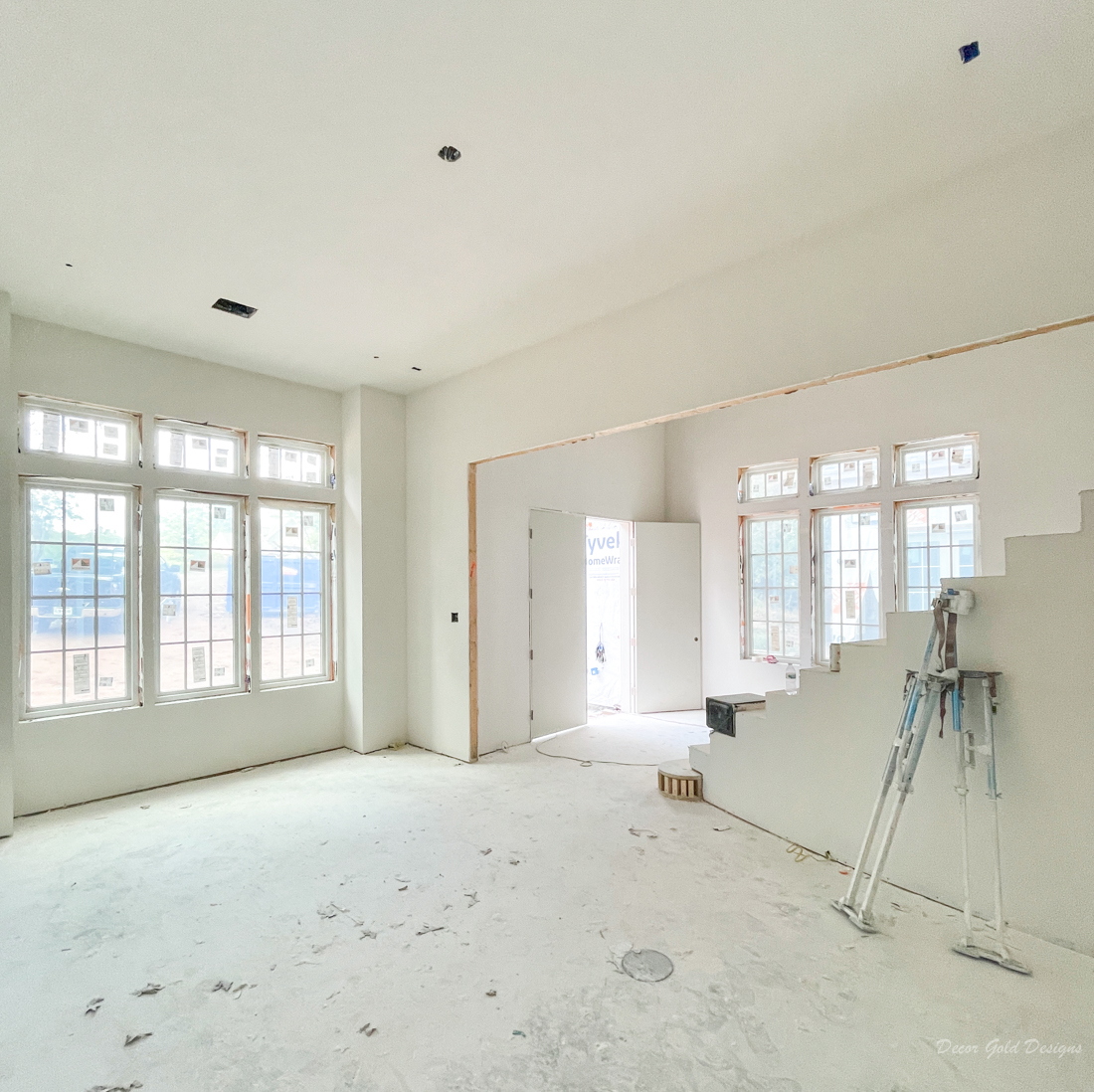 Stairs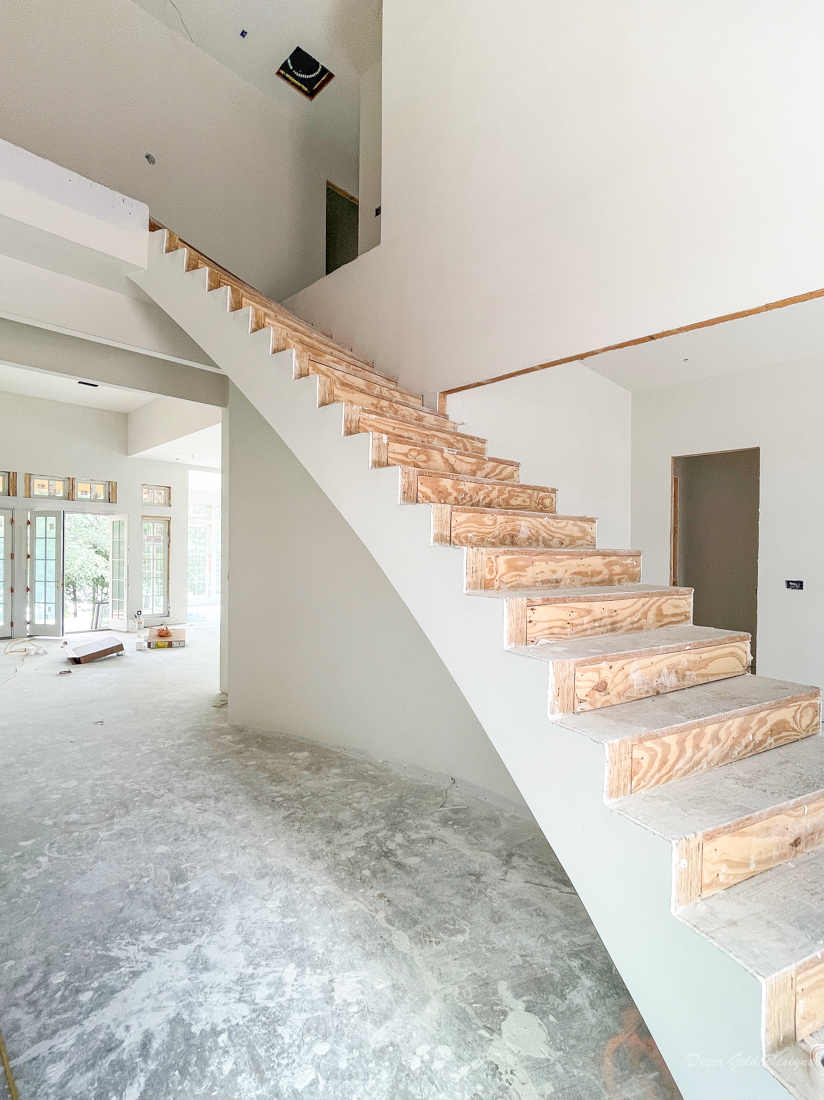 Living room fireplace wall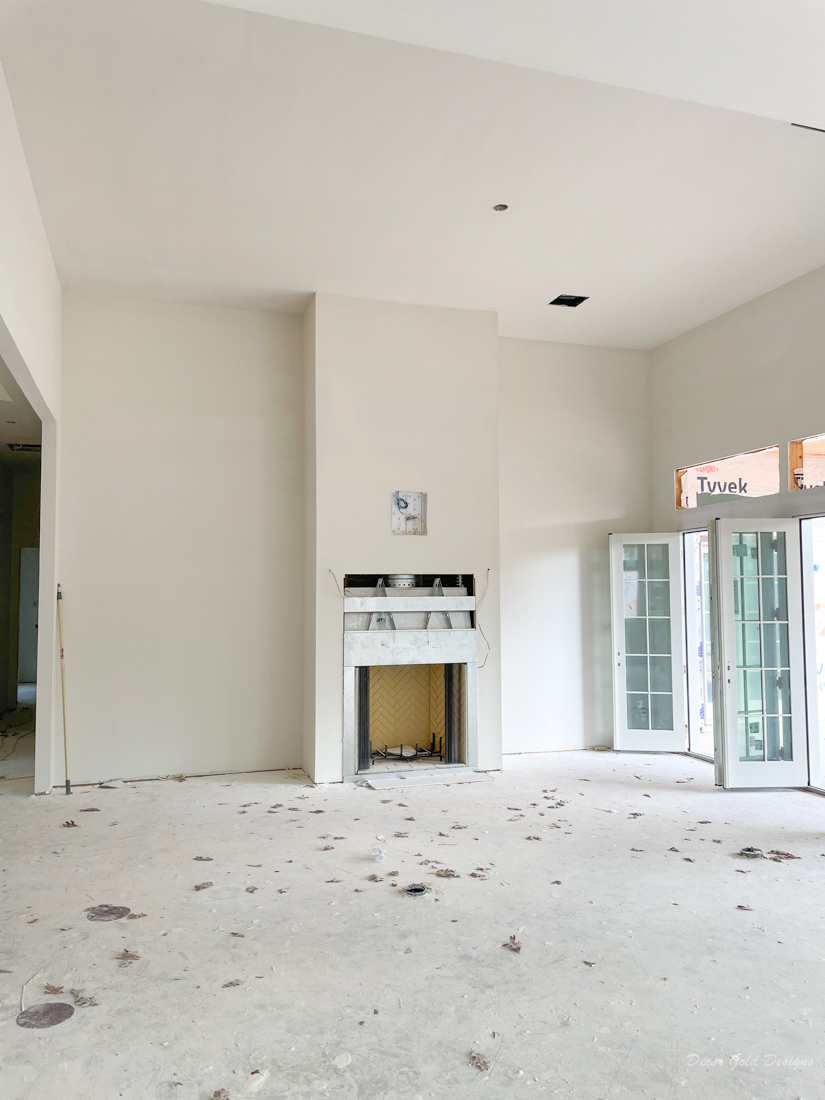 View of kitchen from living room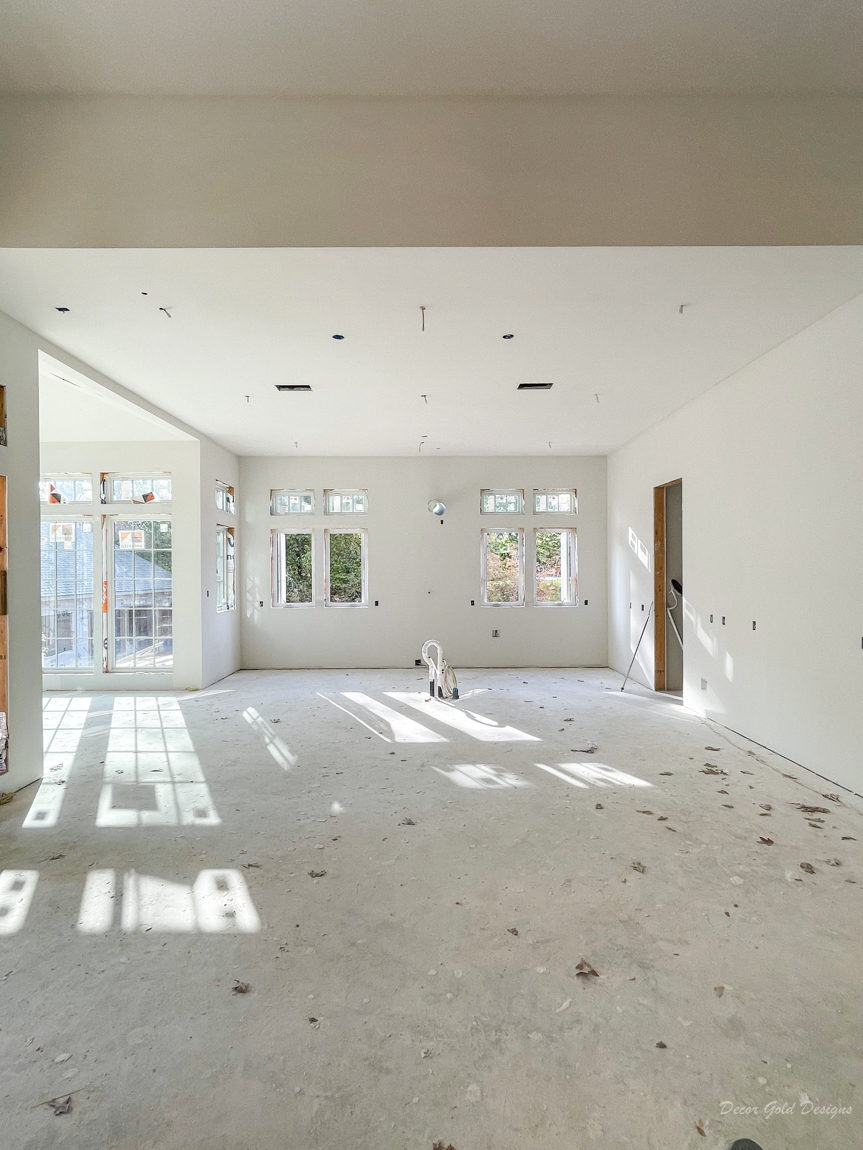 Breakfast room and kitchen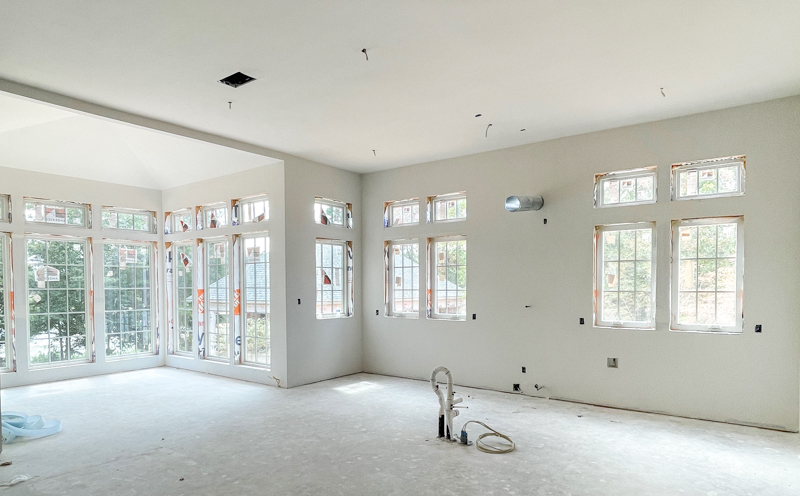 Breakfast room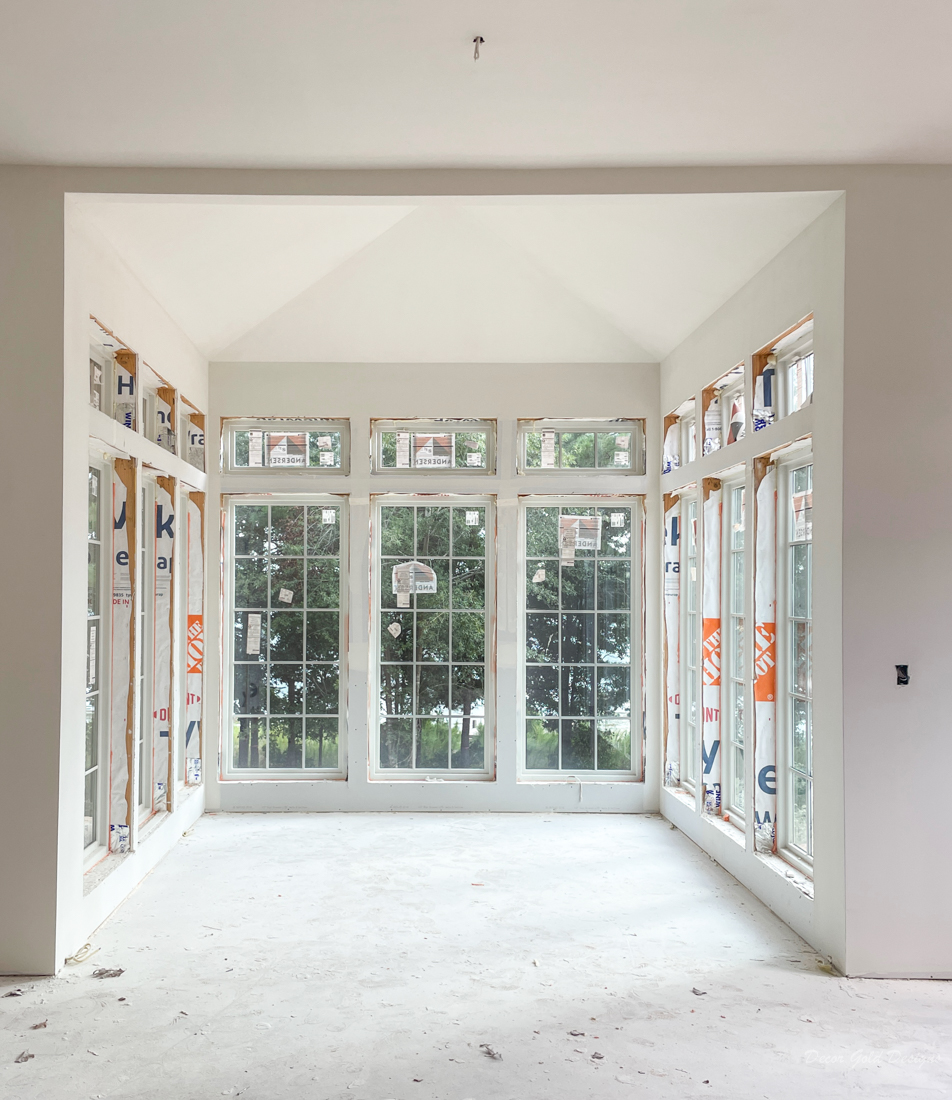 Guest bedroom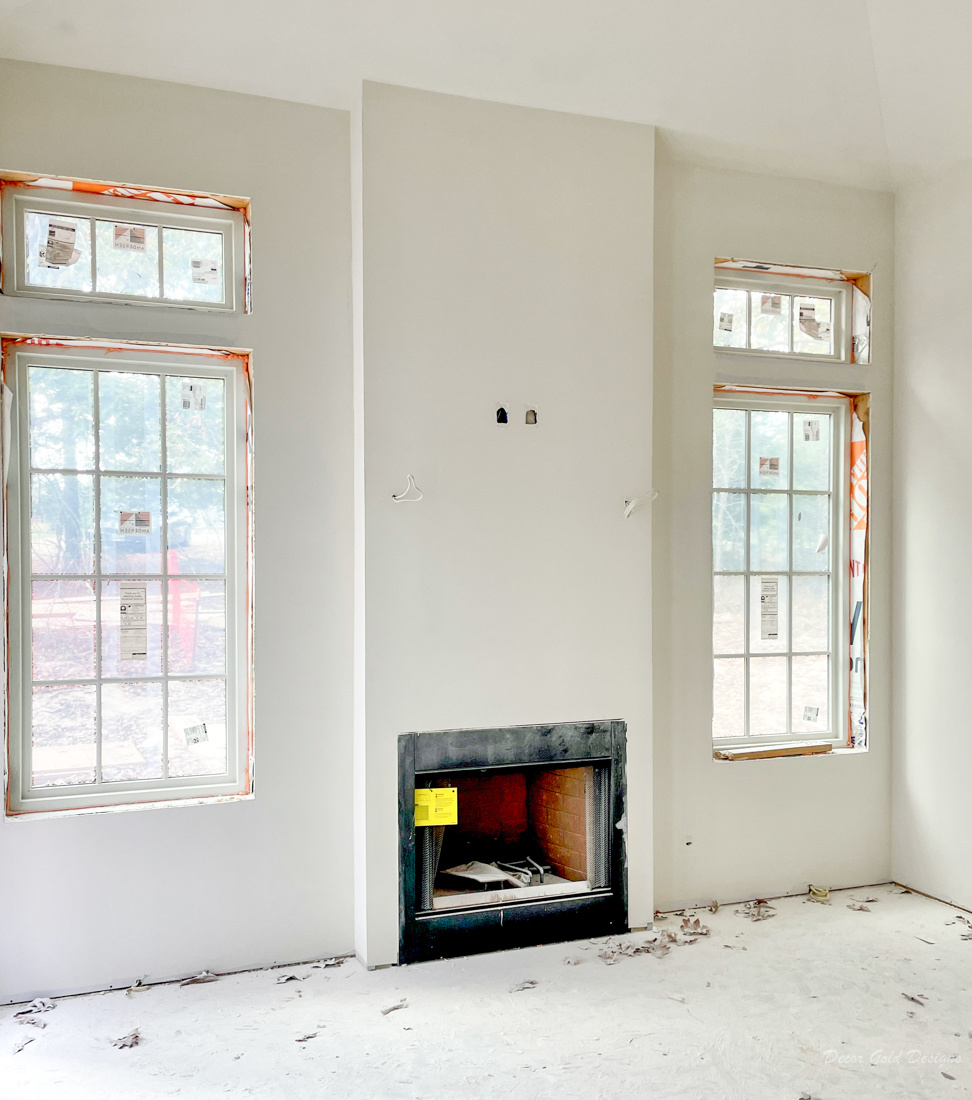 Guest bedroom and doors to the courtyard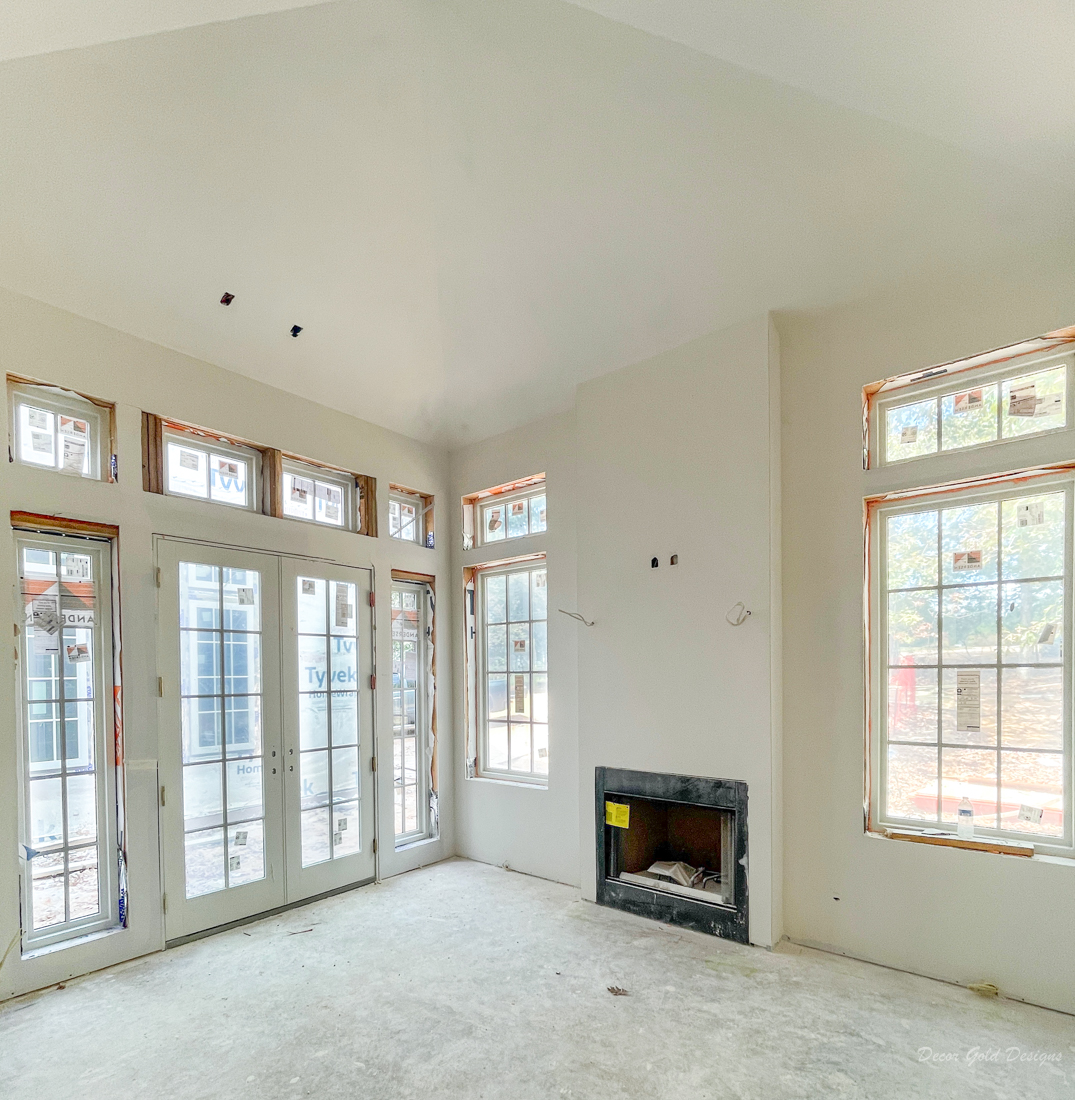 Primary bedroom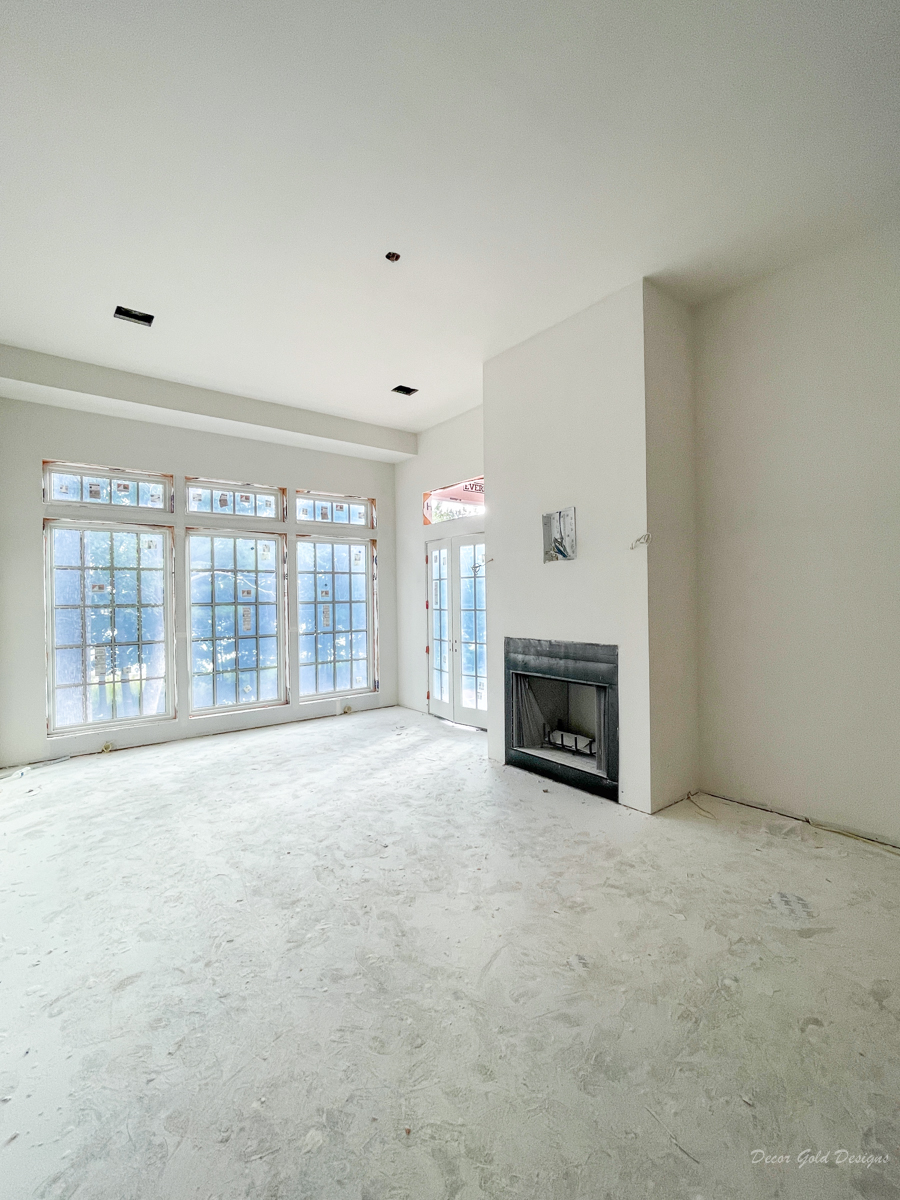 Primary bathroom bathtub area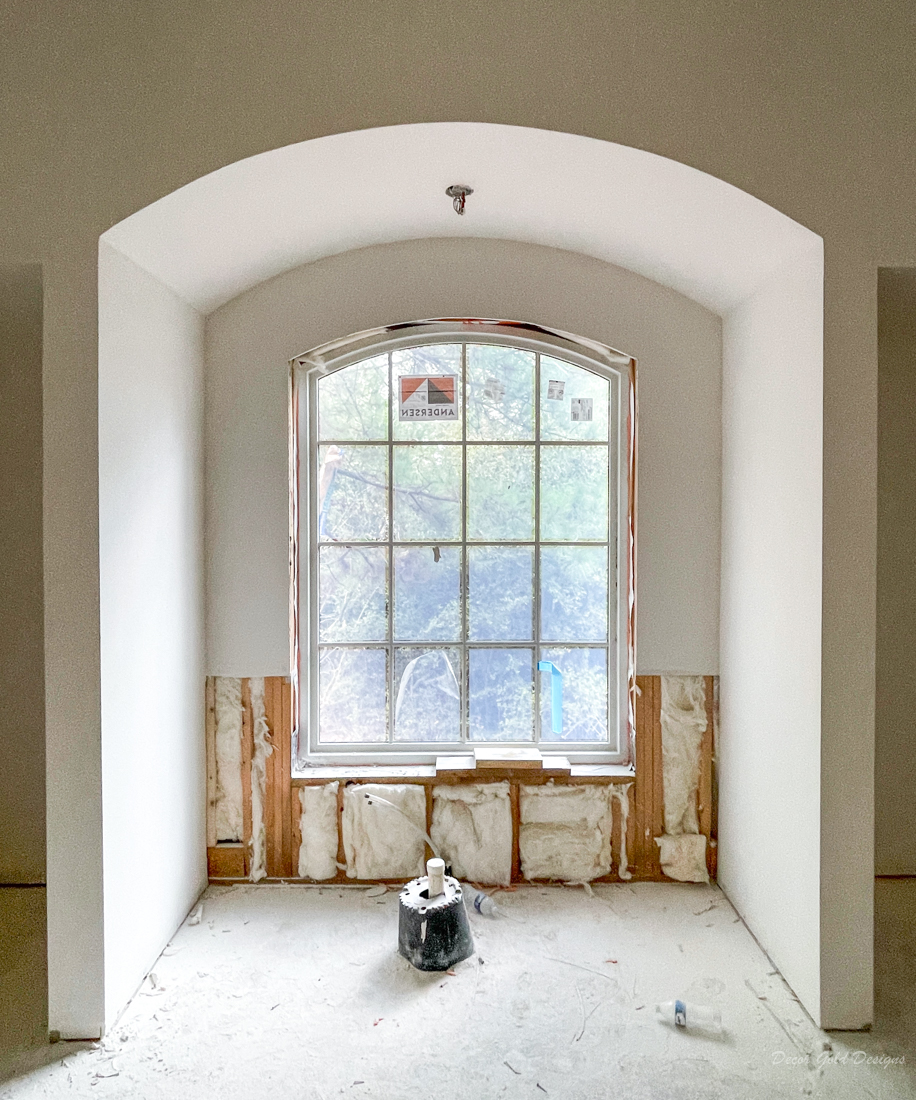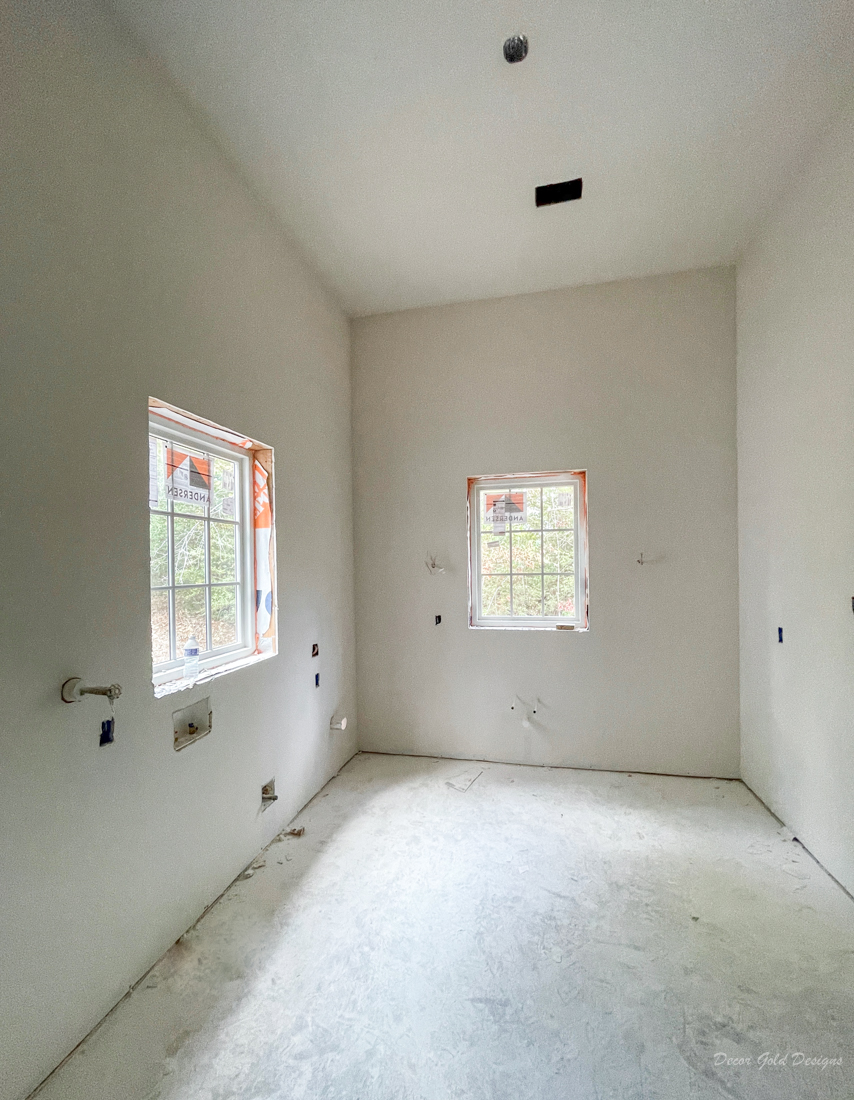 Side note…. the drywall and level 5 process took about 3 weeks, so we were able to sneak away on a summer trip during this time. It has been a much-needed break as this build job has been quite consuming and somewhat stressful!
Next up for the interior will be cabinets and trim moulding. Because we are finally at the stage where the pretty things will be happening, I should have much more frequent updates for you. Can't wait!!!
I hope you'll stay connected!
Click on the Image to Subscribe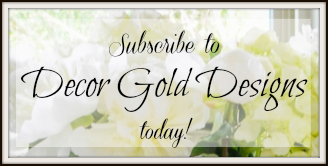 SOCIAL
Instagram | Pinterest | Facebook
Follow me on the LIKEtoKNOW.it app!