Welcome to my summer home! I'm thrilled you are here. This might be my favorite tour to date and I have been so eager to share it with you.
Also, if you are visiting from Randi Garrett Design, thank you for stopping by here too! Randi is a dear friend and an amazing designer. Don't you just love her home with summer decor?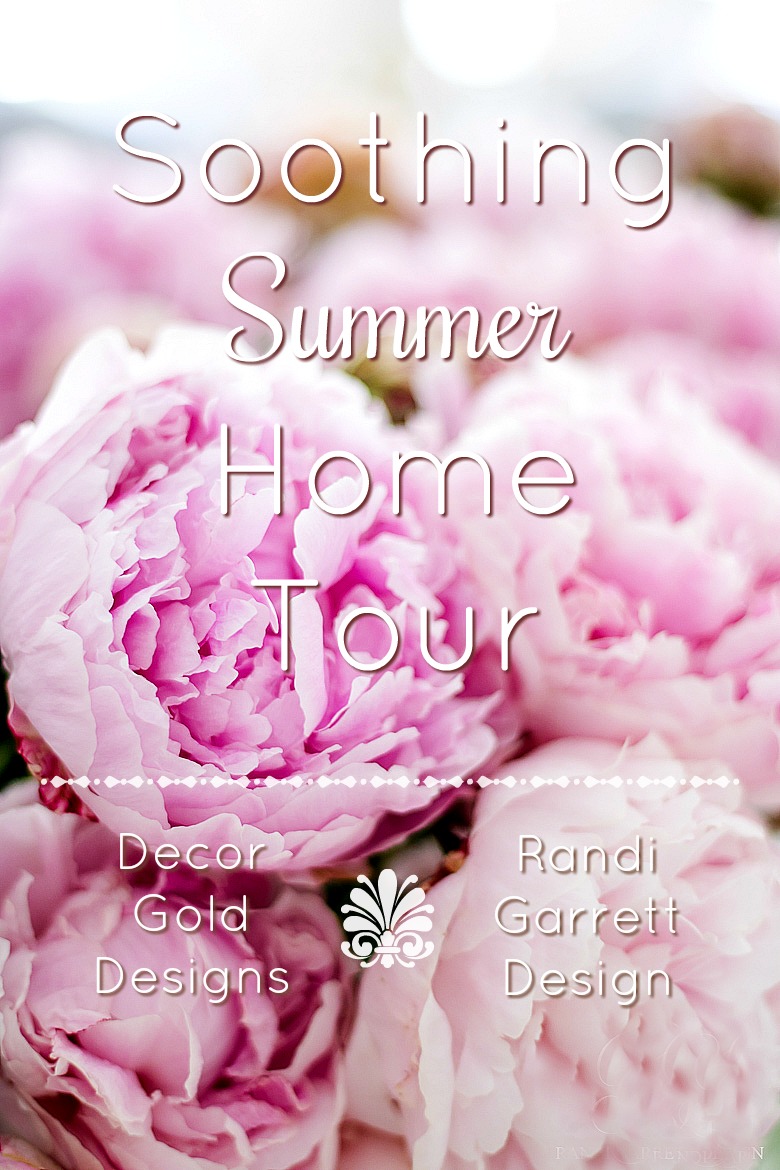 *This post contains affiliate links.
First, let's begin the tour in the foyer.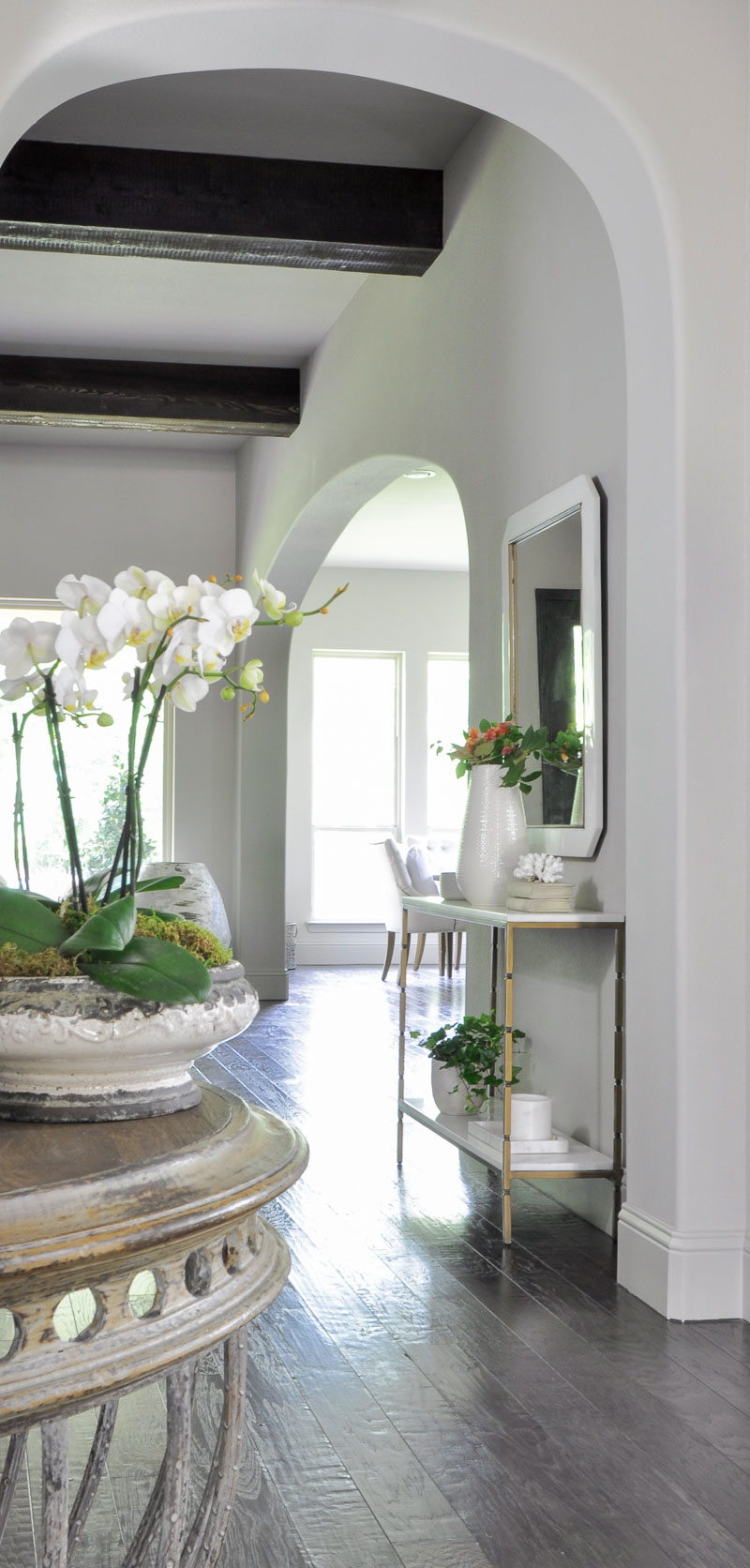 I recently moved this mirror out of my bedroom and into my foyer. Also, I'm in the process of updating the look of my entry. So, I decided to make an orchid arrangement to give this table a summery look. It's a quick and easy way to add a bit of elegance to any spot in your home. You can find simple instructions for making one like it here.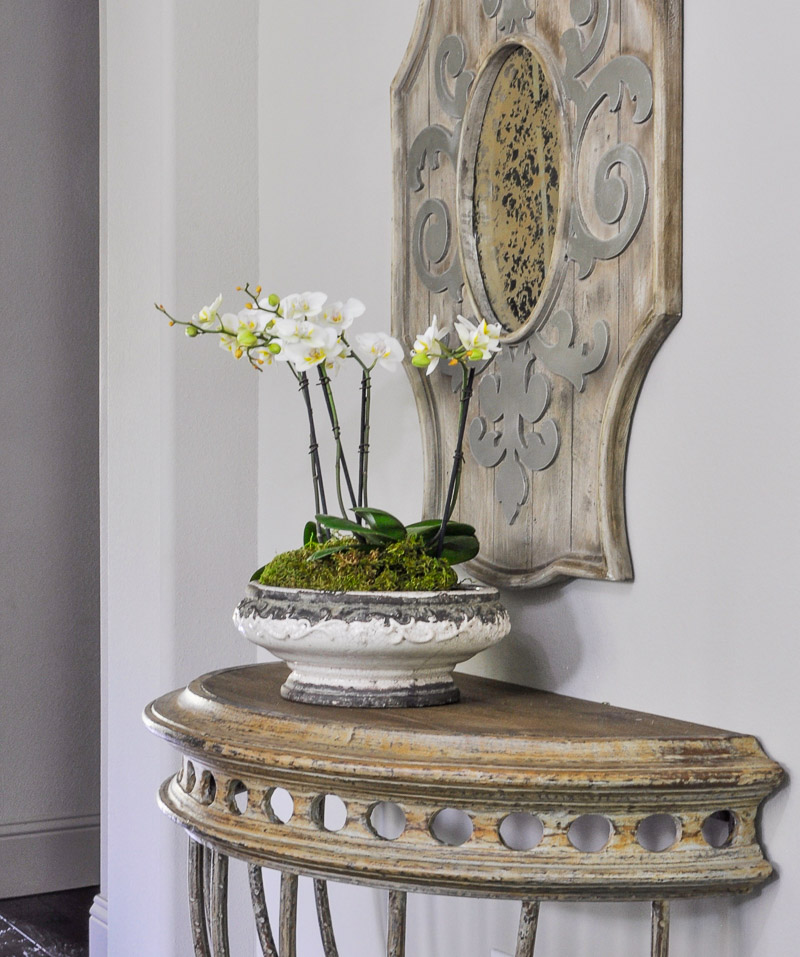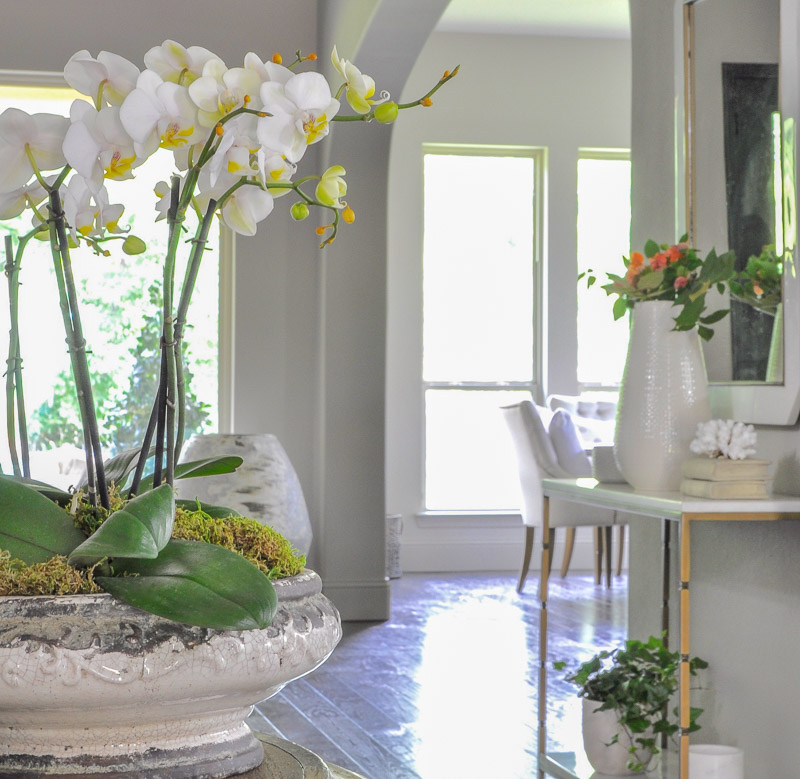 Get the Look – Foyer

The long entry hall leads into our living room. Here, a new white coffee table tray and simple white accessories are an easy way to lighten and brighten for the season.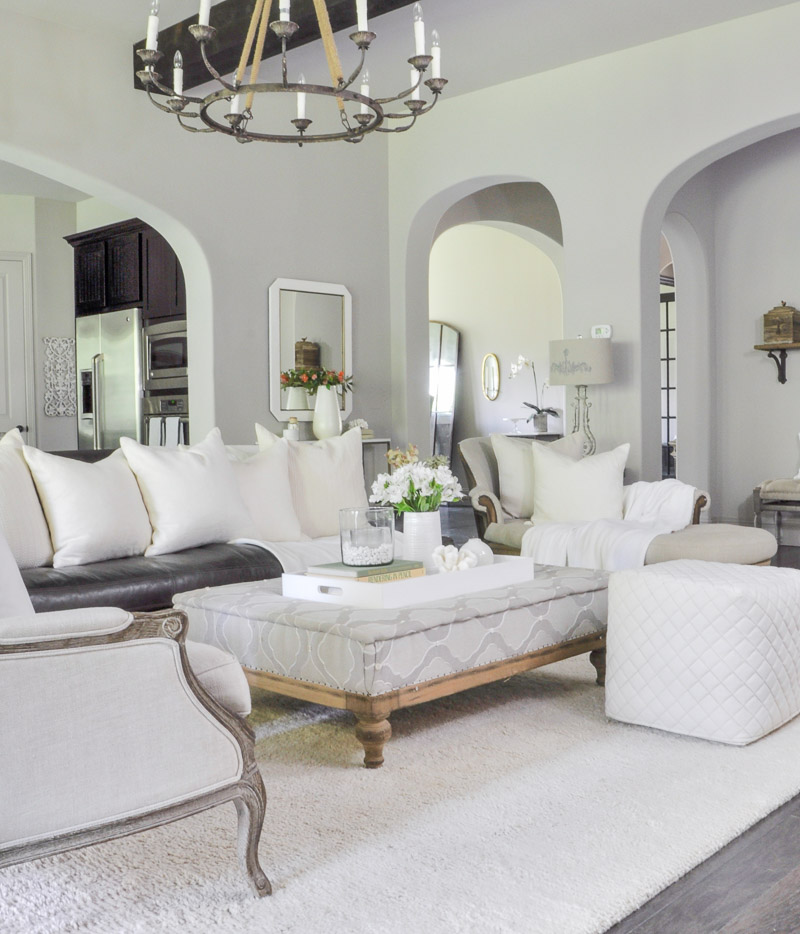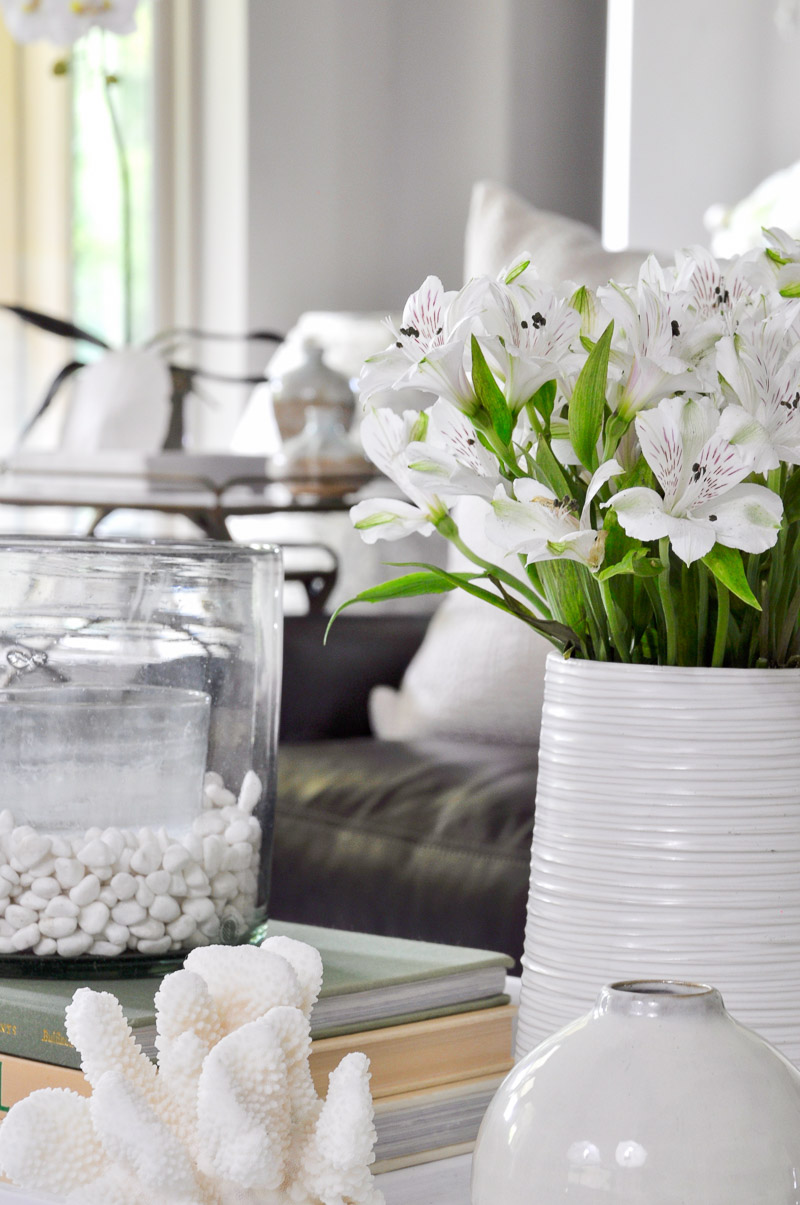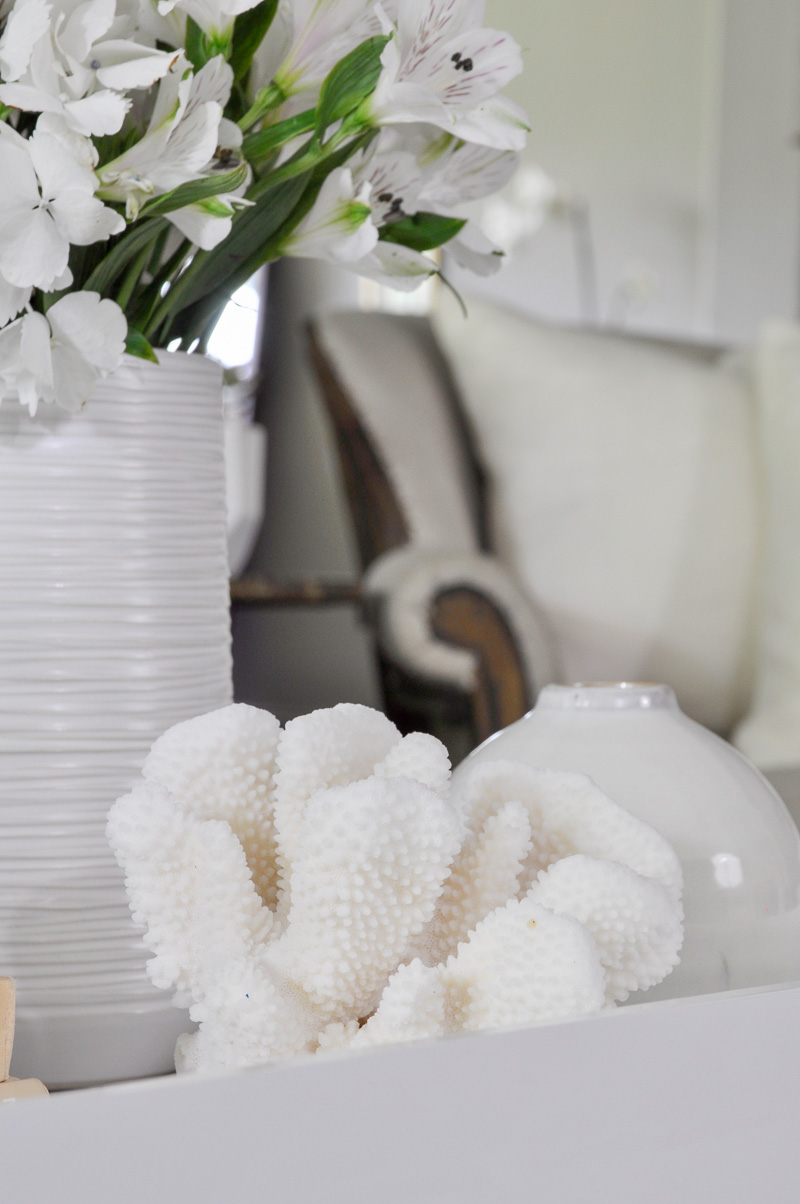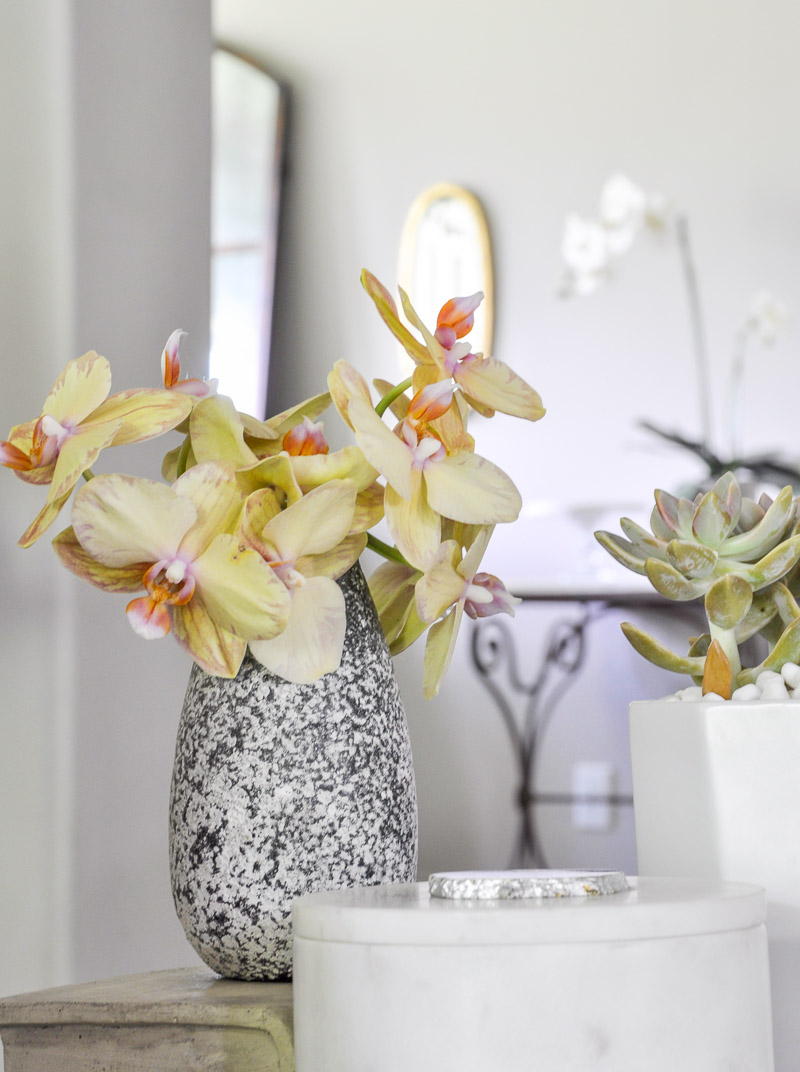 Get the Look – Living Room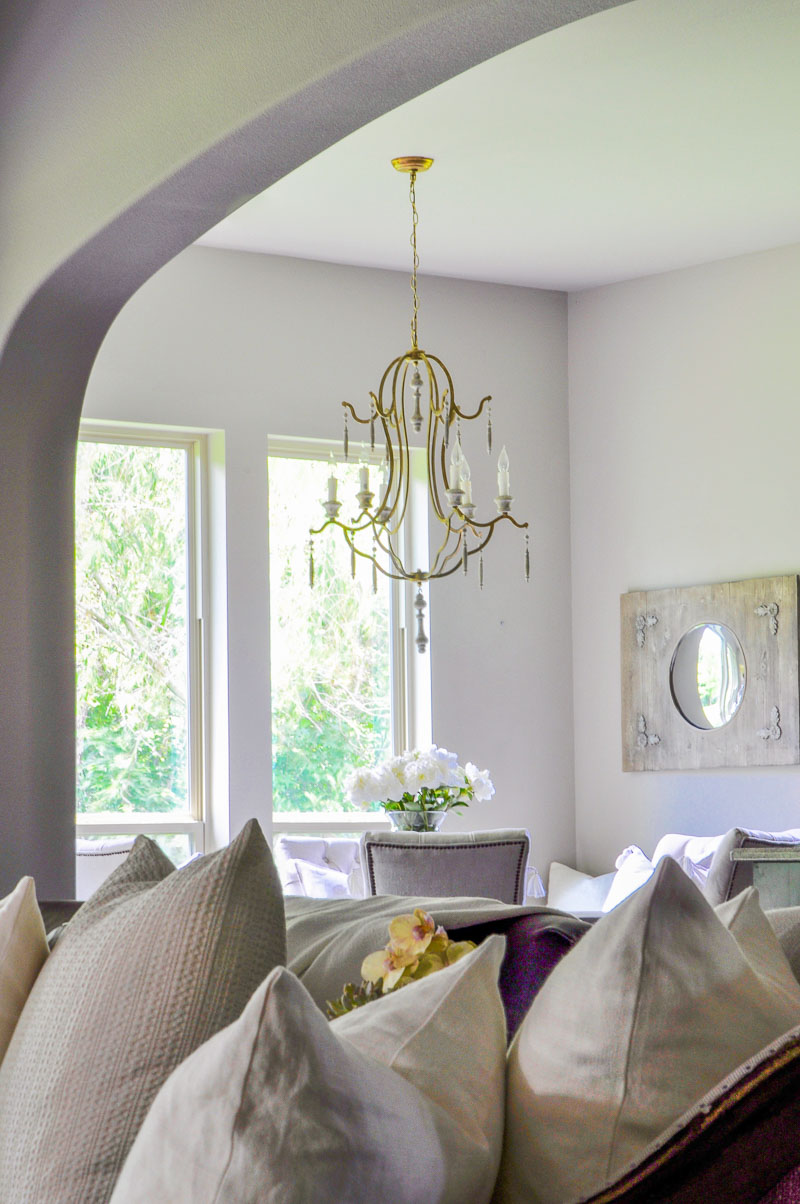 Here is another mirror that has a found a new home in our breakfast room. Also, I have updated the accent pillows as well with three styles from the new product line at Pom Pom at Home. In fact, I love the subtle pattern and cute tassels.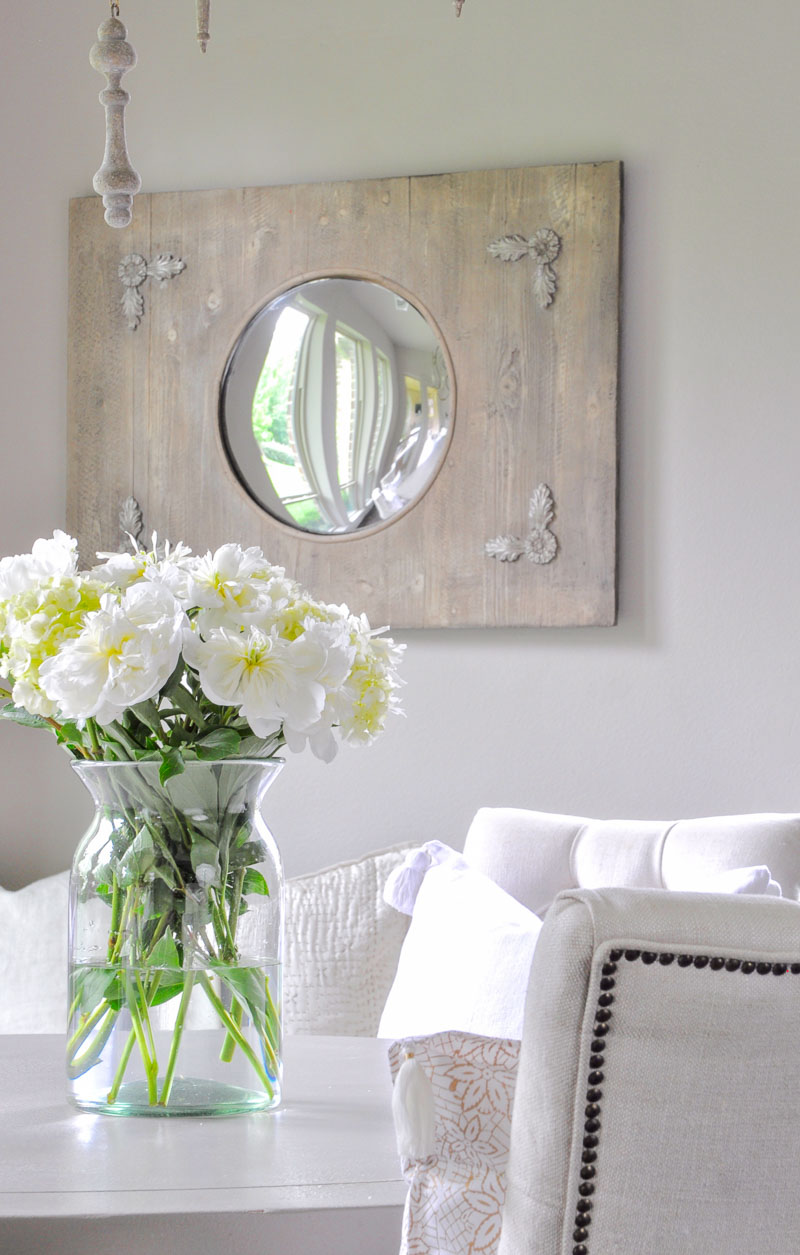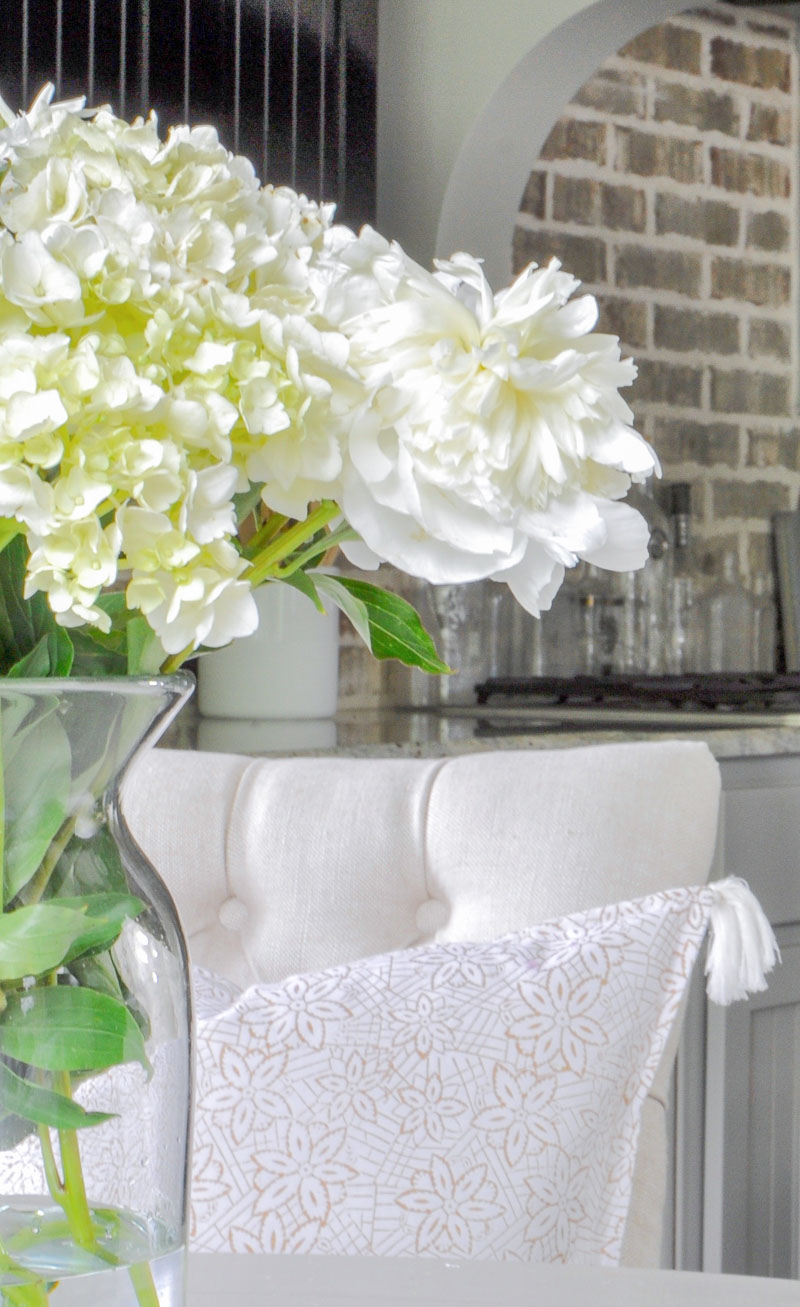 In addition, I'll be sharing ideas for a beautiful summer breakfast soon. So, be sure and check back often!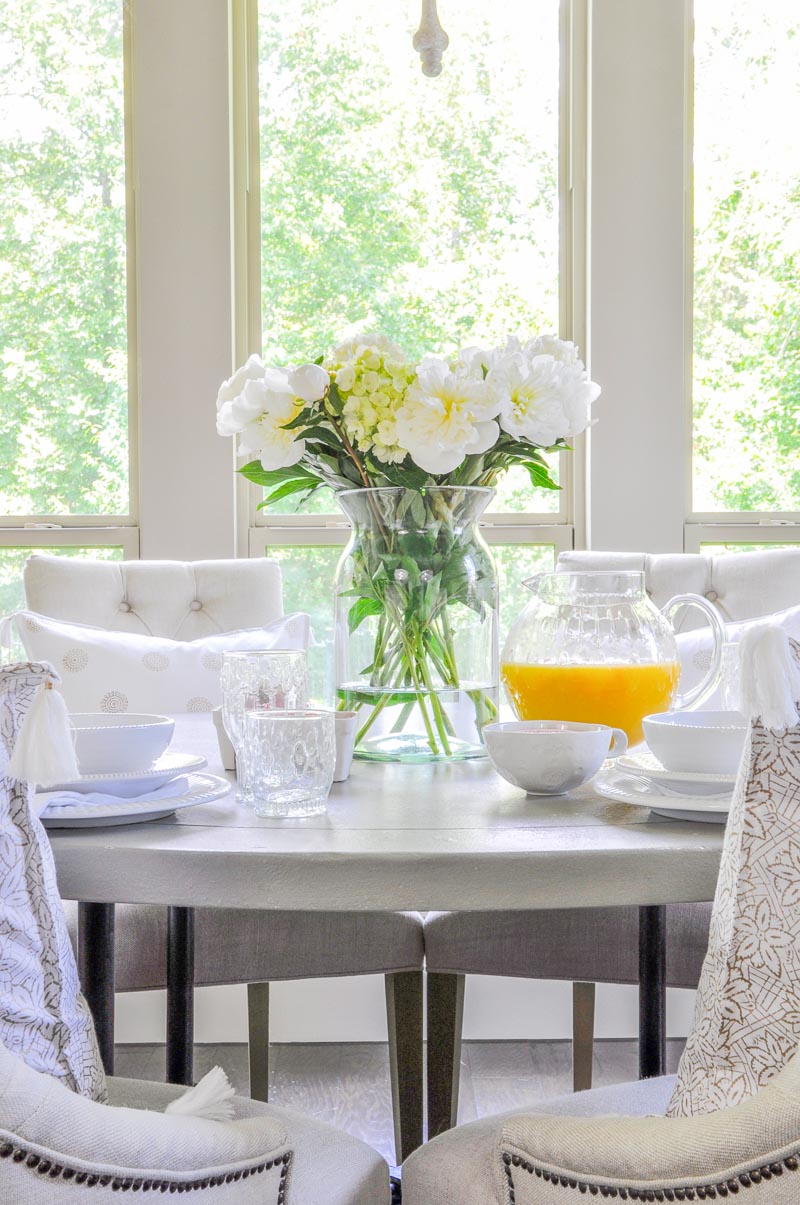 Get the Look – Breakfast Room

For the kitchen, I am just head over heels for these coral peonies. Aren't they gorgeous!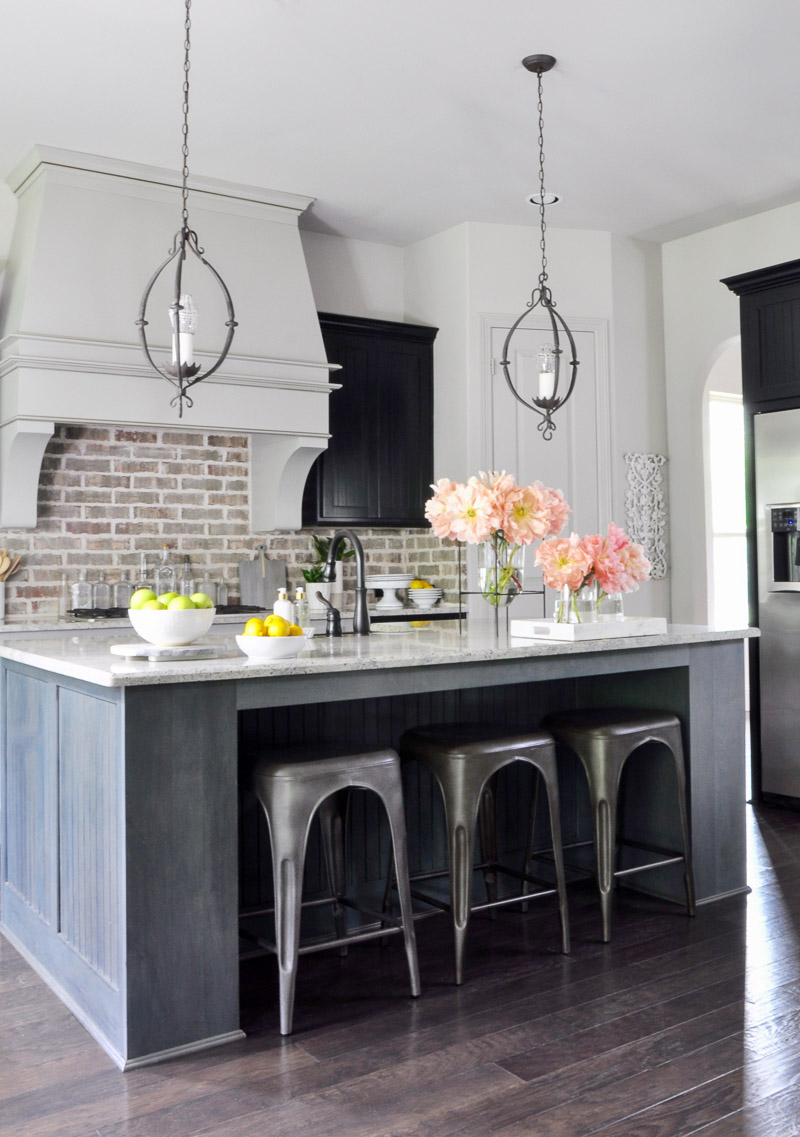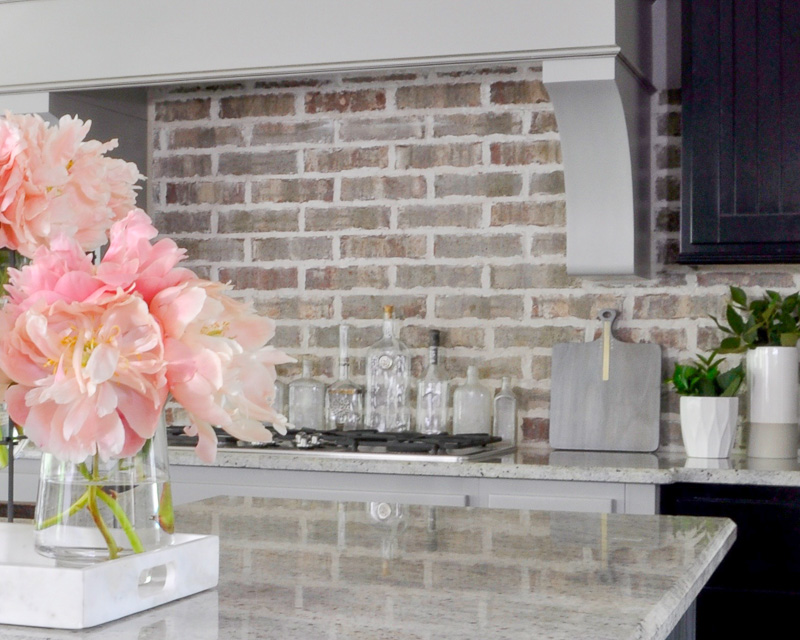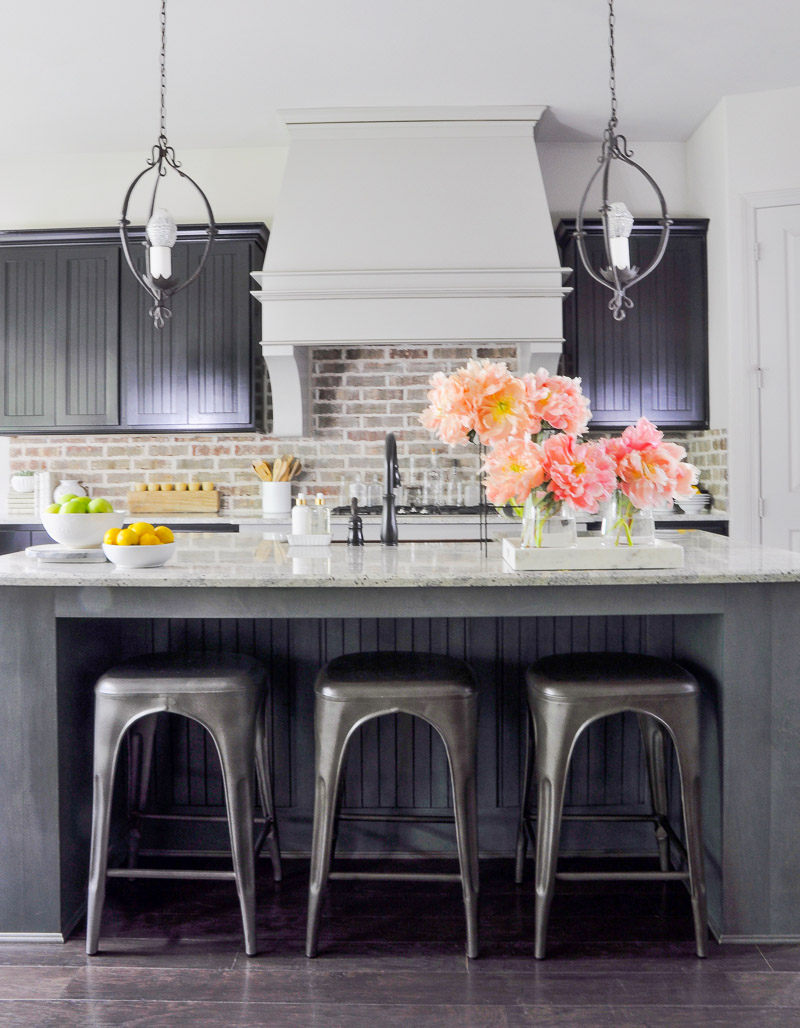 Get the Look – Kitchen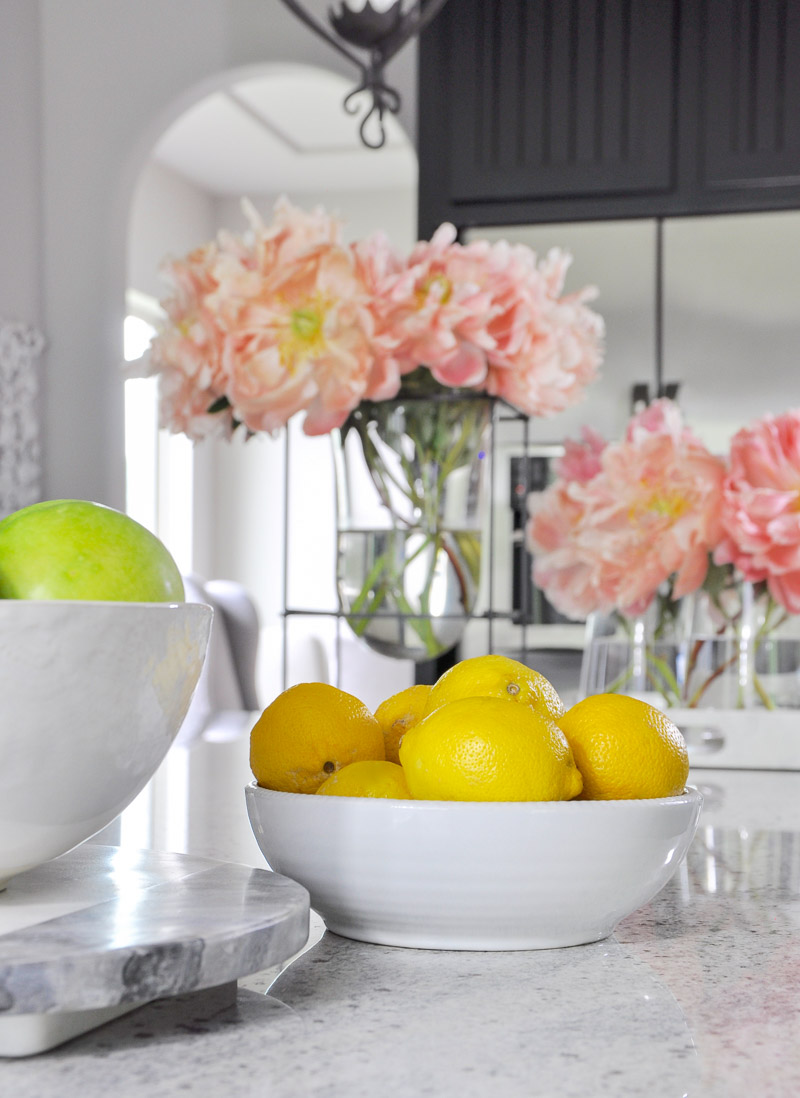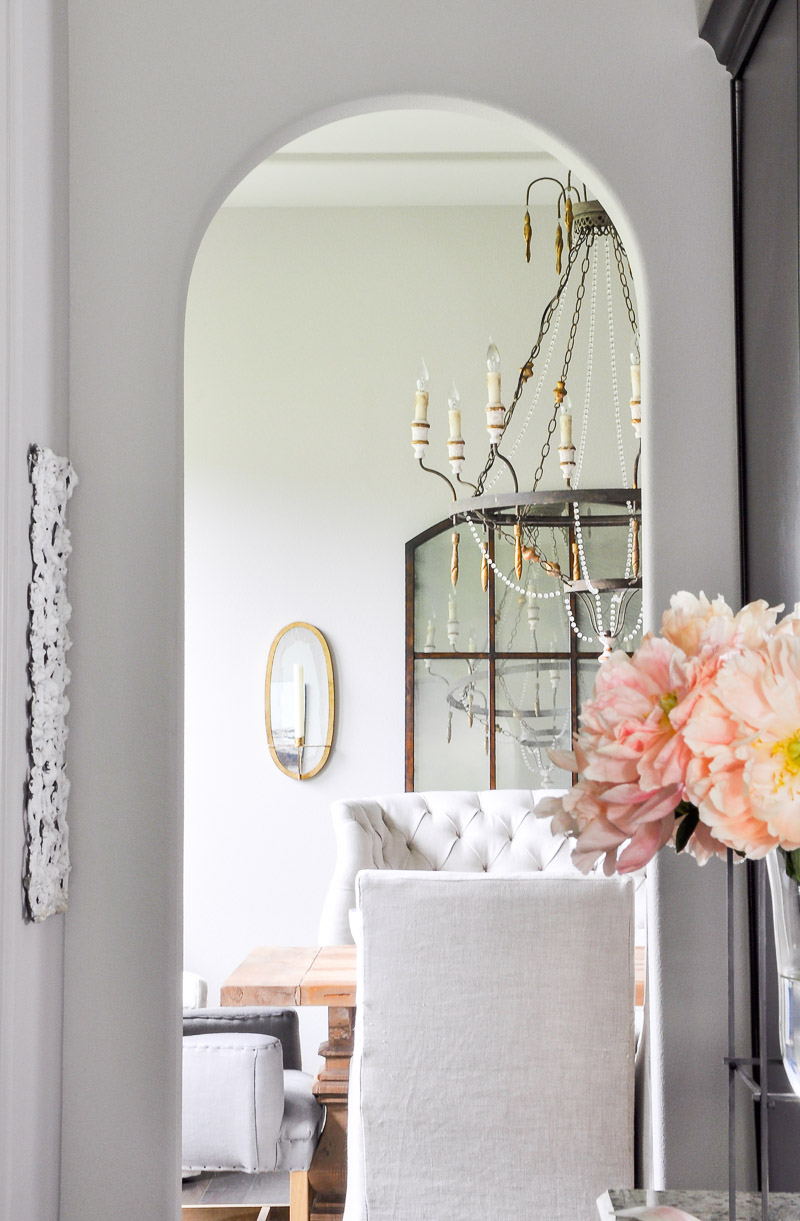 Similarly, I used these same coral peonies in the dining room.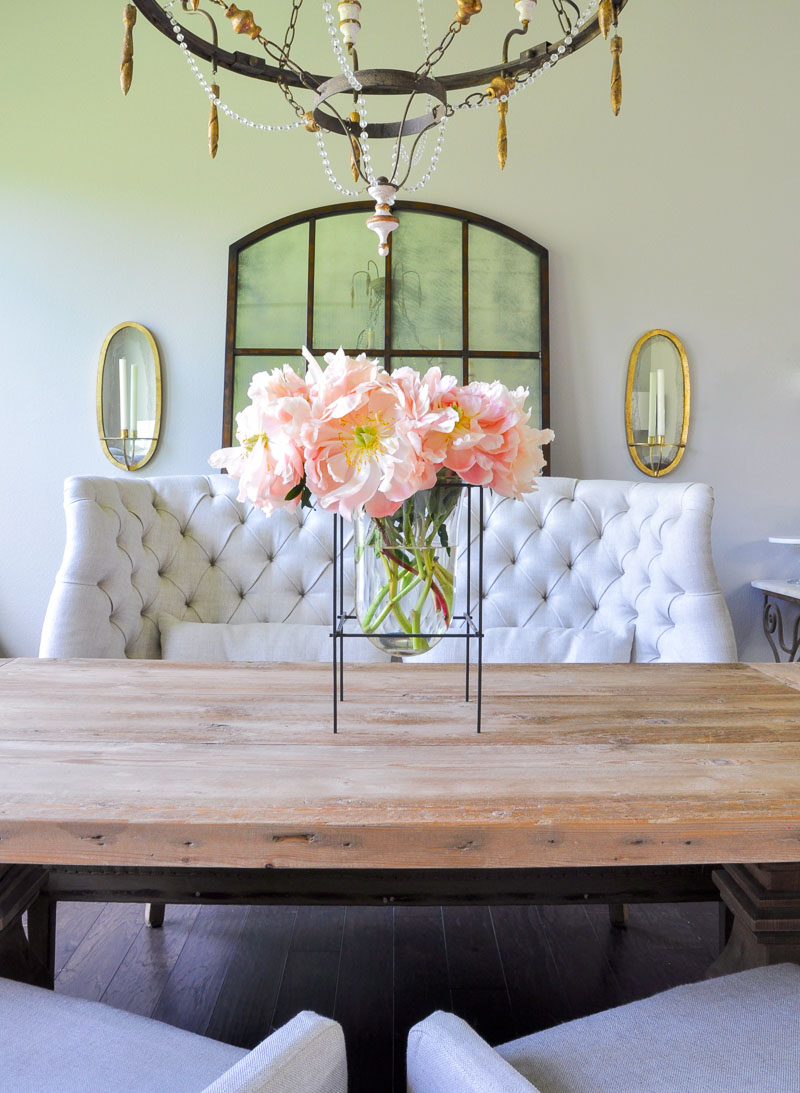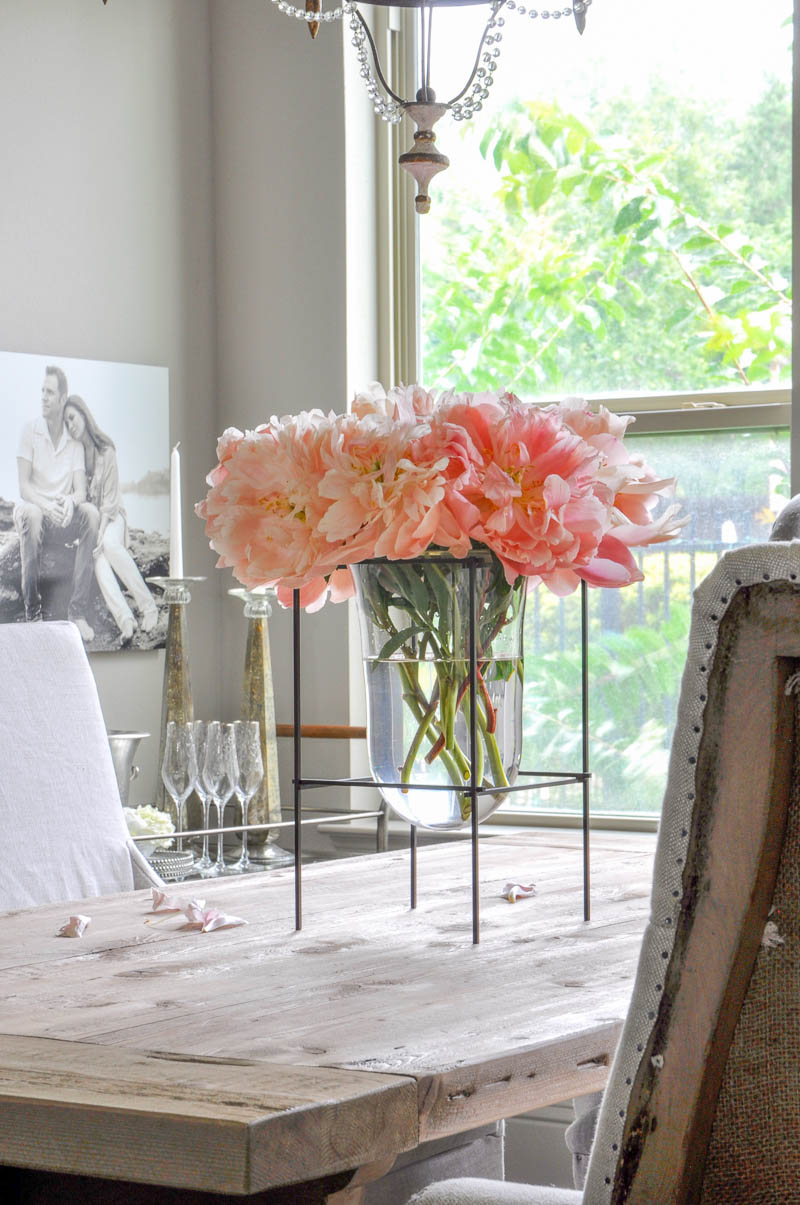 And a small orchid on the bar cart adds the perfect touch of summer.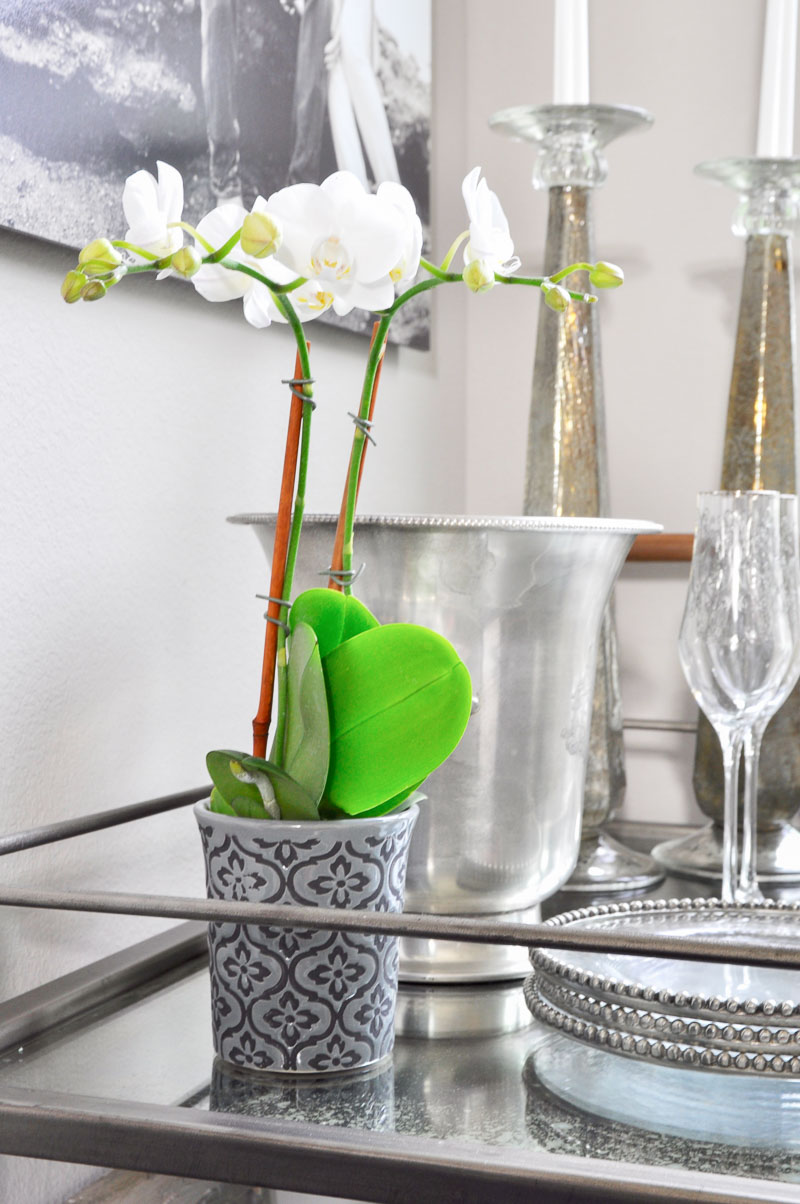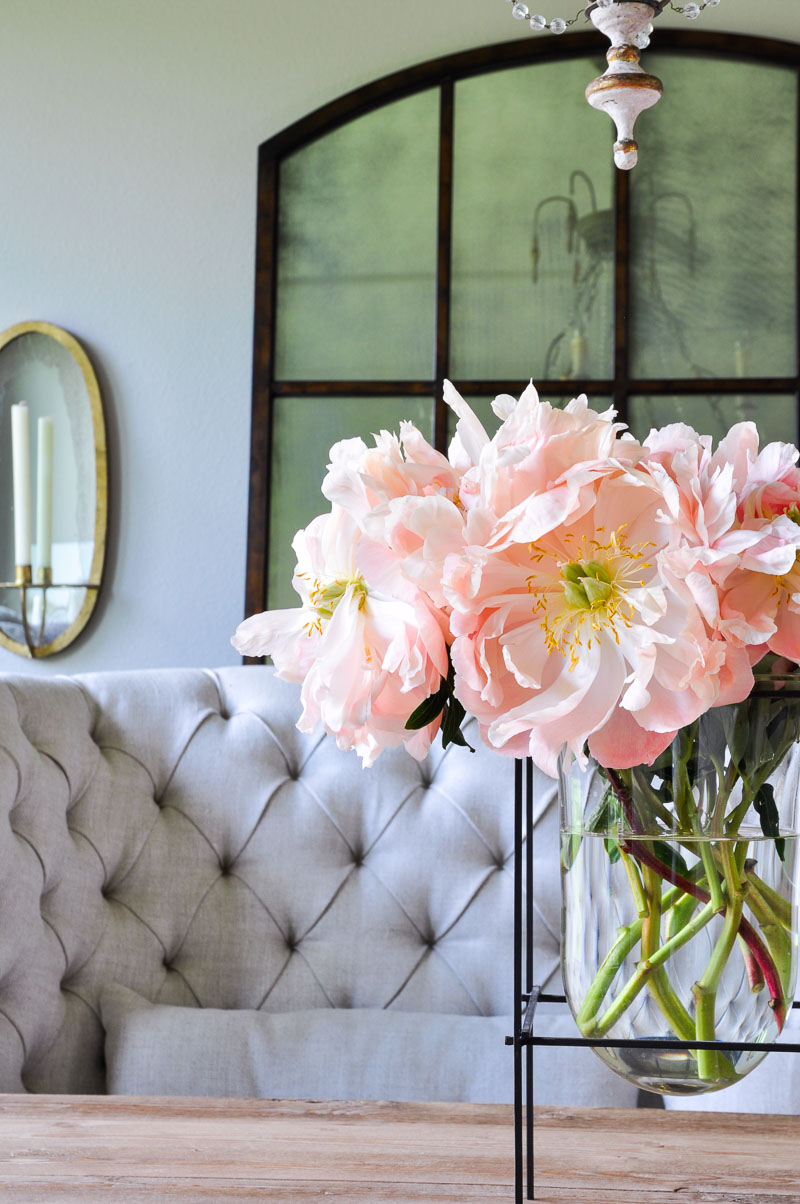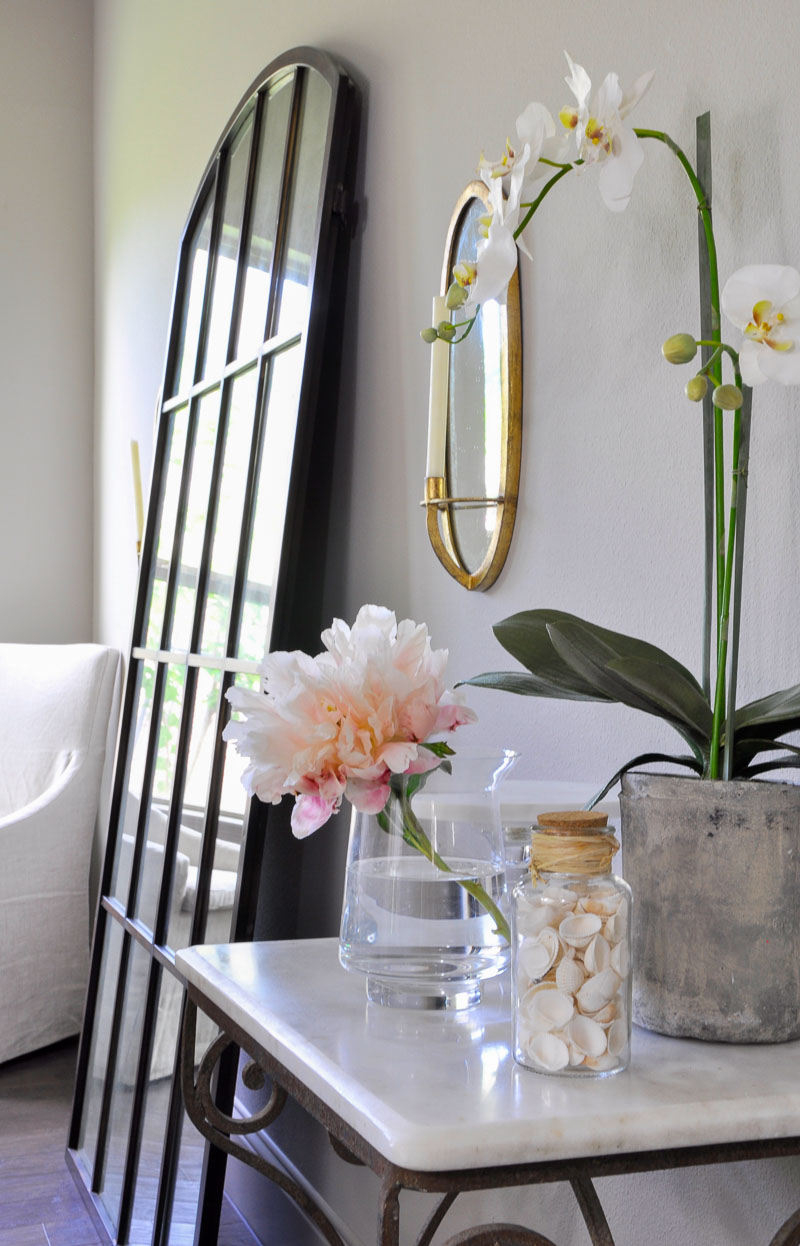 Get the Look – Dining Room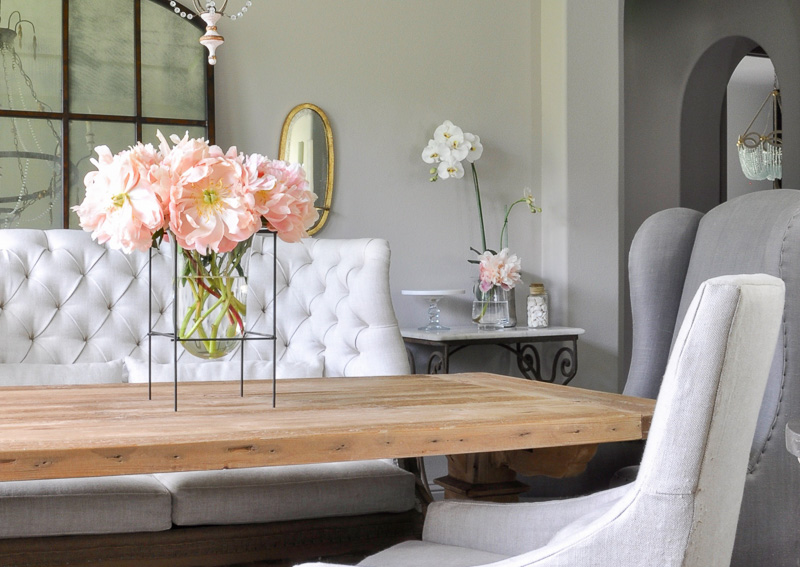 The jar of shells and the coral were purchased at my favorite boutique in Laguna Beach, California. As a matter of fact, summer is a great time to bring out those souvenirs from your tropical vacations.
For the bedrooms, I used lightweight bedding and white accessories for a summer look.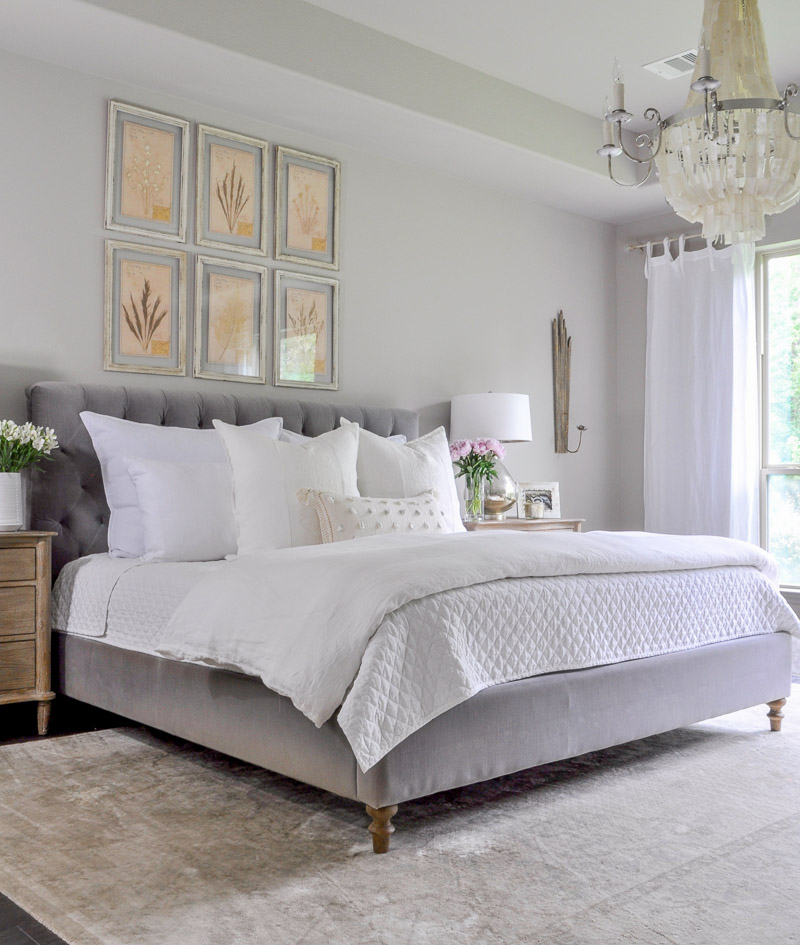 Get the Look – Master Bedroom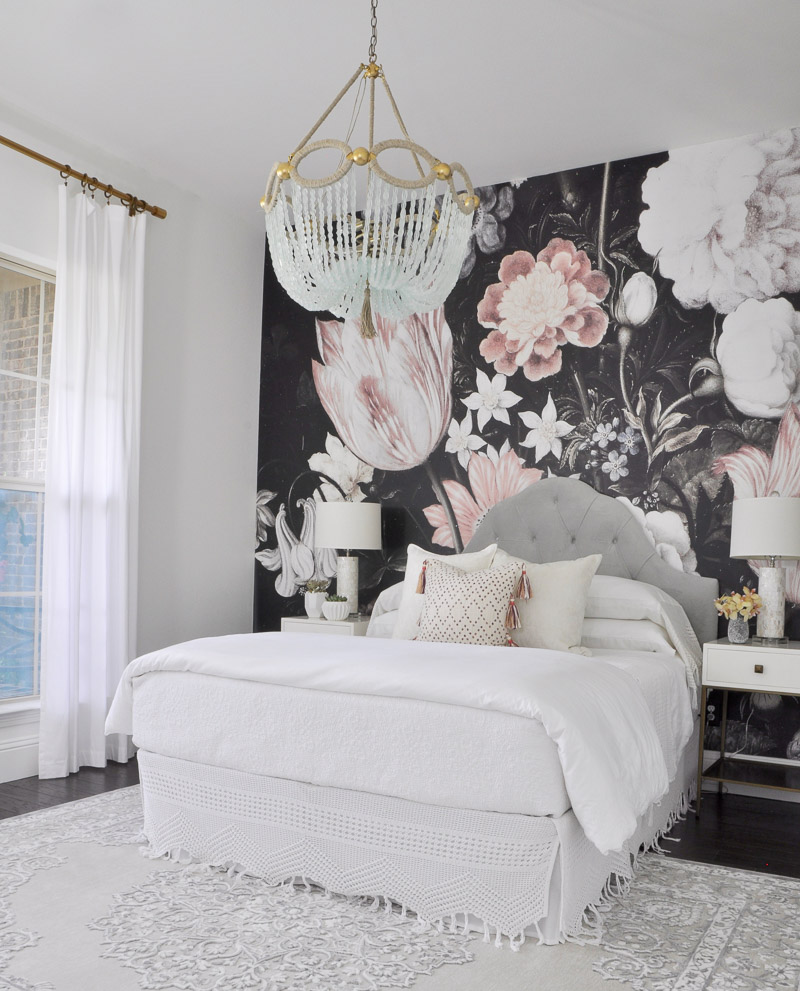 Get the Look – Bedroom 2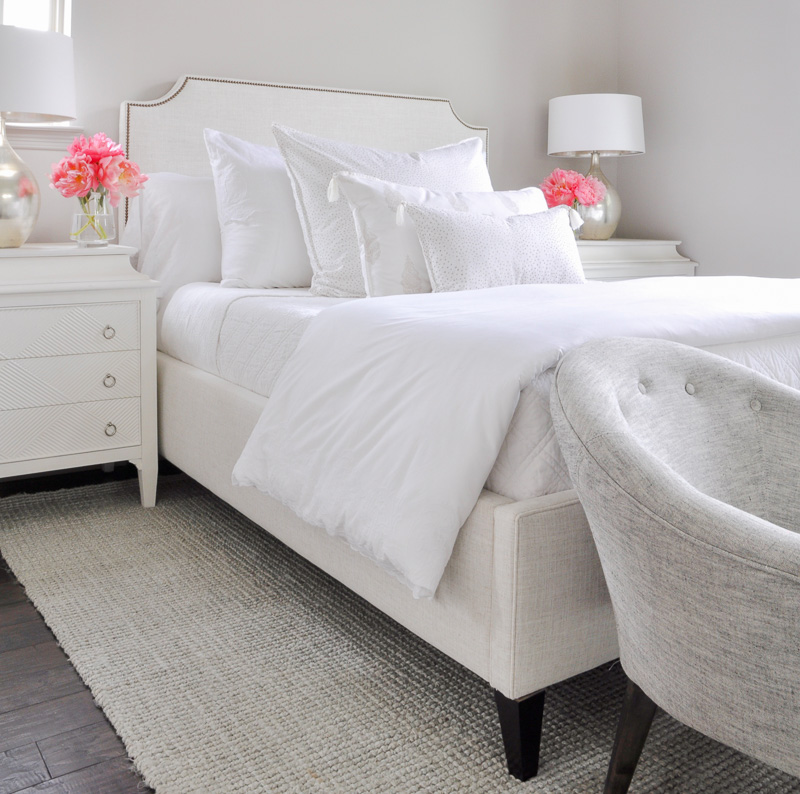 Get the Look – Bedroom 3

Additionally, you can find many more images of my summer bedrooms in my Bed Styling post. Just follow the link below.
Also, I recently revealed my Updated Patio and shared 7 Tips to Help You Create an Inviting Outdoor Space to help you enjoy your home this summer, inside and out!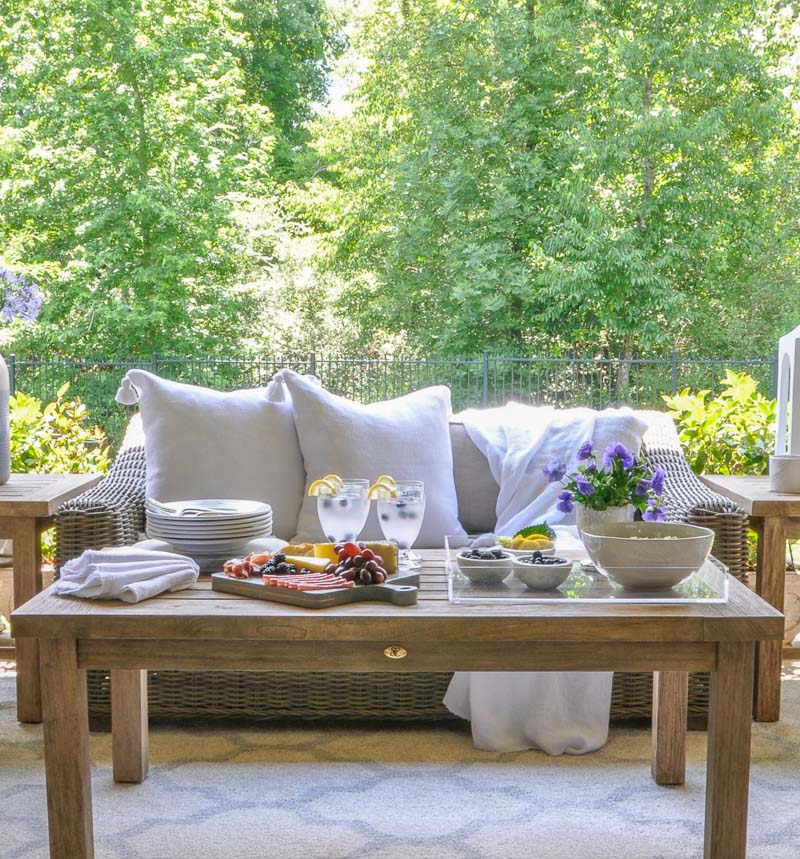 Lastly, thank you for visiting Decor Gold Designs' Summer Home Tour! I appreciate you stopping by. I hope you will consider subscribing to my newsletter to get updates about recent posts.

ENTRY
Similar Coral | White Tray | White Console Table | White Mirror – Gabby Home | Demilune Console | Wood Mirror – Discontinued
LIVING ROOM
White Textured Pillows | Similar White Linen Pillows | White Vase | White Tray | Glass Hurricane| Round Marble Box | Similar Coral | Pouf | Ottoman – Reupholstered | Chandelier | Similar Sofa | Chairs | Nesting Side Tables | Rug
BREAKFAST ROOM
Vase | Pillow 1 | Pillow 2 | White Tassel Pillow | Dinnerware | Glassware & Glassware | Pitcher | Teacups | Linen Napkins | Chairs | Chandelier | Table – Discontinued | Mirror – Discontinued
KITCHEN
Rectangular Marble Tray | Round Marble Tray | White and Gold Soap Dispenser | Cake Stand | White and beige vase | White Bowl 1 | Similar White Bowl 2 | Glass Vase | Glass Vase on Stand – Discontinued | Utensil Holder | Similar Bar Stools | Copper Sink | Light Pendants – Discontinued
DINING
Similar Table | Similar Tufter Settee | Similar End Chair | Similar Slipcovered Side Chair | Leaning Mirror | Chandelier | Gold Sconces | Vase on Stand – Discontinued | Bar Cart | Cake Stand
MASTER BEDROOM
White Vase | Similar Bed | Chandelier | Similar Nightstand | Similar Botanical Art | Window panels | Rug | Wall Sconces | Lamps | Euro sham | Standard sham | Duvet cover | Coverlet | Pillowcases | Similar light gray velvet pillows | Big Pillow | Lumbar Pillow | King Shams
GUEST BEDROOM 2
Bed | Nightstands | Chairs | Cotton Velvet Coverlet | Duvet Set | Euros | Lace Pillowcases | Big White Pillow with Gold Dots | Large Lumbar | Small Lumbar | Vases | Chandelier
GUEST BEDROOM 3
Chandelier | Rug | Wallpaper | Headboard | Lamps | Lamp Shade | Curtain Rod | Curtain Rings | Pink Tasseled Pillow | Crochet Pillowcases | Crochet Sheet | Duvet Set | Bedskirt | White Rectangular Planter | White Linen Velvet Pillow |
Now, I would like to send you to my sweet and talented friend Randi's summer tour. You are sure to be inspired!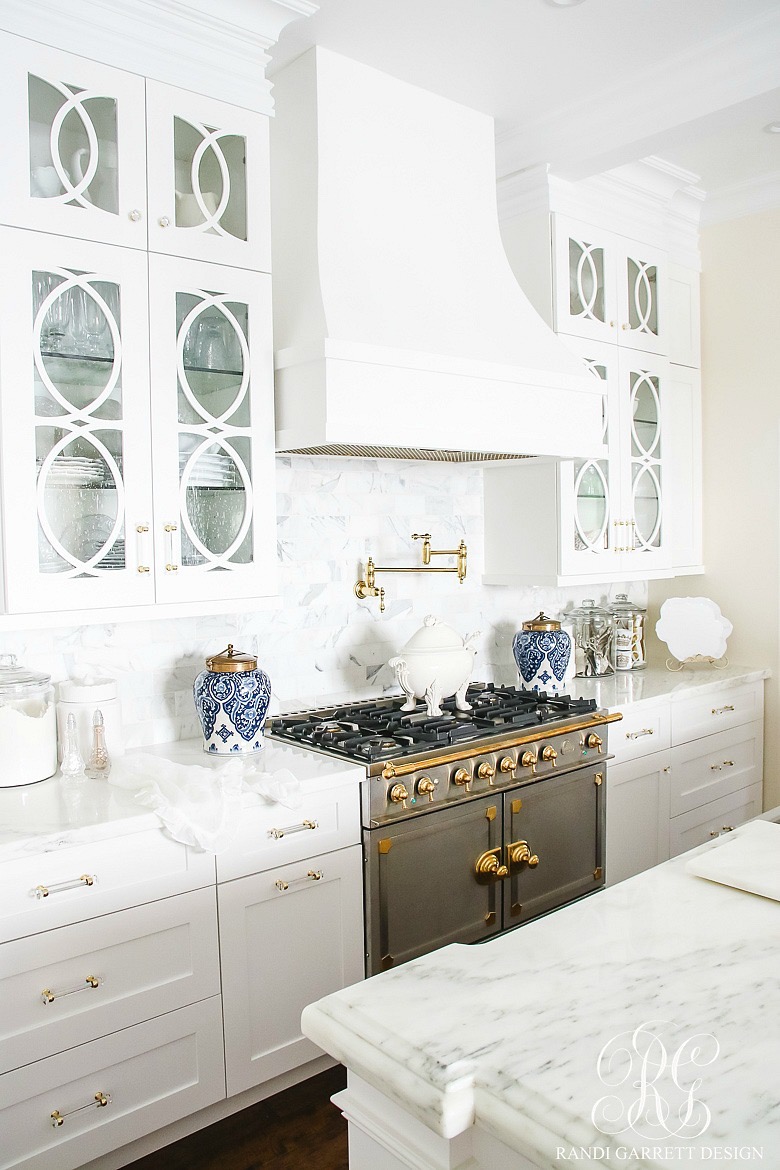 PIN THIS!!