We all love an inviting outdoor space, right?
Since summer is just around the corner, today I'm sharing my 7 tips to help you create that perfect and inviting outdoor space.
In our home, we are always looking for an excuse to head outdoors, breathe in some fresh air, and relax with friends and family…oh, and the pets too.
My entire objective was to create an outdoor space that is an extension of my home and I want to help you do that too!
*This post contains affiliate links


First, it's important to have something to provide protection from the elements. The roof of our home was architecturally designed to protect our outdoor space while offering cover for our back patio. If your home doesn't have a covered patio, there are additional choices that can provide shelter while still being stylish. A gazebo, pergola, canopy, or even a colorful patio umbrella are all excellent choices depending on your budget.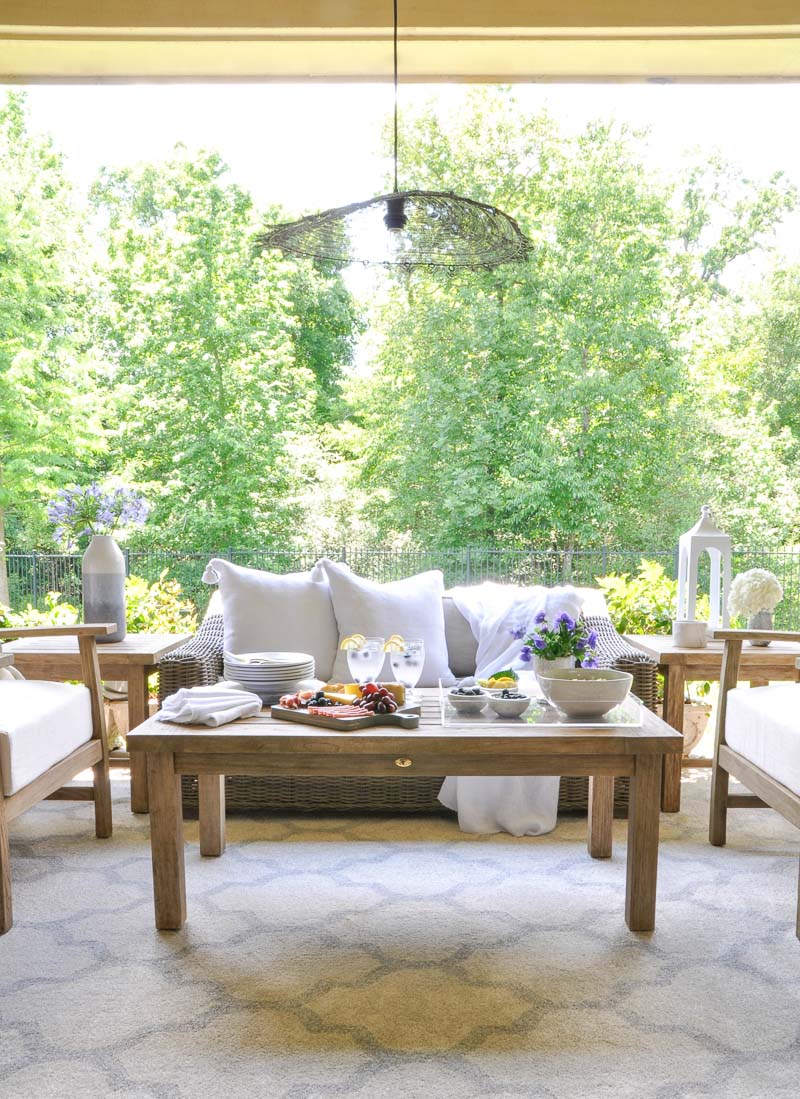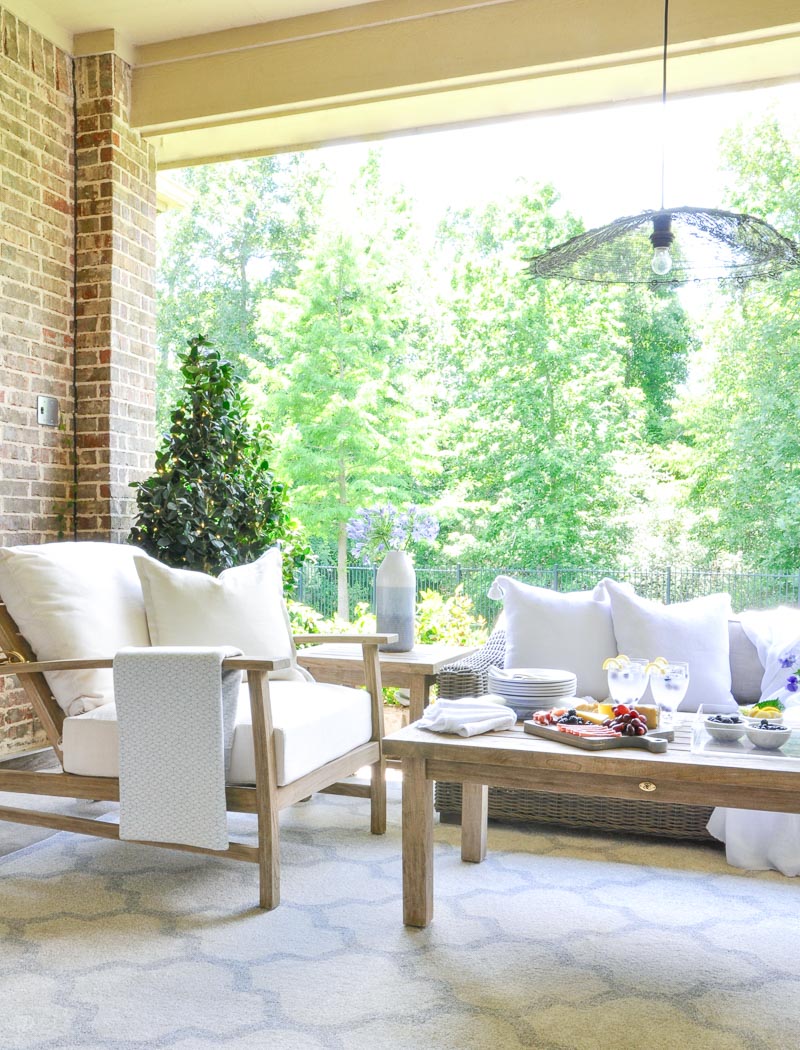 Unless you happen to reside on multiple acres, you will likely need to create your own privacy. This can be done by a wall, a fence, shrubs, trees or any combination of the aforementioned. You'll notice on our property, which is roughly 1/3 of an acre, we have been blessed by a forest behind our home. However, we have neighbors on both sides. Therefore, we have added a few strategically placed plants and trees to create a cozy, private atmosphere around our back patio.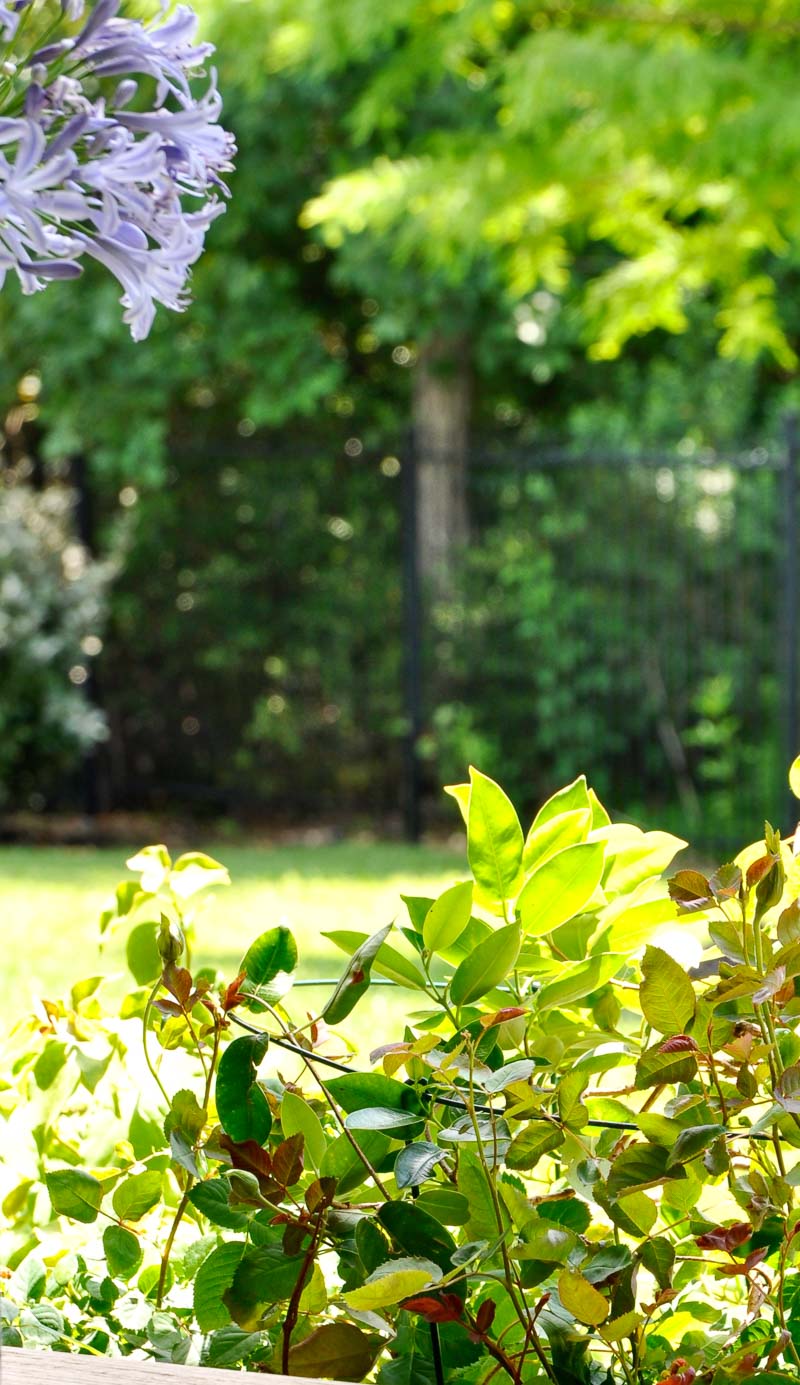 Think of this space as an outdoor dining room/living room. It's nice to have plenty of comfortable seating. Cushions are a wonderful addition if at all possible. The comfort of my guests is always of paramount importance to me. Most of my pieces are from Summer Classics. The quality is excellent and I expect them to last many years into the future.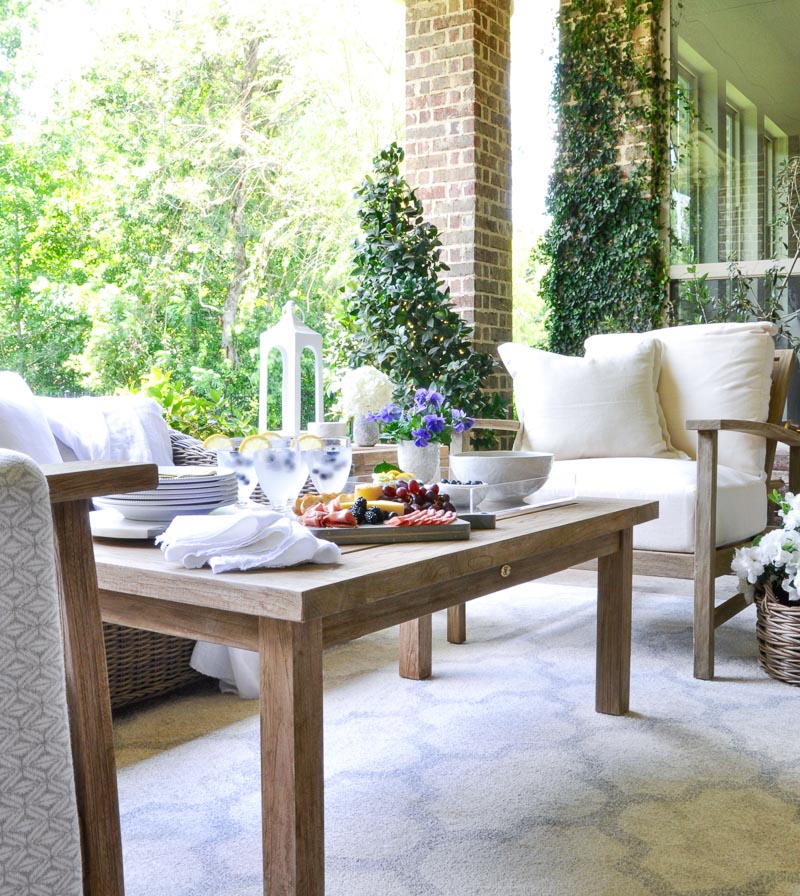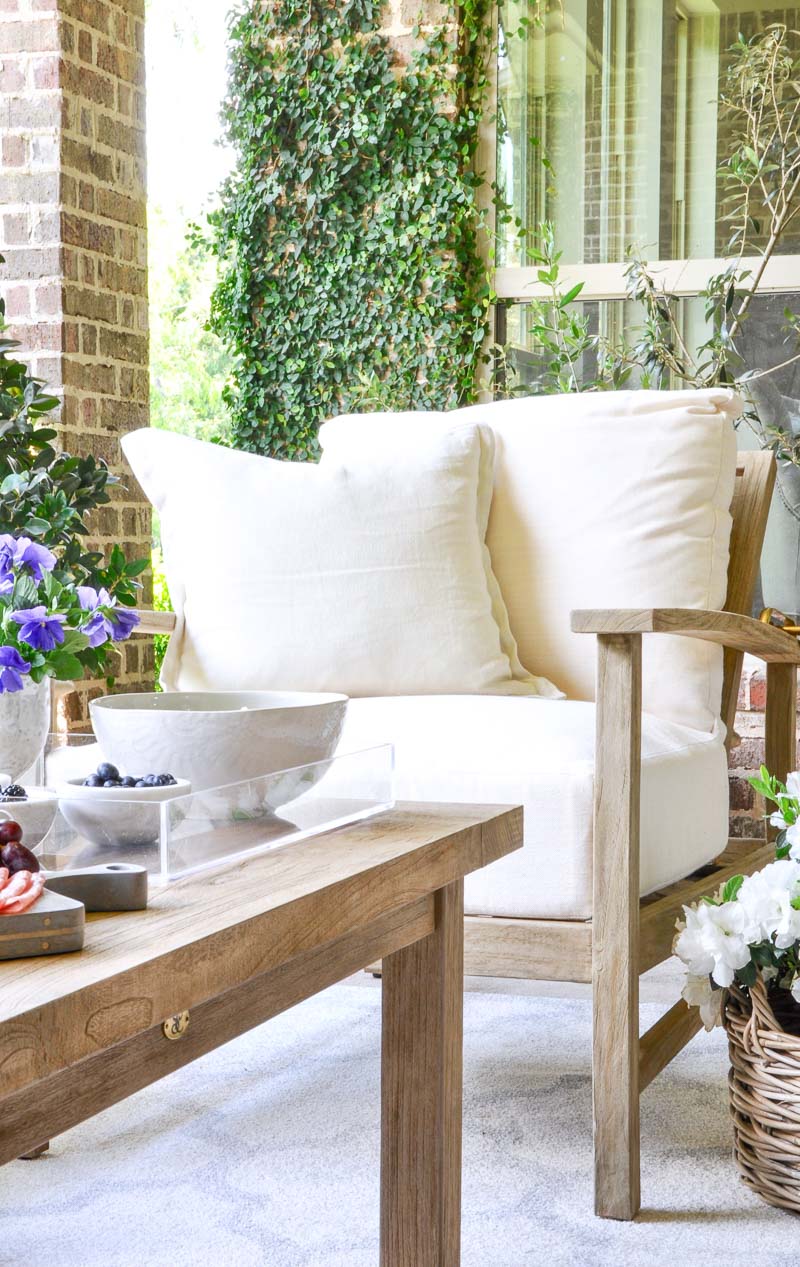 I think you all know where I stand when it comes to greenery and nature…it's a must! By adding potted plants, an ivy, and colored accents, these choices will offer a great amount of ambiance to the space. The more flowers the better if you ask me!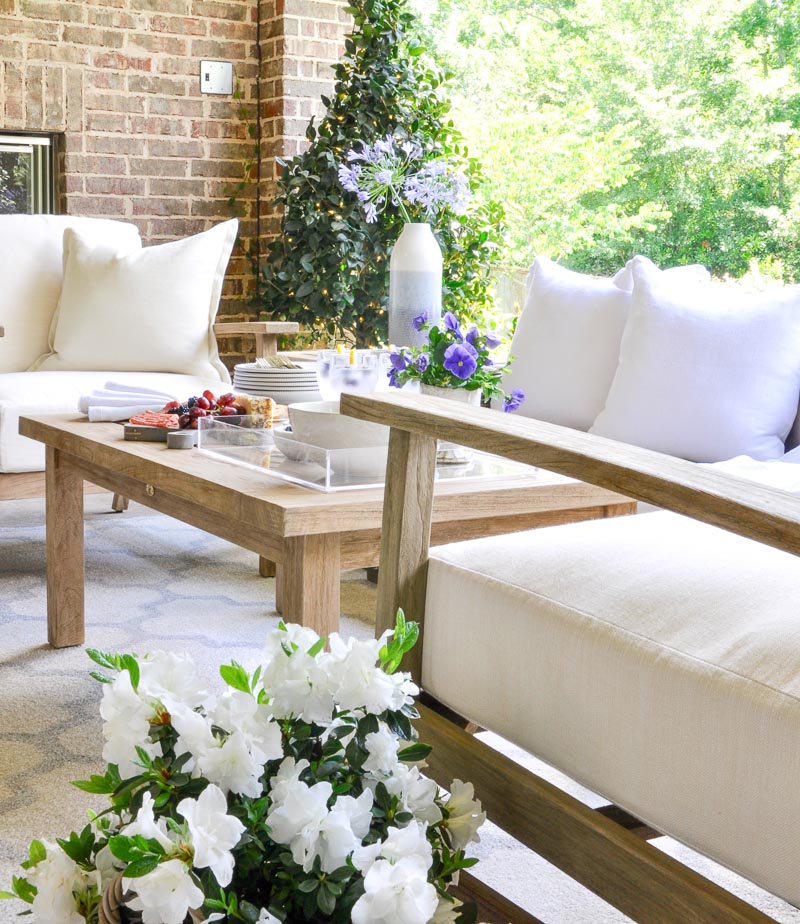 Anytime I am outdoors, whether it is a restaurant or a friend's home, when outdoor lighting is present on plants or hung overhead, it always puts a smile on my face. Here at our home, we have twinkle lights in our trees. And if this was December, these would be Christmas lights. Hint: you can leave them up all year long!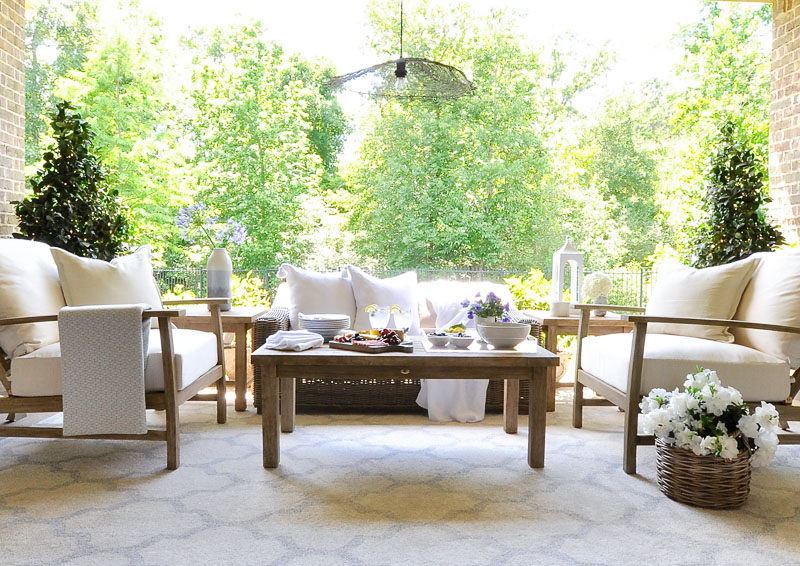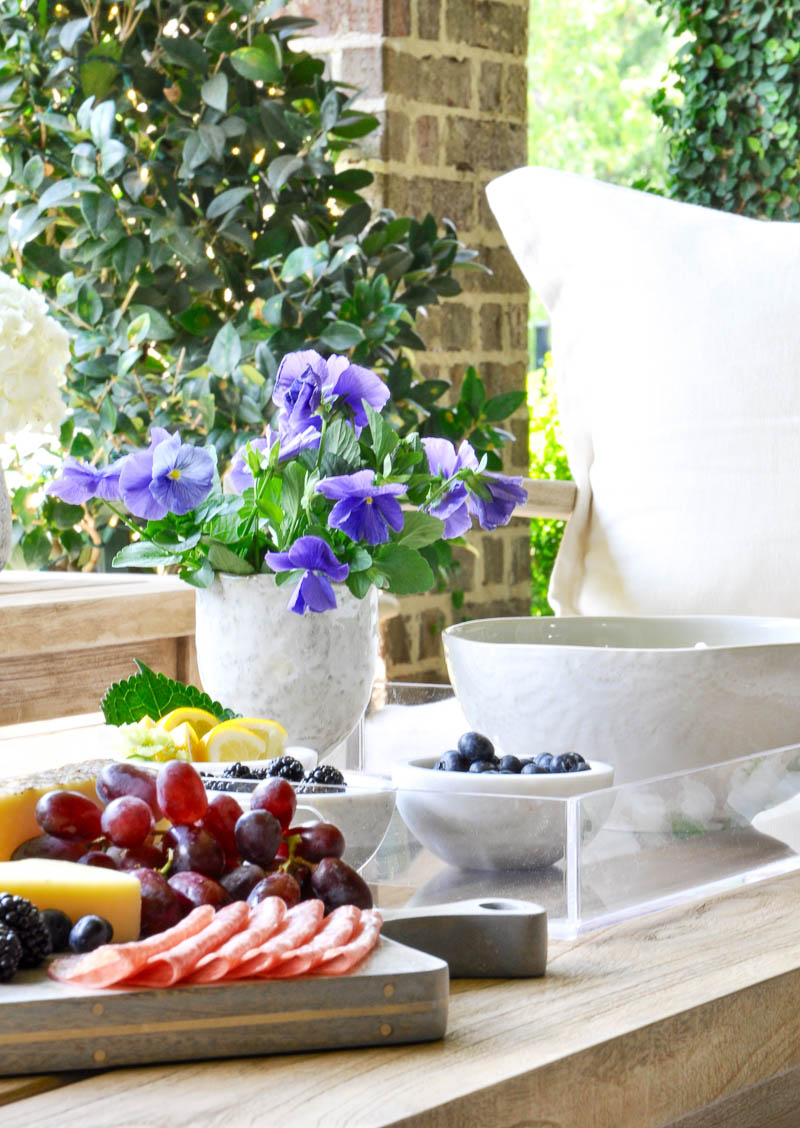 Don't forget that this space is an extension of your living room. Therefore, treat it as you would if you were decorating an indoor living area. There are more indoor/outdoor shopping options today more than ever. And by adding a rug, pillows, lanterns and of course flowers, you can take your outdoor space to the next level. These additions tie it all together and make it feel more like a room.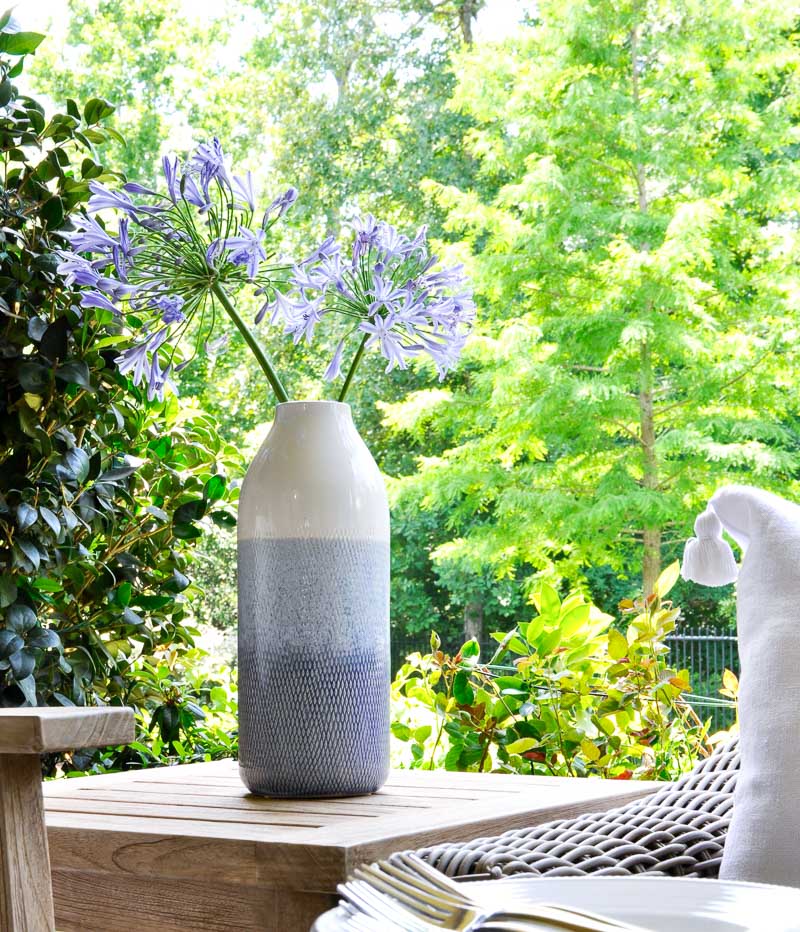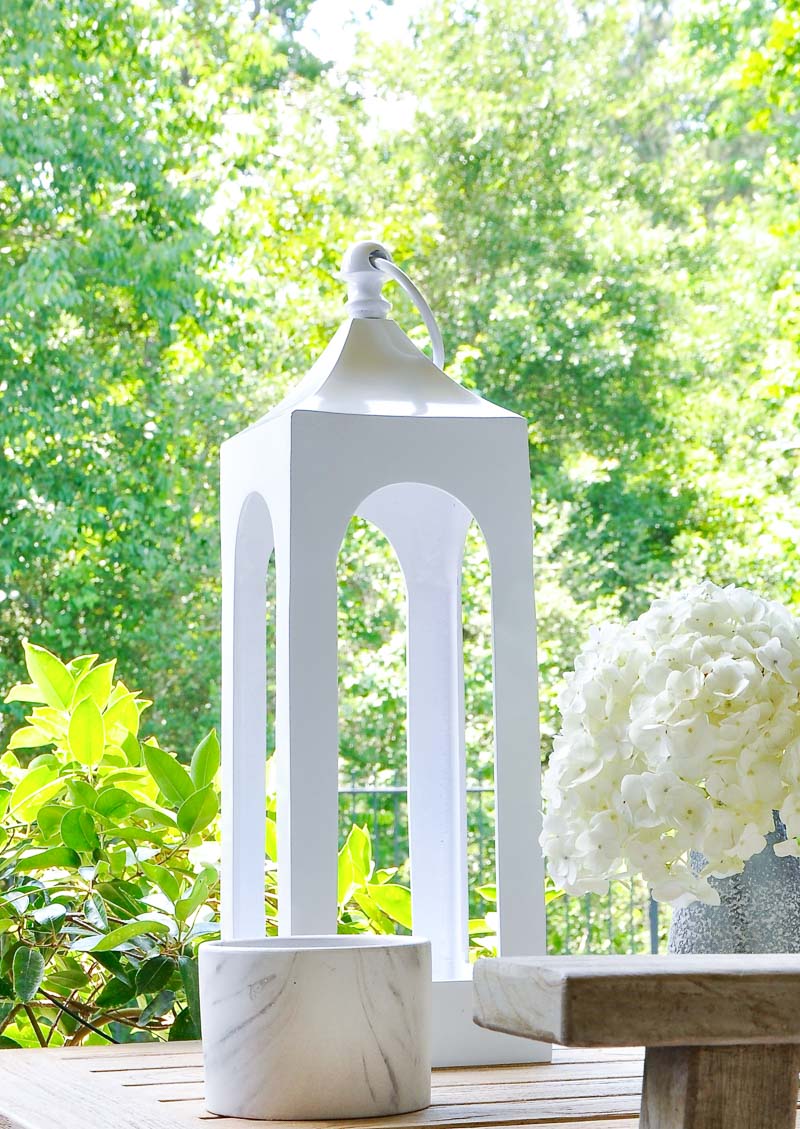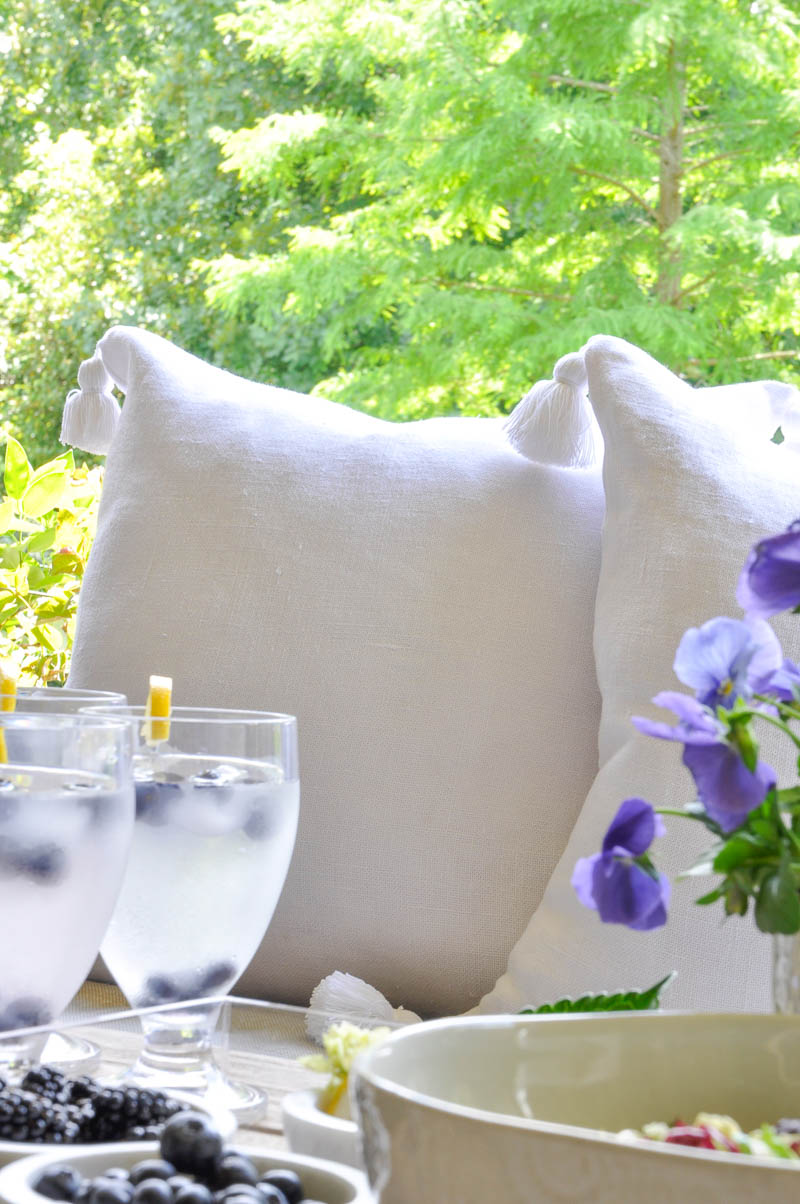 Get the Look



Lastly, your outdoor space needs to accommodate dining. Include a table and chairs if the space allows, or you can use a large coffee table. When it comes to dining outdoors on the patio, I love incorporating creativity. I showcased blueberry ice cubes and some lemon wedges with club soda. How refreshing and inviting does this look? The pops of color along with the simple yet elegant menu is easy to prepare and a joy to serve.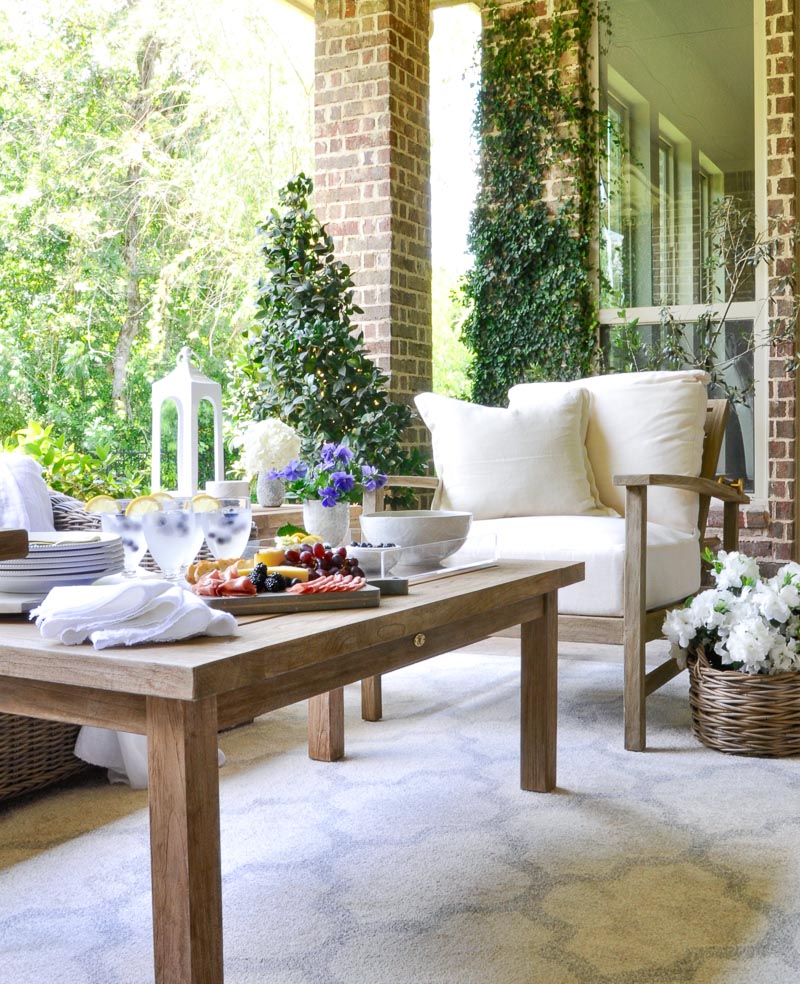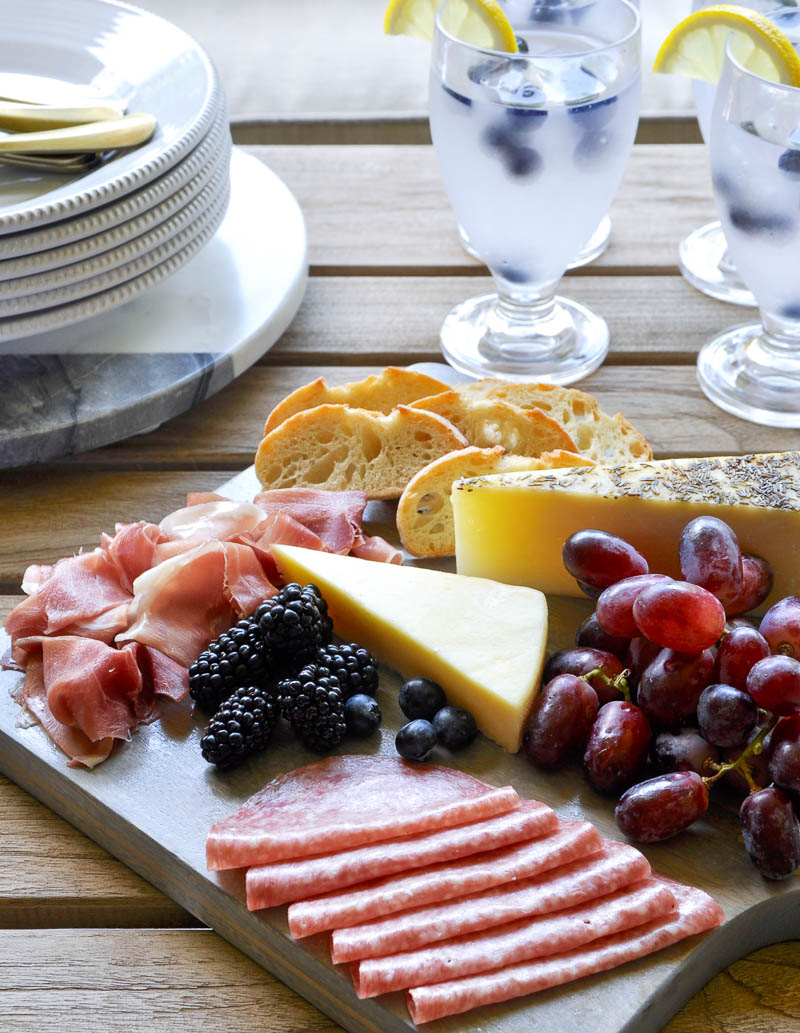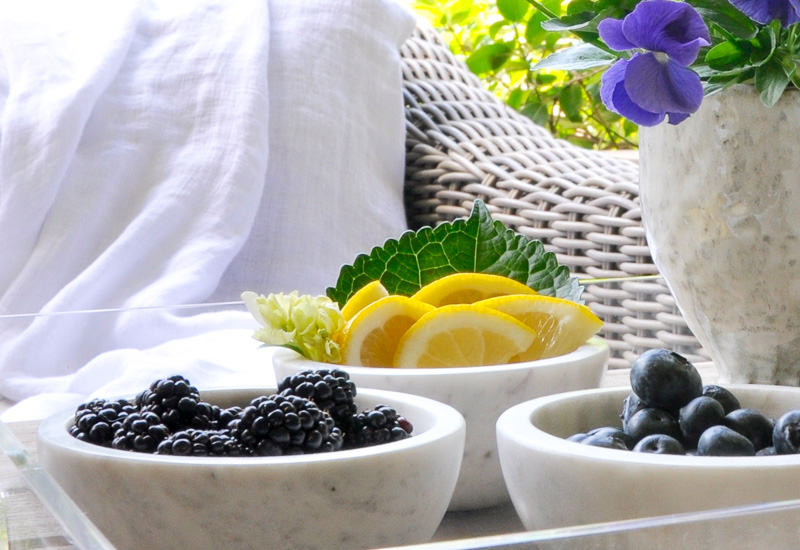 Get the Look

I hope you won't let your outdoor space become forgotten. With a little planning and incorporation of these 7 tips, you can be hosting outdoor gatherings like a pro!
You can find my 7 Tips for Summer Entertaining and before you go, please consider becoming a subscriber for email updates about current posts!

White Lantern | Light Gray Throw | White Throw | Tassel Pillows | Flange Pillow | Acrylic Tray | Round Marble Tray | Salad Plates | White Bowl – Similar | Linen Napkins |  Shatter Resistant Goblets | Gold Flatware | Cheese Board – Similar | Small Marble Bowls | Blue Vase | Pedestal Vase | Candle | Outdoor Planter – Similar | Olive Tree – Similar | Basket – Similar | Outdoor Lights | Rug | Outdoor Sofa – Similar | Outdoor Recliner – Summer Classics | Outdoor Coffee Table – Summer Classics | Outdoor Side Tables – Summer Classics
7 Tips for Summer Entertaining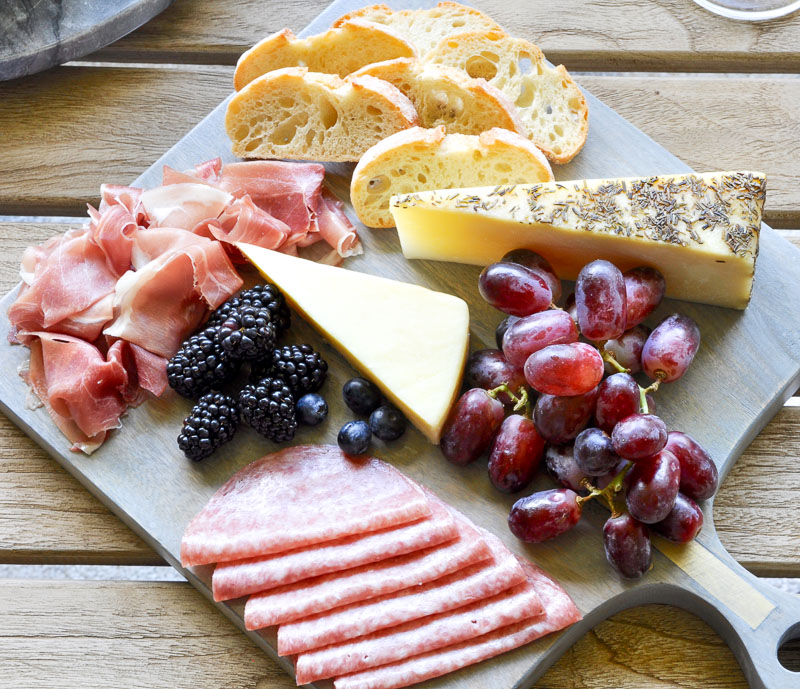 SaveSave
SaveSave