I hope you are a little more used to your new normal now. We are using our extra time at home to get lots of home projects done.
Since we are home more now, we are doing everything possible to elevate the spaces that are most important to us. From restyling our living room to organizing our pantry, much of our home is feeling refreshed.
*This post contains affiliate links. Additionally, I have partnered with one of my favorite brands, Crystorama on this beautiful update. Full disclosure policy here.
Our biggest project, a master bathroom remodel, is almost done. I can hardly wait to share it with you. We added a beautiful new window treatment, new faucets, countertops, and lighting.
Here's a sneak peek of our new bathroom lighting. It is the Crystorama Clifton wall mount in polished nickel. The elegant, transitional look inspired the entire design (coming soon).
Adding beautiful lighting to your home is one of the most impactful things you can do. In my home, if space allowed, I would hang a chandelier in every room!
A truly fabulous light fixture will turn almost any room into a dream space. It will make the space feel more well-designed and intimate. This is especially true in your master bedroom.
We have changed the lighting in our bedroom a bit more frequently than I would have liked. I want you to know, I have enjoyed each of the chandeliers I've had in here. I never install anything I don't love. That said, the most recent one came from another space and I simply felt that it was a bit too big for my bedroom.
Finally, I found a chandelier that is here to stay. It matches the direction we are going in our bedroom.
You may know, the space has white walls and bedding.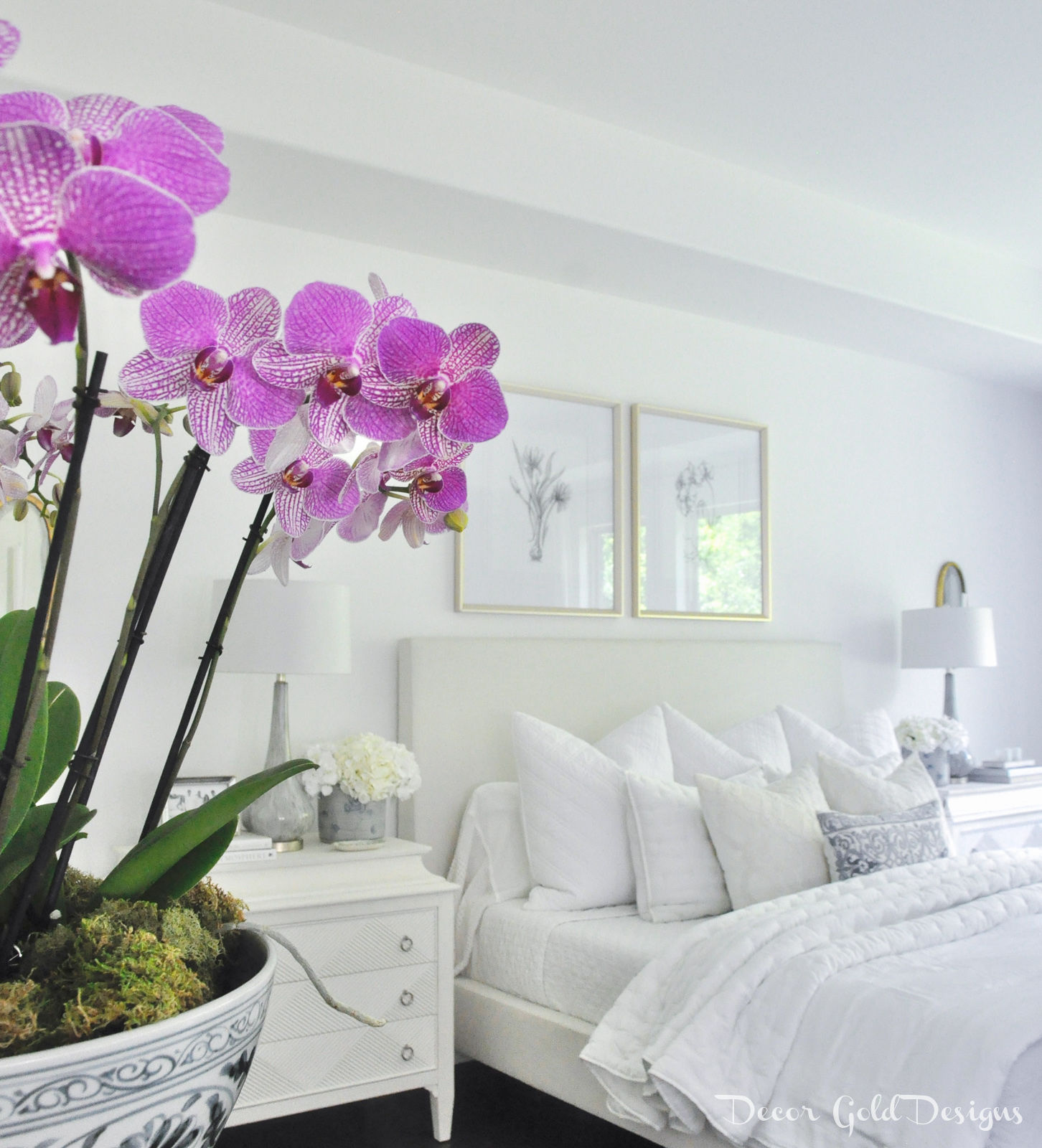 Just a few gold accents make it a bit more luxurious.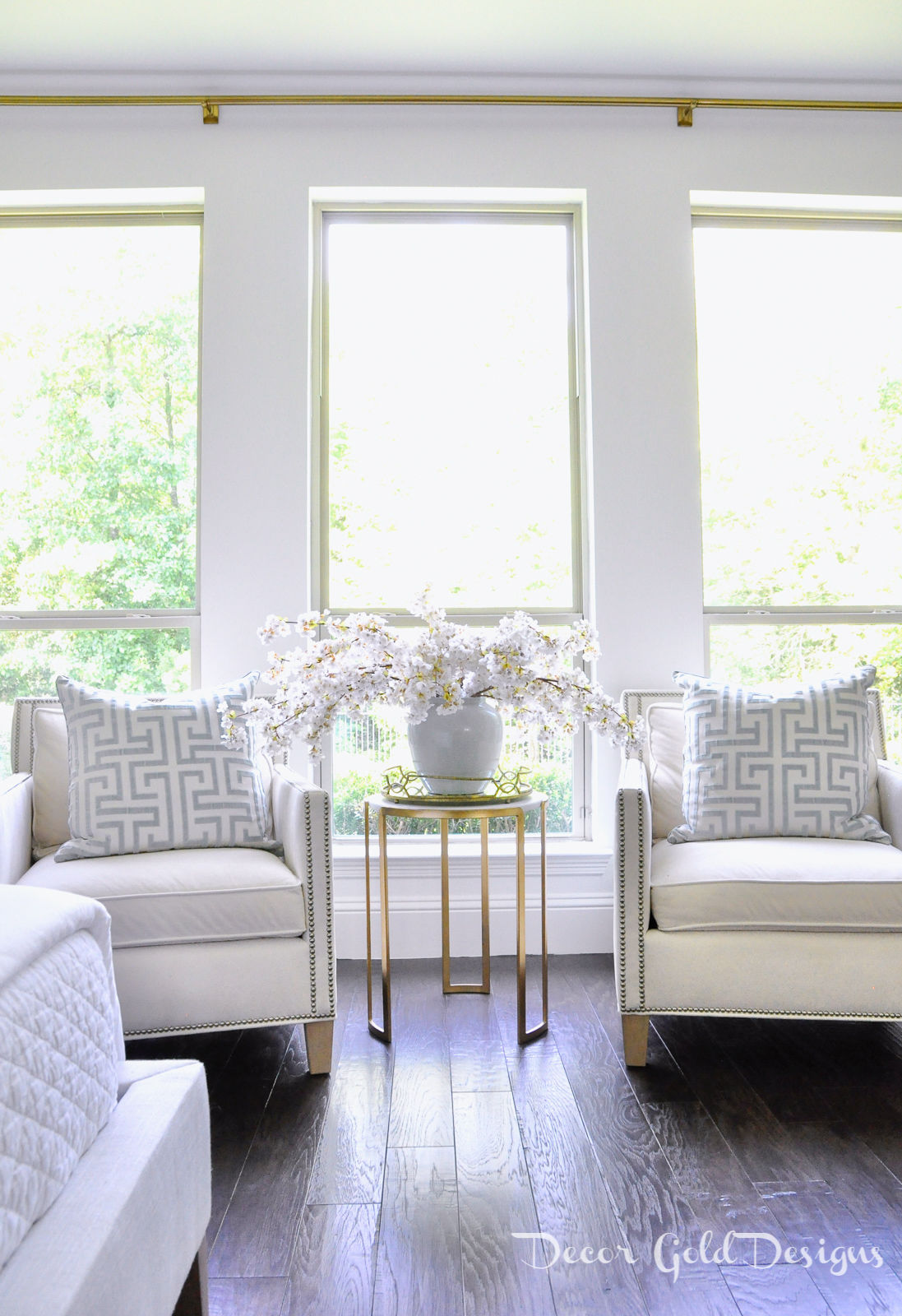 Adding a light fixture to contrast with the soft hues and to compliment the gold touches was my goal. I searched high and low for a show-stopping focal point that would add beauty to the center of our 10′ ceiling.
Finally, for my new chandelier, I selected the breathtaking Bolton Chandelier in aged brass by Crystorama! It is nothing short of my dream lighting!!! It's everything I wanted and more!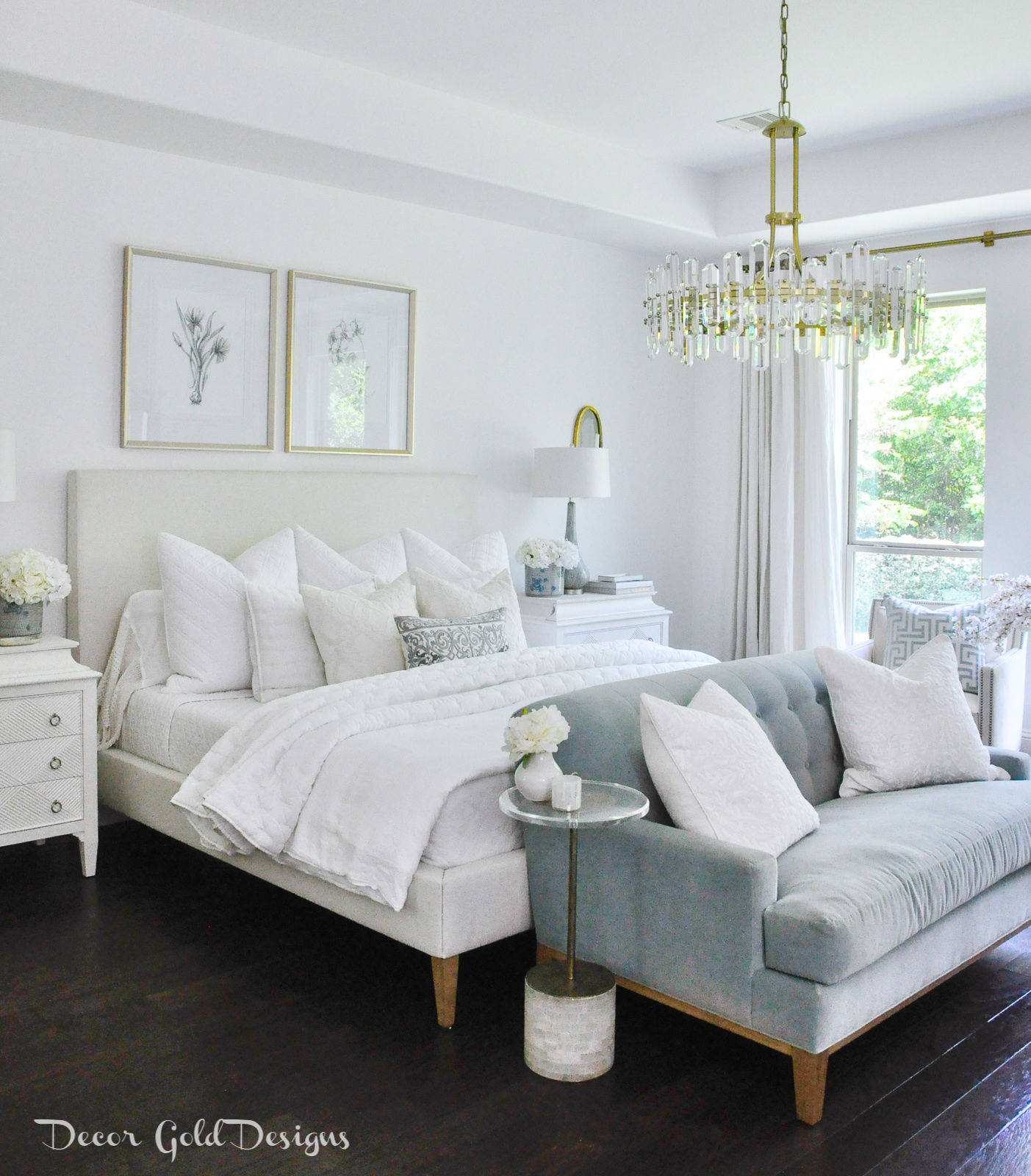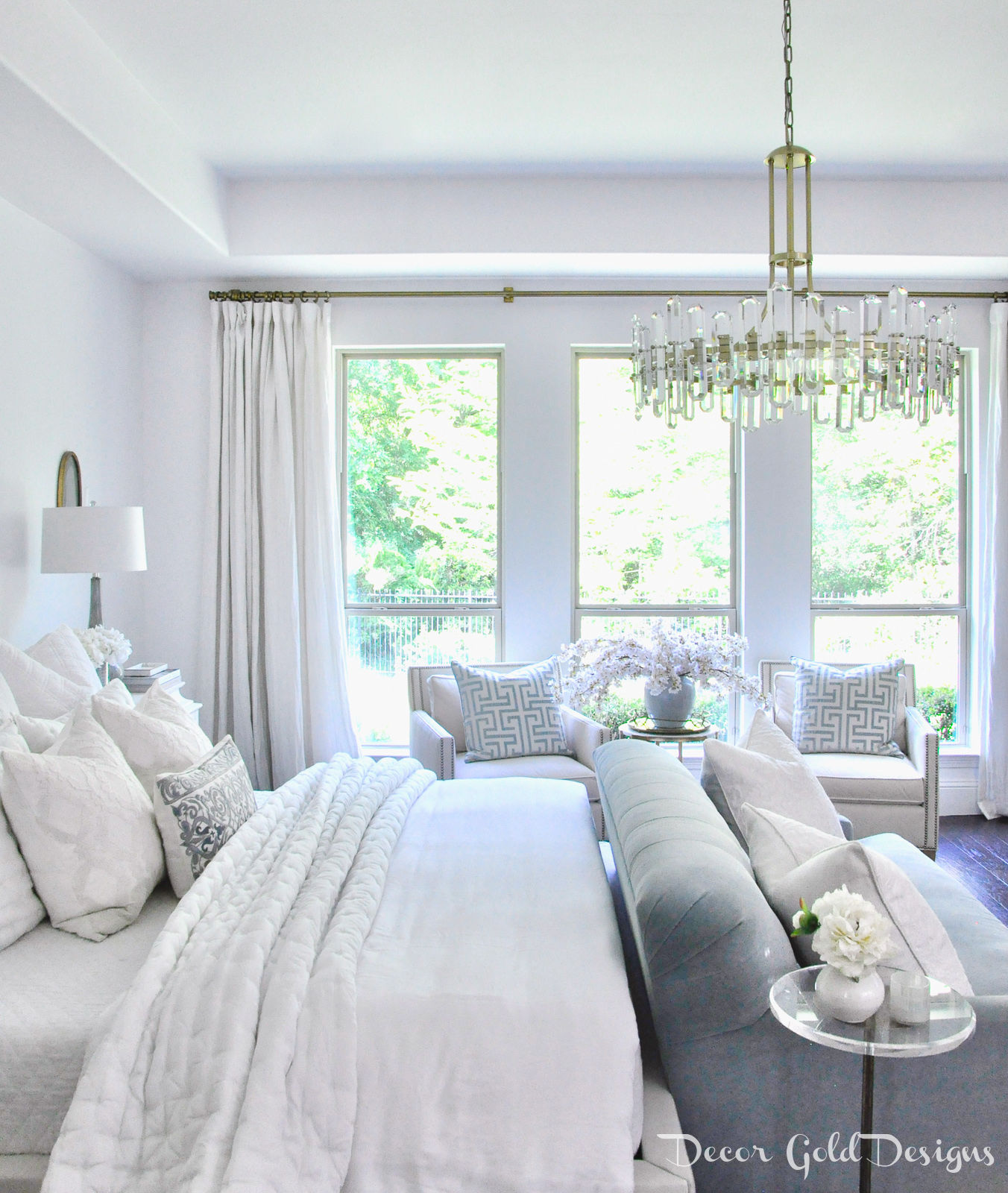 The details are gorgeous. Simply, a piece of art.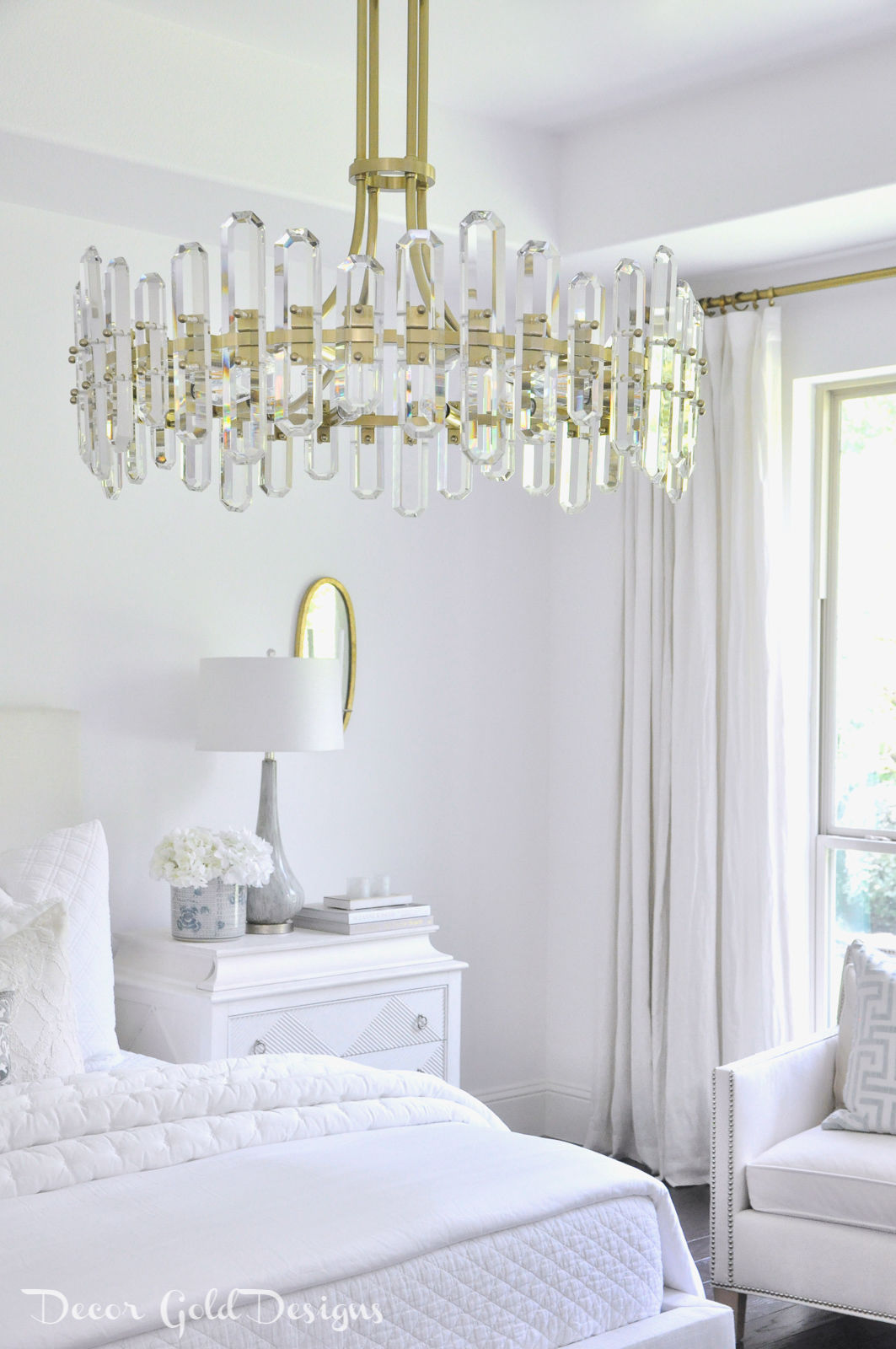 Tony installed it and he couldn't say enough positive things. The quality is AMAZING!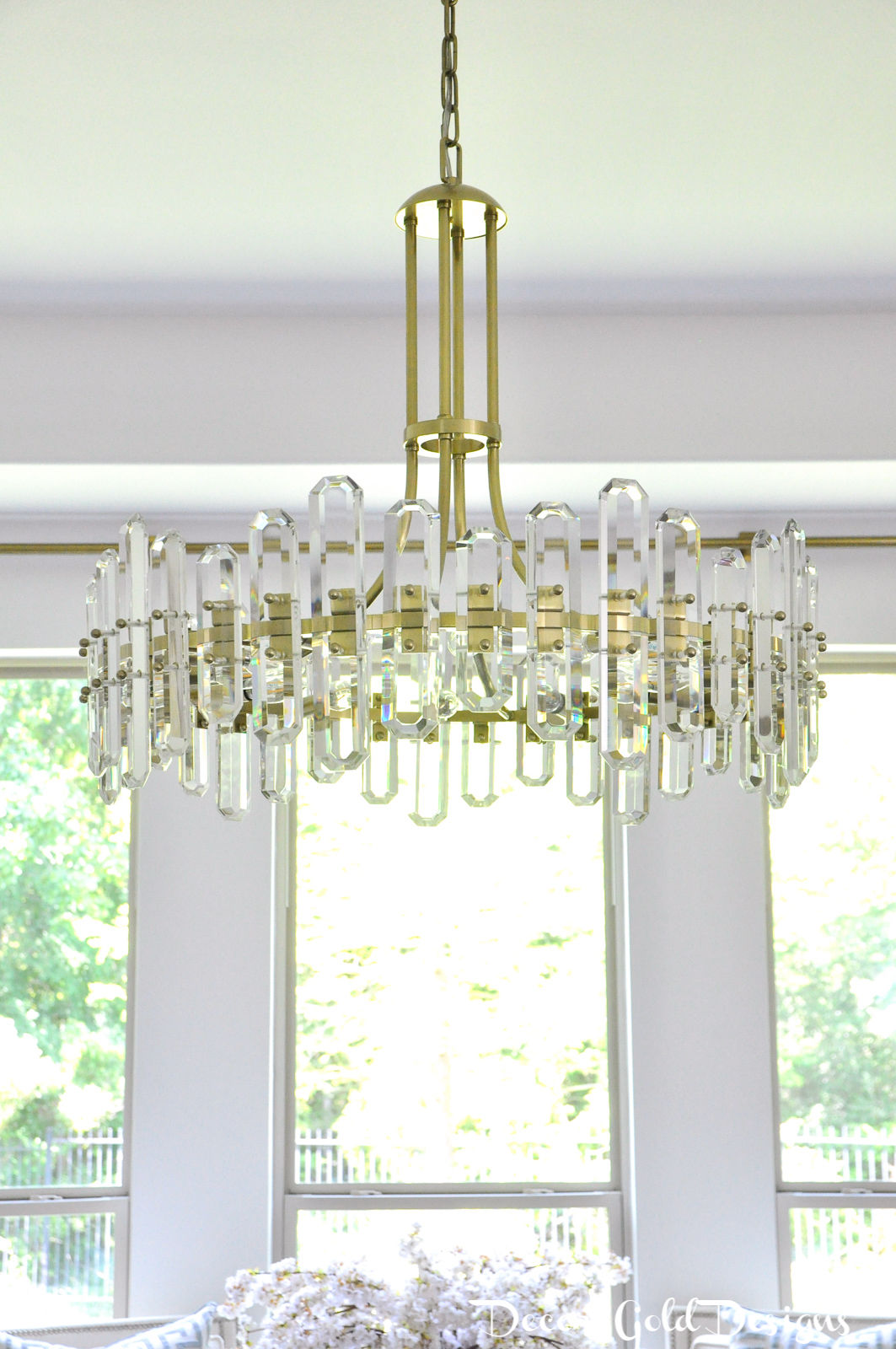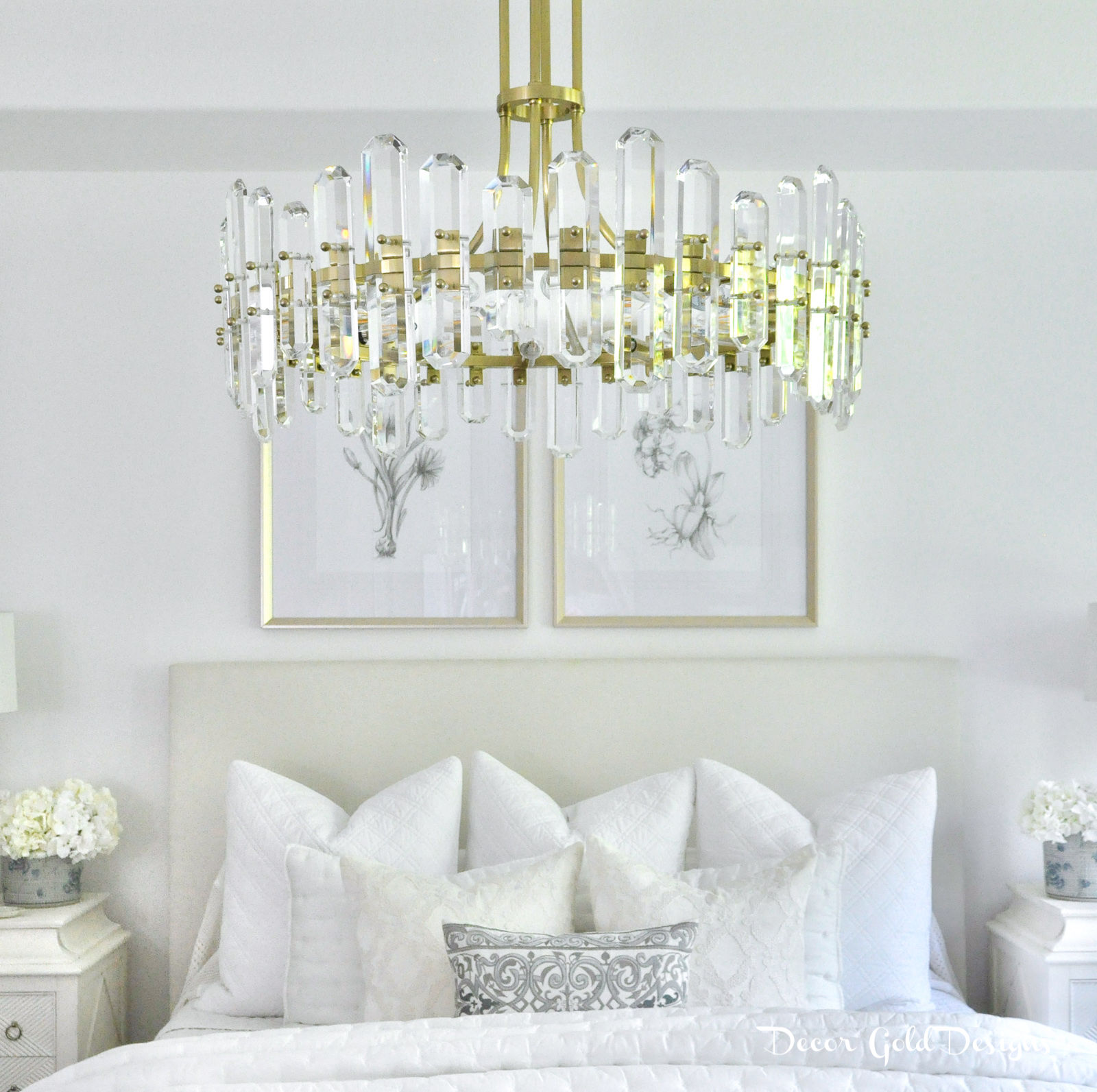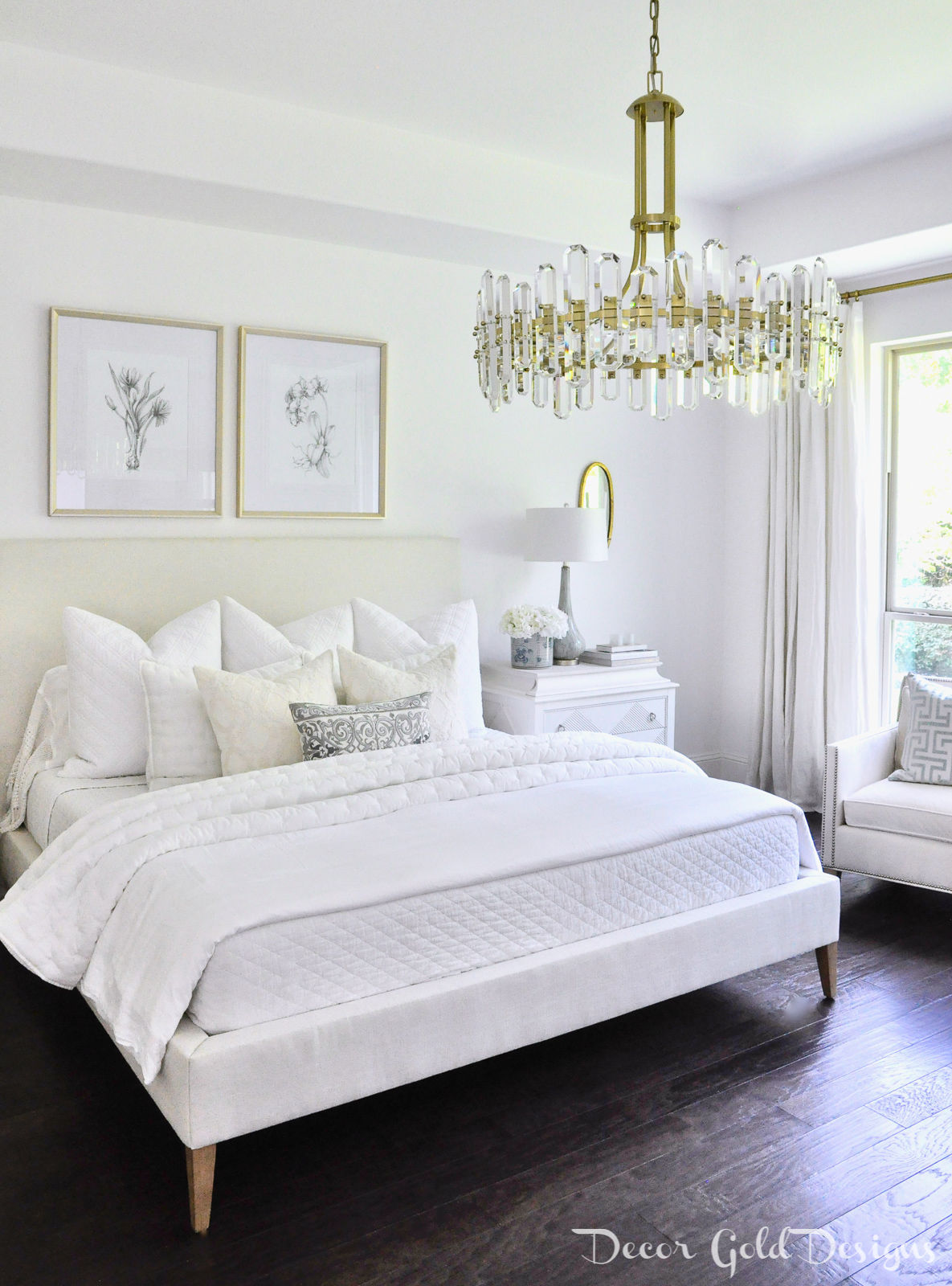 I use dimmer switches in my home as I love the ambiance when the lights are dimmed. You can see how dreamy it looks when the light is on…..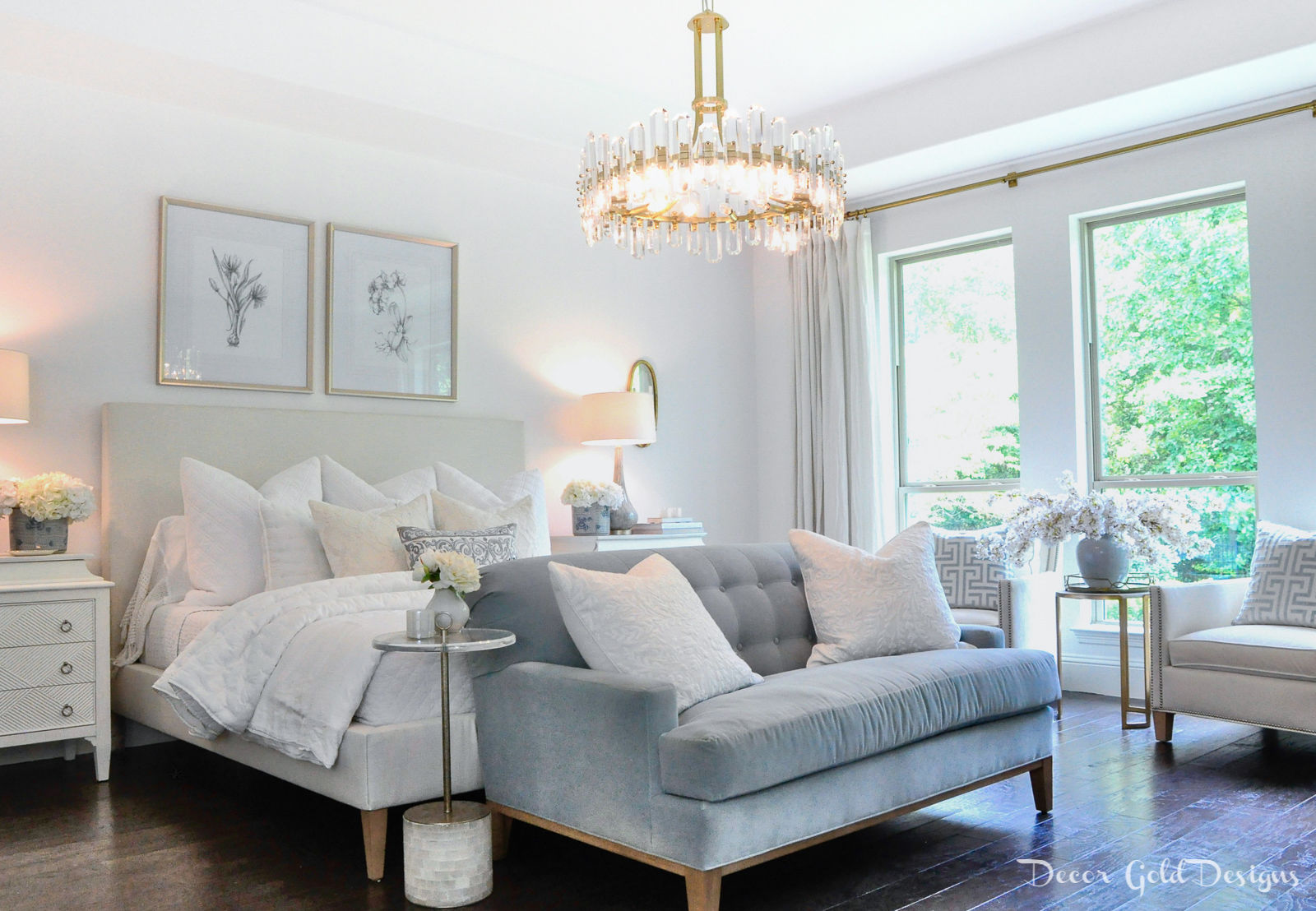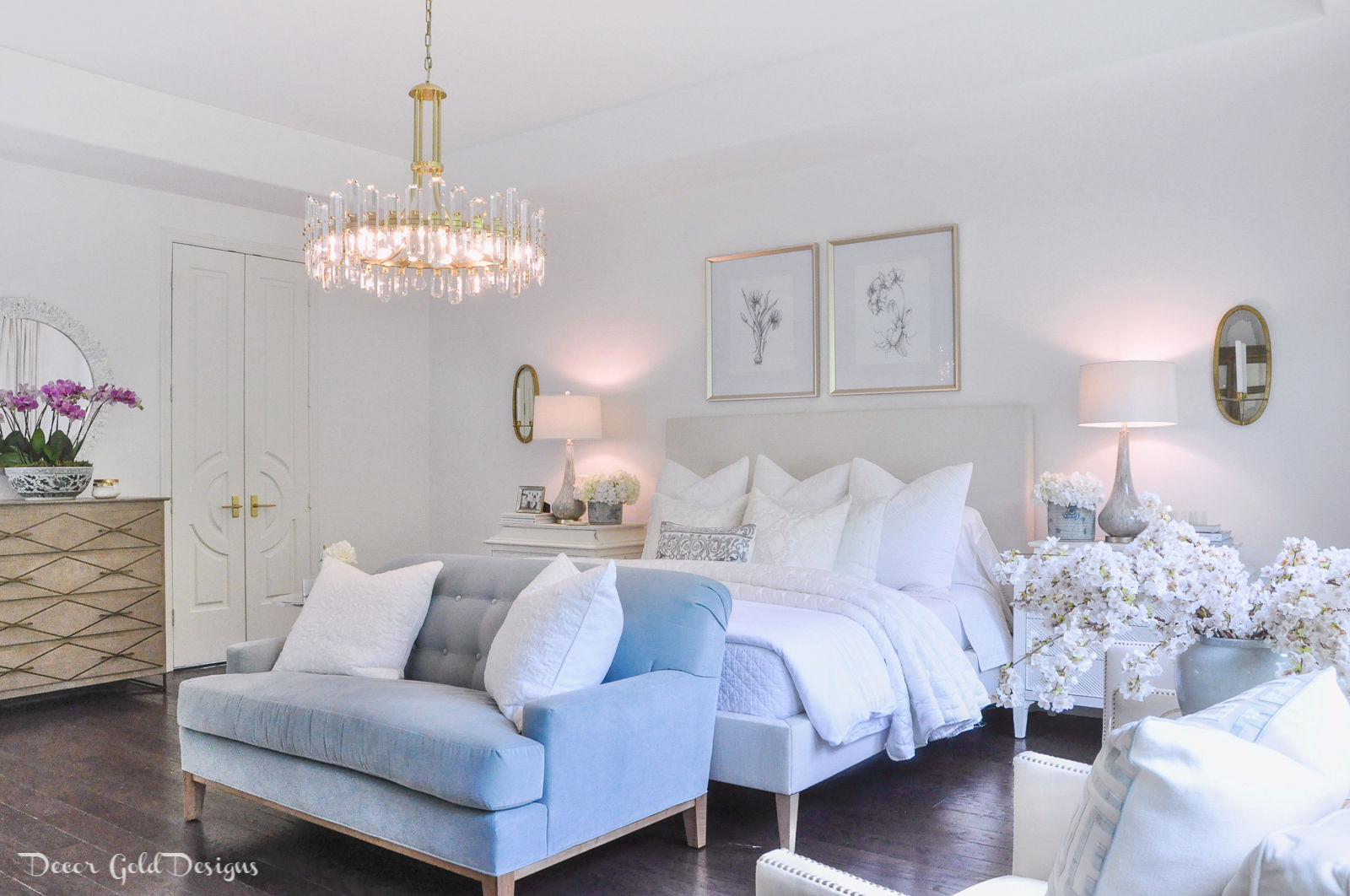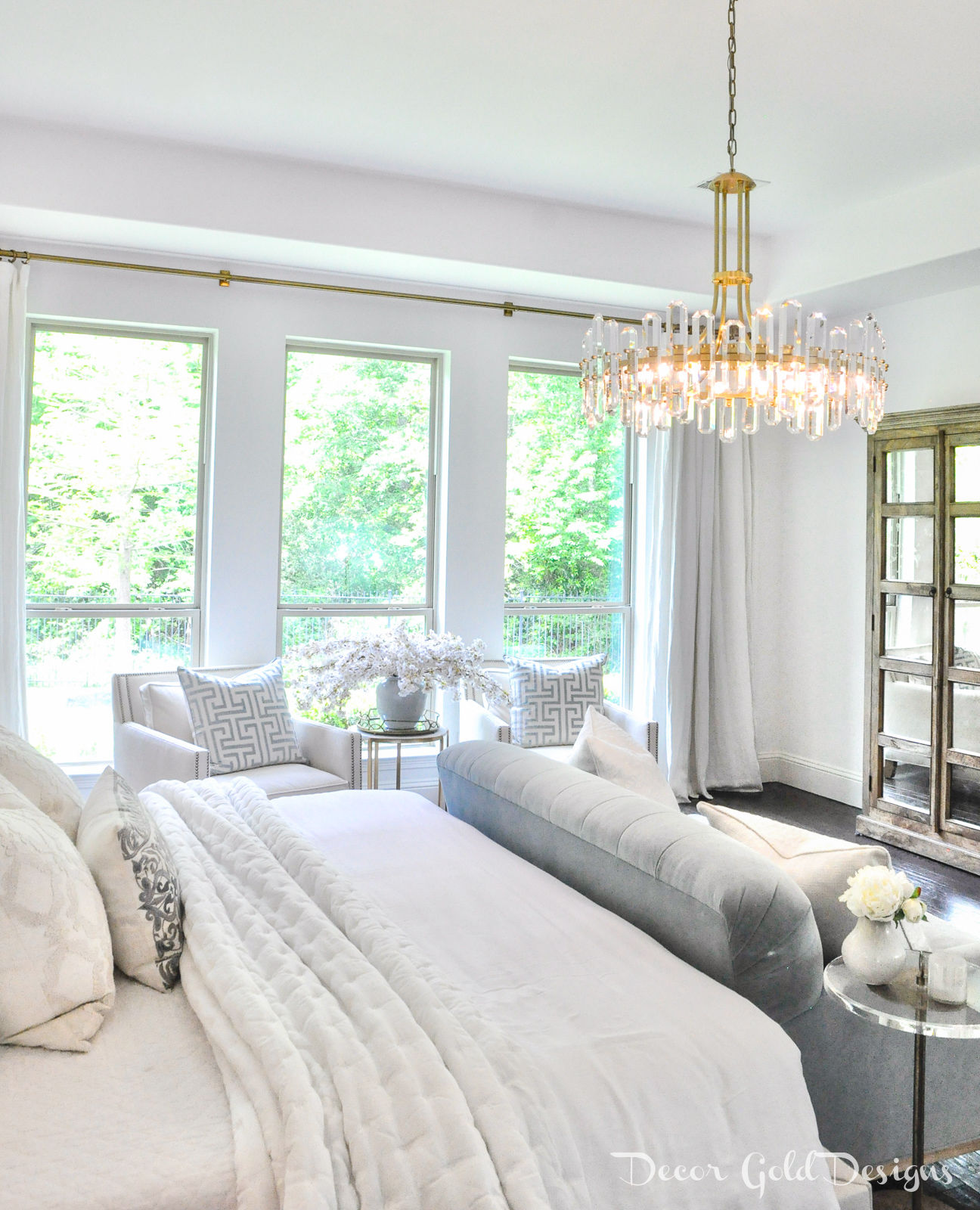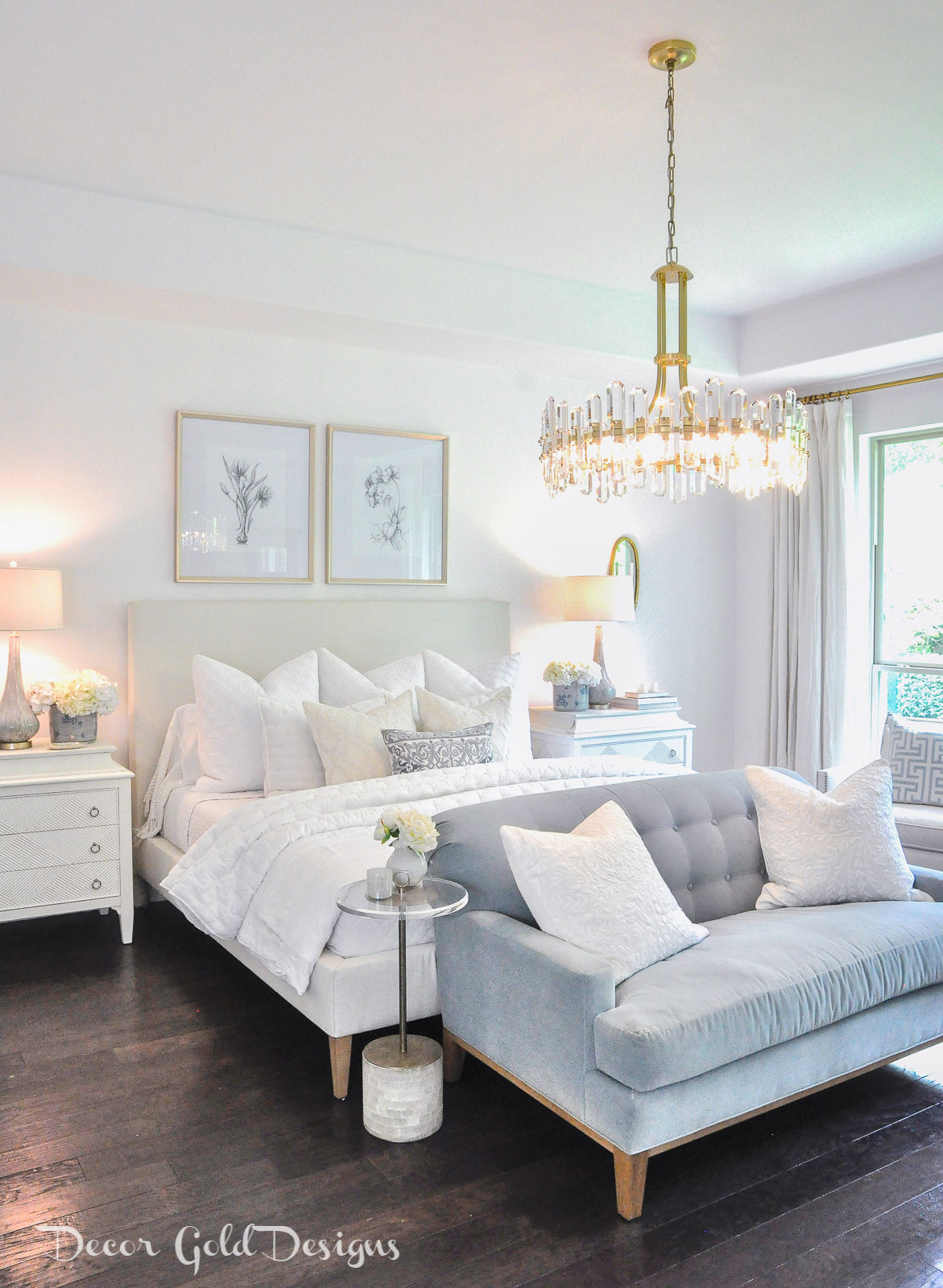 I'm so thrilled with this update and hope you love it too! Adding a new chandelier is a phenomenal way to add style to your bedroom. Crystorama is a go-to lighting source for me and I highly recommend them for all of your lighting needs.
Be sure to watch for my master bathroom makeover reveal with Crystorama wall sconces coming very soon! Also, if you've never seen my first Crystorama light fixture, don't miss my living room update!






Bed & Loveseat – Maiden Home | Paint Color – Benjamin Moore, Chantilly Lace
Pillows on Chairs – Coterie Home
I hope you'll stay connected!
Click on the Image to Subscribe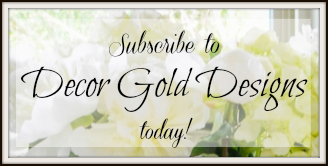 SOCIAL
Instagram | Pinterest | Facebook
Follow me on the LIKEtoKNOW.it app!