I always look forward to adding holiday decor in each room in my home. I often start in our living room and kitchen, knowing our guests will be able to enjoy those spaces. As soon as they are done though, I can hardly wait to begin decorating my master Christmas bedroom.
I had some help this year. The experience was so much fun. More on than in just a moment, but let's take a look first.
Here it is, our Christmas bedroom dressed for the holidays!
*This post contains affiliate links. Disclosure here. Additionally, I worked with a creative and talented designer friend, Jenny Tamplin to bring you this post. Her store, Coterie Home, provided products for my Christmas bedroom, but we selected beautiful pieces that are timeless and will be used in many rooms in my home for years to come! As always, all of the opinions shared are my own.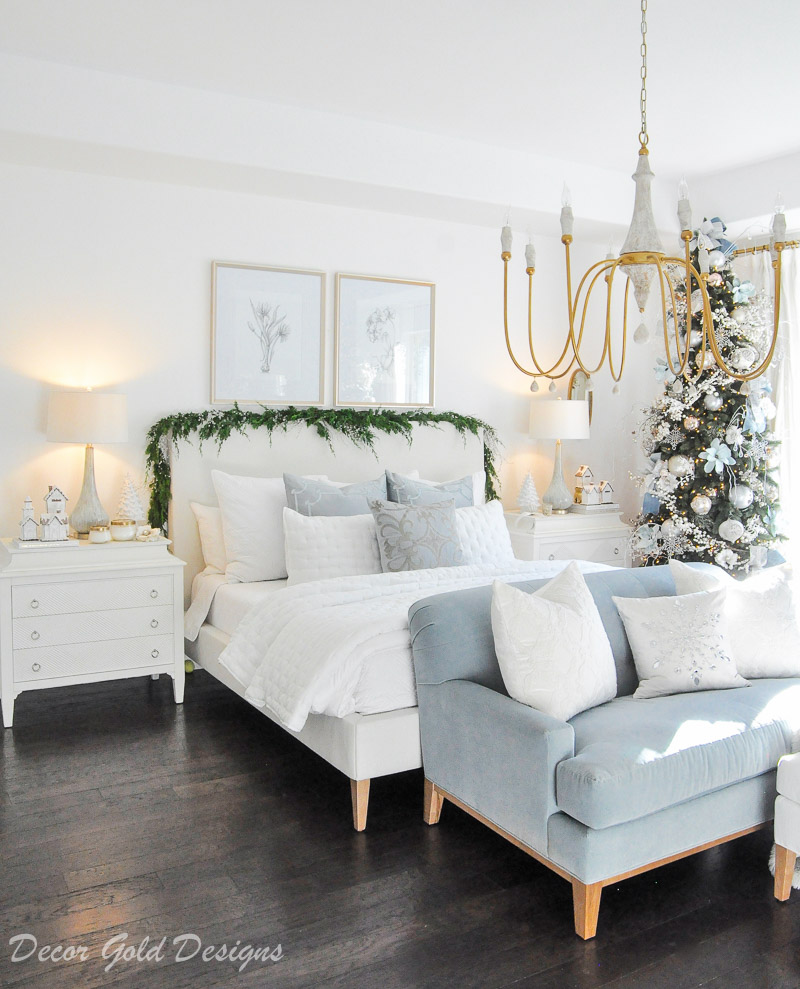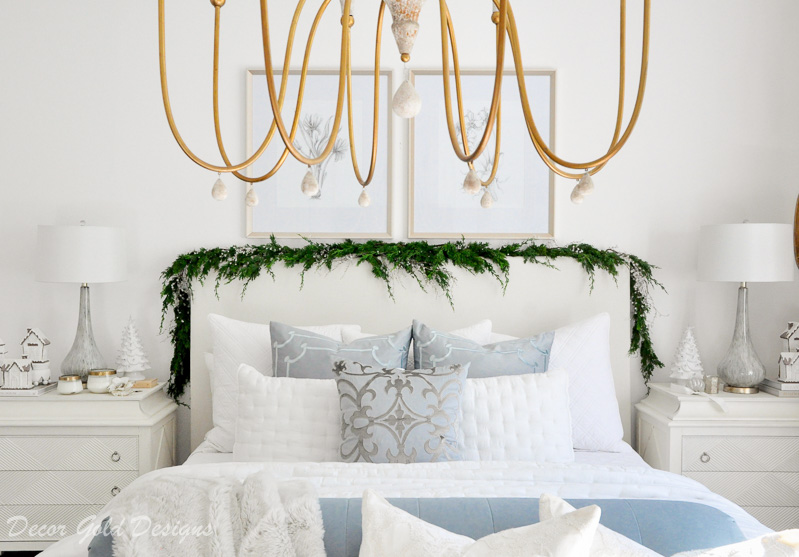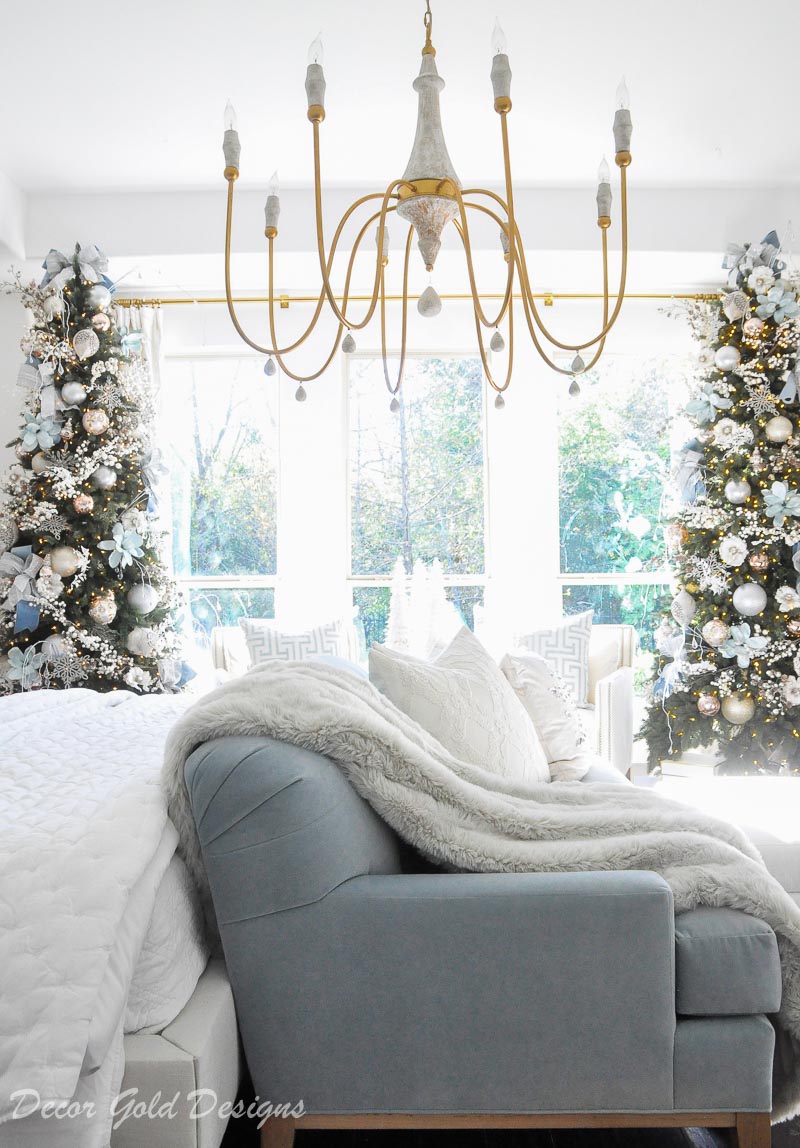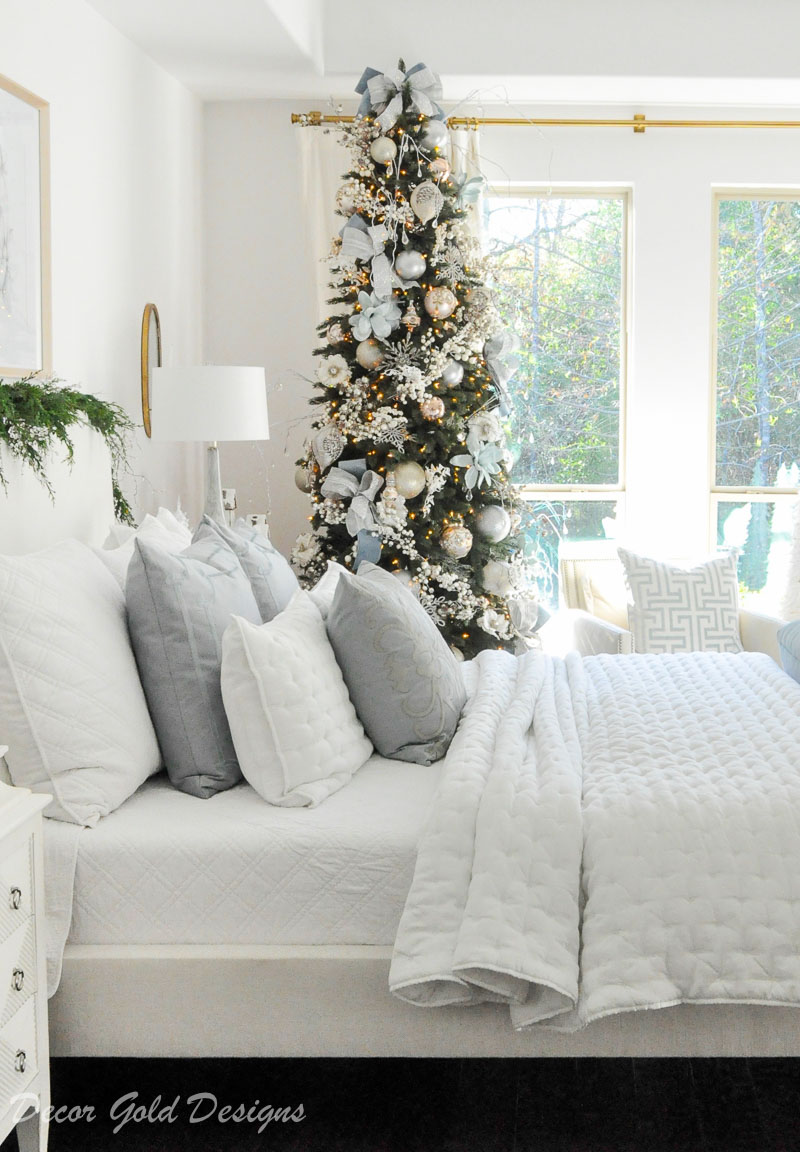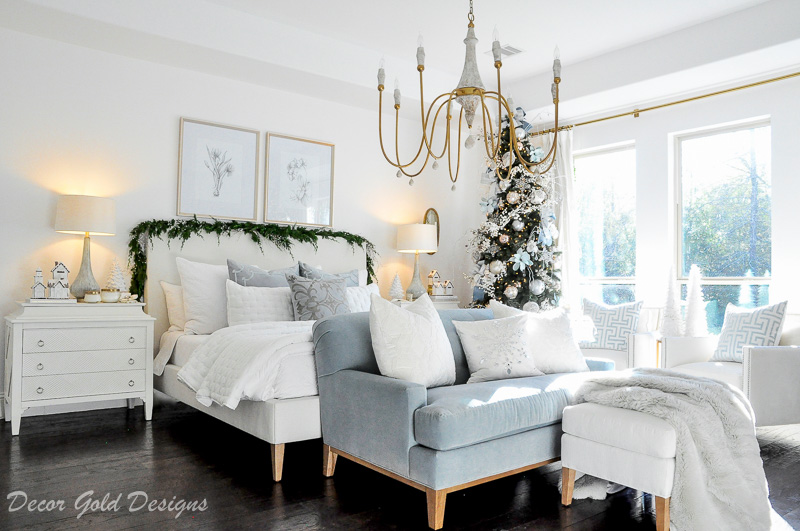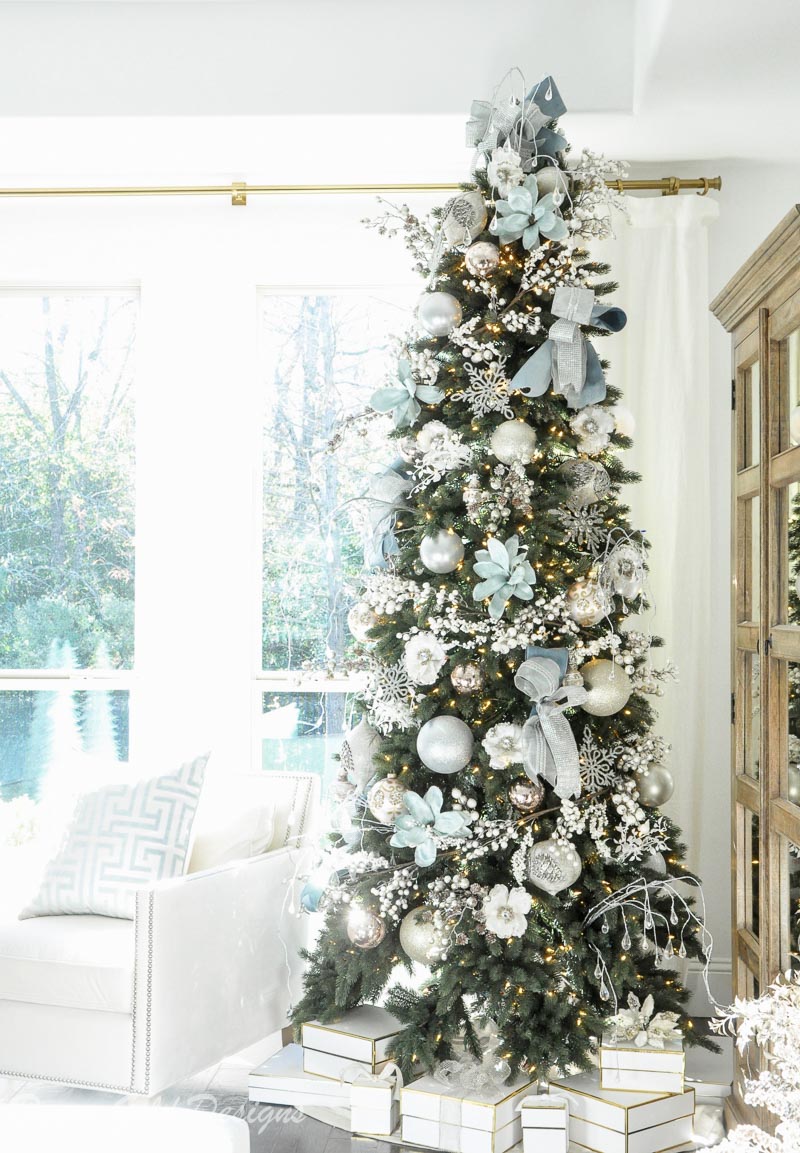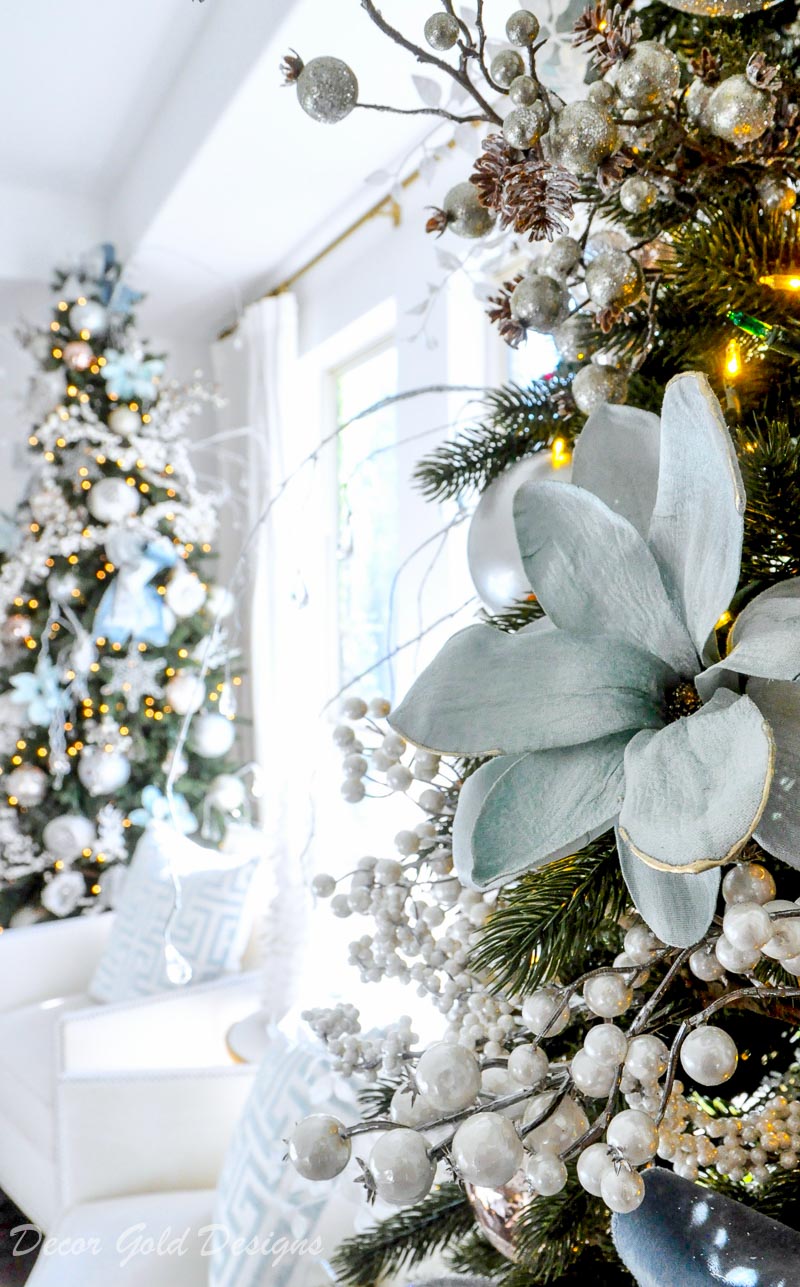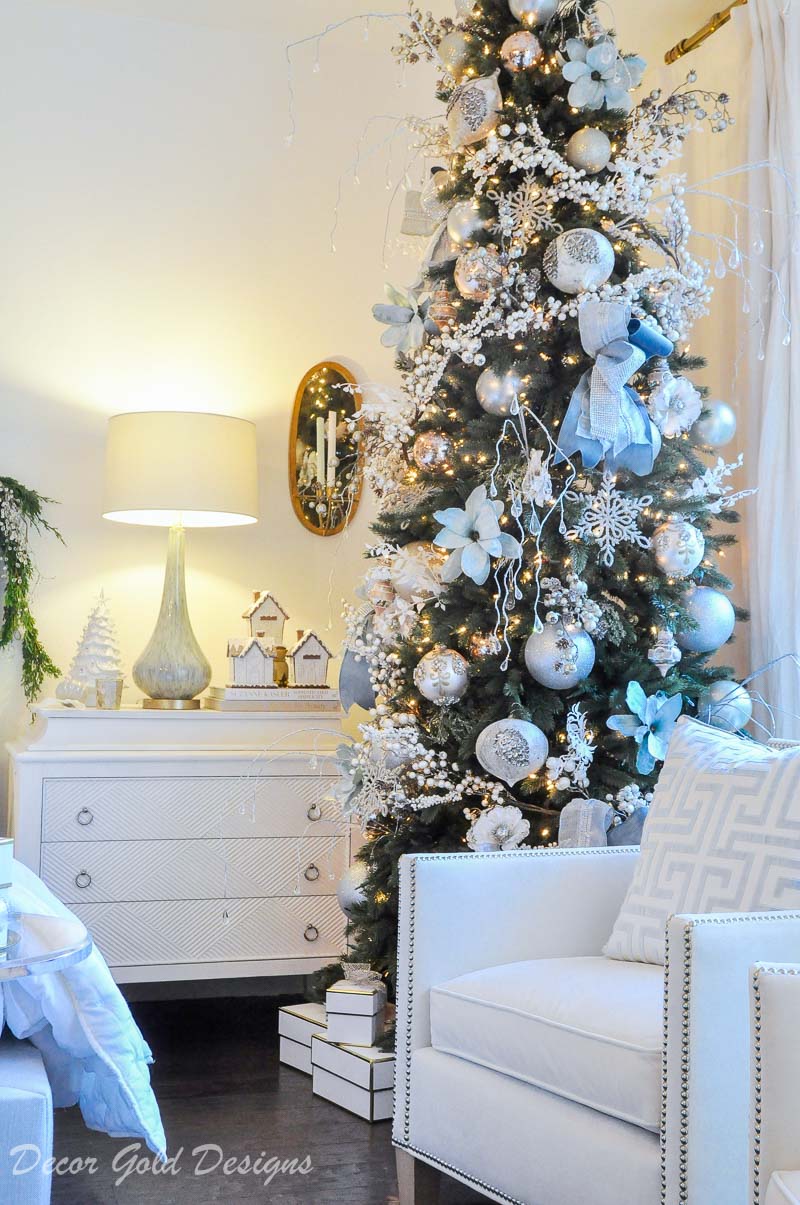 Most of my bedding and pillows are ON SALE, so be sure and check out the low prices! Also on sale, my mercury glass tress!



Let's talk about the trees.
My original plan was to leave them undecorated. We love enjoying Christmas tree light in our bedroom at night, so I thought bare, pre-lit trees would be great. BUT, about a week ago, I spoke to a sweet Instagram friend, Jenny Tamplin, who is an amazing designer and store owner, and she agreed to decorate our trees.
Believe me when I tell you, there are very few people that I would trust with this task. Jenny is incredibly talented though and I was thrilled to be able to work with her.
She did a phenomenal job. I shared the process and her decorating tips in my Instagram stories. Check my story highlights, titled, "More Tree Tips" to find them.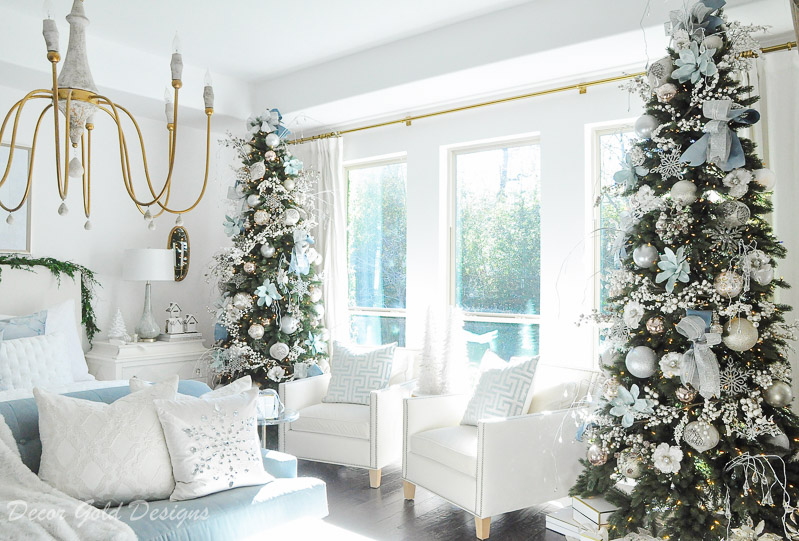 I love the beautiful adornments Jenny selected.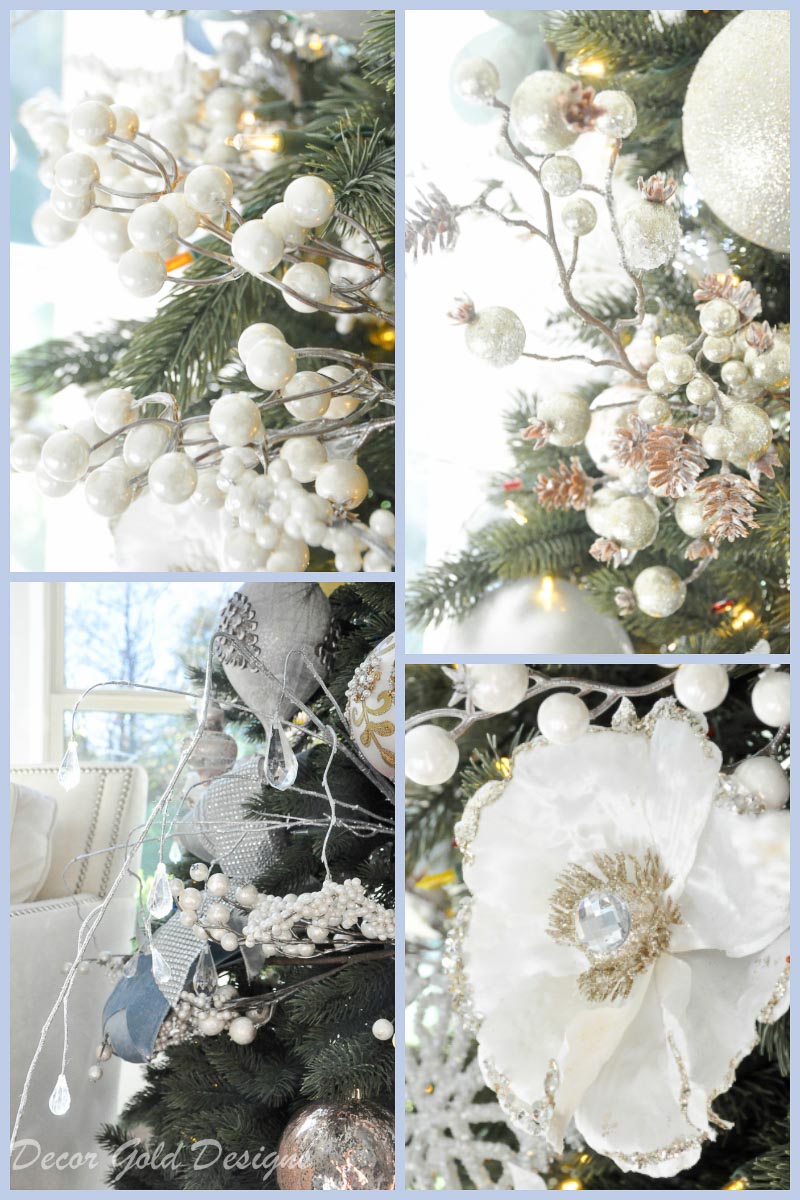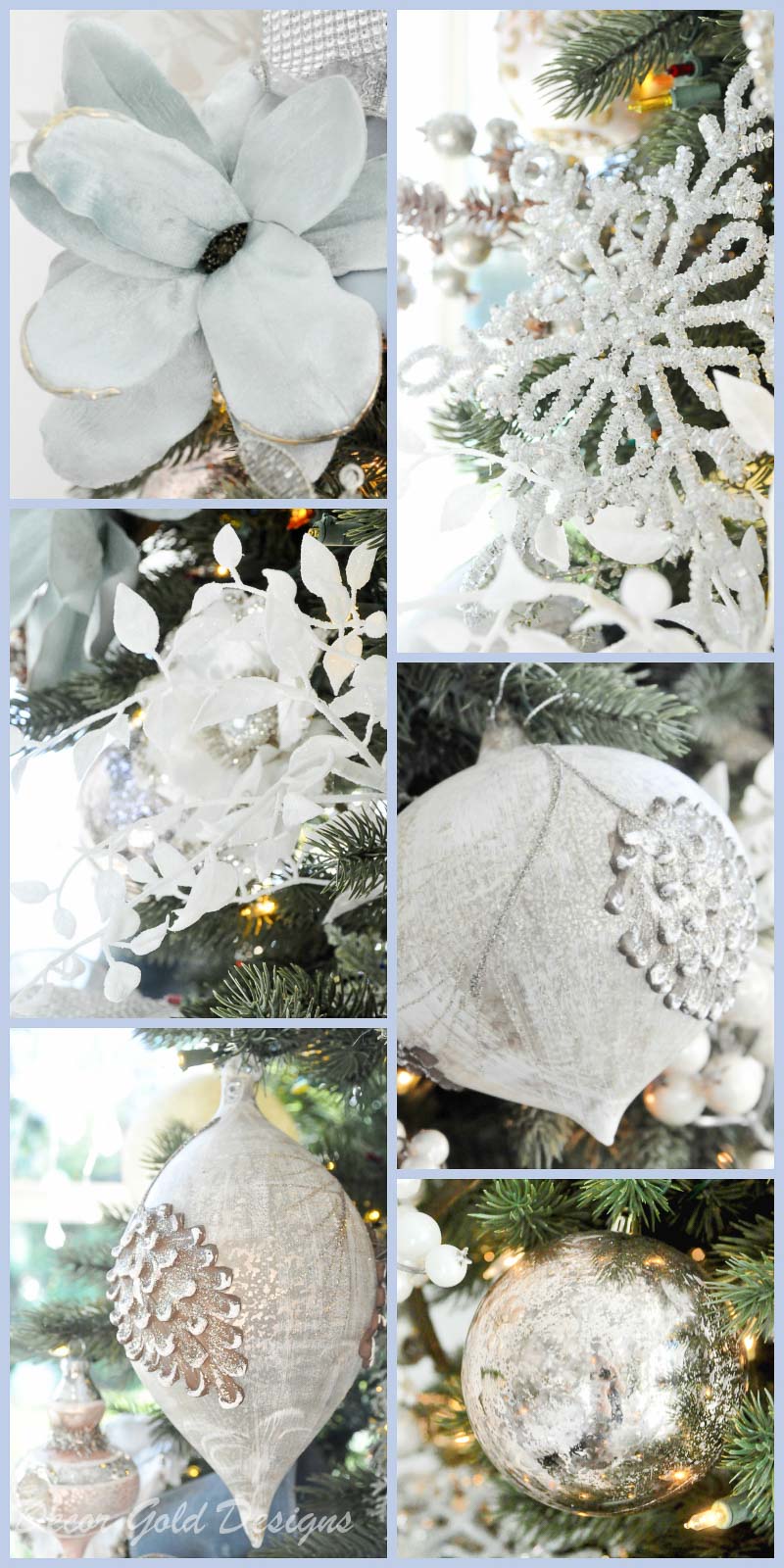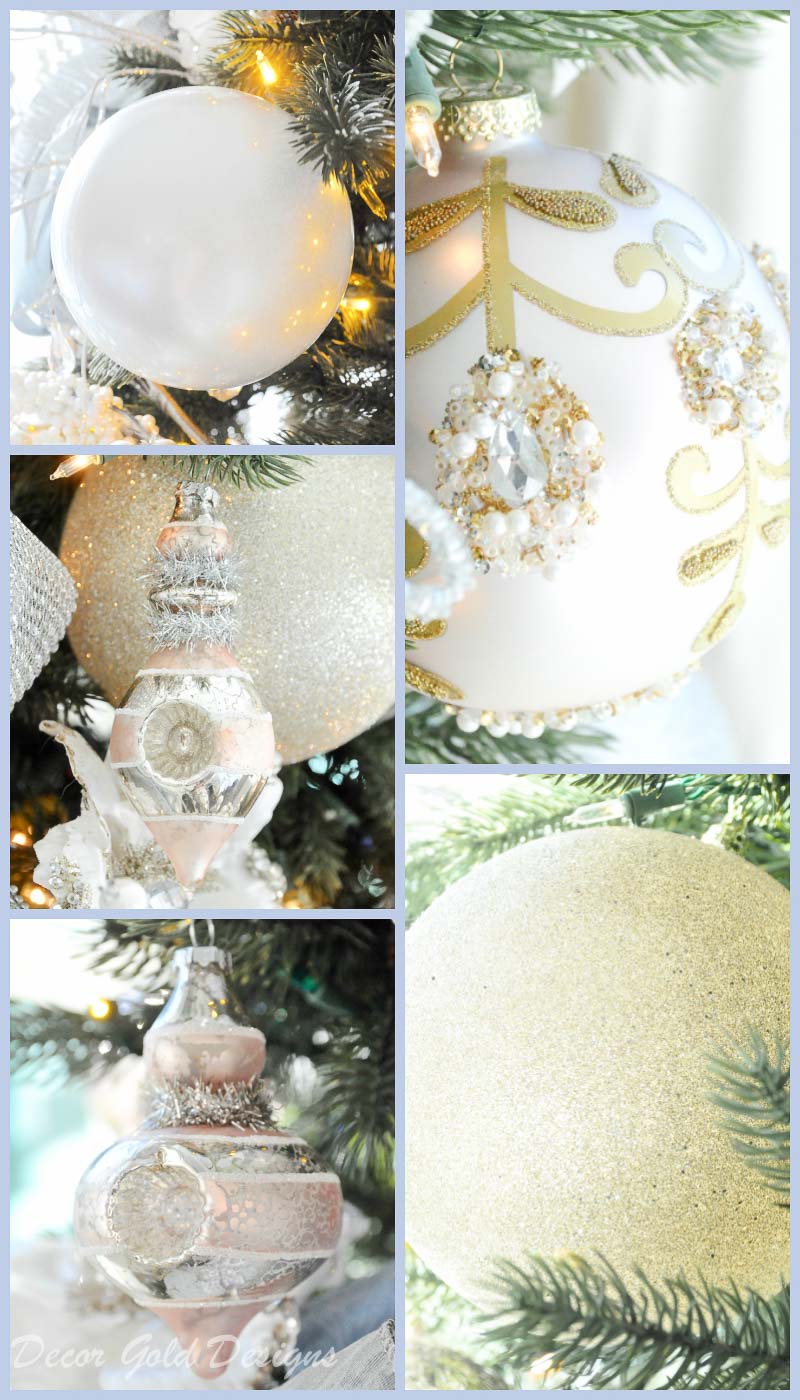 Here are the amounts we used to decorate two slender 9′ trees:
Pearl berry garland – 6 strands
Onion/Finial pinecone ornaments – 10 (5 of each style)
White leaf sprays – 11
Ivory poppies – 22
Berry Sprays – 12
Ornate blush ball ornament – 6
Blush mercury glass-look ornaments – 10
Waterdrop sprays – 14
I already had some beautiful beaded snowflake ornaments, which worked well with everything Jenny added.
Beaded snowflakes – 8 (2 sets of 4) Don't miss these beauties at almost 50% off! They will sell out quickly!

Magnolias – 10

Glitter balls in silver & platinum, 6″ balls – 8 platinum, 8 silver (only $6.99, such a great value!) | 5″ balls 5 platinum, 1 silver (only $4!) | 4″ balls – 4 platinum
Candy balls in silver & platinum, 5″ – 3 platinum, 7 silver
Be sure to load up on 6″ ornaments to fill up your tree! They are beautiful and a great value.
The gorgeous bows were handmade by Jenny. She used 10 yards each of 3 styles of ribbon to create 8 bows and 2 toppers. They are absolutely perfect and complete the look.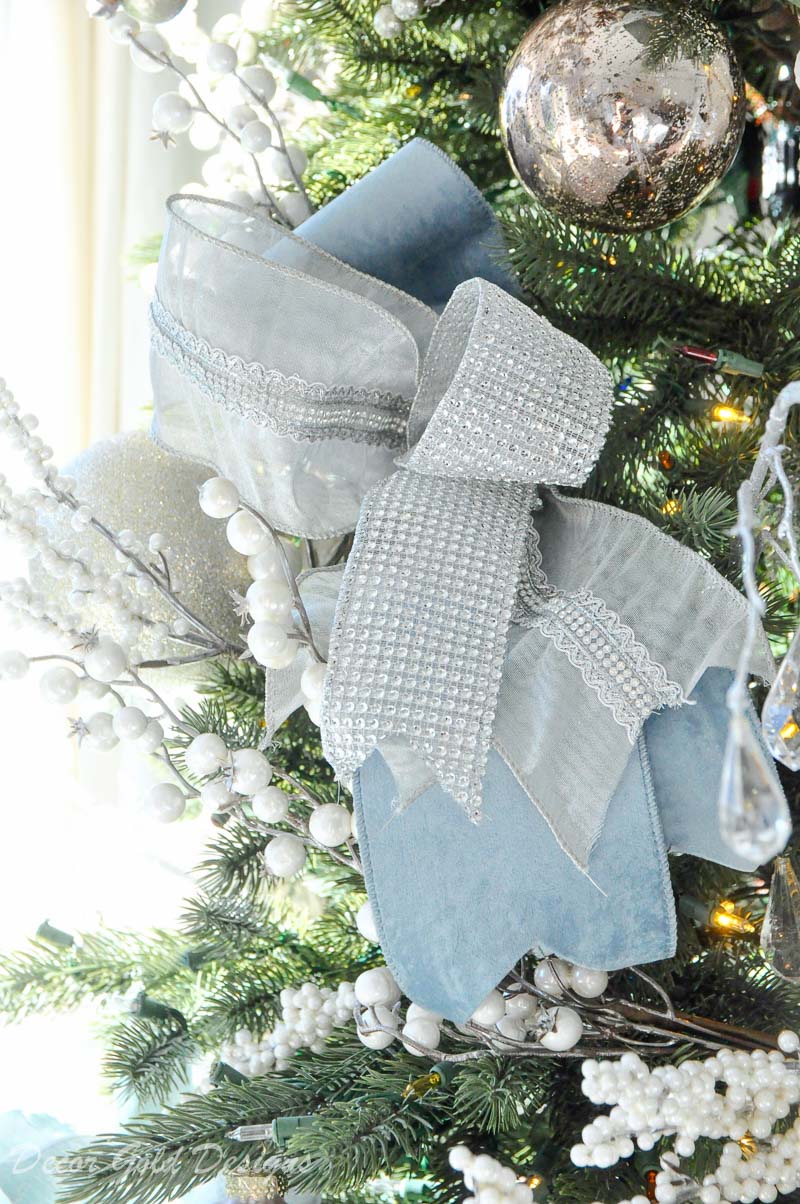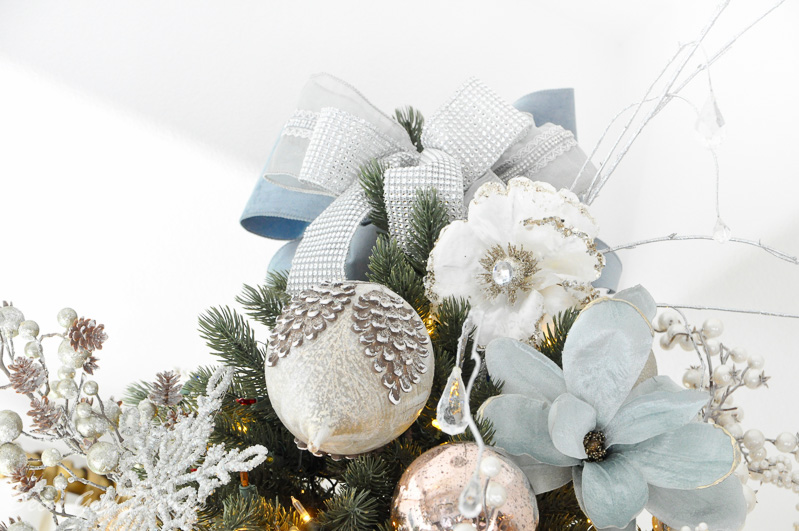 Silver jewel ribbon | Blue ribbon (similar) | Sheer ribbon (similar)
I hope you will visit Jenny's online boutique (save this for next year if you've already decorated) and hire her for all of your E-design needs.
You'll see additional pieces from her boutique throughout our bedroom, all available online. Every single selection is perfect for use year after year and in any space.
A perfect example, on our chairs, these pillows. Be still my heart.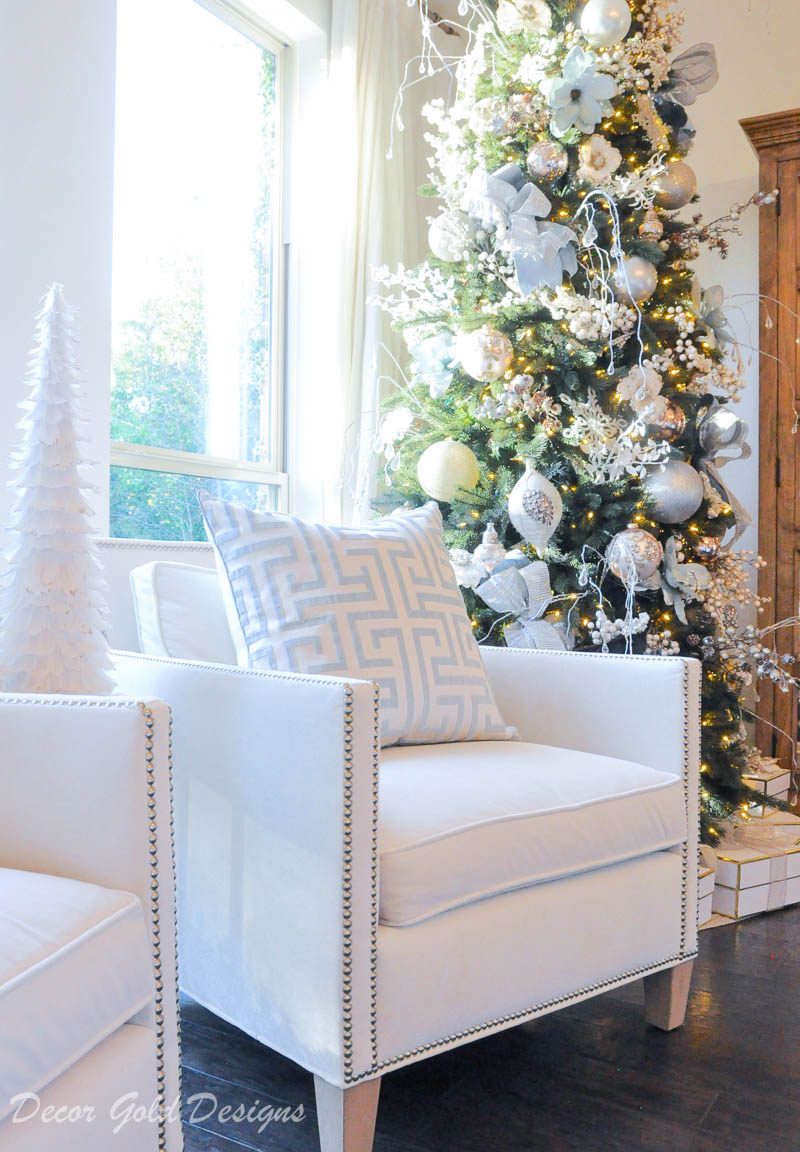 They couldn't be more perfect for my home. Or for this room. I don't think I've ever fallen in love with pillows more quickly.
Between the chairs, these gorgeous feather trees are also perfect. So beautiful and elegant! Try grouping three together on a side table, dining table, or console. They will elevate any space in your home!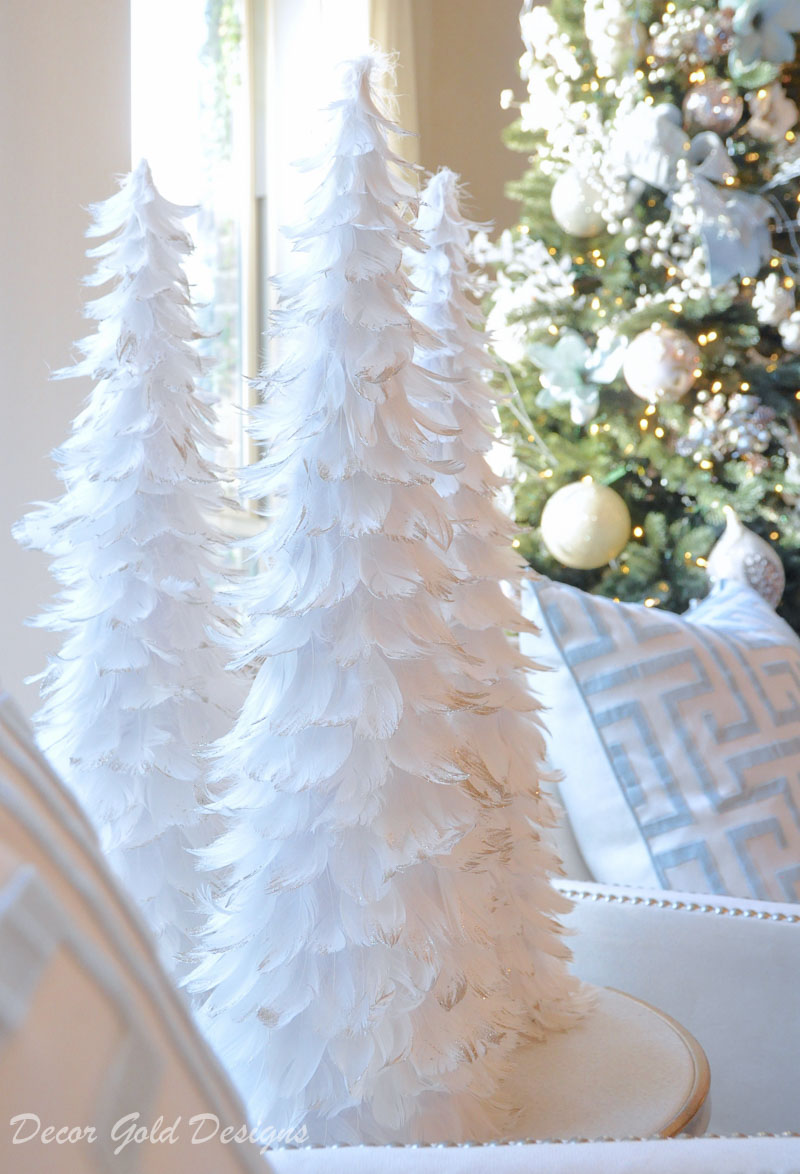 Vintage light-up trees, darling houses and glittered bases are the perfect nightstand accessories. I added one tree, three houses and one base on each nightstand.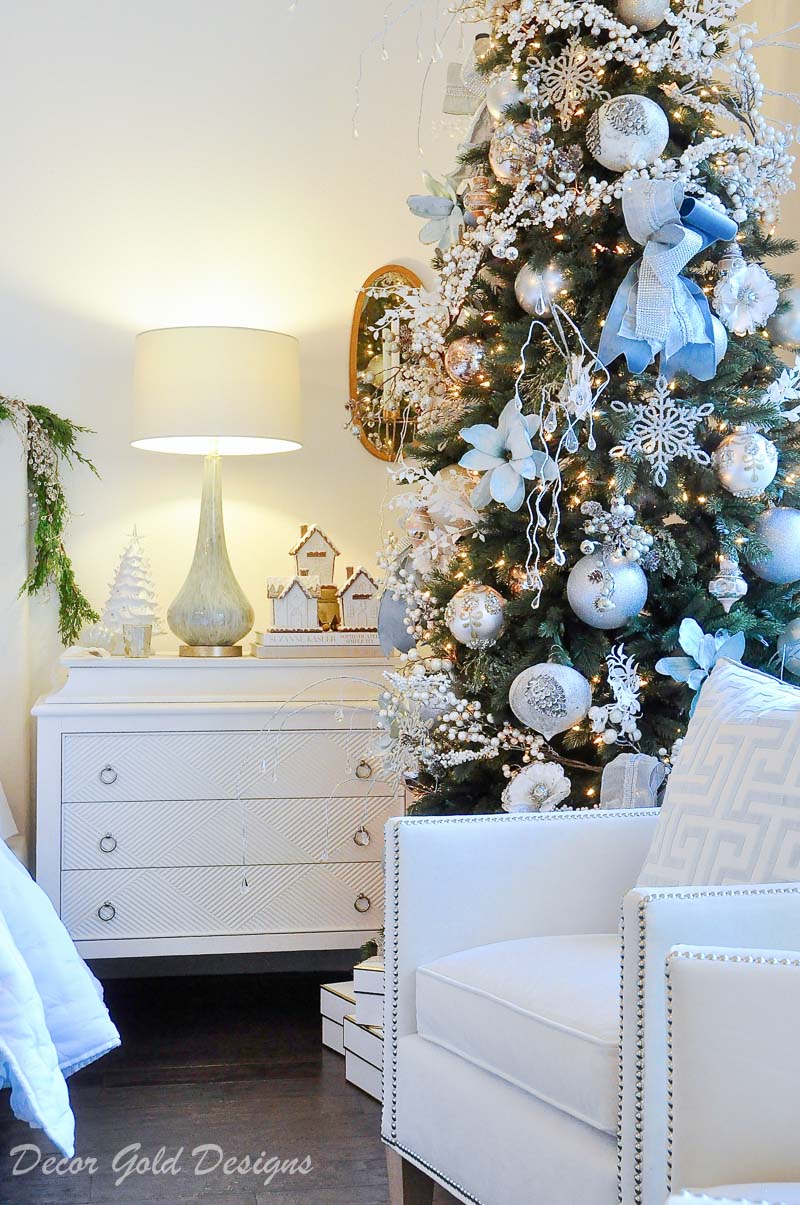 The trees remind me of one my mom had when I was little. They are so pretty when they are lit up.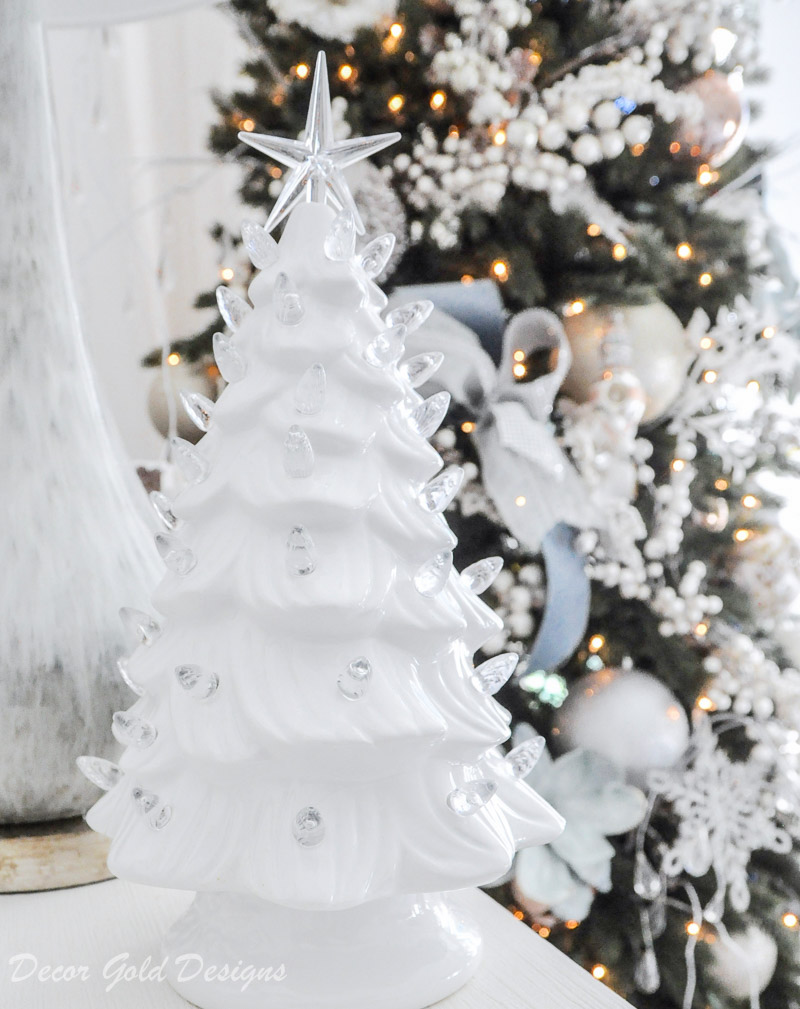 Just look at the cute details on each house. I love how they look like gingerbread houses. They would also be cute on your coffee table or mantel…… really anywhere because they are such a great size!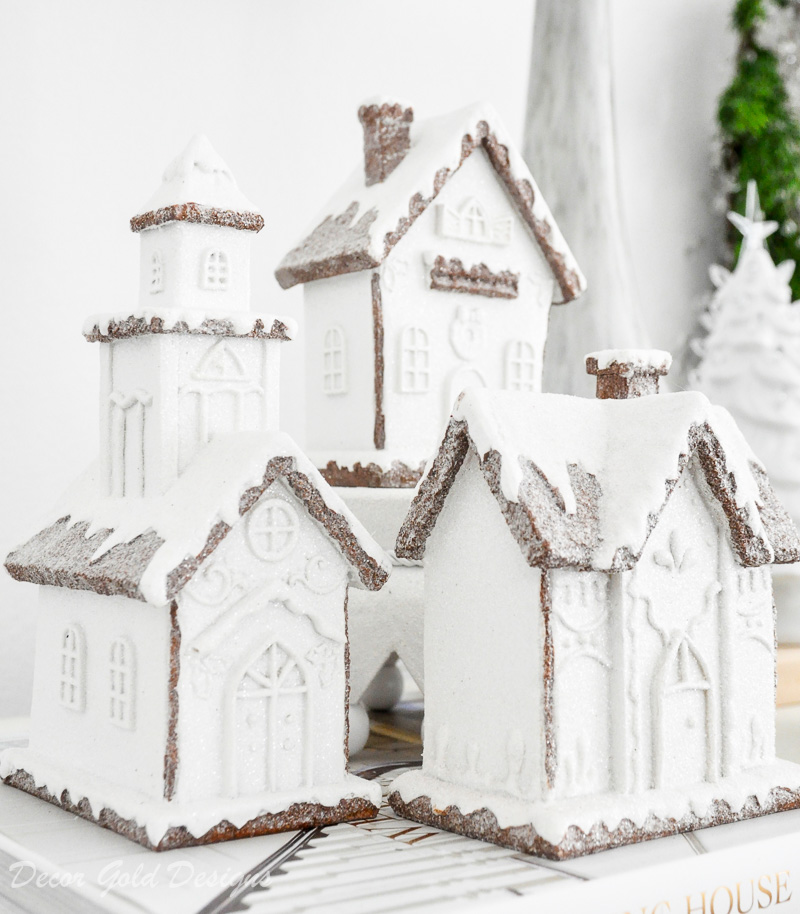 This garland is a pretty addition to our headboard. You would never know it isn't real garland. So so pretty!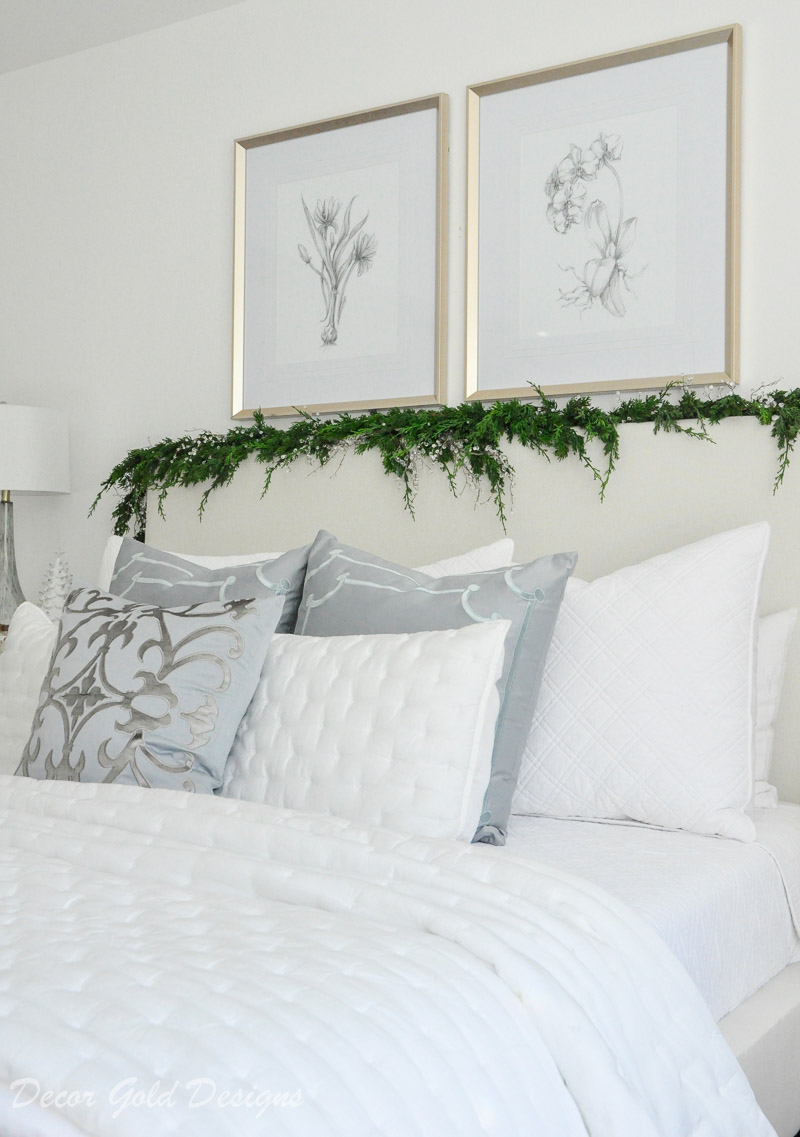 I used three strands placed them across the top and down the sides of my headboard. I then added some crystal sprays. You could also add pearl berry garland and ivory poppies, two of my favorites from the trees.  Another option, add some bows with long tails to the corners. (Can you see my mind working on next year's design already?)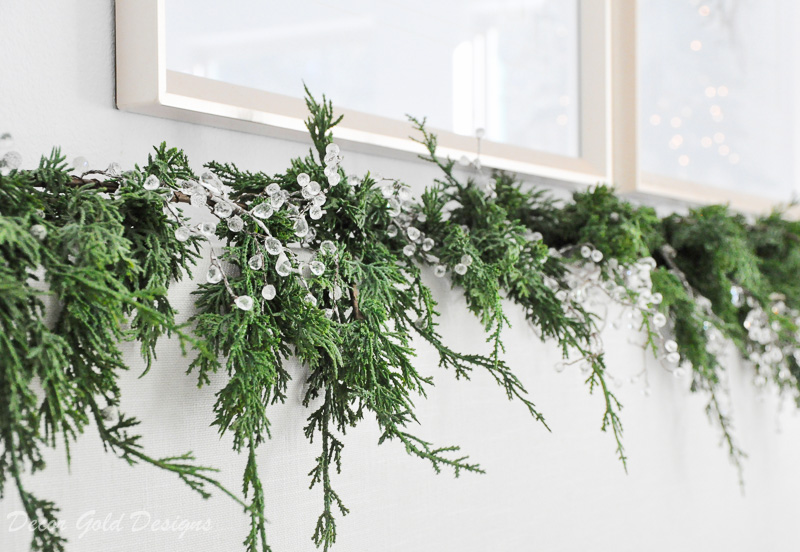 The garland coordinates with the trees beautifully. It was the necessary addition to tie everything together. I love it so much!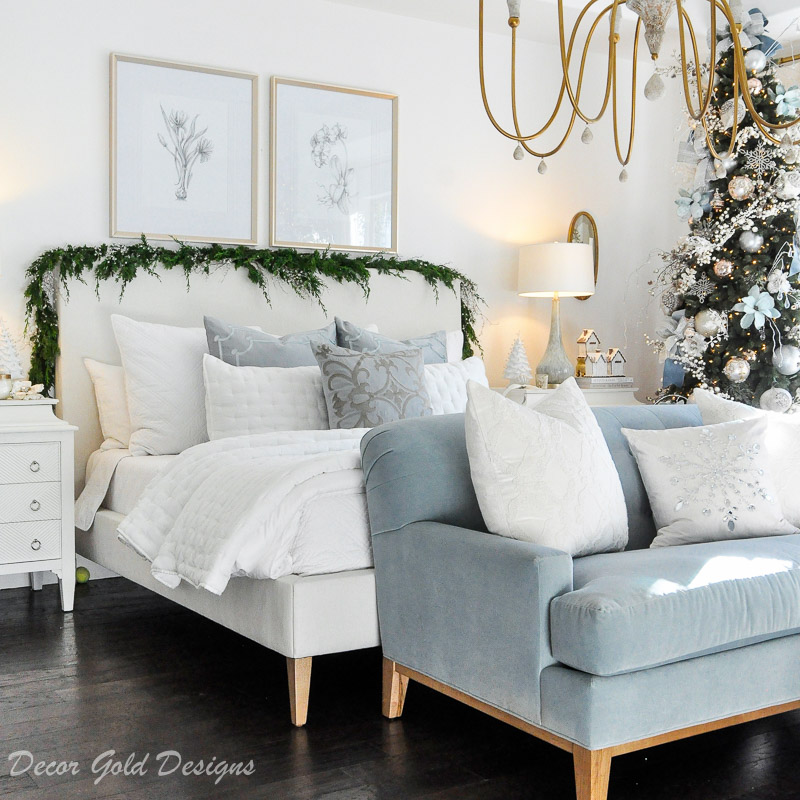 There you have it, our Christmas bedroom. Don't you think I should leave it this way year 'round?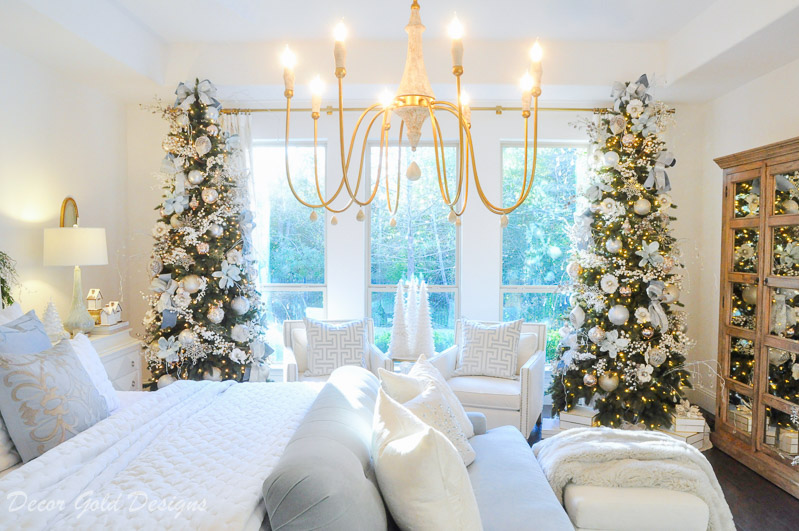 One last thing, I mentioned above that Jenny is an incredibly talented designer. Well, we have an exciting project that we are taking on together! You will be seeing more of her and her work around here very soon. Can't wait to share all of the details and lots of behind the scenes info with you! In the meantime, I highly recommend Jenny for all of your upcoming projects.

Chandelier | Nightstands | Chairs | Round Table | Drink Table
Lamps | Art | Brass Curtain Rod

 Quilt | Standard Shams | Velvet Euro Shams | Velvet Coverlet


Bed and Loveseat by Maiden Home. Find them in my recent Master Bedroom Refresh!
Visit my Christmas Living Room Tour for much more!
Don't miss my Christmas Kitchen!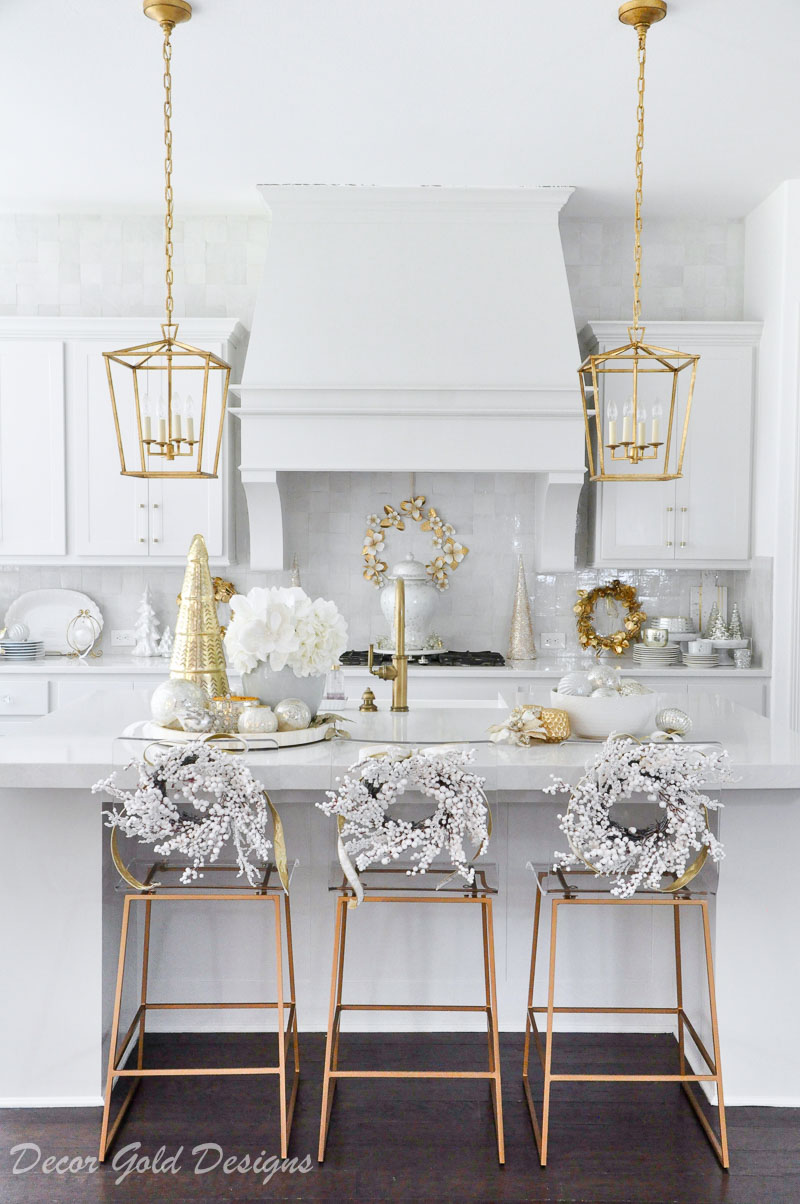 I hope you'll stay connected…..
Click on the Image to Subscribe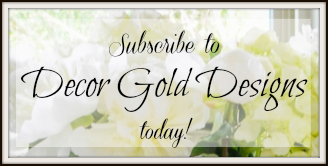 SOCIAL
Instagram | Pinterest | Facebook
Follow me on the LIKEtoKNOW.it app!