We are currently near the end of the frame stage. But first, a quick look at how we got here.
You may remember, we sold our house after just a few days on the market last year. Then, we spent most of last summer in our favorite place, Laguna Beach. We enjoyed morning beach time with our dogs and long afternoon walks. Tony had to travel back to Texas often for work, but during the time we were both in Laguna, we worked on our house plans. Boy, that was a process!
To design our home, I started by sketching our floor plan on graph paper. Once I liked the layout, I gave my drawing, a long list of desired home details, and a bunch of inspirational photos to a draftsman to complete. After months of sending the plans back and forth, we finally had our final home design.
Next, we selected appliances, windows, and French doors. These are all things that can take a long time to arrive. These are also some of the main differences between this house and our last house. The windows took quite a bit of time to design as we have a large number of them planned.
We finally broke ground in March. The first step was to bring in dirt and form a building pad. Our lot is 32′ higher at street level than it is at lake level, so we had to create a level surface for our foundation. 240 loads of dirt later, we were ready to have form boards set and our foundation poured.
This is what our foundation looked like before the slab was poured. You can see the rebar, in-ground plumbing, and floor outlets are in place.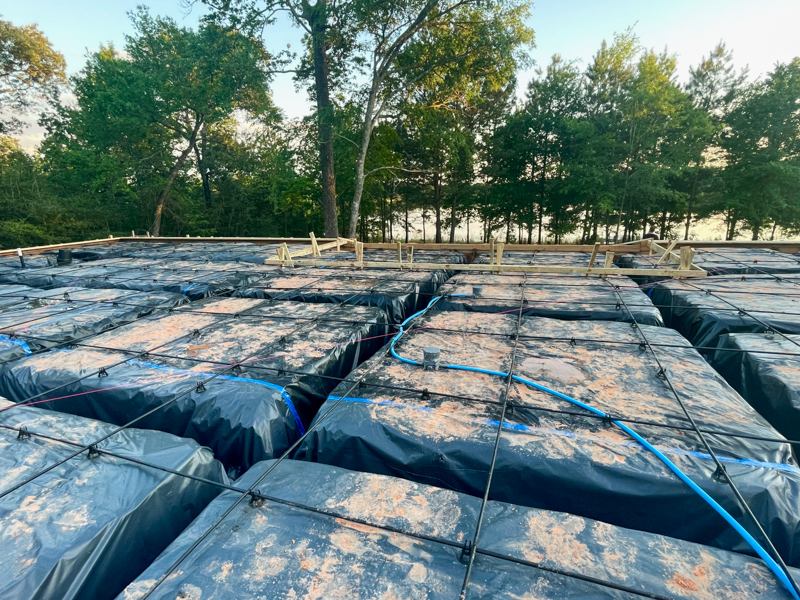 And here is the slab for the house.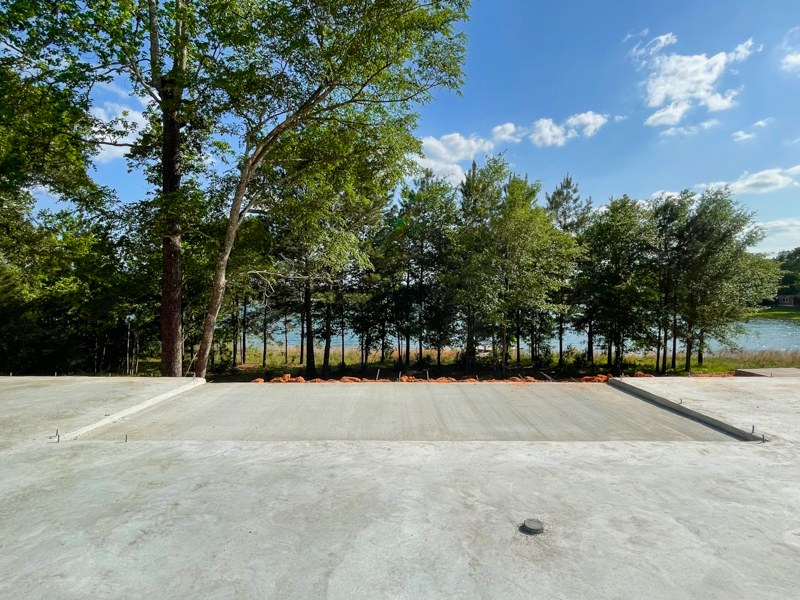 The smaller slab is for a detached structure which will include a 3-car garage, a covered porch that faces the yard (and future swimming pool), and a half bath.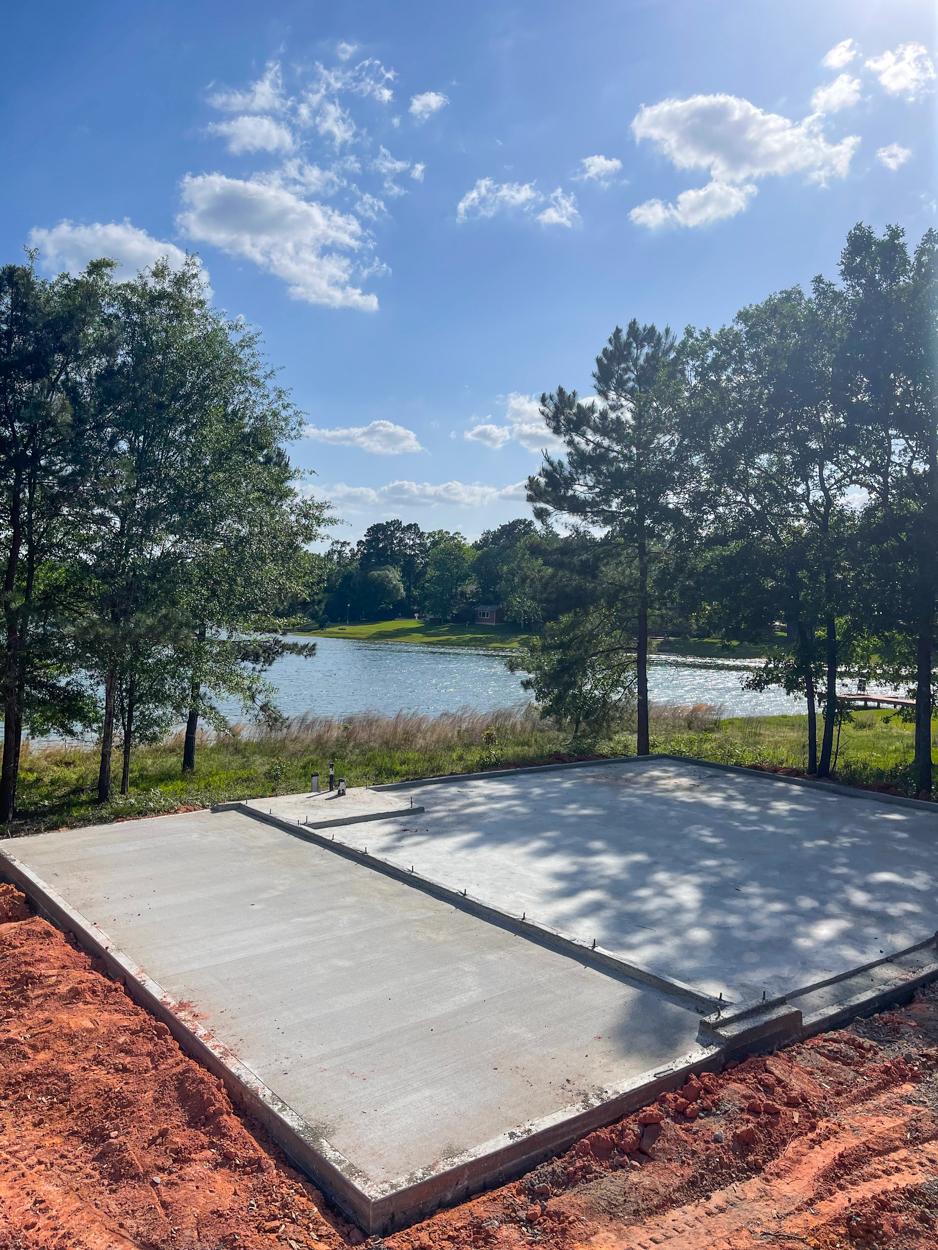 Next, we were ready for the frame to begin.
One of my goals when designing this home was to add as many windows as possible. You can already see this from the start of framing.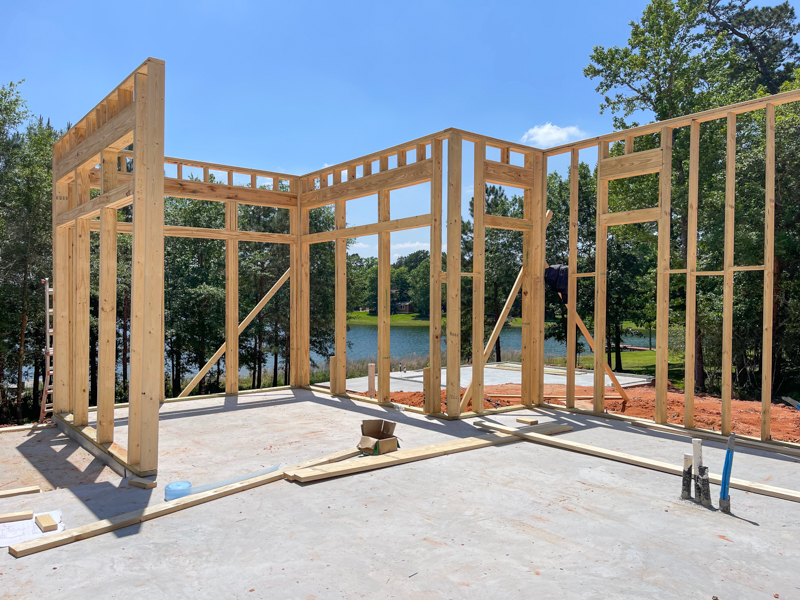 Fast forward to the last part of framing and it is becoming even more exciting to see my vision come to life!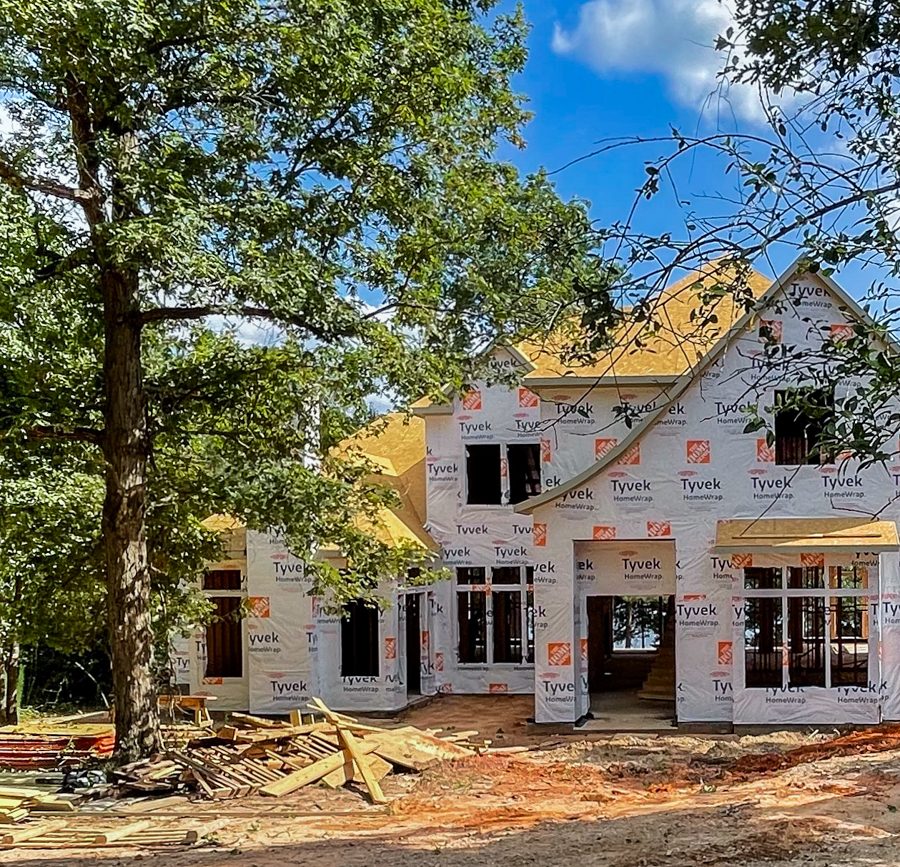 Now, I welcome you to step inside.
Entryway
The obvious place to enter is the entryway. I hate to start off with something that needs to be changed, but the stairs are coming down. In their current state, they are too wide and the scale is wrong for the space. Additionally, because they are more traditional closed riser stairs, they are blocking more of the view than we would like. Luckily, at the frame stage, you can make changes more inexpensively than during later construction stages. Once the other components of the frame are complete, we plan to have someone come in and open up the stairs.
The windows on the left wall will overlook a courtyard and the space above will be open to the second floor. Also, this room has the highest ceiling at 22 feet!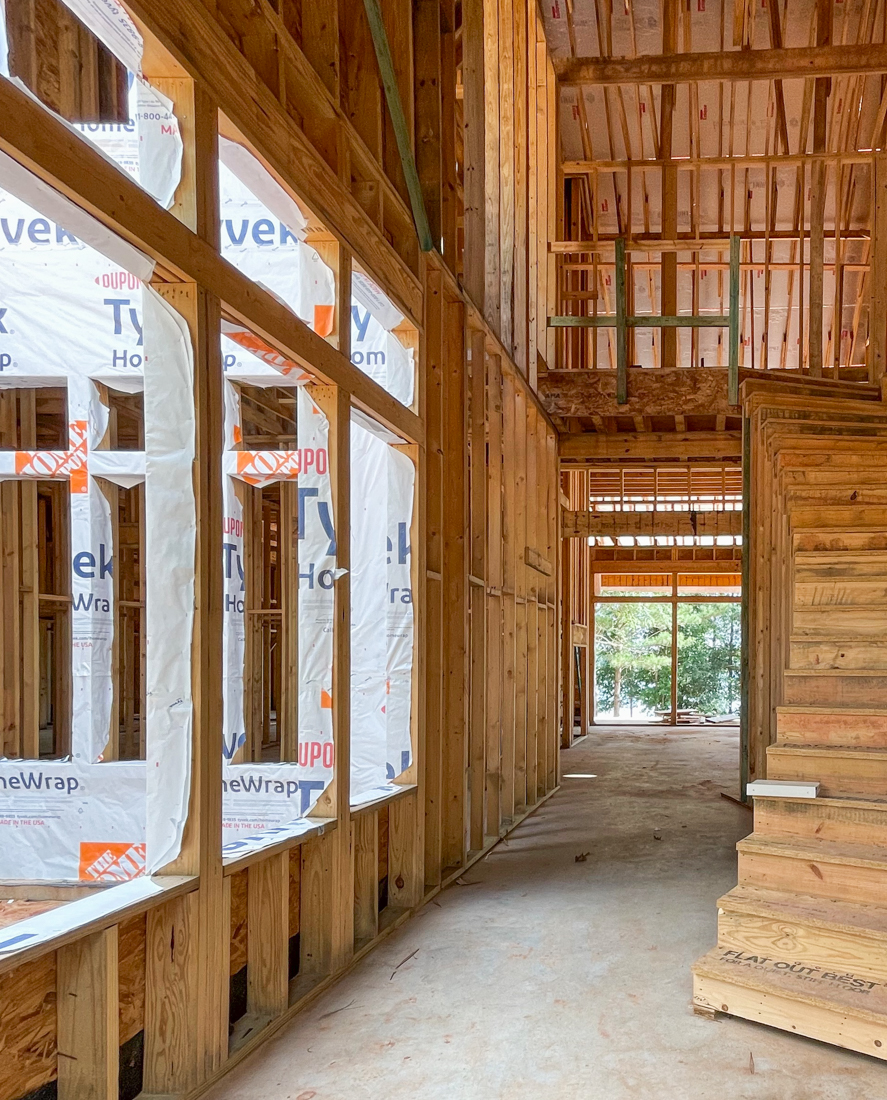 Living Room
The entryway leads directly into the living room. In fact, the front door is centered on the middle set of french doors. I wanted the house to be very symmetrical!
The most beautiful focal point of this space will be the three sets of doors (and the lake view beyond), which can be seen in the right side of the image below. The fireplace wall should also command attention though. We selected a 42″ masonry fireplace which will be installed soon.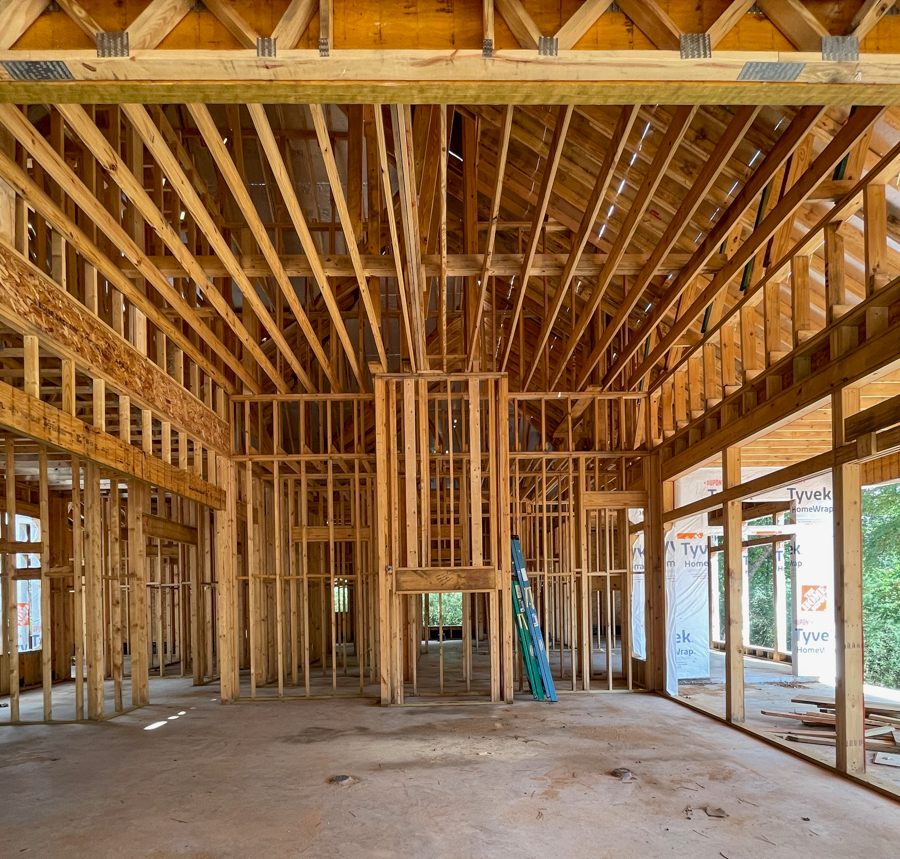 Kitchen
The living room is open to the kitchen as it was in our last home. The kitchen window wall will have a vent hood centered on it and no upper cabinets. I can't wait to see this space further along when it actually looks like a kitchen!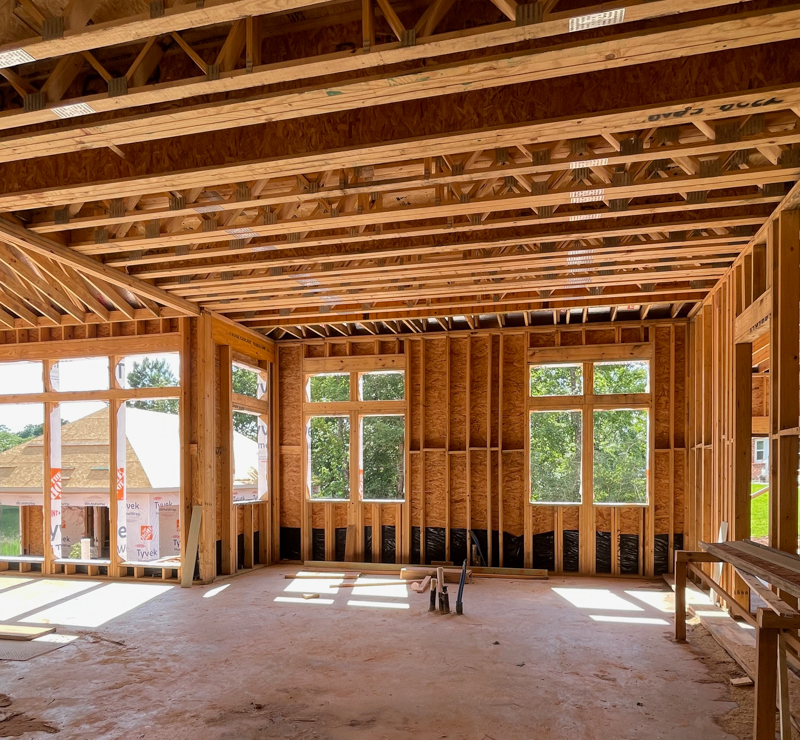 Breakfast Room
This room makes me so happy! It is all about the views and being closer to nature. I picked out this beautiful chandelier for the space and I'm thinking of adding wallpaper to the ceiling. What do you think?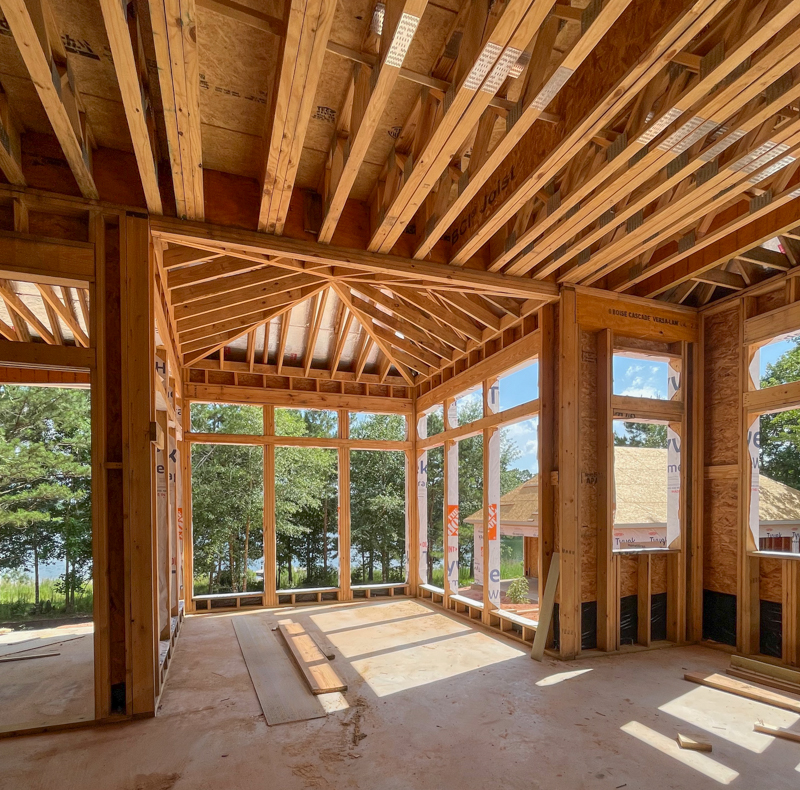 Hallway
We wanted a hallway to separate our living room from our bedroom. I was thrilled when I saw the frame of this space. I absolutely love how it is turning out with a peek of our view.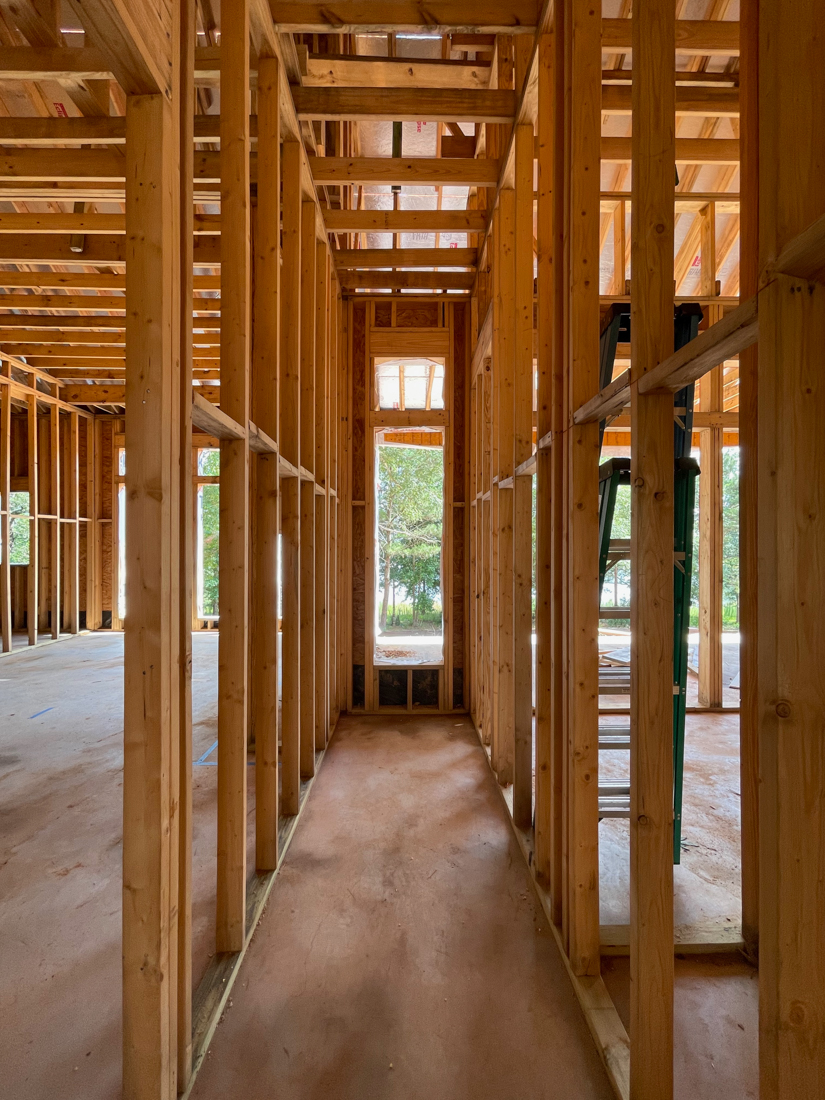 Primary Bedroom
The primary bedroom is another space that I am incredibly excited about. It is very similar to the bedroom in our last home. We added a fireplace and French doors leading to the patio, two features we would have loved to have had in our previous bedroom.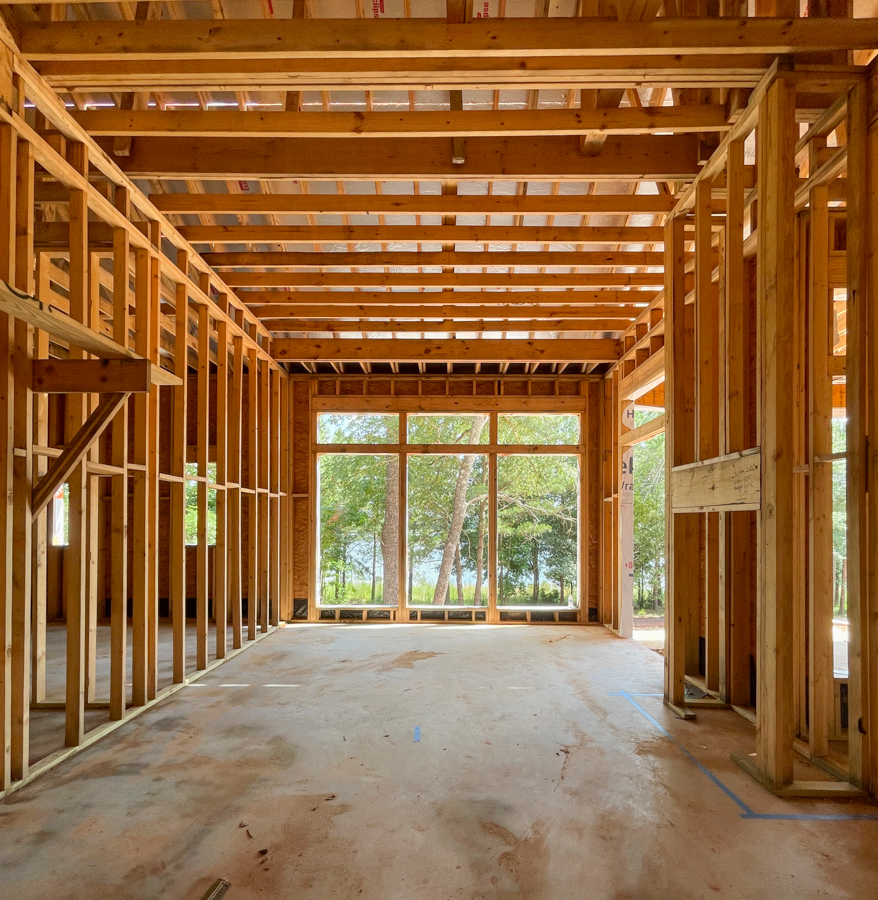 Primary Bathroom
The bathtub will be placed in front of the window. You can see framed walls around the tub area. There will ultimately be an arched alcove around the free-standing bathtub when the frame is complete.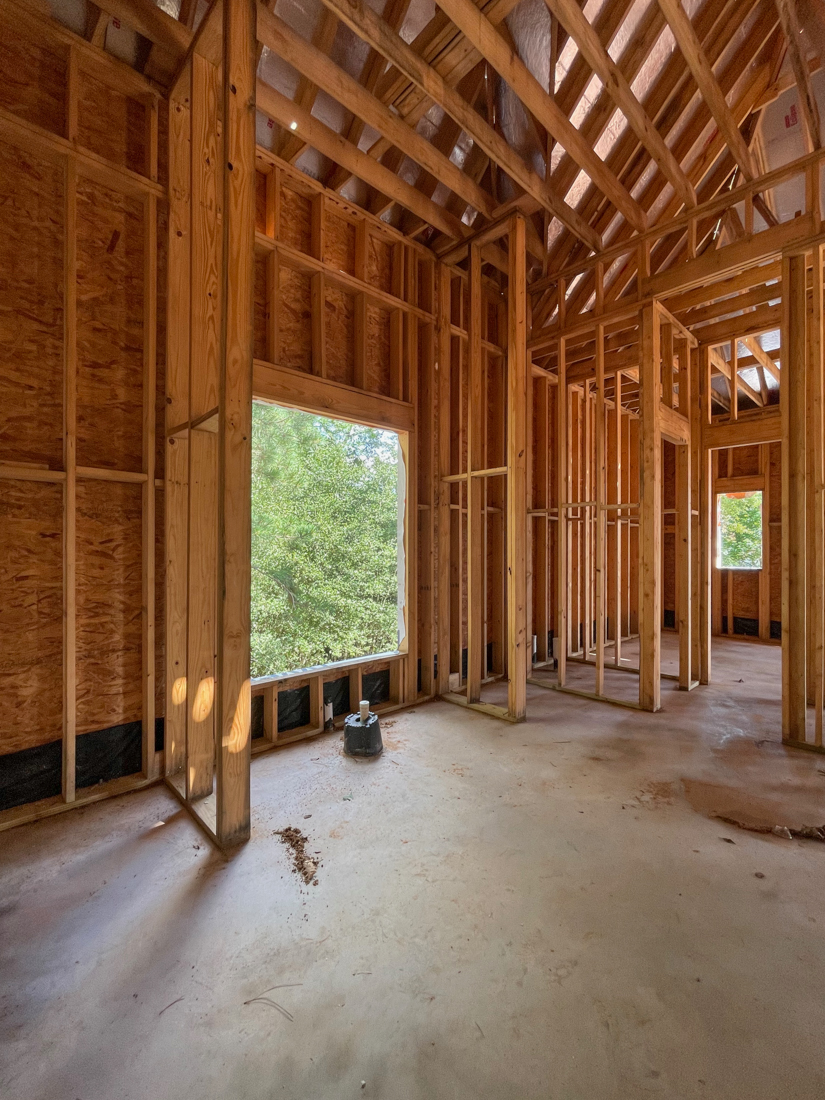 Closet
There are actually two closets in the primary suite. This one will be mine. Eek!
Also, this is the first room that has a new chandelier. I found this gorgeous design by Visual Comfort at a warehouse sale!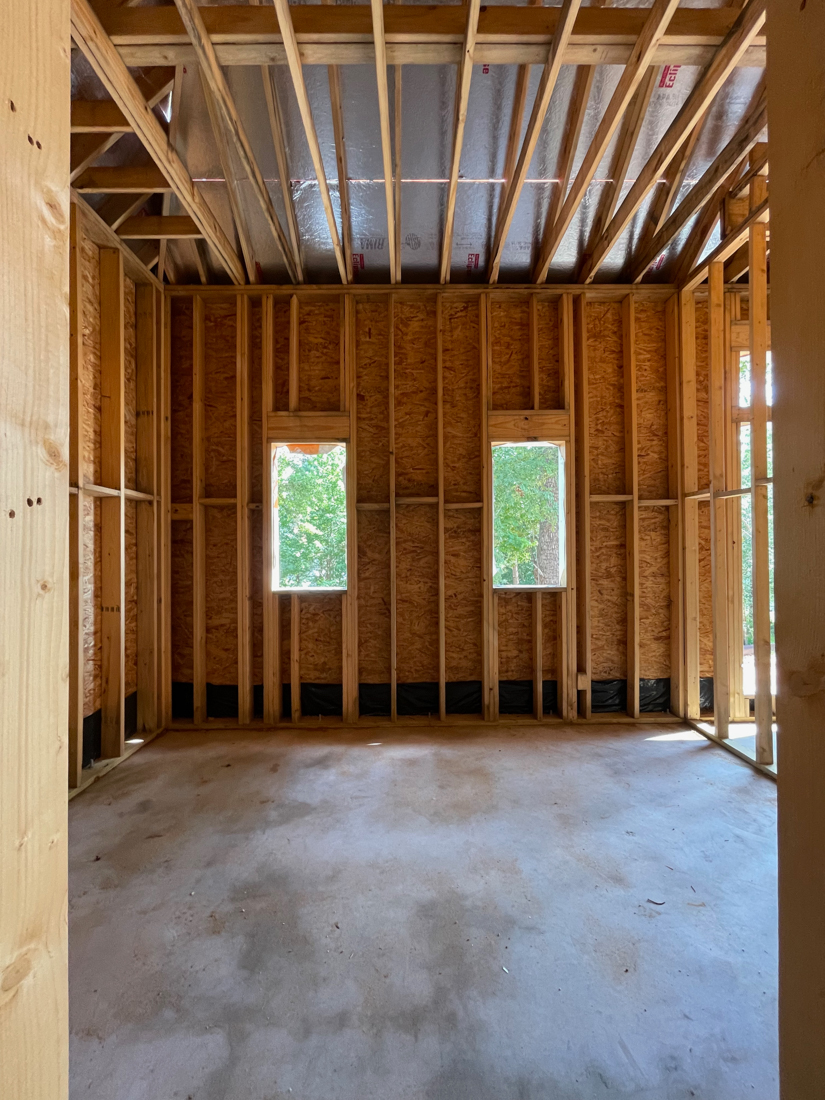 Utility Room
I didn't have any windows in my last laundry room. So, to have two in this one is a dream come true! There will be a sink under the window on the right. On the left, our washer and dryer will be centered under the other window.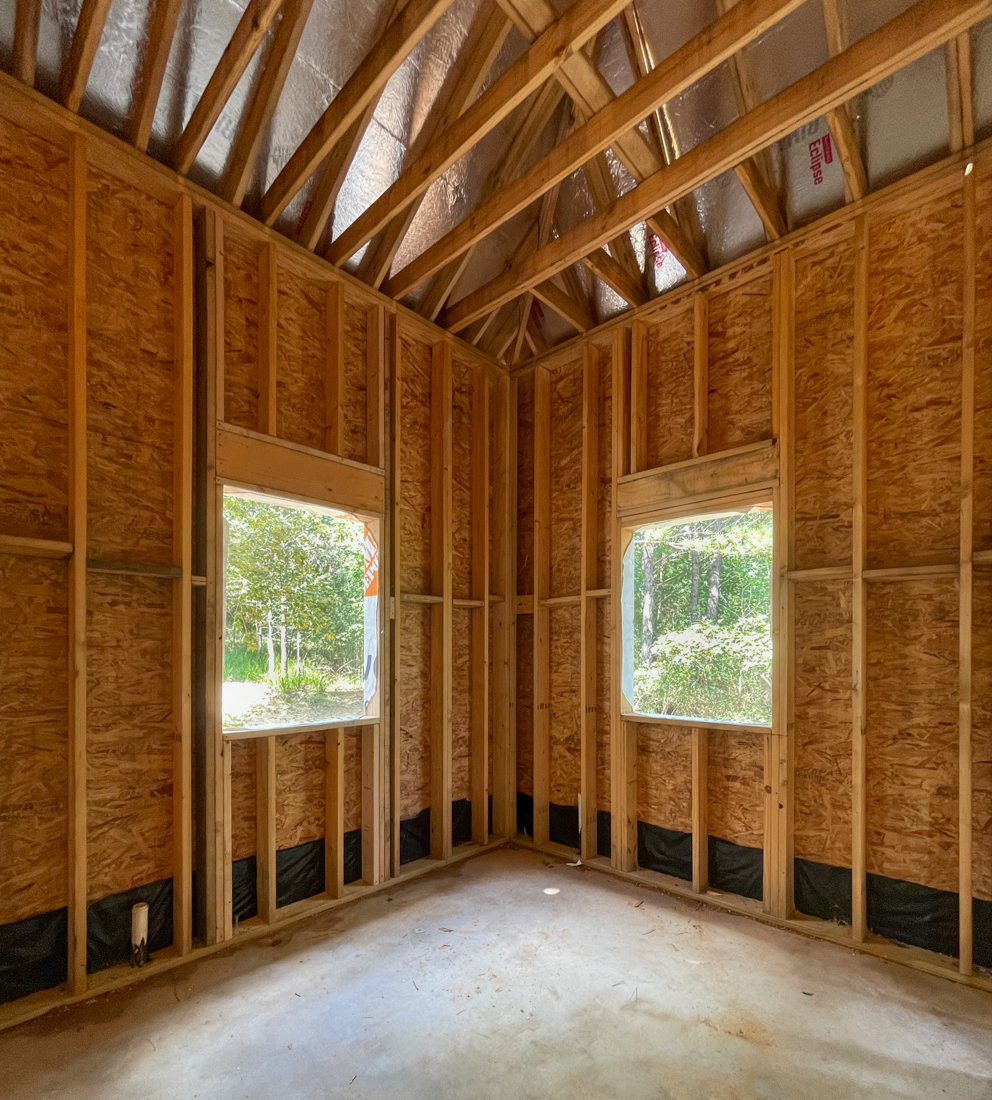 Home Office
This room will be a small home office. It will overlook the small courtyard I mentioned above. Look outside and you can see entryway windows on the left. The windows on the right are from our guest bedroom.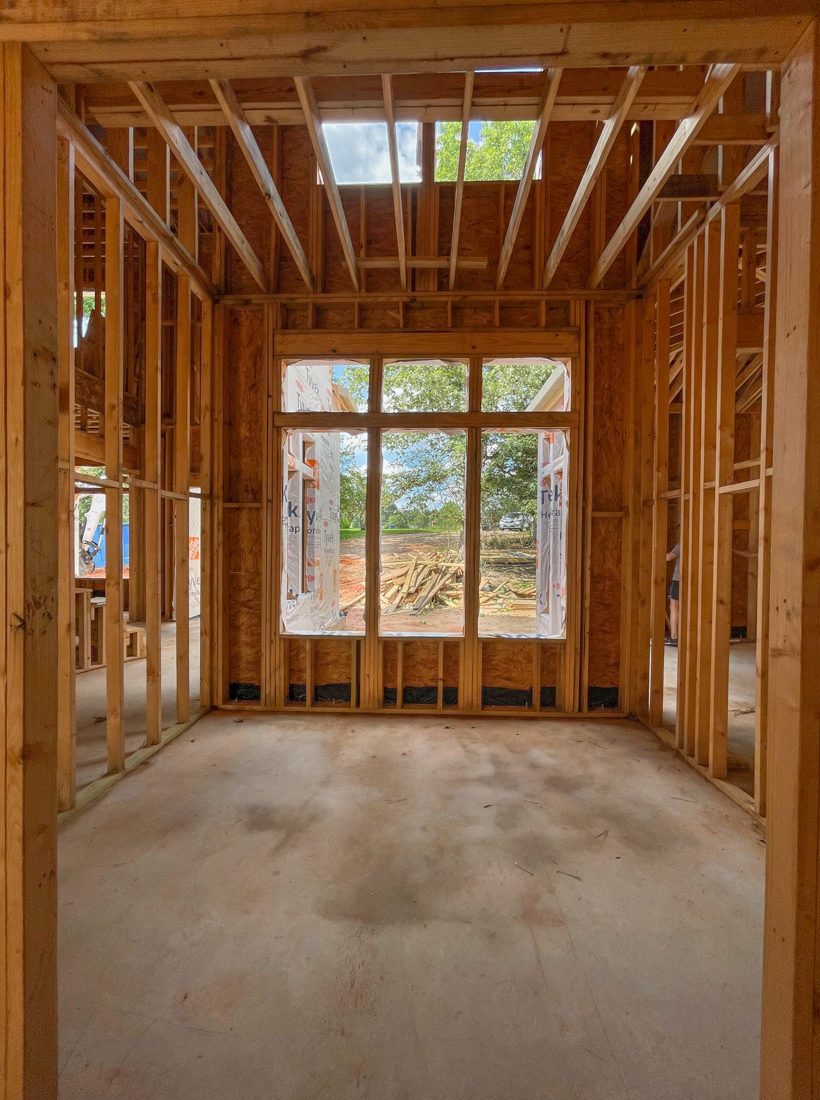 Upstairs
There will be two bedrooms and two bathrooms upstairs along with an extra flex space. The flex space was a last-minute addition that we may finish out later.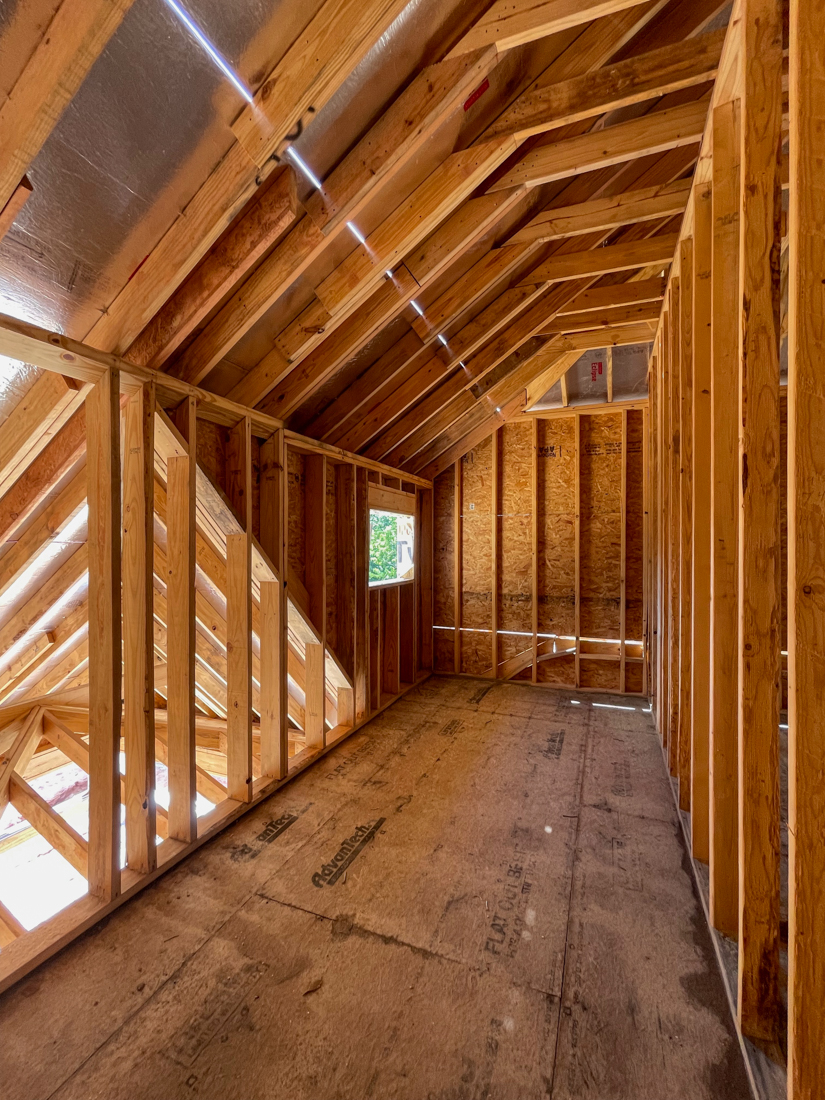 Here is the view from the flex space upstairs.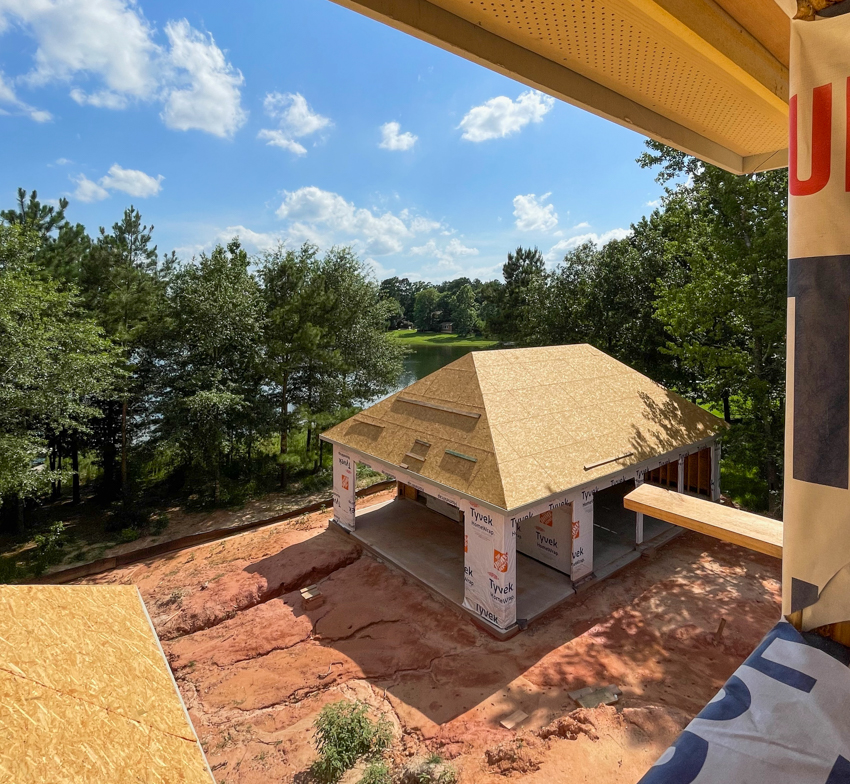 The View
In case you haven't seen it, this will be the main view from our new home!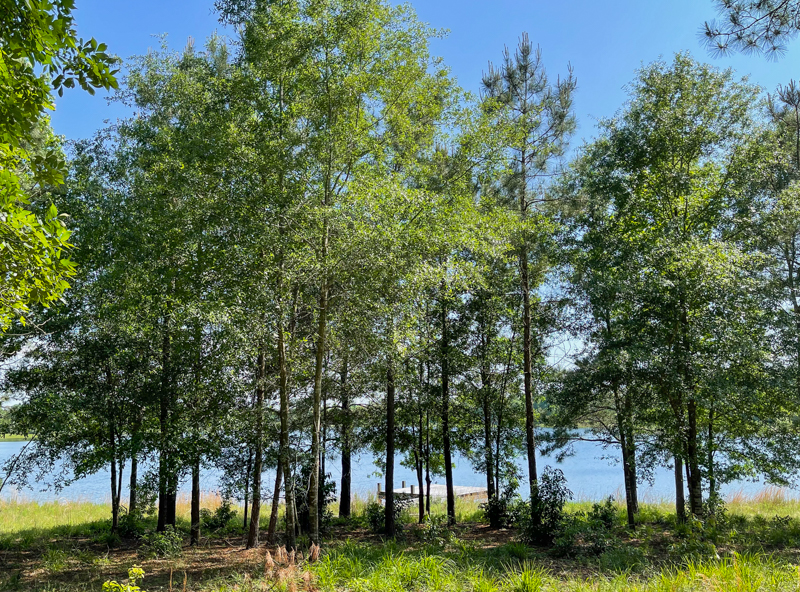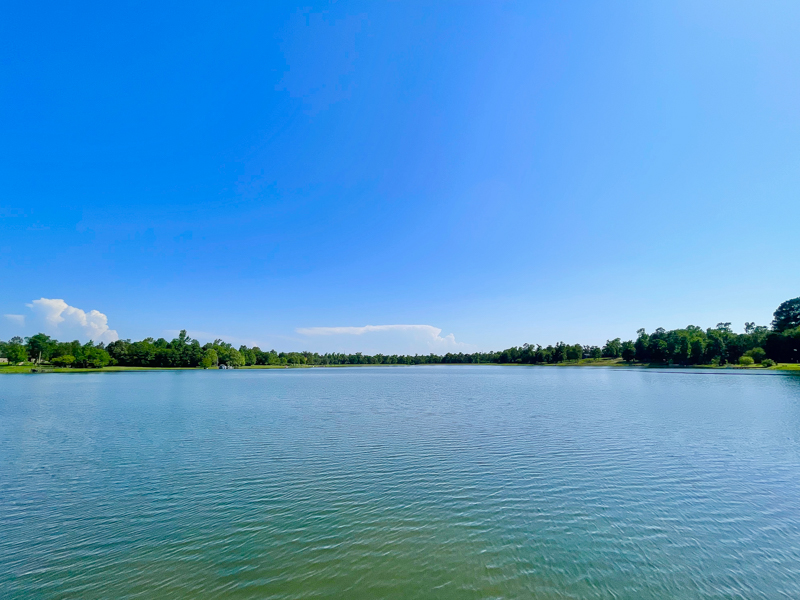 Here's Bailey enjoying the cool mud and doing a bit of turtle-watching.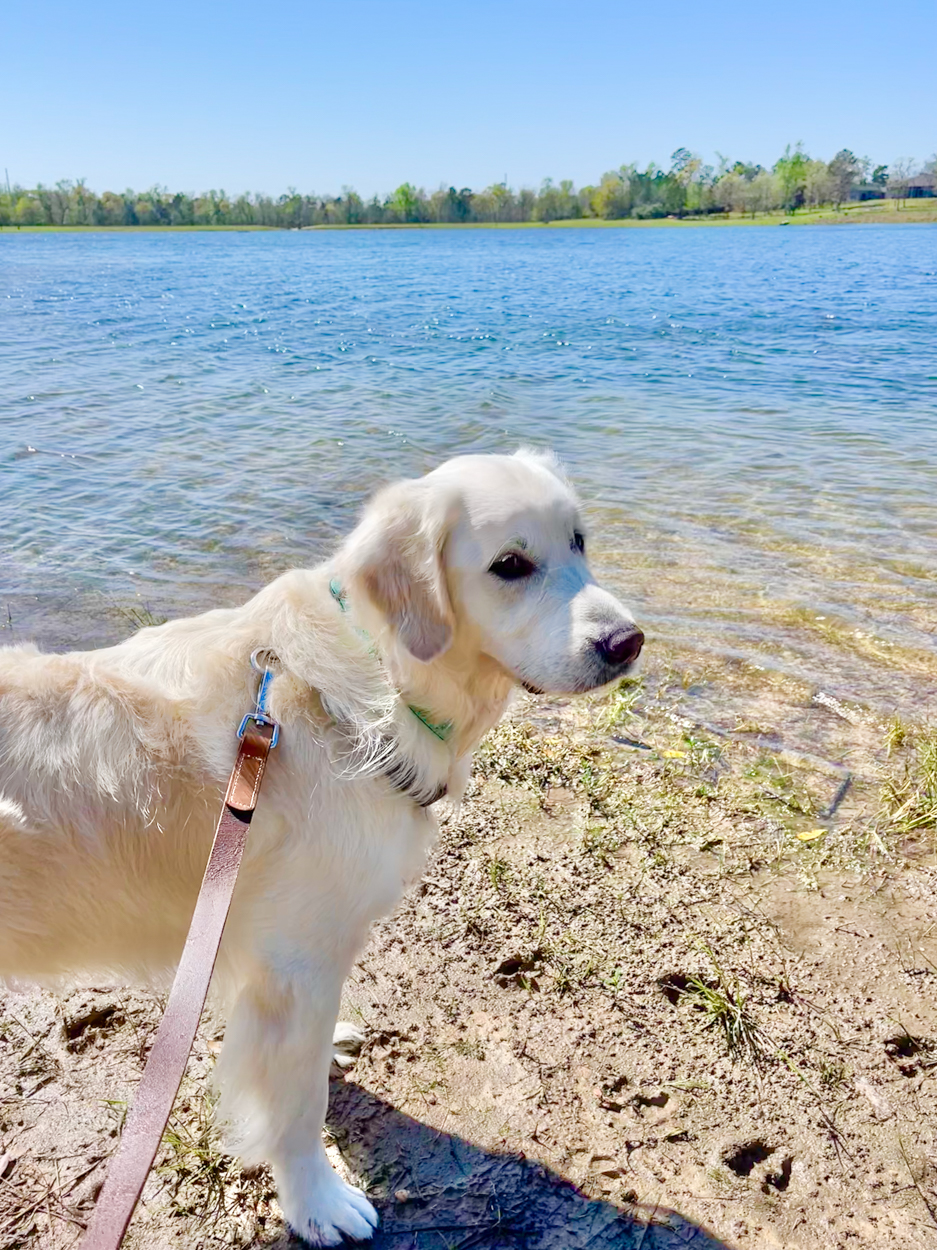 The best way to learn of new posts and more….
Click on the Image to Subscribe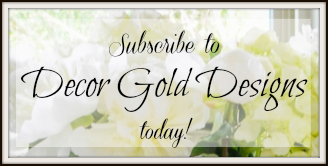 SOCIAL
Instagram | Pinterest | Facebook
Follow me on the LIKEtoKNOW.it app!