All of the changes over the past 18 months led us to realize which spaces in our home were functioning properly and those that were not. Can you relate?? At the top of the list of spaces that were not functioning properly…our home office. So, I set out to create a home office design that fit our evolving needs.
First, the new office will be MINE! Woo hoo! I have never had my own office. After years of sharing with Tony, we realized that he much prefers to works at our breakfast table, so I no longer need to share our current home office space.
Our shared office was nice when we first installed it, but over time, I realized it was too dark and taupe for me.
Here is our office before the update.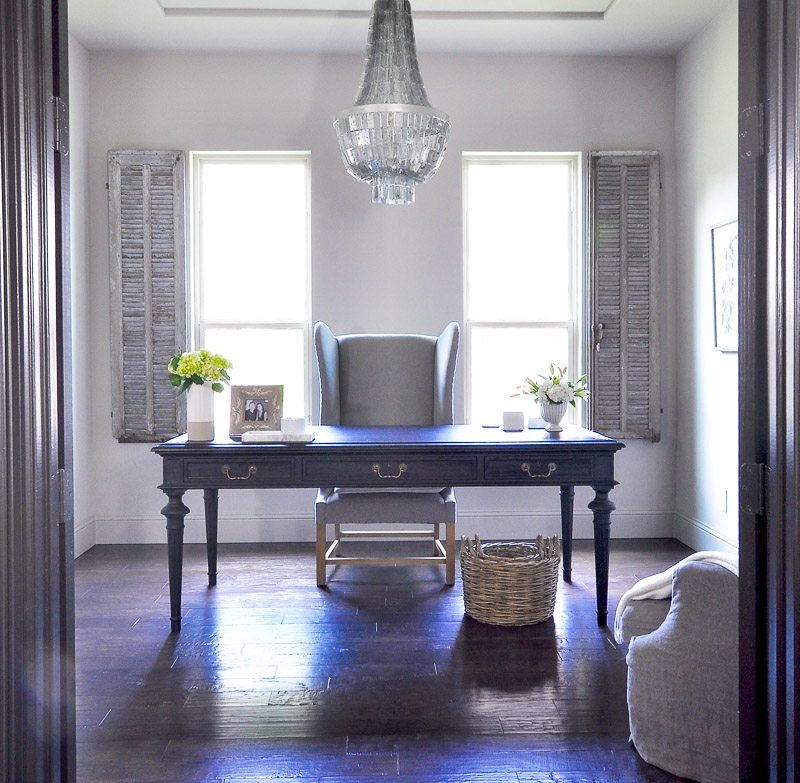 For the update, I knew I wanted a sophisticated home office design that would be beautiful and functional. Being able to feel inspired by my surroundings was also of the utmost importance to me. Additionally, I wanted to give my new office a bit of a southern glam look, similar to other newly updated spaces in our home like our master bedroom.
Here is our new home office design!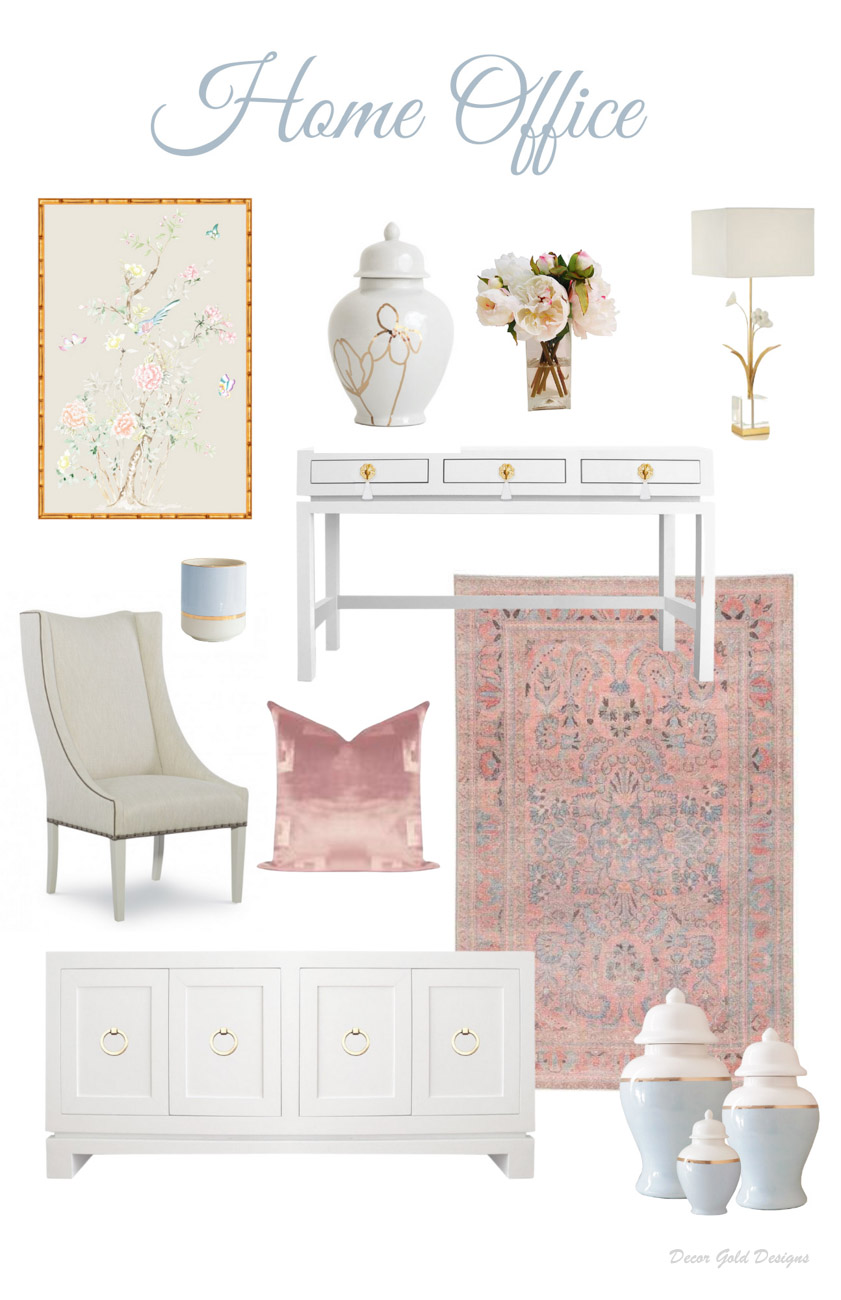 I created a very similar option with a soft blue accent color. I honestly love both looks so much, but the design above is the one I am implementing.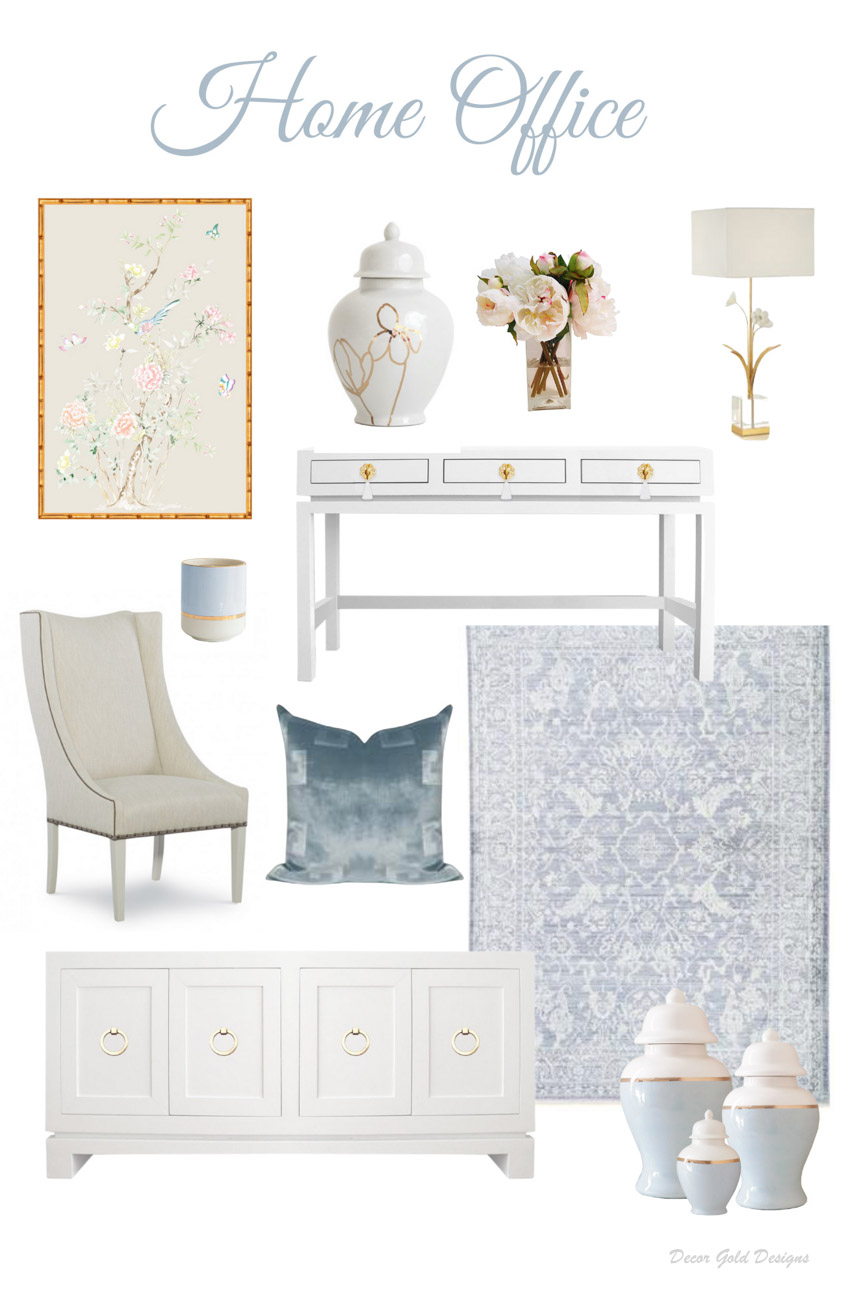 Furniture
My designs began with two stunning pieces from Lo Home by Lauren Haskel Designs. Lo Home pieces are timeless and elegant and Lauren, the owner, is such an inspiration. She is creative and has impeccable taste and I knew she would have the perfect designs from which to choose.
From Lo Home, I selected two pieces in the most amazing style for my new chic southern home office design. I chose a desk and a cabinet, both with clean, classic lines.
The details on the Hamilton Desk provide a hint of everyday glamour. I can hardly wait to show you how eye-catching this essential piece is! I am equally excited about the Hayes Large Cabinet! It offers a fabulous amount of storage and is incredibly beautiful as well!

I wanted to fill the room with shades of white so that any accent color would work. I think it was this rug that eventually swayed my decision to use rose-colored accents. It is absolutely gorgeous and adds a lot of personality to the space.
Lo Home has a wonderful selection of rugs. Seriously, I could fill my home with them!


Accessories
Ginger jars are such beautiful accessories and I selected Lo Home's gorgeous jars in two designs for my updated home office.
Lo Home signature ginger jars are hand-poured and hand-painted by their talented artists. The two styles I chose, Color Block Ginger Jars in Hydrangea Light Blue and a Gold Abstract Floral Ginger Jars in White are STUNNING! The color block design is so pretty with a 22K overglaze accent stripe. The abstract floral design on my second set of jars is also a 22K overglaze. Just perfect!
As soon as I saw the Lo Home ginger jars I realized I couldn't possibly wait for my office reveal to style them. They are too pretty to keep in only one space, although I know the collection is going to provide a ravishing enhancement to the top of my cabinet!
In the meantime, here are a few ways I have styled them in my home.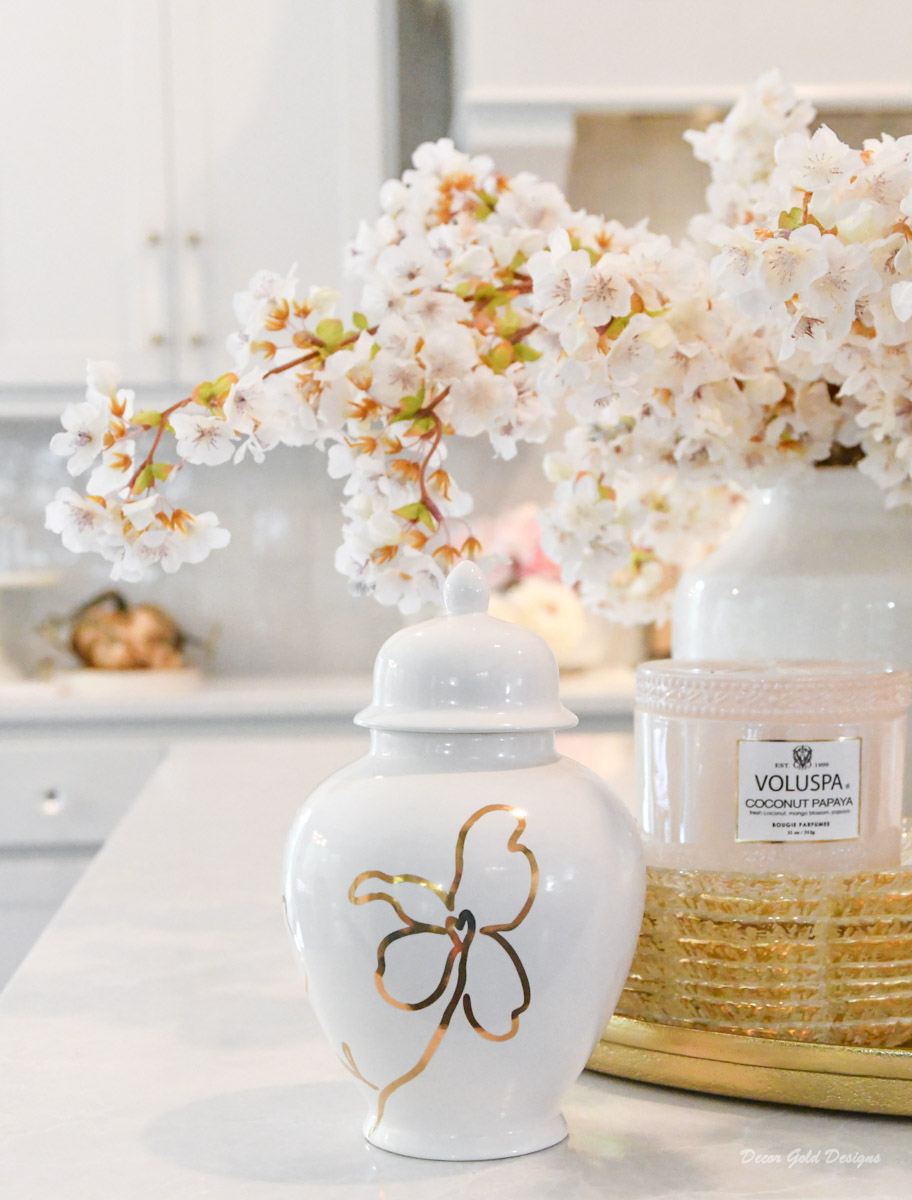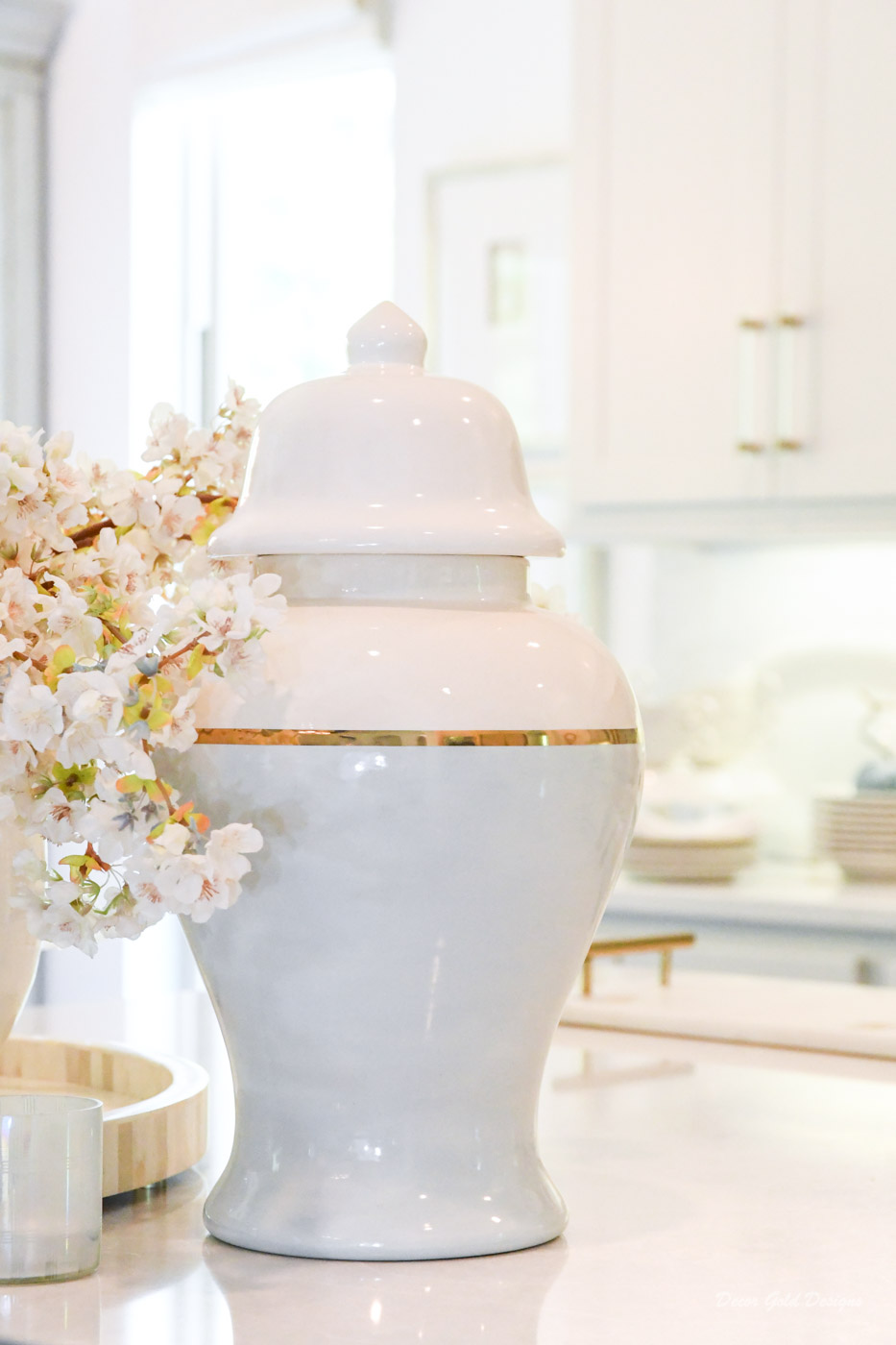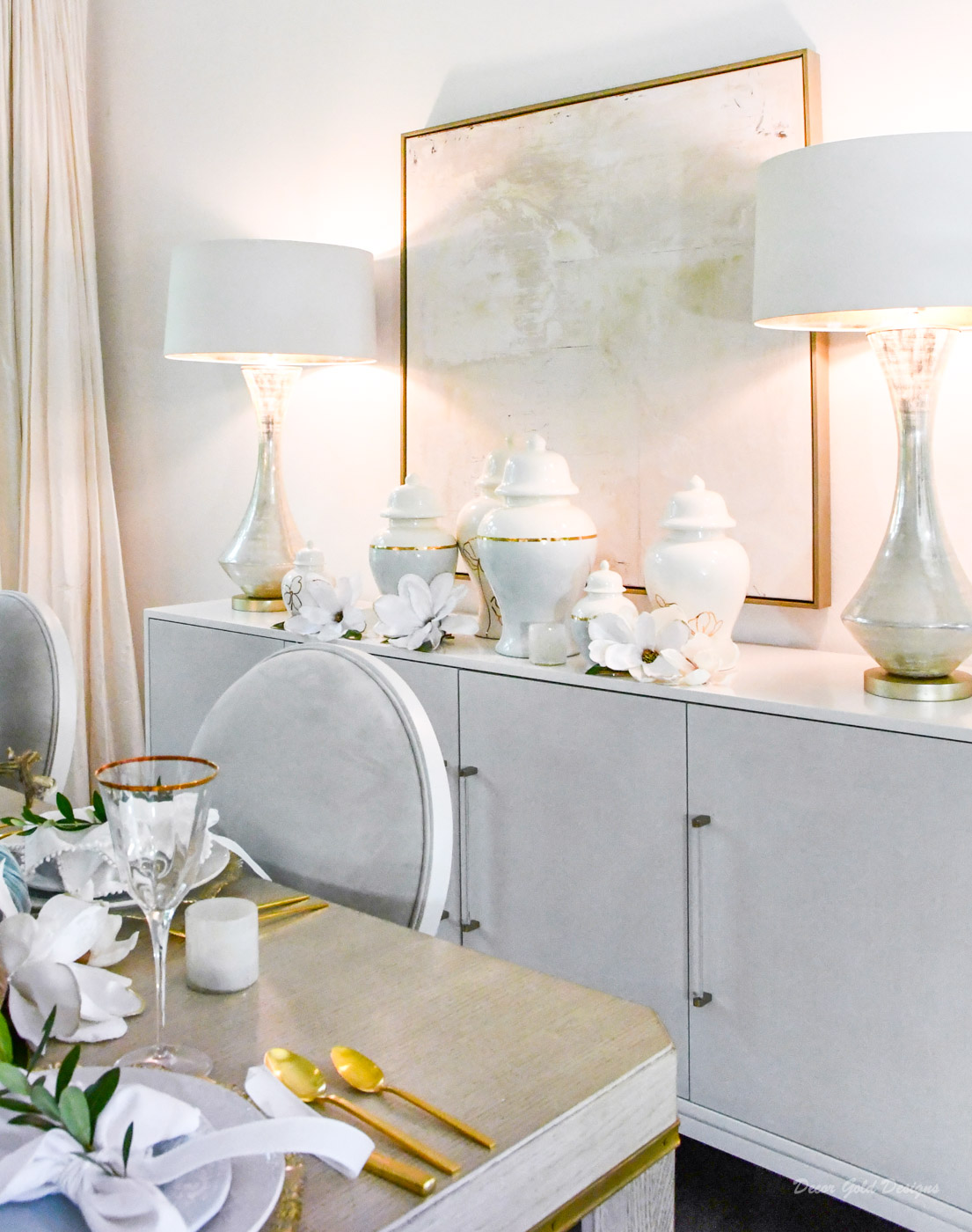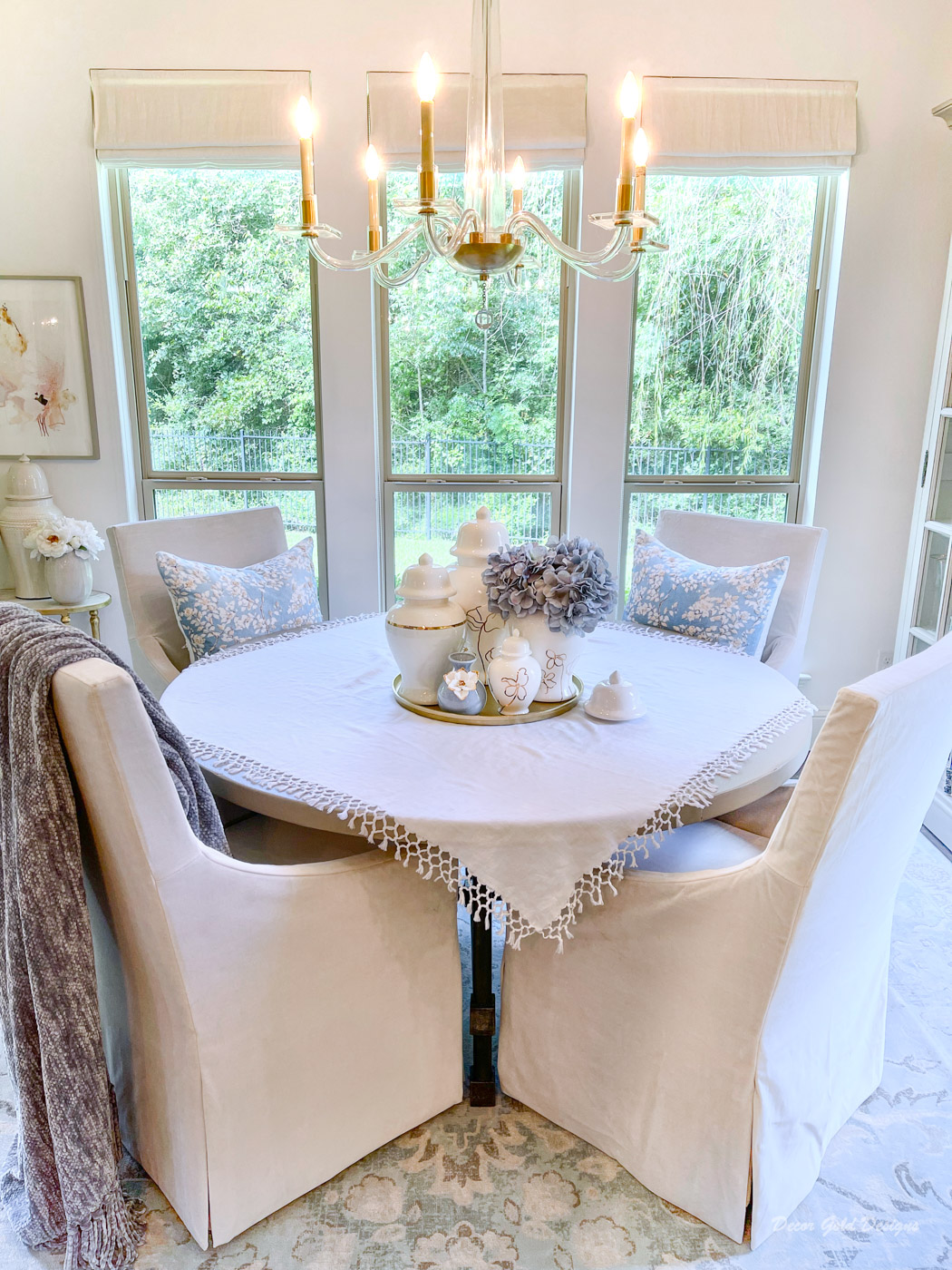 This throw pillow is my favorite of the Lo Home options (but there are many other beautiful pillows). It is so rich with its saturated "Cherry Blossom Velvet" fabric. Don't be surprised if I purchase the Hydrangea Light Blue one next!!!

Art
I selected these elegant golden framed chinoiserie panels, also from Lo Home. They are garden scenes in pretty pastels by Tashi Tsering. I adore bamboo-style frames!

Window Treatments
I also selected Spiffy Spools custom window treatments. They are well-made, elegant, and very affordable. Much more on this selection to come!
Lighting
For lighting, I fell head over heals in love with a few styles. Do you have a favorite?

First Look
Finally, I'll leave you with a sneak peek!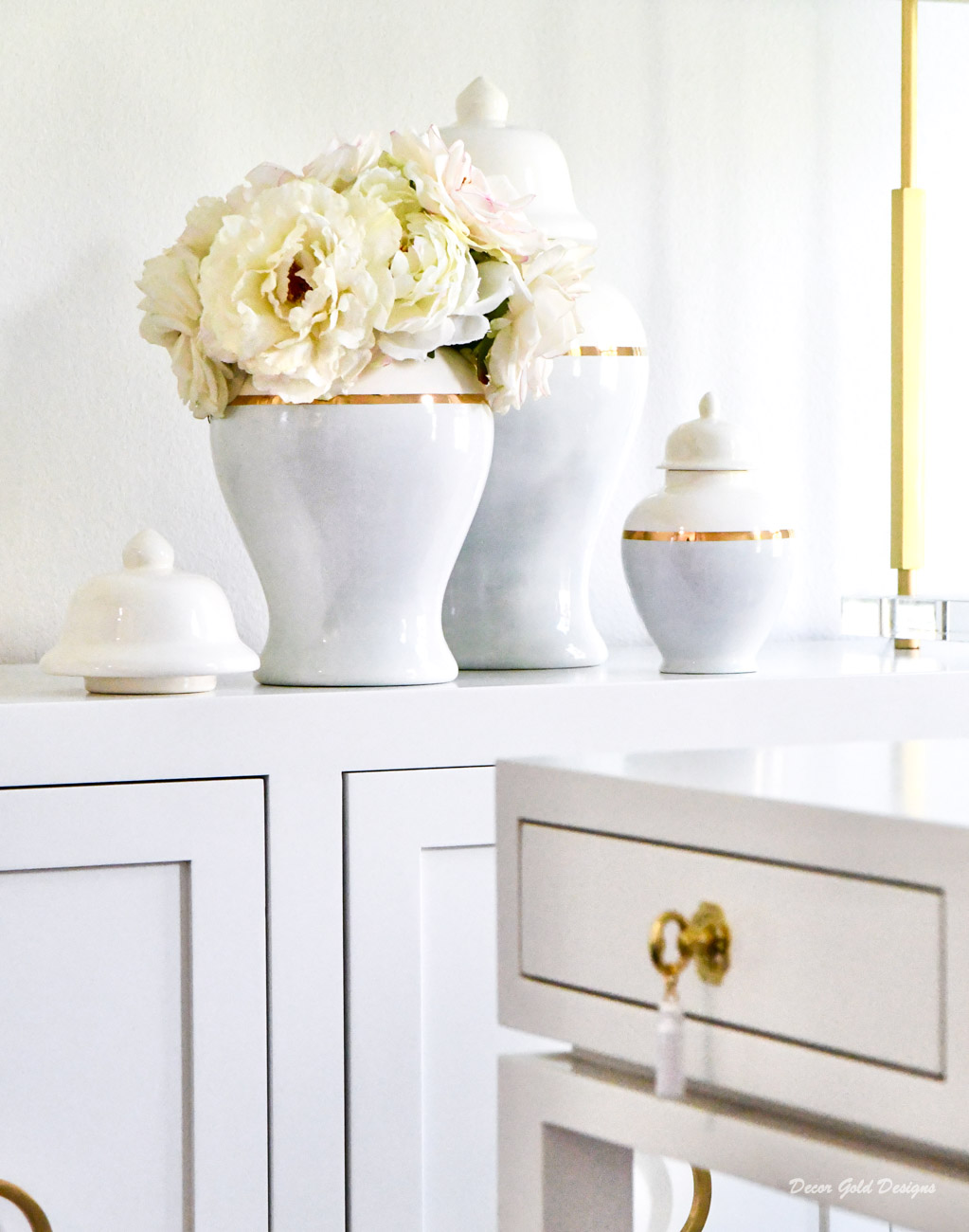 Be sure to subscribe to our newsletter. You'll be among the first to see the reveal of this space and others!


Connect with us here & never miss a post!
Click on the Image to Subscribe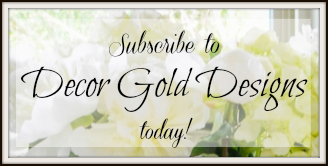 SOCIAL
Instagram | Pinterest | Facebook
Follow me on the LIKEtoKNOW.it app!