It was amazing to have our loft living room done…. for a day!
We had a number of delays during the process of getting this room together. Just after it was complete, we had to pack everything up and move it out for a remodel. I'll be sharing more about that soon, but luckily, I had the chance to photograph it first.
*This post contains affiliate links. You can read our disclosure here.
We had visitors the day of the shoot. My daughter and her pup, Charlie.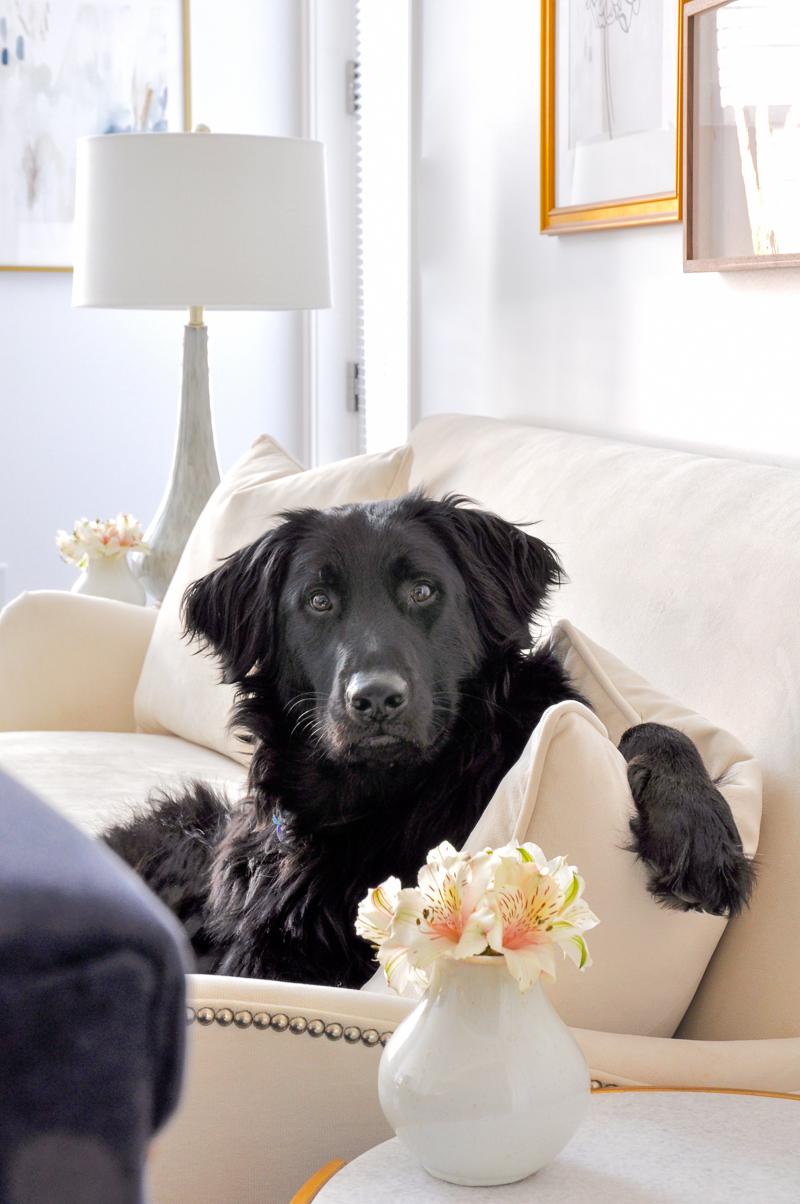 Charlie likes to sit up high and apparently he likes our new sofa.
We like it too. It is by my friends at Gabby Home and it fits the room perfectly.
*I worked with Gabby Home on this project and some of the furnishings were provided. My opinions of their pieces are my own.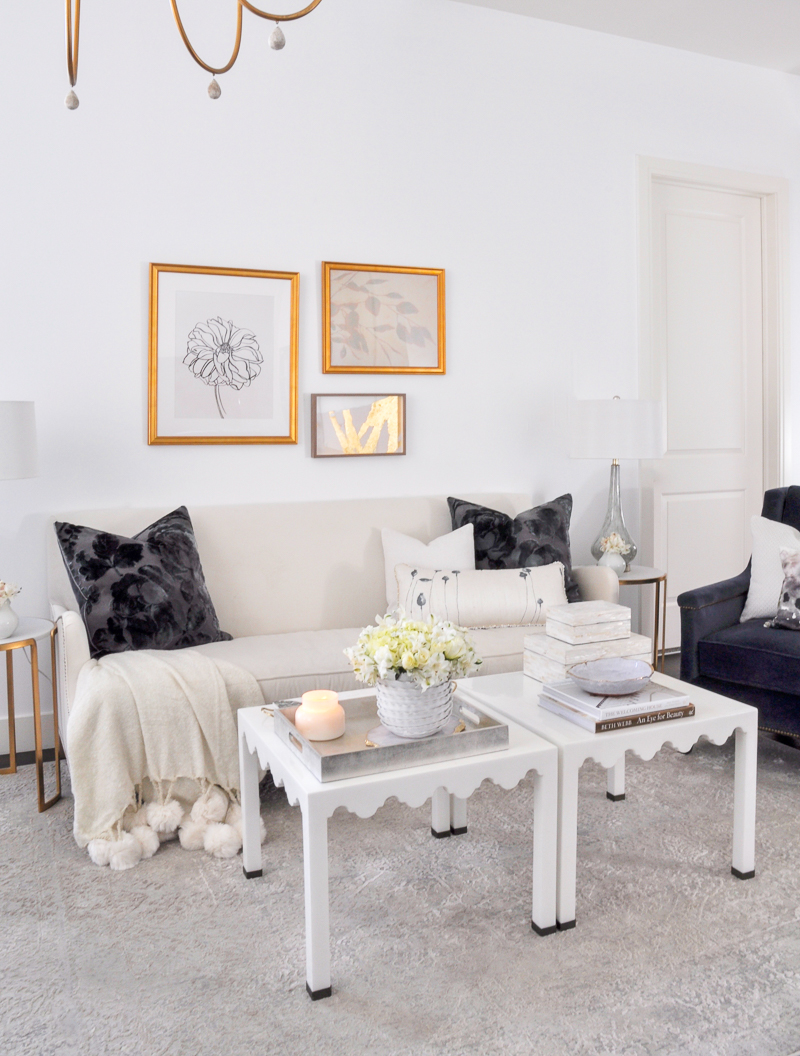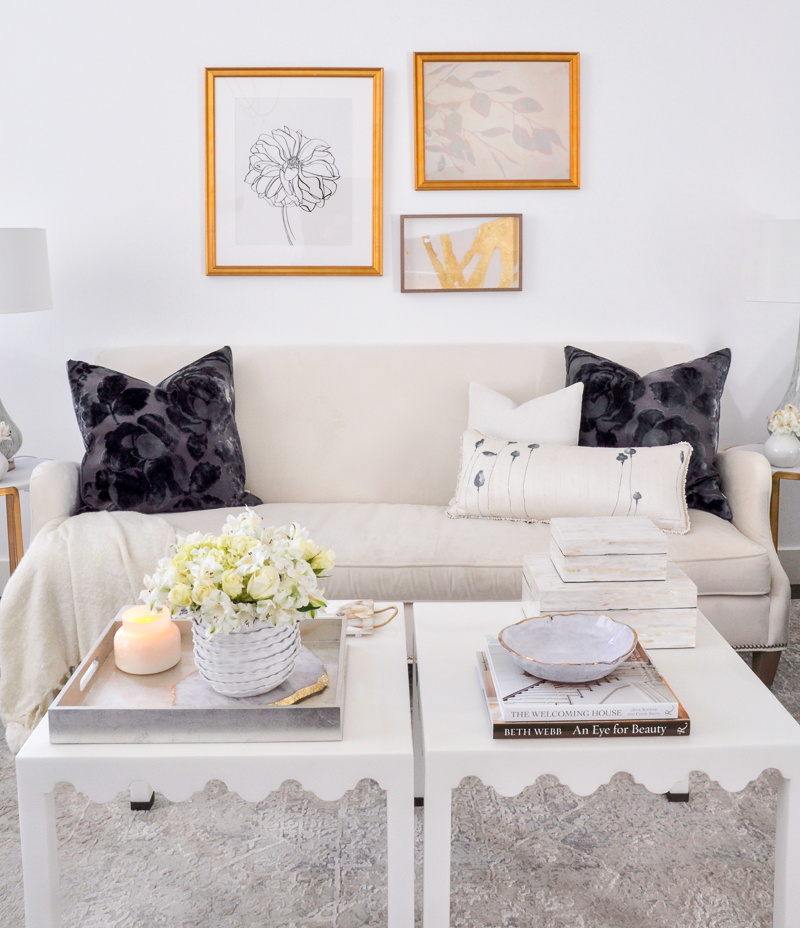 In our loft living room, I wanted to use a color scheme that was similar to the one we have in our Texas home in case I decide to take any of the pieces to Texas eventually.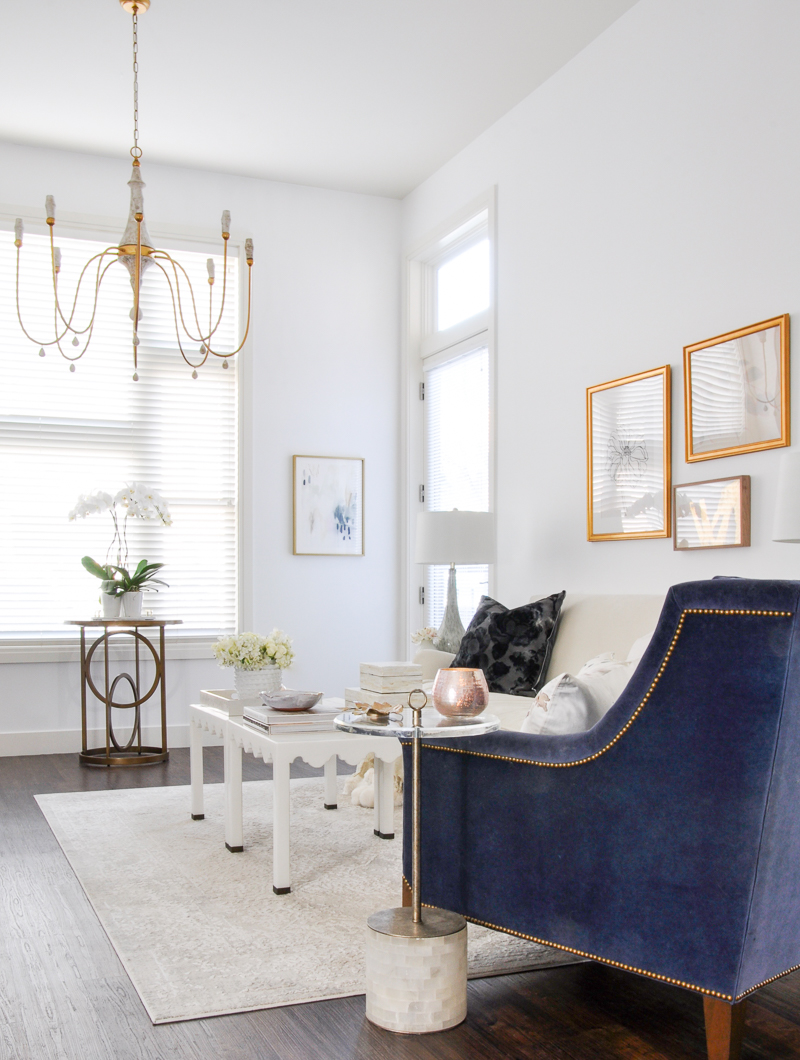 The blue chair was the first piece we received from Gabby Home. It had the quickest delivery time and we were anxious to have a place to sit. Of course, I wouldn't have chosen it had it not fit the space. It worked out well because the style is exactly what I wanted. It's extremely comfortable too!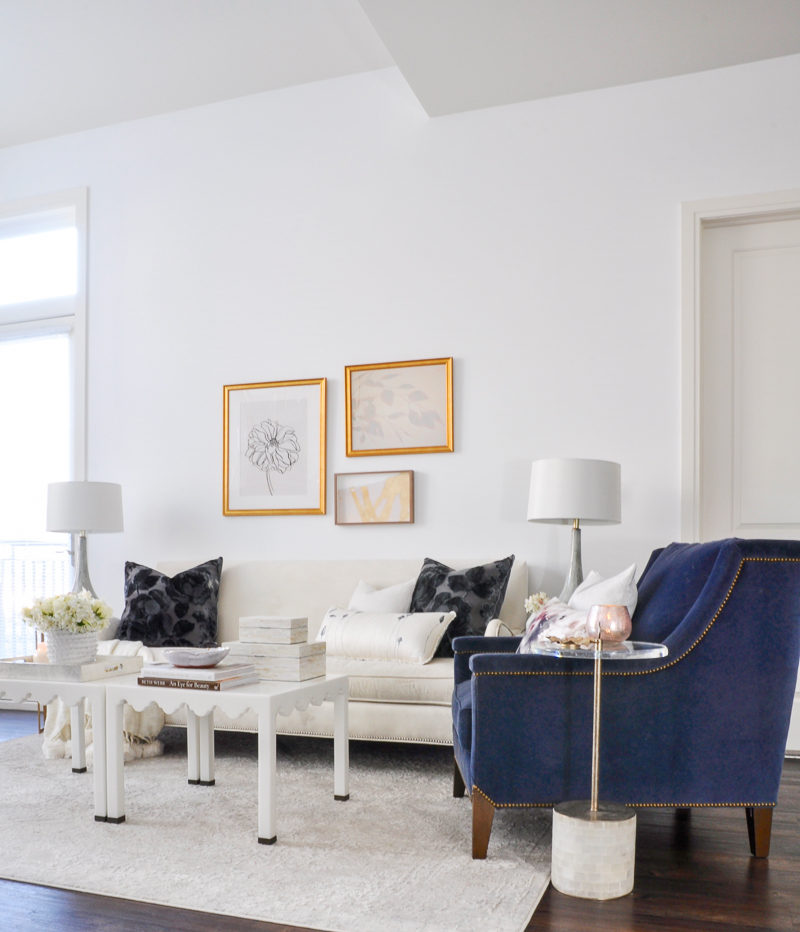 Here, I used navy pillows on the sofa to tie the upholstered pieces together.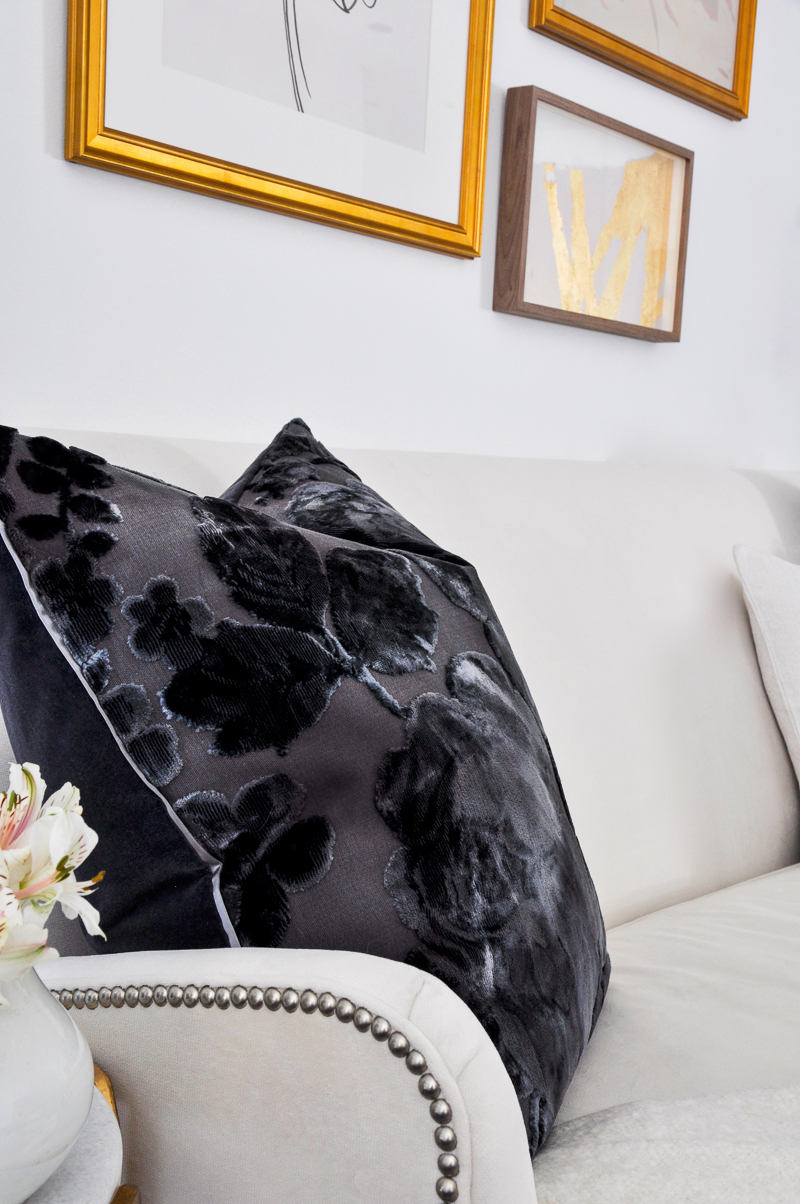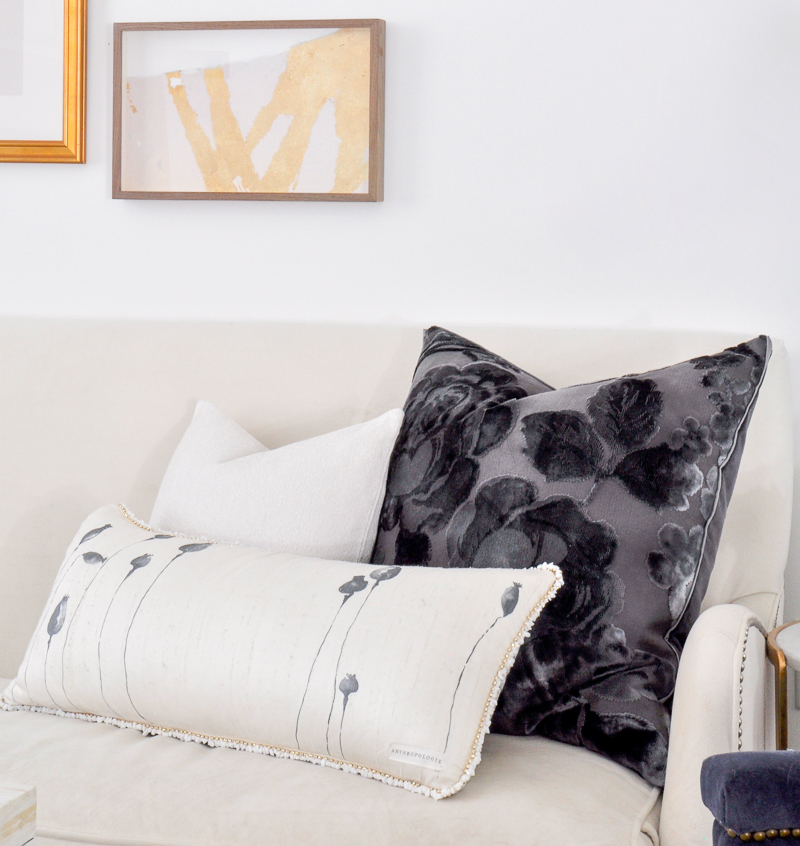 Additionally, I wanted to incorporate gold accents, so I found art with gold frames and one piece with gold leaf. (1, 2, 3)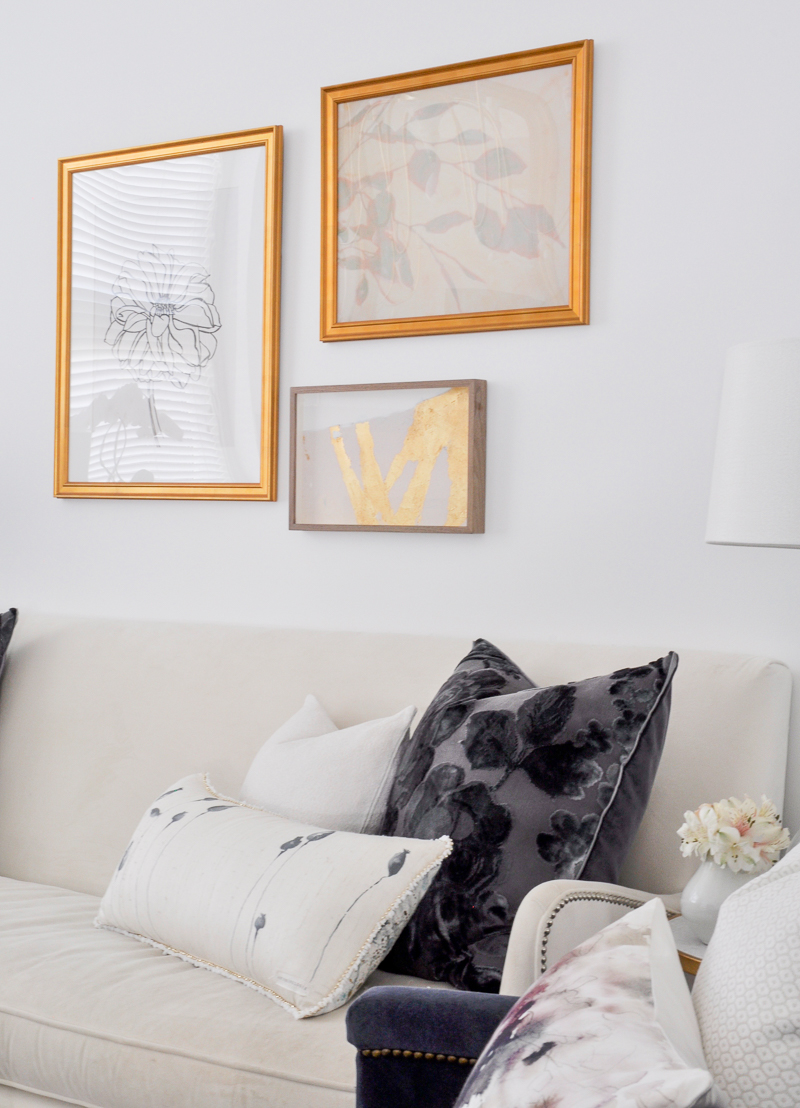 On the fireplace, I chose an oversized mirror. It fit the tall wall and helps make our small space look bigger.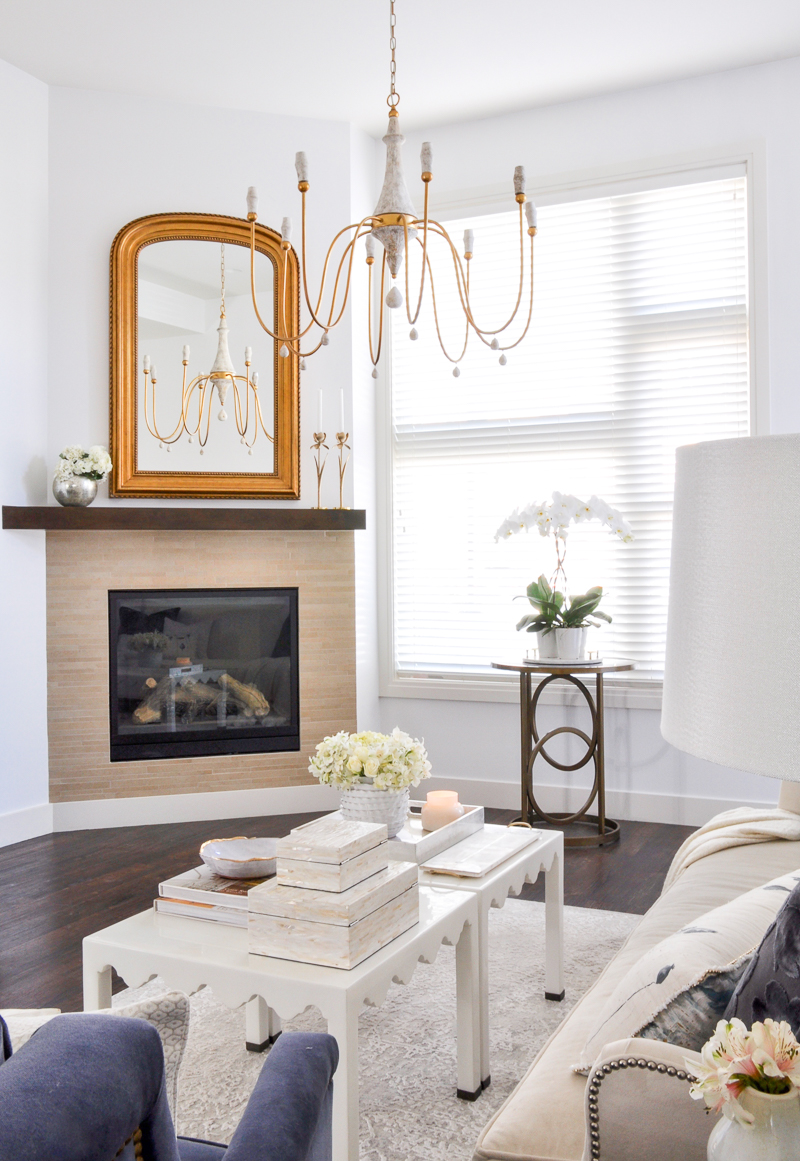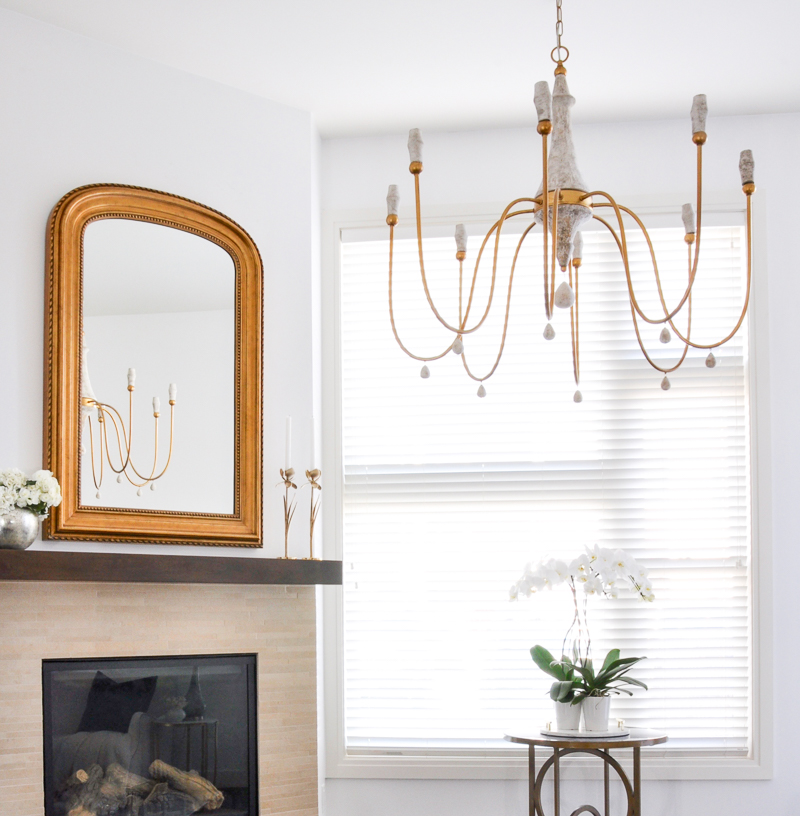 I also found side tables that are gold with marble tops.
The gray lamps and rug soften the room. The lamps are by Gabby. First, I ordered one and used it on the Gabby round table in front of the window. And I loved it so much, I ordered a second one and moved them next to the sofa.
The rug is by one of my favorite brands, Jaipur Living. This is the fourth time I've chosen one of their rugs and it's because they are so beautiful in person.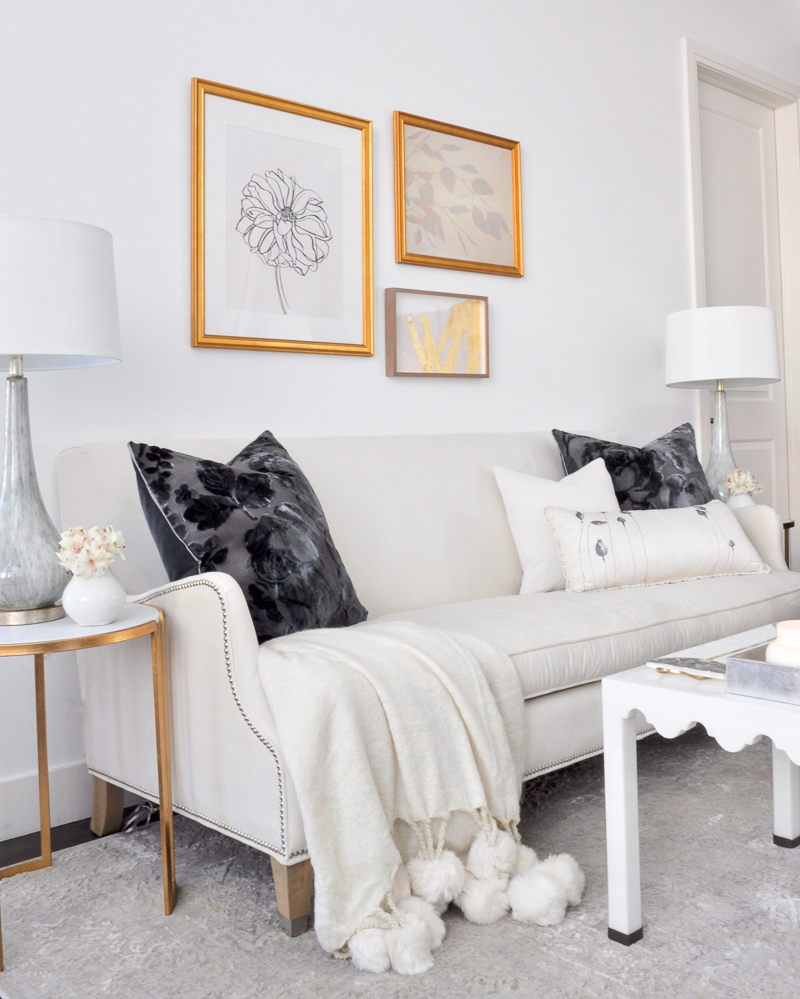 For coffee tables, I chose a pair of smaller tables for versatility. I fell in love with the scalloped edge.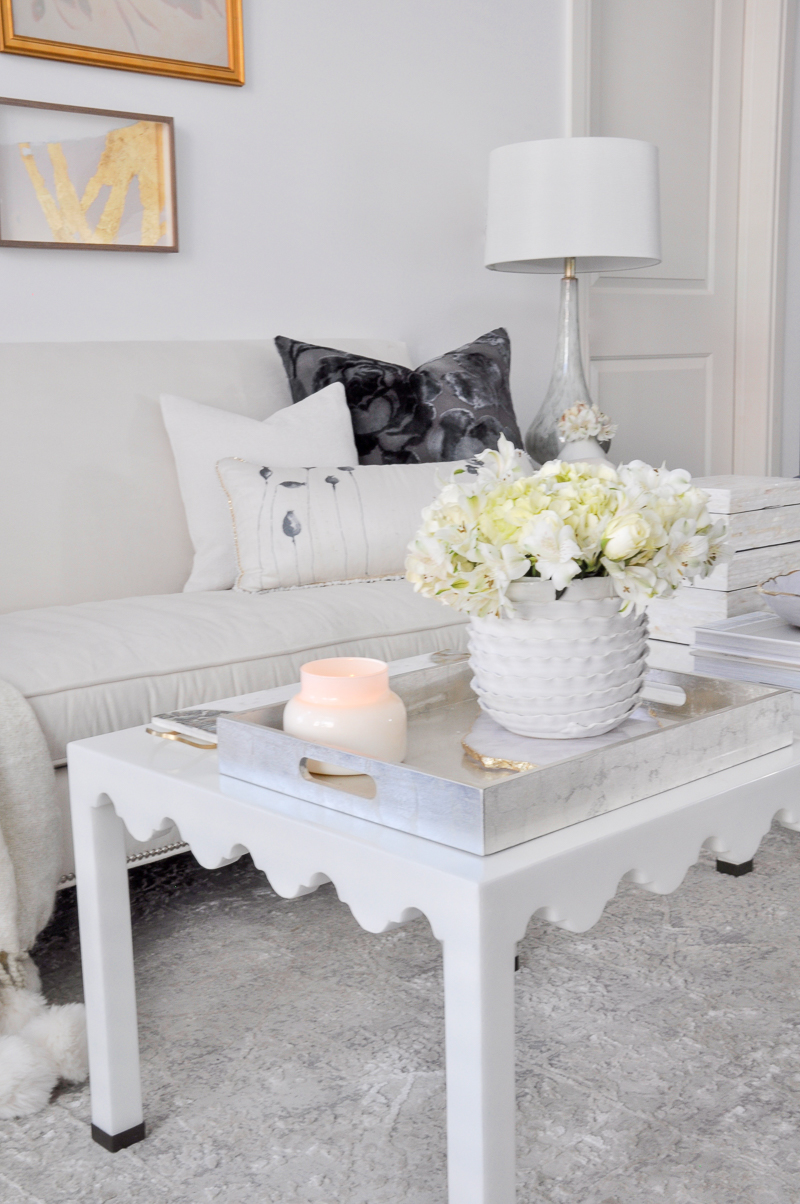 Looking past the coffee tables, you will see our little breakfast room to-be. I've ordered chairs to complete it.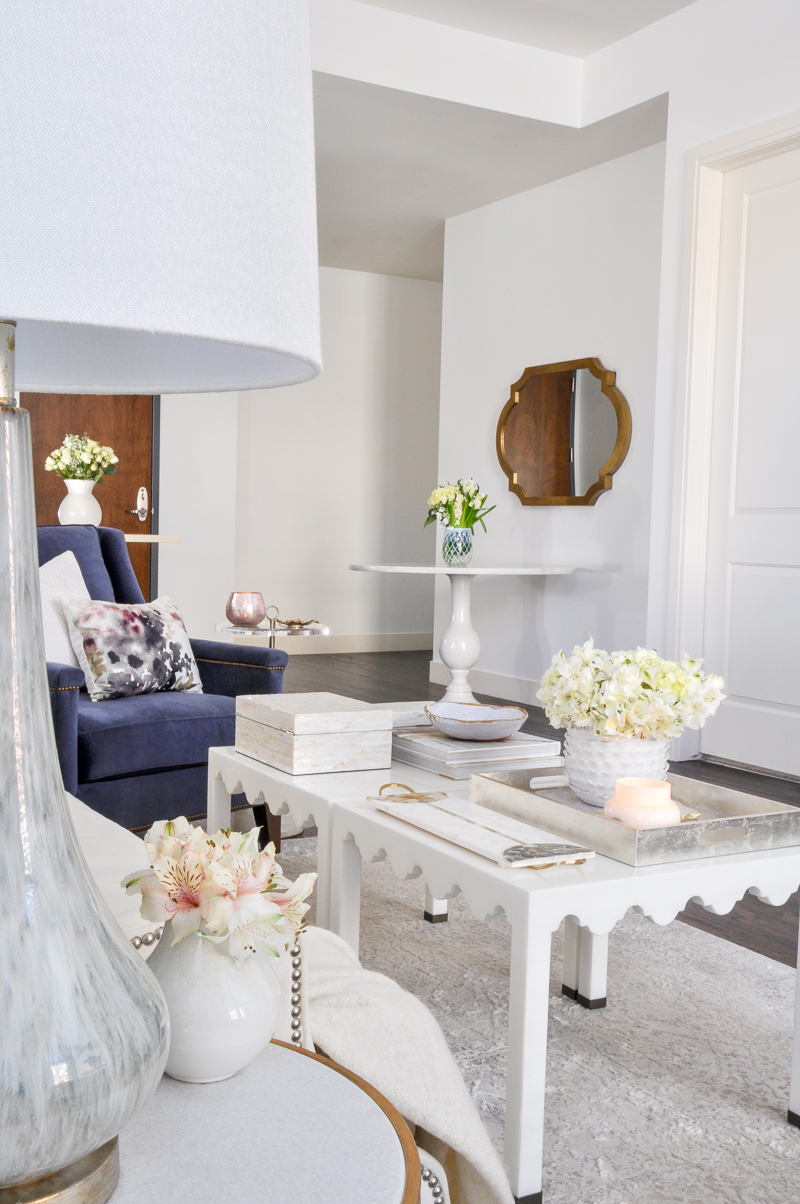 Also, I used another mirror in here to help keep this part of our loft looking bright.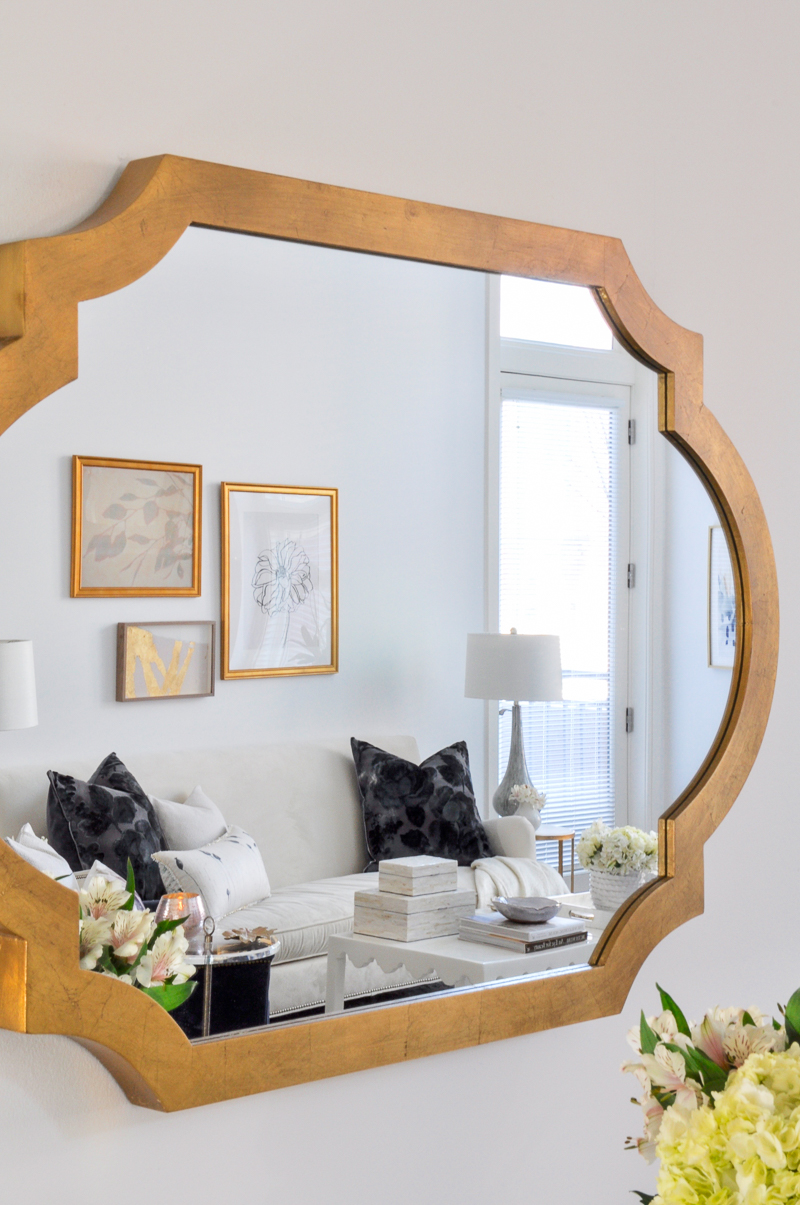 Here is the full view from the front door. Our television is on the left on top of a storage console. Our ceiling height allowed for the  large chandelier, also from Gabby Home. I first saw it about a year ago and was thrilled when I finally had a place for it!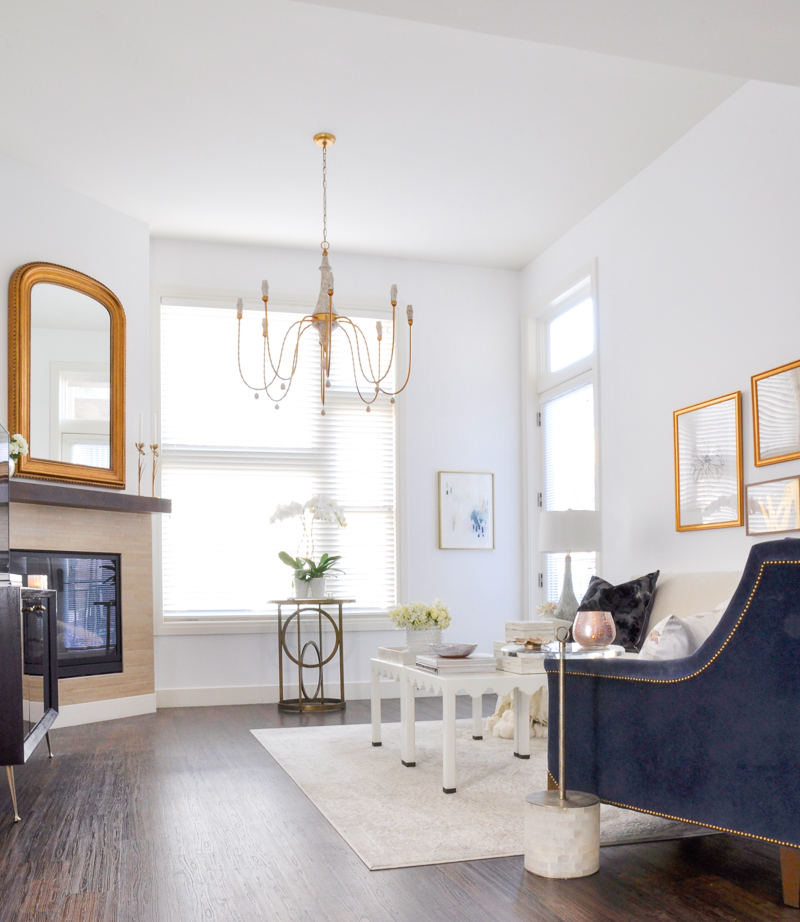 A few accessories completed the look. It was so nice to have our living room finished.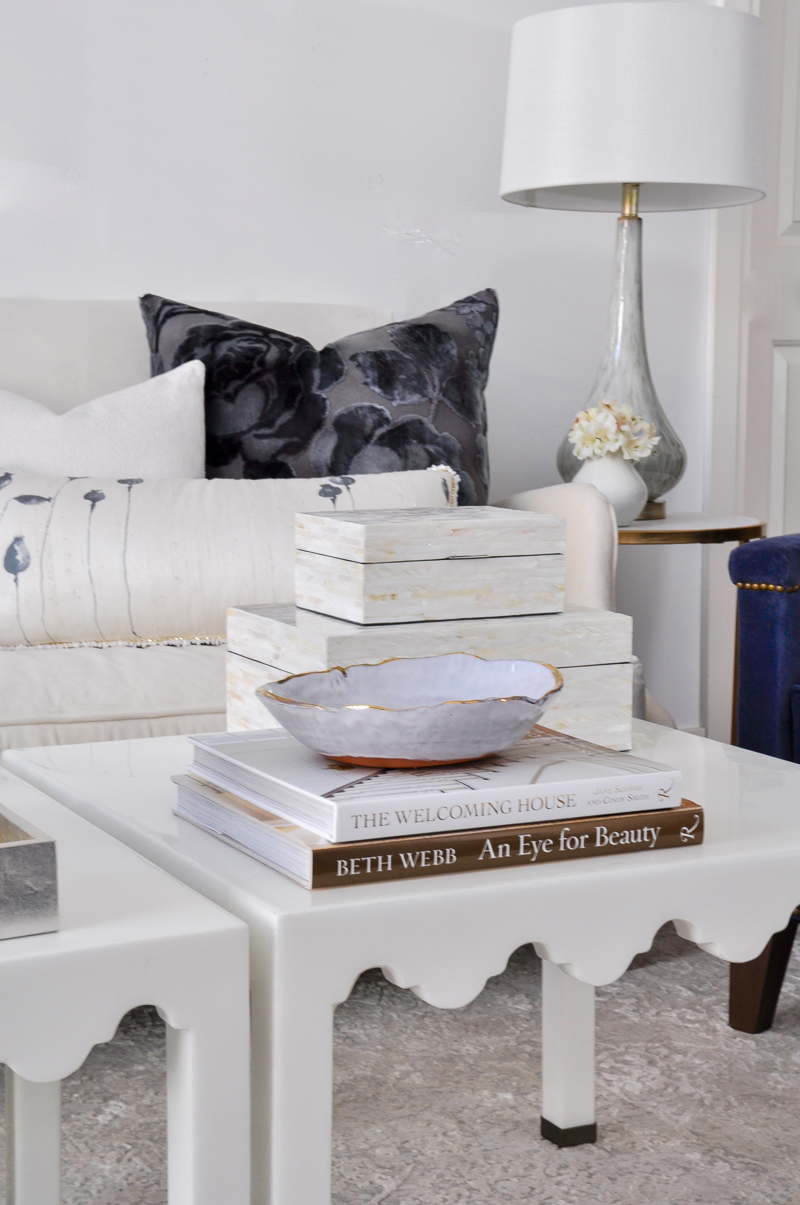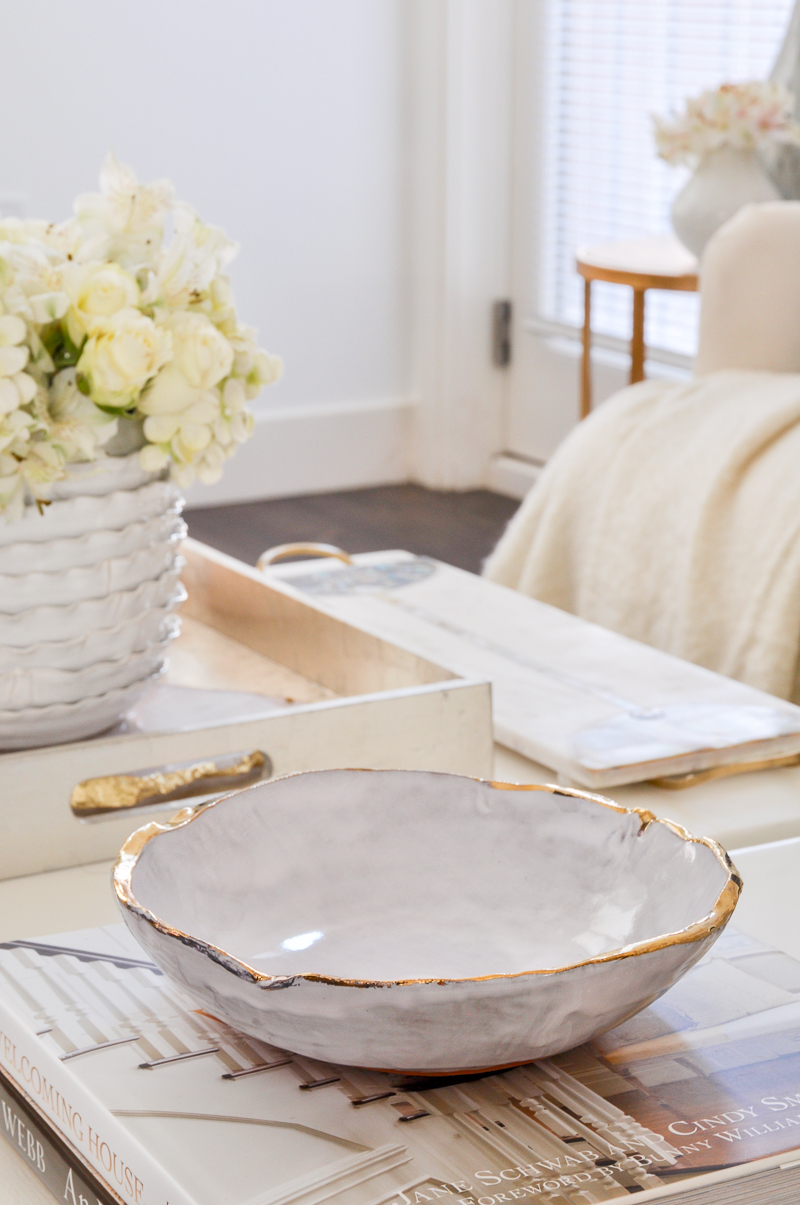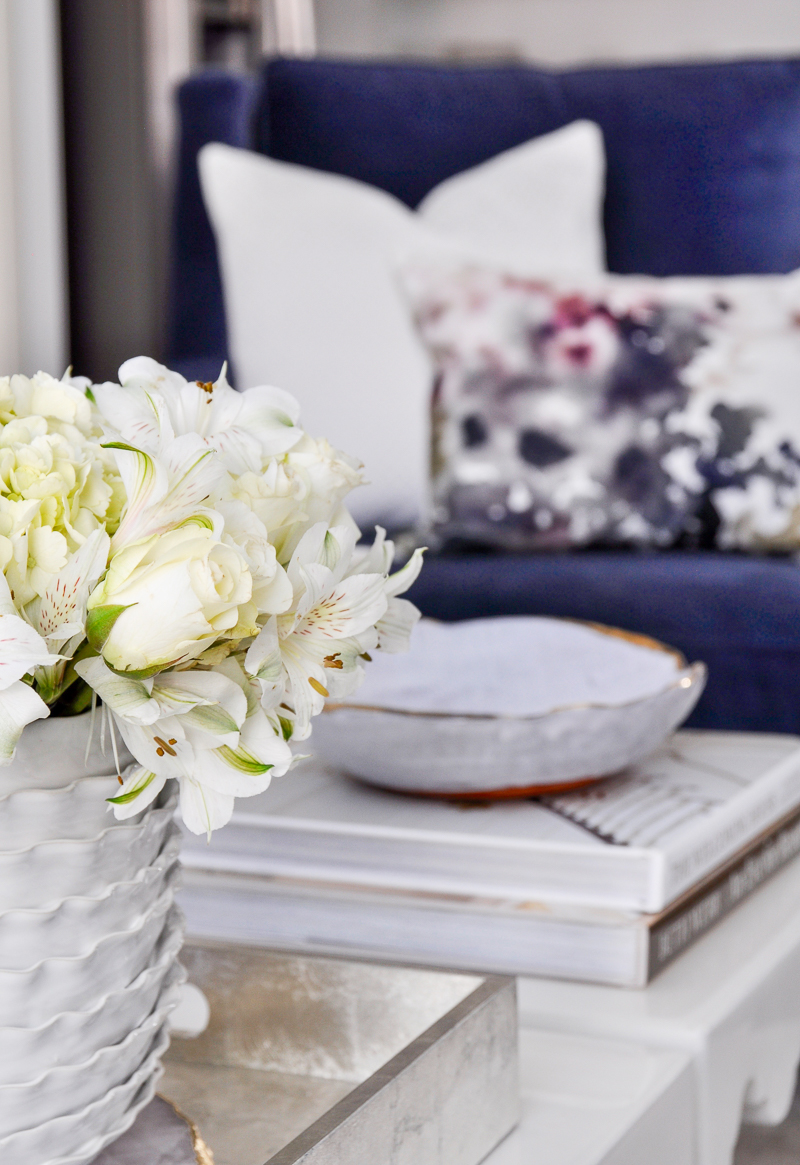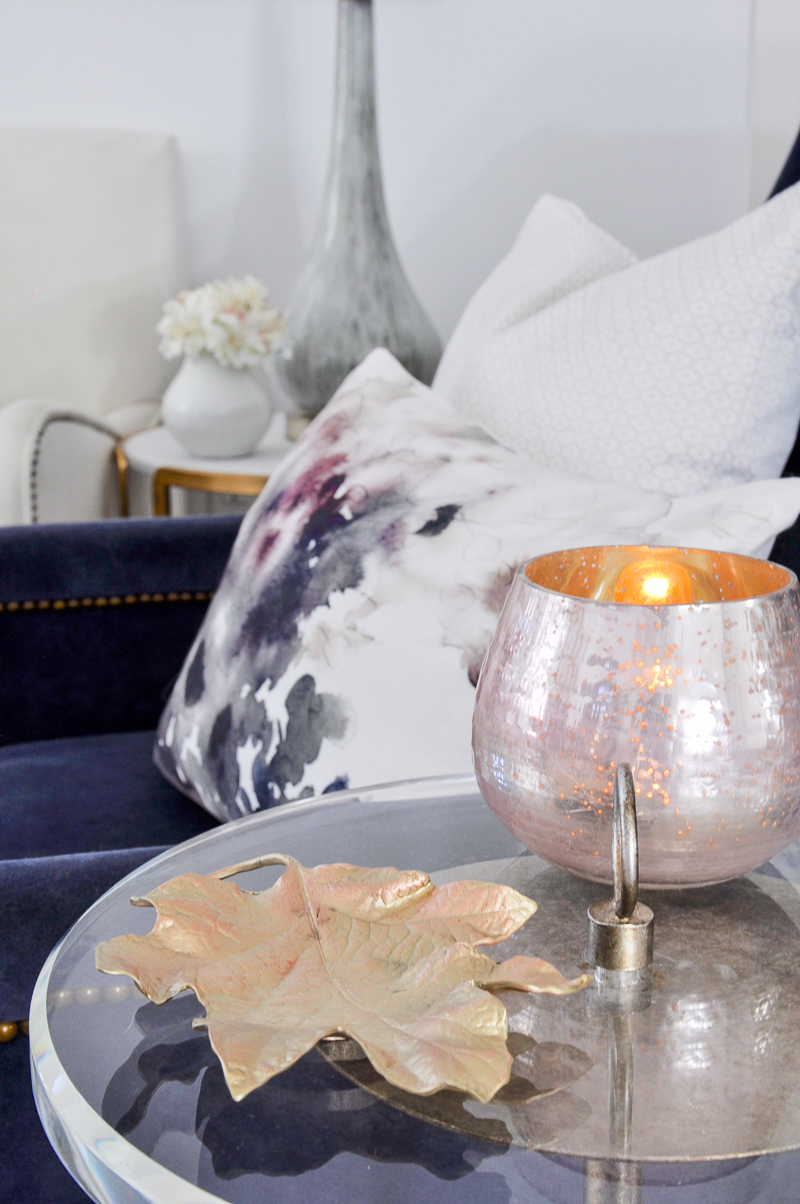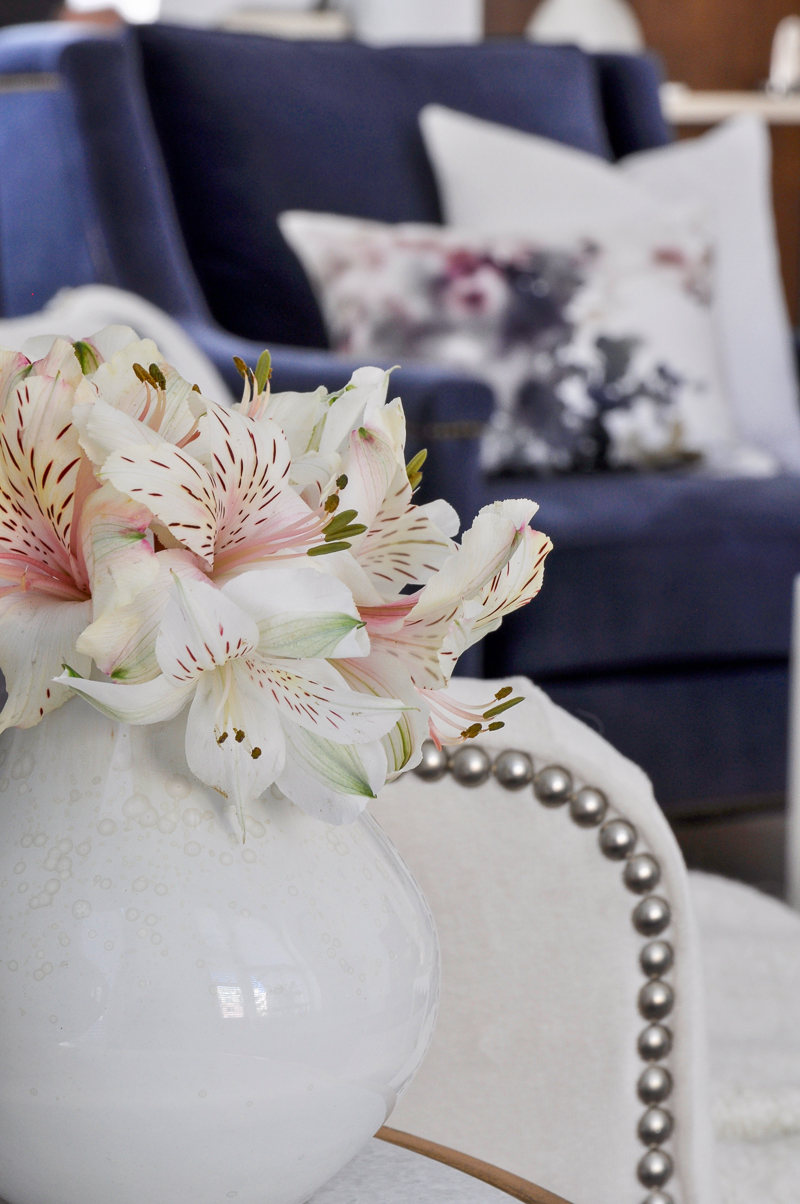 Thank you so much for stopping by! I will be sharing the details and progress of our remodel on my Instagram Stories. I hope you'll follow along! You can also subscribe to our newsletter for notification of future room reveals and posts.

Living Room Sources
Side Tables | Coffee Tables | Round Table | Drink Table | Sofa | Chair | Chandelier | Rug | Console

Art 1 | Art 2 | Art 3 | Art 4 | Lamps | Mirror

Pillows & Throw
Similar Navy Velvet Pillows | Lumbar Pillow | White Square Pillow | White Square Pillow 2 | Floral Pillow | Similar Throw

Decorative Accessories
Mother of Pearl Decorative Boxes | Silver Leaf Tray | Ruffle Vase | White Candle | Serving Tray with Gold Handles

White Dish with Gold Rim | Gold Candlesticks | Eye for Beauty Book | Welcoming Book | Agate Tray | Round Marble Tray
Gold Leaf Dish | Pink Votive | Small White Vases

Breakfast Nook 

Click on the Image to Subscribe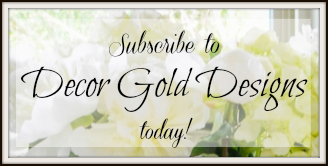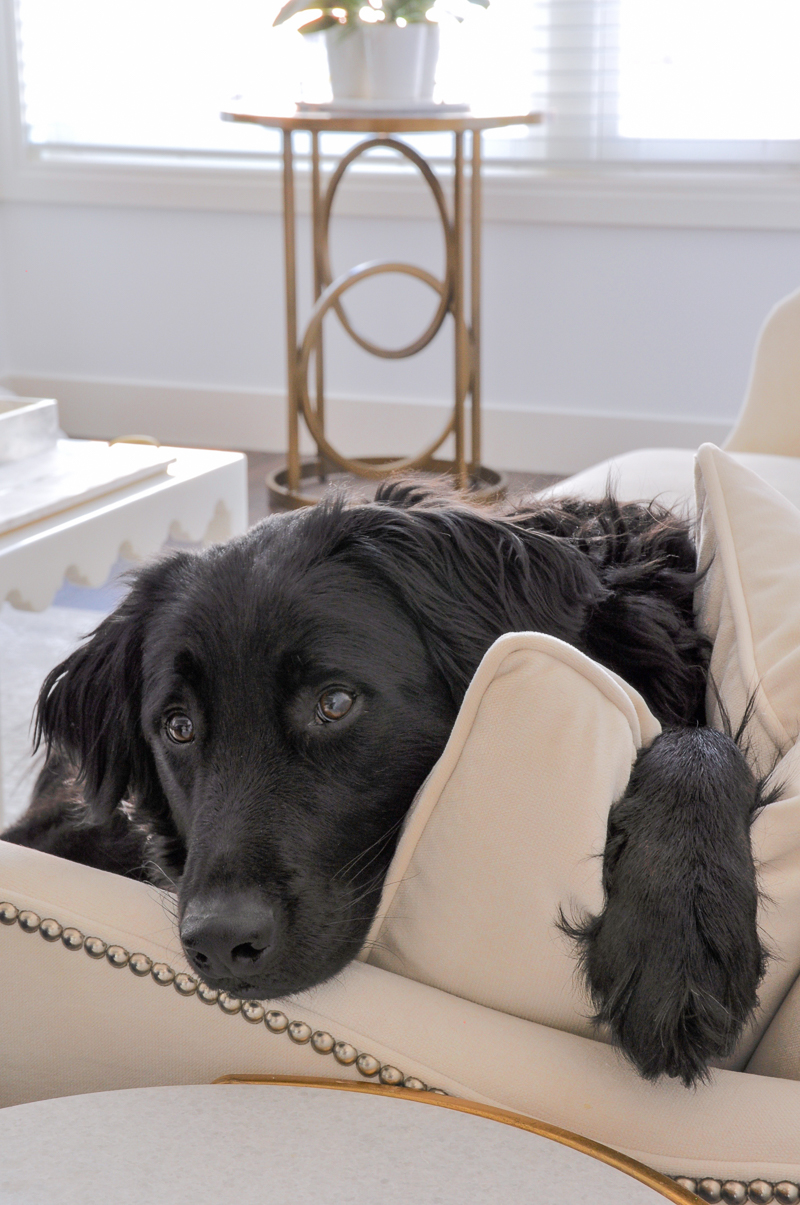 SaveSave
SaveSaveSaveSave
SaveSave
SaveSave
SaveSave
SaveSave
SaveSave
SaveSave
SaveSave
SaveSave
SaveSave
SaveSave
SaveSave
SaveSave
SaveSave
SaveSave
SaveSave
SaveSave
SaveSave