The question I am most frequently asked once others notice I have pets, "how do you keep your home clean?".
First, let me say that my home is not perfectly clean. It is not always in order. What you see here and on Instagram is not our real every day life. That's not to say we don't do our best to keep our home as clean and tidy as possible. Tony and I each make daily efforts to keep things in order. There are also a few extra things we do as pet owners to keep our home clean.
I've had indoor pets most of my life. At one point, we had 4 golden retrievers and 2 cats! Cleaning can be more time consuming when you live with pets, but they are definitely worth it!
Now, I want to share my routine, tips, and tricks with you! Practice these things and you can have pets AND a clean home!
We now have 2 golden retrievers, but I follow the same routine as I did when we had more pets. Just remember, there may be a few things you will need to adjust based on the your lifestyle and the type of fur babies you have in your family.
*This post contains affiliate links. Disclosure here.
1. Keep Your Pets Clean
Start with your pet. Keeping your pet brushed and clean can make a big difference in the amount of pet-related cleaning you have to do in your home.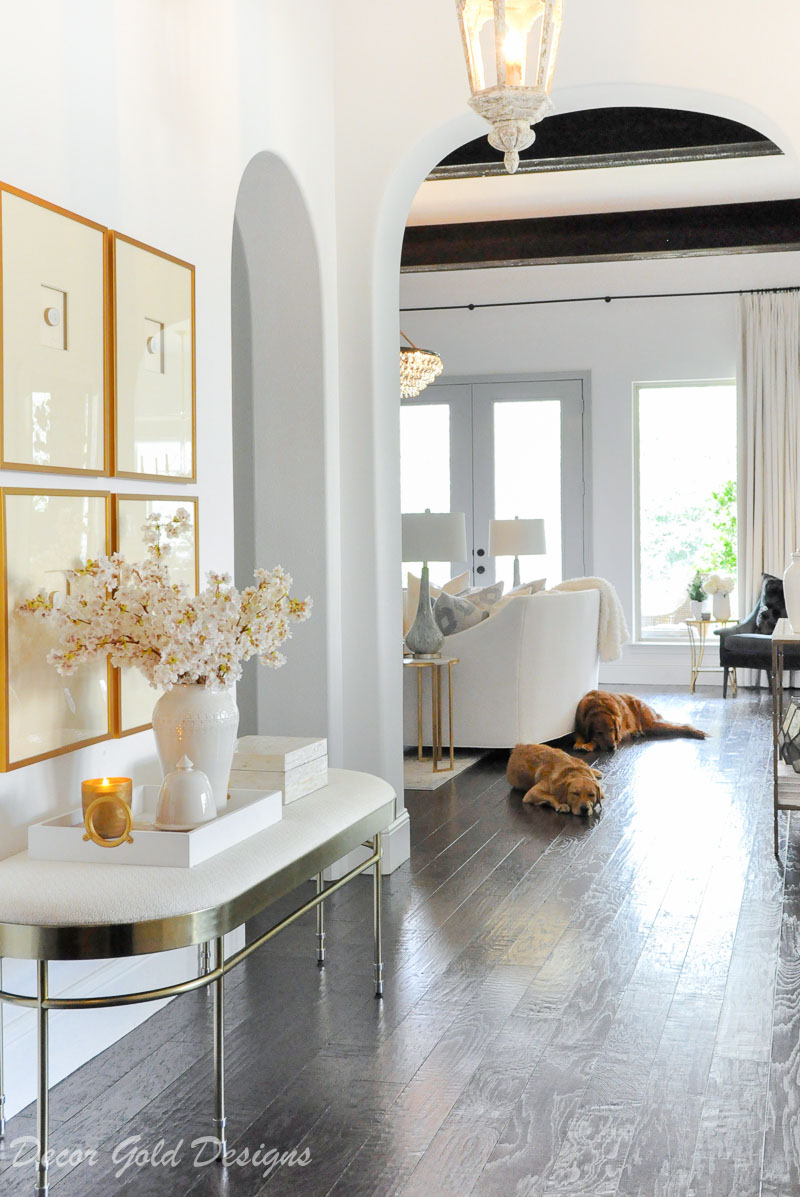 SHOP THIS SPACE

Groom
Depending upon the breed, shedding can be a real issue. Our golden retrievers shed all year long here in Texas.
To minimize this, we have them groomed and brush them regularly. Each breed is different, so be sure to research or ask your veterinarian for grooming recommendations.
The best brush I have ever found is this one.
Feet
Also, we ensure that our pets come inside with clean feet! You can try keeping towels by your back door. It will make cleaning their feet convenient. If it is has been raining, lay down extra towels for them to step onto prior to entering your home. You can also place a bowl of water at your entrance. Dipping muddy feet into water my take a couple of extra minutes, but could save you from mopping, shampooing carpet, or cleaning something much more difficult.
2. Clean Your Pet's Belongings
Take the time to wash your pet's bed, food and water bowls, leashes, and toys (check to make sure they are washable). I wash toys in the washing machine and balls in a sink full of soapy water.
3. Reduce Cleaning Tasks
This is big. If you can keep an eye on your pets, you may cut down on your cleaning tasks. Of course all pets are different, but if you have a pet that can't be trusted, keeping them nearby may save you cleanup efforts.
A mat (similar) for food and water bowls is a great way to cut down on mealtime messes.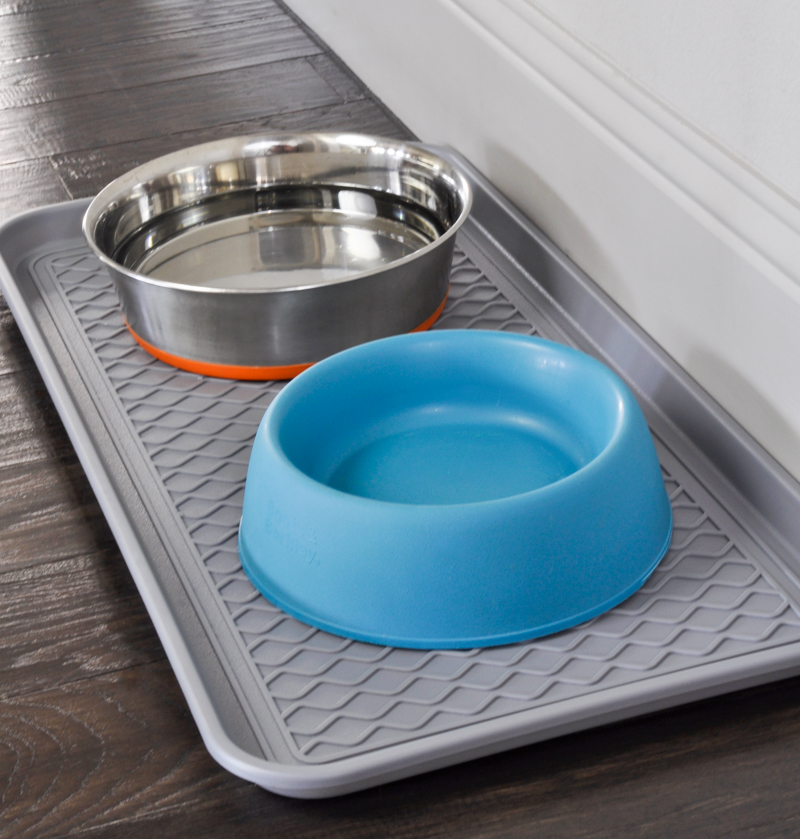 Another way you can eliminate some of your pet-related chores, cover some of their favorite surfaces.
If you asked me to name the one item that I use most frequently, it would be a flat bed sheet. I use it to protect my sofa as you can see below.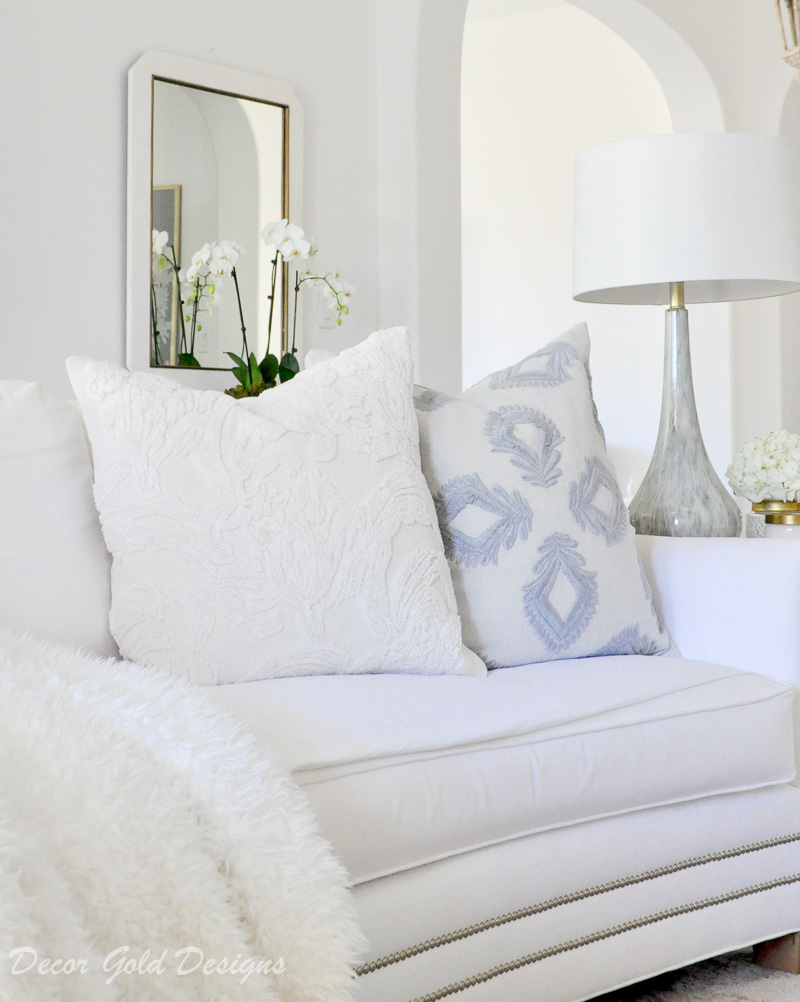 If you find a sheet in a similar color to your sofa, it will be barely noticeable.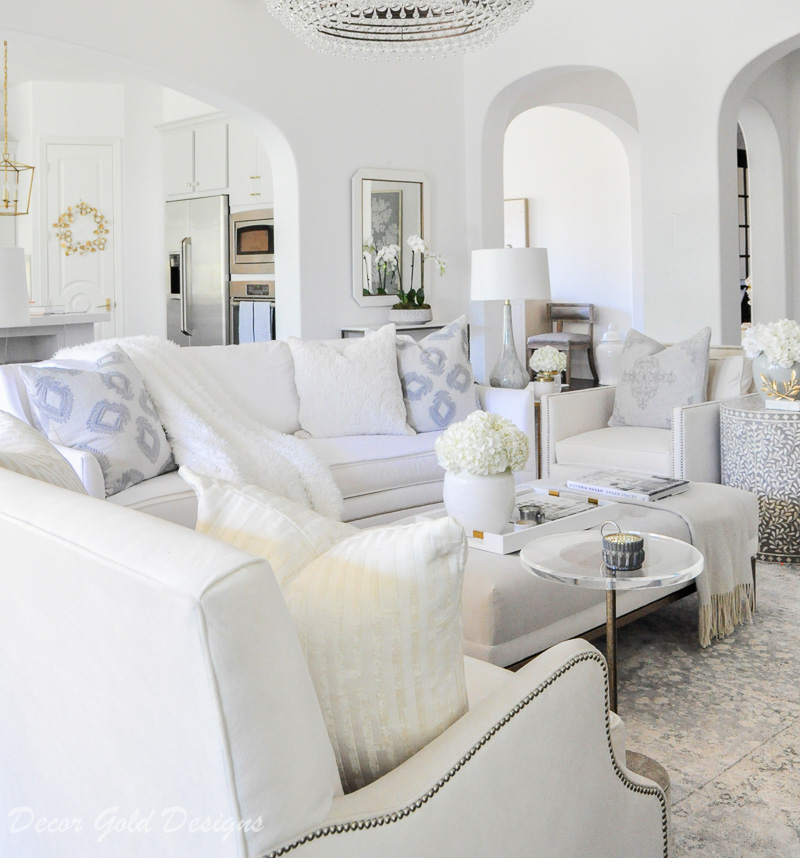 This works well in preventing your sofa from becoming hair-covered. The sheet catches most of the hairs and you can easily throw it into the washing machine. Switch it out and have a perfectly clean seat again in no time!
Here you can see our pups napping on our sofa with a sheet covering the seat.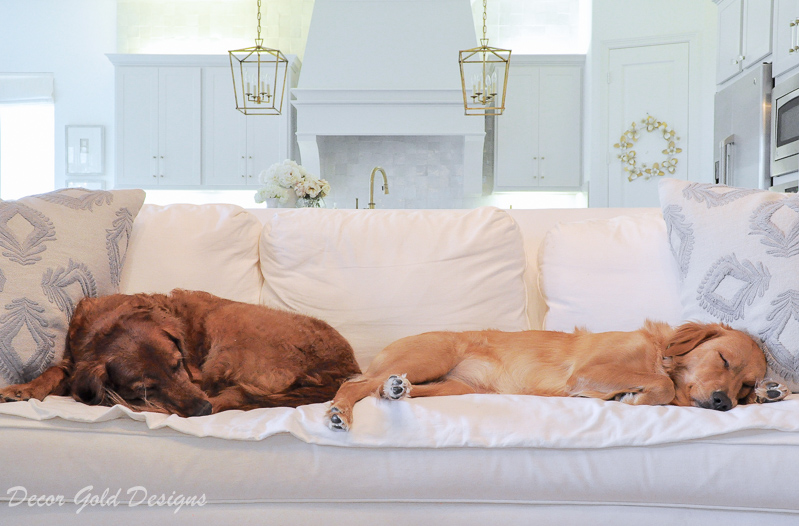 You can use throw blankets in the same way. This works especially well if you have cats or small dogs.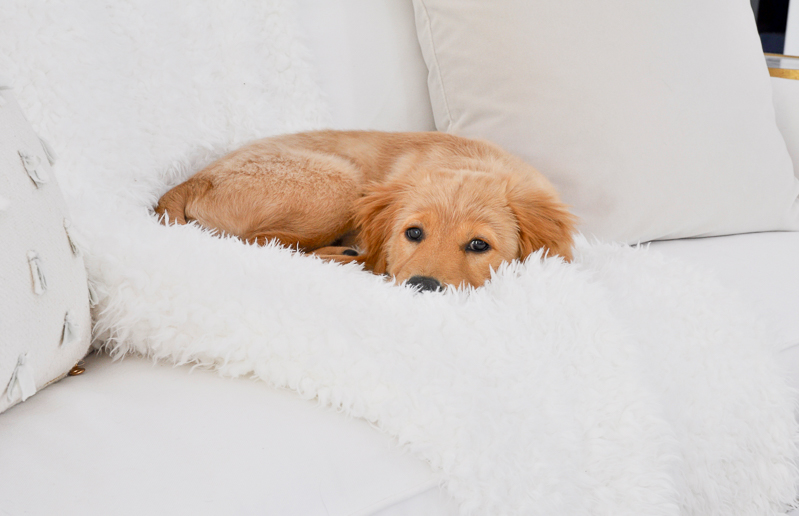 If you have large dogs like we do though, covering more space works best.
SHOP THIS SPACE

Onto the bedroom……
First, washable bedding is always a good choice if your pets get on your bed. All of our bedding is washable.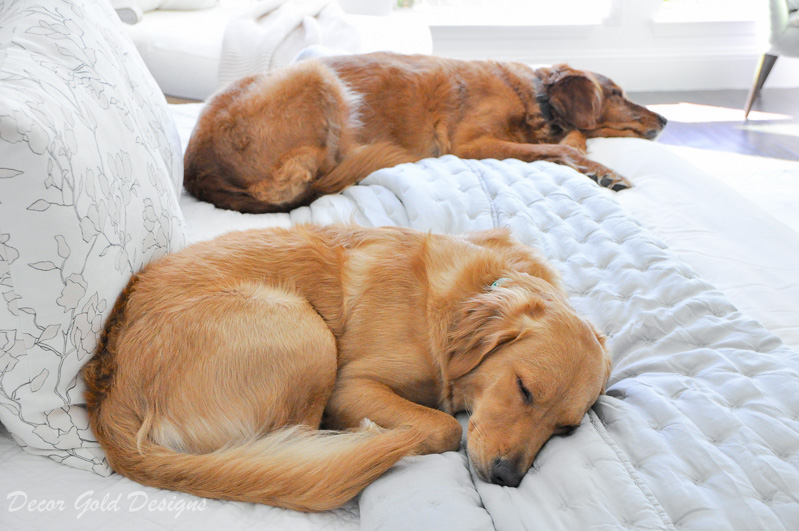 Even so, I don't want to have to wash my bedding constantly.
When you see pictures like the one below, it is most likely because I was doing a photoshoot in my bedroom. These two usually make their way onto the bed for a few shots. When I leave the room, they do too.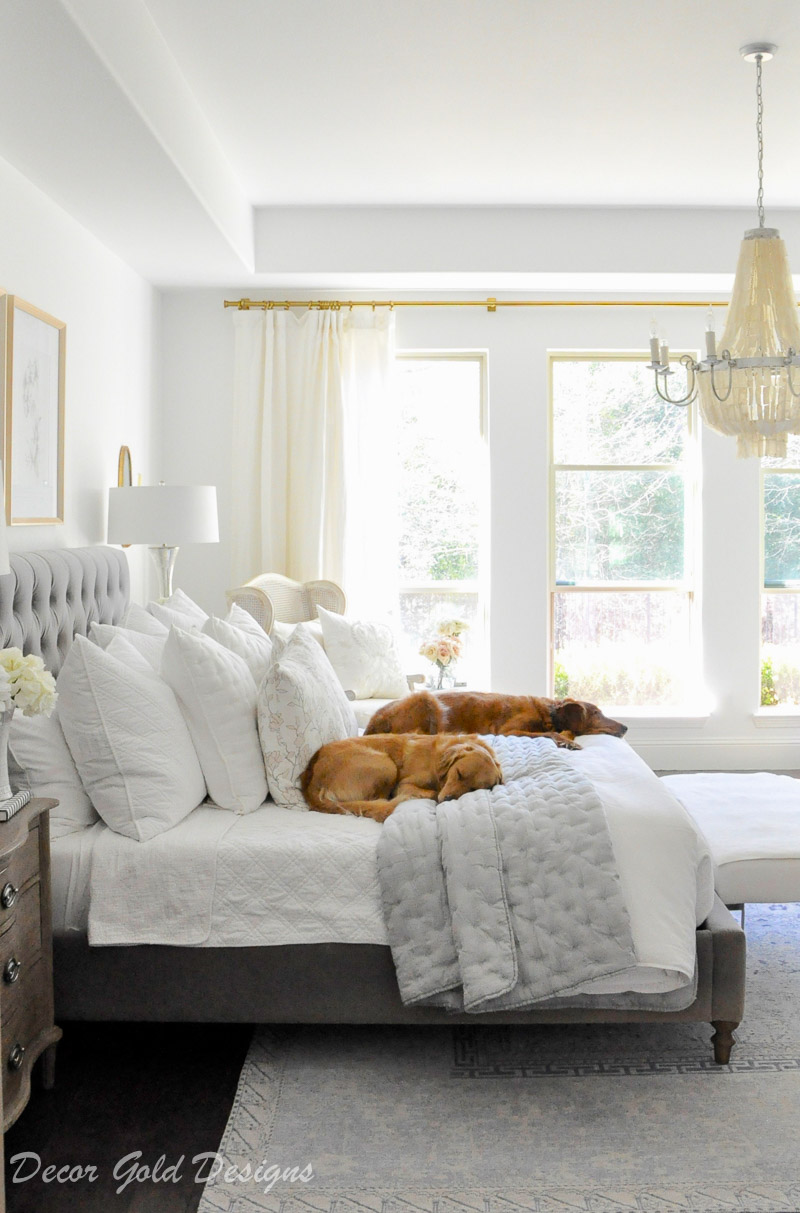 A normal day, before bedtime, this is what our bed looks like.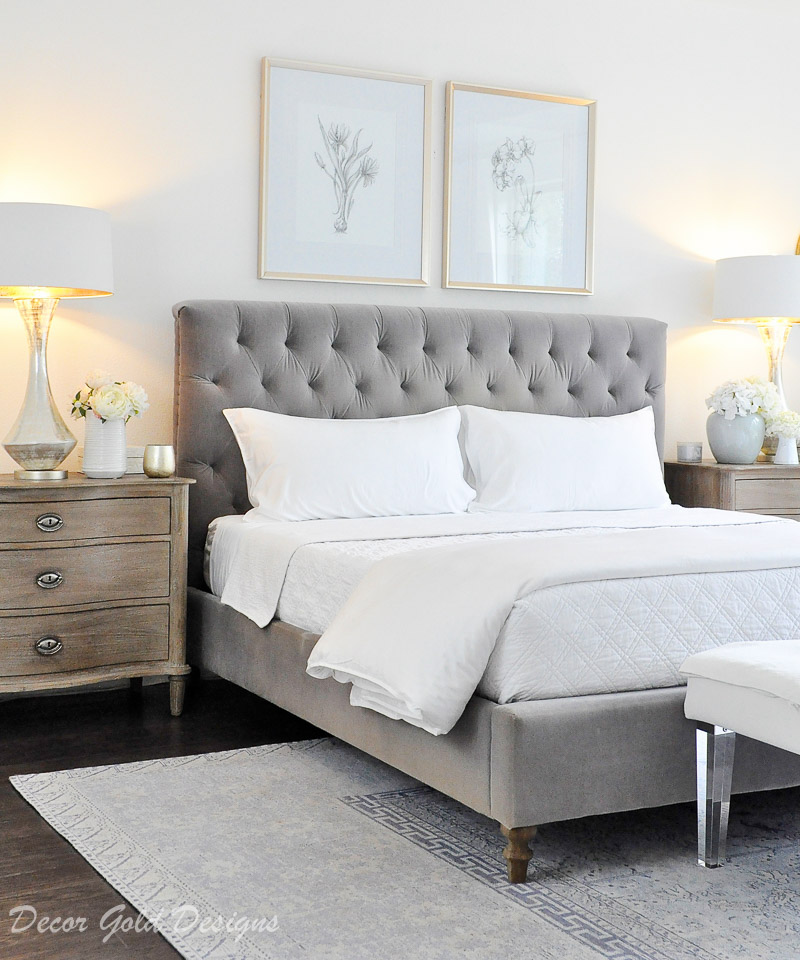 A sheet works beautifully here too and we sleep with one on top of our covers every night.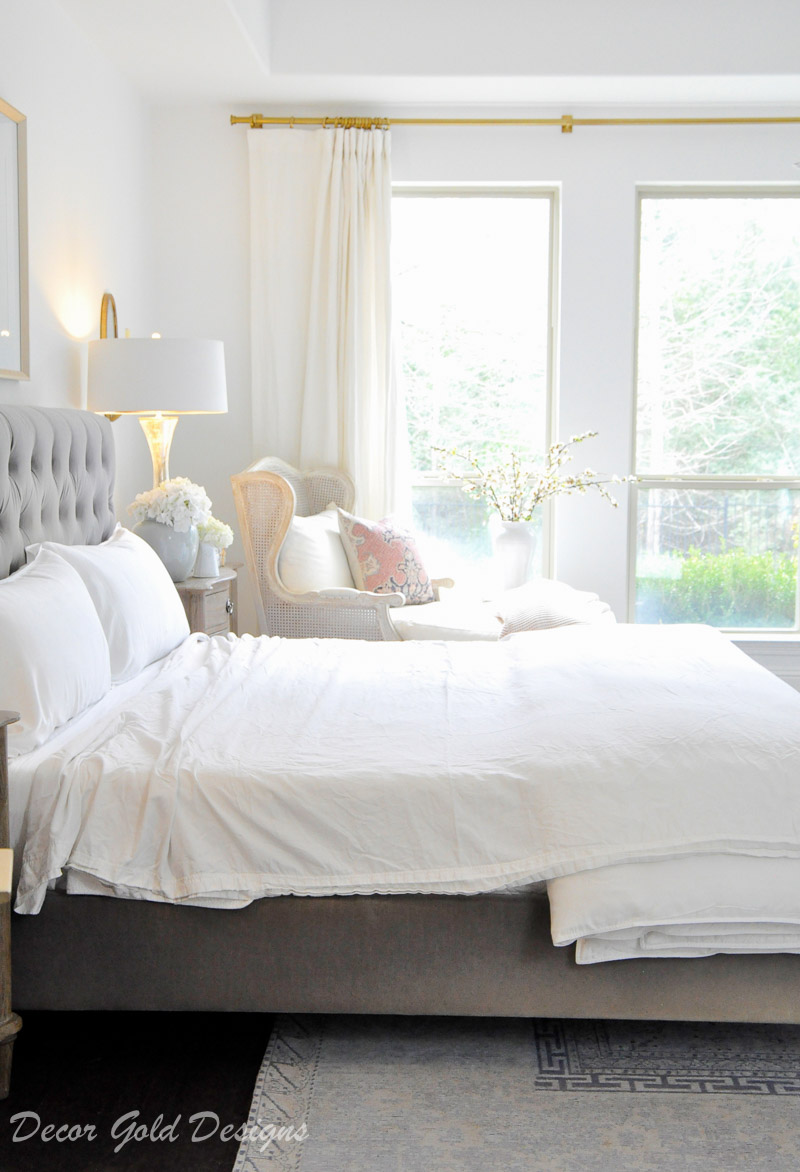 SHOP THIS SPACE


4. Stay on Top of Pet Hair
No matter how much you try to keep pet hair off of your furniture, you can't eliminate all of it. See Ava in her favorite spot?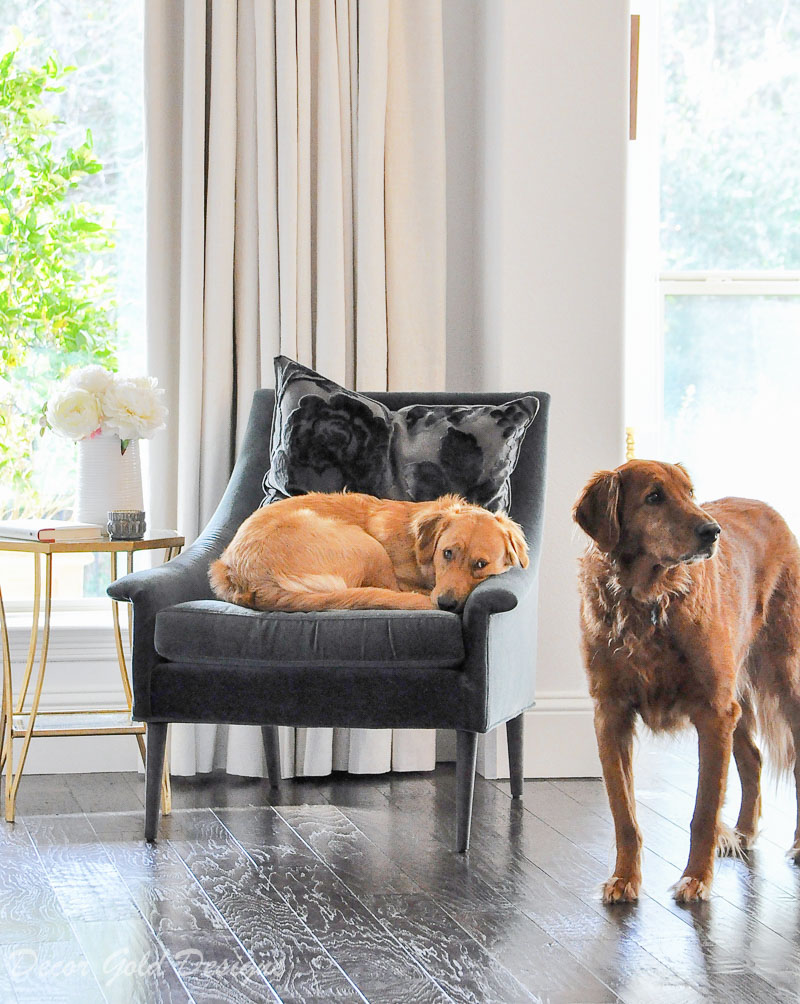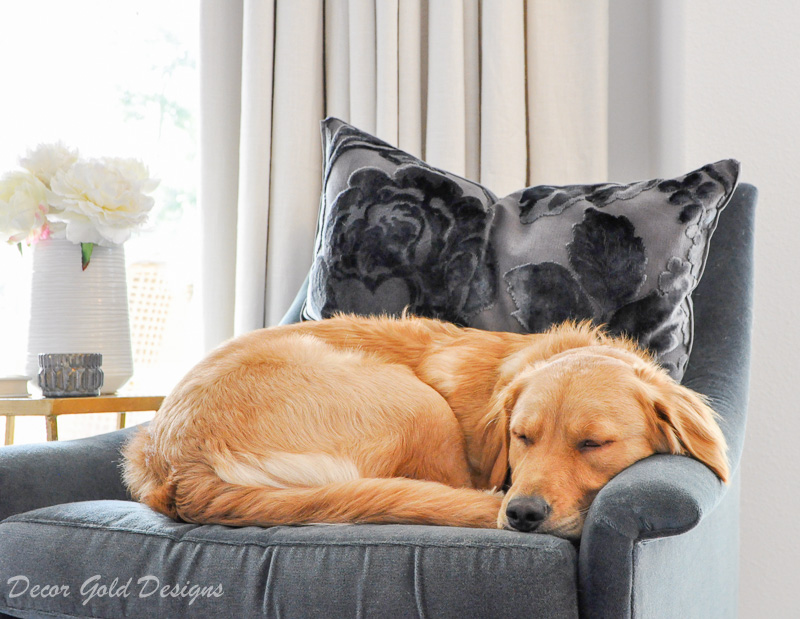 Once she leaves…..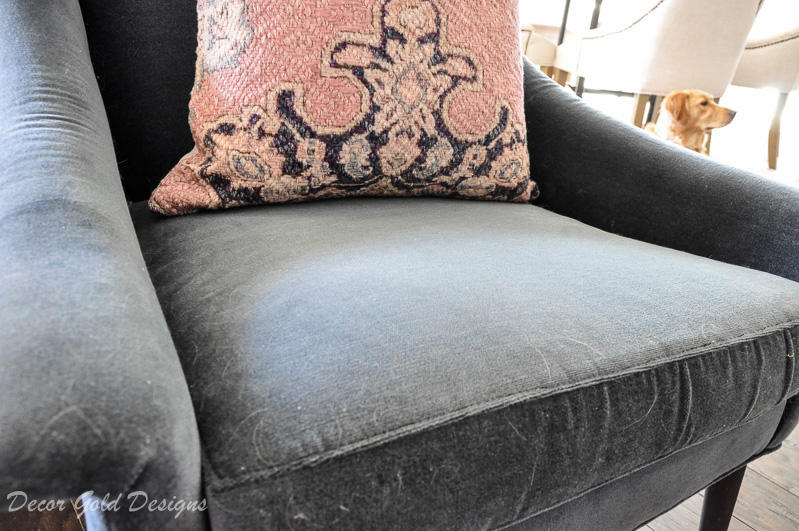 Believe me, I have anxiety from posting this!
But, I actually have a trick for tidying this up. Use a slightly damp washcloth to wipe down the fabric. (Of course it's important to make sure this is safe for your fabric). It's a quick fix and the chair will be clean!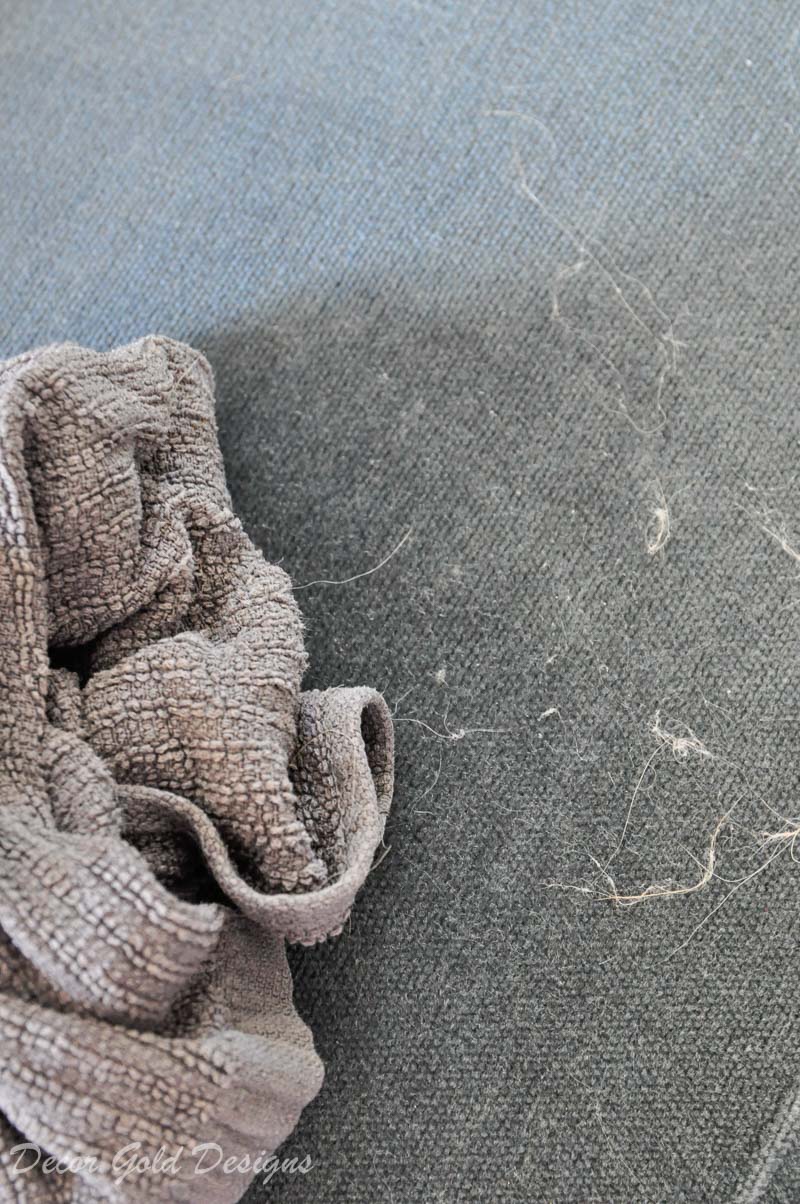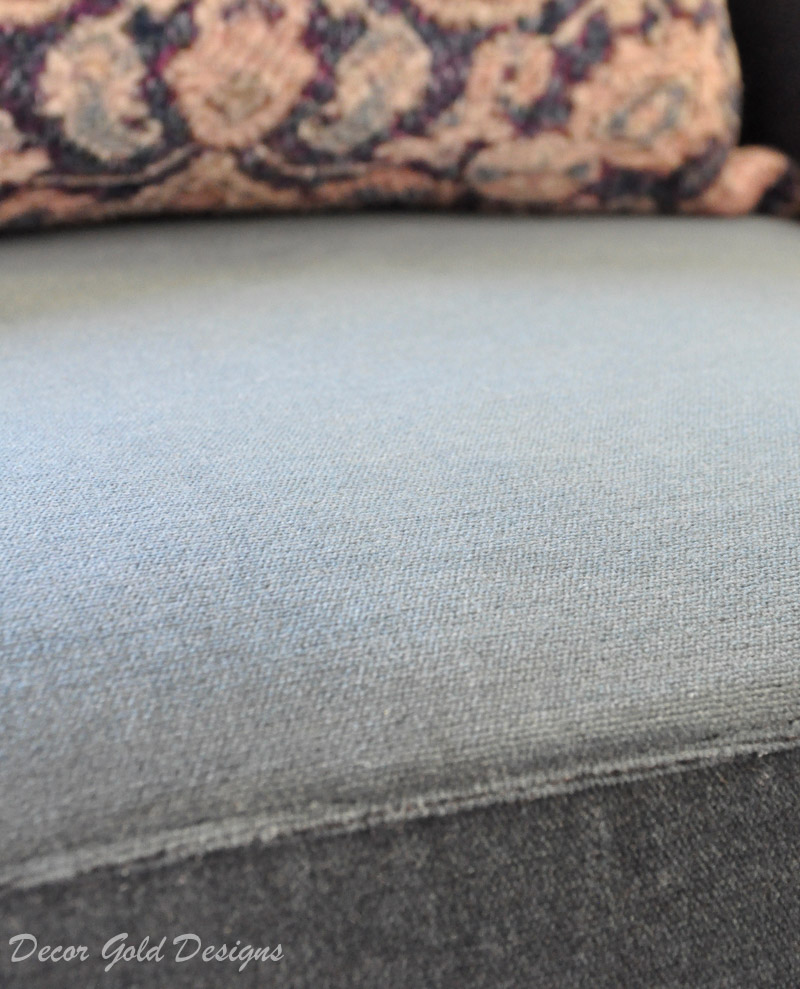 If you prefer to use a lint roller, this one is amazing!
5. Vacuum
The hair and dirt on your floor…..isn't it the worst?
Each morning I use our robot vacuum (best thing ever for pet owners) in my bedroom first. Later in the day, I often use it in the rest of my house. If possible, I strongly encourage you to get this vacuum. It is so much easier than vacuuming your whole house with an upright. We also have a Dyson cordless for quick jobs and this Shark is the vacuum we've had for several years. We did our research on each before purchasing and they have lived up to our expectations.
For best pet hair pick up, you should clean your vacuum regularly. If you don't, the filter will smell like pet hair and dirt and spread the odors around your home. Also, be sure to remove the pet hair that gets wrapped around the brush roller. For reference, I have to do this 2-3 times per week.
Note: Between vacuuming, this broom is a favorite of mine. It's rubber bristles attract pet hair and works on both hard surfaces AND carpet!
6. Air Out Your House Regularly
Simply opening a few windows for a few minute per day will make a big difference. I try to open windows on opposite sides of my home to create flow.
7. Have a Plan for Dealing with Accidents
We recently had a new piece of furniture delivered. That same night, Ava's whole dinner came back up, right on top of the new piece. We reacted quickly with paper towels and cleaning rags and saved our new piece.
Things happen.
When necessary, we use this enzyme-based cleaner to have the best chance of reducing odors.
One last item we use frequently, our steam cleaner. It has been great to have on hand for cleaning chores.
PRODUCTS I USE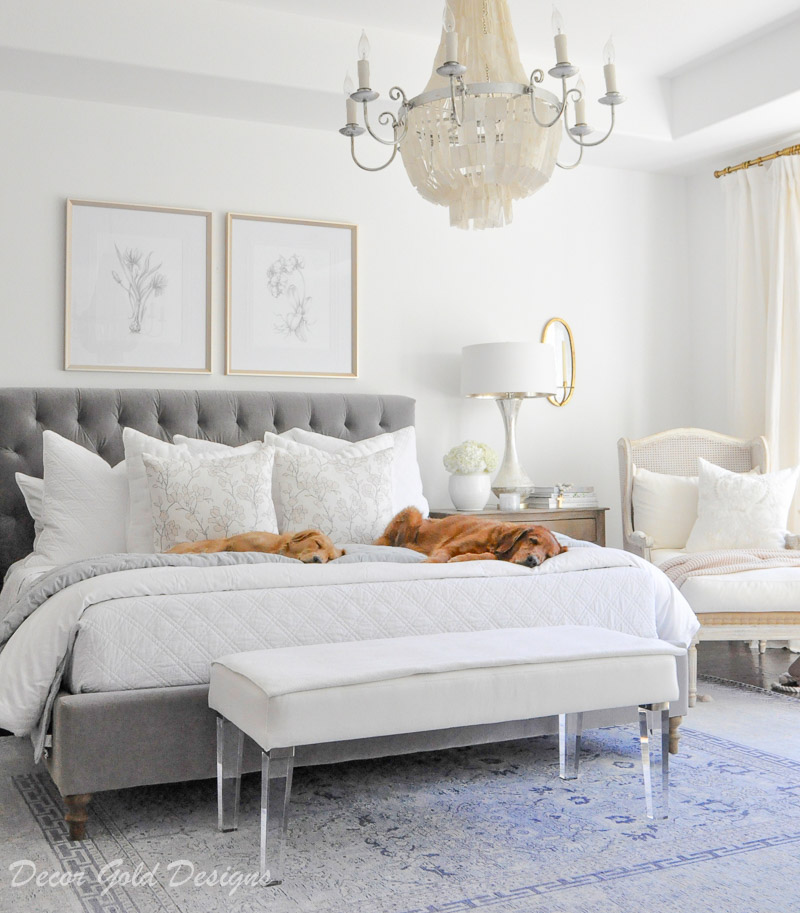 I hope you'll stay connected…..
Click on the Image to Subscribe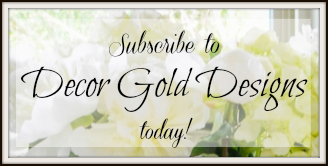 SOCIAL
Instagram | Pinterest | Facebook
Follow me on the LIKEtoKNOW.it app!