I don't know if I have ever been more excited for fall. Houston had one of the hottest summers in its history, and even though we missed some of it, we are incredibly excited about a break from the heat.
Normally, I would be styling the home that I've shared here so many times before. But, after selling our home this past spring, this year is going to be a little different. We are in a new space (at least new to us), which I haven't even had a chance to share with you yet. The rooms are smaller and a bit more crammed full of things, but still usable and comfortable for the upcoming year or so that we are here.
One of the things that makes a house into a home is decorating with seasonal touches. Creating a fall pumpkin centerpiece has become a tradition that I was not about to put on hold.
*This post contains affiliate links. Disclosure here. Additionally, I partnered with Hot Skwash by Daria to bring this tabletop pumpkin styling post to you. As always, all of my opinions and selections are my own.
PUMPKINS
Beautiful silk velvet pumpkins are my go-to for elegant fall decor. The stunning, hand-crafted Hot Skwash silk velvet pumpkins by my dear friend, Daria continue to be impress me more than words can express. They are timeless collectibles that should be in every fall decor scheme. Simply put, I'm in love with each piece and you will be too.
Hot Skwash pumpkins are made with real stems and luxurious, high quality fabric. They are simply exquisite.
I am always immensely inspired by Daria's designs. I am also find myself being more and more inspired by nature. So, after several seasons of non-traditional fall color schemes, I knew it was time to create a more traditional fall pumpkin centerpiece. This year, I selected pumpkins in rhubarb and persimmon and added stunning panne velvet pumpkins in copper with Czech crystals.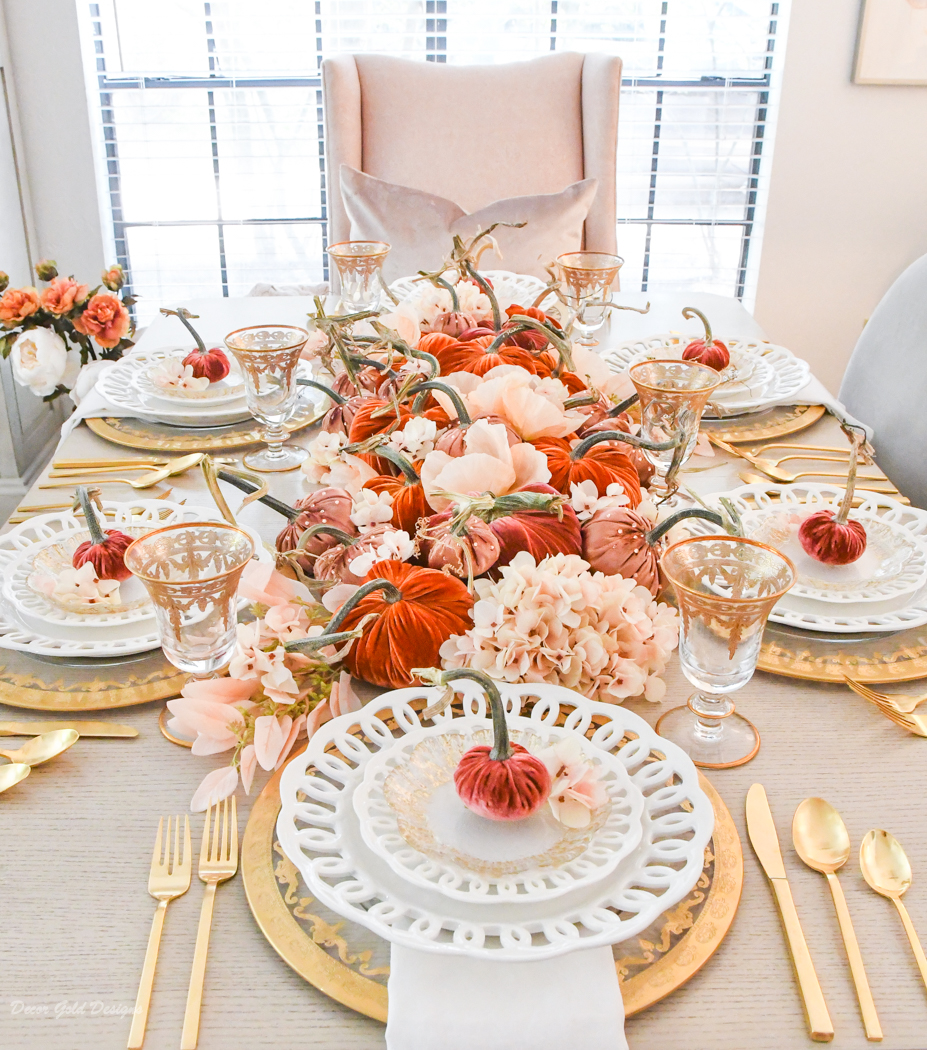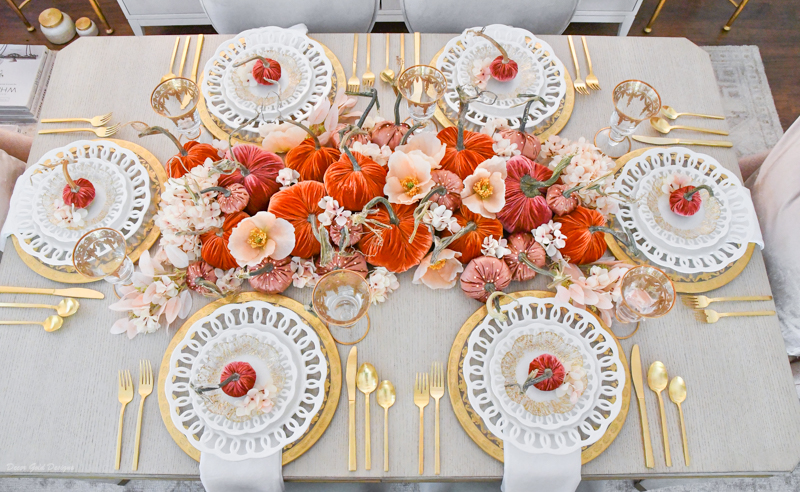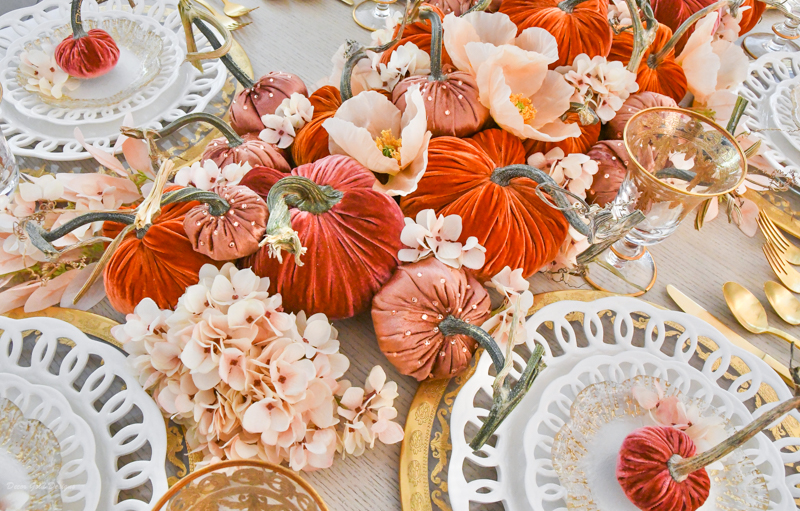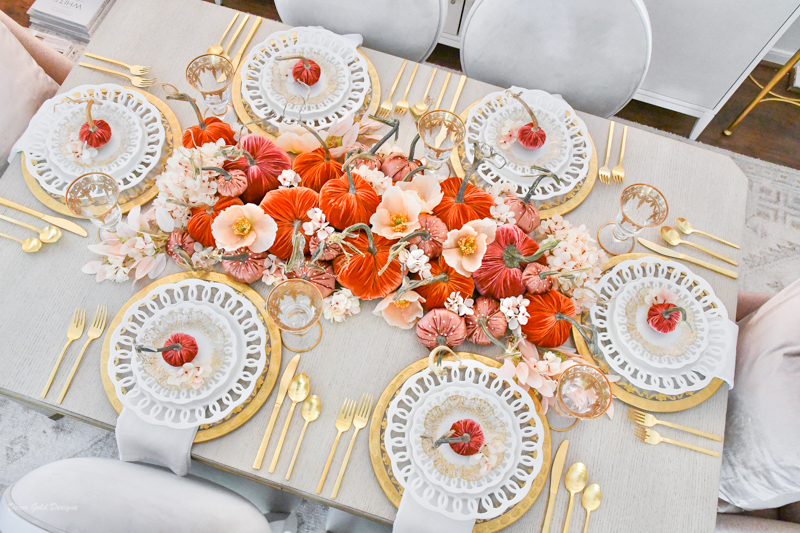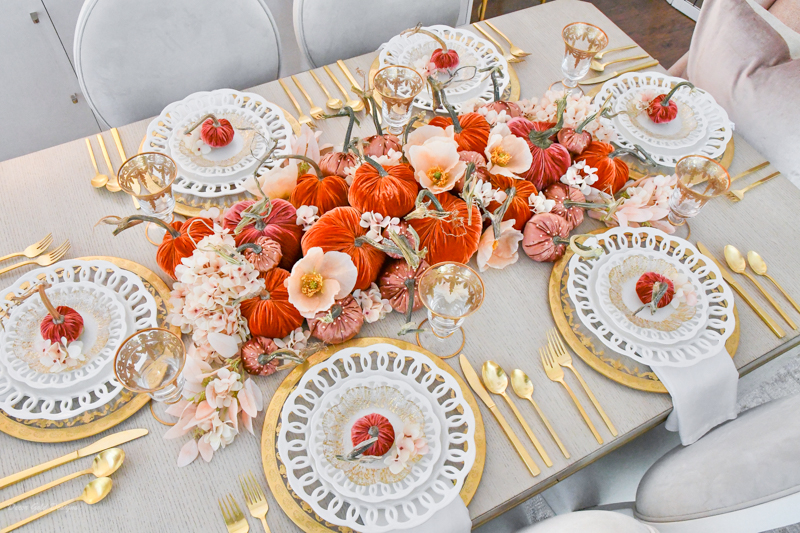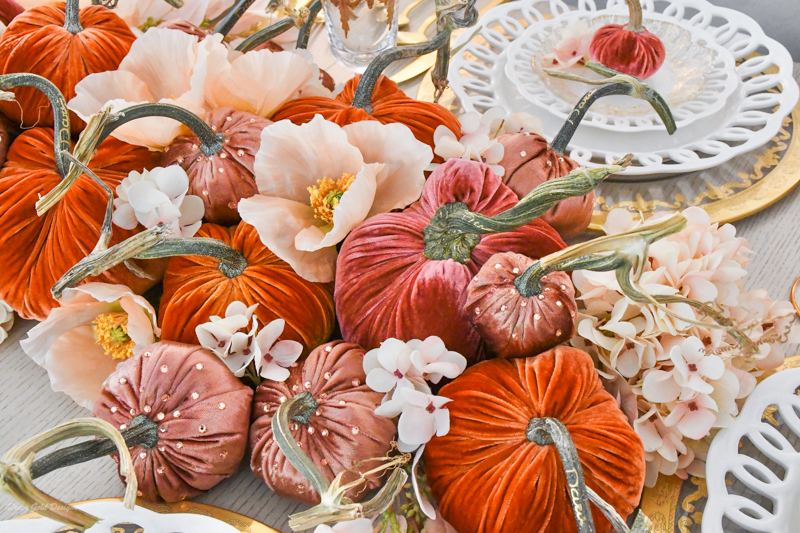 5″ & 6″ Hot Skwash Silk Velvet Pumpkins in Persimmon + 5″ & 6″ Hot Skwash Silk Velvet Pumpkins in Salmon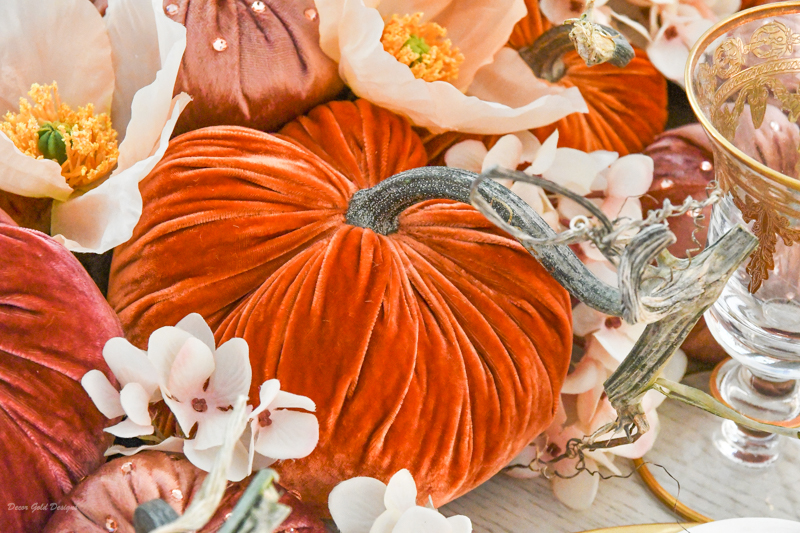 Hot Skwash Silk Velvet Pumpkins in Rhubarb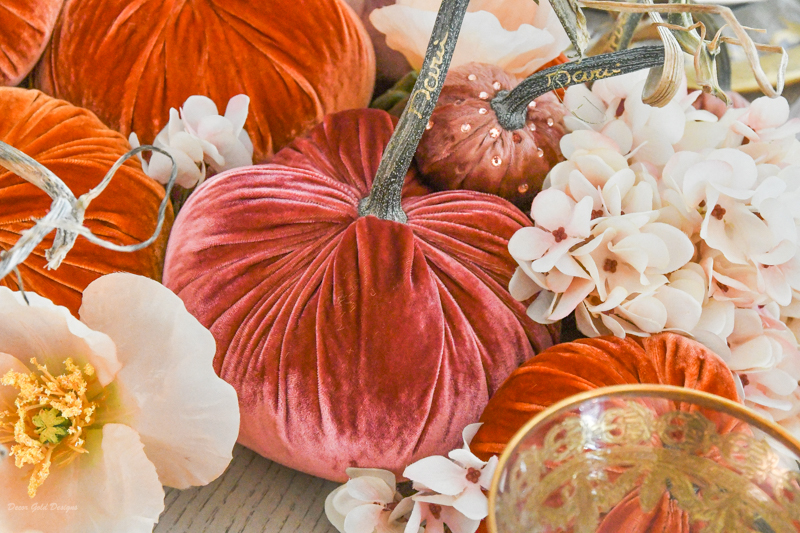 3″ & 4″ Hot Skwash Silk Velvet Pumpkins Copper with Crystals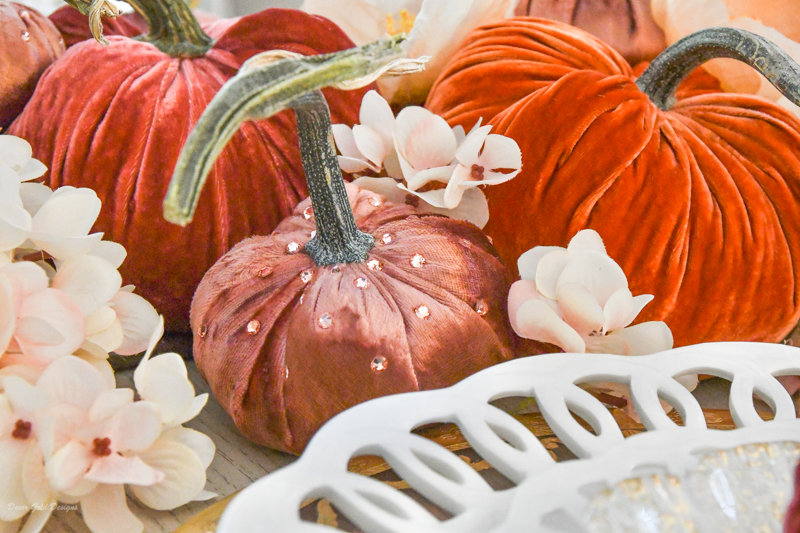 1″ Hot Skwash Silk Velvet Pumpkins in Rhubarb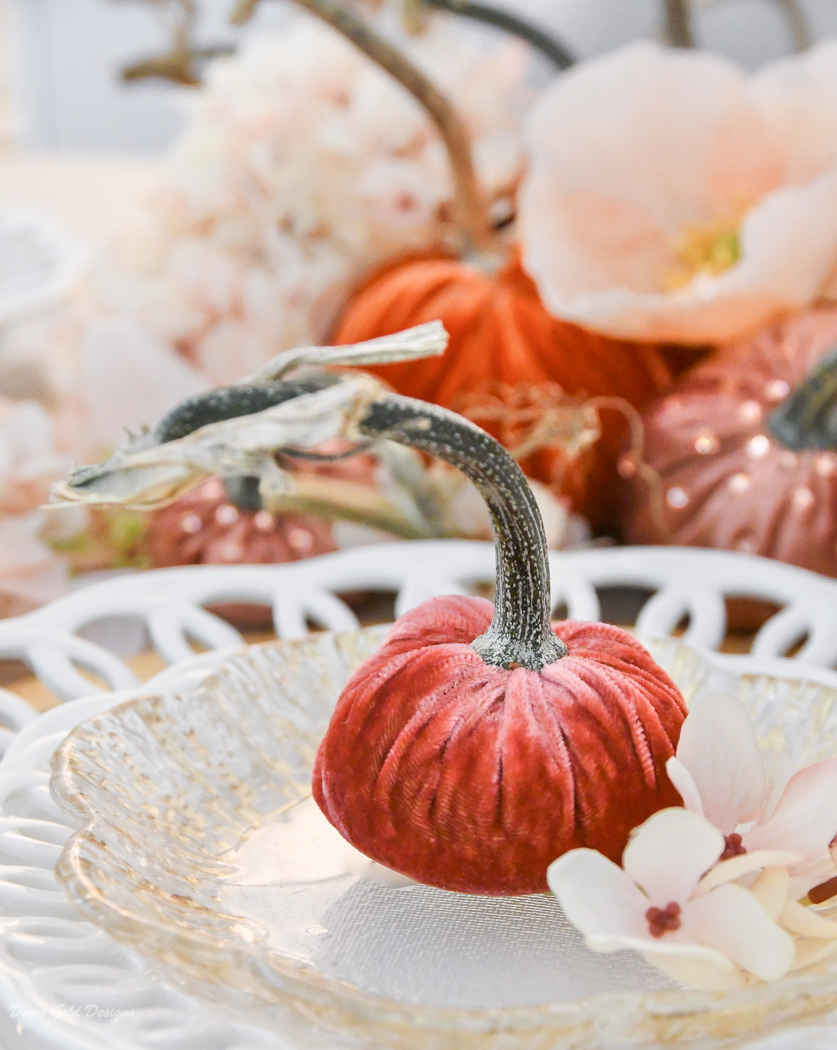 CENTERPIECE
All of my Hot Skwash pumpkins are 6″ or smaller. I simply grouped them together for a collected look!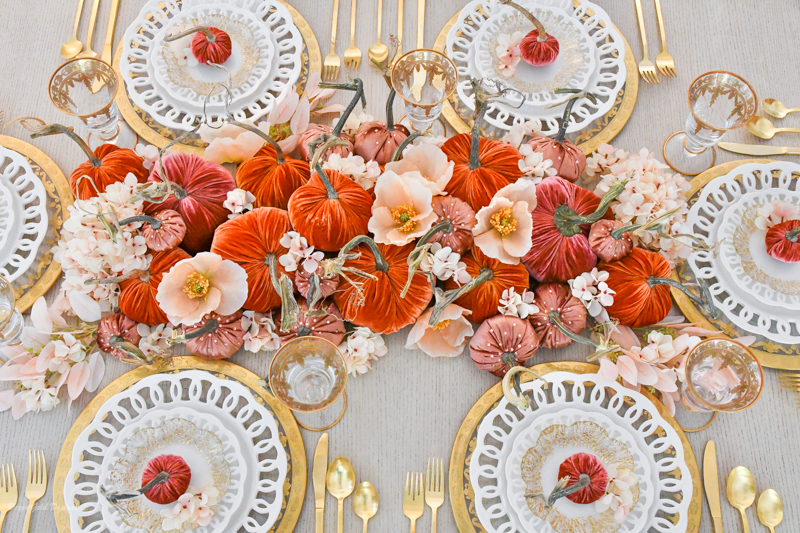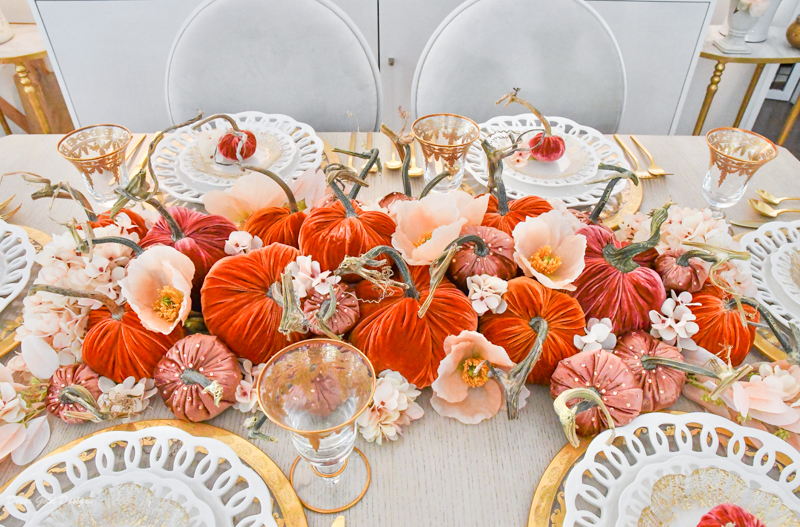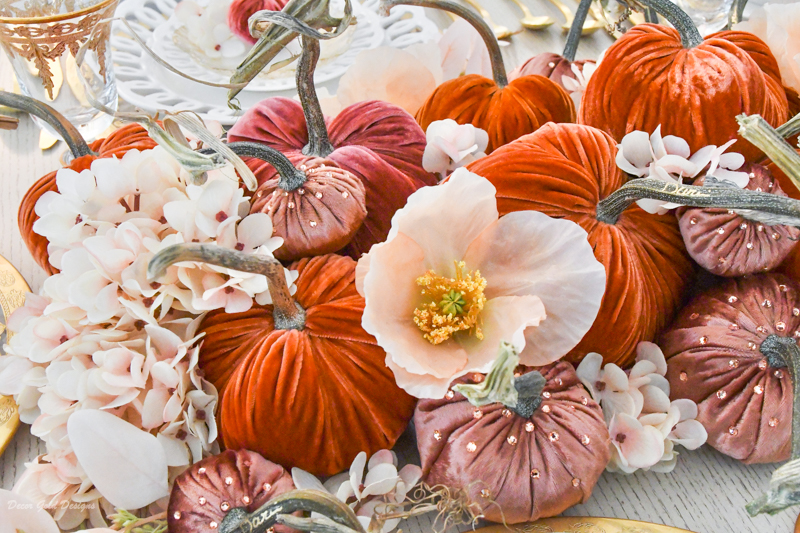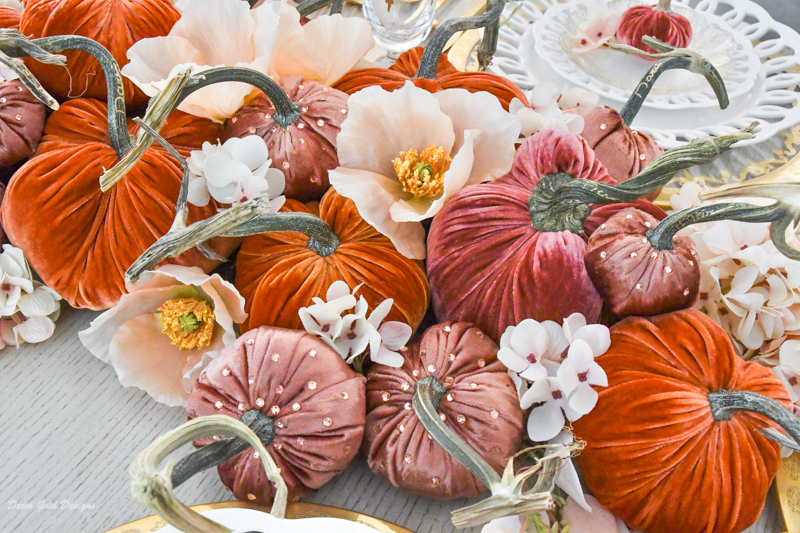 Fall faux flowers and branches elevate the look. I used these pieces:
3 Hydrangeas (I clipped one into small pieces)
3 Blush stems (I added more of this stem style to these blossoms on my console)
6 Poppies

It is important to know, you can create a lovely velvet pumpkin centerpiece in any color scheme (see pumpkin styling from previous years here).
I also have a step by step tutorial which is very helpful. You may want to bookmark it and refer back to it each year.
Want to get a romantic evening look? Simply add a string of lights!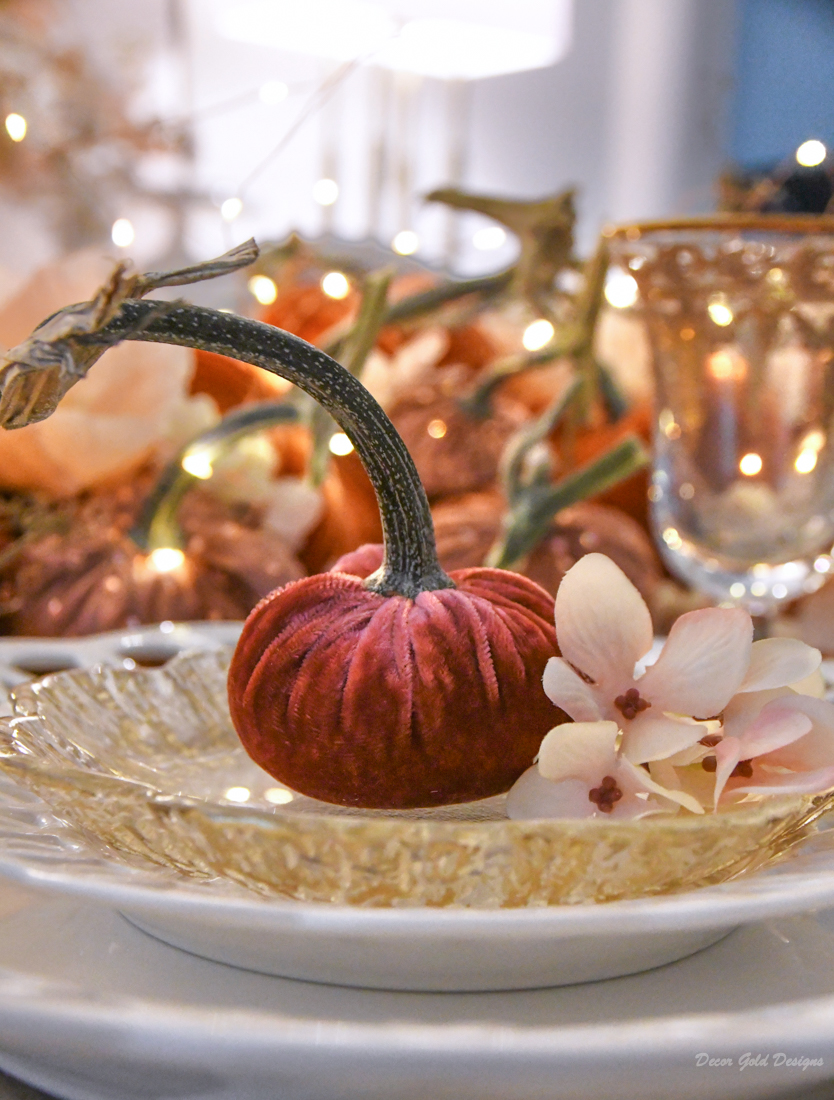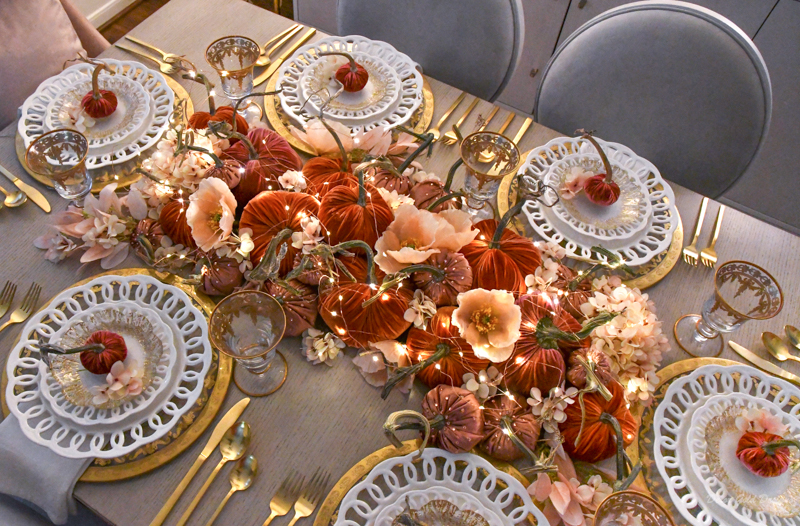 PLACE SETTINGS
Gold and white dinnerware pieces compliment beautiful traditional colors of fall.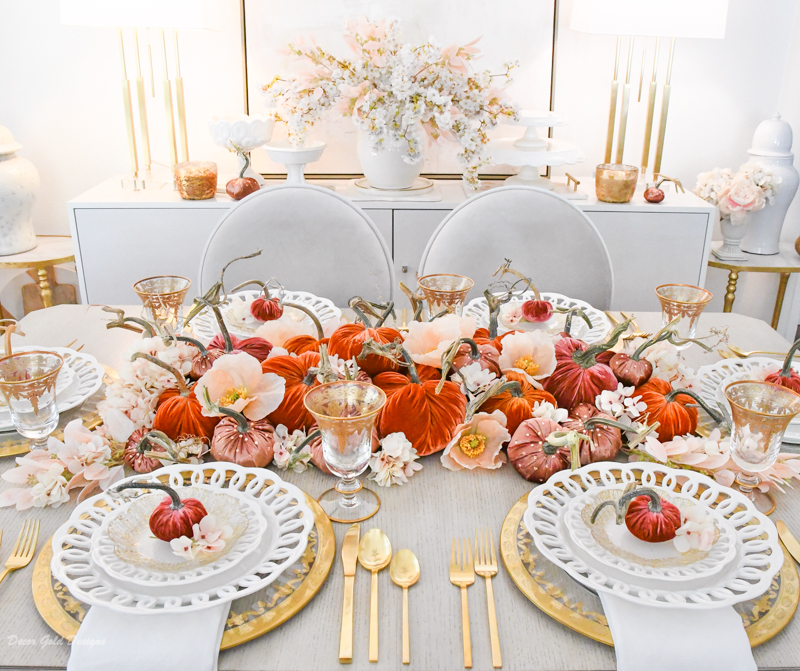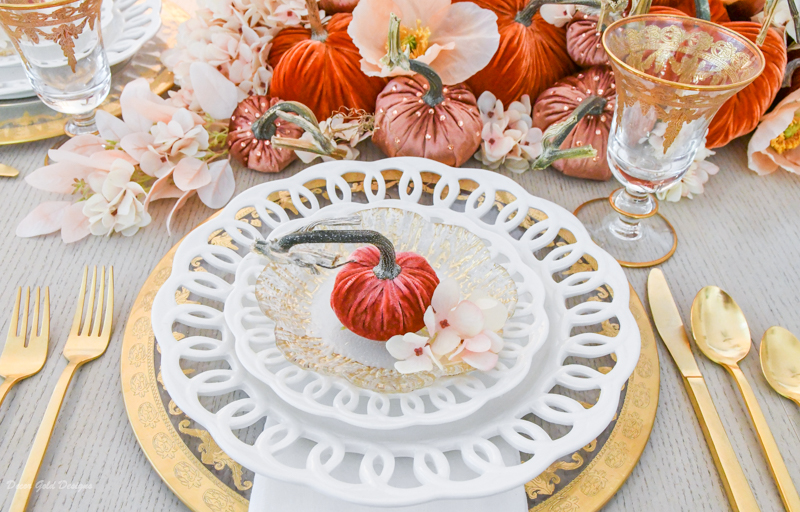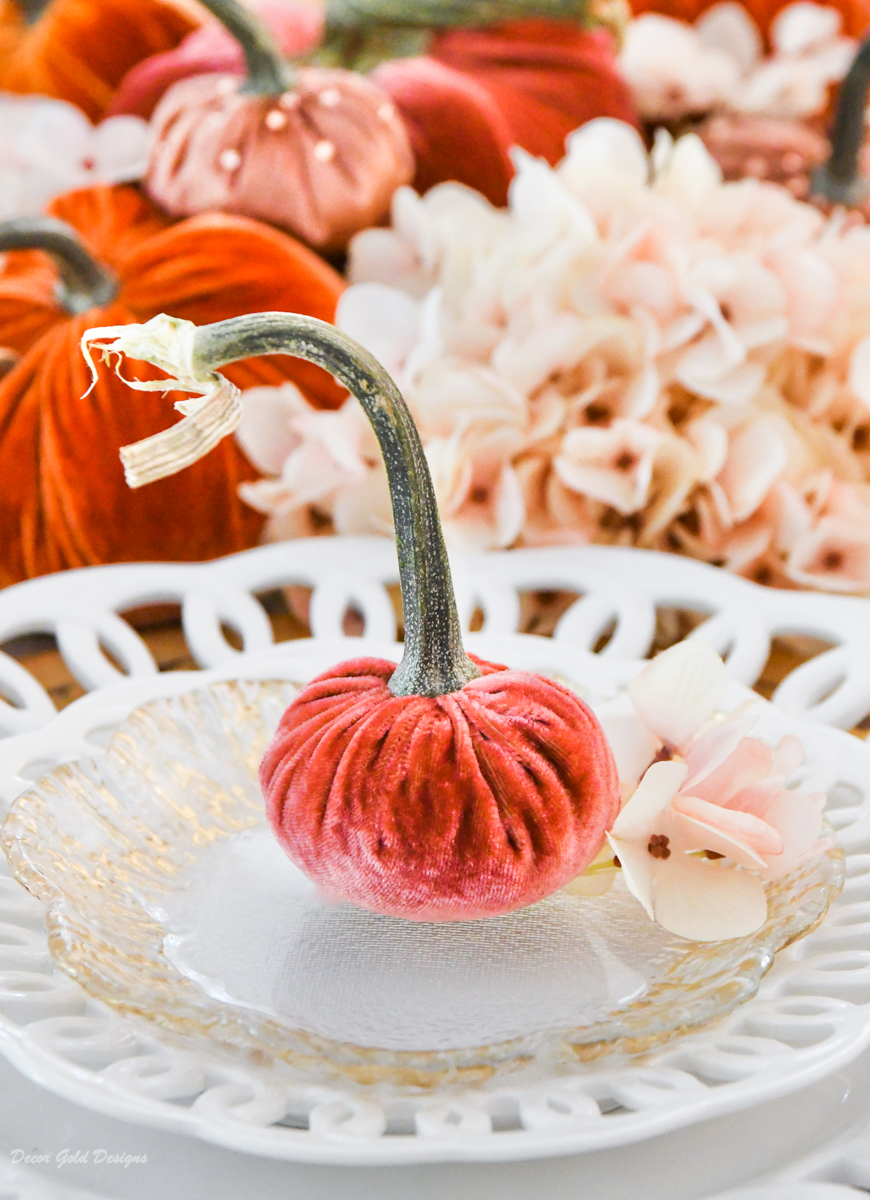 For each place setting, I began with my favorite charger. It is elegant and it grounds each place setting. Next, I added this dinner plate and the matching salad plate (both are on sale!). Finally, I placed a canape plate on the stack. The glassware I selected compliments the chargers. And of course a darling 1″ Hot Skwash pumpkin completes the look.
GET THE LOOK

DINING ROOM
Did I mention that we moved into a temporary home while we build a new house? Well, we did and then left for the summer, just getting back September 1st. I quickly got the front rooms together (the dining room and living room are all one big space), then unpacked my pumpkins. The room literally came together at the same time as it was decorated for fall! Not ideal, but I'm glad I got it done. I also hope this gives you some inspiration for your own home!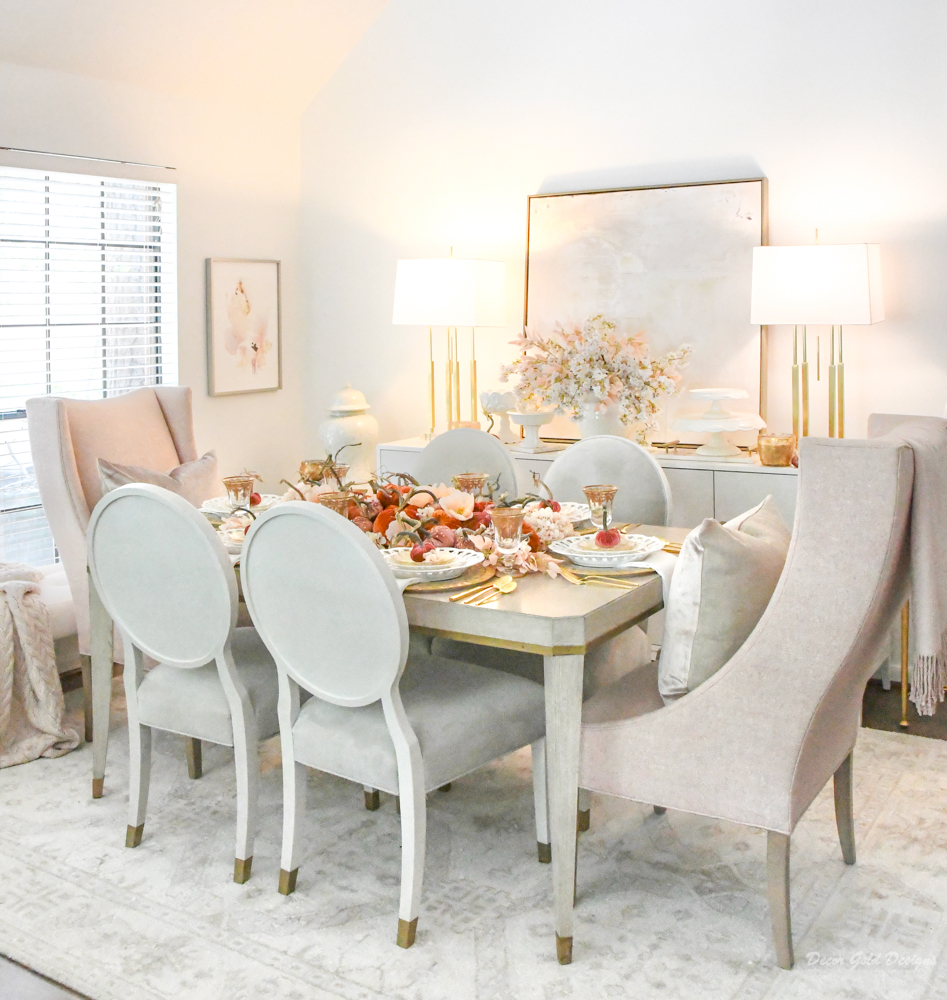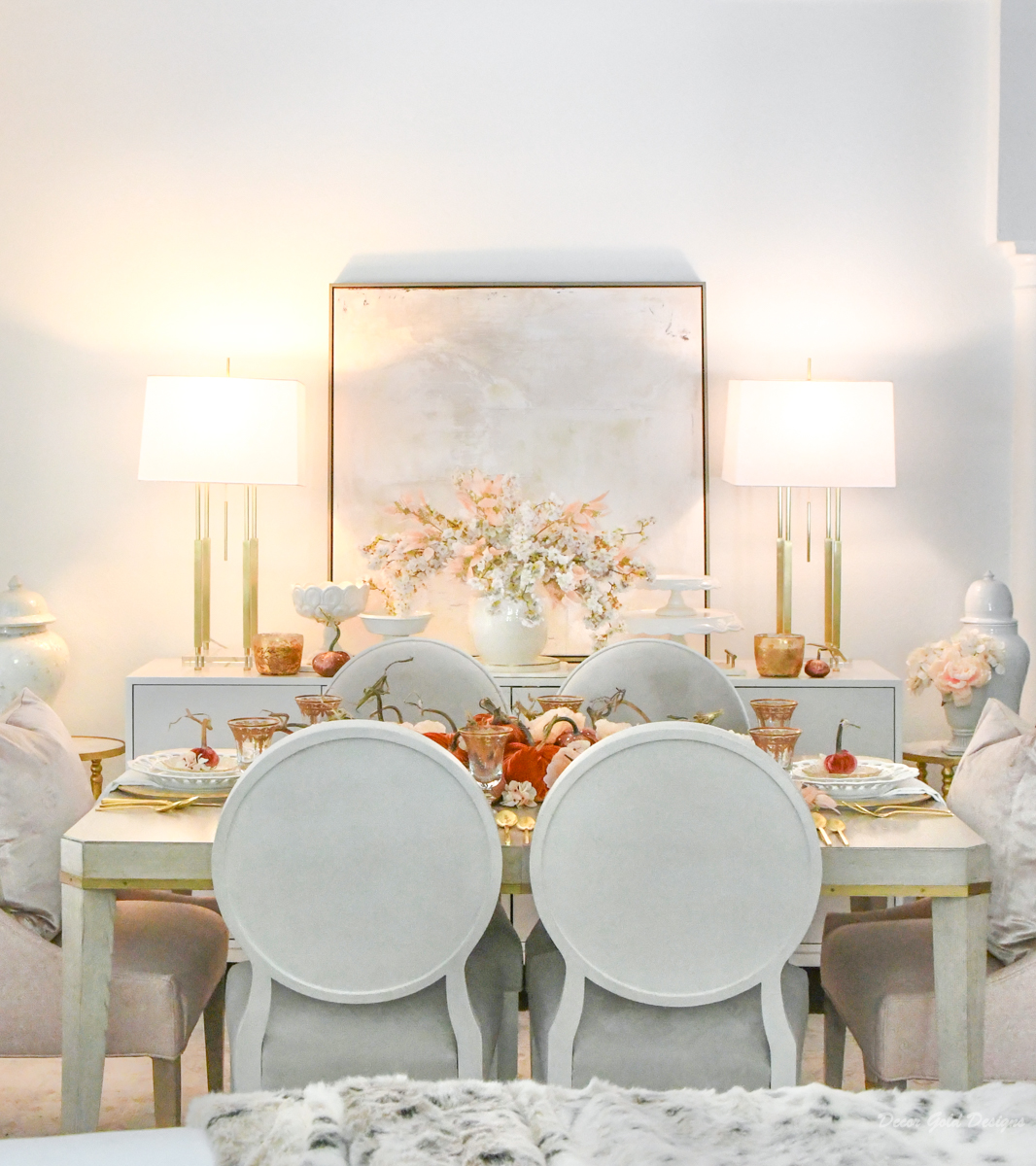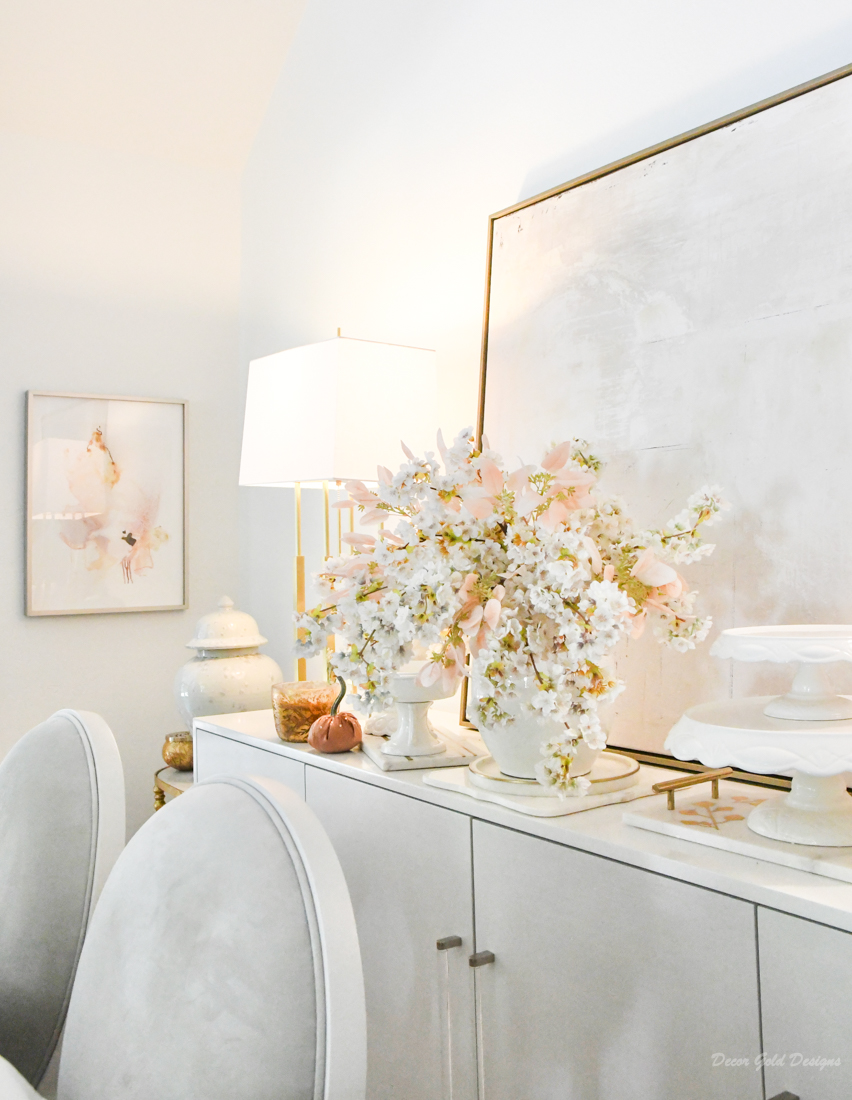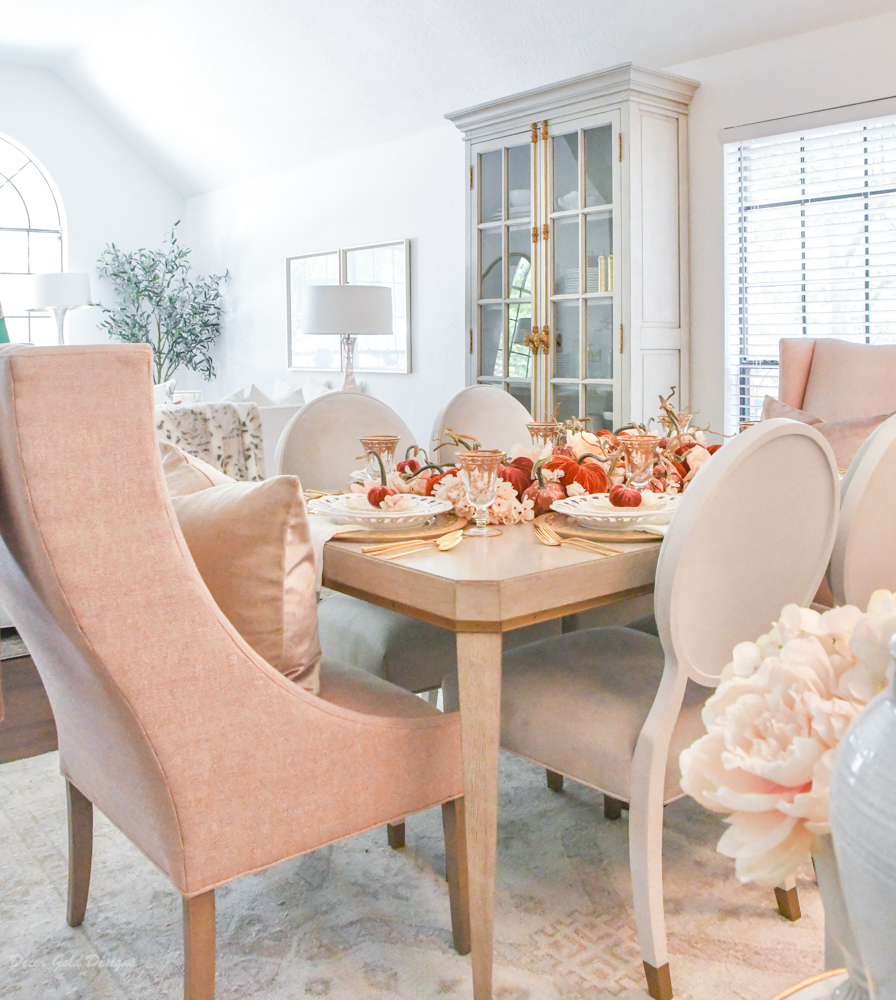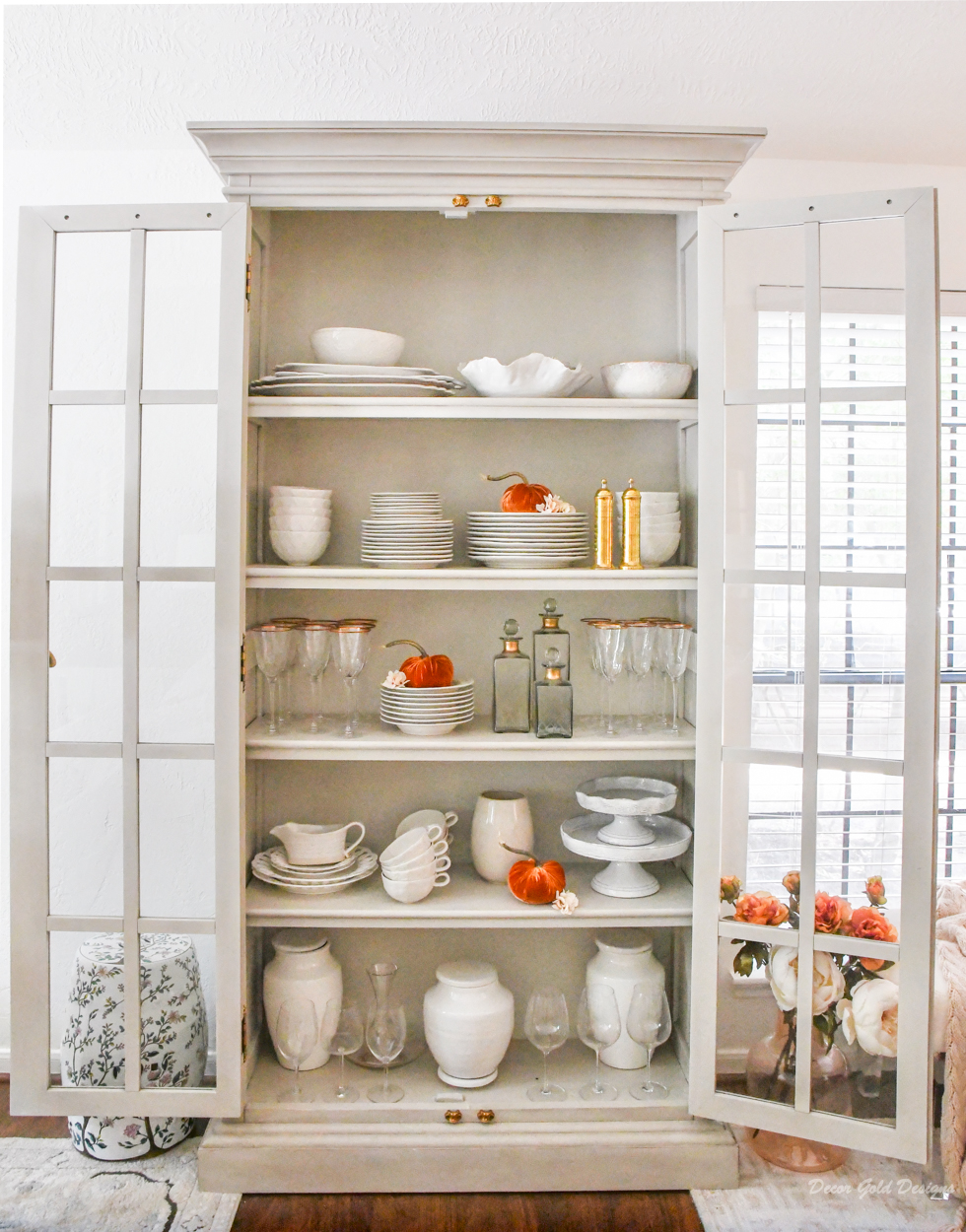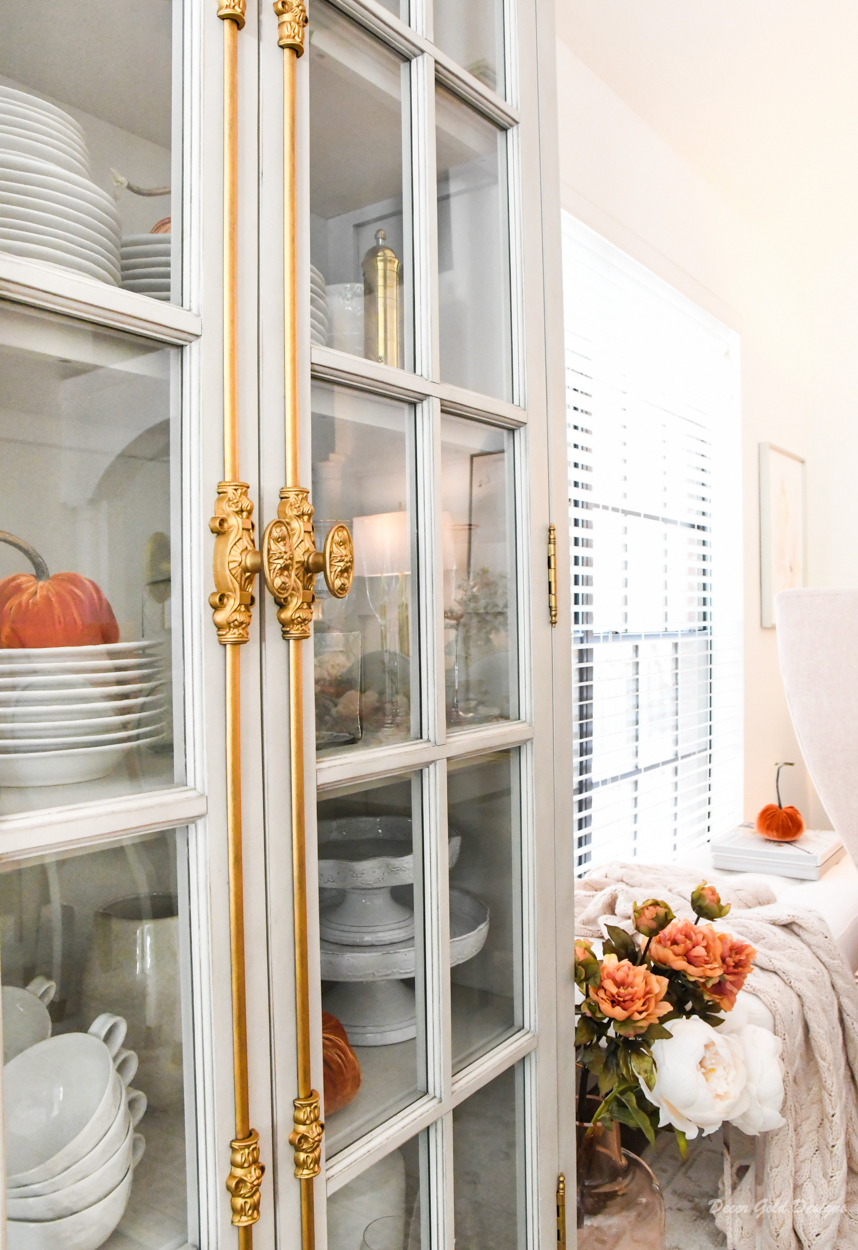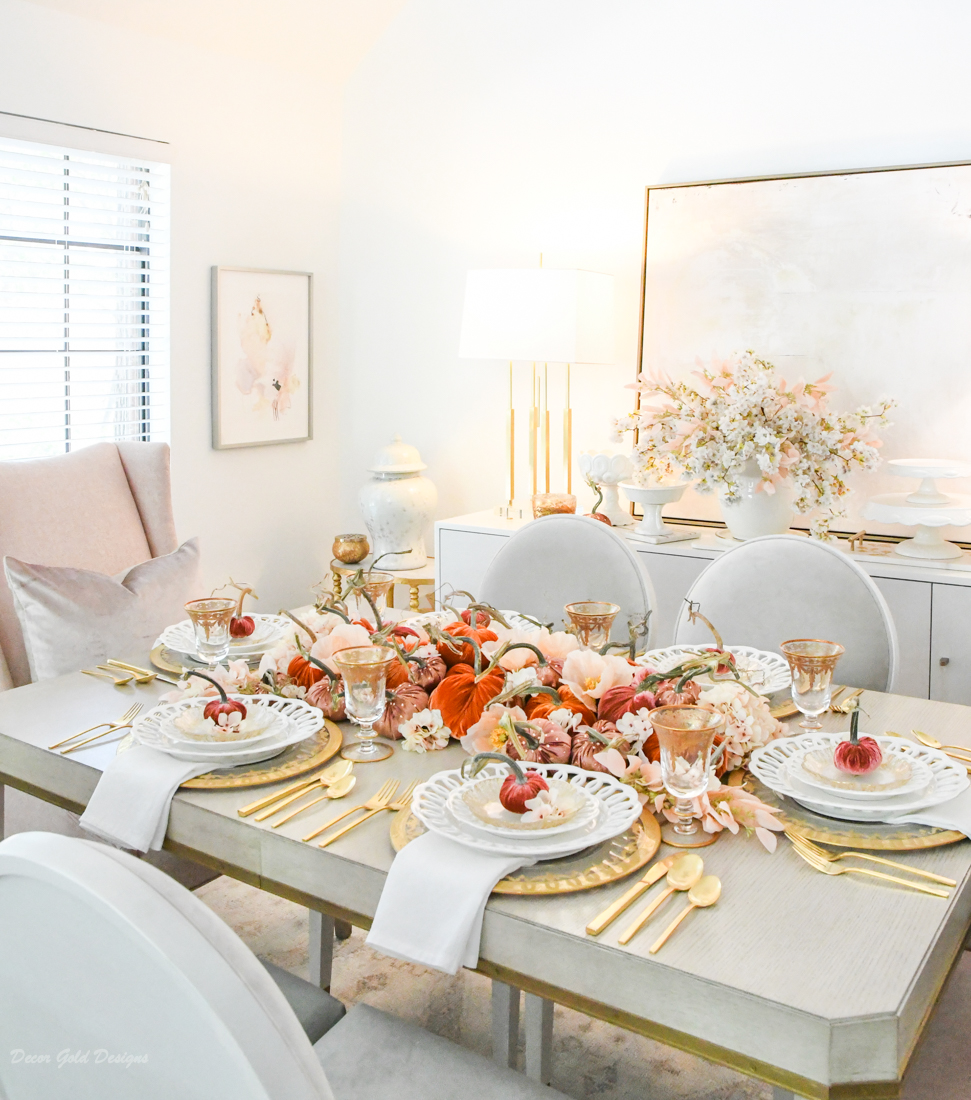 I think this temporary dining room looks beautiful and functions well. I'll be sharing more of it and other rooms here in the weeks to come. For now, here are the sources for this room and I hope you'll check back soon!



I hope you'll stay connected!
Click on the Image to Subscribe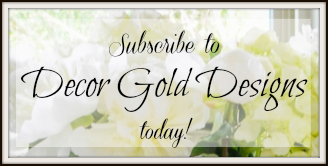 SOCIAL
Instagram | Pinterest | Facebook
Follow me on the LIKEtoKNOW.it app!