Who doesn't enjoy a Spring refresh?
I started the new year by going through closets and cabinets and purging like many do. I was able to get rid of numerous old and worn out things around the house. But, no other room had as large of a "donate" box as the kitchen. We forget about this room, yet it is one of the most popular rooms in our homes.
So now the fun part! I had a number of items to replenish and replace. Some of my pots and pans were over ten years old. To say it was time for a fresh look in my kitchen drawers was an understatement.
I decided to team up with Birch Lane for a spring refresh because I knew I could count on them for high quality, well-priced items. Now, as you probably know, I am very conscientious about being true to my style. This is another reason why I chose Birch Lane. They never disappoint in this arena.
As a frequent shopper, I often start with the "new arrivals." This time, I had fun perusing their "styles" for the first time and found them to be well organized. This is especially helpful if you need a little direction with selecting pieces that work well together. I love it when this process is made smoother for me.
In my case, this was especially helpful because I needed to replace a vast number of items. I needed new pots, pans, utensils as well as new mixing bowls. However, I still wanted them to look beautiful and stylish in my kitchen when they were in use.
Here, you can see that they do.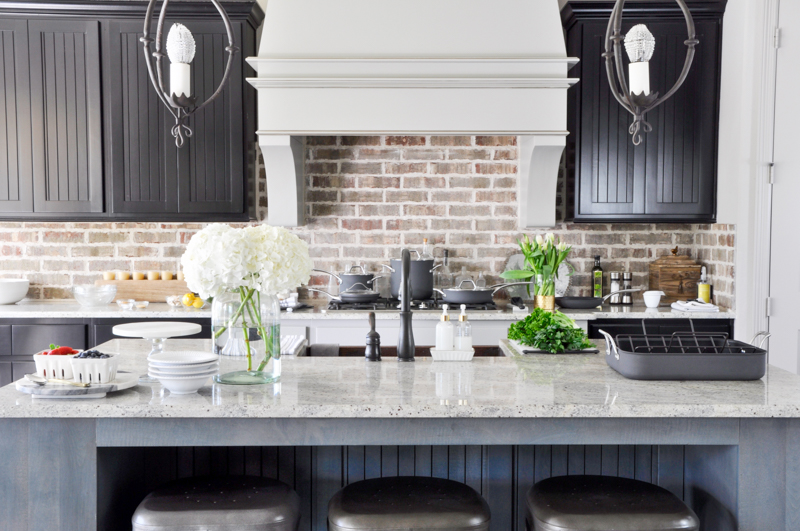 For full enjoyment of a beautiful kitchen while cooking, I thought I'd share a few of my habits with you and then I will share my stylish selections that I use almost every evening.
Before I begin preparing a meal I do the following:
Empty the dishwasher
Wipe down the countertops
Clean the sink
Set up everything I will need
Prepare the ingredients
While cooking:
Clean up spills and clean as I go
Wash items after use
Run the disposal to keep the sink clean
Discard all containers
Soak items as needed
If time allows prior to serving:
Load rinsed items into the dishwasher
Put away any leftover ingredients and cookware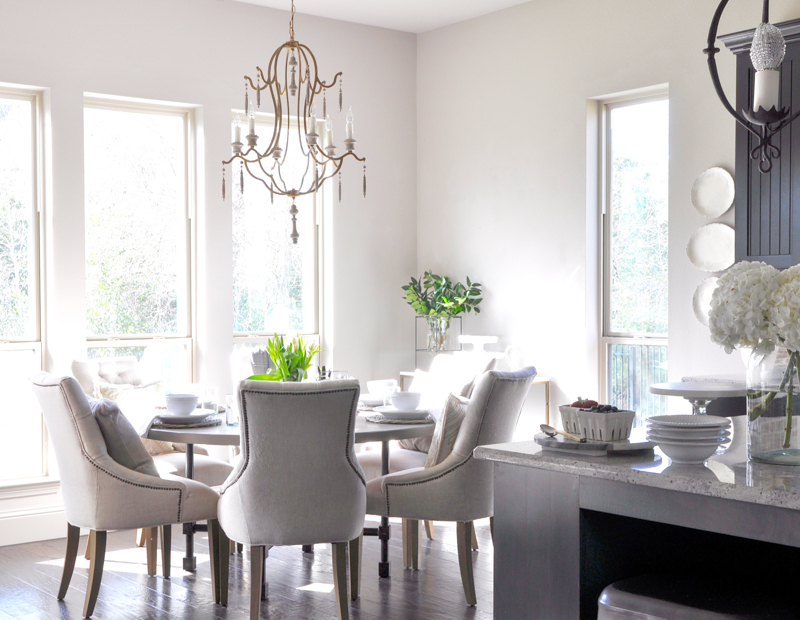 Most of my selections were for the kitchen, but I also added a throw and new flatware to the breakfast room. I've had the wicker chargers for a while, but they are from Birch Lane as well.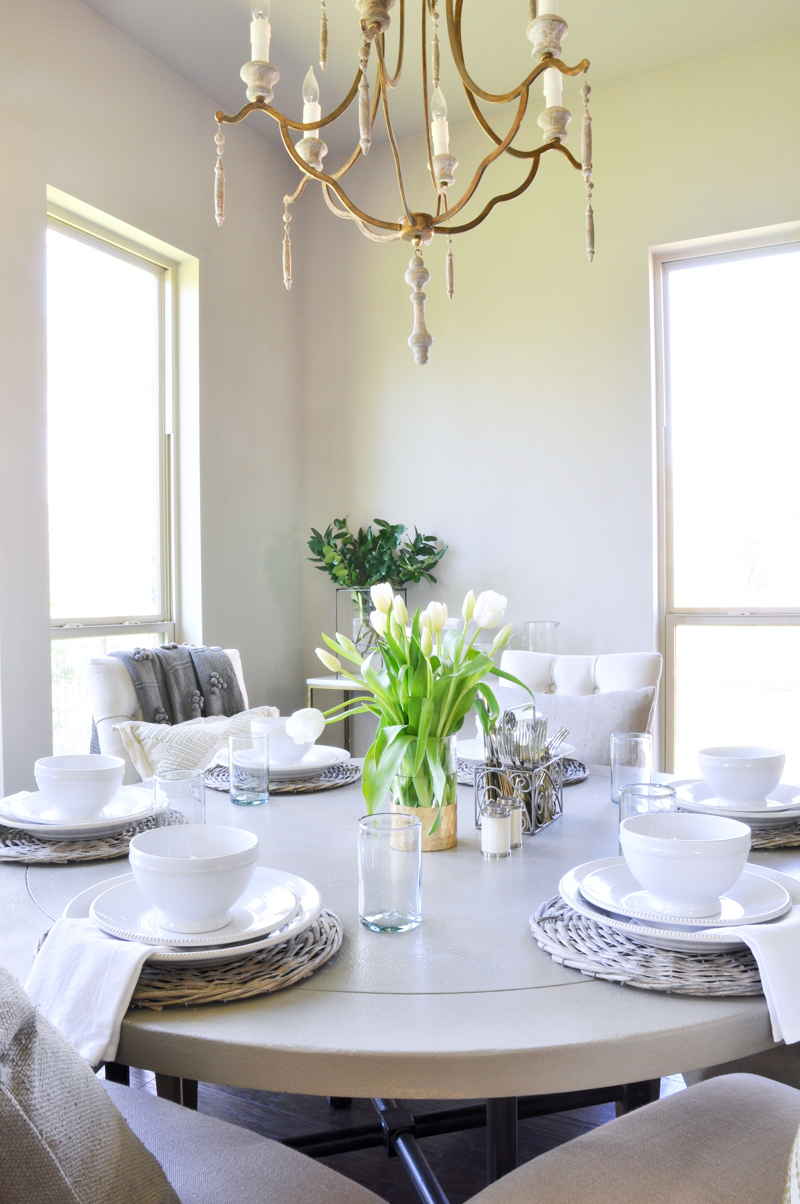 The brass and silver flatware is perfect for everyday dining.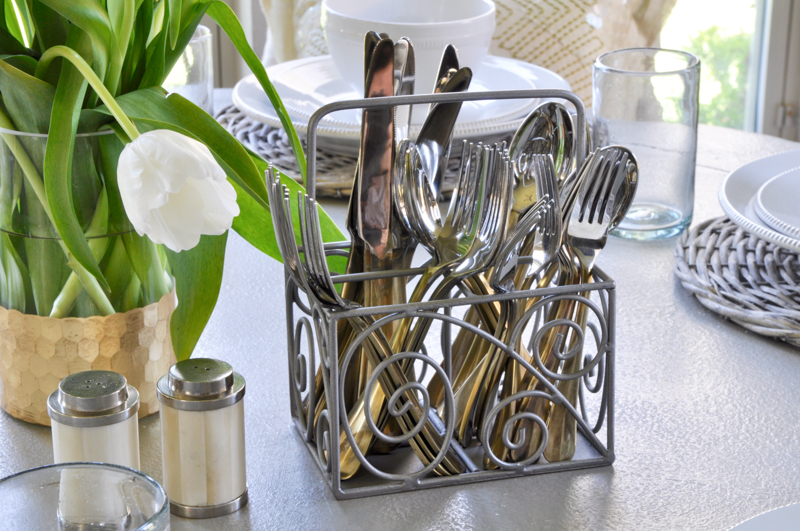 Looking back toward the kitchen, you can see that the aesthetics coordinate well. This is especially important in open-concept homes.
My refresh included this roaster and a great set of towels. I love the gray and white stripes for a fresh spring look!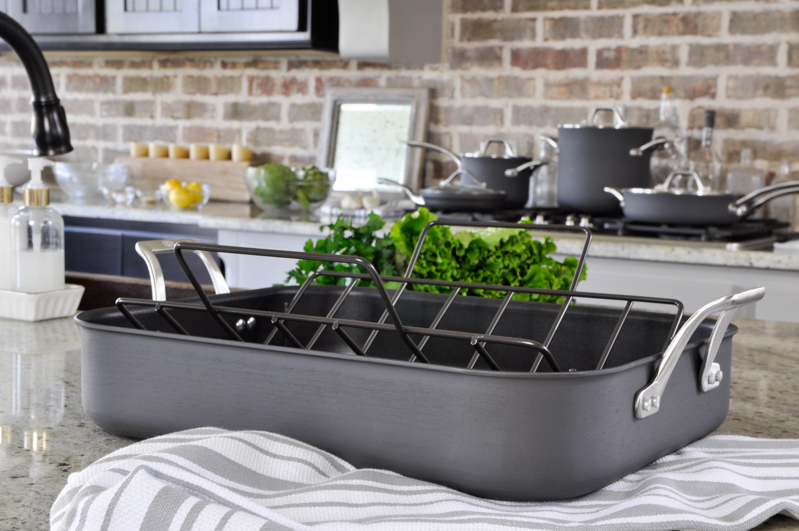 I desperately needed cookware, so I chose this 8 piece set and frying pan.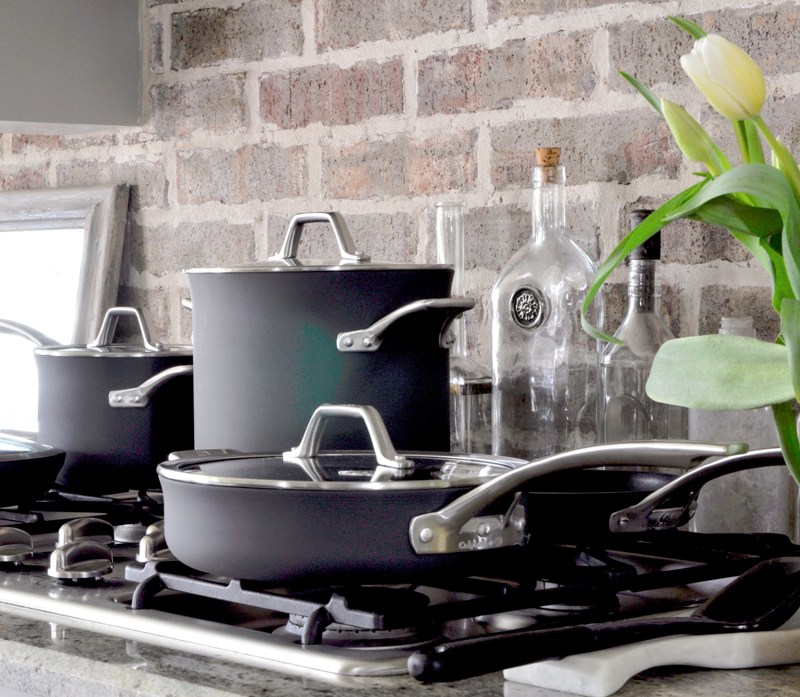 Here's another look at my towels. I love them and these coordinating new scrapers!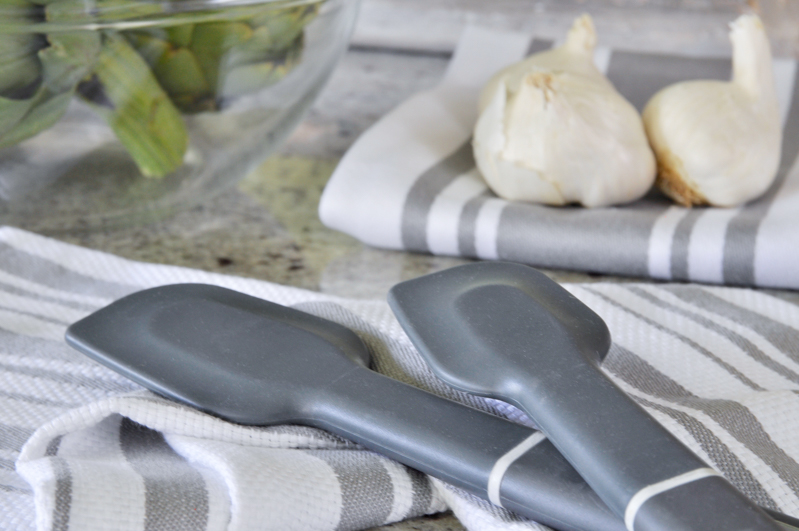 The salt and pepper mill set are pretty enough to stay on the counter.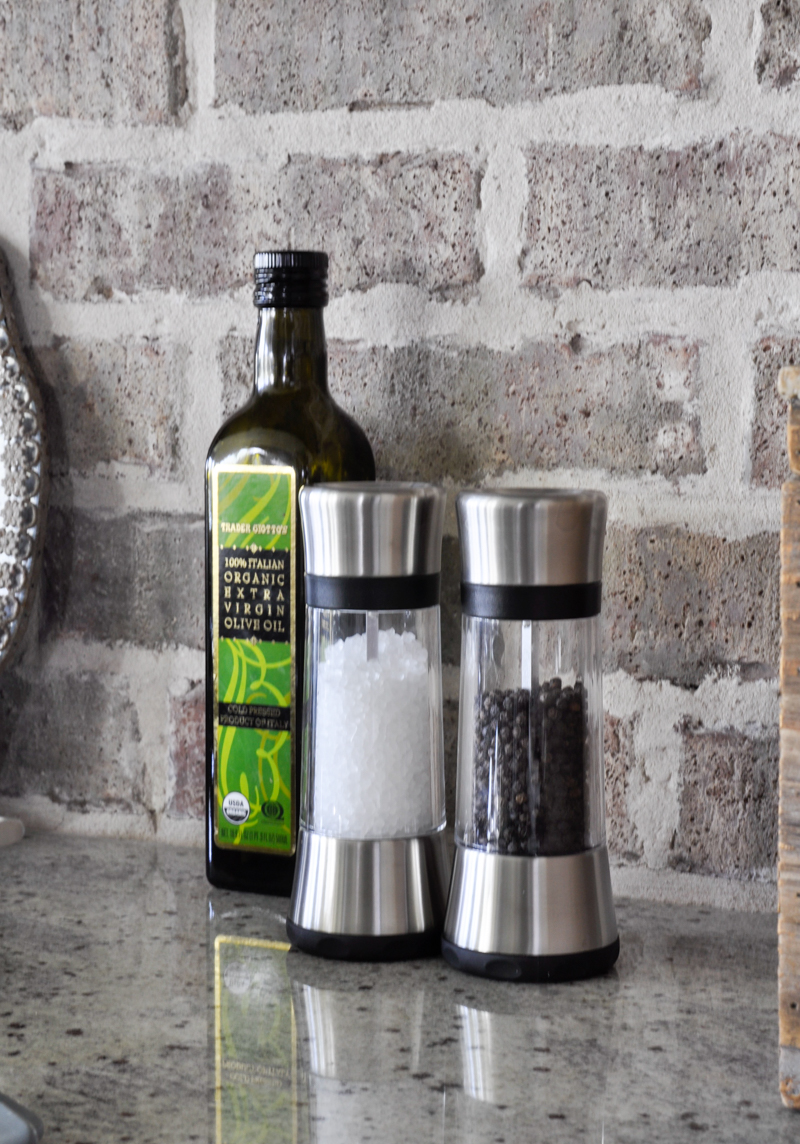 I'm a big fan of glass mixing bowls and this set has ten pieces. So useful!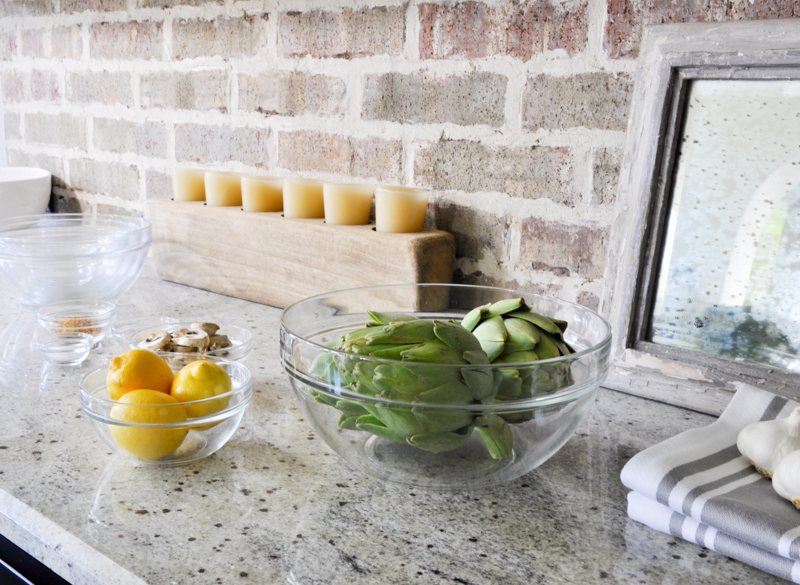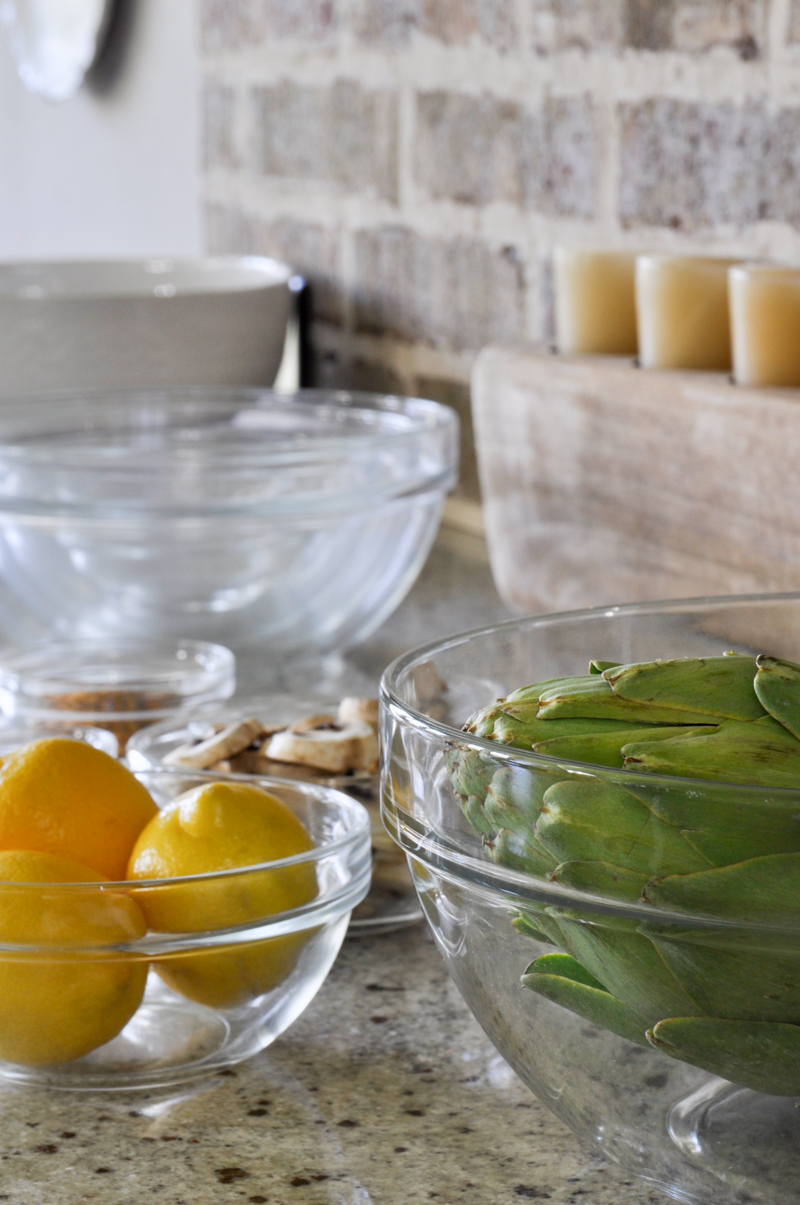 We like to snack on fruit before meals. I added a cake stand and platter, each made of marble to serve as a snack station.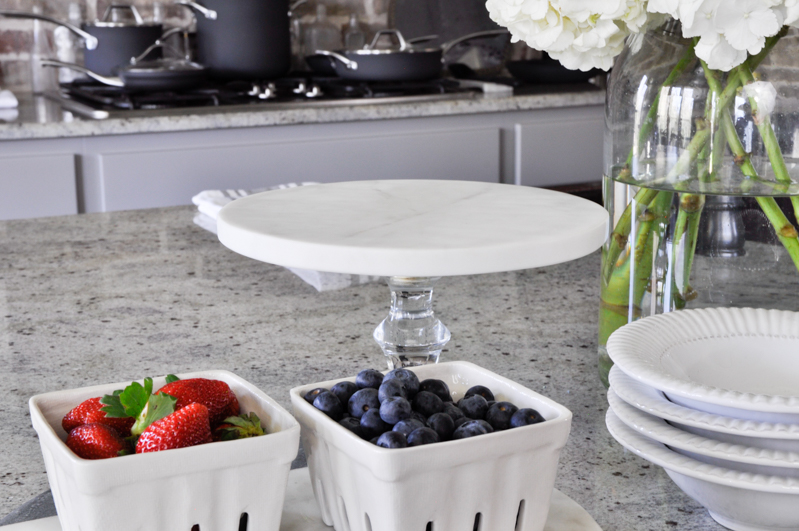 I wanted to find beautiful, long-lasting replacements and I did so with ease. I hope I've left you with some ideas for a refresh of your own.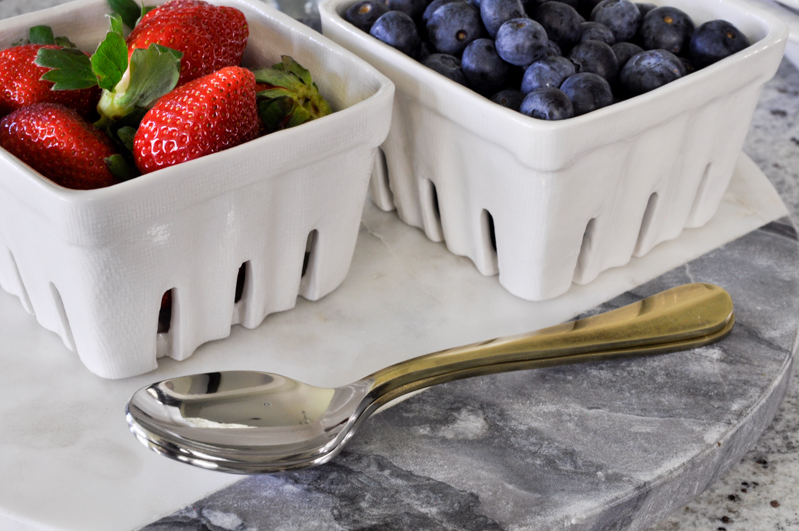 A special thanks to Birch Lane for this fun blogger challenge and for sponsoring this post!
For a full list of products in the room, scroll down to the bottom of this post. If you are coming from Randi Garrett Design, thank you for stopping by! Randi is a talented designer and a dear friend and her bedroom refresh was so well done! Be sure to check out Ashley's refresh on Cherished Bliss tomorrow for more spring refreshing ideas!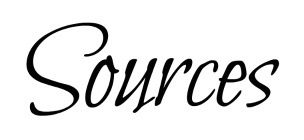 Non-Stick Roaster | 8 Piece Non-Stick Cookware Set | Non-Stick Frying Pan | Silicone Spoon | 2 Piece Silicone Scraper Set | Salt & Pepper Mill Set | Stackable Glass Bowl Set | Brass Flatware Set | Dishtowel Set | Marble Cake Stand | Marble Platter | Gray Throw Blanket
Dining Chair | Chandelier | Gold and Glass Vase – Similar | White Dinnerware | White Linen Napkins | Wicker Charger | Copper Sink | Soap and Lotion Set | Large Glass Vase – Similar | Ceramic Fruit Crates | Wooden Box | Bar Stools – Similar