Each year at Christmas, I am incredibly grateful to have a dining room in my home. It is a space where such happy memories are made year after year. Even though our gathering will be small this holiday season, I know I will cherish every moment in our this space.
Since our 2018 dining room update, this room is also one of my favorites to share. Last year at this time, I was too sick to do so, so I am especially excited to share it with you today.
Here is a look at our Christmas dining room!
*This post contains affiliate links. Disclosure here.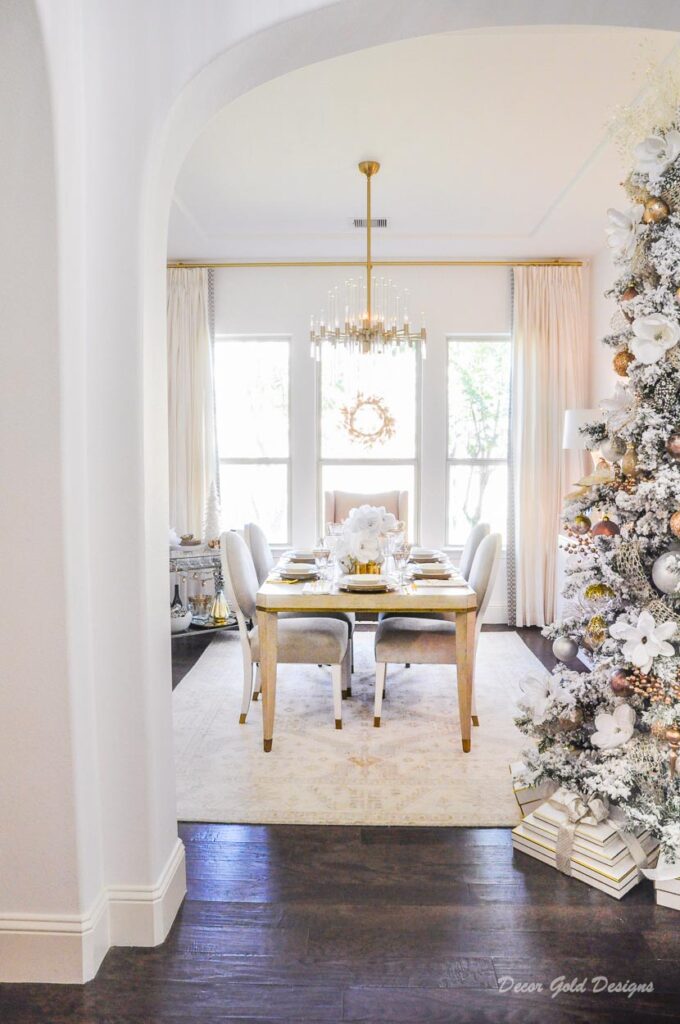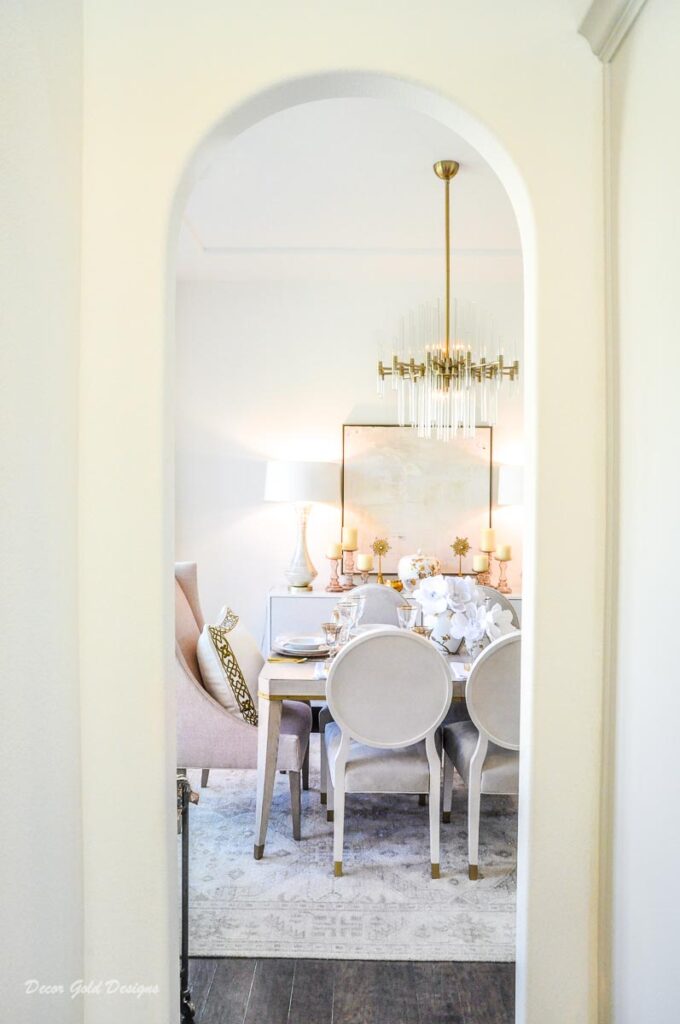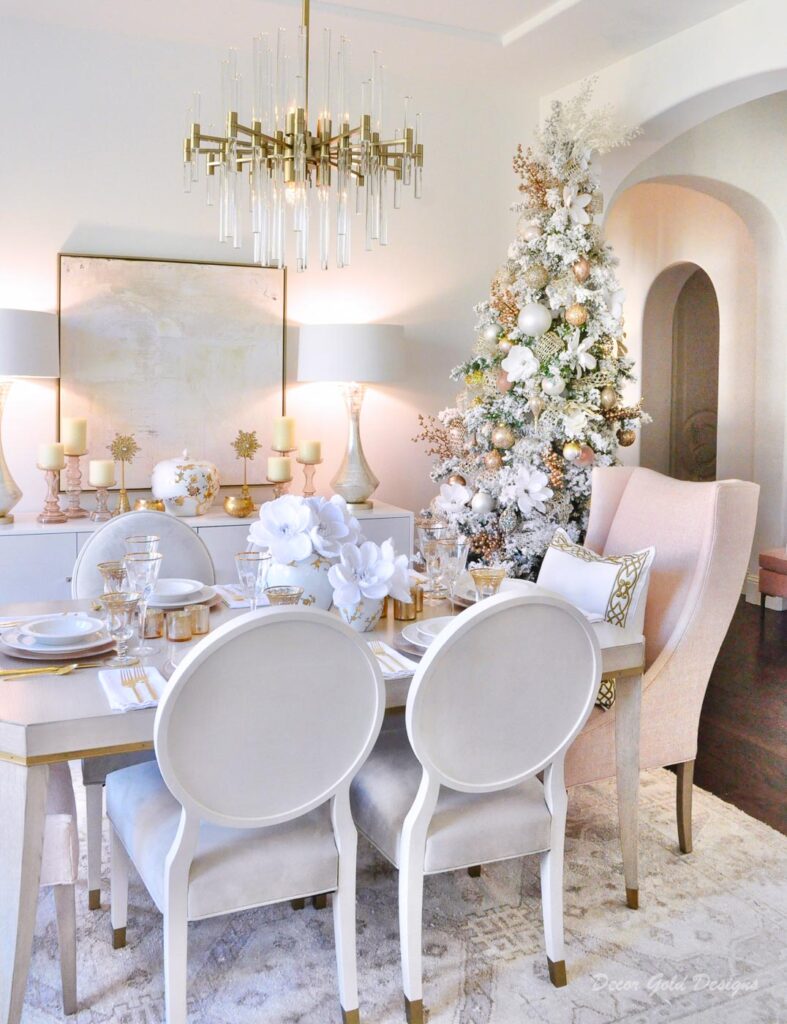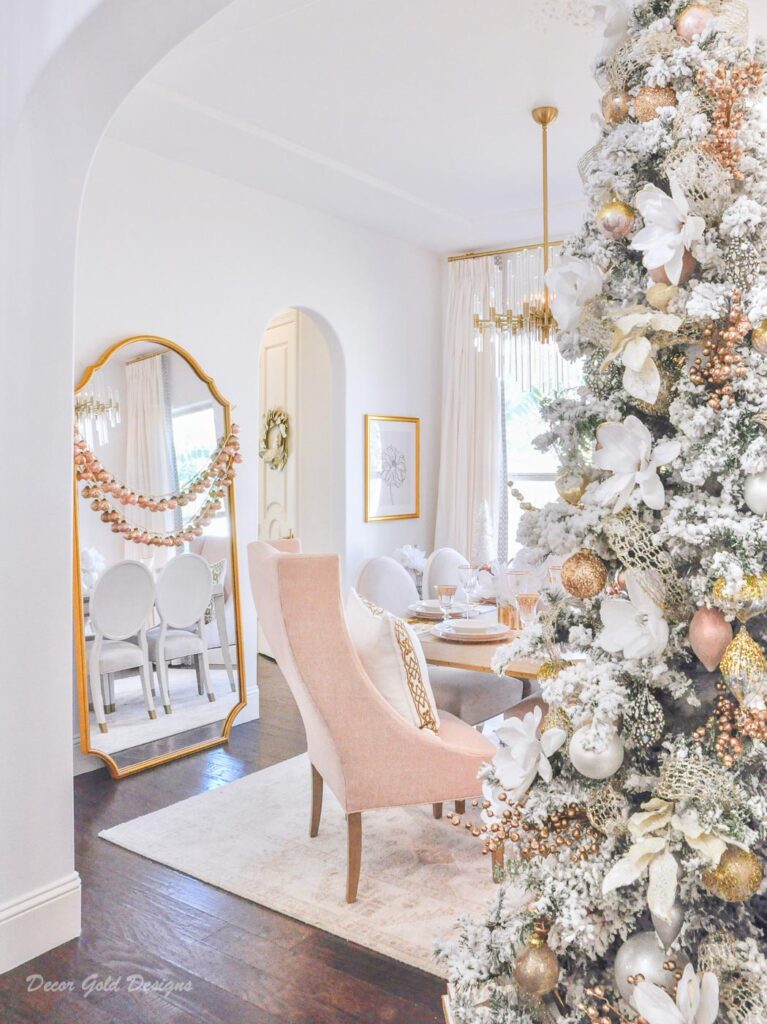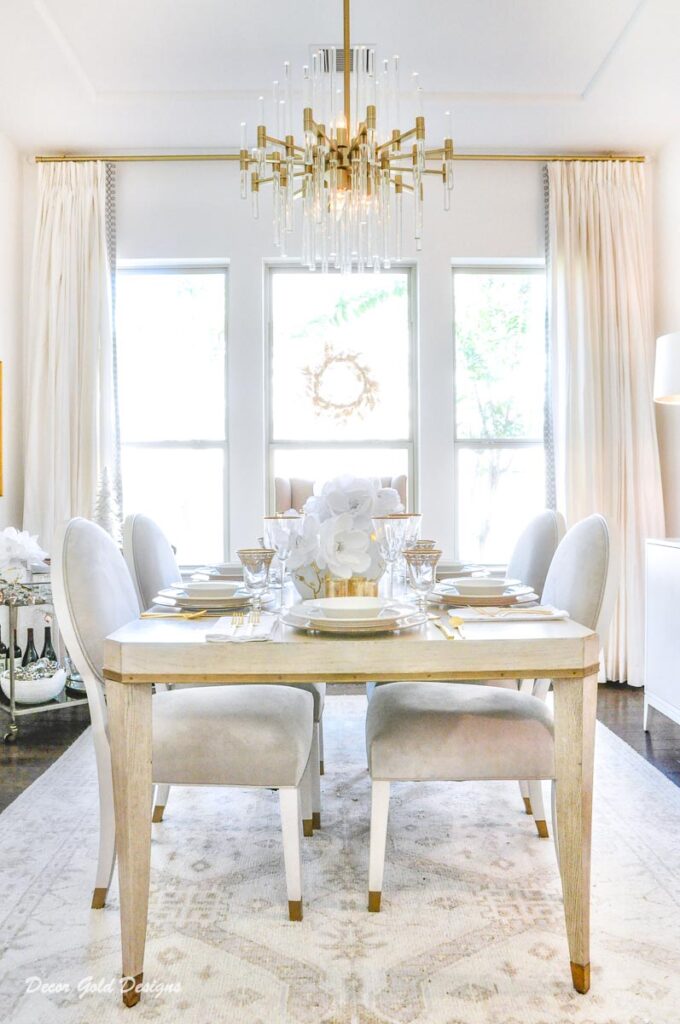 I love having a Christmas tree in our dining room. Eating Christmas dinner with our family under twinkle lights has become a magical tradition. I chose white, rose gold, champagne, gold, and blush colors for our dining room tree this year.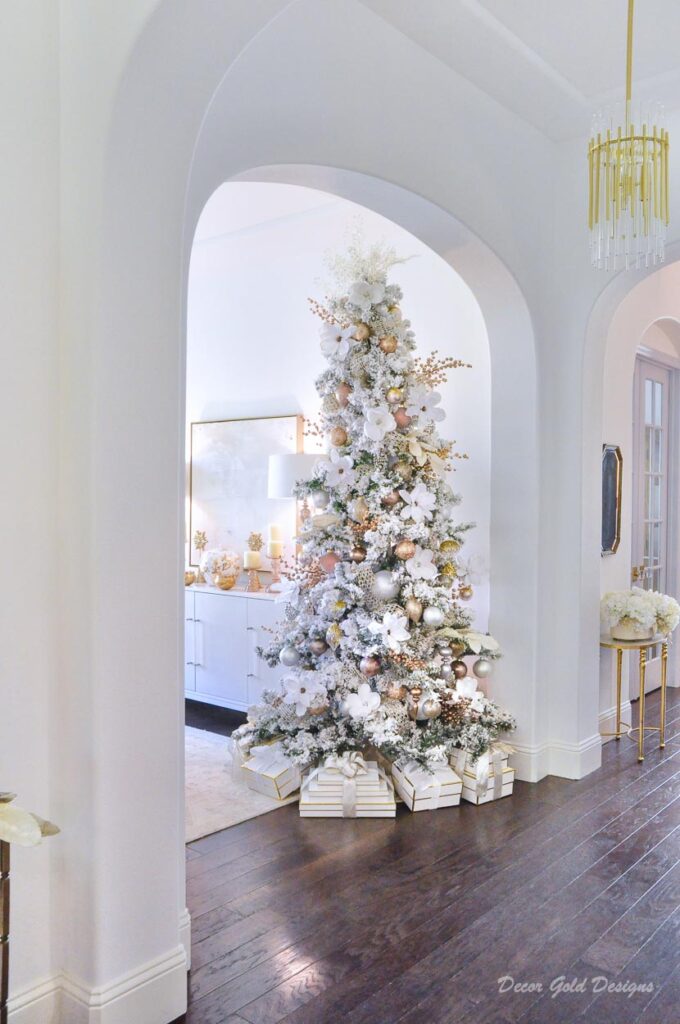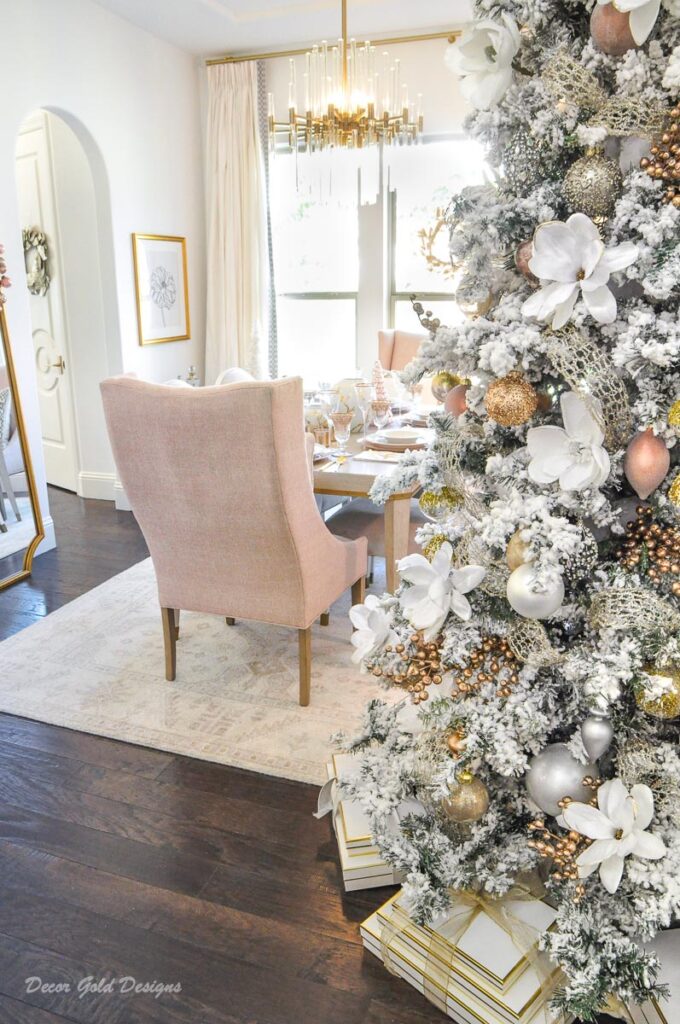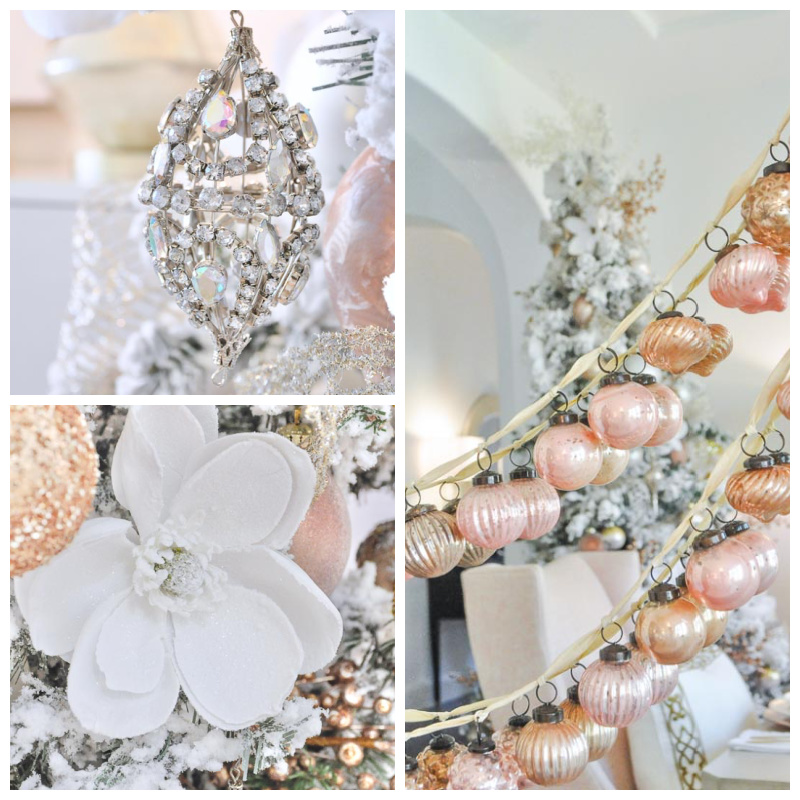 You may remember seeing the details of our dining room tree earlier this season here, but as a reminder, many of my most beautiful ornaments are from Frontgate. Frontgate is my favorite source year after year for gorgeous, high quality, embellished ornaments. I can hardly wait to see their new designs each year. This year, I added the Silver Bells Ornament Set, Kismet Jeweled Ornaments, Gold Sequin Tiered Accent Ornaments, and Crystal Snowflakes. They are all heirloom quality and will be cherished for years to come.
At dusk, the tree is even more magical. I love the warm lights, especially with the colors I've chosen for this tree.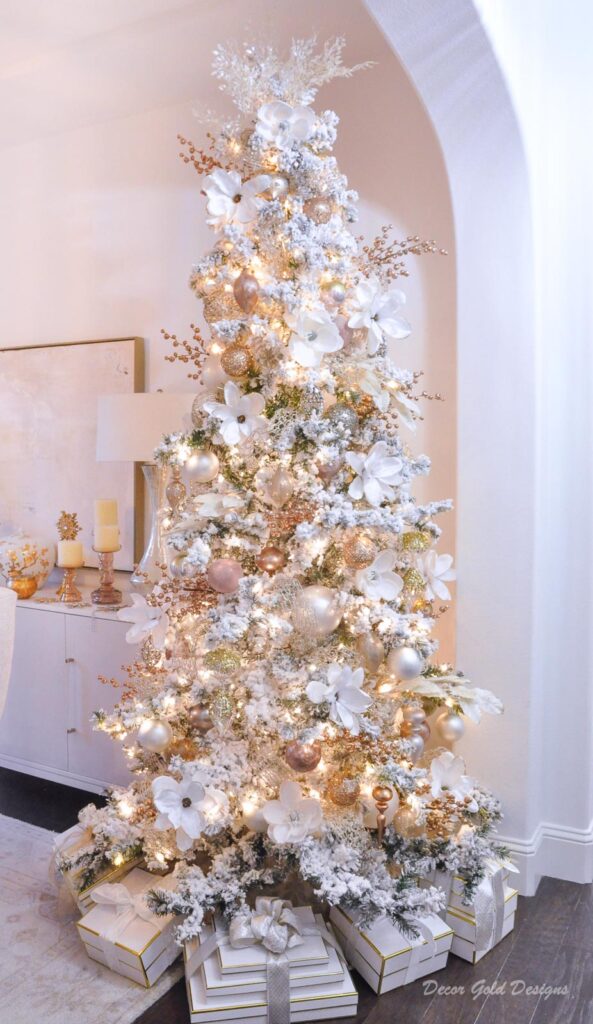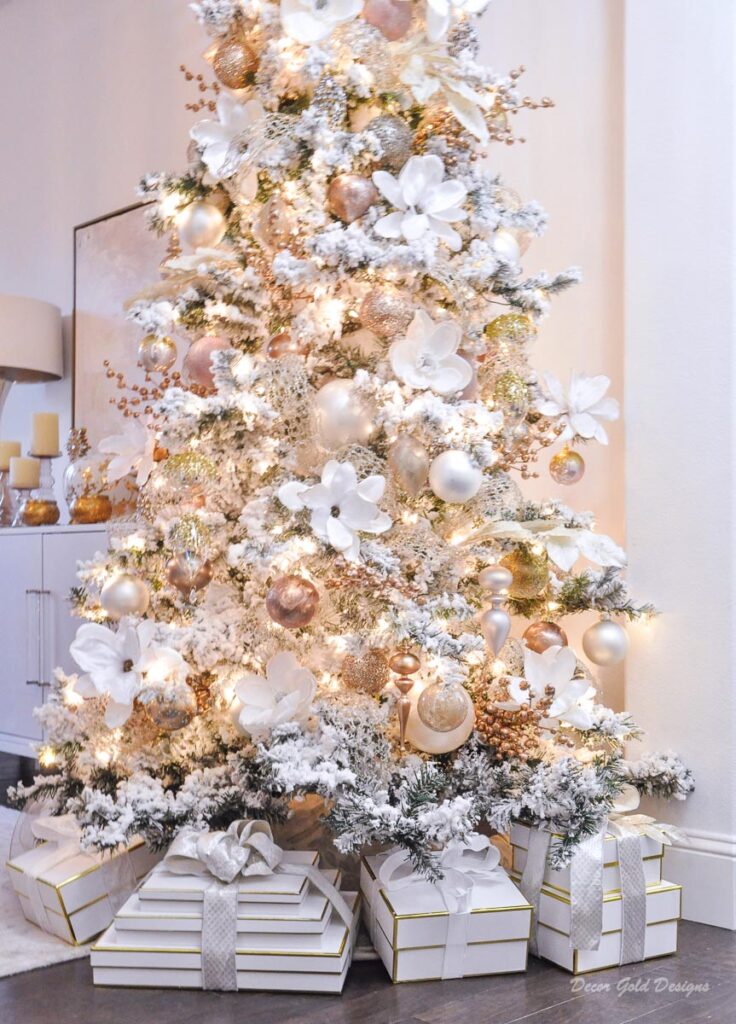 Our table follows the same color scheme as our tree.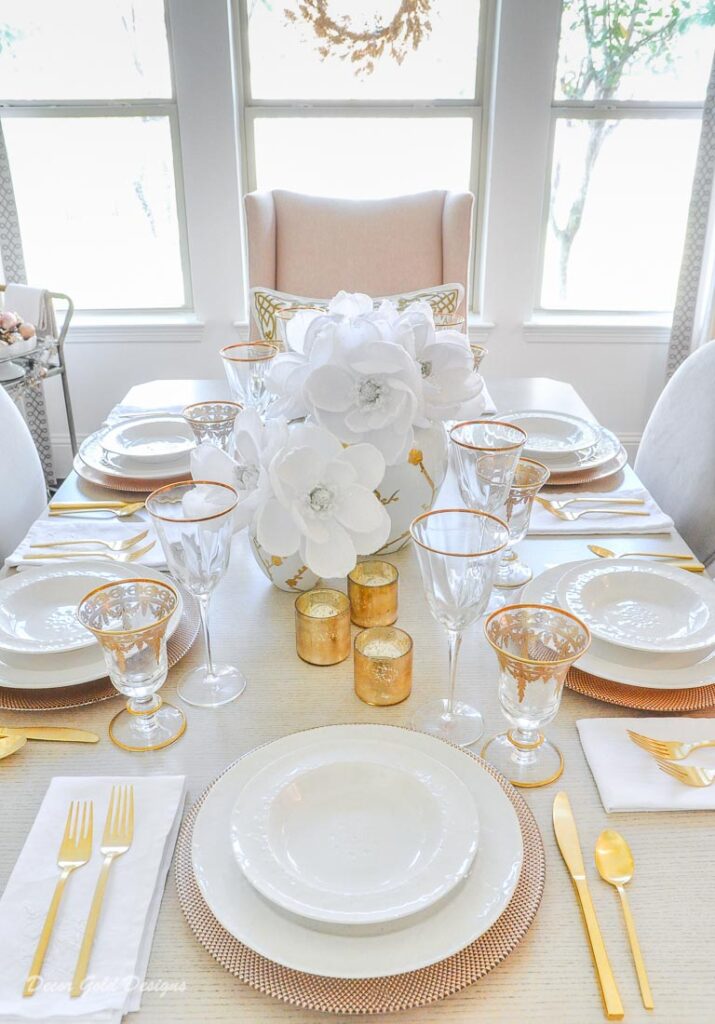 The star of the show is this simple, yet elegant centerpiece. A gold and white vase in medium and small, overflowing with snowy magnolias is perfect for Christmas. I added 3 rose gold votives to each side to complete the look.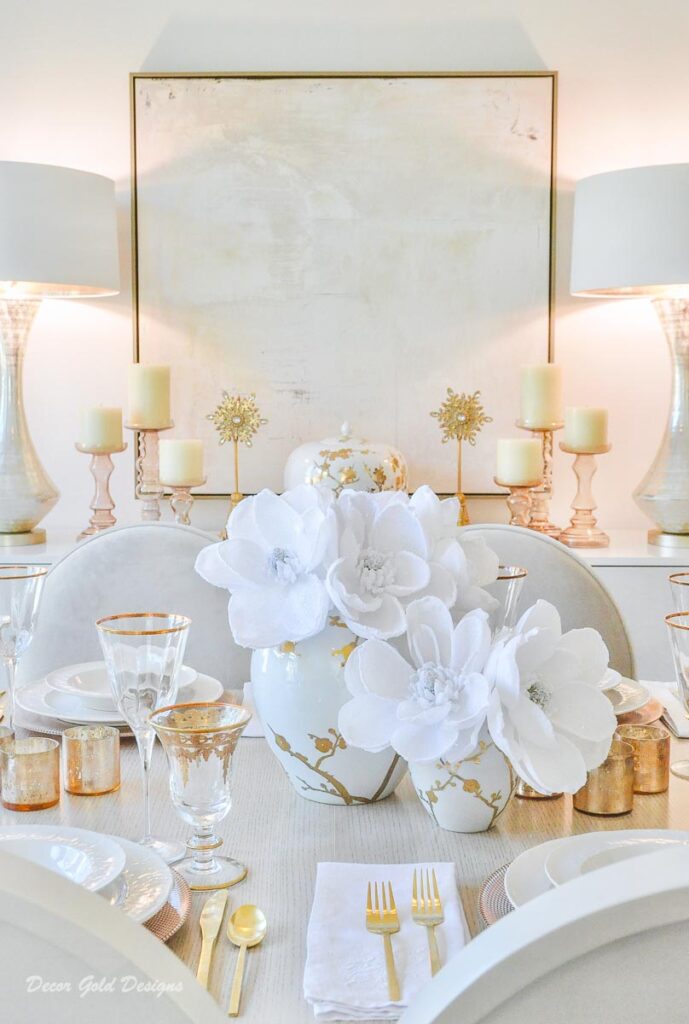 Blush chargers and white dinnerware allow my gold-toned flatware to stand out.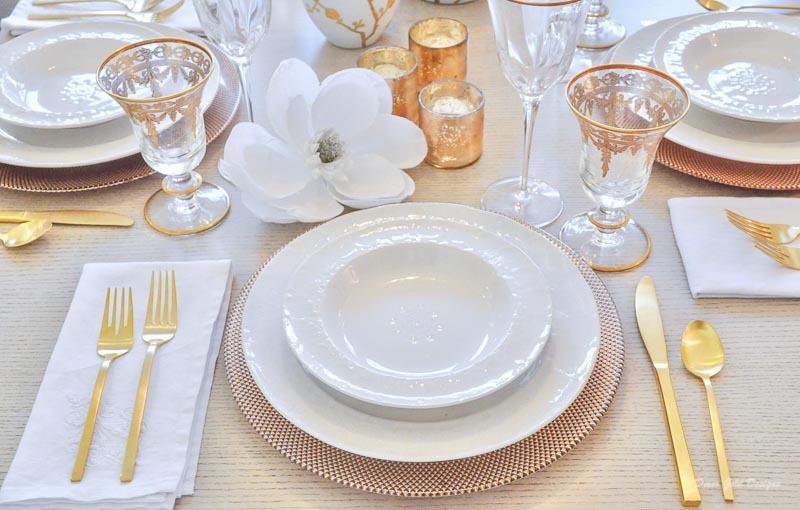 A pair of gorgeous Frontgate pillows add a touch of gold to the end chairs. They have the prettiest embroidered design.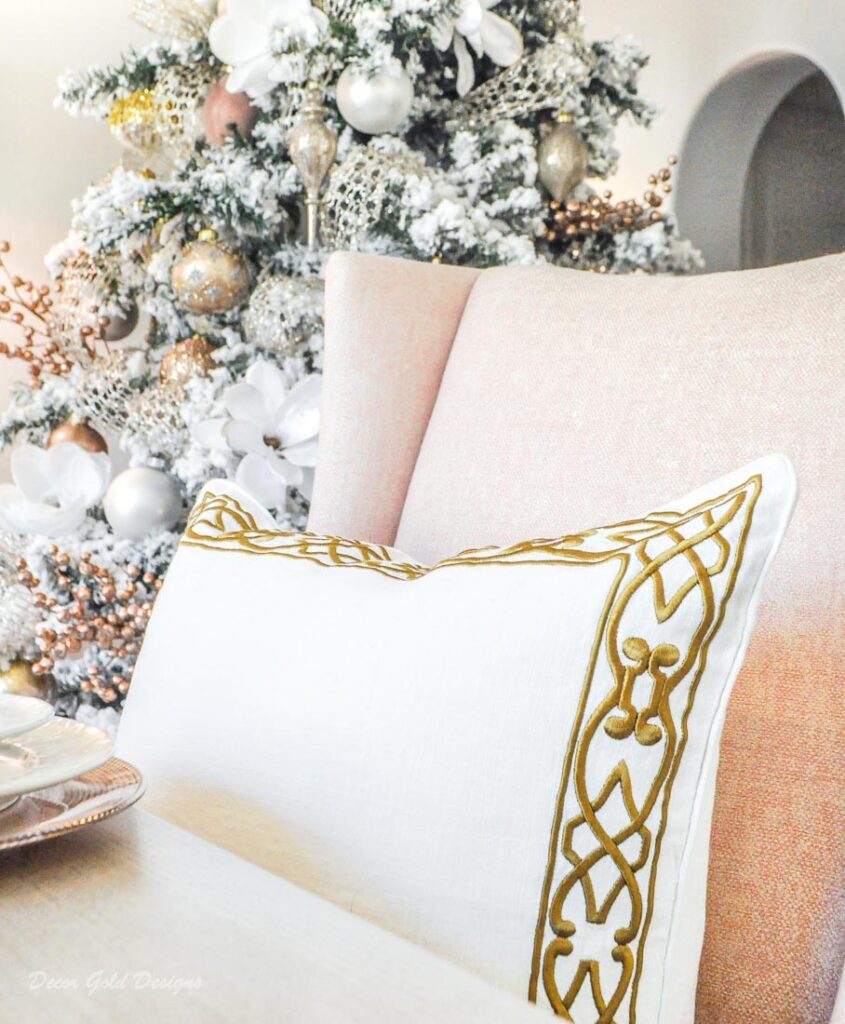 On our sideboard, eye-catching Jeweled Snowflake Tabletop Decorations, a ginger jar, and candles add gold accents.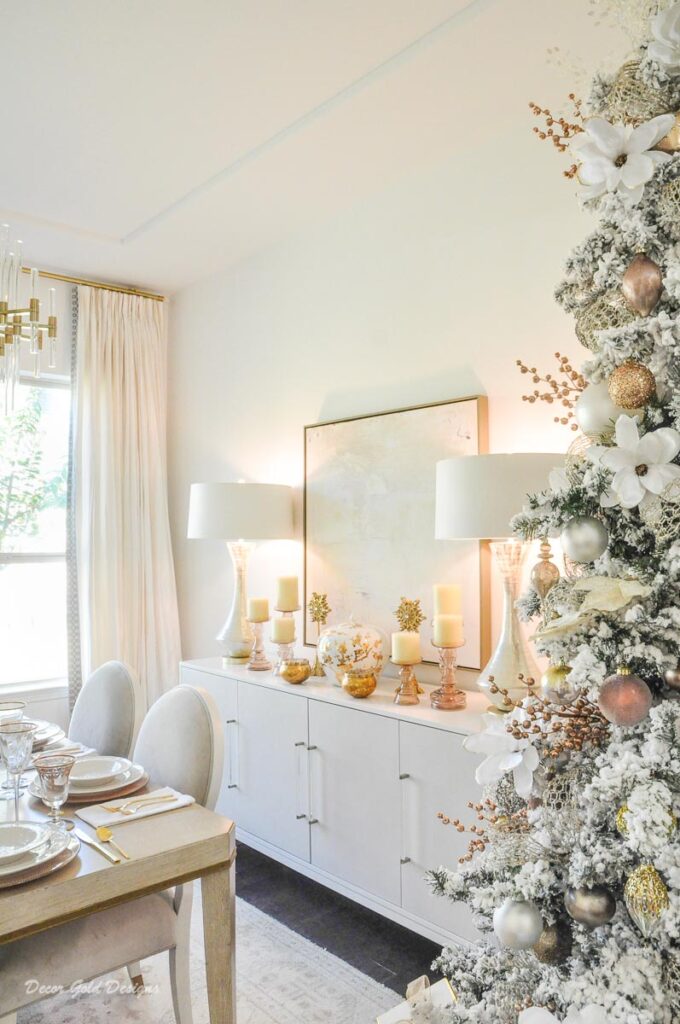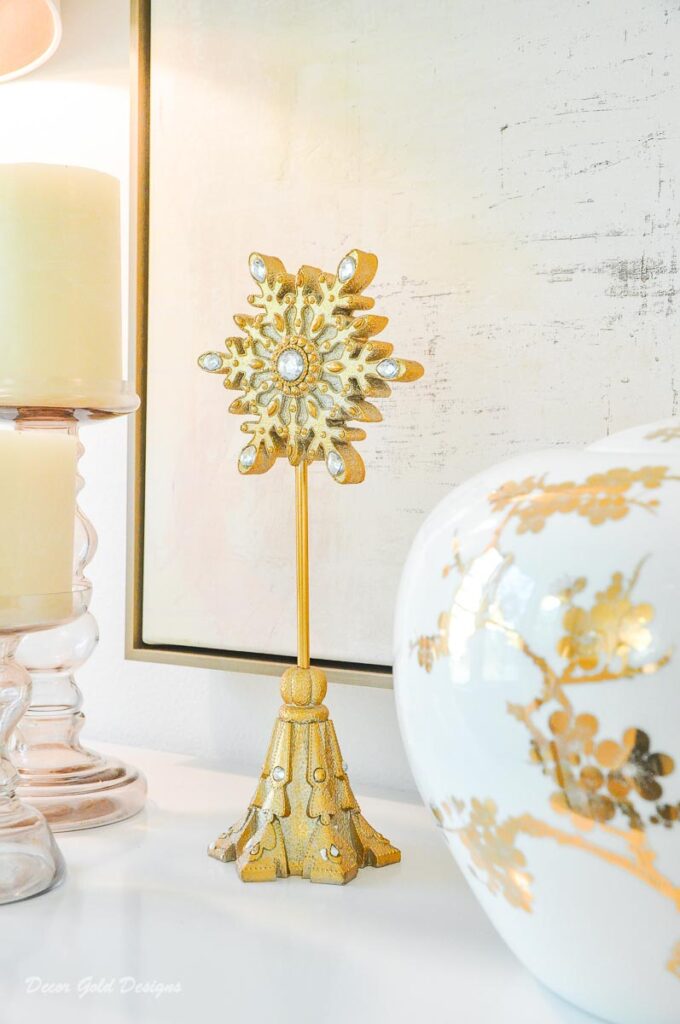 Just two strands of garland made of blush ornaments dressed up our mirror.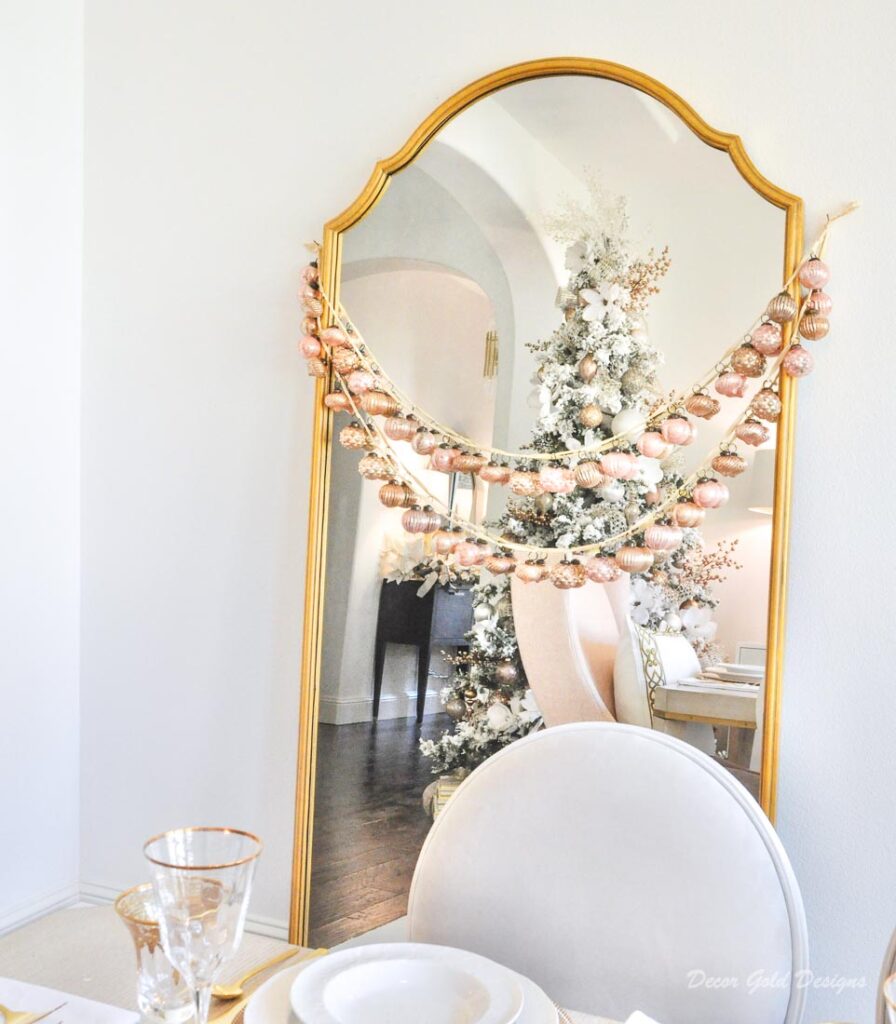 Last, an additional Frontgate vase and magnolias plus a bit of tinsel garland gave our bar cart a festive vibe.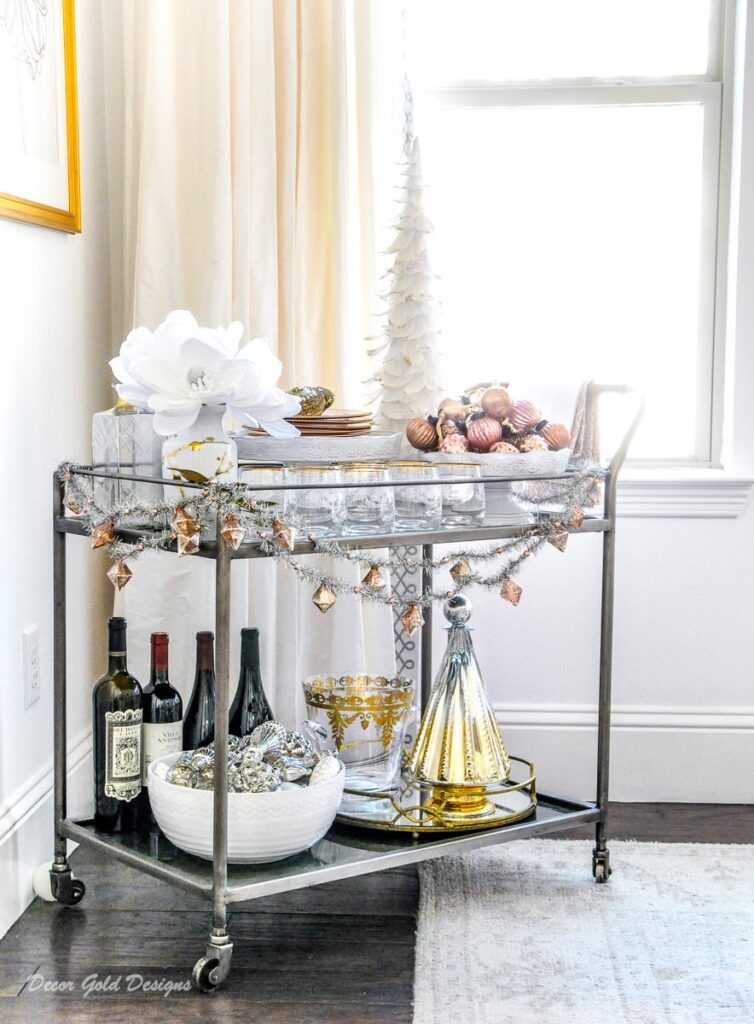 I managed to catch sweet Bailey in front of our tree. We are looking forward to Christmas with him, Ava and our kids.
Wishing you and your family health and happiness this Christmas and beyond!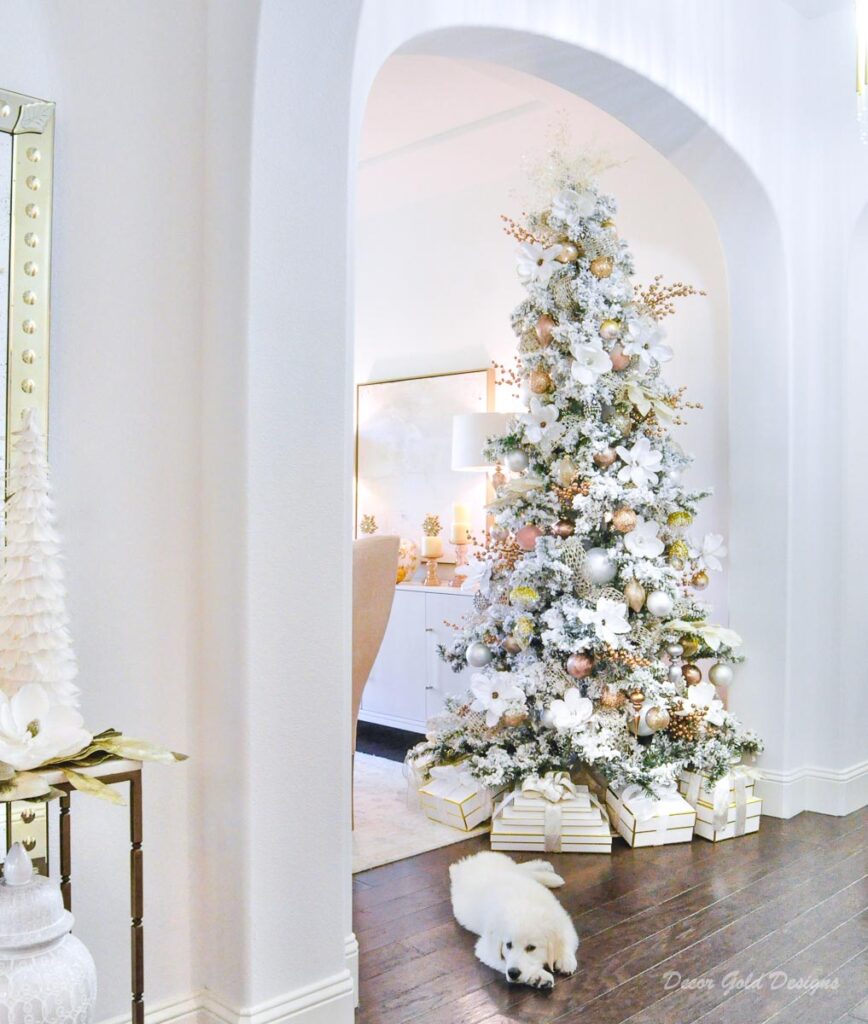 Chandelier | Table (similar) | Side Chairs | Sideboard | Rug | Rug (similar)
Mirror | Art (similar) | Flower Art
You can find more of our home decorated for the holidays here: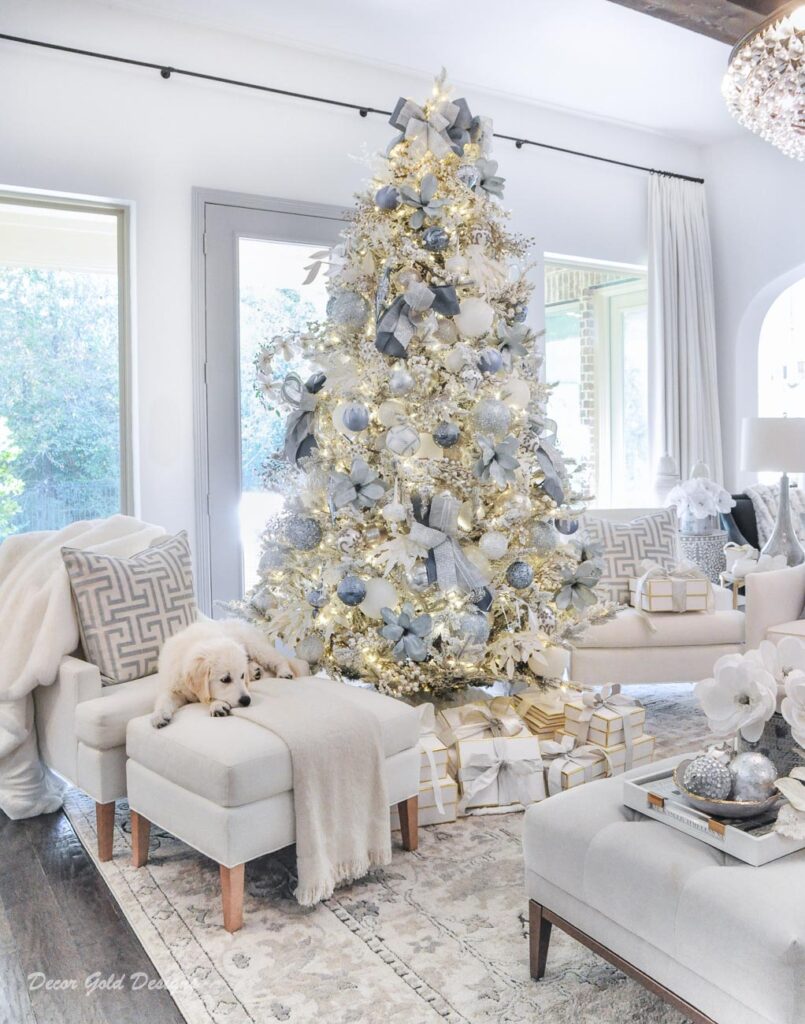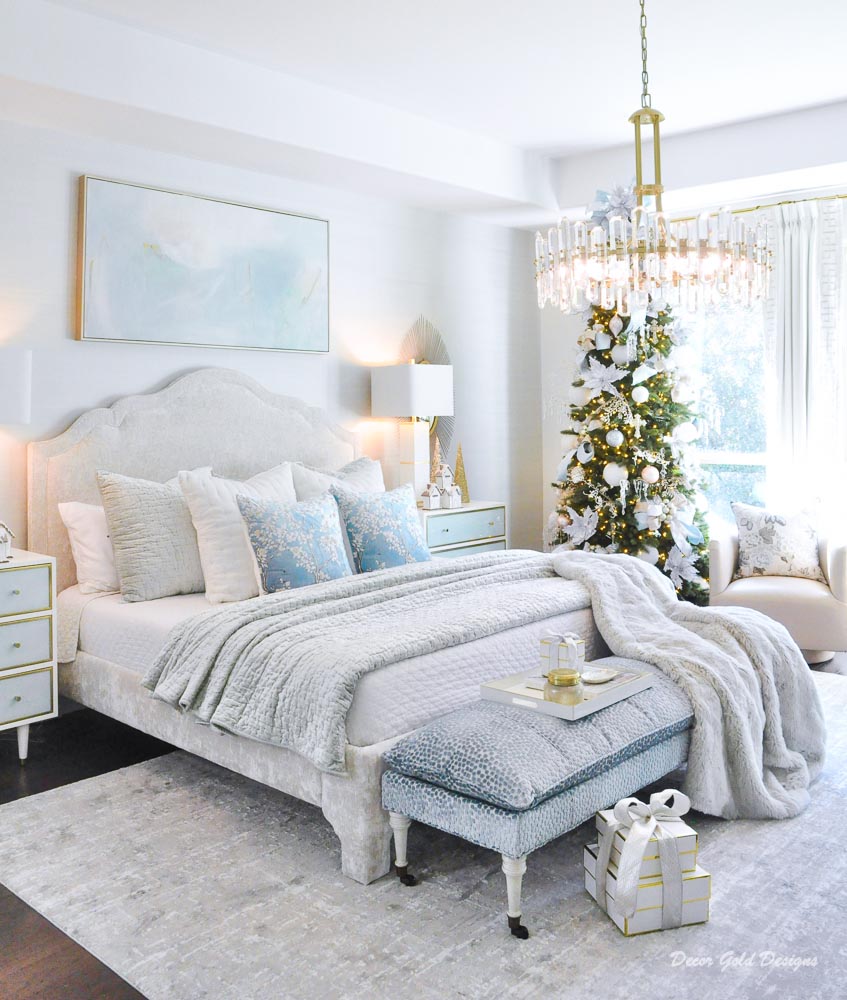 Connect with us here & never miss a post!
Click on the Image to Subscribe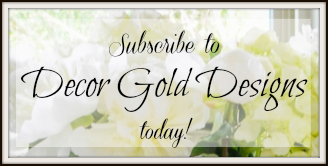 SOCIAL
Instagram | Pinterest | Facebook
Follow me on the LIKEtoKNOW.it app!