When it is time to start decking the halls, our Christmas trees are the place I always start. The second they go up, they evoke those feelings of Christmas magic and holiday cheer. Their lights bring warmth and coziness to our home and make us feel childlike in the best way possible.
I know many of you are decorating a little earlier this year, so I thought it would be fun to share all of our trees before my first Christmas room tour. Details included!
This post contains affiliate links. Read our disclosure here.
Living Room Christmas Tree
What would a holiday living room be without a Christmas tree? I adore a flocked tree dripping with ornaments. For my main tree, I chose a soft blue color scheme to compliment my neutral metallic tones that I use year after year. To say I'm in love would be an understatement!
Before I share the details of this tree, I want to share what is under it….
Christmas came a little early this year in the form of this 23-pound fluff ball. His name is Bailey and we could not love him more. Luckily, he is happy to pose for me, which makes for a cuteness overload too. You'll definitely be seeing more of this sweet little guy soon.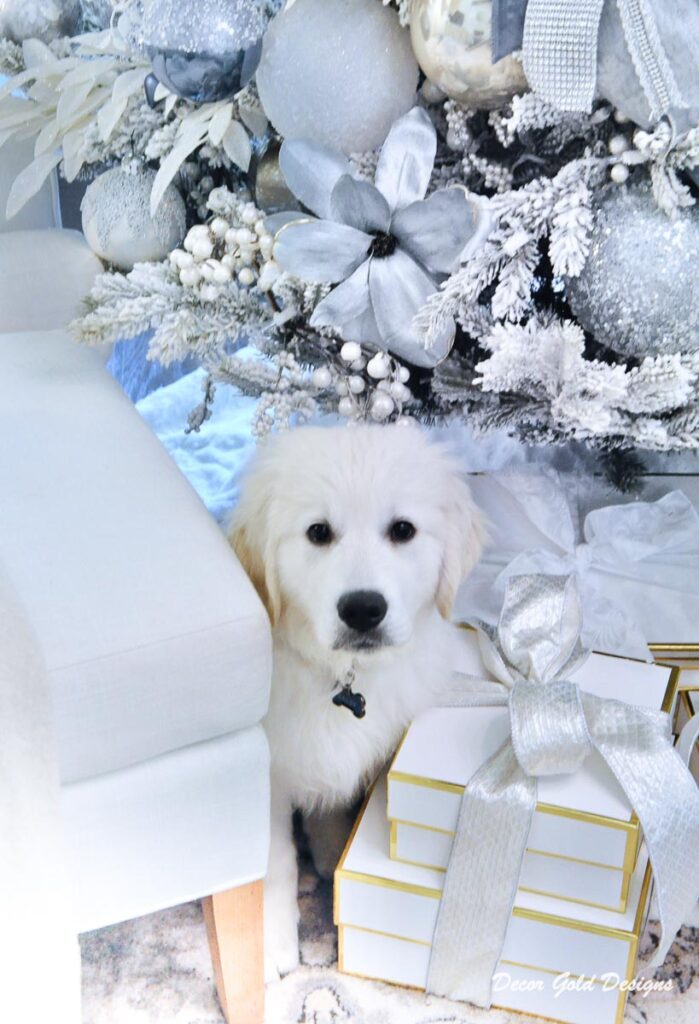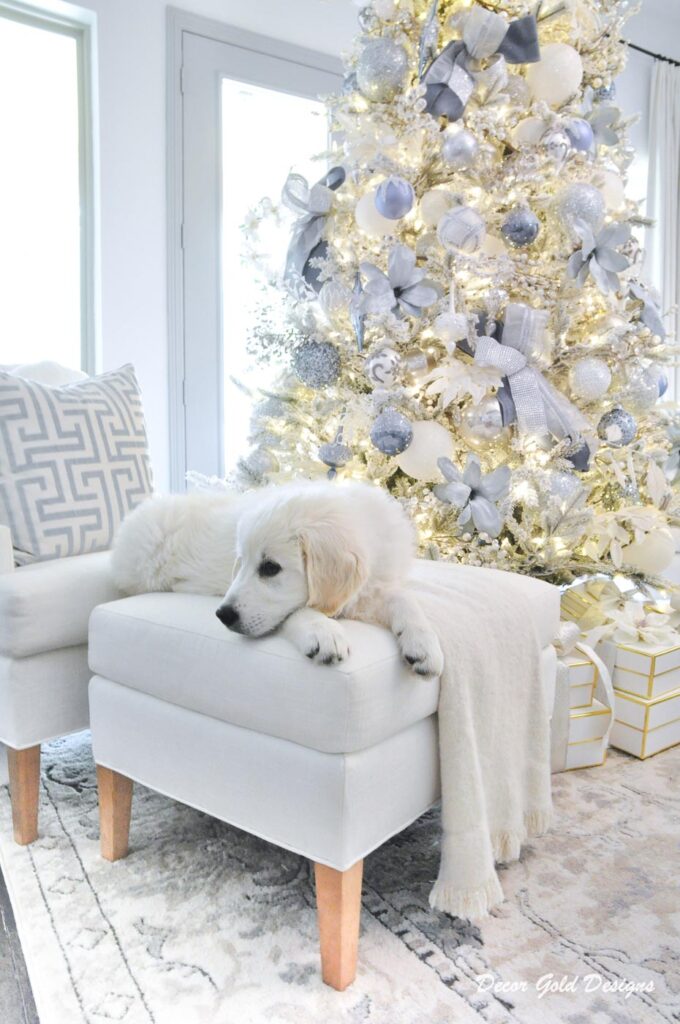 Back to our trees……
I love for each room to have a color scheme. I planned to use this soft blue color scheme in this space last year, but I am so glad I waited. It is beautiful and calming and we all need as many calming elements as possible this year, right?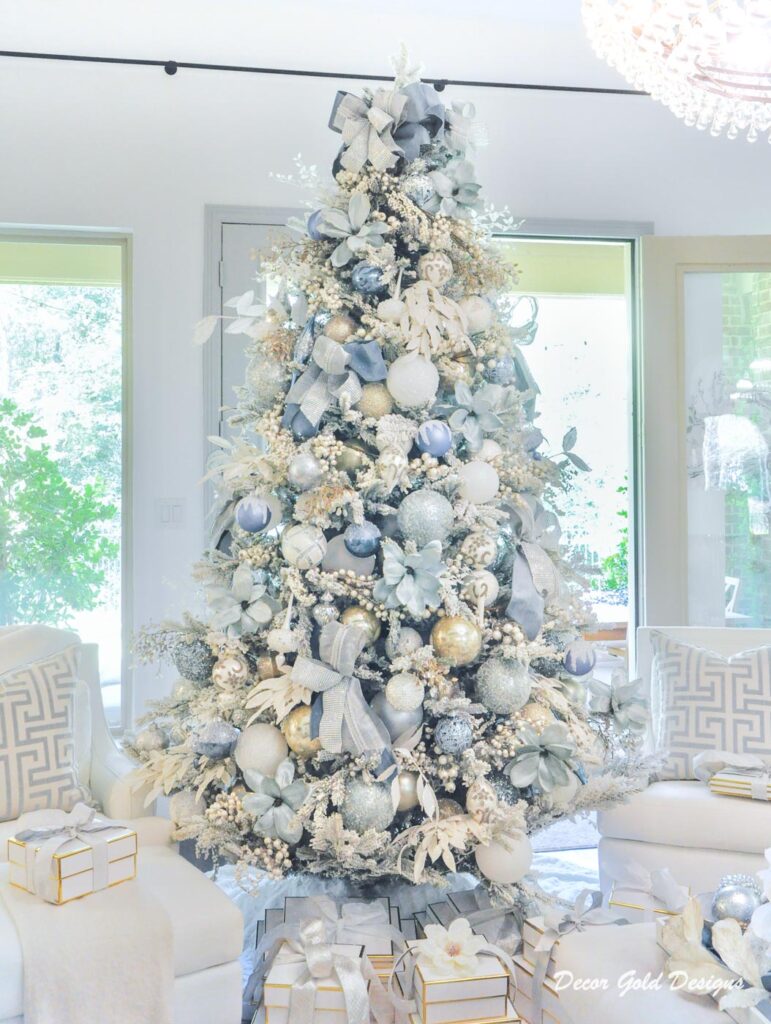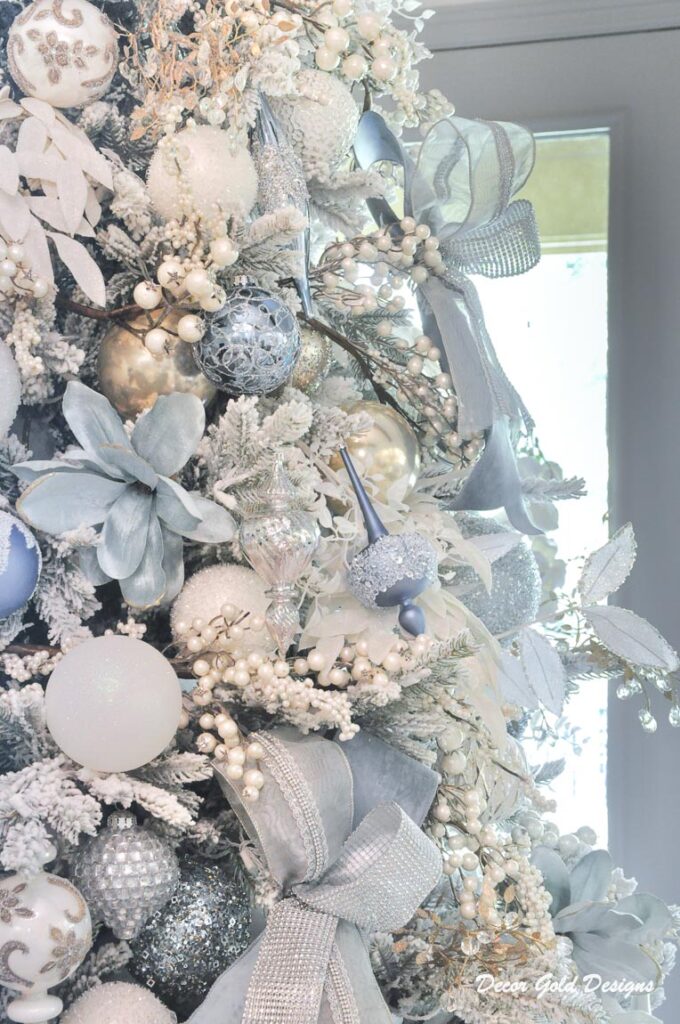 When planning my holiday decor, I always want our home to flow from space to space. My Christmas trees help with creating that flow. I'll share more about that later this week.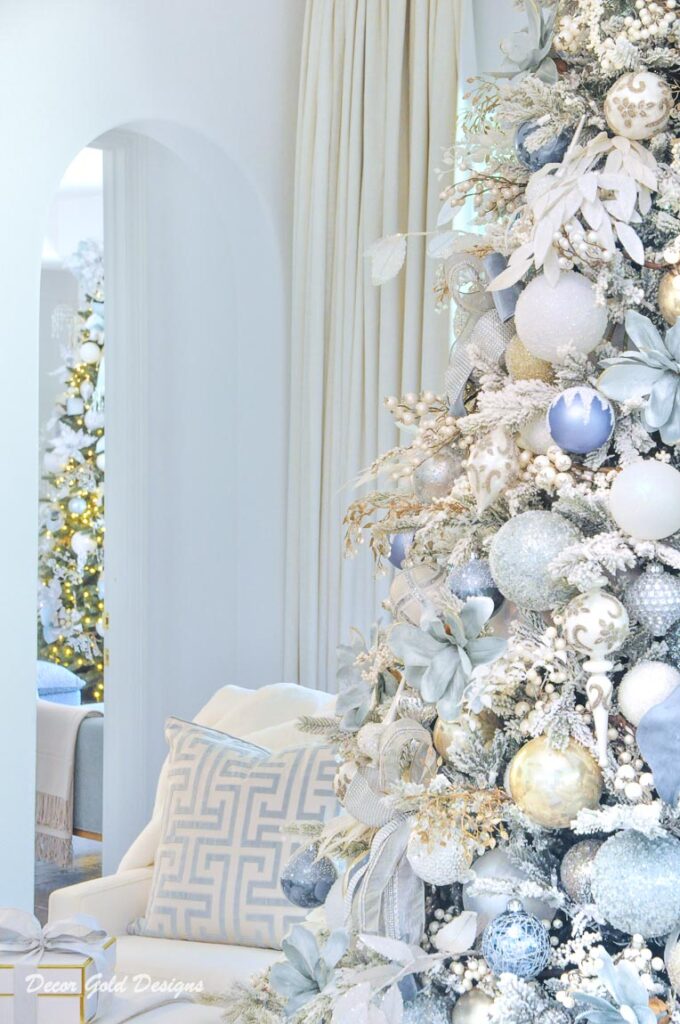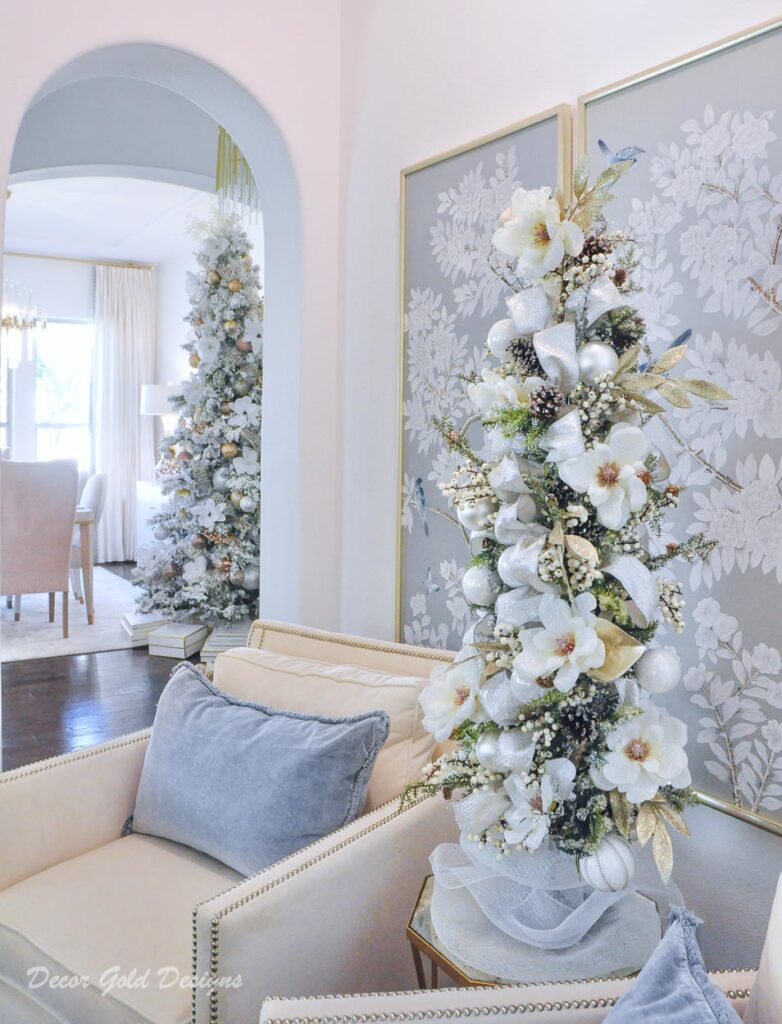 Dining Room Christmas Tree
Our dining room is one of my favorite spots to place a Christmas tree. This year, I wanted a sophisticated look and found my inspiration in the Silver Bells Ornament Collection from Frontgate. Frontgate always has such luxurious ornament sets and this set, with 40 gorgeous ornaments is no different. I love that they offer sets that include a variety of stunning designs that coordinate perfectly!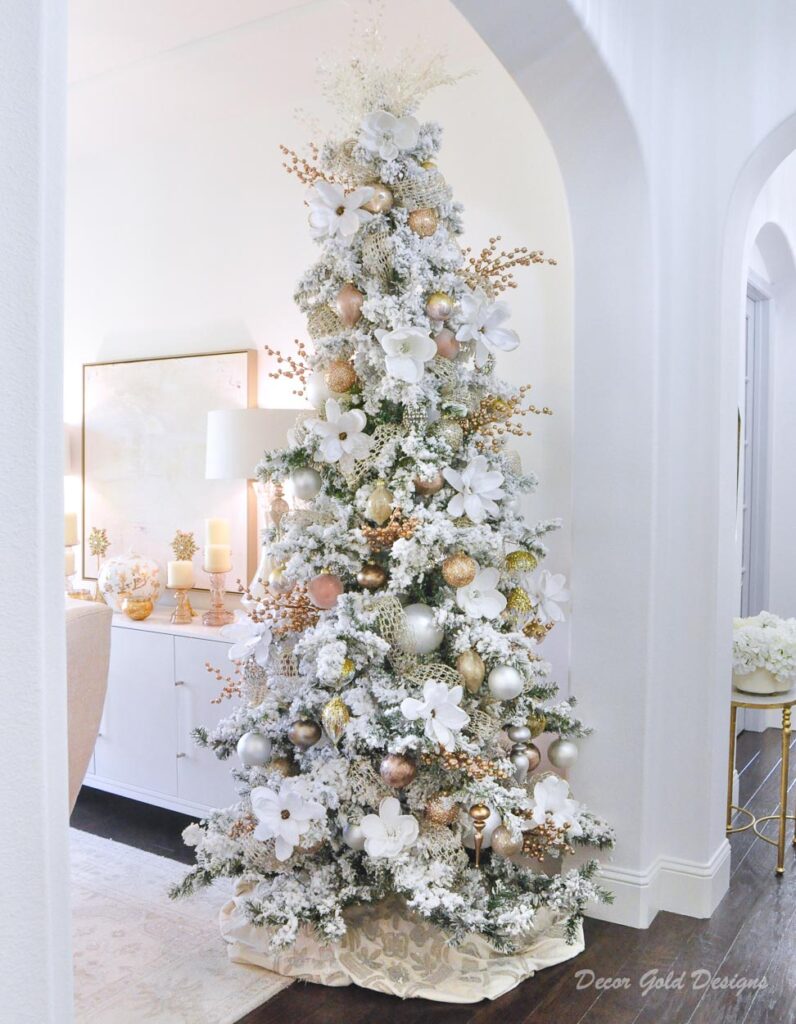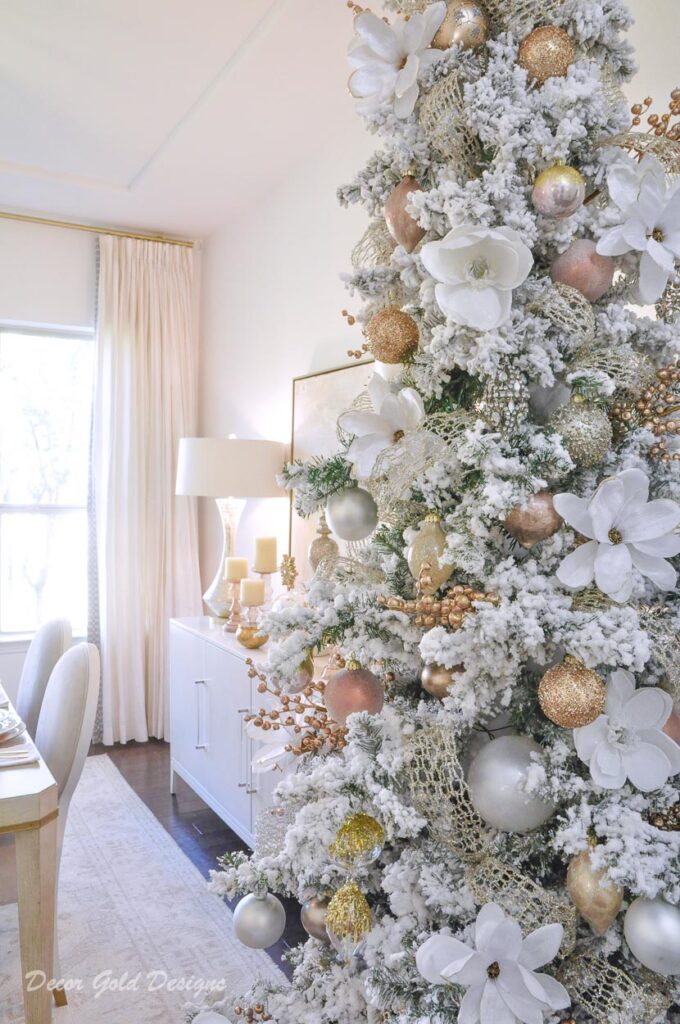 In addition to the Silver Bells set, I added beautiful opalescent glass ornaments with gold sequins and jeweled ornaments for an extra bit of glamour. Stay tuned for much more on this space!


Silver Bells Ornament Collection
Gold glass ornament (set of 3)
Silver ball ornaments – medium, large
Bedroom Room Christmas Trees
A pair of tall Christmas trees with pastel trimmings frame our bedroom windows. My friend, Jenny Tamplin from Jenny Tamplin Interiors and Coterie Home designed the look for our trees again this year. In case you missed our 2019 master bedroom Christmas trees, they can be found here.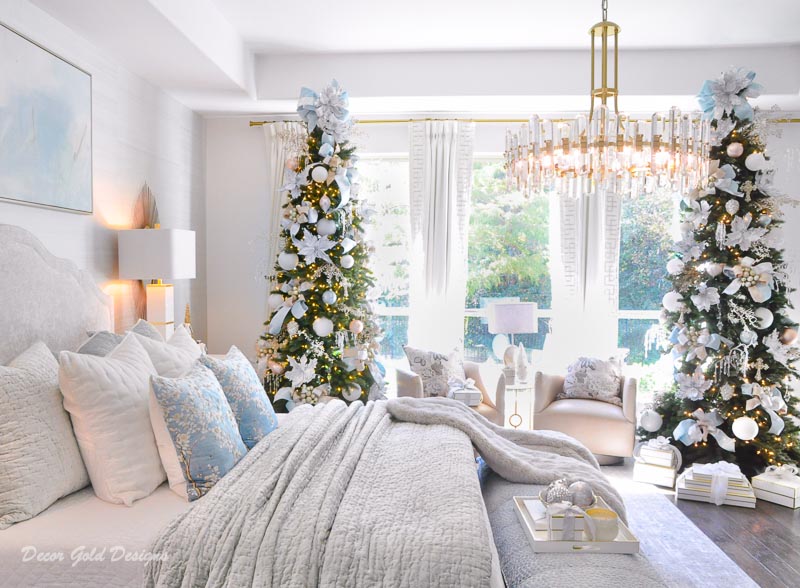 Have you seen our recent Southern Glam Master Bedroom Reveal? If so, you know these Christmas trees are the perfect compliment to this updated space. With their soft colors, the ornaments look as if they were made for this space.
You can find everything at Jenny's online store, Coterie Home. It is an amazing source for unique and beautiful Christmas decorations! I love the look Jenny put together in here for the holidays this year. Additionally, I was so impressed that it only took her a few hours to decorate both trees!
I have listed the items you'll need to create a similar tree of your own below.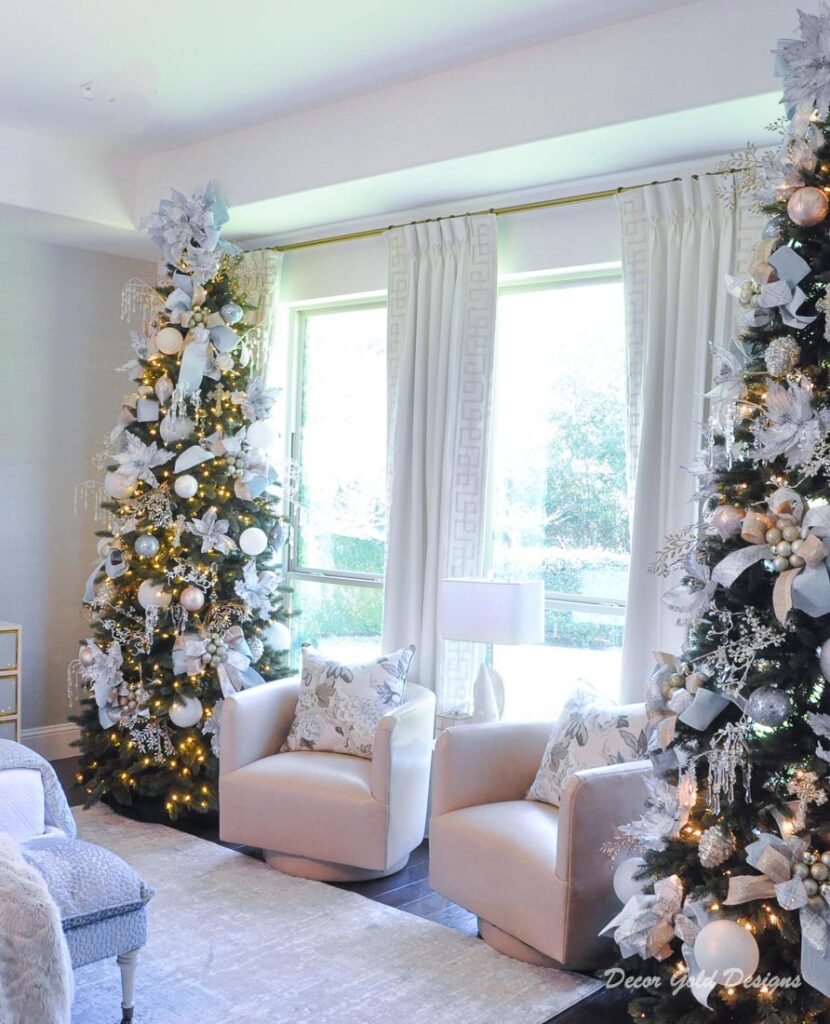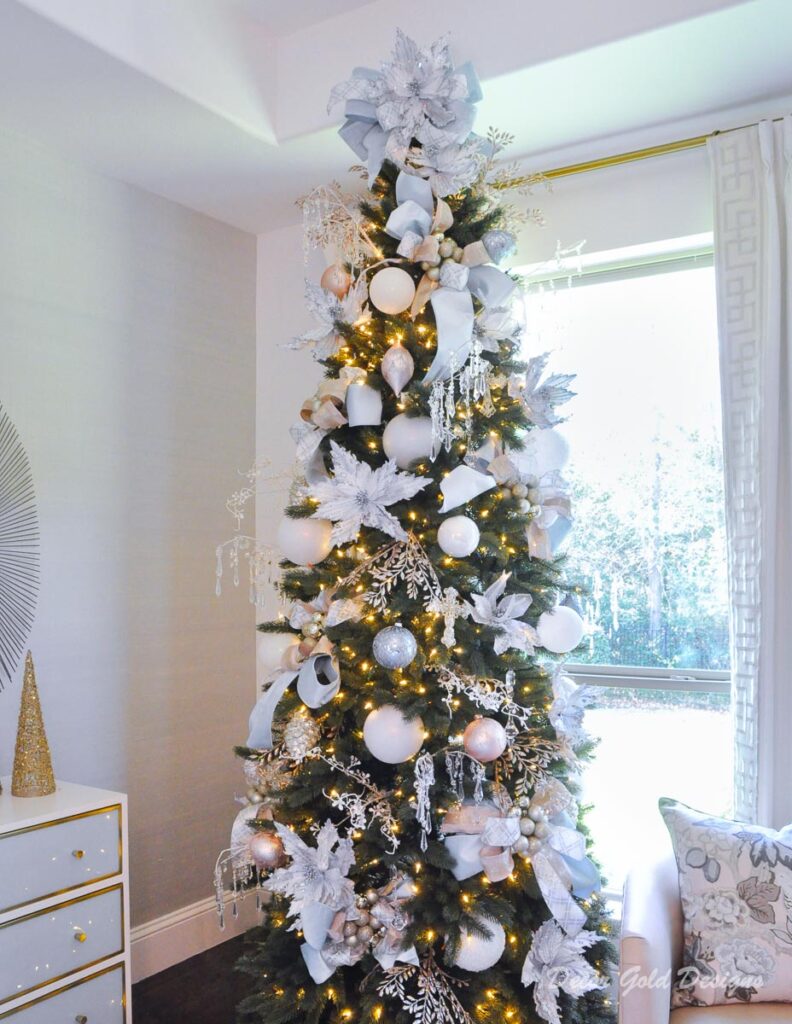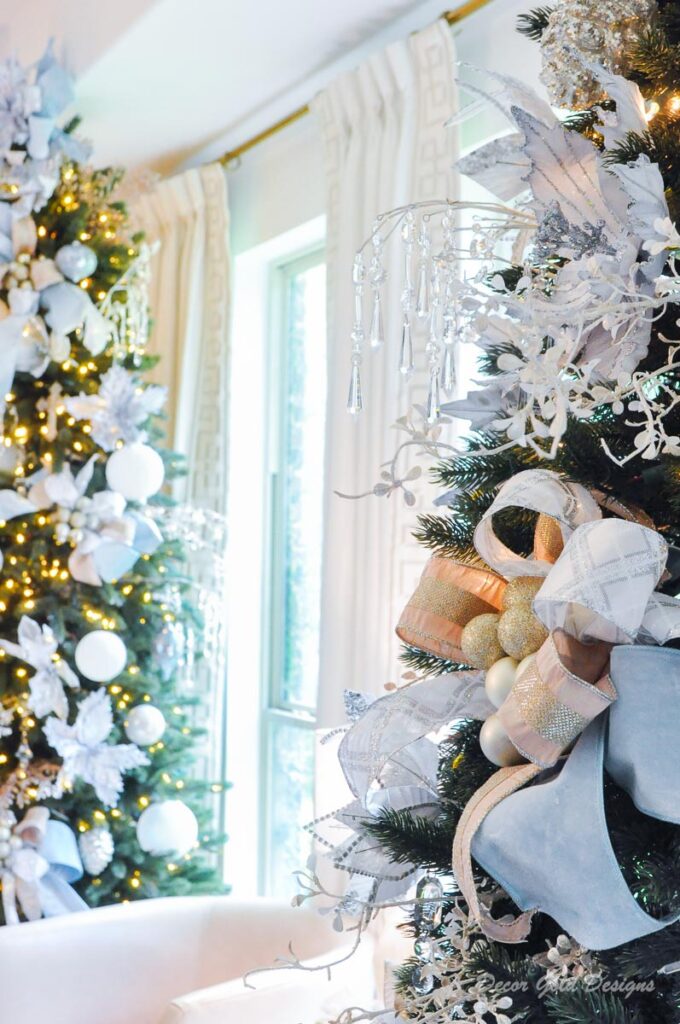 I love looking at the details of the delicate adornments on these trees. The way they sparkle when the tree lights are on at night is nothing short of magical!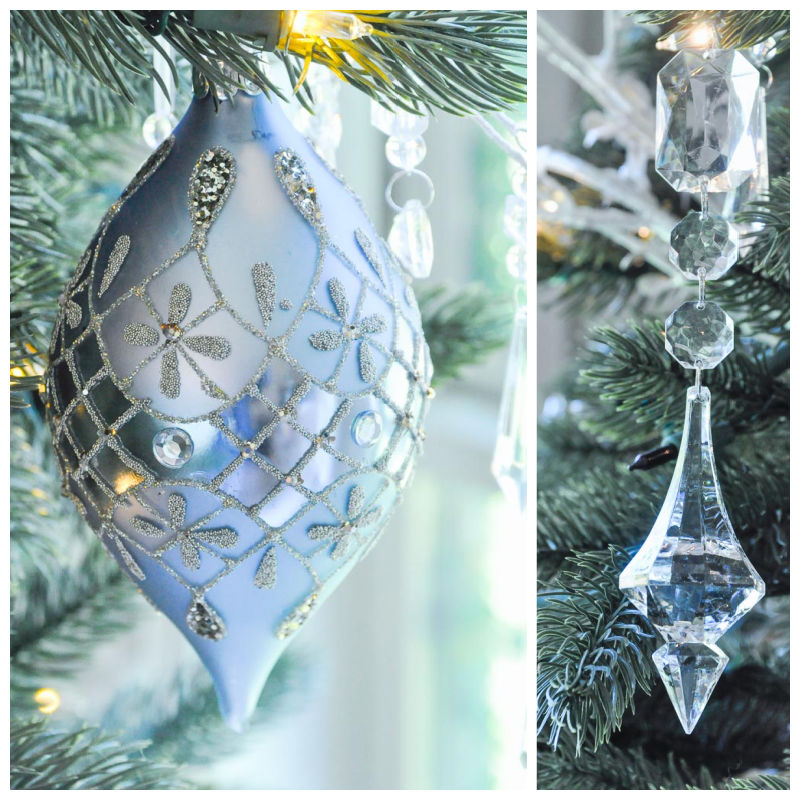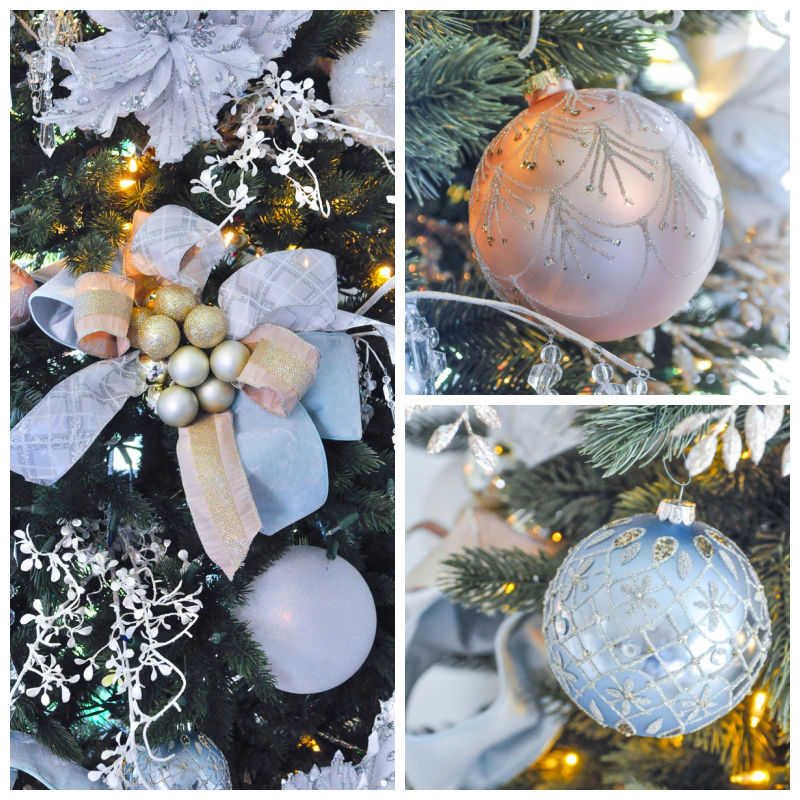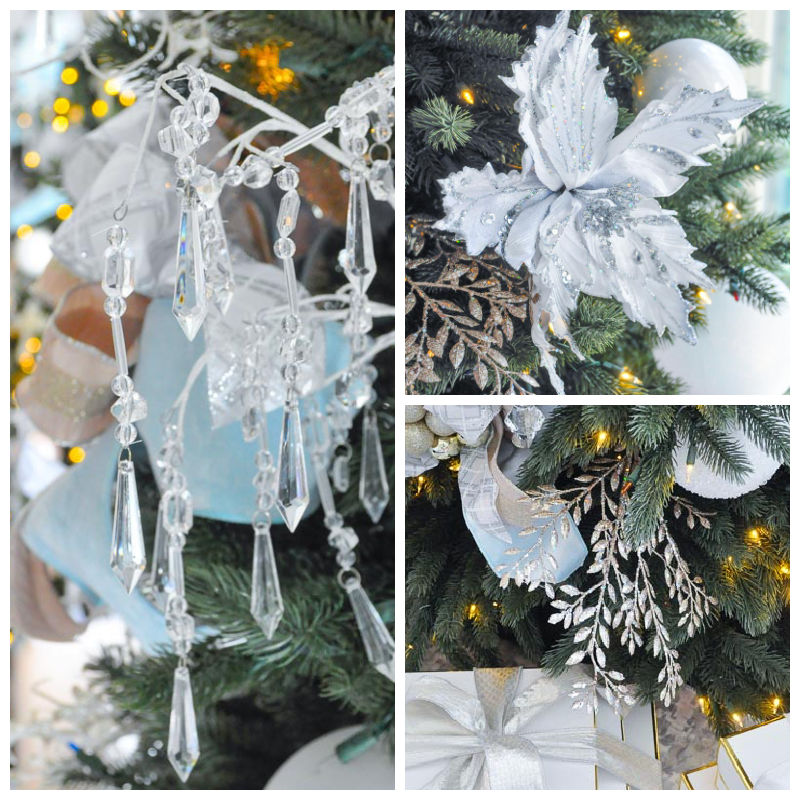 If you don't have a Christmas tree in your bedroom, I highly recommend it. I believe this is our 6th year of this new holiday tradition and I can honestly say, I enjoy it more and more each year!
I'll be sharing the rest of our home and more of our master bedroom decked out for the holidays soon, so be sure and check back or subscribe to our newsletter here!

Silver poinsettias – 6 per tree
Crystal drop branch – 6 per tree
Rose gold jewel spray – 6 per tree
Crystal drop ornaments (set of 3) – 1 set per tree
Blue jeweled ornaments – 3 per tree
Pink embellished ornaments – 3 per tree
Sequin balls (5″) – Use these to fill gaps
Sequin balls (6″) – Use these to fill gaps
OR you can find most of the items here or even purchase a Decor Gold Tree Kit!
Here's one more pic of our little (actually big) love bug.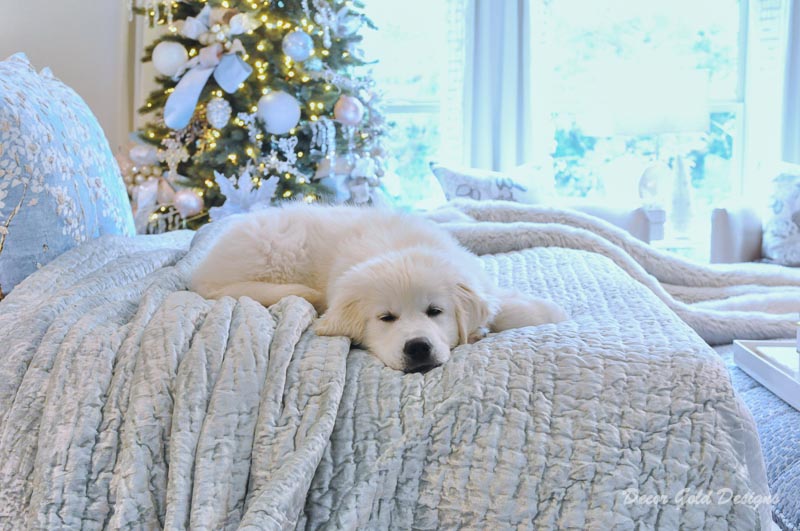 A special thank you to Jenny Tamplin from Jenny Tamplin Interiors and Coterie Home for contributing their talents and beautiful products. Introducing them to you all has been such a pleasure as I LOVE to share sources with gorgeous, high-quality home decor items!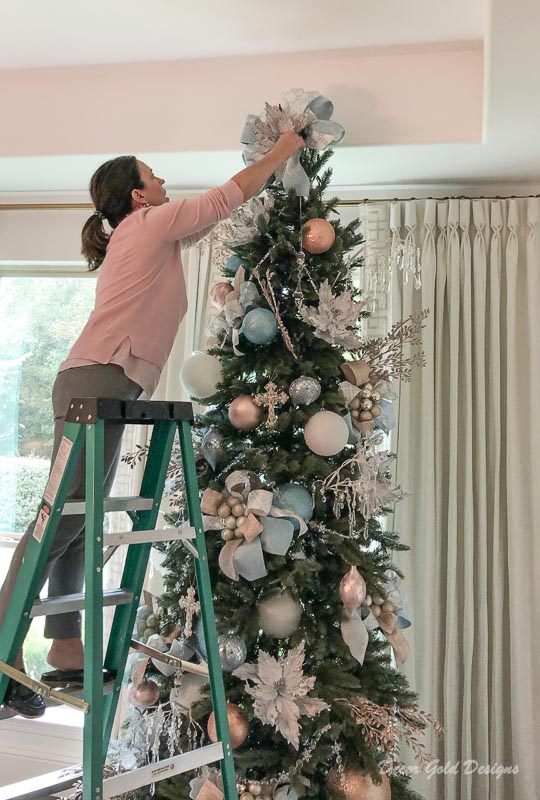 Connect with us here & never miss a post!
Click on the Image to Subscribe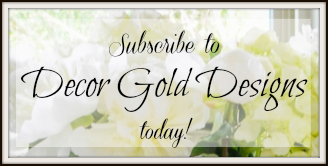 SOCIAL
Instagram | Pinterest | Facebook
Follow me on the LIKEtoKNOW.it app!