I have always loved having a clean and organized closet. It allows for a much more efficient morning routine and even more creativity when planning my outfits. Beyond that, I love making my closet beautiful. When it is neat, organized, and aesthetically pleasing, I feel so happy when I spend time in it.
Over many years of trial and error, I have created an organizational system that truly works. Today, I'll be sharing my secrets with you!  I'm thrilled to be able to create a beautiful, organized closet with you!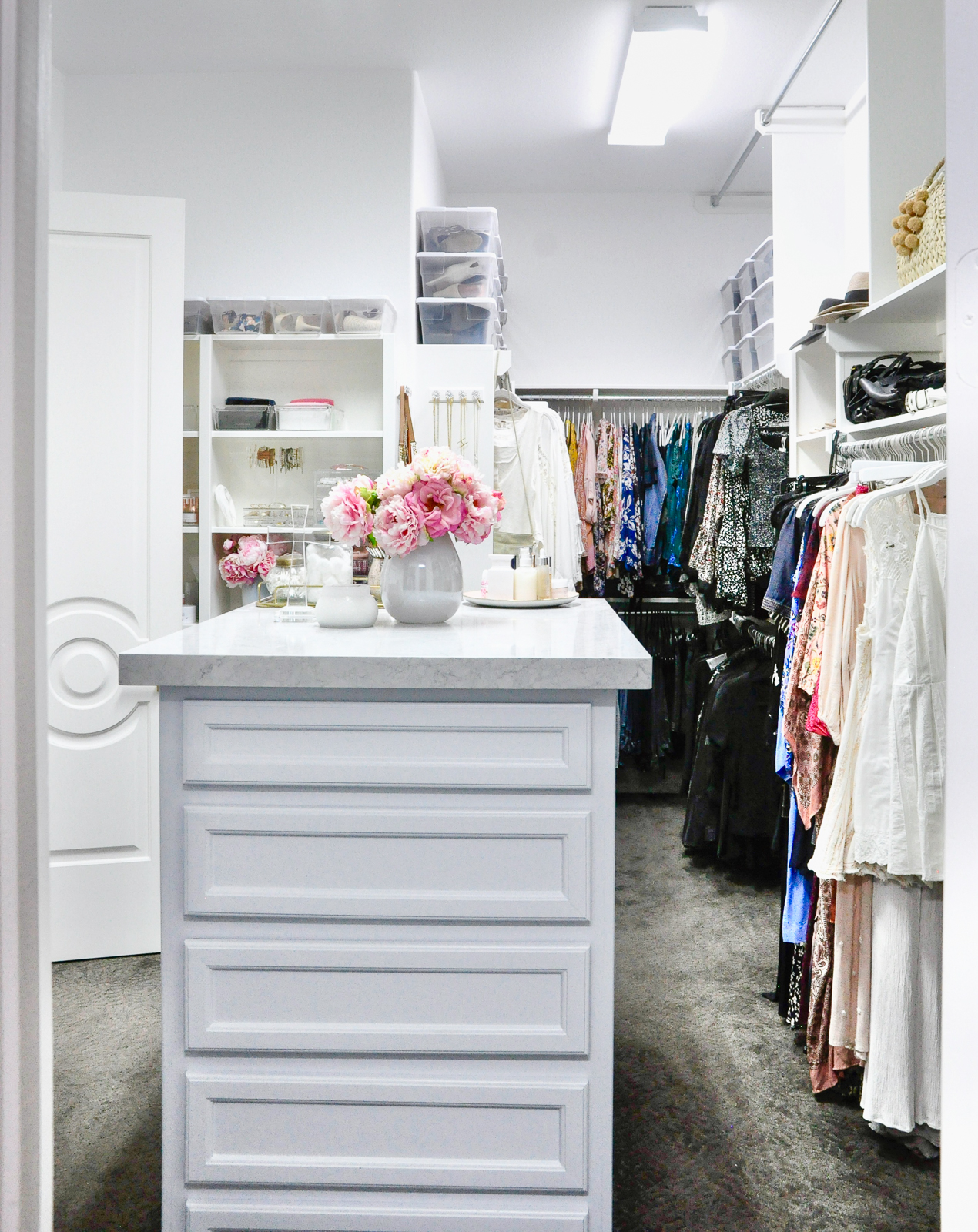 *This post contains affiliate links. You can find our disclosure here.
Declutter
Before you begin organizing your closet, be sure to declutter it. Decluttering will allow you to use your space for the items you love and wear.
First, take everything non-closet related out. These items should be placed in other parts of your home if at all possible.
Next, sort through everything and discard or donate the clothing items you no longer wear. If you have a lot of clothing items, sort one category at a time. It may be less overwhelming to tackle tops, then skirts, then jeans, etc.
Please don't skip this step. If you have clutter or too many items in your closet, it won't attain the level of organization necessary to keep it functioning well.
Clean
Wipe down your shelves, vacuum, touch up paint, and change your light bulbs. We recently had our closet painted white as well. It looks so much better! I highly recommend a white closet for a clean and beautiful backdrop.
Create Zones
To create the most efficient use of your space, you will need to make separate sections for each category. Like items go together. Be as specific as possible and put the things you wear most frequently in the most convenient locations.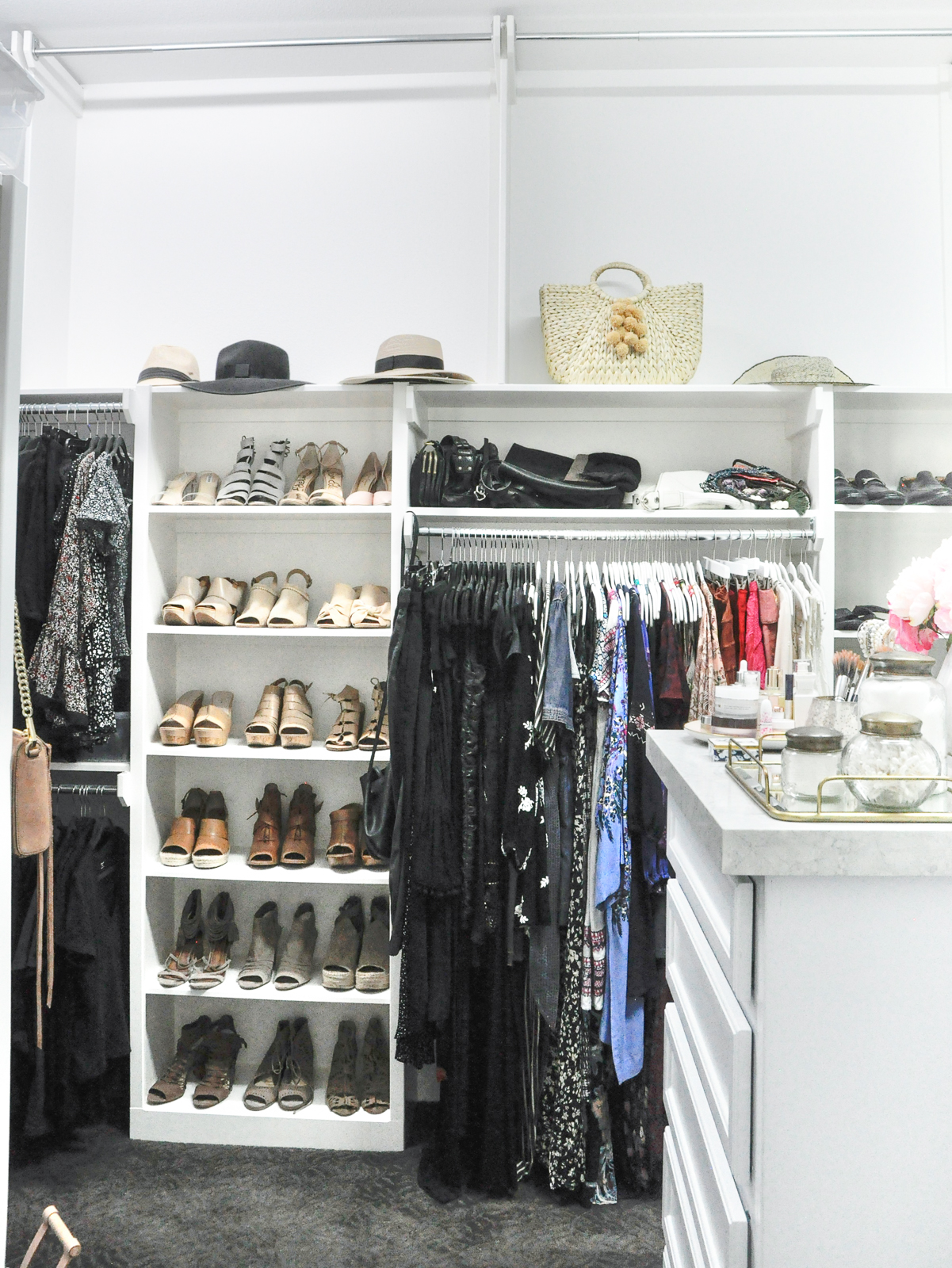 Containers
Plastic boxes, bins, and organizers are crucial to a successful closet makeover. Without containers, staying organized is a losing battle. I am a HUGE believer in all organizational containers, but especially clear containers which allow you to see everything. Adding clear containers in my efforts to further organize my home has made all of the difference in the world. In addition to the convenience of being able to view the contents, clear containers give you a little extra push toward keeping the contents neat. 
Use shoe boxes for out of season shoes and larger ones for bags, scarves, and other bulky items.
Drawer dividers and organizers are also incredibly helpful. 
Coordinating Hangers
Without coordinating hangers, it is impossible to create a neat and beautiful looking closet. Wire hangers from the dry cleaner are not an option. Instead, purchase velvet hangers and sturdy wood hangers for heavier items. 
Recently, I purchased white hangers for all of my clothes. I found that on only the black pieces, the white hangers bothered me visually. My solution…I added black hangers for my black clothes and use my white hangers for whites and colors. 

Color-Code
Color-coding will look more beautiful and it will help you find things more easily. In the proper color order, face clothes the same direction, toward the front of your closet if possible.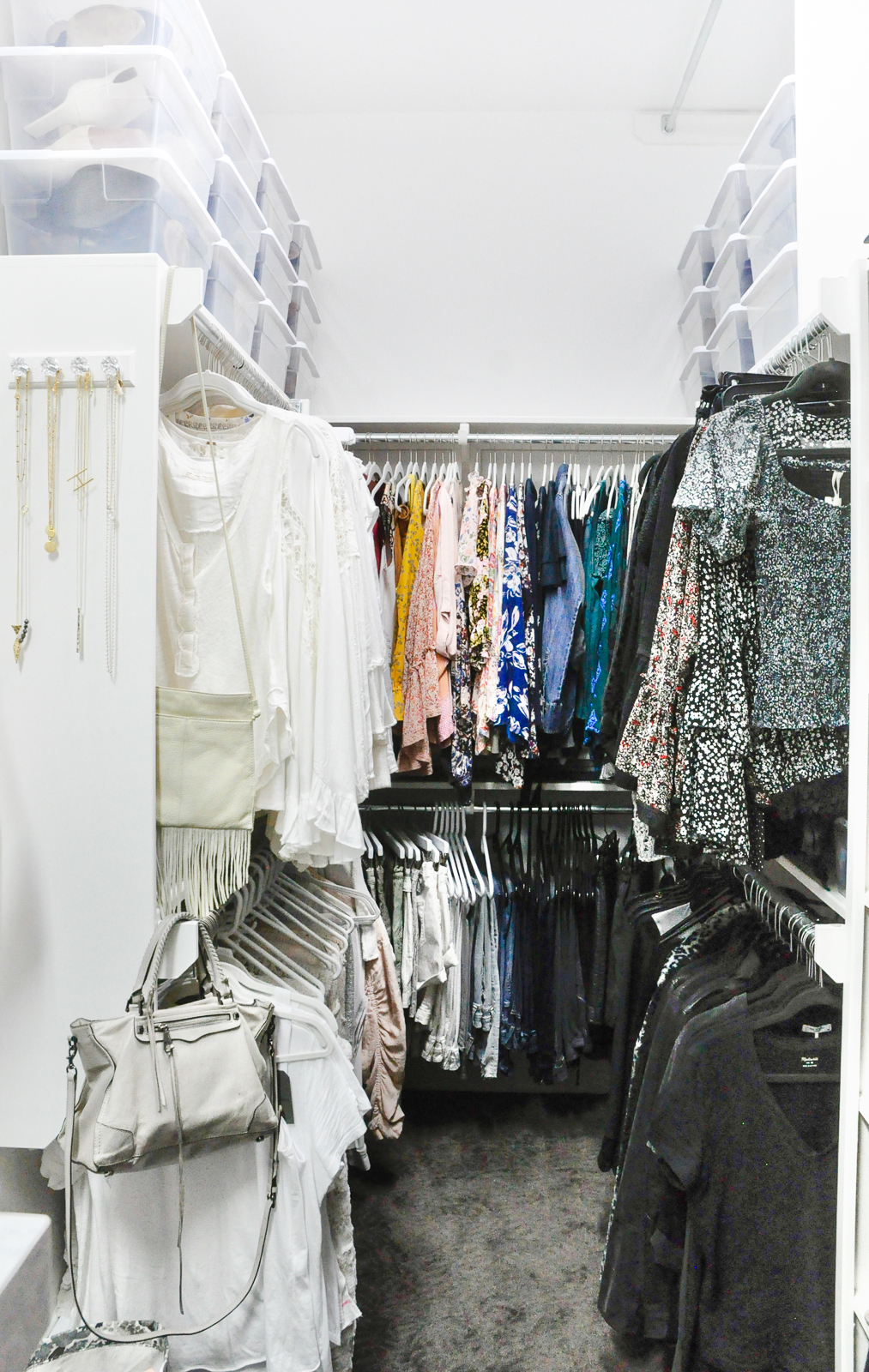 Shelves
Utilize shelf space for shoes first. Zone and color coordinate your shoes too. No shelves? Use shoe boxes or a shoe organizer. It is next to impossible to keep shoes looking neat if they are in rows on the floor.
Use any remaining shelf space as you see fit. I added clear containers filled with jewelry, hair accessories, and sunglasses to a few of my shelves.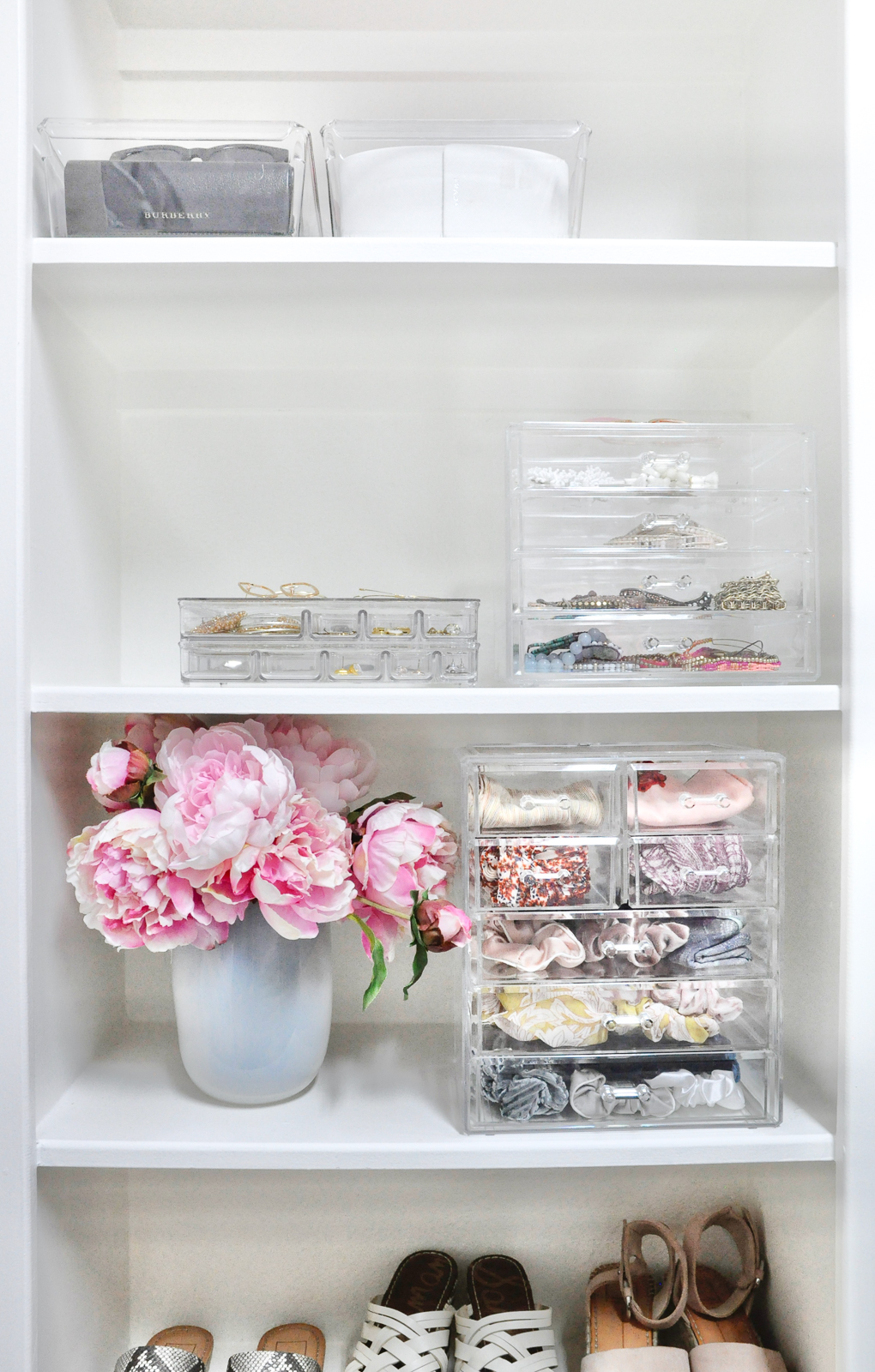 Top shelves are an amazing option for stackable boxes. I store opposite-season shoes and bags in mine.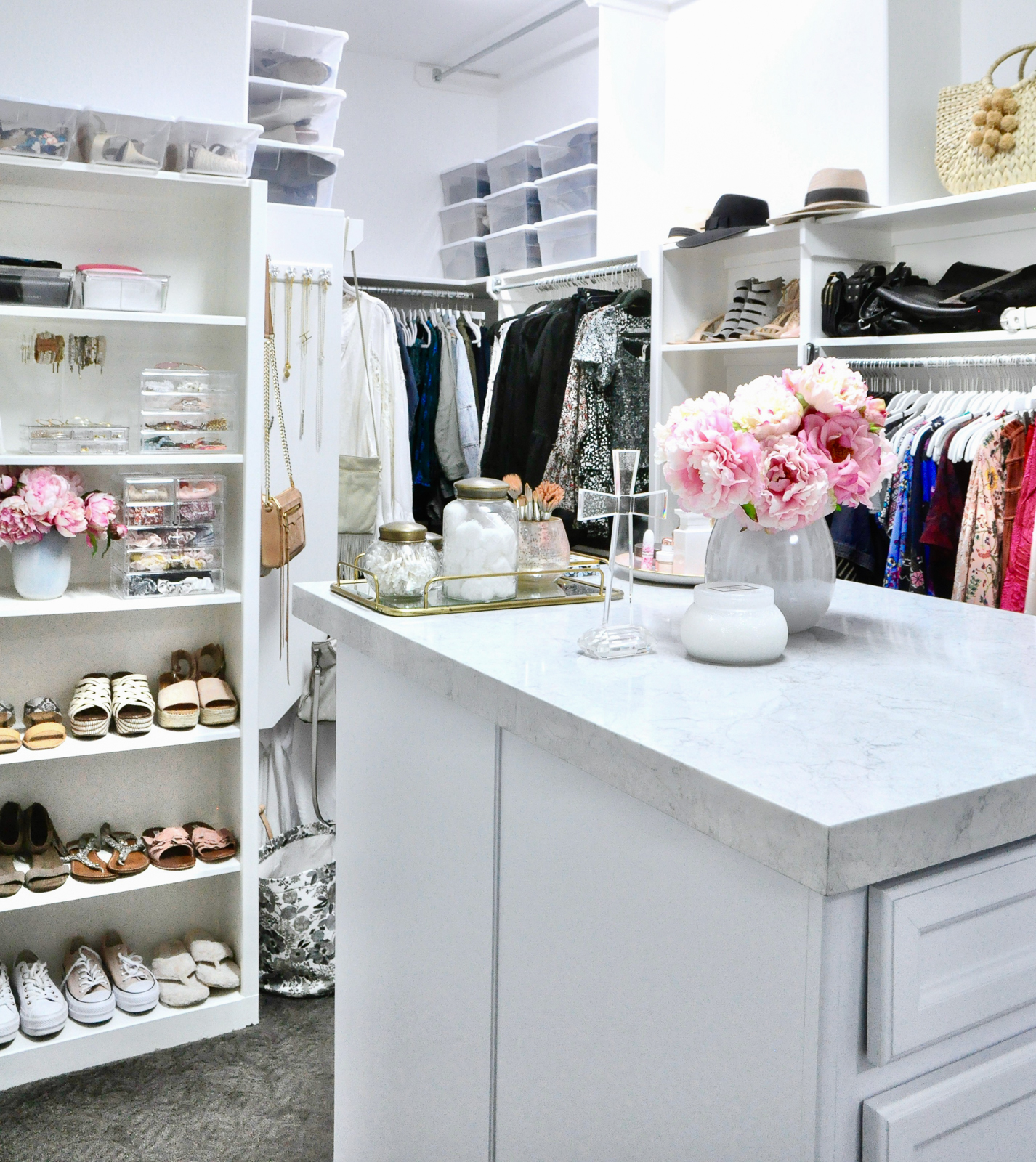 Hooks
Add hooks for necklaces, crossbody bags, a robe, belts, and more. Hooks help you utilize space that would otherwise be wasted.
I added two of these cute jewelry racks for my favorite necklaces.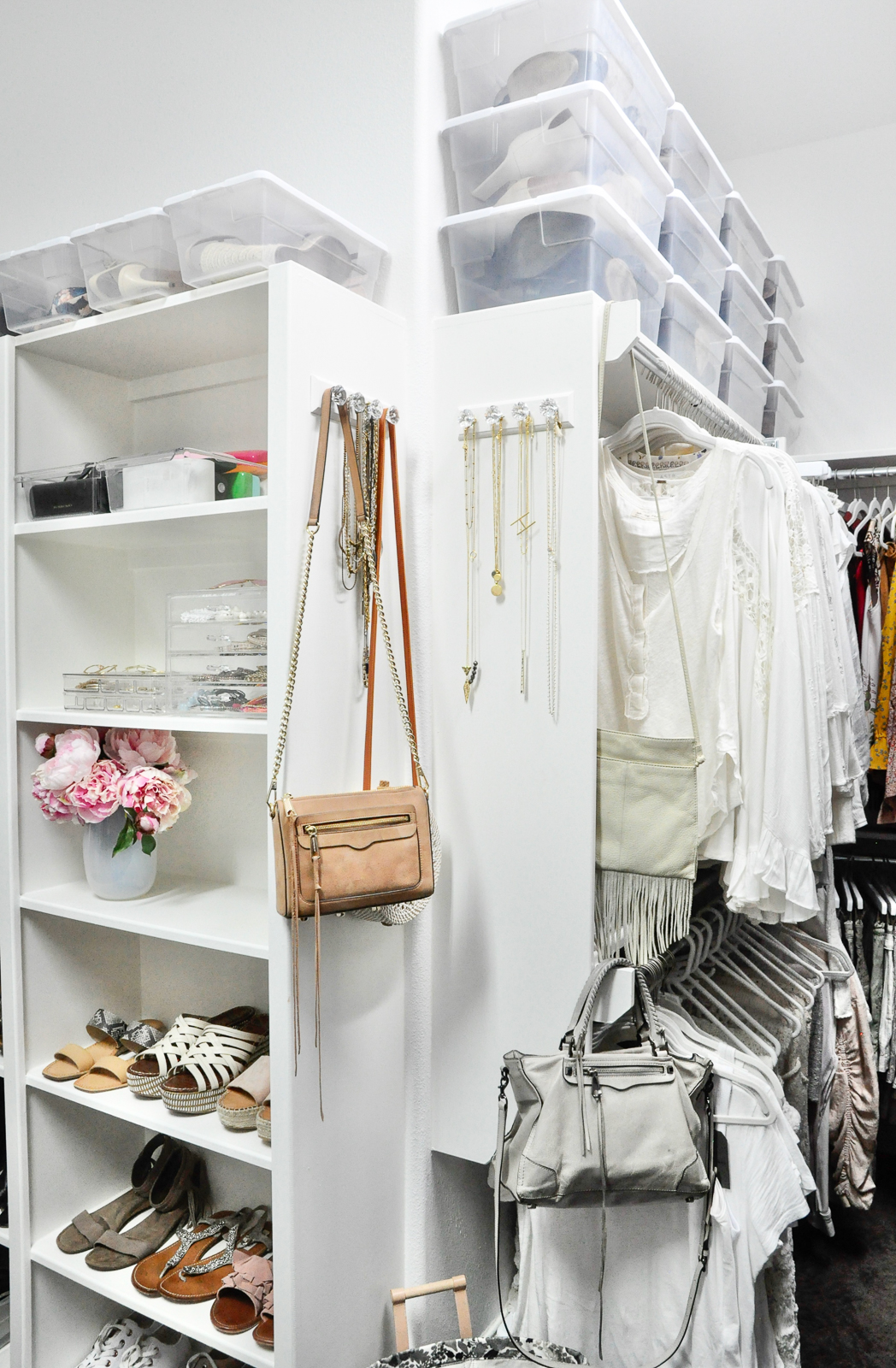 Drawer Space
One of our best decisions when we had this house built was to include a builtin dresser in our closet.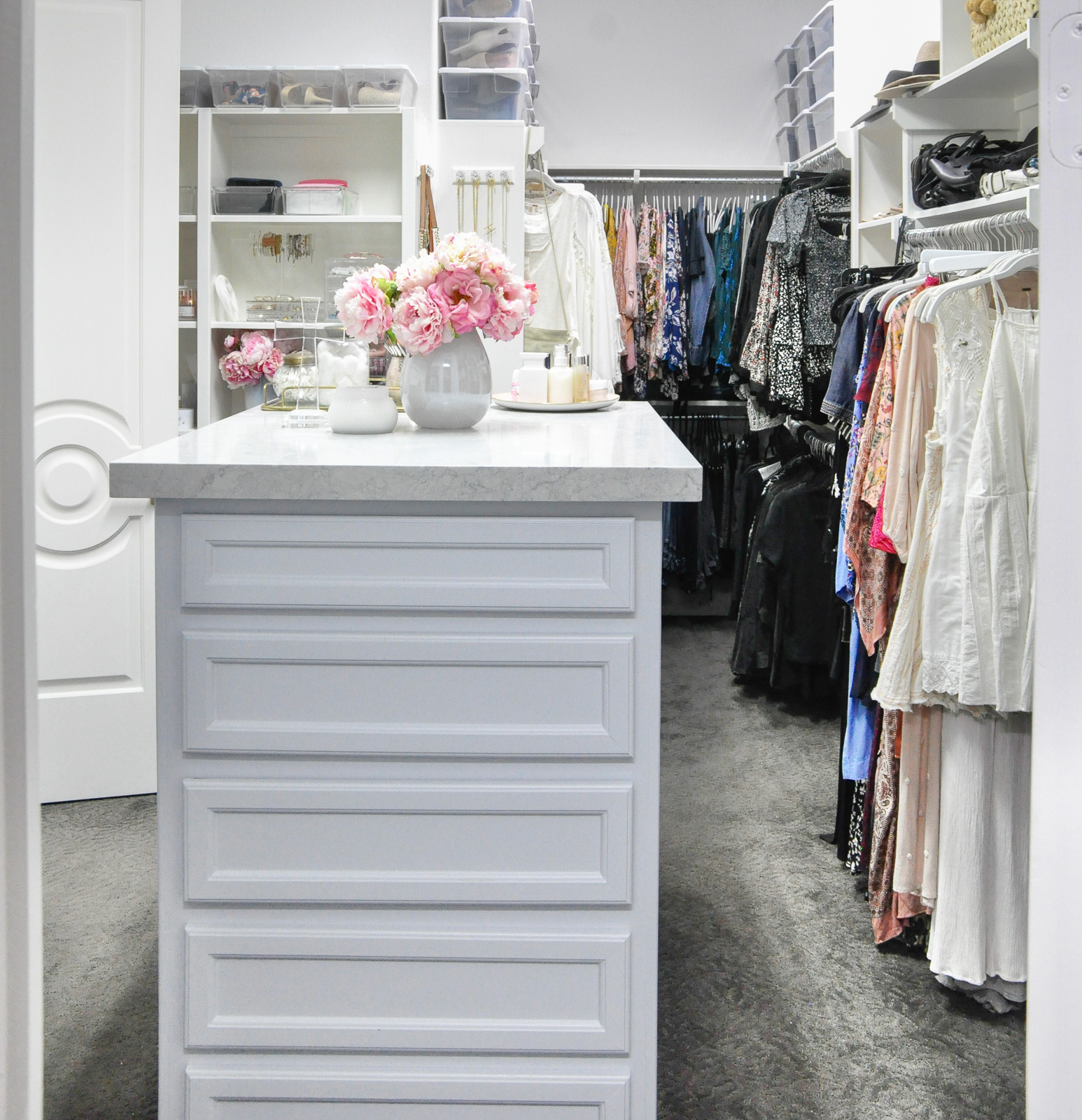 Inside of our drawers, we use drawer dividers to maximize space. They increase the functionality of precious drawer space and make it easy to see all of the items you keep there.
Fill your dresser with undergarments in top drawers, followed by tops. Add your bottoms next. If you still have additional drawer space, use it for layers like sweatshirts that you likely don't wear daily, but may want to access easily.  
Your dresser top can be a useful space as well. I use the top of mine for my makeup mirror, skin products, perfume, and some frequently-used jewelry items. I keep it corralled and neat with trays.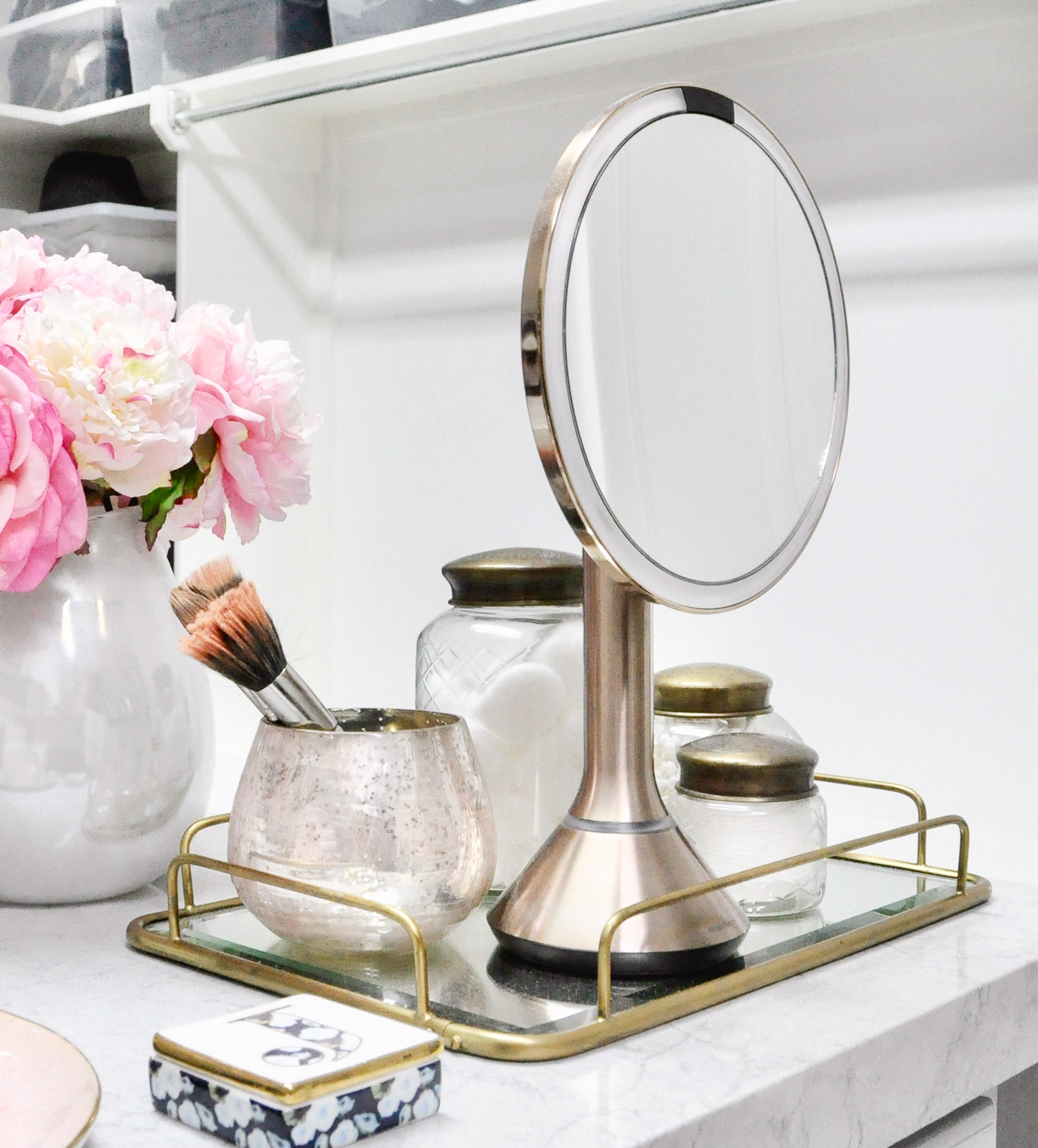 This bracelet holder offers a cute way to store bracelets where I can quickly grab them.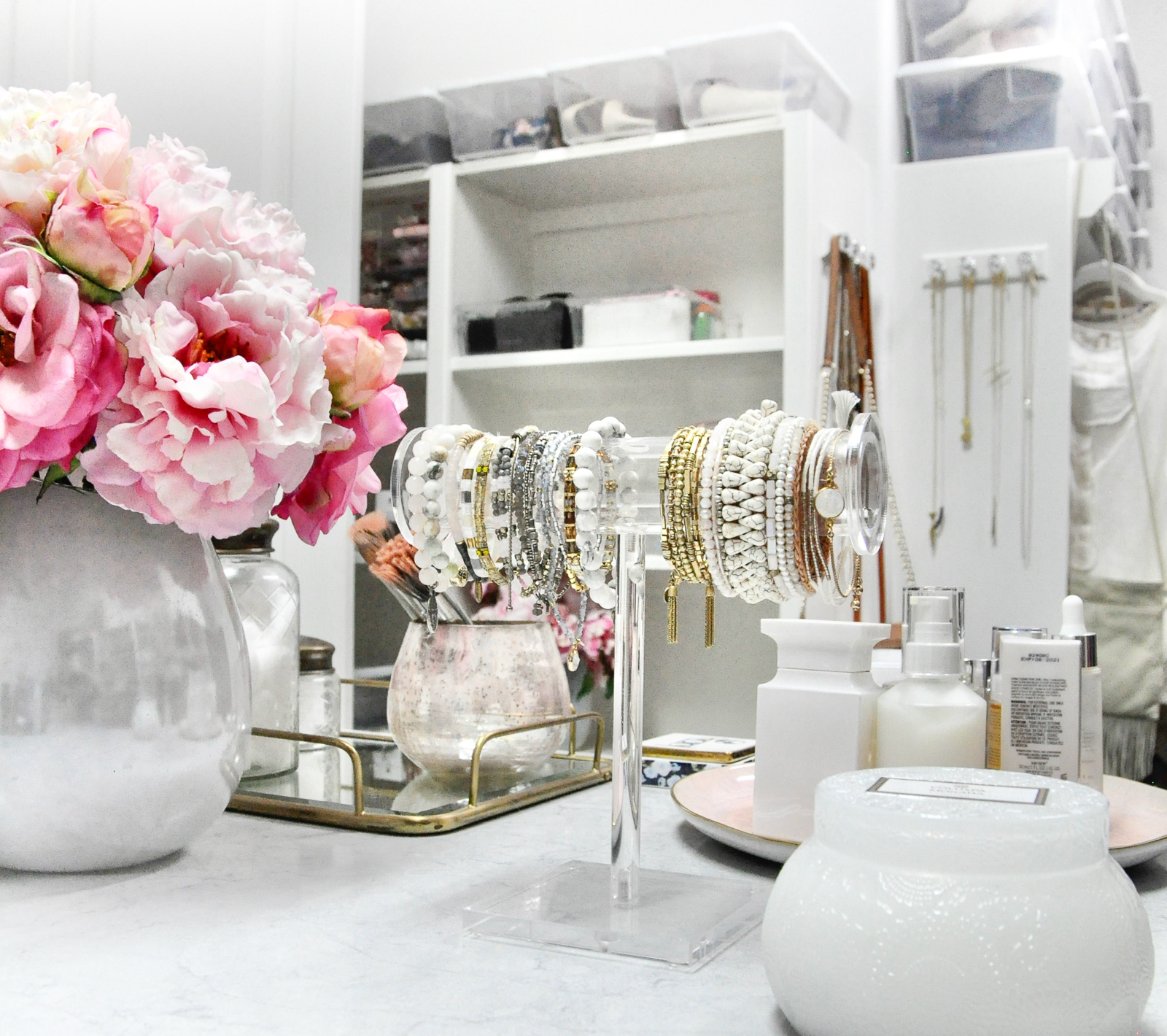 I don't have a vanity, so I store my makeup in my shallow top dresser drawer. Drawer organizers are a must here.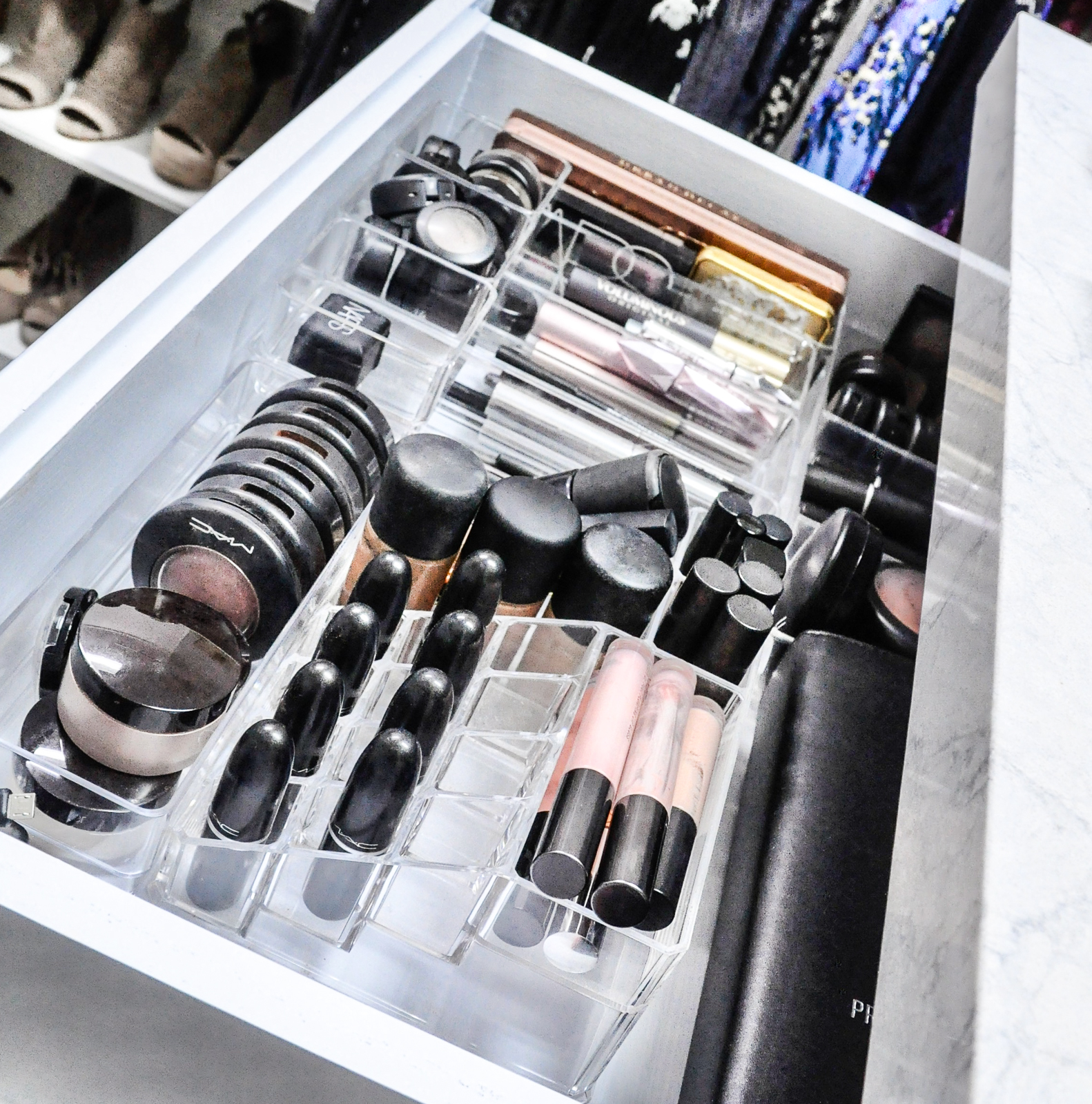 Maintenance
I know you've heard this before, but you must take things out regularly if you want to maintain a well-functioning closet that looks organized and beautiful. You can get rid of something each time you purchase something or schedule a reoccurring time to purge.
Closet Details
Umbra by Viatera and Stone Coverings of Houston
Wall paint – Chantilly Lace by Benjamin Moore
I hope you'll stay connected!
Click on the Image to Subscribe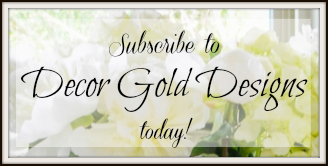 SOCIAL
Instagram | Pinterest | Facebook
Follow me on the LIKEtoKNOW.it app!