Today I want to talk about coffee table styling!
Your coffee table (or ottoman) is such a fun piece to style. It should reflect the personality of your living room and add interest to your space. With a few tips and lots of ideas, I am going to help you style your coffee table with confidence.
In preparation for this post, I went back through my pictures and noticed that I consistently used items from a few categories. I am excited to share these categories with you and also some tips to help you arrange your decorative pieces.
*This post contains affiliate links. Disclosure here.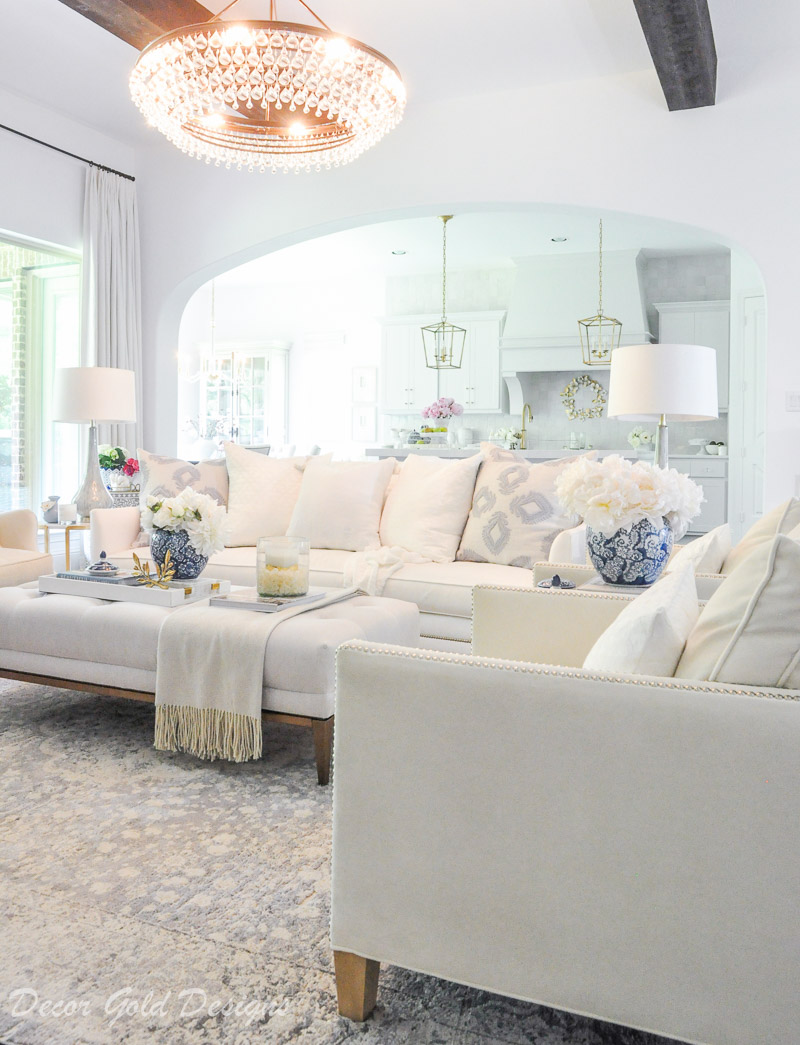 Gather your decorative pieces in advance and have fun!
A Tray
Start by adding a beautiful tray. It will give you a layered look and provide "borders" to contain some of your decorative items. It will also help prevent your coffee table from looking messy. Another benefit, you can lift your tray (including the accessories on it) and move it as needed.
Once you have added a tray, place a few accessories on it for a beautiful vignette. Be sure to add items that are a variety of heights.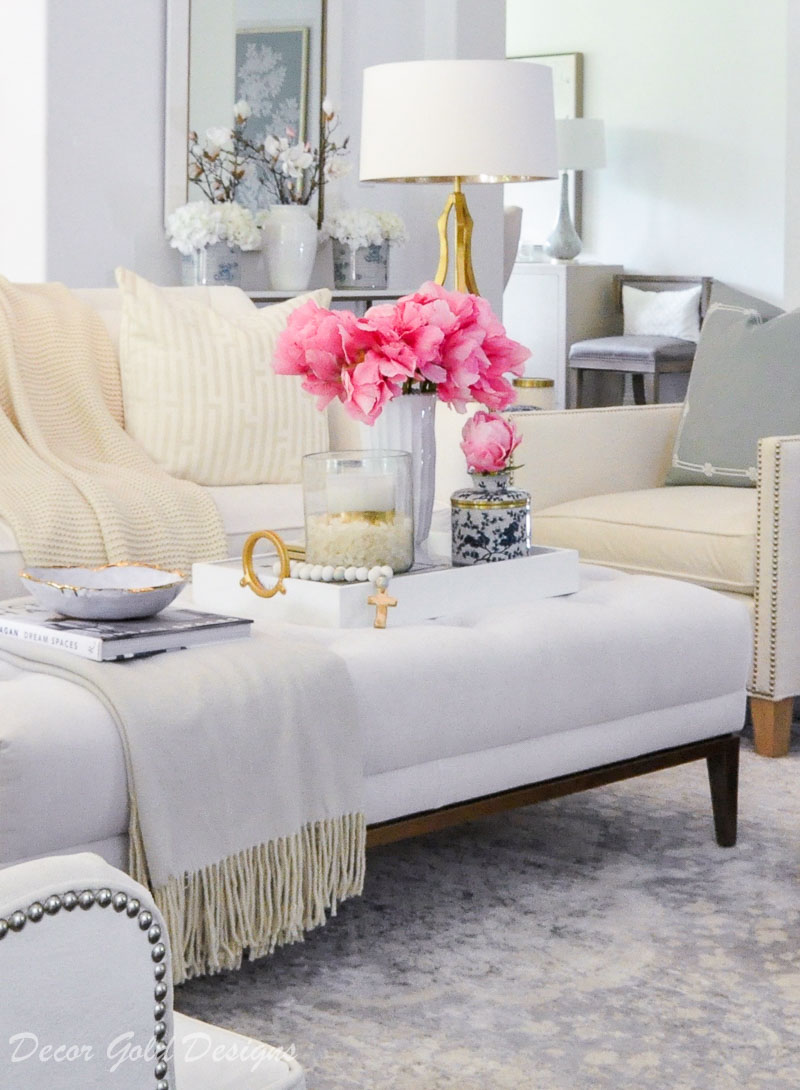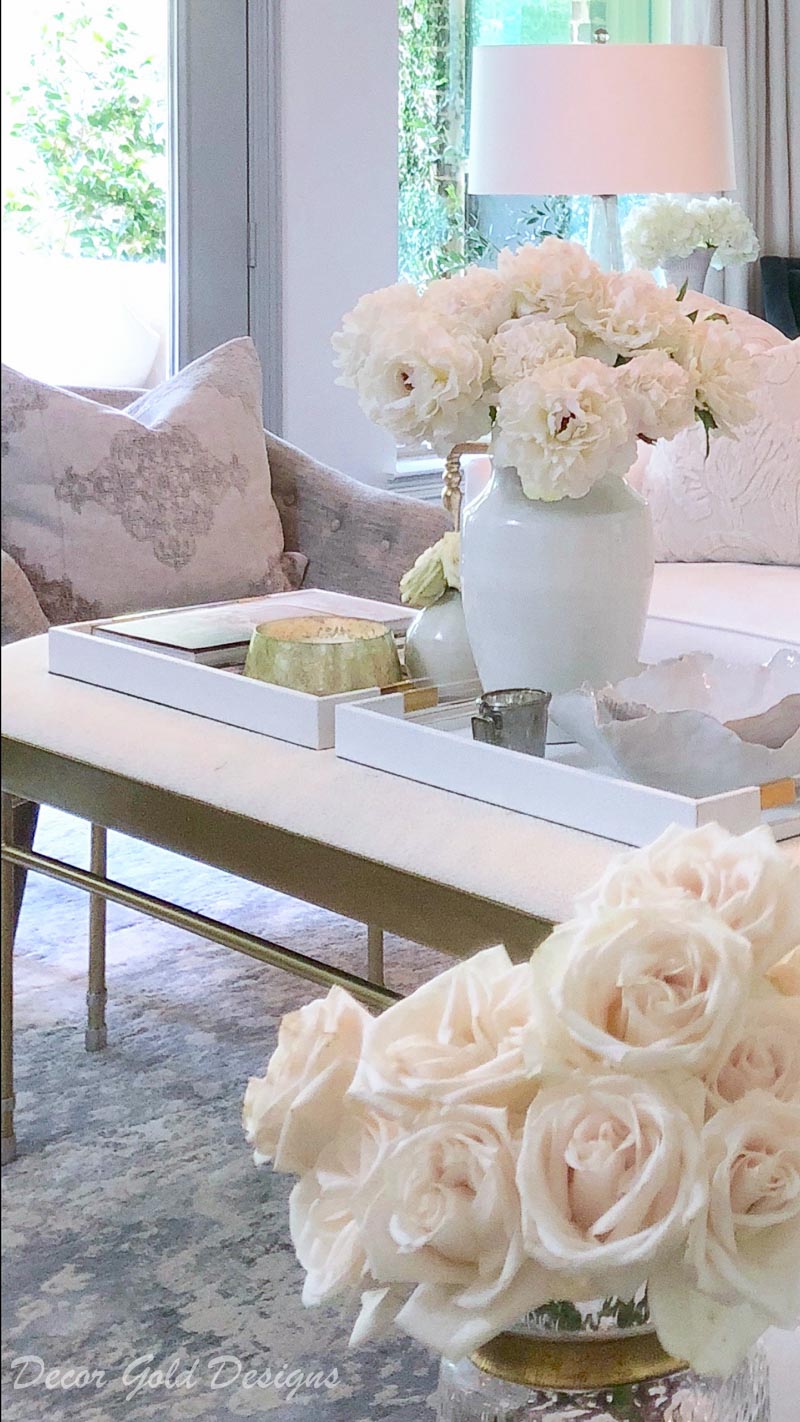 Cut or Faux Flowers
If you flip through a magazine or scroll through pictures on Pinterest, you'll find that many well-styled living rooms include flowers. I believe every coffee table should have a small – medium vessel full of flowers, leafy branches, or something else organic.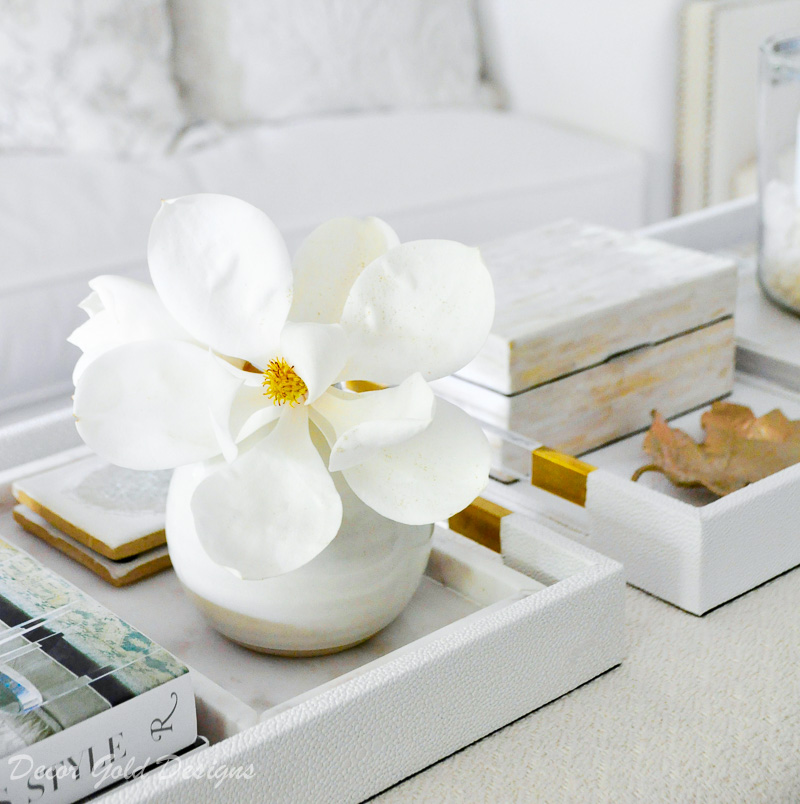 Flowers are my favorite choice. They are a great way to introduce a color to your vignette, especially if your home is neutral.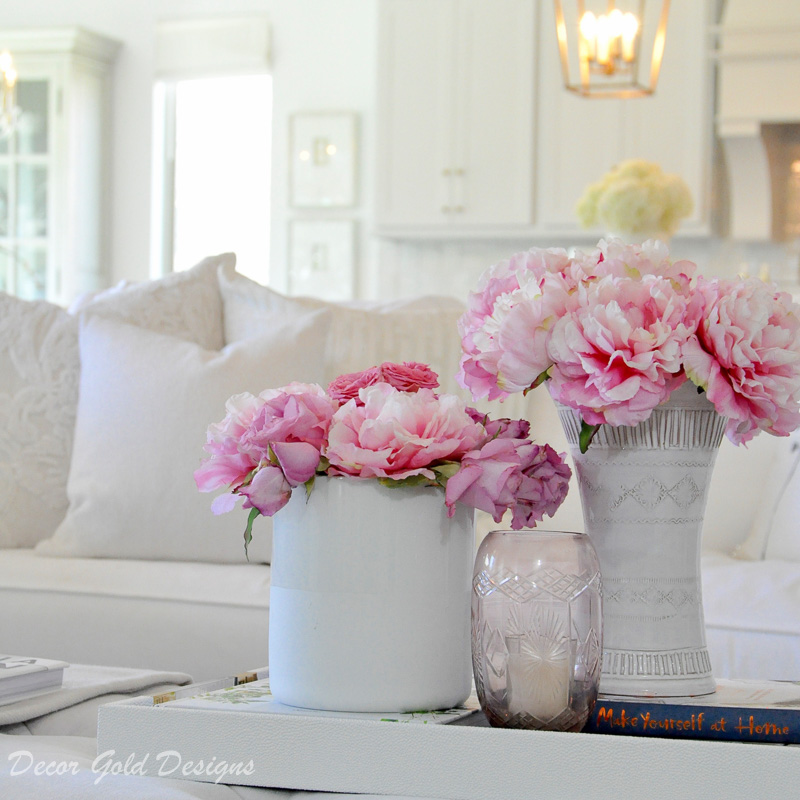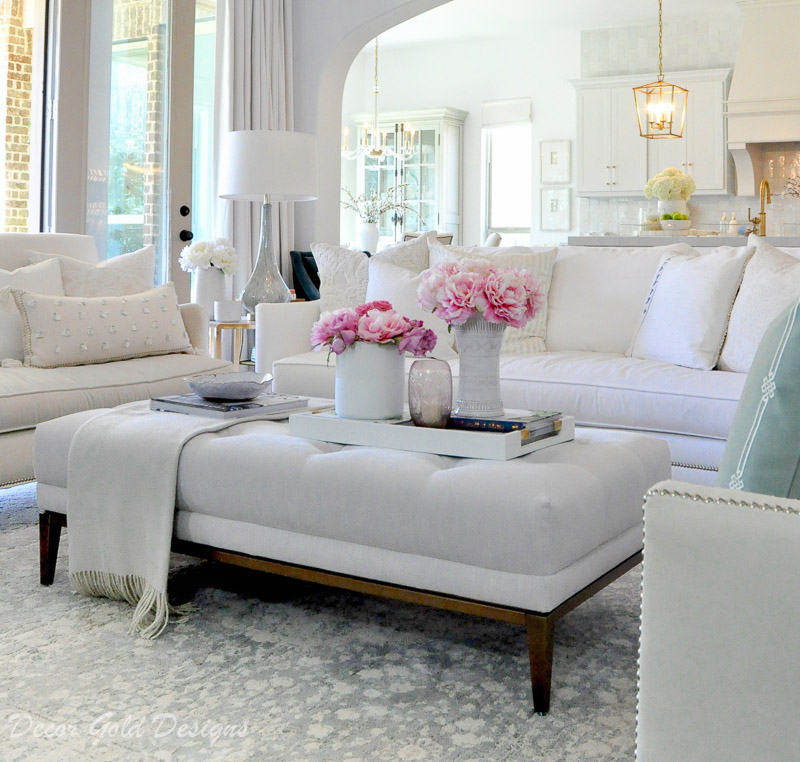 Books
Coffee table books were made for coffee tables and they are especially fabulous for layering! Set them inside of your tray to give height to some of your decor or beside it for additional interest.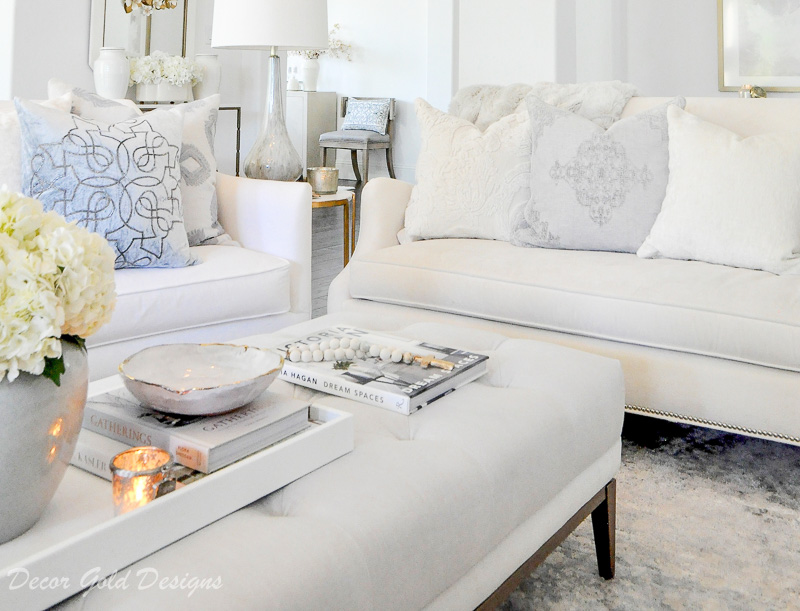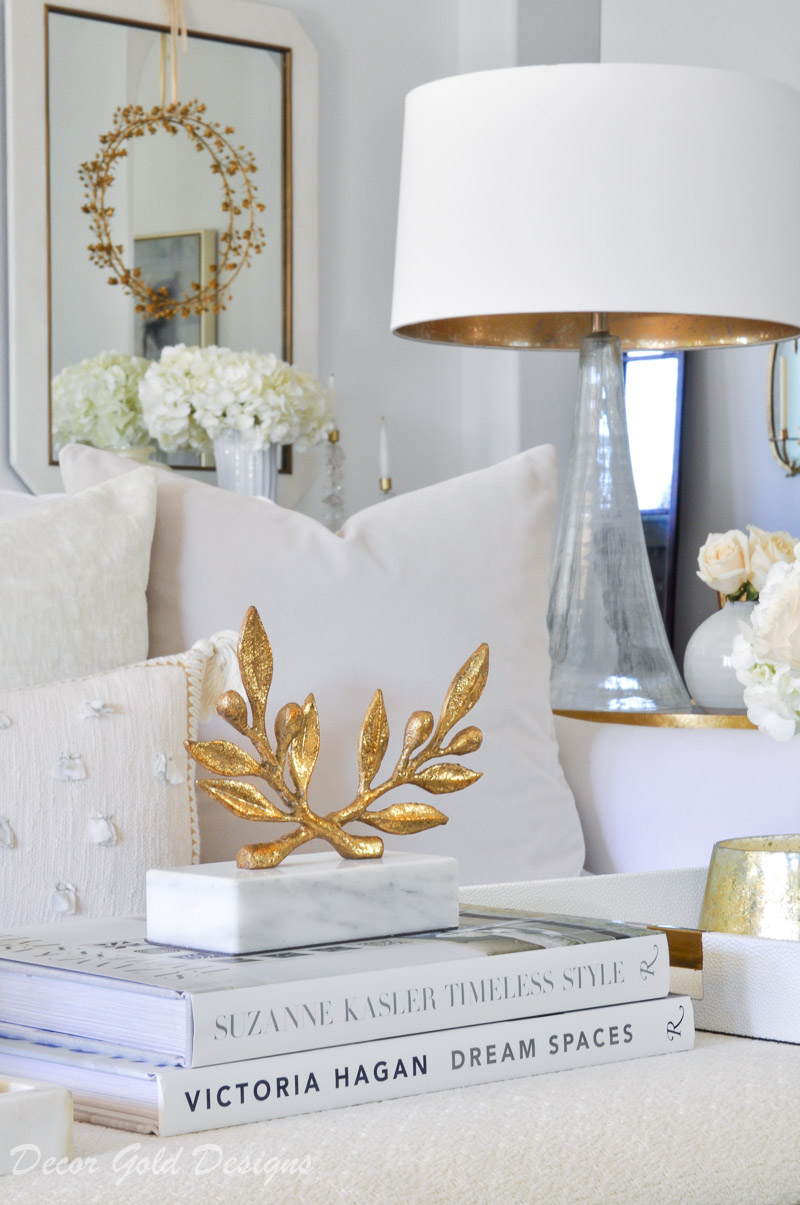 A Candle
Candles are the best way to add warmth to your space. Whether they are lit or not, they create a feeling of comfort and can add a pleasant scent. Try to include at least one candle in your vignette. Remember, you always have room for a votive!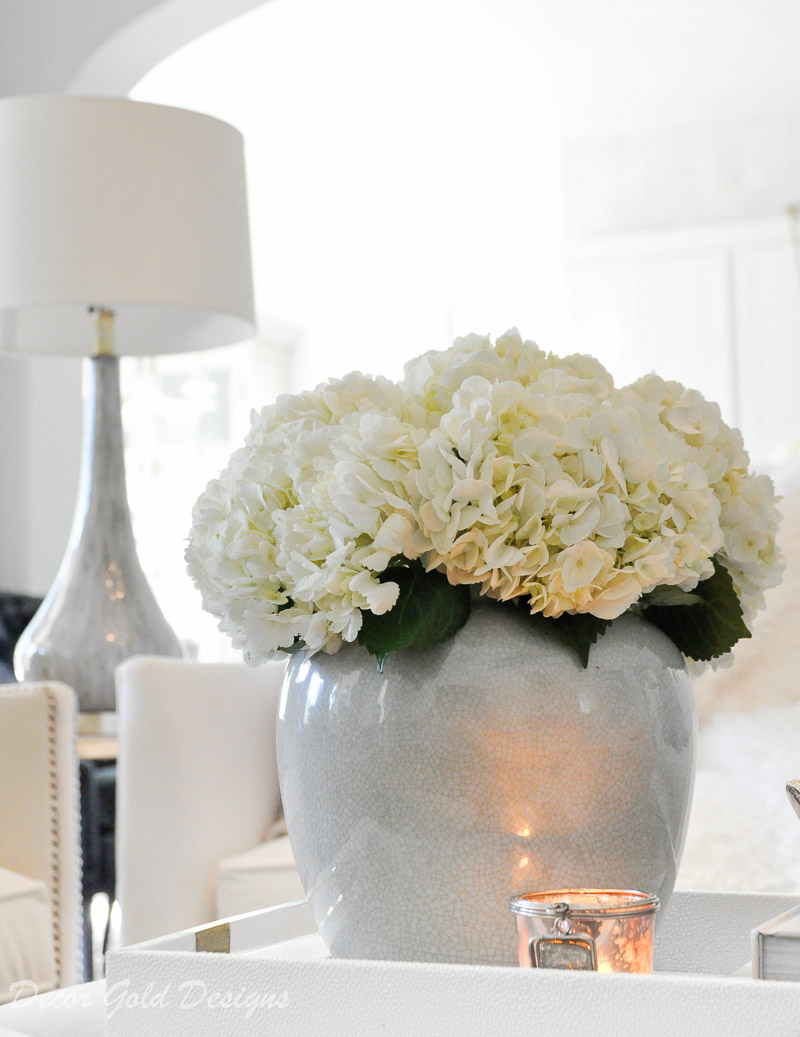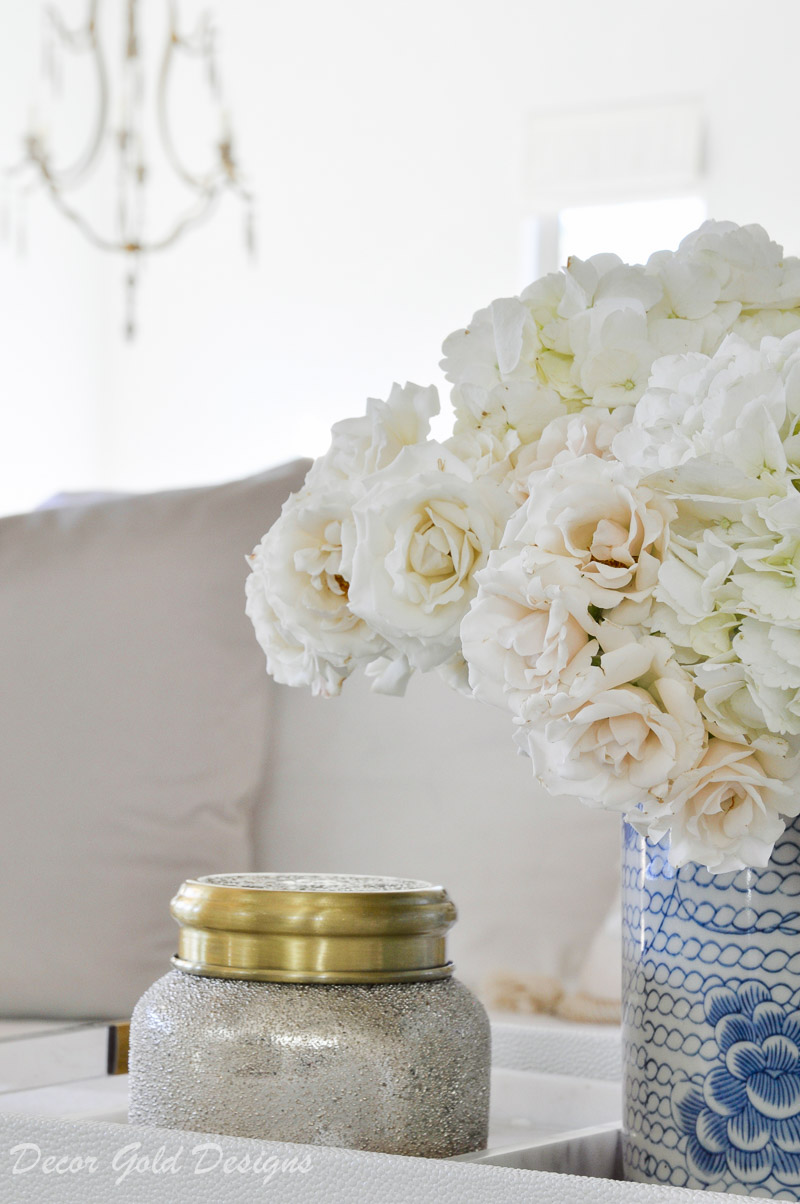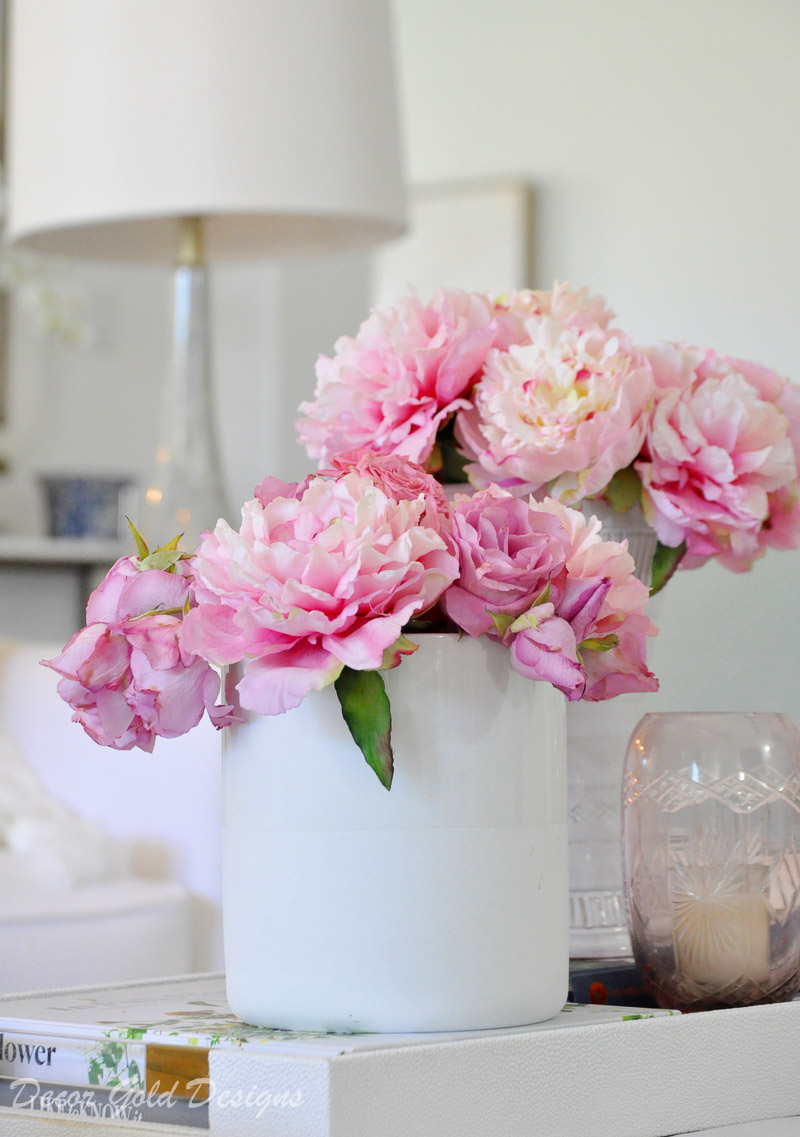 An Object of Interest
A shallow bowl, a string of beads, a small statue, something seasonal, anything that adds personality to your table qualifies in this category. This last element will complete your look.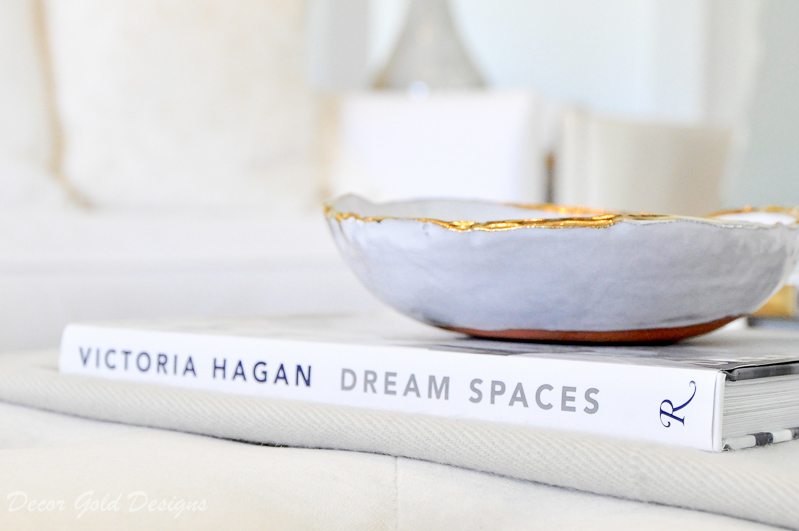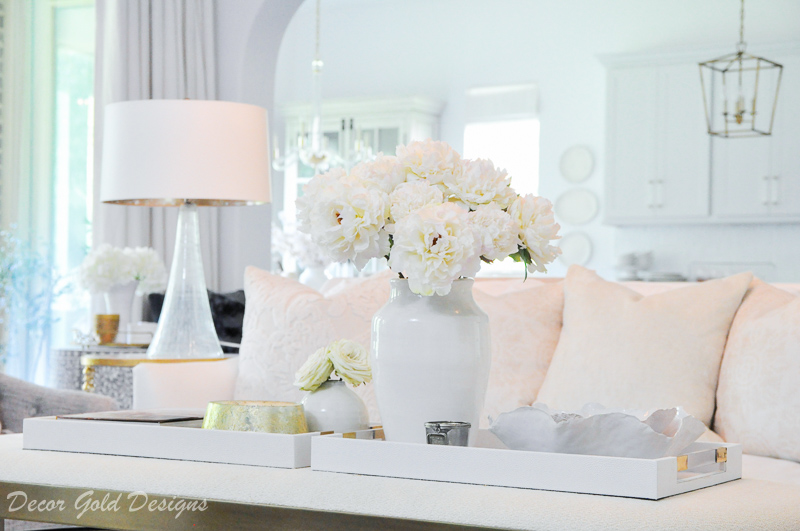 Using these five decor elements will help make styling your coffee table simple for you. Once you have all of the items you need, don't be afraid to arrange them several different ways and switch elements in and out. It will keep your room looking fresh and beautiful!
A few styling tips:
Don't over decorate. If you add too many pieces, the look will be cluttered.
Be sure to consider scale and avoid adding anything that is too small. (A votive is an exception to this guideline).
Keep sight lines in mind. It is great to add something a bit taller as long as it doesn't block your view of other people in your space, the television, etc.
Step back and evaluate your arrangement from several vantage points in the room. The most important view is facing the coffee table with your main sofa behind it.
I hope you are ready to decorate now! Remember, your coffee table is typically in the center of one of your most frequently used spaces. Take your time and a little extra care to get it right. It will be worth the effort!
I hope you'll stay connected…..
Click on the Image to Subscribe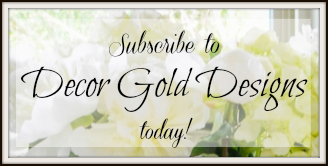 SOCIAL
Instagram | Pinterest | Facebook
Follow me on the LIKEtoKNOW.it app!