My Christmas Home Tour is by far my favorite to share. Starting in the early fall, I get excited just thinking about it. I'm thrilled to finally be sharing it with you today. For additional decorating ideas, be sure to find the link for my dear friend and fellow blogger, Randi from Randi Garrett Design. You will be so glad you did!
Decorating for Christmas is typically my biggest undertaking of the year next to room makeovers. This time around, I am the crazy person who has been doing both simultaneously! If you are a regular around here, you'll see the room I am changing in a few of the images. Only a sneak peek because it's not done, but I couldn't leave it out of the tour! I hope you will check back in January for all of the room transformation details!
Back to Christmas….. I made lots of changes this year, but I didn't purchase much. Instead, I switched some things around and only one of our four trees is in the location it was last year.
*This post contains affiliate links.

This is the repeat tree spot. I can't imagine not having a tree right here.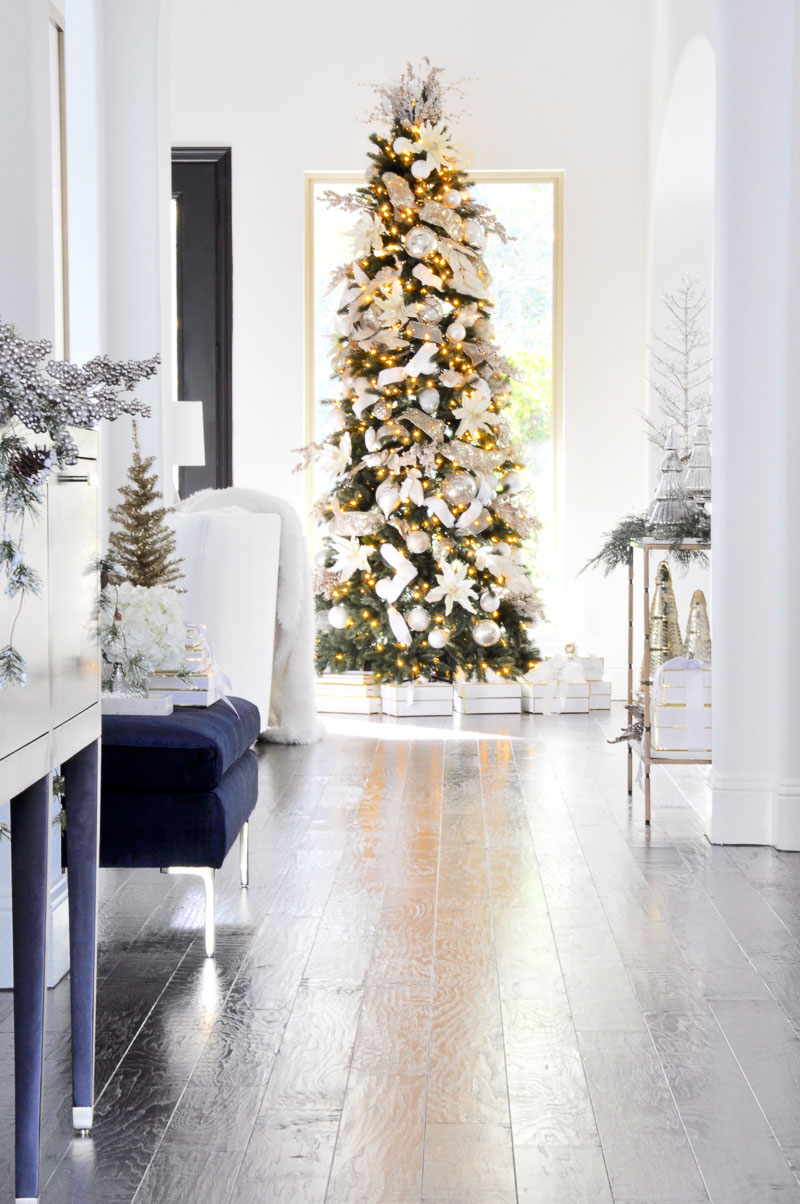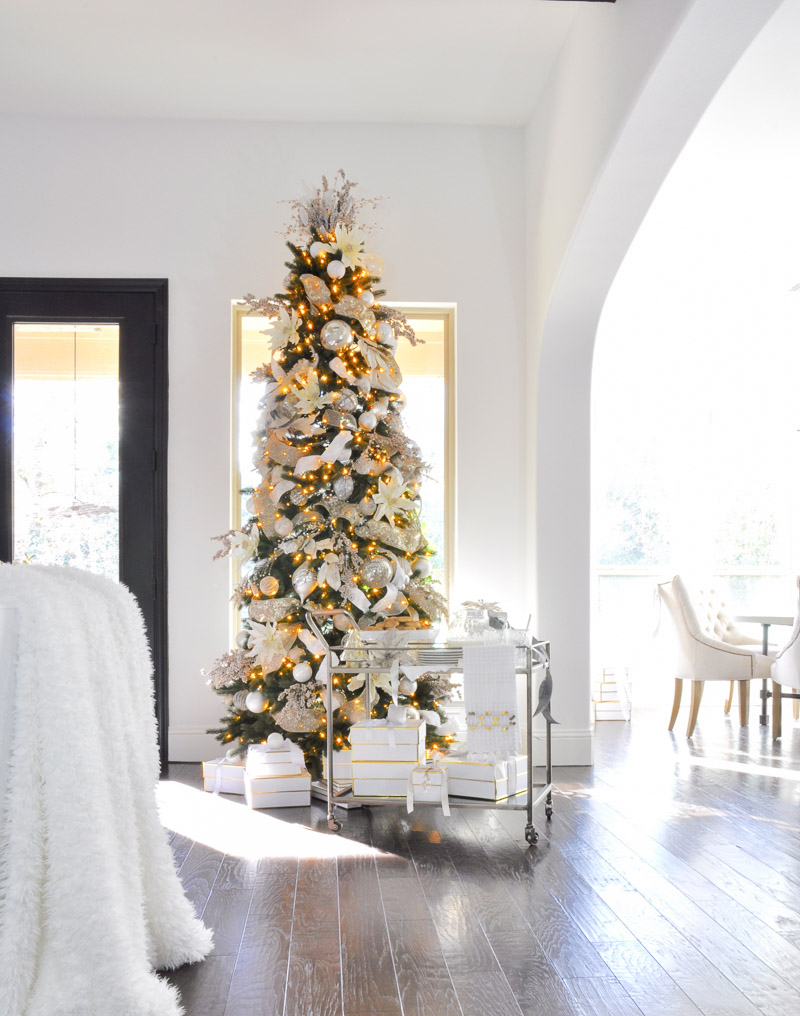 It is the view from our front door and it feels like it was made for a Christmas tree.
For the overall color scheme, I chose white and ivory with a little bit of champagne. I simply purchased ribbon and poinsettias to get this look. If you have collected ornaments that you use year after year, its nice to mix in a few new ones or add new ribbon.
The big change in this area is the new matching tree! (It's actually just new to this room, but I love having two).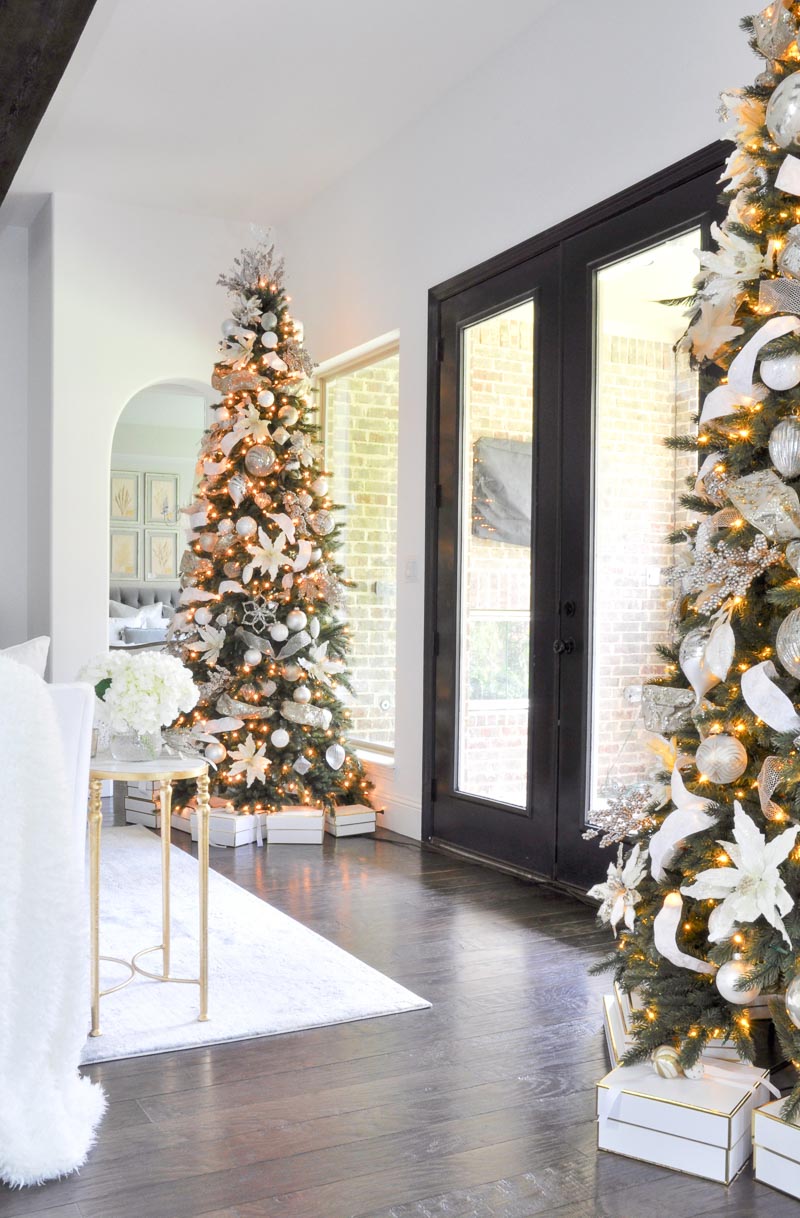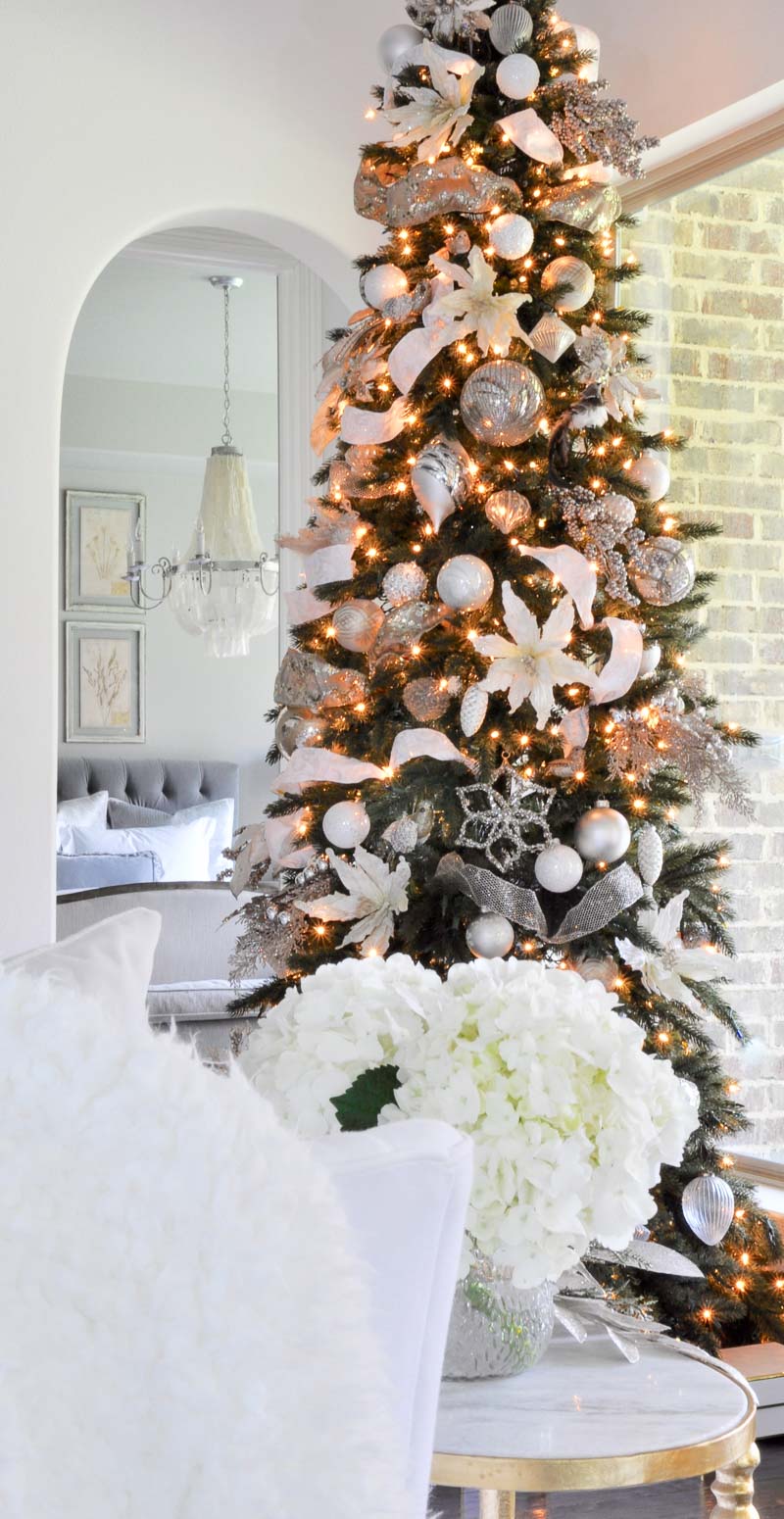 And the view from our kitchen.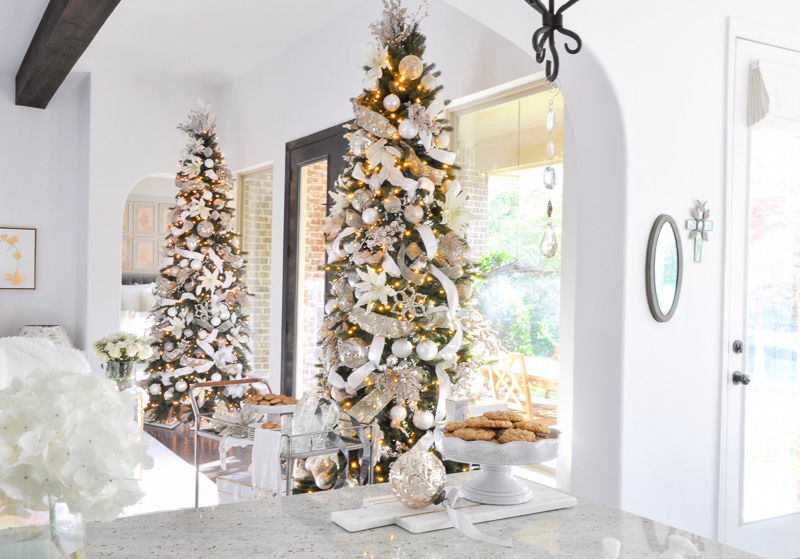 The one on the left reflects in the entry hall mirror. If you can plan for this, it is a great way to bounce your tree's twinkle lights around your room.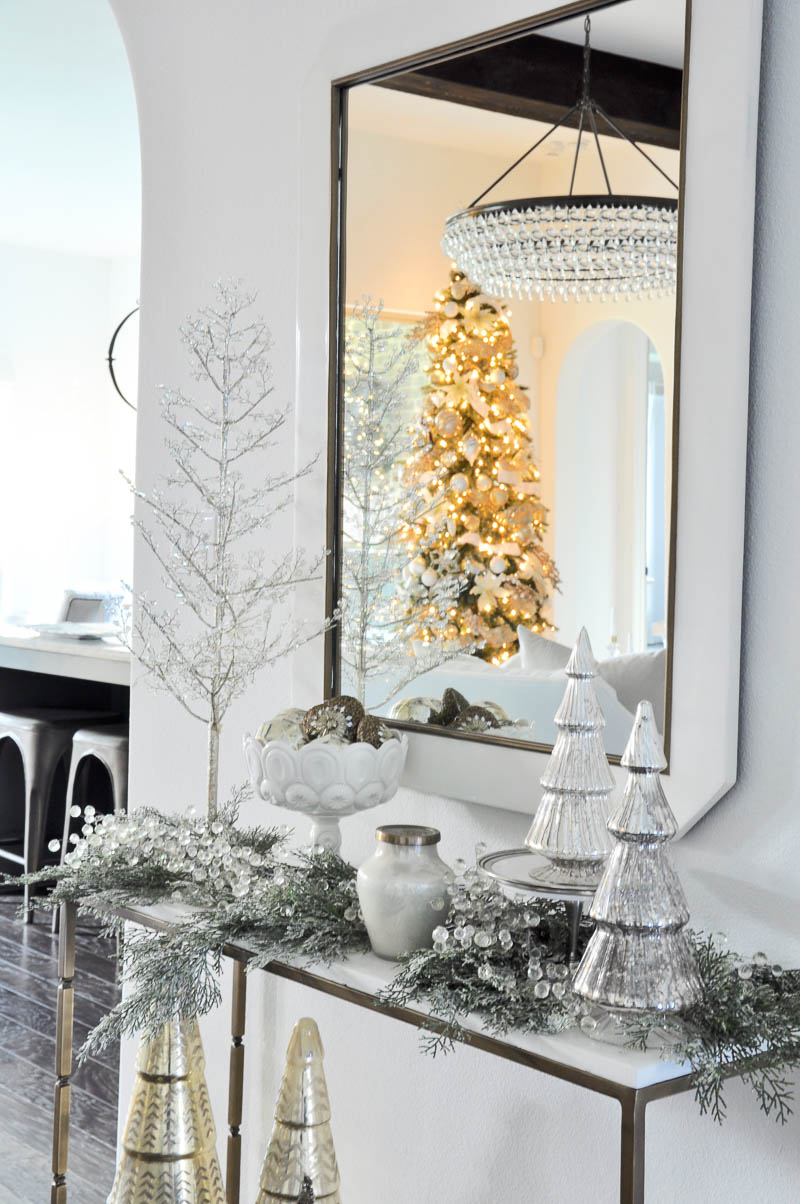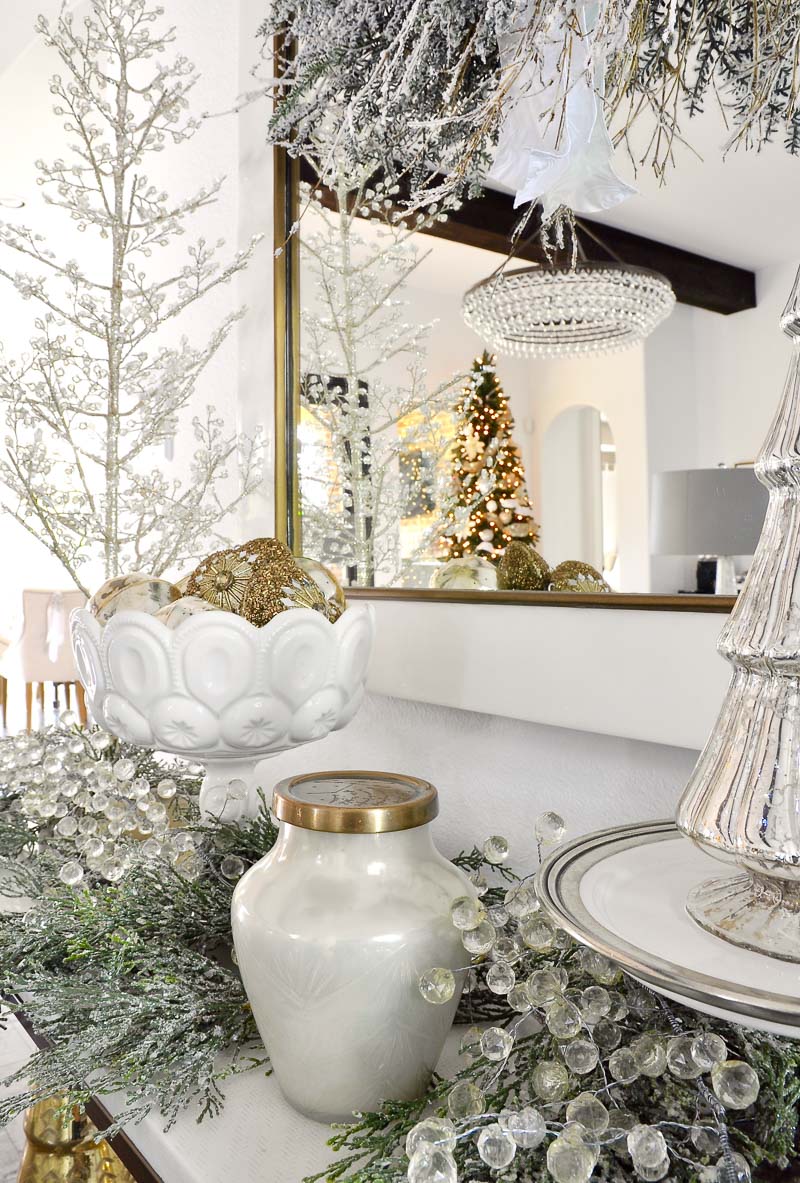 I loaded up our console with lots of silver and gold. Metallics are basically neutrals this time of year, so they are a great option when you're shopping.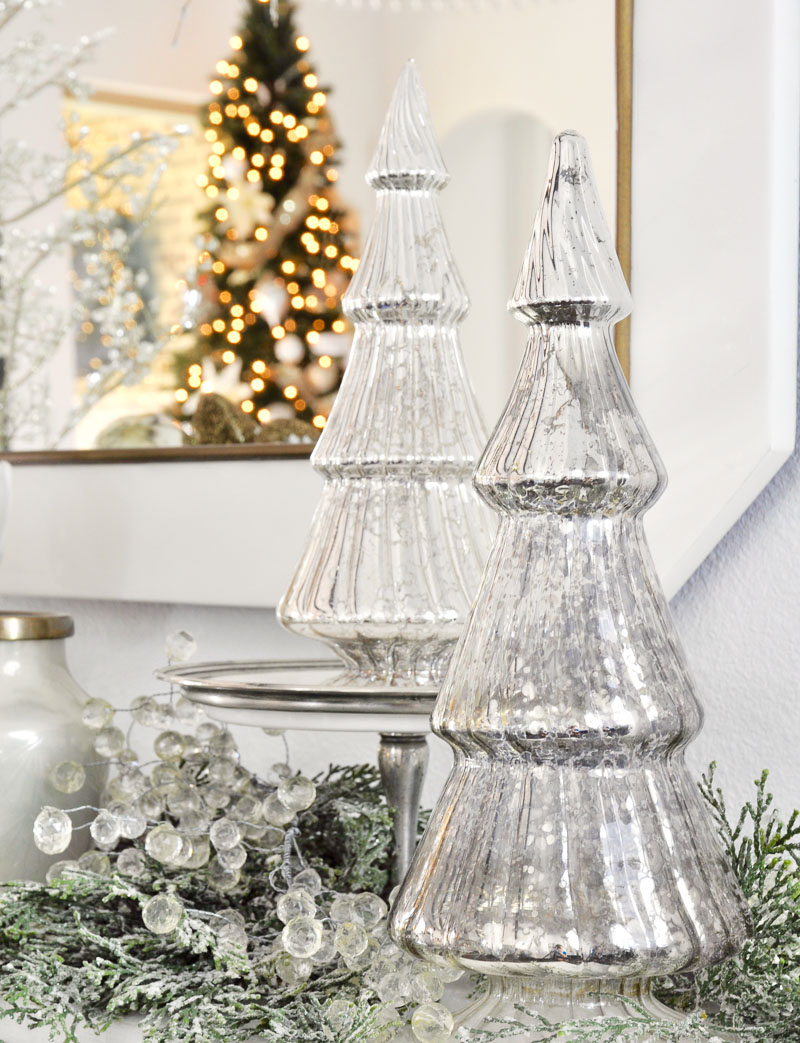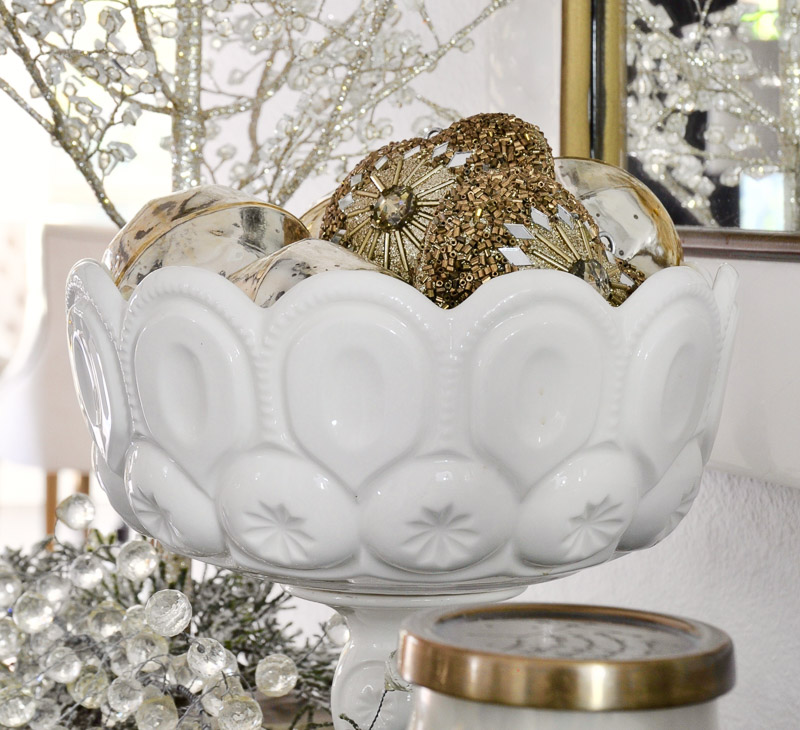 My wreath got relocated after I realized how much I enjoyed the reflection of the new tree, but I thought I'd share this second look with you.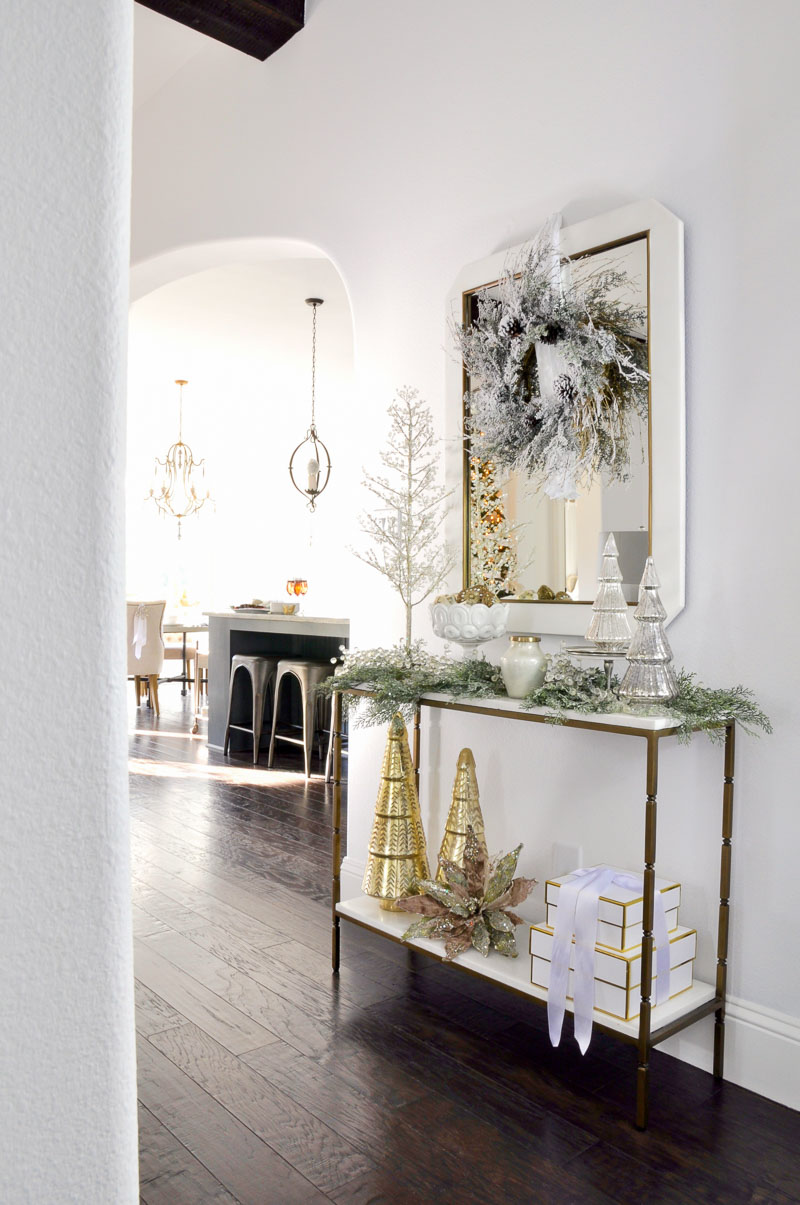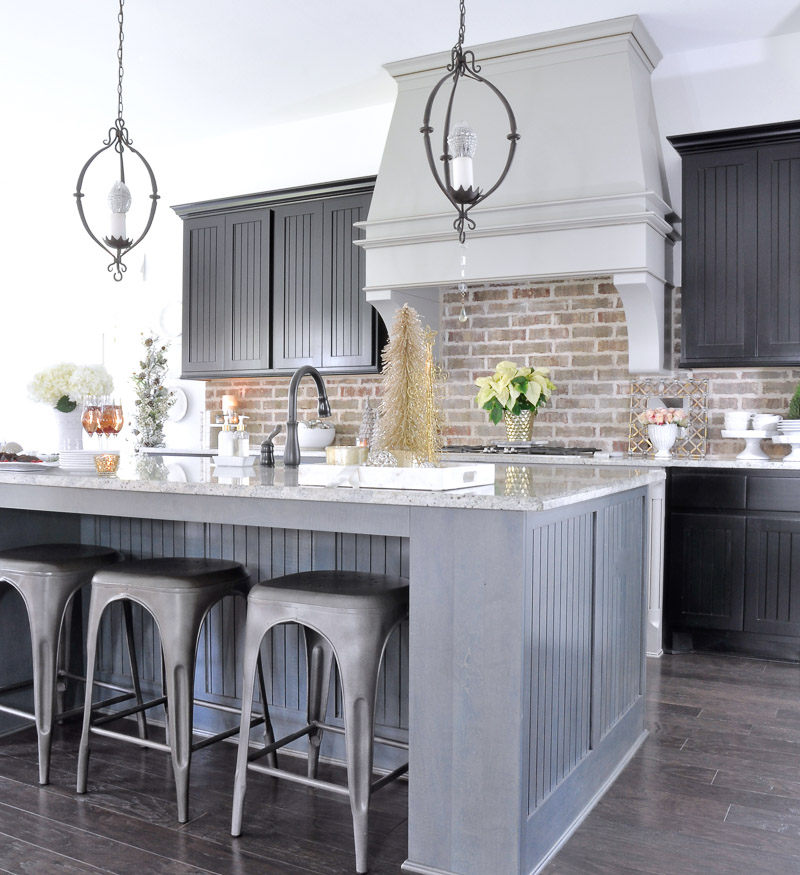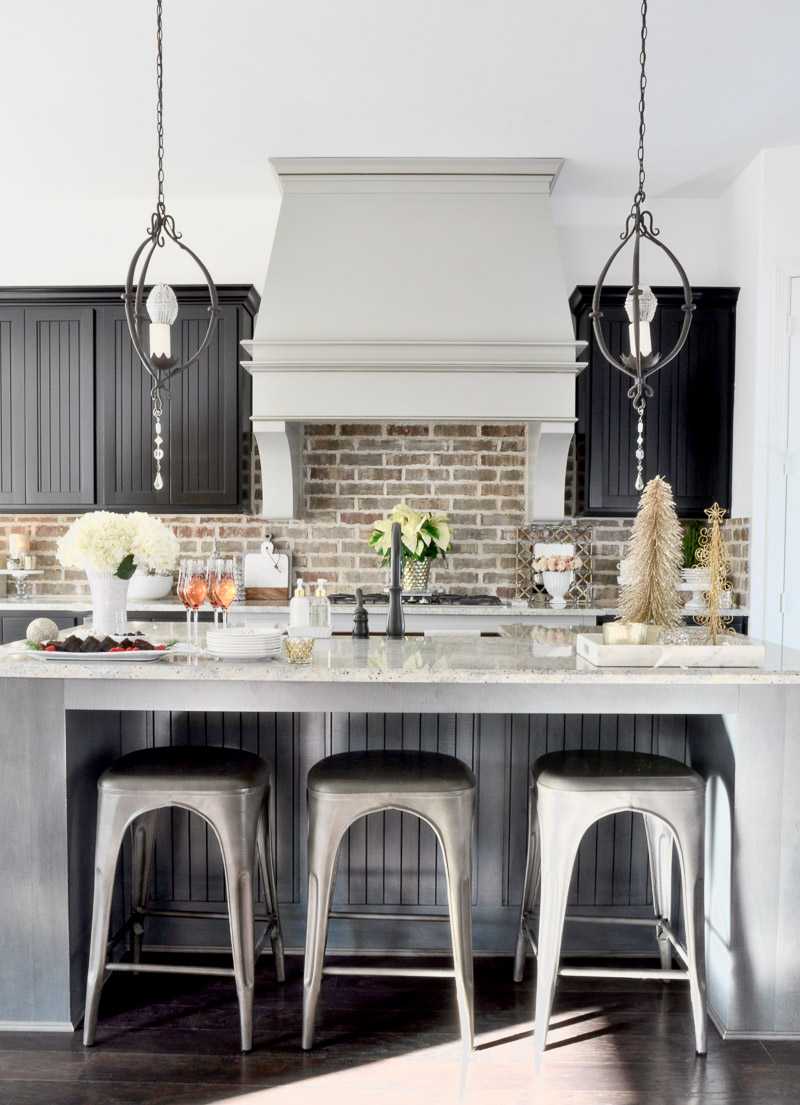 It wouldn't be December without sweet treats around!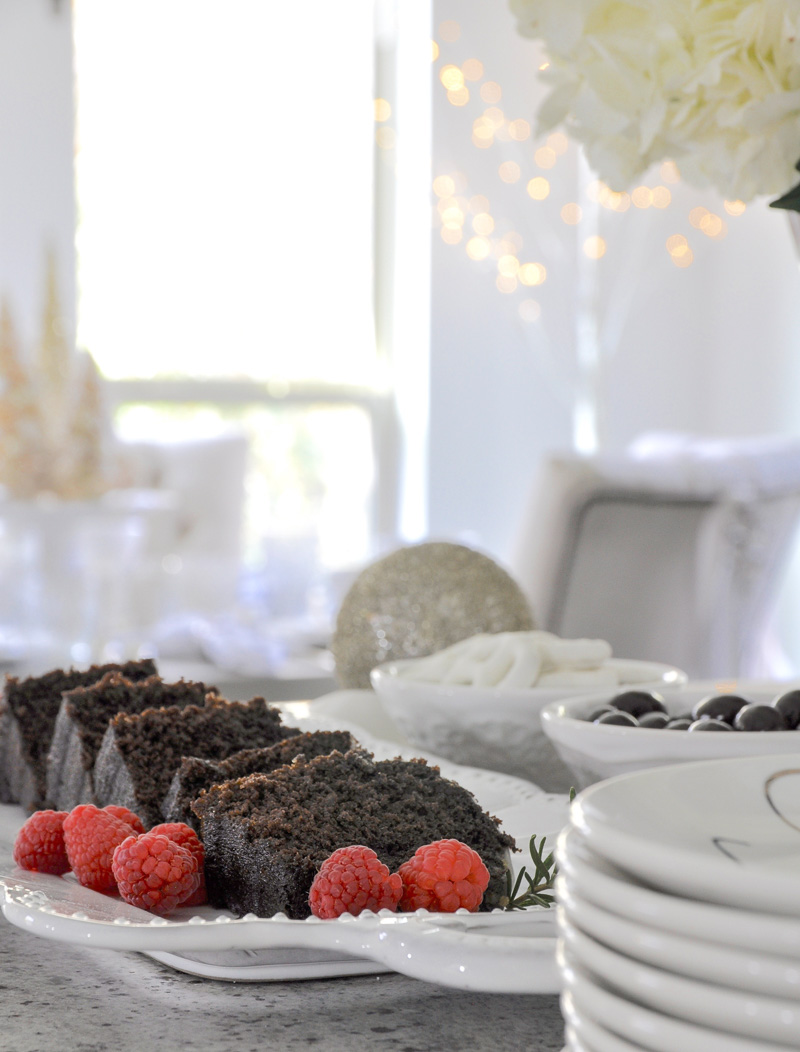 And pretty beverages add a festive look.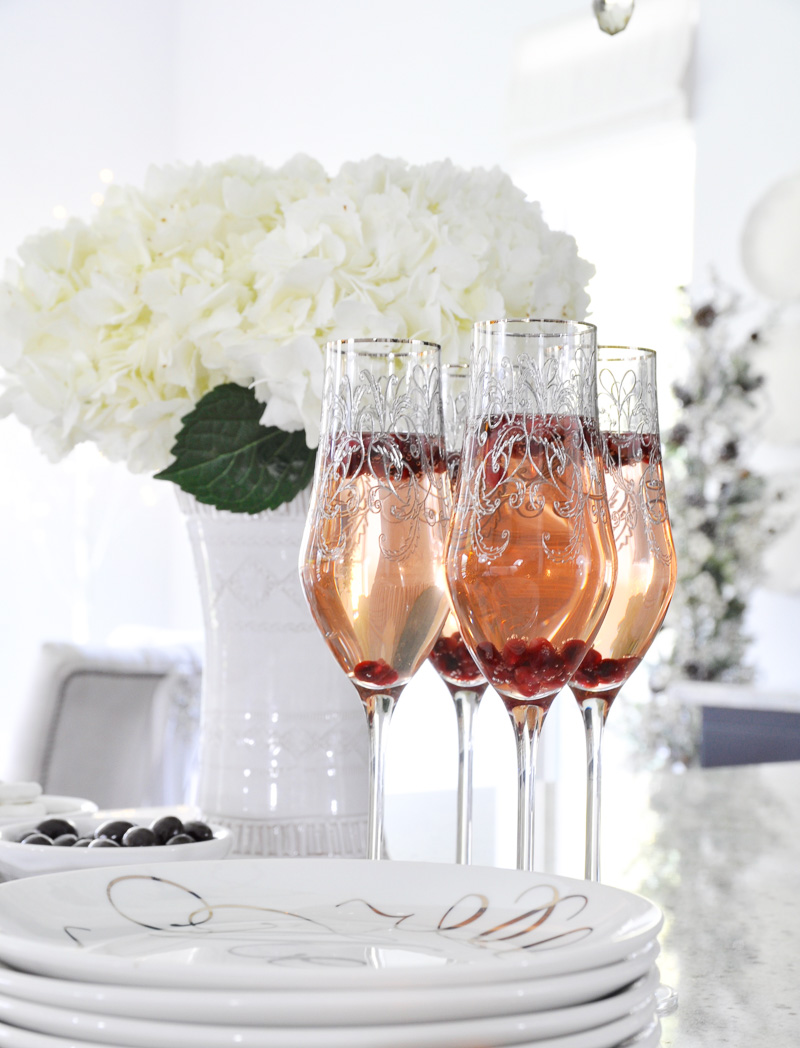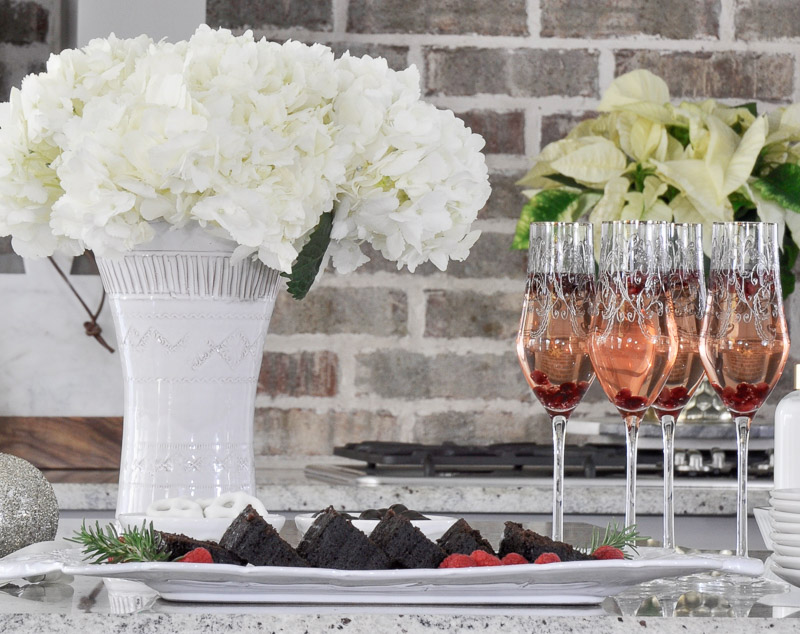 Poinsettias are timeless and always look great in your Christmas kitchen. With a neutral home, I usually opt for pink or yellow.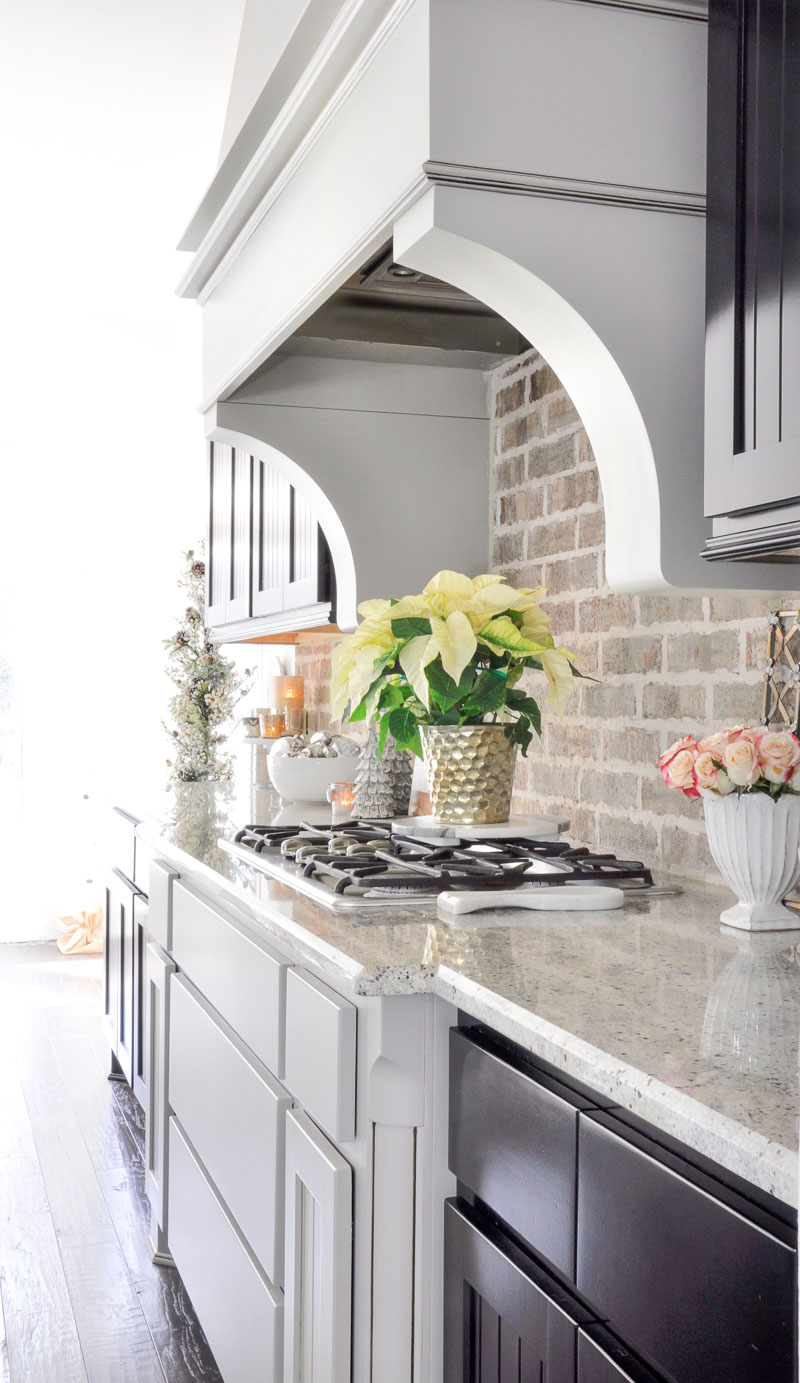 Winter sunshine seems to have a special glow, so I hope you embrace it!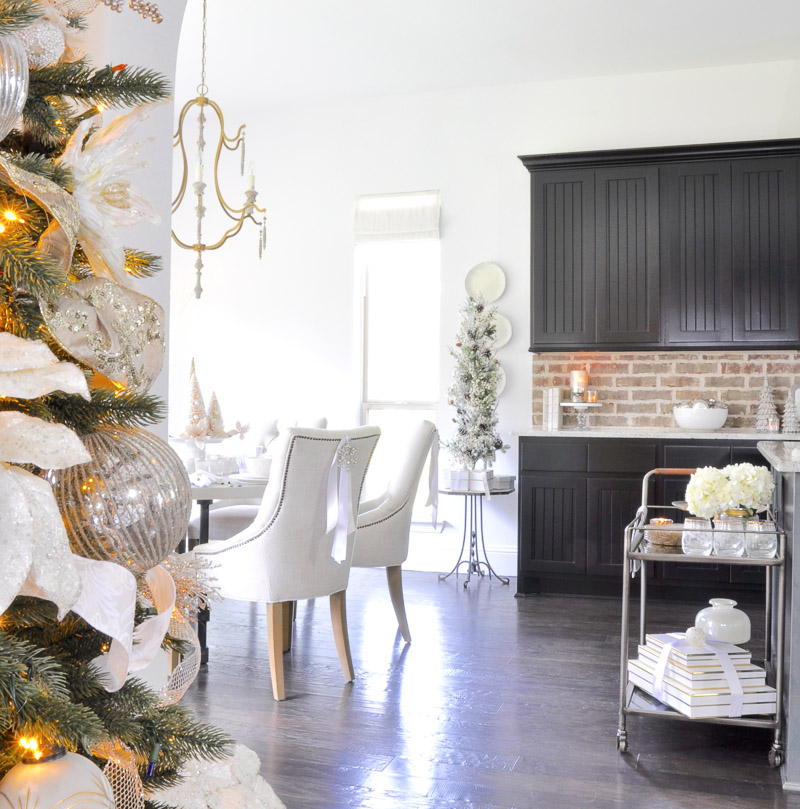 Inspired by our freshly painted walls, I kept our breakfast room all white.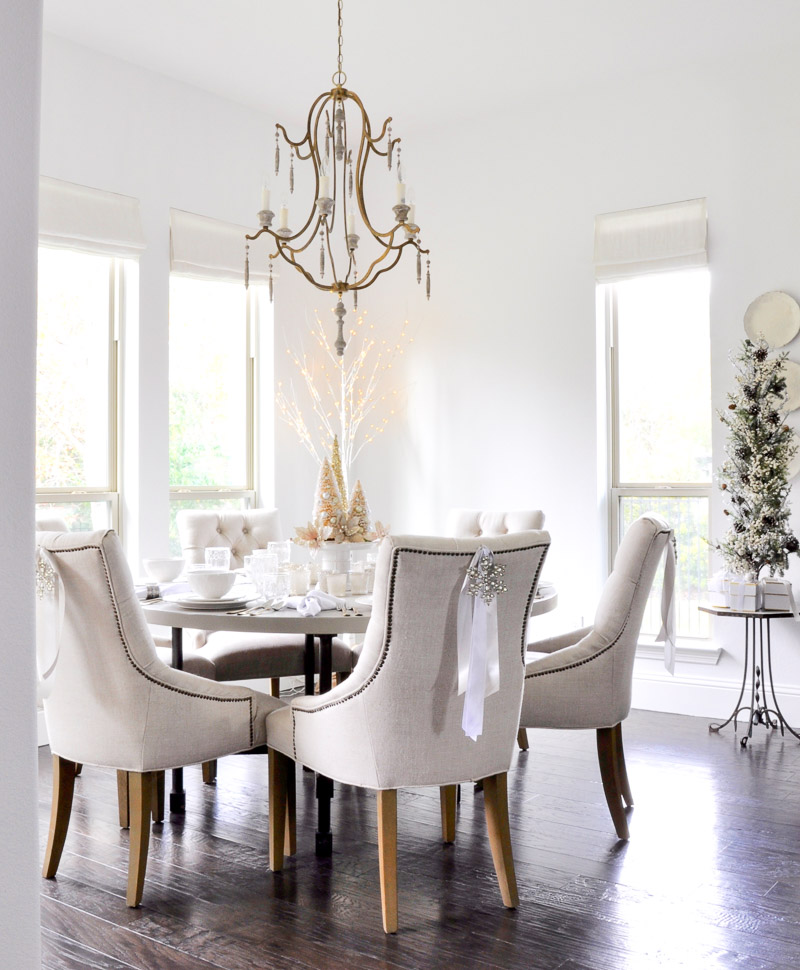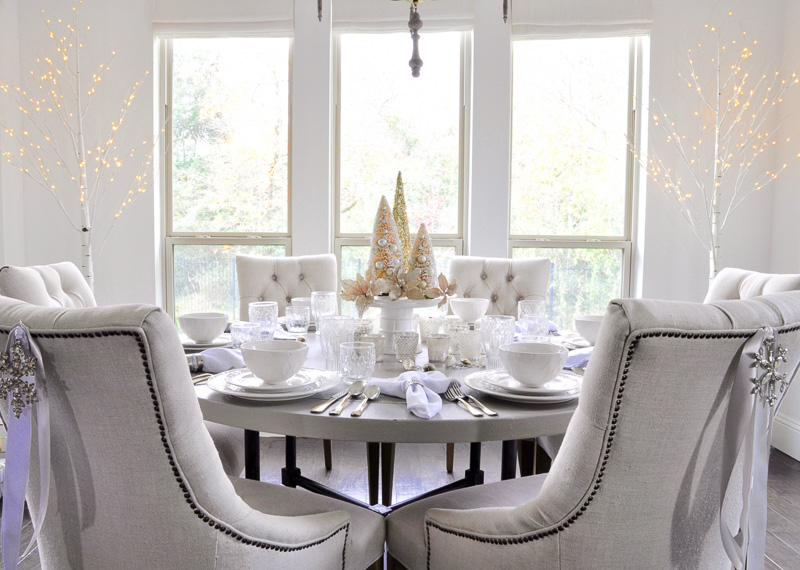 I adorned the chairs with this ribbon and crystal snowflake ornaments. So simple and any kind of ornament would work.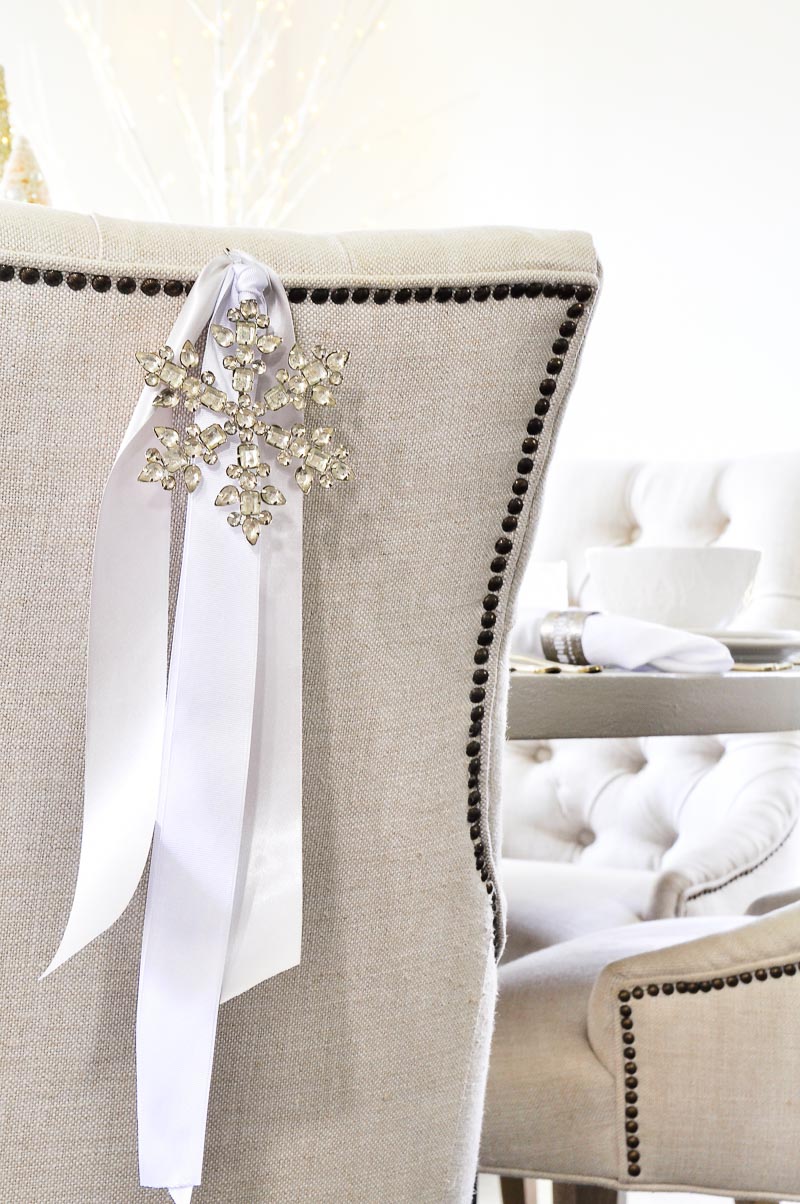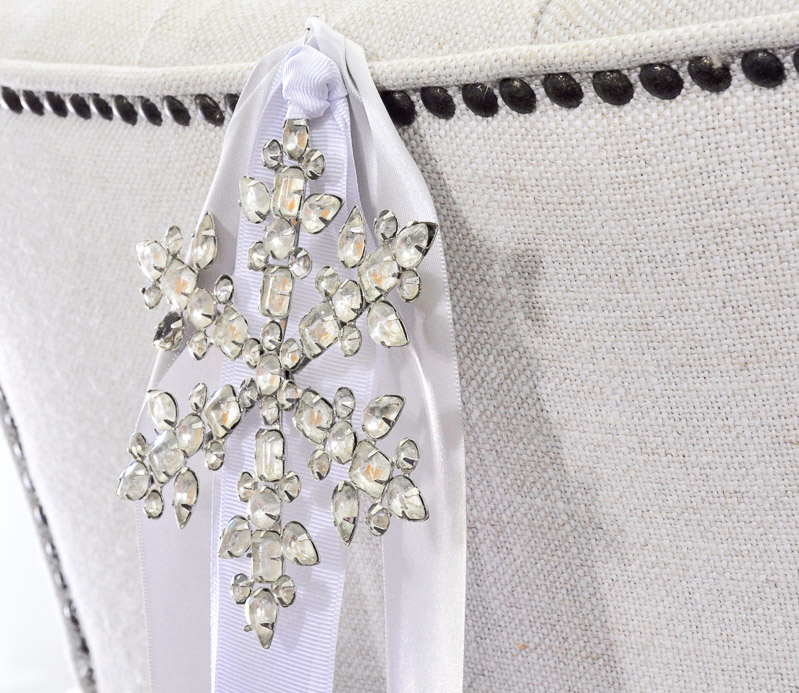 I love to add anything with lights and these trees keep the room white and take up far less room than our more traditional trees.
The cake stand elevates my trees and leaves room for the votives. Two collections combine for a fun centerpiece.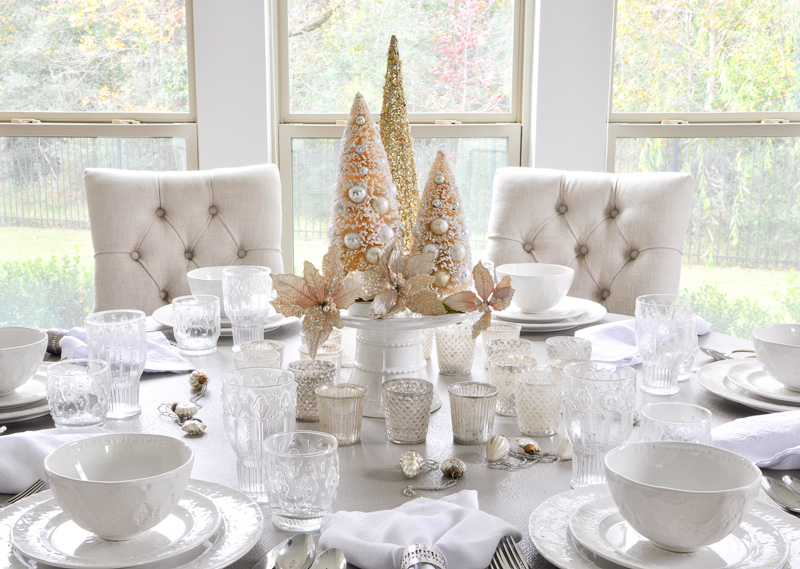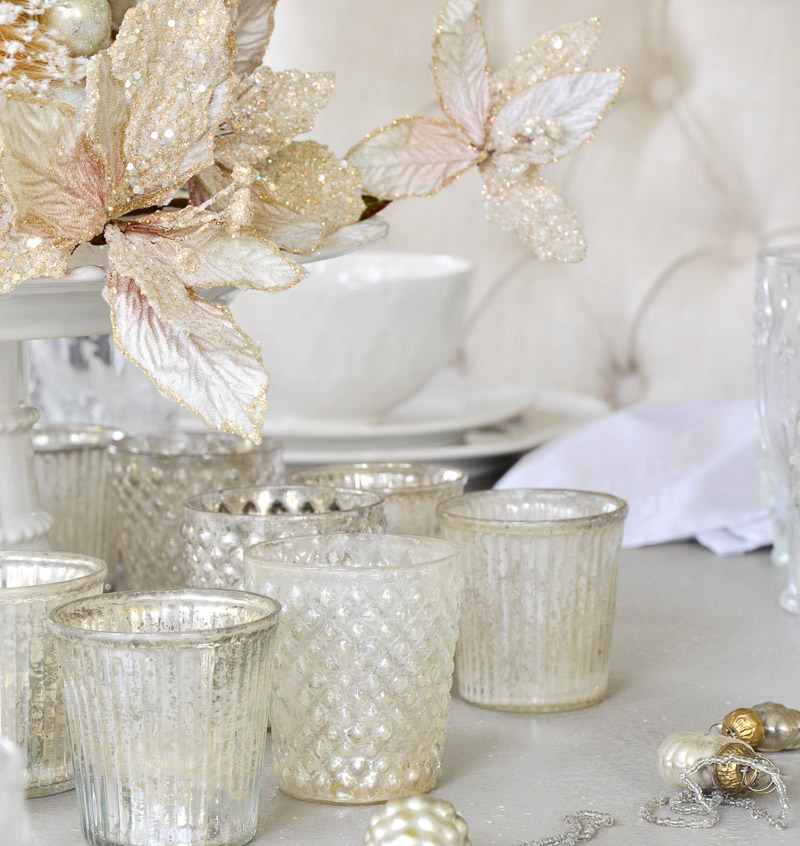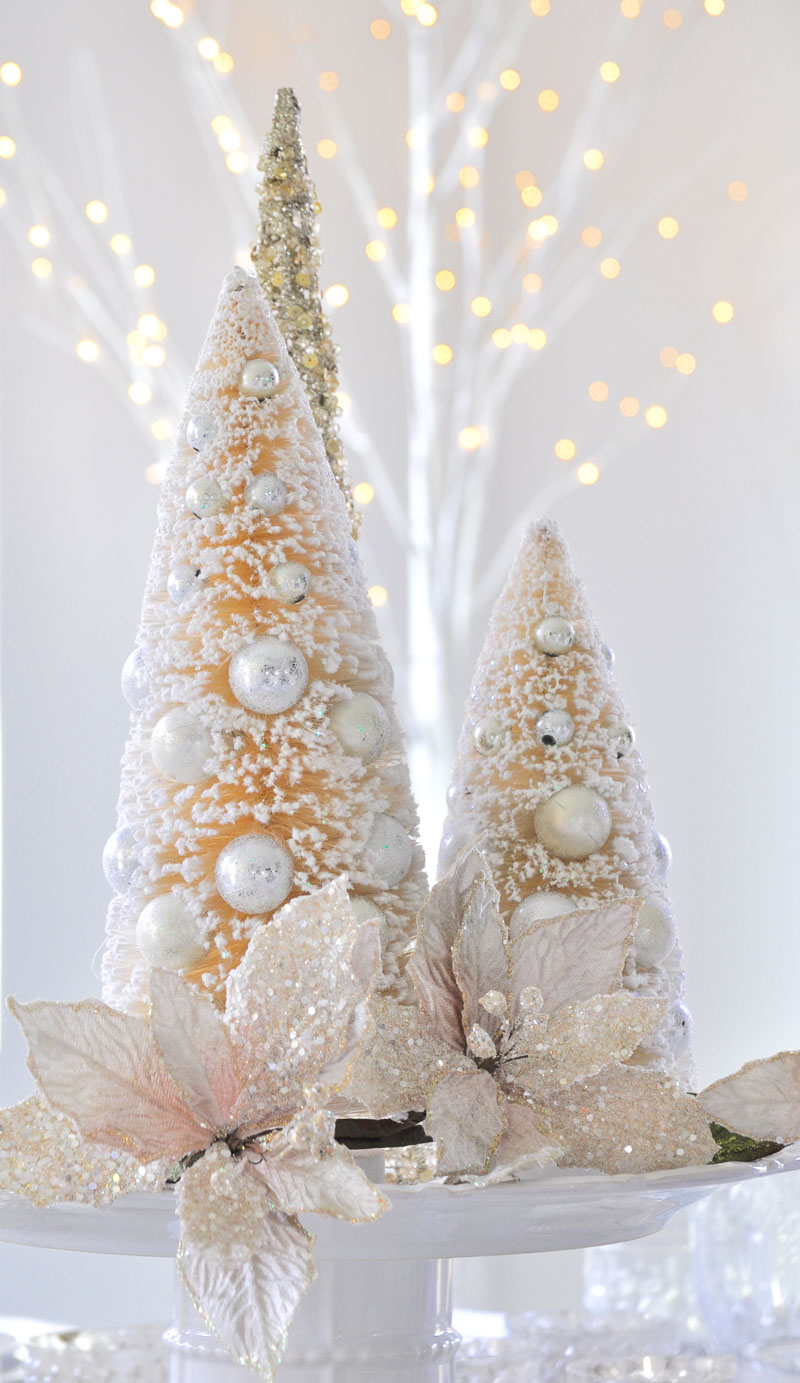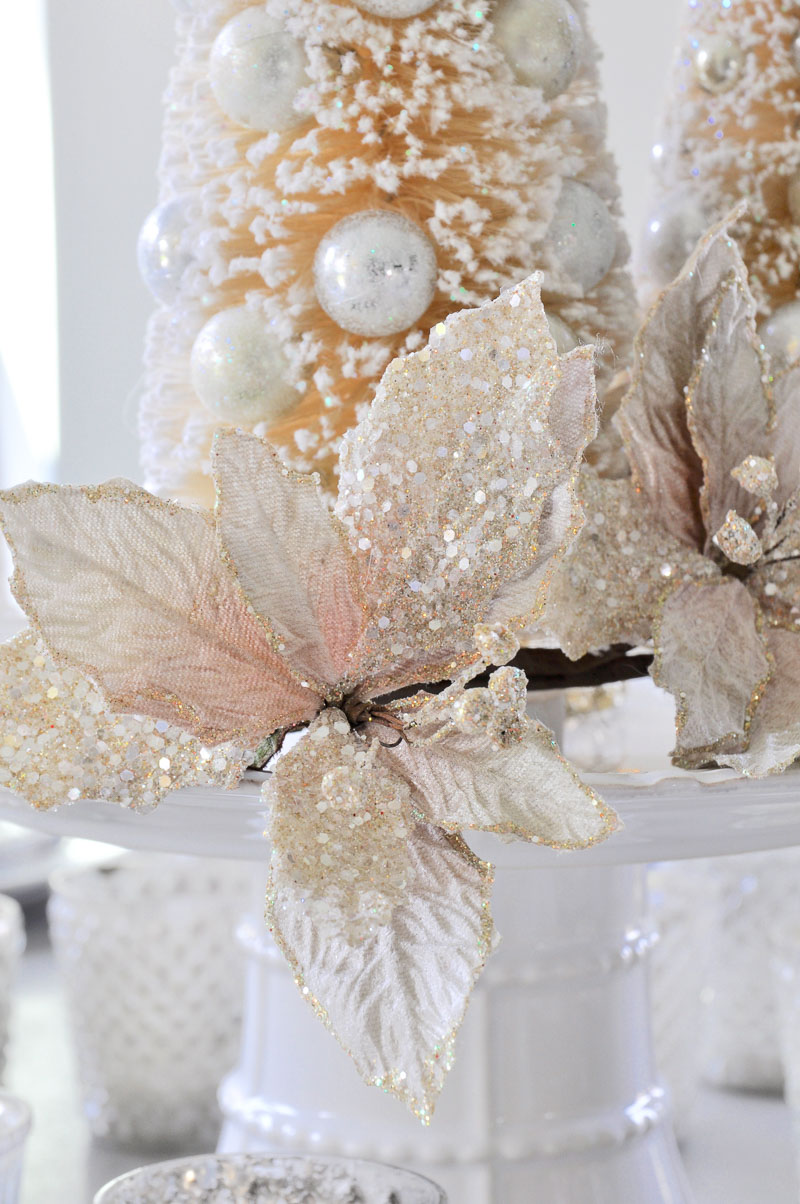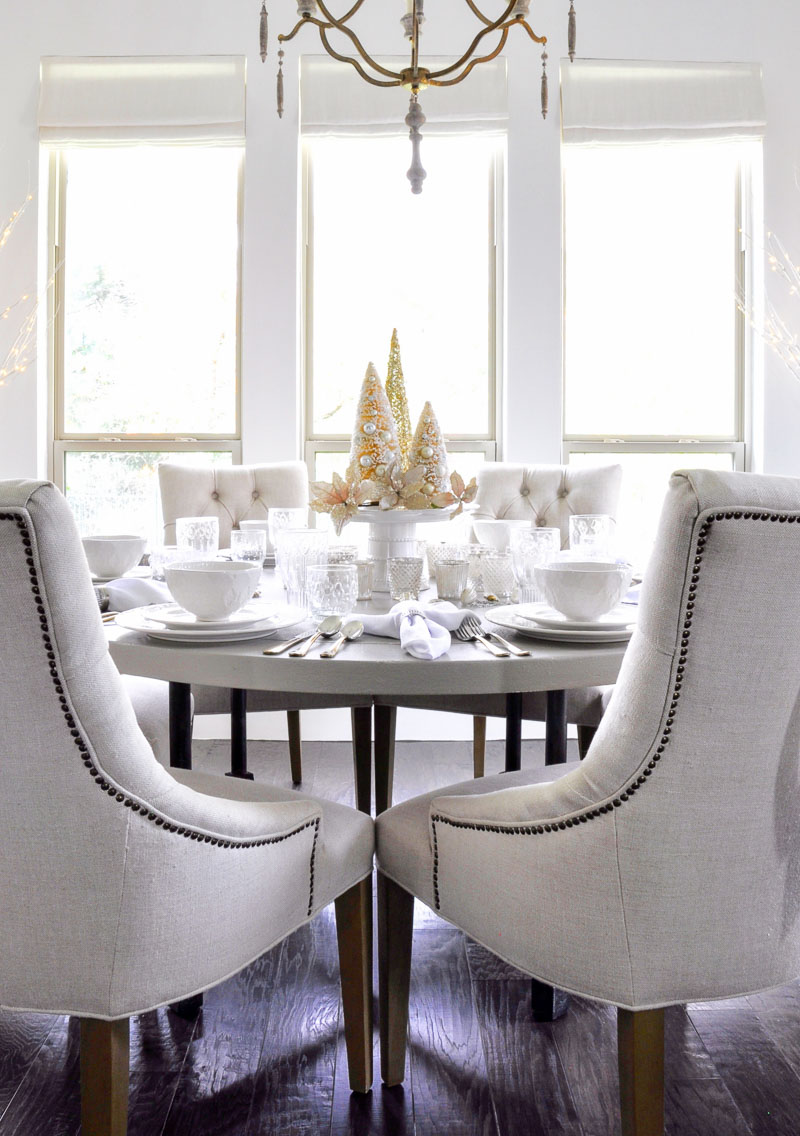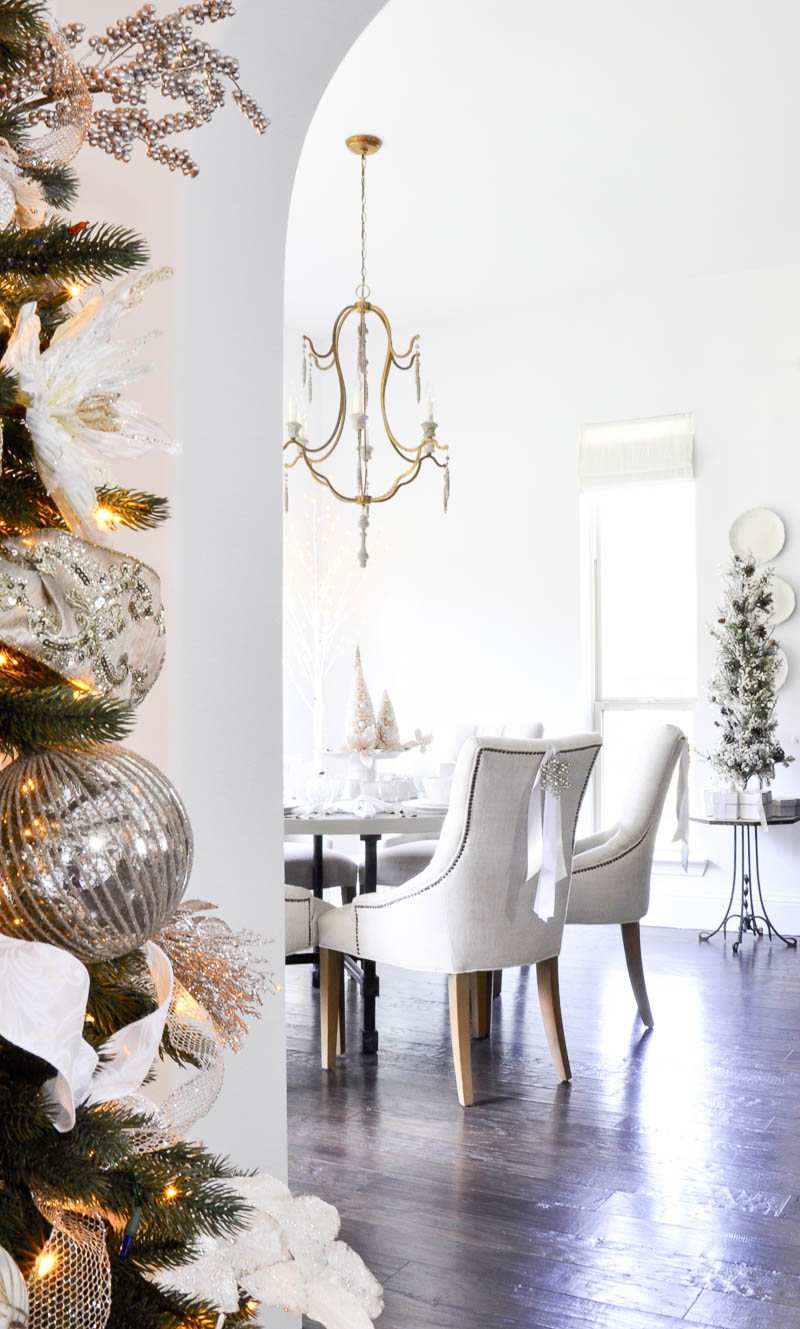 This is the room I am updating. I can't wait to share the full reveal with you, but for now, I've included a few sneak peeks.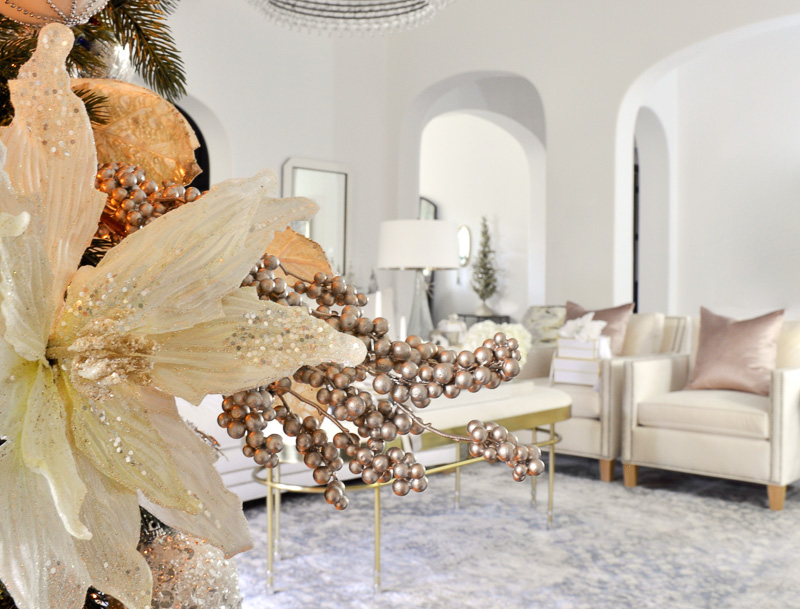 I picked up these gold and glass candlesticks for the reveal, but I couldn't wait to use them!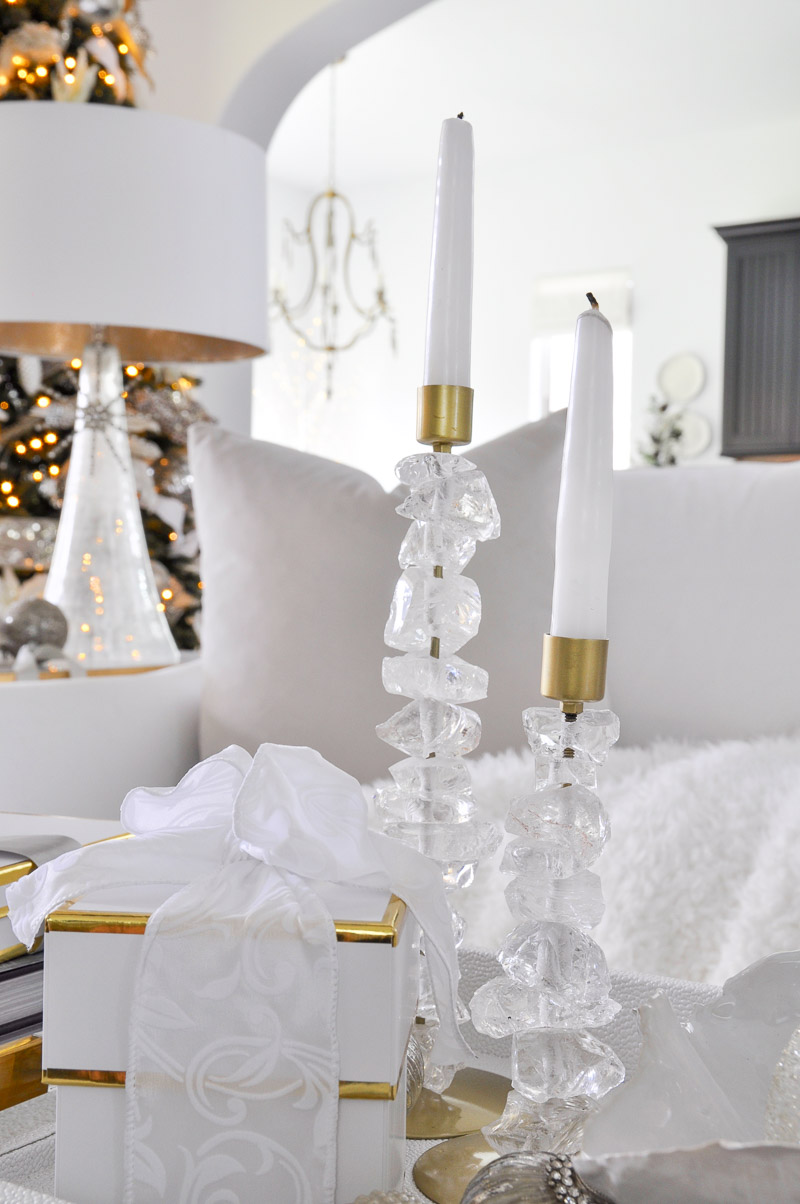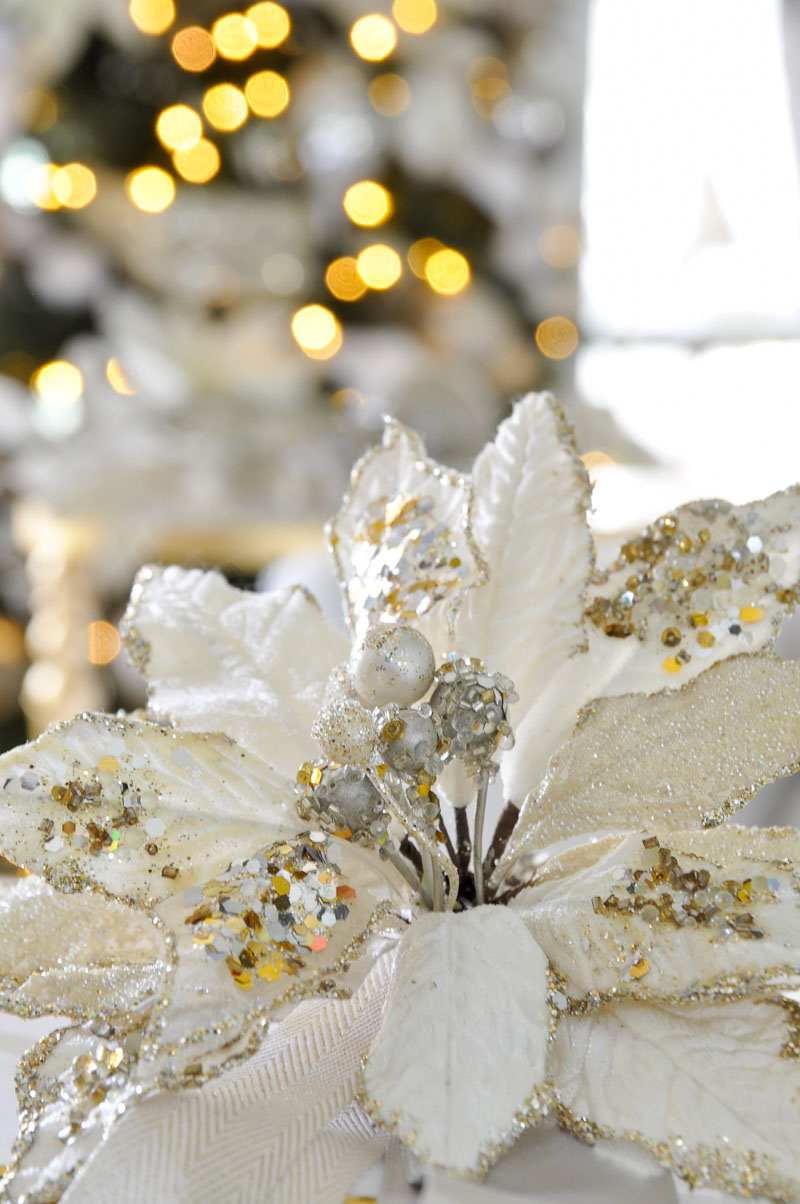 You've likely seen these white and gold boxes all over Pinterest and Instagram, but it's because they are beautiful AND very convenient!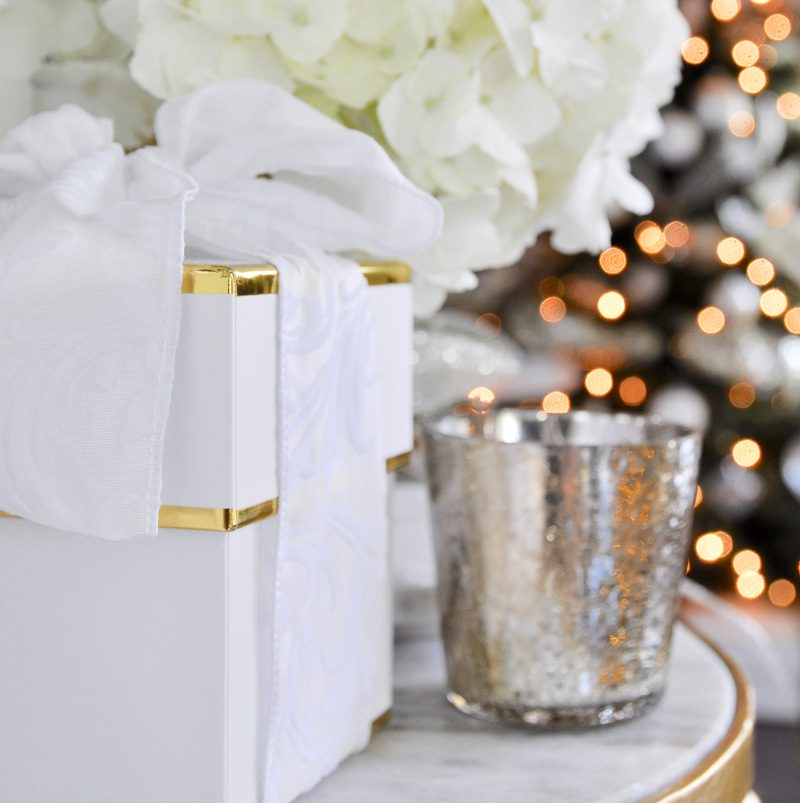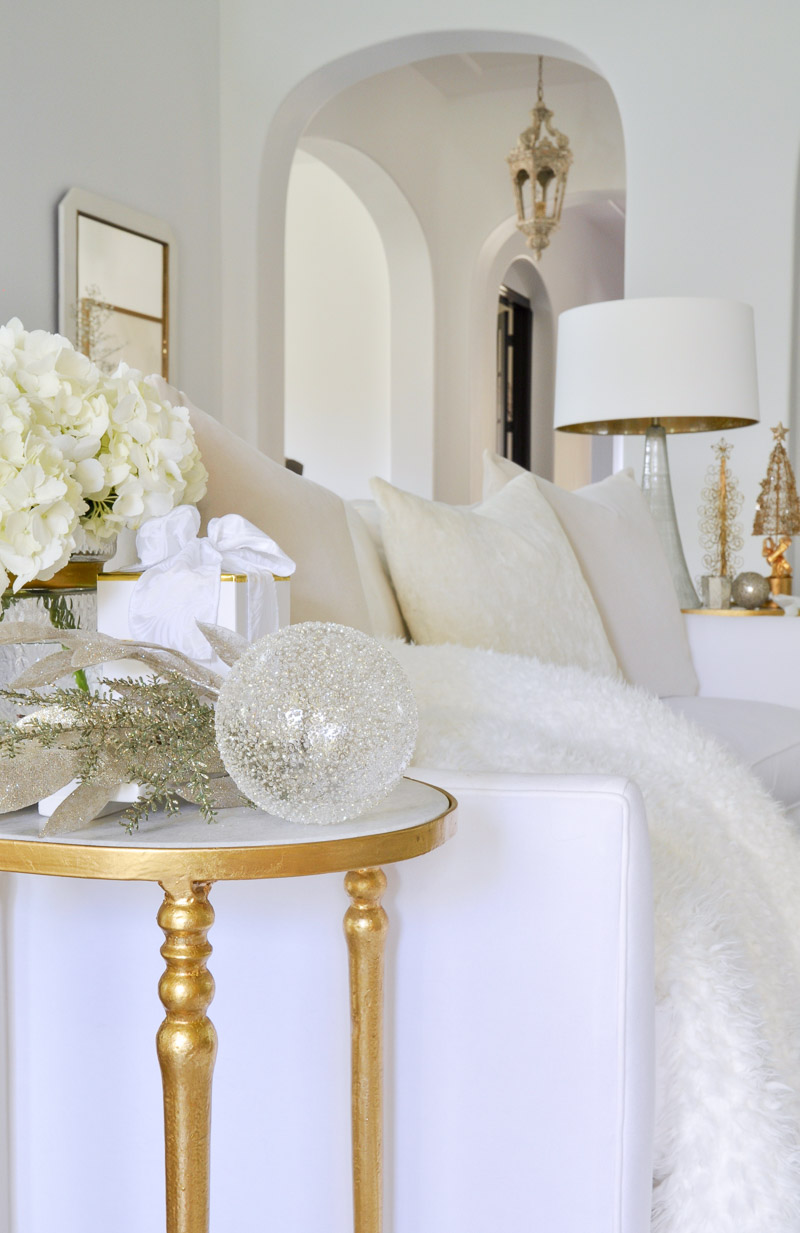 From my family to yours, have a wonderful Christmas!!!
Thank you so much for visiting!
Find additional Christmas posts below.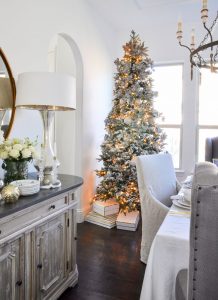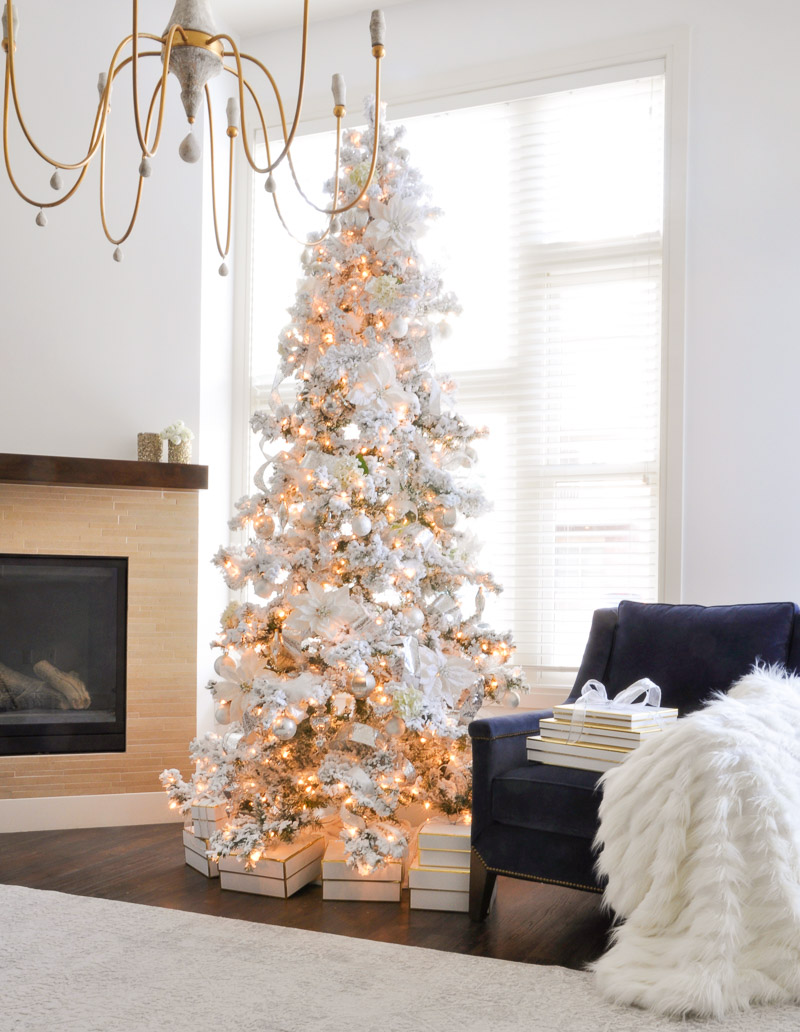 Dining Room Holiday Styling Tips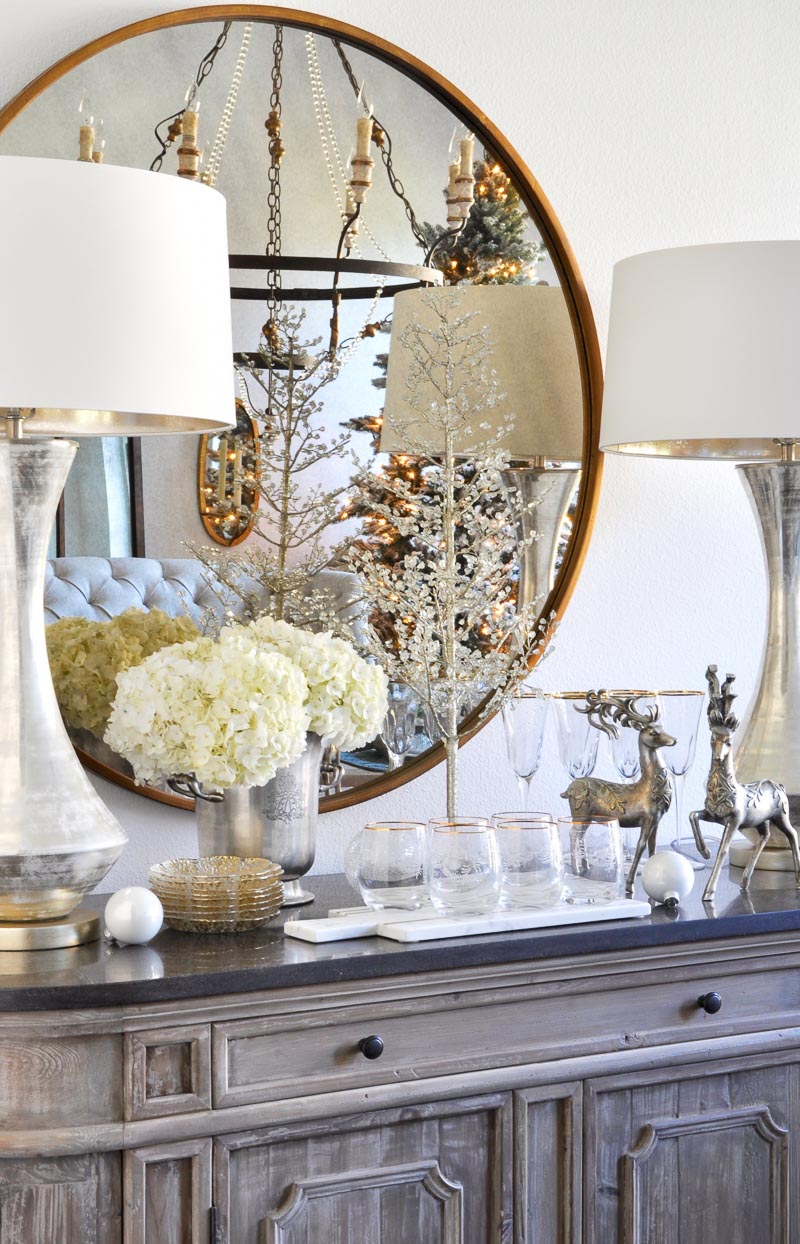 Stay Connected
Click on the Image to Subscribe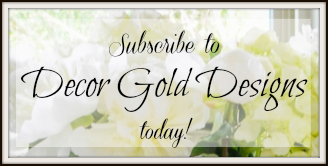 Please continue to Randi Garrett Design for the most beautiful home all decked out for Christmas!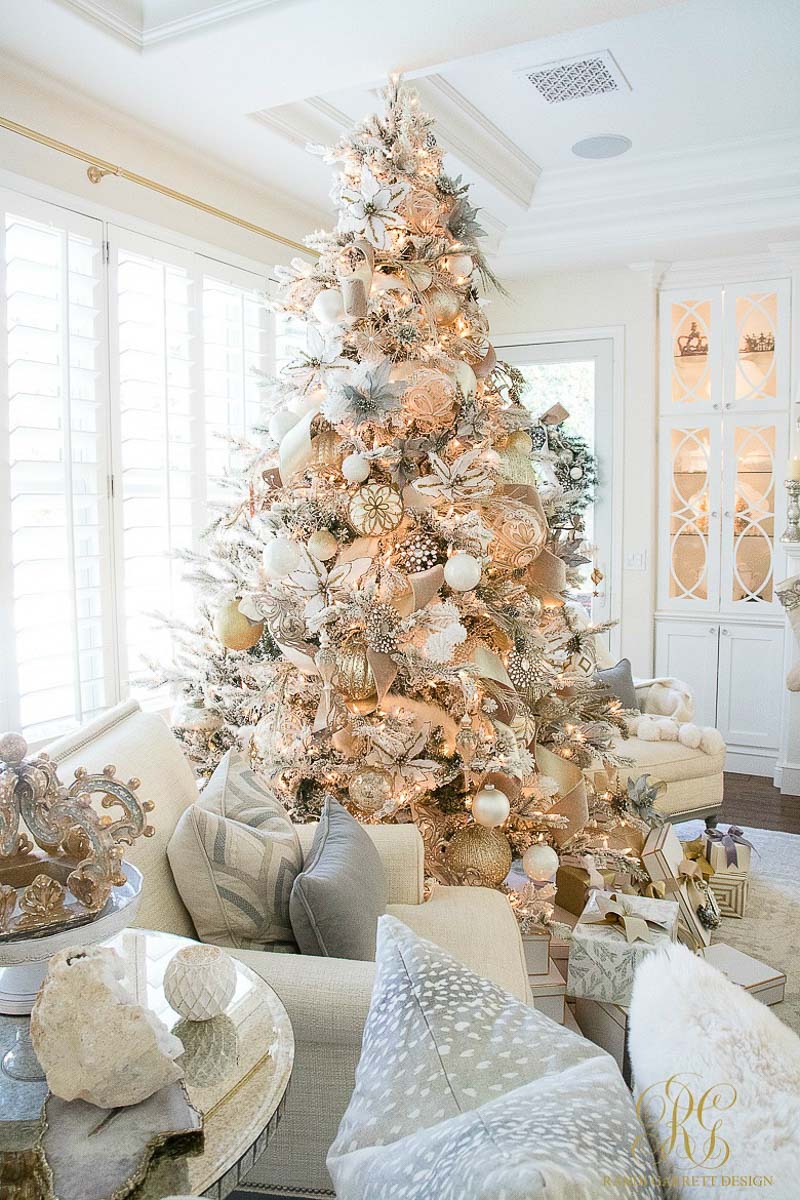 SOCIAL
Instagram | Pinterest | Facebook
SaveSave
SaveSave
SaveSave
SaveSave
SaveSaveSaveSave
SaveSave
SaveSave
SaveSave
SaveSaveSaveSave
SaveSave
SaveSave
SaveSave
SaveSave
SaveSave
SaveSave
SaveSave
SaveSave
SaveSave
SaveSave
SaveSave
SaveSaveSaveSave
SaveSave
SaveSave
SaveSave
SaveSave
SaveSave
SaveSave
SaveSave
SaveSave
SaveSave
SaveSave
SaveSave
SaveSave
SaveSave
SaveSave
SaveSave